The Big Island of Hawaii is one of my favorite places in the world. The volcanoes, majestic waterfalls, and the food have left an impression on me over the years and I always find myself pining to go back.
There are also many Big Island golf courses that I would love to play someday.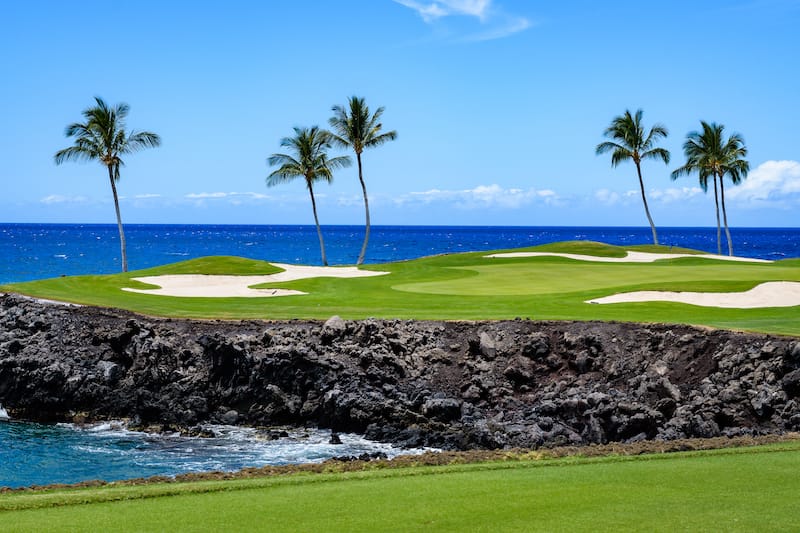 This is a guide to four of the best golf courses on the Big Island of Hawaii, brought to you by a retired professional golfer himself, Jordan Fuller.
The courses range from Kona golf courses to other Big Island golf courses you just can't miss. So, grab your Sunday golf bag and book that trip to the Big Island now and play on some of these fantastic courses mentioned below!
Best Big Island Golf Courses
Hawaii is a dream destination for golfers and non-golfers alike. If you're lucky enough to make the trek across the Pacific Ocean to the island paradise, be sure you set aside plenty of time to hit the links.
The stunning landscapes of the Big Island of Hawaii are prime settings for some of the most beautiful and interesting golf courses in the world.
1. Mauna Kea Beach Hotel Championship Golf Course
The Championship Course at Mauna Kea was the first golf course built on The Big Island and it remains a stunning achievement in golf course design.
Built on the black lava fields along the Kohala Coast in 1964, its signature par 3 third holes is one of the most photographed holes in golf.
The original course was designed by Robert Trent Jones Sr. After proving to be overly difficult, it was softened a bit a few years later by his son, Robert Trent Jones Jr.
And in 2007, Rees Jones continued the family tradition of working on Mauna Kea with a major renovation.
All the greens, tees, fairways, and rough were replaced by better hybrid grasses that allow for more fine-tuning of course conditions. The bunkers were restored to their original RTJ Sr vision and the course was lengthened to modernize it to new technology.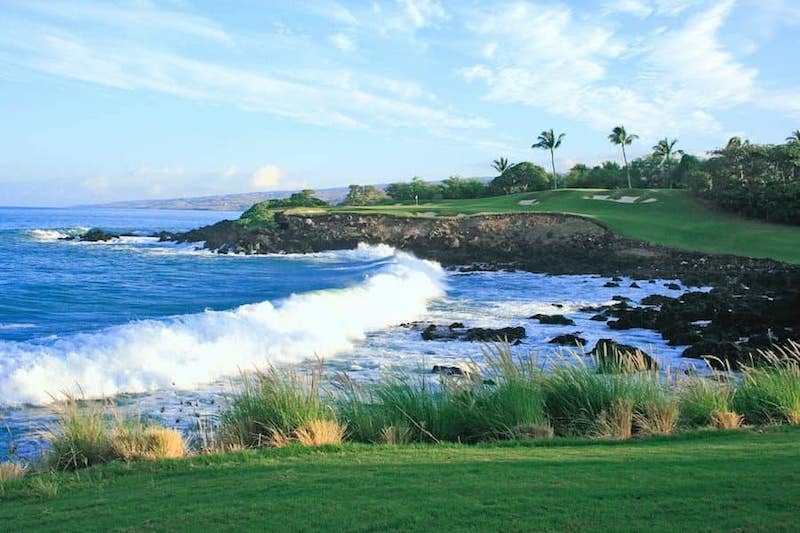 There are several different tee boxes available, and golfers should be very careful about which one they select.
Rees Jones' redesign put a lot of the teeth of the original design back into the course, and it's a long, difficult trek over gorgeous oceanside terrain. It's a truly unique experience that will require every bit of skill that you can bring.
There are several long carries required and numerous oceanside shots. The aforementioned 3rd hole measures 272 yards over the ocean from the Championship tees, and it's pretty much all carry!
Most golfers are better off playing the "Resort" or "Composite" tees, which will make the experience a bit less difficult and a lot more fun.
Most holes require a high approach uphill to plentifully bunkered greens. And make sure you control your drives, as the fairways are receptive but provide a little margin for error.
The winds coming off the ocean can wreak havoc on mis-hit shots. It's not a course for the faint of heart, but it's a beautiful, bucket-list experience that you'll remember for the rest of your life.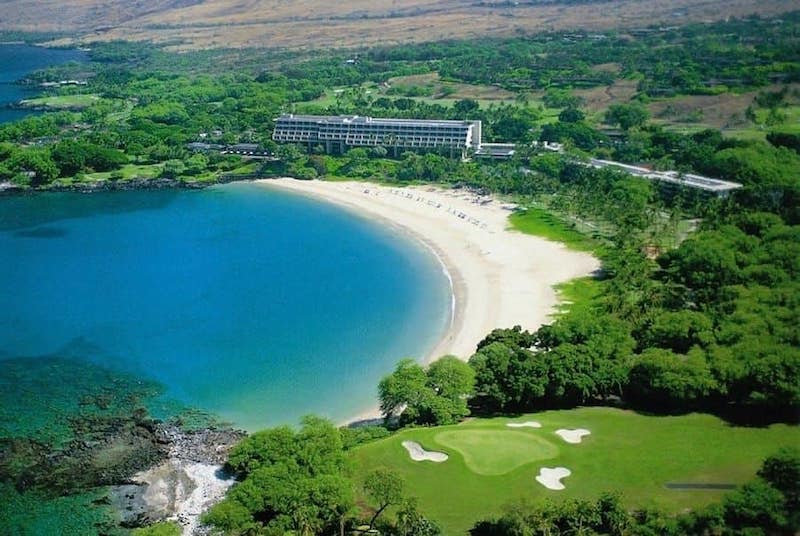 While the course offers GPS-enabled carts, you can also try riding a golf board — it's halfway between a skateboard and a scooter and is a fun way to experience the unique landscape while not getting too exhausted from walking. Highly recommended!
The onsite Number 3 Restaurant is a great spot to enjoy a local craft beer and a pupu appetizer after your round.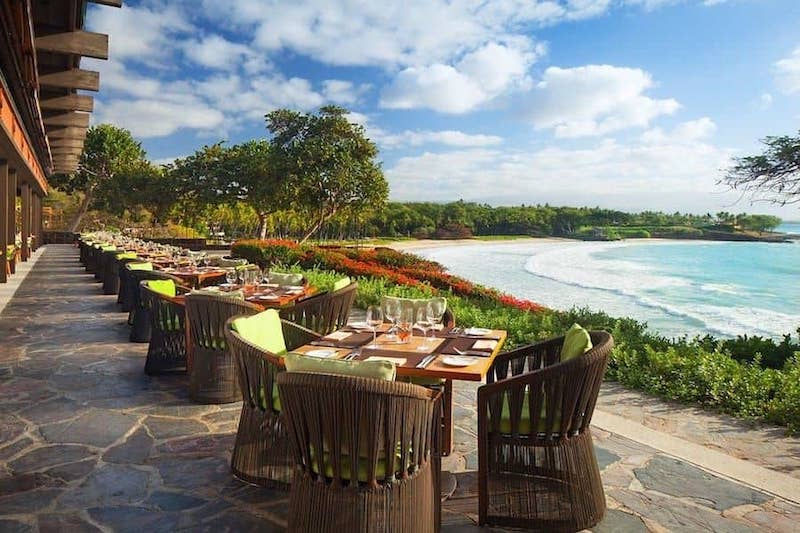 2. Hualalai
The Hualalai Golf Course at Hualalai Resort is a beautiful Kona golf course in the Kona District of the Big Island, close to the international airport. It sports two golf courses, one available to resort guests and one private.
Fortunately, the one available for public resort guests is an absolute gem. It's the first course designed by Jack Nicklaus in Hawaii and hosts a PGA Tour Champions event each year.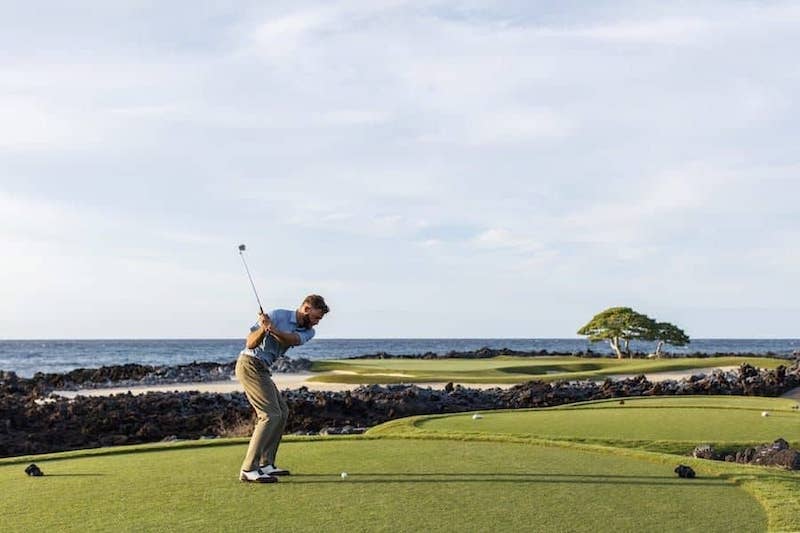 The par-72 design winds through the island's lavascape and provides magnificent oceanside views and dramatic terrain.
GPS-enabled carts are available, but caddies are also available. It's a course that will reward walkers with an abundance of natural beauty that may just fly by if you're in a cart.
The signature par 3 17th hole highlights the course's dramatic crescendo to an oceanside finish. It's a tee shot hit towards the ocean to a green protected by jutting lava rocks and deep bunkers.
The par 3 12th hole features a distinctive bunker in the middle of the green, an interesting design choice that makes the day's pin position dictate how tough the hole will play.
Dramatic lava rock outcroppings abound, dotting the fairways and providing for some wild bounces if your shots stray from the fairway.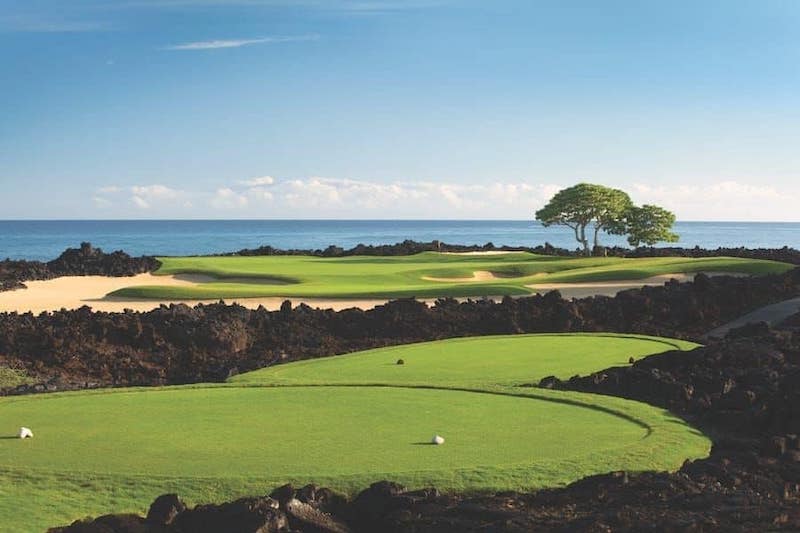 The regular tees play to a very reasonable 6150 yards, offering lots of challenges but rewarding good shots with birdie opportunities.
Scratch or better golfers will enjoy the championship tees, which stretch out over 7100 yards and demand pinpoint accuracy off the tee.
Keep in mind that you must be a guest at the attached Four Seasons resort in order to play the Hualalai course, but it's hardly a sacrifice as the resort is a true paradise that offers exceptional dining, spa services, and marine life adventures.
This is one of the premier Kona golf courses as well as one of the best Big Island golf courses that you can play a round at.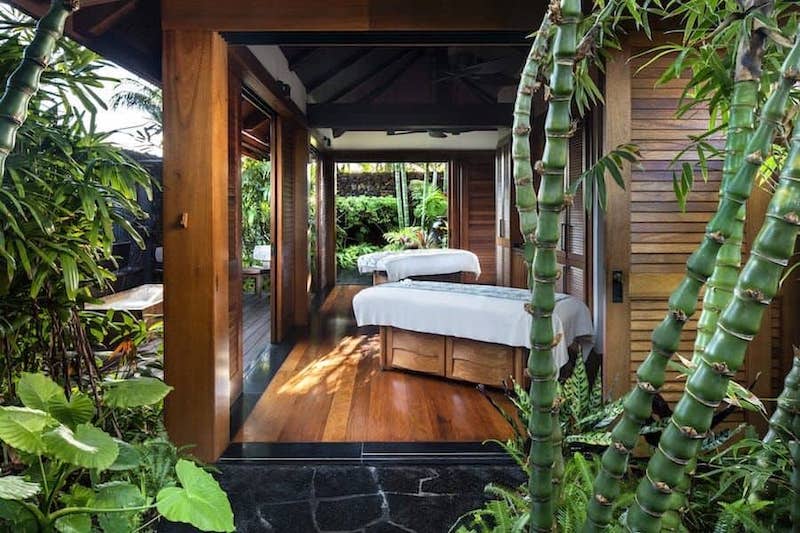 3. Mauna Lani Resort North Course
The original Mauna Lani course was an 18-hole design that opened in the early 1980s. But in the 90s, it was split in half and expanded to a 36 hole facility, featuring North and South courses.
While the South course has had more public exposure via The Senior Skins Game, a televised event in the 90s, the North Course is the more interesting of the two.
It's always in impeccable condition, with pristine tee boxes, lush and carpet-like fairways, and speedy greens. The rough is challenging but not impossible, requiring good contact to avoid making some big numbers.
It's unique among Hawaii golf courses in that the ocean doesn't really come into play and it is perfect for all age groups and golfers whether using soft golf balls or being able to walk the course, etc.
A few shots approach the ocean palms, but for the most part, it's an inland, tree-lined course. This is not to say that it doesn't provide beautiful ocean vistas: it certainly does!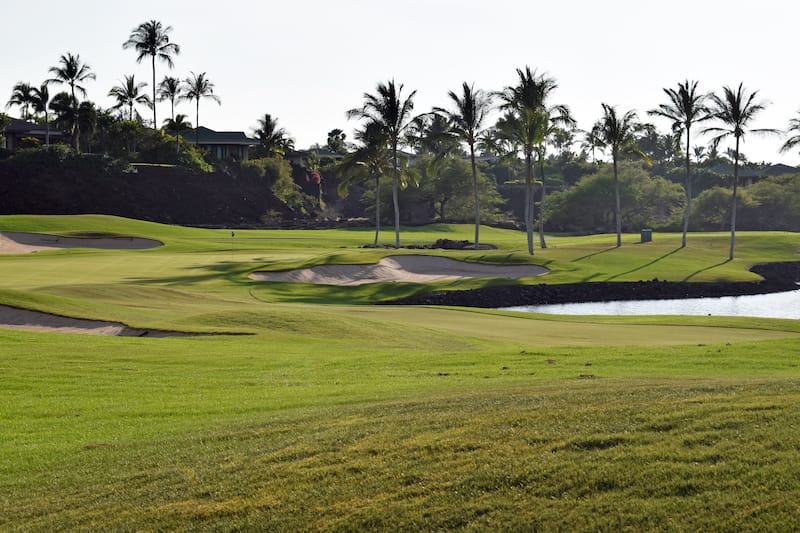 And it's a wonderfully designed course, with beautiful lava rock formations and rolling elevation changes.
Casual golfers will find it much less punishing than Mauna Kea or Hualalai, as it winds through tree-lined valleys and blends seamlessly into the lovely local landscape.
The signature hole is the 17th hole, a par 3 called the Amphitheatre. It's a short hole with a series of progressively more and more elevated tee box options that all lead to a large green in a lava bowl.
It's a real photo-op, and a fun tee shot to hit. Your golf bag will come in handy to hold the clubs necessary to attack the variety of shots offered to golfers.
Most players won't need anything more than a pitching wedge, and without any water to hit into it's actually a birdie opportunity!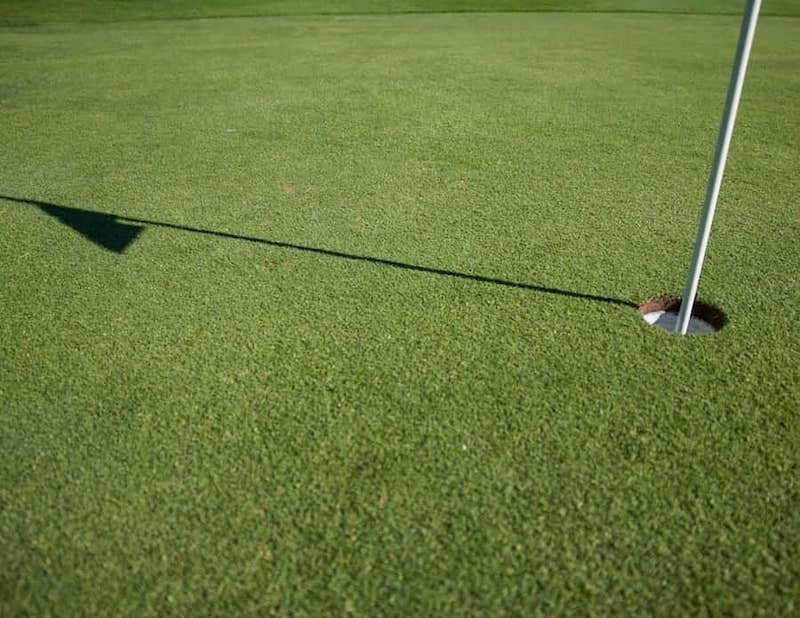 If you're staying at the Mauna Lani resort, both the North and the South courses are high-quality, rewarding golf experiences.
The South course gets more exposure because of its ocean holes, but the North Course is the more fun golf experience and overall better design. It's hard to go wrong with either one, though, as they're in tip-top shape and provide a truly elevated resort golf experience.
4. Waikoloa King's Course
The Waikoloa King's Course is a can't-miss Tom Weiskopf design that's a real player's course. Low-handicappers will enjoy the challenge of the nearly 7100-yard layout, and recreational players will also find a lot to like if they move up a few tee boxes.
Like most Big Island golf courses, the Waikoloa King's Course is highlighted by lava rock outcroppings and beautiful ocean views.
This one features a great variety from hole-to-hole, which is a Weiskopf specialty. Each side has a beautifully designed driveable par-4 that offers an interesting risk/reward proposition.
Shorter birdie holes are followed by long, challenging holes that you're happy to escape with par on. Senior golfers might not enjoy this as the greens generally roll slower than the pricier resort courses, which is helpful, especially on high-wind days.
Numerous ponds lurk in strategic locations, encouraging and rewarding accurate tee shots.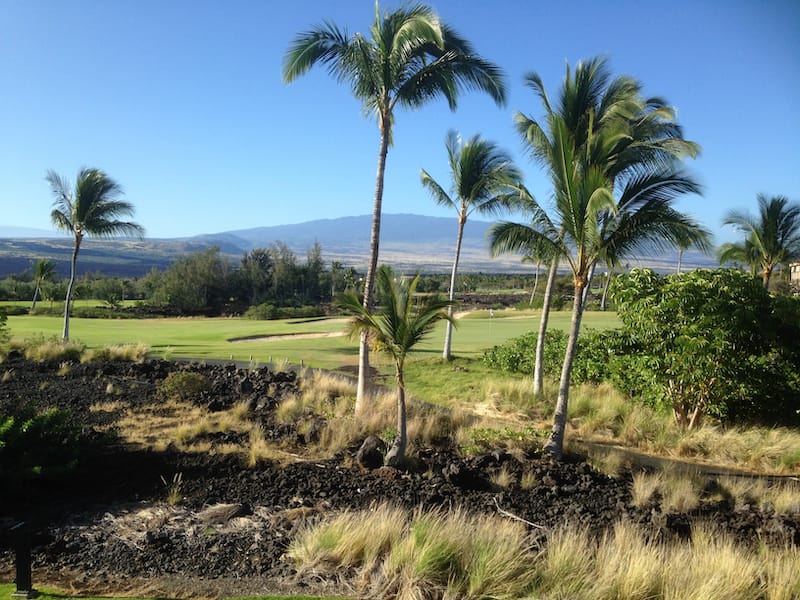 The best hole is the last one, a reachable par 5 that will give you a chance to go for it in 2. There's only one thing better than finishing your round with a birdie, and that's finishing your round with an eagle!
Waikoloa also offers a Beach Course close to Kona that runs right up to the ocean, providing spectacular views of waves crashing against lava cliffs. Much like Mauna Lani, however, the more interesting golf experience is the more inland one.
Nonetheless, the Beach Course is a nice respite after the challenging King's Course, offering much shorter holes and more birdie opportunities.
Another nice feature of Waikoloa is an expansive, affordable practice facility. For just $15/hour, you can enjoy unlimited range balls, free clubs to borrow, a large chipping area with a lot of variety, and carefully manicured Bermuda practice green to hone your stroke.
Most people visit Hawaii in the middle of winter so you might want to spend a few hours on the range to get your swing back before actually hitting the links. Waikoloa's extensive and affordable practice area is perfect for that!
After a long day on the beautiful King's Course, relax at Chef Alan Hess's Mai Grille, featuring local cuisine and craft microbrews and cocktails. There are several other things to do in Waikoloa after you finish your round.
The "Breakfast BLT" with 1/4 pound of bacon is the perfect way to replenish your electrolytes and protein after a long day in the sun. Happy hour from 2-5 pm is perfectly timed for post-round recreation.
Waikoloa King's Course is an essential part of the impressive Big Island golf experience!
Have you ever been golfing on the Big Island of Hawaii?
We would love to hear which Big Island golf courses and experiences you recommend to other travelers who also love the game.
Pin this Golfing on the Big Island Guide