Kona is such a spectacular city and definitely a hub of many things to do. These are the best beaches in Kona and the best ones within a short drive.
Are you planning your trip to Kona last minute?
If you're traveling to Kona last minute, you want to ensure you have lodging ahead of time! Below are some of our top picks in town!
Best Tours and Activities from Kona:
Best Hotels in Kona:
Traveling to the Big Island independently? Be sure to book your rental car ahead of time to ensure availability!
Did we miss any awesome Kona beaches or ones located within 45 minutes of the Big Island destination? Let us know in the comments! Thanks!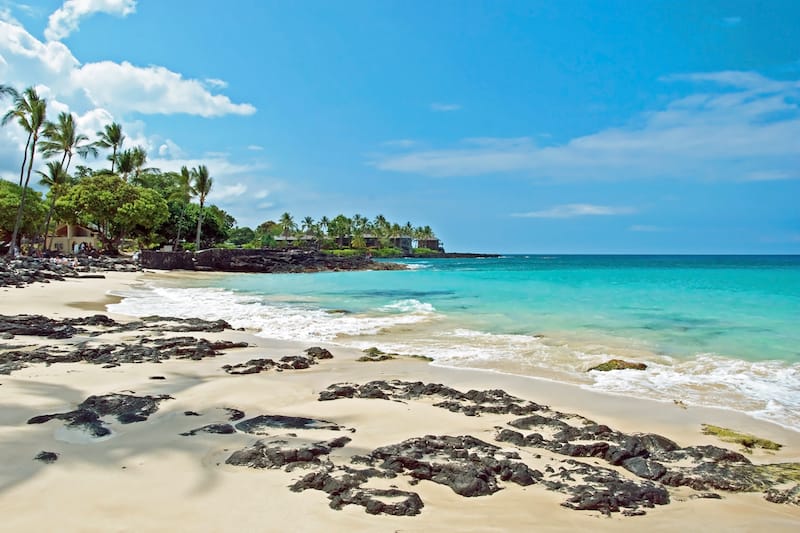 Best Beaches in Kona
Kealakekua Bay
Kealakekua Bay is a Marine Life Conservation District located about 12 miles from Kailua Village. This historic site is where Captain James Cook, the first British explorer to come to Hawaii, landed.
Cook arrived in Hawaii in 1778 and was killed right on the bay a year later during a skirmish with Native Hawaiians.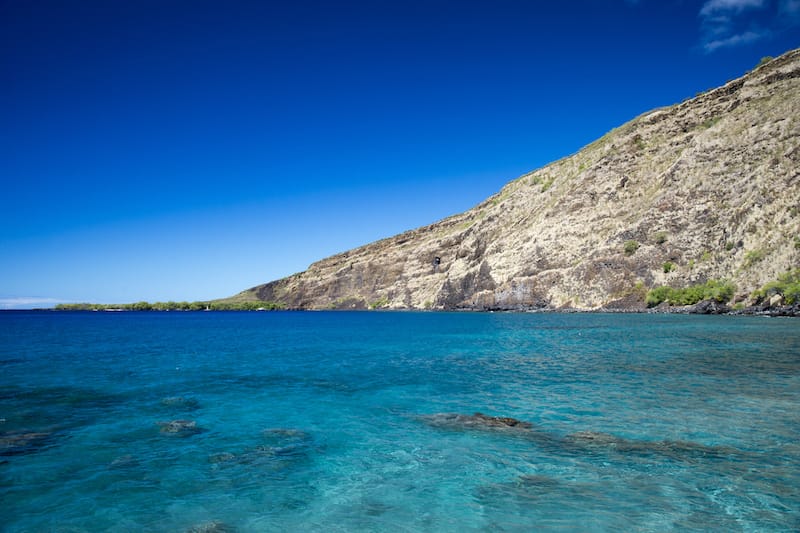 Loved by locals and tourists alike, Kealakekua Bay features clear waters that are home to different tropical fish species. It is an excellent location for kayaking, snorkeling, diving, and sometimes, you get to see spinner dolphins around the bay!
King Kamehameha / Kamakahonu Beach
Also known as King Kam Beach, this is one of the best beaches in Kona for families with kids. Nicely tucked between the Kailua Pier and dense rocks, this white sand beach is serene and perfect for tourists looking to enjoy an exclusive beach experience in Kona.
It is right behind the Courtyard Marriott King Kamehameha Kona Beach Hotel, which is a great accommodation choice for families.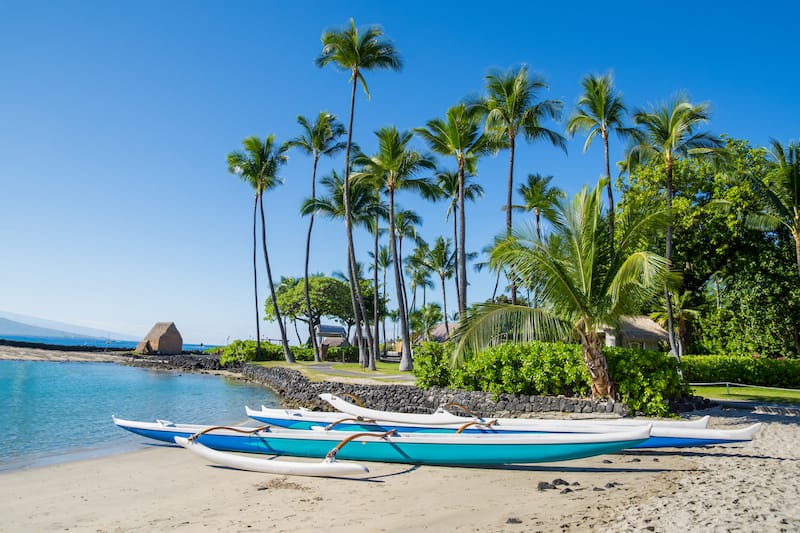 The beach offers various fun water activities and is a perfect location for swimming, paddle boarding, and snorkeling. In addition, the waters are sheltered and shallow, making it an excellent spot for kids to splash around in.
Makalawena Beach
This is perfect for a solo traveler or an active couple looking to have a quiet beach day. Makalawena Beach is devoid of crowds because it is only accessible via a hiking trail.
You have to drive down on an off-road vehicle, which you will need to park at a nearby beach's parking lot. From there, you'll need to hike about two miles to get to the beach.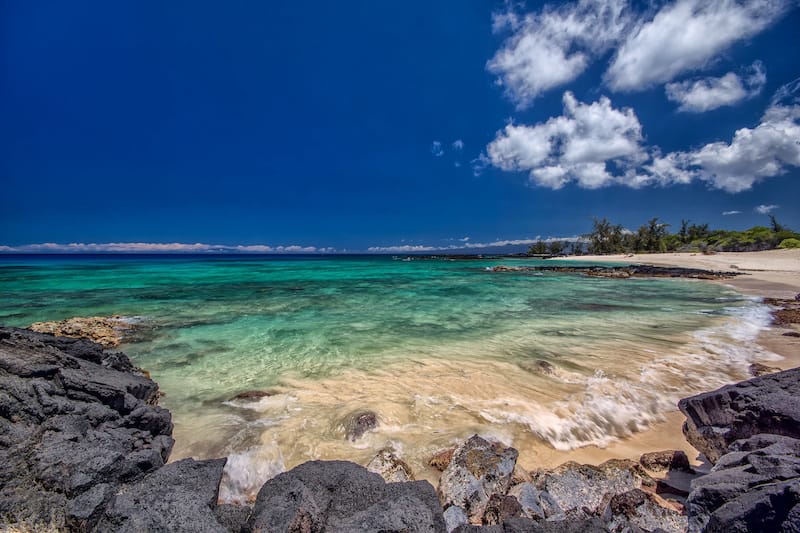 What you'll find at the end of your hike is a stunning white sand beach: a private stretch of shoreline surrounded by rugged lava rock. Enjoy swimming, bodyboarding, snorkeling, etc.
Be sure to pack a light backpack with drinking water, snacks, a beach blanket, and an umbrella.
Honokohau / "Kona Dog" Beach
Located directly south of the Kaloko-Honokohau National Historical Park, this is one of the few beaches in Kona where dogs are allowed off-leash.
The waters are 89% clear, which means that they are perfect for snorkeling and swimming. If you have extra time, be sure to visit the historical Big Island park here and see the "salt and pepper" sand beach there.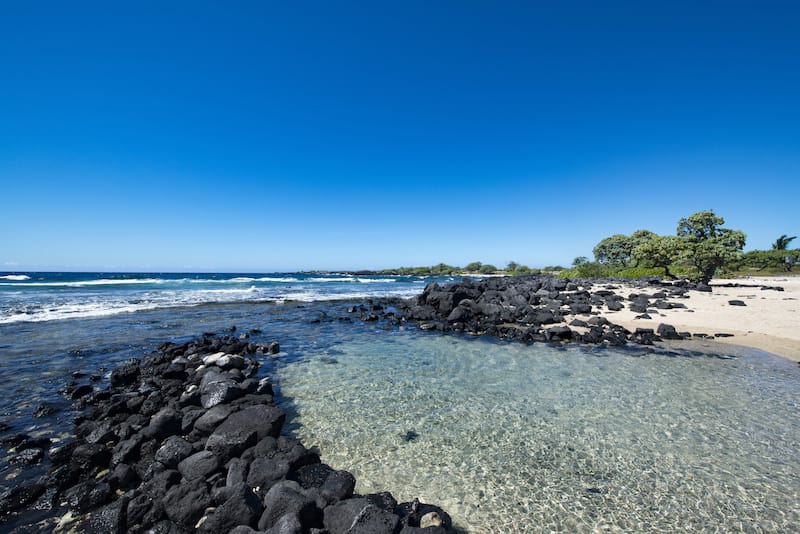 Visitors can only access Honokohau Beach via a 65-meter walk on lava rock. Don't fret, though; it is not as scary as it sounds. Unfortunately, there are no lifeguards here, so only experienced swimmers or snorkelers should venture into the waters.
Kahalu'u Beach Park
Kahalu'u Beach is a real-life aquarium. Constantly teeming with brilliant coral reefs and species of colorful tropical fish and other marine life, it is one of the best beaches in Kona for snorkeling.
The reef here is a unique ecosystem home to tons of aquatic animals like octopuses, eels, sea urchins, and sea turtles.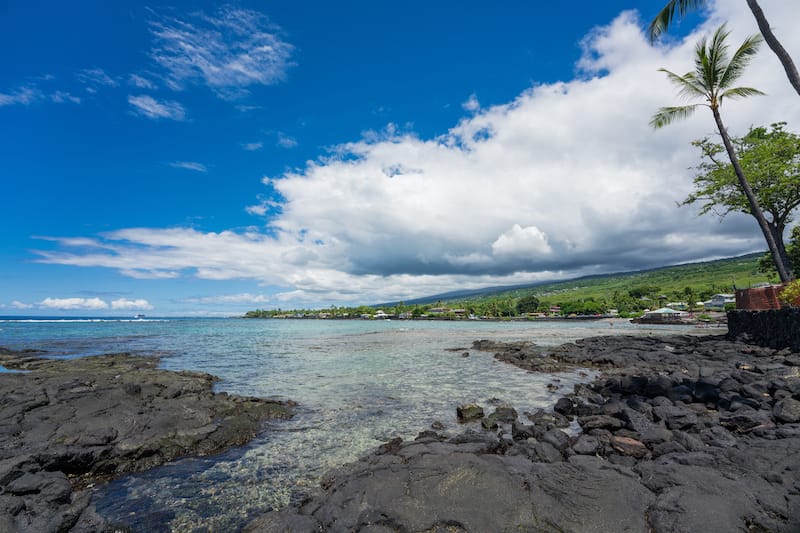 The Kahalu'u Beach Park has been in existence for over 500 years and was home to Hawaiian royals. So, do not be surprised to find Hawaiian temples (heiaus) at this beach park.
Honaunau Bay / Two Step
This bay has an abundance of sea life and is one of the best snorkeling sites in Kona. However, it is not exactly a beach because you get to directly access the water from the lava rocks surrounding the water.
The best place to get in the water is where the two steps are, hence, its nickname.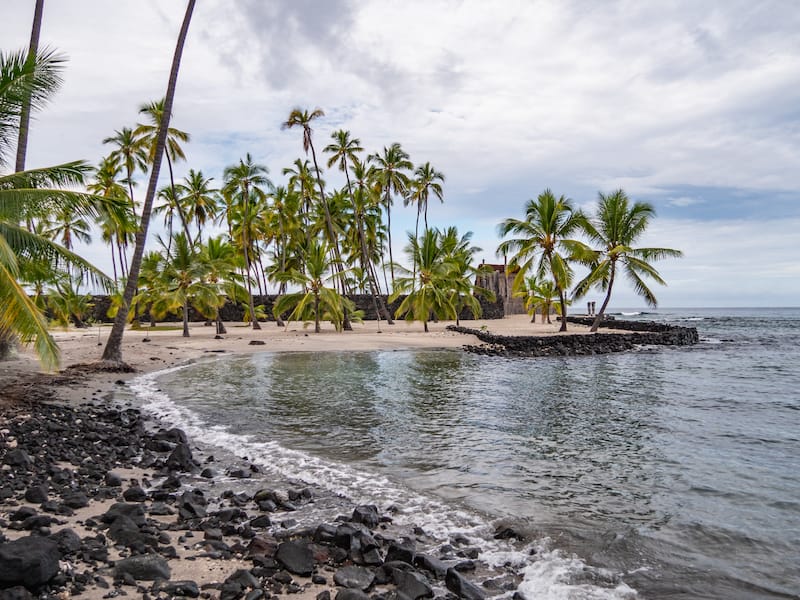 The incredible Honaunau Bay is an excellent scuba diving location on the Big Island for both beginners and experts. There are scuba diving tutors and rental facilities available on site.
Also, if you are lucky, you might be able to swim with dolphins in the deeper waters.
Manini'owali Beach at Kua Bay
A secluded beach with pristine white sand located at Kua Bay, Manini'owali is one of Kona's best white sand beaches. The water here is crystal-clear and, when it is calm, is perfect for snorkeling. Be on the lookout for turtles, dolphins, and other marine wildlife while exploring!
This beach can only be accessed through a 10-feet climb down lava mountains, contributing to its secluded, serene nature.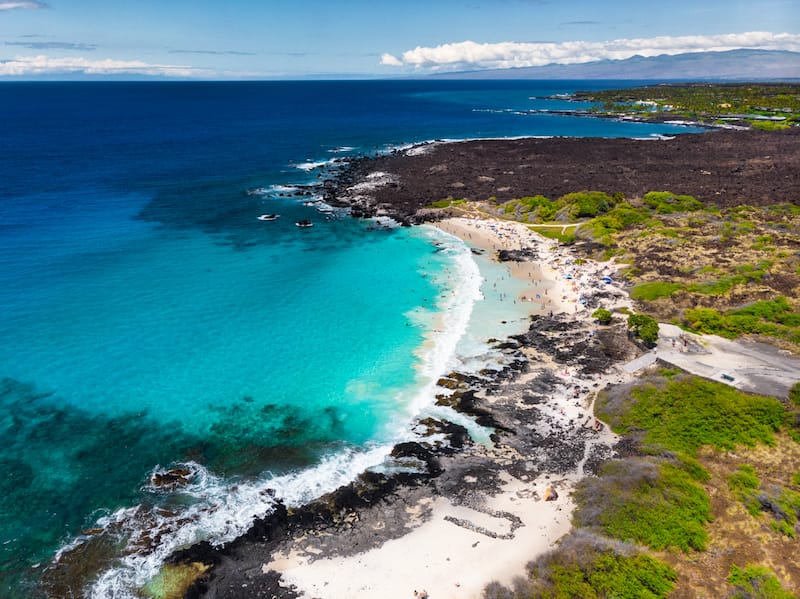 Remember to bring some snacks, drinks, drinking water, and sun hats or beach umbrellas as there are no amenities on this beach.
'Alula Beach
A favorite chilling spot for locals, 'Alula Beach is a small crescent of sand that offers protected swimming. Located south of Honokohau, it is surrounded by rock walls and boulders, giving it a rugged look.
Although it is not exactly a kid-friendly beach, families who visit can still enjoy a ton of fun beach activities like kayaking and sunbathing.
There is a parking lot and restrooms on-site, but you will have to bring your food, drinks, and snacks as there are no concession stands.
Kayakers also frequent this site so if you are into that, be sure to bring your gear.
Kikaua Point Beach Park
You can access the Kikaua Point Beach Park through the Kukio Golf Resort. It is best to arrive early enough to secure a parking spot.
The trail that runs from the parking lot to the beach is wheelchair and baby stroller accessible, and this makes it an excellent option for families with kids and the elderly.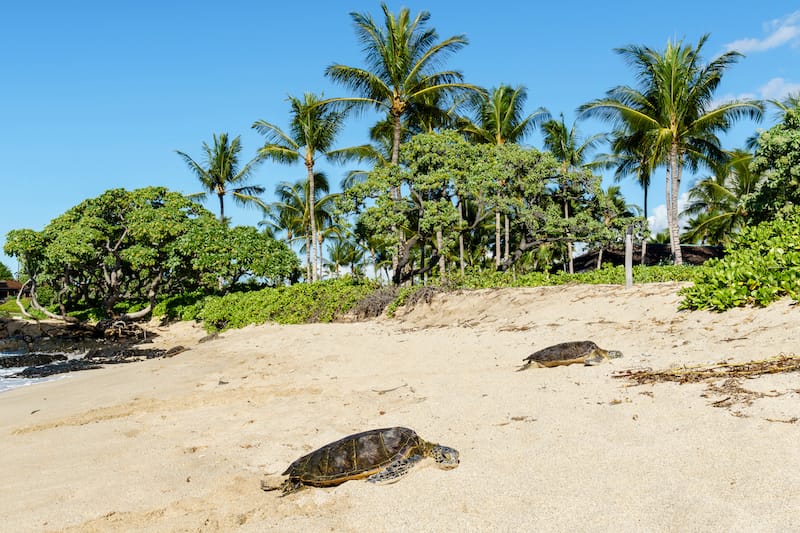 The beach has a sheltered lagoon area where kids can swim, snorkel, and play in the water. There are no lifeguards on duty, though, so be sure to keep an eye on your kids.
Shady picnic areas are available, so bring a blanket and some snacks.
Kohanaiki Beach Park
Also known as Pine Trees Beach, this beach is a popular surfing location. It was a surfing location for ancient Hawaiian Royals as well.
As long as you follow surfing etiquette, you are free to surf on this beach. Swimming is not so great here as there are rocks at the bottom of the water and the shore break is strong.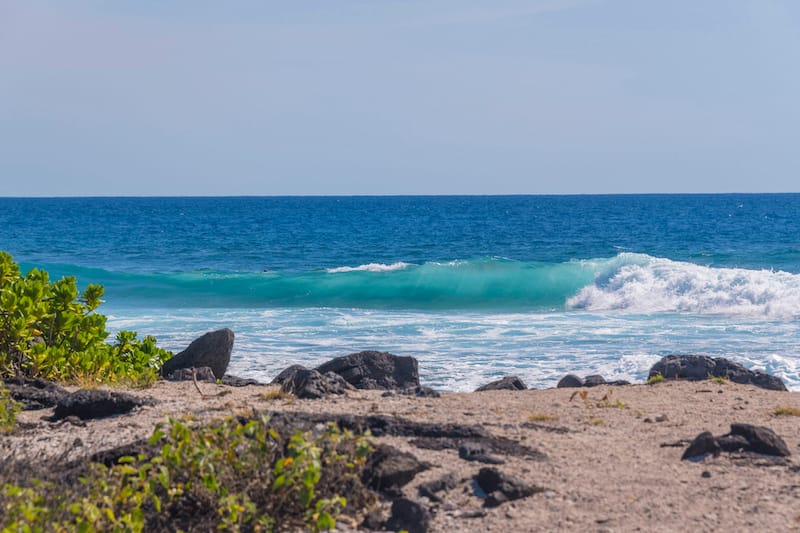 A popular spot for parties, barbecues, and sunset watching, Kohanaiki Beach Park always has something fun going on. Visitors who get a camping permit are allowed to camp on the beach from Thursday to Monday.
There are many amazing things to do in Kona and hitting up the beach is definitely one of the best options!
Did we miss any of your favorite Kona beaches? Let us know in the comments!
Pin this Kona Beaches Guide