Is the Big Island on your travel list this year? These are the best things to do in Hilo, Hawaii… from where to eat local fruit to gorgeous waterfalls and beyond!
Are you planning your trip to Hilo last minute?
If you're traveling to Hilo last minute, you want to ensure you have lodging/tours ahead of time! Below are some of our top picks on the Big Island!
🌴 Best Tours and Activities from Hilo:
🛌 Best Hotels and Lodging in Hilo:
🚗 Traveling to the Big Island independently? Be sure to book your rental car ahead of time to ensure availability!
Hilo is rainy. And Hilo is temperamental (with its weather). But man, Hilo is beautiful!
And it is truly hard to get a taste of the Big Island by just visiting Kona and Volcanoes National Park. Hilo is so worthwhile.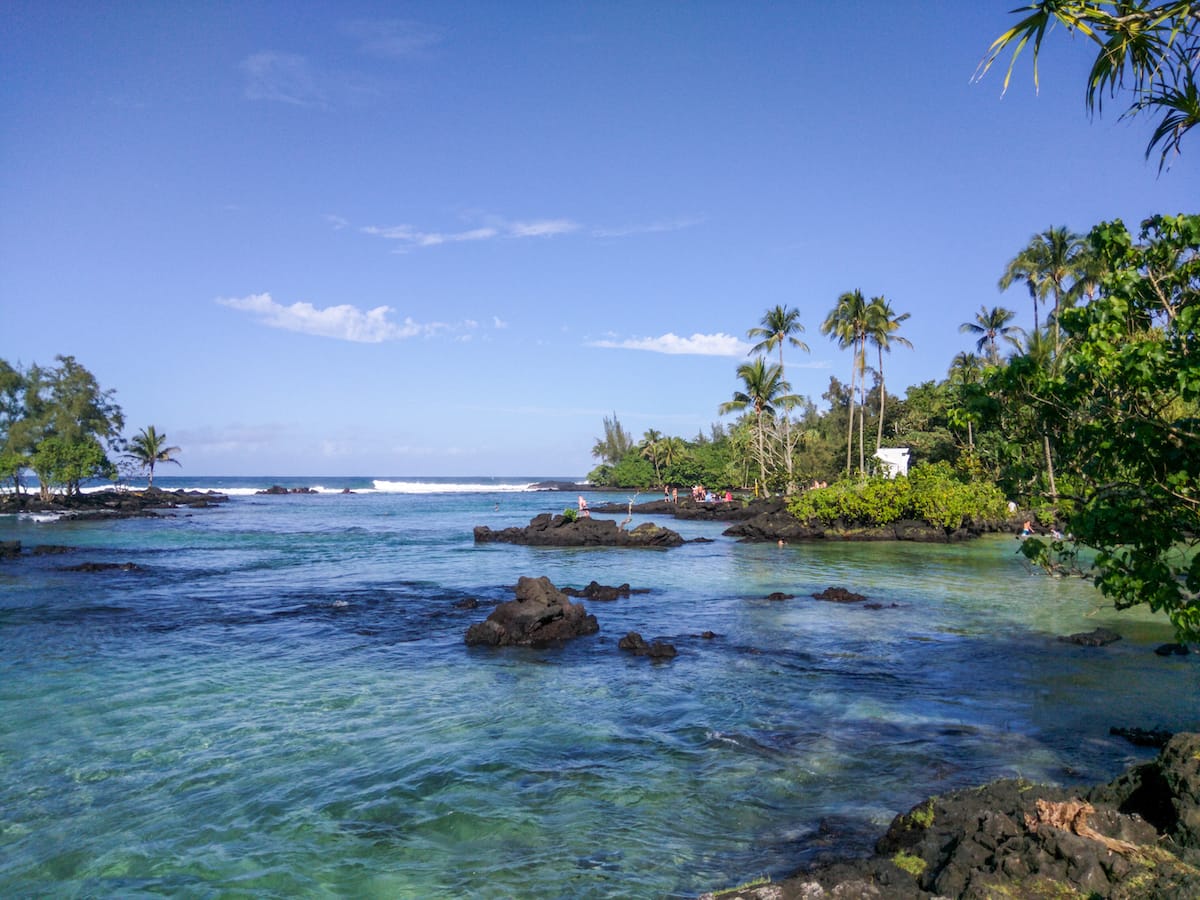 This guide covers what to do in Hilo, from the best day trips from Hilo to attractions and landmarks that you'll love within the rainy Hawaiian city.
Did we miss any Hilo attractions? Let us know in the comments!
Best Things to Do in Hilo, HI
We have listed many cool things to do in Hilo, including local parks, beaches, the best Hawaii waterfalls, and more.
If we have missed any of your favorite places to visit in Hilo, let us know below!
1. Take a Day Trip to Volcanoes National Park
Sometimes national parks can be overwhelming because there's so much to see, but you can take the stress out of your trip by joining this tour around Hawaii Volcanoes National Park and Hilo.
Your expert guide will take you to the best sites and give you fascinating information you wouldn't have otherwise known.
You'll start the day by exploring some of Hilo's top spots, including Queen Liliuokalani Gardens, Wailuku River State Park, and the gorgeous Rainbow Falls.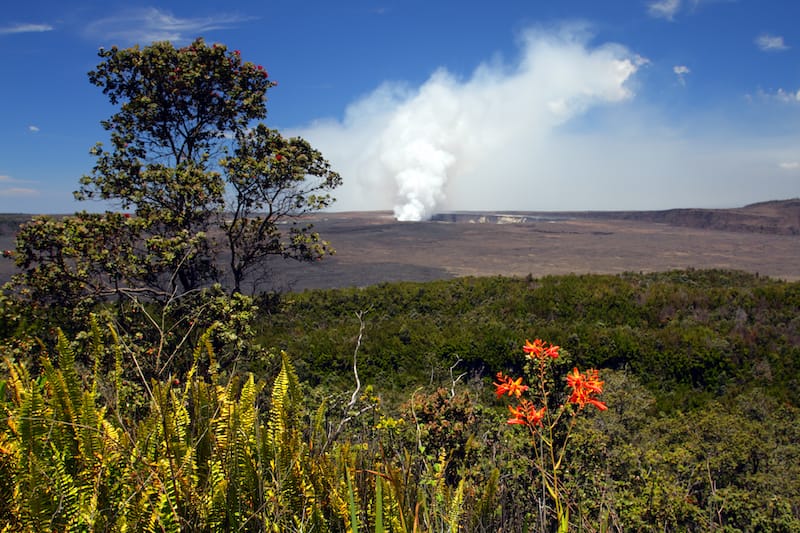 You'll then travel to Hawaii Volcanoes National Park, seeing some of the best locations like the Kilauea Volcano rim, Halema'uma'u Crater, lava tubes, the Chain of Craters Drive, and if you're lucky, maybe even some active lava flows!
This 5.5-hour tour includes pick-up and drop-off services at select hotels, bottled water, air-conditioned private transportation, and a professional guide to walk you through each place you visit.
>> Click here to check Volcanoes National Park tour rates and availability
2. See the Top Attractions in Hilo by Tour
You'll be able to see some of the best spots in the Hilo area and at Hawaii Volcanoes National Park on this 5.5-hour tour.
You'll first head to the national park from Hilo, where you'll visit the Kilauea Crater rim and try to spot active lava, walk through the rainforest to Thurston Lava Tube, and see old lava fields along the Chain of Craters Road.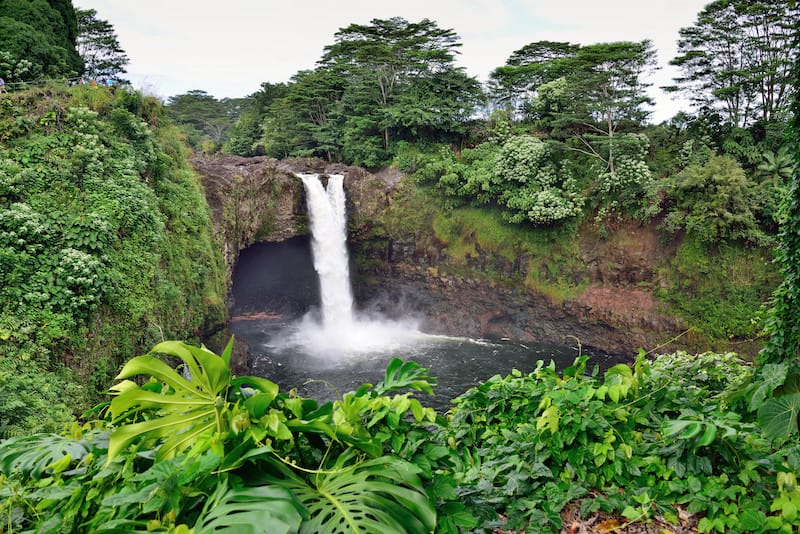 Afterward, head back to Hilo and stop at some of the best sites in the area, including the beautiful Rainbow Falls, Liliuokalani Gardens, and a delicious stop at Big Island Candies, where you can sample chocolates, macadamia nuts, and fresh local coffee!
This tour includes pick-up and drop-off services at select hotels, bottled water, air-conditioned private transportation, and a professional guide to walk you through each place you visit.
>> Click here to check Big Island tour rates and availability
3. Go Ziplining over the Hamakua Coast
Experience the exhilarating rush of the wind in your hair as you soar over trees and waterfalls on this exciting zipline tour.
No experience is necessary, and you'll get all the necessary safety and instructional information from a professional before you launch.
On this 7-line course, you'll start on shorter lines and gradually work your way up to longer lines, until you get to the best one, one of the longest ziplines in the US!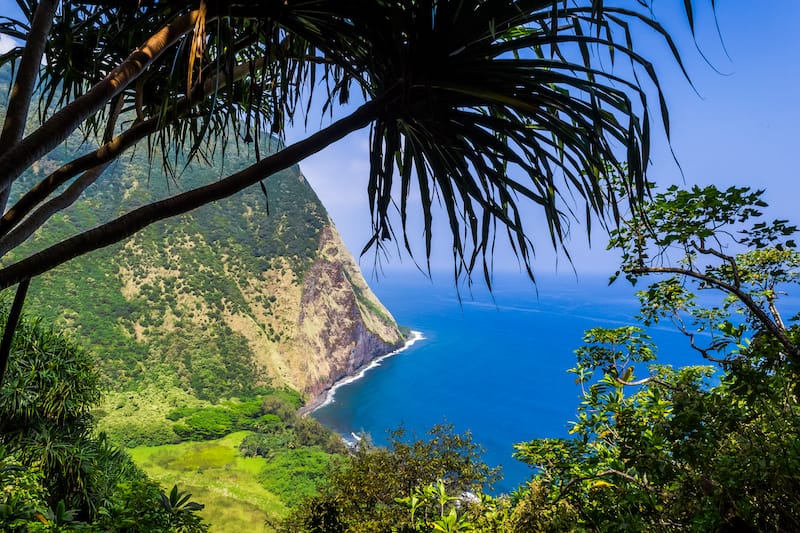 This line zips you directly over a cascading, 250-foot waterfall for incredible views and a thrilling experience. You'll zoom over the lush rainforest and deep valleys and have incredible views of both Kolekole Falls and the gorgeous Hamakua Coast.
Note that guests must weigh between 80 and 260 pounds to participate in this activity.
>> Click here to check ziplining rates and availability
4. Take a Helicopter Tour of Volcanoes National Park
What better way to see the fascinating landscapes of Hawaii Volcanoes National Park than from the air? This exciting, hour-long helicopter ride will take you over some of the best spots in the park.
You'll take off from Hilo Airport and fly directly to the national park, while on the way gazing at the lush rainforests, waterfalls, and orchid farms of the Hilo side of the island.
Once over the park, you'll see amazing old lava fields and the Kilauea Crater.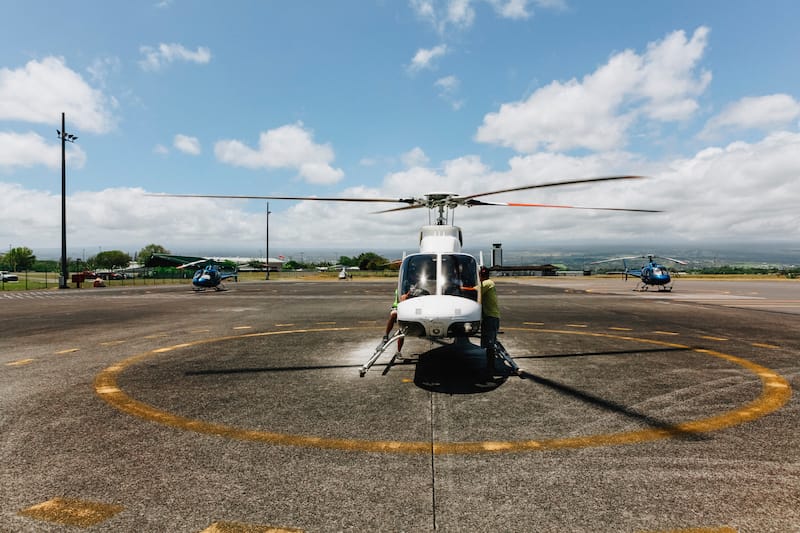 Keep your eyes peeled for active lava flows! Your pilot doubles as a guide and can give you information about the history, geography, and culture of the island and the park.
After your tour, you'll return to the meeting point at the airport.
>> Click here to check helicopter tour rates and availability
5. Marvel at Akaka Falls
Magnificent Akaka Falls is not only the gemstone of Akaka Falls State Park, which is located 11 miles off the northeastern Hilo Coast, but it is also one of Hawaii's well-known treasures.
A self-guided 0.4-mile scenic hike through tropical forests, past bamboo groves, wild orchids, and draping ferns will get you to your final destination.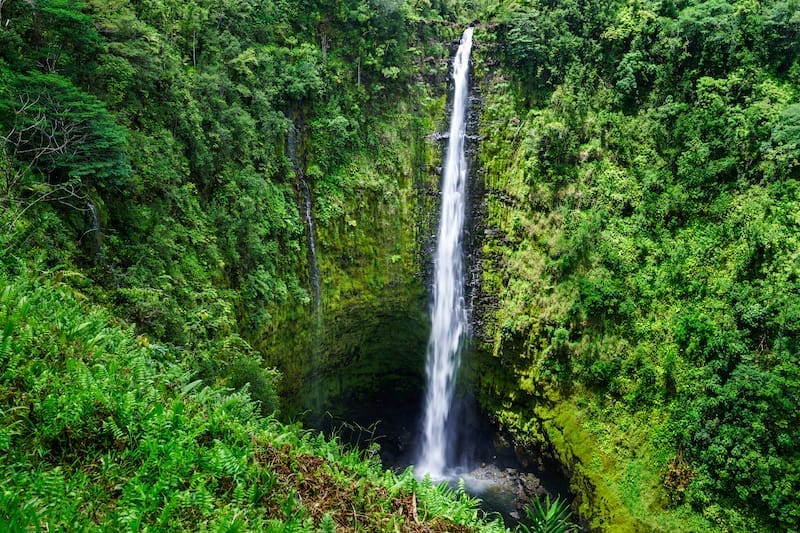 This gorgeous Big Island waterfall descends 442 feet into a stream-eroded gorge, ensuring one-of-a-kind breathtaking scenery of a cascading paradise.
The looping footpath not only allows you to enjoy the stunning views of Akaka Falls, but it also offers vistas of Kahuna Falls, the Akaka Falls State Park's other notable waterfall.
This is one of the best state parks on the Big Island of Hawaii!
6. Be Mesmerized on the Hamakua Coast Scenic Drive
If you're after out-of-this-world views, then make sure to take your camera and go for a scenic drive along the Hamakua Coast to see nothing but pure perfection.
There is plenty of mesmerizing scenery along a 40-mile stretch of Hawaii's northeastern coastline connecting Hilo and the Waipi'o Valley, ranging from lush green canyons and stunning rainforests to waterfalls and verdant valleys.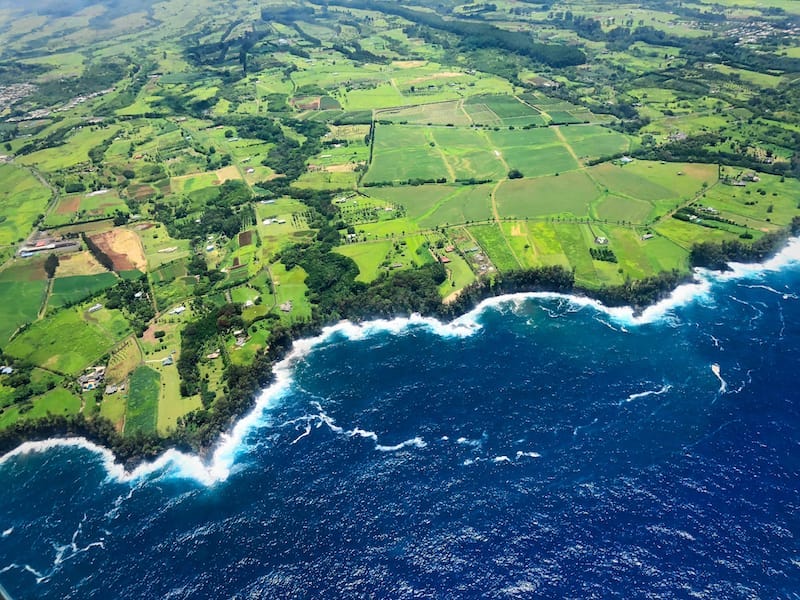 Waipio Valley is a real treat for those eager to discover (up close) the spiritual hub of the Big Island.
A great way to conclude your adventures on this scenic drive is to admire the black sandy beach meeting the ocean, the fertile valley, and other natural and breathtaking spots from the lookout point.
7. Check Out Coconut Island
Nestled in the heart of Hilo Bay near the Queen Liliuokalani Gardens is tiny Coconut Island, also known as Mokuola. It offers a serene retreat for those looking for a relaxing trip.
Two beaches, clean restrooms, a well-kept and large lawn, and a picnic area, all enclosed by palm and almond trees; what else do you need for a bit of Hawaiian bliss!?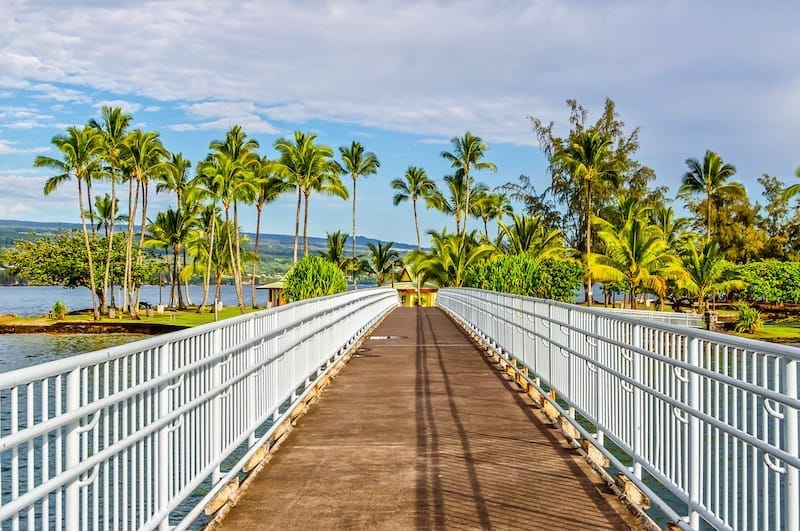 This green island is the perfect place to disconnect from the hustle and bustle while taking in the stunning views of Hilo, backed by the Mauna Loa and Mauna Kea volcanoes.
Water junkies can wade in the tide pools, paddle at the beaches, go kayaking, or jump into the bay from a 20ft stone tower.
8. See Rainbow Falls (and Wailuku River State Park)
Also known as Waianuenue Falls by locals, Rainbow Falls is one of Hilo's natural marvels, named for the rainbows that emerge from the early sun and mist around it.
It falls down 80ft into a Wailuku River, cascading over a lava cave, which according to legend, is home to Hina, the ancient Hawaiian goddess of the moon.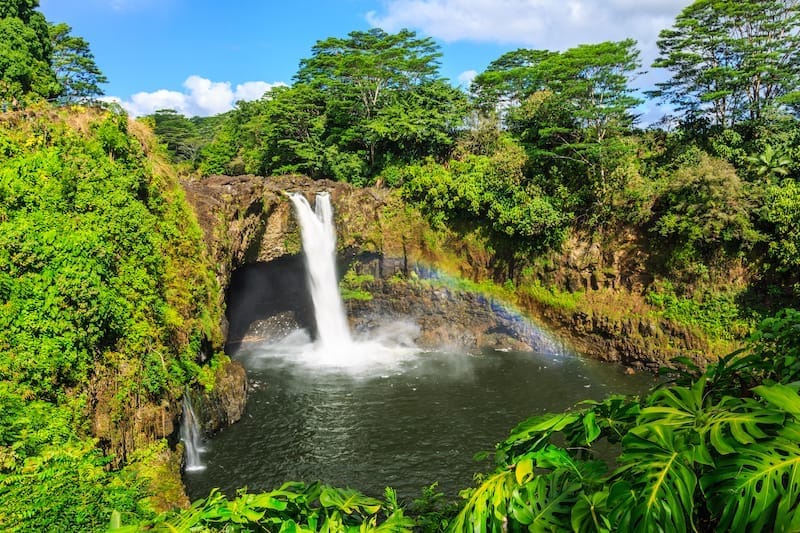 The stunning Hilo waterfall is located in Wailuku River State Park and is easily accessible.
Get to the top of the waterfall through a short scenic hike through lush greenery and banyan trees… or catch a direct glimpse from the park's parking lot.
Make sure to visit Rainbow Falls early in the morning to soak in the full splendor of the charming scenery. It really is one of the best day trips from Hilo.
9. Visit the Kaumana Caves
If you're up for a once-in-a-lifetime experience in Hilo, then you definitely need to pay a visit to Kaumana Caves, nestled four miles from Hilo at Kaumana Caves Park.
Kaumana Caves Park offers a maze of the 20-mile-long lava tube, which is the product of Mauna Loa's eruption in 1881. Part of the lava tube is open to the public for exploration, but the rest is located on private property.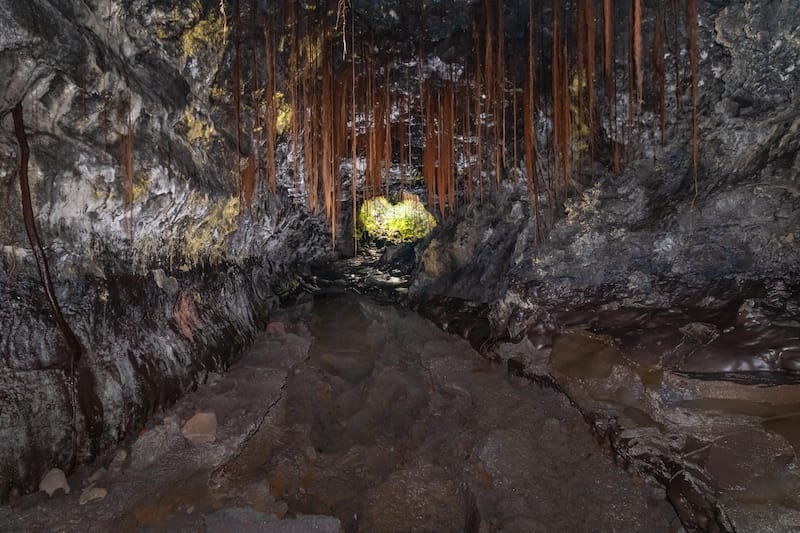 Put on durable and sturdy shoes, take a flashlight, and descend a steep metal staircase to head to explore the mysterious pitch-black environment filled with slippery rocks, walls with dripping water, and seismically active areas.
When inside, you won't find any signs or safety lights, so be ready to enjoy this authentic natural environment at its rawest.
10. Peruse the Hawaii Tropical Botanical Garden
Hawaii Tropical Botanical Garden is a real piece of paradise on the Big Island… as if you needed another gorgeous place!
Take your family to explore rare and endangered flora in this magical botanical garden and admire breathtaking views of Onomea Bay along the stunning Hamakua Coast.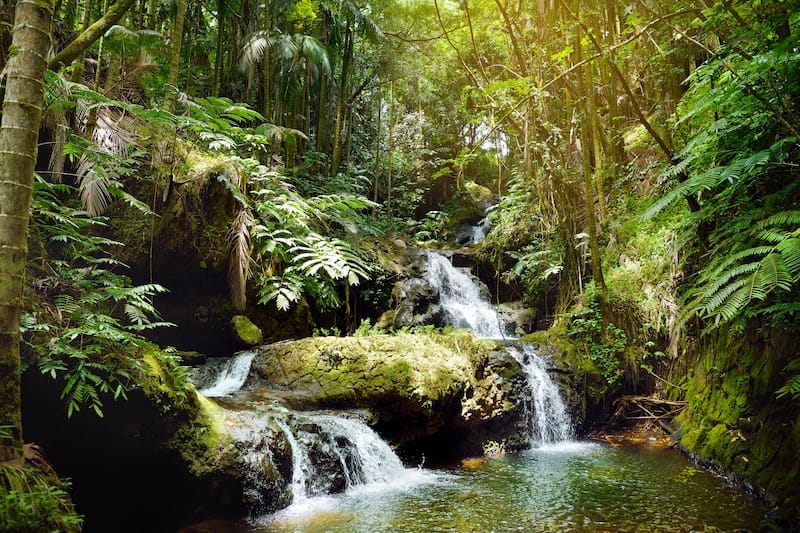 There are 40 acres of land that is home to Onomea Falls, lava tubes, and more than 2000 diverse species of tropical plants and trees from all over the world. It is one of my favorite things to do on the Big Island, to be honest!
This Hilo botanical garden will feed your soul and make you return fully revitalized. The natural preserve was opened by Dan J. Lutkenhouse in 1984 and later in 1955 was turned over to a nonprofit trust.
11. Shop at the Hilo Farmers Market
Get a full taste of Hawaii's exotic local produce and shop for authentic crafts in the open-air Hilo Farmers Market. It is nestled on the corner of Mamo Street and Kamehameha Avenue and is open every day of the week throughout the year.
But, if you are keen to witness the Hilo Farmers Market's full potential, then make sure to visit on Wednesdays and Saturdays.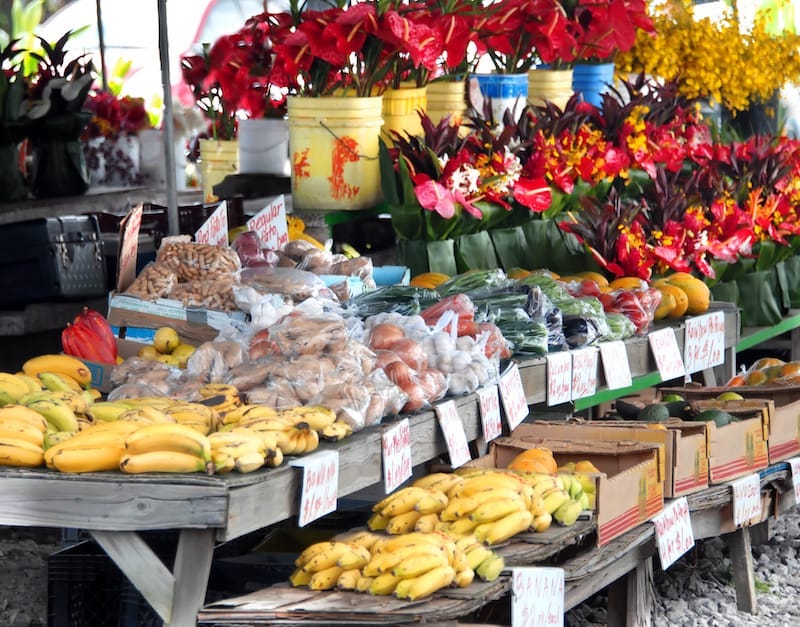 During this time, there are 200+ vendors that offer you a wide variety of unique products at reasonable rates, ranging from the freshest locally grown fruits and veggies to tropical flowers, gift items, local arts and crafts, etc.
Nearby, you can also find many of Hilo's best cafes and restaurants to keep your hunger at bay.
12. Relax at Honoli'i Beach Park
One of Hawaii's most famous seaside parks is Honoli'i Beach Park, a popular spot for the local surf scene.
Located on the east coast of the Big Island, just north of Hilo, Honoli'i Beach Park is known for its black sand, coral rubble, rocks, and fantastic waves, making the ideal conditions for surf lovers all year round.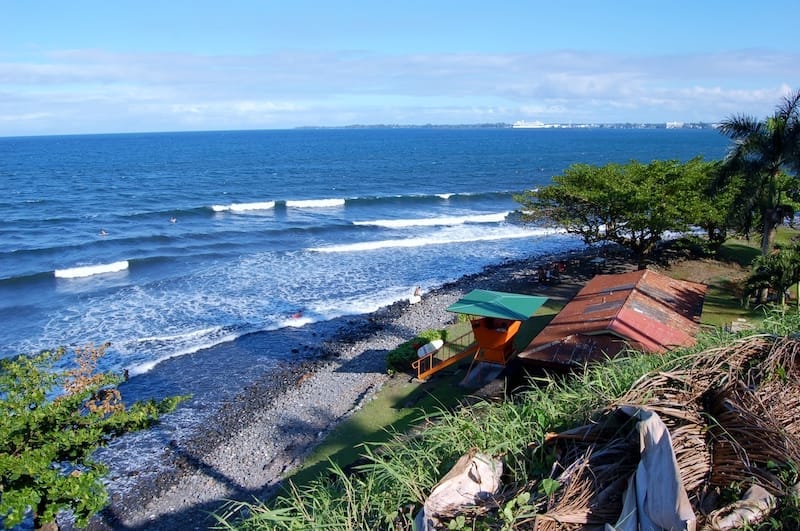 Beginners can enjoy riding the waves during the summer months, while experienced ones will get a thrilling experience while surfing the challenging waters in winter.
The shore features a tree-shaded grassy area rich with a dense grove of native trees, plus restrooms and a beautiful lawn perfect for picnicking and relaxation.
13. Head into the Pacific Tsunami Museum
Discover the devastating part of Hawaii's history in the Pacific Tsunami Museum. It was founded in 1993 to honor the unbreakable spirit of Hilo despite the terrific tsunamis of the Pacific in 1946 and the Chilean in 1960.
The museum is nestled on the corner of Kamehameha and Kalakaua avenues in a former bank building. Survivors of tsunamis work there to share their stories and provide you with real-life examples while leading you through the displays.
It's the perfect place to educate yourself more about the causes and effects and overall science behind this natural phenomenon through various interactive multimedia displays and even get acquainted with the Tsunami Warning System.
14. Discover Pe'epe'e Falls
Located on the Wailuku River 1.5 miles upstream from stunning Rainbow Falls is the lesser-known Pe'epe'e Falls. It is a multi-spouted waterfall that reaches its full potential after heavy rainfall.
Gorgeous Pe'epe'e Falls is nestled in Wailuku River State Park amidst lush greenery and lava rocks and cascades down 80ft into a small rocky pool.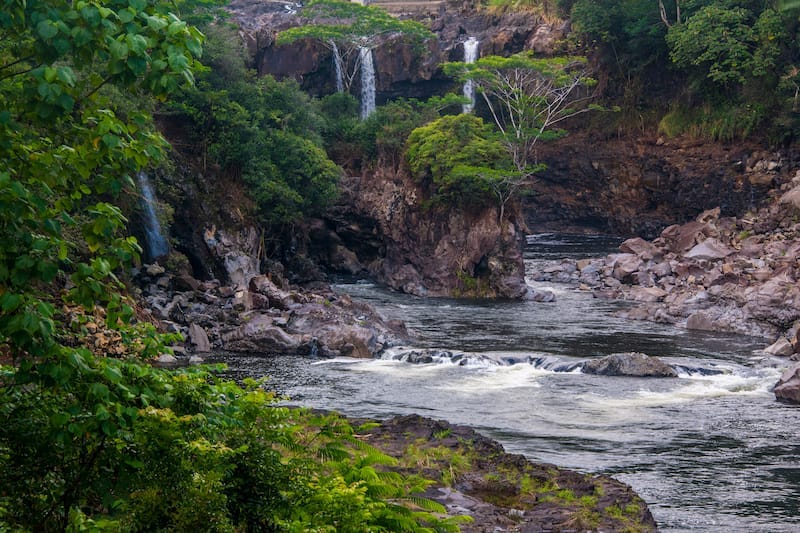 In case you want to have a closer look at the waterfall in Hilo, there is a short hike down the hill accessible from Waianuenue Avenue, leading you to the lookout point.
The hike includes rock-skipping, so watch your step since rocks are slippery.
15. Go on an Adventure with Paradise Helicopters
If you are keen to get a bird's-eye view of the magnificent Big Island, then consider planning a trip with Paradise Helicopters.
They are a team of professional experts equipped with the most advanced communication technology that will ensure your getaway to an actual paradise by offering air, ziplining, and sunset tours to experience the complete beauty of the island without even missing a single site.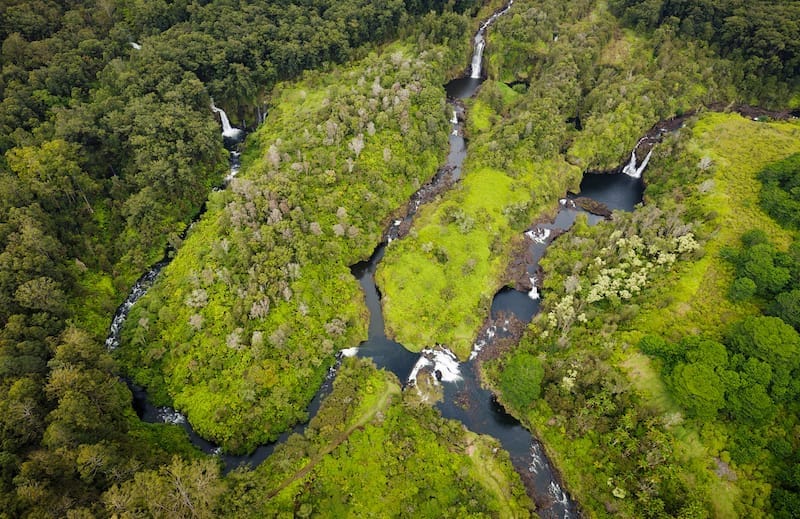 This locally-owned company was founded in 1997 with the primary purpose of getting tourists hypnotized by Hawaii's awe-inspiring natural landscapes from the air.
Air tours start from Kona, Hilo, or Oahu and include flights over Lanai Circle Island, Kohala Valleys, Maui Nui, gorgeous waterfalls, and other must-visit spots.
>> Click here to book a helicopter tour with Paradise Helicopters
16. Visit the Nani Mau Gardens
Nani Mau Gardens is the second magnificent botanical garden on this list that should be on your bucket list if you visit Hilo.
The botanical garden was established in 1972 by a Japanese immigrant, Makoto Nitahara. It is located 3 miles from downtown and offers its visitors a wide variety of native and exotic tropical plants, flowers, palms, trees, fruit orchards, and a breathtaking orchid garden.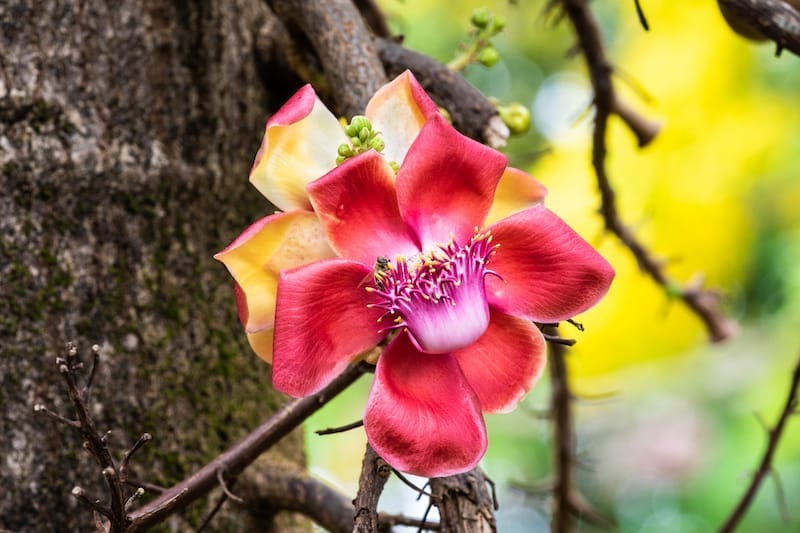 It spans over 20 acres of land that also serves as a famous wedding and special event venue and has a restaurant offering delicious Hawaiian dishes and food.
Make sure to check out the gift shop before leaving to choose a souvenir or Nani Mau gift for your loved ones.
17. Stroll through Liliuokalani Park and Gardens
If you are up for an authentic Japanese experience in the heart of Hilo, then pay a visit to Liliuokalani Park and Gardens located on Banyan Drive.
The land was donated by the last sovereign monarch of the Hawaiian Kingdom, Queen Liliuokalani, in 1907, and later in 1917, a Japanese-style garden was opened to honor Hawaii's first Japanese immigrants.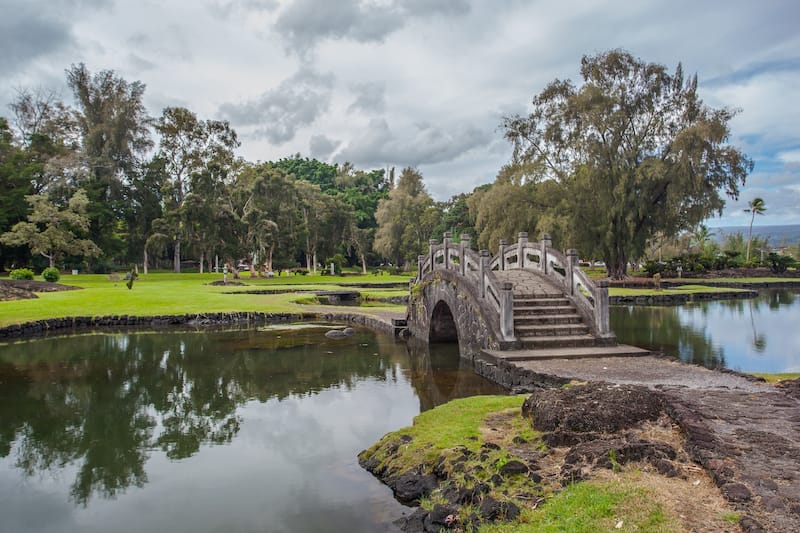 This 24-acre beautifully landscaped park is the largest Edo-style garden outside Japan.
The garden's torii gates, bridges, gazebos, pagodas, teahouses, ponds, statues, and other Japanese-themed features will make you feel like you've been transported to Japan!
The garden is perfect for dog walking, exercising, and picnicking, with the views overlooking stunning Hilo Bay and Coconut Island.
18. Spend time at the Wailoa River State Recreation Area
Make sure to set aside some time to spend with your loved ones in the Wailoa River State Recreation Area, a serene public park nestled on the banks of the Wailoa River.
The park is home to two memorials, one dedicated to the victims of the tsunami and the other honoring Vietnam War veterans.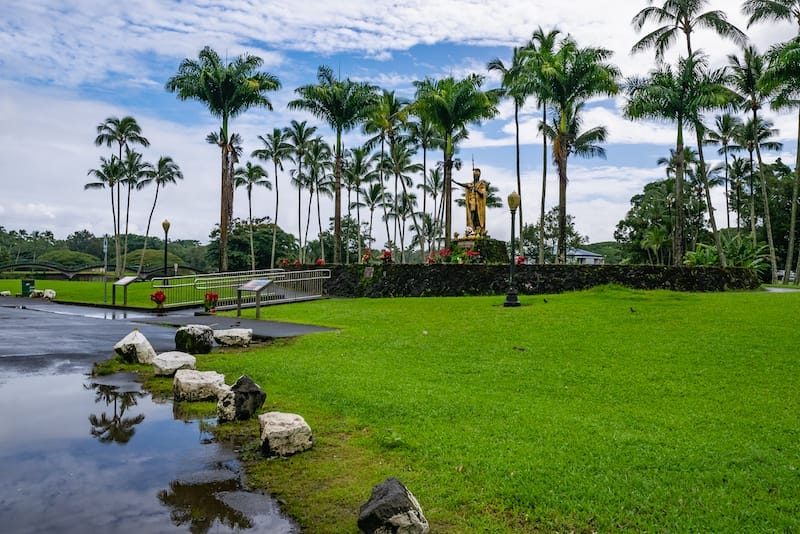 To get acquainted with the area's rich heritage and changing culture, visit the Wailoa Center, which hosts regular art and cultural exhibits.
Wailoa River State Recreation Area offers a tranquil picnic spot where you can spend quality time and relax while admiring the gorgeous scenery of the nearby spring-fed estuary, Waiakea Pond.
19. Go Hiking with Arnott's Lodge and Hiking Adventures
Get your hiking boots and be ready to experience true Hawaii with Arnott's Lodge and Hiking Adventures, located 4 miles from Hilo. Their activities are one of the best Hilo day trip options.
It was established in 1990 and offers exciting excursions to the most scenic and untouched parts of the Island through a range of adventure tours.
Arnott's Lodge and Hiking Adventures also provides various comfortable accommodations, from camping and dormitories to suites and deluxe units.
Bucket list trips you need to take with Arnott's Hiking Adventures are the following: a visit to the famous Hawaii Volcanoes National Park, an expedition to the summit of Mauna Kea, Akaka and Kahuna Falls Tours, Volcano Twilight Tour of the Big Island, the Puna: Land of Frozen Fire Tour, and many others.
>> Click here to book a stay or excursion with Arnott's Lodge
20. Have a Picnic at Richardson Ocean Park
Another must-visit spot on the Big Island is Richardson Ocean Park, known for its unique beach of black volcanic sand mixed with green flecks.
It offers one of the best swimming, surfing, and snorkeling spots, ensuring a full beach day experience on the east side of the Big Island.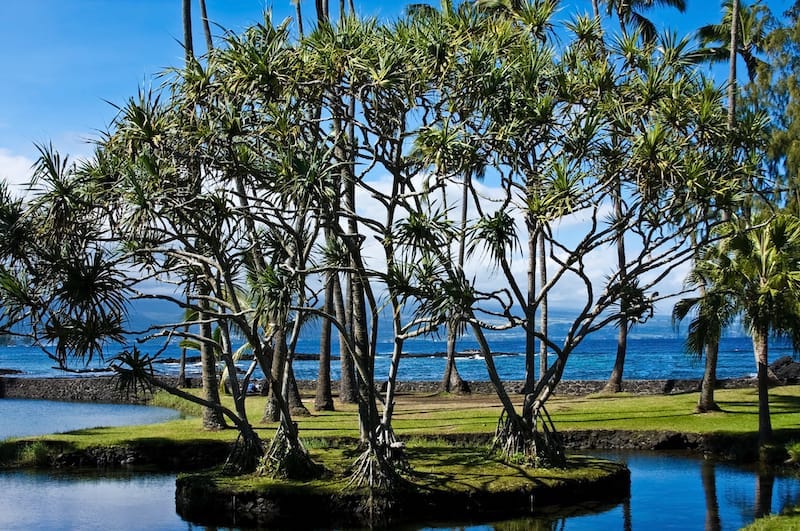 It was named after a beach house owned by the Richardson family and is affectionately referred to as "Richardson's" by locals.
In Richardson Ocean Center, visitors can explore rock pools and get up close and personal with Hilo's unique marine life.
This family-friendly park also has lifeguards on duty, making it safer for kids to play around in calm waters and explore tide pools and water creeks.
21. Spend the Day with Bike Volcano
Your Hilo trip wouldn't be complete without a ride with Bike Volcano. The company is equipped with the best gear to offer you daily bicycle tours to Kilauea Volcano and guided tours of Hawaii Volcanoes National Park.
You will get a once-in-a-lifetime experience while bicycling in the mountains amidst hot lava with trained professionals.
Guided tours will take you through level paved roads and trails and make you experience a variety of microclimates, walk through a lava tube, and, if lucky, witness active lava flow pouring right into the Pacific.
For a quick break, full and half-day tours include stops at the Volcano Winery, where you can launch like a local and get back to your exciting adventures.
22. Visit the Imiloa Astronomy Center
To discover Hawaii's culture and history from an astrological side, make sure not to miss visiting the Imiloa Astronomy Center of Hawaii.
Located on the Hilo campus of the University of Hawaii, this center serves as an astronomy and culture education center with the main purpose of creating a real bond between science and culture through astronomy and stars.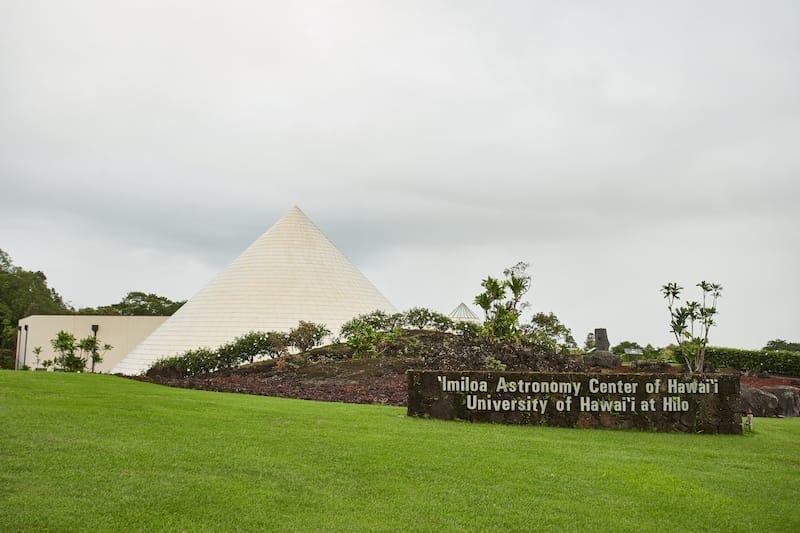 While there, you can learn more about the mountain of Mauna Kea (13,000 ft above sea level), which is home to the world's greatest collection of astronomical observatories, and discover why this location is so ideal for observations.
The Hawaiian Astronomy Center features various exhibits related to Hawaiian theories and beliefs and offers plenty of programs and activities for visitors who want to tap into that spirit of cutting-edge astronomical discoveries.
For a complete astronomical experience, visit the 120-seat planetarium to enjoy the show called "Mauna Kea: Between Earth and Sky."
Please note that this mountain is sacred for Native Hawaiians and visiting Mauna Kea itself has created a lot of problems as the development has encroached on one of the most sacred places in the Hawaiian islands.
Best Places to Eat in Hilo
Hilo is full of diverse dining options! You will never get bored with the food here! If you're a breakfast food fan, at any time of day, try Ken's House of Pancakes, a local staple since 1971.
The macadamia nut pancakes are especially delicious. Another great way to start off a day is a delicious pastry from Moonstruck Patisserie and some fresh Hawaiian coffee from Nector Cafe or Just Cruisin Coffee.
For some Hawaiian food, check out Cafe 100, known for its great Loco Mocos, or the Hawaiian Style Cafe.
Moon and Turtle is a great Asian American fusion restaurant, and Miyo's serves up delicious Japanese favorites like katsu and udon.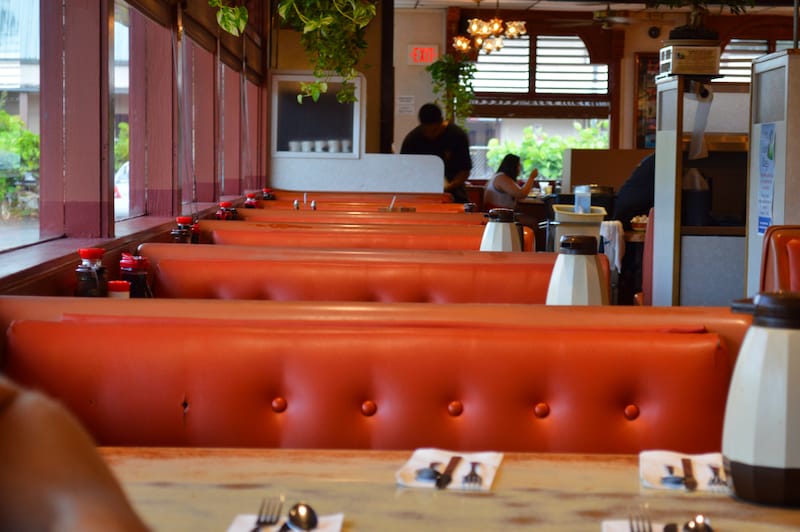 If you're in the mood for Italian, you can't beat Cafe Pesto.
For fresh, farm-to-table smoothies, juices, açaí bowls, and vegan, veggie, and gluten-free food options, head over to Sweet Cane Cafe.
Finally, for a sweet treat, don't miss the shave ice from Da Hawaiian Brain Freeze Shave Ice & Ice Cream or gelato from Nicoco Hawaiian Gelato.
Things to Do in Hilo (On a Map!)
🗺️ HOW TO USE THIS MAP: You can use your fingers/mouse to zoom in and out. To get more info about a place, simply touch/click the icons. Want to save this map for later use? Click the '⭐' by the map title and it will add it to your Google Maps account (Saved > Maps or 'Your Places').
Where to Stay in Hilo
There are plenty of places to stay on the Big Island and you can do day trips from just about anywhere, to be honest. But, if you do opt to call Hilo home during your Big Island trip, here are some great places we recommend staying:
Do you have any tips for things to do in Hilo? Let us know in the comments!
More Big Island Travel Guides
Pin this Hilo Things to Do Guide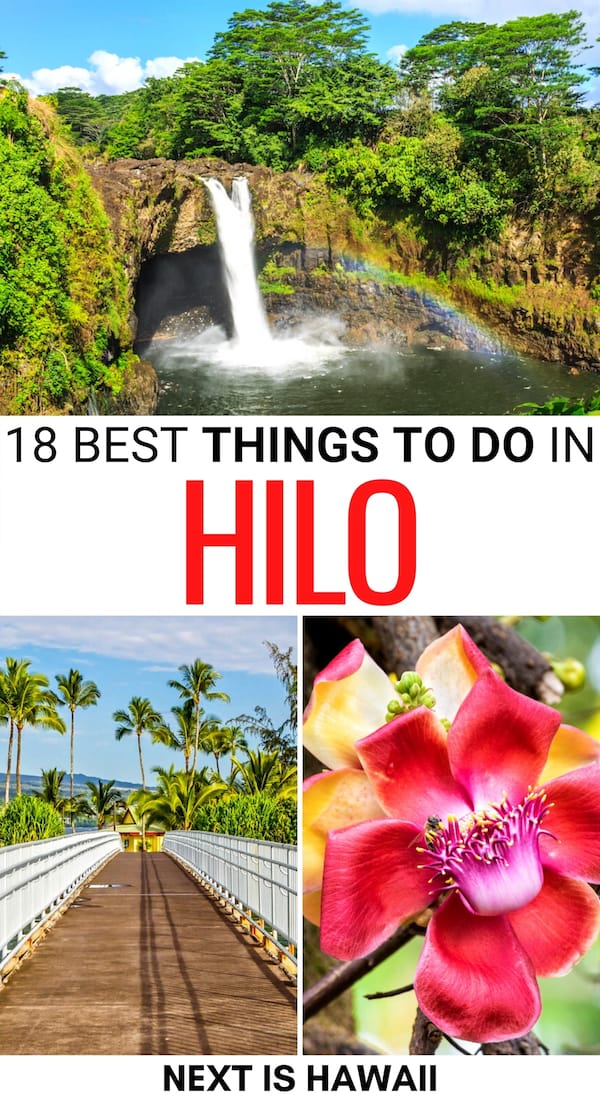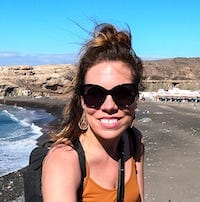 Megan is a travel blogger and writer with a background in digital marketing. Originally from Richmond, VA, she has been traveling frequently to Hawaii for the last 15 years and loves exploring every corner of each Hawaiian island, while trying to promote sustainable travel and small, local businesses along the way. Megan has written for or been featured by National Geographic, Forbes, Lonely Planet, the New York Times, and more. She has co-authored a guidebook with Fodor's Travel and has visited 45 US states and 100+ countries.