Hawaii is known for its pristine beaches, stunning landscapes, unforgettable sunsets, and unique culture. But another fact that you might not have known about Hawaii is that it's every foodie's paradise. This guide details what to eat in Hawaii!
You will find popular Hawaii foods and dishes throughout – showcasing native Hawaiian foods to ones that have become popular after decades (and even a century or more) of immigration.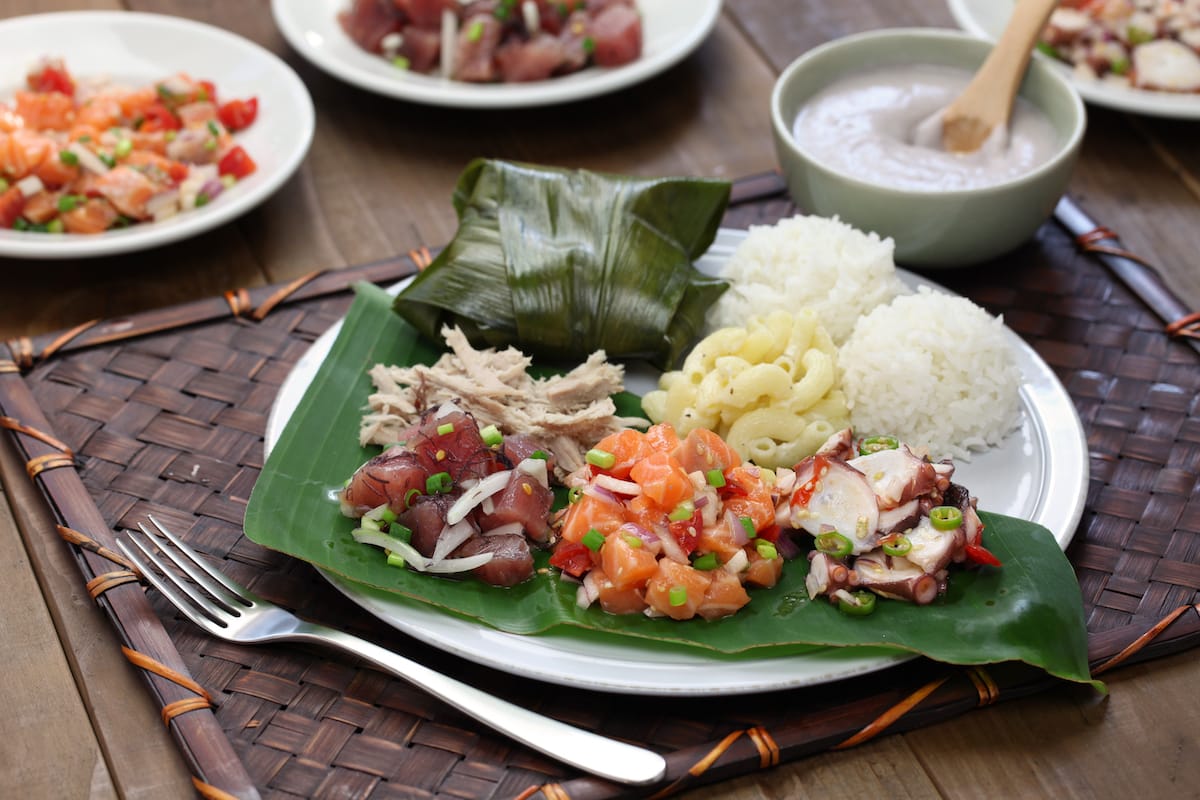 It's imperative that you try some of Hawaii's national foods when you visit, all prepared from fresh ingredients like locally-grown fruits and nuts right on-site.
In this article, we have compiled a list of the top foods that everyone needs to try when in Hawaii, with everything from the island's most well-known dishes to some that you might not have heard of before.
We also give you a few places to enjoy them!
Did we miss your favorite Hawaiian dishes? Let us know in the comments!
What to Eat in Hawaii
All-Natural Shave Ice
No trip to Hawaii is complete without trying some of its all-natural shave ice, which is one of the island's most popular dishes.
What makes it even more special is that the shave ice you will try in Hawaii is made with all-natural ingredients, such as locally-grown mangoes and pineapples, making it a dream for those who try to stick to organic ingredients or who simply want to try the island state's delicacies.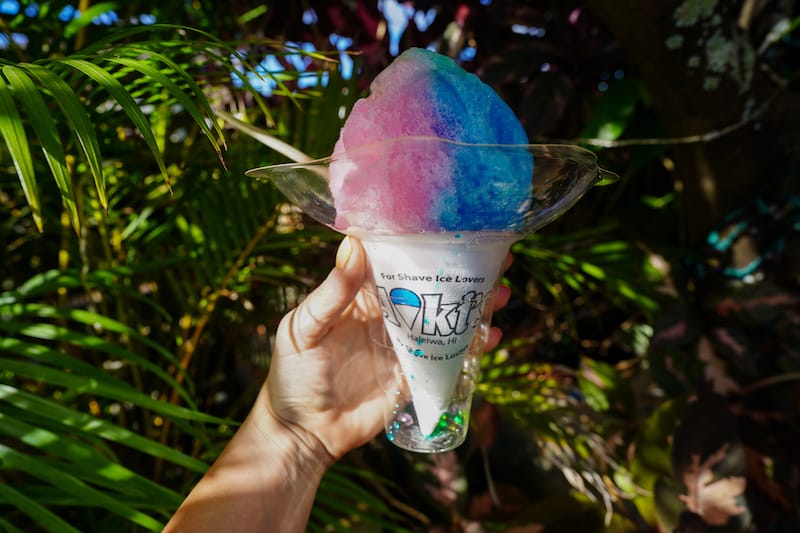 You can try it virtually anywhere in Hawaii, from the larger chains to some of the tiny, family-run businesses. My favorite place to enjoy it is along the gorgeous beaches of Oahuʻs North Shore.
You can also try just about any flavor you can think of, from chocolate to strawberry and everything in between. It is the perfect way to cool off after a day at the beach!
Where to try it:
Poke
Poke is one of the main dishes that captures the essence of Hawaiian culture. It's considered to be a way of life among Hawaiians, as it's served at every event from birthday parties to picnics and everywhere in between.
Poke consists of all types of seafood, octopus, and many different seasonings like Hawaiian sea salt and seaweed.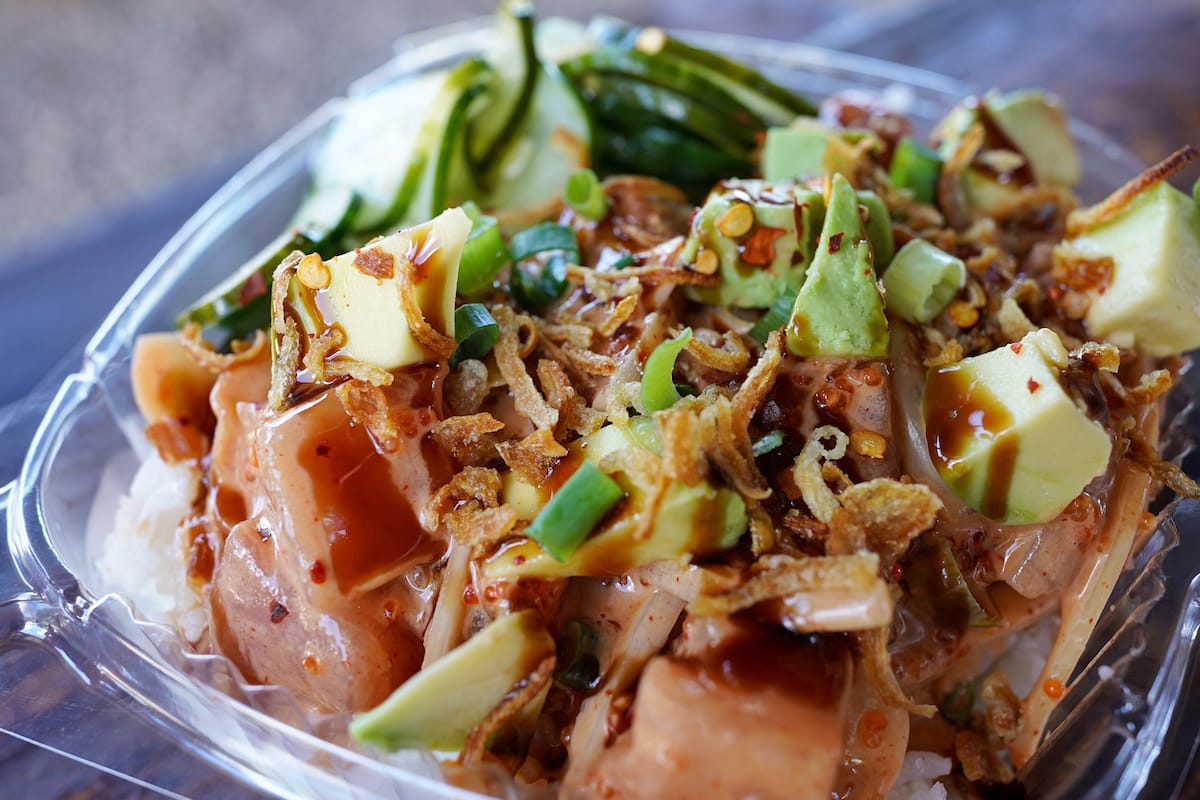 It also includes foods adopted from other cultures, including tofu, ginger, and soy sauce. Like shave ice, you can find poke nearly anywhere in Hawaii and its authenticity is guaranteed.
Where to try it:
Acai Bowls
Acai bowls can be found nearly everywhere in Hawaii, and for good reason- they're delicious! With origins in Brazil, this tasty treat has become so ever-present in Hawaii (and beyond) these days.
An acai bowl consists of flavored yogurt and toppings of your choice. Even better, acai bowls are made with fresh, local ingredients, enhancing the flavor even more.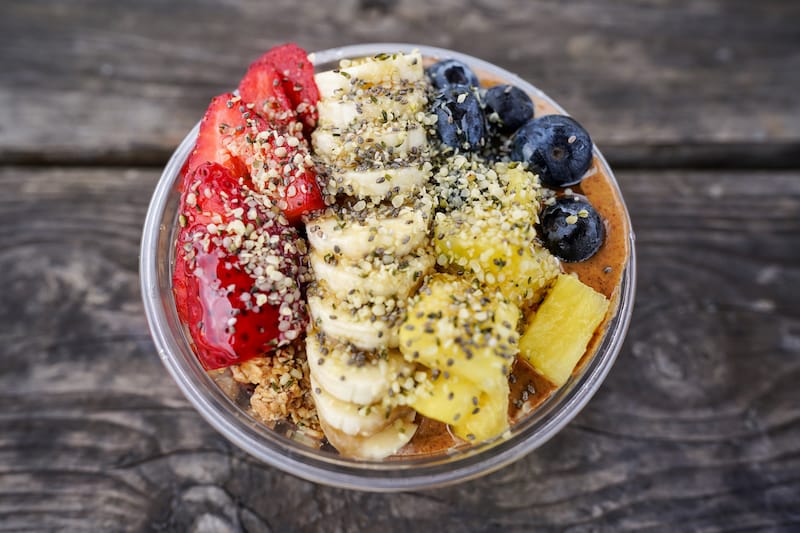 You can find these colorful yogurt bowls nearly everywhere, including the North Shore, and they consist of acai berries mashed with other fruits.
You can also choose toppings such as fresh fruit, seeds, nuts, peanut butter, and just about anything else that's sweet and savory!
The best part is that you can find acai bowls just about anywhere, from big-name places to small businesses!
Where to try it:
Fish Tacos
Considering that the island state is one of the most popular places to eat seafood, it's no surprise that fish tacos are another favorite among both locals and tourists.
You can try fish tacos with fresh, local fish cooked just as you like it. Some of the most popular varieties include tilapia, mahi-mahi, halibut, and snapper.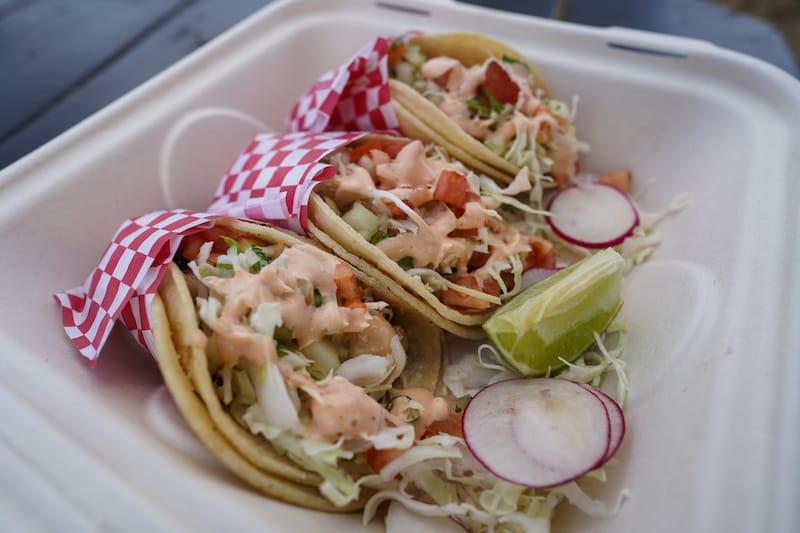 You can have fish tacos at many restaurants or food trucks in Hawaii, and you can have a side of any traditional Hawaiian dish, including rice and macaroni salad, alongside it.
Where to try it:
Garlic Shrimp
Although you can try garlic shrimp just about anywhere, the taste of garlic shrimp in Hawaii is quite incomparable (and it is an essential thing to do on Oahuʻs North Shore).
You can find it at many of the local restaurants and shops, and even some food trucks that are known for their delicious and authentic comfort food.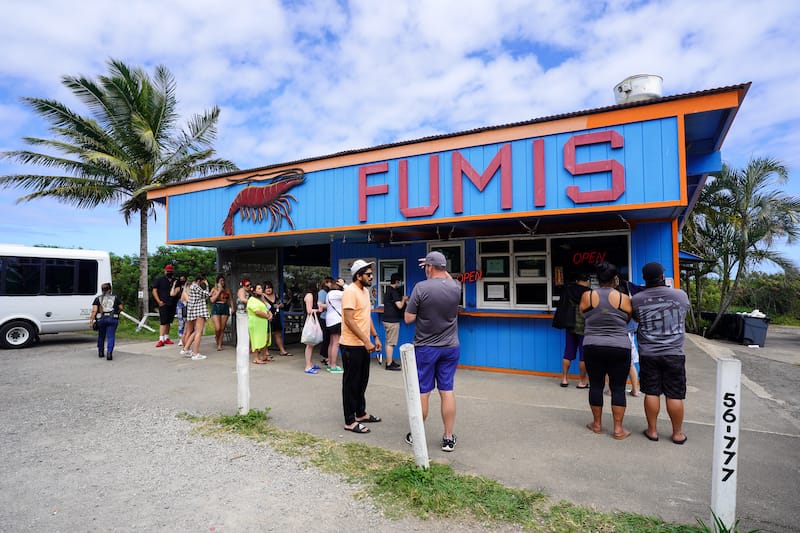 Shrimp are not native to Hawaii, but the island state farms shrimp and many types of shrimp are grown on its farms. This means that you can try the authentic flavors of shrimp that you won't be able to find elsewhere.
Where to try it:
Poi
This classic Hawaiian side dish is another must-try. The basis of poi is taro root, which is a vegetable that's very similar to sweet potatoes.
Taro is baked or steamed, then pounded to form a paste. It can be served as a side dish, dipping sauce, or it can be eaten directly. You will find poi in several places, including food trucks in random spots on Kauai.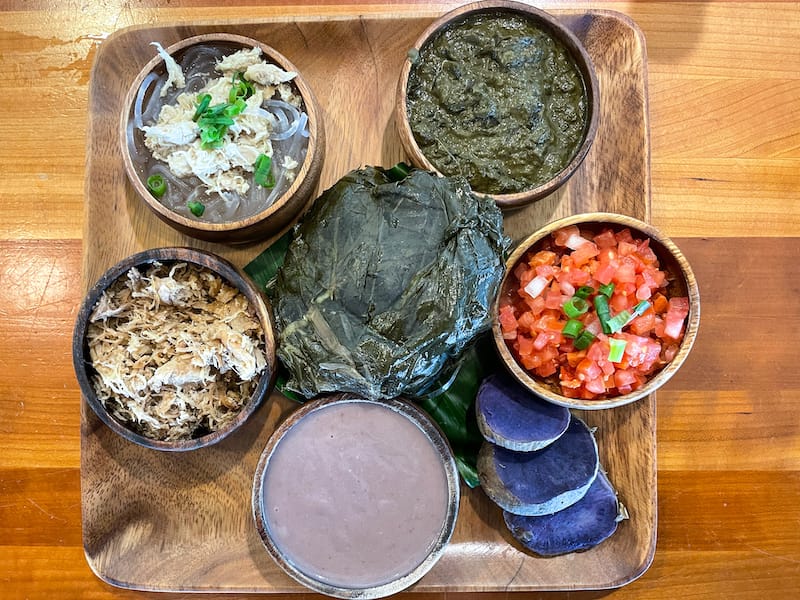 Many people enjoy adding poi to their shredded pork or Lomi Lomi salmon to enhance the flavor. In short, the choice is yours!
Where to try it:
Mac and Cheese Pancakes
Mac and cheese pancakes are a savory dish that you can eat for any meal of the day.
Consisting of pancakes packed with macaroni and cheddar, you really can't go wrong with this comfort food.
It's a favorite among both Hawaiians and tourists, and you can easily find this meal at most restaurants or food trucks throughout the island. In fact, you can even get the pancakes with bacon and maple syrup on top.
Where to try it:
Luau Stew
This may be considered the Hawaiian version of comfort food. Most commonly, luau stew will be made of beef brisket, but there are many other recipes used throughout the island.
In addition to that, you can expect ingredients such as ginger, onions, coconut milk, and seaweed to flavor the dish.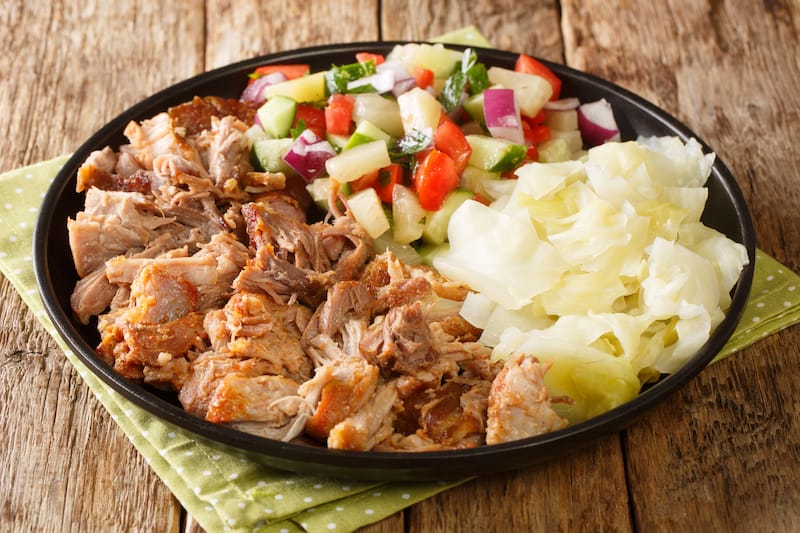 The dish is also made with kalo leaves, which are cooked to perfection to ensure that they melt in your mouth. It's made with simple ingredients to prove that sometimes, you just need a nice, homemade dish to make the day better.
Where to try it:
Macadamia Nuts
Originally grown in Australia, macadamia nuts were brought to Hawaii in 1881 and were grown there ever since.
Locals enjoy eating macadamia nuts with everything. Macadamia nuts are especially known for their delicious and rich flavor, making them a popular ingredient in many pies, cakes, cookies, and even ice cream.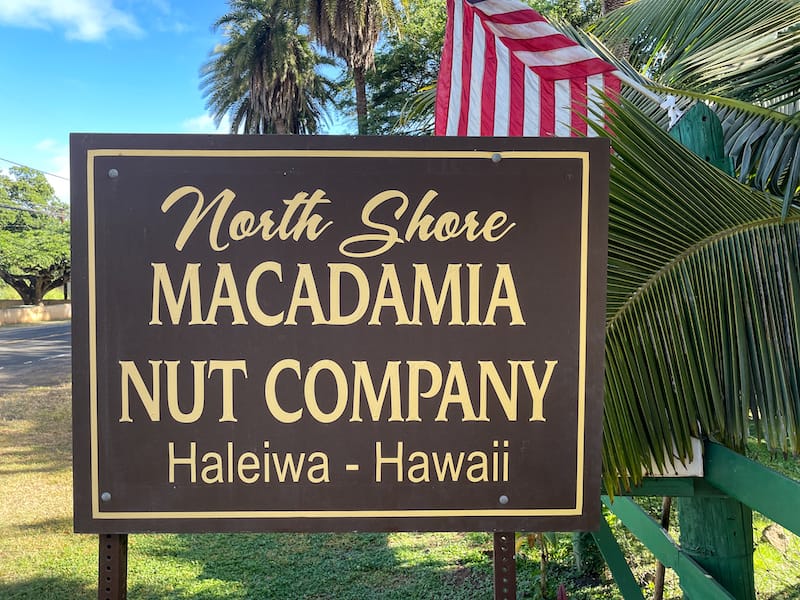 It's especially advised to try it in chocolate, and you can get it at many convenience stores throughout Hawaii.
Even better, you can learn more about how macadamia nuts are grown on many of the farms throughout the state, where you can even try some of their varieties.
Where to try it:
Lomi Lomi Salmon
Lomi lomi salmon is another traditional Hawaiian dish that requires special techniques for preparation.
The name comes from how the meal is prepared; it means "to massage," which is how the salmon is shredded and mixed by hand. It consists of raw, salted salmon that is gently massaged.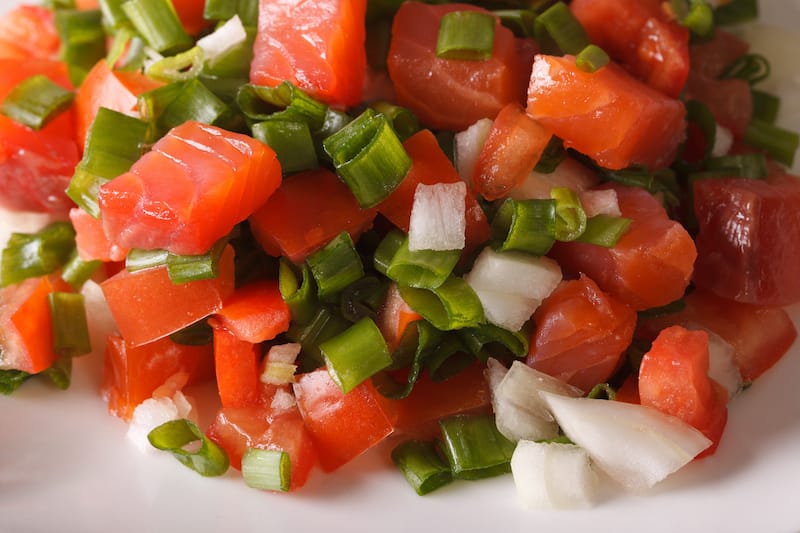 Then, tomatoes, sweet Maui onions, and hot peppers are added to the dish, providing a satisfying and savory flavor. The dish is always served cold and it is popular as a side dish.
You can commonly find it at luaus or traditional Hawaiian parties. It is often served alongside poi and kalua pig.
Where to try it:
Pipikaula
Pipikaula is a snack that is very similar to beef jerky.
The name means "beef rope" and it consists of salted and dried beef. According to some, it's even better than the traditional beef jerky that you'd find at the grocery store!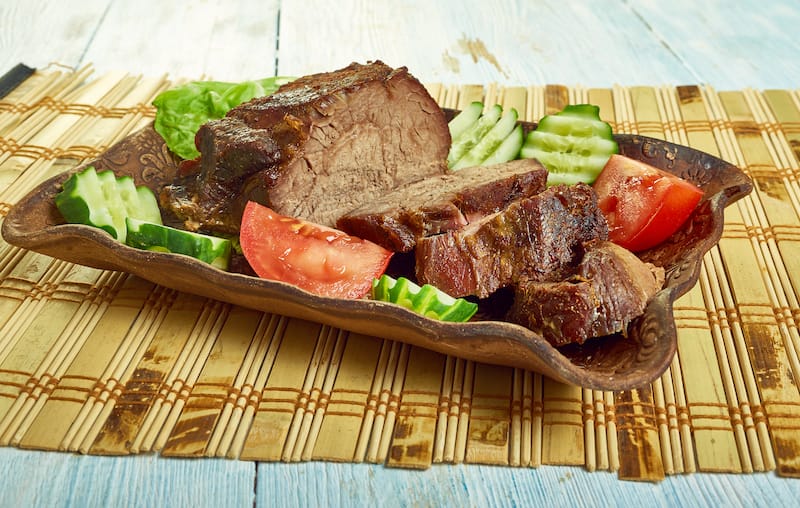 Due to the influence of Asian cuisine, the beef strips are often marinated in soy sauce before being set out in the sun to dry. It is then placed under a screened box to keep away any dust or flies.
You can find this snack in many places throughout Hawaii, and it is often eaten as an appetizer at a luau.
Where to try it:
Huli Huli Chicken
Although chicken doesn't sound like a dish that is unique to Hawaii, you should especially make it a point to try Huli Huli chicken when visiting Hawaii.
"Huli" means turn in Hawaiian, and that's exactly how the dish is cooked. The chicken is covered in a sweet sauce, then rotated over a grill. It's best cooked over kiawe wood, which is native to Hawaii.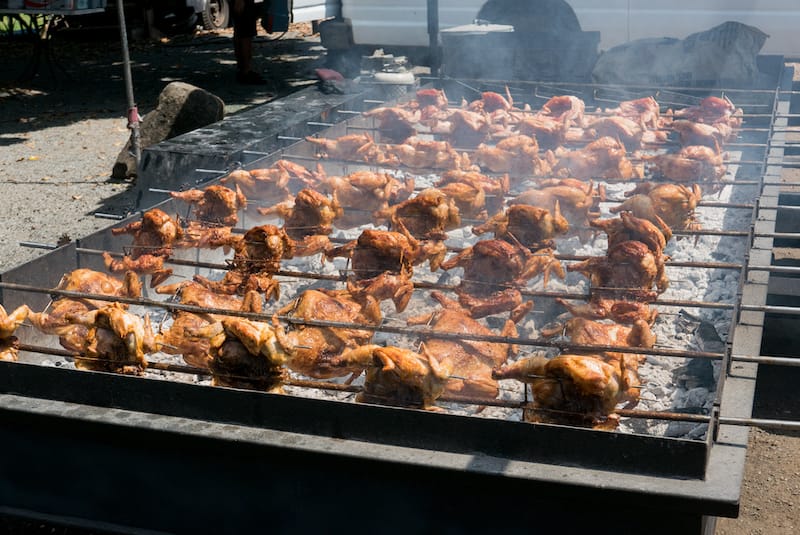 The dish is delicious and is enjoyed by locals and tourists alike. Many locals enjoy making it for fundraisers and school events where a large number of people need to be served.
Where to try it:
Loco Moco
Loco moco is another popular Hawaiian dish that comes in several varieties. It consists of a hamburger patty, eggs, and brown gravy. Although it might not sound too appealing, the dish is actually delicious.
You can also find varieties including fish and shrimp patties, for example. It is an extremely easy find if youʻre visiting Honolulu and other large Hawaiian cities!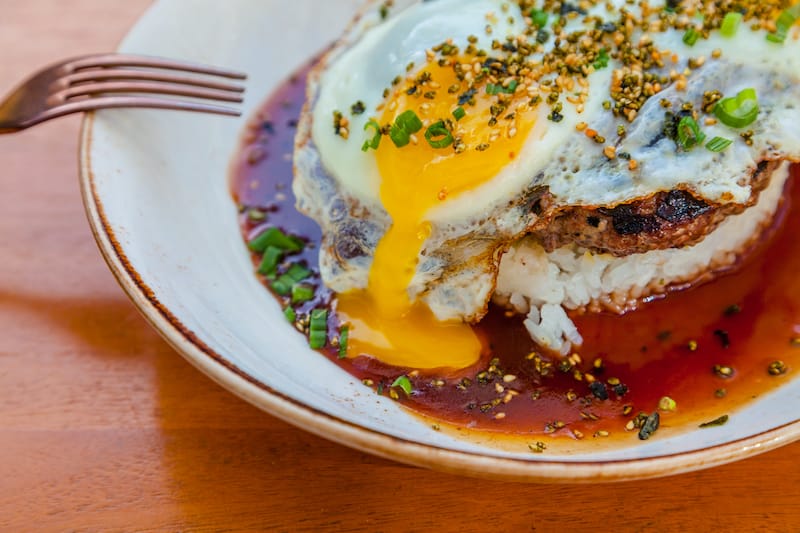 This dish originated in 1949 as a way to feed hungry teenagers on the Big Island and is now a beloved comfort food among both locals and visitors.
Where to try it:
Lau Lau
This traditional Polynesian dish is another favorite among Hawaiians that you must try during your visit. Lau lau is actually one of my favorite things to eat in Hawaii!
It consists of pork, fish, or coconut cream wrapped in cooked taro leaves. According to the traditional recipe, fish or pork is placed in the center of the leaves, which are then wrapped and folded and placed inside an imu, a traditional Hawaiian underground oven.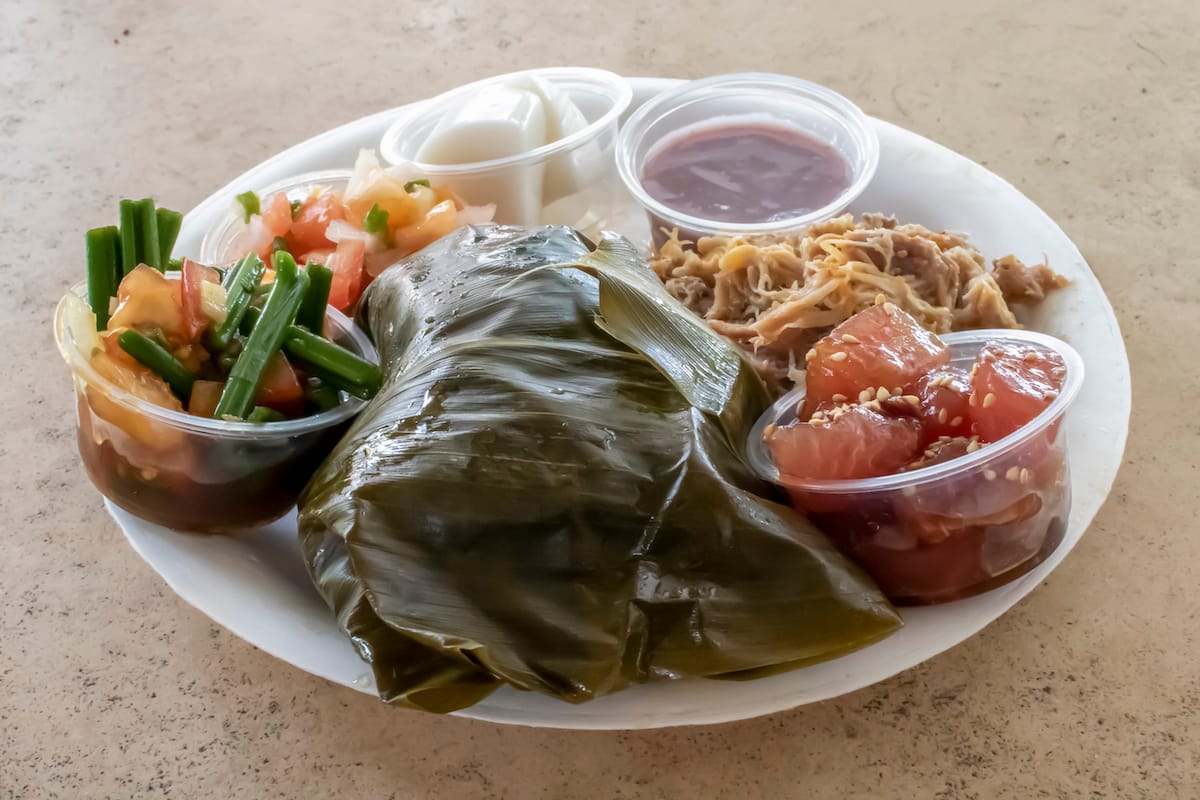 Then, it is cooked for a few hours while buried under banana leaves for a rich, warm flavor.
The modern recipe includes salted butterfish, pork, beef, or chicken. It is a common meal to be eaten for lunch and is served with rice or macaroni salad.
Where to try it:
Locally Grown Coffee
If you're someone who can't wake up in the morning without a nice cup of coffee, then this one's for you. Did you know that there are coffee beans grown right in Hawaii?
You can try Kona coffee, which is only grown on Hawaii's Big Island, as well as Arabica beans and Waialua coffee. You can also try local varieties grown in Molokai.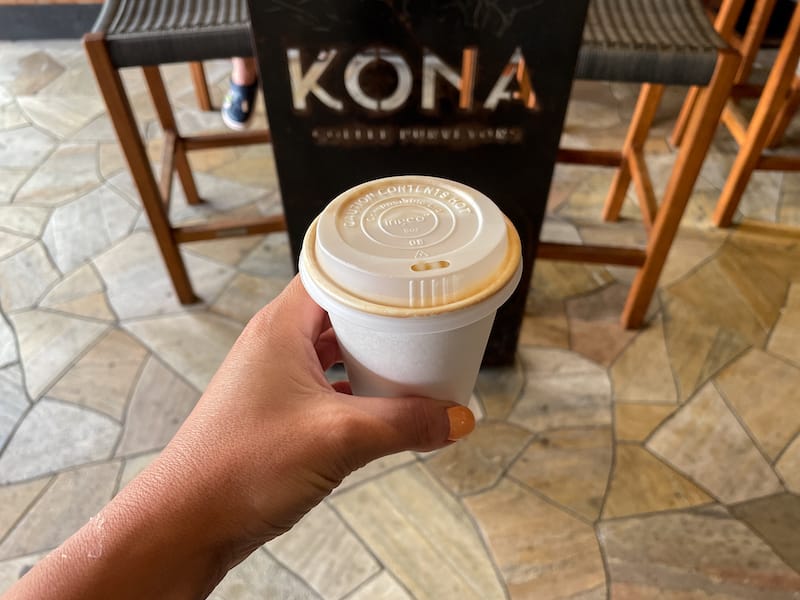 The best part is that during your trip, you can take a tour of any of the local coffee farms to learn more about the different flavors and the history behind these coffee varieties.
Who doesn't want to try an authentic cup of fresh coffee?
Where to try it:
Fresh Hawaiian Fruit
Although this isn't necessarily a dish unique to Hawaii, nor is it considered a "dish," it's impossible to visit Hawaii without checking out some of the delicious fresh fruit.
Hawaii is known for being home to a variety of different fruits, including mangoes, strawberries, coconuts, and pineapples. And due to its climate, it's said that the fruit that grows here is considered to be among the best around.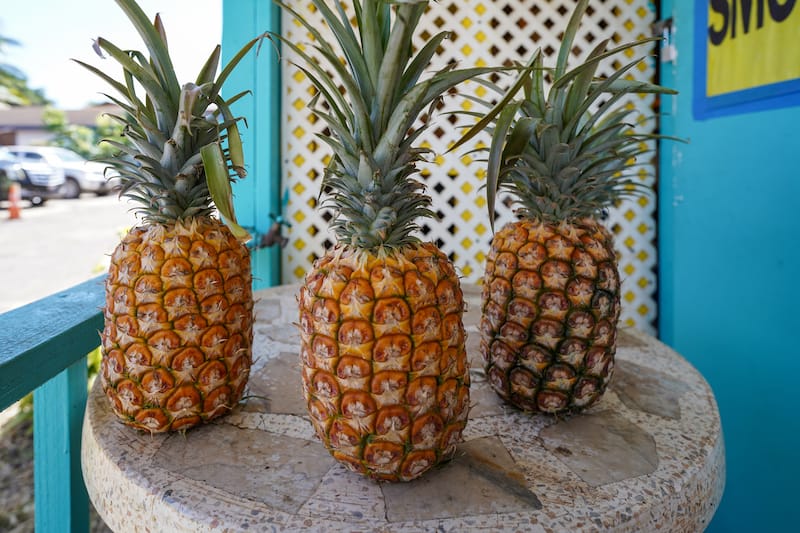 You can even go on pineapple tours to learn more about how pineapples are grown!
The best part is that fresh fruits are typically used in many of Hawaii's dishes, so if you love fruits, all you need to do is book your trip to Hawaii!
Where to try it:
Macaroni Salad
You've likely seen macaroni salads at many typical American gatherings, but did you know that it's also a popular side dish in Hawaii?
Macaroni salad is one of the most popular side dishes and you'll likely see it served everywhere, from formal gatherings to luaus and everything in between.
It is a staple in plate lunches and is not often made with vegetables.
However, the dish differs from the macaroni salad that you'd eat in mainland America, mainly consisting of pasta and mayonnaise, and sometimes including onions, carrots, and vinegar depending on the recipe.
Where to try it:
Manapua
Manapua is a favorite among many locals and tourists alike. The delectable food was brought to Hawaii by Chinese immigrants in the 19th century. It consists of sweet char siu pork in white buns.
You can find manapua at different Chinese restaurants throughout Hawaii.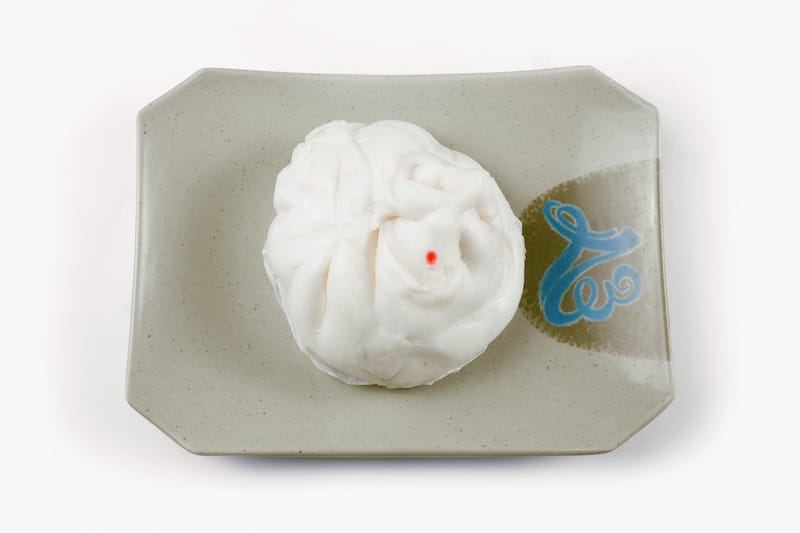 People argue whether it's better served baked or steamed, but people like to eat manapua for all kinds of events, even if you just want to spend the day curled up in front of the TV.
Where to try it:
Dole Whip
You've likely heard of Dole Whip before, but did you know that it originated right in Hawaii?
This non-dairy pineapple ice cream is a must-try, even if you're not a fan of fruit ice cream. Made by Dole in 1986, the ice cream consists of locally-grown pineapple.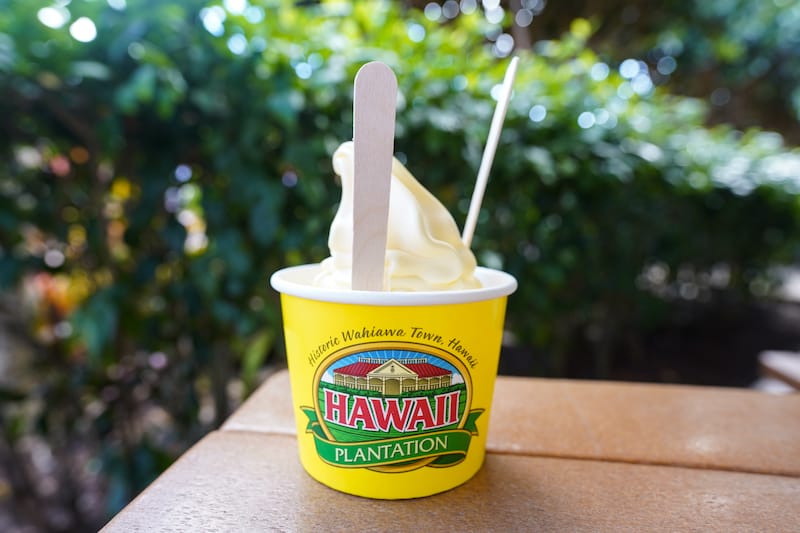 Although the ice cream is now available throughout the country and many places in Hawaii, the best place to try it is where it originated- the Dole plantation itself- where you can go on tours to learn more about how pineapples are grown and how the ice cream is made.
And, of course, you can try some Dole ice cream!
Where to try it:
Portuguese Sausage
Anything with "Portuguese" in the name might not be the first thing you imagine when you picture Hawaiian cuisine, but Portuguese sausage is a staple in Hawaiian breakfasts!
It's impossible to see a breakfast menu in Hawaii without this dish, and you'll especially find that many locals enjoy it as part of their morning meal.
It's too good to pass this one up, even if you're not much of a breakfast person. You can find Portuguese sausage virtually anywhere throughout Hawaii.
Where to try it:
Saimin
Saimin is a noodle soup that is a popular dish in modern Hawaiian cuisine. It consists of soft wheat egg noodles, green onions, Spam, and nori.
I had the tastiest saimin in Lihue on Kauai and I am still dreaming about it to this day!
Many people will also use ingredients like dried shrimp, soy sauce, Chinese hot mustard, char siu, and kamaboko. Many people in Hawaii enjoy eating this noodle soup with skewers or hamburgers.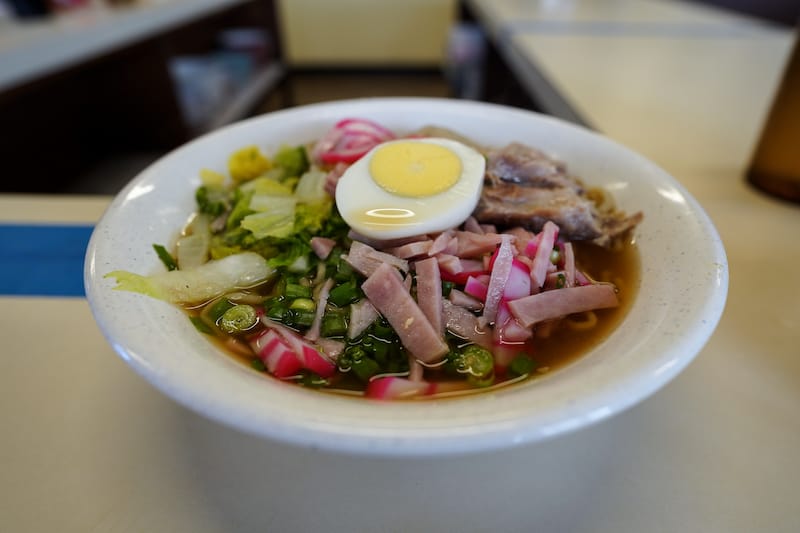 The dish dates back to the plantation era in Hawaii and is now eaten as comfort food at any time of the day. You can find it on many Hawaiian restaurant menus, and it even comes available pre-cooked, much like ramen noodles.
Where to try it:
Mochi
This Japanese rice cake is a popular dessert in Hawaii. It can be found in just about any dessert, including shave ice toppings, donuts, and waffles.
Mochi is made of short-grain rice that was made into a paste along with sugar. Then, the paste is molded into any shape you want.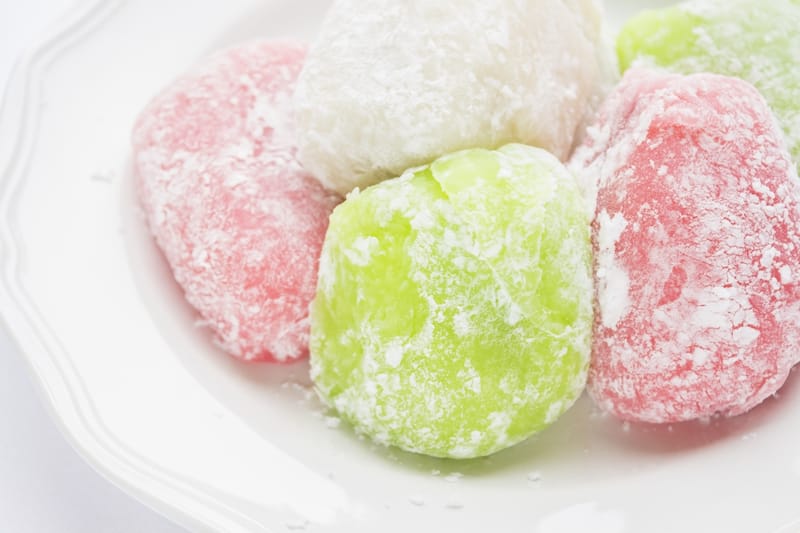 You can eat this dessert on its own, or you can have it served alongside any of your favorite desserts. But one thing is for sure: Hawaiians love mochi!
Where to try it:
Kālua Pork
This dish is cooked in the Hawaiian imu, which is an underground oven.
To prepare it, the entire pig is seasoned with Hawaiian sea salt. It is then placed into the imu, which is full of lava rocks and sealed with banana leaves.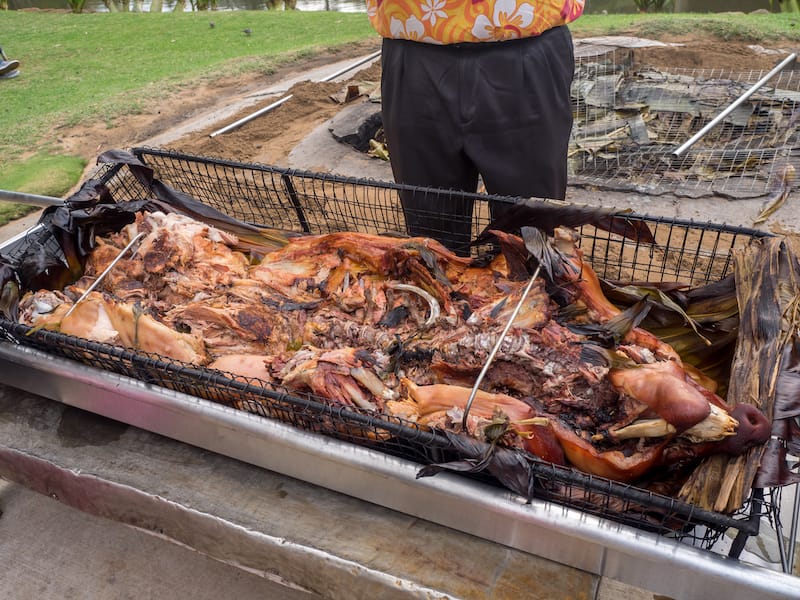 Kālua pork is cooked throughout the day to slowly roast to ensure that the meat falls off the bone with a smoky flavor. It's available on many menus in Hawaii, but it's especially popular at luaus.
Where to try it:
Plate Lunch
Both cheap and filling, the plate lunch is a popular Hawaiian fast food that can be found at drive-ins, restaurants, and roadside stands alike.
The dish originated in the 1880s among people working on Hawaii's pineapple and sugar plantations. The plate lunch consists of ingredients from all different cultures, including Japan, China, and the Philippines.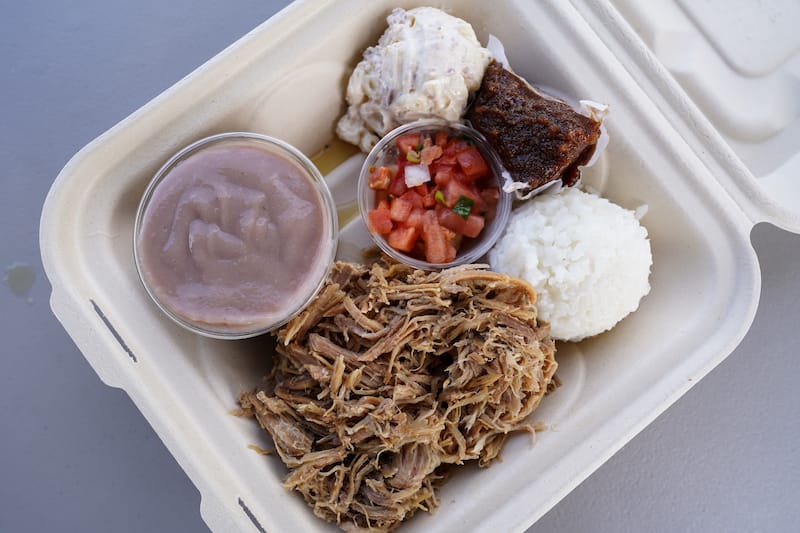 You may find ingredients such as chicken, pork katsu, Portuguese sausage, or salmon teriyaki. However, many traditional Hawaiian ingredients are also included in the mix, including Spam musubi and loco moco.
Rice is the main part of the dish, as well as macaroni salad, making this lunch full of carbs.
Where to try it:
Spam Musubi
Spam musubi is considered to be Hawaii's take on Japanese o-musubi, which consists of grilled spam, white rice, and seaweed.
It's a rice ball that you can eat for any meal of the day. The dish is known to be similar to sashimi but consists of spam meat.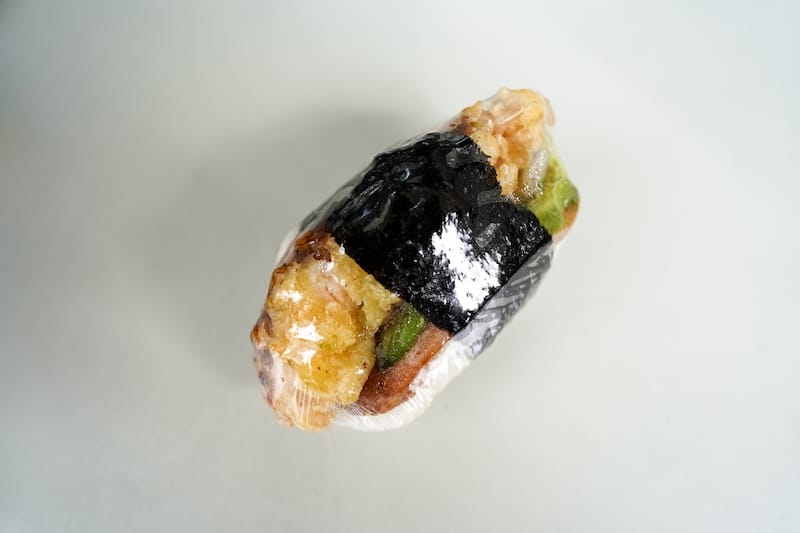 Although you might not feel delighted at the thought of spam meat, spam musubi is a delicious delicacy that many people enjoy eating for a snack.
You can find it just about anywhere, including at grocery stores, delis, and gas stations throughout Hawaii. At some places, you can even try creative twists on the dish, including chicken musubi.
Where to try it:
Malasadas
Malasadas are delicious, deep-fried goodness dusted with cinnamon or sugar. It was brought to Hawaii by Portuguese immigrants in the 19th century and has remained a staple of Hawaiian dessert ever since.
Many of the traditional varieties do not have a filling, but you can also find varieties with filling. They are crispy on the outside and have a fluffy texture on the inside.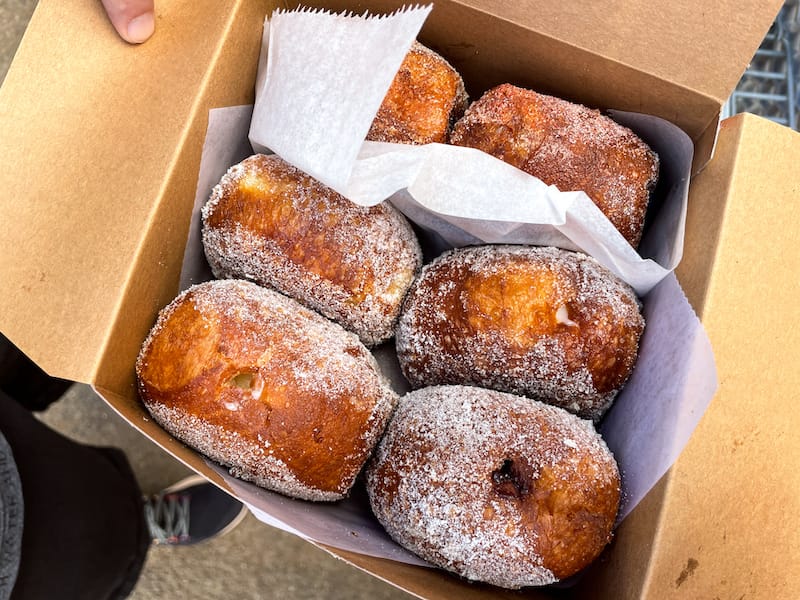 Unfortunately, it's possible to miss these during your trip, so be sure to keep an eye out for them, especially if you have a sweet tooth.
Where to try it:
Haupia
You should also make it a point to try this traditional Hawaiian dessert when visiting. Haupia is a pie made of thickened coconut milk, chocolate, pie crust, and whipped cream.
This is a popular dessert served at many events in Hawaii, including local gatherings, luaus, and weddings.
The traditional recipe involves haupia being mixed with ground pia, but many modern recipes use cornstarch instead.
Regardless, this tasty dessert is on many event menus throughout the state, and you can even find it at McDonald's (although, we always recommend trying out the authentic versions!).
Where to try it:
Ulu
We've already discussed how Hawaii is home to some of the most delicious fruits around, but you should especially consider trying Ulu, which is a tropical superfruit native to Hawaii, the Caribbean, Polynesia, and South Asia.
Also known as breadfruit, the best part is that the fruit is versatile, and can be eaten as a fruit or vegetable.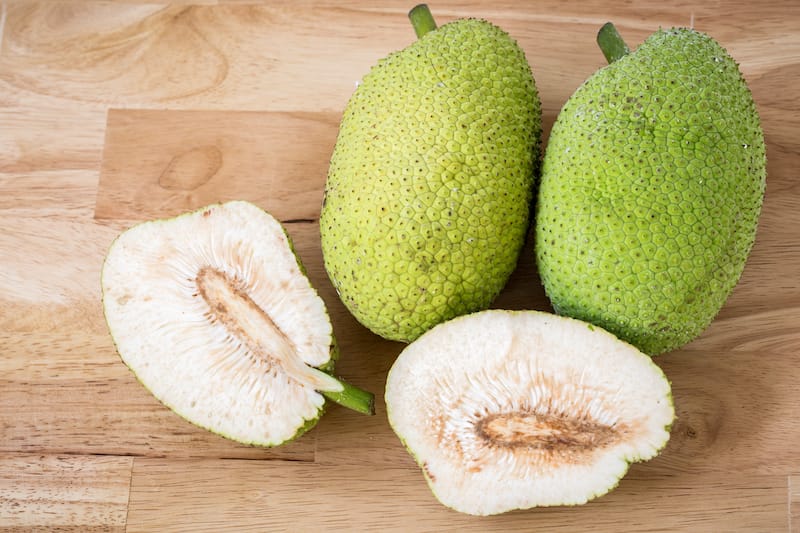 If it's roasted, it can be enjoyed in the same fashion as baked bread, or you can eat the fruit when ripe, where it resembles a custard. Locals consider ulu to be sustainable and it can feed a whole family.
Not only that, but ulu is high in nutritional value, packed with nutrients like antioxidants, fiber, iron, and even protein.
Where to try it:
Chocolate
Chocolate? Yes, you read this right. While you can find any of the chocolate that you can imagine in Hawaii, did you know that you can also try authentic cacao?
Hawaii is a leading producer of cacao, which is considered to be the purest form of chocolate. Not only can you try this pure chocolate in Hawaii, but you can also visit a chocolate farm to learn more about how it is grown and see the cacao pods for yourself!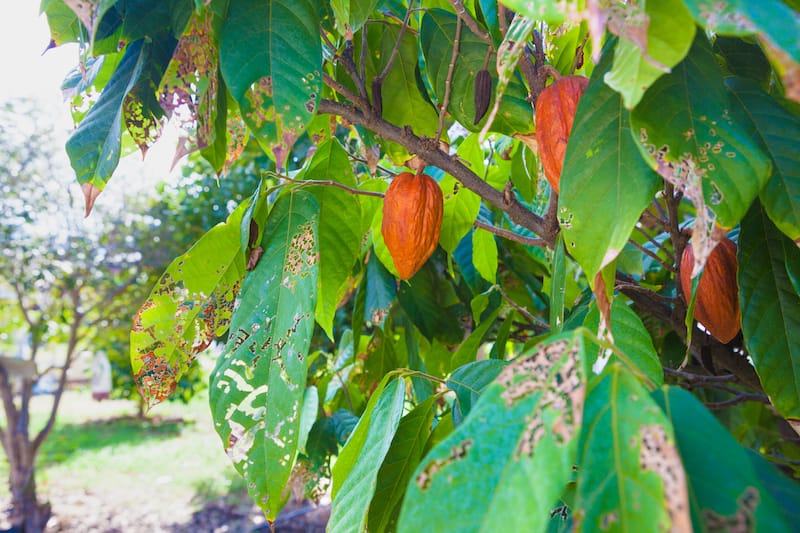 If you have a sweet tooth, this will prove to be an unforgettable tour and adventure!
Where to try it:
Chicken Long Rice
Although the last dish on our list comes from China, chicken long rice has quickly become a staple in Hawaiian cuisine.
It's commonly served at luaus, but you can also find chicken long rice at any other Hawaiian party or gathering. It also serves as great comfort food to eat at home on a rainy day.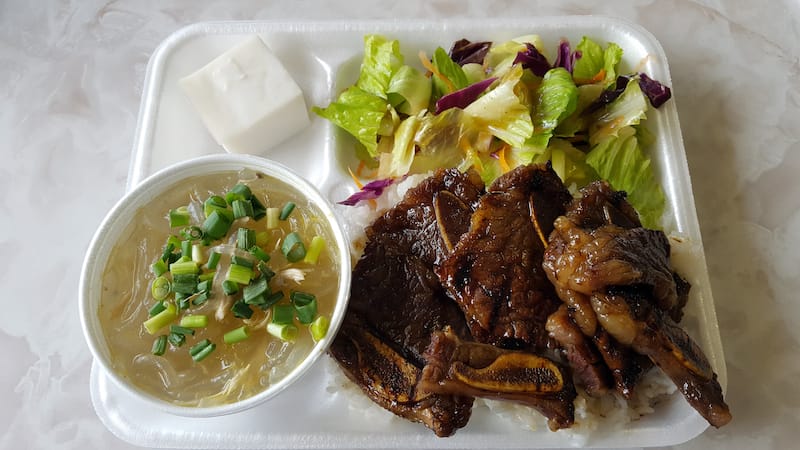 The main ingredients include long rice or Chinese cellophane noodles, chicken, garlic, green onion, and ginger.
There are different ways of preparing the dish, including marinating the chicken beforehand or adding other ingredients.
No matter how you prefer to eat it, you'll be sure to find chicken long rice at many restaurants, parties, and other establishments in Hawaii served as a side dish to some of the island state's best meals.
Where to try it:
Did we miss any of your favorite foods in Hawaii? Let us know where to eat in Hawaii in the comments.
Also, be sure to let us know your favorite foods in Hawaiian cuisine. Thanks!
Additional Hawaii Food and Drink Guides
Pin this Hawaiian Foods Guide