Lihue is one of the best places to base yourself during a trip to Kauai. These are the best things to do in Lihue, including famous attractions, local trips, and more!
Are you planning your trip to Lihue last minute?
If you're traveling to Kauai (and Lihue) and are looking for some of the best tours and lodging for your trip, you can see our top picks below!
🌴 Most Popular Tours in Kauai:
🛌 Best Places to Stay in Lihue:
🚗 Curious about how to get around Kauai? Click here to check Kauai rental car rates!
Did we miss any of your favorite Lihue attractions and sights? If so, let us know in the comments. Thanks!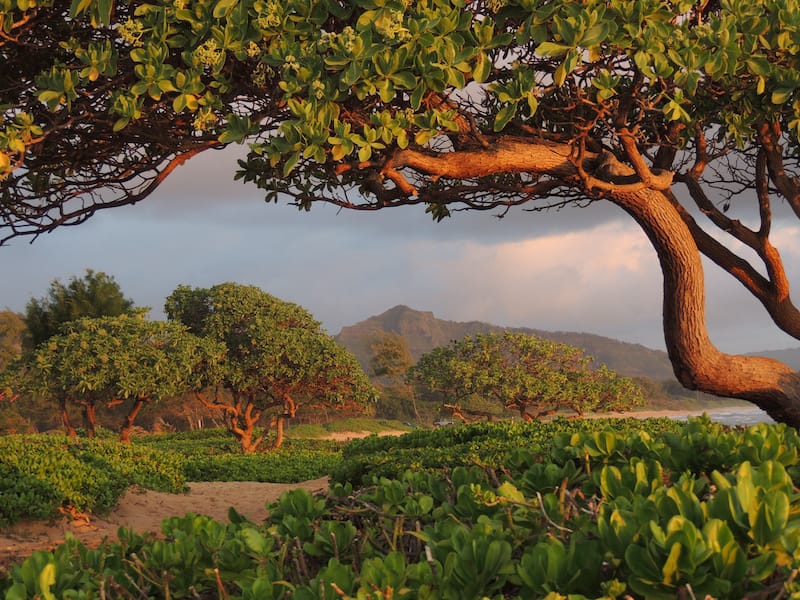 Best Kauai Tours (to Maximize Your Time!)
If you're looking for something more organized when on Kauai, here are some awesome Kauai tours you should check out.
These tours will help you maximize your time, which is especially important if you only have a short amount of time on the island! We listed a variety so that you can pick which one is most suitable for you (and many include multiple places!):
Best Things to Do in Lihue
1. Take a Na Pali Coast Helicopter Tour
Lihue is where most of the Na Pali Coast helicopter tours depart from and it is imperative to take a ride on your Kauai trip!
I recommend taking a doors-off helicopter ride to get the full experience, but don't worry, they have options for doors-on too!
The flight is about 50 minutes long and throughout the journey, you will see the Na Pali Coast, Waimea Canyon, Mount Waiʻaleʻale (the rainiest place on the planet), and more!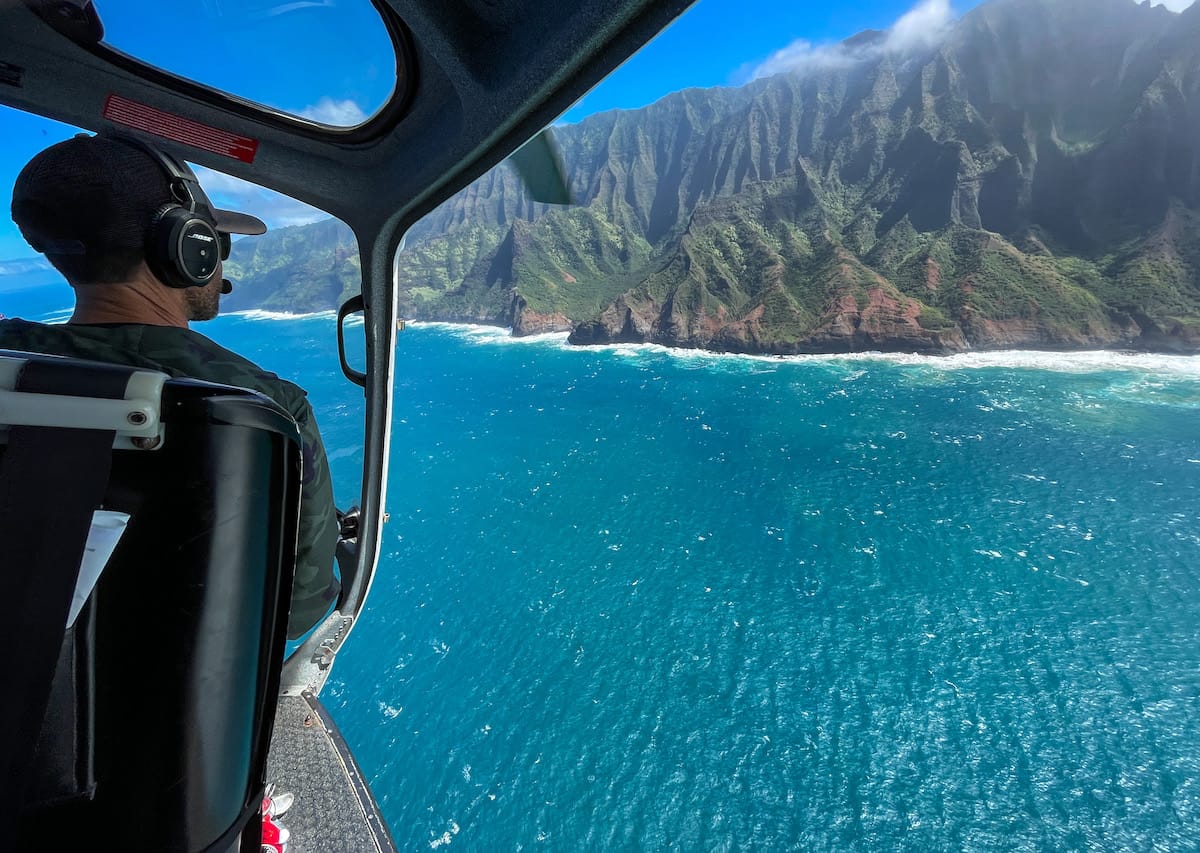 Honestly, this is one of the coolest things I have ever done on my travels and I highly recommend you do it as well! And, the Lihue Airport is a super short distance from the center of town!
>> Click here to check rates and availability
2. Visit Wailua Falls
To kick off your Lihue adventure, let's head into nature! On the lush island of Kauai lies Wailua Falls. The falls are located on the South Fork of the Wailua River and plummet 173 feet into a crystal-clear pool below.
Unlike many of the waterfalls in Kauai, Wailua Falls doesn't require one to lace up the hiking boots and grab a walking stick. The double falls have a parking lot right next to them for convenience.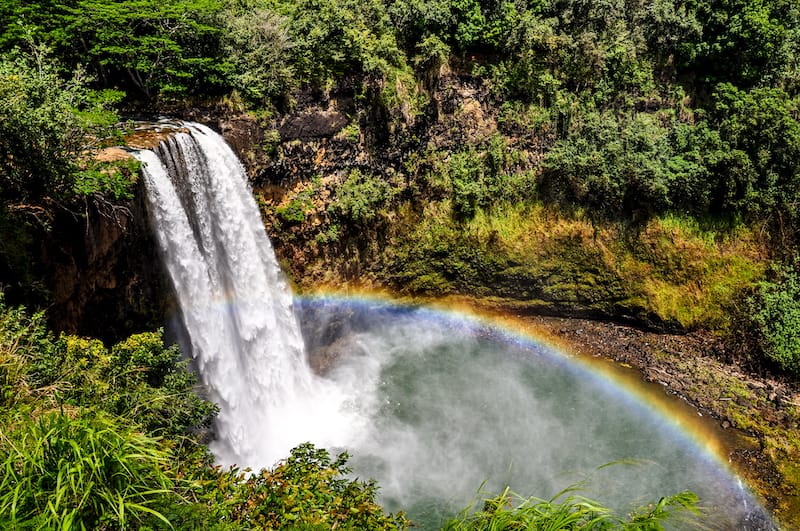 The trek down to the bottom of the falls is dangerous, so make sure to stay above and view the grandeur of the Wailua Falls in safety.
When I was there, it didn't appear that anyone was hiking down below so I think it is best to stay up top and marvel at the falls from a distance.
This is definitely one of the top things to do in Lihue (and Kauai as a whole)!
3. Have a Coffee at the Aloha Roastery
My first stop on my last Kauai trip was actually the Aloha Roastery. I had an early flight from Oahu and couldn't check into my hotel that early, so I had a taxi drop me off at the Lihue coffee shop.
The minimalistic coffee shop was light and airy and had the tastiest coffee on Kauai.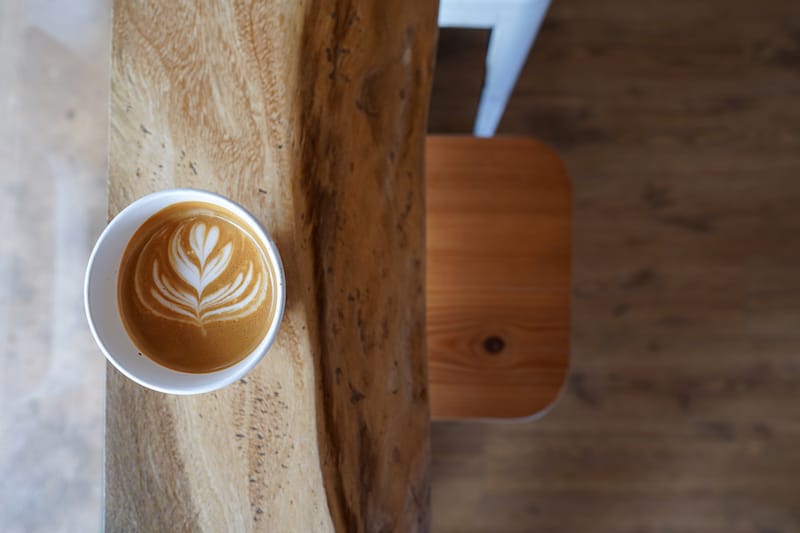 In the shop, they have tables, pastries, and some merchandise that you can buy to take home. They also sell beans in there which is great if you're traveling with an Aeropress!
If you're a coffee lover, definitely check them out when visiting Lihue! They are open Monday-Saturday 6am-3pm. They also have a location in Wailua.
Address: 3100 Kuhio Hwy, Lihue, HI
4. Stop by the Kauai Museum
Opened as a museum of history and art in 1960, the Kauai Museum is located in a lava rock structure and is one of the main attractions in Lihue.
Visitors can learn about the explorations of Captain Cook after landing on Kauai's shores as well as the early Hawaiian monarchy.
Also, learn about the geological formation of the Hawaiian islands and their volcanic history.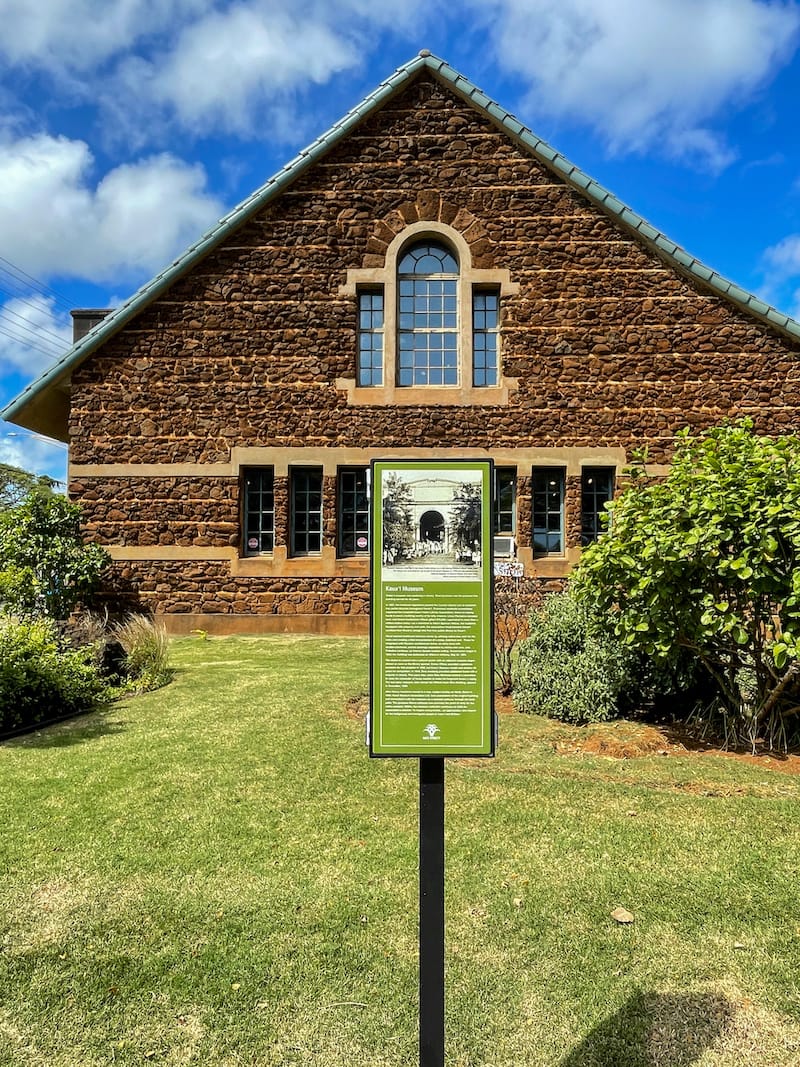 Among the things to see at the Lihue Museum are art galleries from artists worldwide and tools that the natives used in their daily lives. The interior walls of the museum are painted with depictions of Kauai's history.
Artifacts from the 1824 shipwreck at Hanalei Bay are also preserved there. Take a tour or check things out at your leisure!
Opening Hours:
Monday – Friday: 9 am – 4 pm
Saturday: 9 am – 2 pm
Address: 4428 Rice St, Lihue, HI
5. Go Kayaking on the Wailua River
My favorite activity on Kauai was easily my Wailua River kayaking tour that I took there! The Wailua River is not too far from Lihue and a kayaking tour is an essential thing to do if you love being active on the road!
The kayaking tour will start near the Coconut Marketplace up the road a bit (going toward Kapaa) and from there, you will be bussed over to the river where you will hop into your kayak and head down the river!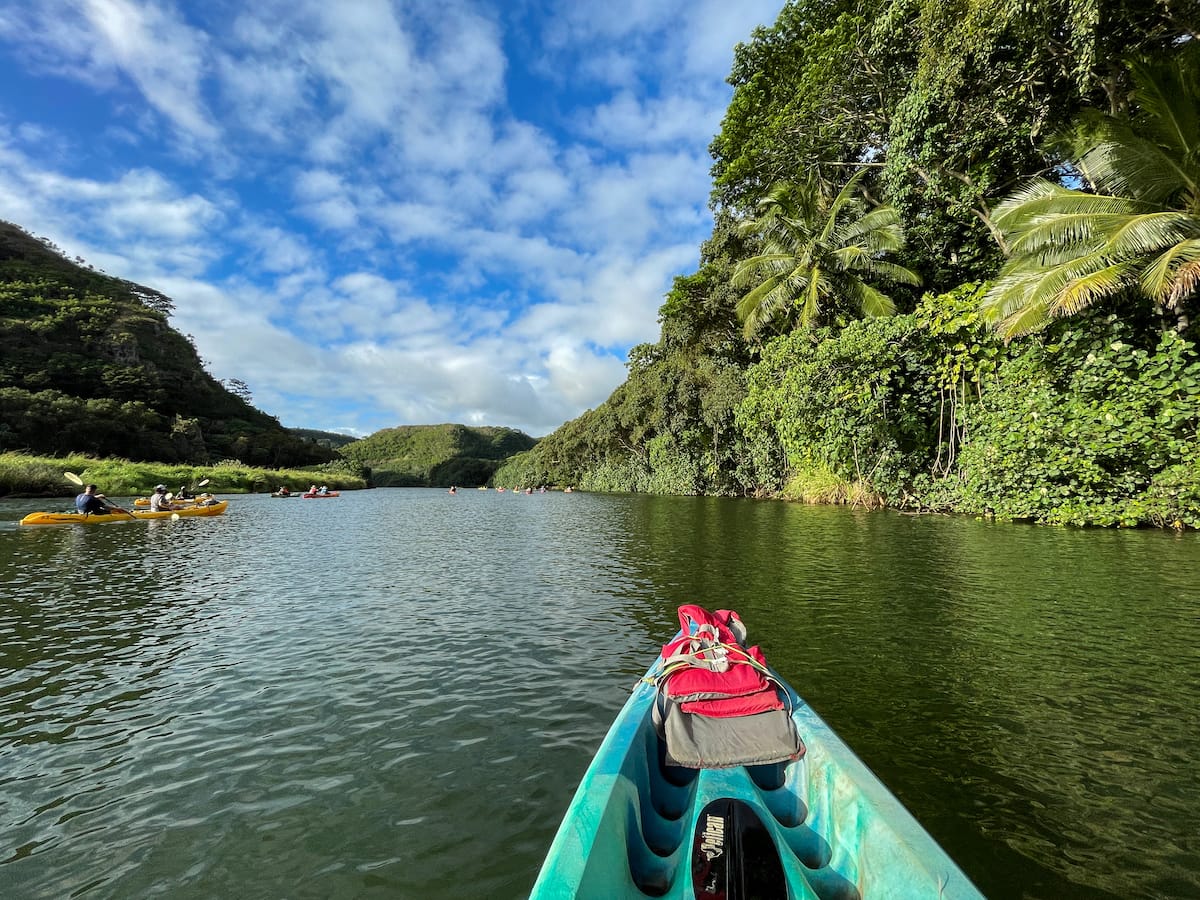 Once you've kayaked down the Wailua, you will end up at the trailhead for Uluwehi Falls, or the Secret Waterfall. The hike is not too strenuous but does involve a few river crossings along the way, so wear waterproof shoes!
This tour is a must when traveling to Lihue and the island of Kauai!
>> Click here to check rates and availability
6. Stroll Along Kalapaki Beach
There are many things to do in Lihue and visiting Kalapaki Beach is definitely one of them.
Natives lived on the shores for hundreds of years before it became Kalapaki Beach with the resorts that it is today. The picturesque view of the ocean is simply incredible.
Water activities are one of the biggest attractions when traveling to this Kauai beach. One can swim, learn to surf, boogie board, or stand-up paddleboard. You can also sunbathe and soak up the refreshing Hawaiian sun there.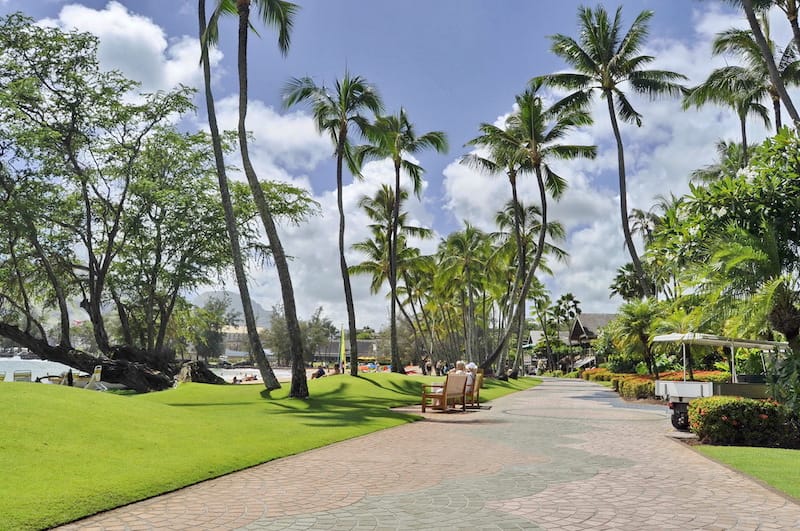 When hunger strikes, there is a wide range of options including plate lunches and shaved ice on this beach. Check out Duke's Canoe Club for fine dining options! You will also find some of the best luaus in Kauai in this area.
There are also many lovely hiking trails and walking paths nearby so that the beauty can be enjoyed aside from playing around in the water. Don't forget to pack your sunscreen!
7. Visit the Fern Grotto
Located on the east side of Kauai lies Fern Grotto, one of the area's biggest attractions. This grotto (cave) is a natural lava rock grotto with lush vegetation growing around it.
The grotto was only for Hawaiian royalty up until about fifty years ago when guided riverboat tours started. It is located on the south fork of the Wailua River and is only accessible by boat or kayak.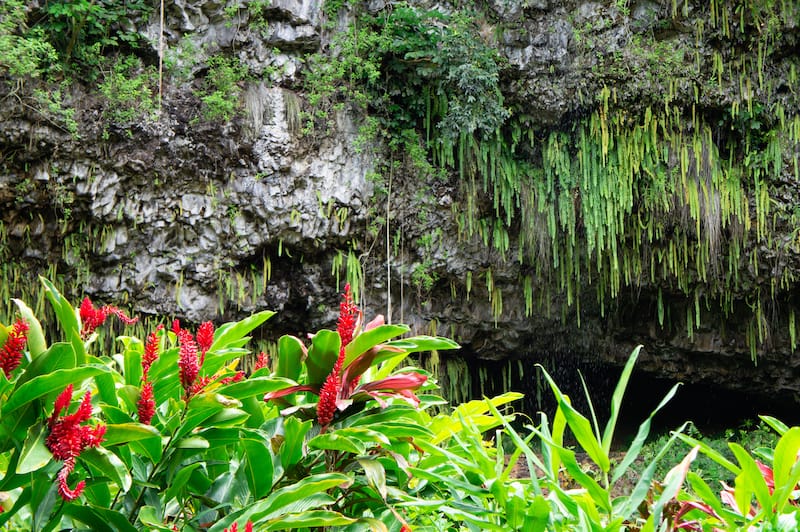 A riverboat tour takes about ninety minutes and gives plenty of photo opportunities. On location, musicians will often play for guests in the beautiful area and the grotto has become an extremely popular wedding location over the years.
8. Check Out the Kilohana Plantation
Built in the 1930s, Kilohana Plantation is a historic landmark rich with history. The plantation home is huge and spans over 16,000 square feet!
Guests can ride on the Kauai Plantation Railway and see the plantation's still active farms and orchards.
There are over fifty varieties of fruit tree orchards, Hawaiian fruit fields, vegetable gardens, rare and exotic tropical flowers, forests, plants, hardwood trees, and animal pastures with donkeys, goats, sheep, horses, cattle, ducks, geese, and wild pigs.
Not only do guests learn about Kauai's history, but they also have the opportunity to feed wild pigs, goats, and sheep. This is a fantastic thing to do near Lihue for kids and families.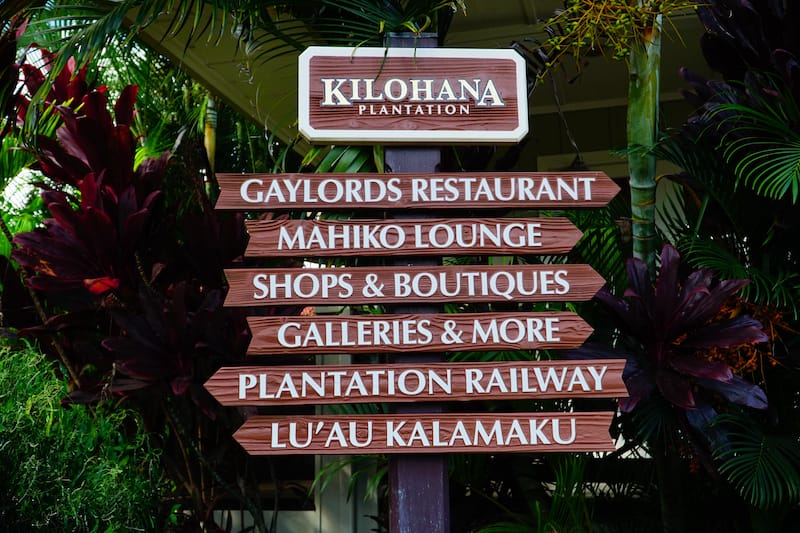 While you're visiting Kilohana Plantation, be sure to stop by the Koloa Rum Company (mentioned below).
Address: Depot, 3-2087 Kaumualii Hwy, Lihue, HI
Koloa Rum Company
The Koloa Rum Company is located at the Kilohana Plantation in Puhi, Kaua'i. It is a place where one can get rum that was distilled… on location!
The rum company is famous for its award-winning premium Hawaiian rums as well as rum cakes, rum fudge sauce, jams, jellies, syrups, and a wide array of other products.
Visitors 21 and over can check out the tasting room and sample an assortment of drinks ranging from white rum to coconut rum, to spice rum as well as many others.
Commercial sugar production operations in Kaua'i started in 1835. The Koloa Rum Company was the first licensed distillery on the island, making it a must-visit! Be sure to check out the store for various merchandise and products as well!
Opening hours: Monday – Saturday: 10 am – 5 pm
Tasting hours: Monday – Saturday: 10:15 am – 4 pm
Address: 3-2087 Kaumualii Hwy, Lihue, HI 96766, United States
9. Explore Nawiliwili Harbor
If one can get past its joyful name, Nawiliwili Harbor has lots to offer visitors! There is a small boat harbor, a cruise ship, a commercial cargo port, and the Nawiliwili Yacht Club located at this Lihue landmark.
The harbor is located just south of the Lihue Airport at the mouth of the Hule'ia Stream and has been the main harbor on the island since 1930.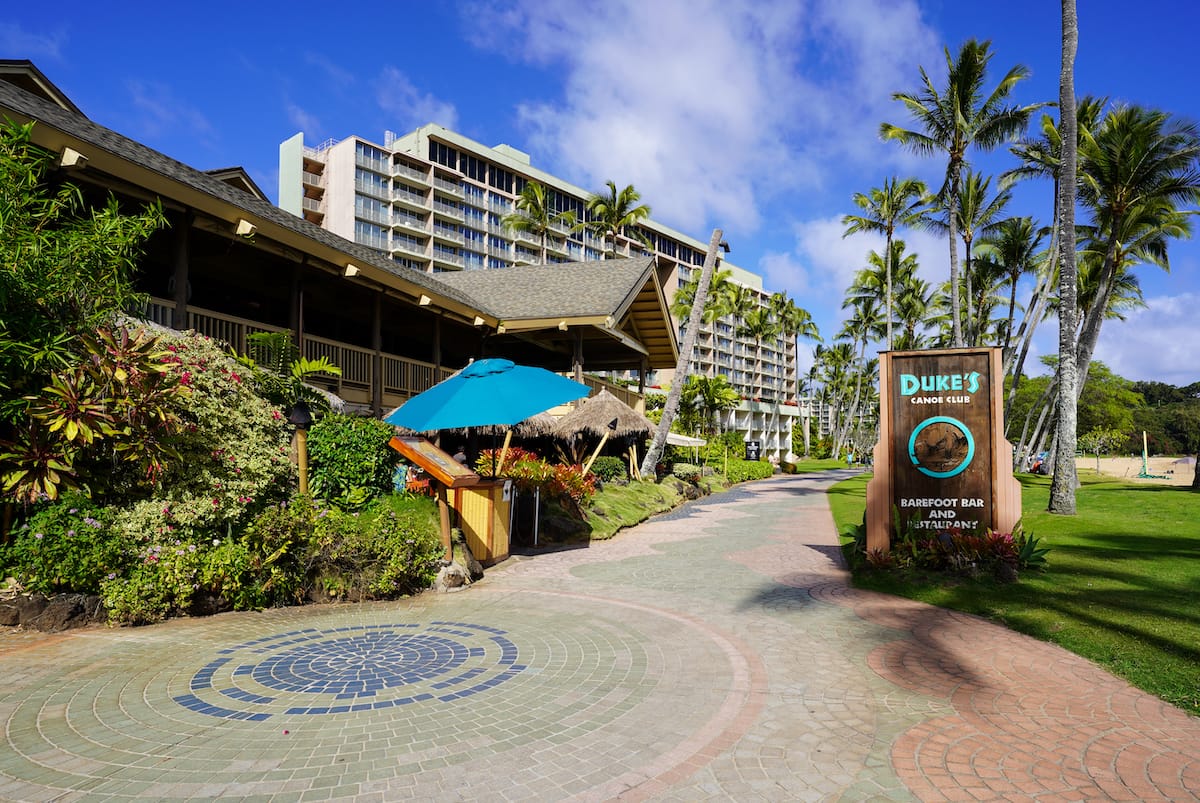 The aforementioned Kalapaki Beach is located just north of the harbor so it is worth visiting them both on the same journey.
When Captain James Cook showed up in 1778, he noticed that the area was the main hub. By the early 1800s, Nawiliwili Bay was an extremely important harbor. Today, the backdrop was used for the 1981 hit movie "Indiana Jones and the Raiders of the Lost Ark".
This is definitely one of the can't-miss sights in Lihue and it serves as an important piece of the island's history.
10. Head to the Grove Farm Homestead Museum
The Grove Farm Homestead Museum steps back into the 1800s and is one of the top museums in Lihue to visit on your Kauai trip.
The farm, located in the center of Lihue, is 100 acres and includes the original plantation's main house, owner's cottage, guest cottage, old office, and other residential and plantation workers' houses.
The farm was acquired and built by George N. Wilcox in 1864. The property is still being used today just as it was in the 1870s. There are animals, gardens, banana patches, and pastures.
You can take a two-hour guided tour and hear about the rich history while you explore the premises.
The walking tours are held on Mondays, Wednesdays and Thursdays at 10:00 a.m. and 1:00 p.m. Advanced reservations are required for the tour.
Address: 4050 Nawiliwili Rd, Lihue, HI 96766, United States
11. Check Out the Menehune (Alekoko) Fishpond
As legend has it, the Menehune Fishpond ((Alekoko Fishpond), which is a group of ponds, was built by a small Indigenous tribe known as the Menehune about 1,000 years ago.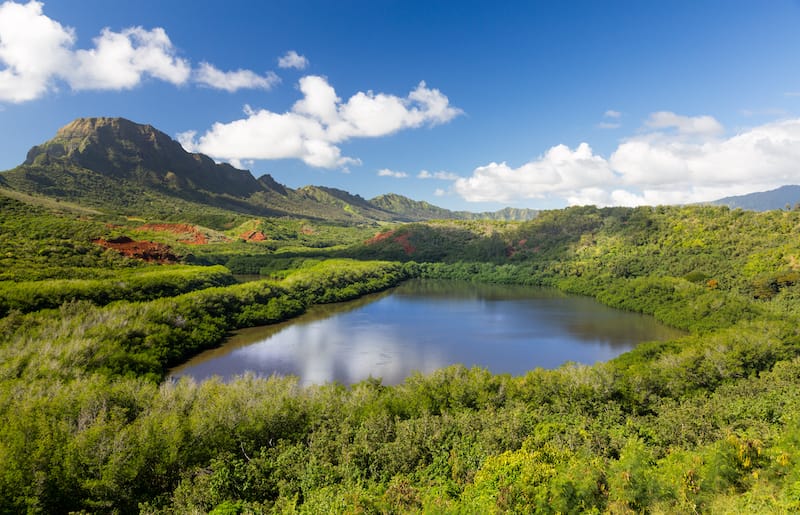 Large stones were used to create walls that were 900 feet wide and 5 feet high. This was used to build a dam over the Huleia River to catch fish that were previously used to feed Hawaiian royalty.
Legend claims that the ponds were built in just one night! Alekoko is located above Nawiliwili Harbor and is one of the best things to do in Lihue on your trip.
Since 1973, the sight has been on the National Register of Historic Places. One can take a kayak tour on the Huleia River and kayak right past the entrance. Preserved and protected, this is an essential place to put on your itinerary!
12. Shop at the Kauai Community Market
Taste the delights of the Garden Isle at this fun and interesting community market called the Kauai Community Market.
Here you will find island-grown produce, fruits, and ready-to-eat food like poi, plate lunches, Hawaiian coffee, local honey, jam, and baked goods.
The best part, aside from the huge variety of delicious food, is chatting with the farmers and vendors and learning about local food production and cooking tips.
If you're around on a Saturday morning, be sure to check out the market for tasty treats and groceries, all while supporting local farmers!
The market is open on Saturdays from 9:30am-1pm and is found next to the Kauai Community College.
Address: 3 Kaumualii Hwy, Lihue, HI 96766, United States
13. Get a Ginger Beer at Aloha
One of the coolest discoveries in Lihue was Aloha Ginger Beer, a 'ginger beer' bar that literally made me leave thinking I needed someone to open this same place in every city that I step foot in!
The hand-crafted ginger beer is made on Kauai with the island's ginger. I mean, does it get any better than this?!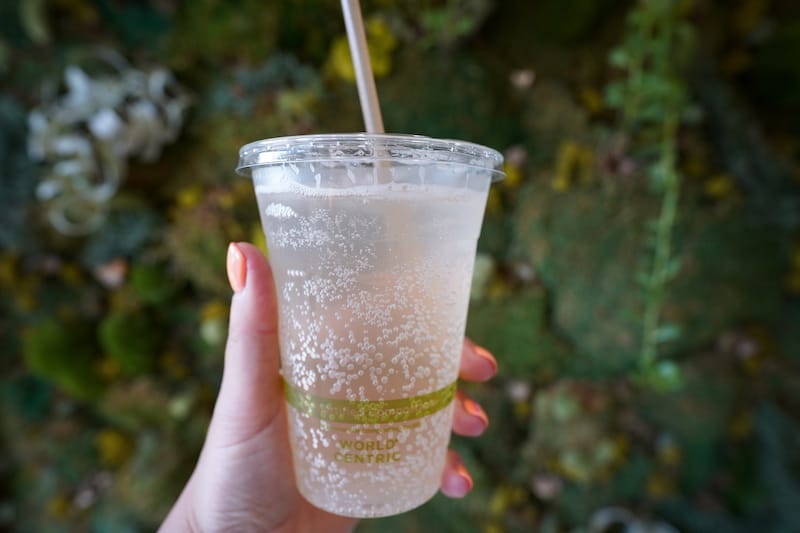 When you walk in, you will find several taps with different flavors of ginger beer (made with local spices and seasonal fruits) and you can grab one there or fill a growler to take home.
Opening hours:
Tuesday – Thursday: 9:30 am–2:30 pm
Friday: 9:30 am–5 pm
Saturday: 9:30 am–3 pm
Address: 3-3100 Kuhio Hwy, Lihue, HI 96766, United States
14. Enjoy the Best Places to Eat in Lihue
There are several places to eat in Lihue and these places are the top-rated spots (including a budget eatery where you can grab shaved ice and a brewery)!
The Plantation House by Gaylords (3-2087 Kaumualii Hwy)
Hamura Saimin (2956 Kress St)
Duke's Kauai (3610 Rice St)
Rob's Good Times Grill (4303 Rice St)
Fish Express (3-3343 Kuhio Hwy #7)
Kauai Beer Company (4265 Rice St)
Koloa Mill Ice Cream & Coffee (5424 Koloa Rd, Koloa)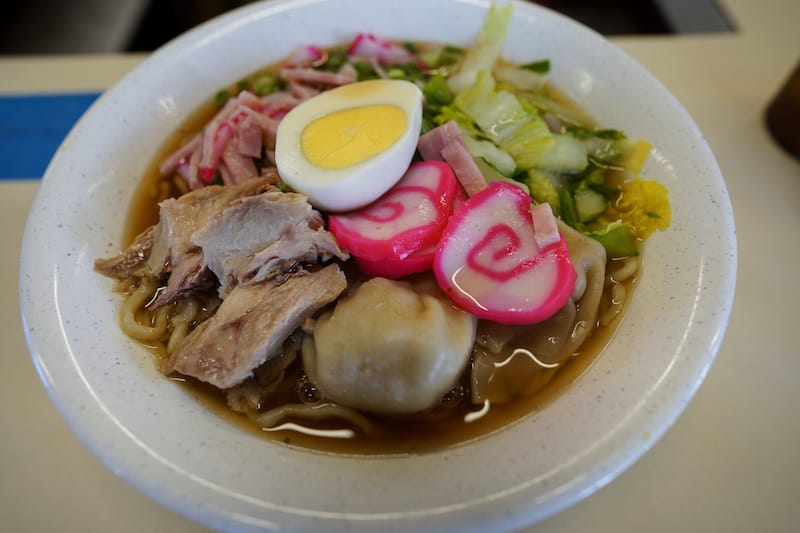 Where to Stay in Lihue
You will find plenty of options for places to stay in Lihue. It is truly a great place to stay as a base if you're wanting to explore the entire island with ease!
Here are some of our top picks for places to stay in Lihue:
Did we miss any amazing places to visit in Lihue in this guide? Let us know the best things to do in Lihue in the comments! Thanks!
More Kauai Travel Guides
Pin this Lihue Things to Do Guide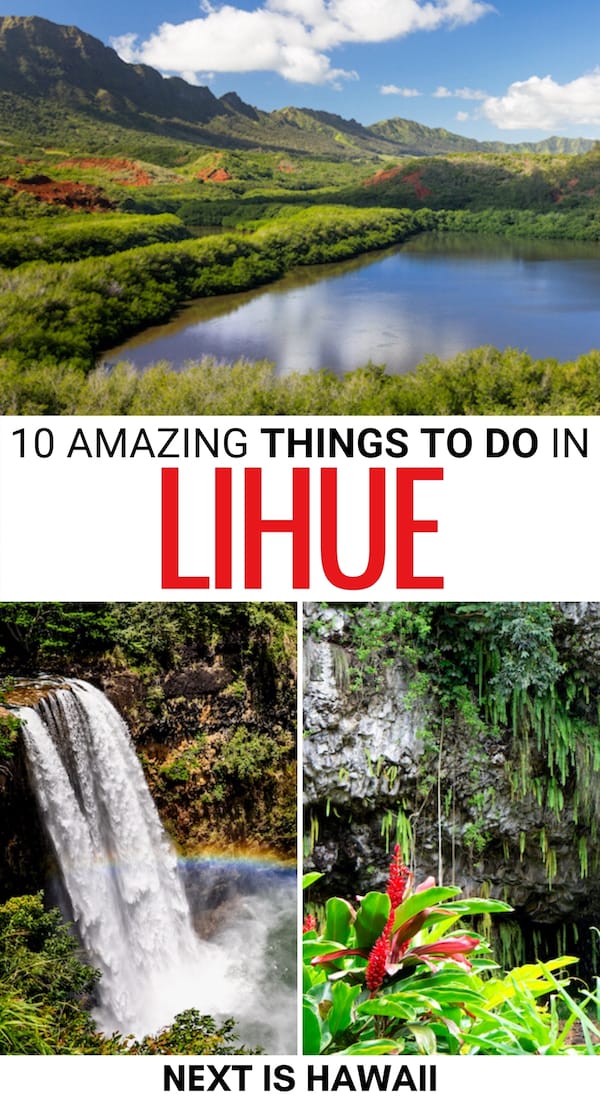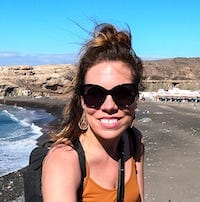 Megan is a travel blogger and writer with a background in digital marketing. Originally from Richmond, VA, she has been traveling frequently to Hawaii for the last 15 years and loves exploring every corner of each Hawaiian island, while trying to promote sustainable travel and small, local businesses along the way. Megan has written for or been featured by National Geographic, Forbes, Lonely Planet, the New York Times, and more. She has co-authored a guidebook with Fodor's Travel and has visited 45 US states and 100+ countries.