Lihue is one of the best places to base yourself during a trip to Kauai. These are the best things to do in Lihue, including famous attractions, local trips, and more!
Did we miss any of your favorite Lihue attractions and sights? If so, let us know in the comments. Thanks!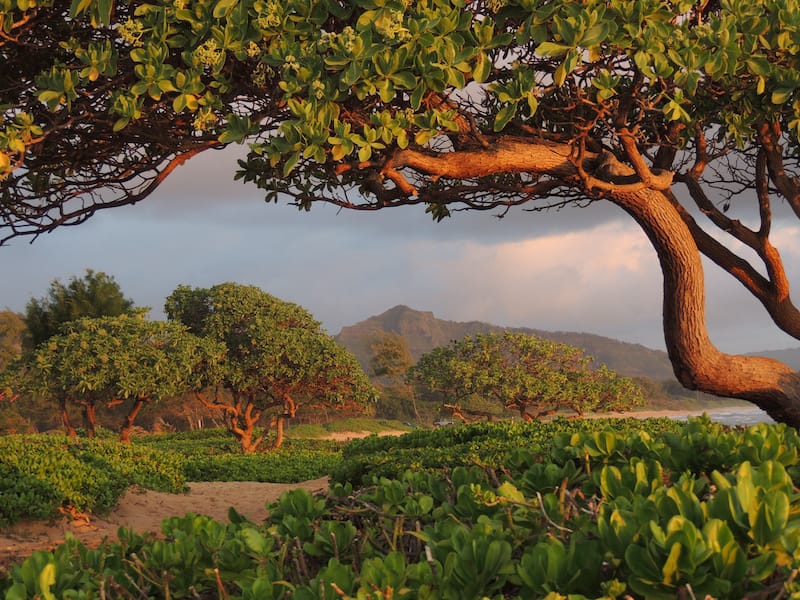 Best Things to Do in Lihue
Wailua Falls
To kick off your Lihue adventure, let's head into nature! On the lush island of Kauai lies Wailua Falls. The falls are located on the South Fork of the Wailua River and plummet 173 feet into a crystal-clear pool below.
Unlike many of the waterfalls in Kauai, Wailua Falls doesn't require one to lace up the hiking boots and grab a walking stick. The double falls have a parking lot right next to them for convenience.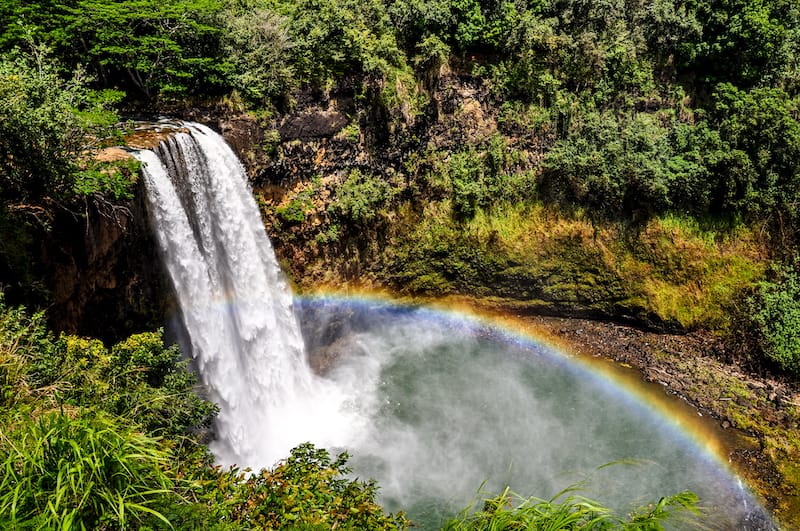 The trek down to the bottom of the falls is dangerous, so make sure to stay above and view the grandeur of the Wailua Falls in safety. This is definitely one of the top things to do in Lihue (and Kauai as a whole)!
Kauai Museum
Opened as a museum of history and art in 1960, the Kauai Museum is located in a lava rock structure and is one of the main attractions in Lihue.
Visitors can learn about the explorations of Captain Cook after landing on Kauai's shores as well as the early Hawaiian monarchy.
Also, learn about the geological formation of the Hawaiian islands and their volcanic history.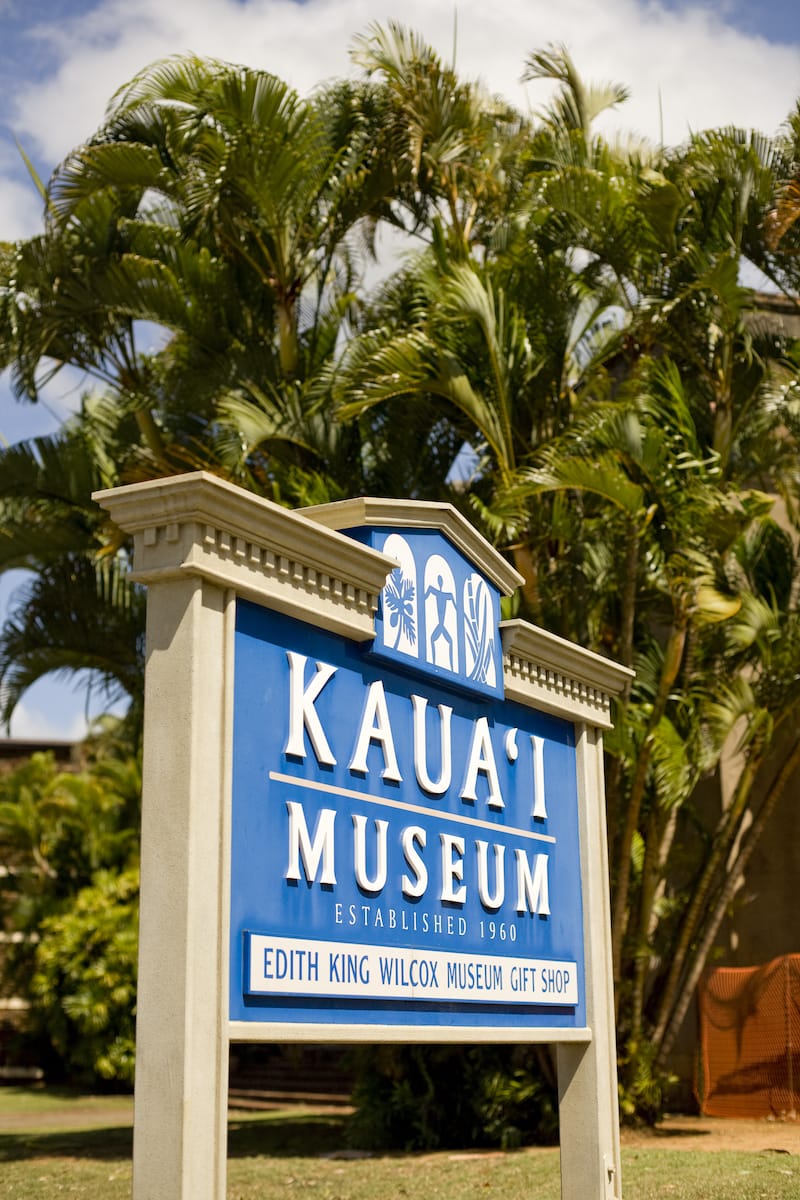 Among the things to see at the Lihue museum are art galleries from artists worldwide and tools that the natives used in their daily lives. The interior walls of the museum are painted with depictions of Kauai's history.
Artifacts from the 1824 shipwreck at Hanalei Bay are also preserved there. Take a tour or check things out at your leisure!
Kalapaki Beach
There are many things to do in Lihue and visiting Kalapaki Beach is definitely one of them.
Natives lived on the shores for hundreds of years before it became the Kalapaki Beach with resorts that it is today. The picturesque view of the ocean is simply incredible.
Water activities are one of the biggest attractions when traveling to this Kauai beach. One can swim, learn to surf, boogie board, or stand-up paddleboard. You can also sunbathe and soak up the refreshing Hawaiian sun there.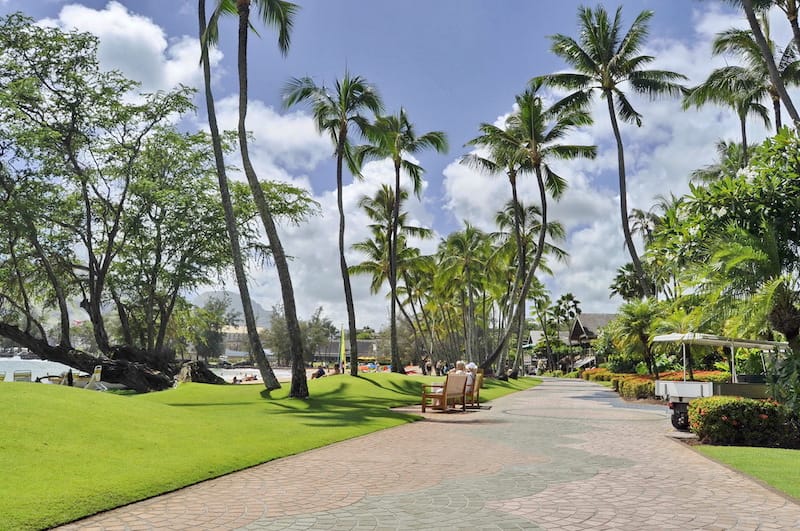 When hunger strikes, there is a wide range of options including plate lunches and shaved ice on this beach. Check out Duke's Canoe Club for fine dining options!
There are also many lovely hiking trails and walking paths nearby so that the beauty can be enjoyed aside from playing around in the water. Don't forget to pack your sunscreen!
Fern Grotto
Located on the east side of Kauai lies Fern Grotto, one of the area's biggest attractions. This grotto (cave) is a natural lava rock grotto with lush vegetation growing around it.
The grotto was only for Hawaiian royalty up until about fifty years ago when guided riverboat tours started. It is located on the south fork of the Wailua River and is only accessible by boat or kayak.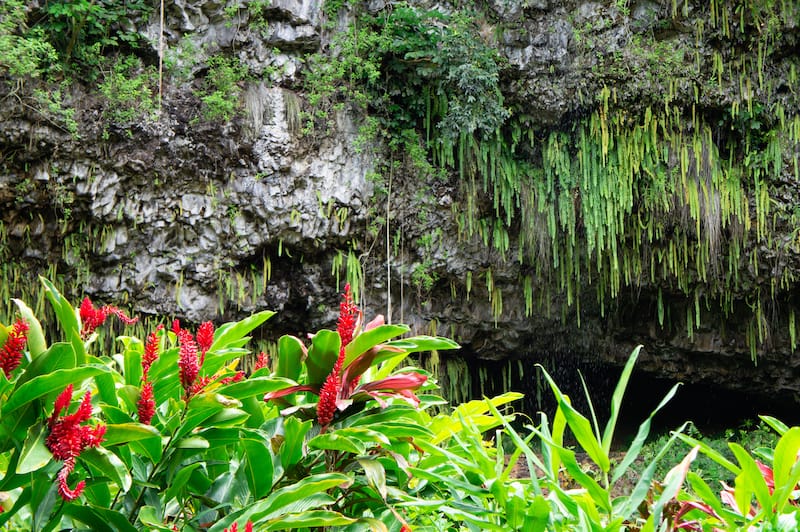 A riverboat tour takes about ninety minutes and gives plenty of photo opportunities. On location, musicians will often play for guests in the beautiful area and the grotto has become an extremely popular wedding location over the years.
Kilohana Plantation
Built in the 1930s, Kilohana Plantation is a historic landmark rich with history. The plantation home is huge and spans over 16,000 square feet!
Guests can ride on the Kauai Plantation Railway and see the plantation's still active farms and orchards.
There are over fifty varieties of fruit tree orchards, fruit fields, vegetable gardens, rare and exotic tropical flowers, forests, plants, hardwood trees, and animal pastures with donkeys, goats, sheep, horses, cattle, ducks, geese, and wild pigs.
Not only do guests learn about Kauai's history, but they also have the opportunity to feed wild pigs, goats, and sheep. This is a fantastic thing to do near Lihue for kids and families.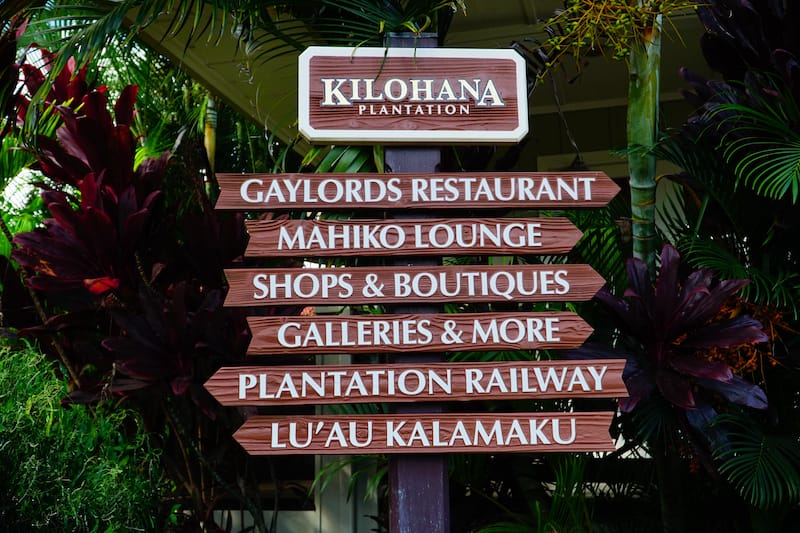 While you're visiting Kilohana Plantation, be sure to stop by the Koloa Rum Company (mentioned below).
Koloa Rum Company
The Koloa Rum Company is located at the Kilohana Plantation in Puhi, Kaua'i. It is a place where one can get rum that was distilled… on location!
The rum company is famous for its award-winning premium Hawaiian rums as well as rum cakes, rum fudge sauce, jams, jellies, syrups, and a wide array of other products.
Visitors 21 and over can check out the tasting room and sample from an assortment of drinks ranging from white rum to coconut rum, to spice rum as well as many others.
Commercial sugar production operations in Kaua'i started in 1835. The Koloa Rum Company was the first licensed distillery on the island, making it a must-visit! Be sure to check out the store for various merchandise and products as well!
Nawiliwili Harbor
If one can get past its joyful name, Nawiliwili Harbor has lots to offer visitors! There is a small boat harbor, a cruise ship, and a commercial cargo port, and the Nawiliwili Yacht Club located at this Lihue landmark.
The harbor is located just south of the Lihue Airport at the mouth of the Hule'ia stream and has been the main harbor on the island since 1930.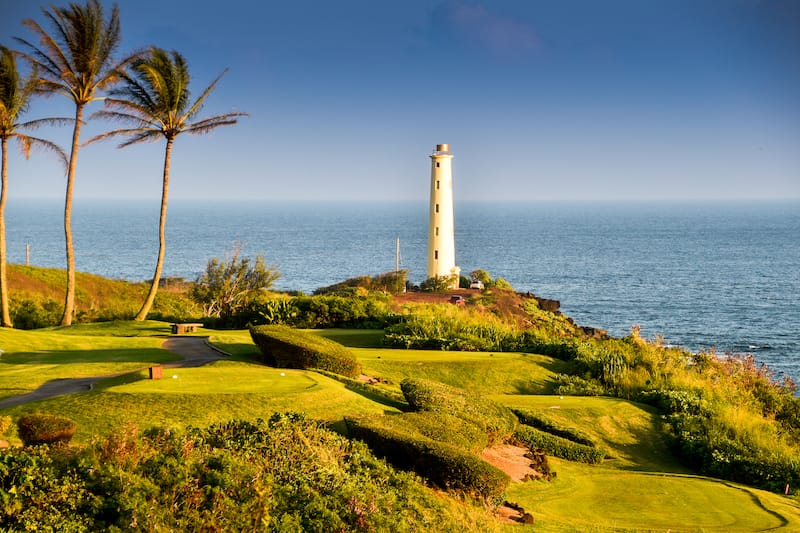 The aforementioned Kalapaki Beach is located just north of the harbor so it is worth visiting them both on the same journey.
When Captain James Cook showed up in 1778, he noticed that the area was the main hub. By the early 1800s, Nawiliwili Bay was an extremely important harbor. Today, the backdrop was used for the 1981 hit movie "Indiana Jones and the Raiders of the Lost Ark".
This is definitely one of the can't-miss sights in Lihue and it serves as an important piece of the island's history.
Grove Farm Homestead Museum
The Grove Farm Homestead Museum steps back into the 1800s and is one of the top museums in Lihue to visit on your Kauai trip.
The farm, located in the center of Lihue, is 100 acres and includes the original plantation's main house, owner's cottage, guest cottage, old office, and other residential and plantation workers' houses.
The farm was acquired and built up by George N. Wilcox in 1864. The property is still being used today just as it was in the 1870s. There are animals, gardens, banana patches, and pastures.
You can take a two-hour guided tour and hear about the rich history while you explore the premises.
Menehune (Alekoko) Fishpond
As legend has it, the Menehune Fishpond ((Alekoko Fishpond), which is a group of ponds, was built by a small Indigenous tribe known as the Menehune about 1,000 years ago.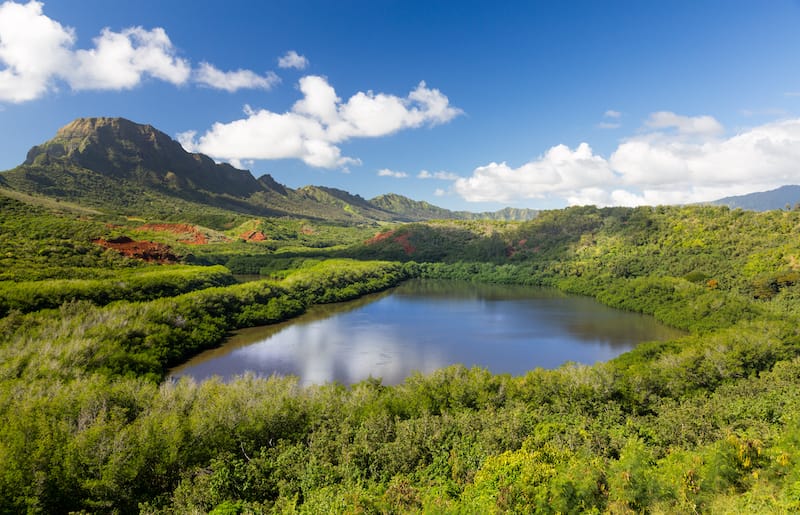 Large stones were used to create walls that were 900 feet wide and 5 feet high. This was used to build a dam over the Huleia River to catch fish that were previously used to feed Hawaiian royalty.
Legend claims that the ponds were built in just one night! Alekoko is located above Nawiliwili Harbor and is one of the best things to do in Lihue on your trip.
Since 1973, the sight has been on the National Register of Historic Places. One can take a kayak tour on the Huleia River and kayak right past the entrance. Preserved and protected, this is an essential place to put on your itinerary!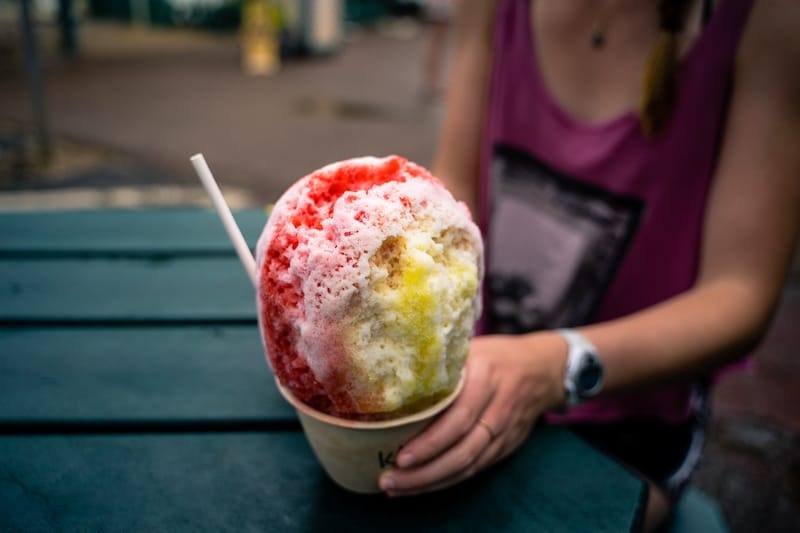 Best Restaurants in Lihue
There are several places to eat in Lihue and these places are the top-rated spots (including a budget eatery where you can grab shaved ice and a brewery)!
Gaylord's Restaurant
Duke's Kauai
Rob's Good Times Grill
Kauai Beer Company
Koloa Mill Ice Cream & Coffee
Did we miss any amazing places to visit in Lihue on this guide? Let us know the best things to do in Lihue in the comments! Thanks!
More Kauai Travel Guides
Pin this Lihue Things to Do Guide