Are you looking for the best luaus in Kauai? This guide will detail the most exciting Kauai luaus to attend – from hula dances to fire shows and beyond!
Are you planning your trip to Kauai last minute?
If you're traveling to Kauai and are looking for some of the best tours and lodging for your trip, you can see our top picks below!
Most Popular Tours in Kauai:
Best Places to Stay in Kauai:
Curious about how to get around Kauai? Click here to check Kauai rental car rates!
At the bottom of this Kauai luau guide, we also detail what to wear, some tips, and a bit more about luaus and hula from a cultural standpoint.
Did we miss any of the top luaus, hula dances, and fire shows in Kauai? Let us know in the comments. Thanks!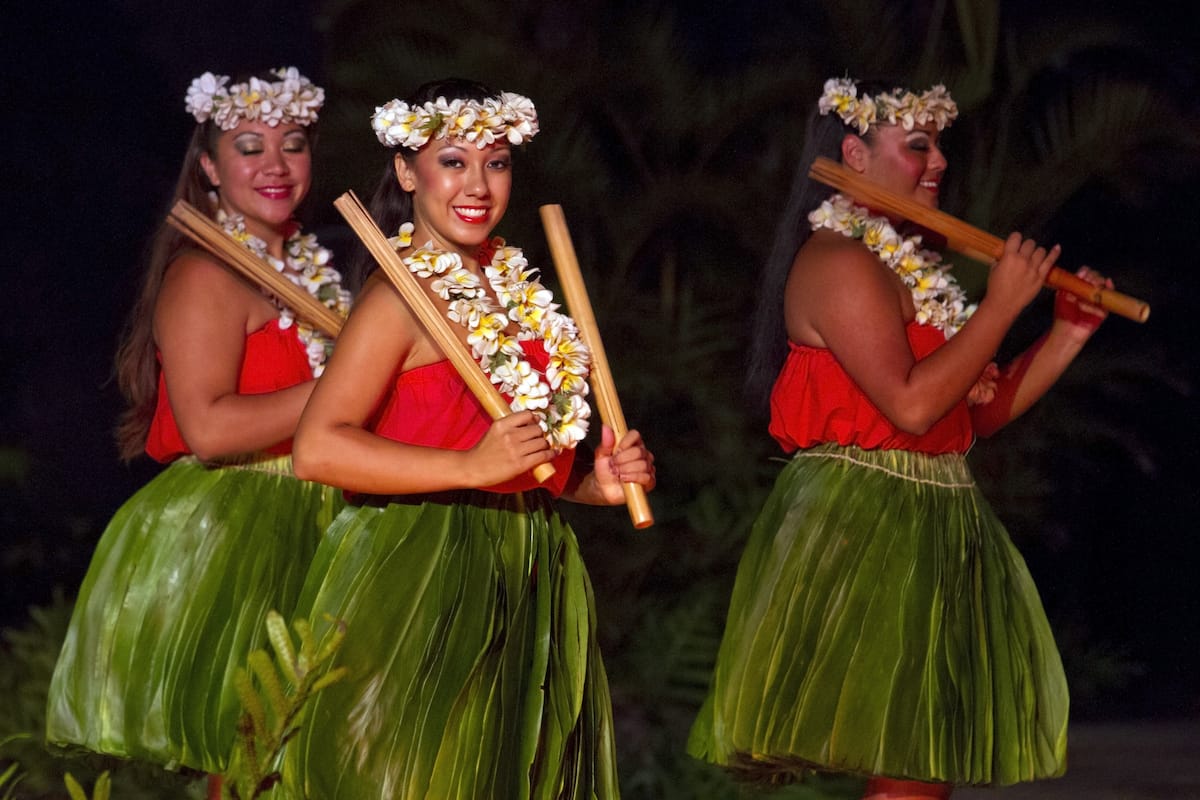 Best Luaus in Kauai
1. Luau Kalamaku (Our Top Pick!)
By booking a night at this luau, you will be able to fully immerse in Hawaiian culture at the Kilohana Plantation at the Luau Kalamaku.
Considered to be the "Best Luau Show" by Lonely Planet, this luau will last around 4 hours.
The feast will start off with a Hawaiian imu ceremony and torch lighting, after which you will be able to dig into some traditional favorites like lomi lomi salmon, teriyaki chicken, and mahi mahi.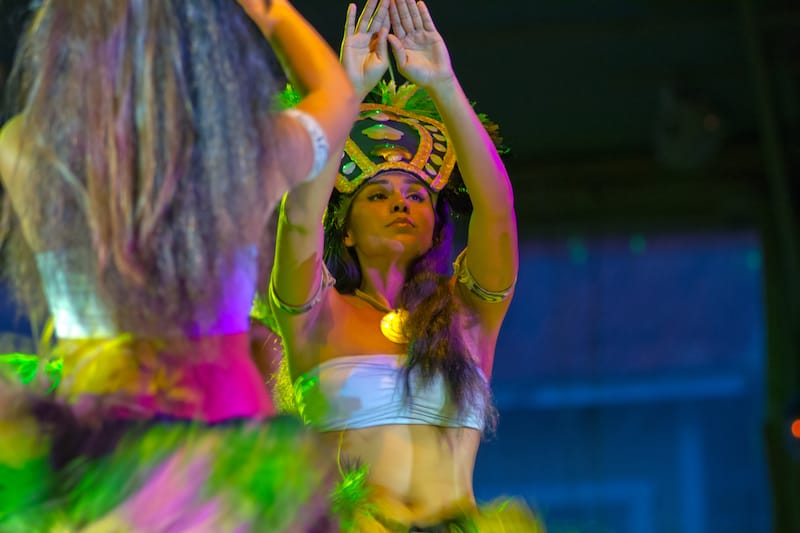 Additionally, you will be able to enjoy some local tropical drinks at the bar.
After the meal, you'll have the opportunity to check out the show at the Luau Pavilion where you will watch how Tahitian explorers first ended up in Hawaii.
The trip offers round-trip transportation from your hotel, as well as a photo session with the performers, a craft fair, and a lei greeting.
>> Click here to book a ticket to Luau Kalamaku
2. Luau Ka Hikina
If you choose to book a ticket to this next luau, the Luau Ka Hikina, the night will kick off with a torch-lighting ceremony and ancient hula dances directed by Leilani Rivera Low, a renowned hula master.
Upon arrival, you will be greeted with a lei. Doors open at 5 PM with seating starting at 5:30 PM, but keep in mind that seats are first-come, first serve, so get there on time!
There will also be a welcome drink of Maitai or fruit punch. The bar will operate until performances begin.
The luau will last around 3 hours, so be sure to plan accordingly.
>> Click here to book a ticket to Luau Ka Hikina
3. Smith Family Garden Luau
This family tradition started over 50 years ago at Smith's Kauai. Four generations later, you will still be able to enjoy a Hawaiian luau in a family-friendly setting.
The luau begins at 5 PM (4:45 PM from November through February), where you will gather at the Wailua River (one of the top destinations on Kauai) and be greeted with a shell lei.
You will have the chance to take a tram tour or walk through the 30-acre gardens.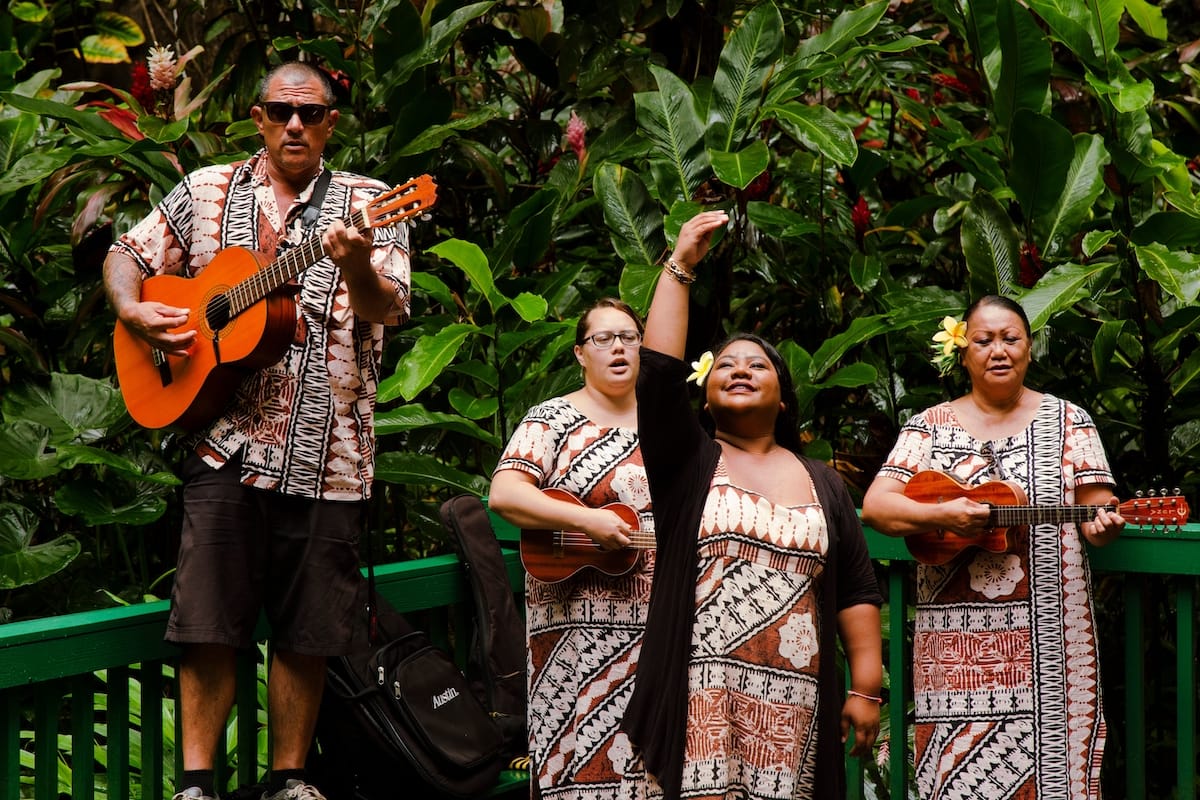 Dinner will start with a traditional imu ceremony as you watch how the kalua pig, one of the most famous Hawaiian foods, is prepared. Afterward, there will be cocktails and music, along with soft drinks and juice.
Then, the luau feast begins at 6:30 PM, which will include favorites like lomi salmon, poi, mac salad, and Hawaiian sweet potato.
After you eat, enjoy a performance that features dances from Hawaii, Samoa, the Philippines, Tahiti, New Zealand, and Japan.
>> Click here to book a ticket to Smith's Kauai
4. Tahiti Nui Luau
Looking for a more romantic vibe? In addition to being family-friendly, the Tahiti Nui Luau is a great place to spend time with your loved ones while enjoying traditional Hawaiian culture and dance.
The Best of Hanalei Luau takes place every Tuesday and Wednesday night, featuring an open buffet and Polynesian entertainment. The menu will feature local ingredients.
The luau lasts approximately 2 hours from 6 PM to 8 PM. You will also have the chance to enjoy a Maitai cocktail, so be sure to bring your ID.
The luau takes place indoors, too, so you can still enjoy it even if the weather isn't the greatest.
>> Click here to book a ticket to Tahiti Nui Luau
5. Auli'i Luau
Also known as the only oceanfront luau in Kauai, the Auli'i Luau takes place right on Poipu Beach, so you will get to enjoy views of the ocean while watching the show.
The luau takes place on Mondays and Wednesdays, so be sure to purchase tickets in advance. If the date you want isn't available, you can also put your name on the waitlist, but there is no guarantee that you will get a spot.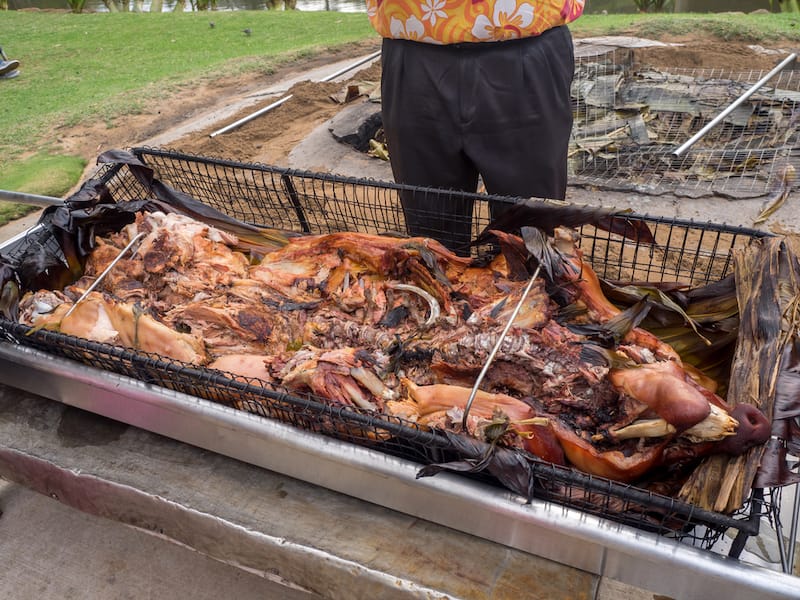 The performance will feature traditional Polynesian dance and music from Urahutia Productions. The dances will take place near your table, providing an authentic experience!
You will also be able to indulge in traditional Hawaiian favorites like slow-roasted pig and poke as you enjoy the beautiful sunset and vivid performance.
>> Click here to book a ticket to Auli'i Luau
6. Ahi Lele Luau Fire Show
The Ahi Lele Luau Fire Show is the perfect place to get into the Hawaiian spirit with luaus every Wednesday night starting at 6 PM.
The luau comes with a dinner buffet, alcoholic beverages, and snacks. All of the ingredients for the foods are locally sourced from Kauai. You will be seated in the Porter Pavilion.
Please note that the regular tickets are for general admission, but if you want to be seated in the front rows, be sure to purchase a VIP ticket.
During the show, which starts at 7 PM, you will have the chance to watch a coconut demonstration and the Fire Show performance, which is directed by Coppin Colburn.
The fire show starts at 7:30 PM, which is also when gates close, so be sure to arrive by then. Tickets sell quickly, so purchase yours with plenty of time to spare!
>> Click here to book a ticket to the Ahi Lele Luau Fire Show
7. Hawaii Alive Luau Show & Dinner
Starting at 6 PM, the Hawaii Alive Luau Show & Dinner will feature a Luau Buffet Dinner with all-you-can-eat, as well as alcoholic beverages and live entertainment.
The dances will be performed by the Rohotu Polynesian Dance Company and Halau Na Punua O Kaua'i, which has a rich history of spreading Hawaiian heritage.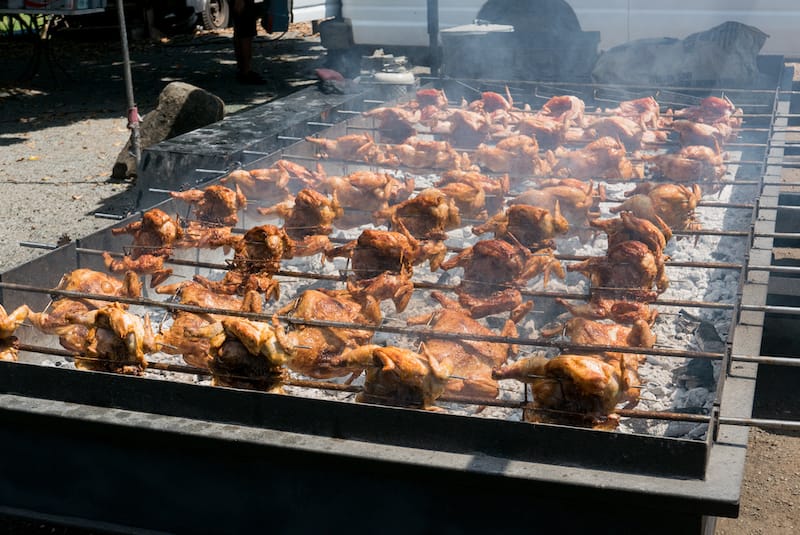 The luau will take place at the Royal Sonesta Resort & Marriott Kauai Beach Club. Be sure to buy tickets well in advance because the tickets tend to sell quickly.
Some of the options for the luau dinner include a salad selection, poke bar, fried rice, kalua pig, mahi mahi, huli huli chicken, and a variety of desserts.
The luaus take place every Monday evening.
>> Click here to book a ticket to the Hawaii Alive Luau Show & Dinner
8. Havaiki Nui Luau
This Kauai luau takes place all year round from Wednesdays to Saturdays, starting at 5:30 PM and ending around 8 PM.
As guests arrive at Havaiki Nui Luau, you will be greeted with a shell lei, as well as a welcome cocktail and bar. The luau features open seating that is offered on a first-come, first-served basis, so be sure to get there early!
There will be cultural activities prior to the dinner and show.
The dinner will feature a vast menu of Hawaiian favorites, including salads and appetizers, entrees like kalua pig, huli huli chicken, sweet potatoes, poi roles, and more, as well as fresh desserts.
>> Click here to book a ticket to Haviki Nui Luau
Kauai Luau FAQ
What is a Luau?
One of the most significant elements of Hawaiian culture is luaus. A luau includes food and entertainment of some kind.
They frequently serve to commemorate an occasion, like a wedding. In the past, luaus might have commemorated a successful harvest or a military triumph.
When people gathered for a feast and to worship the gods, these gatherings were known as "aha'aina," or luaus.
Men and women no longer had to eat separately at luaus after Hawaiian King Kamehameha II abolished the custom in 1819.
He ate with women, breaking the taboo that required them to eat in separate rooms from men.
The word "luau" is derived from the name of a dish that might be served at a luau and consists primarily of squid or chicken, coconut milk, and luau leaves.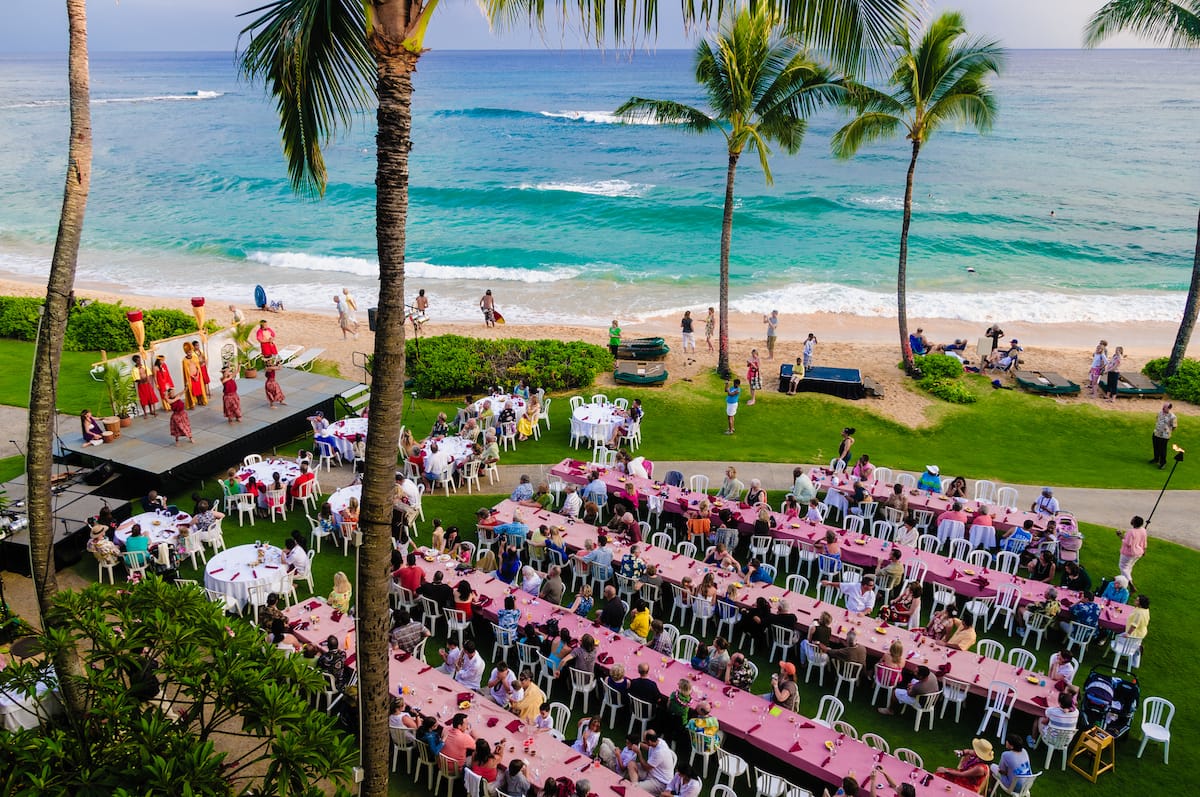 The kalua pig, which is prepared in an earth oven known as an imu, is the main course served at luaus.
In addition to these dishes, luaus may also include poke, uala (Hawaiian sweet potato), haupia, chicken long rice, poi, and tropical fruits.
You may have observed visitors to luaus wearing a string of flowers around their necks. Both men and women receive these, which are known as leis.
Luaus take place outdoors and frequently include ukulele or guitar music. A luau may also feature storytelling, Samoan fire knife dancing, hula, and other forms of entertainment.
To understand more about the historic Polynesian culture, you can currently take part in contemporary luau celebrations around the Hawaiian islands.
What is Hula?
The Hawaiian Islands are the only place where the hula dance takes place. It is a storytelling dance with a range of tempos, from sorrowful to energetic and from slow to quick.
While many people nowadays could take part in hula as a kind of entertainment, historically, the hula dance was performed to uphold Hawaiian culture and traditions.
The two primary hula dance styles are hula kahiko and hula 'auana.
In the traditional dance known as hula kahiko, dancers will pay tribute to a person or location. The storyteller will speak to the rhythm of the unique drum known as the ipu heke.
Dancers of hula kahiko will wear attire that is green and neutral in color. The dance must be performed and taught exactly as it was originally taught in order to preserve the heritage.
The contemporary hula dance is known as the hula 'auana. Hawaiian or English music may be performed, and the dancing is considerably more improvisational. A ukulele is also playing along with it.
Hula 'auana dancers may don a variety of colorful attire.
On the Hawaiian islands, luaus are where hula dances are frequently done. However, you should also try to watch the Merrie Monarch, where traditional hula dances are performed.
You can discover more about historical Hawaiian customs and folklore by watching this dance.
What to Wear to a Luau in Kauai
If you choose to attend a luau, opt for comfortable attire! Wearing vibrant hues like lime green, orange, or yellow is also highly advised.
Shorts, sandals, and flip-flops are acceptable outfit choices. The shirt could be a button-down, polo shirt, or t-shirt, for instance. A Hawaiian-style shirt is another option!
You can also choose a stylish sundress. If you want more genuine and regional clothing, you may also buy luau attire in Hawaii.
Since many luaus are held at night, the weather will be a little cooler. A lightweight jacket might not be a bad idea to bring.
Kauai Luau Tips
The following are some of the best Kauai luau tips to keep in mind:
Luaus are not only forms of entertainment. They are first and foremost traditional Hawaiian events. Please always act with respect.
You'll receive a lei when you first arrive at the luau. You should wear it for the remainder of the event since these are signs of friendship. Do not remove it as it can be considered very rude and offensive.
Since meats are typically served on the menu at luaus, be careful to let the host know in advance if you have any dietary concerns.
Plan plenty of time because luaus often last between two and three hours, though some may continue even longer.
More Kauai Travel Guides
Pin this Best Kauai Luaus Guide