Are you planning a trip to the Garden Isle and are in search of the perfect Kauai itinerary? We have you covered!
This 4 days in Kauai itinerary covers all of the highlights of the island and allows you to maximize your time on Kauaʻi!
Are you planning your trip to Kauai last minute?
If you're traveling to Kauai and are looking for some of the best tours and lodging for your trip, you can see our top picks below!
Renting a Car on Kauai:
Click here for the cheapest rates at Lihue Airport (Airport code: LIH)
Most Popular Tours in Kauai:
Best Places to Stay in Kauai:
While we believe you can easily spend 7 days in Kauai (or much more!), 4 days is the absolute minimum to plan for a Kauai road trip if you want to see the main highlights of the island!
Let us know if you have any questions, suggestions, or recommendations for this Kauai 4 day itinerary. And… if you scroll to the bottom, we have even more suggestions if you stick around longer!
NOTE: While we want to pay respects to the Hawaiian language, we do realize it is hard to navigate and search through this post unless you have a Hawaiian keyboard activated (in some circumstances).
As a result, we are using place names without certain Hawaiian letters for the main points of interest. However, we will put the proper Hawaiian name by each so you can see its actual and official spelling.
For the smaller places within the guide, we will use the Hawaiian name. Mahalo!
How to Use this Kauai Itinerary
This itinerary is set up so that you can see the main points of interest on Kauai and can swap days around as needed. As you can see on the map below, we have color-coordinated the different days and the respective places to visit in Kauai on those days!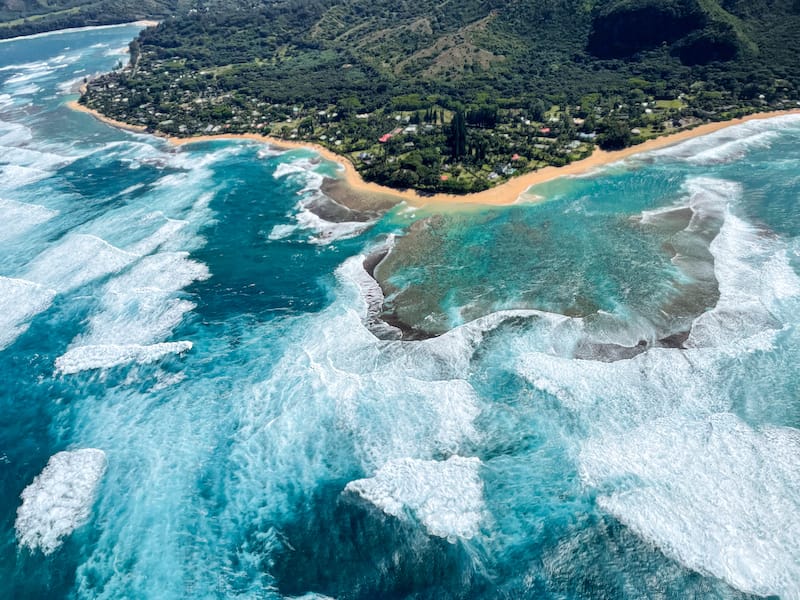 We do think that 4 days in Kauai is the bare minimum that you should spend there.
But, if you have 5 days in Kauai (or even more!), we have offered some suggestions for activities and things to do at the end to help you plan accordingly!
It is assumed that you have rented a car for this Kauai trip. Truthfully, it is the best way to see the island and all it has to offer! This itinerary for Kauai was planned with that in mind.
We do offer a few tours on this guide but these tours are ones that you are unable to do independently and ones that I think are crucial to having the most epic trip.
Depending on when you fly in and where you are staying, you can swap them around a bit.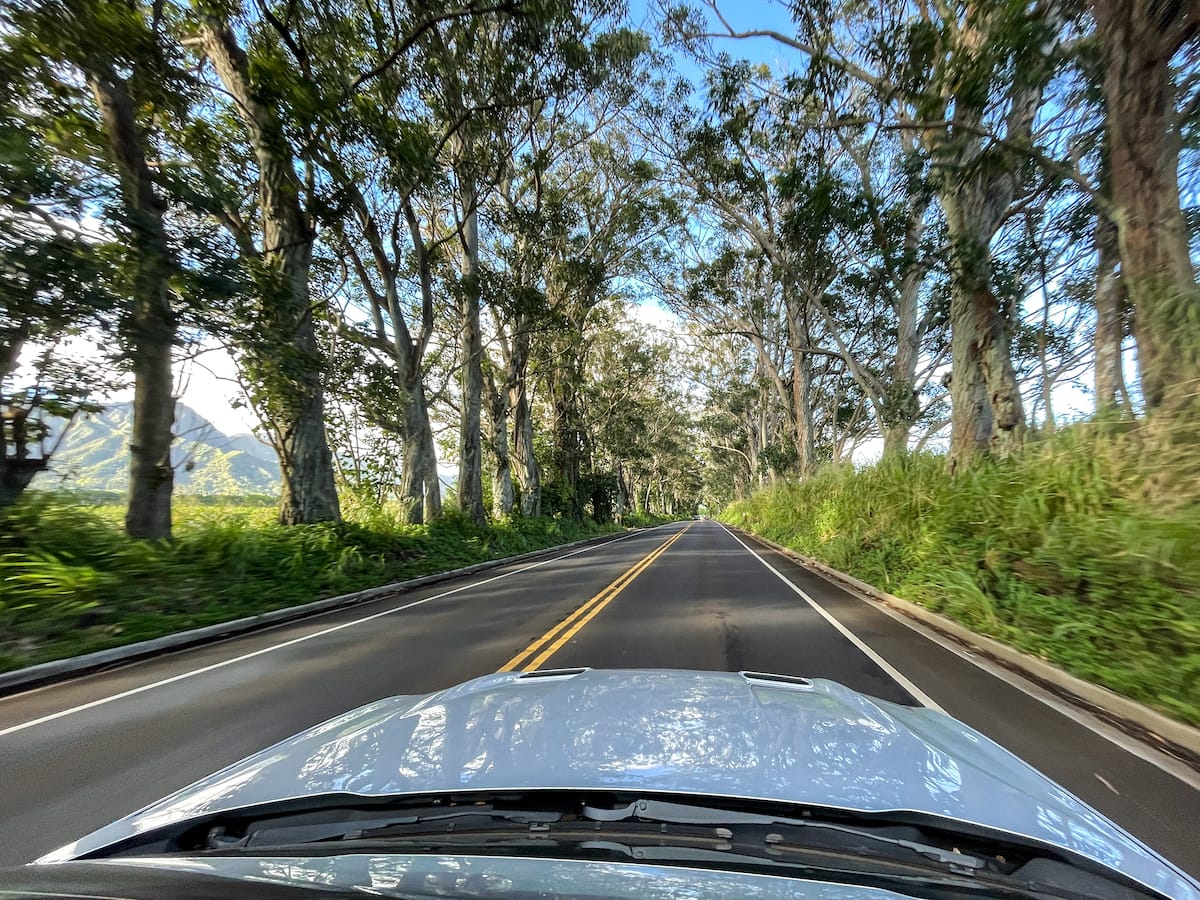 One thing to really note is that it is going to be super challenging to do everything on this itinerary. So, please note that some things should be at your discretion depending on what type of a trip youʻre seeking to have!
On this itinerary, we also give some tips for the road, FAQ, suggested places to stay, and then, of course, the suggested Kauai road trip itinerary!
4 Days in Kauai – Map
To add this map to your Google Maps account, click the 'Star' icon next to the map name. You can then view it on your cell phone or computer by heading to your Google Maps account, click the menu and add it to 'Your Places'.
Road Trip on Kauai (at a Glance)
Here is a quick and broken down look at this Kauai itinerary:
Day 1: Southern Kauai + Waimea Canyon
Puu O Kila Lookout and Kalalau Lookouts

Kokee State Park

Waimea

Hanapepe

Koloa and Poipu

Kāneiolouma Heiau
Day 2: Lihue + Helicopter Ride
Day 3: Northern Kauai
Haena State Park

Limahuli Garden & Preserve

Viewpoints and Beaches

Hanalei

Kilauea Point National Wildlife Refuge
Day 4: Wailua River State Park + Kapaa
Kapaa

Opaekaa Falls

Keahua Arboretum

Wailua Falls

Lydgate Beach Park
More Than 4 Days in Kauai
Na Pali Coast Boat Tour

Polihale State Park

Hiking in Waimea Canyon
Best Time to Visit Kauai
I donʻt think there is particularly a bad time to visit Kauai, but I definitely think you will have better conditions in summer.
The weather tends to be stable during the winter where temperatures are in the mid-high 70s and in the summer they tend to be in the low-mid 80s.
August tends to be the hottest month and February the coldest. The wettest month is usually December and the windiest month is July.
As a rule of thumb, the southern part of Kauai is drier (trust me… it will be so evident when you see it) than the north. So, if youʻre looking for perfect beach days, the south is your go-to place. If youʻre looking for lush greenery and donʻt mind the showers that come with it, head north!
During the winter months, the North Shore gets the swells and the beaches are not the safest for swimmers (but are a delight for experienced surfers). Alternatively, winter is the best time to go on a Kauai whale watching tour!
Price-wise, the cheapest months to travel to Kauai are April, May, August, September, and early October. Christmas and the holiday season around it are usually expensive and in high demand.
Overall, there is no bad time to visit Kauai. But, some months may be more desirable depending on what you are looking to do during the vacation!
Renting a Car in Kauai
The best way to get around Kauai, hands down, is by renting a car. We opted to rent a car with Budget/Avis and picked it up at the Lihue Airport.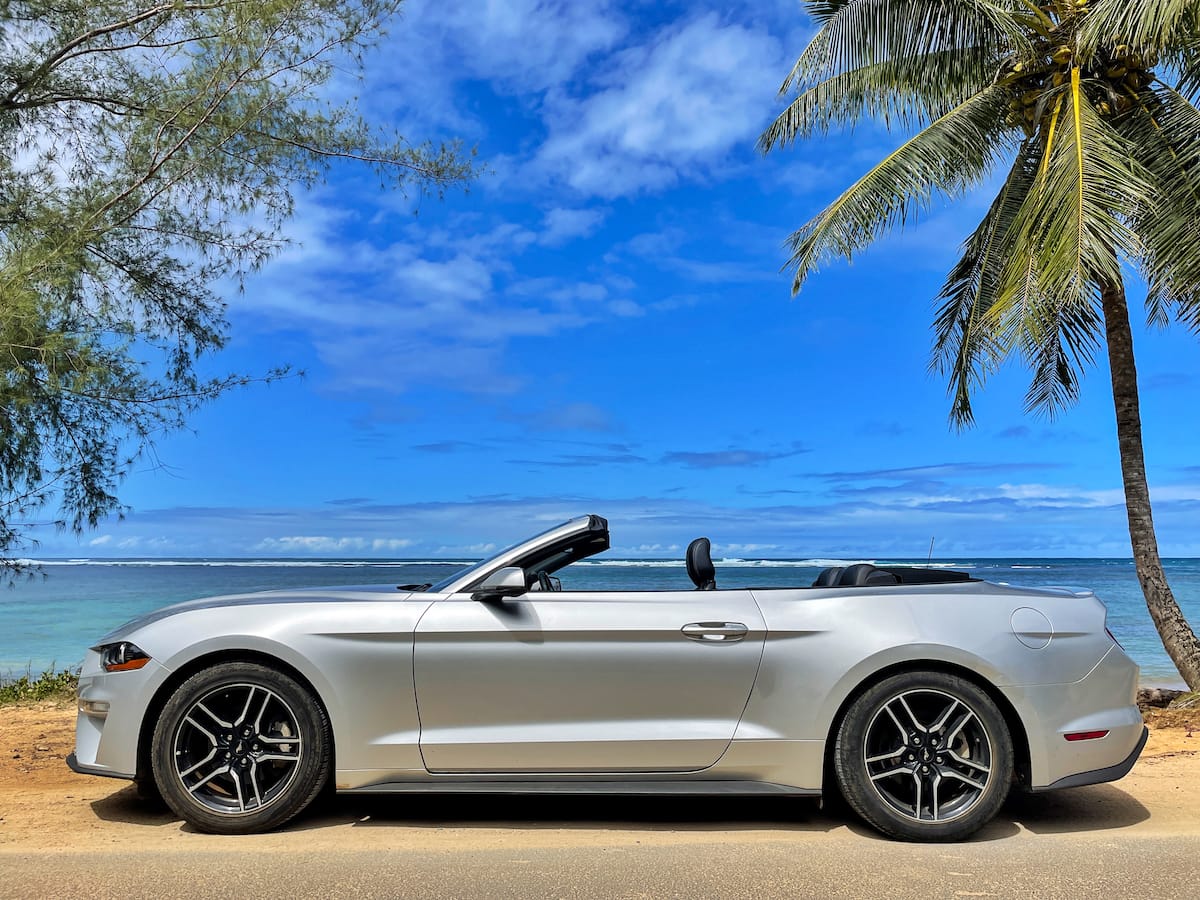 Fortunately, they gave us an upgrade to a convertible which made the trip even more exciting. One tip is to make sure you book your rental car far in advance to ensure availability.
>> Click here to check Kauai rental car rates
How Many Days Do You Need in Kauai?
Honestly, no fewer than four days! I think 4 days in Kauai is the bare minimum you can see most of the sites with and not overdo it (although it will cut it close).
If you are visiting other Hawaiian islands on this trip, I understand opting to see Kauai in 4 days. But, if you are only visiting Kauai… definitely try for one week!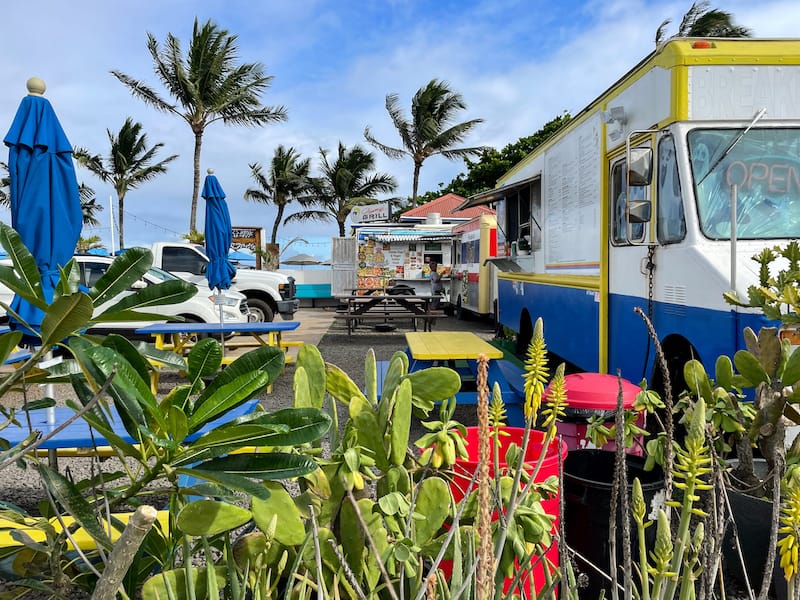 If you have one week in Kauai, you can see so much and enjoy the island at a leisurely pace. This itinerary doesnʻt leave for much downtime on things so I do encourage those extra days that will allow you to space things out accordingly.
Also, if you have 7 days in Kauai, you can do some hikes, take some sunset cruises, and enjoy the beaches at a more chilled-out pace.
Kauai Road Trip Tips & FAQ
Here are a few things that I think are helpful to know before embarking on a trip across Kauai!
Get an early start. This is really crucial, especially if traveling in the winter. The weather can change throughout the day and is more temperamental in the winter months. If you start late, you may not have the best conditions to see everything in its prime. And, fog is prevalent.
A car is the best way to see Kauai. Public transportation exists but is minimal throughout the island.
The south of the island looks completely different than the north. The south is dry and arid while the north is lush, green, and mountainous.
The winter swells hit the north during winter. So, if youʻre looking to stay somewhere with family-friendly beaches during winter, opt for the south!
The Na Pali Coast is as wild as can be and I suggest seeing it more than once whether it be from a helicopter tour, a boat ride, or the overlooks past Waimea Canyon.
Many of the main lookouts and points require a payment from vehicles. Usually, it is around $7 or so.
There are food trucks everywhere! You will never be far from delicious food and small businesses to support!
Beware of traffic around the Kapaa area. I was told a few times that locals call it the Kapaa Crawl because it is always congested and moves at a sluggish pace!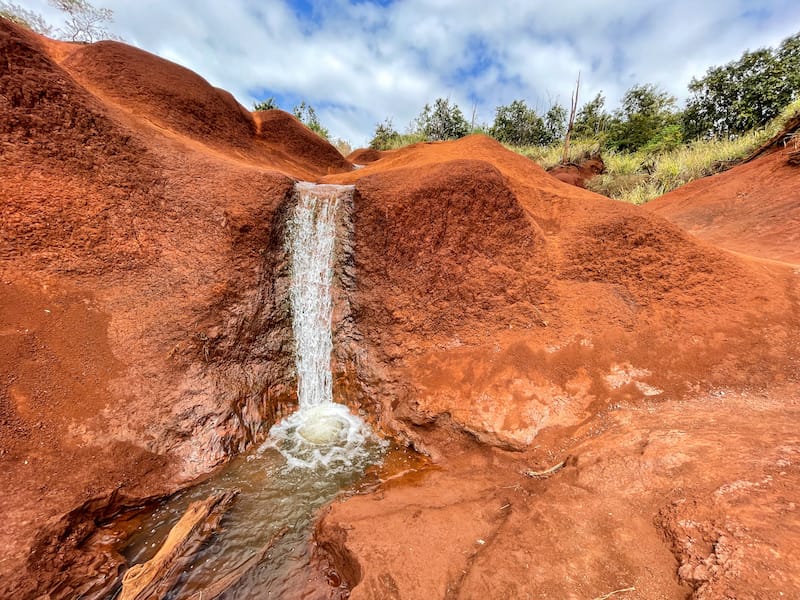 Where to Stay in Kauai
Where you choose to stay in Kauai can really determine the type of trip you will have and how easy it will be to move about the island.
I, personally, think staying in Lihue and the Nawiliwili Harbor area is a safe bet if you have a rental car. It is centralized enough and developed enough that you have everything at your disposal!
I also think the Kapaa area is a fabulous place to stay if you want a centralized location with good restaurants and a hip environment.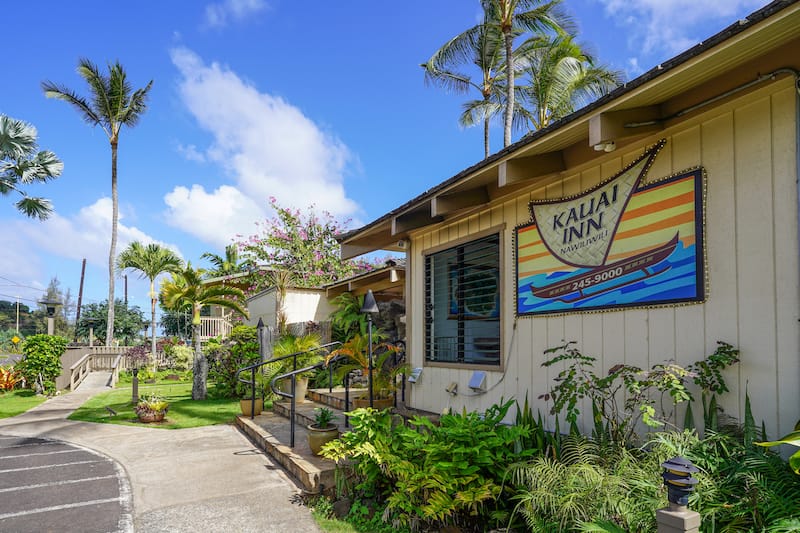 When I did this 4 day Kauai itinerary, I stayed at The Kauai Inn. It is said to be the oldest hotel on the island and it is pretty budget-friendly (for Kauai which doesnʻt say a lot).
While it is a bit removed from Lihue town, it is within a short walking distance of Nawiliwili Harbor and has all the things you need nearby.
GOOD TO KNOW: Please note that hotels in Kauai are super expensive. So, when I call something a ʻbudgetʻ option, it may still be $200+ a night. Mid-range is somewhere around $300-400. And luxury is anything above that.
Below are my top recommendations for different parts of the island. There will be hotels for all budgets in Lihue, Kapaa, the North Shore, and the south in and around Poipu.
Best hotels in Lihue (and nearby):
Best hotels in Kapaa (and nearby Wailua):
Best hotels in Koloa / South Kauai:
Best hotels in North Kauai:
With anything in Hawaii, make sure you book well in advance to ensure availability… especially if your budget is limited!
Day 1: Southern Kauai + Waimea Canyon
I think it is best to start your first day off with a bang! Waimea Canyon is absolutely breathtaking and is a fabulous introduction to the Garden Isle.
I highly recommend starting this day as a FULL day… so if you arrive the day before, do some of what is listed for Day 2 (I put a helicopter flight there just in case you are delayed) or relax and get over the jet lag!
You will need to head out as early as you can for Day 1. Honestly, the clouds move around a lot at the viewpoints overlooking the Na Pali Coast, so I really want to give you the best chance to see it from above (spoiler alert – I didnʻt listen to my own advice).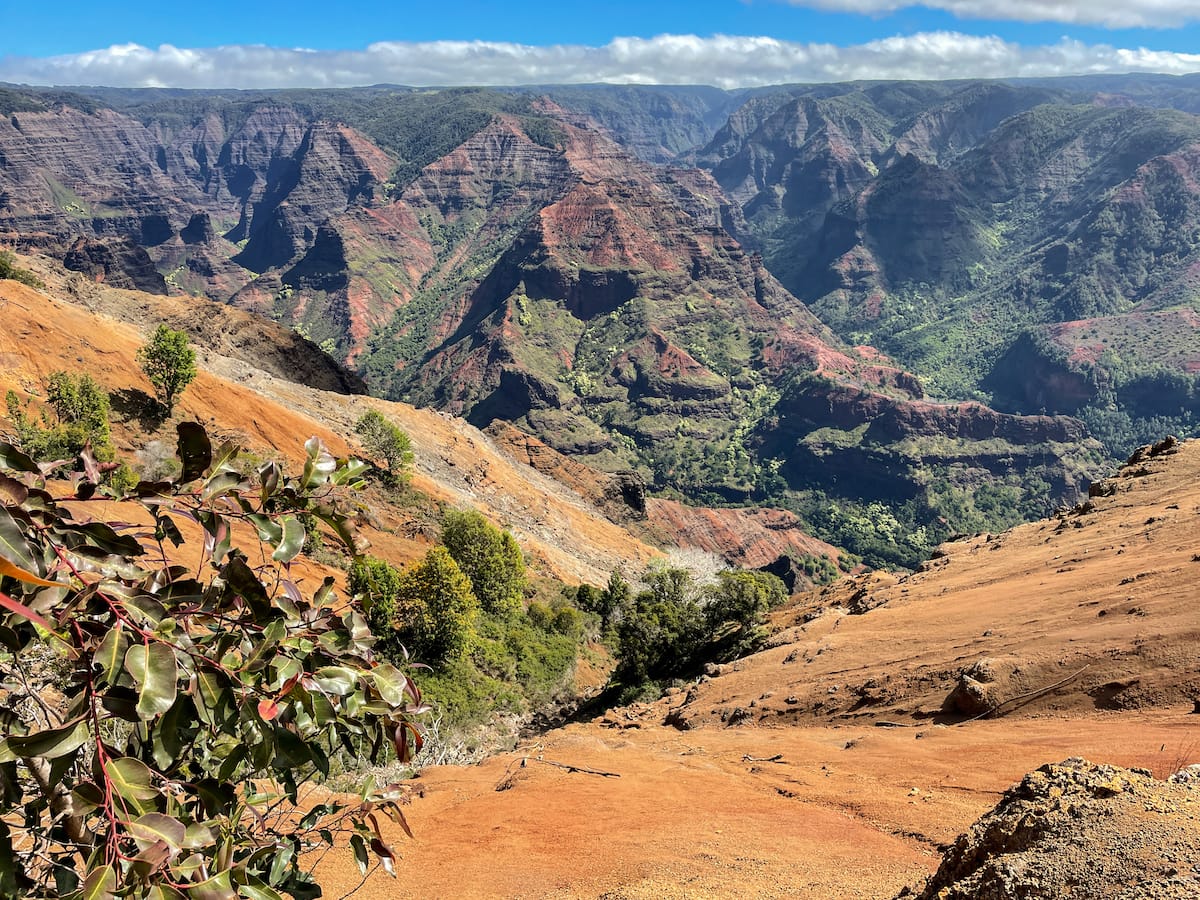 I would recommend heading as far out as possible to start this day… which is why you will see the Puu O Kila Lookout as the first stop.
Get there and work your way back as the longer you wait, the bigger chance you will see clouds and fog instead of the rugged Na Pali cliffs!
Visit the Puu O Kila Lookout and Kalalau Lookouts
At the very end of the road that goes through Waimea Canyon and Kokee State Park are two incredible lookout points that will grant you a birdʻs eye view of the Na Pali Coast (Hawaiian: Nā Pali).
Puu O Kila (Hawaiian: Puʻu O Kila) is the first and it is the furthest away and the last stop on the road. The Kalalau Lookout is the other.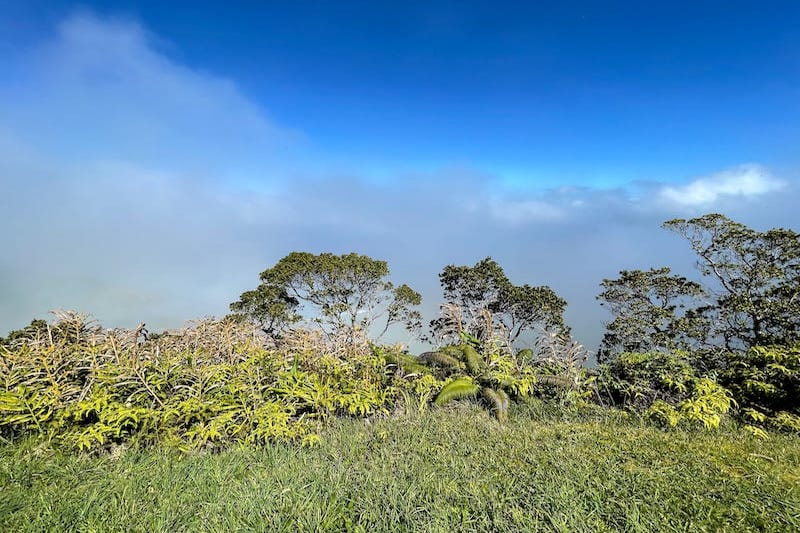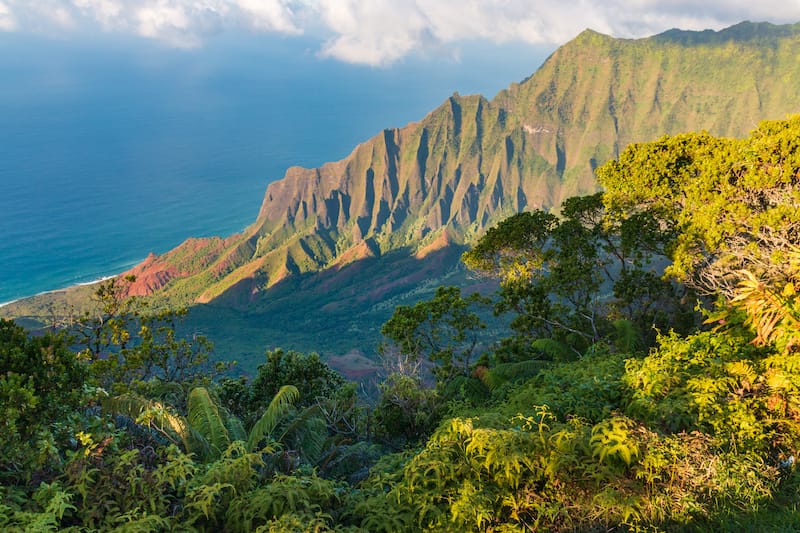 I didnʻt get a view from here and waited around to see if the fog would clear… it never did! But, it is worth a shot and is on the canyon road so you will likely be in the neighborhood anyway.
It does cost to park up there, so have someone in your crew hop out and see what kind of views there are before you park and pay (it is a machine and not a person).
Stop by Kokee State Park
Next, you will work your way back down the mountain until you come upon Kokee State Park (Hawaiian: Kōkeʻe State Park). This Kauai state park is a must-visit since youʻll already be passing through!
Kokee State Park is known for its view over the Kalalau Valley from 4000 feet above! It is also a great place to go camping if youʻre interested. It is a $5 entrance for non-locals and it is open during daylight hours.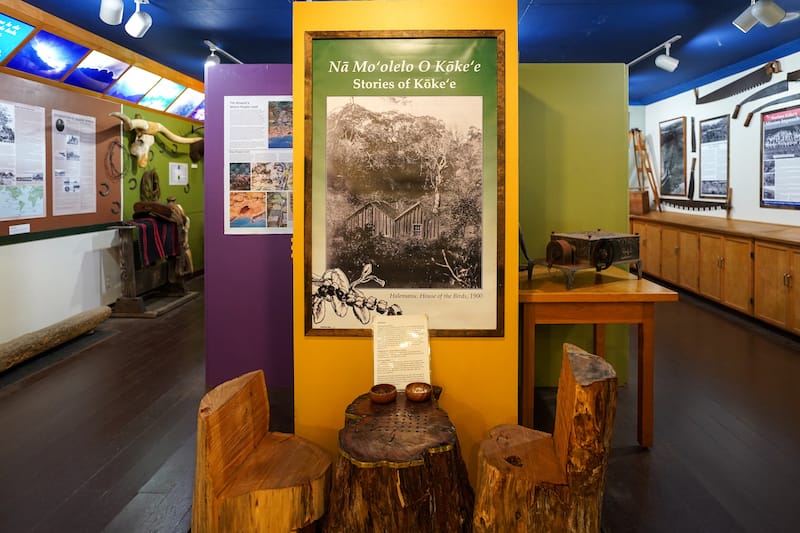 Be sure to stop at the Kōkeʻe Museum around the lodge. Youʻll find a lot of information about the local species, trails, and plant life in the park. There is also a restaurant next door that has hot food and also sells some local gourmet products.
If Kokee is on your list for longer than a mere pit stop, you will find an abundance of trails inside the state park! Some of the most popular trails are the Awaʻawapuhi Trail, the Pihea Trail, and the Nuʻaloo Cliffs Trail.
As you cruise back down the road, some worthwhile stops are:
Waipoʻo Falls Lookout (might be dried up if low rainfall!)
Hohonu Awawa Lookout
Red Dirt Waterfall (this was cooler than I expected!)
Nʻiihau Lookout (grants you great views of the ʻForbidden Islandʻ – Niʻihau)
GOOD TO KNOW: This is a gorgeous road but it can be slightly nauseating if youʻre in the backseat or get a bit car sick Especially if there is fog!
Grab Lunch in Waimea
Once youʻre back down the hill and to Waimea, you will be spoiled for lunch options! From Hawaiian food to acai bowls and beyond – there is a lot to choose from.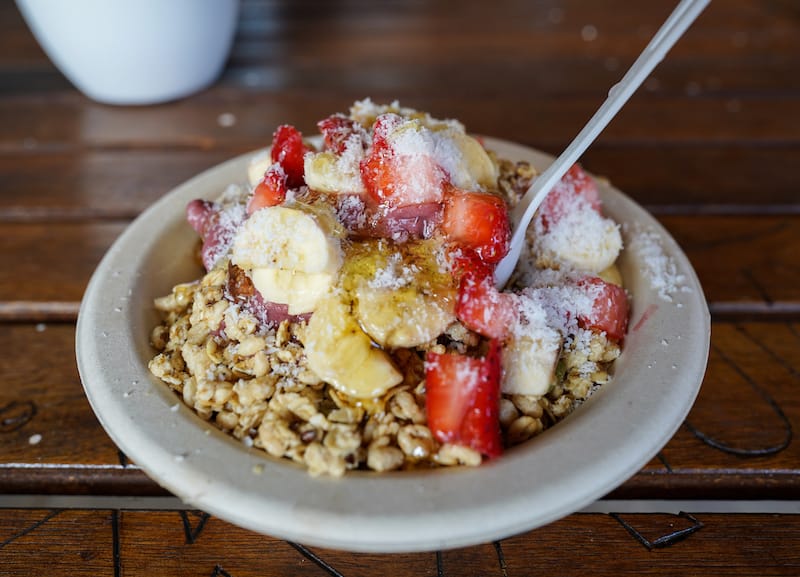 When I was there, there was a fair or some celebration going on, so I think there were far more options than usual, but either way – there will be plenty to choose from even if you arenʻt hitting up Waimea during an event.
Here are my top picks for where to eat in Waimea:
Coconut Corner (had a tasty pork plate here)
Gʻs Juicebar (indulged in an acai bowl here)
Pit-stop in Hanapepe
This is one of the cutest towns not only in Kauai but in all of Hawaii. The old town of Hanapepe (Hawaiian: Hanapēpē) is charming, small… and worth a stop!
This is where Disneyʻs Lilo & Stitch ʻtook placeʻ. Hanapepe was one of the busiest towns on the island during the early 20th century as it was home to many soldiers stationed on the island from WWI-early 50s.
The town is so charming that it has also been used as a setting for ʻThe Thornbirdsʻ (which I was named after) and ʻFlight of the Intruderʻ. You will find heaps of art galleries and eateries there and it was one of my favorite places on Kauai!
Here are a few must-visit places in Hanapepe:
Talk Story Bookstore
Lilo & Stitch Mural
Midnight Bear Breads
Hanapēpē Swinging Bridge
Explore Koloa and Poipu
The next stop on your way back toward Lihue (or wherever you are staying!) is Koloa and Poipu. They are situated really close to each other and both have some cool things to do!
Koloa town (Hawaiian: Kōloa) was the site of the first successful sugar mill on the islands. Today, it is a cozy small town with beautiful buildings, a burgeoning food scene, and a lot of reasons to set aside an hour to stop through!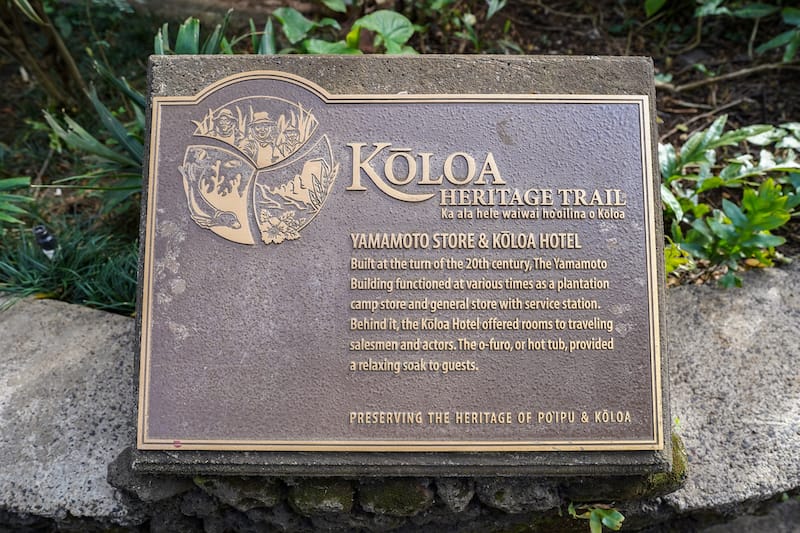 You will find many shops like Billabong and Divine Planet (Hawaii-made souvenirs and more) as well as several places to get a bite to eat like Kenji Burger, Kōloa Pizza Kitchen + Bar, and the Fresh Shave (shave ice).
If you head back to where the remnants of the old sugar mill are – you will likely also see some of Kauaiʻs favorite food trucks. Donʻt forget to grab a coffee at Dark Horse Coffee Roasters when in Koloa!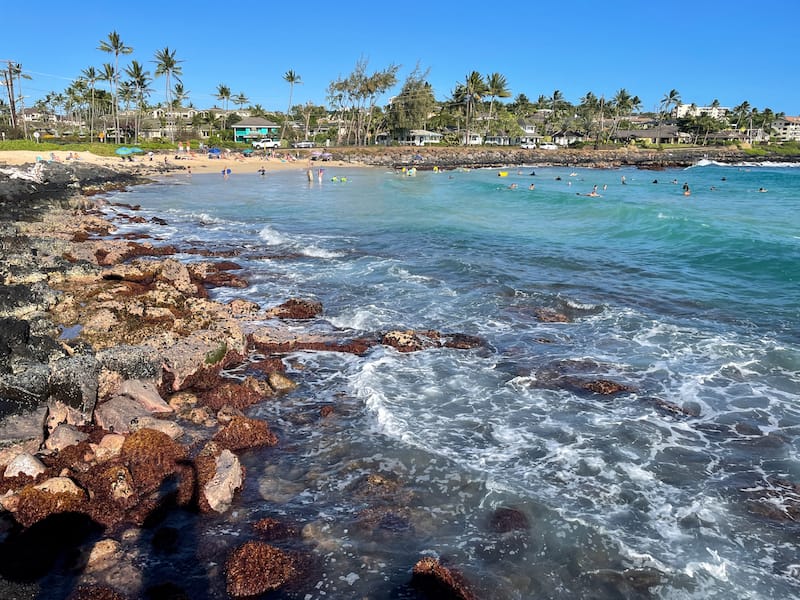 Once you leave Koloa, drive toward the sea until you reach Poipu (Hawaiian: Poʻipū) area!
There are many great beaches here and they are definitely some of the islandʻs best year-round (they are safer than the North Shore beaches during winter).
Be sure to stop at the following Poipu beaches:
Brenneckeʻs Beach (amazing for boogie boarding)
Poʻipū Beach (family-friendly with calm waters)
Kiahuna Beach
If you have extra time in the area, be sure to head to McBryde & Allerton Garden. It is one of the best botanical gardens on Kauai.
Stop at Kāneiolouma Heiau
Kāneiolouma was an ancient Hawaiian village and you will pass it as you drive back from Poipu to the main highway on Kauai. I think is worth a stop, but more importantly, a read-up on first.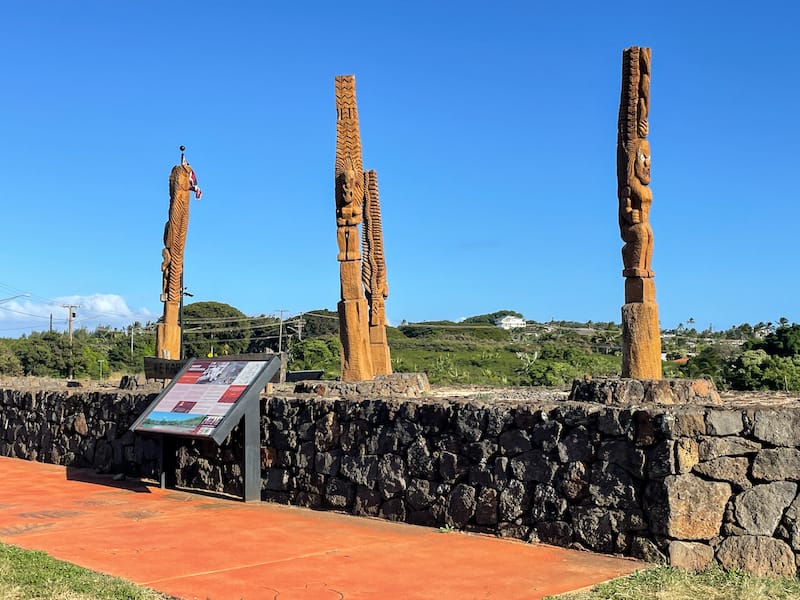 You can read more here about the Kānaka Maoli culture that inhabited this village and while there is not much left today, the story of the place will give you some insight into the sacred place and why it is important.
On the 13-acre site, you will find fishponds, taro fields, and a makahiki arena that goes back to the 1400s.
Drive Back to Lihue (via the Tree Tunnel)
On your way back to Lihue or wherever you are staying, make a point of heading through the famous Tree Tunnel!
Located at 520 Maluhia Rd in Koloa, it is a canopy of trees that stretches about one mile and hovers over 100 feet over you. In the tunnel, you will find over 500 Eucalyptus trees.
They were planted in 1911 and this stretch of road is truly spectacular.
Day 2: Lihue + Helicopter Ride
Morning Doors Off Helicopter Flight
While I would love to recommend you land and take this doors-off helicopter flight over the Na Pali Coast and Kauai, it is a bit risky (and pricey) if you have a delayed flight.
So, I recommend doing it on the second day (or any day as this itinerary is written to shift around a bit at your will).
The reason I recommend a morning helicopter tour is because, particularly in winter, the clouds can move in and rain can taint your experience.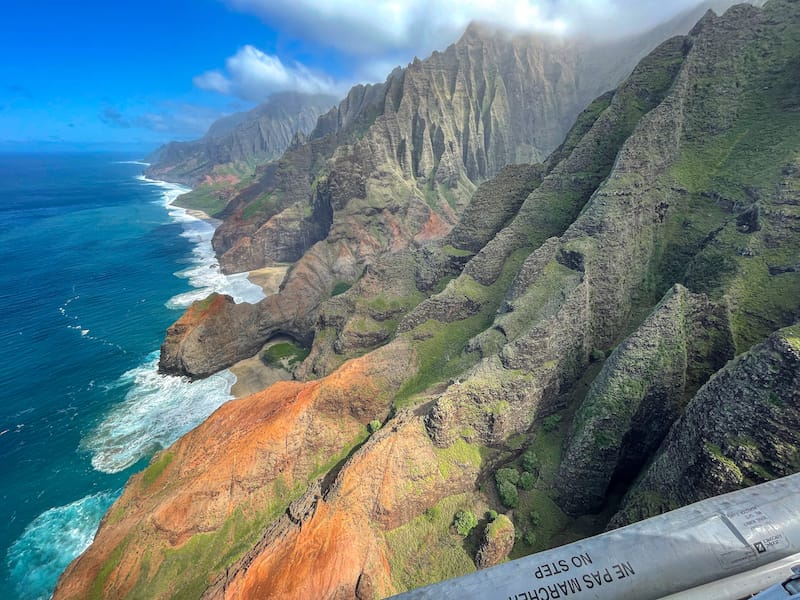 I took my Kauai helicopter ride in the afternoon and the Na Pali Coast was a bit foggy but we moved in and out of the clouds so I had some pretty epic views nevertheless.
Anyway – save money because this is one of the most mind-blowing experiences I have ever had and I think youʻll love it too! The flight is around 50 minutes to an hour long and you will need to arrive an hour early, so it wonʻt take much time off of your day.
Do confirm your time beforehand with the tour company. But… be ready to have your jaw drop! If you get motion sick, try taking some Dramamine beforehand (I was totally fine).
>> Click here to book a Kauai helicopter tour
Sightseeing in Lihue
While youʻre taking it easy in Lihue (Hawaiian: Līhuʻe), you can walk around the town and see what it has to offer. Youʻll find craft beer, craft ginger beer (which should exist everywhere in this world!), tasty food, specialty coffee, and more.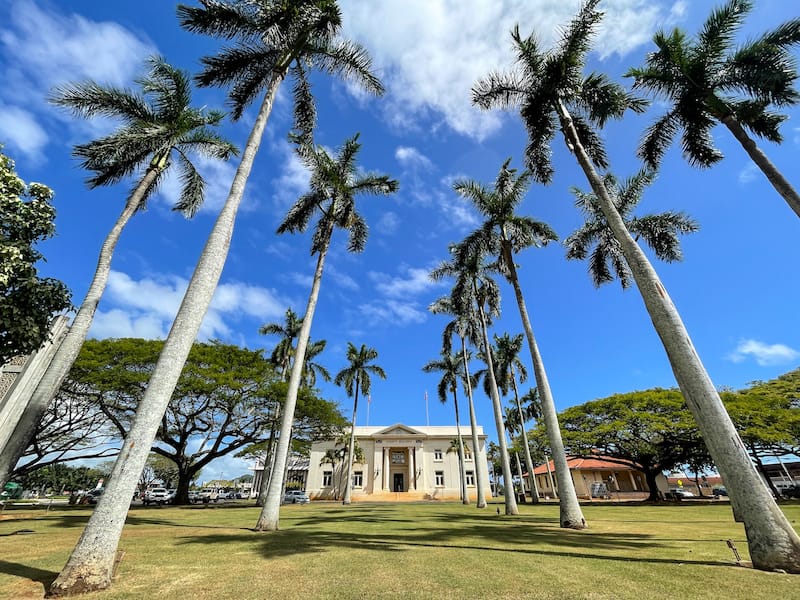 The list below are some of my favorite places to visit in Lihue:
Kauai Beer Company
Kauaʻi Museum
Hamura Saimin
Aloha Roastery
Aloha Ginger Beer
The Fish Express (had a delicious poke bowl!)
You can also walk around the town and admire the street art (especially near Hamura Saimin) and its vibe. If you need anything at large shops, you can find everything in Lihue.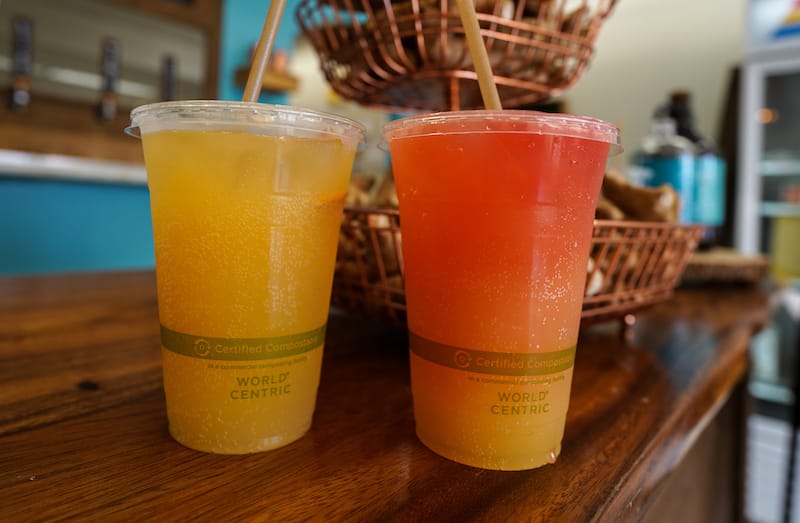 Check Out Nawiliwili Harbor
Nawiliwili Harbor (Hawaiian: Nāwiliwili) is a short distance from Lihue (about 1.5 miles southeast) and it is a great place to spend a few hours. It was super close to my hotel and I found everything from food, bars, food trucks, and even an ABC store there.
When youʻre at the harbor, you can have a drink at Lilikoi Bar and Grill, walk to Kukiʻi Point Lighthouse, and head all the way to Ninini Point Lighthouse.
INSIDER TIP: If youʻre looking to watch a sporting event while in Kauai, Lilikoi Bar and Grill is your place. I watched March Madness games there!
Kalapaki Beach is there and you can opt to have dinner on it at Dukeʻs Restaurant… or you can stroll a bit further and enjoy dinner at Hualaniʻs Restaurant.
The gorgeous Kauai beach appeared to be for guests only from my experience… even if it was technically ʻpublicʻ.
Day 3: Northern Kauai
Today is another ʻyou need to start early!ʻ kind of day! Heading to Kauaiʻs North Shore is a long endeavor if you have based yourself in Lihue (and not Princeville or somewhere on the northern coast).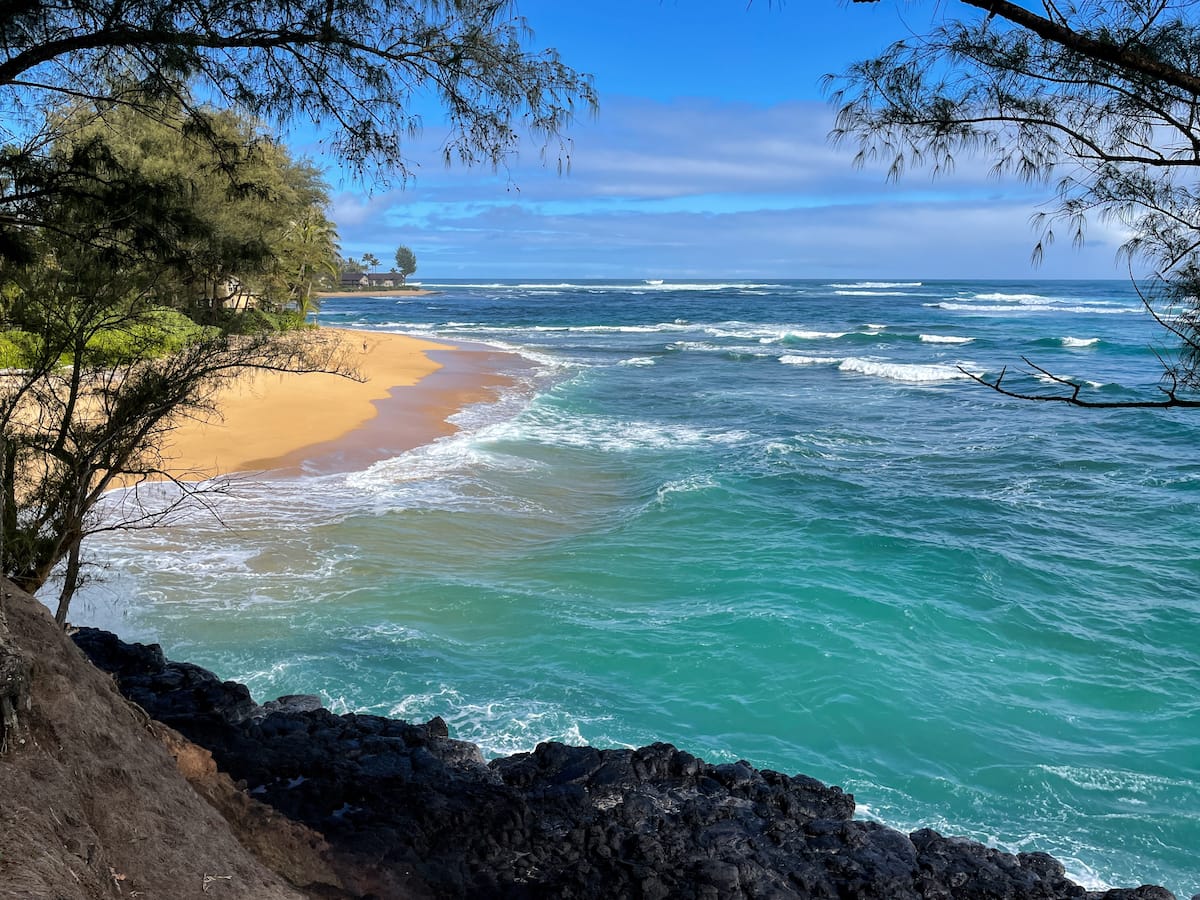 The third day of this itinerary will take you to the furthest point you easily travel by car up there and you will then work your way back!
The north has far more rain and variable weather than the south!
INSIDER TIP: Weather is everchanging on Kauaiʻs North Shore… if you have beautiful lighting on the way up there, stop and photograph. It may not be the same on the way back.
Drive to Haena State Park
The first place to head to on this itinerary is far north and it is called Haena State Park (Hawaiian: Hāʻena State Park). Before you even try heading there, note – this park requires reservations.
I actually made the mistake of NOT doing this before heading that way and was turned back around.
To make reservations, check out their official website here.
When youʻre there, there are a few cool points of interest in the park such as:
Kēʻē Beach
Hanakāpīʻai Beach & waterfalls (8 miles roundtrip)
Kalalau Trailhead
If you are opting to hike the trails, you likely will need to spend an entire day here and wonʻt be able to see what else is listed on this itinerary for Kauai!
Check Out Limahuli Garden & Preserve
The Limahuli Garden and Preserve is one of five botanical gardens on Kauai and the area it is situated in is one of the most beautiful places on the island, in my opinion!
Located right next to Haena State Park and in front of the Makana Mountain ridge, the garden has plenty of Polynesian-introduced plants and was even chosen as the most beautiful botanical garden in the US in 1997.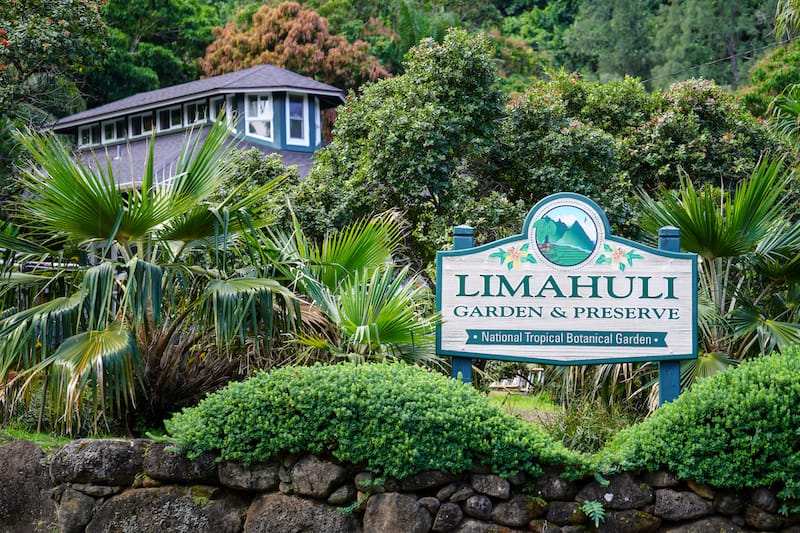 While the garden is open to the public (with a small fee), the preserve is closed.
Do note that the gardens are only open from Tuesday-Saturday and they are open from 8:30am until 4pm (last check-in is at 2:15pm, however – gates close then!).
Check out Limihuliʻs website for more.
Make Small Stops at Viewpoints and Beaches
When you leave Limahuli, you will see plenty of stops along the way and many beaches. I recommend taking your time and stopping at a few to check things out or grab some photos.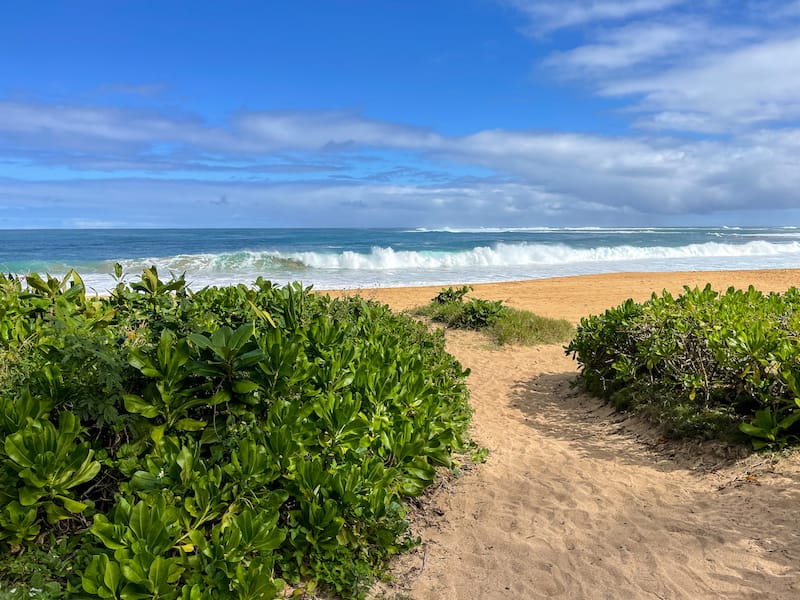 Some of the main stops along the Maniniholo Bay (and beyond) that you will see on the way to the next point (Hanalei) are:
Hāʻena Beach Park
Cannonʻs Beach
Tunnels Beach
Maniniholo Dry Cave
Kepuhi Beach
Wainiha Beach (no swimming here!)
Lumahaʻi Beach
Discover Hanalei
If there is one place in Kauai that I just absolutely fell for, it was Hanalei. Located west of Princeville, this Hawaiian small town is renowned for its art galleries, famous beach, and delicious eateries.
It really just has that laid-back vibe that I yearned for on Kauai and I found it hard to leave when passing through!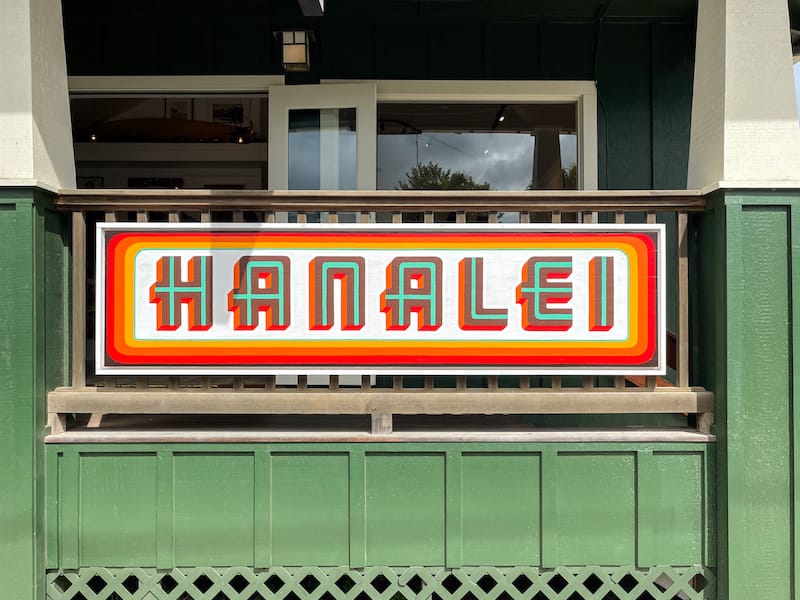 Surrounded by taro fields, you will need to pass a one-lane bridge in order to get to Hanalei. Be sure to let all vehicles on the one-side pass before all pass on the other side.
Some of the places worth visiting in Hanalei are:
Hanalei Beach
Hanalei Bread Company
Outpost Coffee Kauai (amazing specialty coffee place!)
Hanalei Taro and Juice Co (had Hawaiian plate lunch from here)
Wake up Coffee Bar (had an iced coffee here and it was pretty good)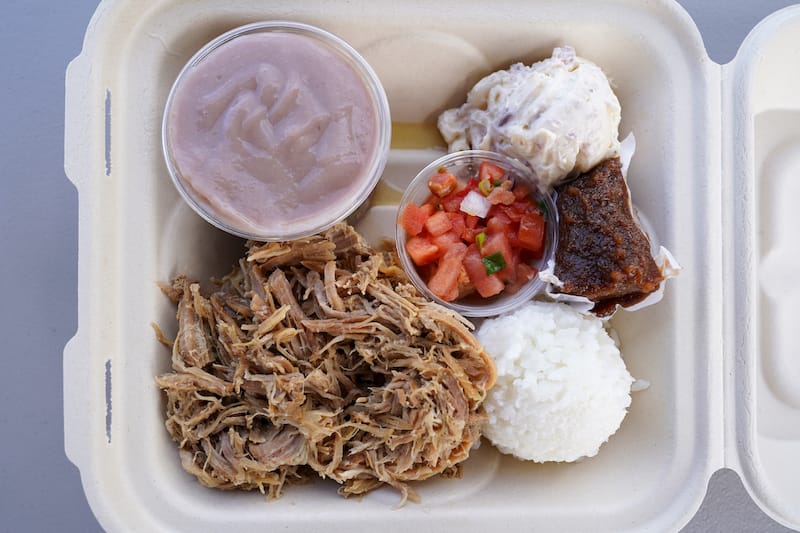 Once you leave Hanalei, you can head to Princeville if you have time. Princeville is teeming with resorts, golf courses, and whatnot, but you will find the Princeville Botanical Gardens and the Queenʻs Bath there.
One place you must check out on your way back is the Hanalei Valley Lookout. This lookout grants you views over one of Hawaiiʻs most photographed panoramic views of the taro fields and beyond.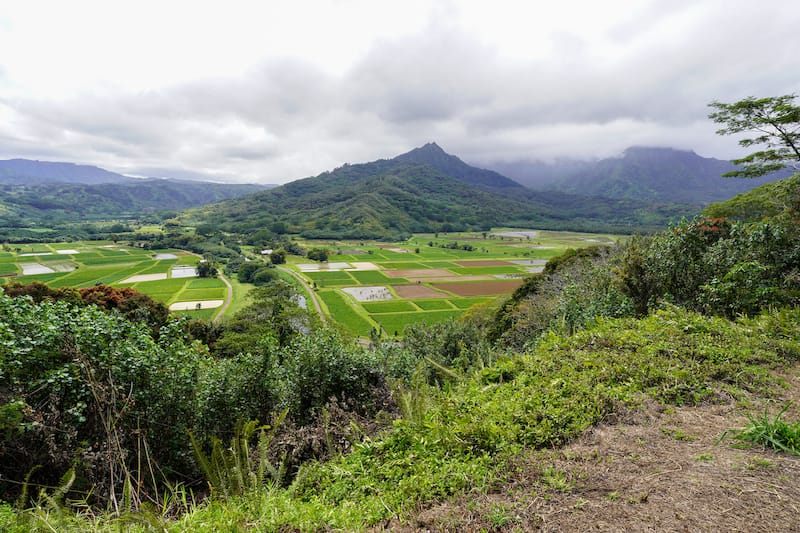 It truly is beautiful… even if you donʻt have the best lighting and skies there (I definitely didnʻt).
Visit the Kilauea Point National Wildlife Refuge
A must-stop place on your way back is the Kilauea Point National Wildlife Refuge (Hawaiian: Kīlauea Point National Wildlife Refuge). One of the top things to see there is the Kīlauea Lighthouse.
The Kilauea Point NWR is home to one of the stateʻs largest nesting bird colonies and you will see tons of birds swarming around you when visiting. But, you will need reservations if you visit. You can make them here.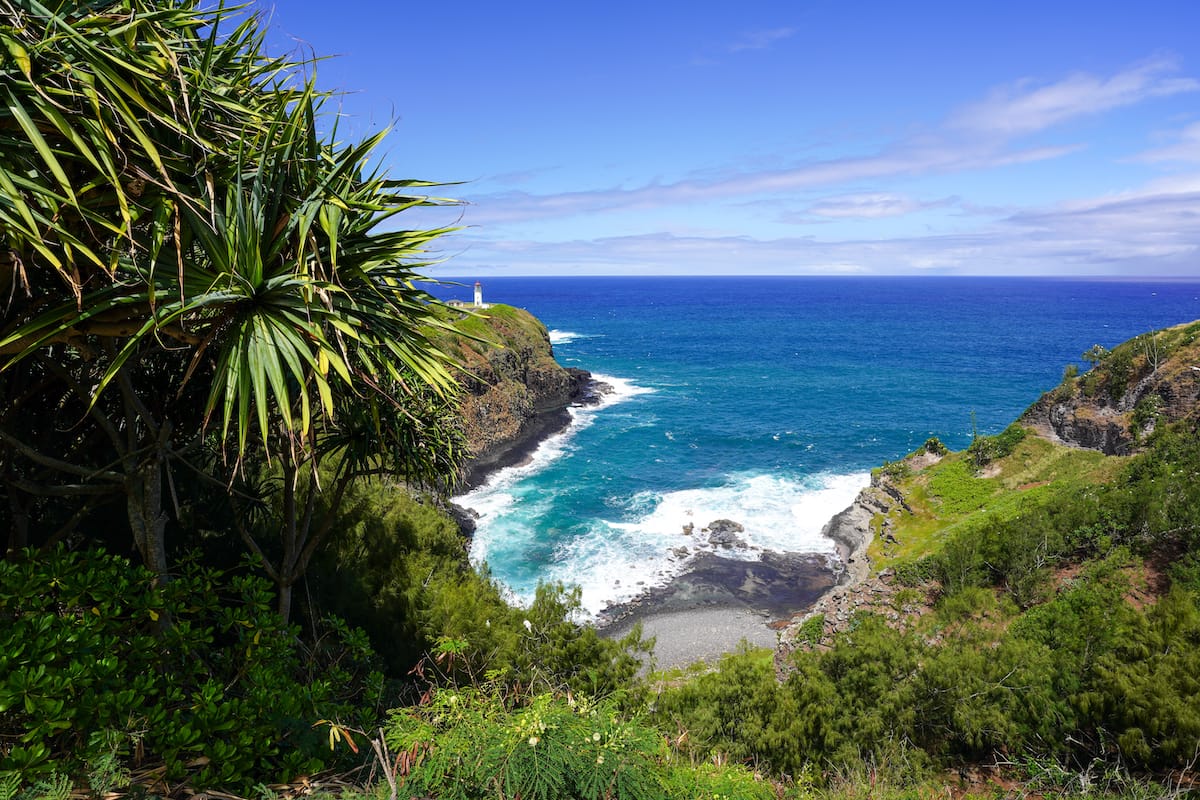 Fortunately, if youʻre not looking for inside access to the National Wildlife Refuge, you can stop at the viewpoint (like I did) and check out the lighthouse and birds flying from afar!
Day 4: Wailua River State Park + Kapaa
If you have only 4 days on Kauai, I highly recommend using one of them to enjoy a kayaking experience on the Wailua River before setting off to explore Kapaa.
Of course, if you have something like a week in Kauai, you will have more flexibility with this itinerary and how to move things around.
Kayaking the Wailua River
One of my favorite experiences in all of Kauai is kayaking the Wailua River! While this experience is only available on weekdays (plan accordingly!), it is unique as the Wailua River is the only true navigable river in the state.
Tours to kayak the river leave from the Coconut Marketplace right off of Kuhio Hwy. You will meet your instructor there, check-in, and then hop in a vehicle over to Wailua River State Parkʻs launch.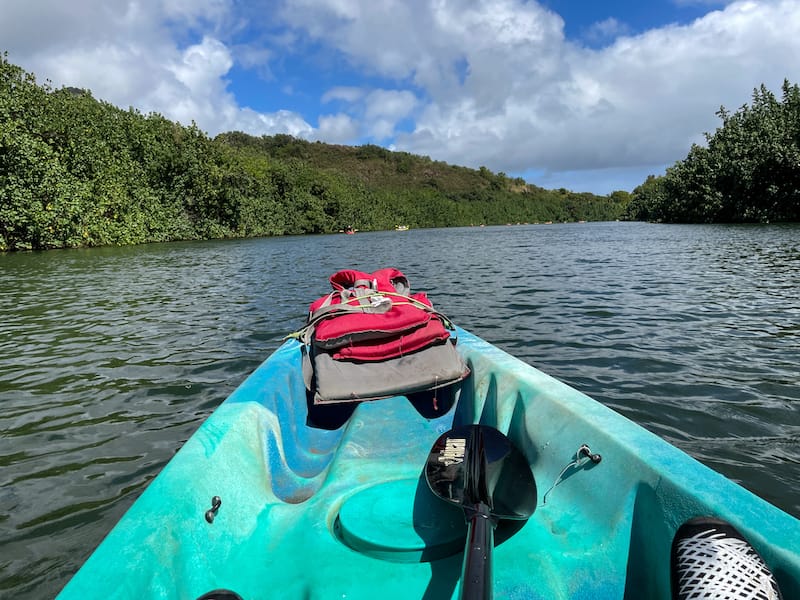 On the route, you will head to the trailhead for the Secret Waterfall (Uluwehi Falls) which is literally no secret… but still worth checking out. You can swim in it and enjoy lunch beside it before heading back with your crew.
>> Click here to book a Wailua River kayak tour
Visit Kapaa for Lunch (and Exploration!)
Kapaa (Hawaiian: Kapaʻa) is easily one of the cutest towns on Kauai and was a favorite of mine. So much that I visited multiple times!
This small town is located on the eastern side of Kauai and is known for its shopping, food trucks, and Wailua River tours. It is also surrounded by beautiful beaches, many of which are suitable for swimming.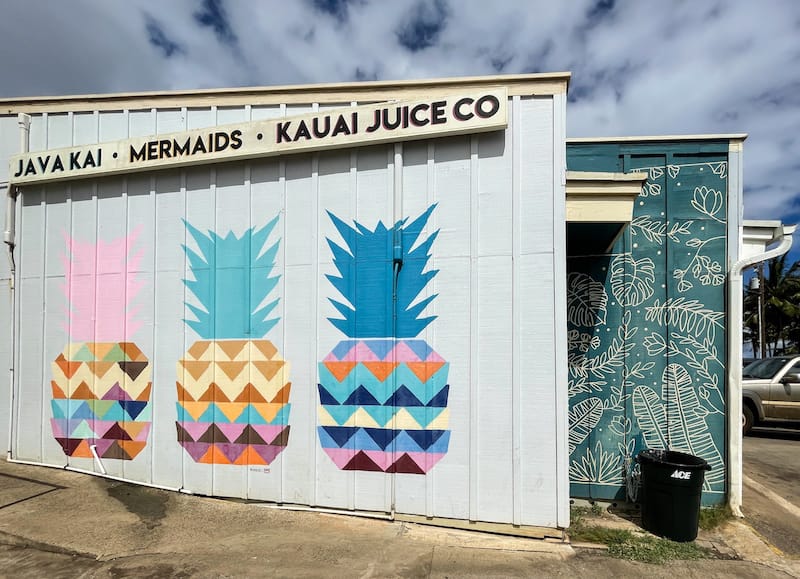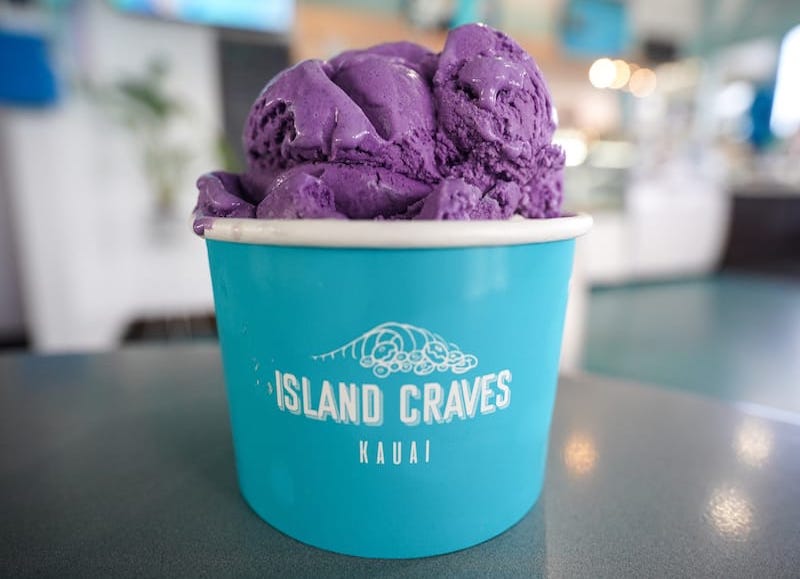 Some of my favorite places in Kapaa are:
Kauai Juice Co. (tasty kombucha!)
El Taco Feliz (Happy Taco) truck
Filloʻs Kauai for tacos (a little bit of a walk but worth it!)
Island Craves Kauai (for taro ice cream)
INSIDER TIP: Spend some time walking along Ke Ala Hele Makalae coastal path – it has epic views and is a great way to kill a few hours if you have some.
Marvel at Opaekaa Falls
Opaekaa Falls (Hawaiian: ʻŌpaekaʻa Falls) is a famous waterfall on the Opaekaa Stream. It is found inside Wailua River State Park and is best seen from an overlook right off the road (no hiking needed)!
The 151-foot waterfall cascades over basalt from an ancient volcanic eruption and it really is one of the most accessible waterfalls in Kauai (and in all of Hawaii). If you are keen to photograph the falls, bring a zoom lens! It is rather far away.
See the Rainbow Trees in Keahua Arboretum
The Keahua Arboretum is a rather underrated stop on a Kauai road trip and should be on everyone's itinerary. While there is not too much to see there, it is beautiful and houses some unique flora and plant life!
Planted by the University of Hawaiʻi, the ʻoutdoor classroomʻ offers cooler air and a few trails like the Kuilau Ridge Trail (1.5 miles) that turns into the Moalepe Trail as part of the Na Ala Hele Trail System on Kauai.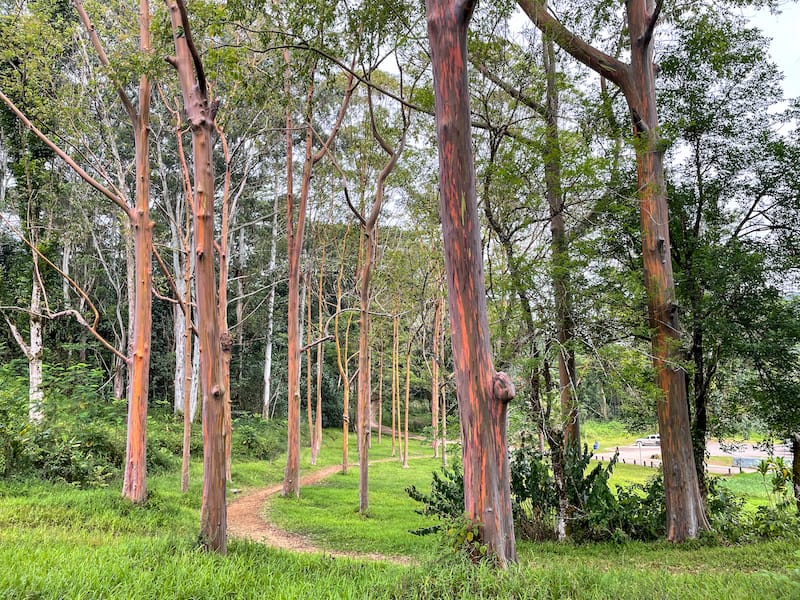 If you continue, you can end up in Mount Waialeale, the wettest place on earth (and not the easiest hike).
Anyway, while that hiking is something for a different day if you choose, you should visit for the Rainbow Eucalyptus (Eucalyptus deglupta) trees!
Inside the garden, you will see trees that are native to Mindanao (Philippines) but were brought to Hawaii in the 1920s. The trees shed their bark during certain times of the year and when they do, it never seems to look the same after.
This all depends on climate and weather so there is no prediction of exactly when it will happen but a trip to the arboretum is definitely worth it.
Check Out Wailua Falls
Wailua Falls is one of the most famous waterfalls in Kauai. The 173-foot tall waterfall cascades into a beautiful pool of water below and it was even featured in the TV show ʻFantasy Islandʻ back in the day.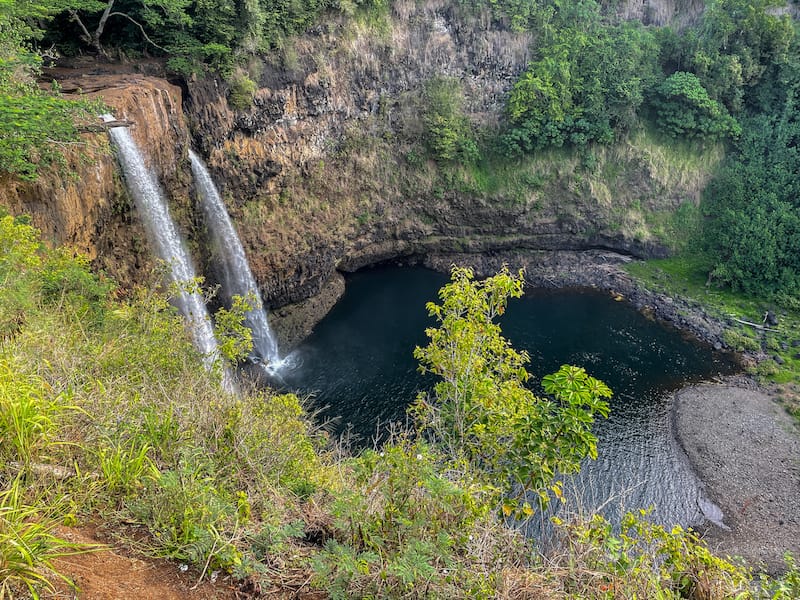 It is also one of the most accessible Hawaiian waterfalls as you can see it from the parking lot you drive up to.
Do note that it is challenging to see the water below the cascade unless you stand on top of the concrete ledge. Be careful!
GOOD TO KNOW: There is a parking lot at the falls, but it is not huge and it is not in a spot where it is easy to turn around… so, go here early if that will stress you out (can go before the kayaking tour!).
Make a Stop at Lydgate Beach Park
Lydgate Beach is one of the islandʻs most popular beaches with stretches of beautiful sand, picnic/BBQ areas, and more! It is worth a stop as you work your way back to Lihue or wherever you are staying.
When there, be sure to check out the two places below (well, at least the first – the second is listed merely if you want to relax for a bit)!
Drink at Mamahuneʻs (if you want to relax for a bit)
Do You Have 5 Days in Kauai (or More)?
If you have 5 days in Kauai or more, there is still plenty to do! This is when I recommend taking some tours and spending more time on the Na Pali Coast (or other state parks on Kauai).
Below are my suggestions to fill extra days if you arenʻt looking for downtime at the beach.
Take a Na Pali Coast Boat Tour
One thing that is so cool to do when youʻre visiting Kauai is to head out on a boat tour of the Nā Pali Coast!
In my opinion, this is better done in the mornings/evenings during the summer and only in the mornings during the winter (the coast is unsettled during the later part of the day in winter).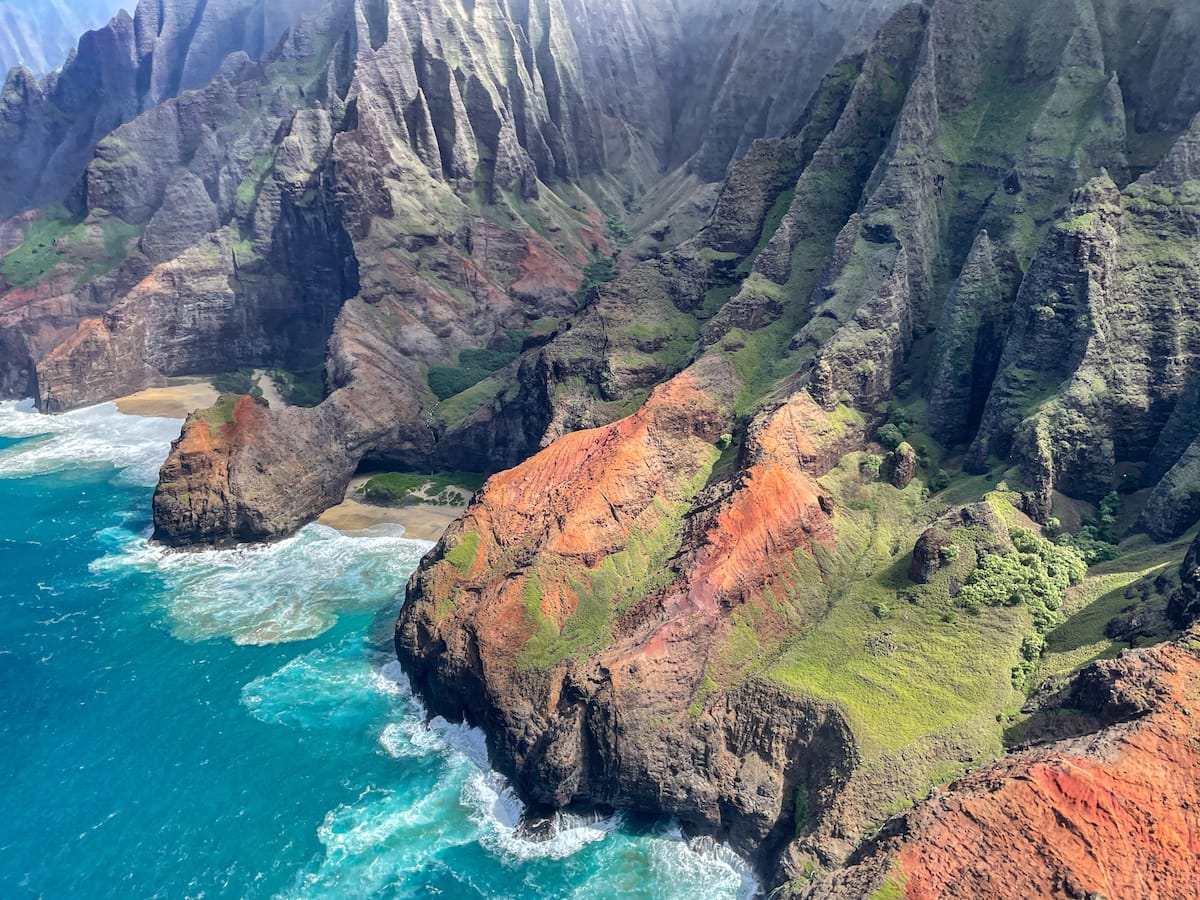 Most of these tours depart from Eleele (Hawaiian: ʻEleʻele) so you will need to get down that way first and foremost.
There are a variety of tours from sunset cruises to snorkeling and rafting adventures off of the coast. I definitely highly recommend this tour (and if you donʻt like kayaking, you can replace your Wailua River kayaking tour with this for Day 4).
Here are some of the top Na Pali Coast boat trips:
Visit Polihale State Park
Polihale State Park is one of the wildest state parks in the Hawaiian Islands and is a must-visit if you have additional days in Kauai.
Open daily from 5:30am-7:45pm, the long dirt road leads to a spectacular beach park where you can picnic and relax near sand dunes and views of Na Pali Coast State Park.
The area is hot and there is little shade. During the summer, you can swim if the conditions are calm. Beware – camping and overnighting are currently not permitted! It is free to visit!
GOOD TO KNOW: The road to the park is not in great condition and can only ʻeasilyʻ be reached by a 4-wheel drive vehicle due to deep sands. Rental car companies may NOT allow you to visit with their cars – so plan ahead.
Hiking in Waimea Canyon
One thing I will factor into my next trip to Kauai are days to go hiking in Waimea Canyon State Park (and Kokee State Park as noted above).
There are plenty of trails there and I want to discover some of them!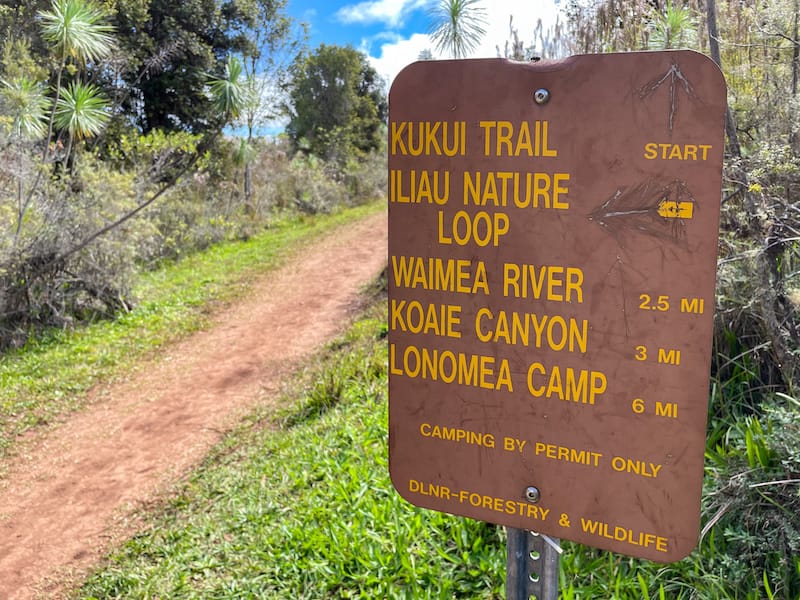 Some of the canyonʻs most popular treks are:
Illiau Nature Loop (easy – I did part of this when there)
Canyon Trail (moderate)
Cliff Trail (easy)
Black Pipe Trail (moderate)
Kohua Ridge (difficult)
We hope that you found this Kauai itinerary useful for planning your trip. No matter whether you have only 4 days in Kauai (or even up to 7 days in Kauai!), you will be able to easily keep yourself occupied and satisfied!
The island truly is magnificent and I am certain you will be able to see Kauaiʻs key points by using this itinerary as a guide!
Let me know if you have any questions about a road trip on Kauai or places you think should be added to this itinerary. Thanks!
Other Hawaii Itineraries
More Kauai Travel Guides
Pin this Kauai 4 Day Itinerary