Known as Hawaii's Garden Island, Kauai is famous for its lush greenery, tropical rainforests, tall mountains, and beautiful beaches. This post shows off the best Kauai beaches (covering various parts of the island)!
Are you planning your trip to Kauai last minute?
If you're traveling to Kauai and are looking for some of the best tours and lodging for your trip, you can see our top picks below!
Most Popular Tours in Kauai:
Best Places to Stay in Kauai:
Curious about how to get around Kauai? Click here to check Kauai rental car rates!
There are places in Kauai that you can only access via the sea or air, which promise to provide some of the most beautiful views. The island is known for its remote beaches that don't end up with too large crowds.
Also, Kauai's beaches are among the most picturesque in all of Hawaii, many featuring crystal-blue waters, white sand, and stunning coral for snorkelers.
Whether you enjoy swimming, surfing, or simply want somewhere relaxing to sunbathe, be sure to check out any of these beaches in Kauai! If we missed your favorite, let us know in the comments!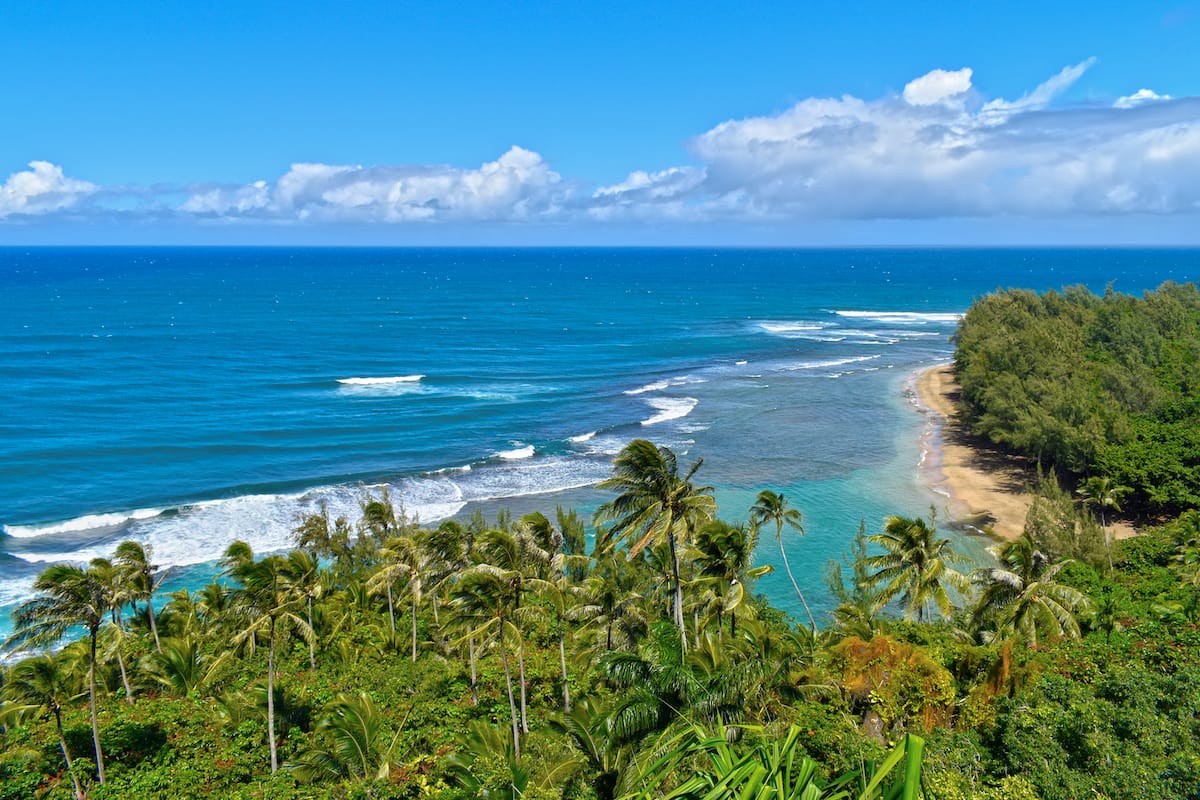 Best Kauai Beaches
Shipwreck Beach
Located in beautiful Poipu, Shipwreck Beach gets its name from a ship that sank off the coast. The beach is a must for all itineraries for Kauai, regardless of how much time you planned for the island!
After the sign, take a left turn onto the dirt road and take a short walk about 200 yards toward the beach. Ample accessible parking is situated at the Mahaulepu Trail Head.
Some of the amenities on the beach include bathrooms, showers, and a picnic area.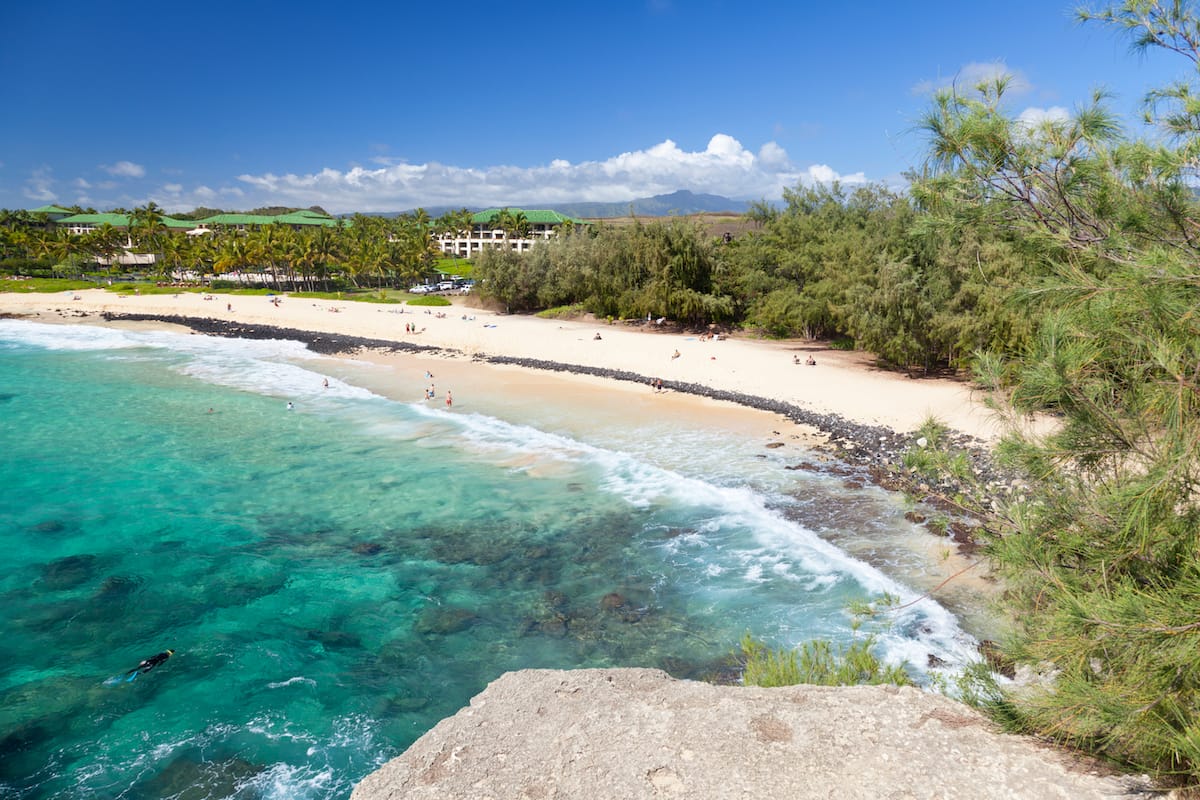 Due to the large waves, Shipwreck Beach isn't the best spot for swimming or boogie-boarding, but it is popular for those who want to go beachcombing or who want to watch the beautiful sunset.
You can also check out Makawehi Point, a lithified sand dune, and the trail that leads to Maha Ulepu Beach, which is popular for fishing.
Ha'ena Beach Park
This beach is located in the North Kauai region and is known for its scenic views and water activities. You can surf, swim, or spend quality time relaxing on the shore with loved ones.
Ha'ena Beach Park has strong currents during the winter, but that doesn't stop experienced surfers from trying out the challenge!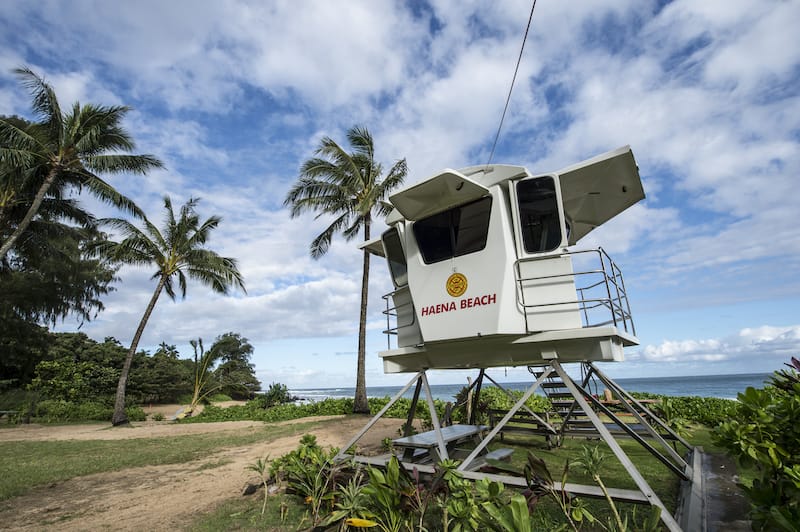 To get there, drive through highway 560 west from Princeville Resort rentals. Then when you reach the Ha'ena small community look for mile marker 9.
There are bathrooms, showers, and picnic areas on the beach. As a bonus, Ha'ena Beach Park with its views of Mount Makana makes for a wonderful spot to take some beautiful tropical-themed photos.
Ke'e Beach
Ke'e Beach is situated at Highway 560's end and is popular for its NaPali Coast view.
The beach is a popular snorkeling destination due to the reef it's protected by. Ke'e is especially known for its clear waters and plenty of reef fish.
It is also a popular destination in the summer because of how calm and clear the water is. You can also check out the gorgeous sunsets here.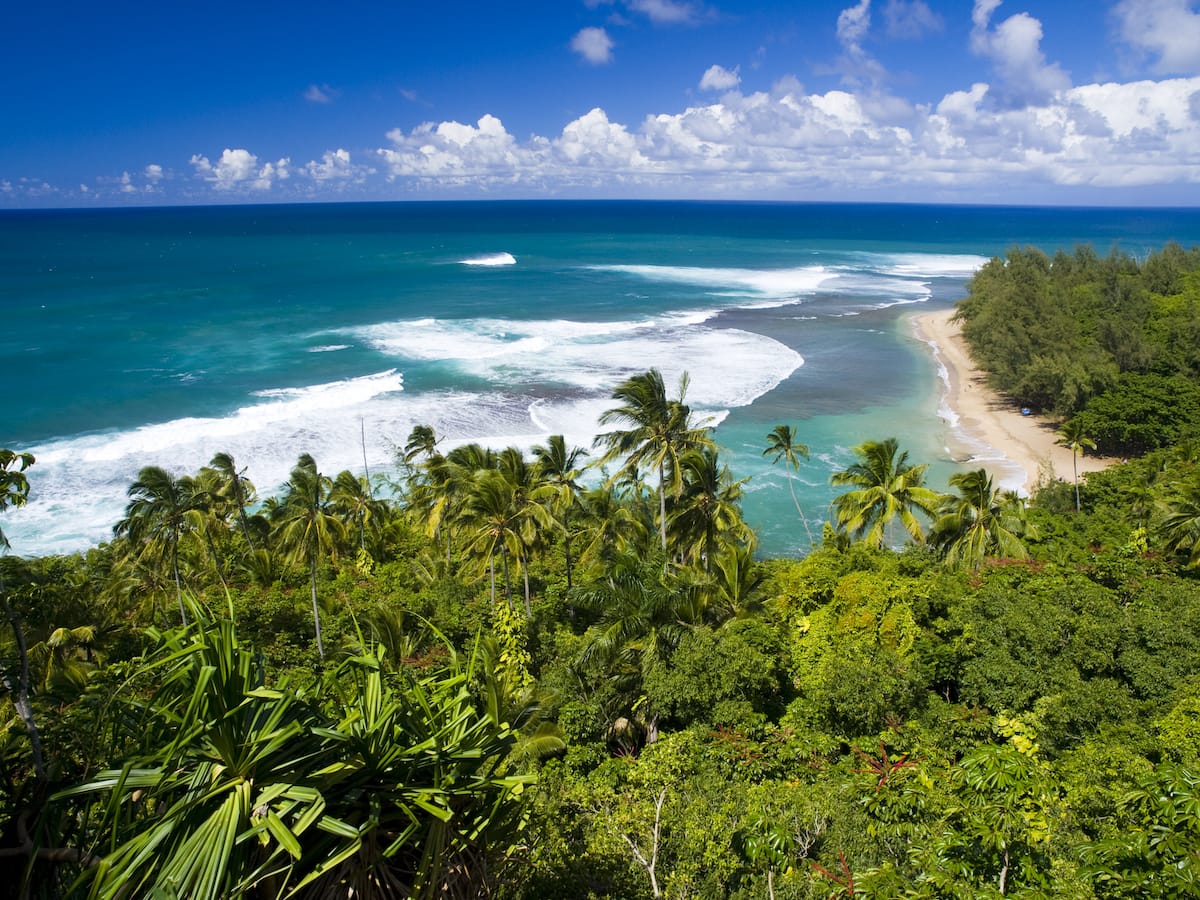 Do keep in mind, however, that there's no cell phone reception in this Kauai state park!
To get to Ke'e from Lihu'e, drive north through Kuhio Highway about an hour along the north shore. Finally, when you reach the end of the road, you'll see a parking lot with showers and restrooms.
If you want to park here, however, you will need to make reservations on the Ha'ena State Park website. Spots fill up quickly, however, so be sure to make reservations well in advance!
Hanalei Beach Park & Bay
This beach is renowned for its pristine sandy shore that spans two miles. Hanalei Beach Park & Bay is ideal for surfing, and it is considered to be one of the most popular surfing destinations in the world.
As you get closer to the pier, the waves are gentler, making it an ideal spot for intermediate surfers. In the summer, the water is a little too calm for surfing, so visitors prefer to swim and dip their toes in the sand.
You can also see dolphins in the summer or check out the sandcastle building competition that takes place every year.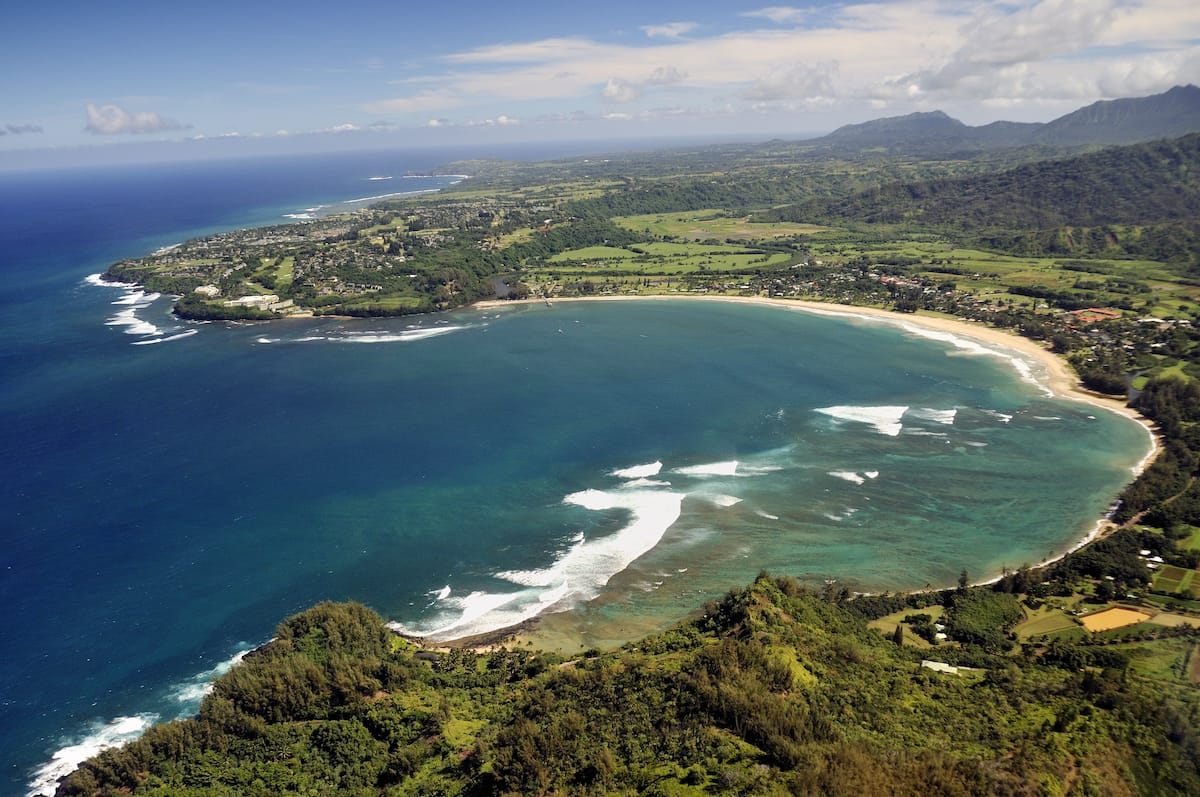 To get to the beach, drive along the road near the river and park close to the Black Pot Beach pear. Hanalei Beach Park & Bay is situated towards the end of the road, where you'll find a parking lot.
There's also an alternative side street parking in case the first ones are full. The beach also has showers, restrooms, and picnic areas. Be sure to stop into Hanalei town, too… you will find a plethora of cool shops and small eateries.
Anini Beach
Anini Beach is one of the most protected beaches on Kauai's shore with a long sand and reef stretch. The beach covers two miles of sand, making it a great location for beachcombing.
Other popular water activities include swimming, scuba diving, windsurfing, and snorkeling. In fact, Anini Beach has such calm waters that it is the perfect spot for people with families, especially those with younger children.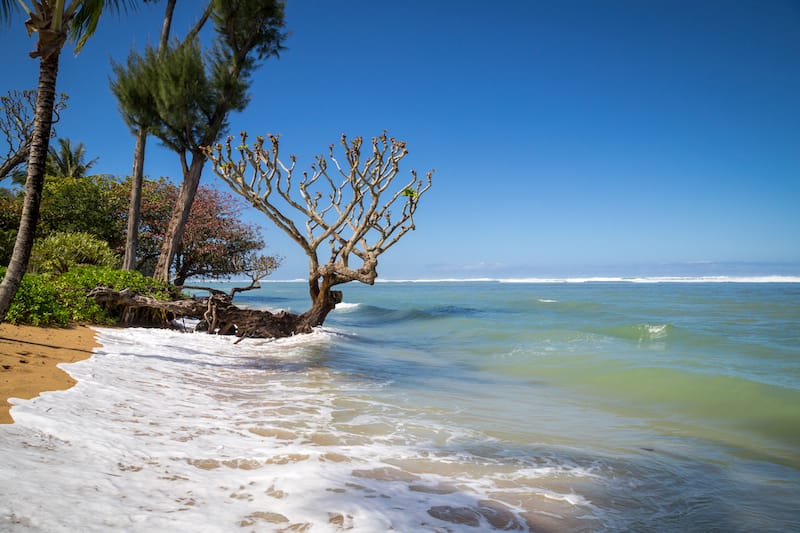 To get to Anini Beach, drive through Highway 56 which passes through Kilauea, right across the Kalihiwai Bridge. When you reach the Kalihiwai Junction, take a right turn, then turn left on Anini Road, which will take you to the beach.
Ample parking is available at the end of Wyllie Road. Anini Beach has showers, restrooms, and picnic areas for visitors.
Anahola Beach
Renowned as the safest beach for swimming in Kauai, Anahola Beach is a half-mile-long white sand curvy beach that's located at the back of Anahola Bay.
The beach has a protected area thanks to the bounding reef, where the sand and rocks meet. This is also the perfect spot where kids can swim and play since the waters are shallow.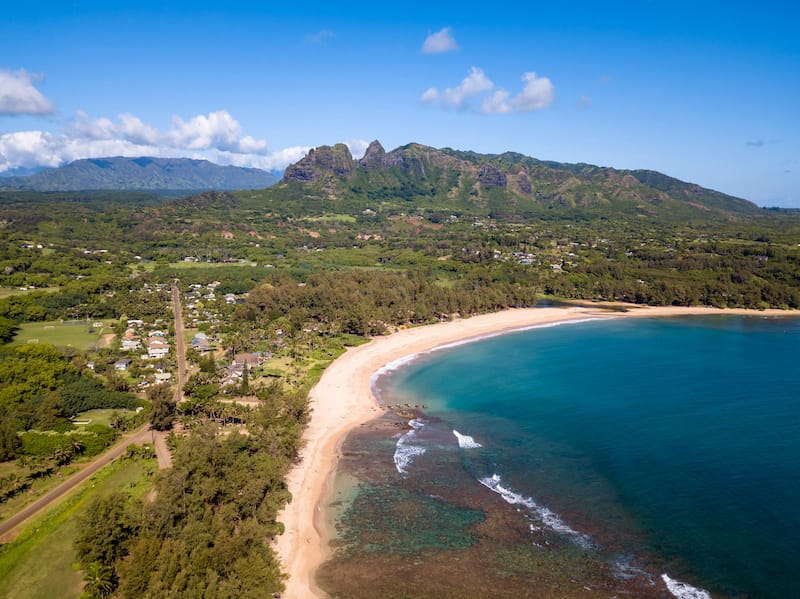 There are numerous access points to the bay, but the most common is Anahola Beach Park situated on Anahola Road.
If you're coming from Lihue, go north through Highway 59 and take a right turn 0.6 miles away from Mile Marker 13.
Anahola Beach is located further down Anahola Road. Some of the amenities include picnic areas, a campground, showers, and bathrooms.
Lydgate Beach
Lydgate Beach is a popular family-friendly public beach on Kauai Island. It has calm waters in the protected lagoons that make it the perfect beach for swimming and snorkeling for beginners.
Toddlers can also swim or play in a smaller pool section at the beach. To get to Lydgate if you're coming from the south, drive through Highway 56 north of Wailua.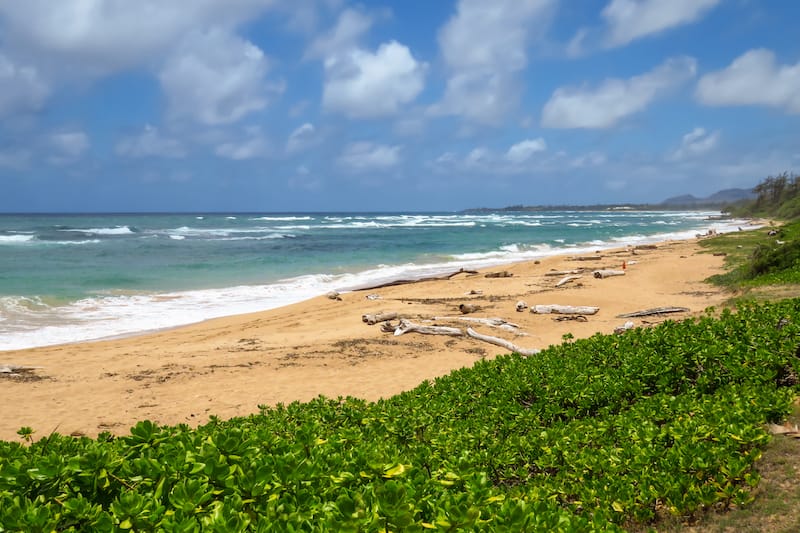 Turn right when you reach mile marker 5 on Leho Drive. Lydgate Beach is straight ahead. Here, you'll see the playground and large pavilion with a parking lot.
The beach also has picnic areas, bathrooms, and showers. There is also a lifeguard on duty, adding to the beach's safety.
Glass Beach
Located in Ele'ele on the southern coast of Kauai, Glass Beach is exactly what it suggests it is – a beach made of sea glass!
Situated on Hanapepe Bay (near Port Allen Harbor), you will find a beach brimming with sea glass that was created on a beach that was originally made from basalt.
This is an extremely rare type of beach that you won't find in too many places around the world but there are similar ones in Benicia and Fort Bragg, California.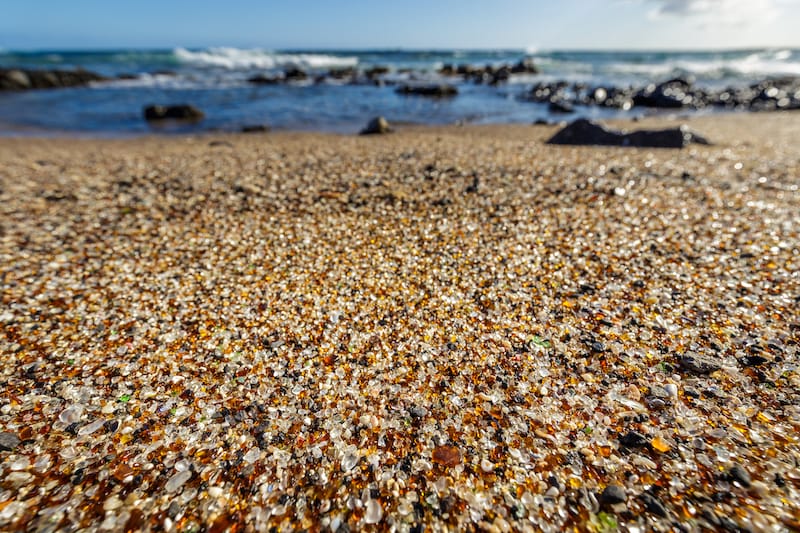 The glass is thought to have originated from flasks, old bottles, windows, and more… but over the years, it has been smoothed over by the ocean (it takes up to 30 years for this to take place)!
If you decide to visit, please do not take any of the glass. Finding the beach is relatively easy – just keep an eye out for large tanks of gas near Port Allen.
There are no restrooms or lifeguards here. It is simply a good beach for beachcombing and walking around. There is a dirt parking lot close by.
Waipouli Beach
Located on the island's east side, Waipouli Beach is an easily accessible small strip beach on Kauai. It's also a popular spot for Kauai's monk seals and an ideal place to relax after a long day of exploring the Ke Ala Hele biking coastal path.
Waipouli Beach has spectacular views of the sunrise. Near Waipouli Beach Resort, there's a nice stretch of beach that's peaceful and secluded.
If you don't want to go swimming, the beach also offers some gorgeous spots for having a relaxing picnic.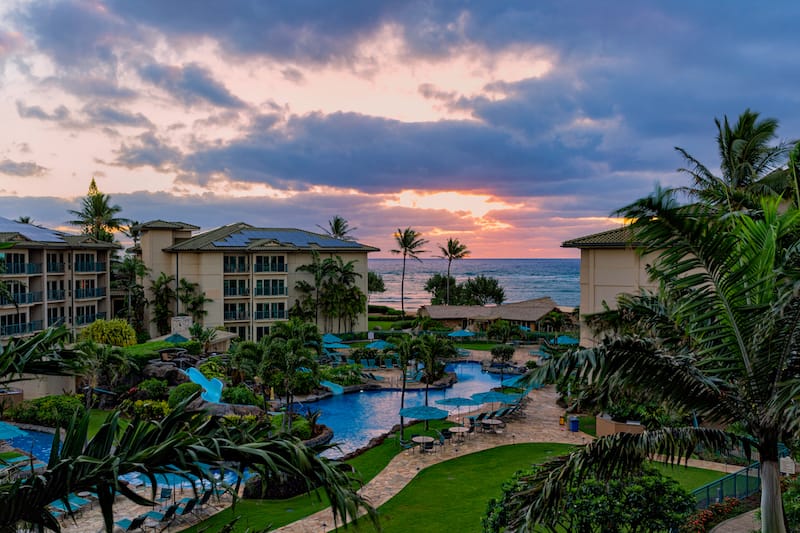 Parking is usually available at the Waipouli Beach Resort. To get to Waipouli Beach, you can go through a public access path on Papaloa Road if you're coming from Kauai Sands Hotel.
You can also access the beach by going through Aleka Loop right before Aston Kauai Beach.
Mahaulepu Beach
Māhāʻulepū Beach is a two-mile-long beach situated on the southeast coast of Kauai. It's separated into three different parts: Kawailoa Bay, Gillin's Beach, and Ha'ula Beach.
This beach coastline has sand dunes, tide pools, and lava tubes that make it ideal for beachcombing.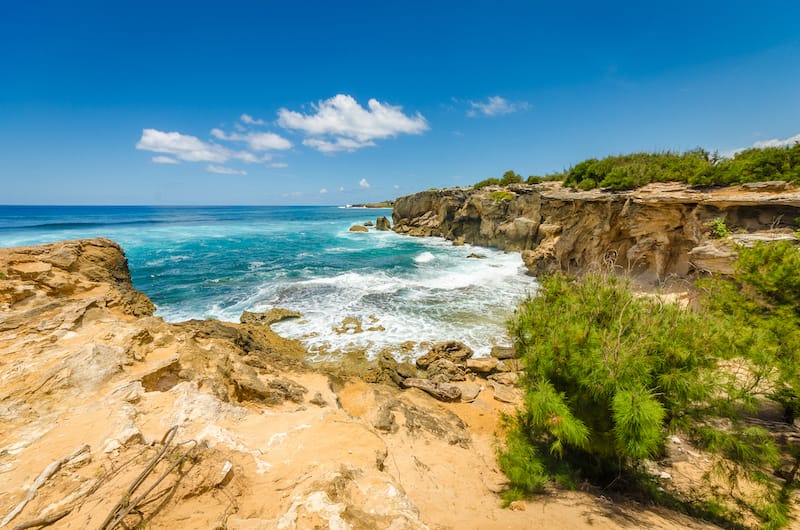 The long coastline and strong trade winds make Mahaulepu better suited for experienced swimmers and snorkelers. You can also windsurf or kiteboard on the beach.
The beach has a dirt parking lot for visitors. To access the beach if you're on Poipu Road, take a left turn at the intersection, then go past the Grand Hyatt on a 1.5-mile dirt road.
Kiahuna Beach
This popular beach located on Kauai's north shore is the perfect spot for surf lessons, boogie boarding, paddling, and snorkeling.
The outlying reef typically makes the water calmer, while outside the reef is where experienced surfers can ride the waves.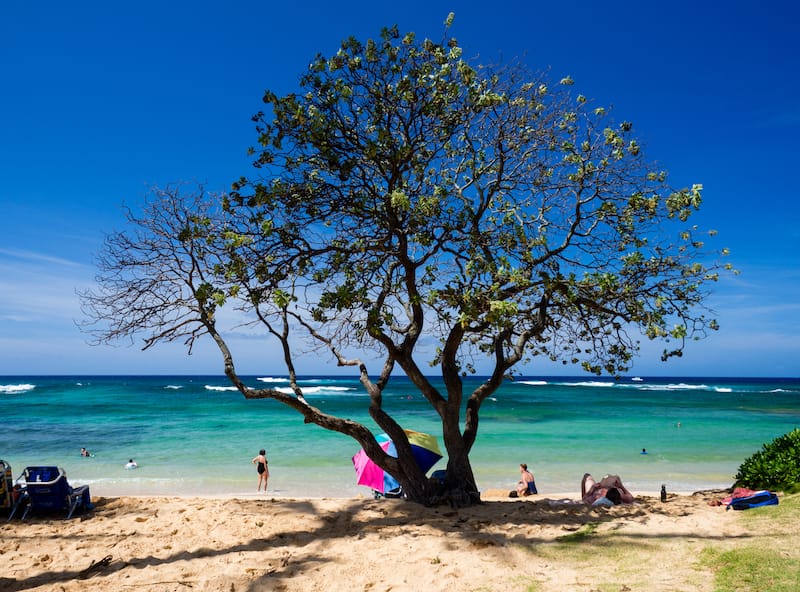 Kiahuna Beach has a limited parking lot and fewer shade areas.
To access the beach if you're on Kapili Road, drive all the way to the end of the road then take a left turn on Hoonani Road. From there, go past the Sheraton Resort to get to the beach.
Hideaway Beach
Hideaway Beach is a great snorkeling destination located on Kauai's north shore. As the name suggests, Hideaway Beach is ideal for trekking or spending quality time relaxing.
Hideaway also has a public parking lot before you reach the Princeville St Regis Hotel gatehouse.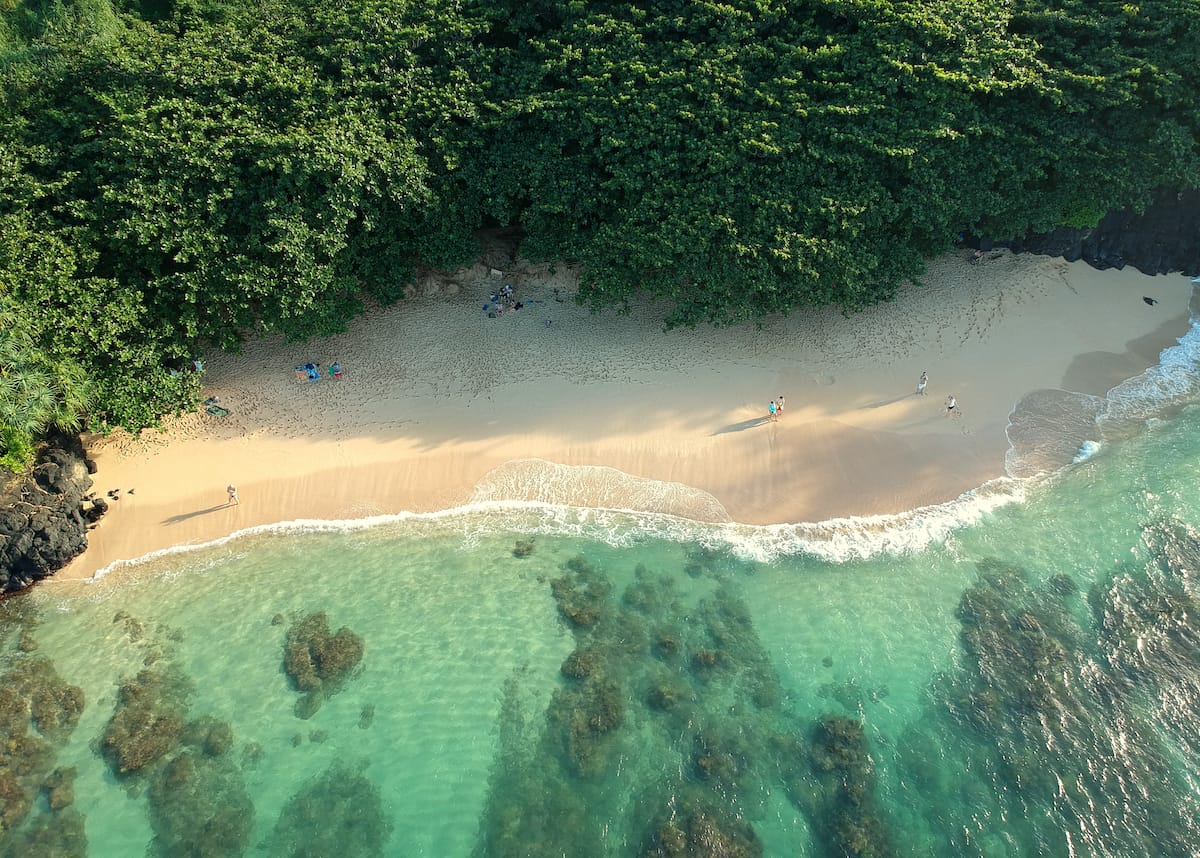 To access the beach, you'll have to go through a narrow path through the Puu Poa Condos, which takes you through a steep and slippery trail before you reach Hideaway.
The beach also has public toilets available for visitors.
Fuji Beach
Fuji Beach is a popular beach for children since it has light trade and tide pools. The beach is located in Kapaa near the Kauai Coastal Path.
Other activities you can indulge in include diving and kite surfing, especially past the shallow wading zone and the protected reef.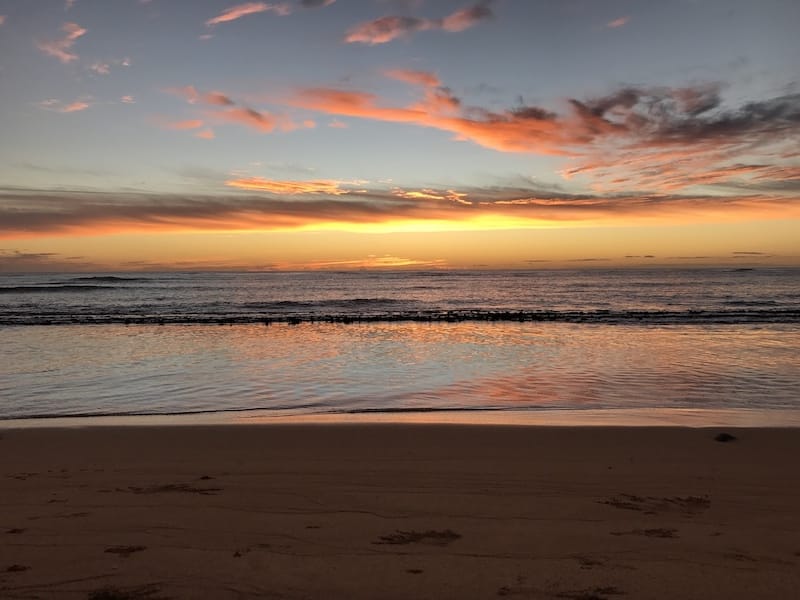 To access the beach, simply take a right turn right before you get to the Texaco service station that will lead you to the ocean. You'll then find a single-lane road that leads to Fuji Beach.
Fuji Beach also has picnic tables, showers, restrooms, and drinking water fountains.
Kealia Beach Park
Known for its stunning white-sand beaches, Kealia Beach is popular among surfers. In the winter, many people also visit to go whale watching.
If you want to go swimming, the north end of the beach is a lot calmer. Some other popular activities include bodyboarding and watching the beautiful sunrise.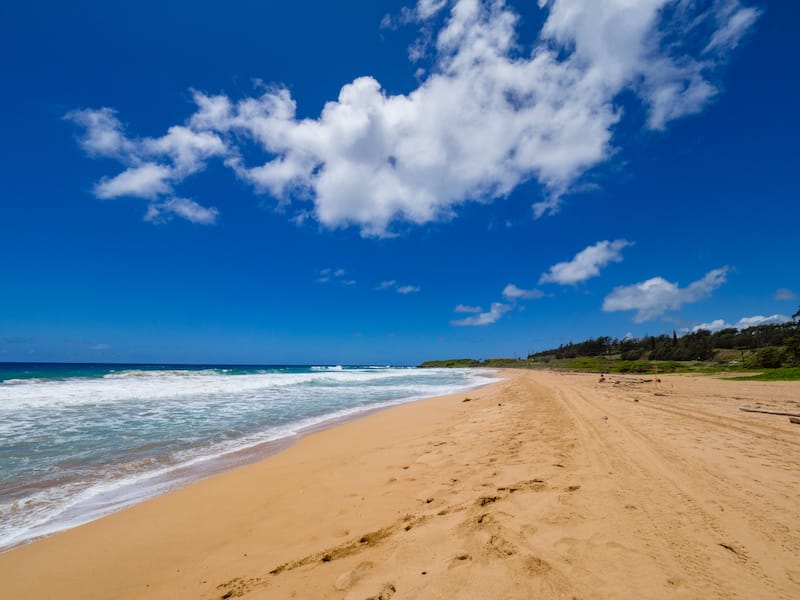 In addition, many people enjoy exploring the coastline either by taking walks or going bicycling. Although Kealia is known for its strong currents, there is a lifeguard on duty.
Some of the facilities at the beach include restrooms, showers, and picnic tables if you want to enjoy a relaxing lunch.
Kalapaki Beach
For gorgeous tropical views, look no further than Kalapaki Beach. It's also the perfect place for those with families to go exploring.
Some activities that people enjoy here are swimming, surfing, boogie boarding, and stand-up paddleboarding.
The water is so calm that it's even great for those who are just starting out surfing.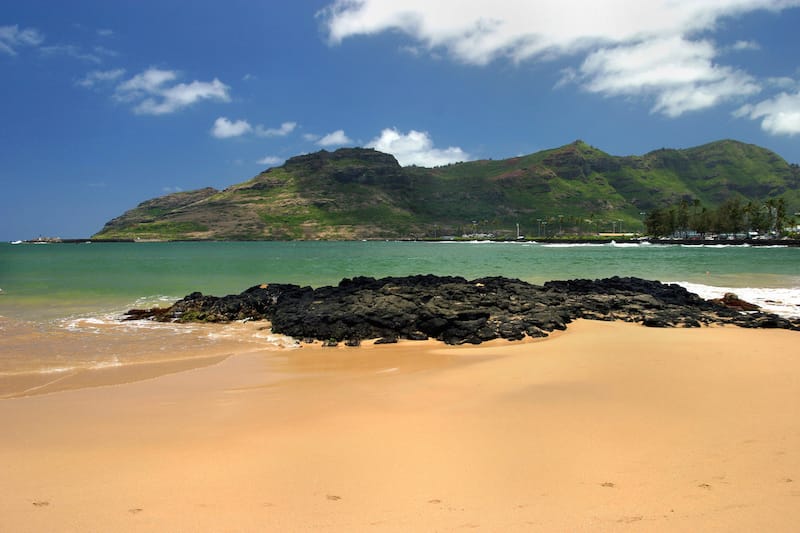 Also, you go relax and sunbathe or choose to play a nice game of beach volleyball.
Located nearby is the Kalapaki Beach Hut, which offers picnic lunches and traditional Hawaiian shave ice. You can also find rentals nearby for surfing equipment.
The public beach access is located on the eastern part of the beach, and you can park in the nearby Marriott Hotel's upper parking lot.
Poipu Beach Park
One of the most popular beaches in Kauai, Poipu Beach Park is known for its unique crescent shape and stunning views. It's also known for the monk seals that dwell in the waters.
However, keep in mind that monk seals are considered an endangered species, so be sure to stay 150 feet away from them and avoid flash photography.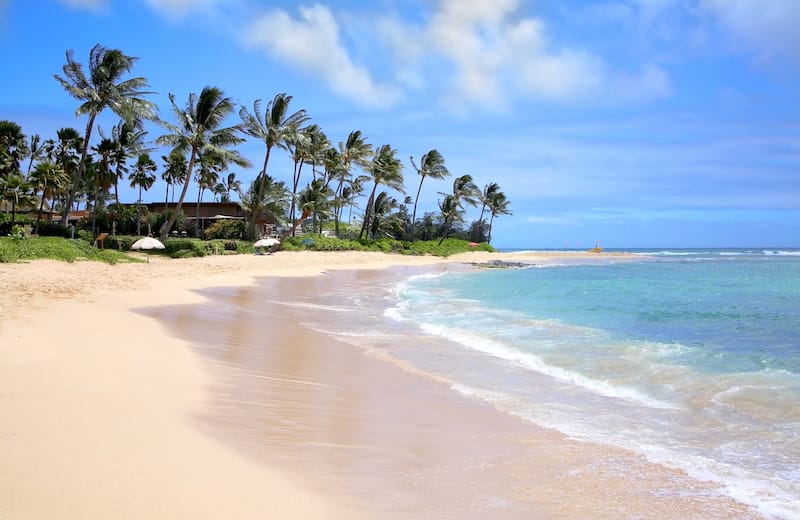 You can also go snorkeling in the reef, surfing, and bodyboarding. Between December and April, it's also possible to see humpback whales.
If your kids are with you, the beach also offers a natural wading pool!
Salt Pond Beach Park
Salt Pond Beach Park is located near Kauai's only natural salt ponds, which can only be accessed by Hawaiians. It is named after these natural wetlands that are used to produce salt.
Hawaiians traditionally have used this salt for food and medicine. Salt Pond Beach Park is especially popular among families because of the shallow pools and calm waters.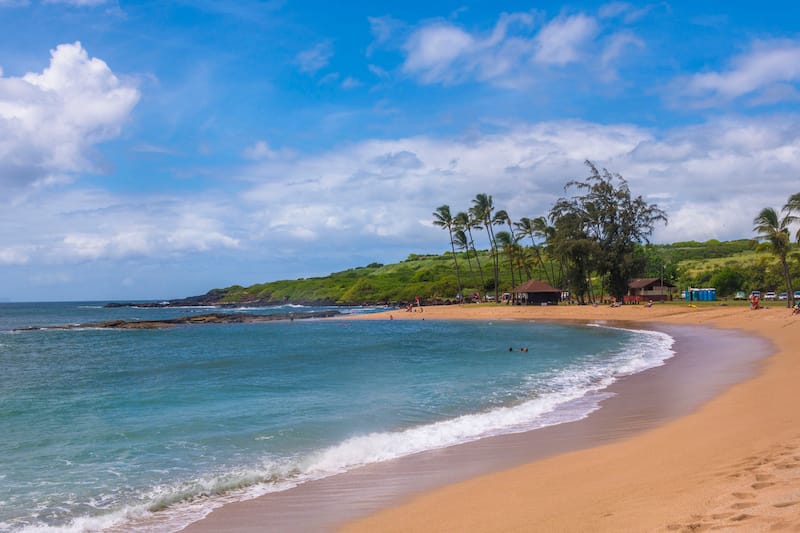 Here, children can go snorkeling and swim in the crystal-clear water.
You can also check out the beach's tide pools, which are located on the eastern side, to see some more of Hawaii's marine life.
Kekaha Beach
Kekaha Beach Park is known for being the starting point of Hawaii's longest white sand beach.
Because the wind, waves, and river can sometimes give the water a brownish hue, most people check out Kekaha if they want to go beachcombing or if they simply want to watch one of Hawaii's picturesque sunsets.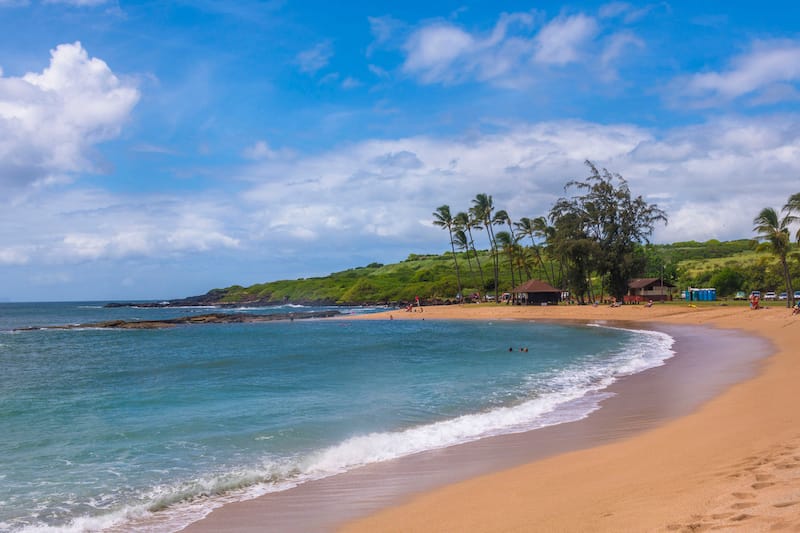 The beach is also particularly popular among surfers and fishers.
You can see Niihau and Lehua Rock from Kekaha. In addition, Kekaha is known for its dry weather, so if you want to escape from the rain, you can find plenty of sun in Kekaha.
Kahili Beach
Kahili Beach is popular among surfers and bodyboarders when the surf is up. You can easily identify the beach because of the Kilauea River and rock quarry.
It's also ideal for swimming because of the calm waters, and you can check out snorkeling on the opposite side of the pool.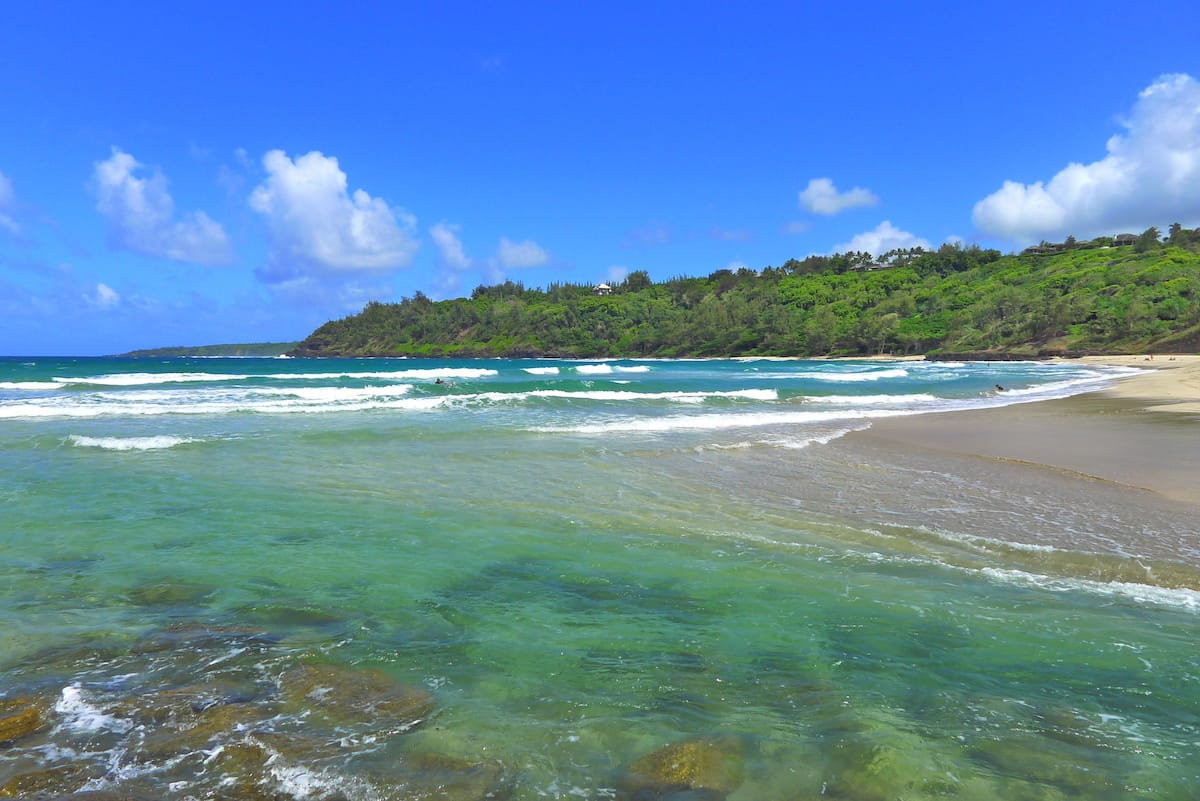 With that being said, be careful if the water is murky because people have seen sharks and rip tides then.
Back at the parking lot, you can also launch a kayak up the Kilauea Stream for a nice adventure. If you want some privacy, hike over the rock outcropping on the right side of the beach to enjoy the private sandy beach.
Hanakapi'ai Beach
Although Hanakapi'ai Beach is known for its stunning views and golden sand, it's best to exercise a lot of caution here. You can lounge around and dip your toes in the deep sand in the summertime.
Keep in mind, however, that the beach is nearly inaccessible in the winter because the ocean current takes out all the sand.
Swimming is not recommended due to the rough currents, so you should instead take a dip in one of the river pools.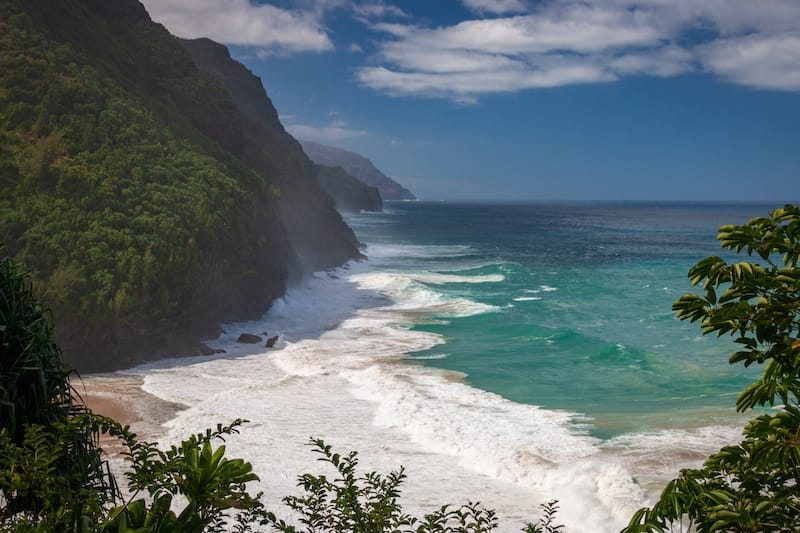 If you're trying to cross the stream, the general rule of thumb is to check out the rocks- if the rocks are wet, avoid crossing them! I recommend seeing this beach from a doors off helicopter tour of Kauai or a boat ride there directly.
Many people also enjoy having a picnic on the rocks or in the sand. In addition, be sure to check out some of the sea caves during your trip.
This is all best done with experienced guides or on a boat. Please refrain from making the trip independently without a lot of experience.
Best Beaches in Kauai FAQ
Best Beaches in Kauai for Camping
Anini Beach is one of the best beaches in Kauai for camping. There are campground facilities right on the beach. Be sure to check out the beaches you want to camp at because not all of them offer camping facilities.
It is the perfect spot for camping due to the calm waters, so you can even enjoy this adventure with the family!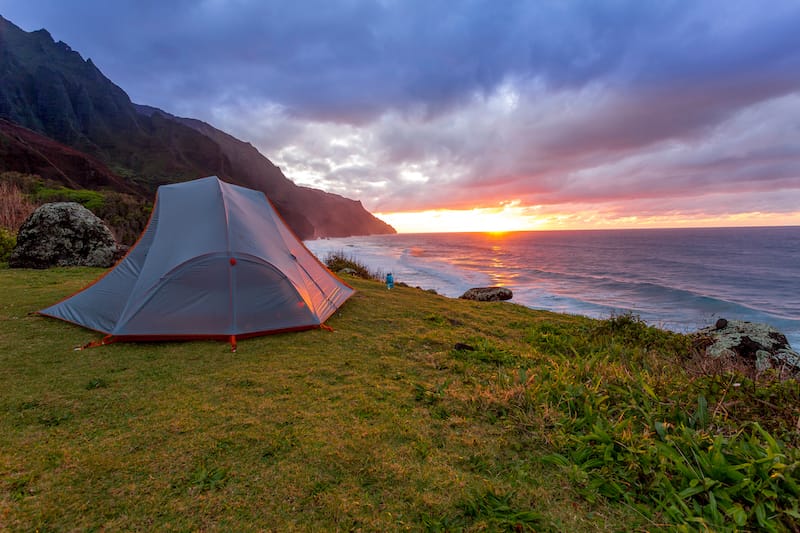 Best Beaches in Kauai for Snorkeling
Ke'e Beach is one of the most crowded beaches in Kauai, but for good reason- the gorgeous views and snorkeling opportunities simply can't be missed!
Ke'e is also lined by coral and rock, offering plenty of chances to see Hawaii's diverse marine life.
Also check out Tunnels Beach, which is a lot less crowded. Some other popular options for snorkeling include Poipu Beach and Larsen's Beach.
Best Beaches in Kauai for Kids
Once again, Anini Beach takes the cake as the best beach in Kauai for kids. It's known for its calm waters because of the reef.
In fact, babies and toddlers even get their toes wet here!
Families also enjoy spending time at Ke'e Beach. As many of the beaches in Kauai are known for their strong currents, not all are ideal for children; in fact, it's recommended that you avoid taking children to some beaches here.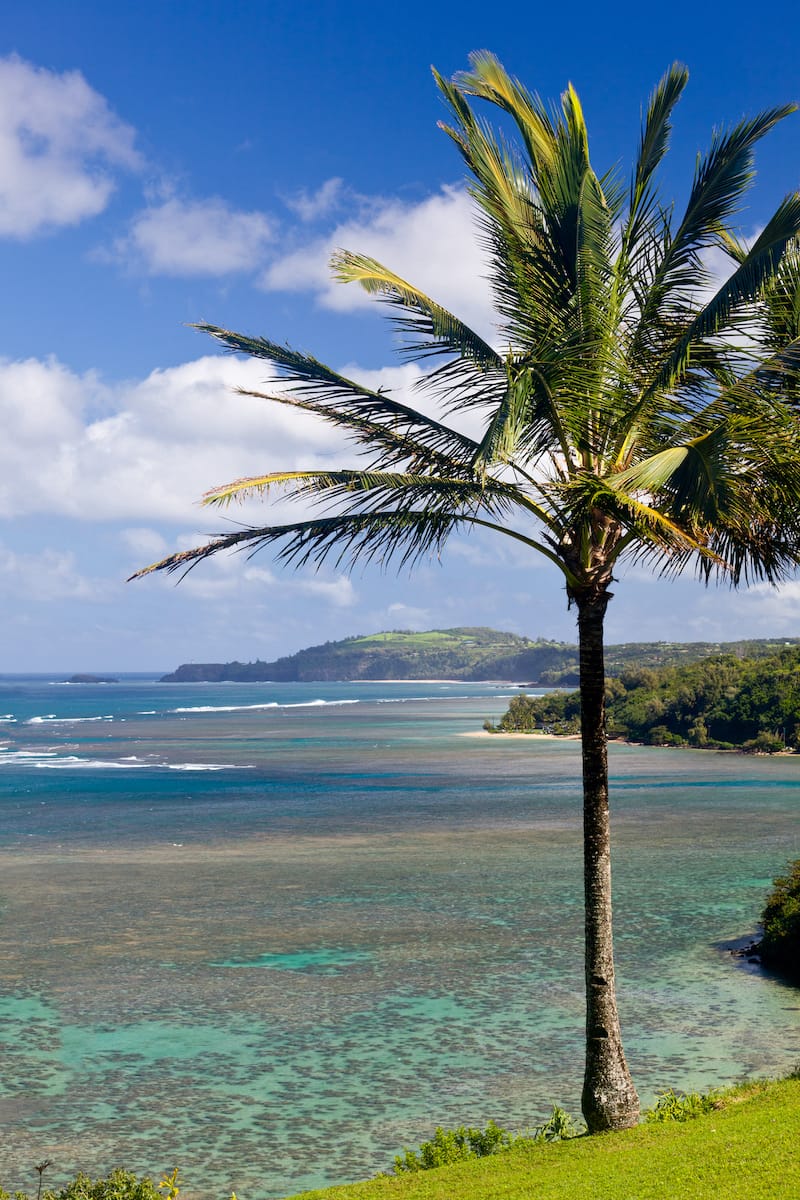 Best Beaches in Kauai for Surfing
Without a doubt, one of the most popular beaches in Kauai for surfers is Hanalei Bay Beach.
With its gorgeous views and tranquil waters, surfing is one of the many activities people enjoy here. Surfers can also try out Kalapaki Beach and Poipu Beach.
Some more experienced surfers may try Kauai's rougher waters, but be careful.
Nude Kauai Beaches
Nudity isn't allowed on Hawaii's state beaches, but that doesn't stop people from sunbathing in the nude on some of the more remote and secluded beaches.
Some of the most popular spots for this are Larsen's Beach, Kalalau Beach, and Donkey Beach. Larsen's Beach is located on Kauai's north shore on a remote stretch of sand.
Due to the high currents, many people prefer to sunbathe on the beach in the nude. Kalalau Beach is one of the hardest-to-reach beaches in Kauai, as the only ways to access it are via an 11-mile hiking trail, motorboat, or kayak.
Donkey Beach also was a popular nude beach, but now that many families with children enjoy spending time here, you might want to be careful.
Did we miss any of your favorite Kauai beaches? Let us know the best beaches in Kauai in the comments! Thanks!
More Kauai Travel Guides
Pin this Beaches in Kauai Guide