If there is one thing that Hawaii is known for, it is most definitely its beaches! These are the best beaches in Hawaii, including family-friendly, surfing, and snorkeling spots in the state!
We have listed Hawaiian beaches from all over the state and indicated the island you will find the gorgeous beach on in the text.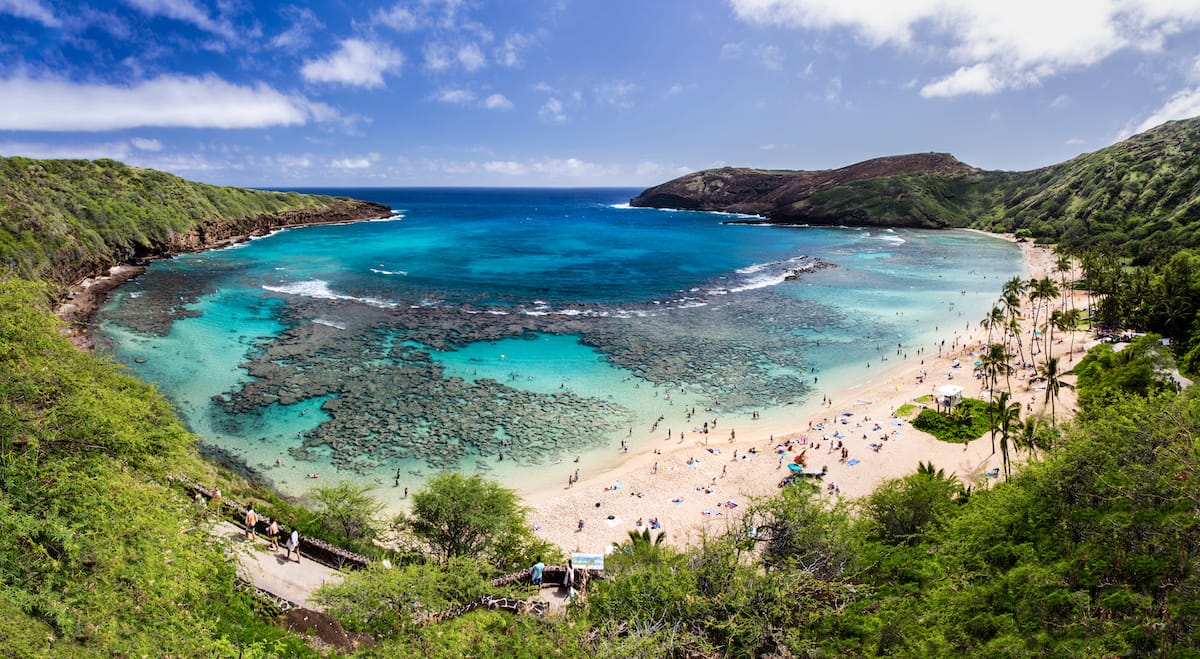 Did we miss any of the best Hawaii beaches? Let us know in the comments! Thanks!
Best Beaches in Hawaii
Kaanapali Beach
Island: Maui
Fronted by five hotels, plenty of fine restaurants, and high-end shopping sites, three-mile-long Ka'anapali Beach is a world-class resort destination located in gorgeous Lahaina, Maui.
The famous Maui beach is known for its daily cliff diving ceremony, where thrill-seekers jump off 16-foot Puu Kekaa (Black Rock), paying tribute to Maui's last independent king, King Kahekili.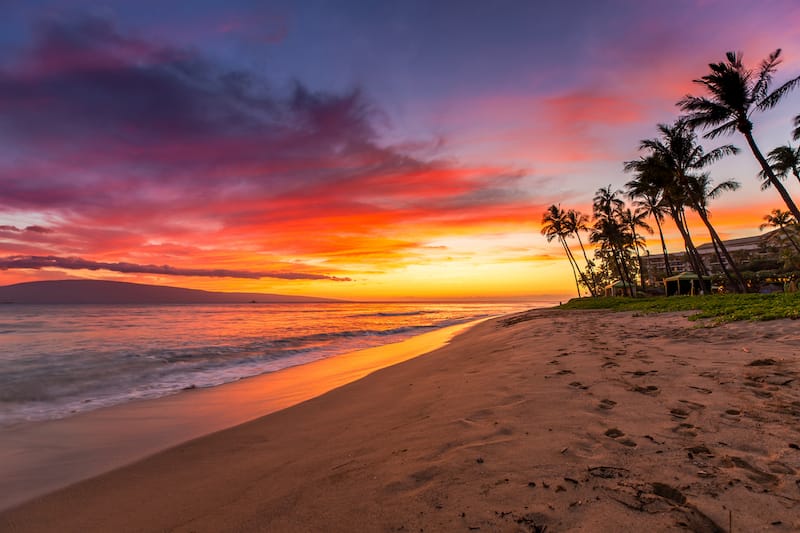 Here, you can also play on two championship golf courses, the Royal Kaanapali and the Kaanapali Kai (keep an eye out for breaching whales while playing), or go snorkeling to explore the diverse world under the waves.
After a full day in the water, go shopping in the open-air Whalers Village Mall, featuring a renowned whaling museum, restaurants, and free entertainment sites.
Take in Maui's breathtaking scenery from above with a zipline tour by Kaanapali Skyline Eco-Adventures.
Waimea Bay
Island: Oahu
Waimea Bay, located on Oahu's world-famous North Shore, is a historic global surf destination. Here, adrenaline junkies can indulge in a thrilling sesh of surfing 30-foot high waves that top out Waimea Bay in winter.
The surf is calm in the summer months, providing the ideal conditions to enjoy swimming, snorkeling, diving, and even cliff jumping.
Nearby, you will find Waimea Valley, where you can get out of the sun and explore this botanical garden and cultural center nestled in a lush valley.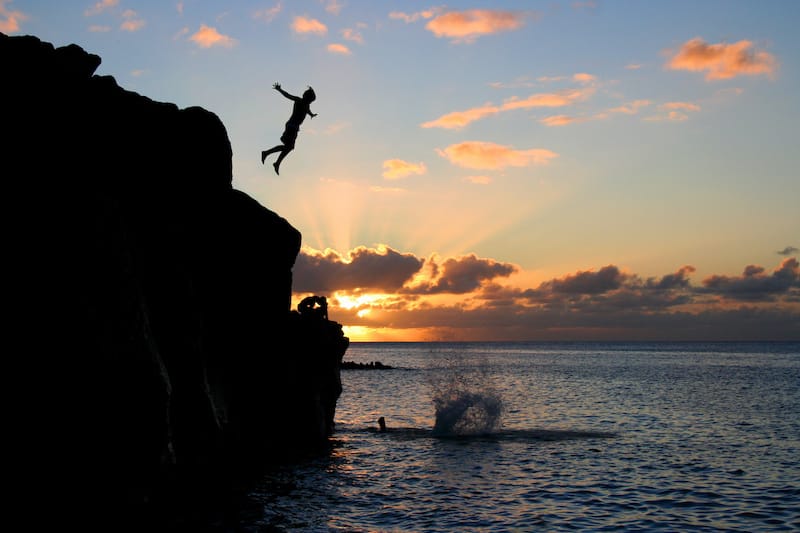 A 1.5-mile round trip hike in Waimea Falls Park will take you to a 45-foot gorgeous Oahu waterfall, where you can take a dip beneath the falls. It is one of the best waterfalls in Hawaii!
Just above Waimea Bay, you can visit Puu o Mahaka State Monument, housing the best-preserved Waimea heiau ruins.
Kumimi Beach
Island: Molokai
Also known as Murphy's Beach or 20 Mile Marker Beach, Kumimi Beach offers some of the greatest snorkeling opportunities on the underrated island of Molokai.
Calm and crystal clear waters are great for a refreshing dip and diving; just note that it's best to stay close to shore since the water can become quite rough outside the reef area.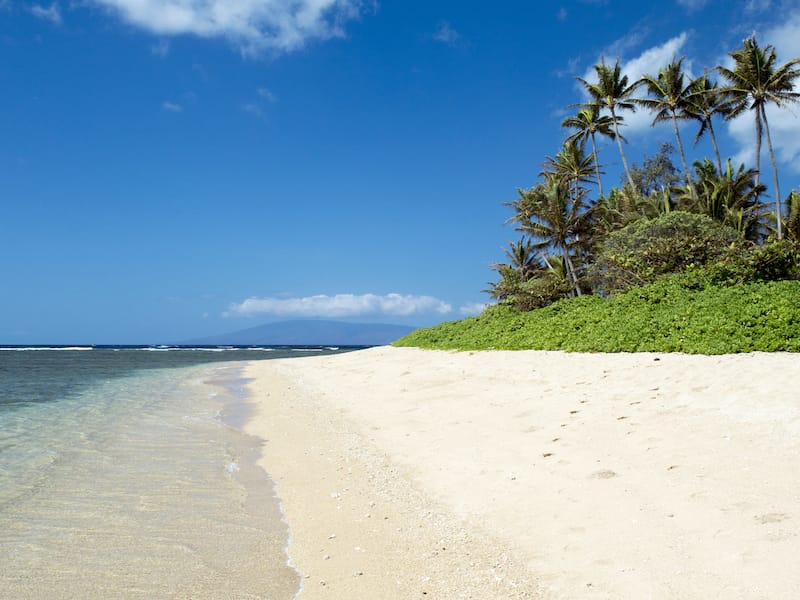 When snorkeling at high tide, be ready to admire diverse Hawaiian sea life. After swimming, soak up some sun rays on the narrow golden sand beach.
Kumimi Beach also has a lot to offer fishing enthusiasts when looking for the top places in Maui. Two miles beyond the Beach, you will find a small parking area with a lookout point perfect for one-of-a-kind photo opportunities.
Oneloa Beach
Island: Maui
If you are looking for a secluded retreat, then add peaceful Oneloa Beach (meaning "long sand") to your Maui bucket list.
Also known as Ironwood Beach, Kapalua's least crowded beach is tucked away next to the Ritz Carlton and Kapalua Resort.
When the water is calm, you can go snorkeling at both ends of the beach, while diving is preferable around the rocky point near Makaluapuna Point.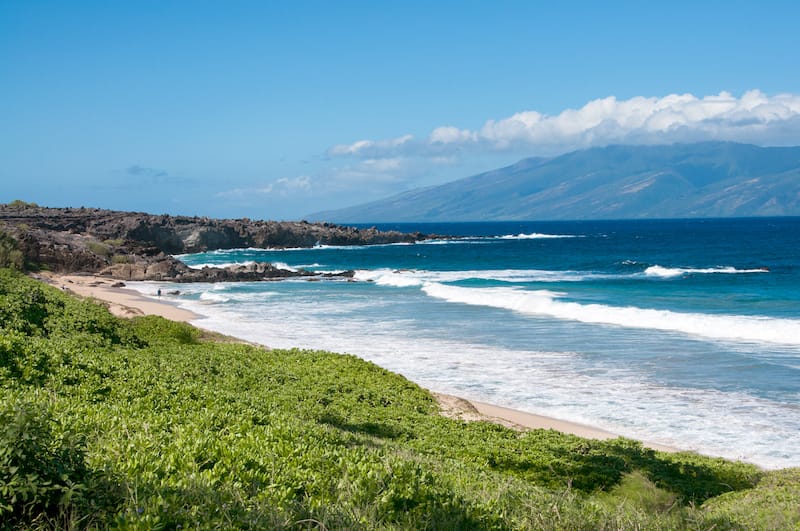 When the surf is high, swimming there can be dangerous, but north swells create perfect conditions for boogie boarding.
At the north end above the beach, there is a golf course, so be careful not to be hit by golf balls when swimming. For a low-key scenic walk, head to the Kapalua Coastal Trail to take in the stunning ocean views.
Mauna Kea Beach
Island: Big Island
When thinking of Hawaii, one imagines picture-perfect beaches, and Mauna Kea Beach is certainly one of them!
The Big Island beach is also referred to as Kaunaʻoa Beach and fronts the Mauna Kea Beach Hotel, so expect easy access to many facilities.
During the winter, the waves might become more powerful, but in the summer months, they go flat, and waters become calm, allowing you to explore coral reefs along the rocky, southern end of the beach.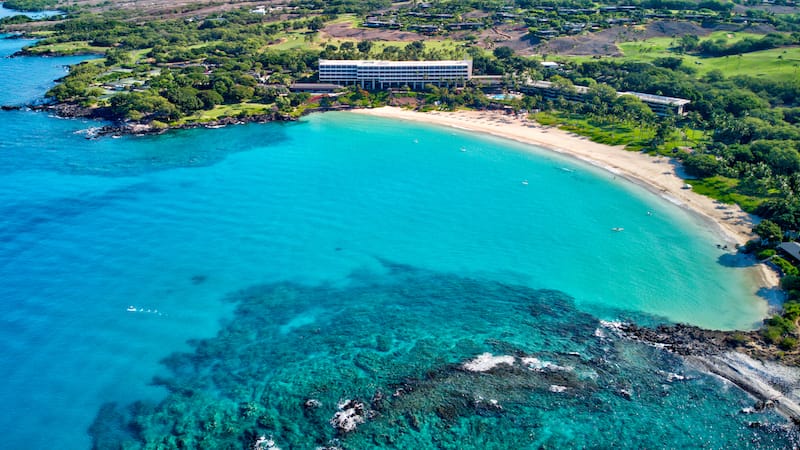 You can rent boogie boards and snorkeling gear from the beach concession stand, enjoy lunch at the hotel's restaurant, or savor tropical drinks at the beach bar.
Make sure to check out the evening manta ray show, during which you can admire the mysterious sea creature from a "Manta Ray Point" lookout.
Hookipa Beach
Island: Maui
Ho'okipa Beach is an exhibition playground for windsurfers and big-wave riders.
If you are taking the Road to Hana, Ho'okipa Beach is a must-stop for beach walking, kite surfing, sunbathing, picnicking, and offers a front-row seat to the Hookipa Surf Classic, the Red Bull King of the Air, and the Aloha Classic, and many other world-famous competitions.
In the evenings, admire mesmerizing sunsets along with honu (Hawaiian green sea turtles) that come up to shore to rest.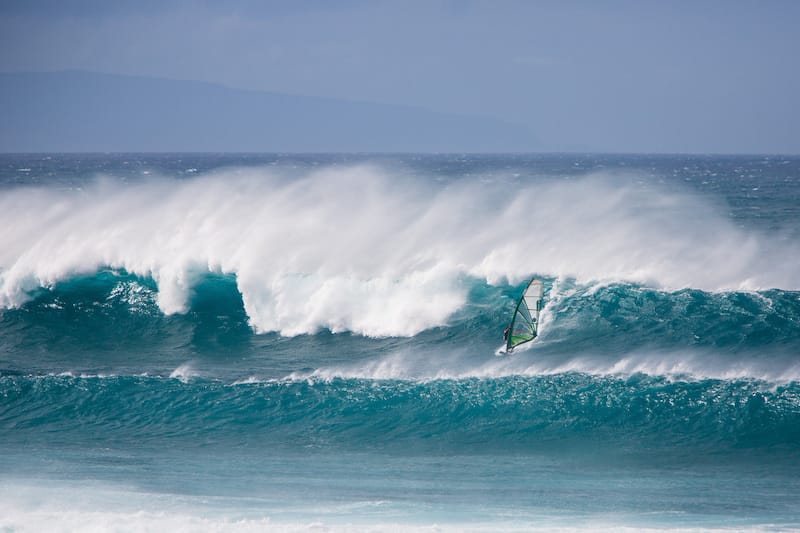 Take in the breathtaking scenery of the island and watch the epic surf from Ho'okipa Lookout, which also has food stands and portable bathrooms.
Nearby, you can dine with a view in Mama's Fish House and head to explore Paia town and Twin Falls, which are a stone's throw away from Ho'okipa Beach.
Lanikai Beach
Island: Oahu
Lanikai Beach ("Heavenly Ocean"), considered one of the most beautiful beaches on Oahu, is a real beachgoer's paradise, as it offers miles of fine white sand and calm waters in fifty shades of aquamarine.
Swimming, kayaking, and stand-up paddleboarding are great ways to enjoy Lanikai's calm waters and experience the beauty of the iconic Mokulua Islands from a distance.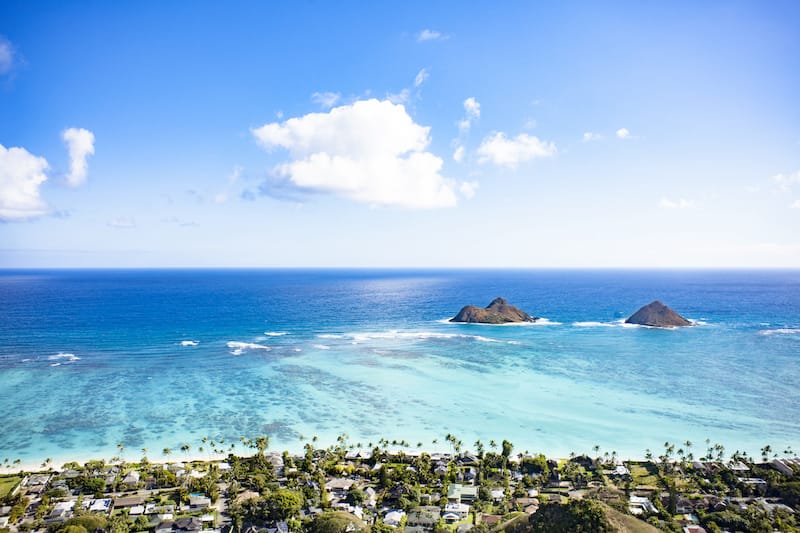 The beach is not a renowned snorkeling spot, but beginners can still get a feel for the water and explore a wide variety of tropical fish and coral.
Make sure to try the one-mile Lanikai Pillbox Hike in the early morning that will treat you to stunning views of Lanikai Beach, the Koʻolau coast, and Kailua town.
Hulopoe Bay
Island: Lanai
Named one of America's best beaches, Hulopoe Bay is the perfect place for swimming, snorkeling, diving, and surfing.
Fronting the Four Seasons Resort Lanai, the bay features pearl-white sand, crystal clear waters, and offers barbecue grills, picnic tables, restrooms, and showers.
The bay's highlight is its large tide pools carved out of volcanic rock that is home to sea stars, hermit crabs, opihi (limpet), and various small fish.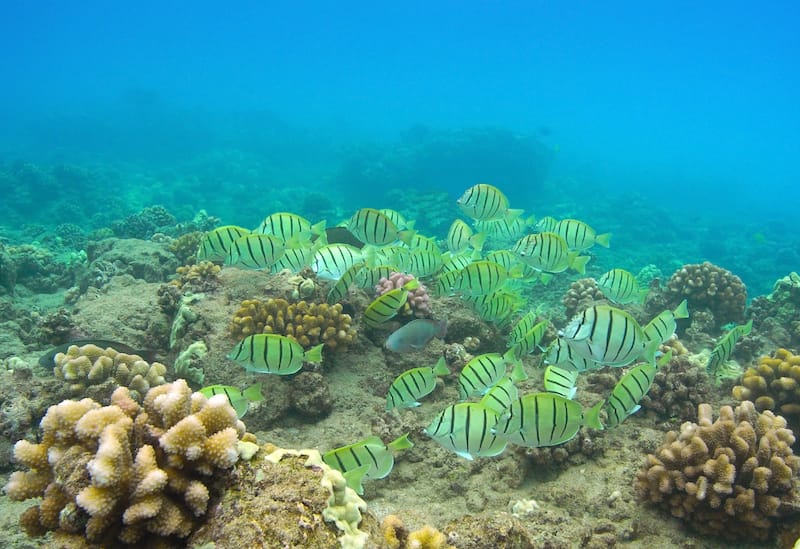 Just southeast of the tide pools, take a 15-20 minute hike along the cliffs to witness the Lanai landmark, iconic 80-foot Puu Pehe, that has a tragic legend behind it.
Keep your eyes peeled for humpback whales in winter, while acrobatic spinner dolphins frequent Hulopoe Bay the rest of the year. This is truly one of the best beaches in Lanai!
Poipu Beach
Island: Kauai
Crescent-shaped Poʻipū Beach, offering silky golden sand and crystal-clear waters in the Kauai town of Poipu, is the most popular beach on the South Shore used by visitors and locals alike.
It features two crescents that are separated by a tombola (Nukumoi Point), where you will find great swimming and wading opportunities.
Poʻipū Beach is exposed to seasonal high surf, mainly during the summer months, creating perfect conditions for seasoned surfers to ride those challenging waves.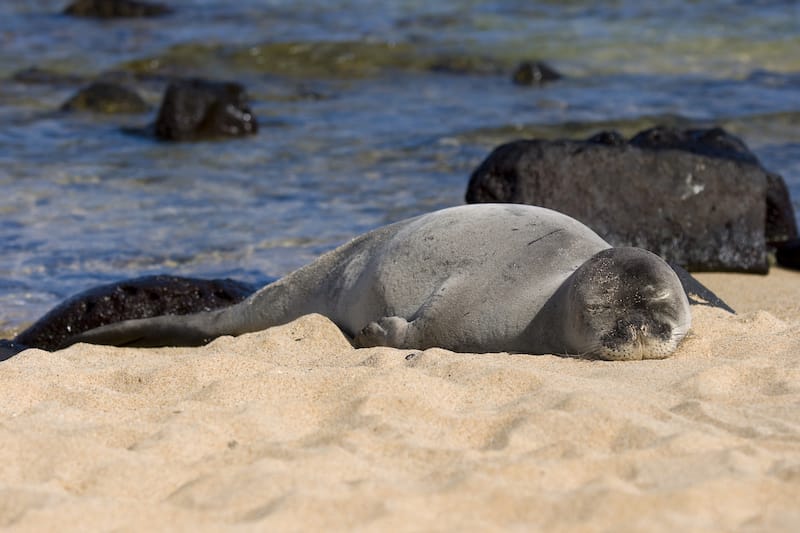 In front of Poipu Beach Park, you will find a bodyboarding site and a good reef for snorkeling. It's also an excellent option for a family beach day since it offers lifeguards, picnic facilities, and showers.
Hawaiian monk seals are frequent visitors of the Kauai beach, but please be careful (and respectful) by staying at least 100 feet away.
Hanauma Bay
Island: Oahu
Hanauma Bay, formed within a volcanic cone, is a natural preserve featuring some of Oahu's best coral and sea life.
This bay is all about snorkeling, where you can explore the rich underwater world, which is home to 300 different Hawaiian fish species hiding among the shallow coral reefs.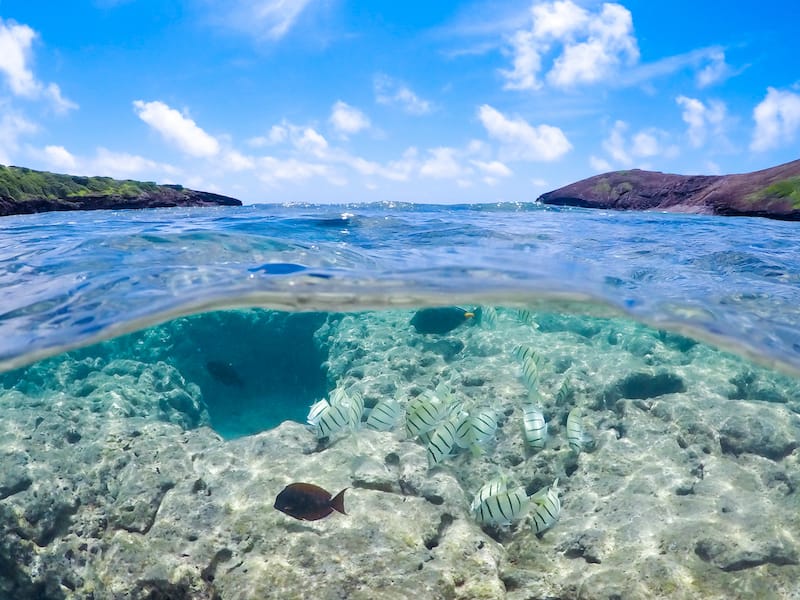 For top-quality snorkeling activities, book the Hanauma Bay Snorkeling Half-Day tour that offers half-day snorkeling adventures at the bay, snorkeling gear, and even pickup and drop-off from selected Waikiki hotels.
After a day in the water, set yourself up for a scenic hiking tour along the Koko Head Crater trail that will take you to a viewing platform to admire the Windward side, Diamond Head, or Makapuʻu Lighthouse trail leading to a stunning cliffside lighthouse.
Waikiki Beach
Island: Oahu
Waikīkī Beach is not only the most famous beach in Hawaii but it is also one of the most well-known beaches on the planet!
The 2-mile stretch of golden sand is comprised of 8 sections, each offering unique vibes and activities in Honolulu.
Once serving as a playground for Hawaiian royalty, it is now the perfect place for swimming, surfing, boogie boarding, snorkeling, sand combing, and marveling at breathtaking Waikīkī sunsets.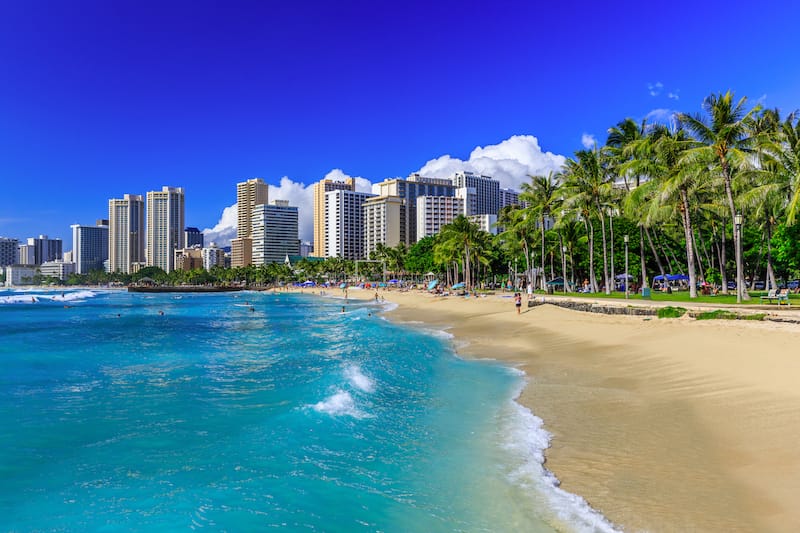 Explore the stunning views of the Waikiki skyline and Diamond Head Crater from the water by booking sailing and snorkeling tours with Maita'i Catamaran.
Practice outrigger canoe paddling, Hawaii's historical form of water transportation, by visiting Faith Surf School.
For an unparalleled experience, take a submarine ride with Atlantis Submarine Discovery Dive to explore vibrant life under the waves.
Punaluu Beach
Island: Big Island
Nestled between the towns of Pahala and Naalehu in Kau, Punaluu Beach is one of Hawaii's most famous black sand beaches.
Jet black sand from an old lava flow, coconut palms, and crystal blue water create the breathtaking contrast for picture-perfect scenery.
This stunning beach is one of the few places in the world where you can see large honu (green sea turtles) and endangered honu'ea (Hawksbill Turtles), so please make sure not to touch and feed these protected turtles.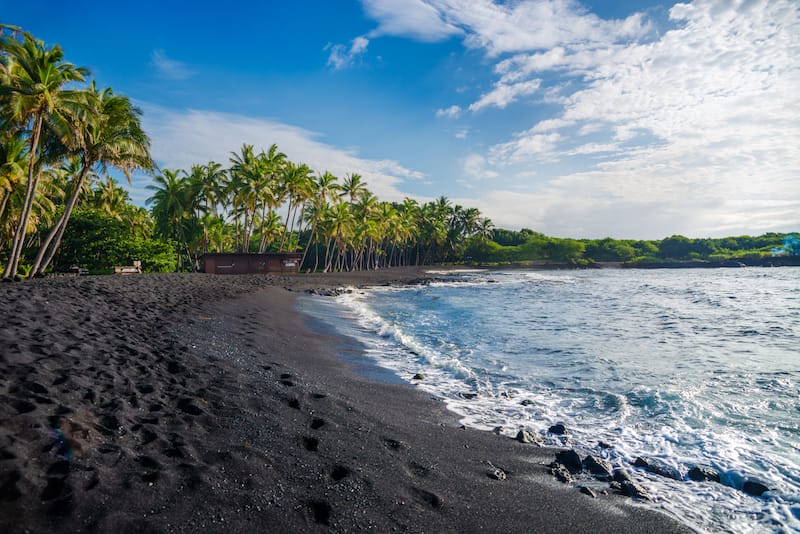 When the water is calm, you can swim and snorkel here, while on a windy day, you can enjoy camping (with a permit) on the beach.
The best spot to enter the water is from the small boat ramp, which is next to the ruins of the old pier, as there are many lava rocks all over.
This is a great stop to hit up on the way to Hawaii Volcanoes National Park.
Napili Bay
Island: Maui
Maui's southwestern edge offers another gorgeous bay well known for its golden sand, crystal-clear waters, green sea turtles, abundant coral reefs, and breathtaking sunsets.
Napili Bay is a true Maui gem offering a serene family getaway. Outer reefs protect the shores from large swells creating perfect conditions for swimming, snorkeling, and ​​stand-up paddleboarding.
When the big swells come, waves become ideal for boogie boarding.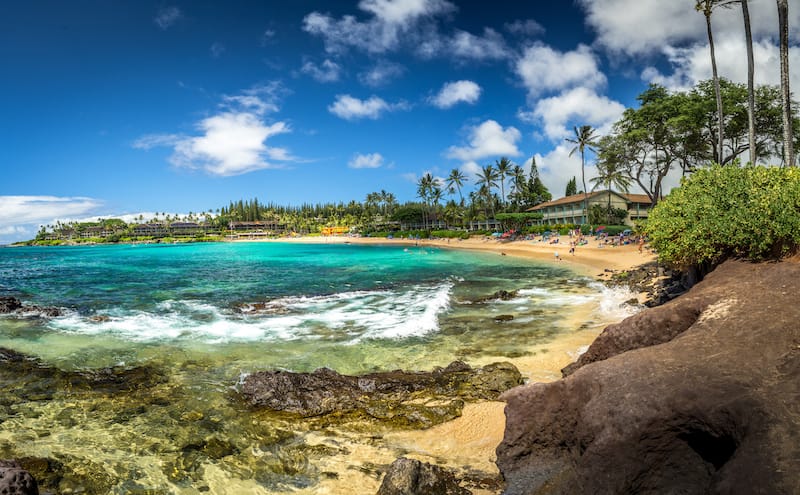 If you get hungry, head to the nearby Seahouse Restaurant nestled on the northern edge of the bay to enjoy beachfront dining. Also, head to the Gazebo Restaurant – it is one of my favorite places in Napili!
For a luxurious beachcation, book a room at Napili Sunset Beachfront Resort, Napili Kai Beach Resort, or Outrigger Napili Shores Resort which front this unspoiled bay and feature a wide range of facilities.
Kalaupapa Beach
Island: Molokai
On the isolated Kalaupapa Peninsula on Molokai's north shore, you will find Kalaupapa National Historical Park and Kalaupapa Beach.
This is a destination of preservation and education enclosed by some of the world's highest sea cliffs, which is only accessible by mule ride, hiking tour, or airplane from Kalaupapa Airport.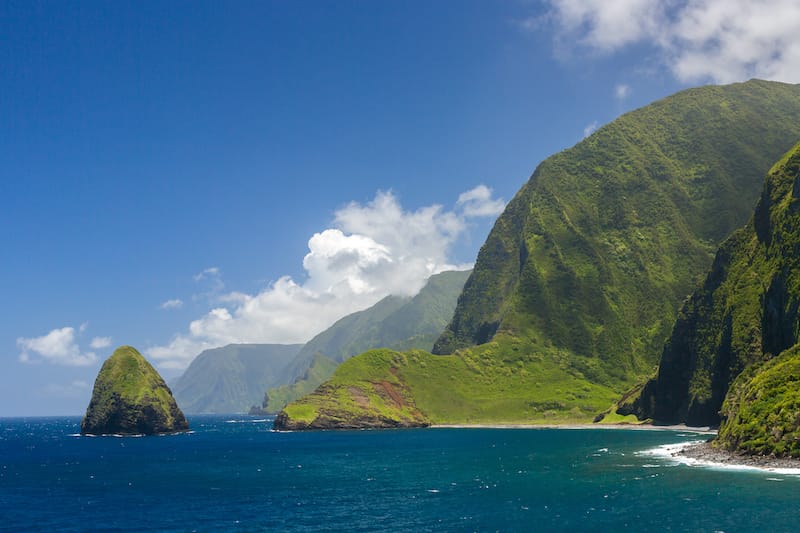 Here, you can explore the area's historical significance, as in the mid-1800s, this place became home to 8,000 people who were contaminated with Hansen's Disease (leprosy).
Every year, travelers from all around the world visit this mysterious place, which now serves as a national historical park.
Molokai's most isolated settlement is also home to green sea turtles, humpback whales, monk seals, coral reefs, and diverse fish. This truly is one of the best beaches in Hawaii (and most certainly one of the most remote).
Polihua Beach
Island: Lanai
If you are looking for a secluded off-the-beaten-path getaway, then Polihua Beach should be at top of your Lanai bucket list!
To get here, you need a 4-wheel-drive vehicle in order to soldier through 4 miles of unpaved and rough road.
Approximately a 30-minute drive away from Garden of the Gods, this is Lanai's longest 1.5-mile pristine gold sand beach along the northwest coastline.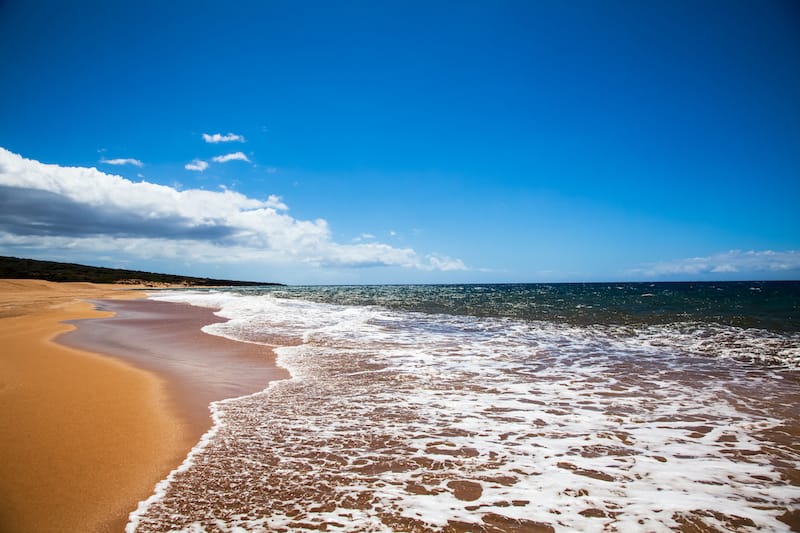 You will have this piece of heaven all to yourself where you can sunbathe, stroll, beach comb, and enjoy a picnic.
Just note that strong currents make this remote beach extremely dangerous for swimming, snorkeling, or even surfing, allowing you only to appreciate its unspoiled nature and scenic views.
If the weather allows, you can admire Molokai across the channel and even see Diamond Head on Oahu.
Wailea Beach
Island: Maui
If you are after a resort vibe and don't mind crowds to go with that pretty setting, then Wailea Beach, one of five beaches in the Wailea resort development, is the place to go if you're in or around Kihei.
Fronting the Grand Wailea Resort Hotel & Spa and the Four Seasons Resort Maui at Wailea, this stunning Kihei beach offers a wide and perfect white sand beach and staggering ocean views.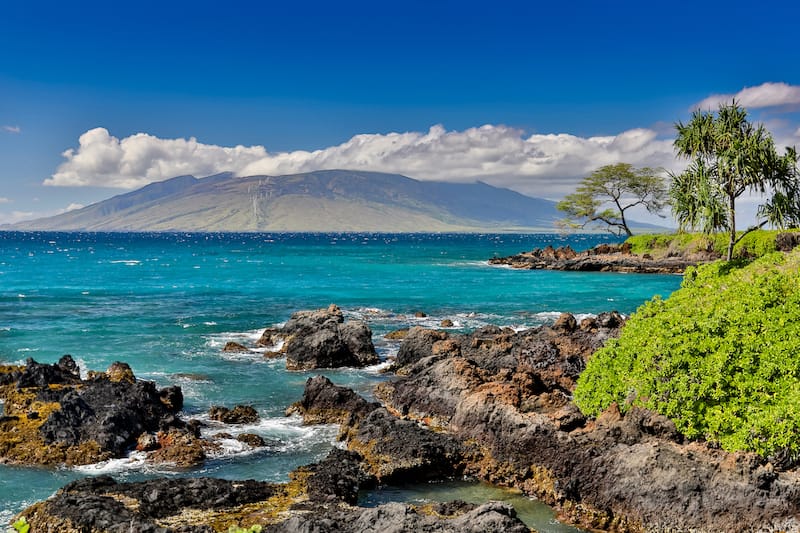 In the winter months, you can admire Kaho'olawe, Molokini, and Lanai in the distance and, if lucky, even see breaching humpback whales.
When the water is calm, go snorkeling around the rocky outcroppings or boogie boarding and body surfing to ride the small waves. The beach also features showers, bathrooms, and plenty of free parking.
Hanalei Bay
Island: Kauai
Nestled between the Hanalei River to the east and the Wai'oli River to the west, Hanalei Bay is the largest bay on the Garden Isle of Kauai and a must for your itinerary.
This serene bay fronts Black Pot Beach Park, a famous spot for local camping that features the historic Hanalei Pier, which was built in 1892.
Walking on this historic pier feels like stepping into a beachy slice of heaven, with the majestic tropical mountains providing a backdrop for additional hypnotizing views.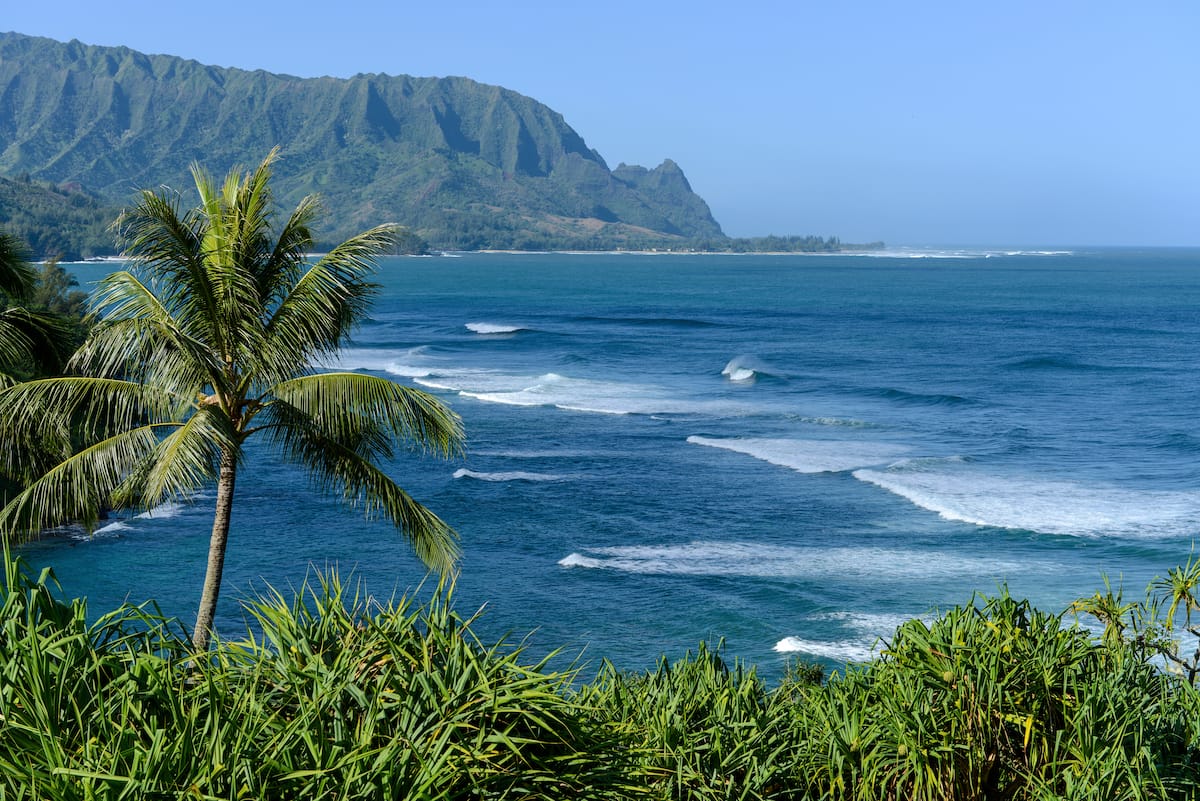 Summer months allow you to enjoy swimming, sailing, and paddling in the calmest waters, while the winter months are perfect for thrill-seekers to roll up for a ride on the huge waves of the Kauai beach.
This two-mile crescent-shaped bay has also been a famous Hollywood movie location that was featured in The Descendants and South Pacific.
Waimanalo Bay
Island: Oahu
Discover Hawaii's hidden gem in the southeastern corner of Oahu (a 45-minute drive from famous Waikiki Beach) that will amaze you with its jaw-dropping scenery.
Because of its location, Waimanalo Bay is less frequently visited by tourists making it a true undiscovered treasure on this popular island that you can enjoy without as many crowds.
Turquoise waters, powdery soft white sand backed with towering ironwood trees (locally known as Sherwood Forest), what else do you need for a proper beach vacation?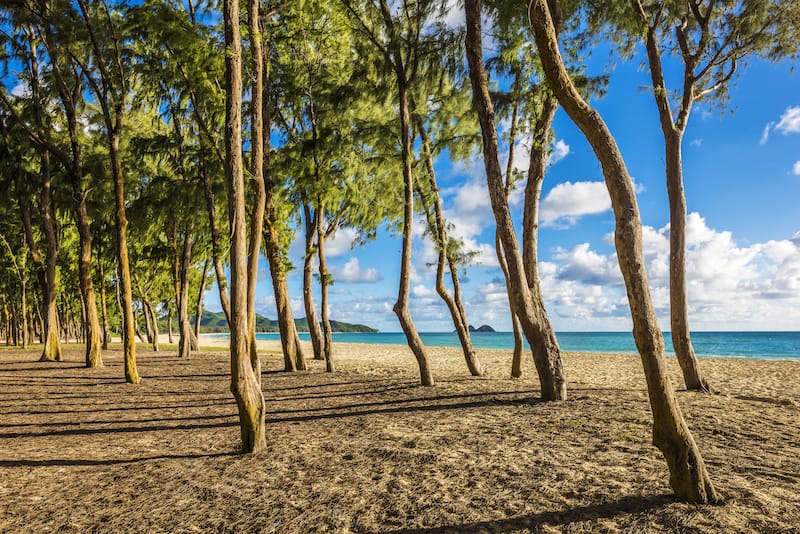 This 3-mile uninterrupted sandy beach is great for sunbathing, relaxing strolls, picnics, and even features moderate waves for bodyboarding and boogie boarding enthusiasts.
The majestic Koolau Mountains in the distance add to the charm of the bay. Please keep your eyes peeled for Portuguese man o' war (a small blue jellyfish), which may cause an extremely painful sting.
Manini'owali Beach
Island: Big Island
Often called the best white sand beach on the Big Island, Manini'owali Beach, also known as Kua Bay, is part of the Kekaha Kai State Park nestled just north of Kona.
This gorgeous little pocket of sand becomes crowded on weekends, so if you prefer a more secluded retreat, then aim for the weekdays.
During summer, swimming and snorkeling are popular activities here, while in winter, a powerful shore break makes this beach an ideal playground for bodyboarders and surfers.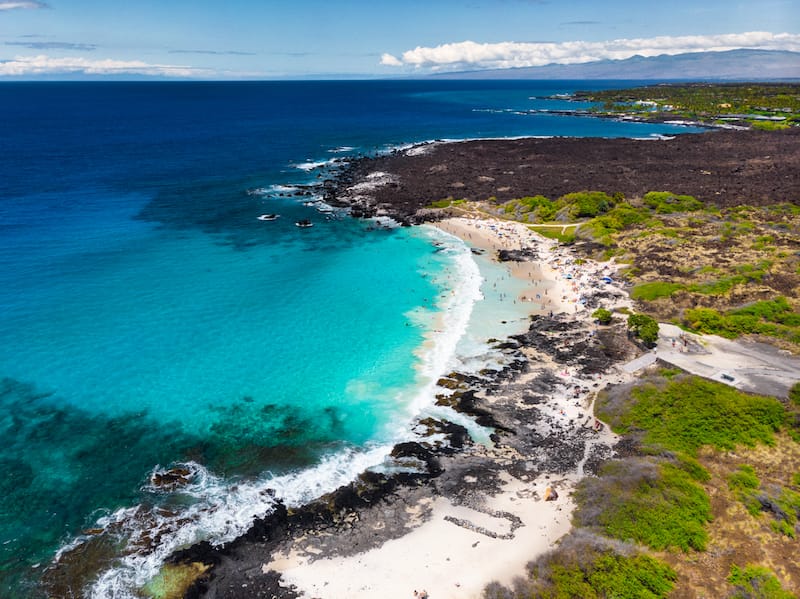 Here, you can also find restrooms, showers, barbecues, picnic tables, a parking lot, and a lifeguard station.
Wildlife sightings are also popular on this beach, so be ready to admire dolphins and turtles not far from the shore, making it one of the best things to do near Kona!
Lydgate Beach
Island: Kauai
The last one on this list is one of the most family-friendly beaches in Hawaii (and on Kauai, specifically!). Lydgate Beach's main highlight is its double-sectioned pool, which is enclosed from both sides and thus protected from ocean swells.
The inner part of the pool is perfect for children wading, while the outer part is for swimming and snorkeling to view a variety of tropical fish.
You can see locals flying kites, playing frisbee, picnicking, and camping on the nearby grass field.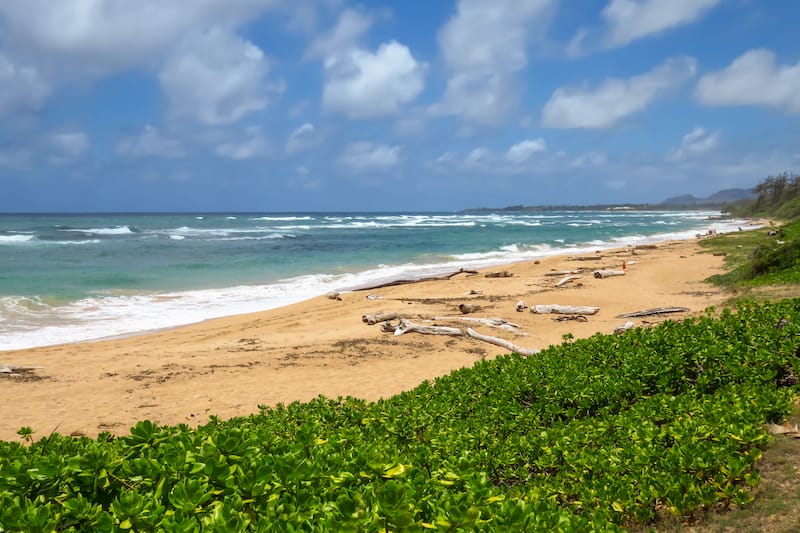 Close to the pool, you can witness the remains of Hikinaakala Heiau dating back to 800 A.D. and the remains of sanctuary Hauola for Hawaiians who broke a taboo.
Across the road, you can let the kids loose at Kalamani Playground that has swings, multiple slides, climbing areas, and many facilities for children of all ages.
Did we miss any of the best beaches in Hawaii? Let us know the top Hawaii beaches in the comments. Thanks!
More Hawaii Travel Guides
Pin this Hawaii Beaches Guide