The Big Island is known for its diverse nature, geology, and its unique volcanic landscapes. And, there are some of the most breathtaking Big Island beaches that you can enjoy when there!
Are you planning your trip to the Big Island last minute?
If you're traveling to the Big Island last minute, you want to ensure you have lodging/tours ahead of time! Below are some of our top picks on Hawaiʻi!
Best Tours and Activities on the Big Island:
Best Hotels in Kona:
Best Hotels in Hilo:
Traveling to the Big Island independently? Be sure to book your rental car ahead of time to ensure availability!
This guide lists some of the best beaches on the Big Island of Hawaii. From green sand wonders to gorgeous Hawaiian black sand beaches, these beaches are fantastic to add to any Big Island itinerary!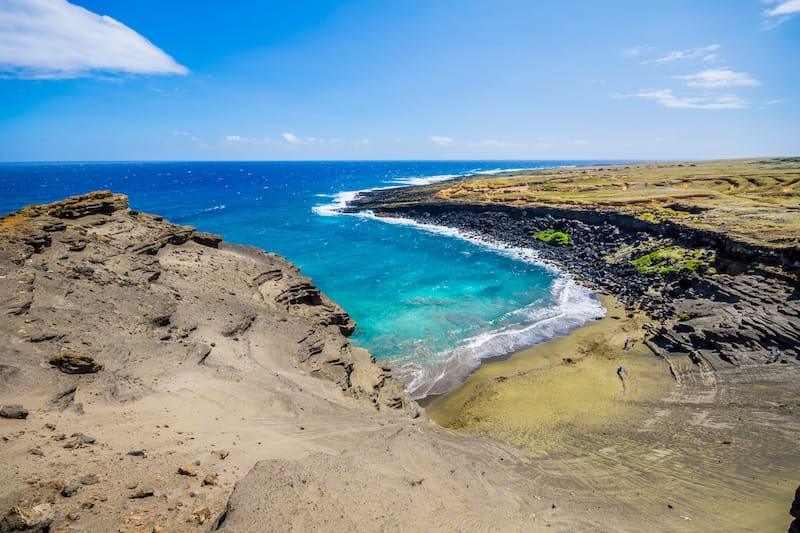 Did we miss any of the best beaches in Hawai'i? Let us know your favorites in the comments. Thanks!
Best Big Island Beaches
Papakōlea Green Sand Beach
As one of merely two green sand beaches in the United States, Papakōlea Green Sand Beach is a one-of-a-kind beach and is one of the top attractions in the Ka'u district.
The greatest feature of the beach is its green sand, as its name suggests! Don't miss a chance to examine the sand up close and head there yourself.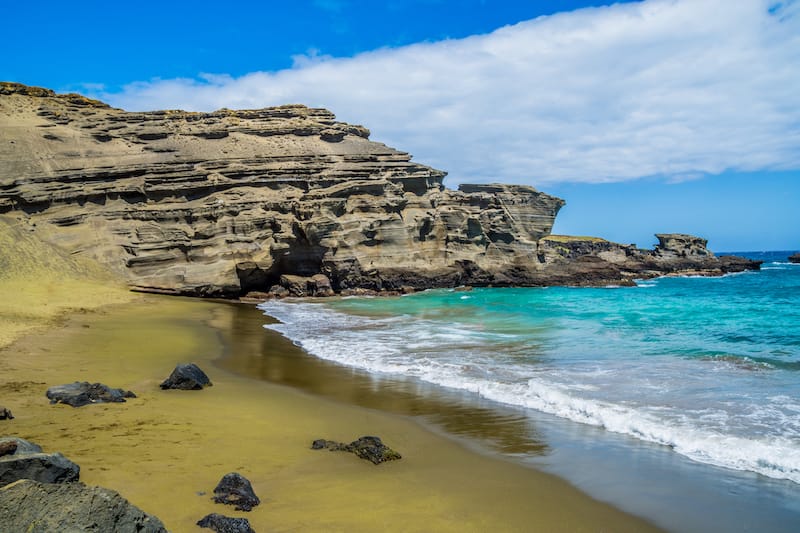 The sand has a greenish hue because of the deposits of the aptly termed olivine (a crystal produced millions of years ago during a volcanic explosion).
Visitors are allowed to swim here, but note that the surf can be rough at times. No lifeguards, amenities, or food stations are available at the beach, so make sure you have some snacks with you when visiting this Big Island beach.
Punaluʻu Black Sand Beach
Punaluʻu Black Sand Beach is not only famous for its black sand, but also for the endangered Hawksbill turtles and green turtles.
This beach has a pretty expansive area and the road to it is easily accessible. If you're looking for a good place to get a quick swim, snorkel, do some camping (with a permit), or have a picnic, consider this beach as one of the best beaches on the Big Island.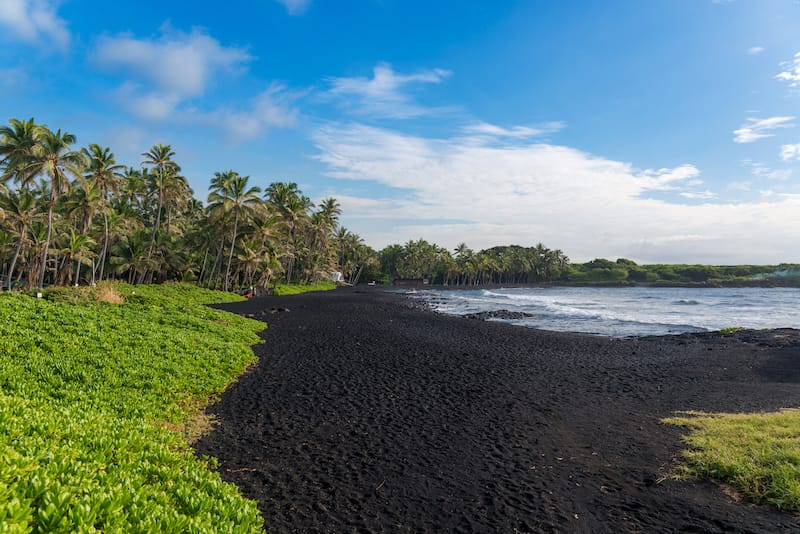 You can also check out the snorkeling in Ninole Cove if you're confident with your snorkeling skills if there are no huge waves in the ocean. The cove is located a short distance to the southwest of the main beach.
Hāpuna Beach
Rated as one of the top beaches in the US, Hāpuna Beach is very popular for both tourists and locals.
Note that areas with shade are hard to find on this beach, so make sure you feel comfortable under the Hawaiian heat! The ocean is normally calm in the summer, but the surf can be dangerous during the winter months.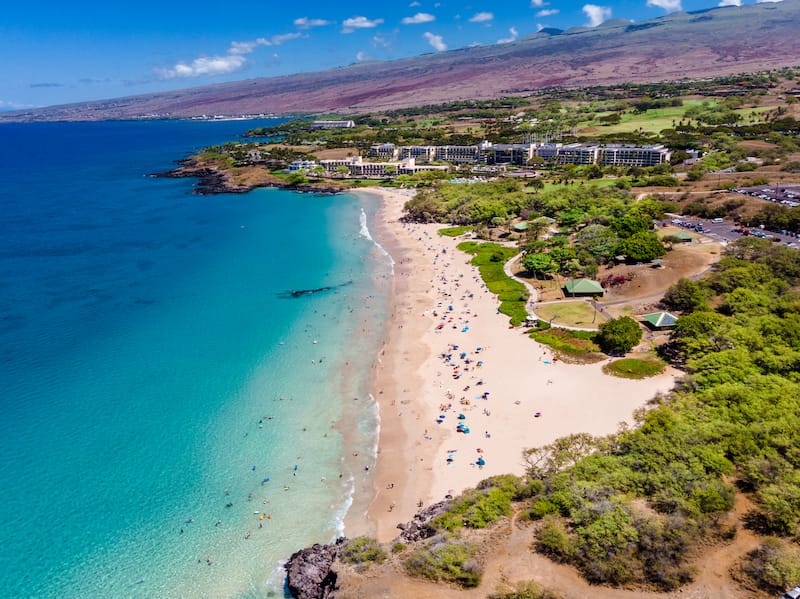 You can snorkel around the little cliff to the north of the beach, or around the rocky point to the south, which has a variety of fish and coral. Just make sure that lifeguards are around you or that you have someone with you.
Mauna Kea Beach
Located on the West Coast, Mauna Kea Beach (otherwise known as Kaunaʻoa Beach), is one of the most picturesque white sand beaches on Hawaii.
The good thing about this beach is that it's less crowded compared to other similar beaches in the area, including some of the beaches in Waikoloa.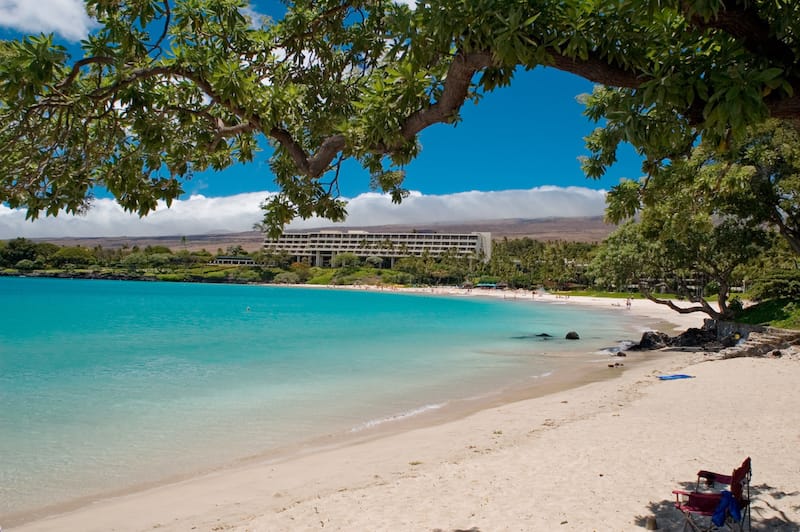 Also, it's conveniently placed just in front of the Mauna Kea Beach Hotel, which is known for its immaculate gardens and famous golf course.
A little coral reef surrounds the half-mile beach on both sides, making it a great spot for some snorkeling. The southern and rockier side of the beach is the best choice (if the visibility is good and the waters are calm, of course).
Makalawena Beach
Visiting Makalawena Beach requires a 20-minute walk along a lava path, but is worth a visit for sure and is one of the top Big Island beaches to add to your Hawaii itinerary!
This beach is located at Kona Coast State Park, north of Kona. It is one of the most diverse state parks on the Big Island and is a must-visit.
Once you get past the lava fields, you'll be greeted by the softest of sands and a clear water beach near Kona. The beach is not usually overly crowded with tourists, so you should be able to enjoy your day in peace!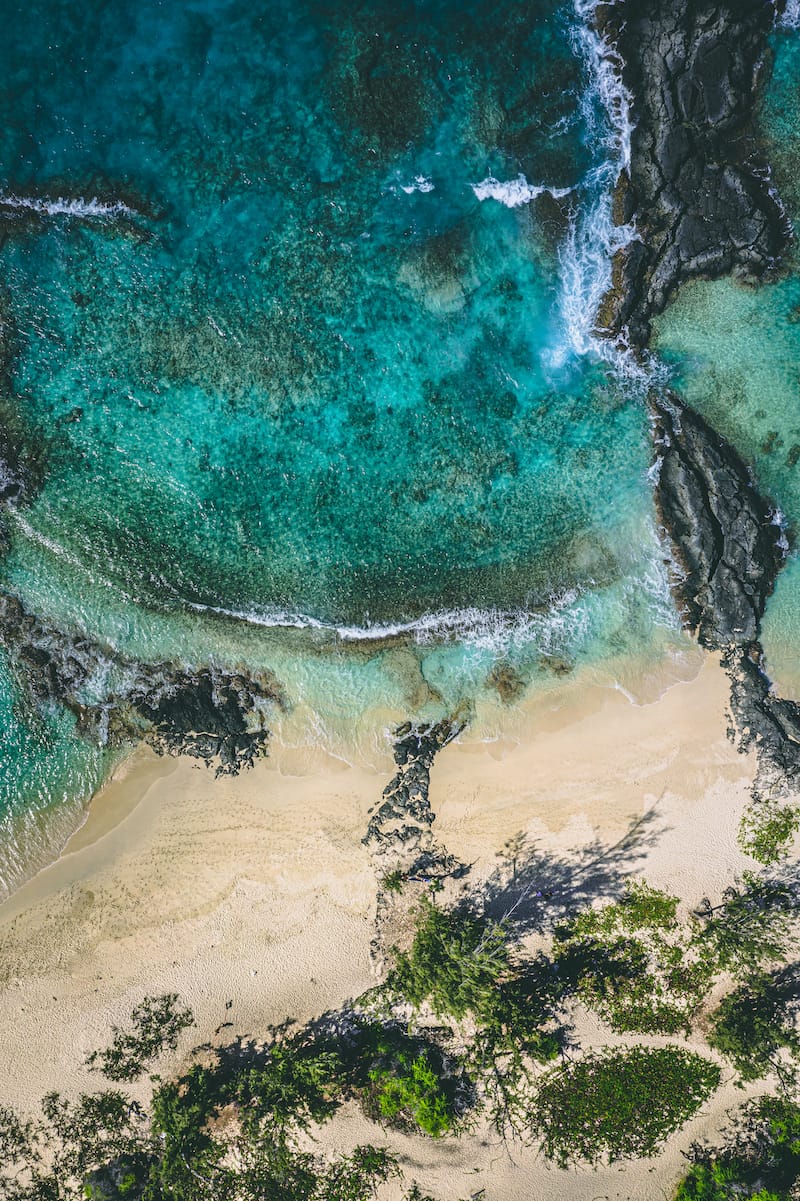 The shallow coral that surrounds the coast makes this a popular snorkeling area on the Big Island. Also, there are a few shady spaces and a few picnic tables, but that is all from the amenities side of things.
Don't be surprised if you encounter a wandering chicken or wild goats! They're there to ensure that no food is left around the beach!
Manini'owali Beach
Manini'owali Beach, also called Kua Bay, is a lovely beach and a great choice to unwind on the Big Island.
Summertime is excellent for snorkeling and swimming, while the winter season can bring in large waves, making for some good surfing conditions.
Also note that when waves are breaking, if you're an inexperienced swimmer, it can be a bit dangerous.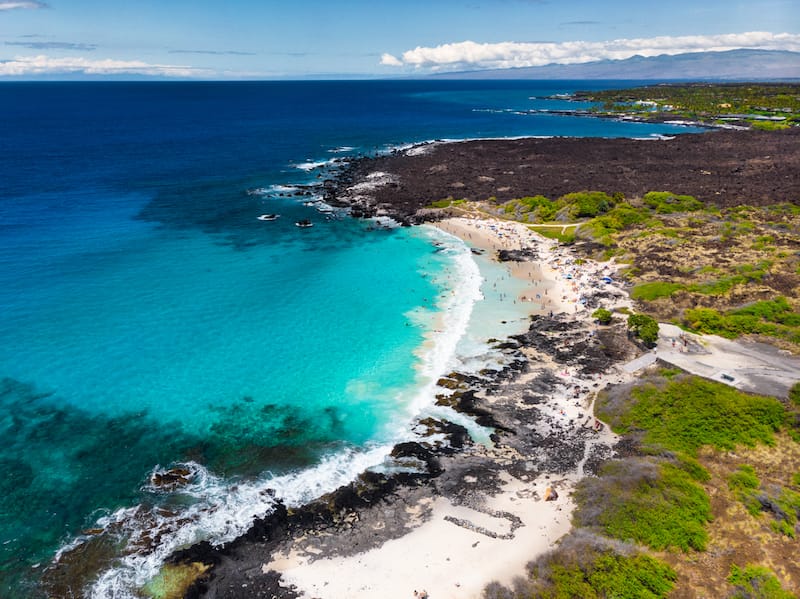 At this gorgeous beach, you might also be surprised by dolphins and sea turtles swimming and playing in the distance. Be respectful if you happen to see them!
If you plan to visit this beach, be sure to bring snacks, drinks, and special footwear to clamber over the lava rocks. Also, have a beach umbrella as there are no shady areas here and the heat can be unpleasant.
Waialea Bay
This white-sand beach on Waialea Bay is a favorite because it is family-friendly and beautiful. It is one of the busiest beaches on the Big Island.
Waialea Bay Beach is a popular spot for snorkeling and scuba diving. The nicest reefs are on the southern side of the bay.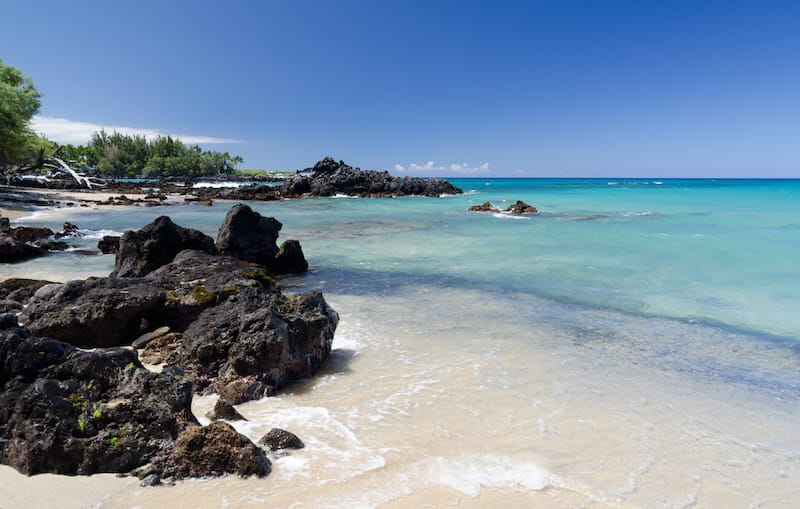 However, there is lots of coral on the rocky point on the north side of the beach and around the big rocks rising out of the water inside the bay.
If you happen to be here in winter, know that humpback whales often appear outside the bay during that season.
There is plenty of shade and privacy provided by the trees on this beach. Still, keep in mind that no lifeguards are on duty, but showers and facilities are available.
Richardson Beach Park
Richardson Beach Park, about 10 minutes south of Hilo's downtown area, is a beautiful black and green sand beach. This one is again on the list of ideal family beaches on Hawaii's Big Island.
Richardson Beach Park's waters are quite shallow and quiet, making it ideal for snorkeling. Marine life is protected by the reef and freshwater from adjacent springs helps to provide a favorable habitat for marine life to flourish.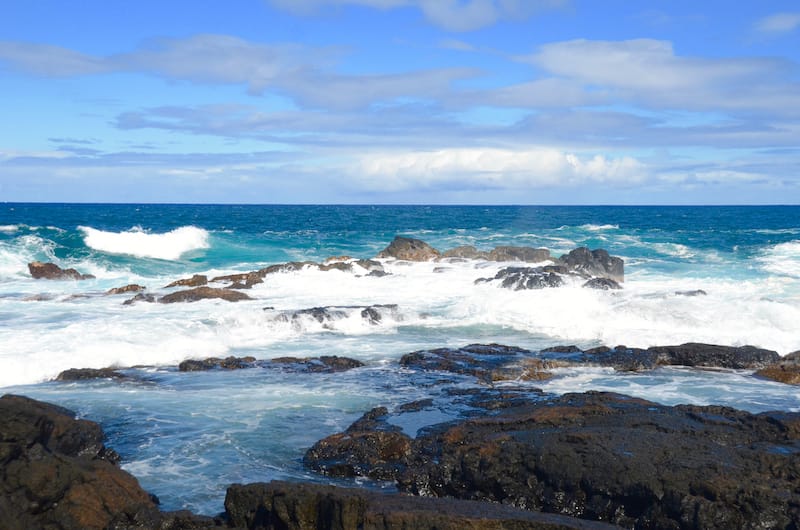 This area is home to endangered Hawaiian Monk Seals and Hawaiian Green Sea Turtles, so there is a chance to see them under the water.
The amenities of the park include picnic areas, showers, restrooms, parking, etc. If you're traveling with kids, know that tide pools, calm ocean, and picnic area make Richardson's Beach Park an excellent place to bring kids.
Anaeho'omalu Beach
Anaeho'omalu Beach is on the Kohala Coast and is one of the best and most scenic places to spend your day if you're looking for one of the best beaches on the Big Island.
Be mindful that this is a great option, especially for kids. It has a well-protected bay with shallow waters, making it a safer beach for kids.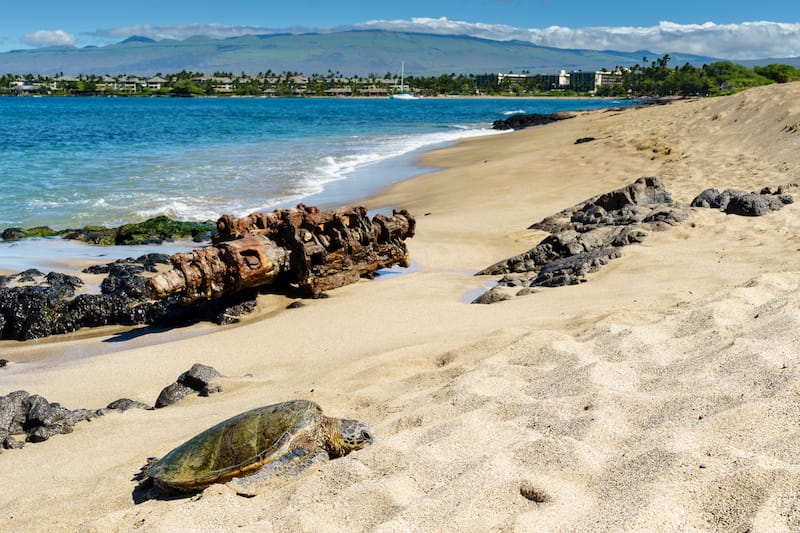 Visibility is not that good under the water at Anaeho'omalu, so if you're into snorkeling, you might want to head to another beach or go to the right (north) side of the bay. It has clearer conditions overall.
At Anaeho'omalu, the visitors also have the option of exploring the entire bay on a paddleboard or a kayak. To rent some snorkeling equipment, paddleboards, kayaks, floats, and more, get to the Beach Hut.
Kahaluʻu Beach
Excellent for family-friendly beach enjoyment, Kahaluu Beach Park provides easy access to almost all fun water activities including snorkeling, surfing, and swimming.
At Kahaluu, visitors enjoy small waves and super clean waters. You'll see a huge variety of fish and other marine life in the shallow waters.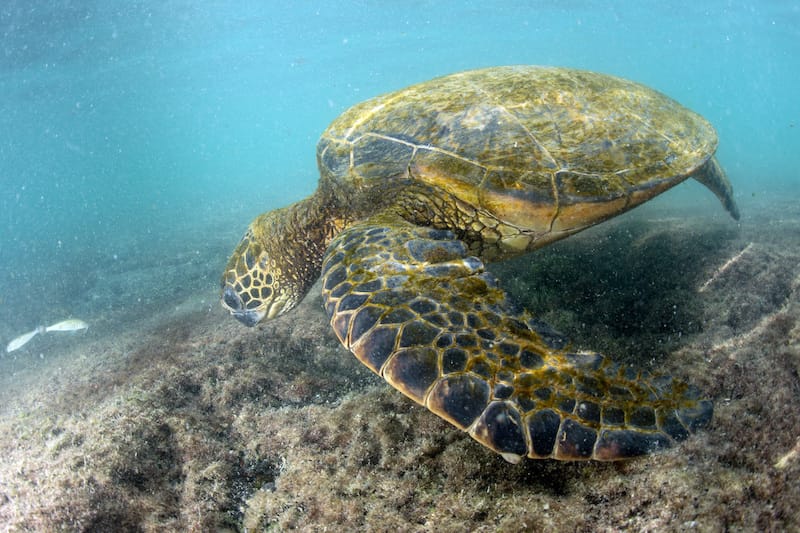 Green sea turtles can be seen sunbathing on the sun-kissed lava rocks or grazing on seaweed.
Note that if you want to take a picture with one of these magnificent creatures, remember to give them plenty of room (under the Endangered Species Act, visitors must keep a distance of at least 10 feet from them).
Pololū Valley Black Sand Beach
Pololu Valley is in Kohala, located at the end of Highway 270.
If you visit this black sand beach, the Awini Trail leads down to the water and is about a half-hour hike. During the trip to this location, you can expect spectacular views, high terrain, etc.
At the bottom of the valley, you will find a beautiful beach with enormous lava rock stones and black sand waiting for you!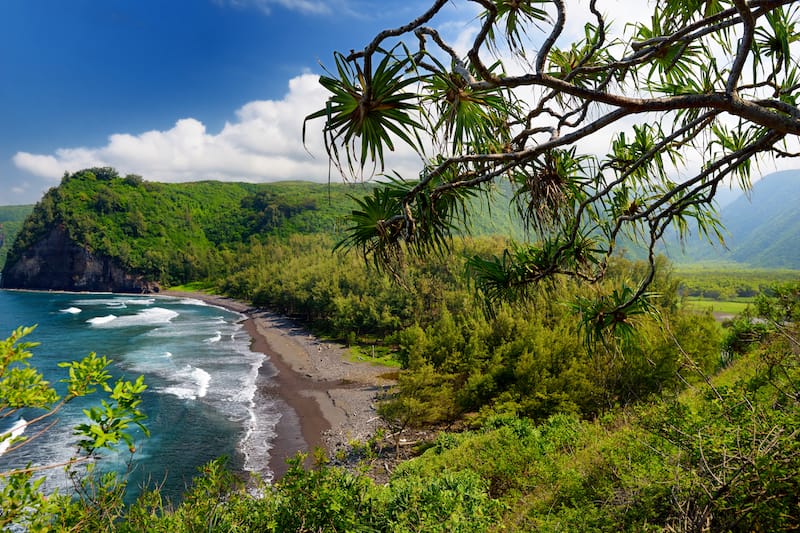 Rope swings may be found on the adjacent ironwood trees and are a fun place to stop and play. The Pololu Valley beach area is open to the public, but don't look for any facilities here.
Also, be aware that camping is popular, although it is not permitted here.
Spencer Beach Park
This family-friendly beach is great for all kinds of activities. Relax on the soft sand or under a shady tree.
Take a leisurely swim at Spencer Beach Park's reef-protected waters, which also makes it a great spot for snorkeling. This beach park has amenities such as a lifeguard, picnic tables, and BBQs.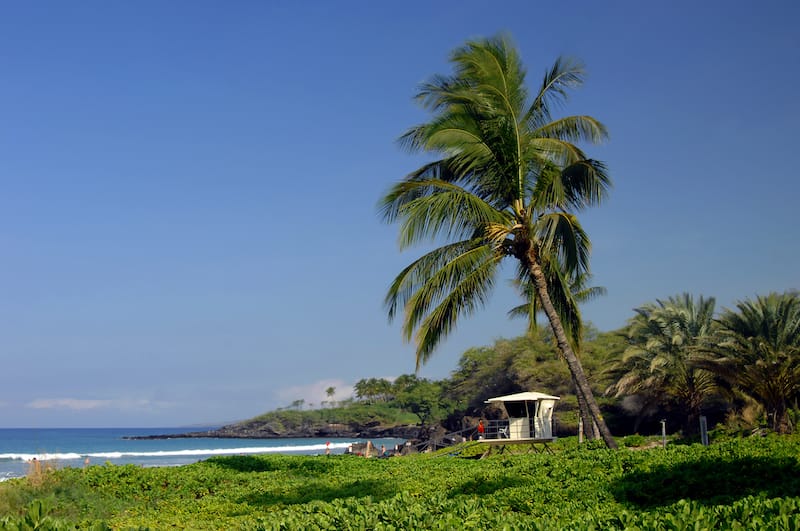 It's a perfect place to take a picnic and spend the afternoon. Or, if you'd like to stay longer, camping is allowed here with a permit.
You can also hike along the Ala Kahakai National Historic Trail from Spencer Beach, which gives stunning views of the area.
Puako Bay
This isn't your typical sandy beach, but the main attraction could be considered more interesting than laying in the sand– this beach is known for its tide pools.
At low tide, you can find these small pools full of interesting creatures dotting the coast.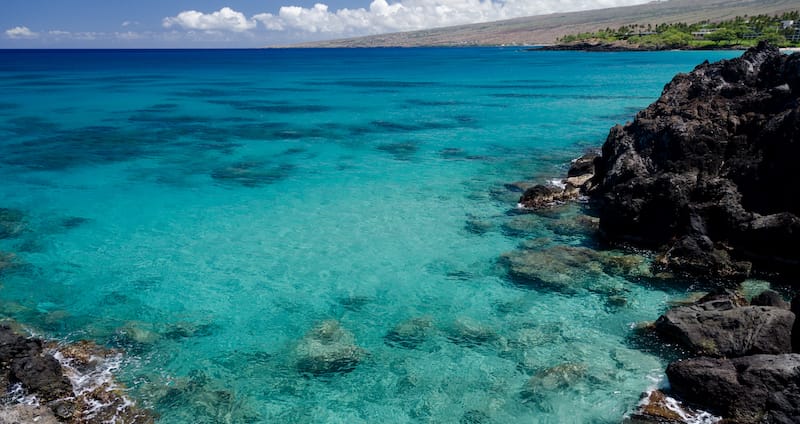 The offshore reef is also a fascinating area to explore if you have snorkel gear. Just be careful and monitor ocean conditions, as the waves can be strong.
Although Puako Bay isn't your regular sandy beach, it is well worth a visit!
What are the best Big Island beaches, in your opinion? Let us know in the comments! Thanks!
Additional Big Island Travel Guides
Pin this Beaches on the Big Island Guide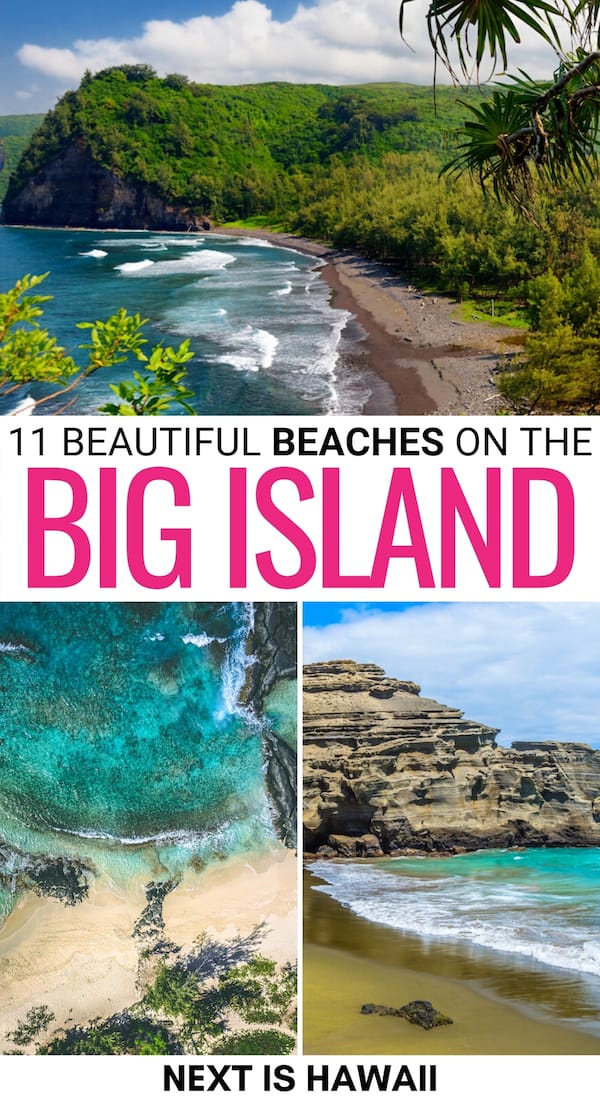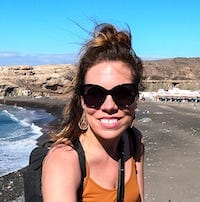 Megan is a travel blogger and writer with a background in digital marketing. Originally from Richmond, VA, she has been traveling frequently to Hawaii for the last 15 years and loves exploring every corner of each Hawaiian island, while trying to promote sustainable travel and small, local businesses along the way. Megan has written for or been featured by National Geographic, Forbes, Lonely Planet, the New York Times, and more. She has co-authored a guidebook with Fodor's Travel and has visited 45 US states and 100+ countries.