One of the best things about Kauai is that there is just as much to do inland as there is to do on the water. This is a recap of my Wailua River kayak tour.
Are you planning your Kauai tours last minute?
If you're traveling to Kauai and are looking for some of the best tours and lodging for your trip, you can see our top picks below!
Most Popular Tours in Kauai:
Best Places to Stay in Kauai:
Curious about how to get around Kauai? Click here to check Kauai rental car rates!
[/su_note]
This tour had been on my Kauai bucket list for some time! I am an avid paddler (when not in Germany) and this tour was one I was determined to go on during my latest trip to the Garden Isle.
This post details my experience on a tour kayaking the Wailua River on Kauai, including what to expect, tips for the journey, and more!
Please note that there are various tours that you can do here. I took a tour kayaking and hiking to the Secret Waterfall (Uluwehi Falls) with Rainbow Kayak Tours.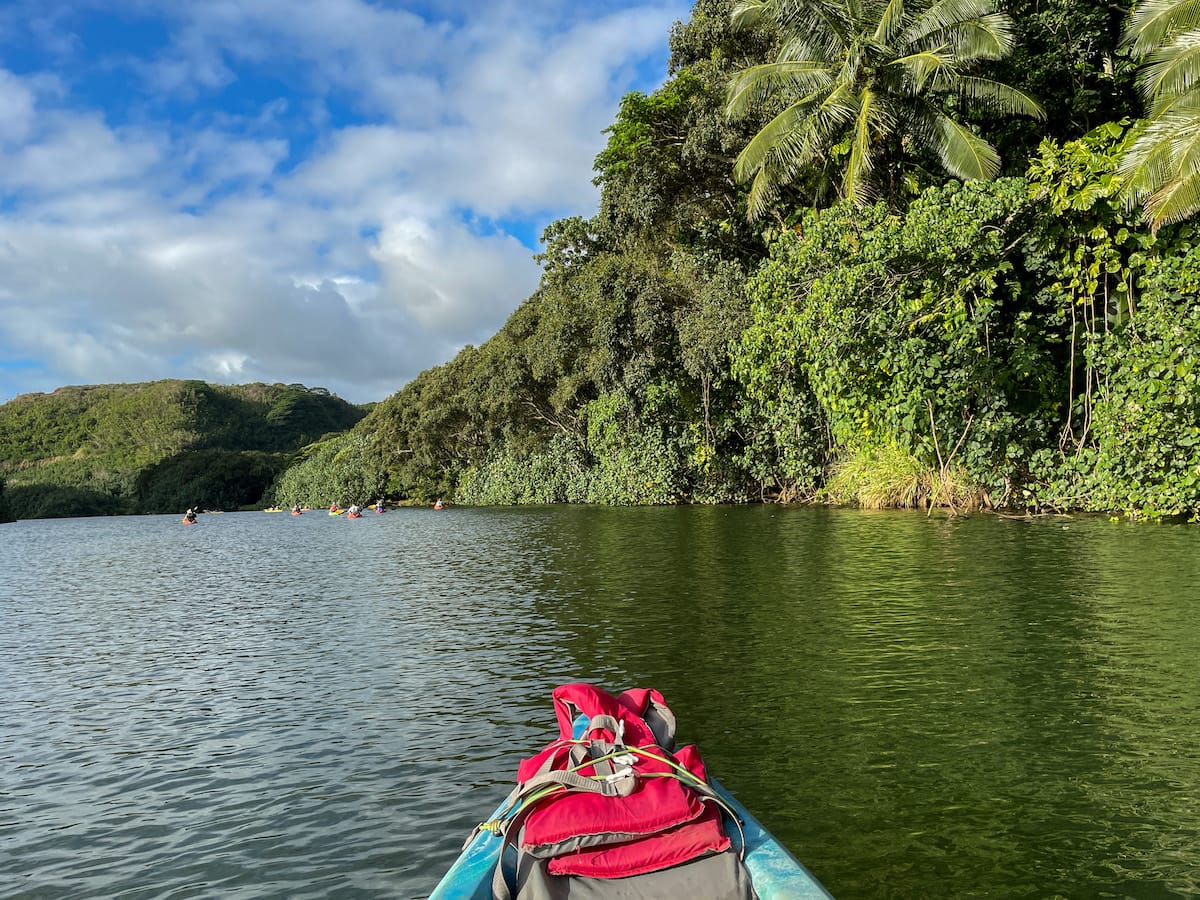 So, my review is of that specific tour but I will also mention a few alternatives if you're looking for something slightly different.
Please let me know if you have any questions about taking a Wailua River kayaking tour! Thanks!
About the Wailua River Kayak Tour
Wailua River
The Wailua River is the most famous river on Kauai island. At 14.5 miles long, it is the 5th longest river on the island.
Interestingly, it is the only navigable river on the Hawaiian islands and is a huge place for locals to kayak, SUP, and go boating on. It was an essential activity I knew I had to do during my 4 days on Kauai.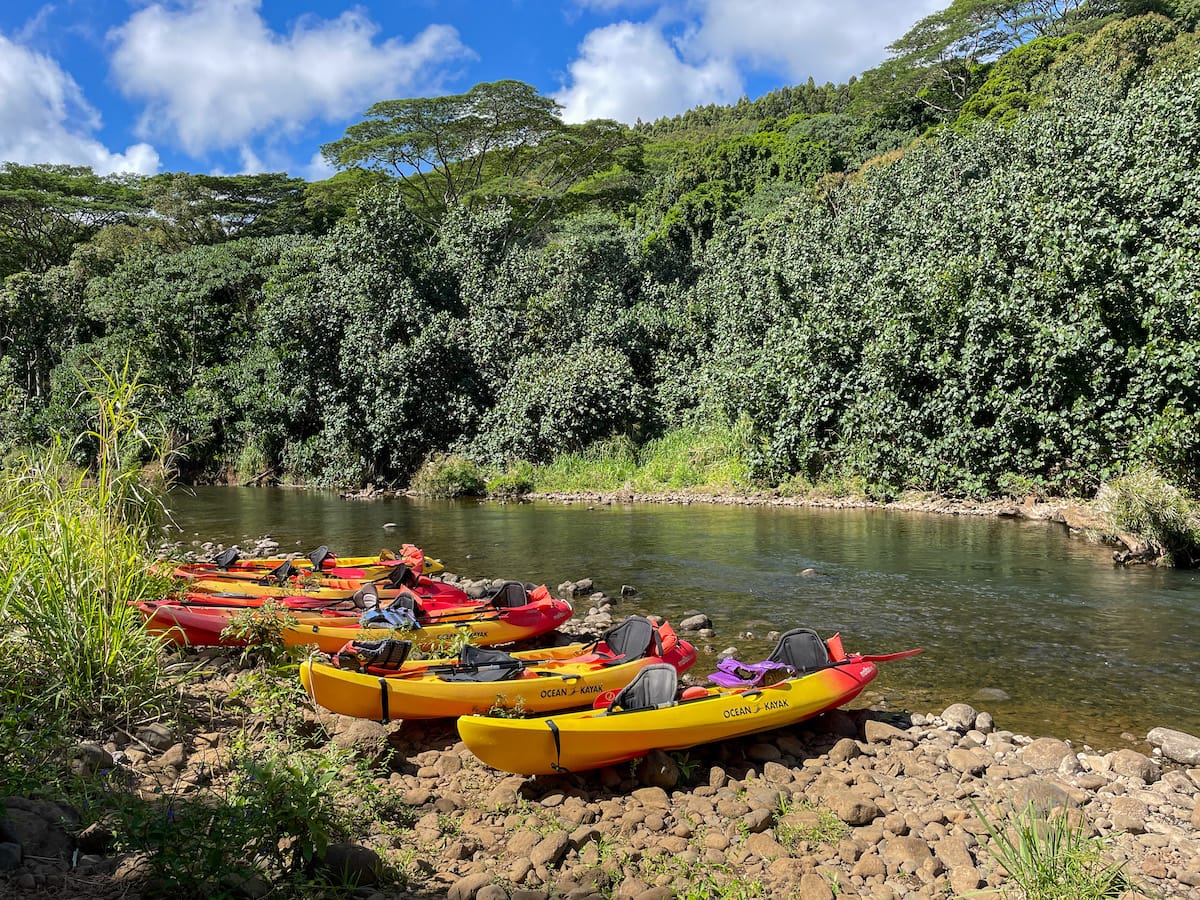 The North Fork of the river begins at Mount Wai'ale'ale and flows east where it meets the South Fork. Some famous places along the river are Kamokila Hawaiian village, the Secret Waterfall mentioned below, and a bird refuge.
Book your Wailua kayaking tour here!
Secret Waterfall (Uluwehi Falls)
This beautiful waterfall is definitely not a secret. Not even in the slightest! However, it is worth visiting and is a great reward after a 20-30 minute hike from the place you leave your kayaks.
Uluwehi Falls is about 100 feet in height and there is a pool where you can swim at its base. There are plenty of rocks around where you can relax and take in the lush scenery.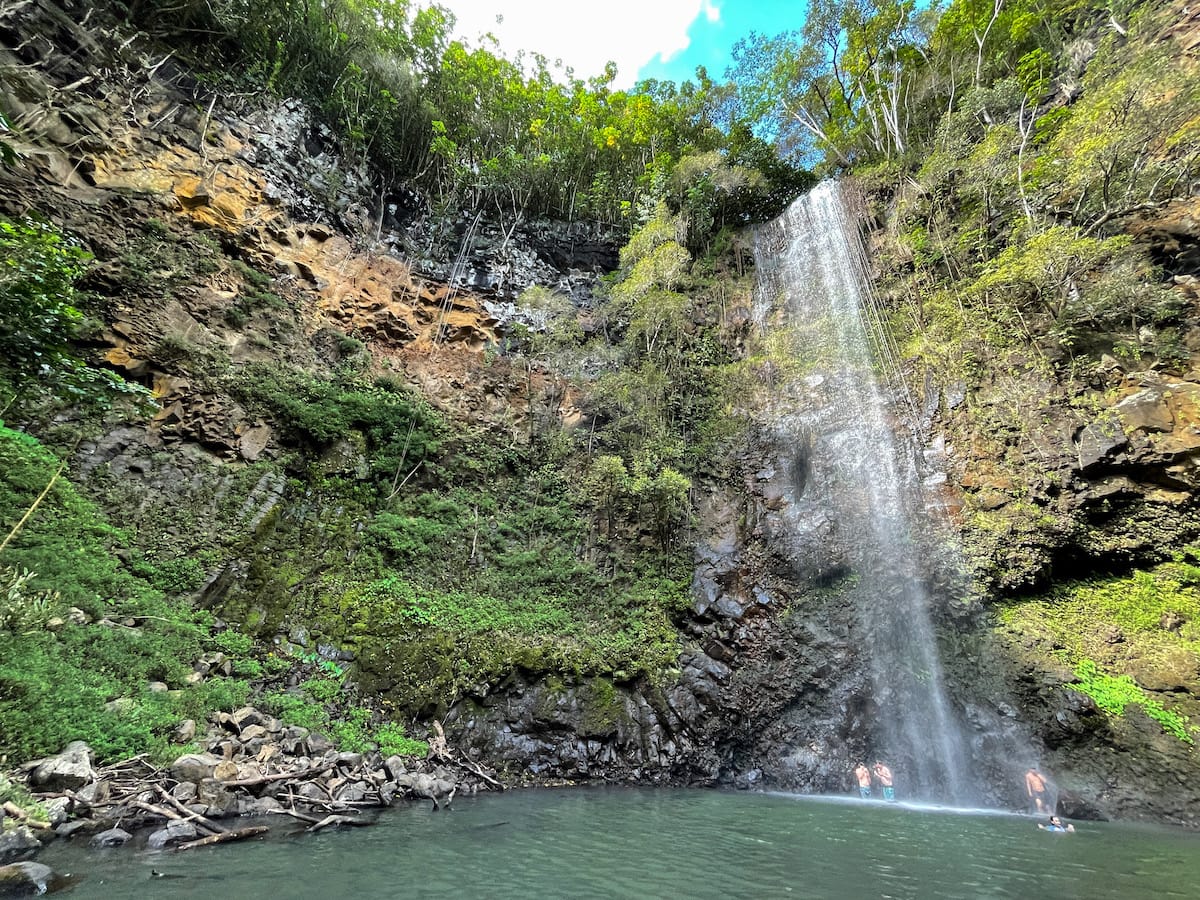 The best way to access the waterfall is by kayak and then a hike to it, so it is definitely best to visit with a guided river tour. It is one of the coolest waterfall hikes in Hawaii!
GOOD TO KNOW: This is a sacred waterfall to the Hawaiian people. Always show respect to Hawaiian nature but be extra cautious here – donʻt remove or move stones, etc.
Arriving at Your Meeting Point
The meeting point is a bit past Lihue in between Kapa'a and Wailua area. It is at the Coconut Marketplace area and near Aston Islander on the Beach.
You can't miss the area as there will be heaps of people gathered around getting ready for their tour.
Once there and after checking in, you can change in the bathrooms into your kayaking clothing as well as purchase anything you may need from the kayak shop.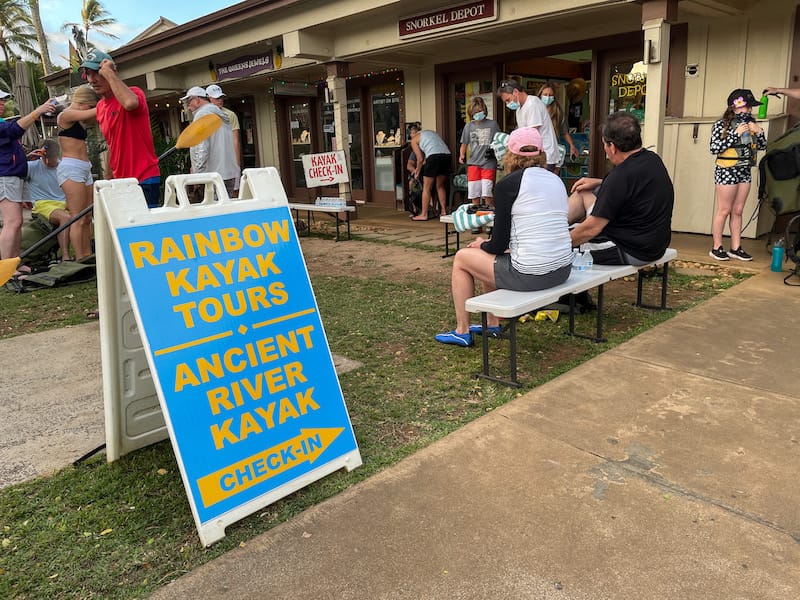 Then, your guide will gather your group outside for a quick safety briefing and a short lesson on how to paddle and maneuver a kayak.
Nothing lengthy or in detail… just enough to make you feel confident about your journey.
On the Wailua River
You will get into a van for a short ride to the Wailua River from your initial meeting point.
Upon arriving at the river, if you are on a morning tour, you will likely need a few people on your tour to help lift the kayaks from the trailer and over to the water.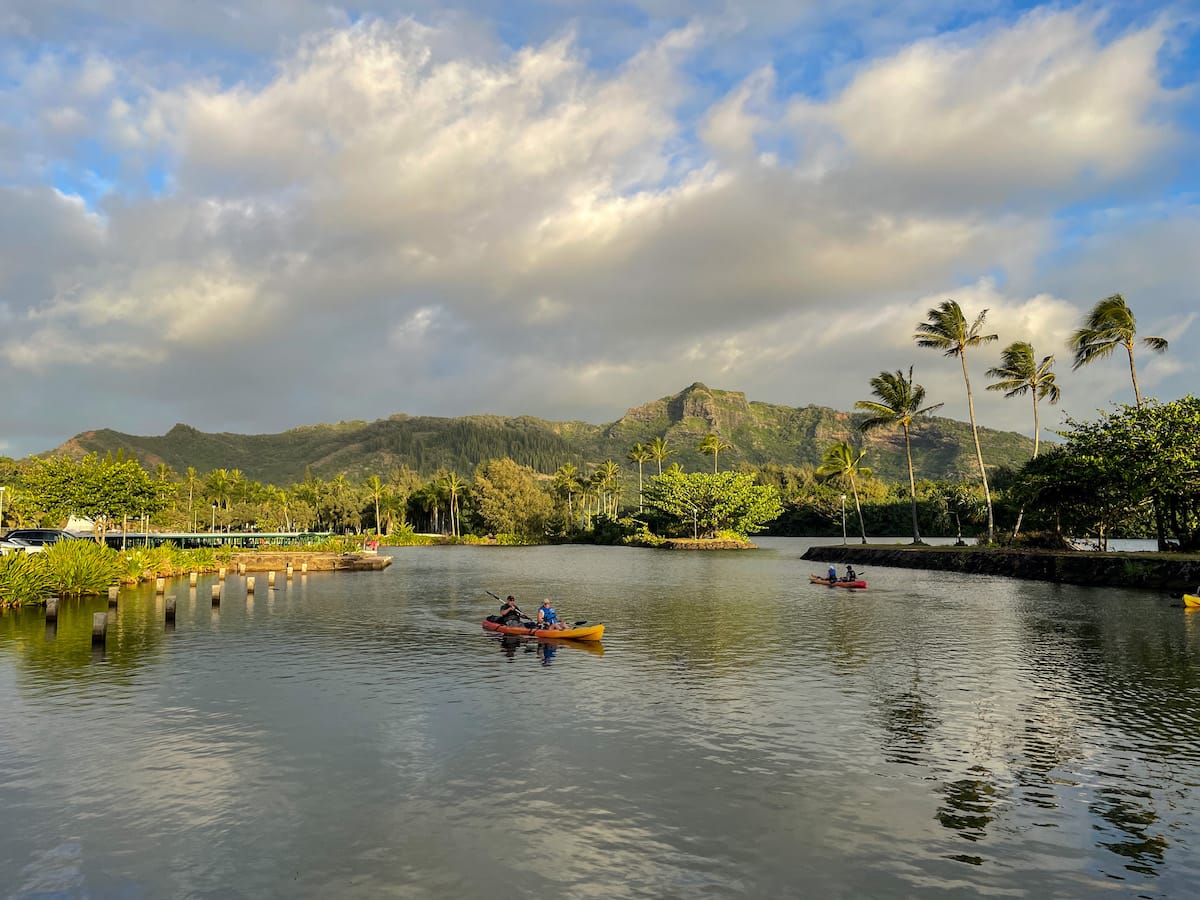 Once they were at the water, you waited in a line near your guide to help get launched! After getting into the water, you will then need to wait until all of your tour kayaks are out there (you'll find a waiting area in the water where all kayakers will gather).
The kayaking route to the waterfall trailhead is about 2 miles in total. To be honest, it was a fairly easy journey there.
I took the morning tour and I hit headwinds on the way back but nothing was unmanageable and it was as relaxing as it was fun.
Book your Wailua kayaking tour here!
Along the way, you are pretty free to move along independently and not wait on the group but you will get to an area that forks a bit further along the route.
It is advised to wait for your instructor there so he/she can explain which way takes you to the waterfall trail.
The Wailua River does allow motorized boats on it and you will need to stay to the RIGHT on the way to the waterfall and to the LEFT on the way back from the waterfall.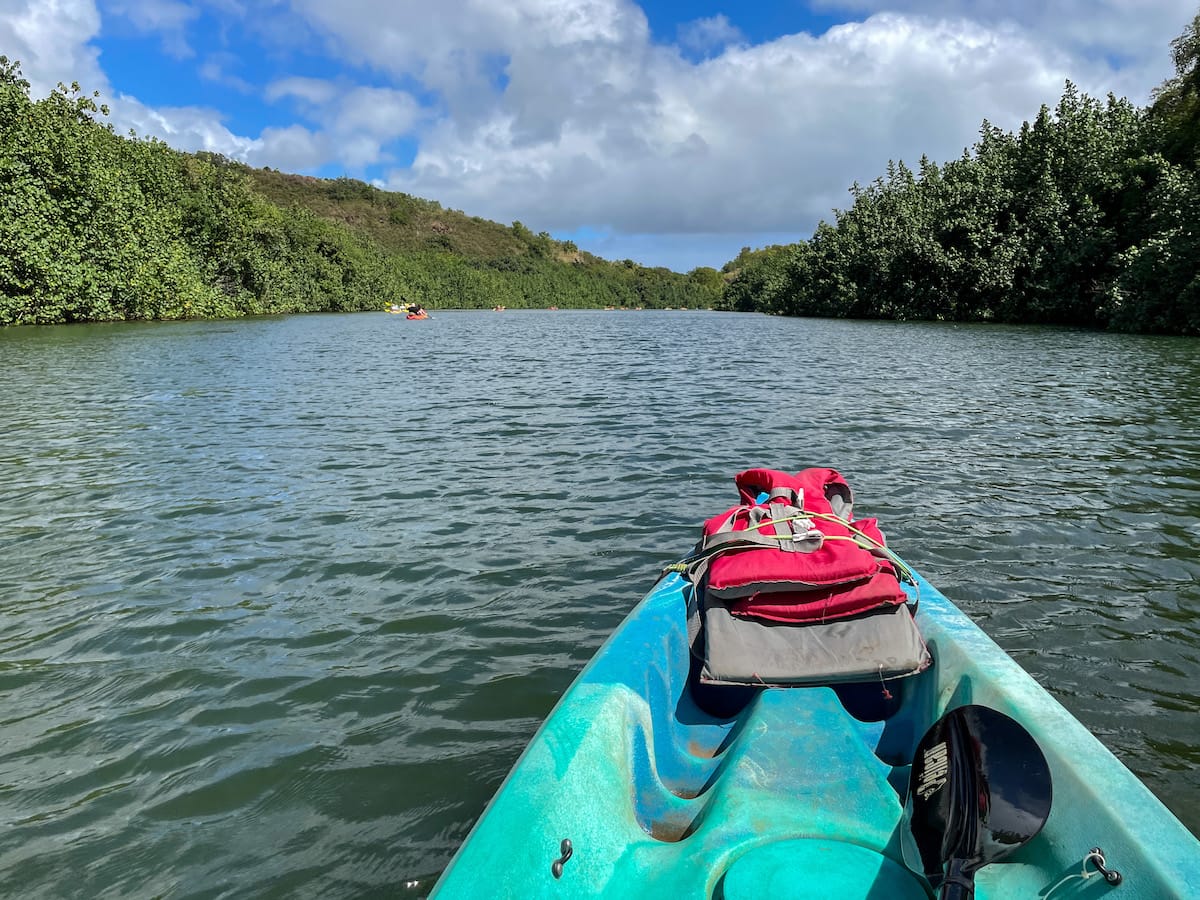 This is really important out of respect for the locals. In the photo above, you can see some people veered to the wrong bank. Donʻt do that!
GOOD TO KNOW: Recently, Kauai banned these tours from running on Saturdays and Sundays to allow the locals time to enjoy the river without all of the tourists on them – which is a great thing. Be aware when booking!
Waterfall Hike to Uluwehi Falls
Once your group lands the kayaks on the river's shore, you will gather and start your trek to the waterfall.
The hike to the waterfall is very easy, but it does require multiple river crossings (nothing too deep) and a lot of walking on rocky areas. This is the time to be thankful for waterproof shoes!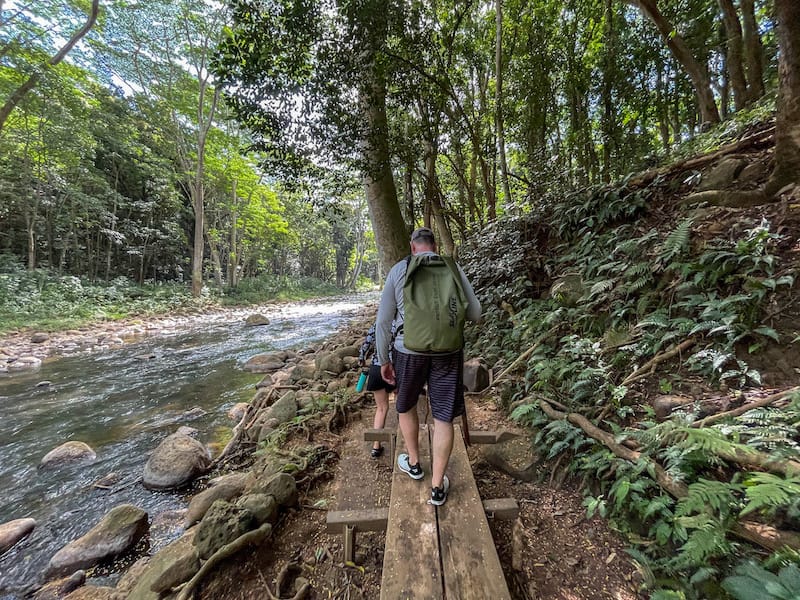 The hike itself was around a mile I think. There were boardwalks for some of it and you did have to go through some tall grass in certain parts.
But, for the most part, it was easy. I did hear people mumbling that they found the hike far more challenging than the kayaking. But, I didn't find either that hard.
At Uluwehi Falls
Arriving at the waterfall is exciting and you will likely be surprised at how many people are there! I definitely was. There is nothing 'secret' about this waterfall and you will likely be one of 50-100 people there at any given point.
Our tour guide passed out sandwiches for lunch and we were able to eat and spend an hour at the waterfall in total (including lunch).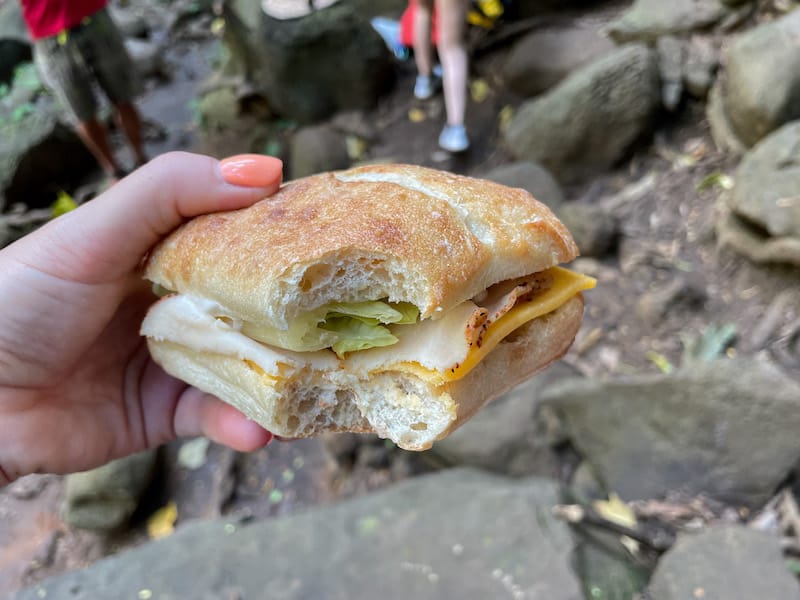 Some opted to swim there while others, like myself, just relaxed and enjoyed the sandwich as well as the pineapple that was cut up for a refreshing treat.
There are no bathrooms at the falls and you must prepare to go to the left of it behind the rocks (if you're facing the falls). Your guide will instruct you where to go.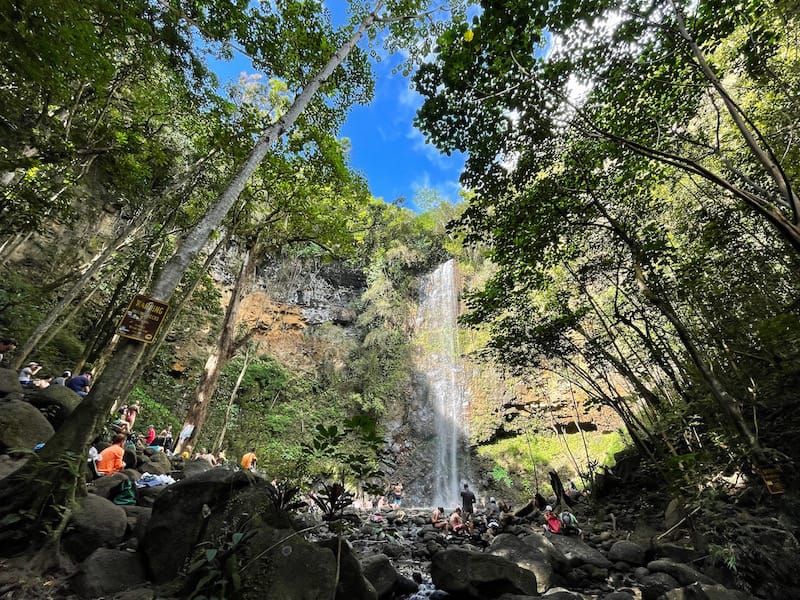 You can swim in the waterfall, but it is a bit cold (the guides will tell you it is 'refreshing' and not cold… but I heard differently from those on my tour – be warned)!
You will leave the waterfall and head exactly back the way you came until the tour is finished.
What to Pack & Wear
I actually always bring a change of clothing for kayaking adventures and this was no exception. I changed into a pair of active shorts and a tank top. I also wore flip-flops.
Sadly, I failed to read the information about wearing flip-flops for the hike. It is not permitted to do so, and thankfully, they sold water/reef shoes inside the shop at check-in, so I was able to purchase a pair.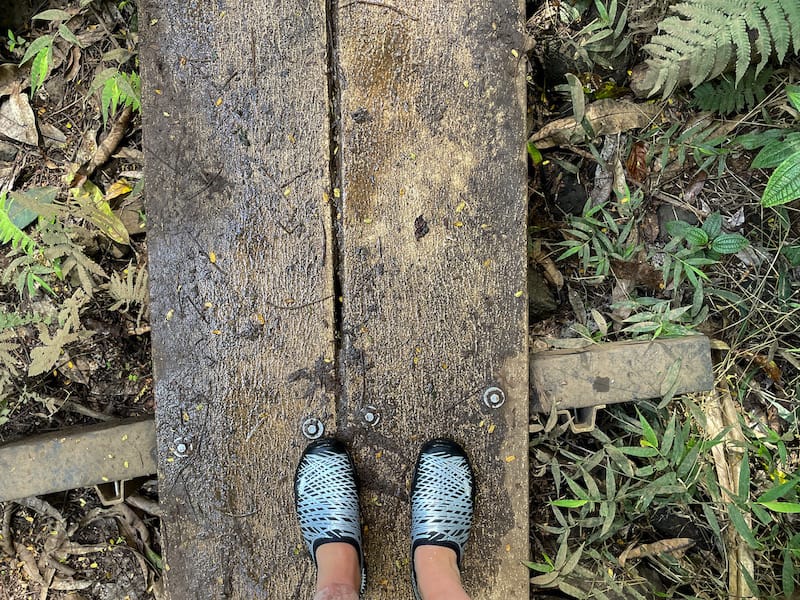 I was so grateful to have done so as I wouldn't have survived the rocky paths and river crossings with flip-flops. They will provide you with a dry bag, bottles of water (small ones), lunch, and a hiking stick.
Things I do recommend bringing are a waterproof phone case (they sell them at a cheap price in the shop, too), waterproof shoes (or you can purchase them there for $20), sunscreen (and lots of it – the river is exposed while the hike is not), and a GoPro if you have one.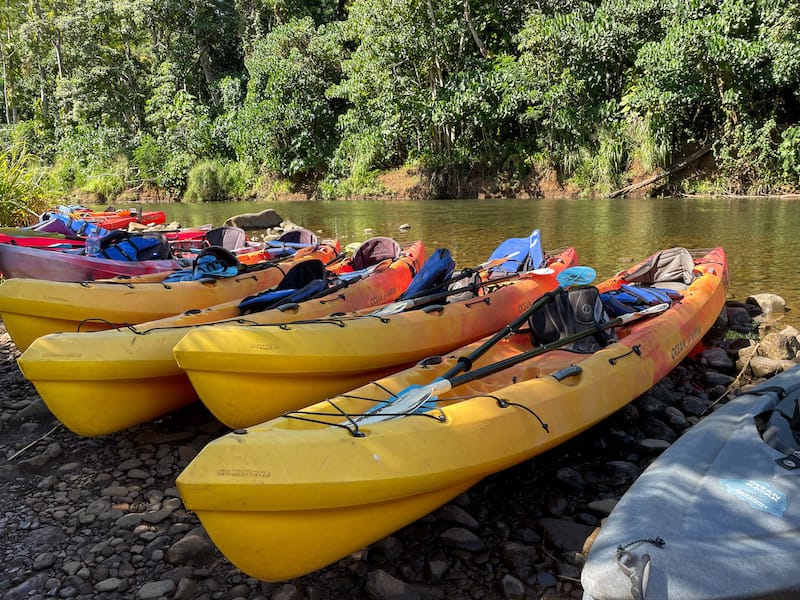 They will provide life jackets but the river is very shallow so it is not required to wear them unless you don't know how to swim or feel more secure having them on.
Tips for Kayaking on the Wailua River
Do you have open cuts? I disgustingly let myself get extremely burnt many days before and some of my burn had left me with exposed skin on my lower left leg. It was exposed and raw enough that it made me question going on the tour.
There is a small risk for leptospirosis on the river, so they did put some gel on it and covered it with two bandages.
The leptospirosis risk was extremely low so they said it should be fine. Weeks later, I still have a leg and never got sick… so all was fine. Just be cautious!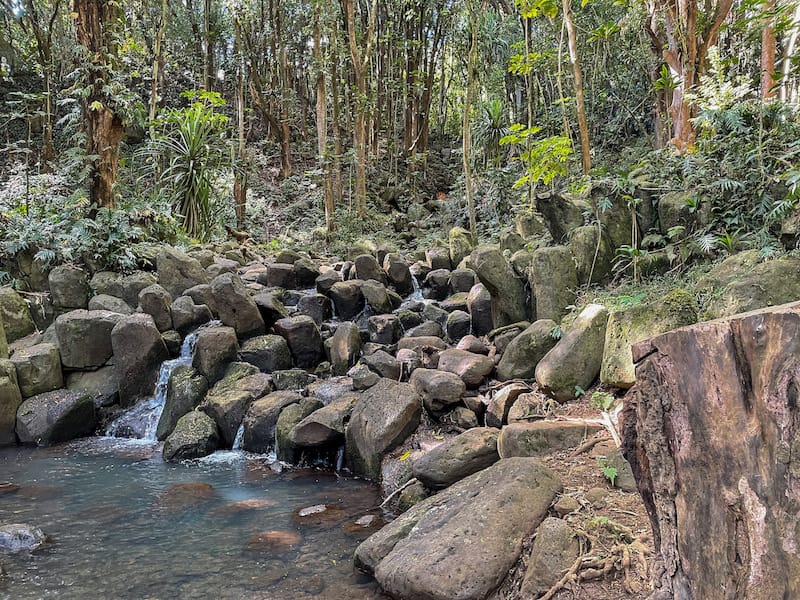 Are you traveling alone? The kayaks are meant for two people and they will divide all groups into their respective kayaks.
However, if you're in a group of three or traveling alone, you may end up with a person you don't know, the tour guide, or solo.
Fortunately, I was able to go alone. I would speak to them before the tour (maybe after the booking) to ask if you can get a solo kayak if you want to go alone.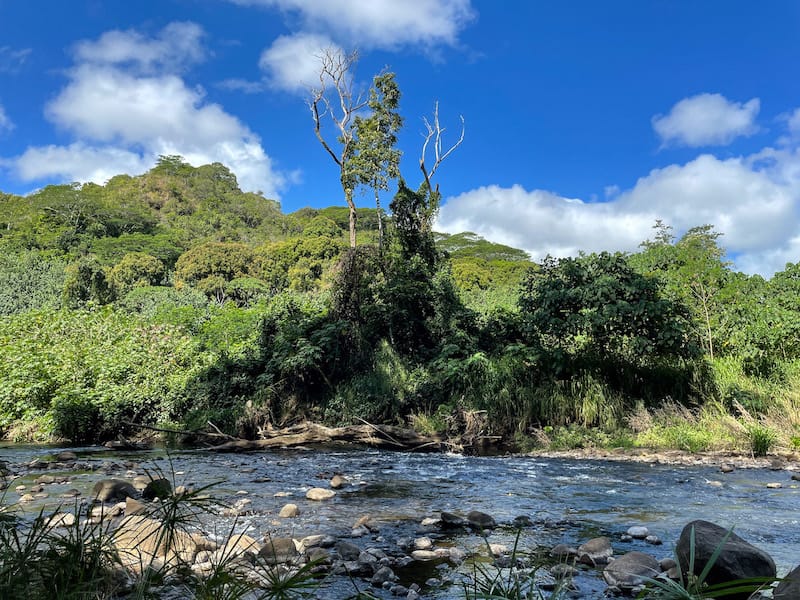 I have experience kayaking and much preferred this. However, if you have never kayaked, I would highly recommend going with another person or with the tour guide.
Sunscreen: The river is exposed and the hike (mostly) is not. Wear sunscreen and lots of it!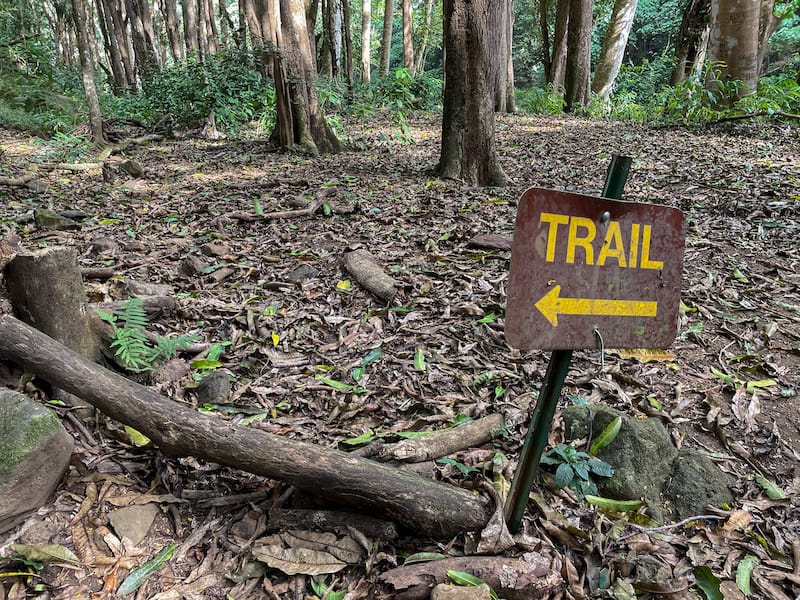 Is it that time of the month, ladies? I was actually on my period the day of my tour and was a bit nervous as I wouldn't have anywhere to easily change out.
I brought feminine products with me but didn't have anything else. I chatted with the kayaking office and apparently, this happens frequently so they handed me a plastic bag, rubber gloves, and some toilet paper to pack in my dry bag.
It made everything so much easier! I was able to change out at the waterfall without any issues.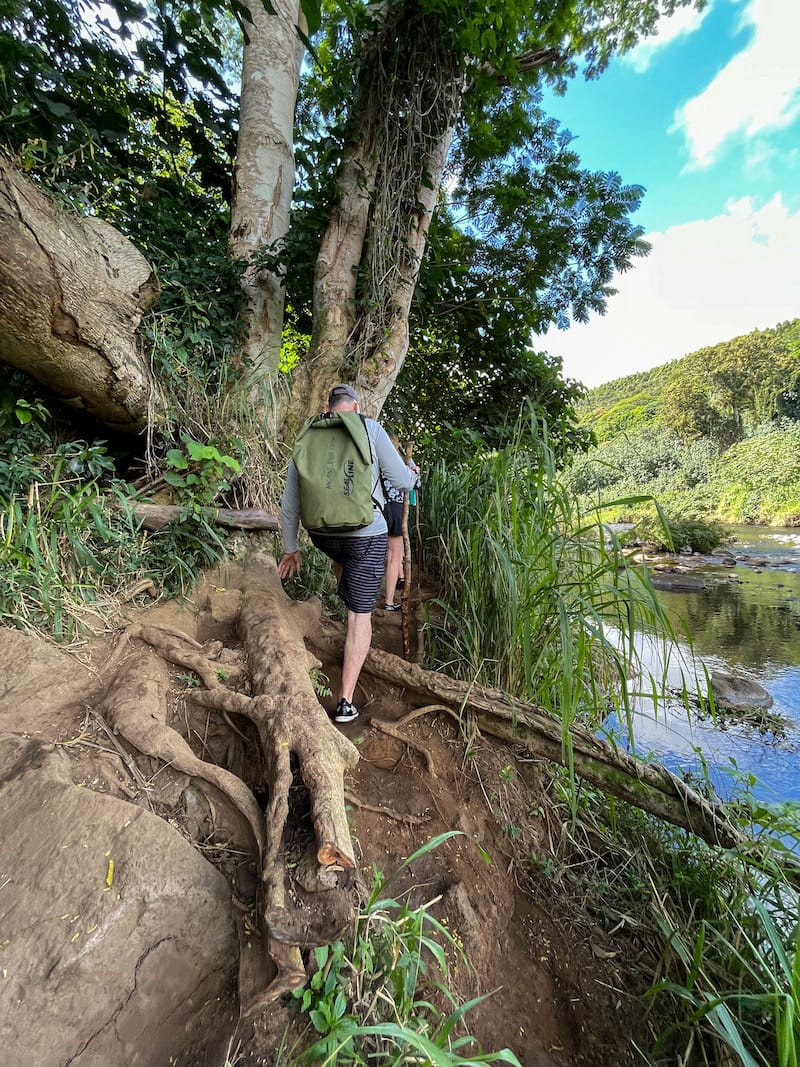 Snakes: There are no snakes in Hawaii and there are none in the Wailua River. The river is clean and void of any frightening creatures… don't worry!
No kayaking on weekends: You can not book this tour on weekends these days! So, plan accordingly!
How to Book a Wailua River Kayaking Tour
The best way to book a Wailua River kayaking tour is online. These sell out so fast! So, be sure to book quickly as youʻre planning your trip!
I booked my tour through Viator for the ease of receiving and voucher and confirmation beforehand and everything worked seamlessly!
Book your Wailua kayaking tour here!
Would you like to kayak the Wailua River? If you have been let us know your Wailua River kayaking tips and experience in the comments! Thanks!
Other Kauai Posts You Might Like
Pin this Kayaking the Wailua River Guide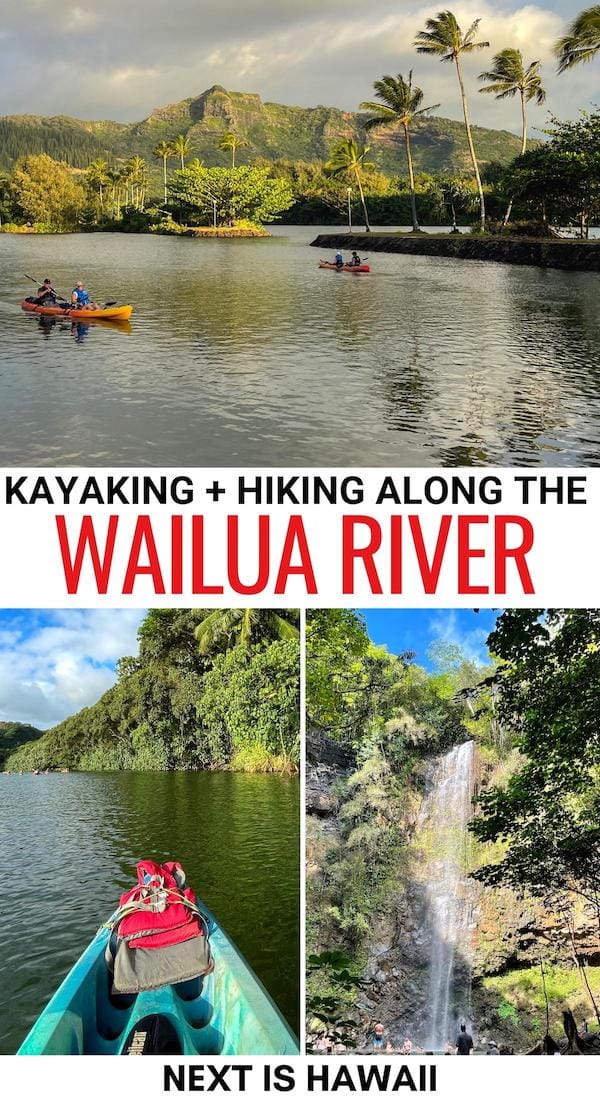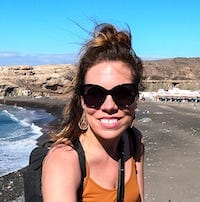 Megan is a travel blogger and writer with a background in digital marketing. Originally from Richmond, VA, she has been traveling frequently to Hawaii for the last 15 years and loves exploring every corner of each Hawaiian island, while trying to promote sustainable travel and small, local businesses along the way. Megan has written for or been featured by National Geographic, Forbes, Lonely Planet, the New York Times, and more. She has co-authored a guidebook with Fodor's Travel and has visited 45 US states and 100+ countries.