Are you looking for the best waterfalls in Hawaii for an upcoming vacation? This guide covers the most beautiful Hawaii waterfalls, island by island!
Are you planning your trip to Hawaii last minute?
If you're traveling to Hawaii and are looking for some of the best tours to see some of these waterfalls, you can see our top picks (by island!) below!
Best Waterfall Tours in Hawaii:
Hawaii might be on your travel bucket list for a variety of reasons, including gorgeous beaches, clear waters, unique culture, and warm weather.
But you should also make it a point to see all the natural beauty that Hawaii has to offer. One of its most prized gems is its waterfalls, which you can find all throughout Hawaii spread across its islands.
Whether you want to visit Oahu, Kauai, Maui, or any of the other islands, you're sure to find waterfalls pleasing to the eye and perfect for an adventure.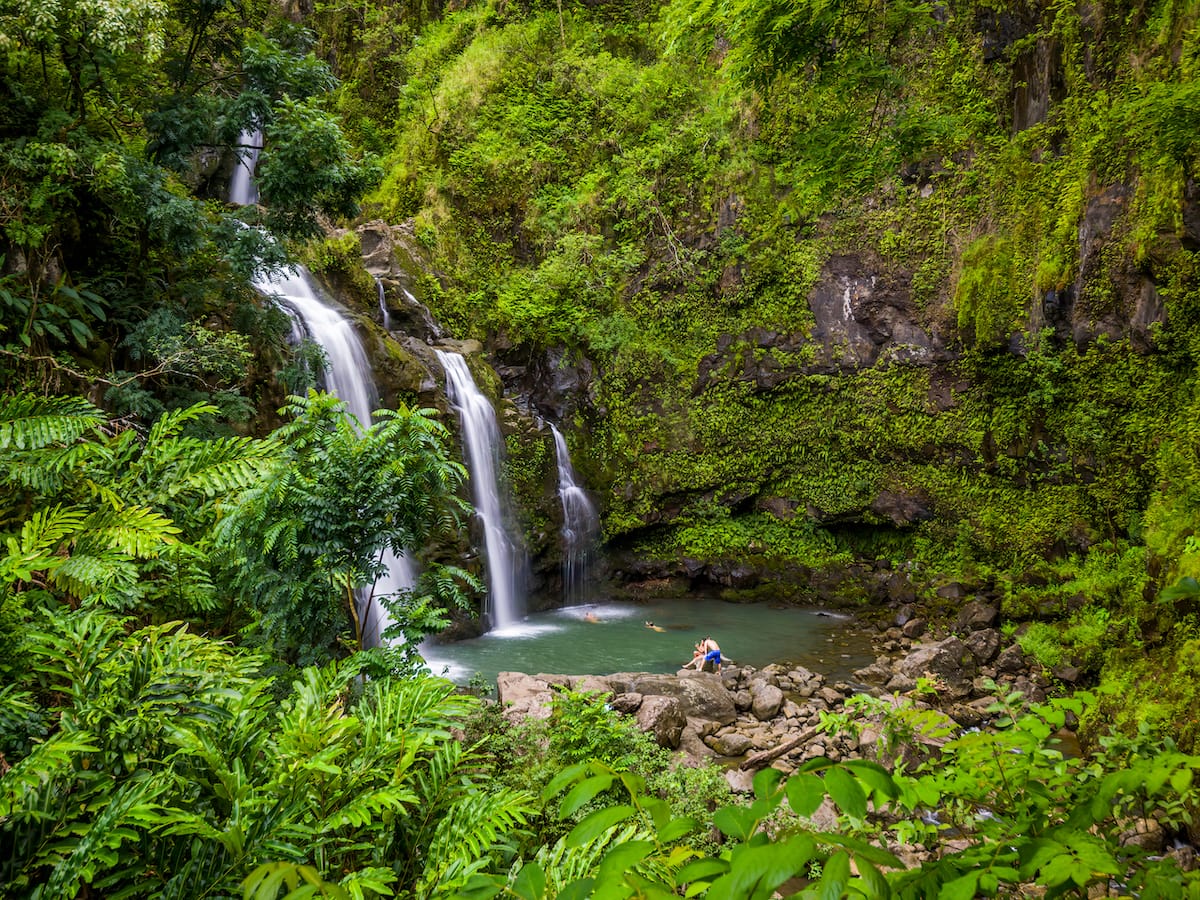 In this article, we've included a list of some of the best waterfall hikes in Hawaii (and roadside waterfall stops!) that you should make a point to visit on your trip!
Did we miss any on this guide? Let us know your favorite waterfalls in Hawaii in the comments!
Best Waterfalls in Hawaii
1. Kapena Falls
Location: Oahu
Located in a lush forest just outside of Honolulu, Kapena Falls is the perfect place to escape from the city and enjoy the beauty of Hawaiian nature.
The waterfall can be accessed via Pali Highway or Nuuanu Memorial Park. If you choose to hike the trail from Nuuanu Memorial Park, be sure to be mindful of your belongings because it is common to find trash littered along the trail.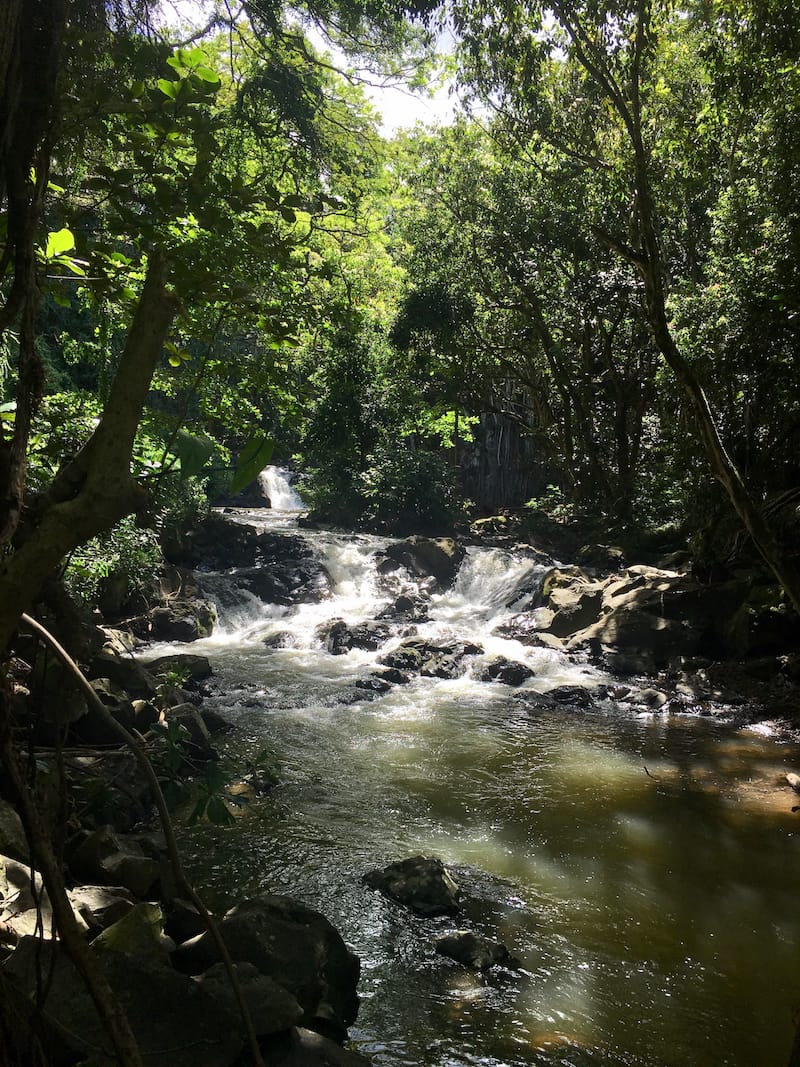 Due to the large amounts of garbage, it is not possible to take a swim in the falls, either.
However, you can admire their beauty from afar, and despite the fact that Kapena Falls is located very close to Honolulu, you won't feel any of the city vibes at all.
2. Twin Falls
Location: Maui
Considered to be among the most popular waterfalls to visit in Hawaii, Twin Falls is located close to Paia.
In order to reach the waterfall, park at Wailele Farm, where you will be able to start your hike along the mile-long trail. When you reach the falls, you will be amazed by the stunning views and serene falls.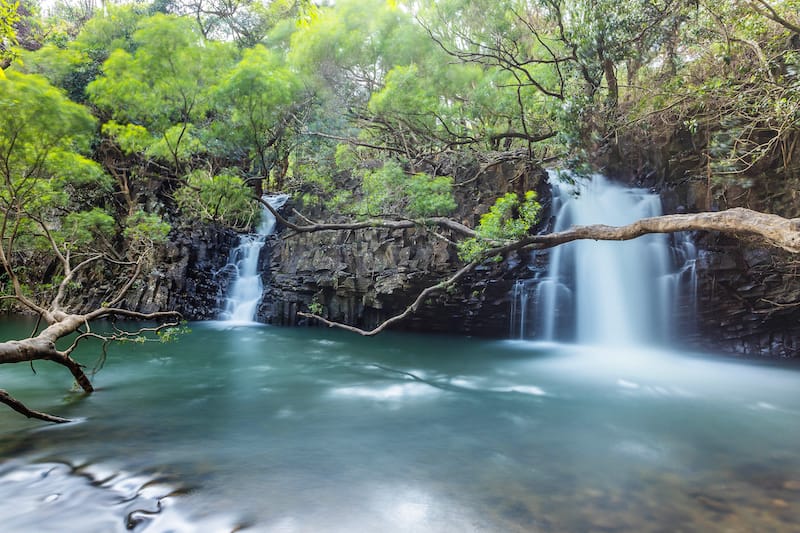 You can even take a dip in the pool to cool off after a hot day. Some of the more adventurous types also like to go cliff jumping.
Although the waterfall can be visited at any time of the year, the best time to visit is right after a rainstorm because that is when you will be able to see the waterfall in all its glory.
3. Wailua Falls
Location: Kauai
No trip to Hawaii would be complete without visiting the 173-foot-tall Wailua Falls. It is one of the essential places to visit on Kauai!
The falls split into two and fall into a pool of clear water, totally replicating the gorgeous waters that can be found all throughout Hawaii.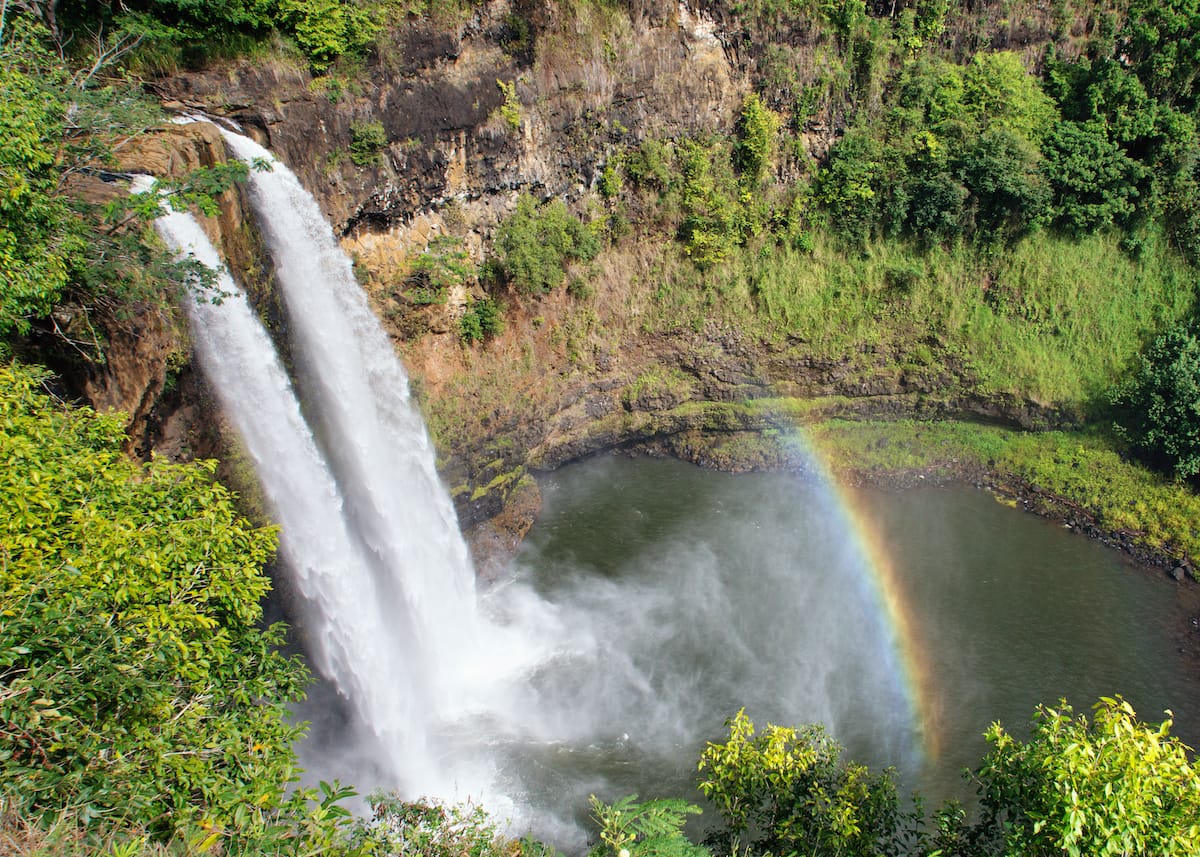 If you've ever seen "Fantasy Island" from the 1970s and '80s, you might have seen these falls in the opening credits!
Despite the fact that visiting Wailua Falls is a great way to experience nature, you won't have to worry about traveling too far or along a difficult trail to get here; the falls are next to a parking lot, so all members of the family can join!
4. Waikahalulu Falls
Location: Oahu
You would be surprised to learn that it's possible for a waterfall to be located right in a city, but nothing is impossible in Hawaii!
That's the case with Waikahalulu Falls, which is located right in Honolulu itself. Due to the urbanization of the nearby area, efforts have been made to restore the natural surroundings and reintroduce some native species.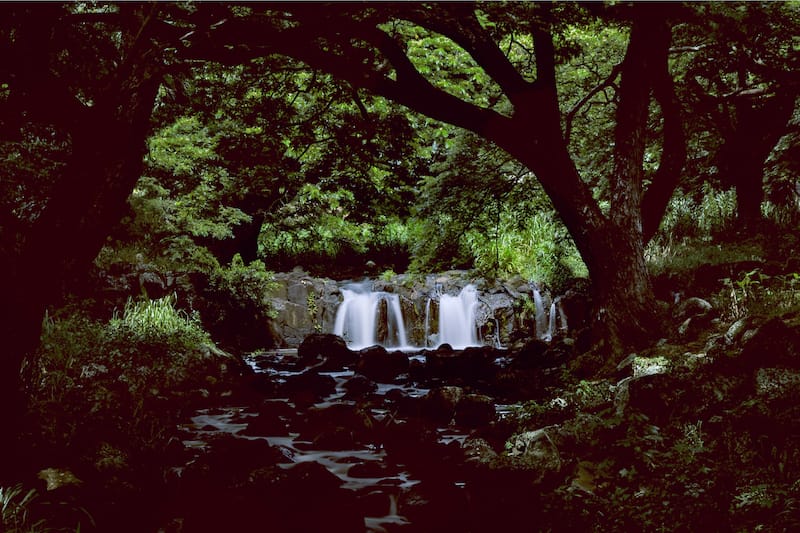 According to Hawaiian legends, Waikahalulu Falls was a favorite vacation spot for Queen Lili'uokalani of Hawaii.
Whether you want to have a nice picnic or you're looking for gorgeous views of how the 10-foot waterfall cascades into the pools, it's definitely worth checking out.
5. Puaa Kaa Falls
Location: Maui
Located in the Pua'a Ka'a State Wayside Park along the Road to Hana, you can visit Puaa Kaa Falls any time of the year.
The trail leading to the Maui waterfall is not challenging at all, and it's only 0.37 miles long. There isn't too much traffic along the trail, either, so you will get to explore the lush forests leading to the waterfall, too.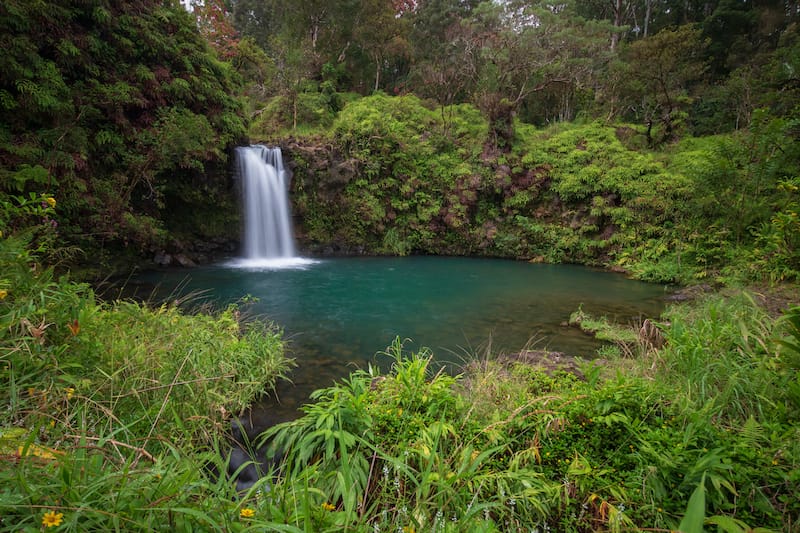 Many people hiking along the trail also partake in birdwatching. Just beware- although it's often recommended that you visit the waterfalls after rain, the trail can become muddy and slippery after a rainstorm.
Once you reach the waterfall, be sure to have your cameras ready! You can even have a nice picnic near the waterfall.
6. Manoa Falls
Location: Oahu
You also can't miss Manoa Falls during your trip to Hawaii. It's one of the most popular waterfalls on the island, and it was even the site for shows like Lost and Jurassic Park.
Another reason why the waterfall is so popular among visitors is that it doesn't take long to get there; you can reach Manoa Falls from Honolulu, or you can hike the 1-mile trail that has been well-maintained.
If you want to drive, parking costs $7. You can also eat on the way at restaurants such as La Crepe Cafe or Wailoi Kitchen and Bake Shop.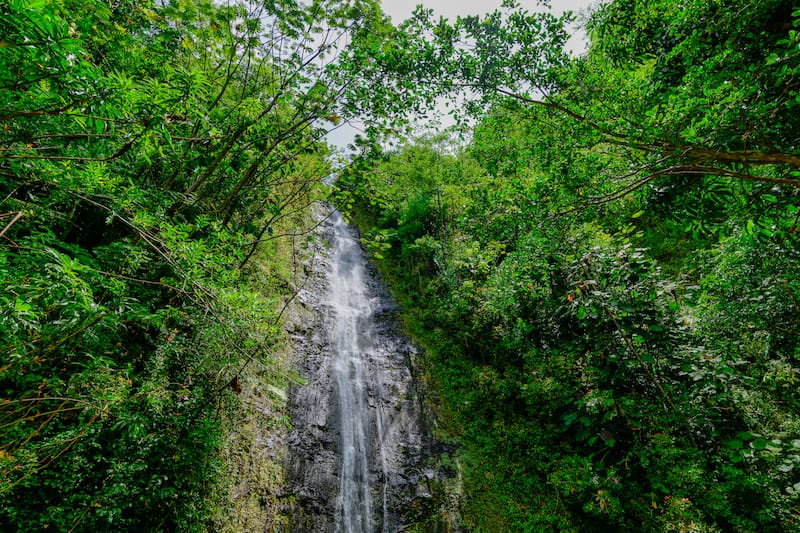 The best time to visit, surprisingly, is the winter because the pool gets even deeper and the waterfall is even more beautiful!
You can also check out the waterfalls above Manoa Falls, which will make you feel like you're hearing something if you're not aware of them. You are not permitted to swim in the water due to leptospirosis threats.
7. Waimea Falls
Location: Oahu
Located on the north shore of Oahu, Waimea Falls is yet another great place to check out the beauty of Hawaiian nature.
You will need to pay $25 per person as an entrance fee (reduced prices for kids, students, and seniors). This covers the cost of maintaining the nearby area. However, unlike many of the other waterfalls on this list, you'll get to go swimming in the waterfall.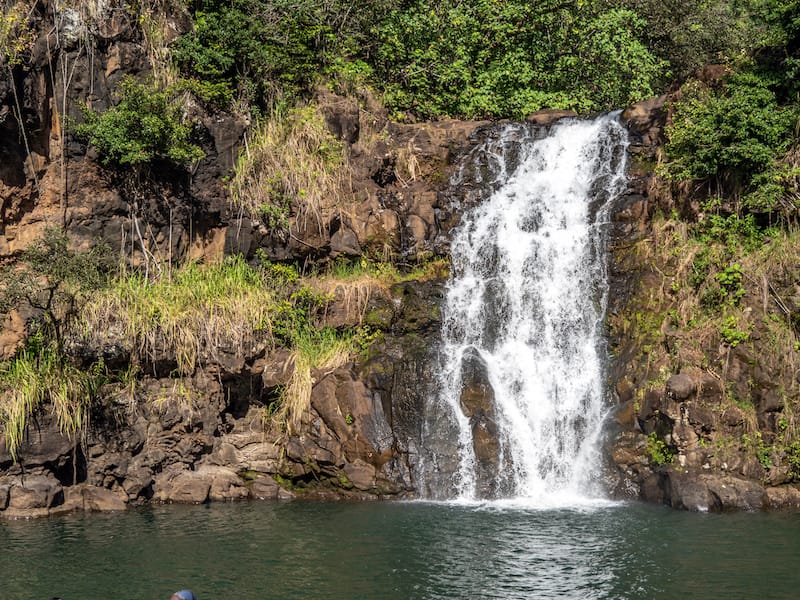 It is also one of the few places where you can go cliff-jumping. Since the waterfall is easy to access, it is rather crowded, but the trail is less than a mile long.
You can also take advantage of the shuttle service, which is $10 one way. You can also check out the nearby Waimea Bay Beach, one of the North Shoreʻs most famous beaches!
8. Waikani Falls
Location: Maui
Waikani Falls is another one of Hawaii's most popular waterfalls.
Located right along the Road to Hana in Maui, Waikani Falls consists of three waterfalls that cascade into the Wailua Nui Stream. Also referred to as Three Bears Falls, there isn't a lot of parking nearby, so many people prefer to enjoy their beauty right from their cars.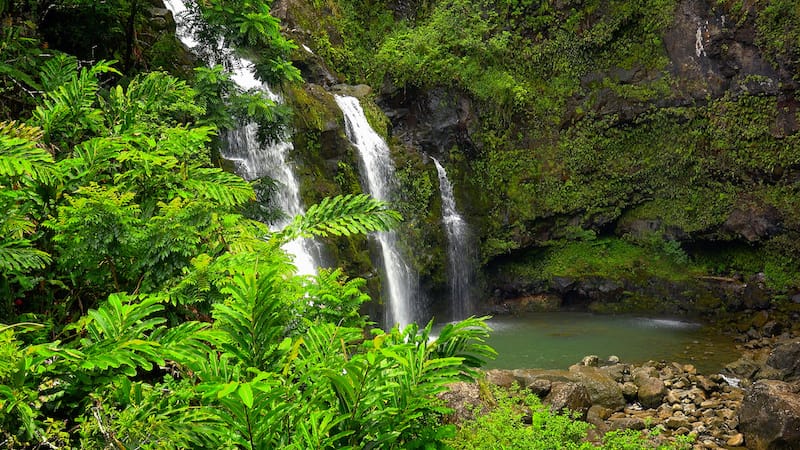 But it's definitely recommended that you take the short hike or park a little ways away so that you can get close-up views of the waterfalls.
The hike can be a little challenging because of how slippery the first part is, but you will be rewarded with stunning views at the end and a nice pool to cool off in.
9. Hoolea Falls
Location: Kauai
Hoolea Falls is located between Na Pali Coast State Park and the Na Pali-Kona Forest Reserve.
In order to reach the beautiful waterfall in Kauai, you will need to hike along the 11-mile Kalalau Trail, which features beaches, caves, and gorgeous views along the way.
It's not an easy hike, but the views are incredible and certainly something that you should see at least once. There are campsites, but you will need to have a hiking and camping permit. It's not difficult to find the waterfall at all as it's located at the end of the trail.
Hoolea Falls cascades down a volcanic rock wall and is a popular place for those who enjoy sunbathing nude.
10. Waimoku Falls
Location: Maui
Waimoku Falls is another gem of Hawaii and is a must for anyone spending a week in Maui (or even 2 days!).
The Pipiwai Trail, which is considered by some to be the best hiking trail in Hawaii, will lead you to the 400-foot waterfall.
Along the trail, you will also be able to catch sight of other waterfalls. The unique thing about this waterfall is that it flows year-round, and you can walk right up to the base.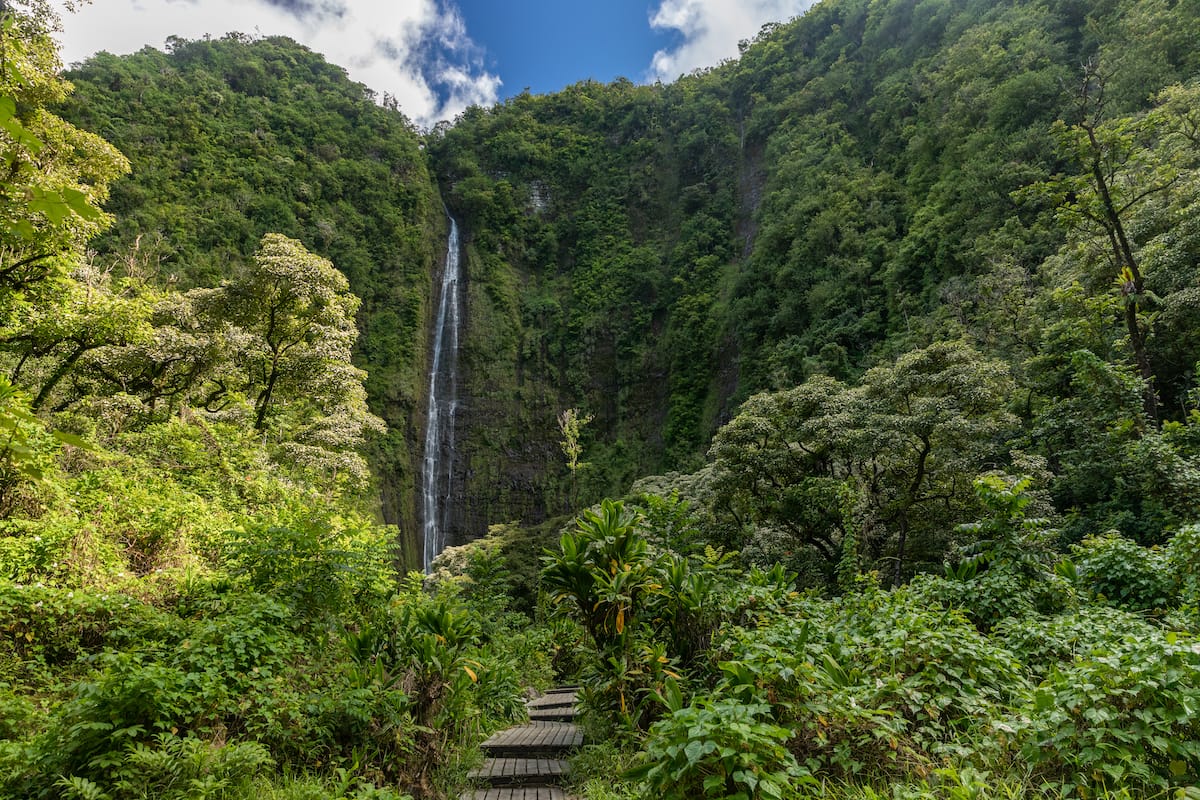 It's located in the famous Haleakala National Park. You can also check out the swimming holes downstream in what is called by visitors the "Seven Sacred Pools."
11. Rainbow Falls
Location: Big Island
If you're traveling to the Big Island's Hilo side, you should definitely make it a point to visit Rainbow Falls.
Even in person, it looks like something that you would find on a postcard. In fact, for that reason, Rainbow Falls is especially popular among photographers and is one of the most beautiful Big Island waterfalls!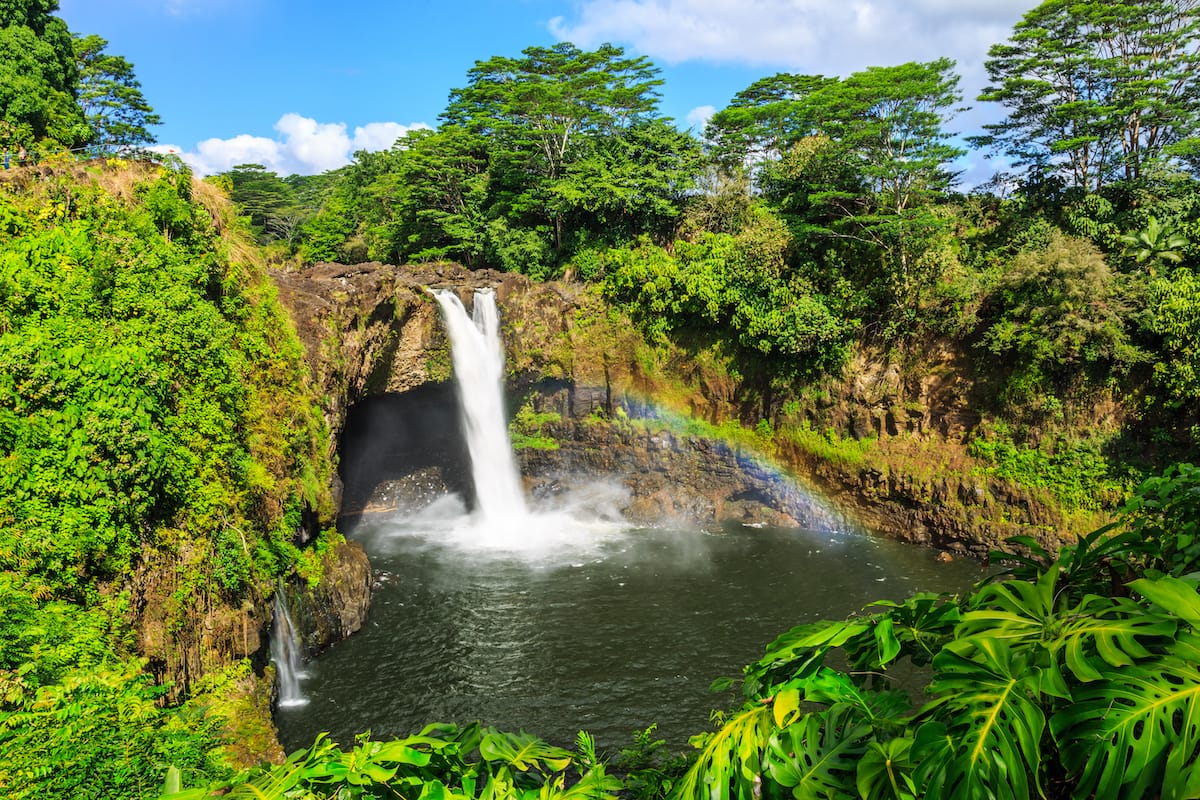 According to Hawaiian legends, Rainbow Falls was home to the Hawaiian goddess of the moon, Hina.
The waterfall gets its name because if you stand with your back to the source of the sun, you will be able to see "rainbows" formed from how the light reflects on the water droplets.
The best views will be in the morning. There is a short hike that requires some effort, but it only takes a few minutes to get to the waterfall.
12. Kopiliula Falls
Location: Maui
Another stunning waterfall located in Maui is Kopiliula Falls, which can also be seen from Hana Highway.
If you want to get up close to the waterfall, which we recommend, you will need to hike along a 2-mile trail that is rated moderately difficult. Be sure to take good hiking shoes and comfortable clothes with you because the hike can be steep and muddy in some places.
Upon reaching the waterfall, you will be rewarded with amazing views of the lush greenery and the Pacific Ocean, so be sure to have your camera ready.
13. Manawaiopuna Falls
Location: Kauai
You might have also seen Manawaiopuna Falls in Jurassic Park!
Also known as Jurassic Falls, Manawaiopuna Falls is also a popular site for many helicopter tours, which are around 80 minutes in total. The best part is that many of these tours will land at the base of the 400-foot waterfall.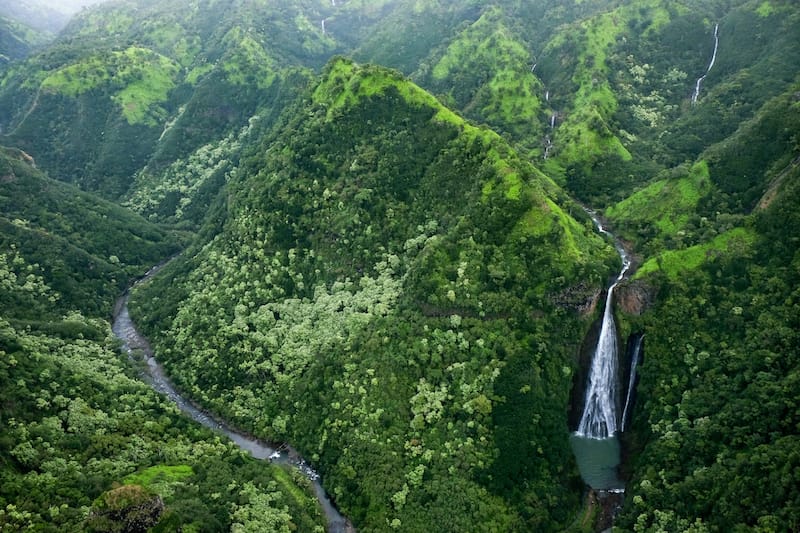 Here, you can take pictures and learn more about the surrounding area. As the waterfall is publicly inaccessible, the main way to visit it is via one of these tours.
What makes the waterfall unique is its shape and size. If you can squeeze a helicopter tour into your Kauai itinerary, Manawaiopuna Falls is definitely worth seeing!
14. Akaka Falls
Location: Big Island
Another waterfall located near Hilo, Akaka Falls is another must-visit landmark on the Big Island. A 422-foot-tall wonder, you should absolutely make it a point to visit if you will be traveling along the Hamakua Coast.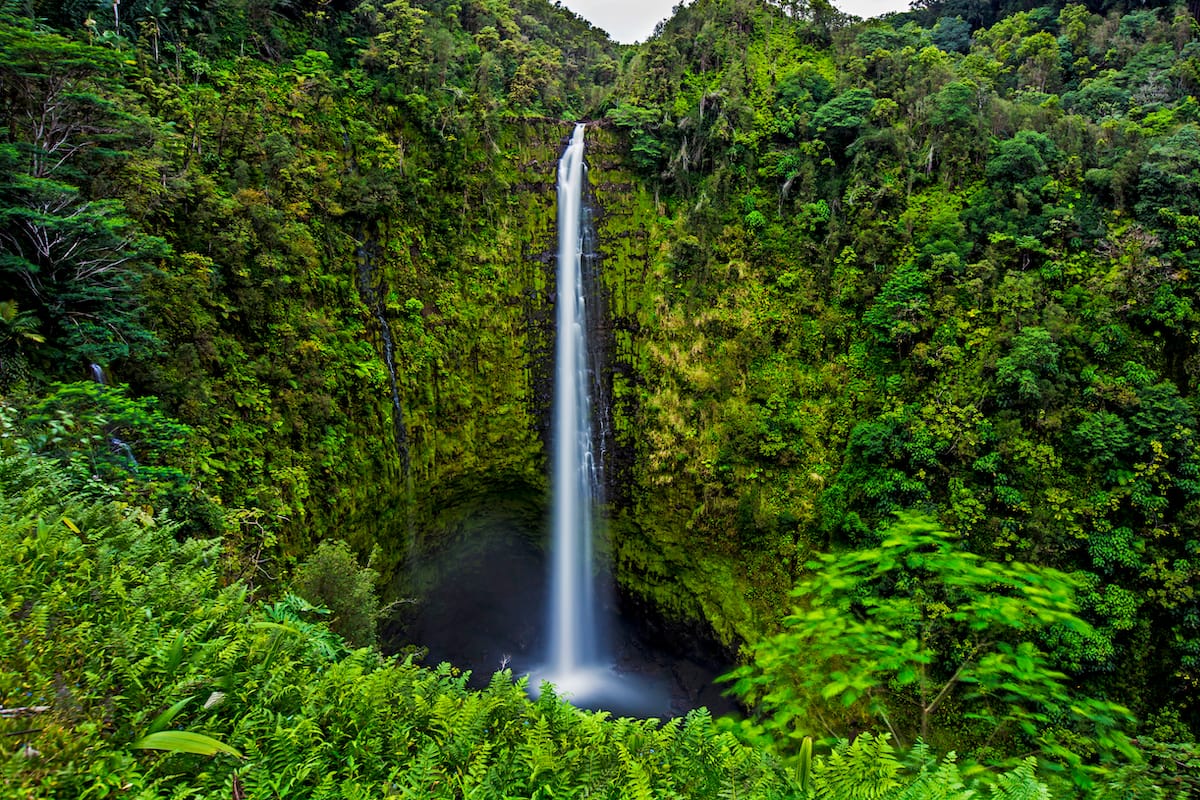 From the parking lot, you will need to hike along a 0.4-mile trail, which is easy and perfect for the whole family. It generally takes around 30 minutes. You will be surrounded by gorgeous views of the rainforest.
There are several places along the trail where you will be able to see the waterfall. Be sure to take in all the beautiful nature around you on the way, too.
15. Sacred Falls (Kaliuwaa Falls)
Location: Oahu
Considered by some to be the best waterfall on Oahu, the 1,100-foot Sacred Falls should definitely be on the bucket lists of those who are willing to shell out some cash for an Oahu helicopter tour.
Unfortunately, there was a fatal landslide at Sacred Falls in 1999, which caused access to the area to be closed indefinitely.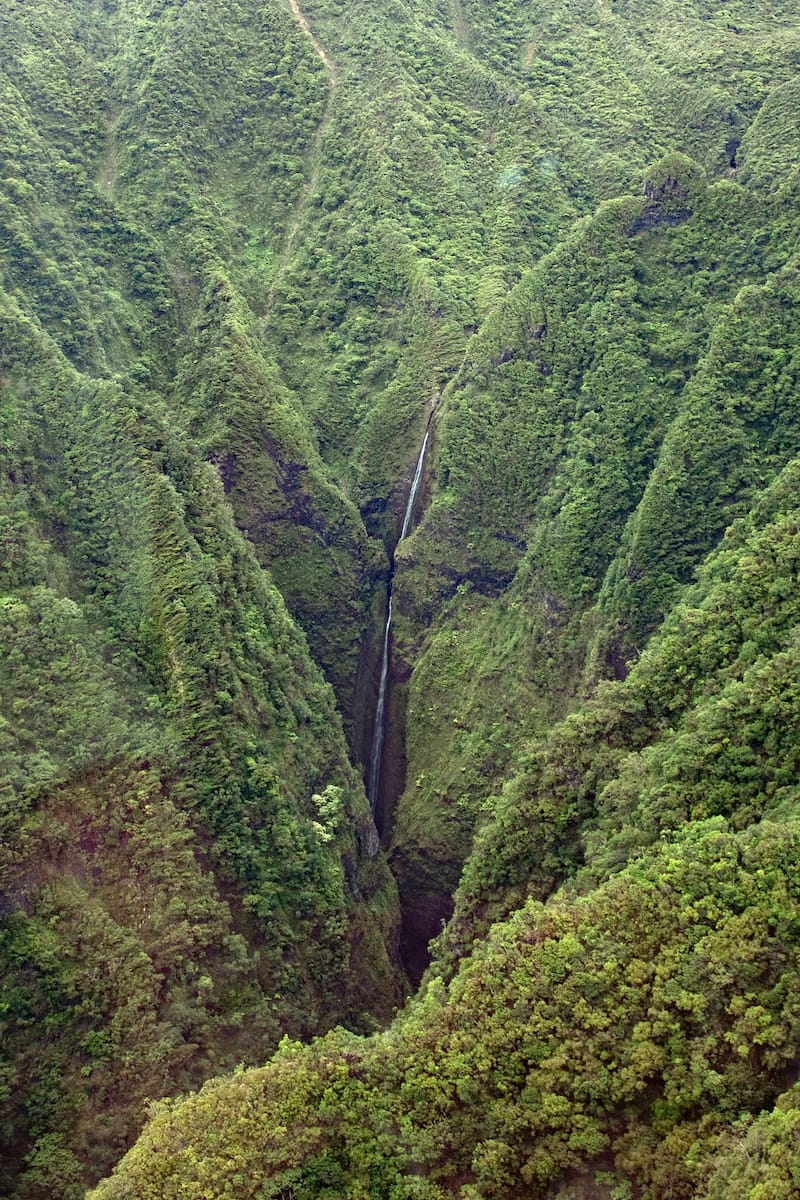 If you have the cash to spend, though, a helicopter ride to this beautiful area is definitely something to consider. Don't forget your camera!
16. Alelele Falls
Location: Maui
Although Alelele Falls is not one of Maui's most popular, it is often considered to be a hidden gem. Located in the Kipahulu District of Haleakala National Park, all it takes is a short and easy 15-minute hike to reach the waterfall.
As Alelele Falls is not as popular as some of the others on this list, you might be one of the only people visiting, which means that you will get a lot more out of your experience.
It's possible to swim in the pool below and enjoy the stunning views. Just be aware of the streams along the hike and try to avoid them if it's raining.
17. Papalaua Falls
Location: Molokai
Located along Molokai's north shore, you'll be mesmerized by this gorgeous, 1,200-foot waterfall, which is very well-hidden and not visited too often.
It tends to be overlooked due to the fact that the maps and helicopters are not always accurate.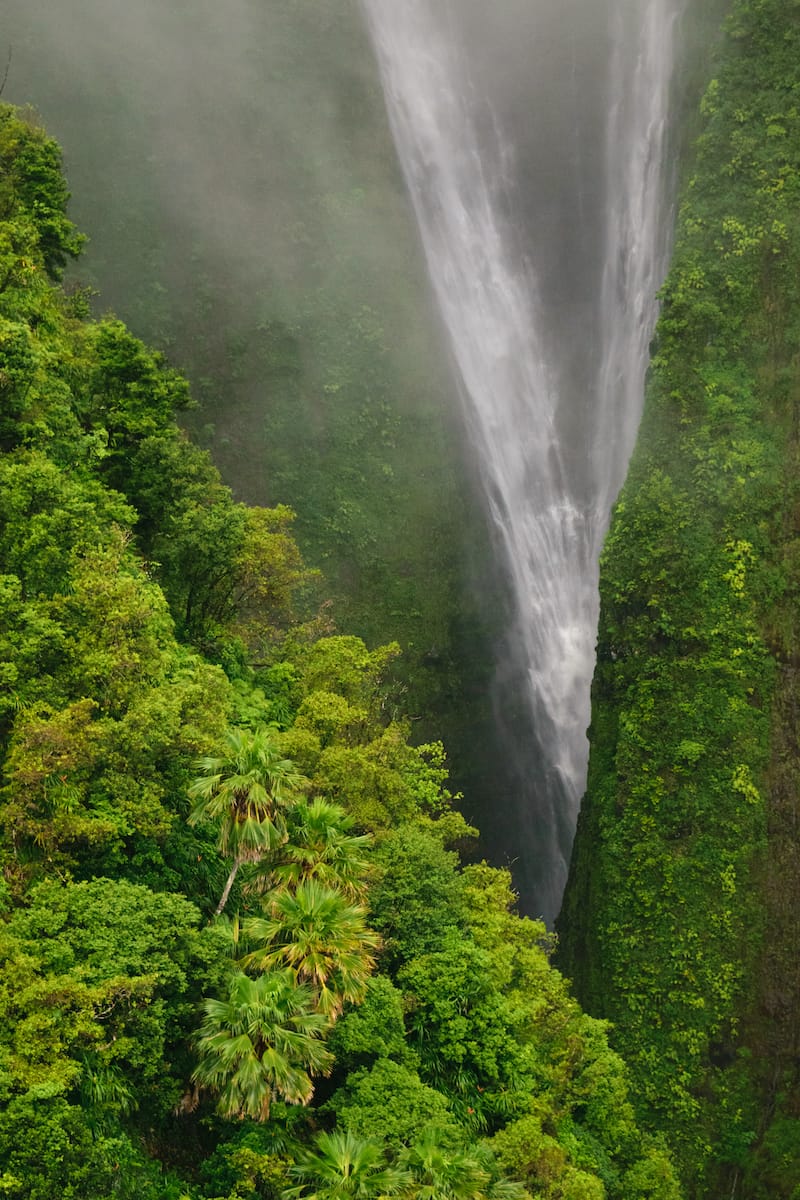 However, if you are lucky enough to be able to find Papalaua Falls, you should definitely not miss out. Many people get this waterfall mixed up with Kahiwa Falls.
The main way to access it is via a helicopter ride unless you are somehow able to get on a boat. Considering how remote Molokai's north shore is, that can be increasingly difficult.
However, the stunning views make even a helicopter ride from afar worth it.
18. Hanakapiai Falls
Location: Kauai
Hanakapiai Falls is located along the Na Pali Coast in Kauai along a longer and more complicated trail.
The hike to the waterfall is approximately 4 hours, but the views that you will get at the end will be worth the effort.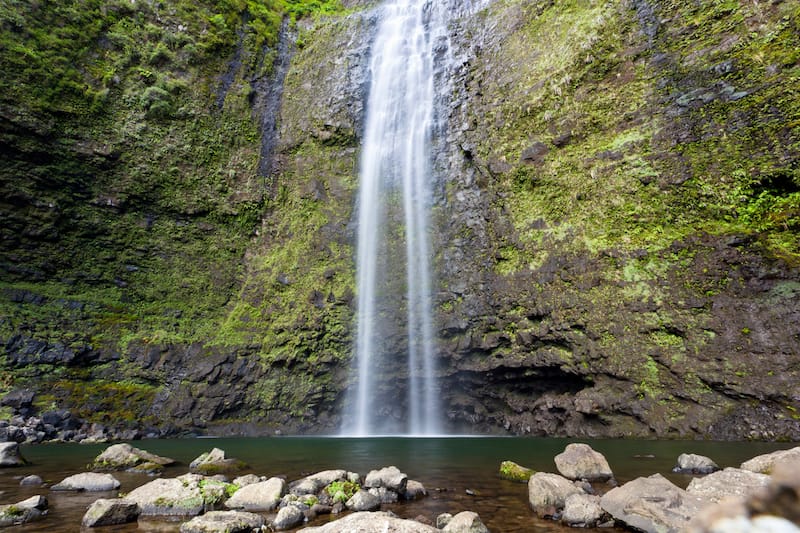 On the way, you will be able to check out the gorgeous Hanakapiai Beach, which is popular among experienced surfers due to its huge waves.
Once you reach the end of the Hanakapiai Falls Trail, you will see the waterfall, which has a drop of 300 feet into a gorgeous green pool. Despite the long hike, it is popular among many hikers, and you can visit the waterfall any time of the year.
19. Moalua Falls
Location: Molokai
Moalua Falls is yet another spot that you should not miss out on visiting. The 4.5-mile hike to the waterfall is absolutely stunning with all kinds of mangoes (and other Hawaiian fruits!), native flowers, and ginger along the way.
The 250-foot waterfall is located in Halawa Valley. Keep in mind that you will likely need to consider the services of a local tour operator, or you will need to get permission from the landowner, as the trail leading to the waterfall is private property.
Although the hike is not considered to be very easy, the views are worth the challenge. It's recommended that you take waterproof clothing, good shoes, and insect repellent if you want to go on the hike.
You can also drive along Highway 450 to see views of the waterfall along the way. For those who are willing to sell out some more money, there are also helicopter tours leading to the waterfall.
20. Lulumahu Falls
Location: Oahu
Although you can only access the Lulumahu Falls with a permit, it's definitely worth visiting.
This is especially a bonus for those who want to avoid large crowds- the trail is almost never busy as a result.
In order to reach Lulumahu Falls, you'll have to hike along a 2-mile trail that can be accessed via the H-1 Highway west of Waikiki.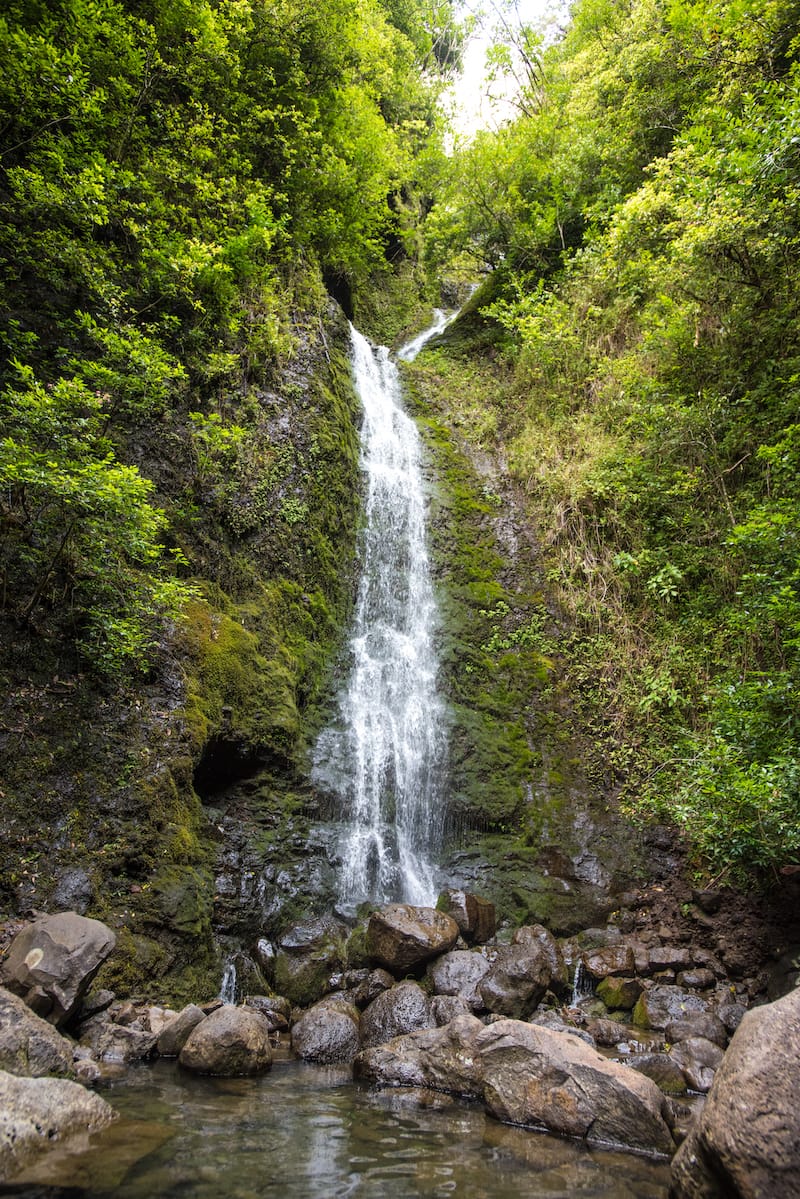 The waterfall is 50-feet tall, and although it's illegal, you might find many seasoned cliff jumpers jumping into the clear water. With that being said, you can cool off from the heat in the pool.
The waterfall cascades into a pool, and you might see a small stream depending on the season.
21. Kaipapau Falls
Location: Oahu
If you're someone who enjoys a long hike, then Kaipapau Falls is the best waterfall for you.
Situated at the end of an 8-mile trail, the hike is best for those with more experience because of how slippery and rocky the trail is in some areas.
Be sure to pack an extra pair of socks and shoes with you as your feet are sure to get wet from all the streams that you will have to cross. It's recommended that you follow the water upstream, and don't visit during a heavy rainstorm due to potential flash floods.
You can follow the pink ribbons that serve as trail markers as well. Although the hike is not easy at all, you will be rewarded with unforgettable views.
22. Uluwehi Falls
Location: Kauai
Also referred to as "Secret Falls," despite the gorgeous and unforgettable views, we don't recommend visiting Uluwehi Falls unless you are traveling with a group.
We especially recommend visiting with a tour group (I visited on this Wailua River kayaking tour). This is due to the tough terrain, rainfall, and winds that make the journey to Uluwehi Falls even more complicated.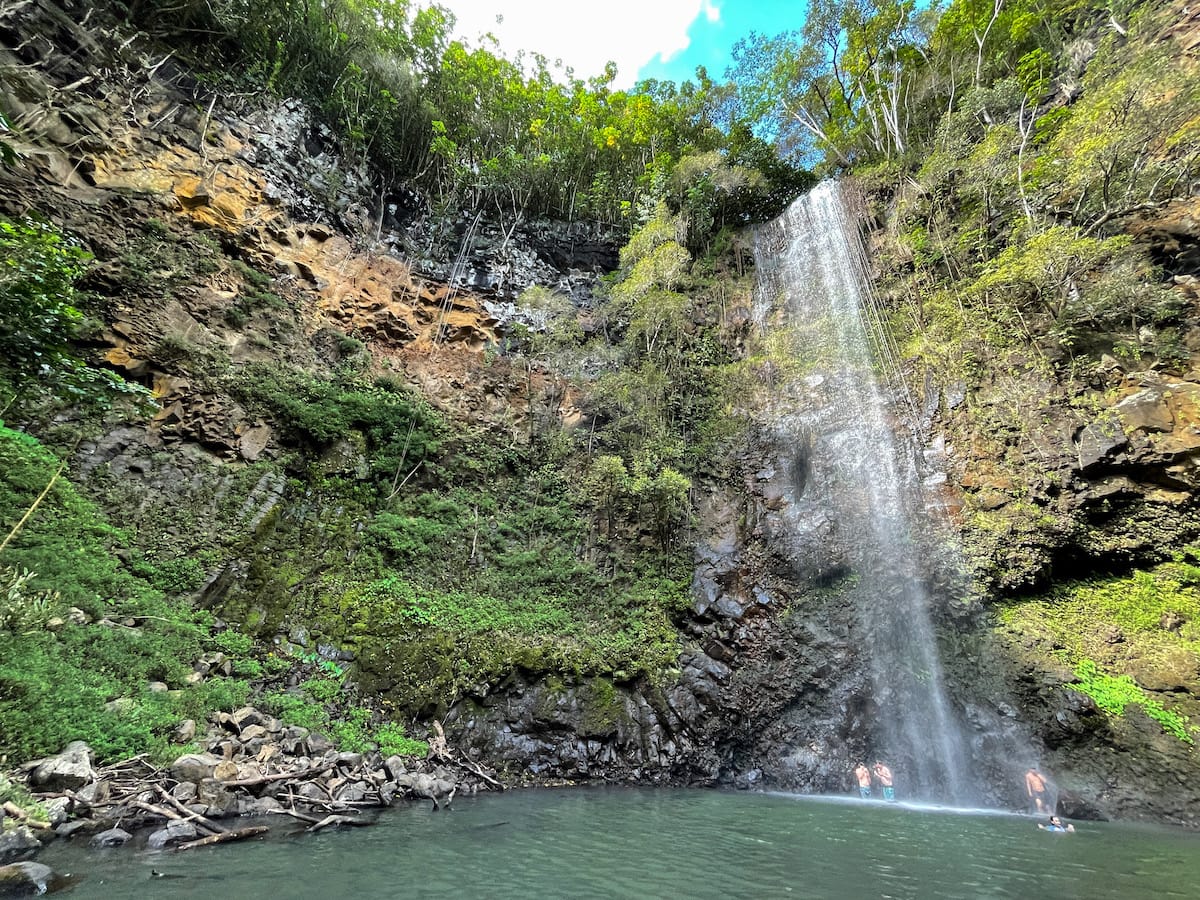 Proceed with caution and don't do anything reckless. In order to reach the waterfall, you need to travel on a kayak or canoe ride, and then go on a muddy hike.
It's around 2 miles when you kayak to the trailhead. Although this might sound difficult, you will receive a great reward in the end when you see the lush forests, 100-foot waterfall, and gorgeous pool.
And although the waterfall is called Secret Falls, it's not a secret- it's just a bit of a challenge to get to!
23. Pools of Oheo
Location: Maui
Also known as Oheo Gulch or the Seven Sacred Pools at Oheo, here you can find seven swimming holes that are all connected by the Oheo waterfalls.
The waterfalls cascade into each of the seven pools. Oheo Gulch is located in the Haleakala National Park near Waimoku Falls.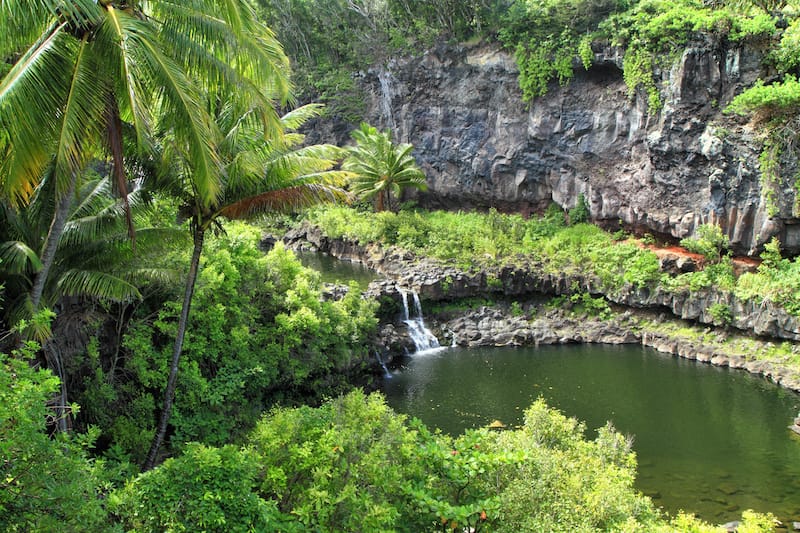 In order to reach the waterfall, take a 15-minute hike along the Kuloa Point Trail.
Keep in mind that you might not be able to visit if there was heavy rainfall throughout the day because the pools might be too deep, so be sure to keep an eye on the weather.
24. Waipuhia Falls
Location: Oahu
You can't check out Hawaii's waterfalls without also making a trip to Waipuhia Falls.
What makes this waterfall unique is that it looks like it's flowing backward when the weather is rainy or windy, hence the name it is also known by- Upside-Down Falls.
In order to reach the waterfall, you will need to hike along a short, 0.6-mile trail that can be accessed via Pali Highway. Despite its short length, however, don't try it if you're not too experienced with hiking because the trail is poorly maintained.
Don't worry if that's the case, though, because the waterfall will be visible from the highway if it's raining. Because of the extreme winds in the area, the water looks like it never hits the ground.
If you want to check out this mystery in nature, you'll have to look hard- many people end up missing it.
25. Honokohau Falls
Location: Maui
Considered to be the tallest waterfall in Maui, the last waterfall on our list, Honokohau Falls, stands at a height of 1,100 feet.
Honokohau Falls is located in the West Maui Mountains of the Haleakala National Park. It's not the easiest to access via a hike, though, so Honokohau Falls is another spot where you will want to take a helicopter tour to catch the entire beauty of.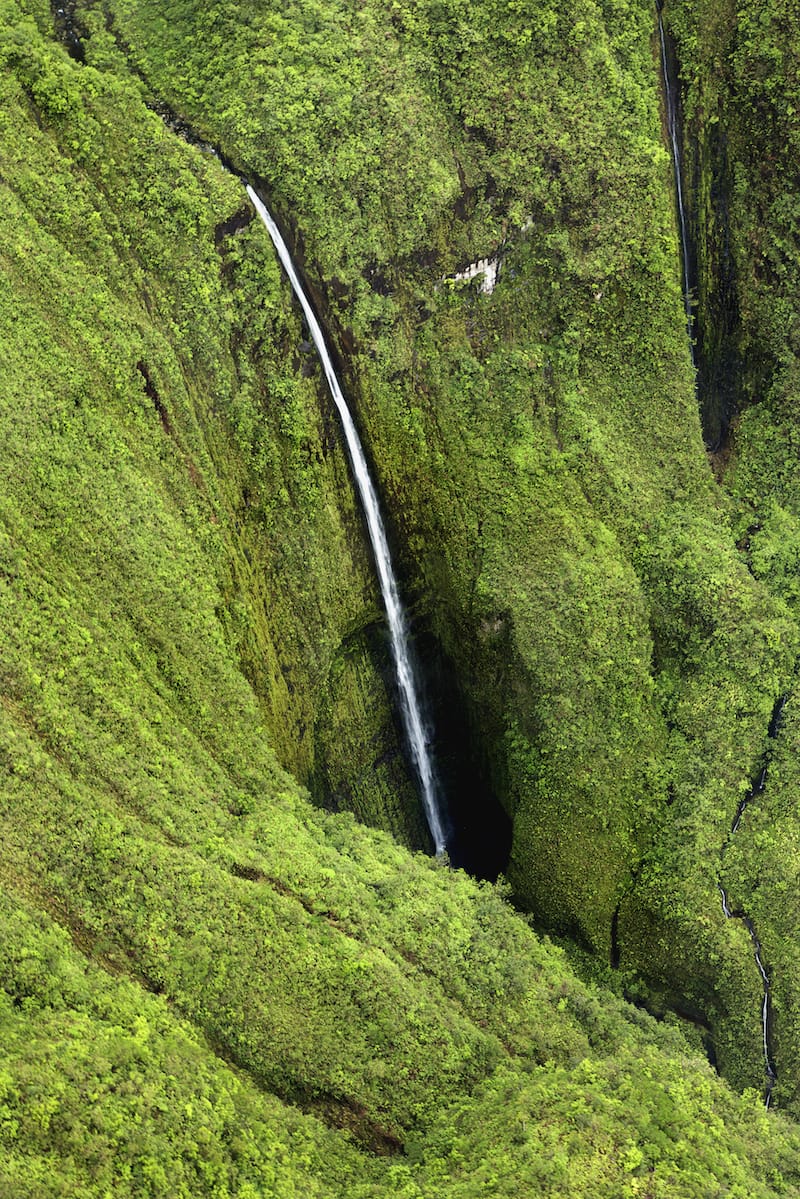 Like some of the other waterfalls on this list, Honokohau Falls also was featured in Jurassic Park. It is a two-tiered waterfall and absolutely stunning, even when you're seated in a helicopter.
Did we miss any of the prettiest waterfalls in Hawaii on this guide? Let us know the canʻt-miss Hawaii waterfalls we missed in the comments!
More Hawaii Waterfalls (and Travel!) Guides
Pin this Waterfall Hikes in Hawaii Guide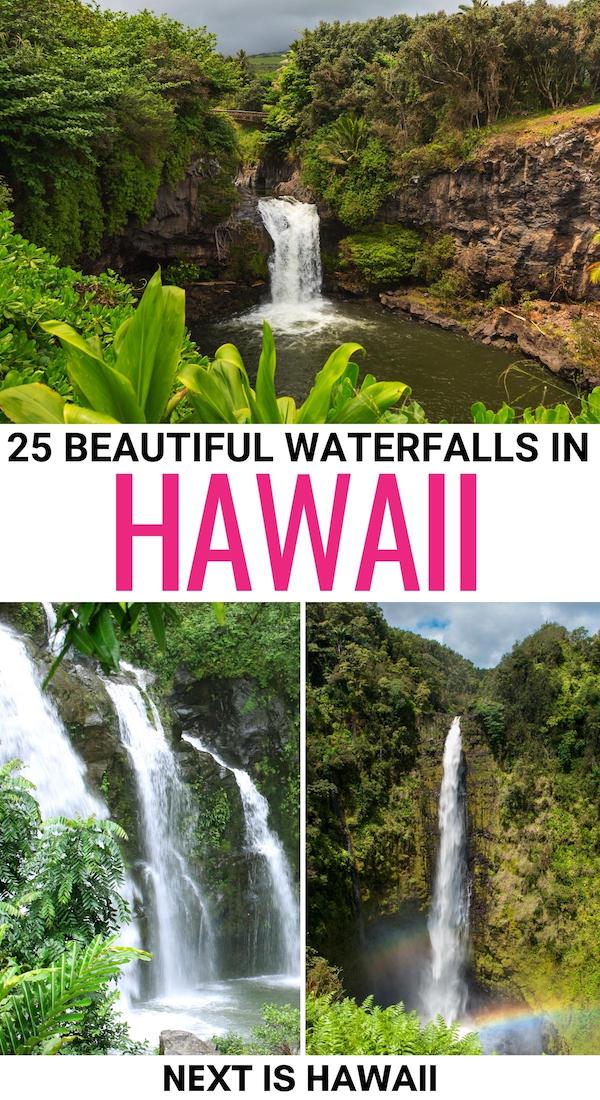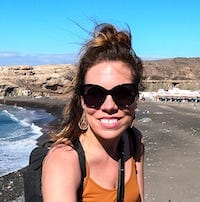 Megan is a travel blogger and writer with a background in digital marketing. Originally from Richmond, VA, she has been traveling frequently to Hawaii for the last 15 years and loves exploring every corner of each Hawaiian island, while trying to promote sustainable travel and small, local businesses along the way. Megan has written for or been featured by National Geographic, Forbes, Lonely Planet, the New York Times, and more. She has co-authored a guidebook with Fodor's Travel and has visited 45 US states and 100+ countries.