Are you traveling to Hawaii and looking for the best things to do in Maui? This guide has you covered!
Are you planning your trip to Maui last minute?
If you're traveling to Maui last minute, you want to ensure you have lodging/tours ahead of time! Below are some of our top picks on the island!
🌴 Best tours and activities on Maui:
🛌 Places to stay in South Maui (Kihei/Wailea/Makena):
Four Seasons Resort Wailea (ultimate luxury- White Lotus filming location!)
Grand Wailea Resort Hotel & Spa (amazing pool area!)
🛌 Places to stay in West Maui (Lahaina/Kaanapali/Kapalua):
Best Western Pioneer Inn (I stayed here – has free parking!)
The Westin Nanea Ocean Villas (in Ka'anapali)
The Kulani Maui (in the center of Lahaina!)
🚗 Traveling to Maui independently? Be sure to book your rental car ahead of time to ensure availability!
These Maui attractions, landmarks, and activities should be considered for all itineraries. From famous Kaanapali Beach to whale watching off the Maui coast, there is plenty to do and see on Maui!
Did we miss any of your favorite Maui landmarks or activities? Let us know what is on your Maui bucket list in the comments! Thanks!
UPDATE 8/10/2023:
We currently discourage traveling to Lahaina due to the recent wildfires. The island's hotels and lodging do NOT have the capacity to accommodate both displaced locals AND tourists. Donations are graciously welcome and you can do so by visiting here. We will update our content on the site in due time. Mahalo.
Best Maui Tours (to Maximize Your Time!)
If you're looking for something more organized when on Maui, here are some awesome Maui tours you should check out.
These tours will help you maximize your time, which is especially important if you only have a short amount of time on the island! We listed a variety so that you can pick which one is most suitable for you (and many include multiple places!):
Best Things to Do in Maui
Relax at Kaanapali Beach
Located on the west shore of Maui, Kaanapali Beach offers three miles of white sand and clear blue water that is some of Maui's best for swimming.
The popular retreat with developed tourist infrastructure has seven resorts, restaurants, and many shops, but the main attraction of Kaanapali is the perfect beach with an endless number of water activities.
Black Rock Beach, formed from lava flows, is located to the north of the beach. It is an excellent place for cliff-jumping and snorkeling.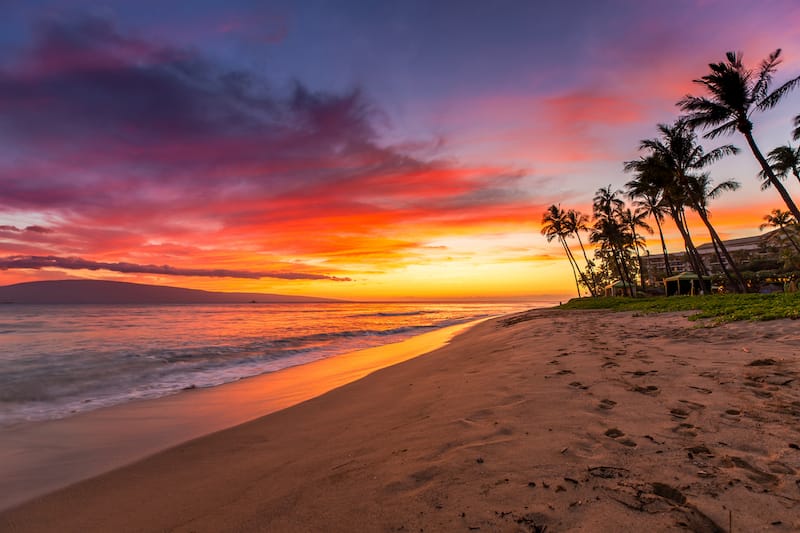 For shopping, visit Whalers Village, a world-class shopping complex with shops and restaurants, a whaling museum, and other entertainment.
Golf enthusiasts will be happy to find two golf clubs, the Royal Kaanapali and the Kaanapali Kai, with oceanfront golf courses.
The beach has public parking, but it is often crowded. To find a free space, you can check Whalers Village parking.
Chill Out in Lahaina
With some of Maui's best beaches and attractions, Lahaina is a wonderful place to enjoy Hawaii's beauty.
Front Street in Lahaina is the central ʻareaʻ with many stores, souvenir shops, art galleries, and restaurants… some even offering traditional Polynesian cuisine.
There are several parks in the area brimming with lush green flora and plenty of amenities for recreation for all.
Visit Banyan Tree Park, where you'll find the largest banyan tree in the US, hike the Kapalua Coastal Trail through lava fields and wild nature, find sea turtles in Wahikuli Wayside Park, and enjoy a picnic at Launiupoko State Park.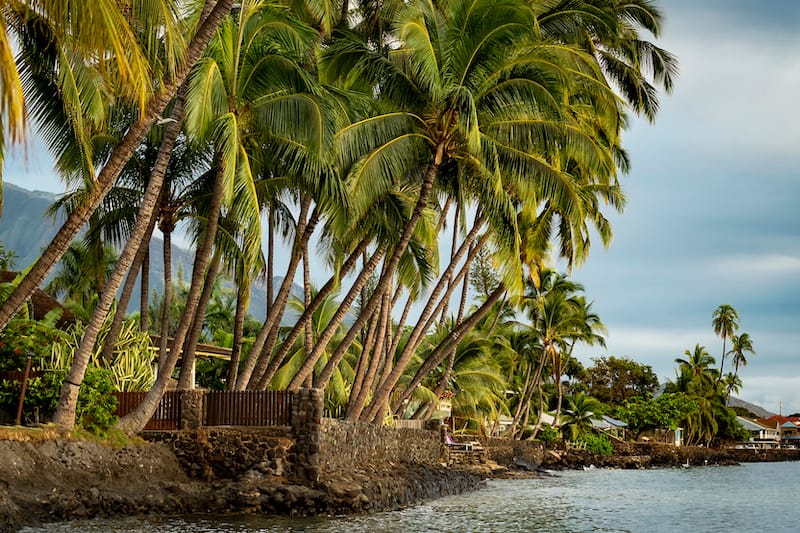 The famous beaches in Lahaina are Ka'anapali Beach, frequently named "America's Best Beach," and Black Rock Beach. Going to the beach is one of the best things to do in Lahaina!
As for water activities, don't miss whale watching during the winter months or surfing, scuba diving, and snorkeling excursions to see Hawaiian sea life. Alternatively, you can go dolphin watching over on nearby Lanai.
You should definitely visit the Old Lahaina Luau to feel the Hawaii spirit, be greeted with a fresh orchid lei, and enjoy a Hawaiian buffet. For a romantic end-of-the-day experience, take a sunset cruise off the coast.
If you're looking to experience culture in Lahaina, you can visit the Baldwin Home, the oldest house in Maui, downtown Lahaina, or take a short tour to Lahaina Jodo Mission, a Japanese-style Buddhist temple with a 12-foot tall statue of Amida Buddha in the courtyard.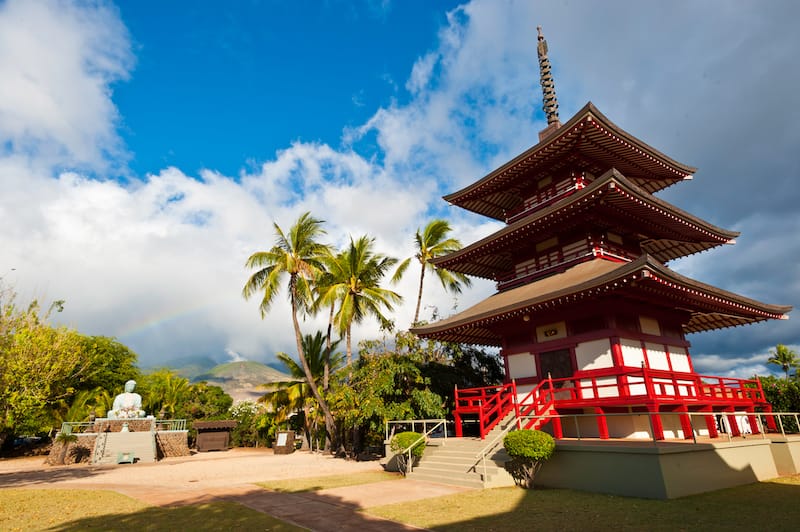 Also, donʻt skip taking a short trip to the Maui Dragon Fruit Farm, a 27-acre organic farm that offers fruit tastings and a zipline adventure over the farm.
If youʻre heading for dinner, be sure to visit Lahaina Grill, Lahaina Fish Co., and The Fish Market Maui for traditional dishes or local seafood.
You definitely need to also enjoy some Hawaiian craft beer in Lahaina and the Kohola Brewery and Maui Brewing Co. are two hotspots to check out!
Stop by Makena Beach State Park
Makena State Park, spanning 165 acres, is a scenic wildland beach stretching about 2 miles to the south.
It is one of the most prominent and secluded places in Maui, where you can enjoy swimming, board surfing, bodysurfing, shore fishing, and other water activities.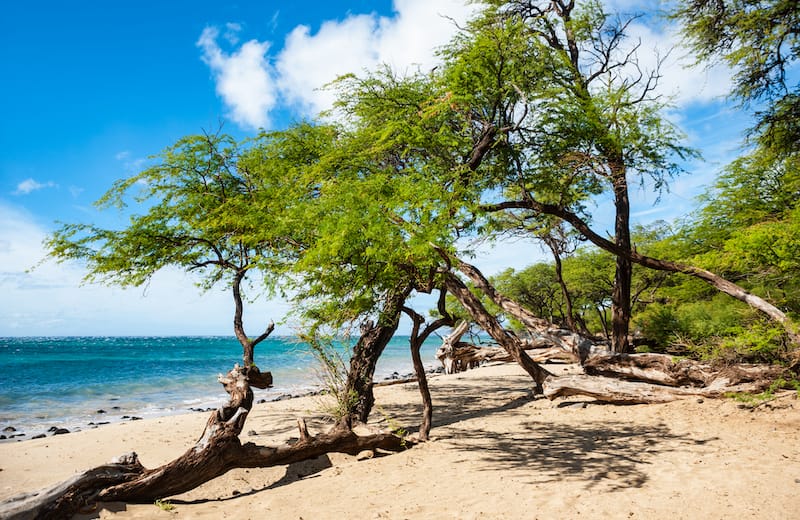 The park is divided into Oneloa (Big Beach) and Puu Olai (Little Beach). The Little Beach is often a hotspot for nude sunbathing.
Working hours:
Oneloa (Big Beach) & Oneuli (Black Sand) Beach
Saturday & Sunday – 5:00am – 7:00pm
Weekdays – 5:00am – 7:00pm
Puu Olai (Little Beach)
Saturday & Sunday – 5:00am – 4:00pm
Weekdays – 5:00am – 7:00pm
Take a Day Trip to Lanai for Snorkeling
Located 9 miles from Maui, Lanai Island is home to luxurious resorts with world-class amenities and hidden off-the-beaten-path treasures on the island's rugged back roads.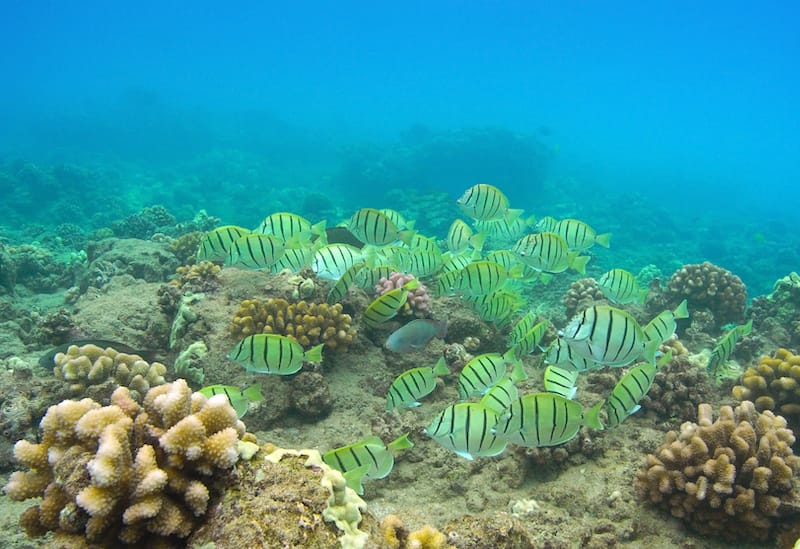 Sail the coast along on a catamaran through Lanai's warm waters and go underwater for some snorkeling to explore Lanai's undersea life.
You will see beautiful coral reefs and impressive cliffs with world-class snorkel spots along Lanaiʻs beaches.
Additional information:
Snorkel gear is provided
Breakfast, lunch, and non-alcoholic beverages included
Duration – 5 hours
>> Click here to check rates and availability
Enjoy Laidback Paia
Paia is a historic town in Maui that once was a sugar plantation. Today, it is a town with a unique (and laidback!) atmosphere, colorful storefronts, art galleries, small boutiques, and restaurants with traditional food.
In addition, Paia is home to a large hippie community that makes you feel like you've gone back in time to the 60s!
You'll find several noteworthy restaurants in Paia and some of the ones to add to your Maui itinerary are:
Mama's Fish House
Flatbread Company
Paia Fish Market
Charley's
Thai Spice
Mana Foods
By the way, when visiting Charley's, take a look around; you may see popular musicians, famous artists, and other celebrities dining there too!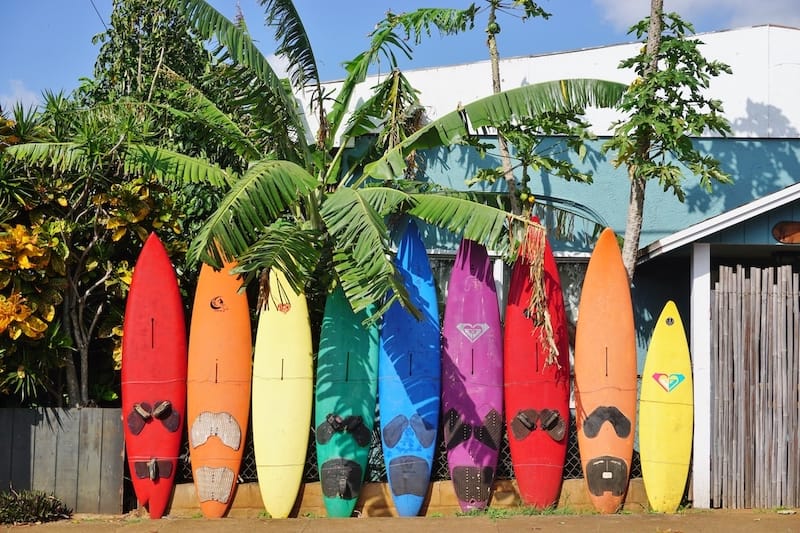 There is a traditional farmers' market in Paia and it is a local open-air market that is part of the town's history and culture. You can buy locally grown products, fish, fresh juice, and fast food there.
For swimming and sunbathing, head to Baldwin Beach Park to find calm waters and great views (it is even a great place for a night stroll).
If you're into windsurfing, visit Hookipa Beach, the world capital of windsurfing, where you can watch others (or even try it out yourself). It is one of the finest beaches in Maui!
Hike the Pipiwai Trail
The Pipiwai Trail, part of the National Park System, crosses a picturesque bamboo forest and diverse scenery to reach the famous Waimoku Falls.
The 4.8-mile trail on East Maui is one of the most accessible trails (and probably the best one to explore nature in Maui).
The Pipiwai Trail passes along string pools and waterfalls, dramatically changed by an immense bamboo forest.
The entrance is next to the parking lot and the Visitor Center, with a short walk to the first stop, the Falls at Makahiku (200ft), and its viewpoint. There will be warning signs for flash-flooding, cliff jumping, and falling rocks to beware of when you're there.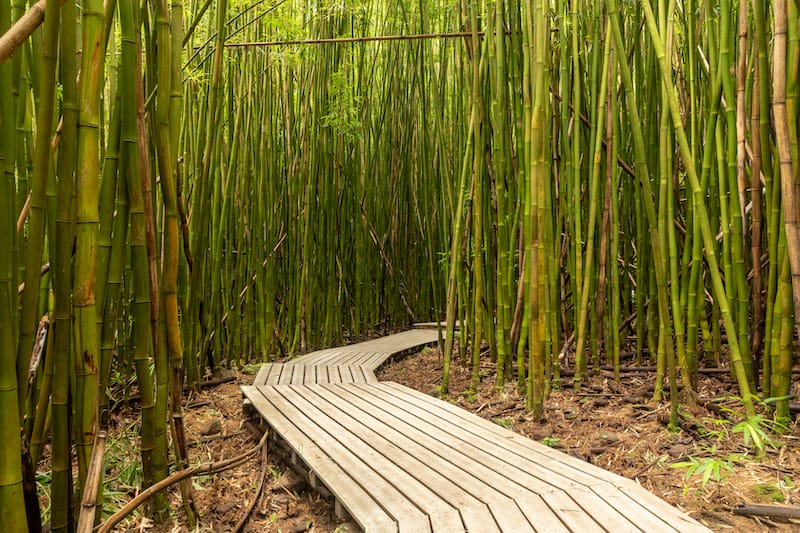 The next stop is at the giant banyan tree with aerial prop roots expanding outward. The landscape then dramatically changes into a bamboo forest with lushly moist air.
On windy days, you can hear an inspiring orchestra from the bamboo stalks. Finally, the trail will take you to Waimoku Falls (400ft), the tallest waterfall on Maui.
Haleakala National Park and the trail are visited by half-million visitors annually, so do make note of this when hiking there. The park is open every day from 9 am to 5 pm.
Road to Hana Luxury Tour (with Helicopter Flight Return)
Explore the beauty and famous sights of Hana during a 6-hour adventure tour (partly by helicopter!). The trip is full of contrasting landscape views that will take you through the famous Road to Hana, first by limo van and then on a helicopter.
During your ride, you will make stops at Hana Tropical Gardens, Ke'anae (with a waterfall that you can swim in), and have a beachside lunch with some delicious snacks.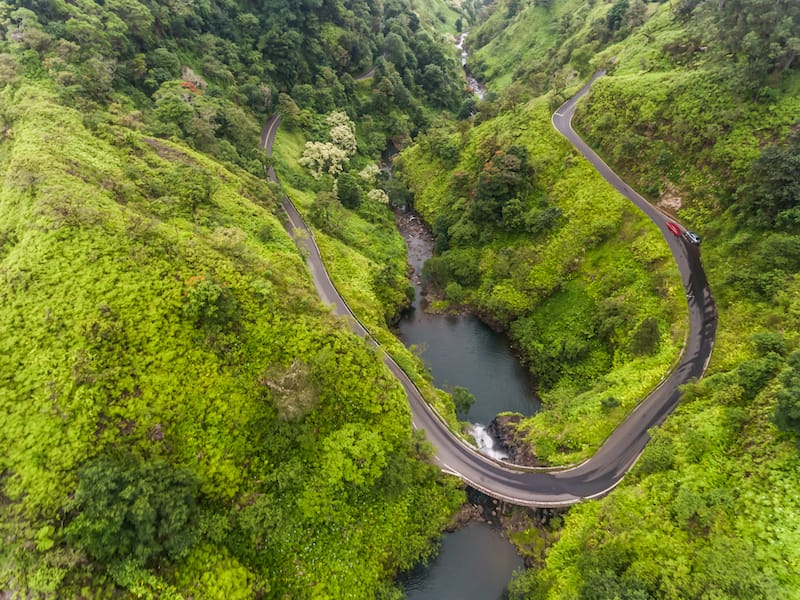 Then, you will board a helicopter for a 40-minute flight over Haleakala Crater and Maui's rugged coastline. A professional guide will tell you the story of the native Hawaiians, their culture, and many sights that are important to them on the island
Additional information:
Weight restrictions – extra charge for passengers weighing 240 pounds and more Maximum weight limit – 325 pounds/per person
Not wheelchair accessible
Not suitable for people with respiratory or heart problems
>> Click here to check rates and availability
Visit Hana Town
One of the most isolated towns in the Hawaiian Islands is Hana, a charming small town with merely 1000 people. It is less popular among tourists but definitely is a must-visit place to indulge in authentic Hawaiian culture.
The region on the east of Maui, including Oheo Gulch (Seven Sacred Pools), is abundant with lush coastlines, rainforests, and waterfalls. The historic Hana-Maui resort is a popular place to enjoy harmony with nature while watching ocean waves.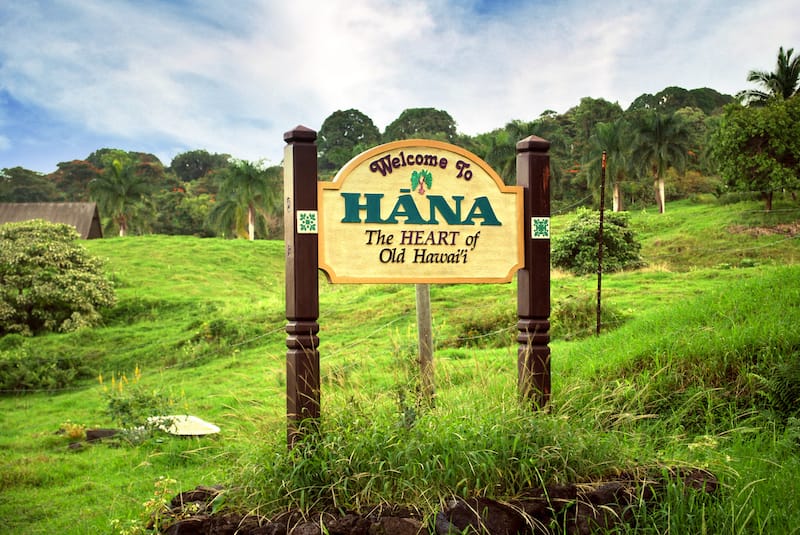 There are not many stores in Hana, but don't miss out on visiting the Hasegawa General Store to pick up crafts and souvenirs and taste chili rice bowls at Hana Ranch Store.
Popular restaurants in Hana are Ka'uiki Restaurant and Paniolo Lounge. Finally, enjoy swimming and sunbathing on the beautiful beaches of Hana such as Hamoe Beach, Hana Beach Park, and Waianapanapa State Park (which is one of Maui's most famous black sand beaches).
Do be aware that Waianapanapa requires reservations to visit.
Hula Hula Hopper
Hula Hula Hopper is the traditional hop-on-hop-off bus connection between Kahului and Lahaina Harbors. It transports passengers on port days through some of the most beautiful sites in Maui.
Kahului Harbor is relatively far from famous attractions; that is why Hula Hula Hopper is an excellent option for tourists to get to desired sites at an affordable rate.
From Kahului, the Hula Hula Hopper has several loops throughout the day. Passengers can take on and off at any stop to explore the territory before getting to the final point, Lahaina Harbor and the tourist center with restaurants, shops, art galleries, and museums.
The journey from Kahului to Lahaina Harbors will have stops at the following sites:
Kahului Harbor
Paia Bay
Town of Paia
Baldwin Beach
Sugar Museum
Tropical Plantation
Maui Ocean Center
Sugar Beach
Heritage Park and Ho'okipa Beach
Iao Valley
Bailey Museum
Kite Beach
Missionary Church
Union Church
Lahaina Harbor
Banyan Tree
Baldwin Museum
Wo-Hing Temple Museum
Lahaina Front Street
Black Rock Beach
Whalers Village
Mala Warf
Jodo Mission
Baby Beach
Old Lahaina Prison
Hoʻokipa Beach
Ho'okipa Beach, the world capital of windsurfing, is the home to professional windsurfing competitions and guests watching professionals do their thing!
On average days, the Hawaiian beach may be suitable for non-professionals, but the weather can change in a minute, and when the orange flags are out, shallow reefs and strong currents take control over the beach.
On both ends of the beach park, lifeguard towers warn about the changing wind to keep guests safe. There is the Ho'okipa Lookout on the cliff's edge with a parking lot for watching the windsurfers.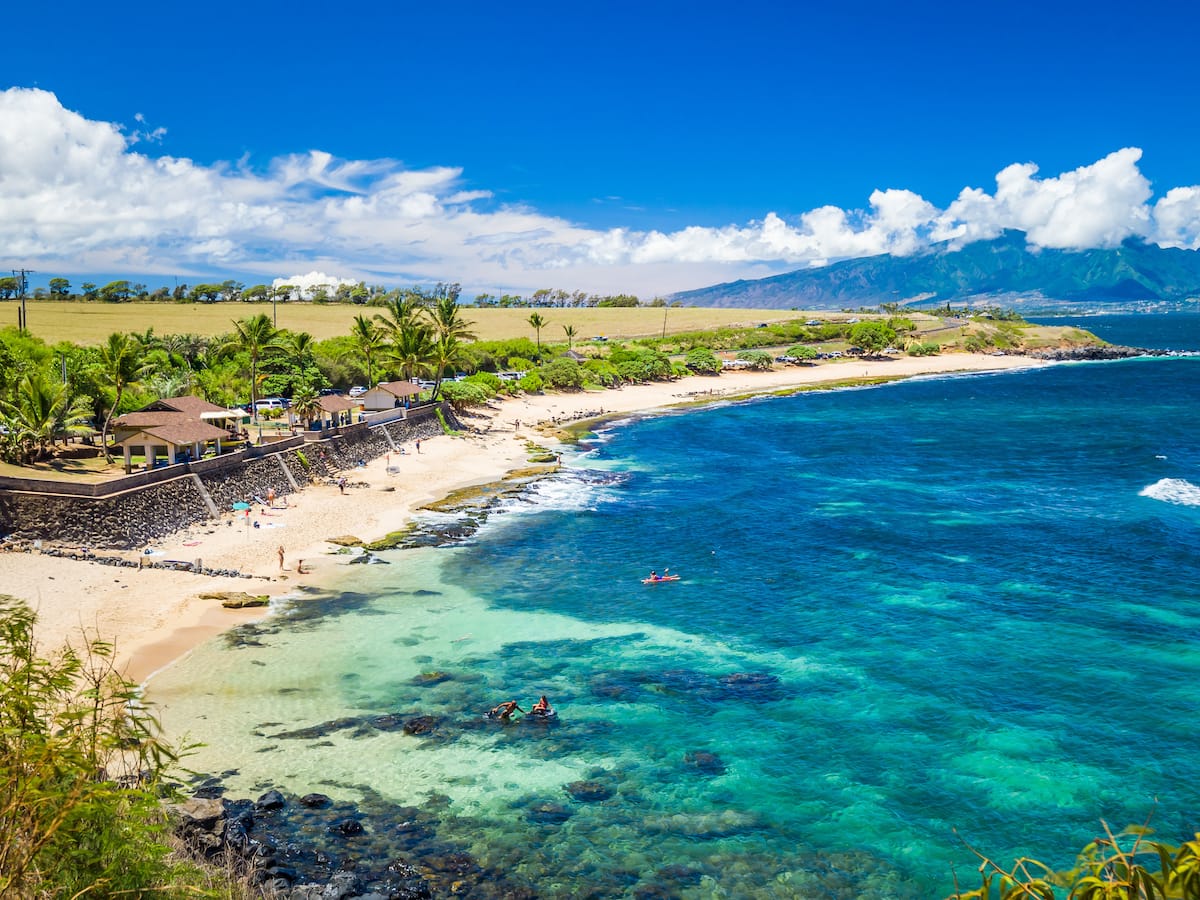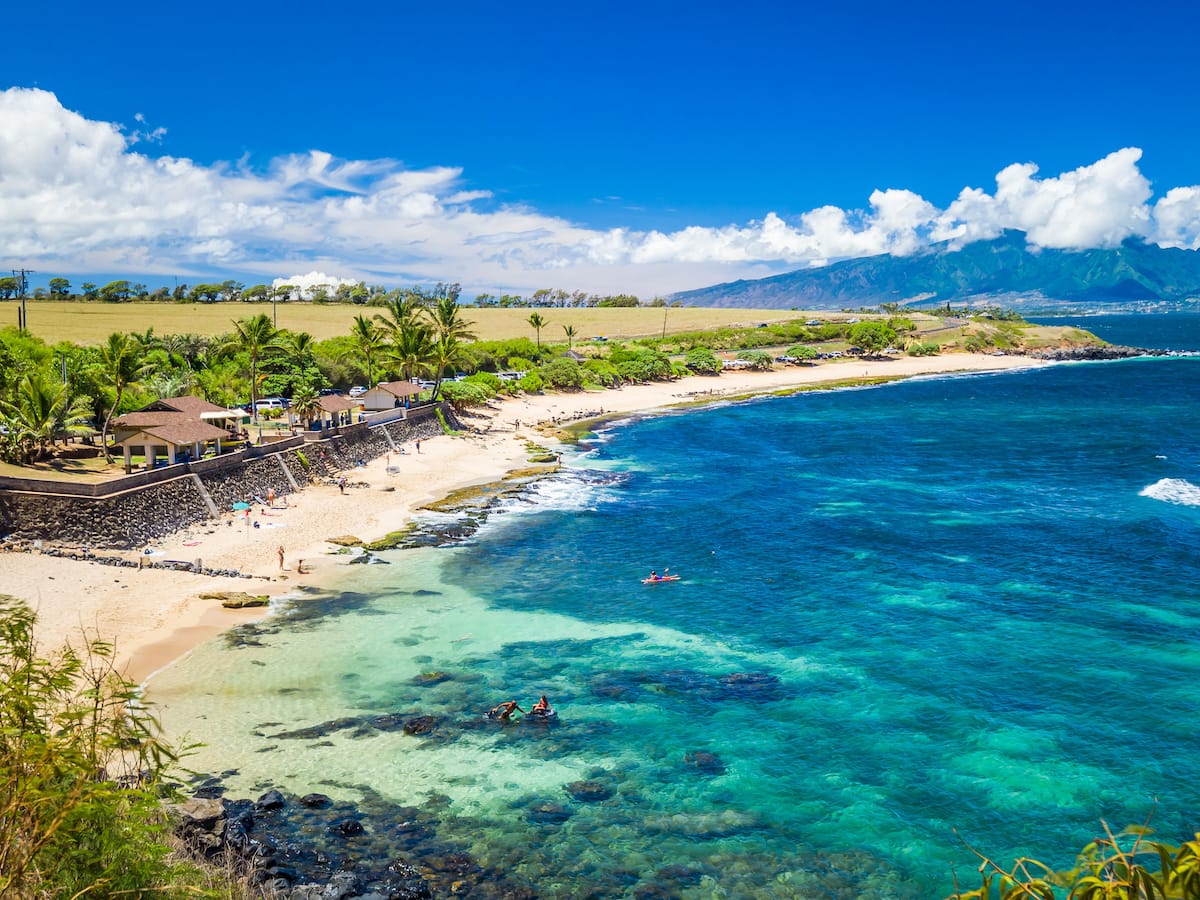 It is a great spot to enjoy huge waves crashing against the cliffs. The beach is not very popular for swimming, but there are small, sandy-bottom ocean areas to wade in if you still want to get in the water.
Walk along the beach and look closely for the "scattered boulders"; there may be sea turtles on the shore popping up to enjoy the sunset!
Additional information:
No windsurfing before 11 am
No windsurfing at Ho'okipa if 10+ surfers are in the water (except on competition days)
Kiting is only allowed at Lanes
Kapalua Coastal Trail
If you are looking for spectacular views and diverse landscapes, the Kapalua Coastal Trail may surprise you with sweeping seascape vistas, lava formations, and tropical beaches.
The length of the trail is 1.7 miles one-way and it is an accessible hike from Kapalua Bay on the south to D.T Fleming Beach.
The landscape changes from paved paths to sand, dirt, lava, rocks, stairs, and wooden walkways, so make sure you wear sturdy shoes to survive the challenge!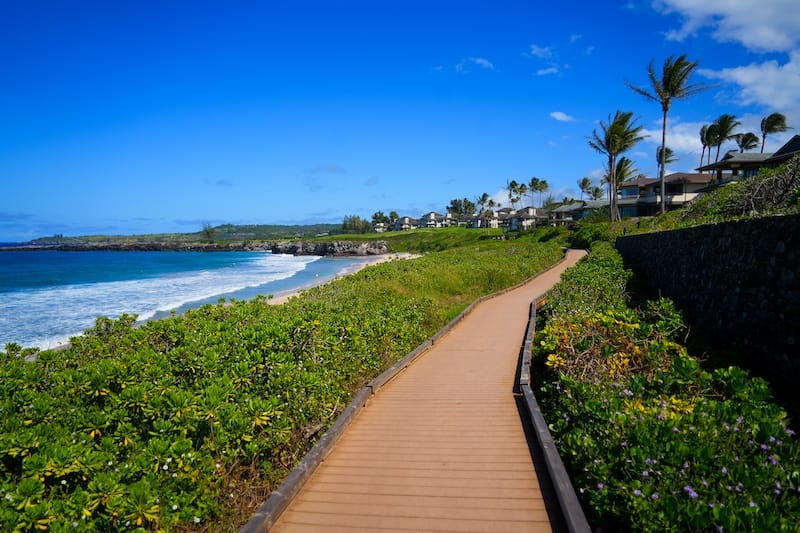 Two other trails offer a different panorama of Kapalua: the Mahana Ridge Trail, 20 miles round trip, and the Village Walking Trails, with a network of 6 different tracks. Click here for more.
Additional information:
Sea turtle and whale watching during the winter months
The best time for hiking is early morning or before sunset to escape the harsh heat
Public restrooms are located near the parking lots at D.T Fleming Beach and Kapalua Bay.
Whale Watching Cruise from Lahaina Harbor
Experience one of the most memorable moments in Maui – humpback whale watching during an exciting cruise from Lahaina Harbor.
During the tour, you will learn captivating stories narrated by the captain and the crew, enjoy the views of the coastline, and catch some unique shots of the whales.
Whether you choose to watch the majestic show of whales on the upper deck or in an enclosed cabin, you will get impressive views of these magnificent creatures!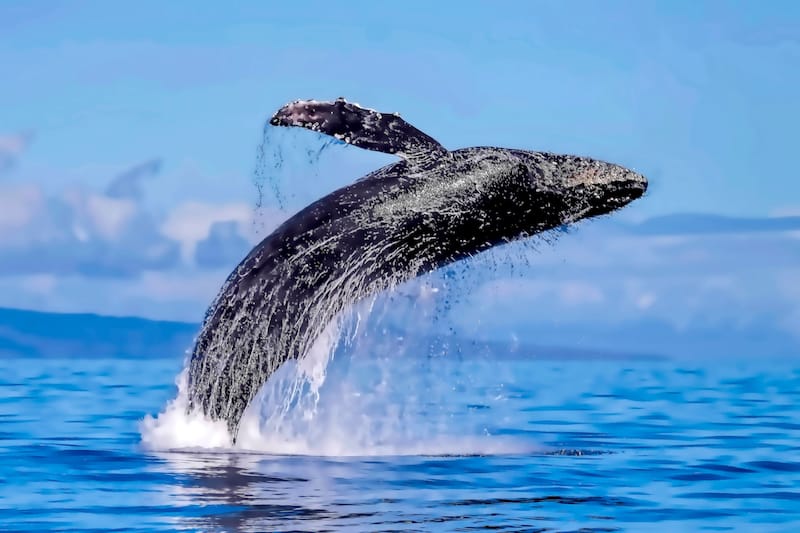 The tour is organized during the whale migration (from December until May) when the whales venture down from Alaska to the warm waters of Maui to breed.
If you don't see whales during the cruise, you may be invited to take another tour for free.
Additional information:
Wheelchair and stroller accessible
ID check upon request
>> Click here to check rates and availability
Hike the Acid War Zone Trail
The Acid War Zone Trail to Nakalele Blowhole is a 1.3-mile-long hike passing some unique places on Maui with spectacular views of the ocean, sea cliffs, and more.
The trail is named for its bare terrain, otherworldly landscapes, and the unique colors of the rocks found along the coastline. The Acid War Zone trailhead conveniently starts at the parking lot, leading you down to the ocean.
The short but rewarding trail takes 2-3 hours to reach the Nakalele Blowhole, the trail's main attraction. It is a large opening in a volcanic rock that erupts when the ocean water flows into the crevice… and it often leaves a rainbow.
The Maui attraction is best seen during high tide.
Additional information:
The trail is not marked
Sturdy shoes are needed to hike the steep and rocky surfaces
Bring water!
Admission is free
Iao Valley State Monument
Located in Central Maui, Iao Valley State Park is home to the iconic 1,200-foot Kuka'emoku, or Iao Needle, one of the most recognizable landmarks on Maui.
The valley is sacred for Hawaiians and was ʻkapuʻ to everyone except royalty. The Iao Needle also served as a lookout point during the Battle of Kepaniwai, making the park and the landmark an integral part of Hawaiian history.
It occupies about 4000 acres and is well-marked with a paved pedestrian path ideal for hiking. To explore some beautiful corners of the park, take the Iao Needle Lookout Trail and Ethnobotanical Loop (0.6 miles long).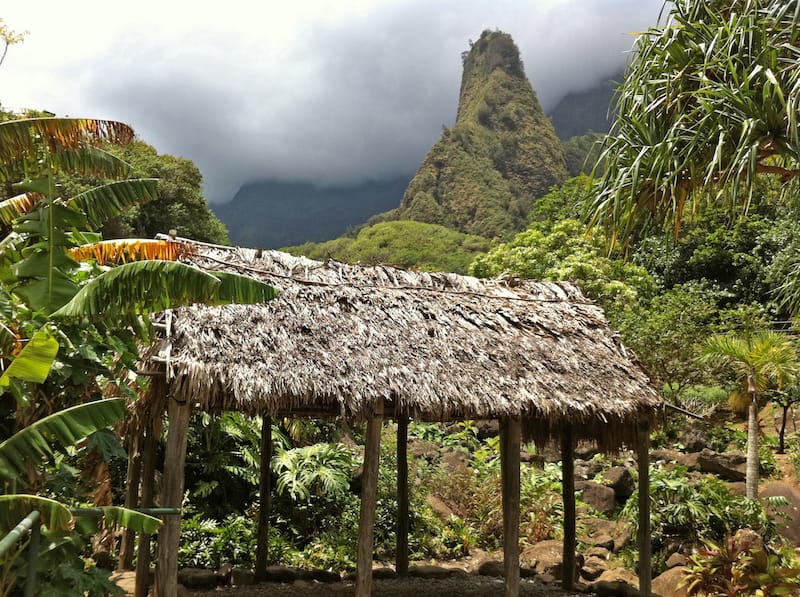 As the second wettest place in Maui and Hawaii, the Iao Needle is often covered with clouds. To see the full beauty of the park and its natural monuments, visit in the morning when the sky is clear.
To get to Iao Valley State Monument, you can opt for a taxi or rent a bike from Kahului. It is only a 5-mile (picturesque!) ride to the park.
Things not to miss in Iao Valley State Park:
Visit canoe plants, the canoes of first settlers.
Swim in the Iao Stream (but be careful of flash flooding).
Taste tropical Hawaiian fruits like mountain apples, and guava.
Iao Valley State Park is open every day from 7 am to 6 pm.
8 Lines Jungle Zipline Tour on Maui
Take an unforgettable trip through the paradise of Maui, screaming at the top of your lungs while flying through the treetops on an exhilarating, 8-line zipline course in the jungle of Haiku.
Combine crazy rides on a zipline with your day trip on the Hana Highway or while visiting Mauiʻs best waterfalls. You will have 8 lines on the course (5,100 feet in length) with 85 feet of suspension bridges through forests.
Youʻll experience two sky bridges, on quick jump free-fall ride (you can skip it if you want), two swinging bridges, and a full 2 hours of pure adrenaline rush!
After having fun, you can enjoy the nature of the tropical park at your leisure.
Additional information:
Snacks and bottled water included
Expert instructors
Closed-toed shoes with a heel strap required
Weight restrictions are applied: no less than 50 lbs and no more than 250 lbs.
Not permitted for pregnant women
Not wheelchair accessible
Not recommended for visitors with health issues
>> Click here to check rates and availability
O'o Farm
O'o Farm in upcountry Maui offers an exclusive "farm-to-table experience" where you can pick vegetables and fruit for your lunch.
Located on the slopes of Haleakala (Kula) in Maui's agricultural district, the farm promotes sustainable practices and offers excellent views of the central valley.
It occupies about 8 acres of land- abundant in coffee and fruit trees, gardens with vegetables, greenhouses of tomatoes, herbs, and flowers.
Best of all, everything is open to visitors! You can take the "Seed to Cup Gourmet Breakfast Tour" or the "Gourmet Lunch Tour" to explore the farm.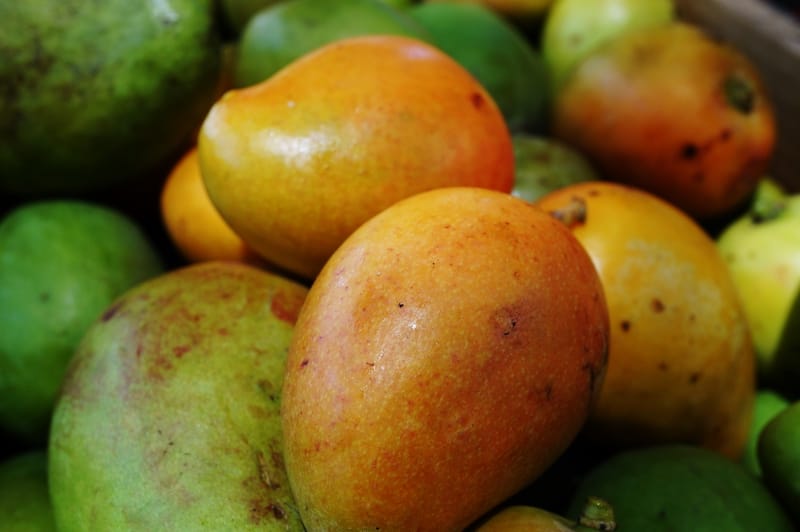 The Seed to Cup Gourmet Breakfast Tour starts at 8:30 am and lasts 3 hours. You will learn about the process of roasting and the preparation of French press coffee and taste it with a gourmet breakfast.
A 3-hour Gourmet Lunch Tour begins at 10:30 am, taking you through the farm and vegetable fields where you can pick some goods and have them for lunch.
Additional information:
Tours are offered by advance reservation only.
The farm is open to visitors Monday to Friday from 8 am to 3 pm on Monday to Friday.
Wailea Beach
Maui can offer you some of the most incredible beaches for a secluded rest and tropical destinations with luxurious resorts to combine comfort and coastal romance.
If you search for picture-perfect beaches with prestigious hotels, Wailea Beach has over 1500 acres of both.
Located in the south of Maui, the area has it all: five crescent-shaped beaches with white sand, five large hotels and houses for rent, golf courses, and more.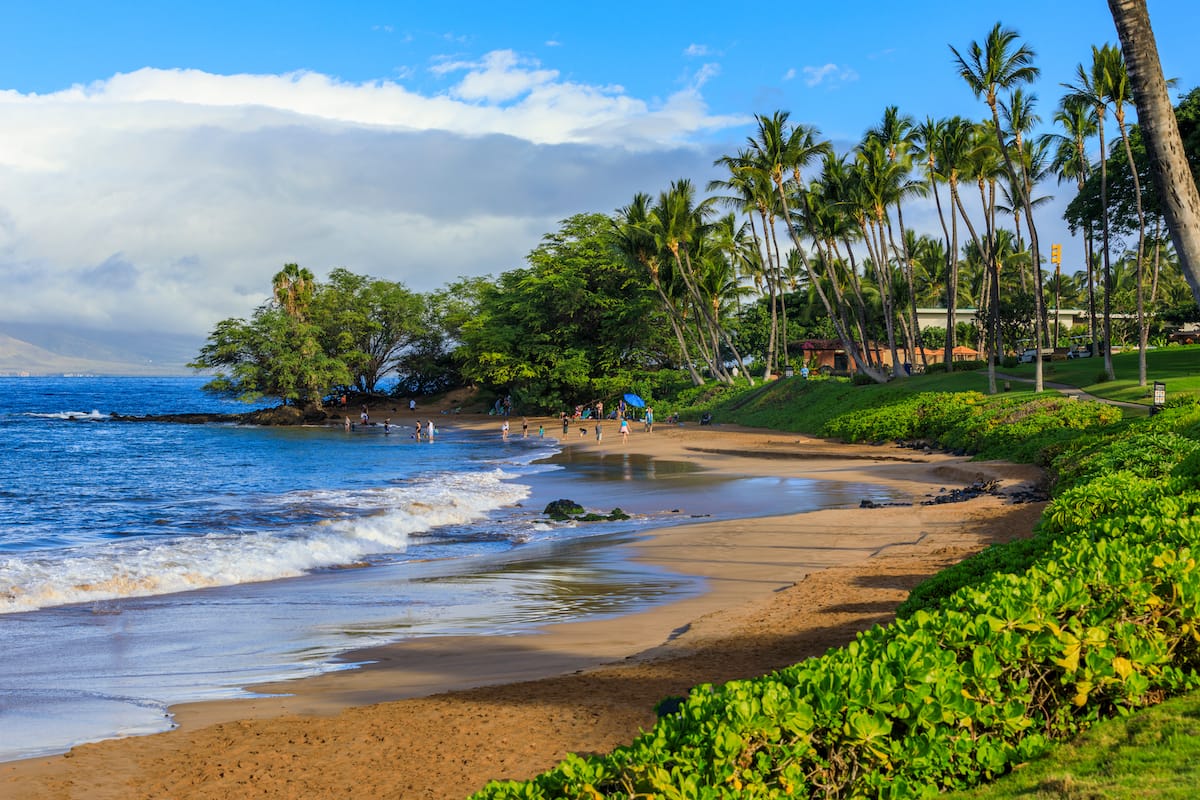 When there is no wind and the ocean is calm, the beach is ideal for snorkeling at the rocky outcroppings. You can also catch small waves for boogie boarding or body surfing.
There is also a paved coastline (1.6 miles) with palm trees exploring one beach after another that is fun to walk along.
Facilities:
Paved walkaway
Bathrooms
Showers
Free public parking
West Maui Mountain Waterfall and Ocean Tour via Horseback
Take a horseback riding tour to the West Maui Mountains and waterfall to explore nature, the coastline, and the vast valleys. A 2-hour ride takes adventurers up the mountainside to watch the waterfalls and the valley below.
Then, you will ride down to the coastline and enjoy a romantic ride along the beach. You will also have some time to visit a petting zoo with sheep, mini horses, and rabbits.
If you are not experienced, the guide will find a suitable horse for you to feel safe.
Additional information:
Not wheelchair accessible
Not recommended for people with back and heart problems, pregnant women, and travelers with severe medical conditions
A moderate physical fitness level is required
Weight limit – 230lbs
>> Click here to check rates and availability
West Maui Forest Reserve
Maui's West Maui Forest Reserve offers some of the most breathtaking views on the island. The reserve has countless trails to explore in this large tropical forest, featuring the highest West Maui Mountains.
Numerous waterfalls are hidden in the lush forests throughout the mountains and valleys and visiting is one of the best things to do on Maui!
The uphill forest resort is located in the districts of Wailuku and Lahaina, occupying about 11,500 acres and divided into 12 separate sections.
The most popular trail is the 2.5-mile-long Waihe'e Ridge Trail, a moderate trail with 1600 ft elevation taking you up to the windward slope of Maui through guava trees and scrub forest.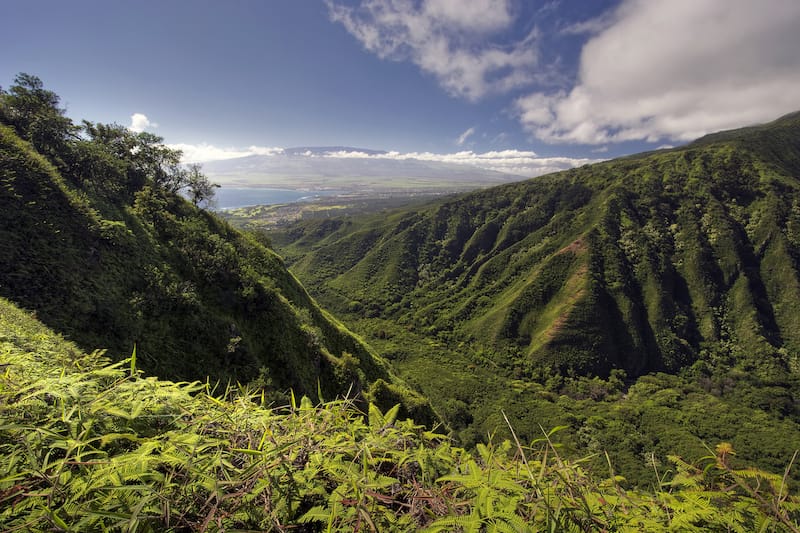 Along the way, you will admire Waihe'e Gorge and Makamakaole Gulch. Reaching the peak, youʻll be granted a spectacular view of Waihe'e Valley and the West Maui Mountains.
Though relatively short, the trail has everything you need: amazing views, swimming holes with a rope swing, lush jungle scenery, bird watching, and more.
The West Maui Forest Reserve and the Waihe'e Ridge are on the windward side of Maui and see frequent rain, so make sure you are wearing waterproof hiking shoes with grip for safe elevation on the steep trail.
Maui Sunset Luau Cruise from Ma'alaea Harbor
Enjoy the best views and unforgettable Maui sunsets sailing down from Ma'alaea Harbor to Molokini Crater.
Your trip will be complemented with Hawaiian craft beer and mixed drinks, a buffet with barbecue ribs, stir-fried veggies, coconut potatoes, and honey-glazed chicken. If lucky, you may catch humpback whales during their mating season.
During the cruise, you will enjoy a performance of a traditional Hawaiian hula show.
Additional information:
Stroller accessible
Not wheelchair accessible
Menu requests or substitutions are not accepted
>> Click here to check rates and availability
Kihei
The small town of Kihei on the south of Maui attracts guests with its pleasant weather (and mostly sunny days). There are several famous beaches in Kihei worth your visit.
The 1.5-mile-long Kamaolo sand beaches are perfect for swimming, snorkeling, boogie-boarding, and other family-friendly activities. If you prefer secluded beaches, this one may seem too crowded, especially on weekends and holidays.
Keawakapu Beach is another option to enjoy ocean views in Kihei. The 0.7-mile-long sandy beach has a shoreline of beach houses, hotels, and restaurants making it an excellent place to enjoy your stay.
You can rent snorkel gear, paddleboards, kayaks, beach gear, or bikes to explore nearby attractions for water activities.
The North Pacific Humpback whale population sails to the Hawaiian Islands for breeding from December into the spring months.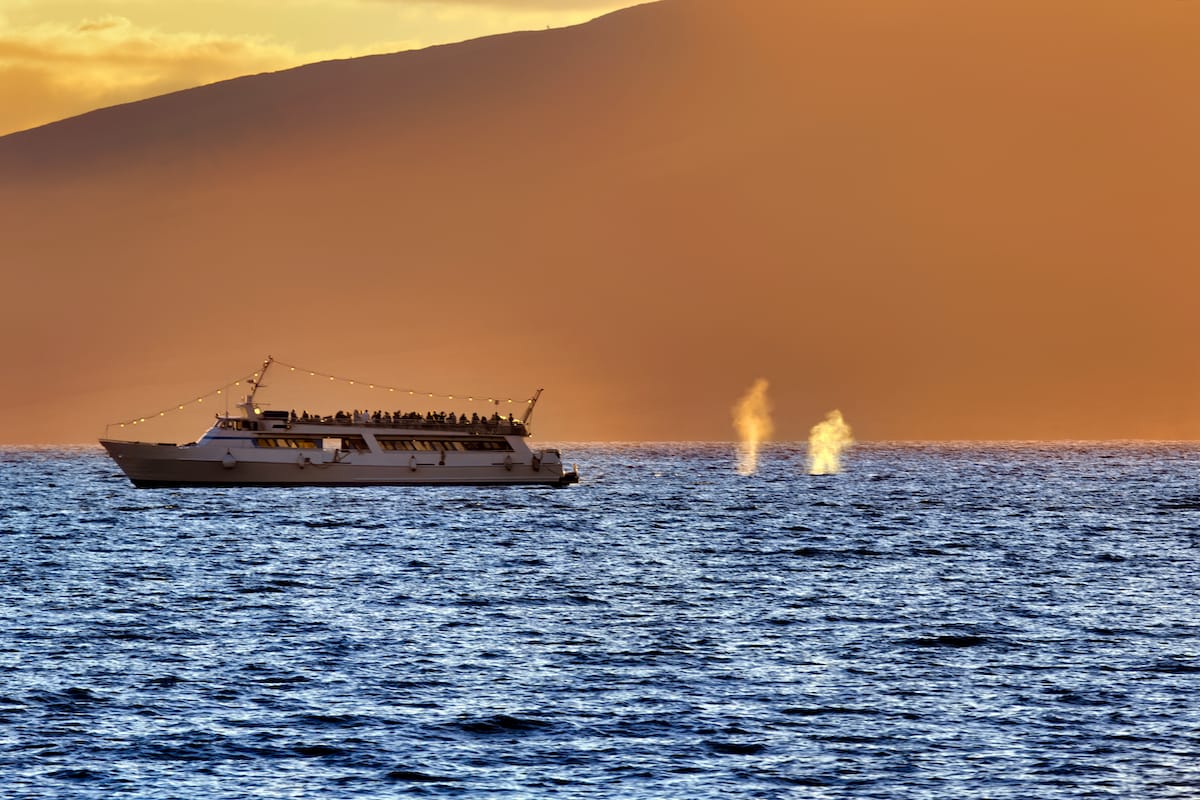 It is a great chance to see those majestic animals in the wild or at the Humpback Whale Sanctuary.
Take a tour of one of the largest craft breweries in Hawaii called the Maui Brewing Company to taste Hawaiian beer and learn the whole process of production.
The brand has several breweries across Hawaii and a production brewery in Kihei. It is open daily from 11:30 am to 10:00 pm.
Visit Kihei Kamala Village, where you will find gift and clothing shops, and restaurants with tasty food like Dog and Duck Irish Puch, the Lava Rock Bar & Grill, and Fat Daddy's Smoke House.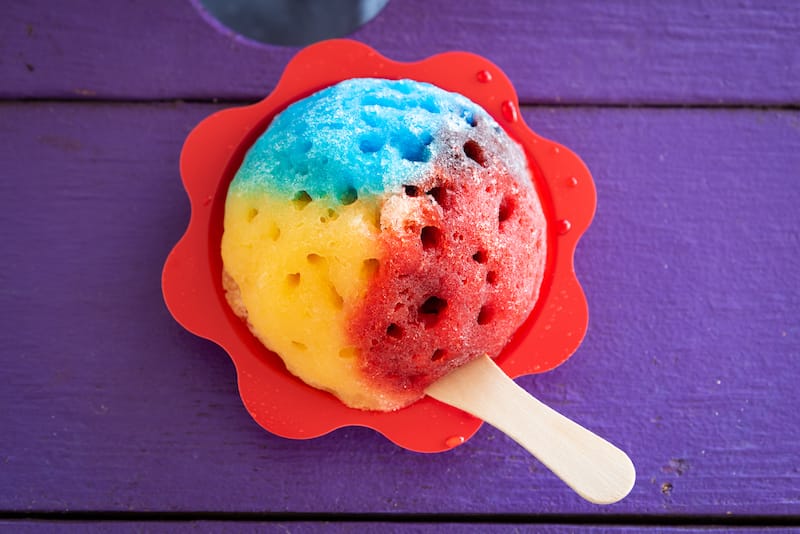 When traveling to Kihei, don't forget to check out Coconuts Fish Cafe, promoting delicious traditional dishes and a cleaner environment, recycling its cooking oil into biofuel.
At the Kihei Fourth Friday Town Party, youʻll see this small town come alive on the fourth Friday of every month with live concerts and activities for the whole family in the Azeka Shopping Center.
Kihei also has some delicious breakfast spots to fuel up before a bit day of exploring the island!
Haleakala National Park
Haleakala National Park, also known as the "house of the sun," is an International Biosphere Reserve created to protect and support the ecosystem.
The park and the Haleakala Crater, the highest point on Maui, are visible from virtually every corner of the island. Rising 10,023 feet above sea level, the volcano has insanely breathtaking landscapes.
The scenic drive along the Haleakala Highway is no less spectacular, climbing and zig-zagging about 10 miles to the main visitor center.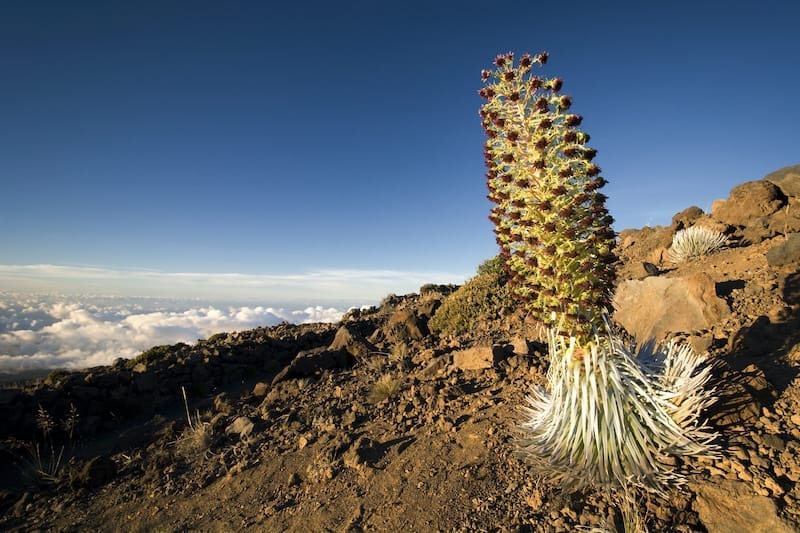 To feel the majesty of nature, visit the park before sunrise and admire the beauty of nature awakening from the Haleakala Visitor Center. Watching the sunrise or sunset is only one of the myriad wonders to see in the park.
Spanning more than 30,000 acres of land, Haleakala changes landscapes from Mars-like red desert to waterfalls and streams, rock gardens, and coastal views.
With numerous hiking trails, it is a great place to spend a day exploring nature and endangered species, stargazing, or spending a night in a camp in Kīpahulu.
Additional information:
The national park is open 24 hours
To watch sunrise visit the park between 5:30 and 6:30 am.
There are several restaurants on the way to the park if youʻre looking for a quick breakfast or a hearty meal of pulled pork or seafood. Some favorites are Kula Lodge Restaurant, Kula Sandalwoods, La Provence, and Nui's Garden Kitchen.
Road to Hana
The Road to Hana is more than just a road to travel from and to the town of Hana. Hana has become a separate attraction with numerous show-stopping sights to stop and admire along the way.
It is one of the best road trips in Hawaii (and the world, to be honest). Explore all the attractions along 52 mile-long road with 617 curves and 59 one-lane bridges. NOTE: the speed limit is 25mph.
Below are some of the top places to stop on the Road to Hana.
1) Paia Town. Before starting your beautiful journey, have a great breakfast and coffee in Paia, the last town before a clockwise trip on the Road to Hana.
2) Ho'okipa Lookout. From the lookout point of Ho'okipa Beach, you can enjoy the incredible views of surfing and massive waves.
3) Twin Falls. The picture-perfect scene of Twin Falls and a basin where you can swim is a popular spot for tourists to take a photo (or hundreds of photos). It is the first notable waterfall on the Road to Hana.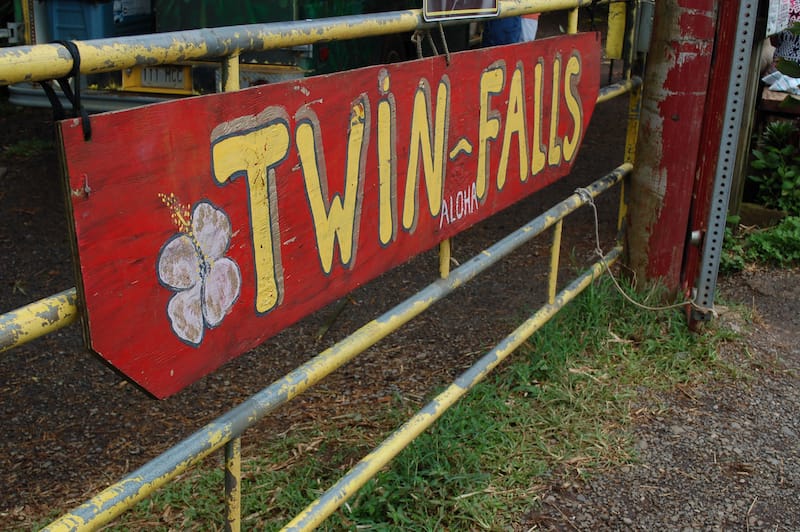 4) Waikamoi Ridge Trail. The hiking trail offers two loops and is ideal for having a picnic and enjoying a short hike.
5) Garden of Eden Arboretum. Visit this unique garden to find a 100-year-old mango tree, bamboo forest, and a beautiful view of Puohokamoa Falls.
6) Kaumahina State Wayside Park. Here is another beautiful stop to enjoy Maui's North Coast views. The park has a bathroom and picnic area.
7) Ke'anae Arboretum. The rocky coastline offers some beautiful views of the coastline, taro fields, and banana trees.
8) Halfway to Hana Stand. Stop here to taste banana bread, the best bread in Maui!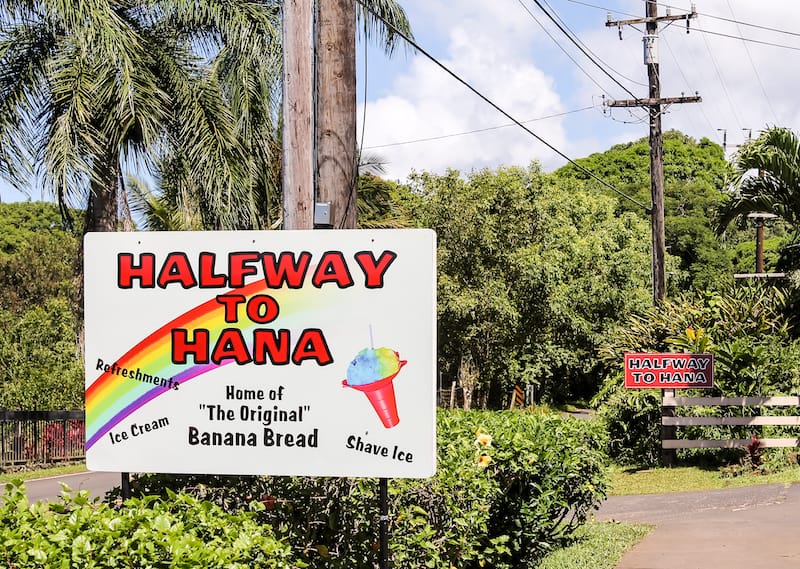 9) Wailua Valley State Wayside. Enjoy the views of Wailua and Ko'olau Gap in the mountains from the Wailua Overlook.
10) Upper Waikani Falls. Also called Three Bears, the waterfalls cascade down 70 feet. You can go close to the waterfalls or enjoy the view from the bridge. It is one of the best waterfalls in Hawaii.
11) Pua'a Kea State Wayside Park. Take a quick hike to a small waterfall and freshwater pool where you can swim, have a picnic, and take plenty of photos.
12) Hanawi Falls. If the flow is heavy, you will see another beautiful waterfall along the bridge.
13) Nahiku Marketplace. Make a stop to find souvenirs and taste kalua pork tacos.
14) Hana Lava Tube. The massive lava tube is located near Mile Marker #31, a natural attraction in the heart of the rainforest.
15) Kahanu Garden. Visit the National Tropical Botanical Garden to see Pi'ilanuhale Heiau, the largest temple in Hawaii.
16) Wai'anapanapa State Park. Make a stop in the park to walk about the Pa'iloa black sand beach and the freshwater caves. Please note that reservations are required to visit.
17) Hana Town. Stay overnight in Hana Town to visit the shops, cozy restaurants, and taste chili rice bowls.
18) Kipahulu, Haleakala National Park. It is worth spending here a couple of hours visiting 'Ohe'o Gulch (Seven Sacred Pools), the Pipiwai Trail, and Waimoku Falls.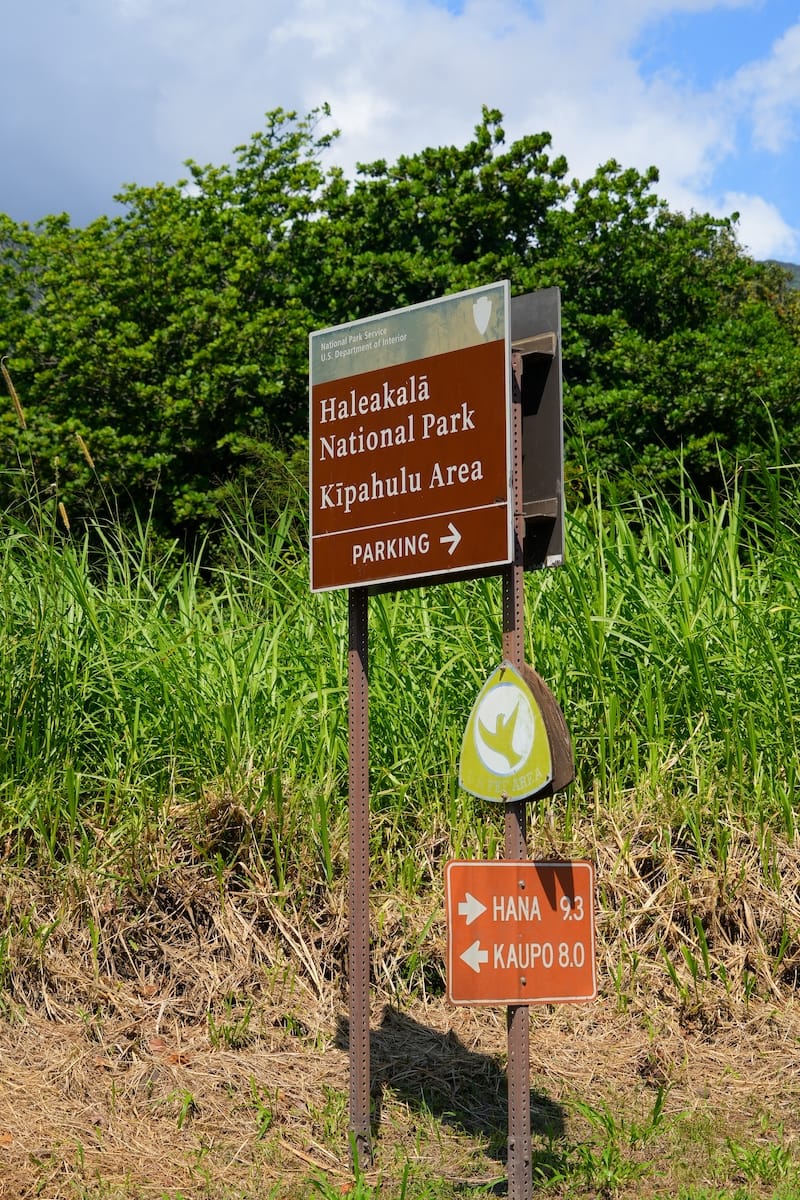 19) Kaupo General Store. Make a stop on the back road to Hana to buy beverages and snacks.
20) Grandma's Coffee House. Finally, enjoy authentic Maui coffee in a coffeehouse, open since 1918.
Molokini and Turtle Town Snorkeling Adventure
Molokini Crater is one of Maui's natural wonders! Malolo Molokini's snorkeling tour will take you to this fascinating volcanic caldera, one of the most picturesque snorkeling destinations on Maui!
Molokini was once a peak that protruded from the surface of the sea. After years of erosion, the major part of the peak has disappeared, and the crater within has filled with seawater.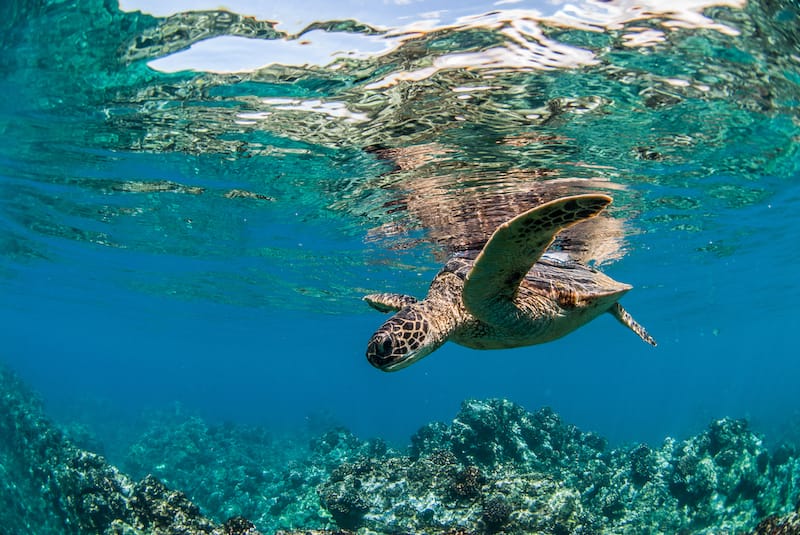 Within the bowl, a large coral reef developed, providing habitat and food for all sorts of marine life. You will explore the reefs and search for Mauiʻs green sea turtles at Turtle Town during your snorkeling adventure.
Molokini is one of only a few places on Earth like it, and now that you're on Maui, you can experience it during this Molokini and Turtle Town Snorkeling Adventure on board with Malolo from Ma'alaea Harbor.
Additional information:
Professional crew
Continental breakfast, deli lunch, and refreshing beverages
Snorkeling equipment
Not wheelchair accessible
Stroller accessible
Not suitable for people with heart problems
>> Click here to check rates and availability
Go Golfing in Maui
If you are an avid golfer and want to enjoy a round while traveling, you will find some fantastic golf courses ranked among the world's best!
Every year, Maui hosts the PGA Tour's Tournament of Champions. The courses are professional and picturesque, crossing palm groves, lava flows, and lush green.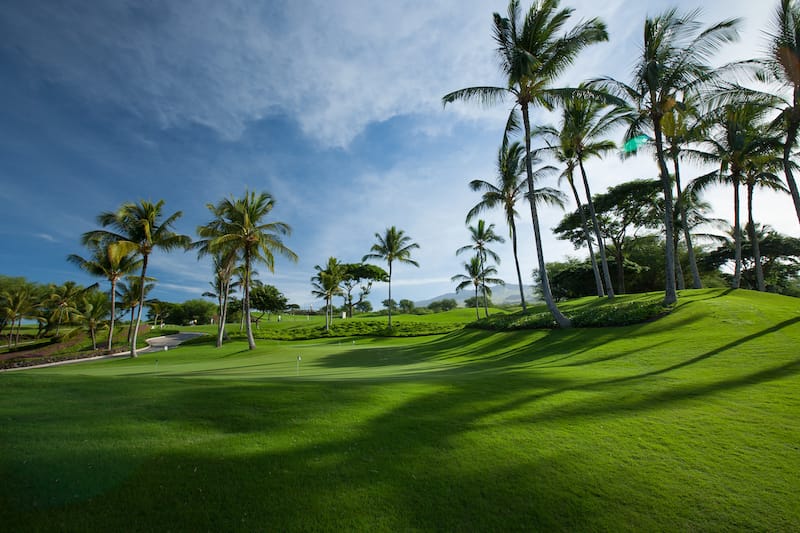 There are 14 golf resorts and clubs across Maui worth visiting and weʻve listed them below.
Kaanapali Golf Resort, Lahaina
Maui Country Club, Paia
Kahili Golf Course, Wailuku
Maui Uni Golf Club, Kihei
Kapalua Golf Club, Lahaina
Pukalani Country Club, Pukalani
King Kamehameha Golf Club, Wailuku
Waiehu Golf Course, Wailuku
Makena Golf Course, Makena
Wailea Golf Club, Kihei
The Dunes and Maui Lani Golf Course, Kahalui
Napili Beach
Napili Bay is frequently rated as the top-visited beach in Maui for its white sand, crystal-clear turquoise water, picturesque coastline, and numerous water activities.
With an abundance of coral reefs and marine life, Napili Beach is an excellent spot for snorkeling and whale watching during the breeding season.
It is rather crowded, so you wonʻt miss it and accidentally drive past!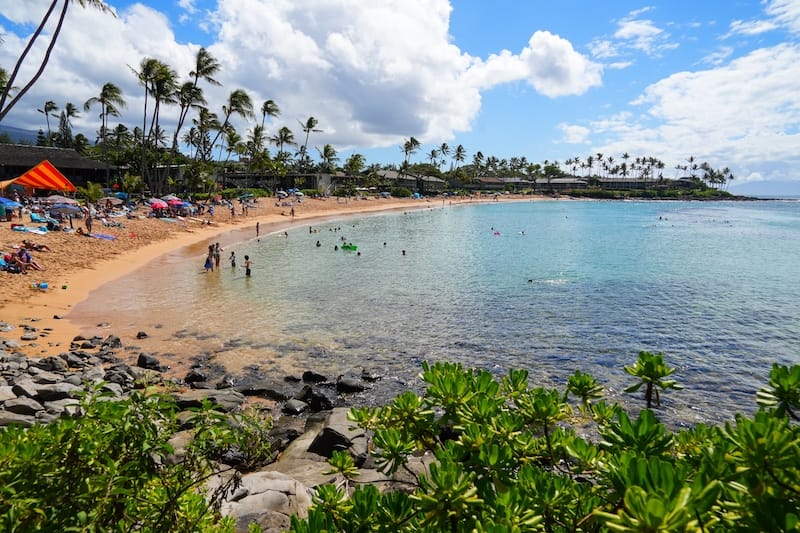 To get here, you can take the Honolua Ridgeline Trail, a 3-hour hike to the remote and beautiful spot in Maui which greets visitors with a secluded forest with endangered and indigenous animals and plants along the way.
Additional information:
Restaurants nearby (the Gazebo Restaurant is delicious!)
Plenty of hotels and rental houses
No lifeguards
No public restrooms
Street parking
Waianapanapa State Park
There are several places you'll want to see in Waiʻānapanapa State Park, located just off Hana Highway at the end of Waiʻānapanapa Road.
The Maui state park is home to volcanic black sand beaches and red waters, a unique natural phenomenon due to small shrimp.
It is primarily a secluded place with fewer visitors and some great overlooks where you can enjoy a 360-degree panoramic view of the green jungle and black basal lava coastline.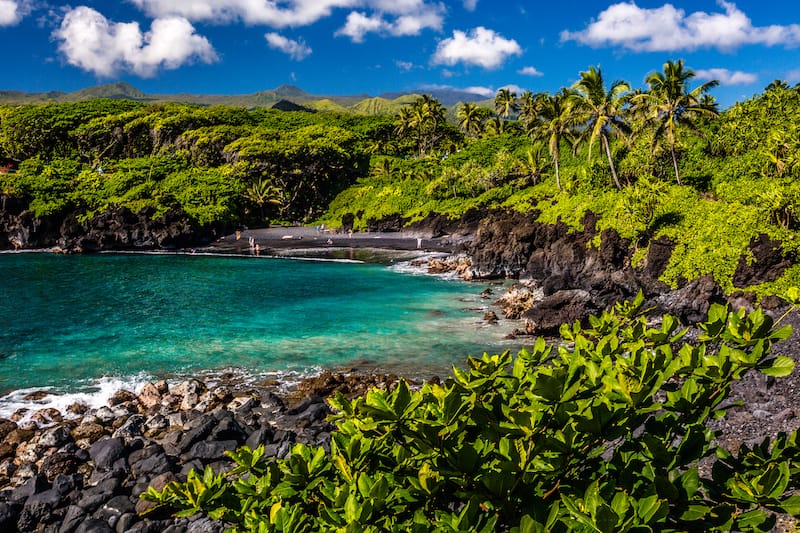 Besides the mindblowing scenery, you will enjoy ocean caves, cliff diving, two hiking trails, a blowhole, sea arches, islets, freshwater pools, and more. It is worth staying overnight at the camping site and enjoying the sunset.
Additional information:
Waiʻānapanapa State Park requires advance reservations for all vehicles, walk-in entries, and PUC vehicles. Schedule your visit accordingly. You can make reservations no later than the day before your visit, up to 14 days in advance.
ADA accessible
Picnic tables, lodging, restrooms, and showers on the territory
Walking path
Campsites
Kamaole Beach Parks
There are three beautiful Kamaole Beach Parks that offer incredible views of Kaho'olawe, Molokini, and Lana'i island.
Also called Kam I, Kam II, and Kam III (from north to south), the beaches are accessible with all the facilities for family-friendly holidays.
Kam I is a 1.3-mile-long white sand beach and is one of the best spots on Maui, with calm waters for swimming and snorkeling. The facilities, picnic tables, showers, and restrooms make the beach comfortable for an all-day stay.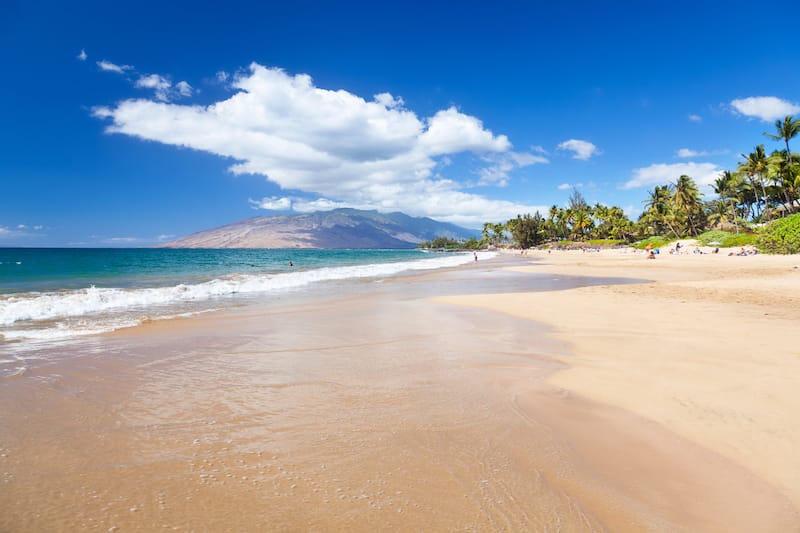 Kam II is an excellent place with rental houses right on the beach. It is smaller than the other two but is a must-visit beach for sunset swimming and snorkeling.
Kam III is more popular for bodyboarding. The beach is rocky with higher waves but is still a spectacular scene to enjoy. There is also a large green park on the premises for picnics.
Farmers Markets on Maui
How many times have you seen those open-air markets with a lot of fresh vegetables and fruits, seafood, crafts, souvenirs, and coffee?
These farmersʻ markets are a significant part of Hawaiian culture and are just as popular today as they were years ago.
Each location has its own signature thing to see and to try. If you are traveling across Maui, here are the most popular farmers' markets not to miss.
Upcountry Farmersʻ Market: Open on Saturdays from 7 am to 11 am and recognized as the "Best of Maui" for several years in a row.
This Makawao market is a must-visit. You will find many counters full of nuts, fresh fish, coffee, tropical fruits, and more.
Maui Nui Farmersʻ Market: open Thursday – Saturday from 8 am to 5 pm, this Kula farmersʻ market occupies a 40-acre farm, offering customers different greens, fruits, vegetables, flowers, etc.
On the first weekend of each month, the market organizes "Family Days" where guests can enjoy live music and buy goods at a 10% discount.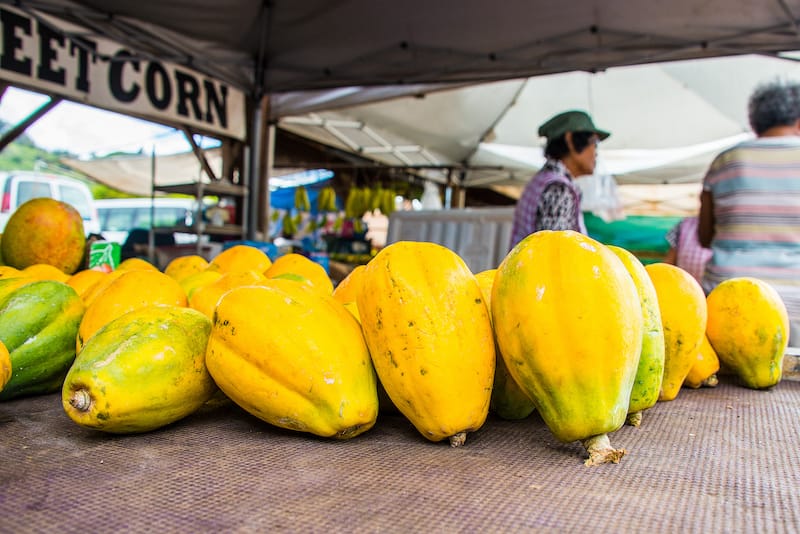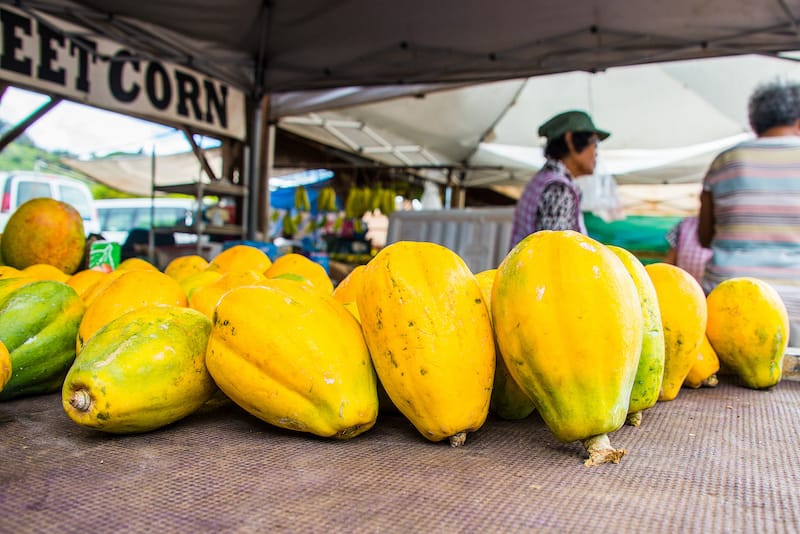 Napili Farmersʻ Market: open Wednesdays and Saturdays from 8 am to noon, this farmersʻ market promotes natural, non-GMO local products, banana bread, pastries, and handmade jewelry.
You will have a chance to enjoy live music while tasting the fresh products from the market.
There are Farmers' Market in every region and town, so definitely make it a point to visit one throughout your trip to Maui!
Ululani's Shave Ice in Lahaina
One of the most reviewed places in Maui, Ululani's Shave Ice in Lahaina offers the tastiest shave ice in Hawaii and is one of the favorites on all islands.
Putting heart and Aloha in every one sold, enjoying shave ice from Ululaniʻs is one of the essential things to do in Maui.
To make Hawaiian shave ice, the locals take fruit and syrup, add some pure ice, and prepare a gourmet treat for those looking for a refreshment from the heat.
Ululani's Shave Ice in Lahaina is open daily from 11 am to 8 pm.
Geste Shrimp Truck
Great food can be found not only in the restaurants on Maui but also in several of the islandʻs food trucks.
Popular Geste Shrimp Truck is one of the most famous food trucks on Maui serving the best shrimp, hot dogs, and side dishes.
Shrimp is served in a shell with delicious sauces and marinades, a crab-mac salad, and rice… truly a hearty meal if you are starving from all of your morning activities!
The prices are pretty affordable, even for a party platter with 60 pieces of shrimp! Geste Shrimp Truck usually parks on Kahului Beach road near the Maui Arts and Cultural Center.
The food truck is open Monday to Saturday from 10 am to 7:30 pm. Click here for more.
Eat Local Food at Tin Roof Maui
Find the tastiest Hawaiian dishes in a casual but very cozy lunch spot called the Tin Roof Maui where you can try fresh ahi poke bowls, mac salad, mochiko chicken, or any of the dishes by Chef Sheldon Simon and his wife.
Located only two minutes from the Maui Airport in Kahului, it is a great location to stop by and have lunch. Tin Roof Maui always serves fresh food, working closely with local farmers and fishermen.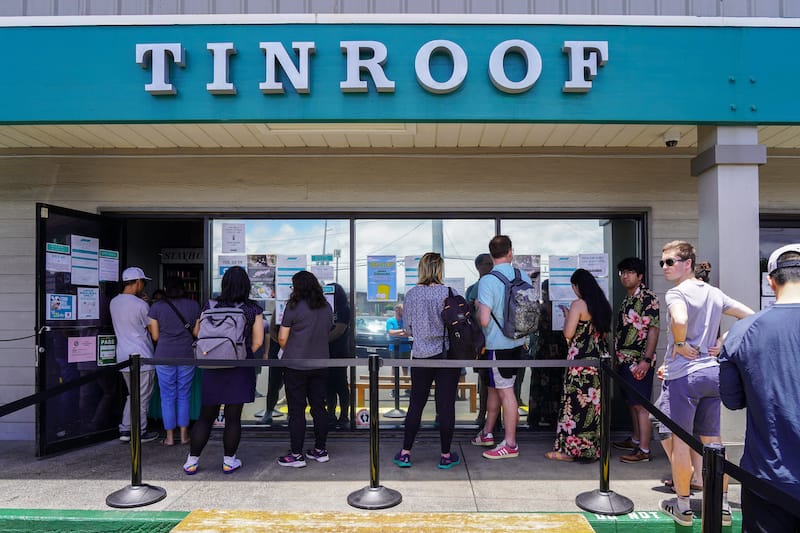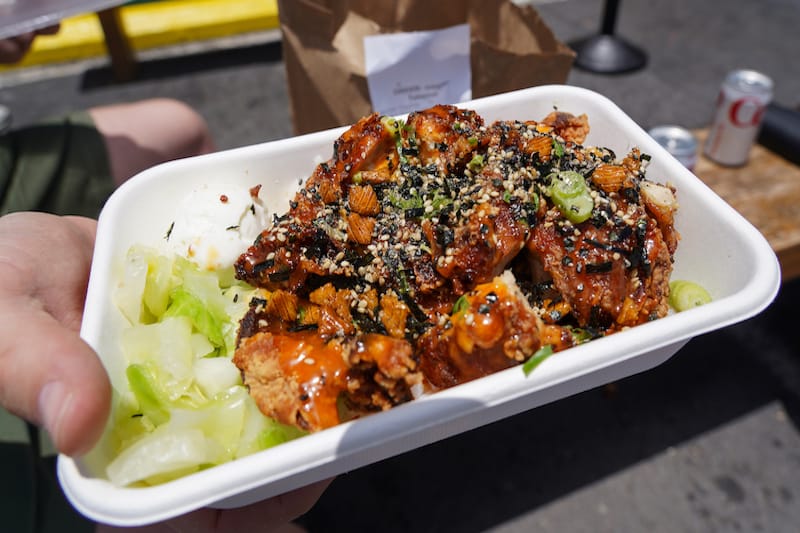 Don't forget to taste local desserts like chocolate Bibingka, a baked rice flour cake with peanut butter. Tin Roof Maui is open Monday to Saturday from 10 am to 2 pm.
There is very little seating, especially at lunchtime. Click here for more.
Maui Brewing Company
Maui Brewing Company is the largest craft beer production company in Hawaii and has been open since 2005. The brewery is based in Maui, with several restaurants and tasting rooms in other towns.
MBC produces 8 types of exclusive island brewed ales and lagers with creative names like "Bikini Blonde," "Big Swell," "Sunshine Girl," and others.
Alcohol content ranges from 4.6% to 8% and you can see their portfolio here. The brewery also produces four types of limited beer and two GMO-free island sodas.
To taste real Maui craft beer and some delicious national dishes, you can visit one of the MBC restaurants in Maui below.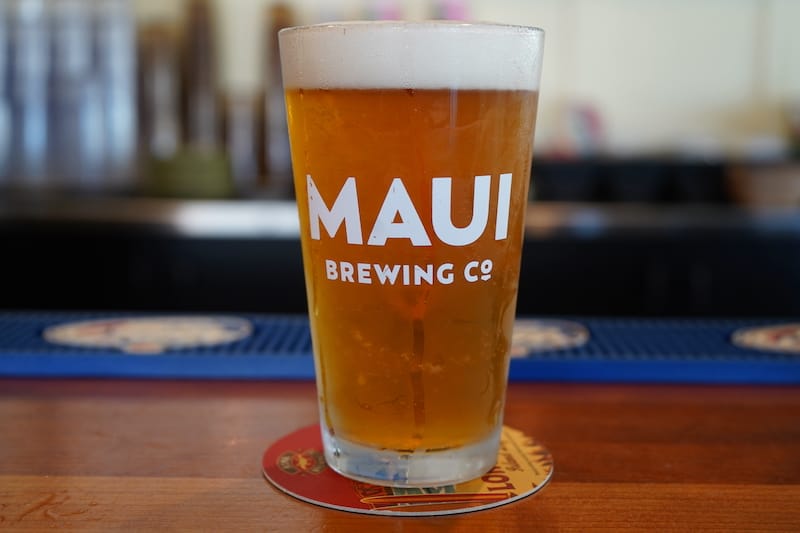 Kihei: Loft-style restaurant in the heart of Kihei that has an expansive outdoor garden where you can enjoy warm evenings sipping beer.
The bar features 36 craft beers, including Maui special releases and beer from other local breweries. The restaurant is open daily from 11:30 am to 10:00 pm.
Lahaina: The brewpub offers exceptionally fresh homemade products and traditional beer to enjoy with friends and family. It is open Monday to Saturday from 11:30 am to 10:00 pm.
They also have locations on Oahu in Kailua and in Honolulu (Waikiki Beach).
Mama's Fish House in Paia
Mama's Fish House is an iconic restaurant in Paia offering fine dining in island style. The interior is an absolute gem with authentic style with hardwood finishes, show-stopping ocean views, and an authentic atmosphere.
The rooms are filled with flowers, and the tables are covered with handmade tapa print clothes.
The restaurant often hosts special occasions so you may eventually become part of someone's anniversary, see honeymooning tourists, or even weddings.
The most important is, of course, the best seafood on the island which is always fresh and tasty. The menu changes daily and even tells you which fisherman has caught your dinner.
The restaurant is located on the Road to Hana, 1.5 miles past Paia town. It is open daily from 11:00 am to 8:30 pm.
Oceanfront Lahaina Luau (Feast at Lele)
You are invited to a sit-down dinner featuring five epicurean dishes from Pacific Island nations. The Feast at Lele celebrates Polynesian cuisine accompanied by music and traditional dances and is one of the most popular luaus on Maui.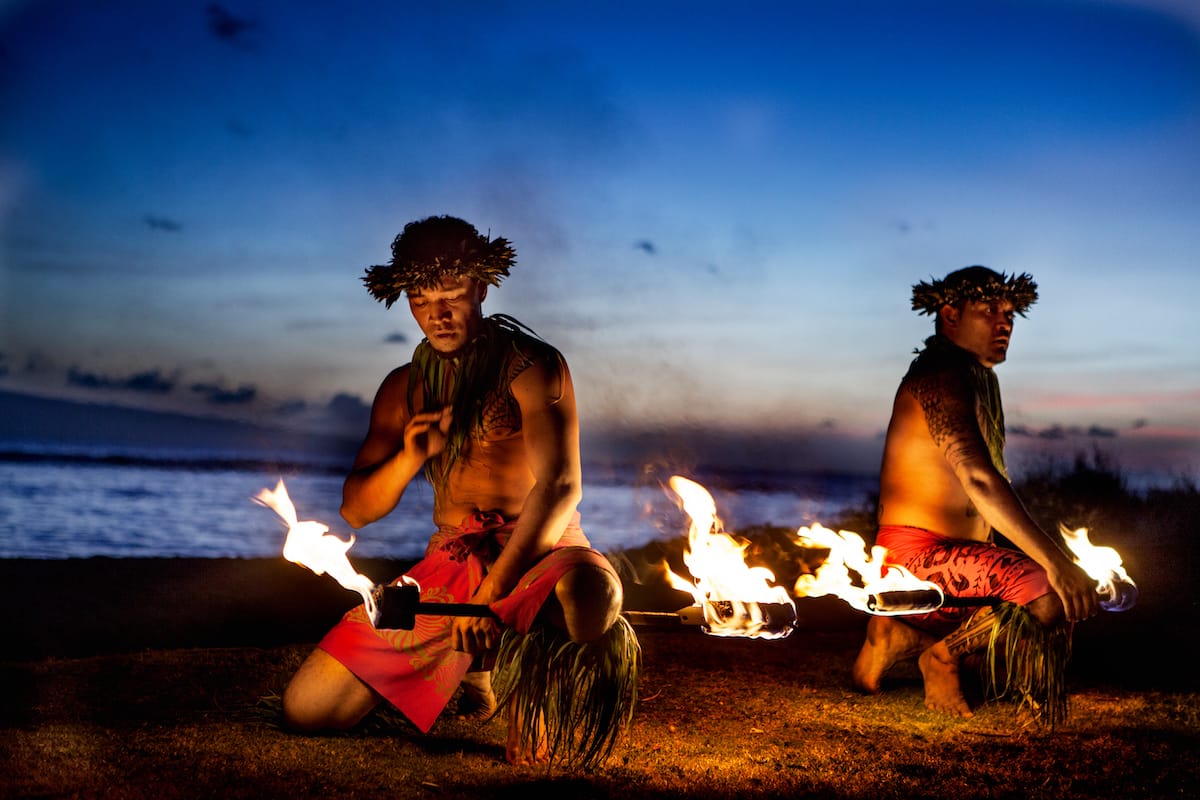 Upon entering, you will be greeted with a flower lei and a Mai Tai and are invited to enjoy the magnificent view of the ocean.
Start your evening enjoying a romantic Maui sunset on the beach in Lahaina and experience a luau celebration.
Additional information:
The tour operates in all weather conditions
Wheelchair and stroller accessible
>> Click here to check rates and availability
Coffee Shops in Maui
If you are a coffee addict like me, Hawaii will become your paradise because it is the only state that grows coffee in the US.
There are many great places in Maui where you will feel the aroma of fresh and delicious variations of caffeine in a cup and we have listed two of our favorites.
Maui Coffee Roasters
Since 1982, Maui Coffee Roasters has been a local favorite specializing in small-batch roasting Hawaiian coffee. The coffee shop is located in Central Maui and is always crowded and filled with happy faces.
If you want to have a seat, arrive early and order a bagel with a cup of coffee for breakfast. The coffee shop offers several types of coffee: Hawaiian coffee blends, 100% Hawaiian, 100% Kona, and flavored blends.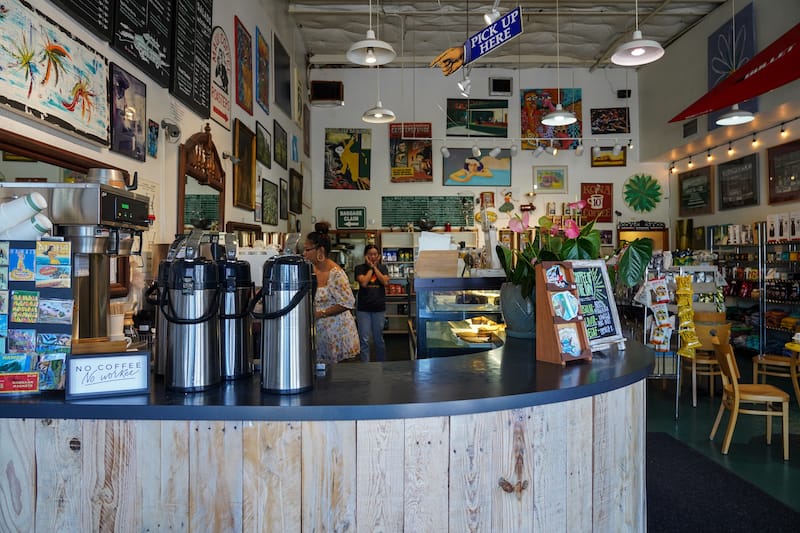 The cafe is open Monday to Friday from 7 am to 6 pm and Saturdays from 7 am to 5 pm. Click here for more.
Bad Ass Coffee
The brand is named after the legend of the Kona Nightingale, which was the bellowing sound of donkeys carrying loads of coffee. So when you see the brand logo, don't be surprised!
The first Bad Ass Coffee was opened in 1989 on the Big Island, offering premium Hawaiian coffee from Molokai, Kauai, and Maui.
The Maui coffee shop has two locations, Downtown Lahaina (open daily from 6 am to 5 pm) and Honokowai (open daily from 6 am to 8 pm).
Both are casual and cozy places to stop for a morning coffee. Click here for more.
Where to Stay in Maui
You will find plenty of places to stay in Maui when you visit. Most people stay on the leeward side of Maui ranging from the south shore to the west side.
Here are our top recommendations for lodging in Maui:
Places to stay in South Maui (Kihei/Wailea/Makena):
Places to stay in West Maui (Lahaina/Kaanapali/Kapalua):
There are many amazing things to do in Maui – did we miss any cool Maui attractions and things to do? Let us know in the comments. Thanks!
More Maui Travel Guides
Pin this Maui Bucket List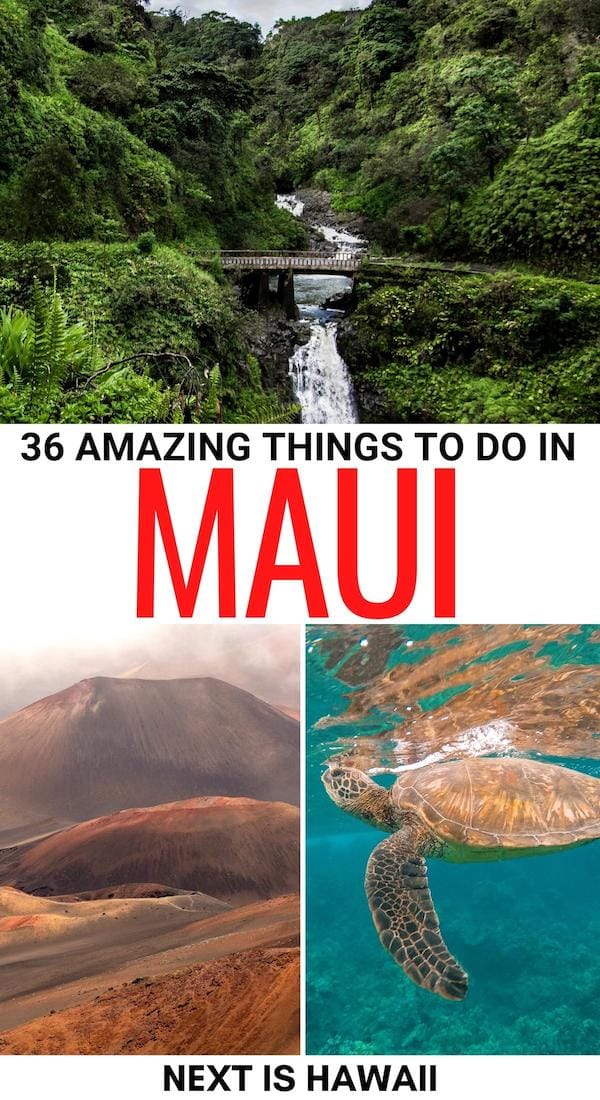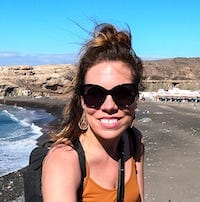 Megan is a travel blogger and writer with a background in digital marketing. Originally from Richmond, VA, she has been traveling frequently to Hawaii for the last 15 years and loves exploring every corner of each Hawaiian island, while trying to promote sustainable travel and small, local businesses along the way. Megan has written for or been featured by National Geographic, Forbes, Lonely Planet, the New York Times, and more. She has co-authored a guidebook with Fodor's Travel and has visited 45 US states and 100+ countries.