There are so many stunning places to visit in Hawaii. These are some of the cutest and most charming small towns in Hawaii – including our picks from all islands!
Did we miss any Hawaii small towns that should be on this list? Let us know in the comments if so! Thanks!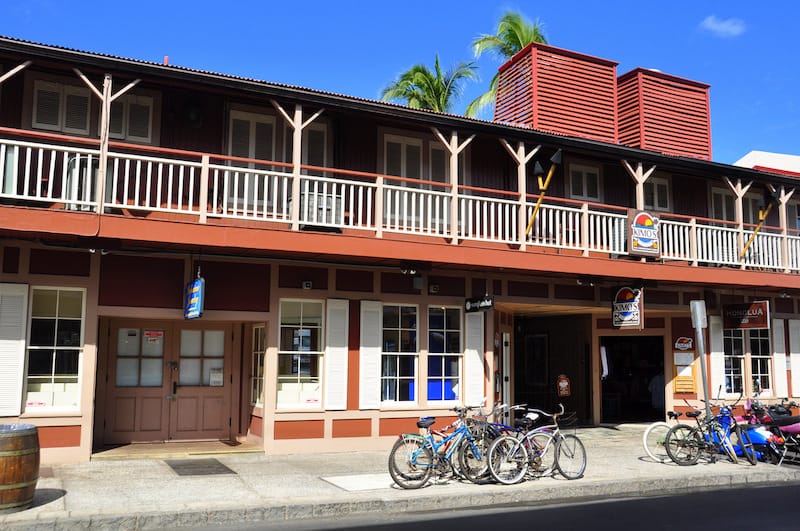 Best Small Towns in Hawaii
Hana
Location: Maui
If you are keen to discover the taste of unspoiled Hawaiian beauty, then the gorgeous Hana should be on your Maui bucket list.
Nestled on Maui's rugged eastern coastline, many refer to this small town as the "real Hawaii" due to its superabundant natural attractions.
The journey to Hana is just as exciting as the destination itself! You will drive the Road to Hana, one of Maui's main attractions, which will take you through lush forests, dramatic seascapes, and stunning waterfalls on the way.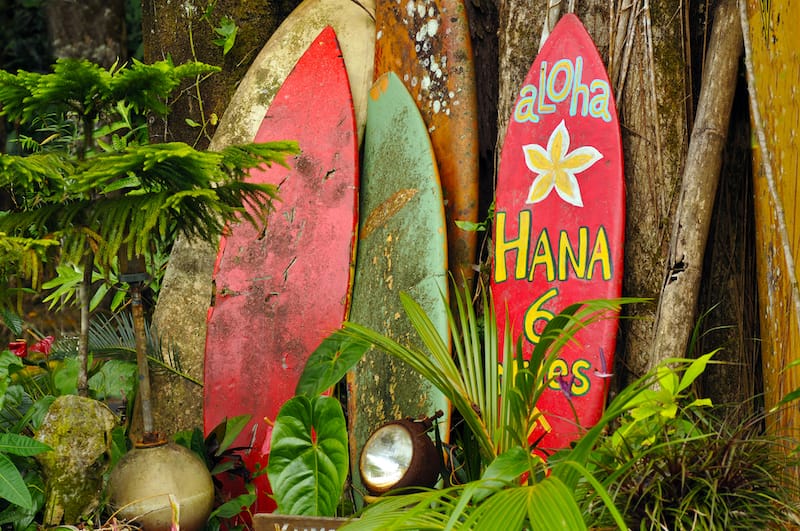 At the end of the road, the historic St. Sophia's Church welcomes you to Hana.
buffs and everyone curious about exploring Hawaii's unique culture and history will love visiting the Hana Cultural Center and Museum, where you will find plenty of educational displays and one-of-a-kind artifacts.
Water junkies can explore the life beneath the waves while snorkeling in Hana Bay, one of the best beaches in Maui.
Sunbath on the jet-black sandy beaches of Waianapanapa State Park, or take a relaxing dip in serene waters and sunbathe on golden sandy beaches of Hana Beach Park or Hamoa Beach.
Hawi
Location: Big Island
Nestled on the slopes of Kohala Mountain, on the verdant northern edge of the Big Island, charming Hawi will amaze you with its peaceful setting, rich history, eclectic community, and quaint island life.
Once serving as the main hub of the now-defunct Kohala Sugar Mill, Hawi is now a popular tourist destination where you will certainly enjoy the authentic vibe of Hawaii's most eccentric town.
Get a taste of Hawaii's exotic locally grown produce in Hawi Farmers Market, where 200 vendors from North Kohala, Waimea, Kona, Waikoloa, Kau, and Hamakua offer you an abundance of fresh treats for the road or authentic crafts to choose for your loved ones.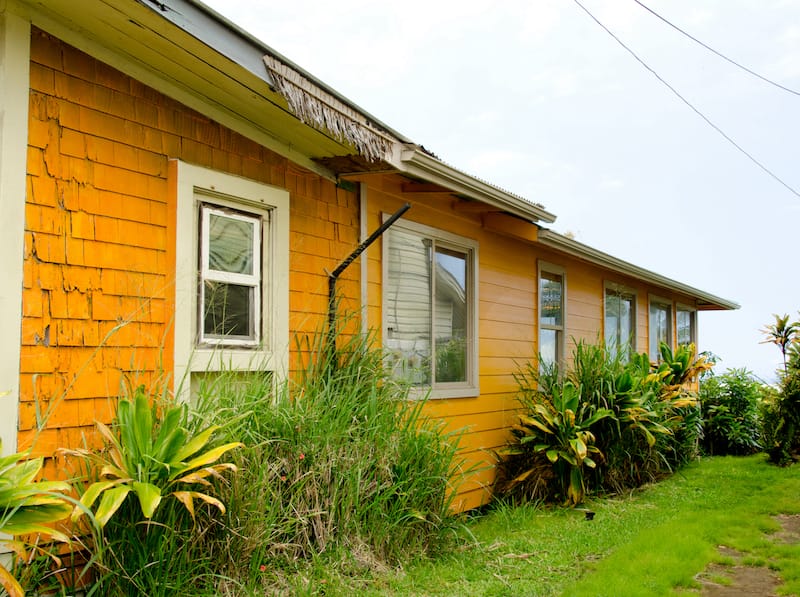 For a great dose of creativity, stroll through Tiffany's Art Agency, where you will discover the unique local art.
Dine like a local and try Hawaii's 'ono grinds (delicious Hawaiian food) in the historic Bamboo Restaurant & Gallery, which is famous for its fresh island-style meals.
Grab a 100% Kona coffee from Kohala Coffee Mill and round off your day shopping for extraordinary local items it take home as souvenirs!
Naalehu
Location: Big Island
Despite being a much smaller and lesser-known alternative compared to its neighbors, stunning Naalehu will ensure you an unforgettable experience.
Take a dip in aquamarine waters, watch cliff jumpers leap from towering cliffs, or just settle in and get ready to take in the mesmerizing sunset views in South Point Park.
Sunbathing on one of the world's four green sand beaches, Papakolea Green Sand Beach, is a truly unparalleled experience that will make you want to revisit Naalehu over and over!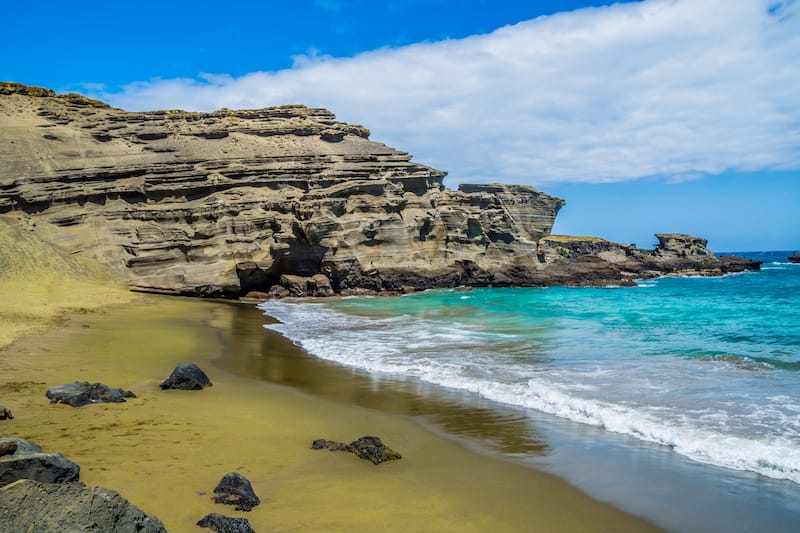 Another must-visit beach in Naalehu is definitely Punaluu Black Sand Beach, the largest beach featuring jet black sand in Hawaii, which offers a swimmable beach, sea turtles, and plenty of palm trees.
Adrenaline seekers will love South Point Cliff Dive for its cliff diving opportunities, but be aware that only looking at the water from the top is as heart-pumping as the jumping itself!
Witness some of nature's breathtaking wonders by driving around the crater of two active volcanoes in Hawaii Volcanoes National Park, where you will learn more about the crucial role of volcanoes in the culture of ancient Hawaiians.
Haleiwa
Location: Oahu
Besides serving as the North Shore's main artistic and social center, historic Haleiwa located on Oahu will ensure you experience its chill surf town vibes.
A renowned surfer's paradise, Haleiwa grants access to everyone, from beginners to advanced surfers, to ride the waves in the surfing capital of the world!
If you have swimming in the base of the waterfall on your bucket list, then you can certainly cross it off after visiting Haleiwa and swimming under stunning Waimea Falls, one of the most famous Oahu waterfalls!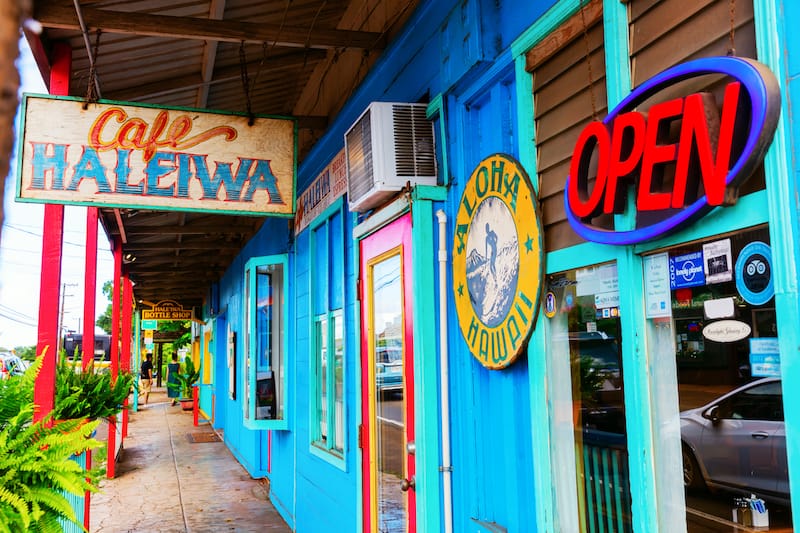 Visit a Macadamia Nut Farm to get some yummies for the road or fuel up in Shrimp Trunk before hitting the stunning Waimea Bay, Ehukai, and Sunset Beach.
Your trip won't be complete without visiting the Haleiwa Art Gallery to admire the masterpieces of the island's artists. This Oahu small town also offers horse-riding, stand-up paddleboarding, diving, ziplining, and much more to guarantee you get the most out of your visit.
Honokaa
Location: Big Island
Don't let the words "small and lesser-known" describing charming Honokaa fool you. It is one of Big Island's vibrant places, where you will definitely find an entertaining spot in every corner.
Stroll along Mamane Street, Honokaa's most lively street, to find plenty of gift shops, restaurants, and local boutiques that will make you spend hours on this bustling street.
Travel back in time to the 1930s while in the historic Honokaa People's Theater, which now serves as a cozy venue for the community, or browse through Taro Gifts shop filled with unique Hawaii-made goods which will allow you to bring back a piece of Hawaii with you.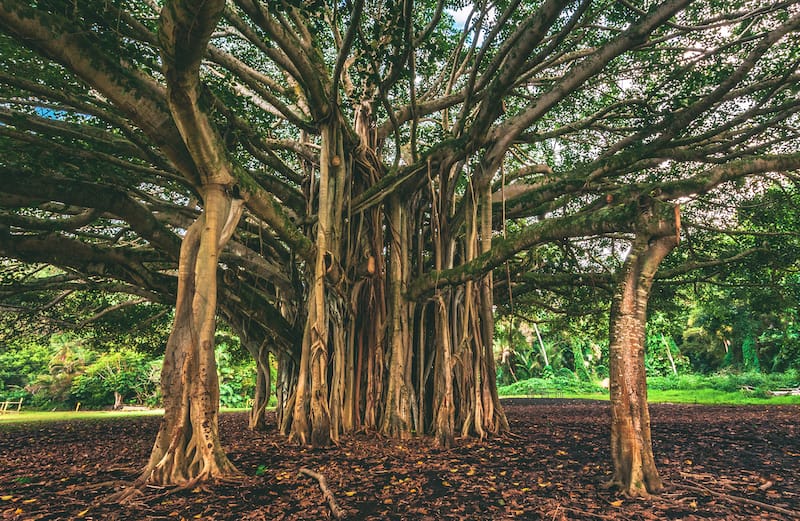 While driving on Honokaa-Waipio Road, be sure not to miss the dramatic scenery of the Waipio Valley Lookout that will provide you with hypnotic views of towering cliffs, lush paradise, and the mesmerizing Hiilawe Falls.
Taste Hawaii's exotic fresh produce at the Hamakua Harvest Farmers' Market or make some impulse purchases at the Honokaa Trading Co.
Hanalei
Location: Kauai
If you are up for discovering towns that are rich in history and timeless beauty, then the stunning Hanalei nestled on Kauai's north shore should be your first stop.
When in Hanalei, you will find yourself completely surrounded by unspoiled, rugged beauty. A two-mile stretch of Hanalei Bay's golden sandy beach offers three stunning beach parks, which should not be missed if you are eager to witness true Hawaiian paradise.
Limahuli Garden and Preserve is a real tropical dream, where 17 acres of land offer you the chance to discover rare species of tropical plants at every turn (and a place that should be on every Kauai itinerary).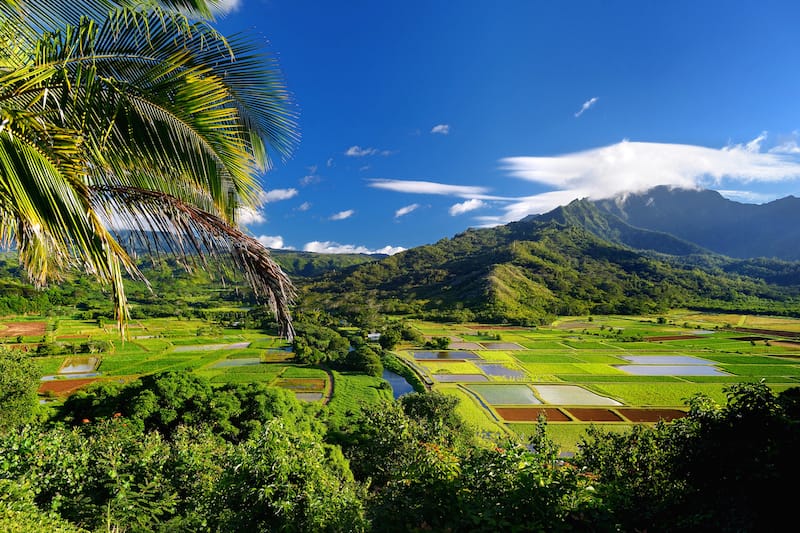 Step back in time into Kauai's history at the Waioli Mission House or browse through contemporary art galleries to admire the authentic Kauai art made from native Hawaiian woods.
For taking in postcard-perfect views of lush taro fields in 50 shades of emerald, you need to get to the Hanalei Valley Lookout. For experiencing a real Hanalei hospitality vibe, book a room at Hanalei Colony Resort or The Palmwood.
Lahaina
Location: Maui
Once the capital of the Hawaiian Kingdom, the historic town of Lahaina has now become a popular tourist destination on Maui.
Stroll along Lahaina Historic Trail to witness some of the historic and must-visit spots the city has to offer, such as Hale Paahao (Lahaina Prison), Maui's oldest living banyan tree, the U.S. Seamen's Hospital, and many other interesting sights.
Sleep under a starry sky with the relaxing sound of the crashing waves while camping on the beach with Camp Maui-X. Visit the Baldwin Home Museum to admire Lahaina's oldest house, take a guided hiking tour with Hike Maui, or dive 100 feet down with Atlantis Submarine to discover mysterious marine life.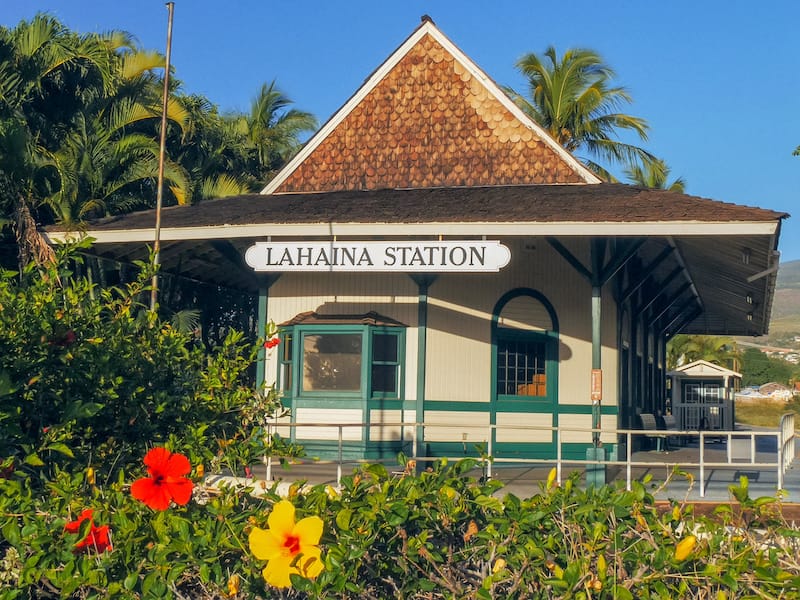 Level up your dining experience and get a taste of local cuisines at Mala Grill, one of Lahaina's beachfront fine dining restaurants.
There is something to enjoy in Lahaina every season, so get ready to spot humpback whales while sailing from Lahaina Harbor during the winter months, which also offers snorkeling off the coast and dinner cruises in summer.
Lahaina is a great place to base yourself if you want to explore some of Maui's breathtaking state parks.
Lanai City
Location: Lanai
Lanai City, located in the heart of Lanai Island, will be your first stop after landing on the island due to its proximity to the Lanai Airport (3 miles away).
Once serving as a plantation town known for its booming pineapple industry, it has since become a favorite tourist destination with its history, culture, and entertainment spots.
Delve into Lanai's unique cultural history at the Lanai Culture and Heritage Center, or marvel at the unique pieces of art at the Lanai Art Center, which also allows you to buy your favorite masterpiece crafted by local artists.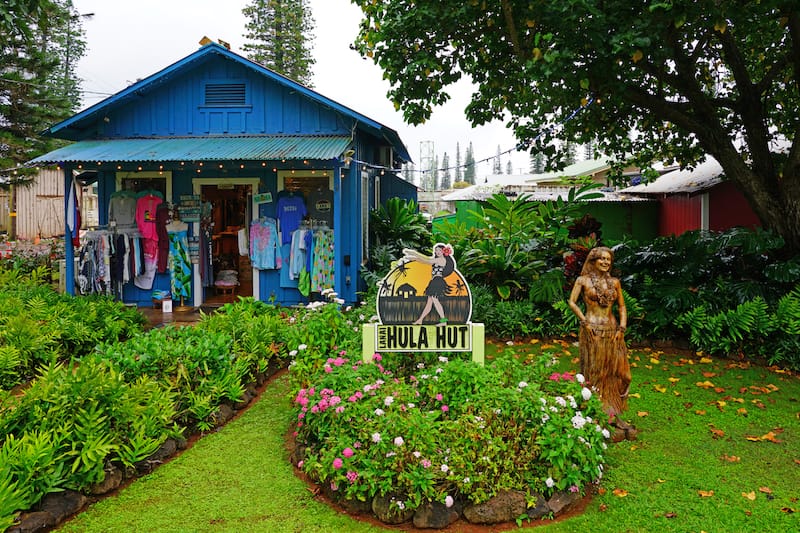 Get a true sense of Lanai hospitality while staying at one of the island's 'two giants', the Four Seasons at Manele Bay or the Four Seasons Lodge at Koele. It is close to some of the island's most beautiful beaches.
Caffeine junkies will enjoy trying Coffee Works' signature coffee made from local Hawaiian beans. Round off your day by enjoying a must-watch movie with your loved one at Hale Keaka, Lanai's only movie theater.
Koloa
Location: Kauai
Koloa is a gorgeous Hawaiian town, which will definitely amaze you with its historical sites and rich past. Stroll along the charming Koloa Road to admire old-fashioned storefronts and local gift shops that now occupy the repurposed plantation buildings.
Dig deep into Koloa's rich heritage at the Koloa History Center or explore the area's geological, cultural, and historical sites up close while hiking, biking, and driving on the Koloa Heritage Trail.
The latter will grant you access to admire the spectacular Spouting Horn geyser, Keoneloa Bay's archaeological sites, the ancient walled temple of Kihahouna Heiau, the Puuwanawana Volcanic Cone, etc.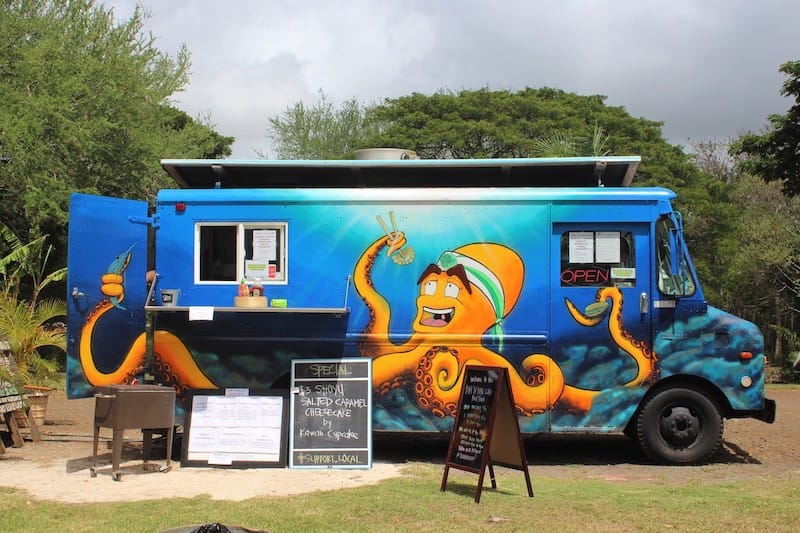 After a hot summer day at Poipu Beach, cool down while getting a real taste of the island's fresh ice cream at Lappert's Ice Cream Store and enjoy one of three Hawaiian-inspired flavors under the shade of the massive monkeypod trees.
Make sure not to miss the Koloa Plantation Days Celebration, a famous summer event organized in July, to further learn about the history of the island and its people.
Koloa is a great place to stay on the island if you're looking to explore the beautiful state parks on Kauai.
Kaunakakai
Location: Molokai
Get a real taste of Hawaii's simplistic lifestyle while enjoying the unchanged feel of the 1900s in the tranquil small town of Kaunakakai.
Nestled on Molokai's south shore, you won't find any traffic lights or big chain stores on the streets; however, small shops selling groceries and everyday items make this town the real shopping hub of the island.
Explore 19th-century churches while strolling along "Church Row," where you will find seven missionary-style small churches, or visit Kaunakakai Harbor to admire the local fishermans' favorite spot.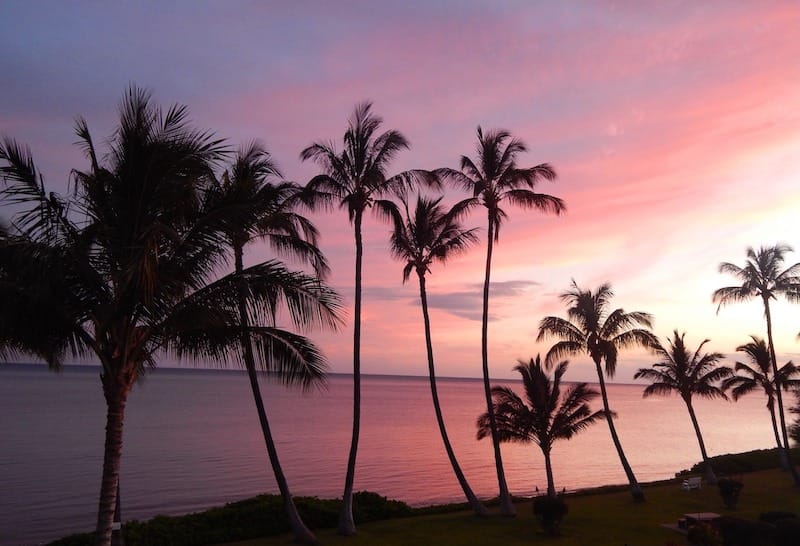 People who appreciate the deliciousness of simple-made, fresh bread need to visit Kanemitsu's Bakery, where their famous onion-and-cheese bread makes locals and tourists line up for hours to get their hands on one of their piping-hot loaves of fresh bread.
Kaunakakai also offers plenty of boutiques, eateries, and shops, such as the Friendly Market, Imamura's Store, Outpost Natural Foods, Pascua's General Store, and Molokai Pizza Café, which will certainly keep you busy for hours.
This is one of the best small towns in Hawaii and definitely on Molokai!
Kapa'a
Location: Kauai
If you want to combine a peaceful vacation with some good shopping, then Kapa'a should be on your list of must-visit destinations. Nestled north of Wailua, stunning Kapaa Town is an absolute paradise for shopaholics.
Kinipopo Shopping Village and Wailua Shopping Plaza are the main spots where tourists and locals alike go shopping and local dining.
Water adventures also await you in the Village, as it offers a water sports shop, where you can either rent or purchase your favorite water equipment and head to riding the waves at the nearby beach.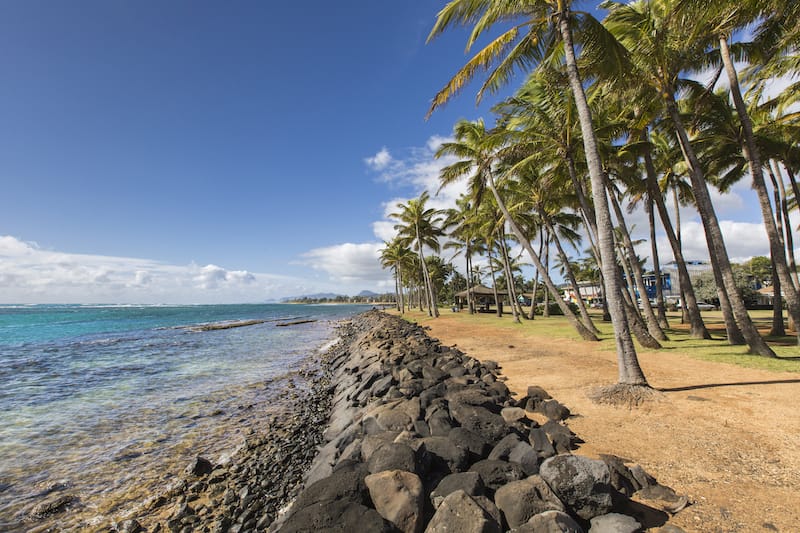 Book a stay at the Aston Aloha Beach Hotel, where Hawaiian-style rooms and service will make you appreciate the true spirit of the city's hospitality.
Party animals can enjoy island-style fun in Hukilau Lanai Restaurant, a famous location known for its delicious meals. Discover the area's local flora in Smith's Tropical Paradise or go pick out an authentic souvenir at the Coconut Marketplace.
Paia
Location: Maui
Once serving as a booming plantation town, the historic Paia is nestled on Maui's north coast and is a colorful and vibrant town filled with old-west style buildings, restaurants, art galleries, and eclectic shopping boutiques.
Head to Hookipa Beach during winter months to witness pro windsurfers and kite surfers showing off their skills riding the big waves or visit during summer months to take a dip in calm waters and sunbathe on a golden sandy beach.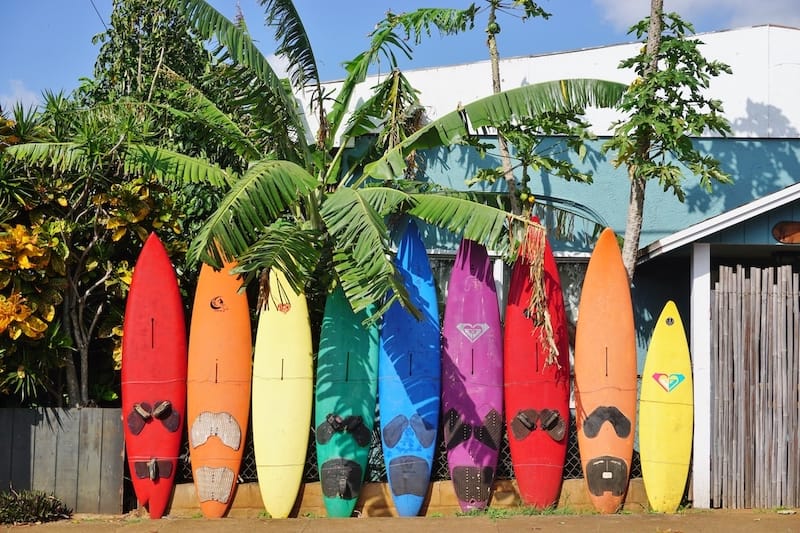 Grab a Hawaiian treat at Mana Foods, the island's best natural foods store, where you will find locals and tourists shopping and socializing.
The Maui town also offers another family-friendly destination, Baldwin Beach Park, which is a perfect spot to chill out with the kids for a relaxed vibe.
After spending a day exploring the town, grab a fresh fish burger at the Paia Fishmarket or enjoy a gourmet pizza at Flatbread Pizza.
Kalapana
Location: Big Island
If you are keen to witness the real-life evidence of nature's destructive power, then you need to add Kalapana to your Big Island bucket list for once-in-a-lifetime views.
Nestled in the Puna District, once a local fisherman's favorite village and a historic residential area, it now has turned into a sea of jagged black lava.
A thick layer of lava swallowed all of the sacred places, neighborhoods, schools, and Kaimu's famous black sand beach in 1990, and fortunately, no human lives were lost.
Legends claim that this natural disaster was done by the hands of Pele, Hawaii's volcanic goddess, with the primary aim to destroy Hawaii's oldest heiau (temple).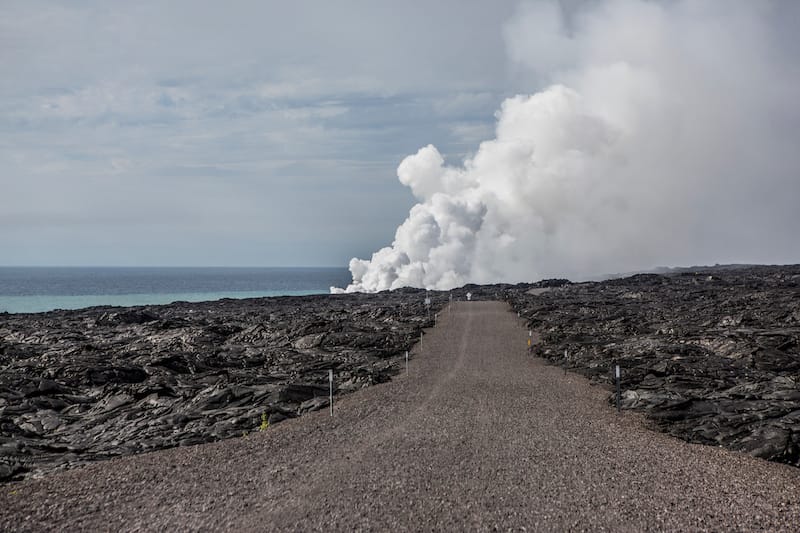 The town now serves as a volcano-viewing site, where a round-trip 6-mile hike will lead you to the viewing point at the end of Highway 130 in Puna.
But be aware that in case you decide to explore the area on foot, you must obey all the warning signs, be respectful of the Hawaiian culture, avoid throwing things or poking the lava with sticks, and for safety reasons stay in permitted areas.
One cool thing to note about Kalapana is that small businesses and places are starting to re-emerge there! When I visited years ago, I did see some people trying to resettle in the area.
Makawao
Location: Maui
One of the best small towns in Maui is Makawao, a town located on Haleakala's northwestern slope It is an essential stop on any Maui itinerary (if visiting the upcountry).
The town has just over 7,000 residents and is known for its agriculture and ruralness. Located nearby is the beautiful Makawao Forest Reserve.
While there is not an overabundance of things to do in Makawao, there is enough to keep one occupied and it is definitely worth visiting.
Be sure to check out the Hui No'eau Visual Arts Center, an area located on a historic estate that offers exhibits and interactive programs.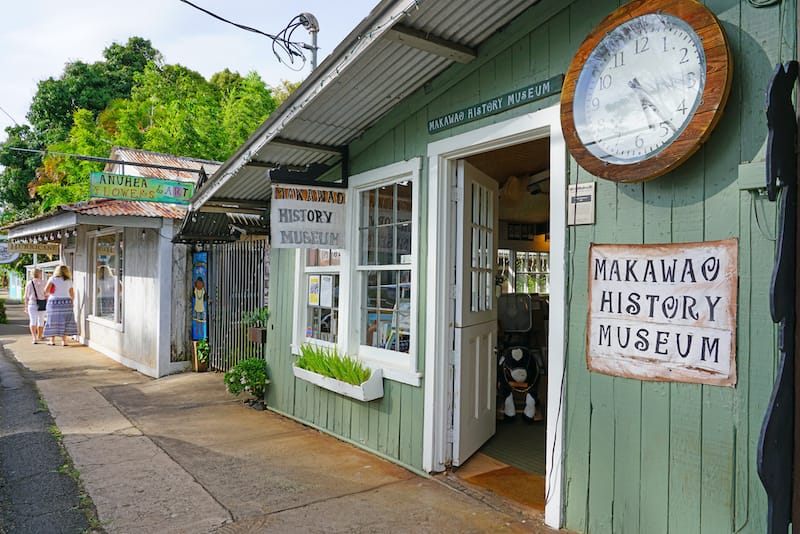 Not too far away is also the beautiful Sacred Garden of Maliko (a Buddhist garden).
Down on Baldwin Avenue in the town, you will find places like the Viewpoints Gallery, Hot Island Glass, and Sherri Reeve Gallery & Gifts to keep your creative side entertained and excited.
On Makawao Avenue, there is also the Makawao Park Eddie Tam Center, one of the best sports facilities on Maui, and the Makawao Hongwanji Buddhist Temple.
What are the best small towns in Hawaii in your opinion? Let us know in the comments!
Pin this Hawaii Small Towns Guide