What better way to spend your vacation in Hawaii than checking out the beautiful sea turtles in Maui?
Are you planning your trip to Maui last minute?
If you're traveling to Maui last minute, you want to ensure you have your sea turtle tour booked ahead of time!
Best sea turtle tours in Maui:
Traveling to Maui independently? Be sure to book your rental car ahead of time to ensure availability!
You can see green sea turtles at any time of the year in Maui, which is sure to make your vacation all the more special. They'll be on the beach sunning themselves or swimming around the waters of the island.
Just being able to see them and swim with them will make your trip to Maui even more unforgettable!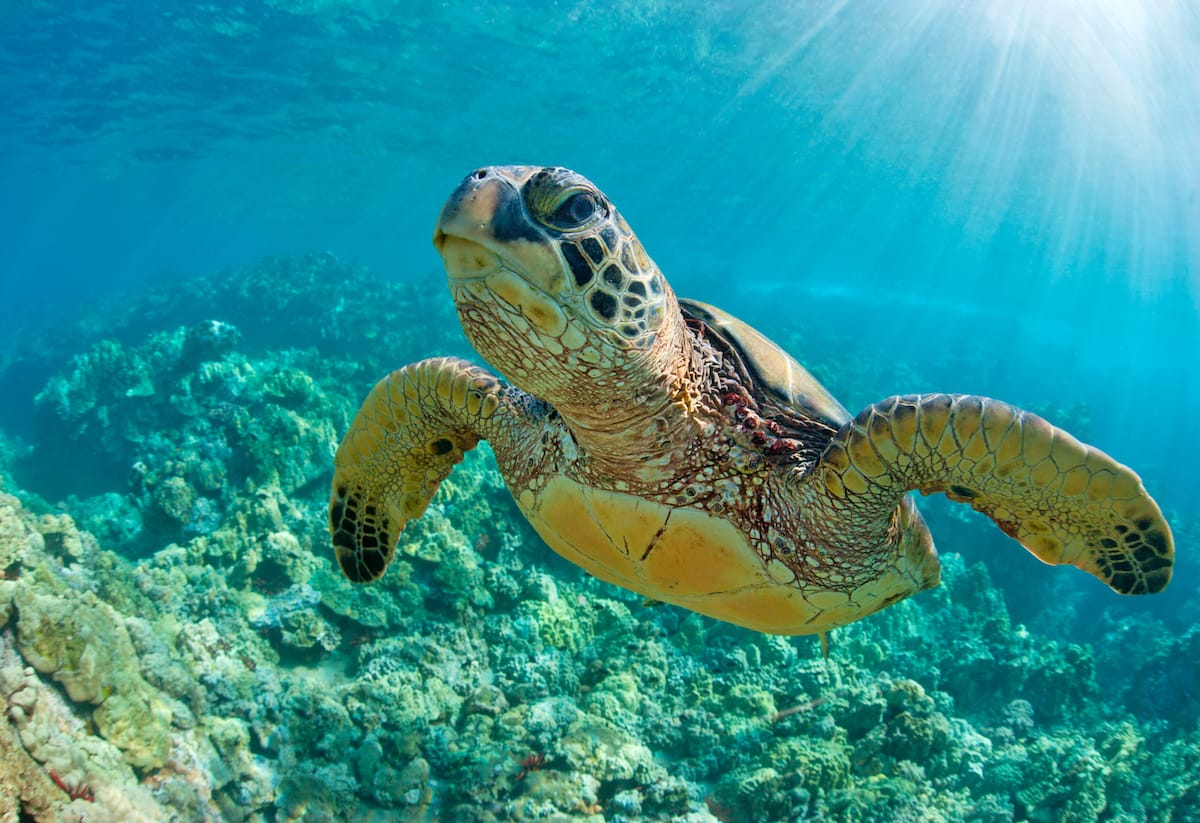 If you want to learn more about how to experience these majestic creatures in Maui, you've come to the right place!
We've compiled a list of all the important information (and tours!) you should consider if you want to see sea turtles in Maui.
UPDATE 8/10/2023:
We currently discourage traveling to Lahaina due to the recent wildfires. The island's hotels and lodging do NOT have the capacity to accommodate both displaced locals AND tourists. Donations are graciously welcome and you can do so by visiting here. We will update our content on the site in due time. Mahalo.
What Types of Sea Turtles Live off of Maui
Maui sea turtles have been around the island for nearly 150 million years and are one of the main attractions for divers and snorkelers.
There are five different species of turtles in Maui, namely the Green sea turtle (Honu), Olive Ridleys, Hawksbill, Leatherbacks, and Loggerheads.
Tips for Ethically Seeing Sea Turtles in Maui
When it comes to viewing turtles, always do so from a distance to avoid disrupting their routine.
Also, while at it, ensure that you avoid littering or using non-reusable plastics during your stay on the island as it can cause serious health issues for the turtles when ingested.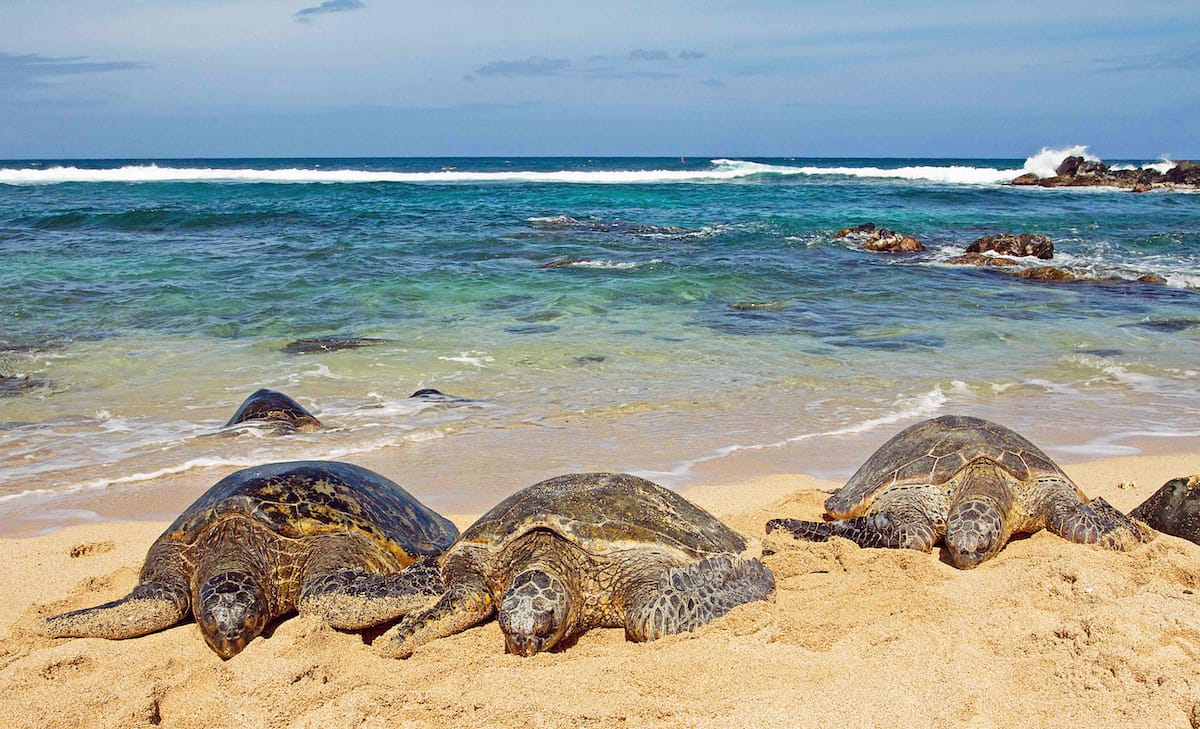 Lastly, avoid touching or feeding the turtles whenever you're around them or happen to see them.
Top Maui Sea Turtles Tour Options
One of the best ways to see sea turtles in Maui is by taking a tour! These tours are all top-rated excursions and will allow you to view sea turtles in an ethical setting in Maui.
Places to Find Sea Turtles on Maui
Turtles are known to spend most of their time in the sea since they feed and sleep in the water. However, occasionally they come to shore when nesting or sunbathing during the summers when the waves are calmer.
Although there are a few beaches in Maui where you can see turtles in their natural habitat on land, the ocean is the best habitat to view them in.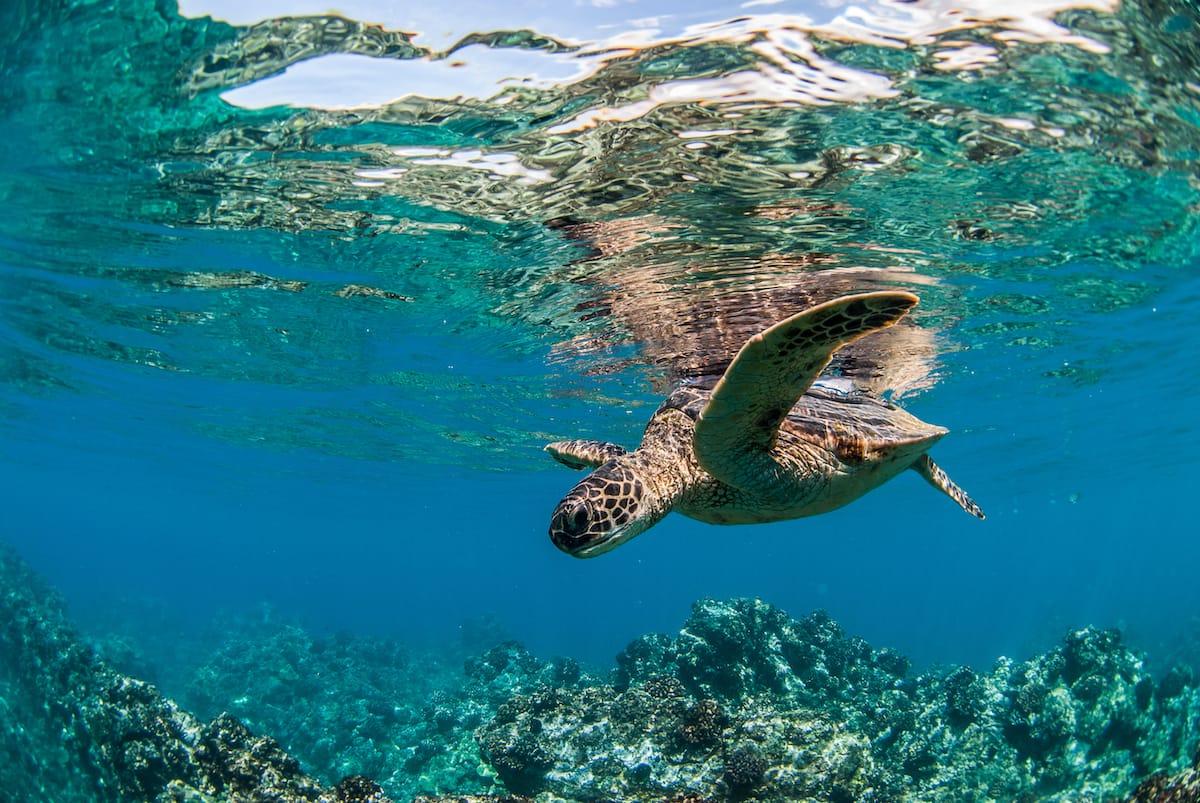 Below, we have listed a few of the top places to see sea turtles in Maui.
Turtle Town
Turtle Town is a popular sea turtle spot on Maui. It spans from Nahuna Point to the Black Sand Beach, commonly referred to as Maluaka Beach.
Turtle Town is famous for its high Hawaiian Green sea turtle population and is one of the best locations to snorkel on Maui with fewer crowds.
The snorkeling tours in Turtle Town can typically be booked online (beforehand!). However, for a self-guided tour, head south towards Kihei, then proceed 10 miles further south.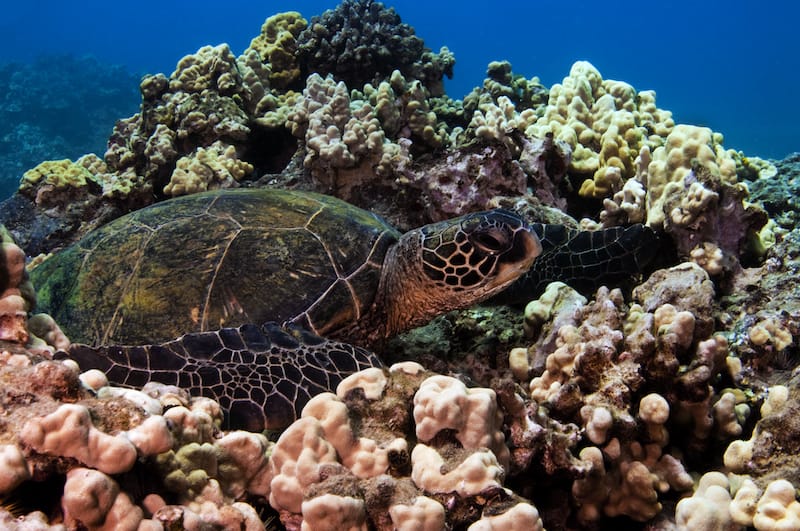 Turtle Town has calm, clear blue waters that attract both amateur and professional divers and snorkelers. To spot a considerable number of turtles, walk along the beach towards where the coral reef begins.
Alternatively, travelers can go fishing, swimming, or boating. If you want a one-of-a-kind experience with marine life and scenic sandy beaches, Turtle Town is the place to visit on Maui!
Honolua Bay
Honolua Bay is a great sea turtle destination in Maui. Accessing the bay entails walking along the tropical scenic trail to reach the turtles' waters. Honolua Bay is also among the top one-hundred surf locations globally.
It's highly advised to snorkel when the surfers aren't around if you want better water visibility, which is of paramount importance if you're keen to view sea turtles.
Poor visibility not only hinders your view of the sea turtles but also makes you oblivious to imminent danger from other predator marine animals. Always ask at the local snorkel shop whether the season is favorable or not.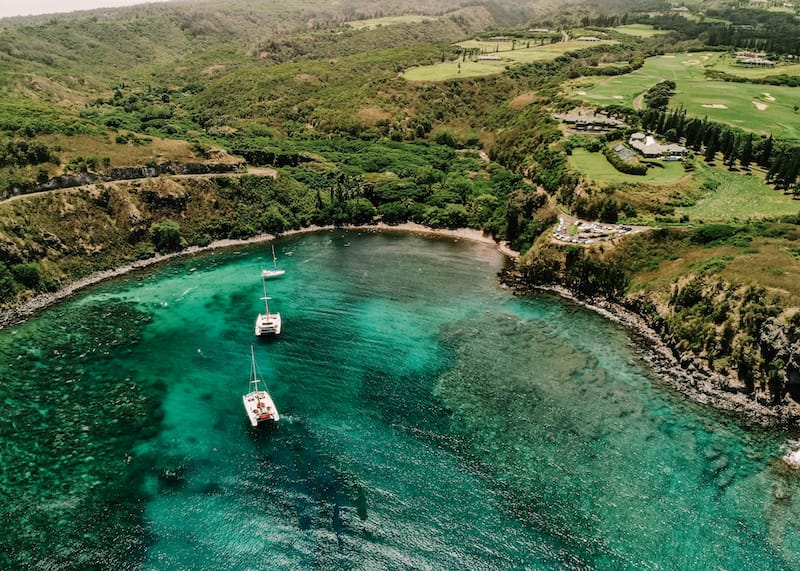 Alternatively, check the beach to see if there are any surfing activities happening at the time of your visit.
Summertime, when the water is clear and calm, is typically the best time to snorkel if you want to see the turtles. You'll often find sea turtles swimming around the reefs as others bask on the shore.
Black Rock Beach
Black Rock Beach was formed at the end of the Ice Age, and it has tree skeletons and incredible geological wonders. It is a scenic destination and photographer's paradise… making it one of the top places to visit in Maui.
Located on the sandy north end of Ka'anapali Beach in Lahaina, Black Rock is a small beach with a big reputation for having sea turtles and other marine animals.
This beach is an ideal snorkeling destination and home to one of the heaviest (and most famous!) sea turtles in Maui—weighing nearly 300 pounds!
Black Rock Beach is open to the public all year round and is an amazing place to swim in Hawaii's deep waters away from the beach.
Ho'okipa
Ho'okipa Beach is a scenic destination that's famous for windsurfing. It has incredible waves that break through reefs and across the bay area.
On the other hand, this beach located on the North Shore of Maui is also an excellent destination where you'll find various turtle breeds, making it one of the most famous places to see the island's sea turtles.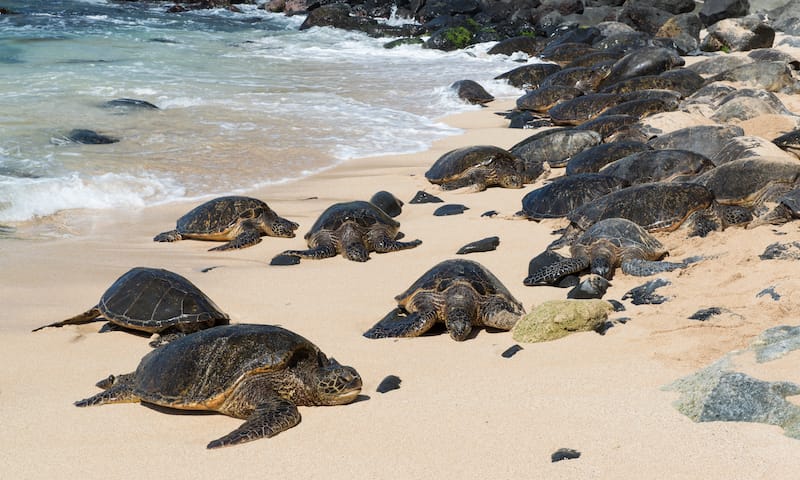 You can witness these spectacular sea creatures in groups by the seashore around sunset, usually… so plan ahead!
Olowalu Reef
This particular reef is home to a unique ocean reef system in Hawaii and is an amazing destination for enjoying many water activities.
There is an abundance of tropical marine life with large coral heads that are over a hundred years old, which is one of the main attractions in the area.
Olowalu Reef is a great destination where you'll find a nursery for blacktip reef sharks and a manta ray cleaning station. This particular reef is also an amazing sea turtle destination that is ideal for snorkeling.
You'll often witness green sea turtles swimming in crystal clear waters along the reef. Olowalu Reef is also an excellent spot for amateur divers and snorkelers since the water is shallow and calm.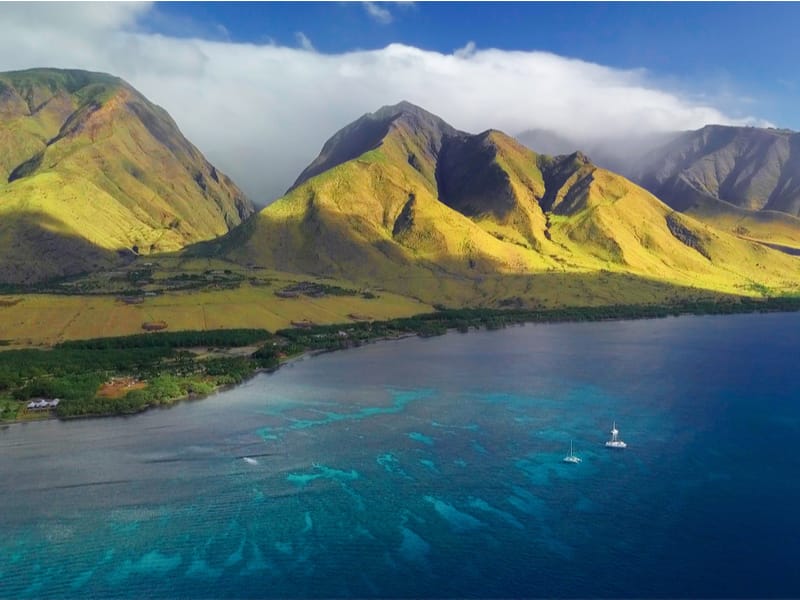 The reef is a fantastic location to view sea turtles for everyone from kids to adults. Alternatively, you can sail on a boat away from shore to another diving location if you want a different Maui sea turtle spot.
Ulua Beach
This particular beach is ideal for swimming, diving, and snorkeling. Ulua Beach has two scenic white sandy stretches that are separated by a bridge of rocks.
The Maui beach is both a family and dog-friendly destination. There is a shopping center nearby, making it more convenient for tourists and a place where you can spend an entire day.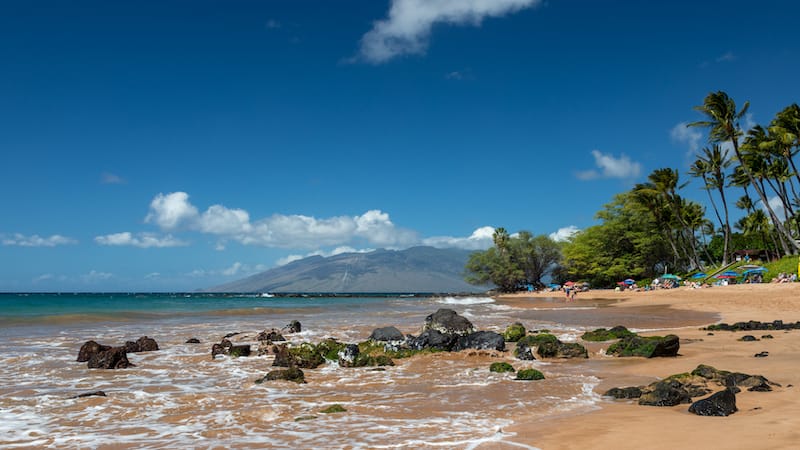 Ulua Beach is a popular tourist spot and those visiting are advised to arrive early in the morning to avoid any parking issues. The beach has clear and calm waters, making it the perfect spot for amateur sea turtle spotting!
Island of Lanai
The island of Lanai (Maui County) was formed through volcanic eruptions of the now-extinct Lanaihale Volcano. Lanai is the sixth-largest island in Hawaii, covering 140 square miles.
This particular island is a remote location that is a great place for swimming and witnessing spinner dolphins and even migrating humpback whales during winter or in early spring.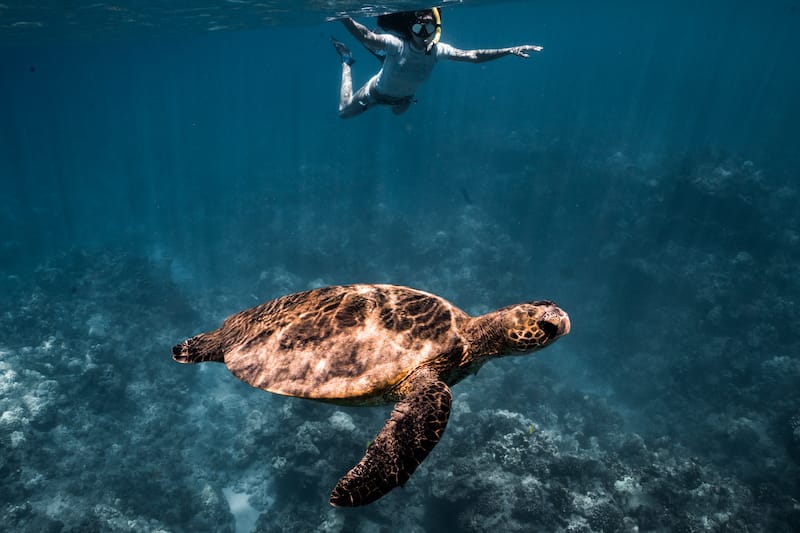 The island of Lanai is also a great destination to snorkel with turtles off of Maui. To find the perfect place to see sea turtles in Lanai, you'll have to take a half-hour boat ride from Lahaina, roughly 8 miles on the coast of Lanai.
There are usually plenty of snorkel spots to choose from, although the most popular one is Club Lanai, a former tourist day club.
The reef along this particular destination is teeming with aquatic animals and various turtle species.
Coral Gardens
Coral Gardens is another favorite sea turtle destination in Maui. It is situated on a small islet east of Maui, directly across from the Marara Beach Resort.
This destination is filled with plenty of coral reefs that are only accessible by boat and it is, again, one of Maui's top snorkeling spots!
The waters are beginner-friendly and suitable for all ages. The bay where the turtles are found is located in a fantastic area for harboring a lot of sea life. In other words, it's well protected from the wind blowing off of the mountains.
The water there is also shallow enough that it allows sunlight to penetrate and enhance the visibility underneath. There are numerous marine animals to view besides the gliding Hawaiian Green sea turtles and the angelfish.
Five Caves
Five Caves is a snorkeler's paradise and among the most popular tourist destinations in Maui. It has lava formations and marine animals such as sea turtles, pufferfish, whitetip reef sharks, and even the ultra-rare Flame Angelfish.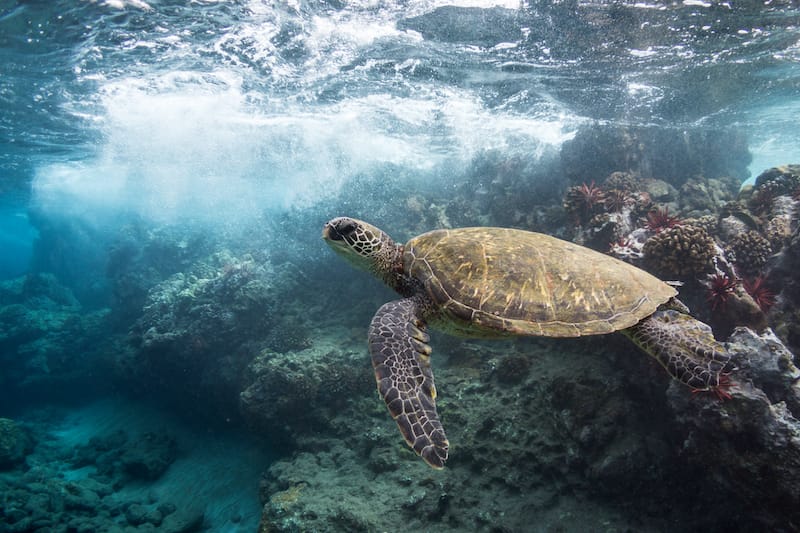 The Five Caves are accessible by diving long distances, so it is not recommended for amateur scuba divers!
Wailea and Kihei
This scenic area is renowned for its crescent-shaped beaches with amazing sunset views and plenty of luxurious resorts. You will find some of the best beaches in Kihei so it is definitely worth planning a stop there!
Wailea spans 1,500 acres of land while Kihei covers 6 miles of tropical beaches with lovely views of Molokini, Kahoolawe, west Maui, and Lanai.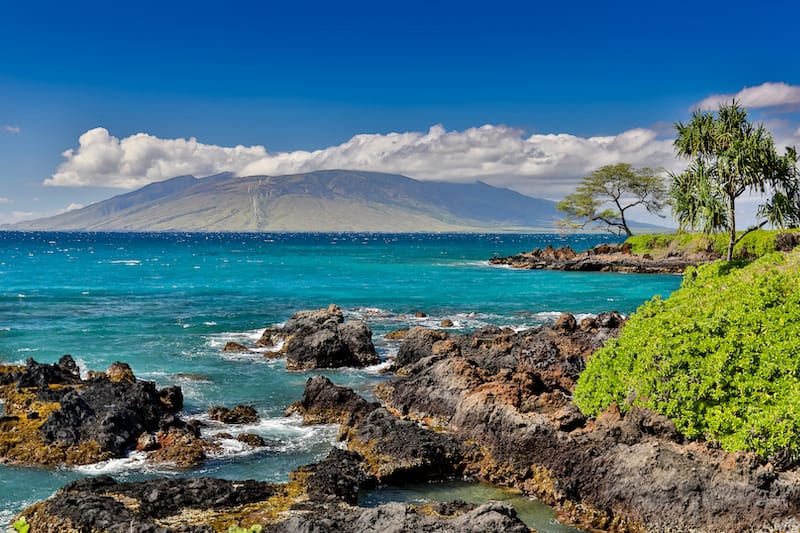 Located on the South Side of Maui, this tropical paradise is brimming with sea turtles and is also a popular tourist destination for those looking to enjoy one of Maui's most relaxed destinations. It is also a great launchpad for Haleakala National Park.
The turtles are typically found on Wailea Beach or along the Kihei coastline and its numerous beaches.
When is the Best Time to See Turtles in Maui?
You can see the sea turtles in Maui at any time of the year!
However, the best time to see sea turtles in Maui is probably in the summer, when the water is warm and calm with plenty of other aquatic creatures to view.
You'll often spot turtles swimming near the seashore or basking on the beaches of Maui. However, it's worth pointing out that loggerheads, leatherbacks, and Olive Ridleys are found in deeper waters.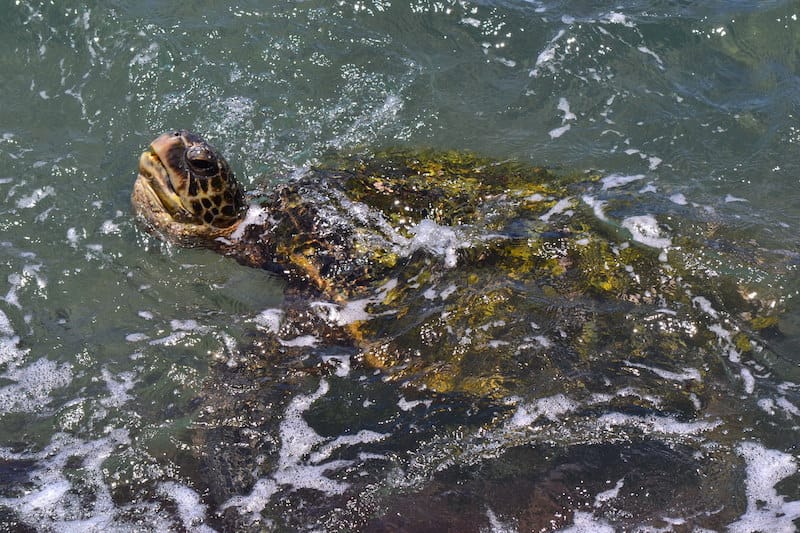 When is the Best Time of the Day to See Turtles?
Sea turtles usually prefer calm water and may come to shore when the weather is sunny and peaceful.
So, the best time of the day to see sea turtles in Maui is between 11 a.m. to 1 p.m.
Have you ever seen sea turtles in Maui? Let us know about your experience as well as any tips you may have in the comments. Thanks!
More Maui Travel Guides
Pin this Maui Sea Turtles Guide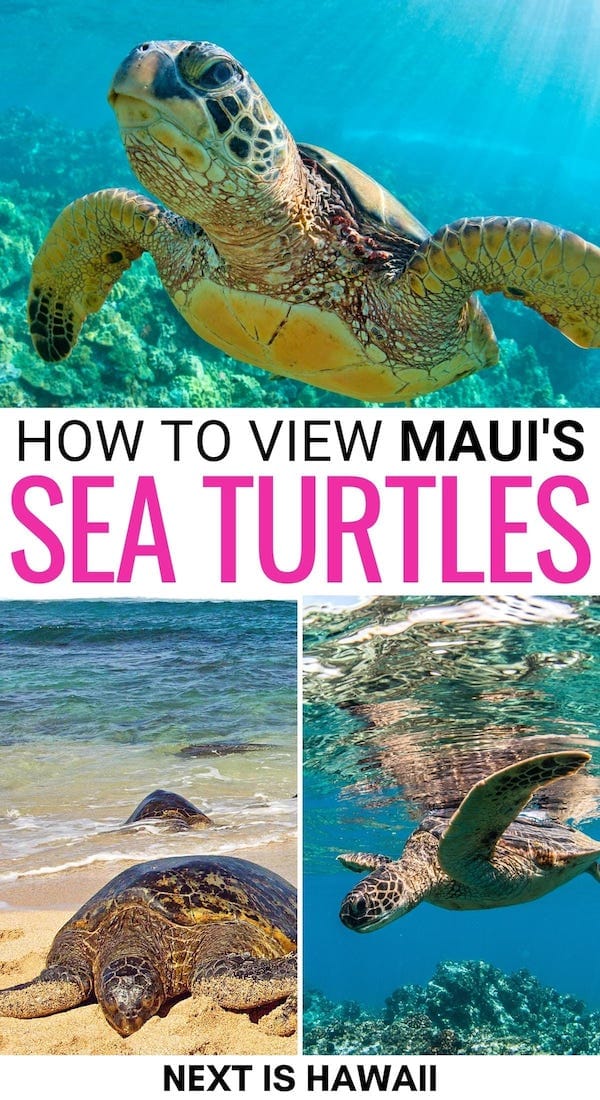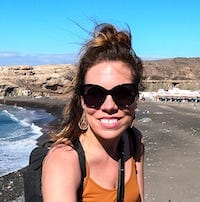 Megan is a travel blogger and writer with a background in digital marketing. Originally from Richmond, VA, she has been traveling frequently to Hawaii for the last 15 years and loves exploring every corner of each Hawaiian island, while trying to promote sustainable travel and small, local businesses along the way. Megan has written for or been featured by National Geographic, Forbes, Lonely Planet, the New York Times, and more. She has co-authored a guidebook with Fodor's Travel and has visited 45 US states and 100+ countries.