Once a popular vacation spot for Hawaiian royals, Kihei is one of the sunniest and driest spots in all of Hawaii. Located at the southwestern end of Maui, you will find some amazing beaches in Kihei (and snorkeling opportunities)!
Are you planning your trip to Kihei last minute?
If you're traveling to Kihei last minute, you want to ensure you have lodging ahead of time! Below are some of our top picks in town!
🌴 Best Tours and Activities in Kihei:
🛌 Best Hotels in Kihei/Wailea:
🚗 Looking for the best way to get around Maui? Click here to check rental car rates for Hawaii!
It is especially popular among tourists for swimming, surfing, kayaking, snorkeling, whale watching, and loads of other activities. You should certainly not miss out on a trip to Kihei, especially if you have children.
Kihei is also home to many hotels, condominiums, and cottages so you can always find an affordable place to stay, and the town is home to plenty of restaurants and clubs for your entertainment.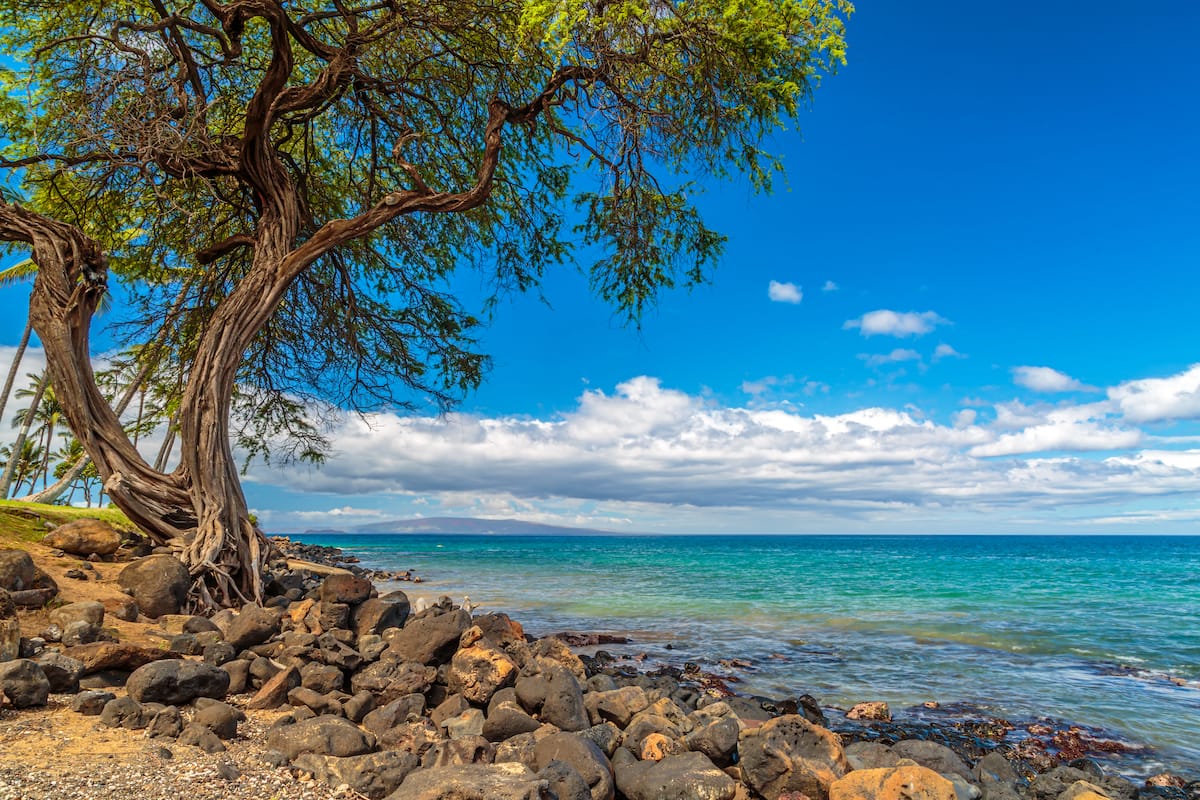 We've rounded up the best beaches in Kihei that you shouldn't skip during your visit to Maui.
Did we miss any beautiful Kihei beaches? Let us know in the comments.
Best Beaches in Kihei (and Nearby!)
1. Sugar Beach
Sugar Beach has the longest stretch of sand on Maui. The long shoreline leaves room for ample activities without being too overcrowded. It also provides gorgeous views of Lanai, Kaho'olawe, and Molokini, the three nearby islands.
Not only is Sugar Beach known for its amazing views, but it is considered to be one of the best beaches in Kihei because of its canoe clubs.
It has two Hawaiian canoe clubs, one of them offering guest paddle programs for visitors.
The beach has shallow, calm water, where visitors can watch whales as they glide gently underneath the surface and, occasionally, jump out to play. Its calm bay is suitable for stand-up paddles and beach shore swimming.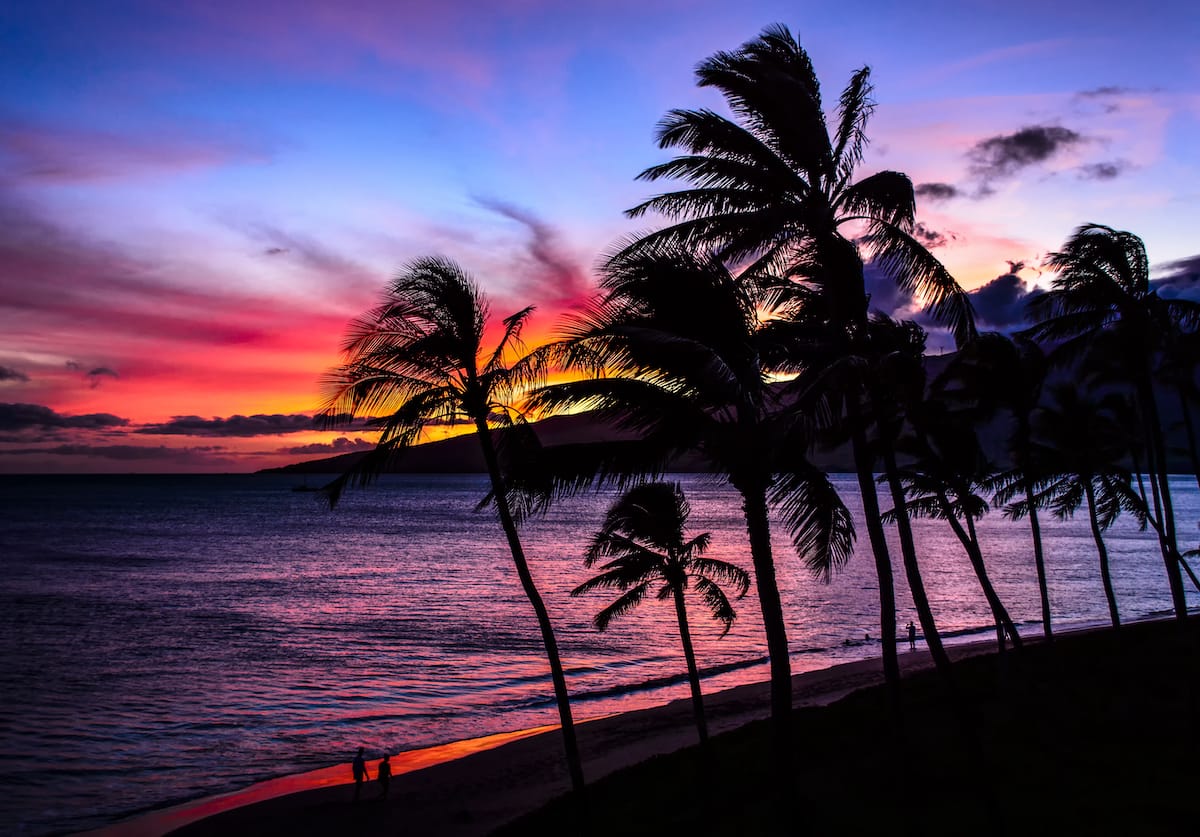 But at North Kihei Road, which is its southernmost end, the beach is littered with underwater rocks and debris, the remnants of a defunct stone wharf. You can be prone to injury if you aren't careful.
The beach also offers simple picnic tables at the Maui Canoe Club. There are no lifeguards available, so visitors who are not strong swimmers have to be careful.
2. Kalepolepo Beach Park
Kalepolepo Beach remains an important cultural and archeological site for the natives of Hawaii.
On South Kihei Road, the beach sits beside the Hawaiian Islands Humpback Whale National Marine Sanctuary. Visitors have the opportunity to see whales during their visit.
Kalepolepo Beach is a favorite in Kihei for its old fishpond. The fishpond, estimated to have been built between 1400 and 1500, was once a leisure spot for royalty.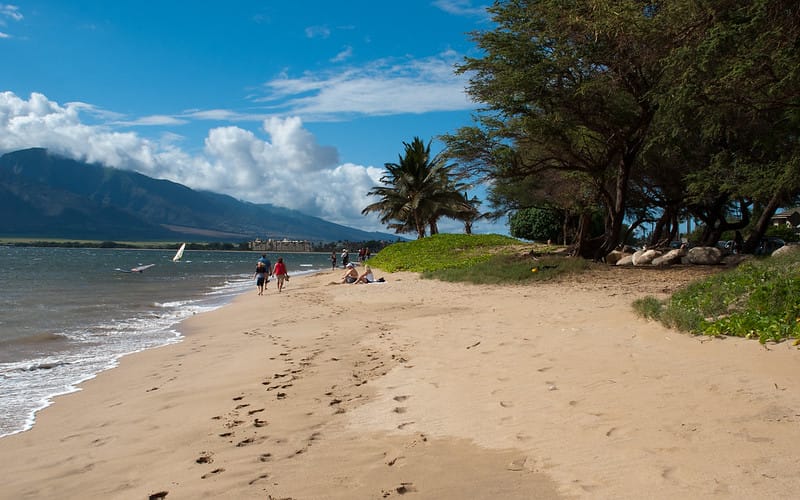 Local volunteers restored it to its former glory and now maintain it for tourists. The pond is fed by natural hot springs that flow just underneath it, leaving the pond always warm.
This was why, in the old days, the pond was covered by royals. It's also a safe and comfortable area for children to swim in.
Around the beach, plaques include educational lessons about the history and culture of the native Hawaiians, so you can learn more about the area's significance.
3. Kamaole I Beach Park
This is the first of three Kamaole beach parks. With nearly 600 yards of shoreline, it is the longest of all three. During WWII, it was used as a training ground for a beach landing, so very few rocks may be found there.
It is one of the most equipped beach parks on Maui Island. It boasts a lifeguard tower, wide parking areas, restrooms, shower stands, picnic tables with barbeque, and a beach volleyball court.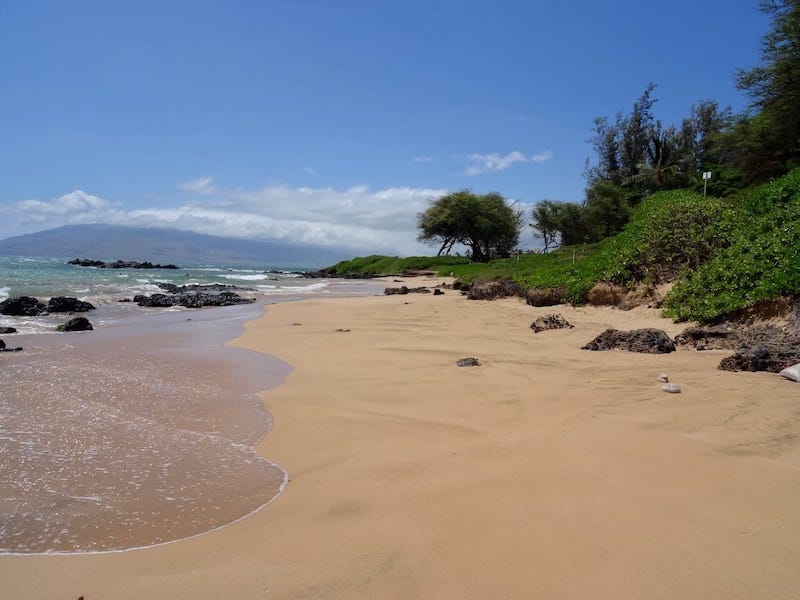 On the far left of the park, there is a lawn above the sand where picnic tables are set, perfect for those who want to eat and watch the ocean from a distance.
On South Kihei Road, just a walking distance from the beach, you can find an array of restaurants and health food stores.
4. Kamaole II Beach Park
The second of three Kamaole beach parks is the most hidden and the smallest. It is located about a half-mile south of Kamaole I and is half the size.
The beach is clear of rocks. It has a gentle slope and a good spot for photos, making it one of the best beaches in Kihei. A lifeguard tower is in the center, and behind the tower is a grassy lawn with picnic tables.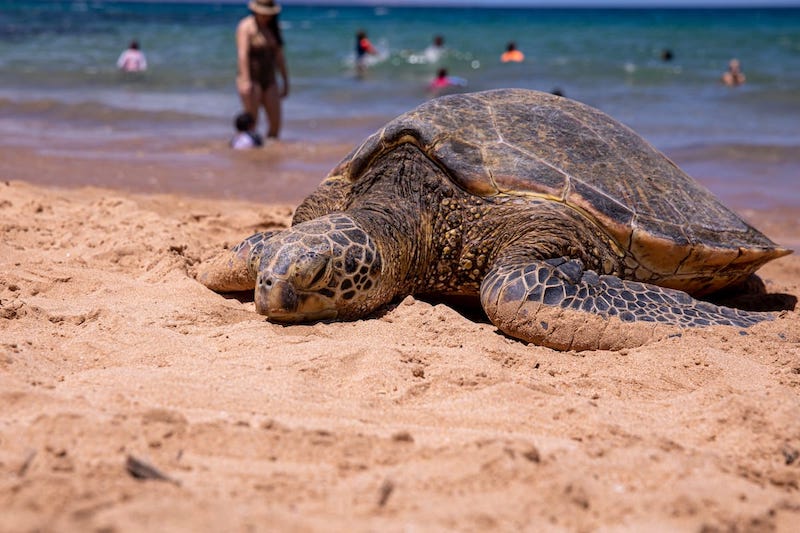 There are showers and restrooms, too. Because of its small general area, its facilities and amenities are also rather small.
Kamaole II has no designated parking lot, so visitors with vehicles have to park by the street on the ocean side of South Kihei Road.
5. Kamaole III Beach Park
The third of the three great Kamaole beach parks is loved for its beautiful atmosphere. The golden shore has clear water and a large playing ground that attracts both local and foreign visitors.
The giant beach park is about 100 yards long. It includes barbecue grills, picnic tables, a large grassy area, restaurants, grocery stores, condominiums, and lodging within walking distance.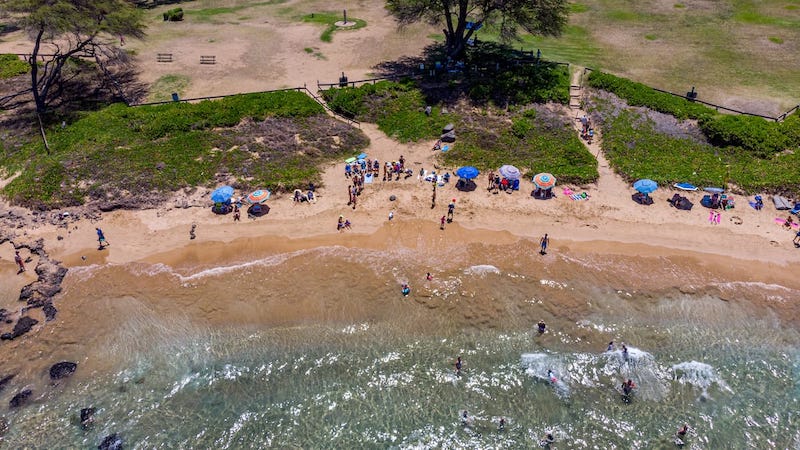 There is always a lifeguard on duty, providing some additional safety. The park also has a large parking area.
The grassy area to the left end of the park is elevated and gives visitors a good vantage point from which they can watch the whales and the setting sun.
6. Mai Poina 'Oe la'u Beach Park
Mai Poina 'Oe la'u Beach Park is a very spacious beach with strong winds and large waves that allow visitors to enjoy surfing all year round.
Many visitors also enjoy taking long morning walks or watching the gorgeous sunset.
Despite its popularity, it's always free from crowds. Essentially, it's not as noisy as other Hawaiian beaches. It has no lifeguards and is an extension of Sugar Beach.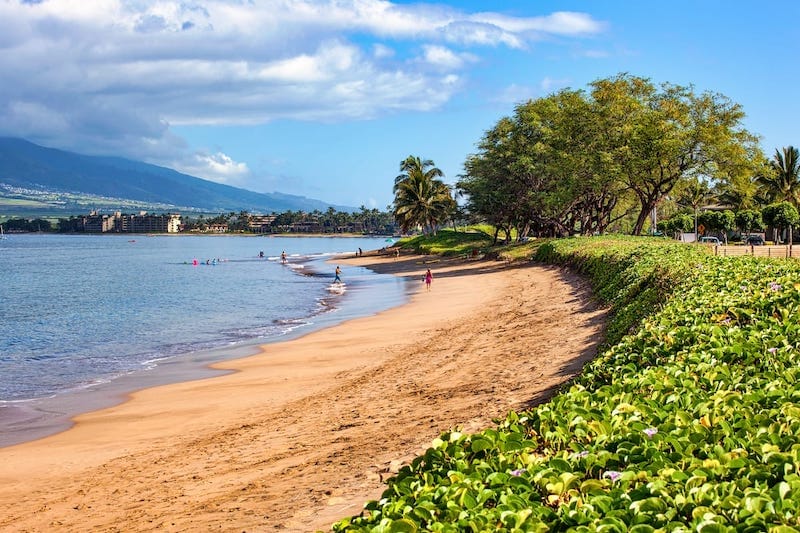 There are restrooms, showers, and picnic tables, as well as a grassy park. Be aware, however, that the beach can get rather windy in the afternoon.
Many condominiums are within walking distance from the beach, so you can have a comfortable place to stay in the meantime.
Along South Kihei Road, which lines the north end of the beach, visitors have plenty of room for parking.
7. Charley Young Beach
Charley Young Beach is ideal for those who want a secluded place to relax. It is located at the northern, quiet end of Kam I Beach.
The ironwood trees surrounding the beach give it a wilder and more shaded look.
Despite its small size, it's still one of the best beaches in Kihei. Its shallow waters, gentle waves, and fine, soft sand are ideal for kids in particular.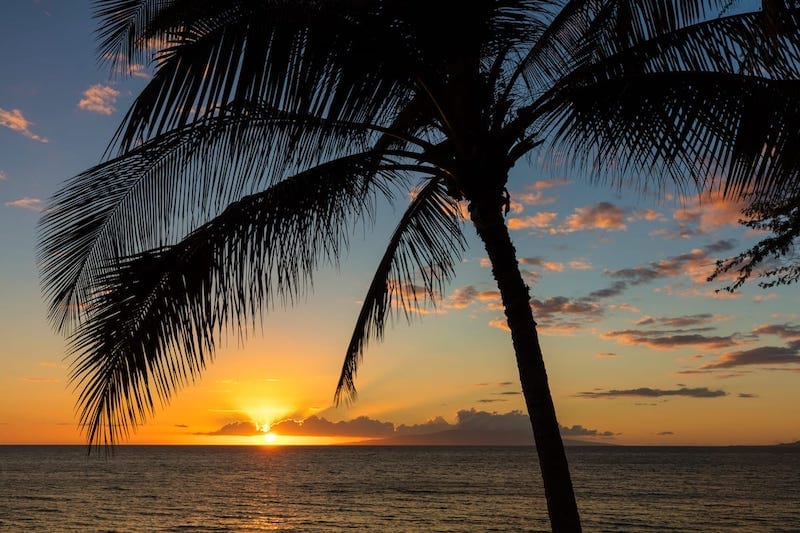 The beach stretches for about 600 yards, allowing enough space for a long stroll. It has a large parking lot about a block away from the beach and an outdoor shower, but no lifeguards.
At the far end of this beach, it is common to come across sea turtles swimming in the calm water.
8. Waiohuli Beach
Waiohuli Beach is one of the smallest beaches in Kihei. Not many people know about it, so it is also never loud or crowded.
It's ideal for those who want a remote, secluded space with shallow water that allows for snorkeling and swimming.
The oceanfront condo complex near it, Waiohuli Beach Hale, is much more popular and a great place to stay if you're in the area.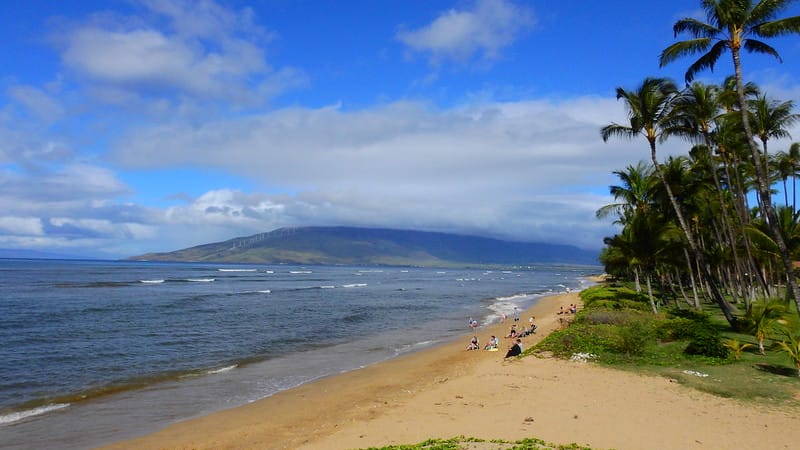 The complex provides one- and two-bedroom condos, laundry facilities, barbecue, and free Wi-Fi.
From the condo, you can see the long, white sandy beach, the activities on its shores, the beautiful waters of the Pacific Ocean, and, during wintertime, a school of whales playing above the water.
Best Beaches for Snorkeling near Kihei
Kihei is known for its vibrant waters full of beautiful reefs, making it a top destination for snorkeling.
Sugar Beach is an excellent spot for snorkeling when the waters are calm because it is home to many tropical fish and huge stretches of coral reefs.
Visitors also enjoy snorkeling at the three Kamaole Beaches, particularly in the spot where the three beaches separate. It's especially great if you want to take your children snorkeling because of the calm waters and the beautiful reefs.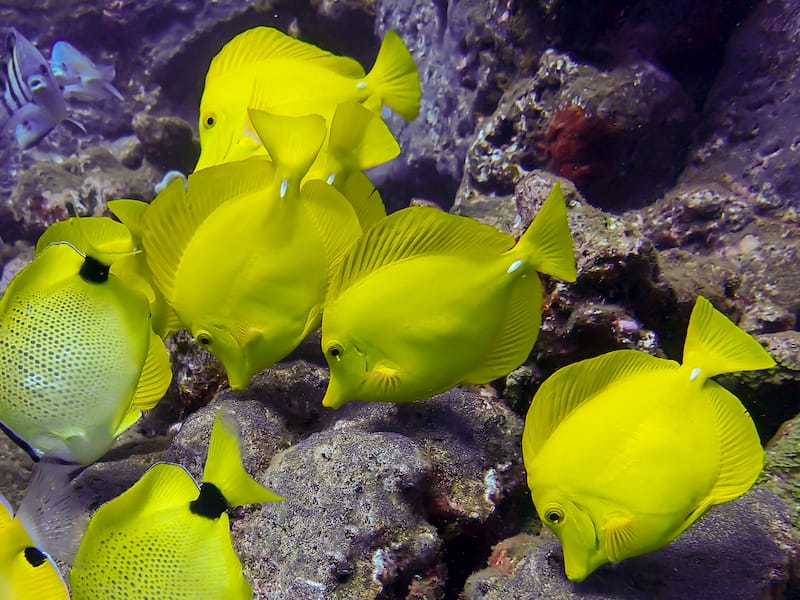 Molokini is also a world-class snorkeling destination, being one of three volcanic calderas you'll find in the world.
It is home to more than 250 marine species and has incredibly clear waters for snorkeling.
Finally, one of the most popular destinations in all of Maui for snorkeling is Turtle Town, which was formed from underwater volcanic eruptions.
Turtle Town features a coral reef that is home to the Hawaiian green sea turtle, which makes it an especially popular spot for snorkeling tours.
Where to stay in Kihei
You'll find plenty of great places to stay in Kihei and here are some of our top oceanfront picks for hotels!
Which are your favorite beaches in Kihei? Let us know in the comments!
More Maui Travel Guides
Pin this Kihei Beaches Guide