Maui is known for having some of the most beautiful beaches in the United States.
This is a guide to the best beaches in Maui, including golden sandy beaches as well as mysterious black sand ones.
Are you planning your trip to Maui last minute?
If you're traveling to Maui last minute, you want to ensure you have lodging/tours ahead of time! Below are some of our top picks on the island!
Best tours and activities on Maui:
Places to stay on the South Shore (Kihei/Wailea/Makena):
Places to stay on the West Side (Lahaina/Kaanapali/Kapalua):
Traveling to Maui independently? Be sure to book your rental car ahead of time to ensure availability!
Did we leave out any of your favorite Maui beaches? Let us know in the comments!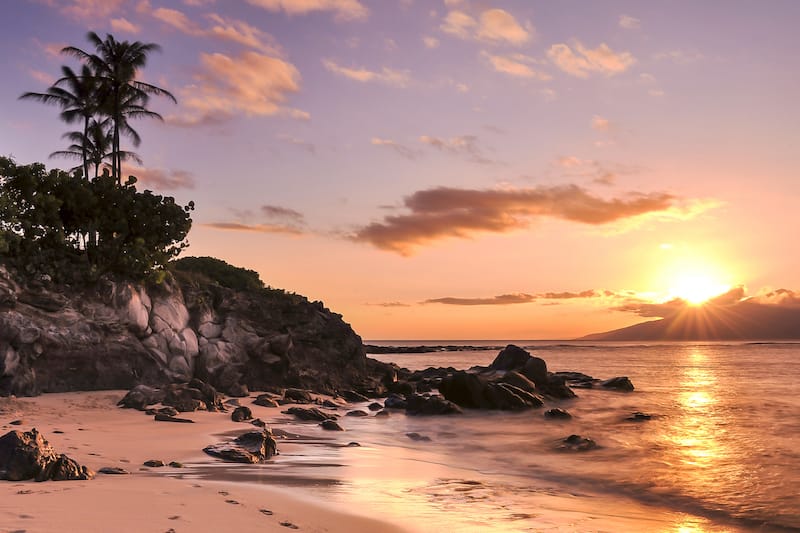 Best Beaches in Maui
Hamoa Beach
Crescent-shaped Hamoa Beach is no longer than 1000 feet in length and is one of Maui's famous white-sand beaches nestled just off of Haneo'o Road.
Offering crystal clear waters and perfectly golden and wide shores backdropped by cliffs with overgrown tropical foliage, this place is a true heaven on Earth!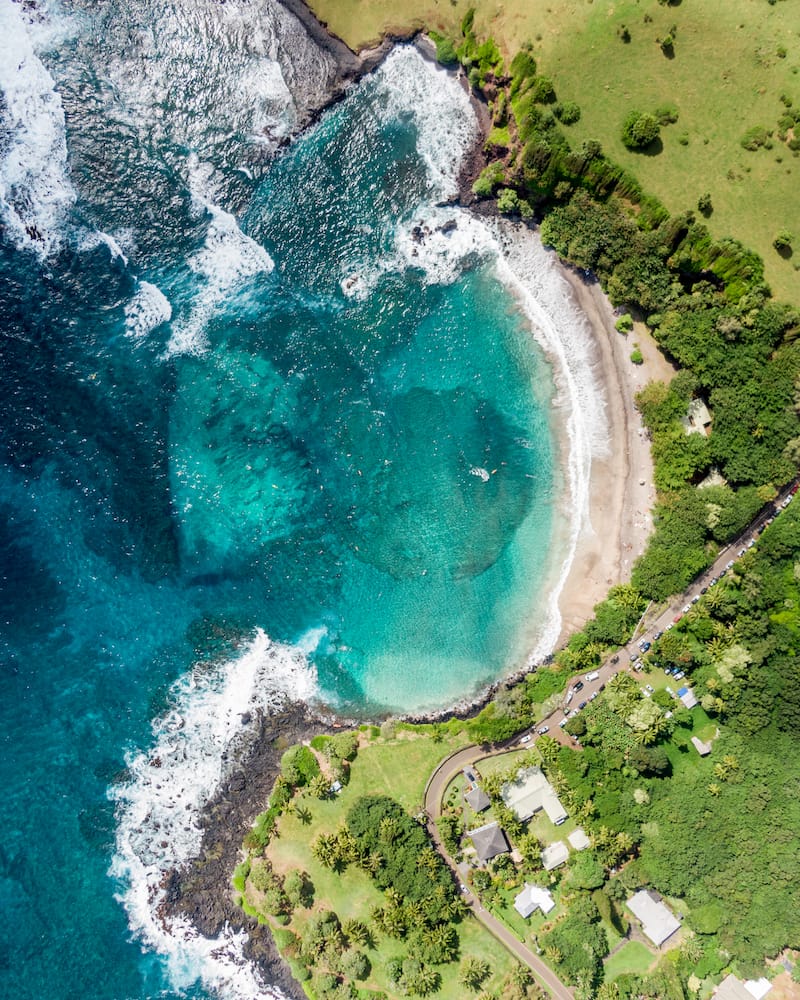 Well-known for its bodysurfing beaches, Hamoa Beach also offers swimming, surfing, and snorkeling opportunities, mainly during morning hours when everything is calm.
However, beware that the surf can become quite powerful due to the lack of outlying reefs, so make sure to enjoy the water in the shallows.
Nearby you will find an awesome picnic area plus restrooms which are shared with the nearby Hana Maui Resort.
Ka'anapali Beach
West Maui's most famous beach, the stunning Ka'anapali Beach, offers three miles of soft white sand and warm waters in 50 shades of aquamarine!
Plenty of hotels and resorts are lined along its wide and long beaches, but they don't deter from how beautiful this Maui beach is.
There are several water activities that await you in Ka'anapali Beach, ranging from scuba diving and stand-up paddling to cliff jumping and snorkeling. This is one of the best places for cliff jumping in Maui!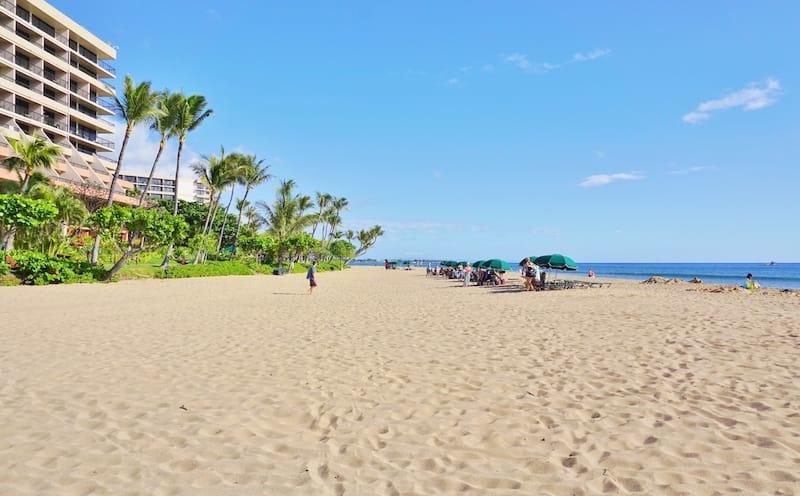 Surfers eagerly chasing the biggest waves can find them in front of the Ka'anapali Marriott. If luxury is what you're looking for, then make sure to book a room at The Westin Maui Resort and Spa.
Enjoy the best snorkeling opportunities in front of the Sheraton, located on the north end of the beach, or get your daily dose of adrenaline while jumping off a 16-foot cliff at Black Rock.
Kapalua Beach
Enclosed by coral reefs from two sides, the crescent-shaped Kapalua Beach (which means arms embracing the sea) is nestled at the foot of Kahalawai and is one of the most breathtaking beaches in Maui.
Park your car in the convenient parking area, make your way down a short stairway, and head to enjoy this tropical paradise!
The superb and modern amenities (restrooms, shower, drinking fountain, etc.) of the beach make this area a real gem of the Kapalua Region.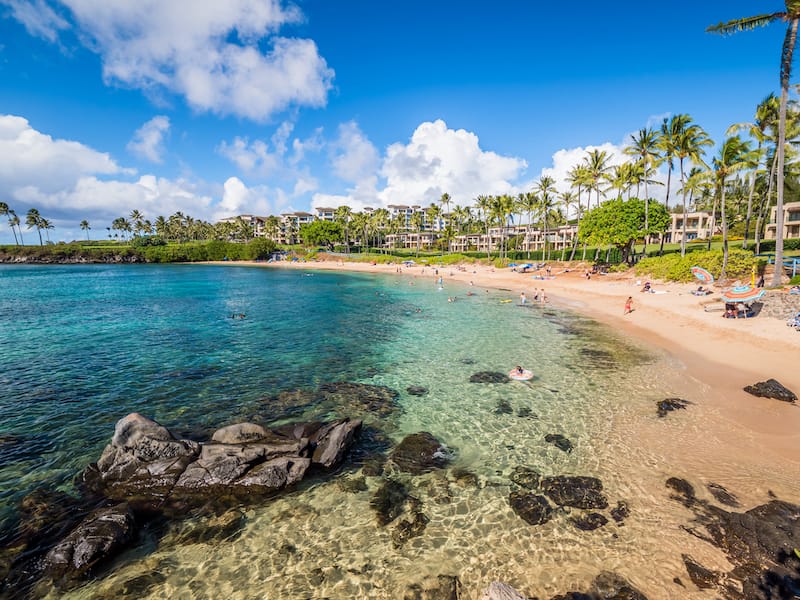 The beach provides the perfect conditions for snorkeling, kayaking, swimming, scuba diving, and observing the rich marine life up close.
You won't find many people swimming in the northern end since it is full of coral reefs that grow shallow from the shore, making swimming there not desirable!
Honokalani Beach
Nestled in Waianapanapa State Park, Honokalani Beach is one of the most Instagrammable Maui beaches on this list. It served as a sacred place for locals for many years, and even legends abound.
On the way to the Road to Hana, stop by this unique beach to witness jet black sand composed of millions of tiny lava pebbles.
It is the perfect change-up from seeing all of Maui's beautiful waterfalls along the route!
Get ready to enjoy Hawaii's untouched nature at its finest while exploring the sea caves and lava tubes along the shore and marvel at the surreal combination of colors of verdant foliage surrounded by white foam and turquoise waters.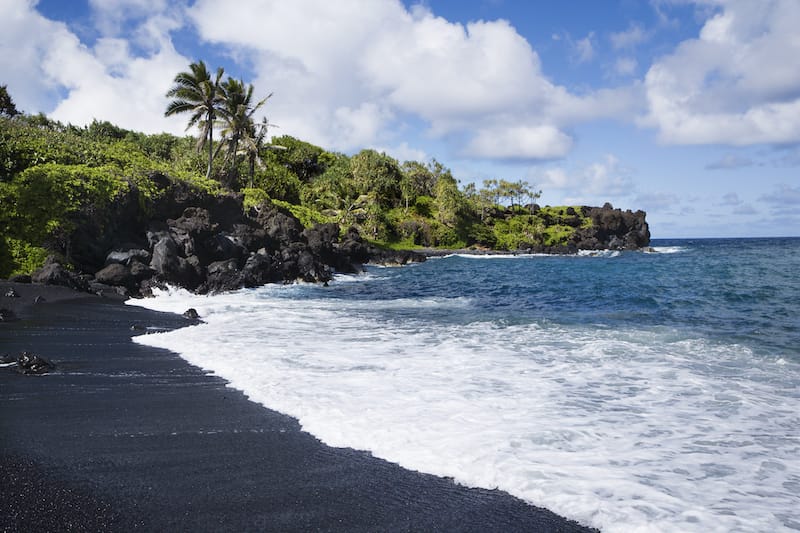 Swimming there can be pretty dangerous, so you can have fun at the beach while riding the waves with a boogie board (just be careful). This is also one of the best places for kayaking in Hawaii during the summer months.
Napili Beach
Maui's northwest corner offers another stunning bay for a laid-back beach escape where you will enjoy mesmerizing sunsets, crystal-clear waters, and golden sands.
Located a few miles south of Kapalua, Napili Beach is perfect for swimming and snorkeling since outer reefs protect the shores from large swells.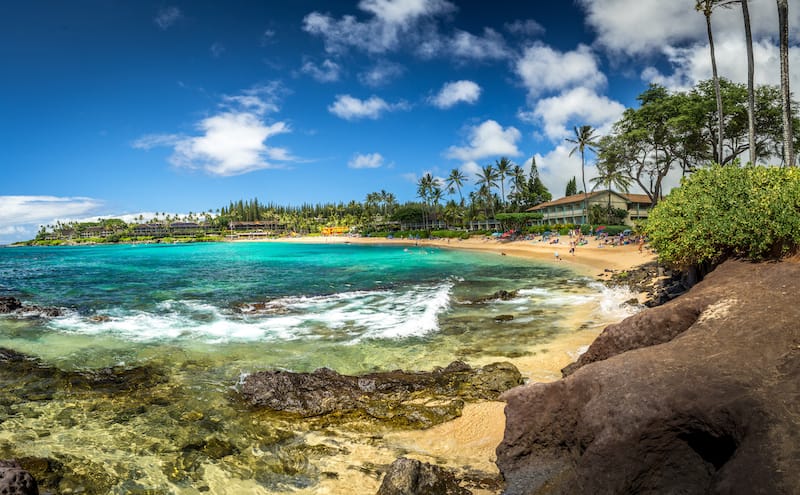 Meet the green sea turtles of Maui, the frequent guests of the beach, while swimming or snorkeling in Honokeana Cove.
Level up your dining experience in nearby Merriman's or book a room at Napili Kai Beach Resort, one of Maui's top resorts, to get access to the full range of facilities and experience a luxurious beach-cation!
Kaihalulu Beach
** Disclaimer: This beach is rather unsafe and is the result of many deaths and a lot of people being injured. Please do not visit without an expert or at all.
Kaihalulu Beach is one of Hana's hidden gems, and it should be on your Maui bucket list if you are after one-of-a-kind beach views.
In order to get to the beach, you need permission since the trail (a steep and dangerous one along the cliff) crosses private property.
The beach is enclosed by red cliffs and is famous for its signature rust-red colored sands.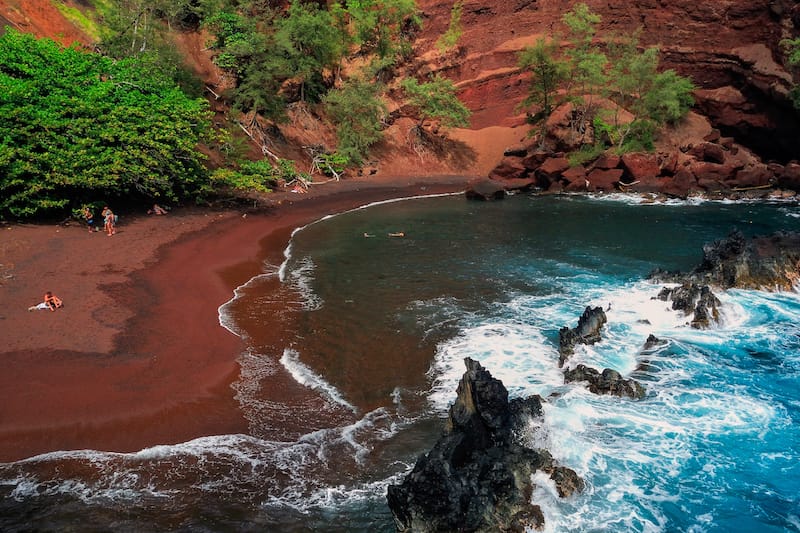 Get ready to take a dip in aquamarine waters, which also provide the ideal conditions for snorkeling. Don't bother worrying about powerful surf since a lava sea wall in shallows protects the shore from turbulence.
Nevertheless, don't even think of jumping from the cliffs from either side of the cove as there are rocky shallows underneath.
Wailea Beach
Are you keen on visiting one of Maui's most glamorous beaches and experiencing the resort vibes amidst a real-life Disney movie location?
If so, then make sure to set aside a few days to visit Wailea Beach and stay in one of the top resorts the beach has to offer.
Between the beachfront's Four Seasons Resort Maui and Grand Wailea, you will find a public parking lot along with restrooms and a shower.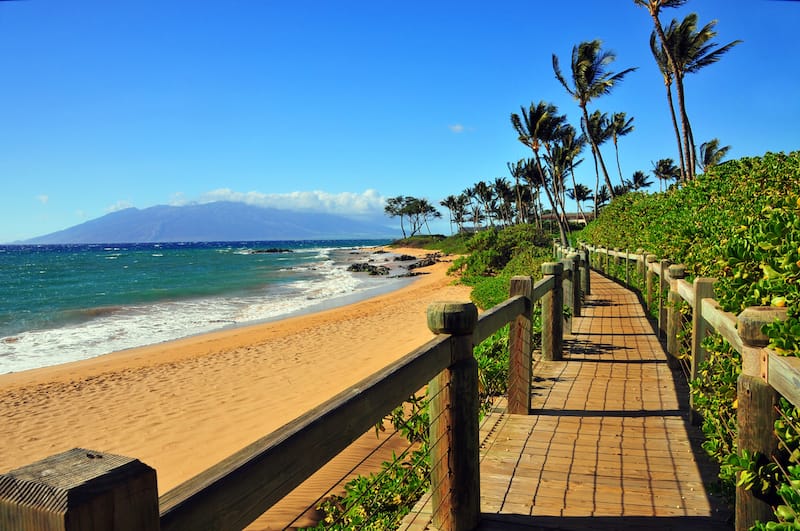 If you are a fan of snorkeling in the prettiest waters, then make sure to try it during winter mornings since the summer months can be quite windy.
Get ready to take in the breathtaking views of Kaho'olawe, Molokini Crater, and Lāna'i while sunbathing on the perfect silky golden sand or swimming in the bluest waters.
Lined up along the beach, you will find plenty of restaurants, shops, and local companies offering water sports gear, mainly stand-up paddleboards for rent, to ensure you get the most out of your visit.
Baldwin Beach
Maui's north shore offers another must-visit spot if you are looking for a family-friendly beach.
Baldwin Beach is nestled near the historic Paia town and provides a large grassy field with picnic tables, a covered pavilion, showers, restrooms, and lifeguard stations.
This mile-long beach also serves as a favorite place for sunset chasers, where you can jog or walk while taking in mesmerizing sunset views.
A protected saltwater lagoon on the beach's western edge is the perfect spot to chill out with the kids.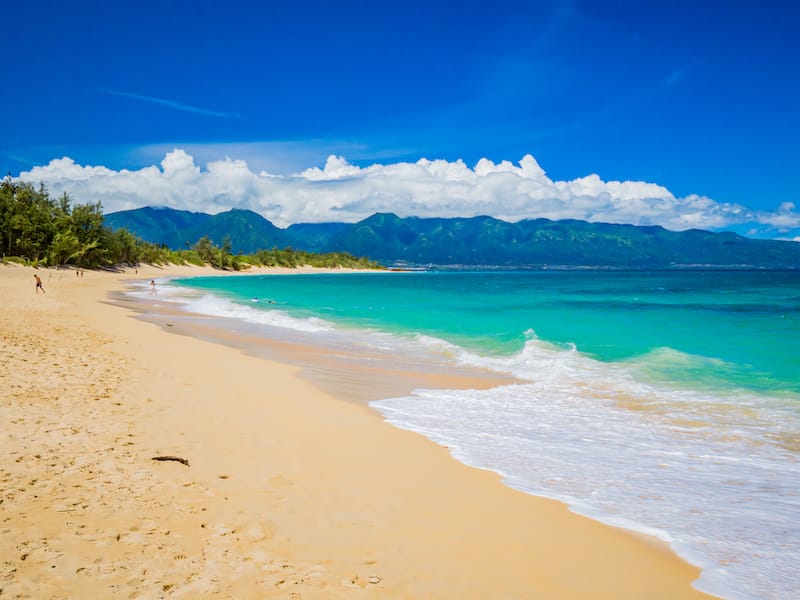 Enjoy Baldwin Beach by playing beach games on its soft sands, swimming in crystal-clear waters, or simply sunbathing while watching bodysurfers and bodyboarders showing off their skills during bigger swells.
After a full day in the water, treat yourself to the freshest seafood in one of Maui's best seafood restaurants, Mama's Fish House. This is definitely one of the best beaches in Maui for families and travelers.
Kahekili Beach Park
Kahekili Beach Park is the northernmost beach fronting Ka'anapali Beach Resort, where you will find plenty of facilities, a grassy beach park, and an accessible parking lot at the end of Kai Ala Drive.
If you are planning your visit during the Maui whale watching season from November to April, then get ready to settle in and enjoy the stunning show of whales frolicking in the distance.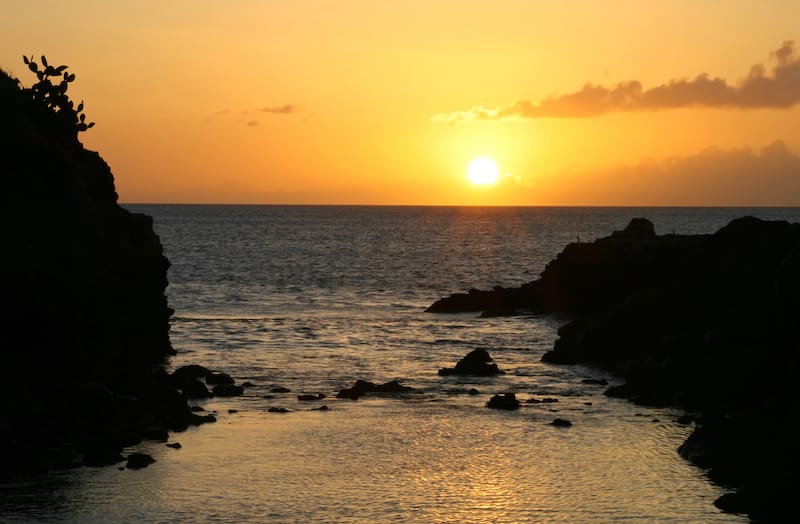 Mornings there provide the best conditions for both beginners and advanced snorkelers to go exploring under the waves.
The south side of the beach offers less crowded and calmer waters in Kahekili Beach Park, which is perfect for swimming with the stunning offshore views of the islands of Molokaʻi and Lānaʻi.
Kama'ole I, II, and III Beaches
If you are looking for Maui's best beaches to enjoy swimming with friends, then Kama'ole's three beaches have your back.
The first one is the northernmost and largest one and offers a volleyball court and a sandy cove protected from road traffic.
The second is comparably smaller but offers the perfect swell for body surfing. South Maui locals just love the third one, which has a grassy area filled with lawn games and barbecues to ensure lots of fun.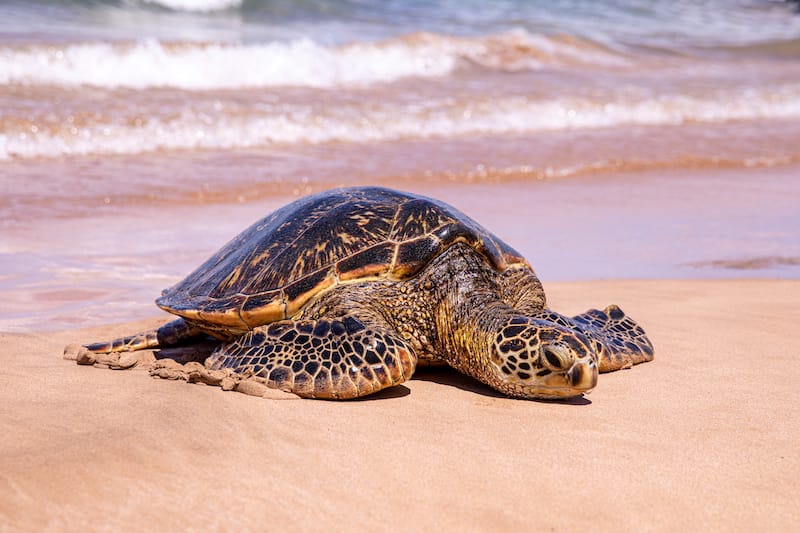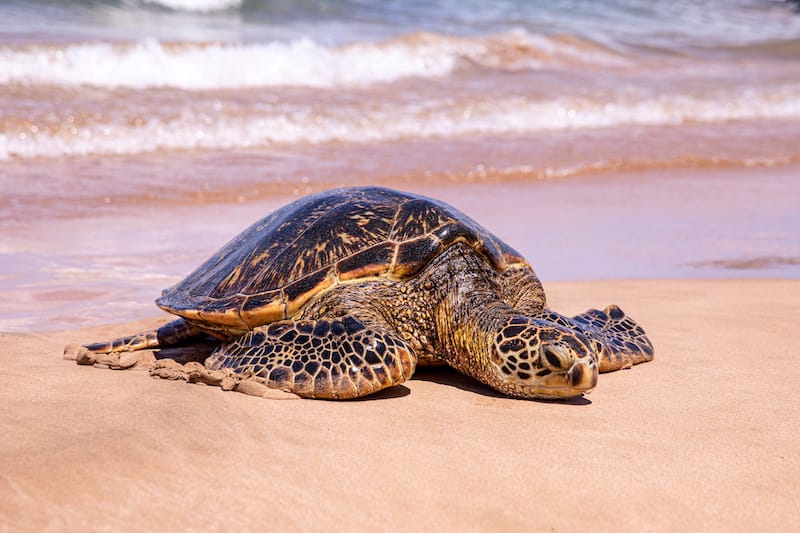 Go snorkeling during the calm mornings or catch a good wave for boogie boarding in the windy afternoons. On all three beaches, you will find parking lots, showers, bathrooms, and lifeguards.
Pāʻia Secret Beach
Pāʻia Secret Beach is a real hidden gem nestled between Paia Bay and Baldwin Cove. A short walk from the east of Baldwin Beach will get you to this private beach where you won't find crowds of tourists.
All you can do in Pāʻia Secret Beach is relax on the golden sand and sunbathe, and if you hate seeing those tan lines after a good sunbath, then make sure to visit Kahului end of the beach where clothing is optional and nude sunbathing is common.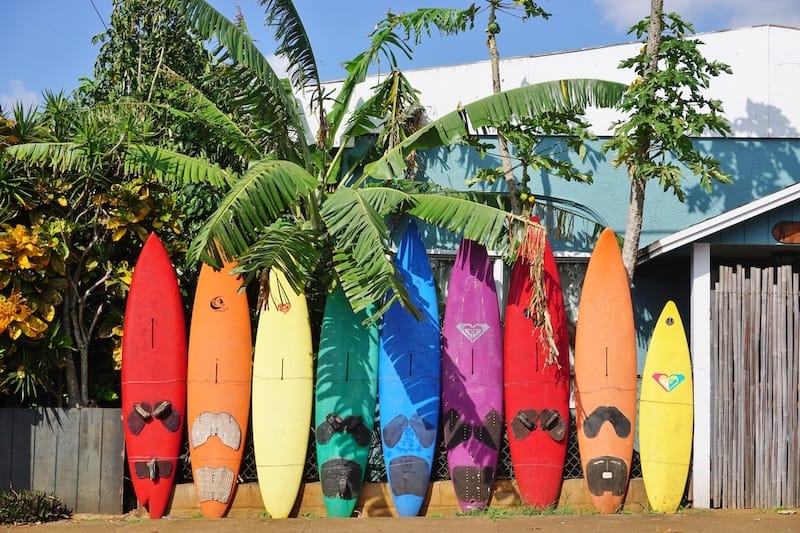 But be aware that on the Paia end, clothing is expected. From the end of the beach, you can walk to Pia Bowls for a taste of the local cuisine.
Kanaha Beach
This small, white sand beach is a locals' favorite spot for fishing and swimming. Windy afternoons make Kanaha Beach the perfect place to enjoy exciting sports such as kiteboarding and windsurfing.
Since the beach is located near the airport, you can surely set aside a few hours to have a relaxing swim, take a good photo with landing planes in the background (if lucky), or simply admire the views of the West Maui Mountains from the beach before your flight.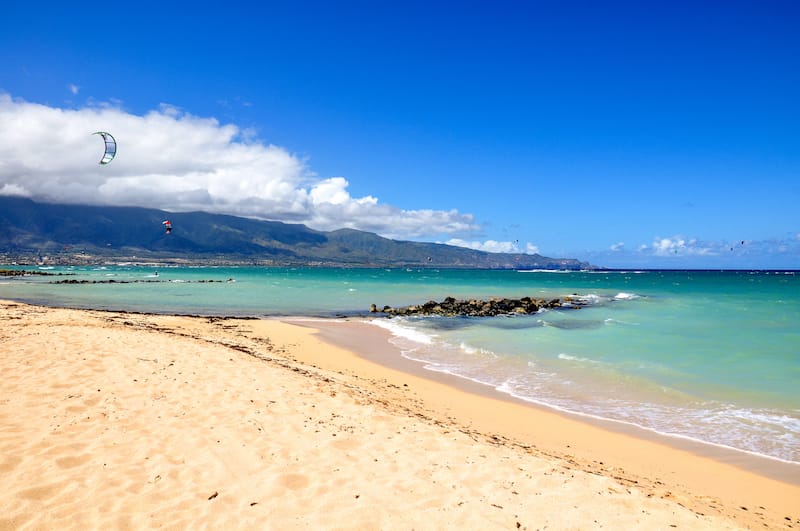 The beach has plenty of facilities for public use, such as showers, restrooms, picnic tables, lifeguards, plus sand volleyball courts, and canoe clubs for some extra fun.
Spreckelsville Beach
Spreckelsville Beach is the historical name for a few individual beaches lined along a two-mile stretch from Spreckelsville to Kanaha.
The beaches from west to east are the following: Camp One, Sprecks Beach (aka Euro Beach), Lobster Cove, Sugar Cove, and Baby Beach.
Locals' favorite activities on these beaches are definitely windsurfing and fishing, while Sugar Cove is famous for its perfect waves for boogie boarding in winter.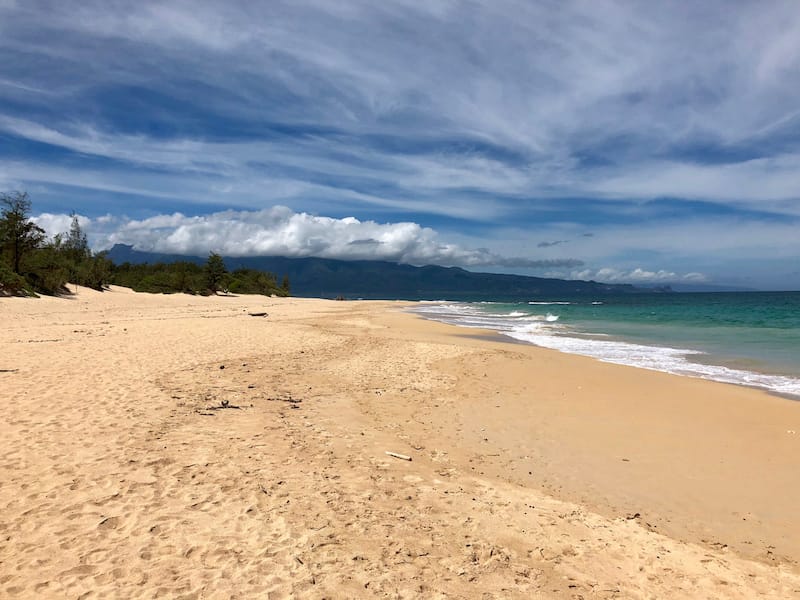 Even though the north coast is not always ideal for swimming, Baby Beach is one of the most sheltered locations to enjoy serene waters.
Spreckelsville Beach, like Kanaha, is located near the Kahului Airport, so kitesurfing there is prohibited due to the potential danger of airplanes flying in unusually close proximity.
Ulua Beach
Nestled between two rocky points, stunning Ulua Beach is the least windy golden sandy beach in coastal Wailea's northern edge.
This crescent-shaped beach is backdropped by a grassy area and a walking path and offers showers, restrooms, and a large parking lot on Ulua Beach Road, making it slightly more popular than its smaller neighbor in the north, Mokapu Beach.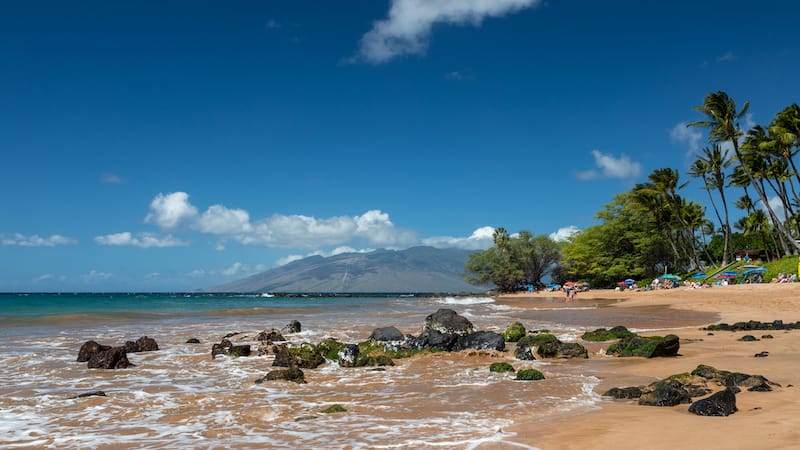 Bodyboarders looking for a perfect high surf will definitely enjoy riding the waves at Ulua Beach.
On calmer days, serene waters there provide the ideal conditions for snorkelers and beginner scuba divers to explore life beneath the water.
After swimming and snorkeling, get back to the beach to sunbathe or take a good shot with picture-perfect postcard views of the West Maui Mountains.
Hana Bay Beach Park
If you are up for experiencing a true Hawaiian vibe, then make sure to add the small crescent-shaped Hana Bay Beach Park to your Hawaii bucket list.
Located within Hana Bay, the Beach Park is the second one on this list, offering a black-sand beach spiced up with a little bit more of Hawaiian culture.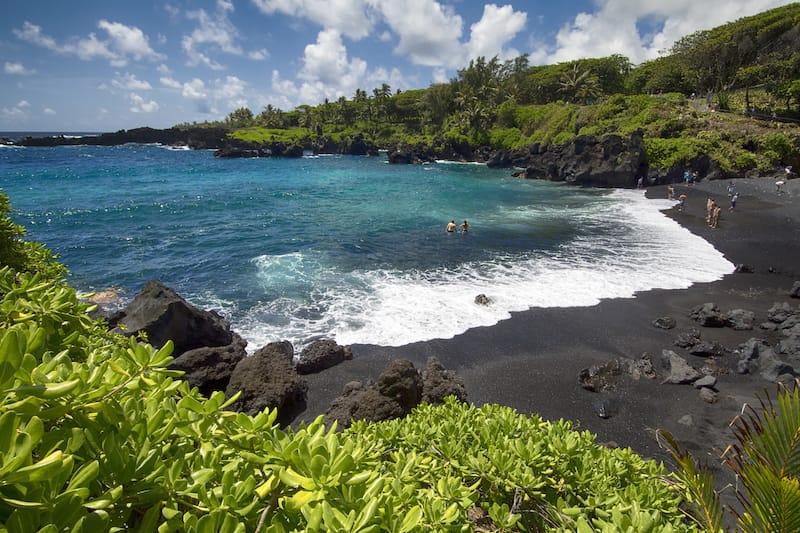 There, you will find a grassy zone, multiple picnic areas, a snack bar, and public restrooms… but no lifeguard on duty due to calm conditions.
The beach is protected by an outer coral reef, making the water perfect for safe swimming along the East Maui coast.
Get ready to encounter local families celebrating a birthday or a special event there, or witness outrigger canoe racing, which has become a common sight in Hana Bay.
Launiupoko Beach Park
If you are in Maui with kids, then Launiupoko Beach Park is a must-visit spot. When visiting the Park, expect to see birthday parties and family hangouts everywhere since it is a local Maui favorite for its picnic areas.
Wade in a small lagoon protected by a lava rock wall, where you can also swim safely with the kids.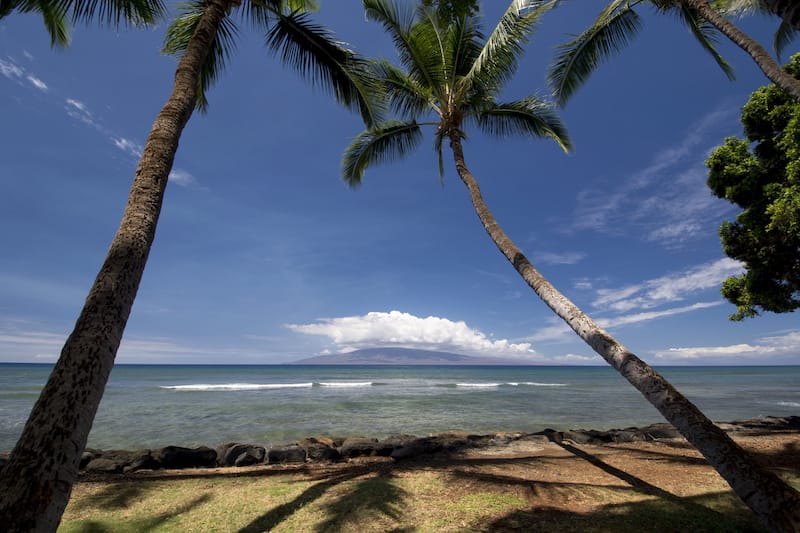 The Maui Beach Park also offers two parking lots, restrooms, and picnic facilities. Water junkies can certainly try their hand at surfing at various beginner surf breaks… or enjoy stand-up paddleboarding on calmer waters.
Keawakapu Beach
Long Keawakapu Beach is another local favorite nestled between Wailea and Kihei and fronting a private residence.
The southern edge of the beach offers a parking lot and a shower, as well as the perfect conditions for swimming, stand-up paddling, and even snorkeling during the winter months.
Stroll along the white sandy beach during the evening hours to take in stunning views of the picture-perfect sunsets.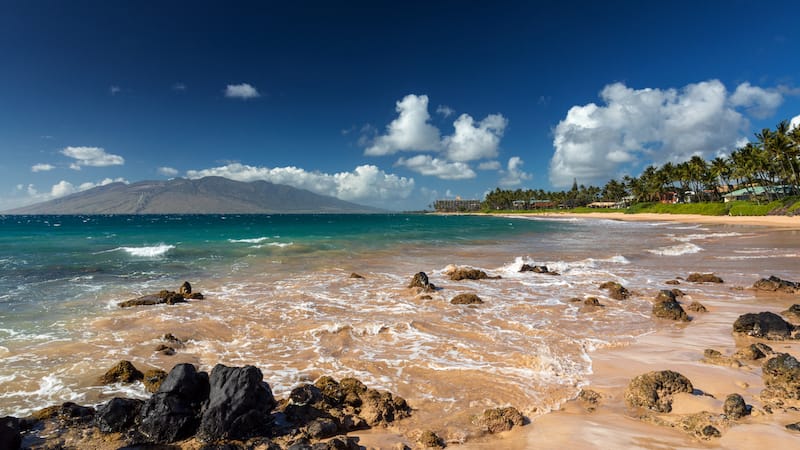 If you decide to enjoy the beach for a few extra days, book a room at the ultraluxe Andaz Maui, one of Maui's best resorts located a few miles away from Keawakapu.
After a fun day in the water, dine with a view at Five Palms Restaurant.
Kalama Beach Park
If you are traveling with friends and need a stunning beach with a view and plenty of area, then Kalama Beach Park should be your go-to beach.
Kalama Beach Park is located near Kailua Beach Park but is less crowded than it. The park stretches from North Kalaheo Avenue to the middle of Kailua Bay, ensuring gorgeous panoramic scenery.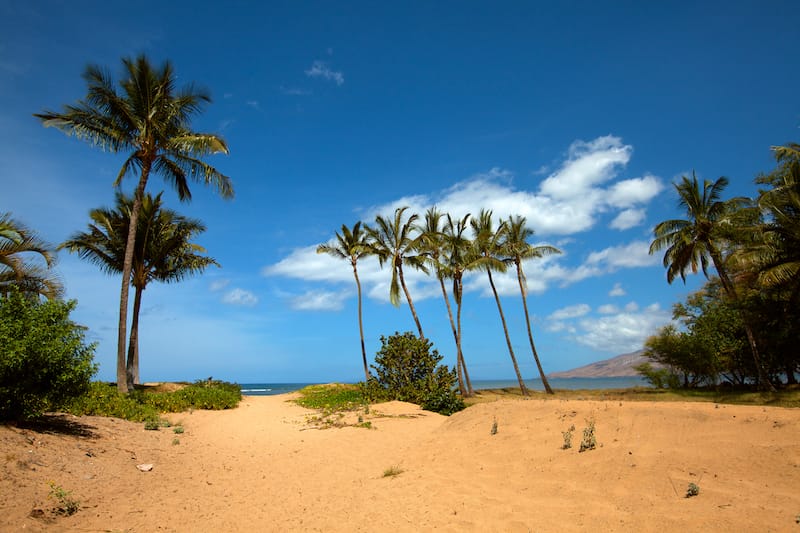 The waves on this beach are perfect for beginner surfers and bodyboarders to practice riding the waves. You will find ample space for playing basketball, football, tennis, baseball, and even a small skate park and roller rink for hockey.
Do you have any favorite Maui beaches we missed? Let us know the best beaches in Maui in the comments!
More Maui Travel Guides
Pin this Maui Beaches Guide