A very iconic place to visit in Maui is the beautiful Iao Valley State Monument – one of the most notable state parks on the island. This guide will dive into how to visit, why you should, and more!
Are you planning your trip to Maui last minute?
If you're traveling to Maui last minute, you want to ensure you have lodging/tours ahead of time! Below are some of our top picks on the island!
🌴 Best tours and activities on Maui:
🛌 Places to stay in South Maui (Kihei/Wailea/Makena):
Four Seasons Resort Wailea (ultimate luxury- White Lotus filming location!)
Grand Wailea Resort Hotel & Spa (amazing pool area!)
🛌 Places to stay in West Maui (Lahaina/Kaanapali/Kapalua):
Best Western Pioneer Inn (I stayed here – has free parking!)
The Westin Nanea Ocean Villas (in Ka'anapali)
The Kulani Maui (in the center of Lahaina!)
🚗 Traveling to Maui independently? Be sure to book your rental car ahead of time to ensure availability!
Below, you will find out how to visit the Iao Valley State Monument as well as a bit of its history.
The famous Maui landmark was closed for some time but recently reopened to the public… with reservations!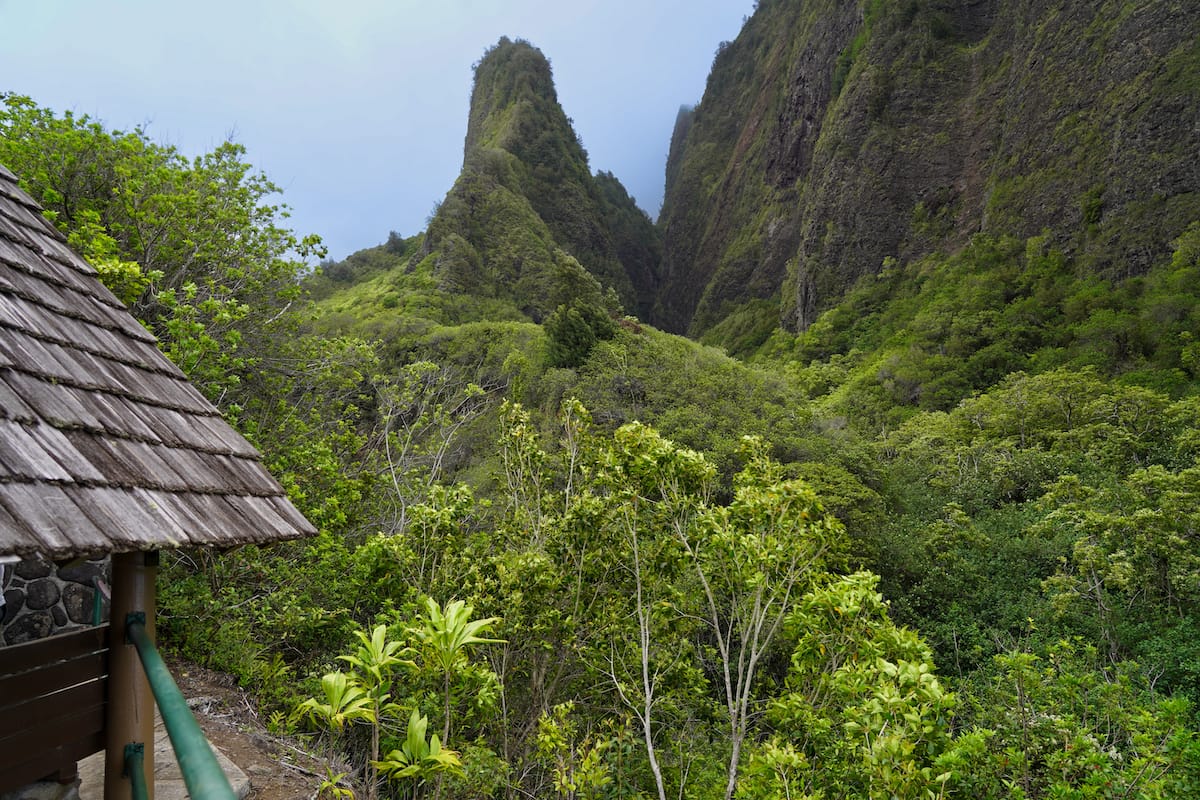 In this guide, I will also detail how to make reservations so that you can enjoy this iconic spot as I did.
If you have any questions or tips, please leave them in the comments below! Thanks!
About Iao Valley State Monument
Iao Valley State Monument is situated in the central part of Maui and covers a 4,000-acre space where is possible to see one of the most famous landmarks in Hawaii, the iconic Iao Needle rock that looks like a straight pick jutting up into the sky!
Besides being a well-known Maui landmark, Iao Valley has a pretty interesting history.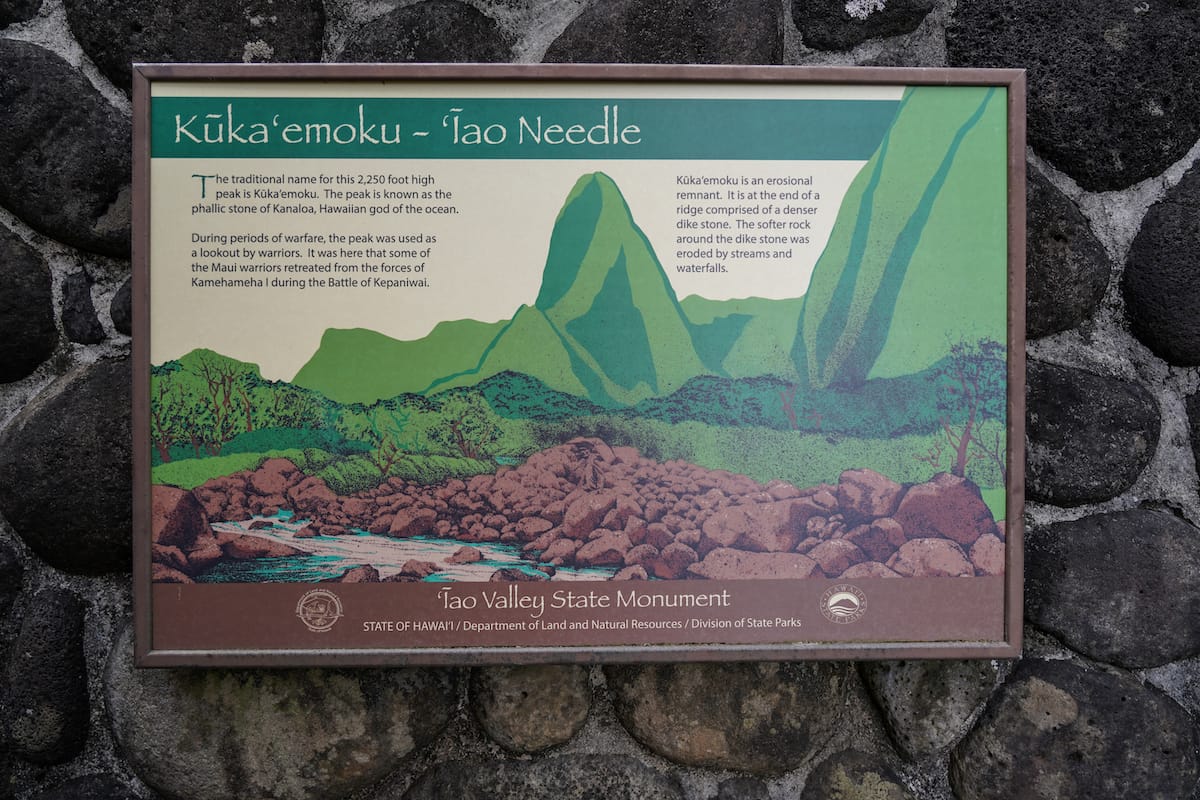 In 1790 in Iao Valley, the Battle of Kepaniwai happened between the Army of Maui and King Kamehameha I. The king won and this forever changed the history of Hawaii.
Today, the park is held as a sacred space by Hawaiians and it is definitely important to be mindful of this (and the history) when visiting.
How to Get to Iao Valley State Monument
Iao Valley State Monument is located only 3 miles away from Wailuku (and 5 miles away from Kahului).
You can rent a bike and cycle on the highway to Iao Valley State Monument or you can opt to take a taxi from Kahului to Iao Valley State Monument.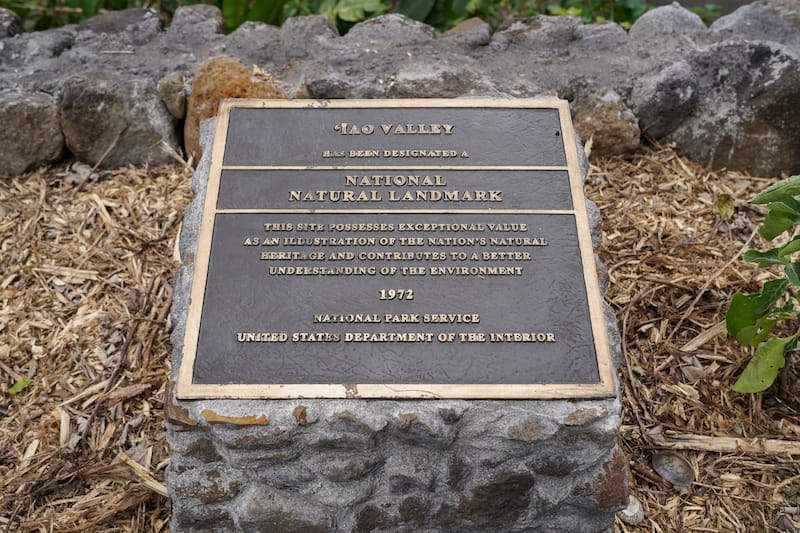 This taxi will cost you approximately $30. From Wailuku, it will cost you around $15.
Most people choose to rent a car and drive around Maui (and the famous Road to Hana), so this is also an option.
The road from Wailuku to Iao Valley becomes a bit windy but only for a short amount of time.
When I suggest renting a bike above – that is only if you are willing to cycle those types of roads. It is not a long distance, but it does have some blind spots and inclines!
Parking at Iao Valley
There is a fair amount of parking at Iao Valley and the new reservation system helps keep numbers under control!
When you arrive, you will see a large lot that will likely be filled up because people don't realize that there is an additional lot right around the corner. Keep driving and turn left and you'll see that (somewhat hidden) parking lot.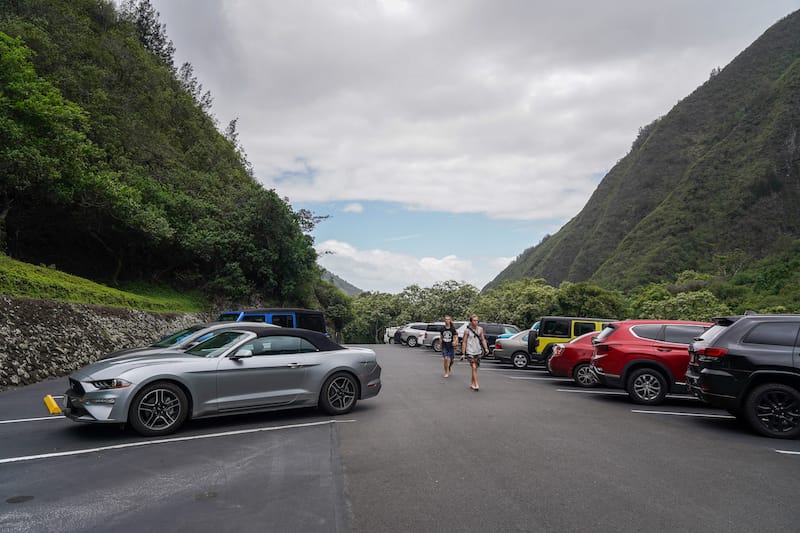 Parking is $10 but you will pay that when you make your reservation (keep reading to see how to do that).
Accessibility at Iao Valley
Iao Valley is wheelchair-friendly throughout many areas (but not entirely in others).
There is a handicap-accessible bathroom that is newly built and the main pathway to see the needle is wheelchair-friendly.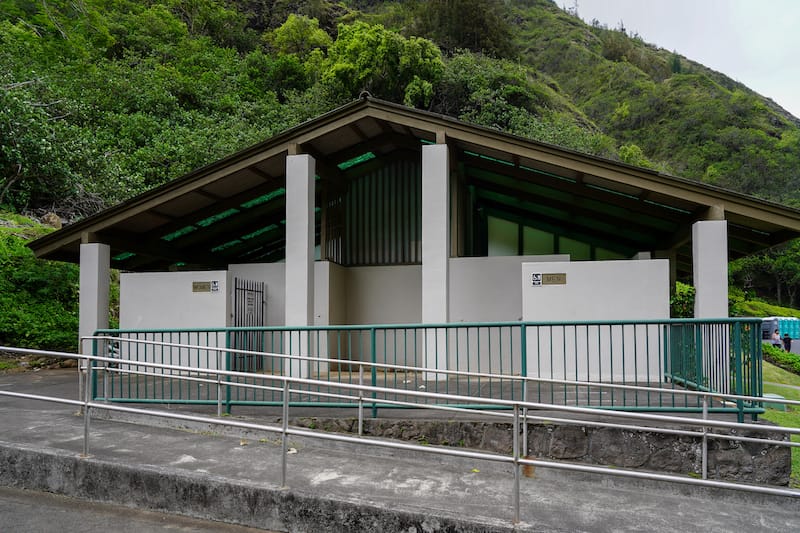 You will not be able to go further inside to the trails or the newly-renovated hut.
How to Make Reservations for Iao Valley
Starting in May 2023, Iao Valley State Monument now requires reservations for those not residing in Hawaii.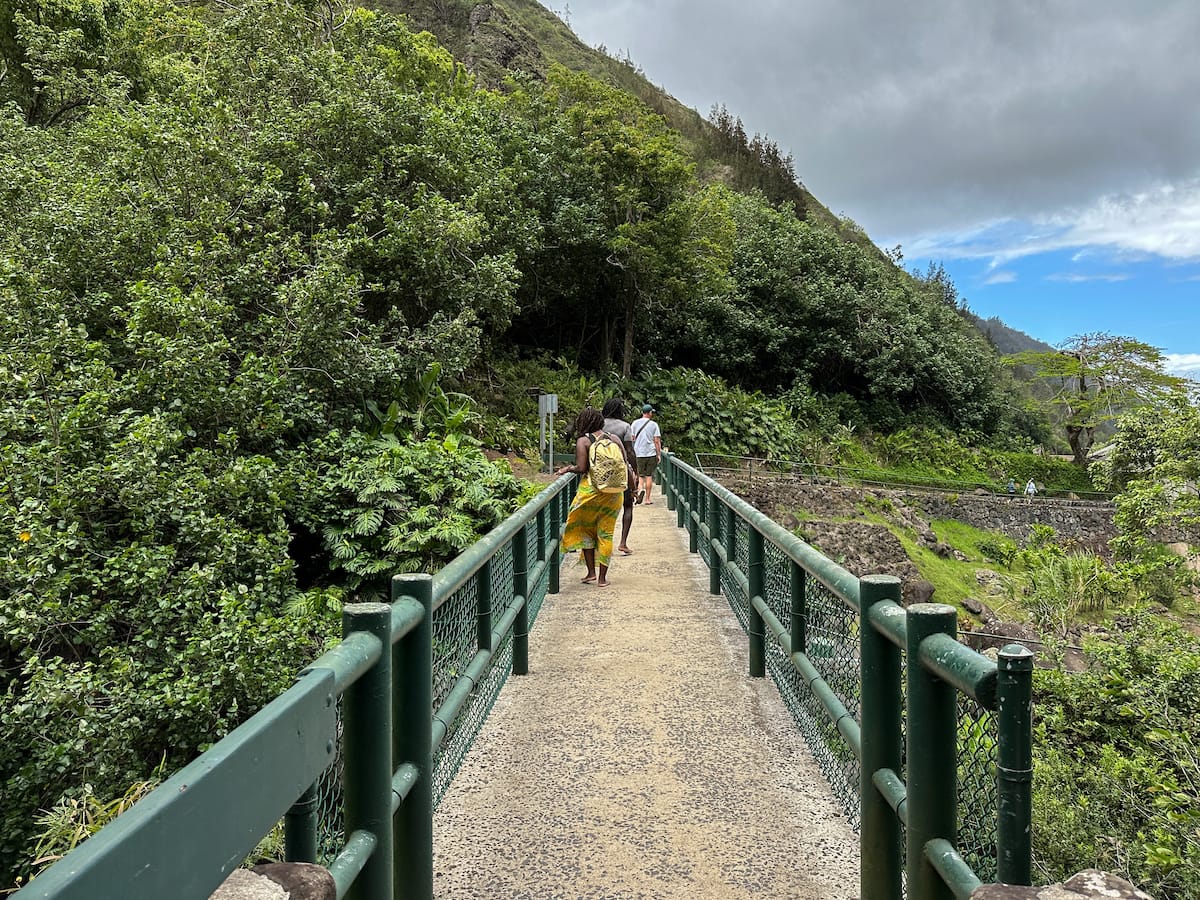 The process is easy but does require a paid fee. The fee is $5/per person and $10 for parking. All will be paid in advance.
You can reserve your timeslot at Iao Valley State Monument here.
Things to Do in Iao Valley State Monument
The main and famous landmark in Iao Valley State Monument is 1200 feet high (or 690 meters) and it is a vegetation-covered lava remnant rising sharp rock formation surrounded by cliffs and a forest.
Visitors can also swim in the Iao Stream during the hot Hawaiian days and that makes for a great stop during the hike.
However, make sure you check the weather beforehand because flash flooding is common in Maui!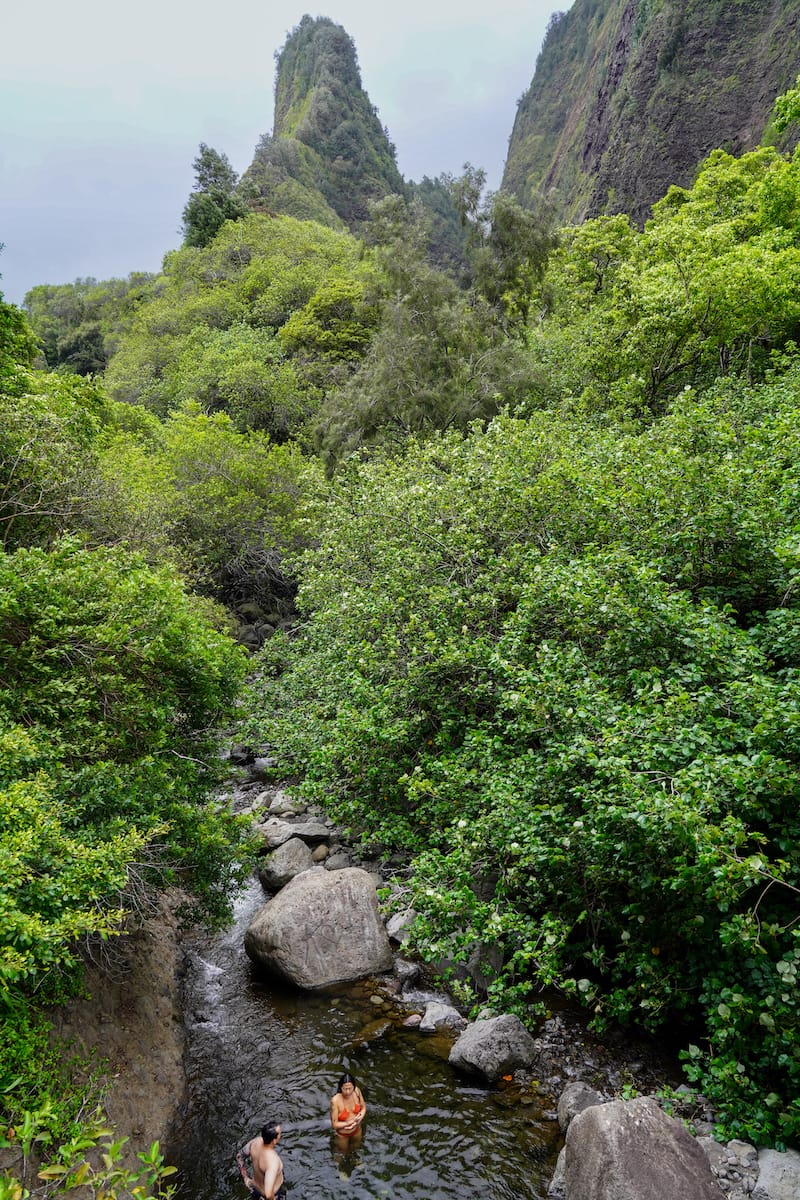 In Hawaii, the first settlers brought with them (by canoes) the "canoe plants". You can check them out in the botanical garden and see a part of the island's history there.
Take a tour with a guide at the Hawaii Nature Center which is located at 875 Iao Valley Road.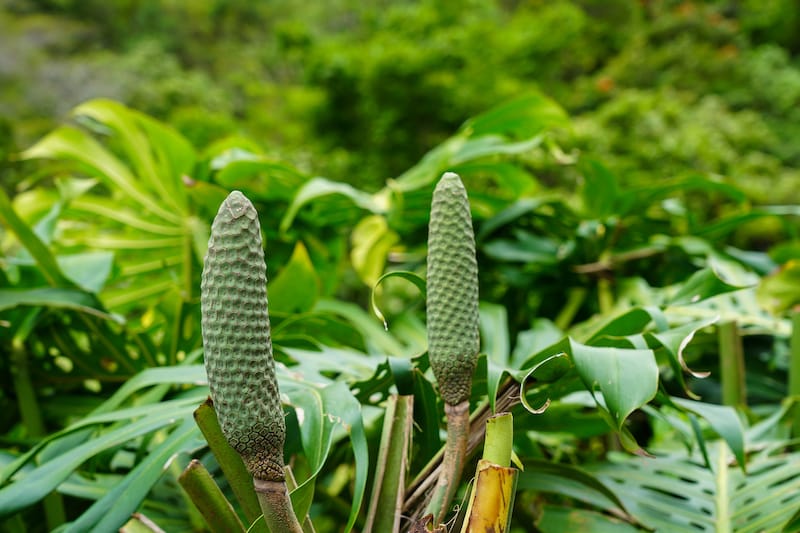 This will give you the opportunity to learn the history of Iao Valley's ecology and the wild fruit and flora that grows there.
Also, it gives you a chance to sit at the cafe and sip on some refreshingly cool drinks.
Popular Hikes at Iao Valley State Monument
Iao Valley State Monument is home to a famous hiking trail called the Iao Needle Lookout Trail and Ethnobotanical Loop.
It is an easy Maui hike and is merely 0.6 miles long.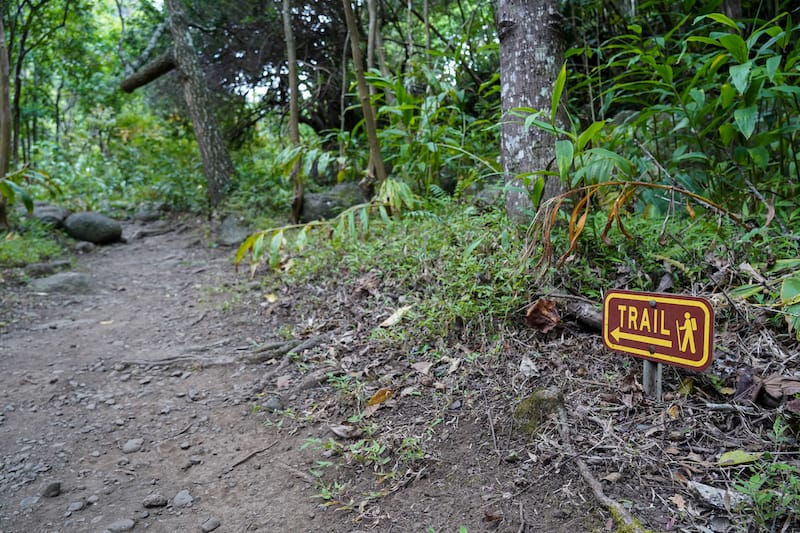 The paved walking trail takes the hiker to the lookout point from where it is possible to see the amazing scenery of the Iao Needle and then it passes through the ethnobotanical garden.
Kepaniwai Heritage Gardens
When you drive into Iao Valley, you will see Kepaniwai Heritage Gardens – do not fail to stop here for a bit!
This park is a botanical garden and I really think it is one of the most underrated quick visits on the island!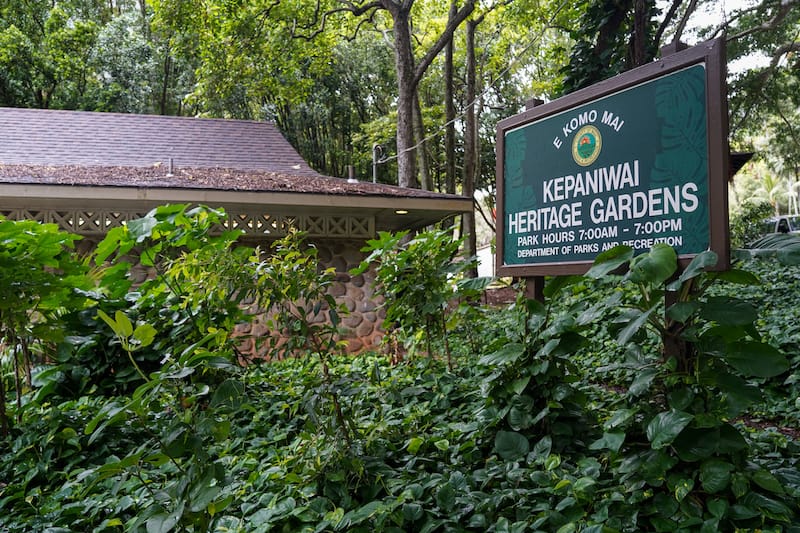 The 7.60-acre park and heritage gardens are located along the Wailuku Stream and it honors the different cultures that have made Hawaii what it is today.
You will see everything from Portugal to Japan honored here.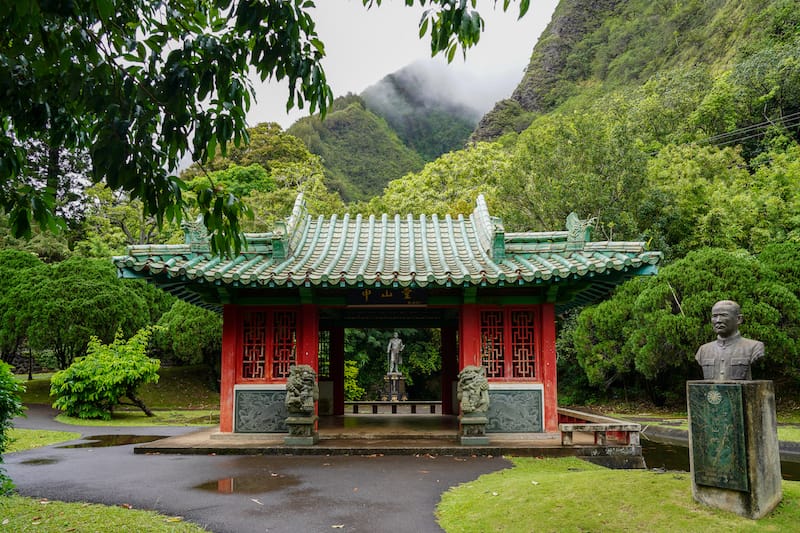 The park was previously an area of turmoil back in the day (the Battle of Kepaniwai took place here in 1790), but today it is a peaceful spot that honors the many cultures that call Hawaii home and live in harmony with one another.
Iao Valley State Monument Visitor Info
Working Hours: Every day From 7:00 am – 6:00 pm (last entry at 4:30pm)
Entrance Fee for Residents: Free
Non-Residents Fee: $5
Toddlers fee: Free
Parking fee: $10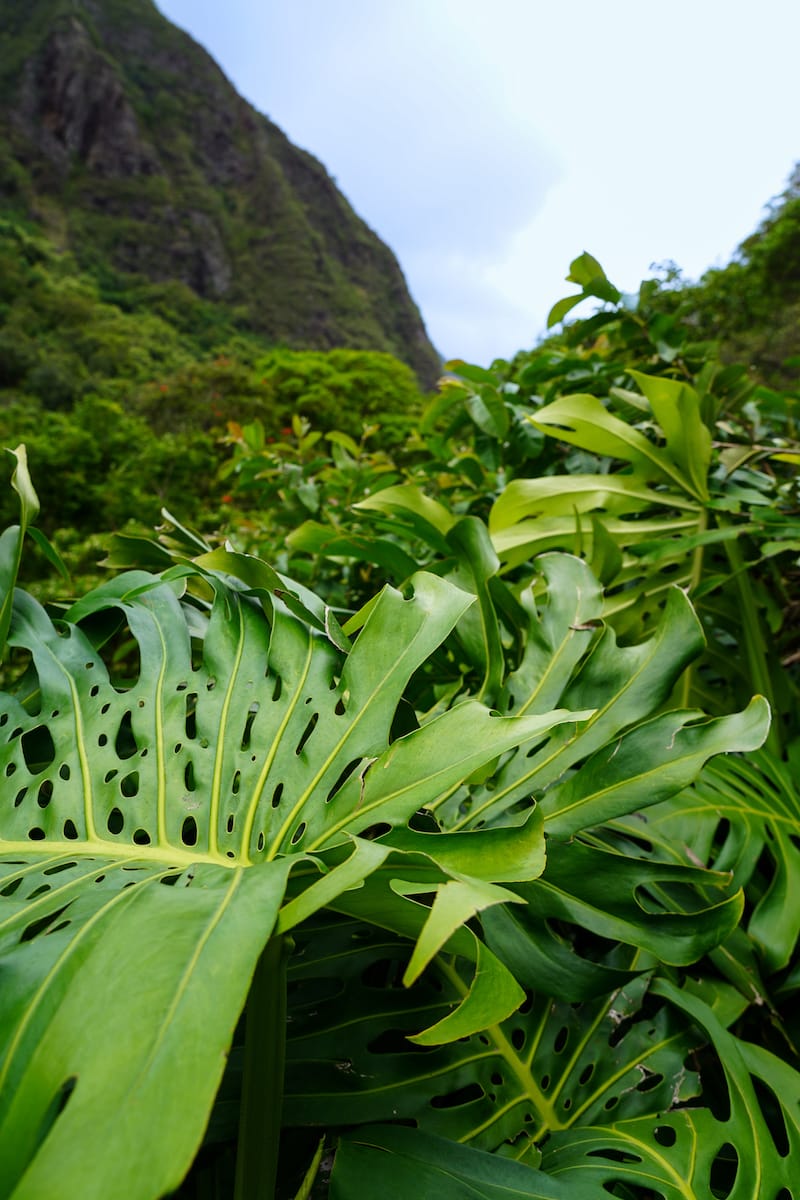 Have you ever visited Iao Valley State Monument? Let us know your thoughts and tips in the comments! Thanks!
More Maui Travel Guides
Pin this Iao Valley State Monument Guide