Maui is renowned for its scenery and black sand beaches and no place combines the two together like the mind-blowing Wai'anapanapa State Park in Hana!
Are you planning your trip to Maui last minute?
If you're traveling to Maui last minute, you want to ensure you have lodging/tours ahead of time! Below are some of our top picks on the island!
Best tours and activities on Maui:
Places to stay on the South Shore (Kihei/Wailea/Makena):
Places to stay on the West Side (Lahaina/Kaanapali/Kapalua):
Traveling to Maui independently? Be sure to book your rental car ahead of time to ensure availability!
This guide discusses why you should visit Waianapanapa State Park, what there is to do there, and how to get there. Please be aware that you will need to make a reservation to visit the park.
If you have any questions or suggestions, please let us know in the comments! Thanks!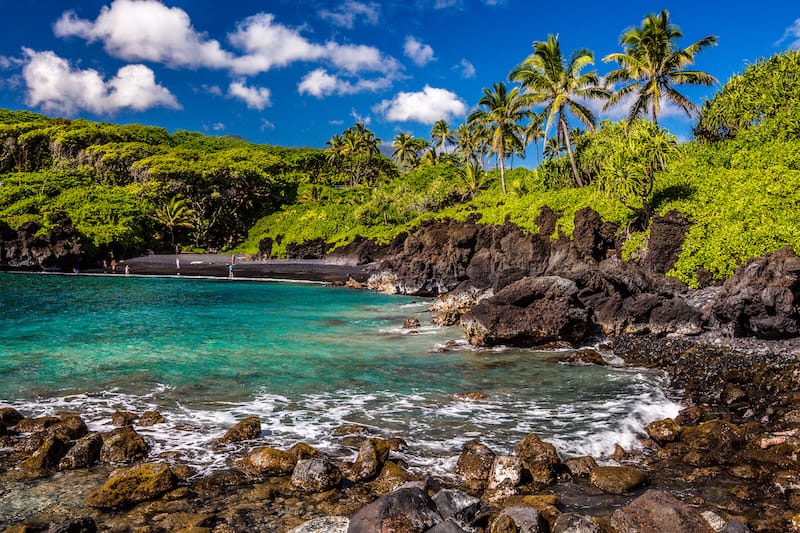 About Wai'anapanapa State Park
Located in Hana on Maui Island, Waiʻanapanapa State Park is a 122-acre state park that attracts thousands of visitors annually.
It is a small but gorgeous state park on Maui that literally means 'glistening waters'.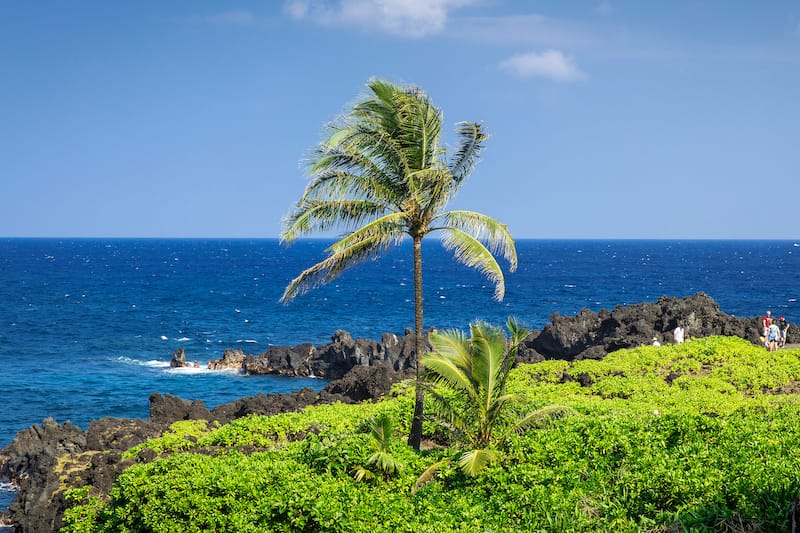 Waiʻānapanapa State Park is famous for its volcanic coastline that is surrounded by wild solitude and remote areas. Therefore, the nature seems far more untouched than other places.
There are rare seabird colonies in the native Hala forests… and more! it is a nature lover's dream!
How to Get to Wai'anapanapa State Park
The closest town located near to Waiʻānapanapa State Park is Hana which sits approximately 3 miles away.
If you are staying in Hana and you would like to bike to the park, you can rent one and be in the park within around 30 minutes.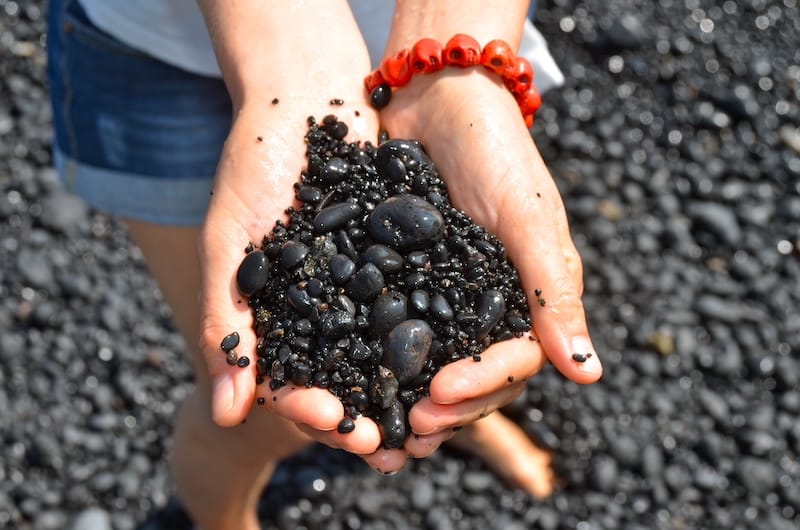 A taxi will take you to Waiʻānapanapa State Park within 10 minutes from Hana and it will cost you only $15 one way, so that is a viable alternative.
Most travelers rent a car to discover the raw nature of this Maui park so if you want to travel comfortably with AC, rent a car or take a well-organized tour instead.
Popular Hikes in Wai'anapanapa State Park
Waiʻānapanapa State Park offers wonderful hiking opportunities for its visitors that pass through Pā'iloa Bay black sand beach, lava formations and caves, and a lot more.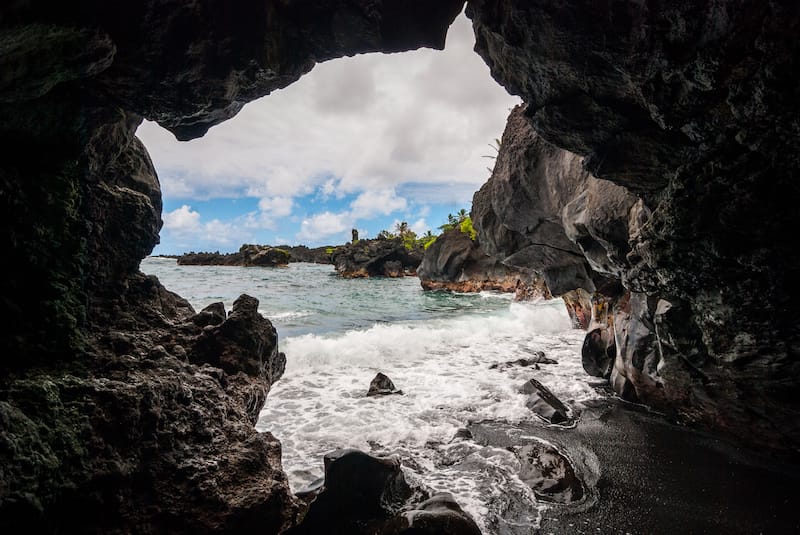 One of the hiking trails is the easy, 1.5-mile roundtrip Wai'ānapanapa Caves Trail that passes through lava caves as it walks along the ocean through forests.
Another hiking trail that travelers love is the Pi'ilani Trail which is also called Ke Ala Loa o Māui Trail. This one will take you to the black sand beaches, where you will see historic petroglyphs as you walk in and out of the beautiful Hala forests.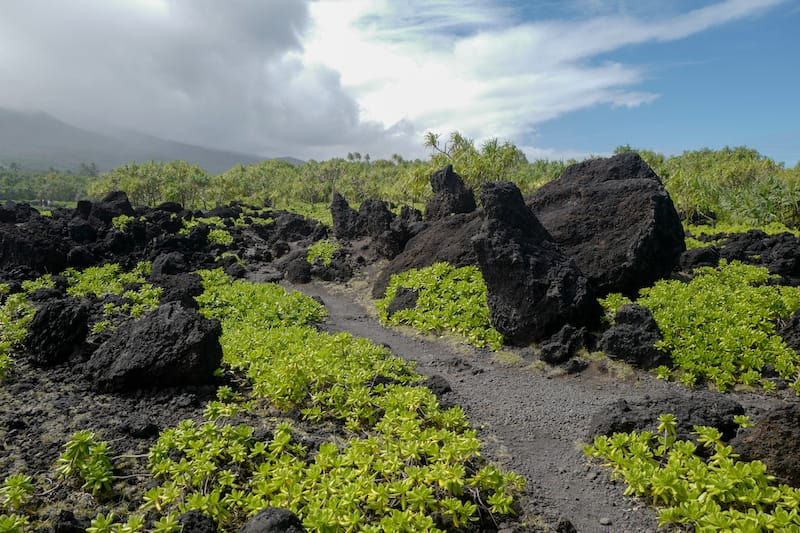 Things to do in Wai'anapanapa State Park (and Nearby)
Waiʻānapanapa State Park has a lot to offer to its visitors and will blow you away with several must-see sights and attractions!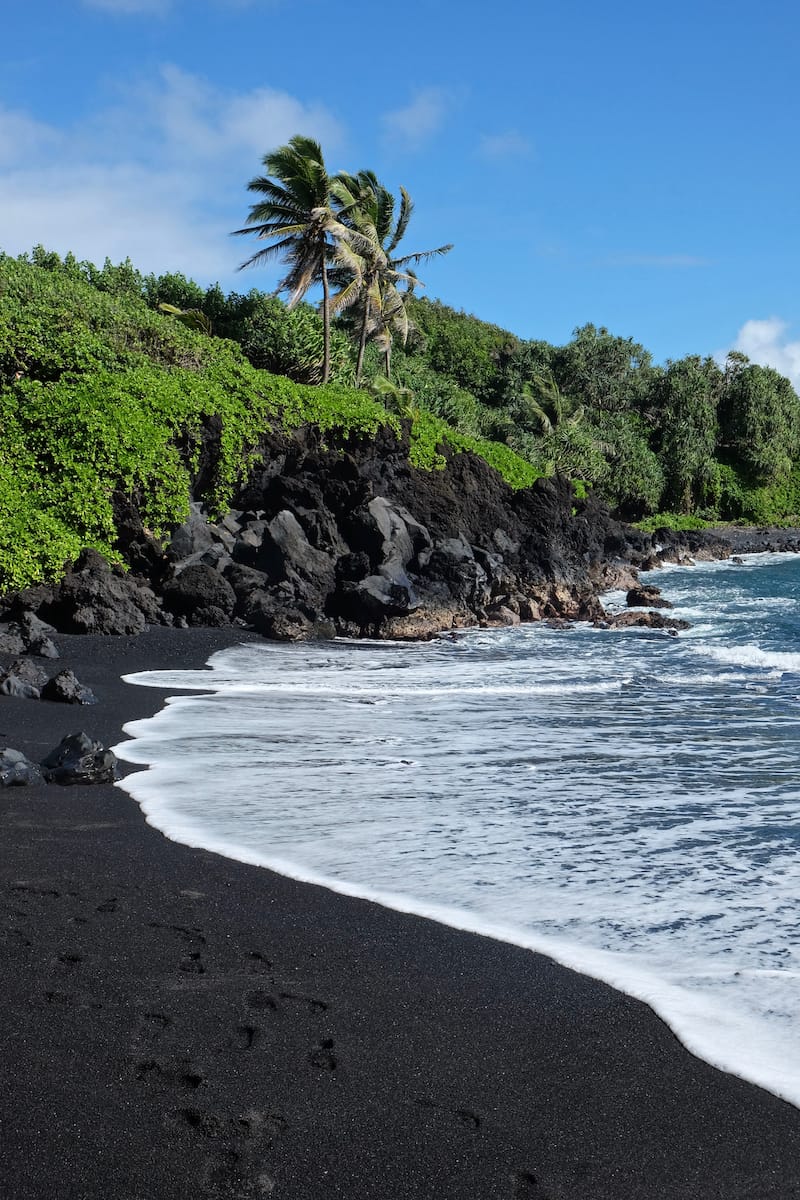 For example, in Waiʻānapanapa State Park, is possible to see one of Maui's most famous black sand beaches made up of small, volcanic stones that are situated along the deep blue waters from the Pacific.
Cliff jumping
For water junkies (and adrenaline junkies that are skilled swimmers), you can go cliff jumping in the park.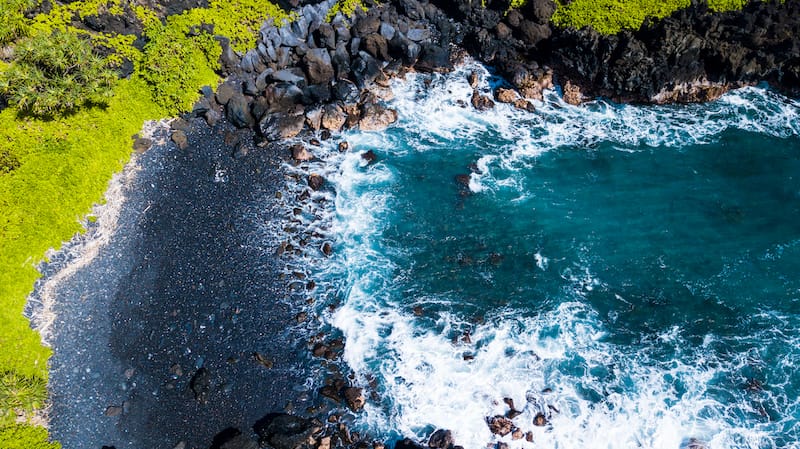 But, it's important to know that cliff jumping near the black sand beach is needs to be done when the weather is calm and the ocean is clear to see the bottom close to the cliffs. Be safe!
Blowhole
Another amazing natural place that Waiʻānapanapa State Park has to explore is the blowhole. The blowhole is a large cave hole on the black rocks and where the ocean waves pound the Earth.
Near the park, you will find the Hāna Lava Tube. It is made from lava rock formations and was created after a volcanic eruption – you can walk through it and see a unique ecosystem.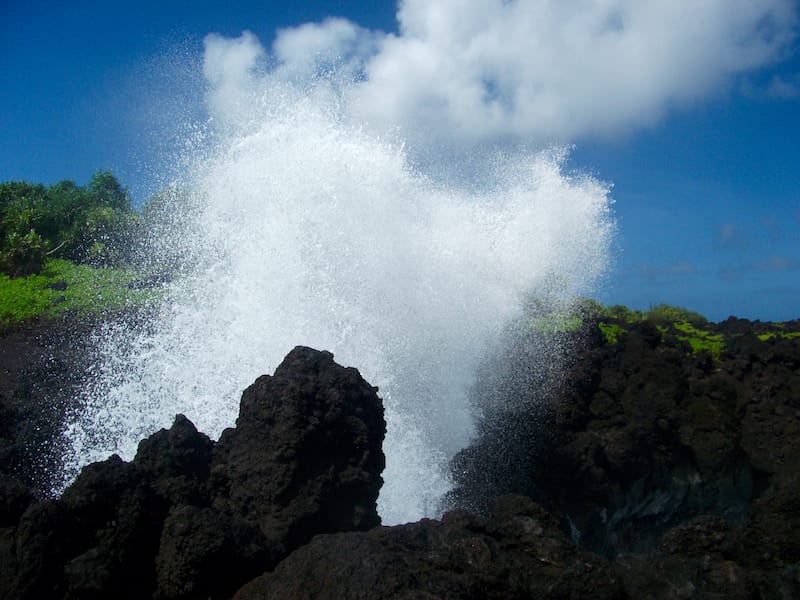 Don't miss out on the Hāna Maui Botanical Gardens where you can see and observe tropical flora, stay in a small bed and breakfast, and enjoy local food.
Hana Gold Cacao Plantation is a cool stop to see how locals are growing cocoa beans right there, check out the farm, try and buy delicious chocolate. It is a great addition to any Maui road trip itinerary!
If you're traveling the road to Hana here, you will pass many of the beautiful Maui waterfalls that sit along the route!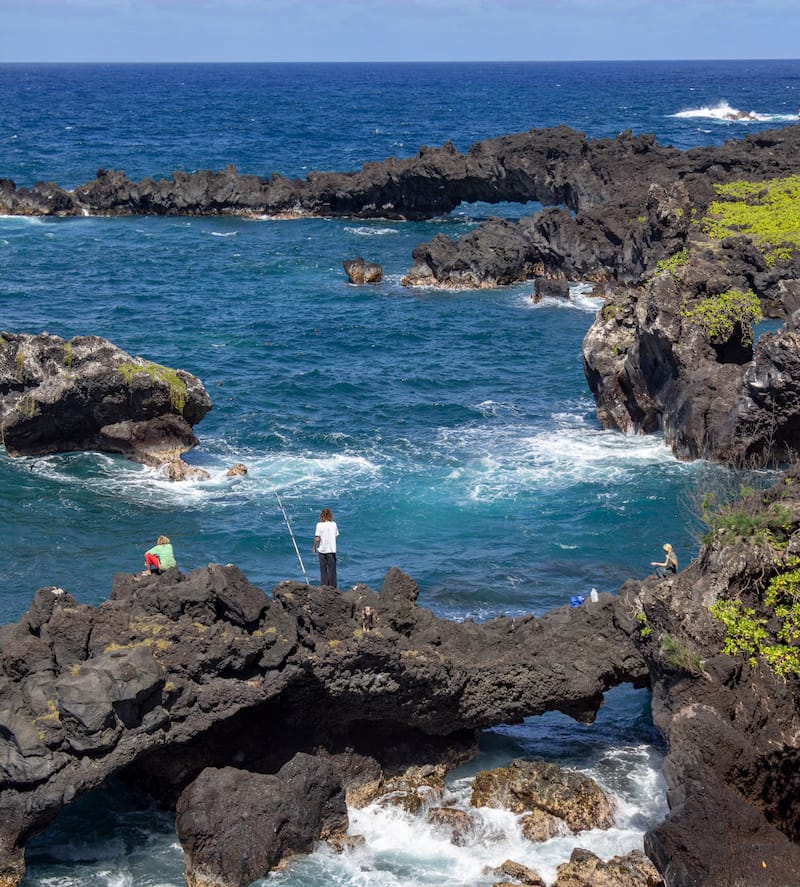 Waiʻanapanapa State Park Vistor Info
Working hours: Every day from 7:00 am – 6:00 pm
For Hawaii residents the entrance is free
For non-residents, the price is $5.00 per person
For toddlers, the entrance is free
YOU WILL NEED A RESERVATION! CLICK HERE TO MAKE.
Camping Prices
For residents, the cost is $20 per night
For non-residents the cost $30 per night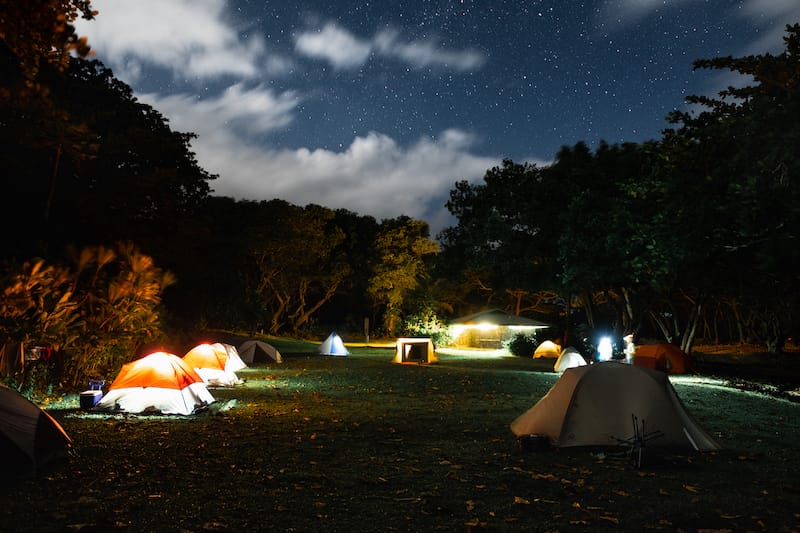 Cabin Prices
For residents, the cost is $70 per night
For non-residents, the cost is $100 per night
Important Note: Your cabin reservation needs to be done 3-days prior.
Wai'anapanapa State Park is definitely one of the best places to visit in Maui and it is a nice change of scenery from Kihei and other places around the island.
Do you have any tips for visiting Wai'anapanapa State Park? Let us know in the comments!
Pin this Wai'anapanapa State Park Travel Guide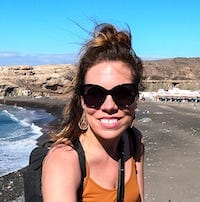 Megan is a travel blogger and writer with a background in digital marketing. Originally from Richmond, VA, she has been traveling frequently to Hawaii for the last 15 years and loves exploring every corner of each Hawaiian island, while trying to promote sustainable travel and small, local businesses along the way. Megan has written for or been featured by National Geographic, Forbes, Lonely Planet, the New York Times, and more. She has co-authored a guidebook with Fodor's Travel and has visited 45 US states and 100+ countries.