If you're visiting Maui, there is a high probability that you will visit or stay in Lahaina (or somewhere nearby). These are the best things to do in Lahaina, including exciting activities that will entertain all travelers!
UPDATE 9/15/2023:
We currently discourage traveling to Lahaina due to the recent wildfires. However, other parts of Hawaii are open for business – please support local! Donations are graciously welcome and you can do so by visiting here. We will update our content on the site in due time. Mahalo.
Are there any activities or attractions in Lahaina that we missed in this guide?
Let us know your favorite places to visit in Lahaina in the comments. Thanks!
Are you planning your trip to Lahaina last minute?
If you are traveling to West Maui last minute, you will find some of the top tours, hotels, and more below!
🐬 Top Experiences and Tours in Lahaina/Kaanapali:
🛌 Top Hotels in Lahaina (and nearby):
Best Western Pioneer Inn (I stayed here – has free parking!)
The Kulani Maui (in the center of Lahaina!)
The Westin Nanea Ocean Villas (in Ka'anapali)
🚗 Traveling to Maui independently? Be sure to book your rental car ahead of time to ensure availability!
Best Lahaina Tours & Activities (to Maximize Your Time!)
If you're looking for something more organized when in Lahaina and the surrounding area, here are some awesome Lahaina/Kaanapali tours you should check out.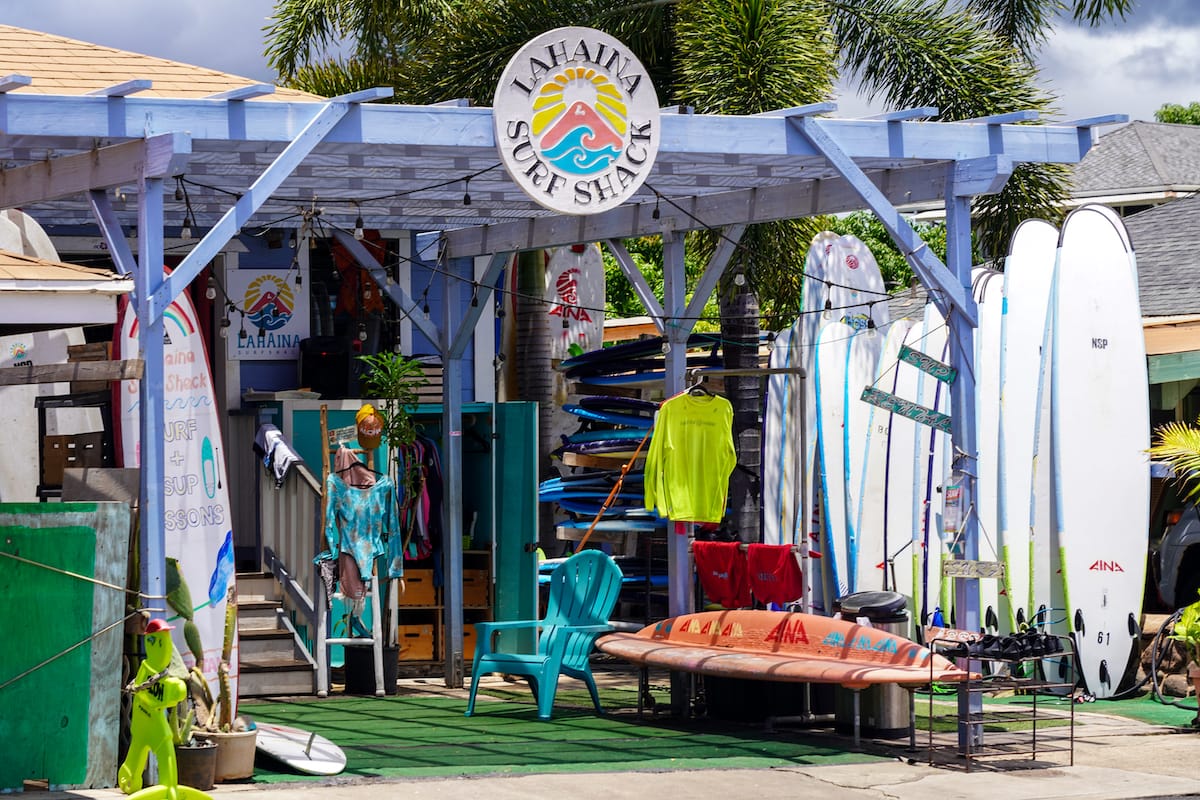 These tours will help you maximize your time, which is especially important if you only have a short amount of time in Maui. We listed a variety so that you can pick which one is most suitable for you (and many include multiple places!):
Best Things to Do in Lahaina
1. Take a Snorkeling (and Dolphin Watching!) Tour to Lanai
If you're looking for the best snorkeling and dolphin/whale-watching tour, this is the best tour in Lahaina!
This tour is run by the Pacific Whale Foundation and 100% of the profits are dedicated to humpback whale research in Hawaii! While whale watching is a seasonal activity in Hawaii, dolphin watching and snorkeling can be done year-round!
The journey will leave Lahaina Harbor (after meeting at the Pacific Whale Foundation's shop) and head across the water toward the island of Lanai.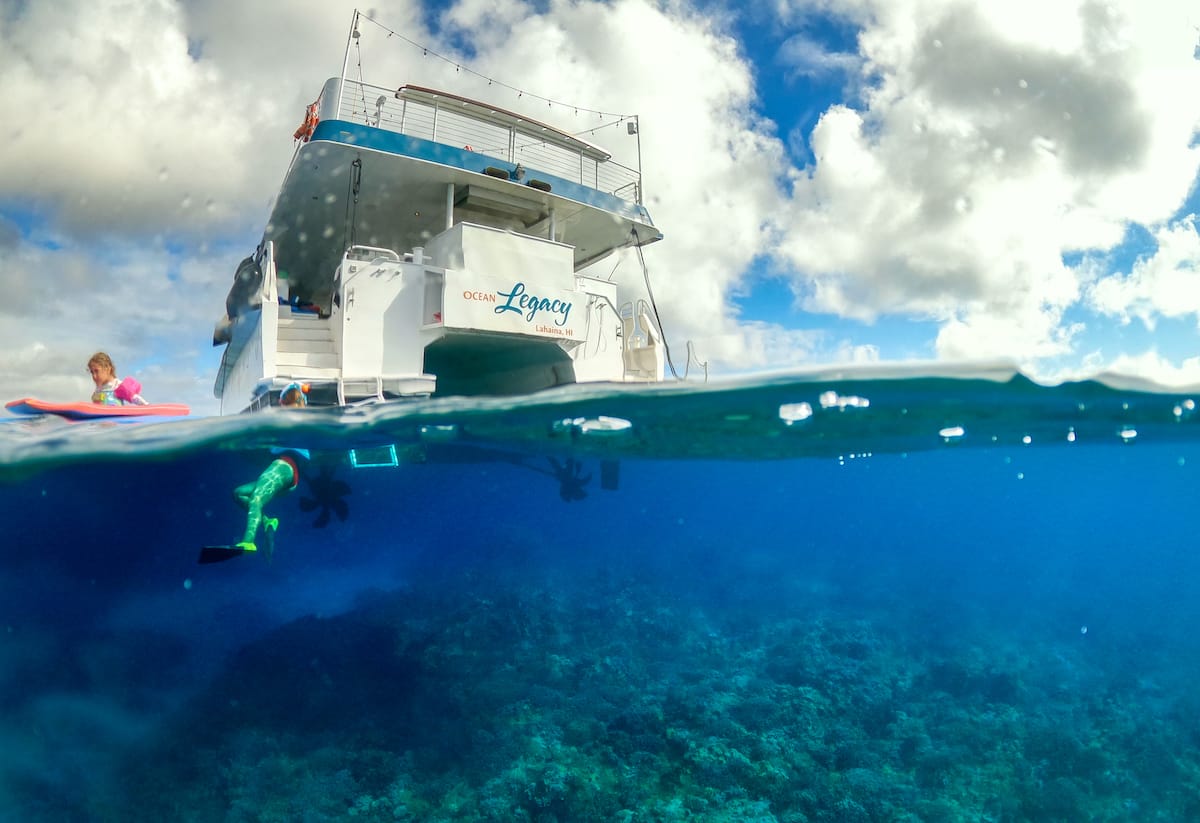 For 5 hours, you will snorkel, have lunch, and learn more about the marine life of Hawaii.
Snorkel gear is included, and so is lunch. Vegetarian options will be present.
A continental breakfast is also available in the morning and this is one of the best Lahaina tours for kids as there is also a junior naturalist program for children that takes place on the boat.
>> Click here to check snorkel tour rates and availability
2. Go to the Maui Nui Luau at the Sheraton Kaanapali
You will find several luaus on Maui, but my favorite is the Maui Nui at the Sheraton in Kaanapali.
The luau is about three hours long and is located right by the ocean. You'll be greeted with a flower lei and there is a imu ceremony before the entertainment takes place.
You will have a chance to enjoy the Hawaiian buffet that is included – which will have everything from Kalua pig to poi (and more).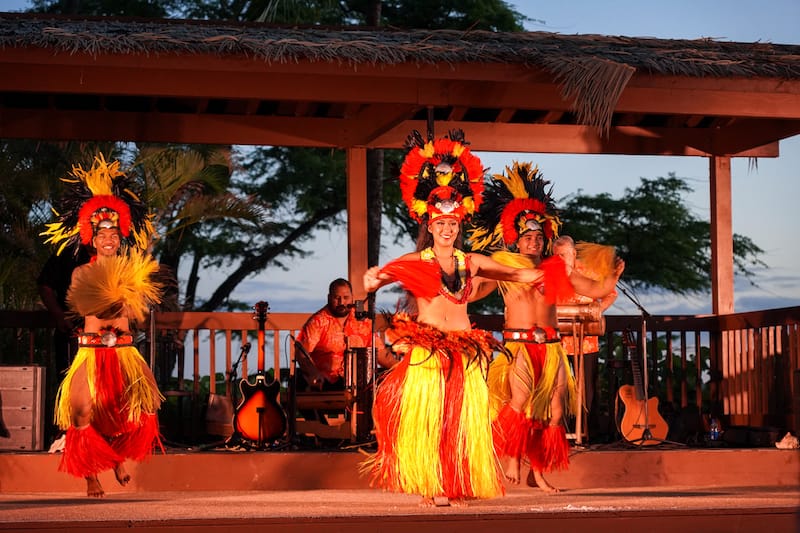 Alcoholic beverages (and non-alcoholic!) are included at the luau and you can even purchase a photo of you and your group to take home as a souvenir.
Parking is included during the luau hours.
>> Click here to check luau rates and availability
3. Take a Sunset Cruise from Kaanapali (My Favorite Experience!)
I have taken so many tours on Maui but one of my very favorite experiences on the entire island (and my favorite in Kaanapali and Lahaina) is this sunset cruise from Kaanapali Beach.
The cruise takes place on a spacious catamaran and you will hop aboard with a knowledgeable crew for a couple of hours while you sail into the sunset and can look in the distance for whales and dolphins.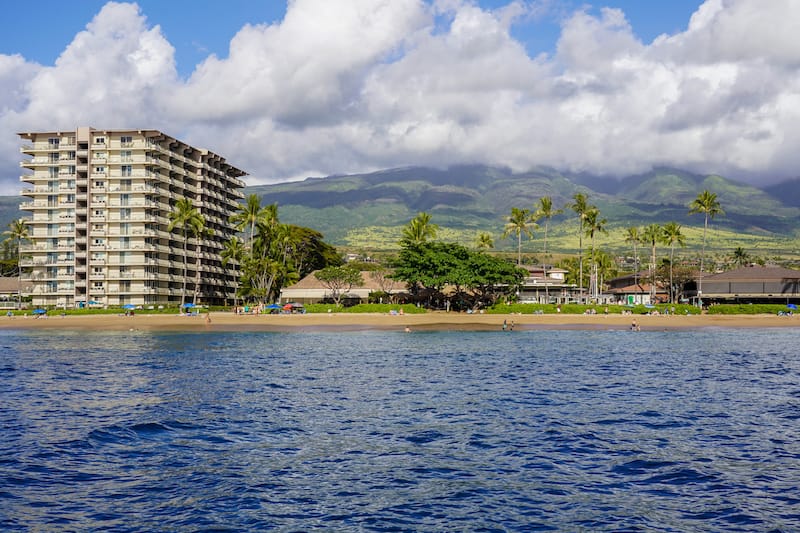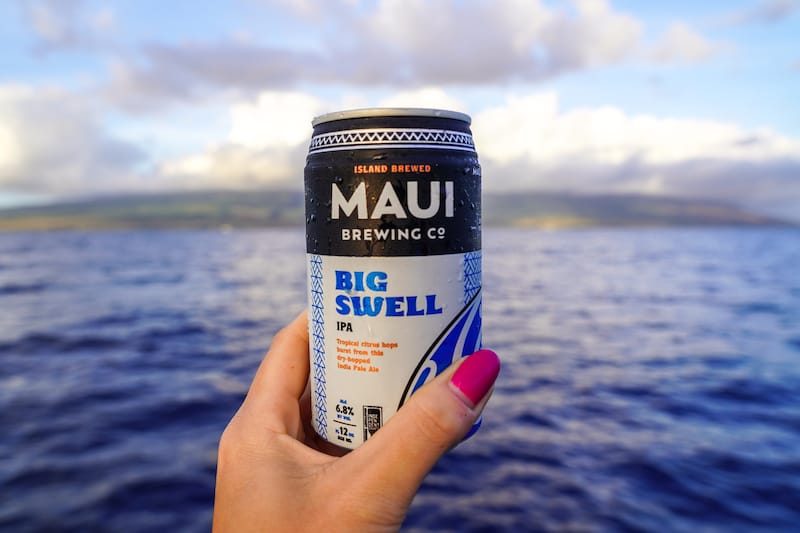 Drinks and food are included in the price and there is music on-board and it was seriously so much fun! Everyone became friends and was chatting. This tour, unfortunately, is not suitable for those with mobility impairments or wheelchair users.
Note: There is an open bar with Champagne, beer, and more. It was seriously such a great time!
>> Click here to check sunset cruise rates and availability
4. Explore Lahaina's Historic Front Street
In case you're looking for a good range of stores all on one street, Lahaina's Front Street is the place to go. It is the main thoroughfare in the city and you will find a lot of stores and restaurants along it!
The history of Front Street dates to the mid-19th century as it was a port of call for ships that were used for whaling. The street was renowned for its taverns that were brimming with sailors on leave.
Far down Front Street, you can also find the Lahaina Cannery Mall. While nothing too exciting, it is a traditional mall with a great variety of souvenir shops.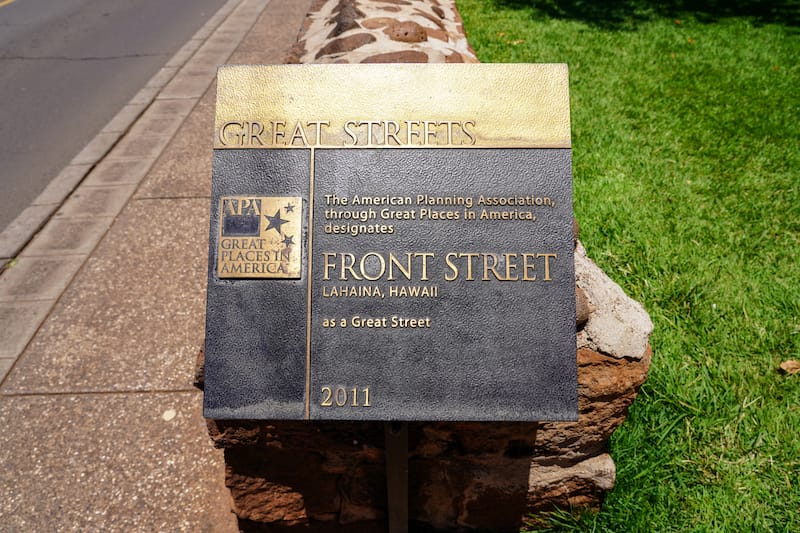 You can enjoy a sunset ceremony on the rooftop of Fleetwoods, or attend The Feast at Lele. It takes you on a 5-course evening with Polynesian cuisine from Hawaii, Tahiti, Aotearoa, and Samoa.
Don't miss out on having a meal at one of the top restaurants on Front Street, Down the Hatch. Located in the Wharf Cinema Center Shops, this place has been on national TV programs and offers some of the best seafood on the island!
Baldwin Home
Baldwin Home, Maui's oldest house that remains standing is a prominent landmark in the heart of downtown Lahaina and it is also located on Front Street. It was initially a one-story "missionary compound" built in 1834 by Reverend Ephraim Spaulding.
Just two years after completing the house, Spaulding was forced to return to the mainland due to illness, and Reverend Dwight Baldwin, a medical missionary who had been living in a grass hut on the site, moved in with his family.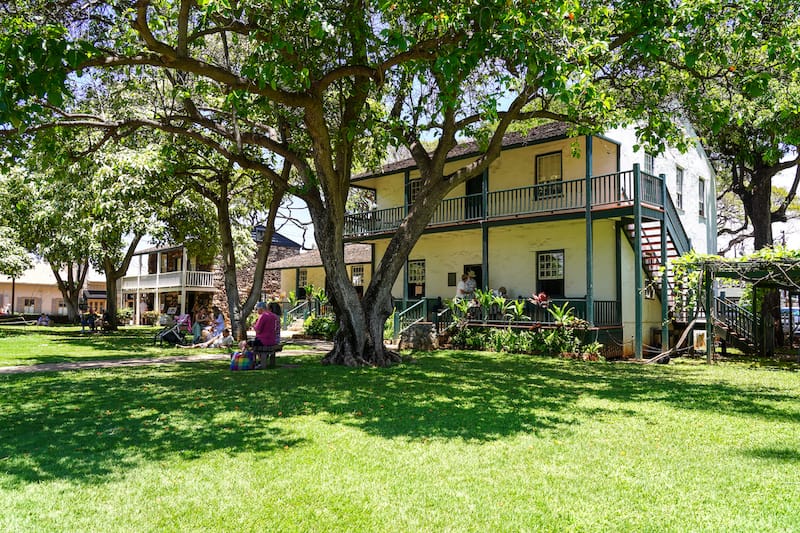 Nowadays, it's open for tourists to explore the historic building inside and out. It's open daily (candlelit tours are held every Friday).
The fee for entrance is quite affordable (only 7$ for adults) and it also includes entrance to the Wo Hing Museum.
5. Take a Surfing Lesson in Lahaina
One of the best things to do when visiting Hawaii is to learn how to surf! Luckily, the Lahaina area offers group lessons for those who are eager to learn how to get themselves going out on the waves.
Before jumping on your surfboard, paddle out to the break wall in Lahaina and get a feel for the waves. The class is designed for both beginners and intermediate surfers.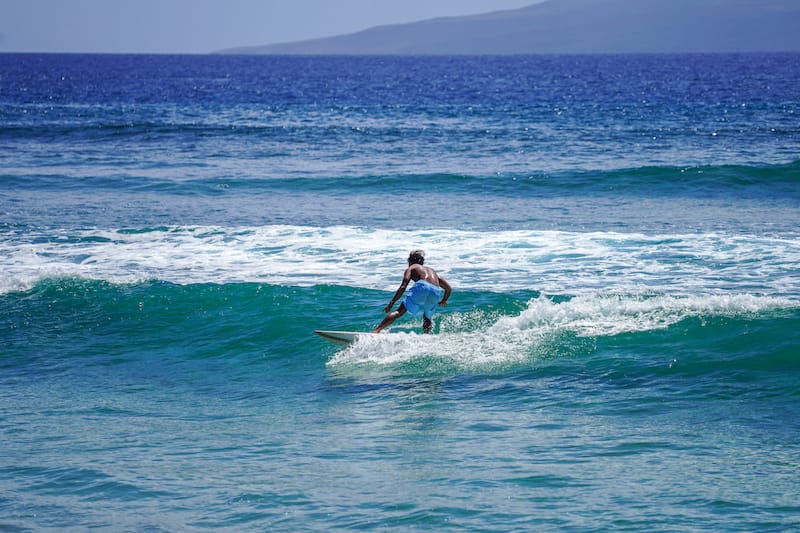 The lesson lasts for two hours and you will have a lesson on the sand before taking to the waves. Do note that the groups are limited to six people to ensure that this is a personalized experience.
>> Click here to check rates for Lahaina surfing lessons
6. Hike the Nearby Kapalua Coastal Trail
In the northwest corner of Maui, the Kapalua Coastal Trail is a lovely stroll through lava fields and wilderness, alongside the beach, and next to many of the area's luxury hotels.
This hike is around three and a half miles round trip or 1.76 miles one way. It stretches from Kapalua Bay's south end to D.T. Fleming Beach.
You can begin your walk at either end of the trail, complete the round trip, and then spend the remainder of the day at one of the two fantastic beaches.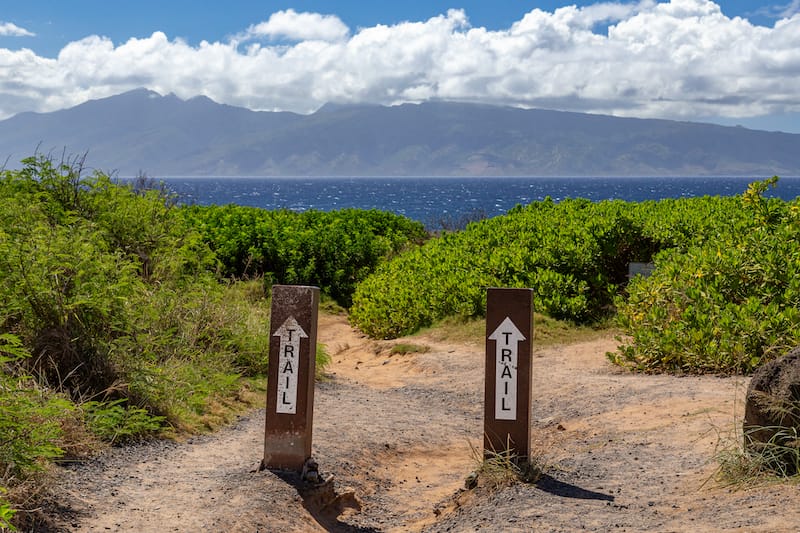 Those beaches, located at the beginning and the end of the trail, were both named the best beaches in the United States (Kapalua Beach in 2018 and Fleming Beach in 2003).
While the Kapalua Trail is not directly in Lahaina, it is merely a short drive north!
7. Have Ube Pancakes (or Anything!) at 808 Grindz Cafe
I can seriously claim that the ube pancakes I had at 808 Grindz Cafe were one of the best things I have ever put in my mouth. My mom said the same thing!
I ate at their other location in Kona and I was told that these pancakes were not consistently on the menu (I wanted to cry) but luckily, everything else I ordered at 808 Grindz was tasty and made the visit worthwhile.
808 Grindz Cafe is located in a Lahaina strip mall in a rather unassuming place. But, don't worry, it will likely have a wait because this place is THAT good. And the locals know it.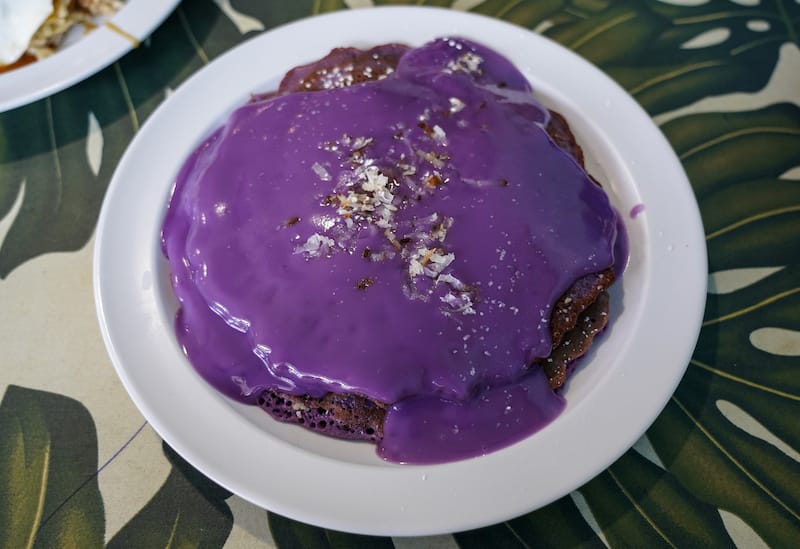 They serve breakfast and lunch and close at 2pm most days (they are fully closed on Mondays). Be patient – like everywhere else in Hawaii, the pandemic hit the service industry hard and 808 Grindz is no exception.
But the service was friendly and it even left me enticed to go to their other location on the Big Island.
The food here is Hawaiian so expect some hearty dishes.
Address: 843 Waine'e St, Lahaina, HI 96761
8. Take a Walk Through Banyan Tree Park
Banyan Tree Park is located on the popular Front Street in Lahaina, Maui. The main attraction in the park is, of course, the banyan tree. It was imported from India, planted in April of 1873, and has managed to grow to over 60 feet since!
So, despite the fact that this park appears to have at least a dozen trees, there is just one. The tree has 12 major trunks, not counting the huge core.
It is the largest banyan tree in the entire United States and visiting is one of the best things to do in Lahaina!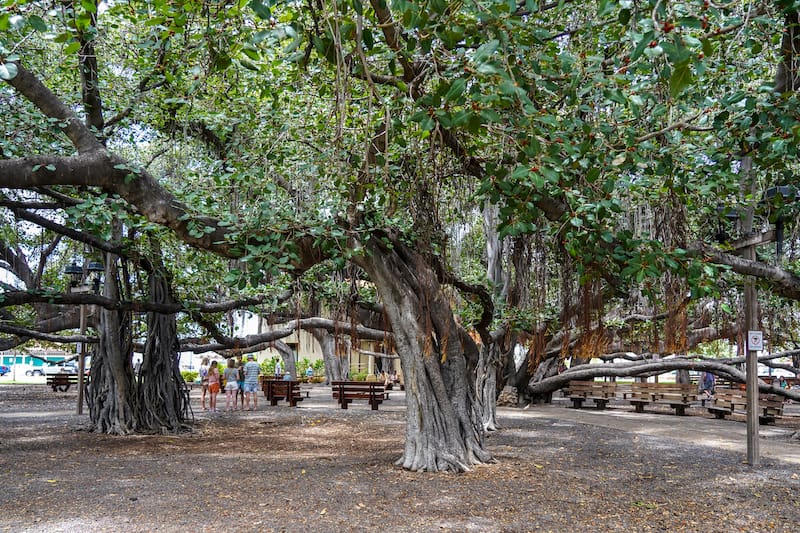 There are benches throughout the park and while it was not a place I wanted to hang out for long, it is nice on the weekends when there are various art demonstrations and craft vendors there.
And, most importantly, this tree provides a little bit of shelter from the Hawaiian sun!
9. Relax on Famous Ka'anapali Beach
Ka'anapali Beach was once a historic hideaway for Maui's elite and is now a famous tourist destination. It encompasses three miles of white sand and crystal clear water, which explains why it has been named "America's Best Beach".
This well-known beach is bordered by five hotels and six condominium villages. Fronting Ka'anapali is Whalers Village (which is the best place to park, in my opinion).
Whalers Village is a world-class shopping complex with a vast range of shops and restaurants, as well as a renowned whaling museum and free Hawaiian entertainment.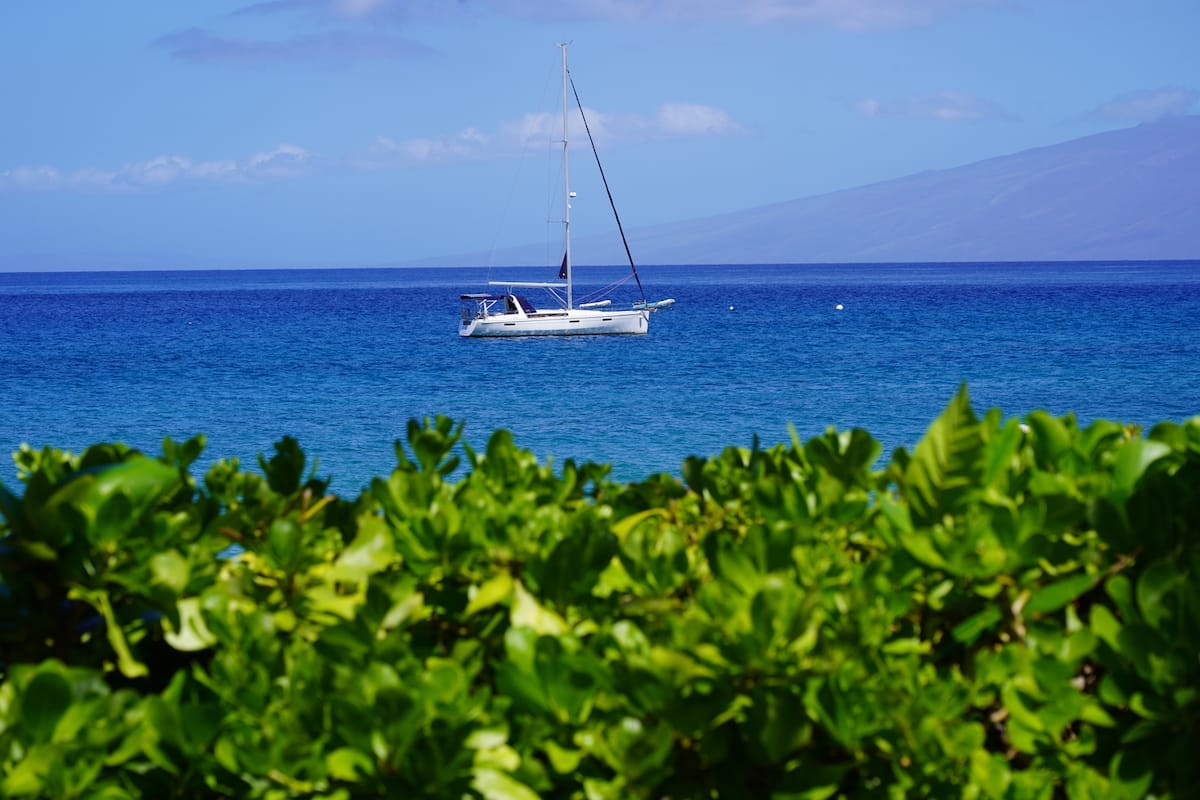 Kaanapali Beach's most famous attraction includes the daily cliff diving ceremony off the beach's northernmost cliffs known as Puu Kekaa, or Black Rock.
You can also take a zip line trip with Kaanapali Skyline Eco-Adventures or go golfing on two championship golf courses: the Royal Kaanapali and the Kaanapali Kai.
This beach is one of the most attractions near Lahaina and is an essential place to visit.
10. Check Out the Lahaina Jodo Mission
Lahaina Jodo Mission temple and complex are situated at Puunoa Point in Lahaina, which is the Hawaiian island's first capital.
The area overlooks the beauty and peacefulness of three adjacent islands—Moloka'i, Lana'i, and Kaho'olawe, and also the West Maui highlands.
The Lahaina Jodo Mission was founded in 1912 under the leadership of Rev. Gendo Saito and with the support of many Japanese immigrants who were working on the sugar and pineapple plantations.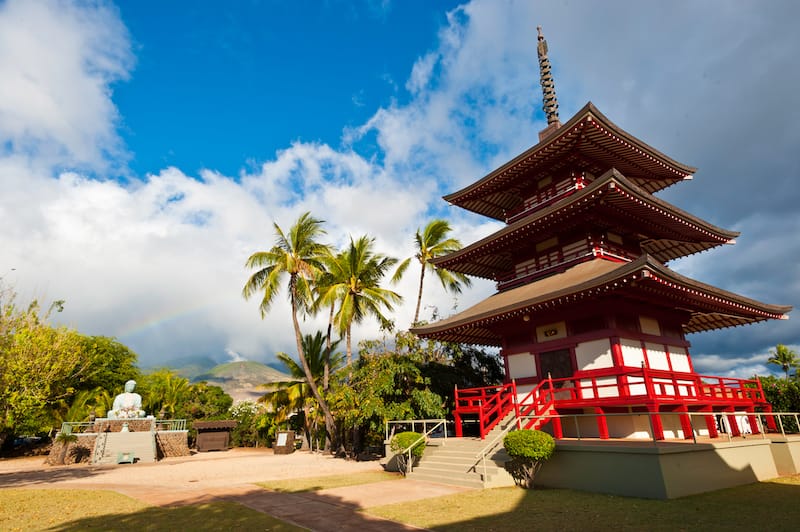 In later years, it was destroyed in a fire. After that, the members of the Mission decided to build a Japanese-style Buddhist temple on the beachfront property.
A 12-foot tall statue of Amida Buddha stands in the temple courtyard. It serves as a celebration of the first Japanese immigrants to Hawaii and is a pretty extraordinary sight in Lahaina!
11. Purchase a Souvenir from Moana Glass
Moana Glass is Lahaina's only furnace glassblowing workshop and a world-class producer of amazing glass art.
The main gallery here offers a huge variety of glass art, which you can buy and take with you if you're looking for a local souvenir.
Another very cool thing to do when visiting Lahaina is to participate in a glassblowing experience at Moana. You will get taught all of the techniques and skills to create your own masterpiece!
The lessons are available for both individual and small groups. They also accommodate large groups, such as corporate and team building events, wedding and birthday parties, etc. Click here to learn more.
12. Watch Cliff Jumping at Black Rock Beach
A great place to cliff-jump and snorkel around Lahaina is Black Rock Beach. It's located at the north end of Ka'anapali Beach, and has a pretty interesting story behind it!
The ancient Hawaiians thought that this was where their spirits traveled to join their ancestors in the afterlife.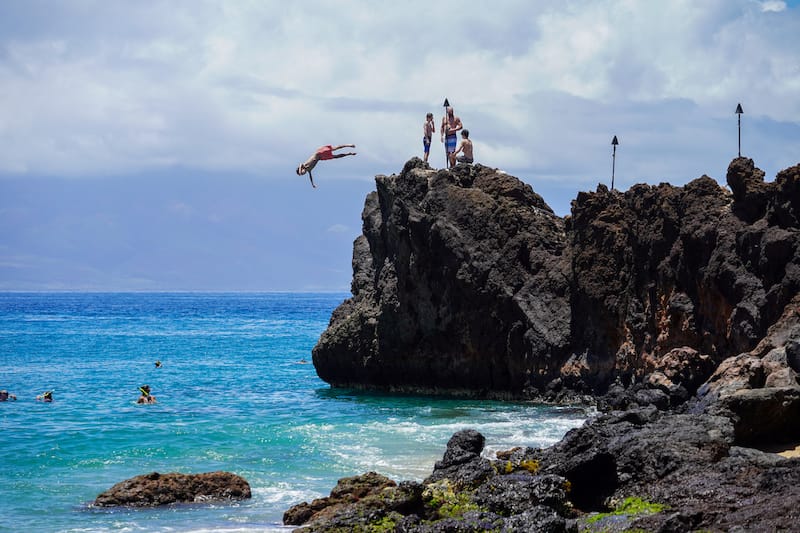 Unlucky souls that were unable to be guided by their family's guardian animal spirit would wander and cling to nearby rocks.
Nowadays, the area of Black Rock is well-known among the younger generation as a cliff-jumping spot… and it is a stone's throw from the famous Kaanapali resorts, so it is an easy place to check out.
Beware though – this is at your own risk. I prefer to stand back and watch others take the plunge.
13. Check Out the Maui Dragon Fruit Farm
As you might've guessed, this farm specializes in growing dragon fruit, but it also offers some of Maui's most unique excursions.
The Maui Dragon Fruit Farm is a 27-acre organic farm that is located around a 10-minute drive from Lahaina on West Maui.
Aside from offering dragon fruit-tasting tours, this farm also hosts weddings and other events.
One of the coolest things you can do here is to roll around in the Aquaball, after which you get a bonus dragon fruit farm tour.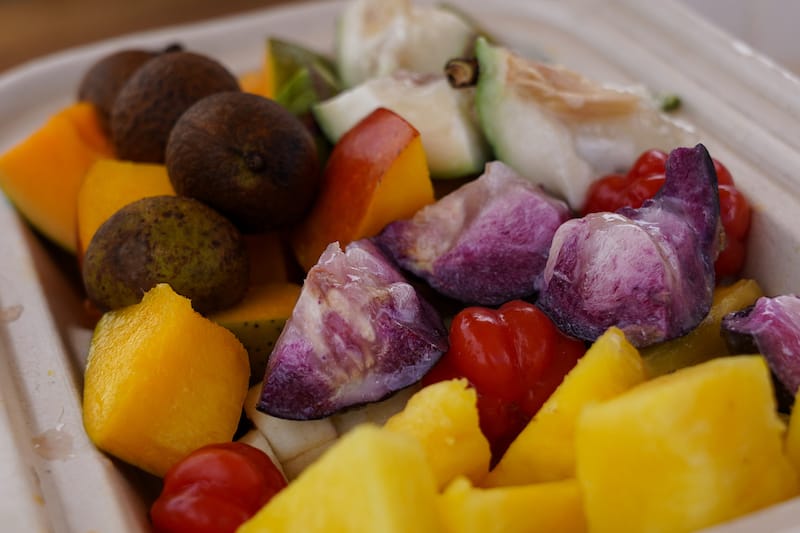 Another unique thing to do is to fly over a dragon fruit field on a zipline. It's a gravity-breaking zipline with fast speed and is just a great recreational activity for adventurers!
I took a tour of the dragonfruit farm and at the end, we got to enjoy a coconut along with a large bundle of fresh fruits grown on-site.
Sadly, it was not dragonfruit season when there, but they had dragonfruit juice so we still got a taste of the good stuff! I think that this is a must for your Maui itinerary, especially if you have kids.
14. Go Scuba Diving in Lahaina
Water lovers will appreciate this Lahaina scuba diving tour as guests are taken underwater and will be able to learn more (and see!) the Hawaiian sea life with their own eyes.
The excursion is designed for no more than 4 people and is appropriate even for beginners. No certification is required.
Upon completion of a short tutorial session with a certified instructor, you're free for the ultimate ocean dive, where you'll see magnificent scenes filled with tropical reef fish, turtles, and rays.
Scuba diving is truly one of the best things to do in Lahaina if you're wanting to see a different world than what exists on land!
>> Click here to book a Lahaina scuba diving tour
15. Go Ziplining in Maui
Another very fun and memorable thing to do while in Lahaina is to go ziplining!
On an award-winning, 8-line experience, you'll fly over Ka'anapali's secluded coastline scenery and take in vistas of the Pacific Ocean and distant islands.
During the zipline tour, you will stand on an observation platform that overlooks a lush valley and the West Maui Mountains.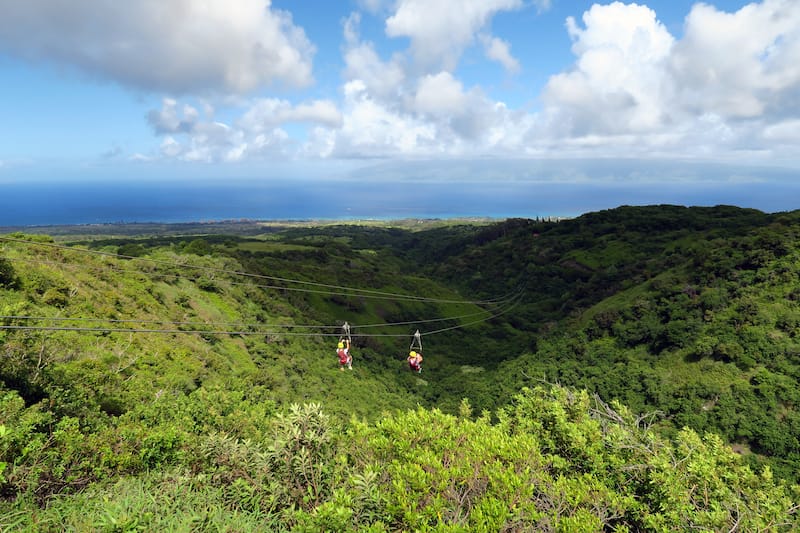 Each zipline is more and more exciting and thrilling than the last. This is a fantastic Lahaina adventure for the entire family! A zipline experience will be about 3.5 hours long.
>> Book your unforgettable Maui zipline experience
16. Go Whale Watching in Maui
Whale watching in Maui is the kind of experience you'll want to rave about for years and years to everyone you know (seriously!)
Luckily, for Lahaina tourists, there is a special up-close whale-watching boat tour that is offered from the Maui city.
This whale watching cruise departs from the historic Lahaina Harbor and ventures into the Maui waters where the humpback whales will be living primarily during the season from November to May.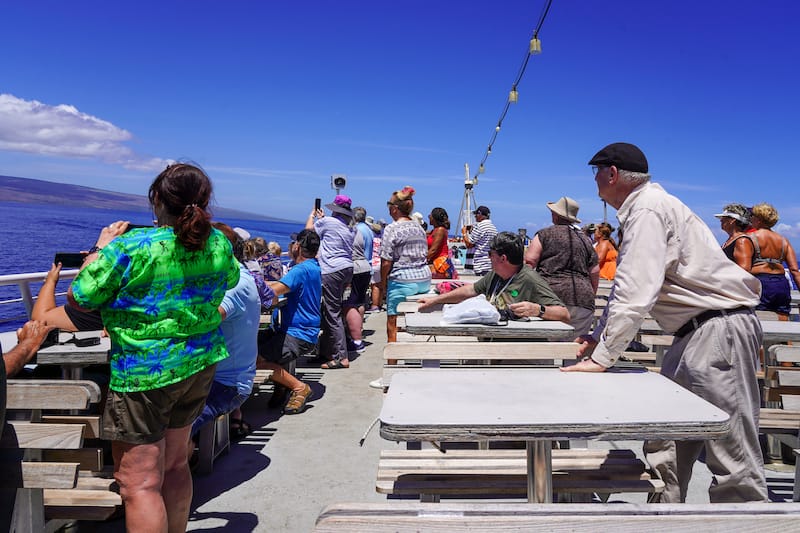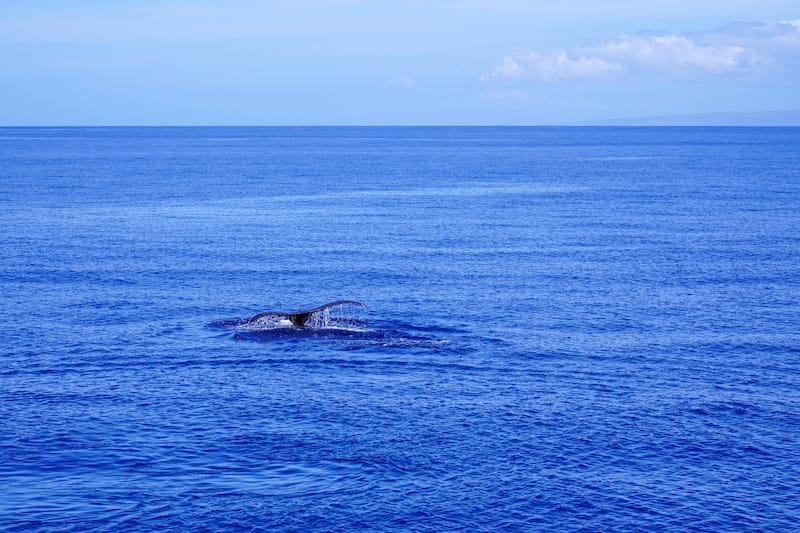 I saw plenty of whales on this trip and while the boat is a larger one with many people, the price is of good value and I think it is a great tour for those looking to check out the whales in an easy manner!
The trip leaves from Lahaina harbor and you will be able to buy drinks and snacks on board. I got so fried on the boat – so wear sunscreen! There is little shade!
>> Book your whale watching trip on Maui here
17. Drink a Tasty Coffee in Lahaina
One thing you must do when you're visiting Lahaina and Hawaii, in general, is to enjoy a coffee there! You will find some cool cafes that specialize in Hawaiian coffee as well as third-wave options.
The following Lahaina cafes are ones to definitely add to your itinerary (and Maui bucket list):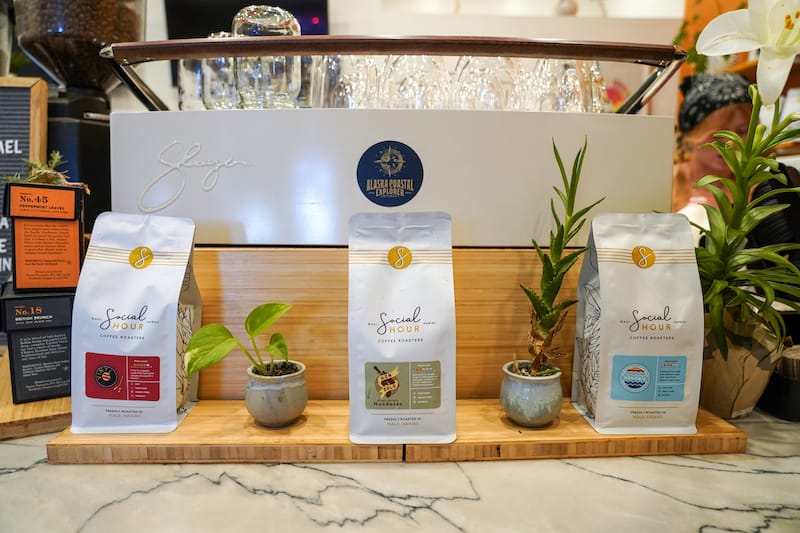 Where to Eat in Lahaina
Fortunately, there are plenty of delicious places to eat in Lahaina! You can find everything from sandwiches to salads to large seafood feasts… and more!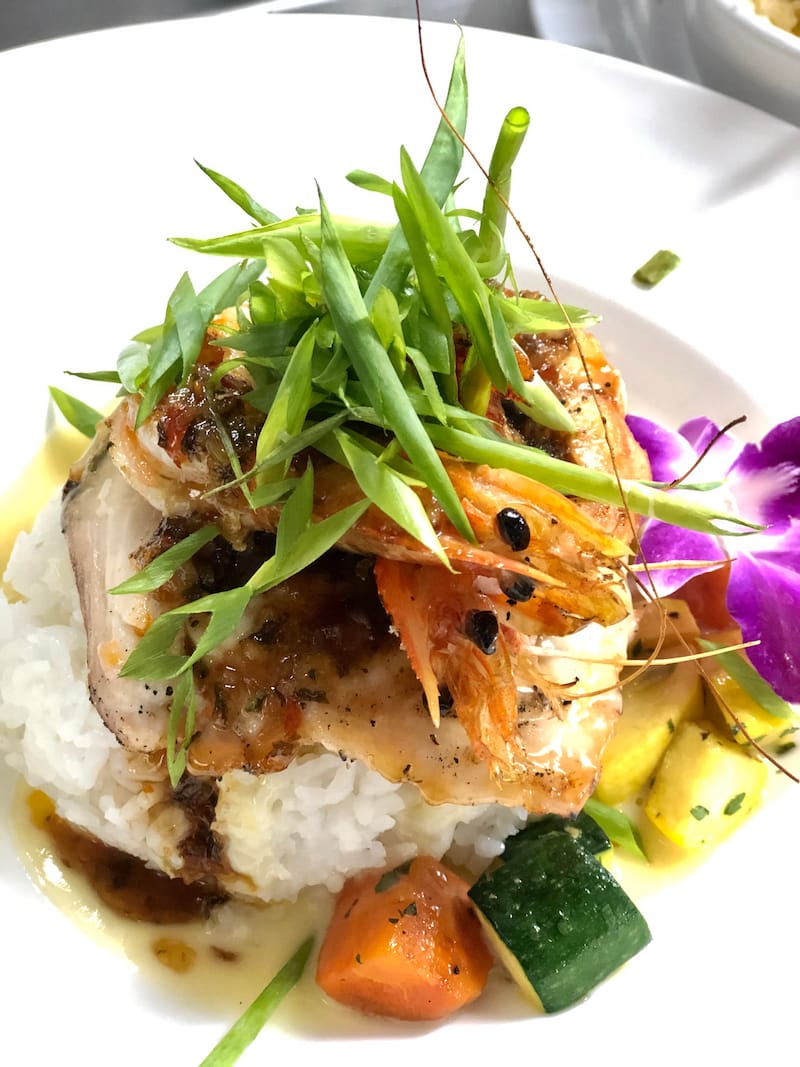 Here are some of the top-rated places in Lahaina for a meal when there:
Let us know other tasty places to eat in Lahaina if you have some recommendations!
Where to Stay in Lahaina
Options are aplenty for hotels and places to stay in Lahaina. Below are a few top-rated hotels in Lahaina that you can book for your stay on Maui!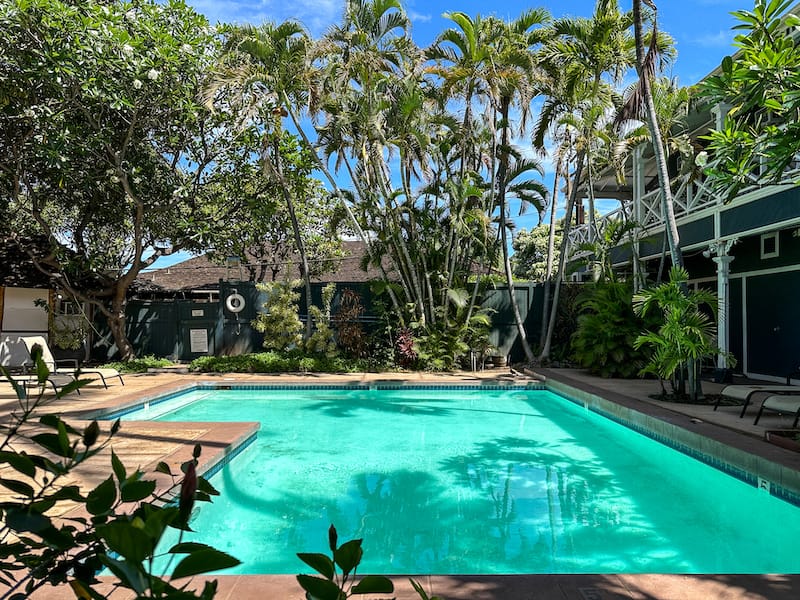 Have you visited Lahaina? What are your recommendations for the best things to do in Lahaina? Let us know in the comments! Thanks!
More Maui Travel Guides
Pin this Lahaina Things to Do Guide