If you're visiting Maui, there is a high probability that you will visit or stay in Lahaina (or somewhere nearby). These the best things to do in Lahaina, including exciting activities that will entertain all travelers!
Are you planning your trip to Lahaina last minute?
If you are traveling to Maui last minute, you will find some of the top tours, hotels, and more below!
Top Experiences and Tours in Lahaina (and Maui):
Top Hotels Lahaina (and Maui):
Traveling to Maui independently? Be sure to book your rental car ahead of time to ensure availability!
Are there any activities or attractions in Lahaina that we missed on this guide? Let us know your favorite places to visit in Lahaina in the comments. Thanks!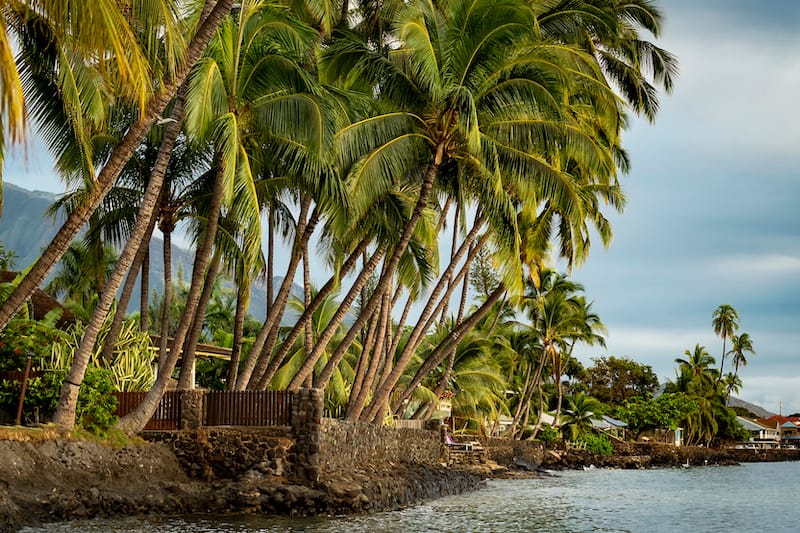 Best Things to Do in Lahaina
Banyan Tree Park
Banyan Tree Park is located on the popular Front Street in Lahaina, Maui. The main attraction in the park is, of course, the banyan tree. It was imported from India, planted in April of 1873, and has managed to grow to over 60 feet!
So, despite the fact that this park appears to have at least a dozen trees, there is just one. The tree has 12 major trunks, not counting the huge core. It is the largest banyan tree in the entire United States and one of the best things to do in Lahaina.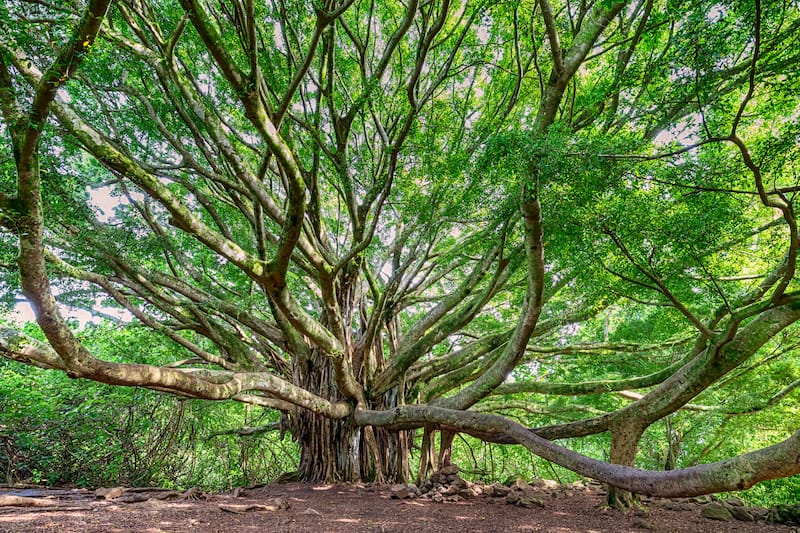 The park serves not only locals but also tourists visiting Lahaina. The benches below it are where one can relax and soak up the Hawaiian sun. On weekends, various demonstrations of arts and crafts are frequently held here.
Lahaina Front Street
In case you're looking for a good range of stores all on one street, Lahaina Front Street is the place to go. You can combine a bit of strolling along with some shopping. The variety of stores here ranges from low-cost souvenir shops all the way to high-end, beautiful art galleries.
Far down Front Street, you can also find the Lahaina Cannery Mall. While nothing too exciting, it is a traditional mall with a great variety of souvenir shops.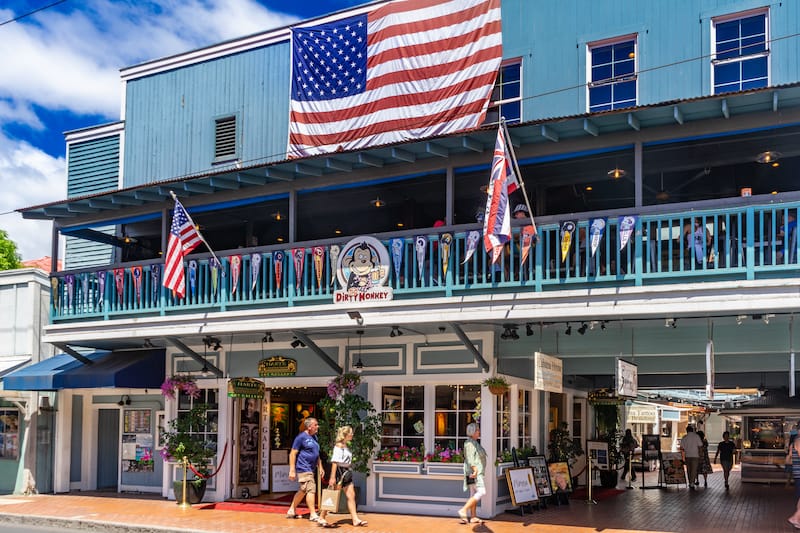 You can enjoy a sunset ceremony on the rooftop of Fleetwoods, or attend The Feast at Lele. It takes you on a 5-course evening with Polynesian cuisine from Hawaii, Tahiti, Aotearoa, and Samoa.
Go Surfing in Lahaina
Visiting Hawaii and not attempting to surf is a sin! Luckily, the Lahaina area offers group lessons for those who are eager to learn how to get themselves going out on the waves.
Before jumping on your surfboard, paddle out to the break wall in Lahaina and get a feel for the waves. The class is designed for both beginners and intermediate surfers.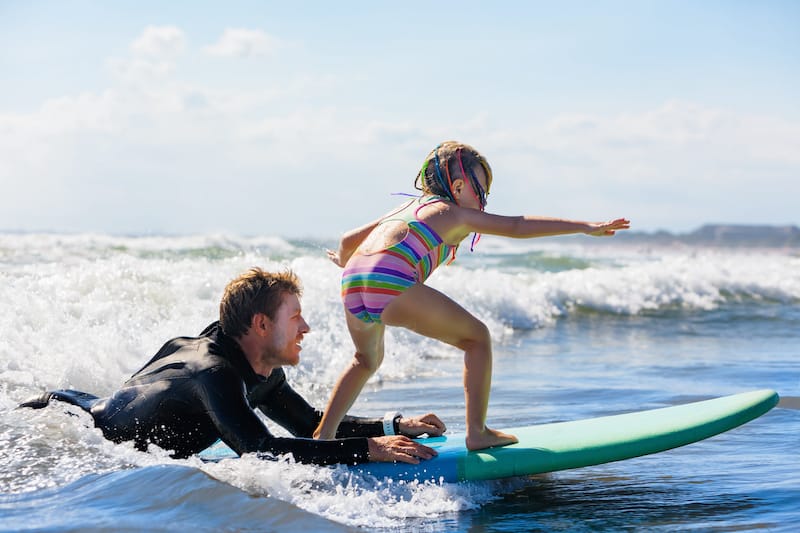 You can also get a sand lesson before heading out to the water. Note that groups are limited to six people to ensure a personalized experience.
>> Click here to check rates for Lahaina surfing lessons
Kapalua Coastal Trail
In the northwest corner of Maui, the Kapalua Coastal Trail is a lovely stroll through lava fields and wilderness, alongside the beach, and next to many of the area's luxury hotels.
This hike is around three and a half miles round trip or 1.76 miles one way. It stretches from Kapalua Bay's south end to D.T. Fleming Beach.
You can begin your walk at either end of the trail, complete the round trip, and then spend the remainder of the day at one of the two fantastic beaches.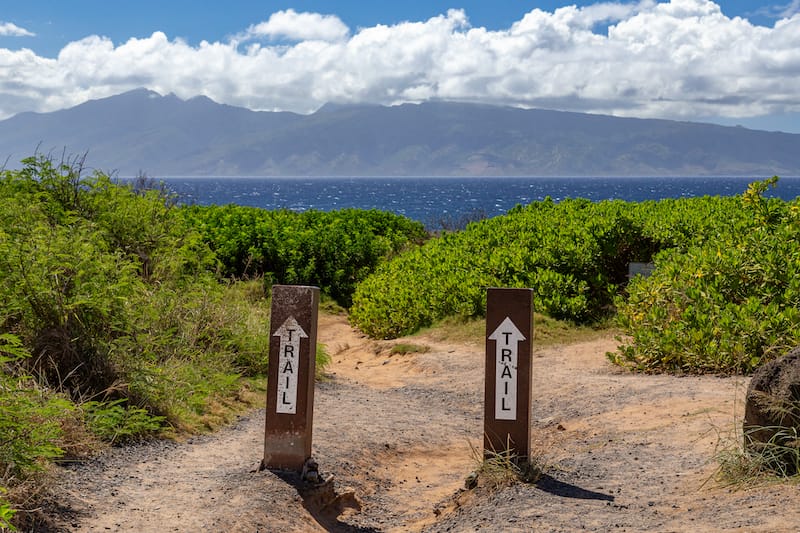 Those beaches, located at the beginning and the end of the trail, were both named the best beaches in the United States (Kapalua Beach in 2018 and Fleming Beach in 2003).
Ka'anapali Beach
Ka'anapali Beach was once a historic hideaway for Maui's elite and is now a famous tourist destination. It encompasses three miles of white sand and crystal clear water, which explains why it has been named "America's Best Beach".
This well-known beach is bordered by five hotels and six condominium villages. Fronting Ka'anapali is Whalers Village.
It's a world-class shopping complex with a vast range of shops and restaurants, as well as a renowned whaling museum and free Hawaiian entertainment.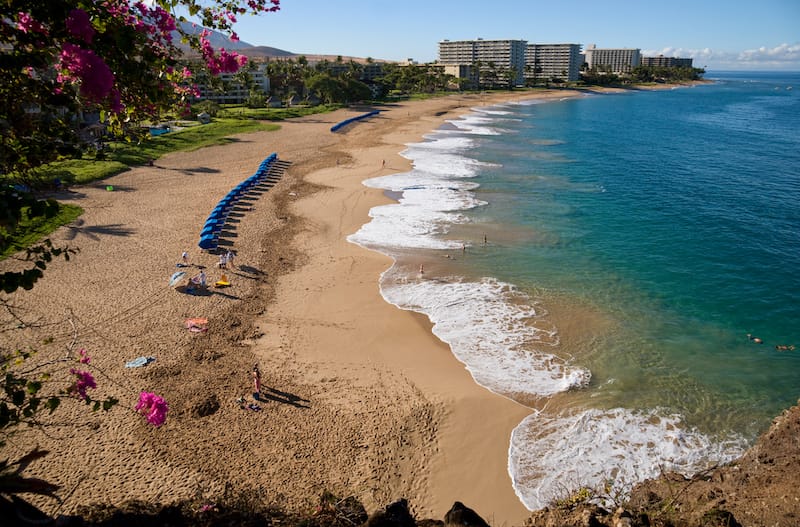 Kaanapali Beach's most famous attraction includes the daily cliff diving ceremony off the beach's northernmost cliffs known as Puu Kekaa, or Black Rock.
You can also take a zip line trip with Kaanapali Skyline Eco-Adventures or go golfing on two championship golf courses: the Royal Kaanapali and the Kaanapali Kai. This beach is one of the most popular landmarks near Lahaina!
Old Lahaina Luau
This is the ultimate place to feel the real spirit of Hawaii. At the Old Lahaina Luau, the visitors take in all the pleasure from the historic cultural experience, where the setting, feast, and entertainment are of top-notch quality.
This is the only Maui luau where you'll be greeted with the gift of a fresh orchid lei. After that, you get invited to your seat, either your own raised private table or a traditional mat style on the floor.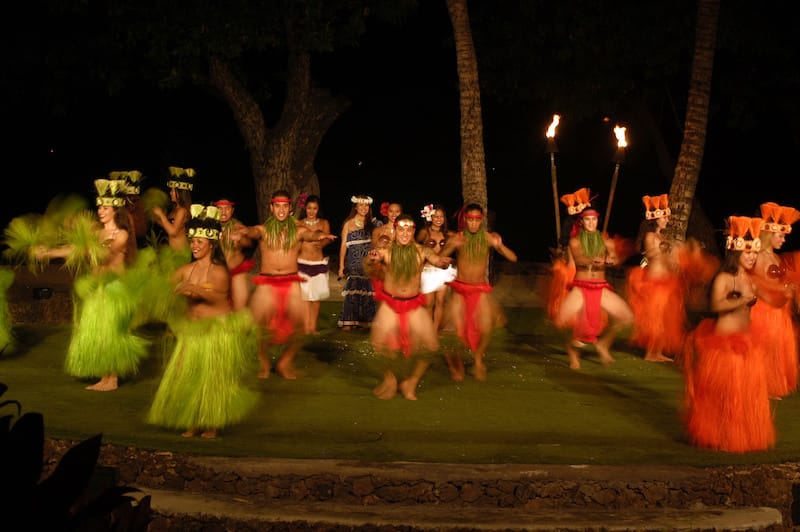 The gourmet Hawaiian buffet at this luau is noted for serving delicious and traditional Hawaiian food.
You'll be greeted with an 'Aloha' and refreshing island drinks. This is definitely a fantastic thing to do for families visiting Lahaina and Maui!
Go on a Sunset Cruise from Lahaina
If you happen to be searching for perfect sunset views in a deluxe catamaran (and in Lahaina), then look no further! You're going to get immersed in the romantic views of Maui, and it will definitely be a challenge to snap back into reality afterward!
The Lahaina sunset cruise trip lasts nearly two and a half hours and will guide you through Maui's waters, where everything is about the endless sea views.
You're allowed to take some tasty beverages and snacks with you on board. Alternatively, onboard drinks will include locally-made beer, mai tais, wine, and Champagne… as well as hot and cold pupus (appetizers) from the famed Down the Hatch Restaurant.
Last but not least, you might get lucky and see humpback whales migrating to the Hawaiian Islands each year from December to May.
>> Click here to book your sunset cruise from Lahaina
Baldwin Home Museum
Baldwin Home, Maui's oldest house that remains standing is a prominent landmark in the heart of downtown Lahaina. It was initially a one-story "missionary compound" built in 1834 by Reverend Ephraim Spaulding.
Just two years after completing the house, Spaulding was forced to return to the mainland due to illness, and Reverend Dwight Baldwin, a medical missionary who had been living in a grass hut on the site, moved in with his family.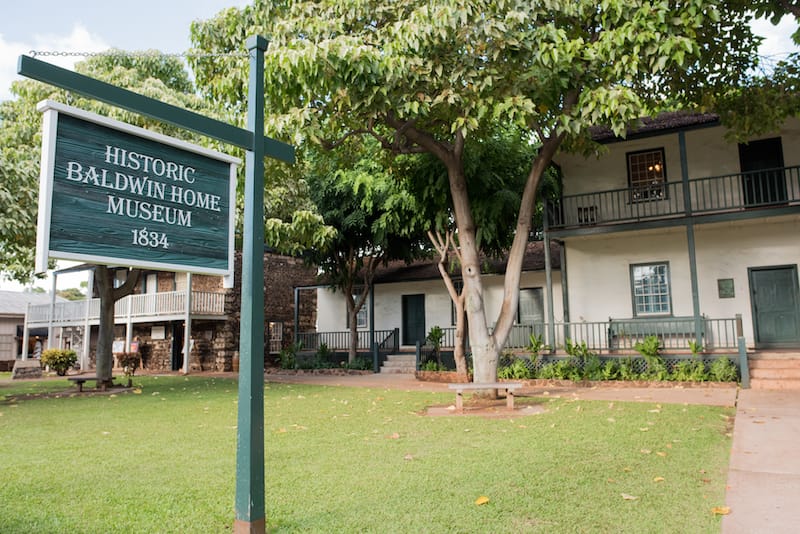 Nowadays, it's open for tourists to explore the historic building inside and out. It's open daily (candlelit tours are held every Friday). The fee for entrance is quite affordable (only 7$ for adults) and it also includes entrance to the Wo Hing Museum.
Go Dolphin and Whale Watching from Lahaina
This 4-hour dolphin tour from Lahaina Harbor takes the visitors through an amazingly intimate experience of Hawaii. In a group of up to 22 people, you get to travel to the remote island of Lanai.
See whales, tropical fish, turtles, octopuses, manta rays, and dolphins when snorkeling off the coast of Lanai – this is one of the coolest experiences from Lahaina!
The tour includes breakfast, snacks, and soft drinks. Every ticket purchased supports active marine research as well as the work of the members of the Maui whale entanglement response team.
>> Click here to book your whale and dolphin tour from Lahaina
Lahaina Jodo Mission
Lahaina Jodo Mission temple and complex are situated at Puunoa Point in Lahaina, which is the Hawaiian island's first capital. The area overlooks the beauty and peacefulness of three adjacent islands—Moloka'i, Lana'i, and Kaho'olawe, and also the West Maui highlands.
The Lahaina Jodo Mission was founded in 1912 under the leadership of Rev. Gendo Saito and with the support of many Japanese immigrants who were working on the sugar and pineapple plantations.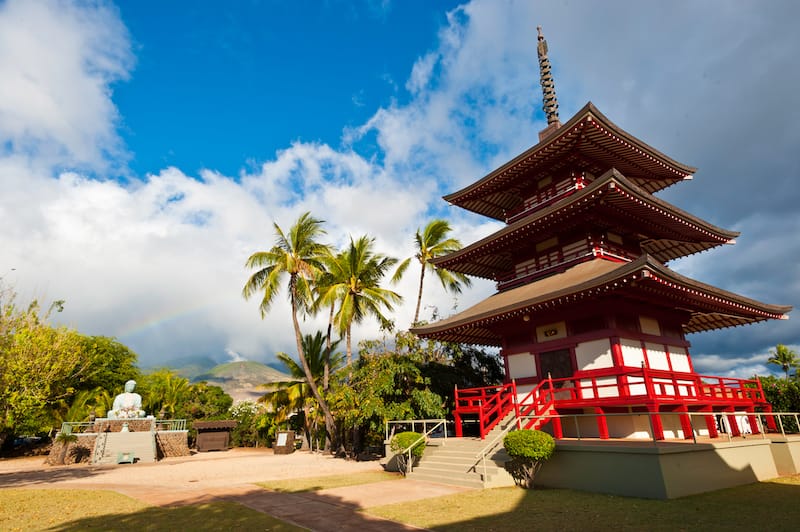 In later years, it was destroyed in a fire. After that, the members of the Mission decided to build a Japanese-style Buddhist temple on the beachfront property.
A 12-foot tall statue of Amida Buddha stands in the temple courtyard. It serves as a celebration of the first Japanese immigrants to Hawaii and is a pretty extraordinary sight in Lahaina!
Wahikuli Wayside Park
If you love sea turtles, don't bypass Wahikuli Wayside Park. It's one of the best places for a relaxing day on the western side of Maui. And, of course, to observe Maui's sea turtles!
The sandy portion of this beach park is tiny, but that's not the main reason to visit here, so don't worry. The most amazing part is when you get to the sea and are amazed by the number of turtles swimming in all directions!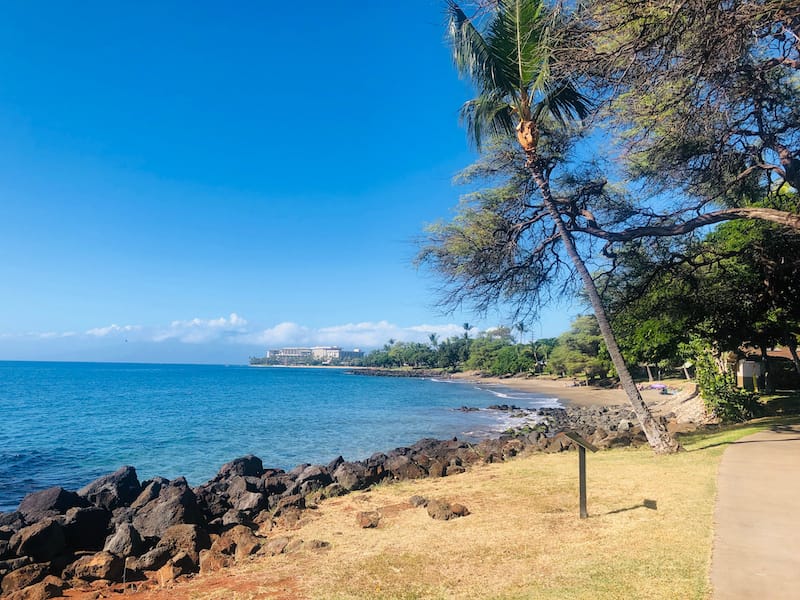 Some quick details about the area – the area is equipped with grills, picnic tables, and garbage cans available for your use. Wahikuli is quite easy to locate (it's right off the highway). Also, the parking lot is normally empty, which is a definite perk if you hit it on the right day.
Moana Glass
Moana Glass is Kahului's only furnace glassblowing workshop and a world-class producer of amazing glass art.
The main gallery here offers a huge variety of glass art, from which you can buy and take with you if you're looking for a local souvenir.
Another very cool thing to do when visiting Lahaina is to participate in a glassblowing experience at Moana. You will get taught all of the techniques and skills to create your own masterpiece!
The lessons are available for both individual and small groups. They also accommodate large groups, such as corporate and team building events, wedding and birthday parties, etc. Click here to learn more.
Snorkeling in Lanai Day Trip
Lanai is said to be one of the best places to snorkel – why not see for yourself? It really is one of the best day trips from Lahaina!
This 5-hour tour provides everything necessary to have a great day both in and on the water, including snorkel gear, breakfast, lunch, and a certified Marine Naturalist onboard ready to answer any questions you may have!
After sailing to Lanai, you'll have the opportunity to snorkel around the amazing coral reefs just under the surface.
Keep your eyes open the whole trip as you will see different sea creatures in their natural habitat, like dolphins, whales, turtles, many kinds of fish, rays, octopi, and much more.
>> Click here to check rates/availability for snorkeling in Lanai
Black Rock Beach
A great place to cliff-jump and snorkel around Lahaina is Black Rock Beach. It's located at the north end of Ka'anapali Beach, and has a pretty interesting story behind it!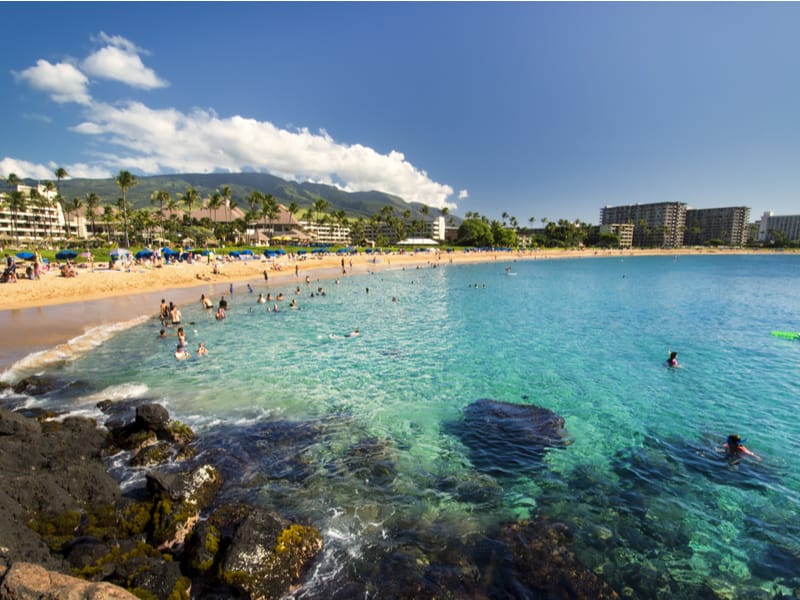 The ancient Hawaiians thought that this was where their spirits traveled to join their ancestors in the afterlife. Unlucky souls that were unable to be guided by their family's guardian animal spirit would wander and cling to nearby rocks.
Nowadays, the area of Black Rock is well-known among the younger generation as a jumping-off, snorkeling, and diving place for a little adventurous pleasure!
Maui Dragon Fruit Farm
As you might've guessed, this farm specializes in growing dragon fruit, but it also offers some of Maui's most unique excursions.
The Maui Dragon Fruit Farm is a 27-acre organic farm that is located around a five-minute drive from Lahaina on West Maui.
Aside from offering dragon fruit tasting tours, this farm also hosts weddings and other events.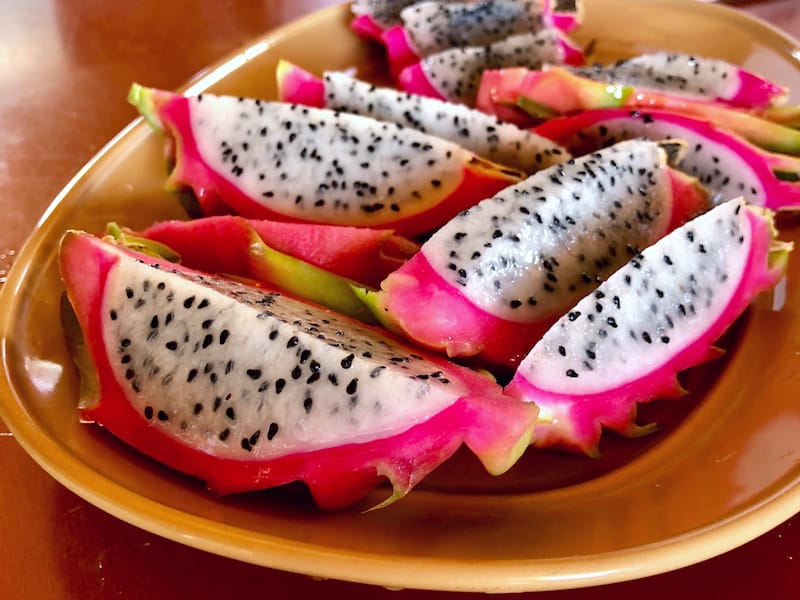 One of the coolest things you can do here is to roll around in the Aquaball, after which you get a bonus dragon fruit farm tour.
Another unique thing to do is to fly over a dragon fruit field on a zipline. It's a gravity-breaking zipline with fast speed and is just a great recreational activity for adventurers!
Launiupoko State Park
On the west side of the island, Launiupoko State Wayside Park has been a popular spot for a very long time. It not only boasts a gorgeous green grass park setting with picnic tables and barbeque stations, but it also includes a small beach excellent for some quick dips or surfing.
The Maui state park serves as a good spot for beginner surfers, and surf schools frequently instruct here.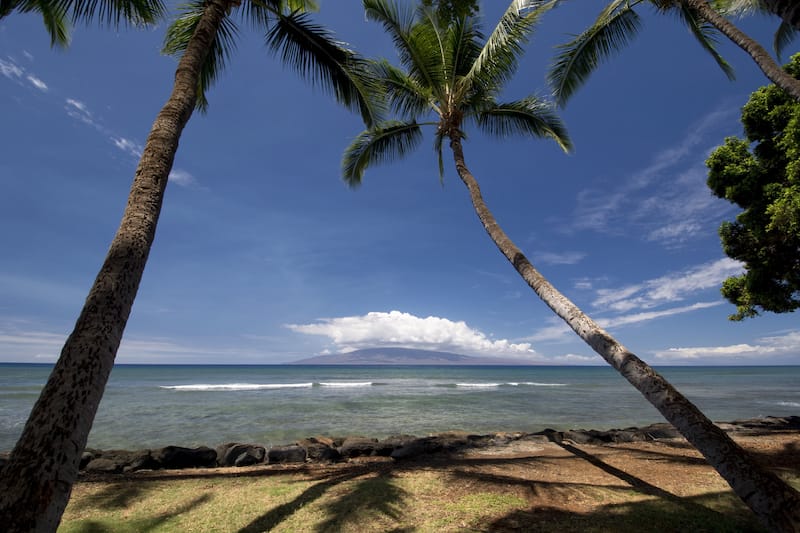 Still, the greatest feature of the park is its jaw-dropping views. Even though Lanai is a full eight miles away, it appears somewhat close and you can see it on the other side of the channel.
Sunsets from Launiupoko are particularly lovely and should be on your Maui itinerary!
Take a Sailing and Snorkeling Cruise
Get yourself on this epic sailing and snorkeling cruise if you love crystal clear waters and picturesque Hawaiian views.
Maui's Honolua Bay Marine Reserve is known for its excellent snorkeling. Other good snorkeling spots are Cliff-house, Lanai, and Turtle Town in Olowalu. Experience warm seas teeming with sea life while snorkeling along Maui's west coast.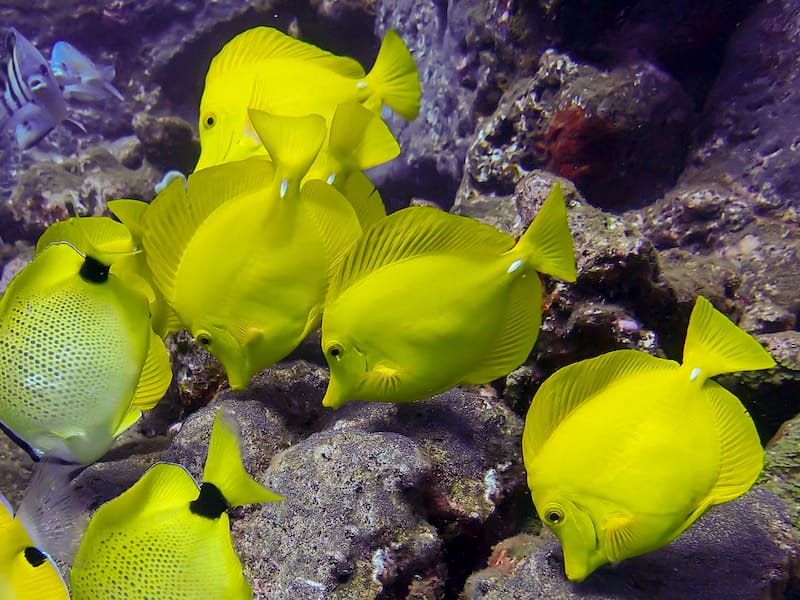 During your adventure from Lahaina, you'll witness a variety of tropical species, including the Humuhumunukunukuapua'a, Hawaii's state fish, and, if you're lucky, even an endangered Hawaiian green sea turtle.
Also, take into account that a hot buffet lunch is offered after snorkeling, and the complimentary bar is open (includes Mai Tais, Chardonnay and Maui Brewing Co. beers, etc)
>> Click here to book your sailing and snorkeling cruise
Go Scuba Diving in Lahaina
Water lovers will appreciate this Lahaina scuba diving tour as guests are taken underwater and will be able to learn more (and see!) the Hawaiian sea life with their own eyes.
The excursion is designed for no more than 4 people and is appropriate even for beginners. No certification is required.
Upon completion of a short tutorial session with a certified instructor, you're free for the ultimate ocean dive, where you'll see magnificent scenes filled with tropical reef fish, turtles, and rays.
Scuba diving is truly one of the best things to do in Lahaina if you're wanting to see a different world than what exists on land!
>> Click here to book a Lahaina scuba diving tour
Go Ziplining in Maui
Another very fun and memorable thing to do while in Lahaina is to go ziplining! On an award-winning, 8-line experience, you'll fly over Ka'anapali's secluded coastline scenery and take in vistas of the Pacific Ocean and distant islands.
During the zipline tour, you will stand on an observation platform that overlooks a lush valley and the West Maui Mountains.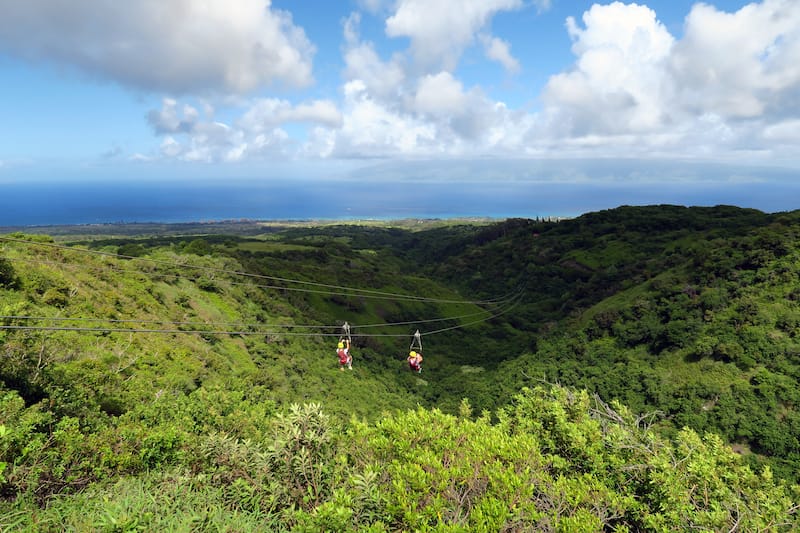 Each zipline is more and more exciting and thrilling than the last. This is a fantastic Lahaina adventure for the entire family! A zipline tour will be about 3.5 hours long.
>> Book your unforgettable Maui zipline experience
Go Whale Watching in Maui
Whale watching in Maui is the kind of experience you'll want to rave about for years and years to everyone you know (seriously!)
Luckily, for Lahaina tourists, there is a special up-close whale-watching boat tour that is offered from the Maui city.
This whale watching cruise departs from the historic Lahaina Harbor and ventures into the Maui waters where the humpback whales will be living primarily during the season from November to May.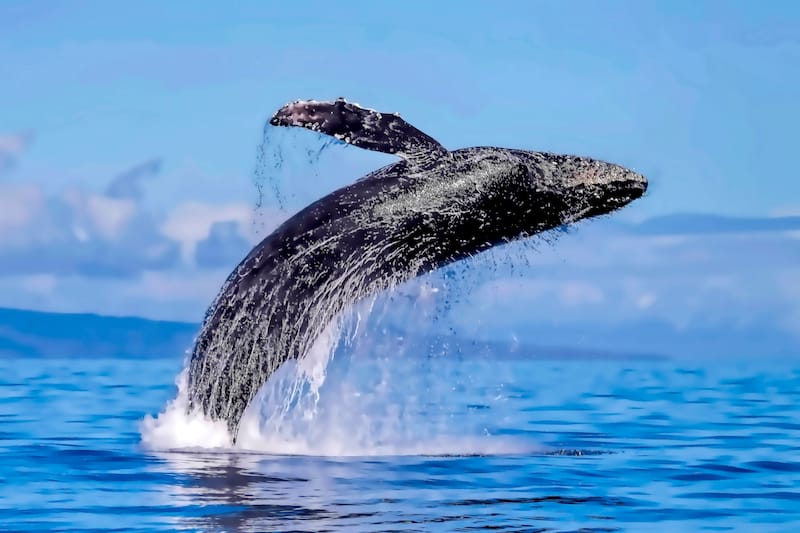 You'll have a more personalized experience as this will take you on a smaller raft to see the whales uninterrupted and up-close! It is a one-of-a-kind experience in Lahaina!
>> Book your whale watching trip on Maui here
Drink a Tasty Coffee in Lahaina
One thing you must do when you're visiting Lahaina and Hawaii, in general, is to enjoy a coffee there! You will find some cool cafes that specialize in Hawaiian coffee as well as third-wave options.
The following Lahaina cafes are ones to definitely add to your itinerary (and Maui bucket list):
Try a Craft Beer in Lahaina
Another really fun thing to do, if you're into beer, is to enjoy the Lahaina craft beer scene a bit when you're there. You will find local craft beer in supermarkets, bars, and more.
But, it is also a fun experience when traveling to Lahaina to visit the taprooms themselves! So, if you're a beer lover, be sure to hit up these two breweries in Lahaina when there:
Where to Eat in Lahaina
Fortunately, there are plenty of delicious places to eat in Lahaina! You can find everything from sandwiches to salads to large seafood feasts… and more!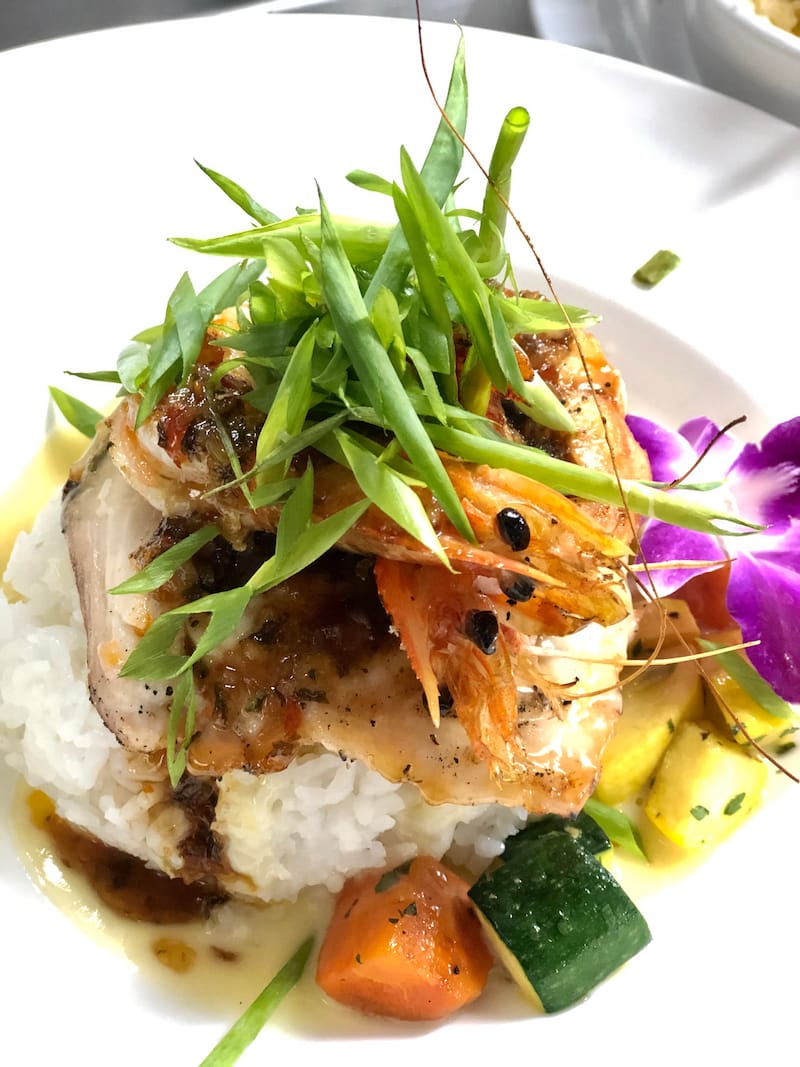 Here are some of the top-rated places in Lahaina for a meal when there:
Let us know other tasty places to eat in Lahaina if you have some recommendations!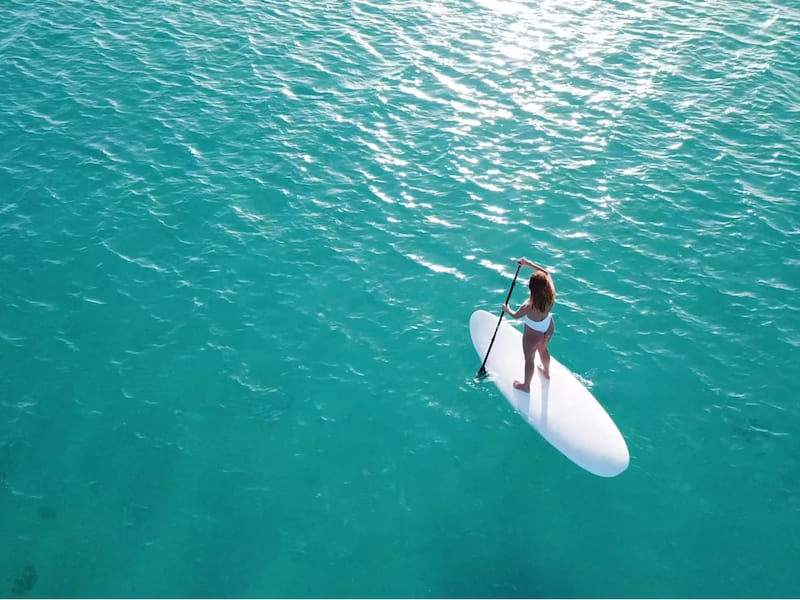 Where to Stay in Lahaina
Options are aplenty for hotels and places to stay in Lahaina. Below are a few top-rated hotels in Lahaina that you can book for your stay on Maui!
Have you visited Lahaina? What are your recommendations for the best things to do in Lahaina? Let us know in the comments! Thanks!
More Maui Travel Guides
Pin this Lahaina Things to Do Guide