Whale watching is such an interesting and awesome experience that everyone should participate in at least once. This guide details the best places and tours for whale watching in Maui!
Are you planning your Maui whale watching tour last minute?
If you're traveling to Maui last minute, you want to ensure you have your whale watching tour booked ahead of time! These are our top picks:
🌴 Best Maui Whale Watching Tours:
🚗 Traveling to Maui independently? Be sure to book your rental car ahead of time to ensure availability!
Maui is one of the best spots in the world for whale watching. These gentle creatures have unique breeding and migration patterns that millions of people enjoy watching every year on their Hawaii trip.
If you're joining a Maui whale watching tour, you will have a chance to see humpback whales (and others) between December and April and sometimes, the gorgeous animals even come close to the boat or RIB boat.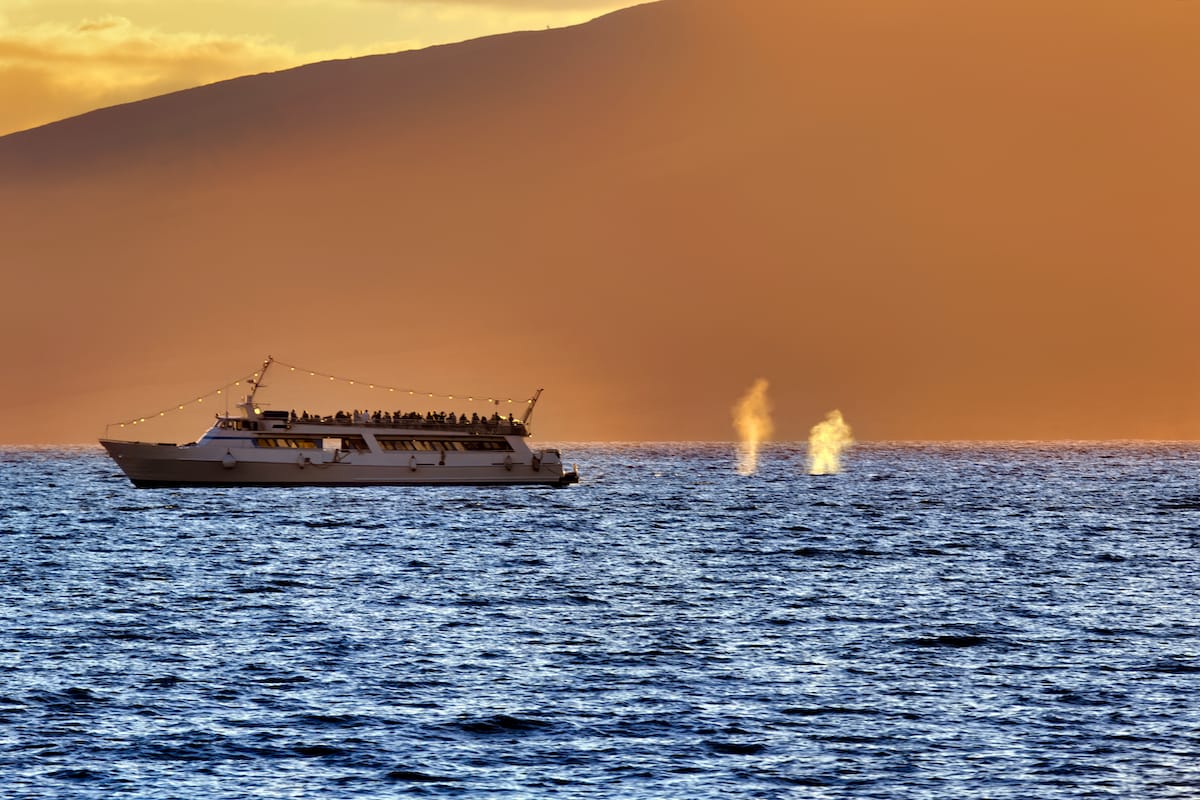 But, you can also see them without a tour (it is just more of a challenge). You can either check out the whales from the shore using a pair of binoculars, or you can hop on a tour to get a closer look at the whales as they make their yearly migration.
If you've been meaning to cross this activity off your Maui bucket list, we've compiled a list of the best tours in Maui for a whale-watching adventure.
UPDATE 8/10/2023:
We currently discourage traveling to Lahaina due to the recent wildfires. The island's hotels and lodging do NOT have the capacity to accommodate both displaced locals AND tourists. Donations are graciously welcome and you can do so by visiting here. We will update our content on the site in due time. Mahalo.
Best Whale-Watching Tours in Maui
1. Maui Whale Watching Cruise from Lahaina Harbor
Departing City: Lahaina
Prices from $74/pp
BOOK HERE
This Maui whale watching cruise takes off from Lahaina Harbor and offers an awesome experience to check out the whales in the diverse waters of Maui.
Images from a webcam and hydroponic system underneath the vessel give tourists a view of the mysterious underwater world so they can catch a glimpse of the majestic gentle giants of the sea.
The tour operates between December and May, which is when the whales migrate from their feeding grounds in Alaska to the warm waters of Maui to breed.
The two-hour cruise accommodates a maximum of 145 travelers and is also wheelchair accessible. It comes complete with a well-trained captain and crew to ensure the safety of the passengers.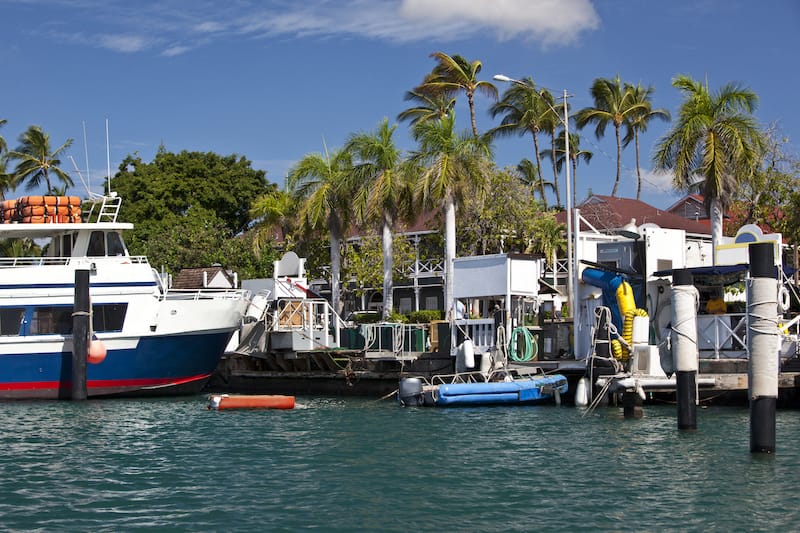 They also provide an explanation of the environment and whales all from the comfort and safety of one of the largest tour boats in Maui. The boat has upper decks and the main deck that is enclosed, making it a family-friendly space.
Whale sightings are guaranteed or watchers will be allowed to go again for free. The amazing coastlines and breathtaking views of Maui offer tourists a chance to take memorable photographs throughout the cruise.
There is also an onboard gift shop for tourists to buy mementos and souvenirs with proceeds going towards marine research.
2. Up-Close Whale Watching Boat Tour from Lahaina
Departing City: Lahaina
Prices from $70/pp
BOOK HERE
For a more personal experience while whale watching in Maui, this Lahaina whale watching tour. is a fantastic (and extremely affordable) option.
Taking off from Lahaina Harbor, the boat wades farther out into the Au' Au' Channel to sites that humpback whales frequently visit.
Designed to accommodate a maximum of 16 passengers, this small two-hour watch tour is a lot more peaceful and comfortable.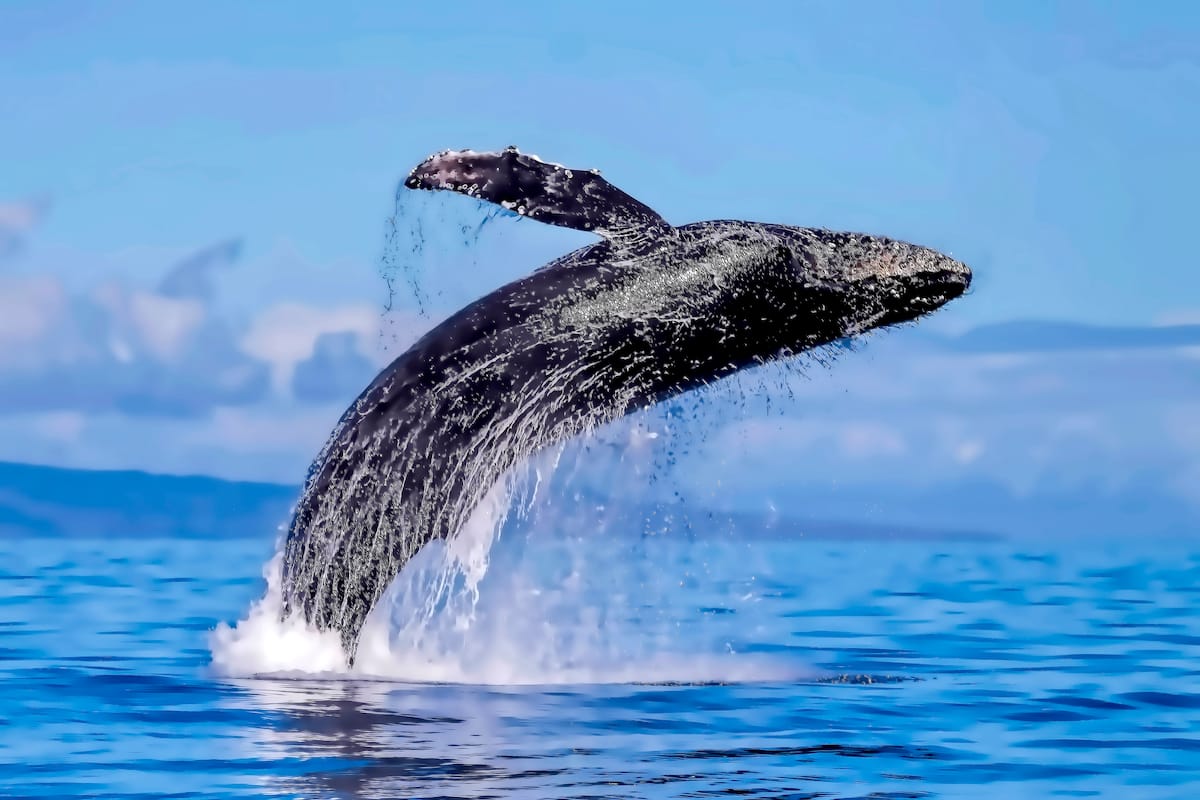 It also enables tourists to get closer to the majestic giants than boats will allow. The rafts are light, fast, and allow watchers to spend more time with the whales. The tour offers a morning or afternoon session to accommodate your schedule.
Photo opportunities are abundant and complimentary bottled water is available. Whale sighting is guaranteed and if the tour is canceled due to bad weather or other unforeseen circumstances, the option to change dates or a full refund is available.
3. Afternoon Whale Watching Tour from Lahaina Harbor
Departing City: Lahaina
Prices from $52/pp
BOOK HERE
For a two-hour afternoon excursion with a small group off the coast of Lahaina to the viewing sites, this affordable whale watching tour from Lahaina is another excellent option.
This is a small and intimate experience with a maximum of 18 travelers. The vehicles are raft-style boats that are small and closer to the water's surface.
The raft-style boats can comfortably accommodate all passengers. Most passengers will get front-row seating, so everyone will get a close view of the whales.
This proximity also allows for the best photo opportunities, too. Passengers' safety is number one, so everyone is required to wear safety gear.
Well-trained professionals are ready to act in the event of an unpleasant incident, which rarely occurs. This makes the tour perfect for young kids as well.
Bottled water is available and naturalist coast guards are always on board to provide an educational breakdown of everything going on. You're guaranteed to see whales, but if this doesn't happen, a do-over or refund is available.
This also applies to cancellations due to bad weather or turbulent waters.
4. Kayaking & Whale Watching Private Tour
Departing City: Kihei
Prices from $159/pp
BOOK HERE
Whale watching in Maui is an experience like no other. For tourists looking for a more exclusive experience, this three-hour private tour is the perfect way to go.
This private kayaking and whale watching tour in Maui takes off from 5083 Makena Rd in Kihei between 7 am and 10 am into the deep waters where the whales can be found.
Operating between December and May, this private whale watching tour offers a serene setting from which you can observe the whales.
The kayaks, which are light, fast, and much easier to maneuver, bring the tourist so close to the whales that they can hear the whales breathe and sing.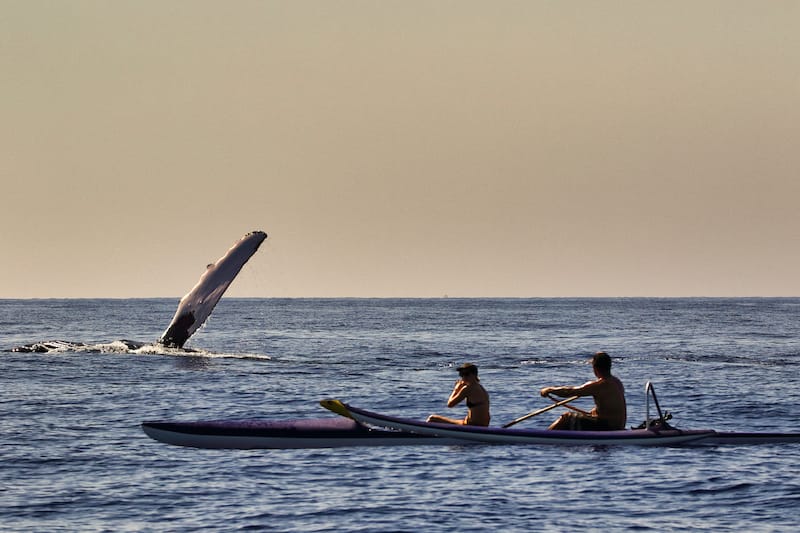 Sometimes, curious calves come right up to the kayaks to investigate, watched closely by their protective mothers.
From their front-row vantage points, the passengers can observe the beautiful giants while being talked through the experience by a private guide and naturalist, who also guides the tourist to the best spots.
The tour also offers free photos and bottled water. Safety, as usual, is a top priority. While travelers are expected to have a moderate level of physical fitness, safety professionals are always on board to handle any emergencies.
Full refunds are available if there is no sighting or an excursion is canceled.
5. Ali'i VIP Maui Whale Watching Tour
Departing City: Lahaina
Prices from $134/pp
BOOK HERE
The Ali'I whale watching tour is easily one of the best ways to go whale watching in Maui. The tour departs from Lahaina. It lasts an hour and 45 minutes and is limited to just 12 passengers.
It offers passengers to listen to the whales' singing using their hydroponic audio system. This amazing device not only carries the sounds made by the whales to the passengers, but it also combines them with the natural sounds of the water to produce an audio sensory experience like no other.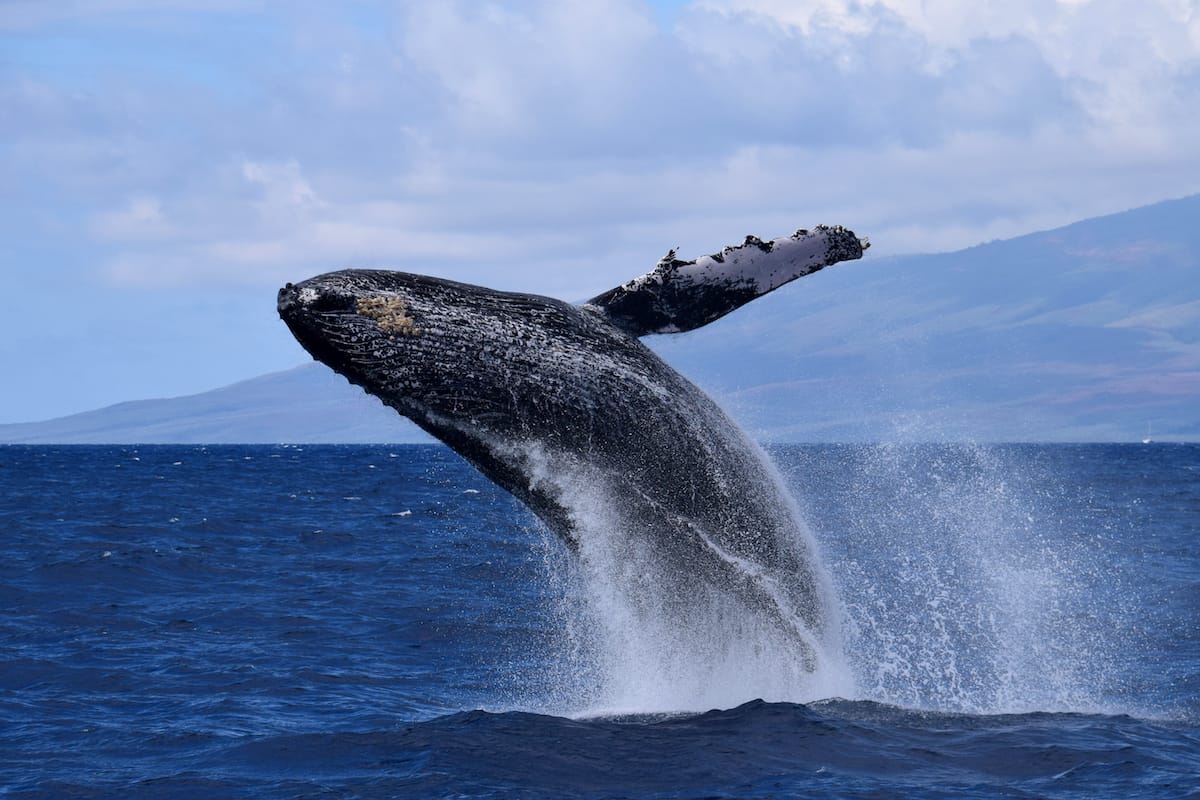 The 12 passengers get to see humpback whales up close and experience other creatures of the sea. The tour provides the best onboard services and comfort and is available on Mondays, Wednesdays, and Fridays.
As usual, they do not skimp on the safety of their clients. Professional naturalists are always on board to provide useful information. Photo opportunities are abundant and passengers get a complimentary bottle of water.
6. West Maui Whale Watching and Snorkeling Excursion
Departing City: Lahaina
Prices from $80/pp
BOOK HERE
For those who wish to get inside the water, this West Maui whale watching and snorkeling activity offers the perfect opportunity.
The three-hour tour begins at 7 am and departs from 505 Front St in Lahaina. It accommodates a maximum of 8 travelers.
The tour takes off on kayaks into the water where tourists are guided to spots where whales are most likely to appear before proceeding to dive into the water and snorkel their way into the ocean.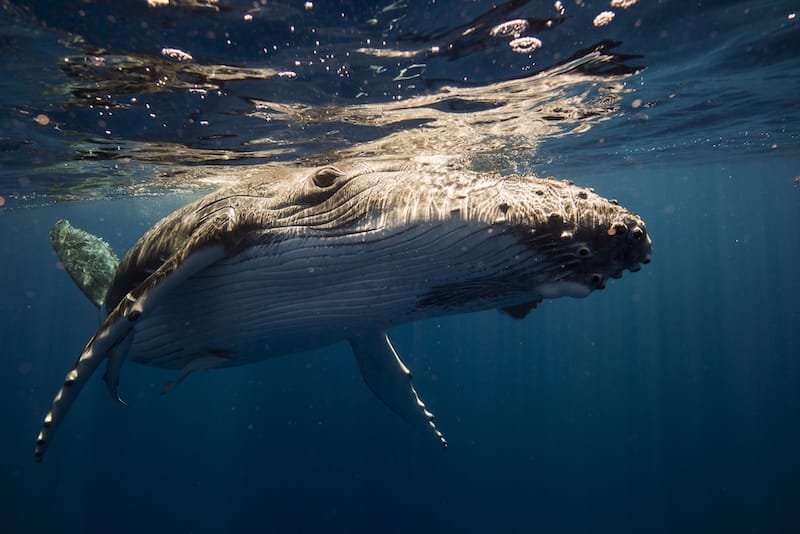 The bio-diverse waters of Maui are rich in diverse marine life and the snorkeling experience gives tourists a chance to get beneath the surface of the water and see everything Maui has to offer. Common sights include colorful fish, green sea turtles, and more.
The experience is more deeply appreciated because of the professional guide who provides visitors with valuable information. As always, safety and security measures are always in place.
Bottled water and snacks are provided for passengers and snorkeling equipment is also available for travelers to use.
Whale Watching in Maui – FAQ
1. Best Time for Whale Watching in Maui
In general, the Maui whale watching season starts in the colder months and lasts from December until April. There aren't many whales in December, but you'll certainly be able to see some humpback whales, which are the first ones to migrate.
You can even have a unique experience here because the whales will be curious, so they might approach your vessel!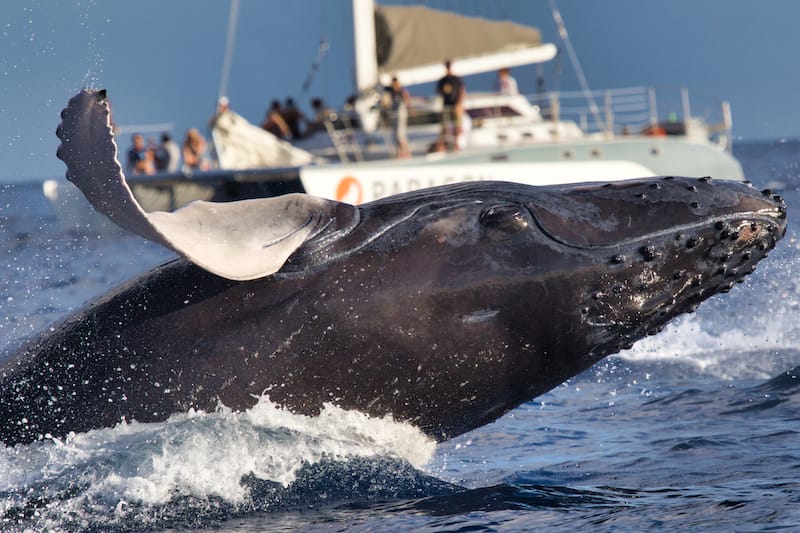 Whales are gentle creatures that enjoy watching humans, so don't be afraid! February is especially a great time to see whales in Maui because they will be everywhere.
2. Best Places in Maui for Whale Watching
The main location in Maui to go whale watching is the Maui Nui Basin, which is where more than half of all humpback whales migrate in the winter for breeding.
This encompasses all of Maui, Lanai, and Kaho'olawe, and includes Lahaina Harbor. It is even designated as a sanctuary for whales to migrate and breed safely.
You can bring a pair of binoculars with you to watch the whales from afar, or you can go on a tour in a boat to see the whales up close.
3. Types of Whales You'll See Off of Maui
Almost 100 percent of the time, you will be seeing humpback whales in Maui.
Sometimes, it is possible to see species such as pilot whales and false killer whales, but this is very rare and you will be seeing humpback whales the rest of the time.
Maui is unique because the water gets warmer as you come closer to the shore, which is especially great for seeing humpback whales.
This is because humpback whales prefer to migrate, swim, bathe, and breed in warm and calm waters, which is what you'll experience in Maui.
4. Best Whale Watching Tours in Maui Recap
If you're looking for a quick recap – here are the tours listed on this guide and the ones we highly recommend considering for your trip to Maui!
Have you ever been on any of these Maui whale watching tours? Or have you ever spotted a whale in Maui?
Let us know about your experience in the comments.
More Maui Travel Guides
Pin this Maui Whale Watching Guide