Lanai is a gorgeous tropical escape in Hawaii. If you want to get away from the stress of your daily life, there's no better place to visit.
Known for its remote beaches, you can sink your toes in the clean, white sand beaches in Lanai and enjoy the beautiful summer weather.
Are you planning your trip to Lanai last minute?
If you're traveling to Lanai last minute, you want to ensure you have lodging/tours ahead of time! Below are some of our top picks on the island!
🌴 Best tours and activities on Lanai:
🛌 Places to stay in Lanai (15 minutes away from Lanai City):
Four Seasons Resort Lana'i (ultimate luxury experience!)
🚗 Traveling to Hawaii independently? Be sure to book your rental car ahead of time to ensure availability!
This guide for what to do in Lanai includes trails, beaches, and activities – hopefully encouraging an active trip to the lesser-known island!
With its 18 miles of coastline, Lanai remains a favorite among tourists who want something more remote and less crowded. You will also find some of the best beaches in Hawaii here!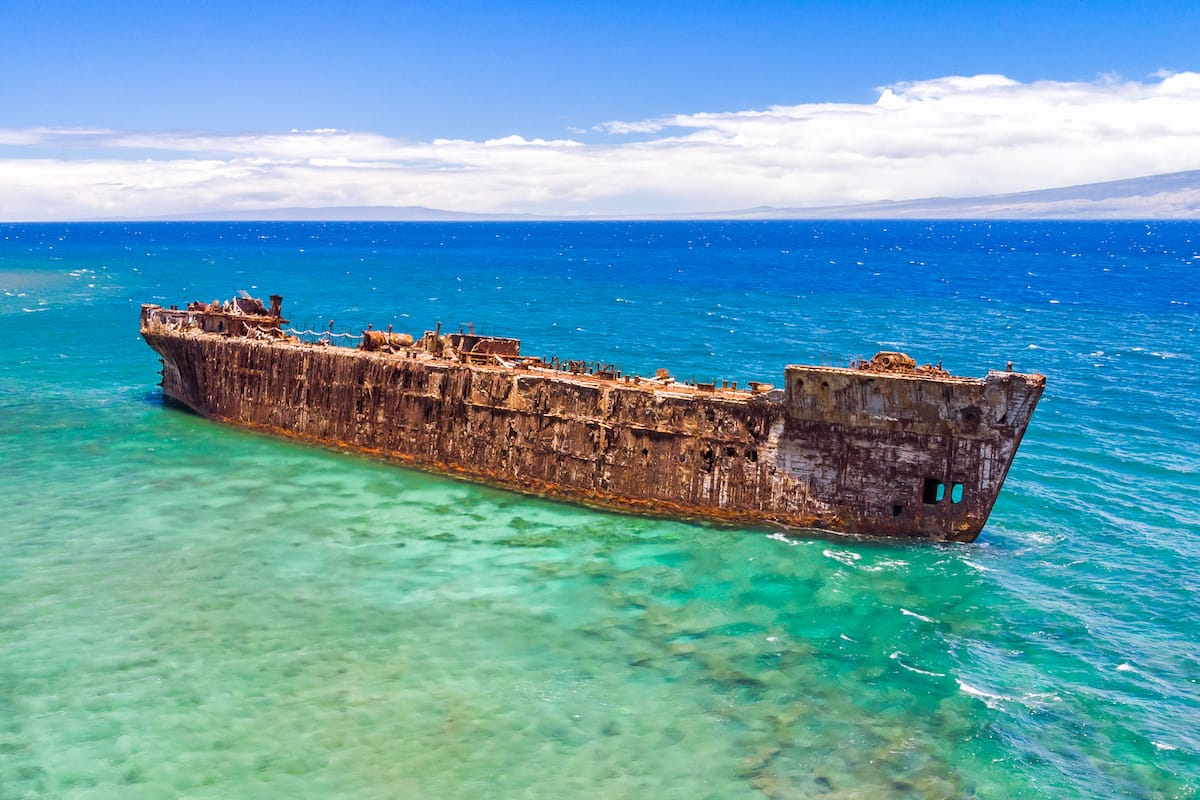 Here are some of the top Lanai beaches to add to your trip itinerary! We also put the best spots for snorkeling, swimming, and surfing on Lanai at the bottom!
Best Lanai Beaches
1. Hulopo'e Bay Beach
(South Lanai)
On the southern shore of Lanai Island and at the foot of the Four Seasons Resort lies the striking crescent-shaped Hulopo'e Bay Beach.
With irresistible clear blue waters teeming with thriving marine life, the beach is a hotspot for tourists.
It is also known for getting frequent visits from dolphins and turtles. This is why Hulopo'e is the island's most popular beach for swimming, snorkeling, and picnicking.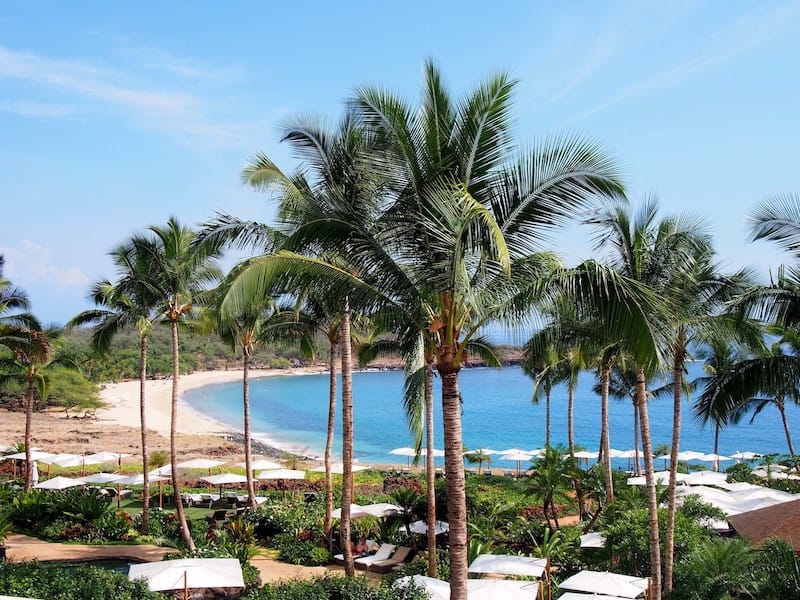 The beach is a protected marine preserve and guests are welcome to go snorkeling. However, visitors are required to be super careful and conscious of conservation efforts.
Swimmers should also be very careful because the ocean has a sudden slope. Other activities to engage in on the beach include surfing and bodyboarding.
You can also find sufficient amenities including parking, restrooms, as well as picnic tables.
2. Keomuku Beach
Keomuku Beach is one of the longest fringing reefs in Hawaii, spanning six miles. It is located on the eastern shore of Lanai. Compared to other Lanai beaches, Keomuku does not have clear waters.
The seafloor here is quite rocky and shallow. The water can also be a little dull as a result of the constant trade winds. Hence, it is not exactly a favorable beach for swimming and snorkeling.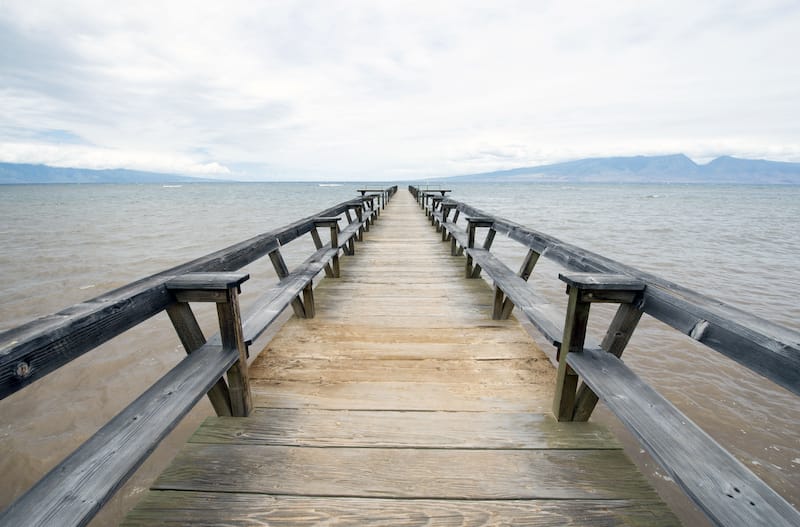 Most visitors enjoy picnicking, fishing, and sunbathing on the patches of warm sand. Another unique feature of Keomuku is the presence of two ancient Hawaiian fish pond ruins along the shoreline.
The beach is accessible with a four-wheel drive, and there are a number of access roads from the nearby Keomuku Road. Pets are allowed here, but the beach does not provide parking.
3. Manele Bay
When taking the ferry from Maui to Lanai, you will arrive in the public harbor at Manele Bay. The white sand beach is home to the only public harbor in all of Lanai.
Manele is the most accessible beach in Lanai and as a result, it is one of the most popular destinations for tourists.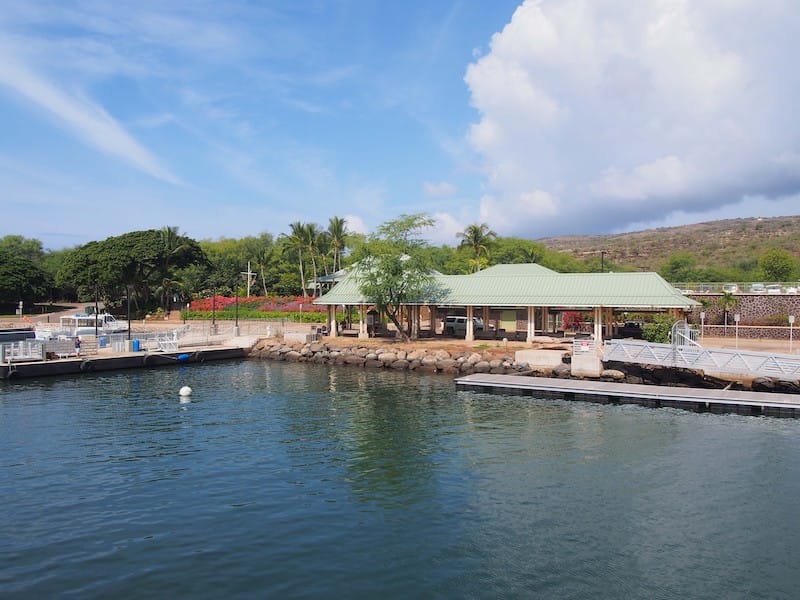 The small and kid-friendly beach also offers a number of activities including snorkeling, picnicking, fishing, and diving.
Manele Bay serves as a marine preserve and the seafloor is quite favorably shallow with a mix of gravel and sand. Facilities on the beach include restrooms, showers, and free street parking.
The beach can be accessed on foot, by bike, or by car.
4. Polihua Beach
(North Lanai)
Tucked deep in northwestern Lanai is Polihua Beach. Spanning an impressive 1.5 miles, this remote beauty is the longest white sand beach in Lanai.
Visitors will find that the beach may be a bit hard to reach, but this only adds a bit of adventure to the experience. You can get to the beach using a four-wheel drive, and it is located about an hour from Lanai city.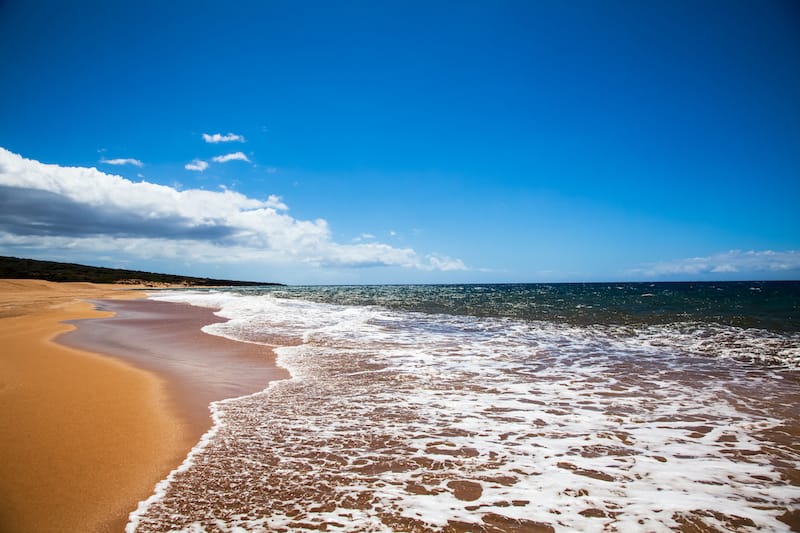 The weather can be quite windy with strong ocean currents and sometimes even sandstorms, so visitors are advised to check the weather before visiting.
It is not recommended for swimming and other ocean sports, but guests can enjoy other activities such as picnicking, scenic walks, and sunbathing.
The beach offers parking that can be accessed via a short hike. There are no restroom facilities on the beach.
5. Huawai Bay
Known as one of Lanai's hidden treasures, this small beach is an isolated beauty as not a lot of tourists come here.
Huawei Beach is naturally blessed with unique salt and pepper sand, sea cliffs, and a number of tide pools giving the location picture-perfect scenery that looks like it's straight out of a romantic movie.
With vibrant marine life, the beach is a popular fishing location for local fishers. Visitors can access the beach with a hike down a steep path called the Po'opo'o Fisherman Trail.
Activities such as diving and snorkeling are favorites among visitors. However, there aren't a lot of facilities like restrooms and lifeguards, which locals feel adds to the natural vibe and isolation of the stunning beach.
6. Lopa Beach
Situated on the east coast of Lanai Island is Lopa Beach.
This stunningly secluded white sand beach spans a long distance beginning south of Kikoa Point all the way to Loko Lopa, an ancient fish pond that has now been designated a bird sanctuary.
The ocean floor in Lopa Beach is rocky and shallow and somewhat safe for swimming. However, visitors are advised to monitor the currents and only swim when the water is calm.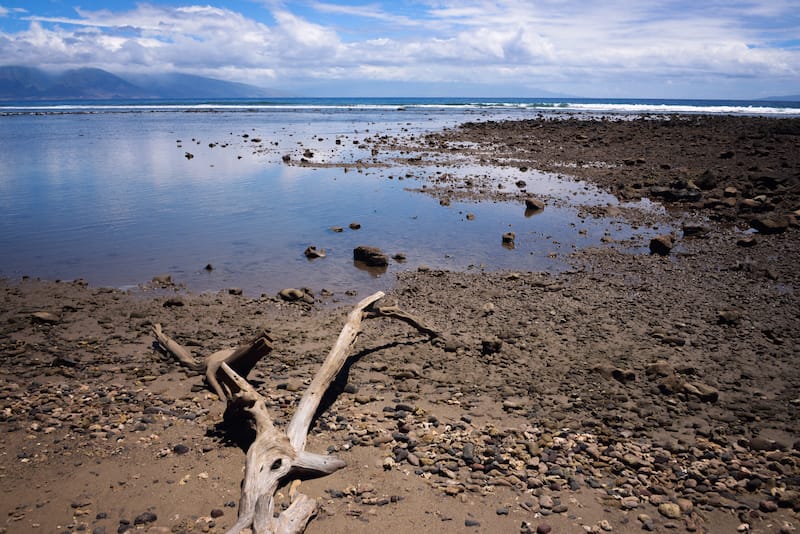 The beach is mostly visited by local fishers, but it is a gorgeous location that tourists should check out.
It is perfect for intimate gatherings or even a date. Lopa Beach can be accessed through any of the four-wheel-drive trails off of Keomuku Road.
Best Beaches in Lanai for Kids
One of the best beaches in Lanai for kids is Hulopo'e. This beach is protected from the sea, so it's much calmer, making it perfectly safe for the little ones.
It also has clean blue water and stunning coral reefs, which kids will really enjoy checking out! Manele is another choice because of how accessible it is.
Best Beach in Lanai for Snorkeling
Hulopo'e is also the best beach in Lanai for snorkeling. Not only is the water here very calm, making it safe to snorkel in, but the stunning diversity in marine life is unbeatable.
You can check out the colorful fish and vast coral reefs right up close here, making it a dream for any snorkeler.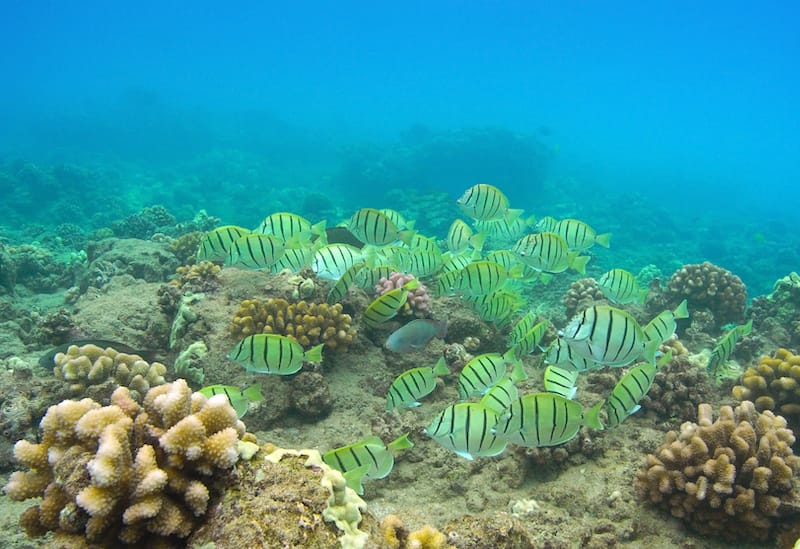 Best Beaches in Lanai for Swimming
Unfortunately, not all of Lanai's beaches are great for swimming due to turbulent and rocky waters, but Hulopo'e and Manele once again win the top prize.
Many people enjoy coming to these beaches to swim in the calm blue waters, especially those with kids.
Best Beaches in Lanai for Surfing
And again, Hulopo'e is by and large considered the best beach for surfing in Lanai. In the summer, you can find yourself surfing among dolphins here due to the consistent swells. It's also great for body surfing.
If you're more experienced, you can also check out Kaiolohia, which has waves all year. However, there is no lifeguard on duty, so exercise caution!
Which beaches in Lanai do you think are the best? Let us know your favorite Lanai beaches in the comments! Thanks!
More Lanai and Maui Travel Guides
Pin this Lanai Beaches Guide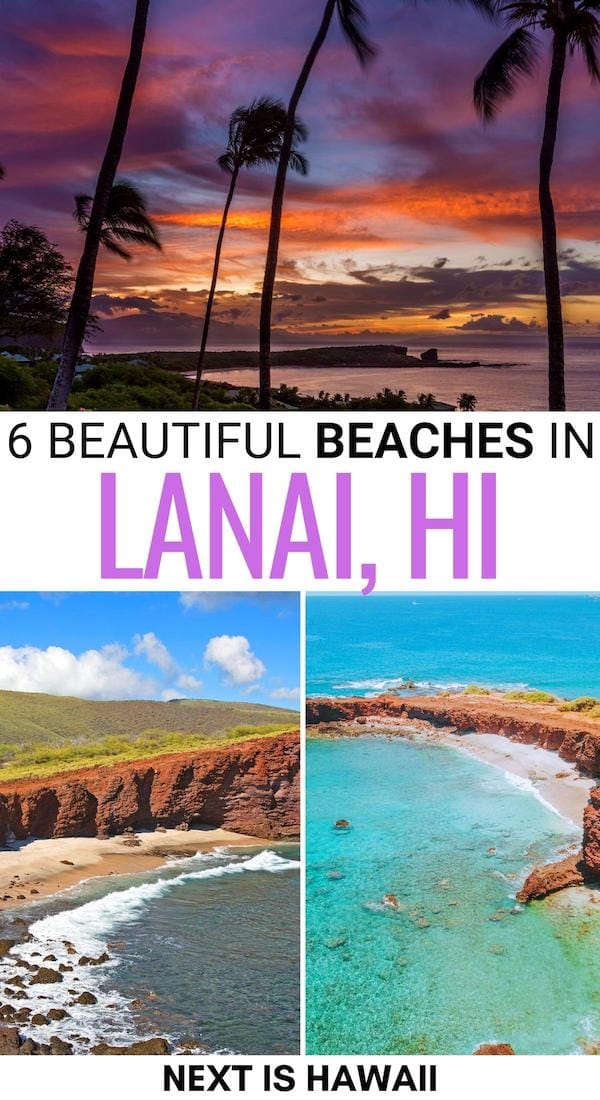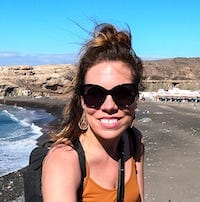 Megan is a travel blogger and writer with a background in digital marketing. Originally from Richmond, VA, she has been traveling frequently to Hawaii for the last 15 years and loves exploring every corner of each Hawaiian island, while trying to promote sustainable travel and small, local businesses along the way. Megan has written for or been featured by National Geographic, Forbes, Lonely Planet, the New York Times, and more. She has co-authored a guidebook with Fodor's Travel and has visited 45 US states and 100+ countries.