The Big Island of Hawai'i is one of my favorite places to visit in the world.
This is a guide to the best things to do on the Big Island, including a variety of bucket list activities for first-time visitors!
One of the reasons I love the Big Island of Hawai'i is that it is so different from one side to the next. Driving across the island allows you to witness several different climates and ecosystems all in a single day.
This guide details the best Big Island attractions, landmarks, and more! But, did we miss any worthwhile landmarks on the Big Island?
Or any awesome activities that are essential for a Big Island itinerary? Let us know in the comments. Thanks!
Best Big Island Tours (to Maximize Your Time!)
If you're looking for something more organized when on the Big Island, here are some awesome tours on the Big Island you should check out.
These tours will help you maximize your time, which is especially important if you only have a short amount of time on the island! We listed a variety so that you can pick which one is most suitable for you (and many include multiple places!):
Best Things to Do on the Big Island
This guide details the best things to do on the Big Island of Hawaiʻi. Just a few notes – we have opted to leave out one of the most popular activities on the island, stargazing at Mauna Kea, as it is controversial and deemed unethical tourism to native Hawaiians.
Mauna Kea is one of the most sacred sites in Hawaii (if not THE most sacred) and going to its summit goes against the cultural values and beliefs of the locals.
So, please do your research and find out if it is really necessary to go there. We donʻt personally think it is (you can stargaze around Kona easily, anyway)!
A few places on this guide have frequent regulation/fee changes and we will do our best to update accordingly.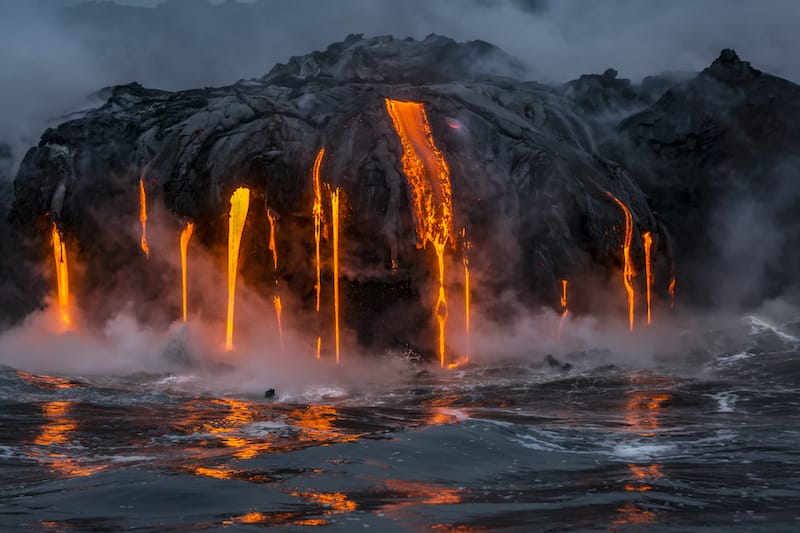 We have also included places that are usually able to be visited but might be temporarily closed for whatever reasons (this is noted accordingly).
If we left Big Island bucket list activities off of this guide, please let us know in the comments. Thanks!
Take a Stroll around Hilo
The most notable place on the east side of the Big Island is Hilo, the island's largest city with lush green zones, orchid gardens, notable attractions, and a beautiful bay.
To explore Hilo's natural attractions and marvels, visit Akaka Falls State Park and Wailuku River State Park.
Here you will find the three most beautiful waterfalls on the Big Island– Akaka Falls, Kahuna Falls, and Waianuenue Falls.
The center of Hilo Bay is Mokuola, Coconut Island, featuring a small green spot with stunning views and secluded beaches.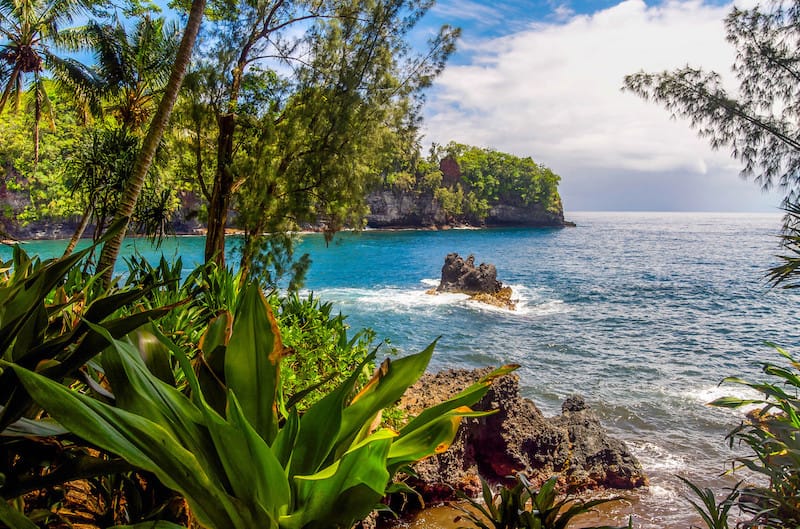 Search for mysterious beauty in the Kaumana caves where part of the lava tube was created by the 1881 flow of Mauna Loa.
Also, take time to enjoy the exotic paradise in Hawaii's Tropical Botanical Garden with rare and endangered flora spanning over 40 acres of land. You will see lava tubes and Onomea Falls.
To check out Big Island fruits, Hawaiian local products, tropical flowers, and arts and crafts, head to the Hilo Farmersʻ Market, open every day all year round. On Wednesdays and Saturdays, the market is the most active.
The city also offers several museums to explore its story and culture such as the Pacific Tsunami Museum, Imiloa Astronomy Center, Luman Museum, and the Mission House.
Take a Big Island Helicopter Tour
Explore the steam vents and Kilauea's fiery lava streams from a bird's eye view during a helicopter tour of the Big Island!
You will have a unique chance to see two great volcanos, Mauna Kea and Mauna Loa, flying over Hawaii Volcanoes National Park with impressive panoramas of the rainforest and waterfalls cascading down from the Kohala cliffs.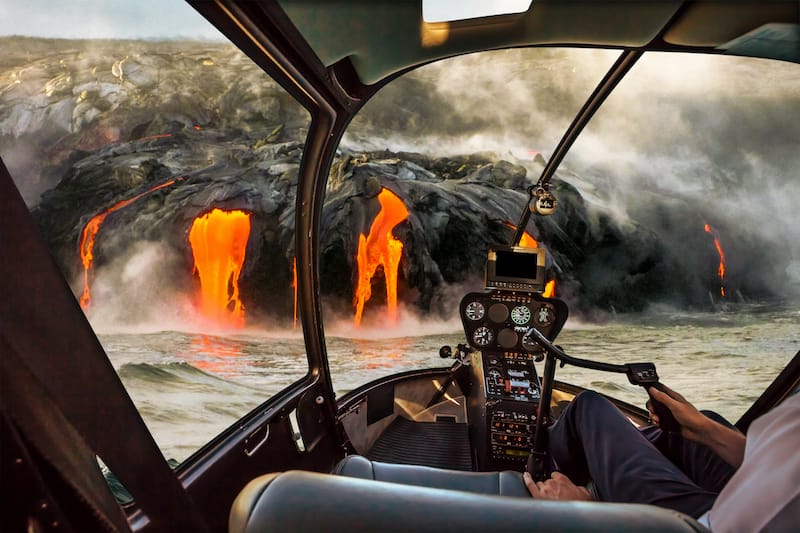 The Big Island deluxe helicopter tour over Hawaii Volcanoes National Park offers views of many natural wonders such as Kilauea, one of the most active volcanoes in the world, and Mauna Kea, the tallest sea mountain (over 33,000 feet)!
You also see Mauna Loa and Hawaii Volcanoes National Park, the largest park in the state known for its volcanic activity. Fun fact: you will witness 11 out of 13 climate zones present on Earth on one island!
The helicopter tour includes:
Lush rainforests
Volcanic deserts
Snow-capped mountaintops
Black sand beaches
Hidden tropical valleys with dozens of waterfalls
Additional information:
Not wheelchair accessible
Ground safety briefing, complimentary coffee or tea,
The pilot's personal narration during the flight
Stereo aviator headsets with individual volume control
Custom-built digital recording system
>> Click here for rates and availability
Stop by Akaka Falls State Park
Close to the heart of Hilo city is Akaka Falls State Park, with the main two waterfalls as its main attraction – Akaka Falls and Kahuna Falls.
The paved footpath starting from the entrance takes you through tropical forests, bamboo groves, and wild orchids to the 442-feet Akaka Falls cascading down to the deep gorge.
The hike to the waterfall will take about an hour (and it is one of the most beautiful waterfalls in Hawaii).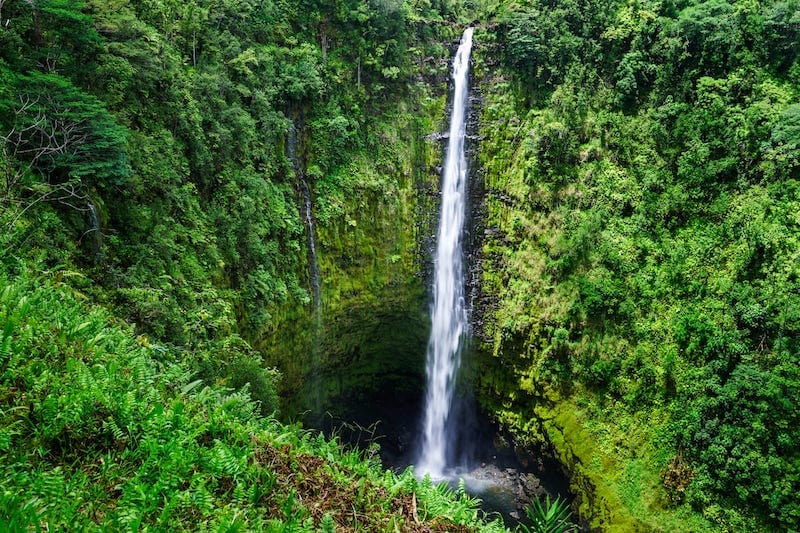 The impressive Kahuna Falls waterfall (400 feet drop) is as remarkable as the Akaka Falls, but a bit harder to reach.
You can admire the beauty of both waterfalls from a small viewpoint located at an 800 feet distance from Akaka Falls. Honestly, this is one of my favorite places to visit on the Big Island!
The park is open every day from 8 am to 5 pm.
Admission:
Hawaii residents free
Non-residents $5
Children 3 and under free
There is a parking fee on the premises.
Residents free
Non-residents $10
Commercial PUC vehicles:
1-7 passenger vehicles: $25
8-25 passenger vehicles: $50
26 + passenger vehicles: $9
Amenities:
Restrooms
Scent viewpoint
Walking paths
Water fountains
Try Hawaiian Poke on the Big Island
The traditional Hawaiian poke bowl is a top popular dish made of rice topped with marinated raw fish in sesame oil, soy sauce, green onions, and other spices and toppings.
You can find several spots for delicious poke on the Big Island. Below are a few fan favorites!
Suisan Fish Market, Hilo
Probably the best takeout poke can be found in Suisan Fish Market in Hilo, serving the dish for over 100 years.
Despite multiple natural and human-made destructions, the market was rebuilt to sell fresh seafood and poke near beautiful Hilo Bay.
Address: 93 Lihiwai St, Hilo, HI 96720
Pau Hana Poke, Kailua-Kona
Pau Hana Poke is a less popular place among tourists hidden behind the Kona Costco.
Still, it never lacks visitors because they serve tasty and fresh poke and a wide variety of side dishes. You can try something new like octopus or shrimp poke if you have tasted traditional Hawaiian poke.
Address: 73-5617 Maiau St Bay 10, Kailua-Kona, HI 96740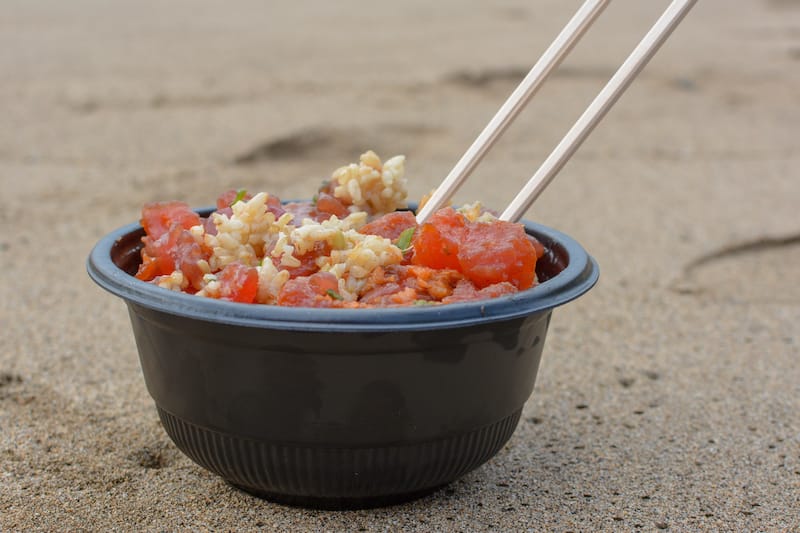 Poke Market, Downtown Hilo
Through Poke Market's tiny window service, you can get a fantastic bowl of poke. The venue's slogan, "Poke is life, Poke Market is a lifestyle," means they treat poke as a culture… and rightfully so!
Here, you can taste specialty bowls such as the Angie and Everyday Joe Bowl with unagi truffle sauce and purple Okinawan sweet potato salad.
The dishes are so perfect you will definitely want to take a photo of your plate (and come back for another).
Address: 41 Waianuenue Ave, Hilo, HI 96720
Marvel at Rainbow Falls
Rainbow Falls is a natural attraction and popular tourist destination in Wailuku River State Park, situated along the northwest border of Hilo.
The waterfall cascades 80 feet over a lava cave. Legends say the ancient Hawaiian goddess of the moon, Hina, lives inside the cave.
Depending on the amount of rainfall in the proceeding days, the waterfall may feel powerful or a bit lackluster.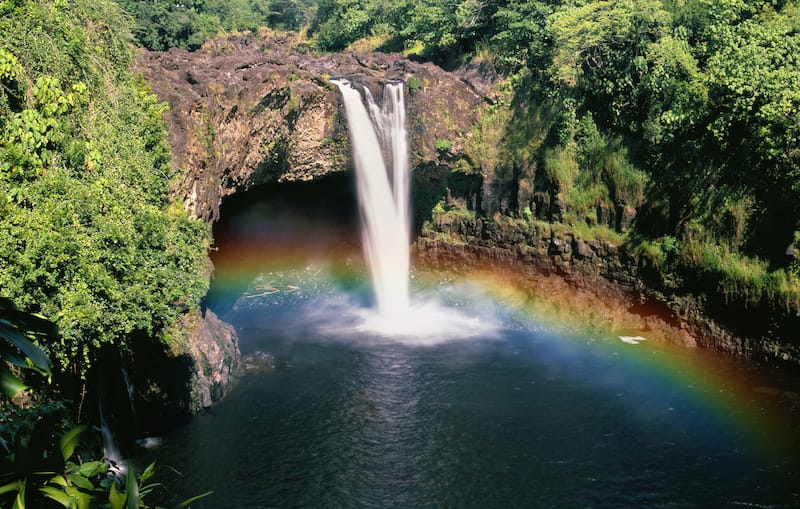 Take a short hike to the top of Rainbow Falls to see the attraction from a different angle and witness rare banyan trees wrapped in fig vines.
Rainbow Falls is easy to access from the parking lot and is one of the top places for sightseeing on the Big Island.
Relax at Kaunaoa Beach (Mauna Kea Beach)
Kauna'oa Beach, also called Mauna Kea Beach, looks just like a Hawaiian postcard.
The beach has white sand, crystal-clear water, and palm trees everywhere. It is also family-friendly. The tiny coral reefs and calm waters of the half-mile beach are perfect for snorkeling.
Mauna Kea Beach Hotel has a restaurant that serves refreshing tropical drinks and snacks. Beach gear and snorkel equipment can also be rented at a stand at the hotel.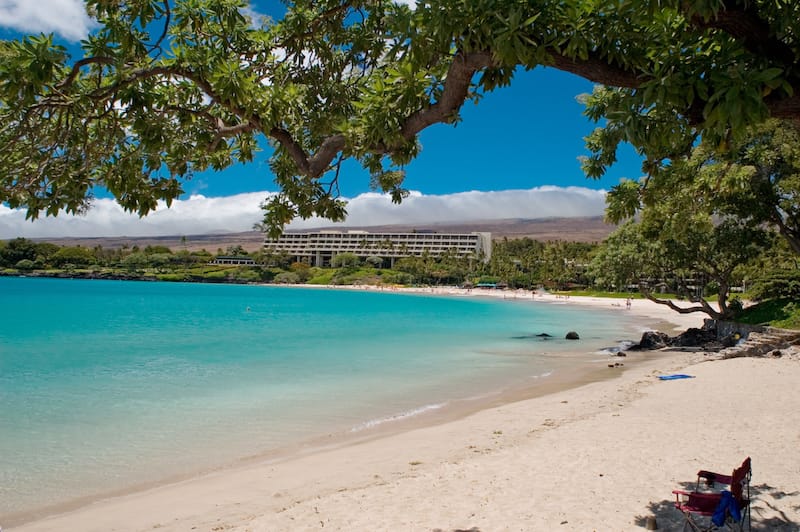 One of the most impressive and unforgettable experiences at Kauna'oa Beach is swimming with manta rays and it is one of the most popular activities on the Big Island!
Lured in by the floodlights of the hotel, planktons swim close to the beach, bringing in hungry manta rays.
Additional information: The beach has no public parking. The only available one is the hotel parking with limited space for non-hotel guests.
Hang Out at Green Sand Beach (Papakōlea Beach)
Papakōlea Beach is one of two green sand beaches in the US and the top attraction in the Ka'u district on the Big Island.
The beach is situated in the Mauna Loa volcano cinder cone that contains green crystals, the actual green color of tiny crystal particles (sand).
You can swim in the bay, but keep in mind that there is no lifeguard, facilities, or place to buy food and water. You can either bring everything with you or visit the beach for a short time and head elsewhere.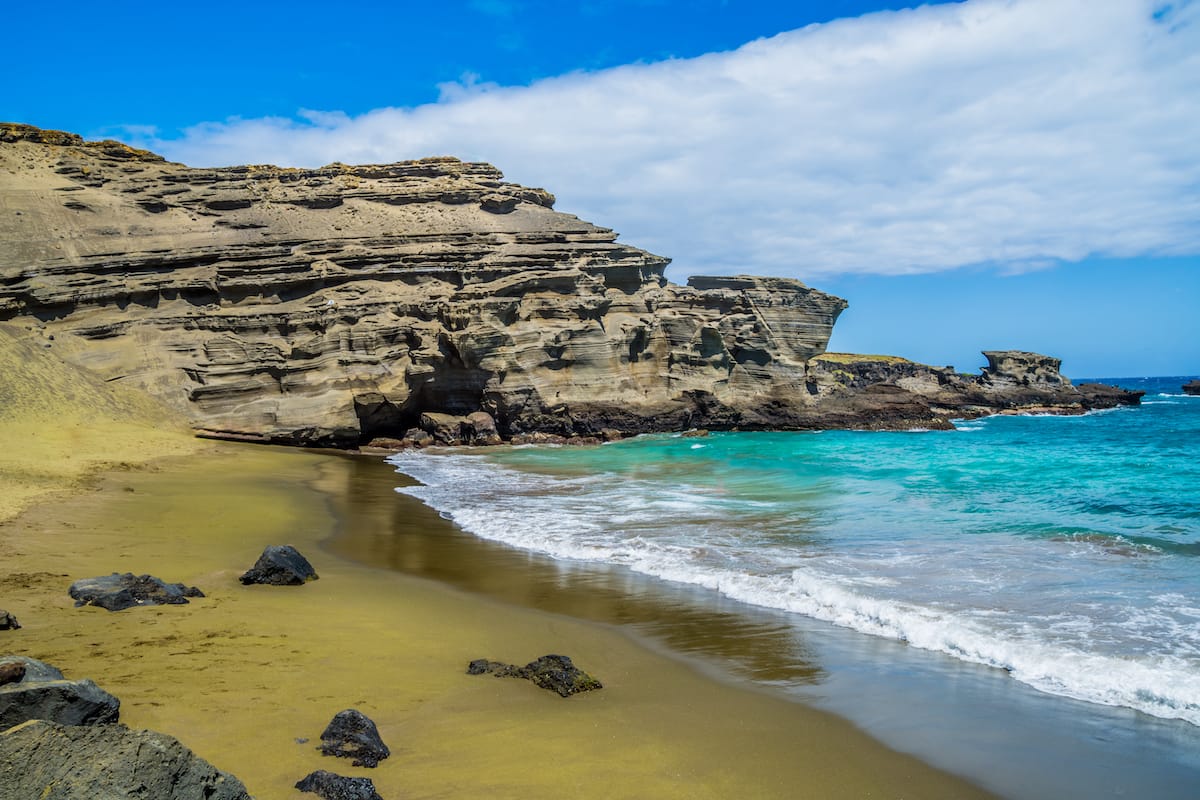 There are no trees and shade on the beach and it is less crowded on weekdays before noon. To stay protected from the sun, make sure you have your hat on!
Disclaimer: You cannot drive to the beach because the land is fragile and the car may damage it. Anyone driving to the beach breaks the law and you are not permitted to hire a service to take you there (you will also be responsible for breaking the law).
You can get to Green Sand Beach by driving to South Point and hiking there.
Be Inspired at Pololu Valley
Carved into the Kohala volcano (the oldest volcano that erupted 120,000 years ago), Pololu Valley is one of seven valleys that offers the most spectacular views of nearby landscapes.
The former volcanic activity and landslides have created the impressive cliffs you can witness along the shoreline.
To enjoy views over Pololu Valley and its cliffs, head to the overlook point (490 ft in height). Take a steep, but worthwhile hike down the valley to see the black sand beach. The hike only takes about 25 minutes. This is not exactly a swimming beach despite its beauty.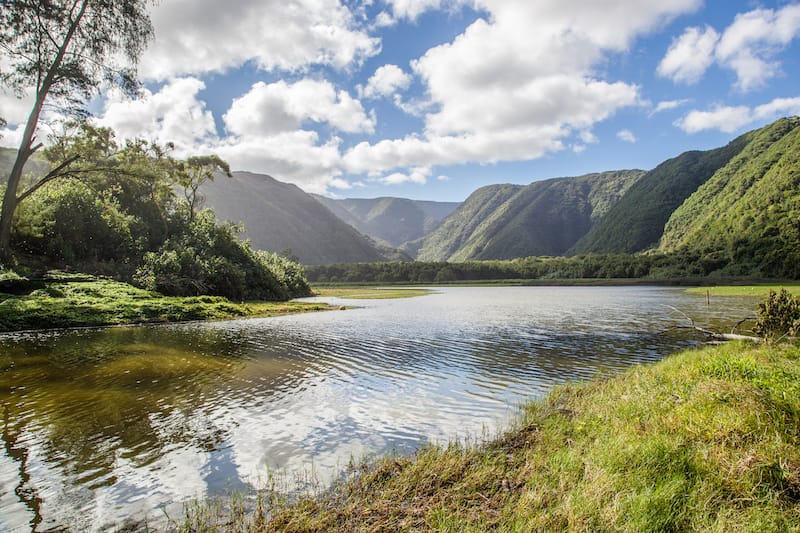 From Pololu Valley, you can hike to other Honokane Nui valleys, enjoy the views from Keokea Beach Park, and watch whales during whale-watching season (December-March).
Additional information:
Limited parking space at the lookout point
13% grade trail that is slippery on rainy days
Visits are advised before noon to enjoy a pleasant temperature
Part of the ocean at Pololu Valley is not safe for swimming
Sail to the Captain Cook Monument
The Captain Cook Monument, a 27-foot white obelisk, is erected on the Kona Coast to honor the well-known seafarer and the place he and his crew met their violent end.
Known for their tyrannical approach to the Indigenous people, they were killed after the attempt to take the king by force. Please take this into account if you decide to take this tour.
You can only get to the monument by hiking, kayaking to Kealakekua Bay, or taking a boat tour.
A boat tour is the easiest among these three options since you don't need to paddle yourself and don't have to worry about ocean currents and high surf.
If you choose to hike, keep in mind that the trail is uneven and rocky, and it will take you about 2-4 hours (4.25 miles) to get there.
>> Click here for rates and availability
Visit Anaehoomalu Beach
Anaeho'malu Beach, or simply A-Bay, is one of the most panoramic family-friendly beaches on the Kohala Coast.
With multiple activities available, it is a wonderful place to swim, get bronze sun-kissed skin, go snorkeling, or enjoy paddleboarding.
For hiking enthusiasts, there is the King's Trail with miles of coastal hiking at your disposal!
The protected bay is safe for swimming for kids. Snorkeling is not a popular activity because often, the waters are turbid, and only the north part of the bay is relatively clear to see fish and turtles.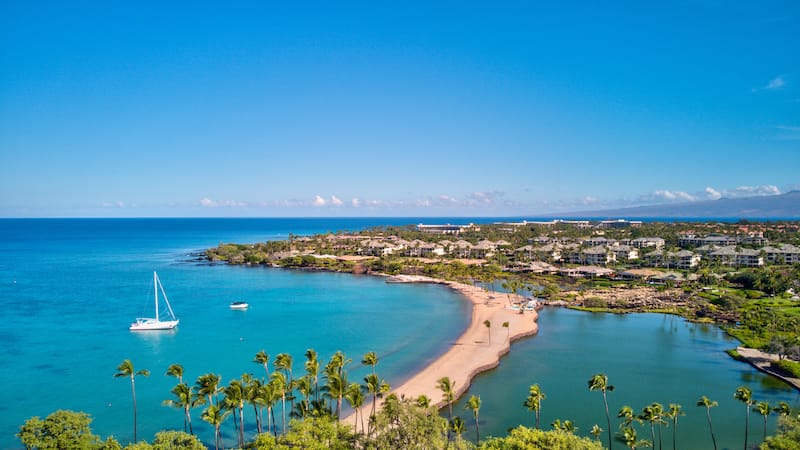 Finally, stay on the beach to enjoy the best sunsets on the Big Island. The southern side of the Kuualii fishpond with palm trees and white sand looks exceptionally beautiful under the sunsetʻs rays.
If you have time, take a hiking tour to find Waikoloa Petroglyph Reserve with 30,000 rock carvings dating back to the 15th century.
A Beach Hut offers paddleboards, boogie boards, beach cabanas, kayaks, and snorkeling gear rental services.
Additional information:
Free parking
No lifeguard
Showers and bathrooms
Beach gear rentals
Lava Lava Beach Club restaurant
Go Cliff Jumping at South Point Cliff Jump
For an adrenaline rush and thrilling experience, head to South Point for cliff jumping. But, before taking a step to the void, here is everything you need to know about South Point Cliff Jump.
South Point is all about cliff jumping, but you cannot jump just anywhere! The water at the right location is deep enough to be safe and without rocks everywhere. The jumping spot has a ladder to climb up and itʻs close to the parking lot.
You can get to South Point by rental car or hire a driver (a popular taxi service on the Big Island is Jun's Taxi Service).
The South Point Cliff Jump is somewhere around 40 feet or so (maybe less, maybe slightly more). It is not safe to swim at South Point.
Because of extreme shifts in weather patterns on the Big Island, make sure you have plenty of water per person, snacks, sunscreen, and walking shoes.
Go Snorkeling at Hapuna Beach State Park
Hapuna Beach State Park, listed among the most beautiful beaches worldwide, offers breathtaking views with white sand beaches, soft waves, and lava rock cliffs at your back.
Spanning half a mile long, Hapuna Beach is crowded, especially on weekends, so if you want to enjoy swimming, snorkeling, or quiet sunbathing, try to visit the beach on weekdays.
Besides water activities here, youʻll also find the Ala Kahakai hiking trail along the pristine shorelines of Hawaii.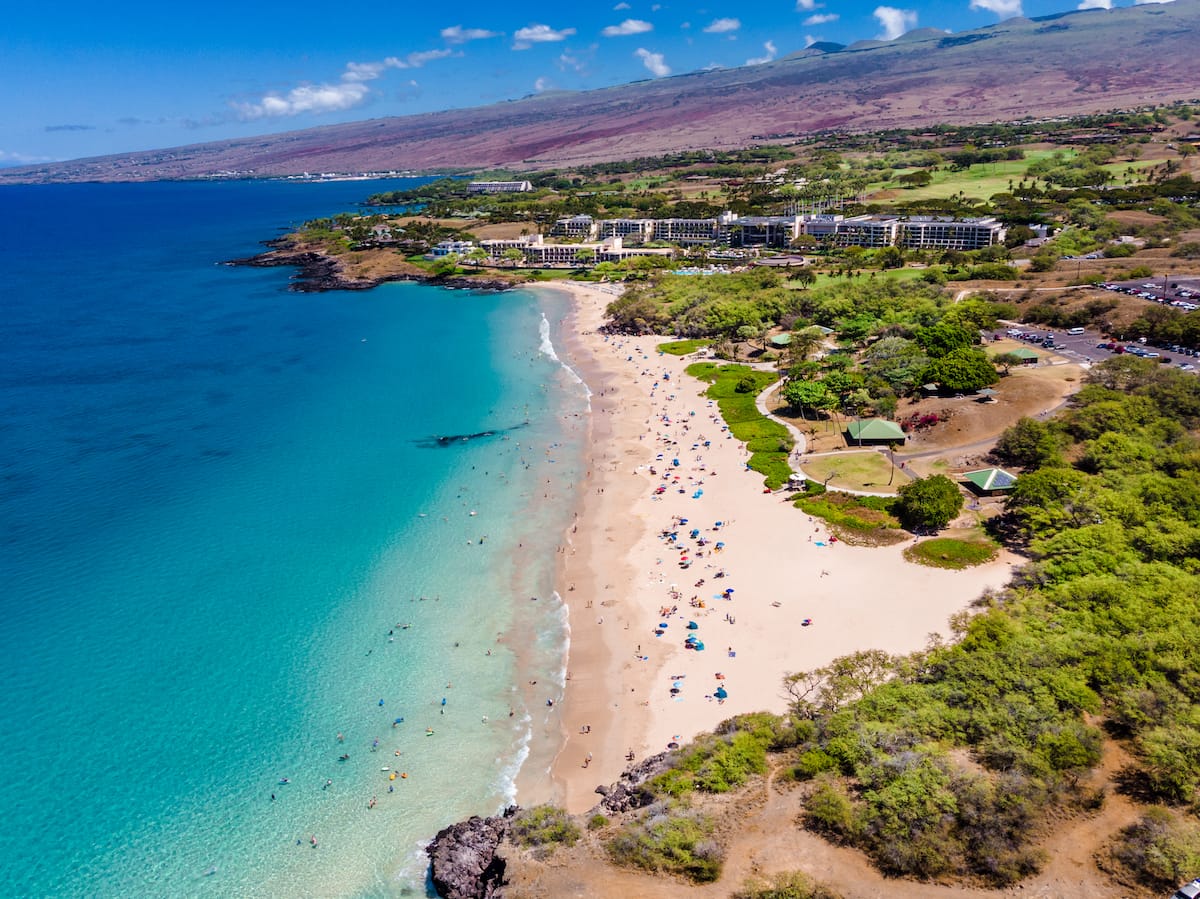 The park has a paved parking area, picnic tables, barbecue stations, showers, restrooms, and bathrooms. There is a separate area for camping where you can enjoy the sunset and starry nights on the beach.
The campsite has comfort stations including tables, refrigerators, restrooms, and cold showers.
Additional information: The park is open daily from 7 am to 8 pm. Three Frogs Cafe, located on the premises, offers beach gear rentals, food, and drinks from 10 am to 4 pm.
Admission:
Hawaii Residents Free w/ Drivers Lic. or ID
Non-Residents $5.00 Per Person
Children 3 and Under Free
Parking fee:
Non-Commercial Vehicles
Residents Free with State ID/DL
Non-Residents $10 per vehicle
Commercial PUC Vehicle:
1-7 passenger vehicles: $25
8-25 passenger vehicles: $50
26+ passenger vehicles: $90
Address: Old Puako Rd, Waimea, HI 96743
Hike in Kaumana Caves State Park ​
The Mauna Loa eruption in 1881 created multiple lava tubes across the Big Island, and the Kaumana Caves near Hilo is one of them.
The total length of the tube is about 25 miles, but only two miles of the cave system are open for visits. The tube with two openings enlarges and gets narrow as you go deeper.
The Big Island cave is located in a seismically active land that is prone to floods.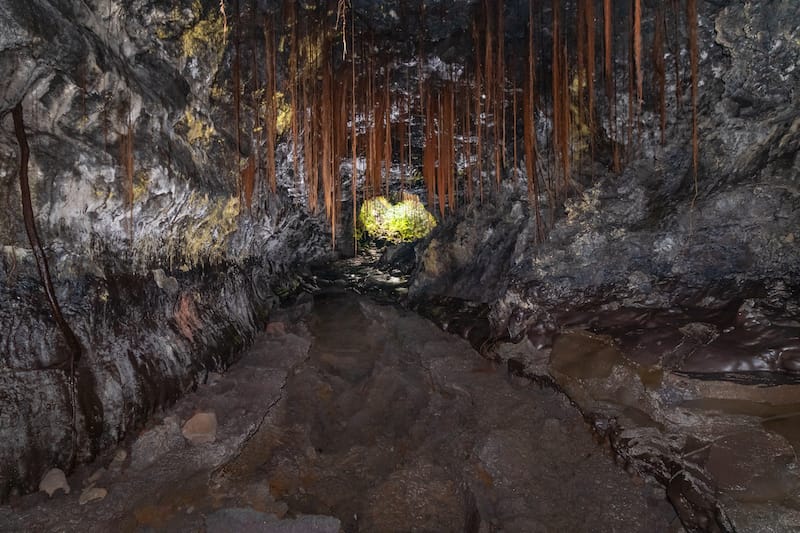 Due to the imminent danger and risks, visitors are advised to simply visit the park and explore the lava tube entrance surrounded by rainforest, philodendron, and ferns draping down the tube.
If you are going to enter the lava tube, make sure your footwear is sturdy and durable! The cave doesn't have lightning, so also bring a bright flashlight. Admission is free.
Address: 1492 Kaumana Dr, Hilo, HI 96720
Hike in Waipi'o Valley
** Please note that Waipiʻo Valley is currently closed to ALL tourists due to dangerous road conditions. We will update this guide once it reopens. The Valley lookout is still open, however.
Once densely populated, the land of kings is now a popular attraction on the Big Island. Waipi'o Valley is divided by the Waipi'o River which splits into smaller streams and forms a beautiful waterfall.
The secluded place is ideal for hiking; however, the landscapes are not easy to explore. It is a short 6.5-mile steep trail full of impressive views way down to the black sand beach.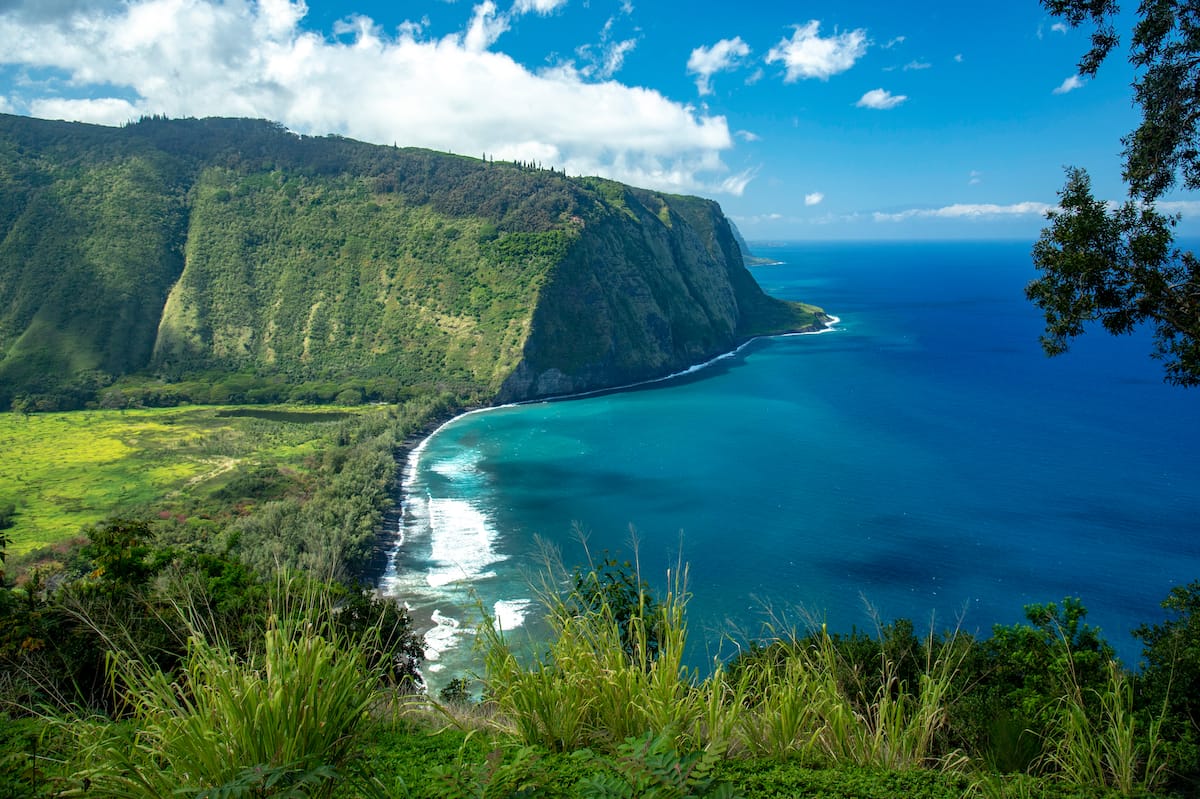 Another trail called the Muliwai hiking trail stretches to the opposite side of Waipio Valley and takes to one of the most impregnable places: Waimanu Valley.
From the viewpoint of the Muliwai Trail, you can observe some breathtaking views of the waterfalls. There is another lookout point between the Waipi'o Valley and the parking zone, where you can see the panorama of cliffs.
Stroll through the Hawaii Tropical Botanical Gardens
Hawaii Tropical Bioreserve & Garden, occupying a 40-acre area, is a natural greenhouse with over 2,000 unique species!
It is renowned as one of the most beautiful botanical gardens on Big Island.
The garden is blessed with volcanic soil making the tropical rainforest abundant in trees and plant life. You will find beautiful waterfalls, streams, and exciting ocean views throughout the gardens.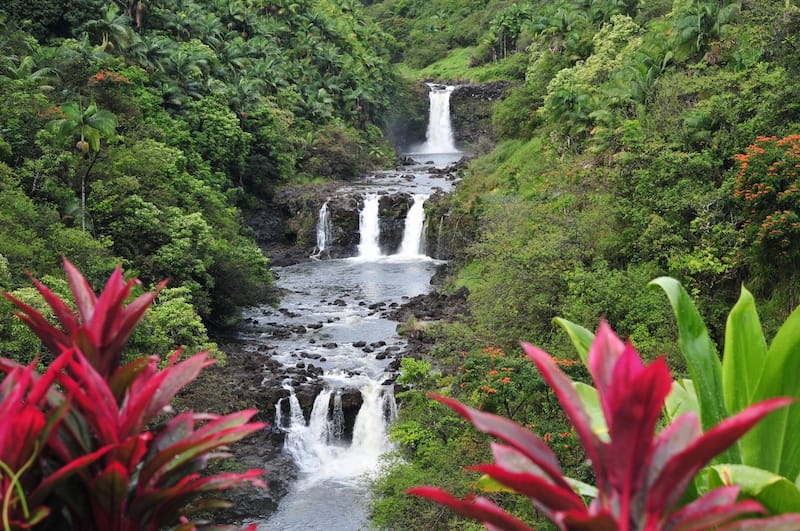 The garden is open daily from 9 am to 5 pm except for Thanksgiving, Christmas, and New Year's Day. You can take an hour-and-a-half-long self-guided tour and a mile-long trail.
Address: 27-717 Mamalahoa Hwy, Papaikou, HI 96781
Drink Kona Coffee
Kailua-Kona is the home of Kona coffee on the Big Island. It is a tropical and scenic region lying on the slopes of the Hualalai and Mauna Loa volcanoes.
Kona Coffee is rated as one of the best coffees and personally, it is one of my favorites! If you want to try the real taste of coffee, make sure to try 100% Kona Coffee without any blend.
All coffee-lovers can visit the region for a Kona Coffee tour on the Big Island, searching for a true Hawaiian coffee aroma. Below are some of the most popular farms to visit to get to know more about the stuff!
Kona Coffee Living Coffee Farm
The historical Kona Coffee farm has been in operation since 1920. It has a farmhouse and coffee drying facility with its original constructions built by a Japanese family on the island.
The admission fee is $20 for adults. The farm is open from Monday to Friday, 10 am to 2 pm.
Address: 82-6199 Hawaiʻi Belt Rd, Captain Cook, HI 96704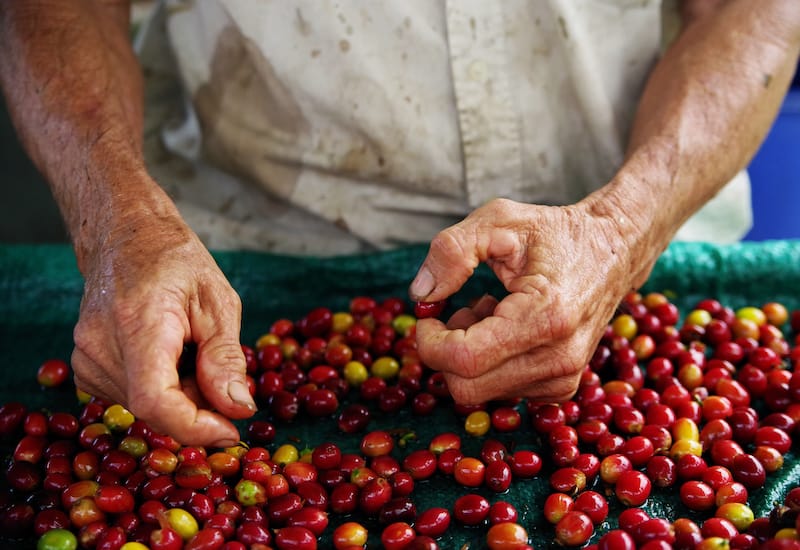 Hula Daddy Kona Coffee
Visit Hula Daddy Kona Coffee where youʻll find the ripest berries and a plantation open to guests. A 45-minute self-guided tour will take you through the farm and show you the best-handpicked beans. Admission is $10 per person.
Address: 74-4944 Mamalahoa Hwy, Holualoa, HI 96725
Rooster Farms Coffee
This Kona Coffee farm, also a 2016 Kona Coffee Cultural Festival Cupping Contest winner, has been certified for over 30 years and is one of the best places to visit in Hawaiʻi.
You can take a coffee cupping class and coffee roasting lessons or simply enjoy a 45-minute self-guided tour of the farm.
Address: 84-1245 Bruner Rd, Captain Cook, HI 96704
Greenwell Farms
As one of the largest producers of Kona Coffee on the Hawaiian Islands, the farm occupies over 85 acres of land specializing in coffee production.
You will learn about each stage of coffee production and taste 100% Kona Coffee. The farm is open daily from 9 am to 3 pm.
Address: 81-6581 Mamalahoa Hwy, Kealakekua, HI 96750
Buddha's Cup
The coffee farm at Buddha's Cup Sanctuary offers a coffee tasting served alongside Hawaiian cakes and fruits. Explore a Kona coffee plantation and continue your tour by visiting macadamia trees. The admission fee is $15.
Address: 78-1377 Bishop Rd, Holualoa, HI 96725
Drive to Pāhoa Town
Pāhoa is known for its hippie community and New Agers who have chosen an alternative lifestyle. It is one of the coolest small towns in Hawaii and definitely on the Big Island!
Located in the Big Island's Puna District, it is a funky town with western-style storefronts, colored buildings, vintage stores, and delicious eateries downtown.
If you are looking for the best things to do in Pāhoa town, we have created a quick list below!
Have brunch at Pele's Kitchen with banana and macadamia nut pancakes served with passion fruit syrup and tangy ginger lemonade. It is truly mind-blowing and a must-visit place!
Learn the history of Pāhoa and the Big Island in Jan's Barber and Beauty Shop while getting your hair trimmed!
Indulge in healthy sweets at Tin Shack Bakery, which serves some delicious desserts including raw carrot pie, vegan cookies, paleo brownies, and many savory dishes.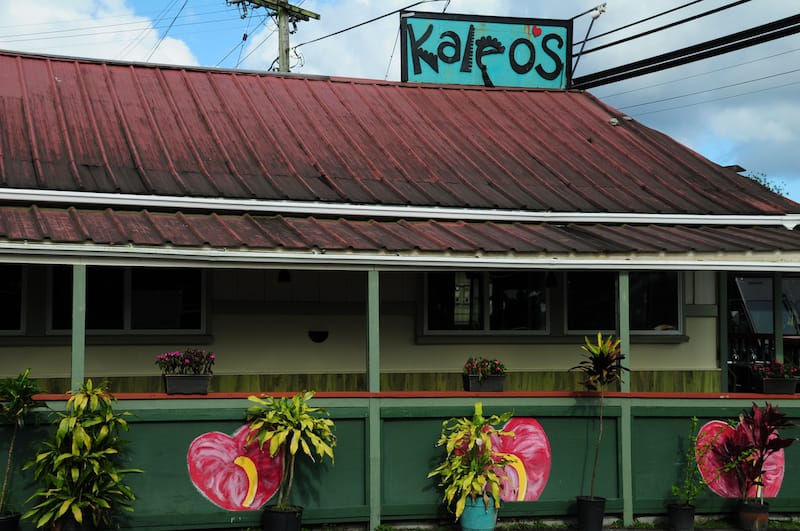 You can taste Polynesian kava at La Hiki Ola Kava Bar or enjoy live performances of street artists. Kava is also a great souvenir if you find it relaxing (just make sure where youʻre taking it back to allows it as it is still illegal in some places outside of the US).
Another favorite place is Island Naturals, the best natural food store in town that offers 100% natural Kona coffee, cheese, chocolate, honey, macadamia nuts, fresh fish, and more.
Be sure to also have dinner at Kaleo's Bar & Grill which serves Hawaiian local Kalua pork wontons, guava barbecue sauce, and lilikoi cheesecake.
End your day by getting a relaxing body massage at Hale Moana Bed & Breakfast, a two-acre botanical oasis with orchids and Hawaiian fruit trees.
See a Hula Performance
Enjoy a taste of Hawaiian culture with the Royal Kona Resort Luau trip. Choose your ideal time to participate in the traditional luau, which takes place four nights a week⁠.
Also, you can enjoy a shell lei greeting, a lei workshop, and an Imu ceremony with delicious treats and a pig roasted in an underground oven.
Make the most of your trip and enjoy the breathtaking views of Kailua Bay while sipping a mai-tai! It is one of the best things to do on the Big Island for first-time visitors.
You can plan your day around your schedule and take advantage of flexible planning to explore Hawaiian cuisine and culture at Royal Kona Resort.
Additional Info: Wheelchair and stroller accessible
>> Click here for rates and availability
Taste Kalua Pig on the Big Island
The Big Island is known for its mind-blowing nature, beaches, natural wonders, and tasty cuisine. Regarding must-try dishes, kalua pork is an essential one to try on the island. Here are three amazing places to try delectable kalua pork.
Big Island Grill (Kailua-Kona)
Known for being one of the most popular spots for it, Big Island Grill offers some outstanding homemade Hawaiian dishes with a signature dish of kalua pork, teriyaki chicken with rice, and super loco moco for starving guests!
The restaurant is open Monday – Friday from 10:30 am to 2 pm.
Address: 75-5702 Kuakini Hwy, Kailua-Kona, HI 96740
Cafe 100 (Hilo)
The restaurant's founder, Richard Miyashiro, a WWII veteran, named Cafe 100 as a tribute to his 100th Infantry Battalion.
Besides its exciting story, the cafe serves the best Loco Moco and traditional Hawaiian dishes, including kalua pork.
It is open Monday – Friday, 7 am to 7 pm.
Address: 969 Kilauea Ave, Hilo, HI 96720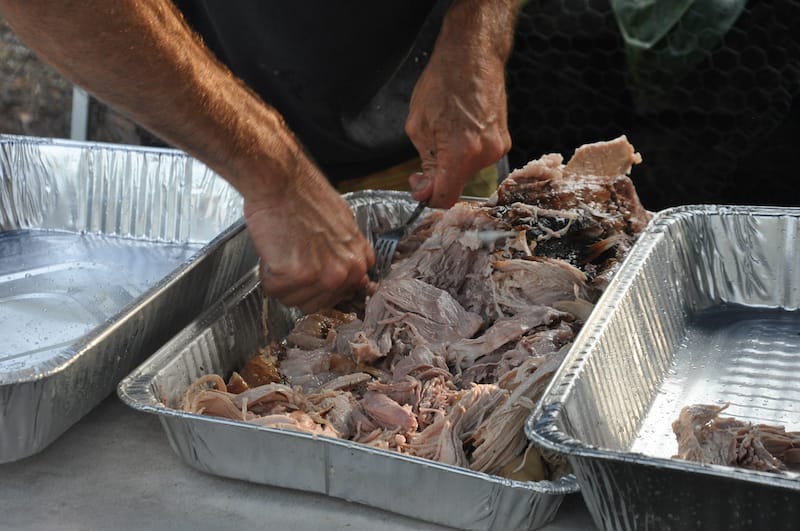 Ippy's Hawaiian BBQ (Waimea)
Famous for its awesome selection of salads, sandwiches, and seafood, Ippy's Hawaiian BBQ restaurant should also be visited for its special Furikake Beer-Battered Mahi Mahi and fresh kalua pork.
The restaurant is open daily from 11 am to 9 pm.
Address: 64-1067 Mamalahoa Hwy, Waimea, HI 96743
Explore Lovely Kailua-Kona
Kailua-Kona is an essential place to visit on the Big Island! In fact, there is a pretty good chance you booked a hotel nearby!
When visiting Kona, make sure you don't miss these popular attractions:
Museums: A few must-visit museums in Kona are Hulihe'e Palace, showcasing artifacts of King Kalākaua and Queen Kapiolani times (like unique wood furniture and royal items), the Kona Hawaiian Quilt Museum and Gallery, and the H.N Greenwell Store Museum to explore the history of the town.
Kona Coffee: Kona is the land of Kona Coffee and where it grows.
Don't miss out on a tour of the Thunder Mountain coffee plantation, Menehune Coffee Company, and Kona Coffee Living History Farm, where you can take a walk about the coffee plantations and taste the best coffee.
Craft beer in Kona: Two famous Hawaiian breweries are located in Kona: Ola Brew Co. and Kona Brewing Co. Both present a fine selection of local craft beer with traditional and unique infusions like spices, passionfruit, or tropical citrus flavors.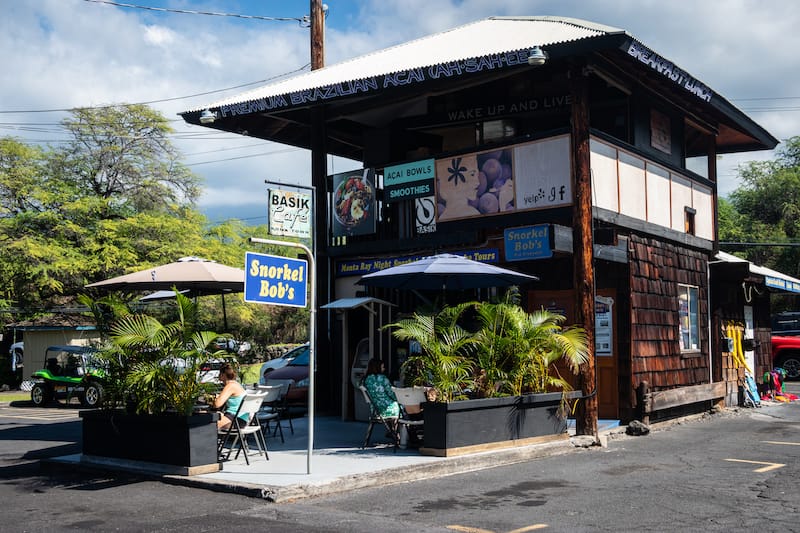 Kona restaurants: You will find so many delicious restaurants in Kona and it is essential to add them to your list to get a taste of the island!
To taste fresh seafood and local dishes, visit Island Ono Loa Grill where youʻll enjoy international and local food, Huggo's Restaurant with breathtaking views of the ocean, and Umekes Fishmarket Bar and Grill for the best poke bowls in town.
Kona beaches: The city will please you with spectacular beaches like Manini'owali Beach (white sand and blue waters) and Makalawena Beach (white and black dunes).
Many of the best beaches in Kona are located within walking distance of the best restaurants and things to do in the city.
Visit the Boiling Pots of Wailuku
One of the most beautiful (and dangerous!) places in Hawaii is Boiling Pots on the Wailuku River. The second largest river in Hawaii, the Wailuku River, flows 18 miles along the intersection of Mauna Loa and Mauna Kea volcanoes.
Lava flows eroded a gorge, and cooling lava created a deadly landscape of boiling pots. During the heavy flows, the river level rises, and turbulent water rushes down the canyon with great speed, making the river look like it is boiling.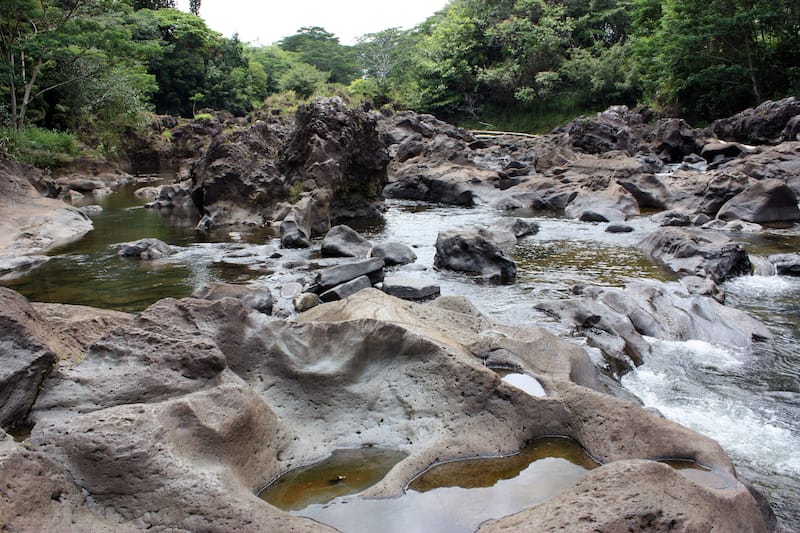 About a half-mile up the river, there is the beautiful Peʻepeʻe Falls. The Boiling Pots and the waterfall can be observed from an overlook point, a short paved walk from parking.
You can hike down to the waterʻs edge but never enter the water because it can be fatal.
Watch the Sunset from Kealakekua Bay
Kealakekua Bay is a Marine Life Conservation District famous for scuba diving, snorkeling, and kayaking. The waters are abundant with coral reefs and tropical fish.
To enjoy all the beauty of Kealakekua Bay and watch a beautiful sunset, take a 3-hour dinner cruise down the Kona Coast to the Captain Cook monument erected on the spot where the famous British naval captain died.
The 12-mile boat tour will include over 50 attractions where you can learn about the history of the Hawaiian Islands.
Additional information:
Complimentary cocktail and delicious dinner included
Live entertainment
Wheelchair and stroller accessible
>> Click here for rates and availability
Discover Big Island Farmers' Markets
Farmer's markets on the Big Island of Hawaii are little-known treasures that are definitely worth your visit.
Located throughout different parts of the island, you can simply stop by for breakfast or lunch, find locally grown fruits and vegetables, or shop for souvenirs on your trip around the island.
Farmers' markets typically operate only two days a week, but there are enough markets on the island to (potentially) catch any of them open.
If traveling around Kona specifically, check your location and find the nearest Farmer's Markets such as the ones below:
Kona Village farmers market: A large market in the heart of Kona, close to Kailua Bay. The market is a great place to try healthy snacks, fruits, and handmade crafts. It is open on Wednesdays and Sundays from 7 am to 4 pm.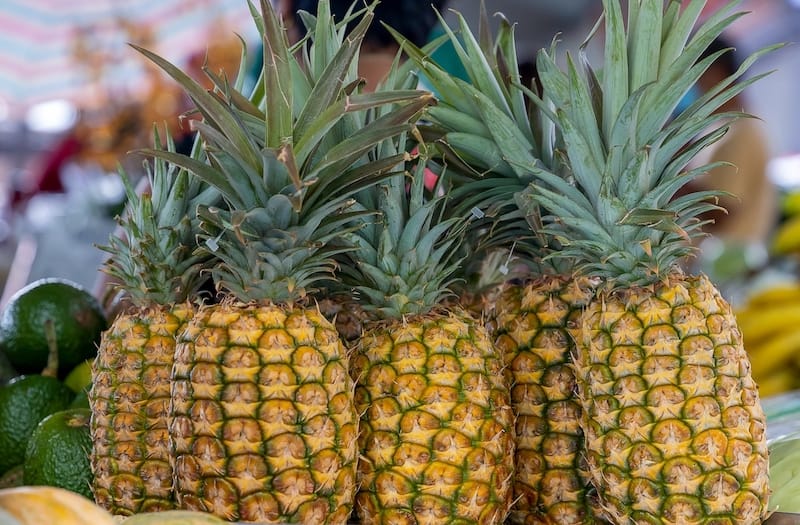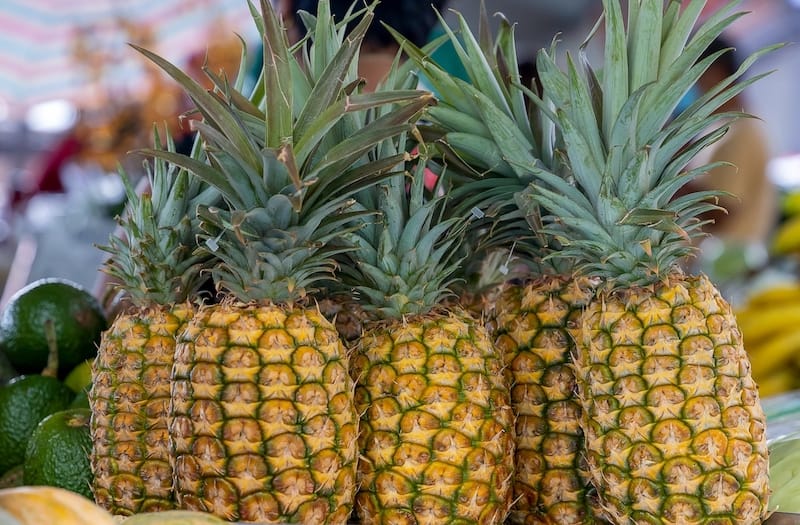 Ho'oulu community farmers market: The market is located at the Sheraton Kona Resort & Spa at Keauhou Bay, with about 40 vendors selling arts and crafts, fresh coffee, macadamia nuts, and more. The farmers market is open every Wednesday from 9 am to 2 pm.
Keauhou farmers market: Located in the parking lot of the Keauhou Shopping center, the small market offers real Kona coffee, fish, flowers, and fruits. Every Saturday, the market is open from 8 am to noon.
When traveling to Hilo or the surrounding area, you will have several farmer's markets on your way and nearby.
Hilo farmers market: With over 200 vendors, you will find local products and souvenirs to buy. The market is open every Wednesday and Saturday from 6 am to 4 pm.
Pana'ewa farmers market: The market is created to help the community sell local products to visitors and support environmental sustainability. It operates on Fridays (11 am to 1 pm) and Saturdays (6 am to 10 am).
See the Church of Kalapana
If you plan to visit the Puna coastal area on the Big Island, don't miss a visit to the Star of the Sea Church, also known as the Kalapana "Painted Church."
Having survived multiple earthquakes, volcanic eruptions, tsunamis, and a lot of lava flow, this small wooden church still stands with hand-painted murals and paintings in vibrant colors decorating all the walls and the ceiling.
To visit the Start of the Sea Church, head south from Pahoa village about 8 miles down the hill to the ocean. At a distance, you will see a small, light green church.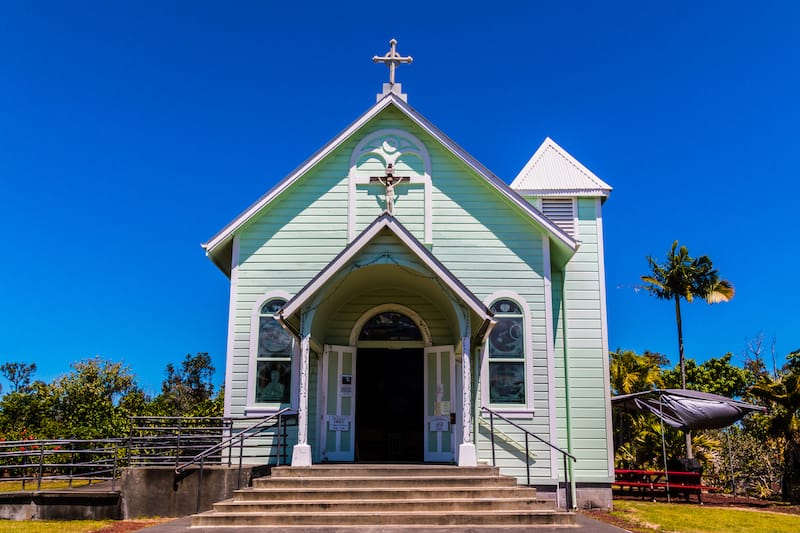 The church is open every day from 9 am to 4 pm. Admission is free. Masses are held at 4 pm every first Friday of the month. It is forbidden to touch the murals and paintings.
Address: 12-4815 Pahoa Kalapana Rd, Pāhoa, HI 96778
Explore Hawaii Volcanoes National Park
Hawaii Volcanoes National Park protects the most unique biological, geological, and cultural landscapes in Hawaii and the world.
From sea level up to 13,681 feet, the park is home to two of the world's most active volcanoes, Kīlauea and Mauna Loa. The park also features an International Biosphere Reserve and a UNESCO World Heritage Site.
At the moment, the Kīlauea volcano is the most active in the park and one of the most active volcanoes in the world.
To explore all the wonders of Hawaii Volcanoes National Park, make sure to come back here several times and visit all the interesting spots!
Start with the Kilauea visitor center (open daily from 9 am to 5 pm) to watch a 25-minute film and get a guided tour of the park.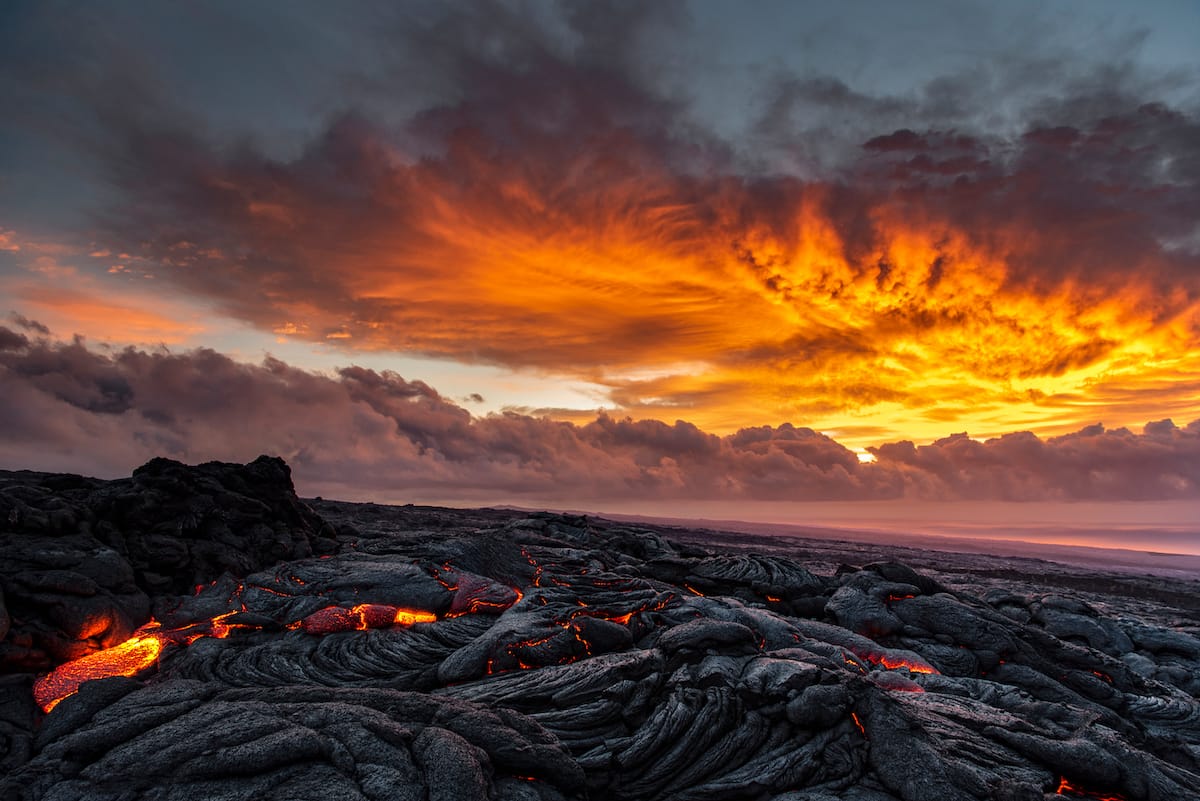 Halema'uma'u Crater is one of the most impressive places in the park with a lava lake and more. You can view the crater from Kilauea overlook point, Wahinekapu, the Volcano House, or Old Crater Rim Drive.
Have a short hike to the Kīlauea Iki Crater which formed merely 50 years ago. The trail crosses a lush ohia forest and youʻll see steaming fissures in the ground.
Thurston Lava Tube is an illuminated cave-like lava tube, a natural attraction worth visiting. To find a parking lot in the Nāhuku area, arrive before 9 am or after 4 pm.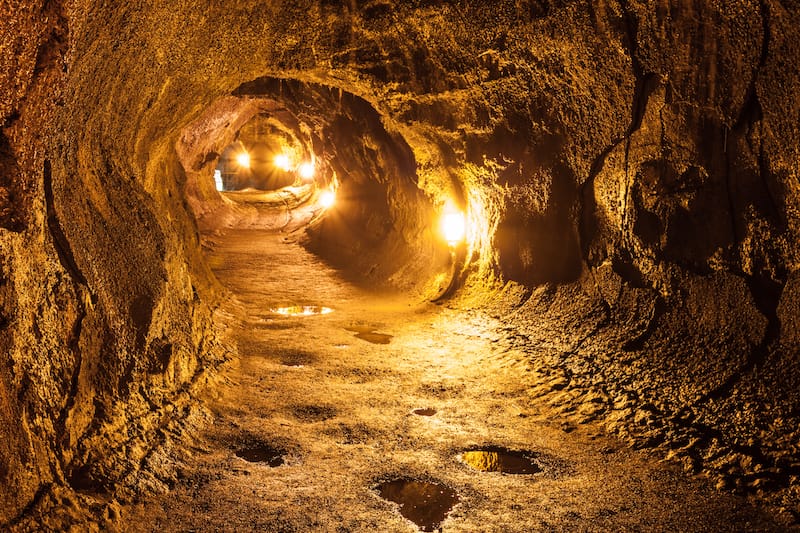 To see several attractions in the park, you can take the Chain of Craters tour and explore volcanic craters all the way down to the ocean. This, in my opinion, is one of the coolest national parks in the United States!
Additional information: The admission fee is $30 per private non-commercial vehicle. The park is open 24 hours. If you plan to spend more than a day exploring the park, Volcano Village, located in lush rainforest, will be a perfect place for an overnight.
Visit the Kona Brewing Co.
All beer lovers are invited to try traditional Hawaiian beer in the Kona Brewing Company, a once-small brewery in Kona that has now gained international recognition!
Producing several types of beer under creative names like "Big Wave Golden Ale," "Fire Rock Pale Ale," "Longboard Island Lager," and "Pipeline Porter," Kona Brewing Co. will make your beer experience memorable.
You can take a short 30-minute tour and tasting to see the brewing process, taste beer, and get complimentary gifts (and small beer samples). I first went here back in 2010 and it is so cool to see how much the place has grown throughout the years!
Address: 74-5612 Pawai Pl, Kailua-Kona, HI 96740
You can also find Kona Brewing Co. beer pretty much anywhere on all of the Hawaiian islands! Below are their two pubs where you can also find it – including one in Honolulu!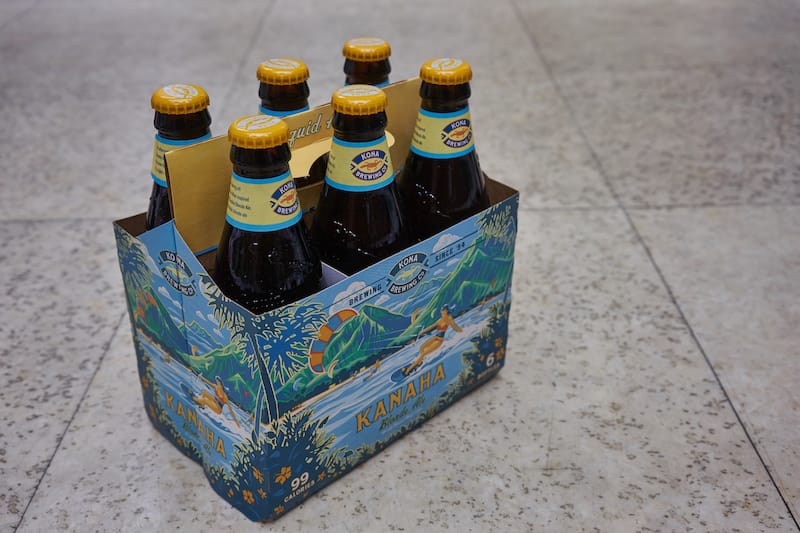 Kona Pub (Kailua Kona)
Kona Pub is located at the brewery and is a place where you can enjoy the brandʻs beer, complimentary snacks, and live music. The pub is open daily from 10 am to 9 pm.
Address: 74-5612 Pawai Pl, Kailua-Kona, HI 96740
Kona Pub (Hawaii Kai on Oahu)
The second restaurant for Kona Brewery is located on Oahu island, in a traditional canoe house with an outstanding view of a lush green garden.
Address: 7192 Kalanianole Highway, Honolulu, HI 96825
Witness Sea Turtles on a Black Sand Beach
The Big Island is all about natural wonders with the most diverse marine wildlife and coral reefs to enjoy while snorkeling.
One of the most exciting places to see fish and sea turtles is snorkeling from Hiloʻs nearby black sand beaches, abundant in sea turtle population, manta rays, corals, and tropical reef fish.
If you book this activity, you will be accompanied by an expert snorkel guide who will tell you everything about the Hawaiian beaches, volcanic islands, and marine world.
Additional information:
Snorkeling gear, snacks, and water are included
Not wheelchair accessible
Physical fitness level is needed for snorkeling
>> Click here for rates and availability
Visit the Lava Tree State Monument
The Lava State Monument is a forest of lava trees. So what are lava trees? They are trees covered with lava mold formed from lava flows dating back to 1790.
The unique area makes up Lava Trees State Park, which occupies 17 acres of territory with a 0.7-mile loop trail to lava molds of tree trunks.
The Big Island state park is located 3 miles from the town of Pahoa. The trail is easy and full of fantastic nature views of the park. The trunks of ohia trees called "the work of Pele, the volcano goddess" are an important part of Big Island history.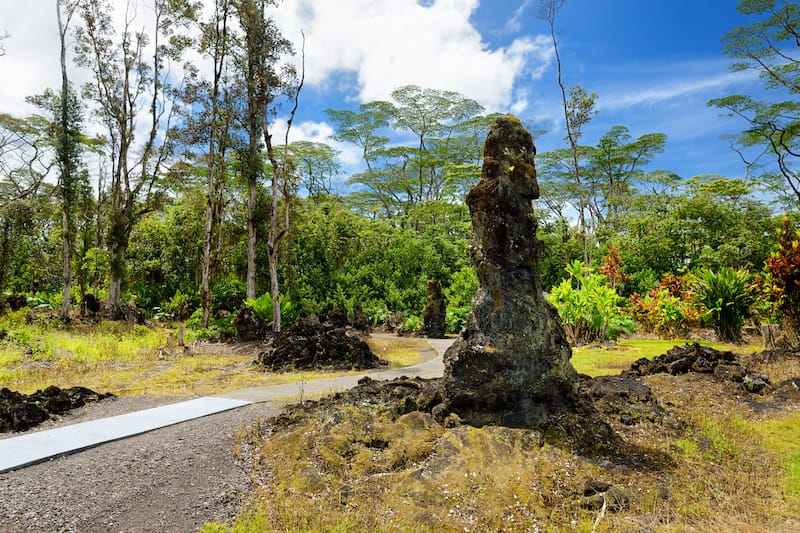 Besides lava trees, you will admire ferns, orchids, and other beautiful flowers and plant life within the park.
The park is open 24 hours with free admission. To admire the beauty of the park and lava trees, it is advised to visit it before sunset, of course!
Also, don't miss Sirius Coffee, a small coffee shop, to taste Hawaiian-grown coffee with orange or mint flavoring.
Additional info:
ADA Accessible
Picnic Tables
Restrooms
Trash Cans
Walking Path
Cross the Bridge to Coconut Island in Hilo
Mokuloa, or Coconut Island, is located in Hilo Bay. It is a small island with beaches and a grassy area to spend a day relaxing and enjoying swimming. You can get to the island by crossing a bridge from Banyan.
The two sandy beaches boast calm waters and are perfect for family days at the beach. There is a vast green territory for a small picnic and the wonderful Hilo Farmers Market, where fresh fruit and snacks can be found.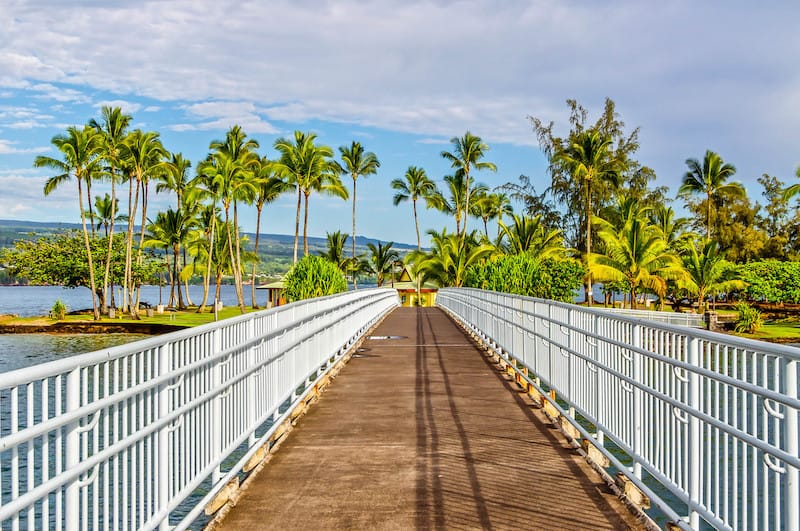 If you travel with kids, they will love jumping from a small stone tower into the water.
Learn History at Pu'uhonua O Hōnaunau National Historical Park
Hawaii's Pu'uhonua o Hōnaunau National Historical Park is one of the finest historical parks on the Big Island. It was the last refuge of Hawaiians who broke a Kapu or any ancient law against the gods. Defeated warriors also found their refuge in this place.
Located at Honaunau Bay in South Kona, the park occupies 180 acres of sacred historical land.
You will see the 12-feet high and 18-feet thick Great Wall, kii wooden images of gods, a temple that still preserves the bones of 23 alii (chiefs), the Royal Grounds, guards of the Hale o Keawe Heiau, and more.
Pu'uhonua o Hōnaunau National Historical Park hosts festivals and national craft demonstrations that present the sacred land's history and culture every summer.
The self-guided tour of the park passes a 0.5-mile trail. You can also join Park Ranger talks that take place from 8:30 am to 4:30 pm during opening hours.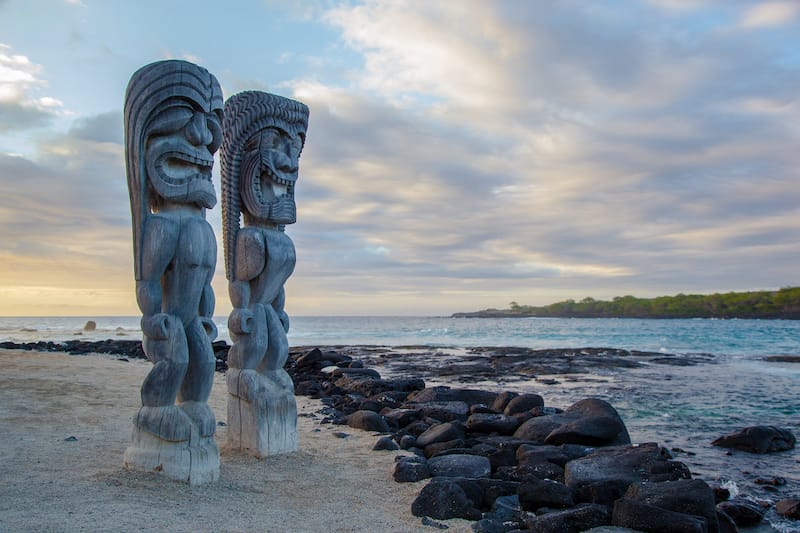 The tour starts at the Visitor's Center, where you can pick up a map and find DVDs about Hawaiian culture in the bookstore.
Additional information: There are plenty of places near the park where you can have good food and refreshing beverages: Super J's in Honaunau, The Coffee Shack, Annie's Burgers, Cultivate Good Food vegan cafe, and Kaya's Cafe coffee shop.
Admission:
$20.00 per private non-commercial vehicle/7 days
$10.00 per pedestrian or bicycle/7 days
$15.00 per motorcycle/7 days
$35.00 Pu'uhonua o Hōnaunau NHP Annual Pass
$55.00 Hawai'i Tri-park Annual Pass
See the Whole Big Island in a Day
The Big Island has one of the most diverse ecosystems on the planet, with green rainforests, active volcanoes, thundering waterfalls, and picture-perfect beaches.
Of course, it is better to spend at least half a day in each place to enjoy all the beauty, but if you are short on time, take a one-day tour of the natural wonders on the Big Island.
The tour starts on the Kona coast, taking you to the tropical rainforest with stops at Waipio Valley, Hamakua Coast, and to two of the impressive waterfalls, Akaka and Rainbow Falls.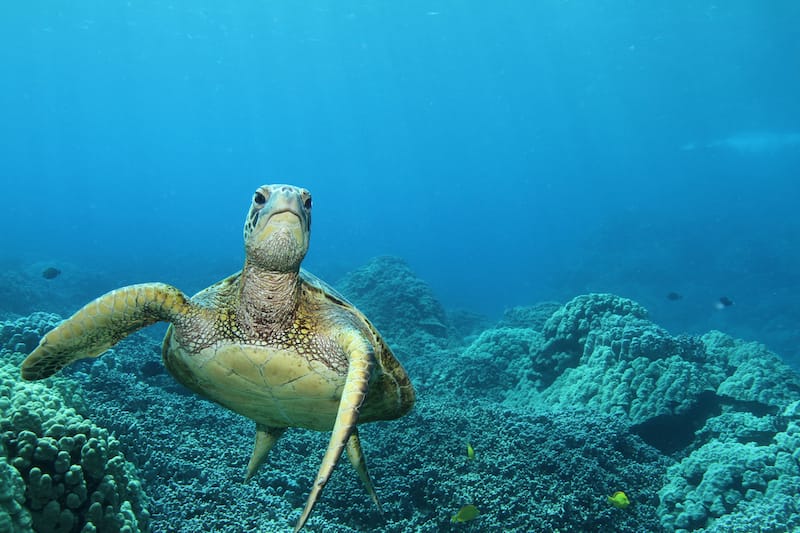 Then take a stroll on the black sand beach of Punalu'u Beach and search for Hawaiian sea turtles. The most exciting views will wait for you at Hawaii Volcanoes National Park with steaming flows and volcano craters.
Finally, you will enjoy a cup of Kona coffee before you get back to Kona Coast.
Additional information:
Not wheelchair accessible
Not recommended for pregnant travelers
No heart problems or other severe medical conditions
Children under 4 years old are not allowed to participate
Lunch included
>> Click here for rates and availability
Take a Volcano Tour of the Big Island
The Big Island circle tour is a great choice to explore all the wonders of Hawaiʻi in one day. Your day will be all about fantastic views of beaches, tropical rainforests, valleys, and waterfalls.
The first stop will be at Greenwell Farms, one of the favorite local places to taste true Kona Coffee.
You will taste traditional Hawaiian bread in the most visited bakery in Na'alehu and find nesting turtles on a black sand beach, explore the Hawaii Volcanoes National Park, and have a picnic in Volcano Village.
Finally, enjoy some magnificent views of Rainbow Falls waterfall and get back with unforgettable impressions of this magnificent island!
Additional information:
Wheelchair and stroller accessible
No children under 5 years old are allowed
Breakfast and lunch included
>> Click here for rates and availability
Enjoy a Small Group Tour (+ Night Manta Ray Dive!)
The famous manta ray night dive in Kona is one of the most memorable things you should not miss on the Big Island.
During the dive, you will have a chance to see this unique marine life up close. Their hunt for plankton looks like a dance gracefully chasing catch with mouths wide open.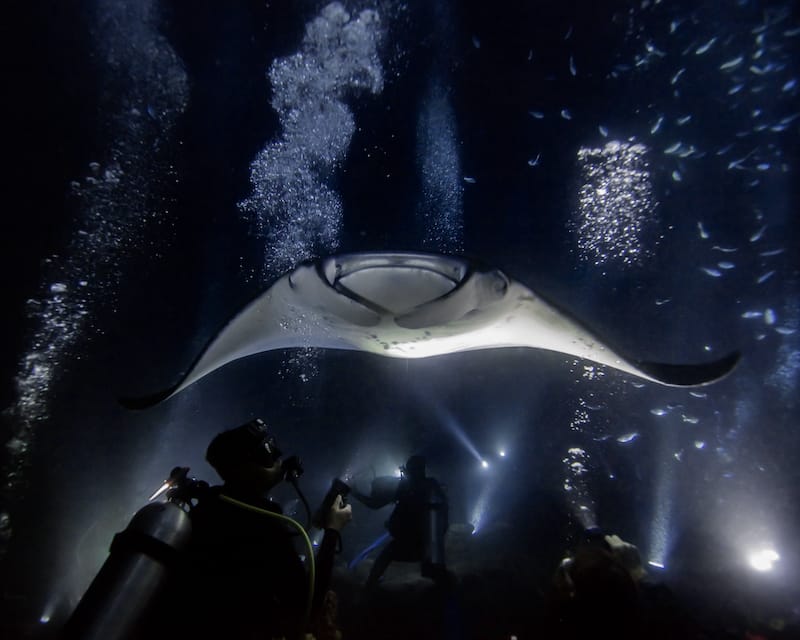 The 2-hour tour in Kailua-Kona waters after dark with a special wetsuit and snorkel gear, led by an expert instructor, is an absolutely safe experience. You will see manta rays with over 20 feet wingspans making loops around you if lucky.
Additional information:
Snacks, snorkel gear, and wet suits are provided.
It is a small-group tour.
Not recommended for pregnant travelers
Weight restriction: 275 lbs
Not wheelchair accessible
No children under 5 years of age are allowed
>> Click here for rates and availability
How to Get to the Big Island
Getting to the Big Island is quite easy! I have always flown into Kona and I never connected from Honolulu but rather the mainland. You can find cheap flights with MyFlightSearch from many major US cities regularly.
Almost all major US airlines fly to Kona including Southwest, American, Delta, United, Hawaiian, Alaska as well as WestJet and Air Canada from up north.
It definitely doesnʻt take a lot of effort to get to the Big Island if you plan ahead!
Where to Stay on the Big Island
There are many places to stay on the Big Island and we listed a few favorites in Kona as well as Hilo below.
Places to Stay in Kona
Places to Stay in Hilo
Did we miss any of the best things to do on the Big Island?
Let us know your favorite Big Island attractions in the comments.
More Big Island Travel Guides
Pin this Big Island Bucket List Guide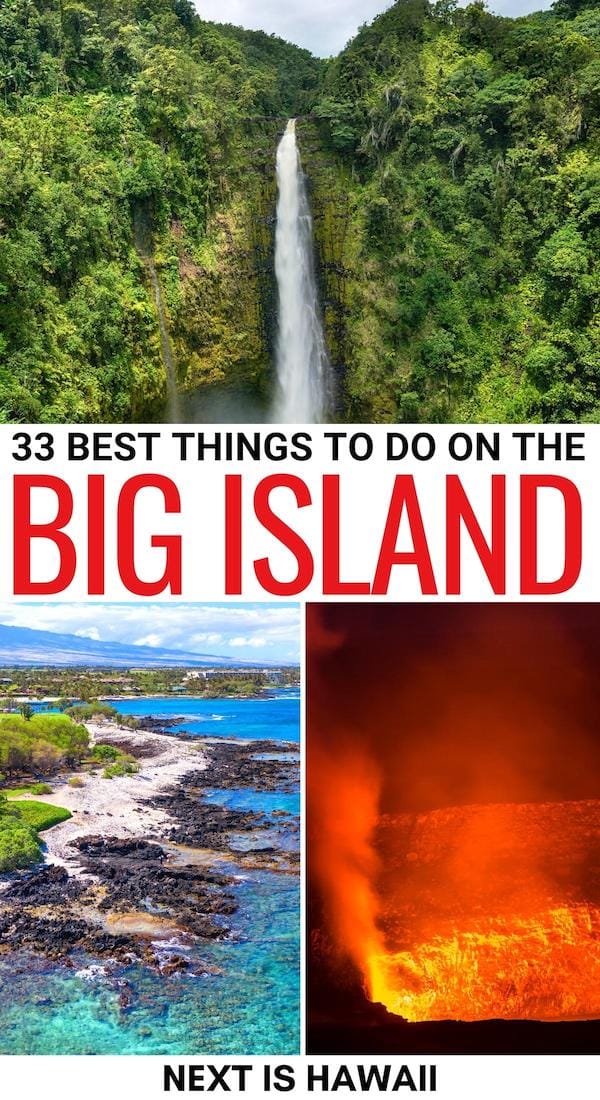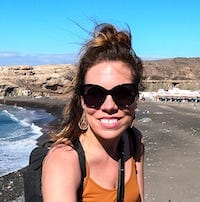 Megan is a travel blogger and writer with a background in digital marketing. Originally from Richmond, VA, she has been traveling frequently to Hawaii for the last 15 years and loves exploring every corner of each Hawaiian island, while trying to promote sustainable travel and small, local businesses along the way. Megan has written for or been featured by National Geographic, Forbes, Lonely Planet, the New York Times, and more. She has co-authored a guidebook with Fodor's Travel and has visited 45 US states and 100+ countries.