You will find several amazing day hikes in Volcanoes National Park that are suitable for all skill levels.
This guide details the best Volcanoes National Park hikes, including lava tubes, volcano views, and more!
Did we miss out on any worthy trails in Hawaii Volcanoes National Park? Let us know in the comments. Thanks!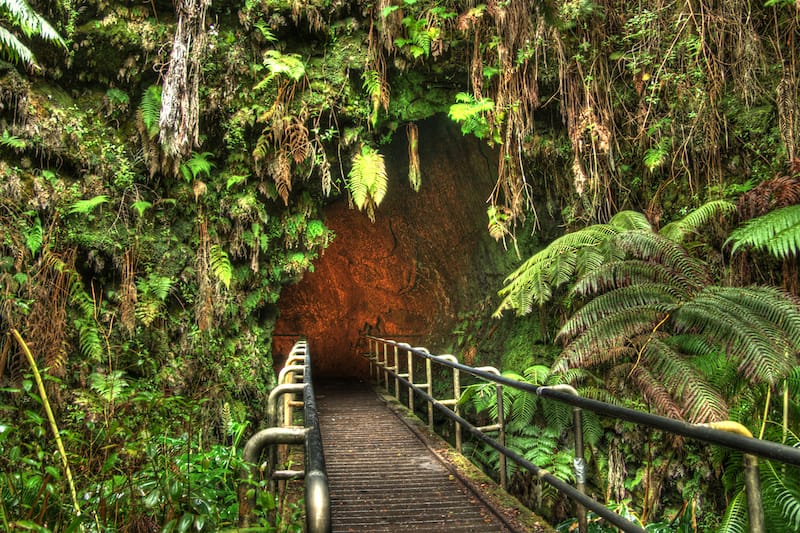 Day Hikes in Volcanoes National Park
Crater Rim Trail
Crater Rim Trail is a scenic, 11-mile moderate hiking trail that loops around Kilauea's summit caldera, one of the most active volcanoes in the world.
You'll have a chance to take in the scenic vistas and marvel at the lush greenery and dramatic desert terrain while hiking around an active volcano.
The trail has several access points along Crater Rim Drive, such as Uēkahuna, Kīlauea Overlook, Steam Vents, and Volcano House.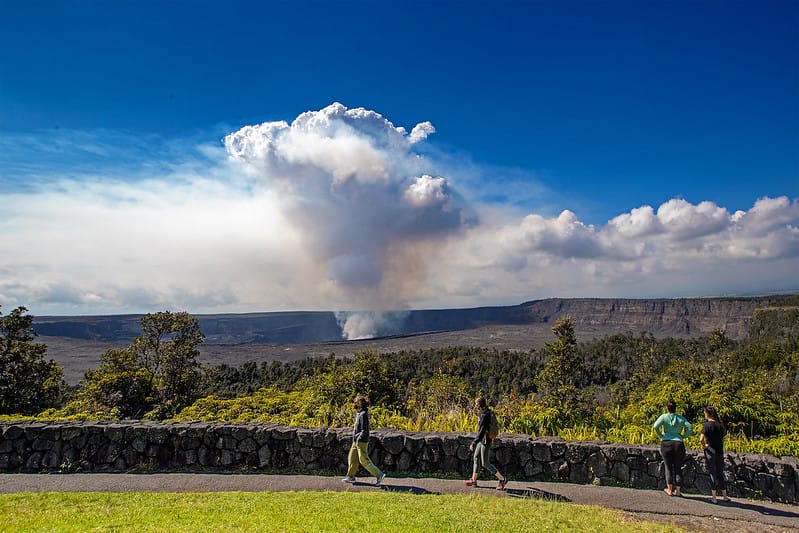 Get ready to witness the consequences of the 2018 summit collapse, Halemaumau Crater, Mauna Loa, steam vents, rich flora, and fauna from a number of outlooks along the trail. Just note that Halemaumau Crater and the southwest rift zone region are full of sulfur emissions!
Due to its elevation of 4000 feet above sea level, expect quite chilly weather and don't forget to bring a jacket. This is one of the essential things to do from Hilo.
Mauna Ulu
Hiking in the Mauna Ulu area will reward you with a dramatic landscape of an active volcano that erupted more than 5 years.
One of Kilauea's longest known rift zone eruptions, the 1969-1974 Maunaulu flow swallowed everything in its way from forests and grasslands to the original Chain of Craters Road. It is now an apocalyptic landscape filled with lava trees.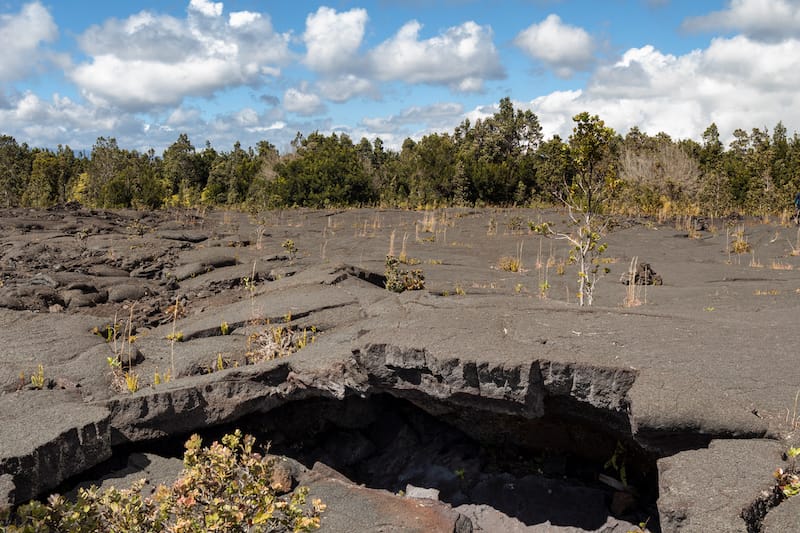 A 2.5-mile long moderate hiking trail will lead you to the top of Pu'uhuluhulu, a forested cinder cone from where you can take in the stunning vistas of Pu'u O'o and then admire the mysterious Mauna Ulu vent.
When the weather is clear, you can also enjoy fantastic views of Mauna Loa, Mauna Kea, and the Pacific Ocean.
Puuloa Petroglyphs Trail
If you are keen to discover the lifestyle and culture of Native Hawaiians on full display, then go for a hike on the Pu'u Loa Petroglyphs Trail that will take you to one of Hawaii's most extensive petroglyph fields.
For many generations, the sacred Pu'u Loa area was the place where Hawaiian men put their newborn's piko (umbilical cord) in small holes to ensure long life.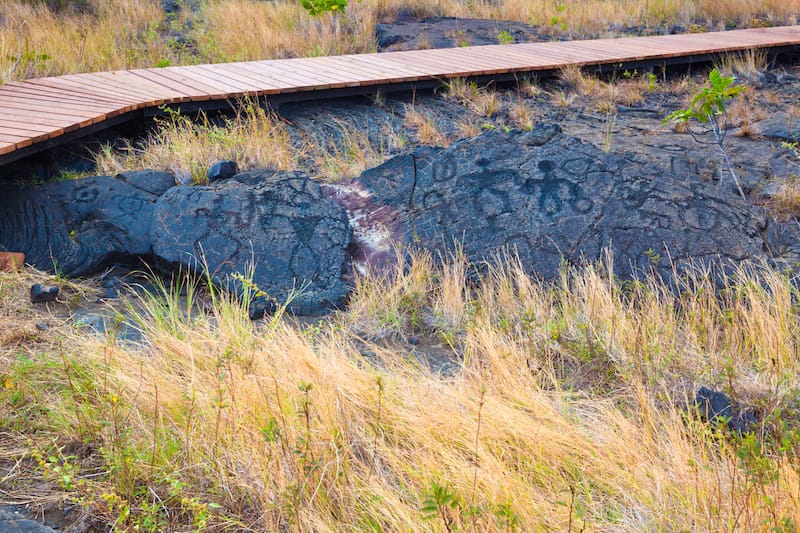 This 1.4-mile moderate trail starts at the Puʻuloa parking area on Chain of Craters Road, crosses a pahoehoe lava flow, and leads you to a boardwalk that encircles the mysterious area packed with more than 20,000 petroglyphs.
It is advised to stay on a boardwalk to avoid fragmenting and destroying the astounding gallery of fragile petroglyphs.
Keanakakoi Crater
Keanakakoi Crater is another must-visit spot in Volcanoes National Park that will make you marvel at the 600-year-old crater alongside the towering cliffs of Kīlauea.
At 115 ft deep, the Keanakakoi Crater (cave of the adzes) was formed in the 1400s after the collapse of Kīlauea's summit; however, in 1877, lava partly covered the ancient adze rock quarry, and fissure eruption in 1974 swallowed the quarry forever.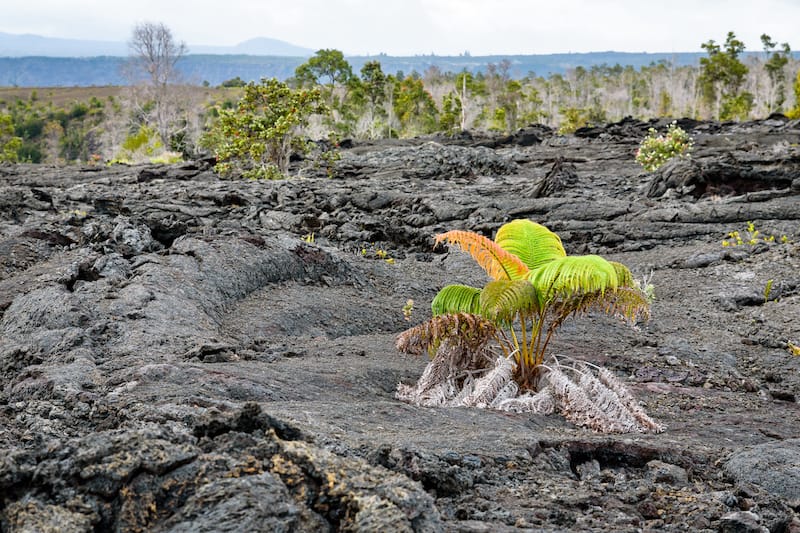 Summit collapses in 2018 made some parts of Crater Rim Drive, the road surrounding Kīlauea, closed forever. Fortunately, a mile of the roadway is still open to cyclists and hikers.
A short 1-mile-long easy trail starts near the parking lot exit on Crater Rim Drive, taking you past steam vents, various gases, ferns, and it leads to Keanakakoi Crater before a vantage point of the southeastern side of erupting Halema'uma'u Crater.
Kaakulamanu (Sulphur Banks)
Another easy 1.2-mile loop hike will allow you to admire the surreal landscape of a steamy wonderland in Kaakulamanu.
This volcanic thermal area is filled with volcanic gases leaking out under the pressure of underground heat, where you can witness volcanic gases crystallize into colorful mineral formations.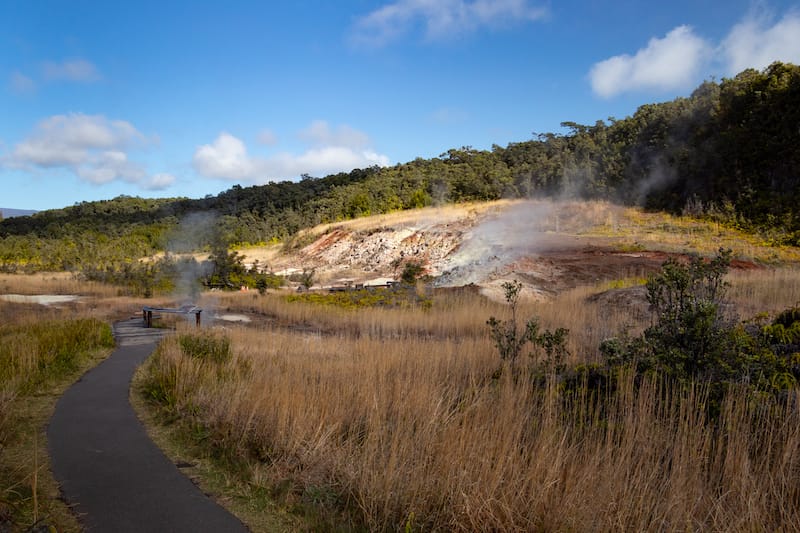 Some sulfur gases at Sulphur Banks deposit pure crystals, while others form sulfuric acid that breaks down the lava into red and brown clay.
The Sulphur Banks loop trail starts and ends at the Kileau Visitor Center, along which you can see birds, a few trees, steaming cracks, and healing vapors.
Just note that these gases are rich in carbon dioxide, sulfur dioxide, and hydrogen sulfide and can cause respiratory problems to visitors with heart problems, pregnant women, and even young children.
Halemaumau Trail
Nature lovers will enjoy hiking on the Halemaumau Trail which descends 425 feet down through a rainforest, allowing you to marvel at rich flora and fauna alongside "pahoehoe" lava formations, steam vents, and the 1974 lava flows.
The rainforest was re-established several times as a result of continuous volcanic activity.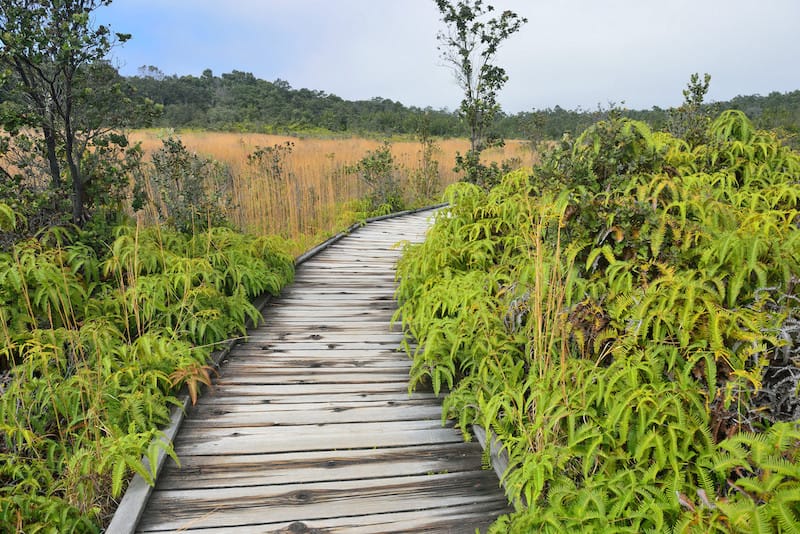 A 0.8-mile moderately trafficked out and back trail starts from Crater Rim Trail and takes you to the floor of Kaluapele (Kīlauea caldera), making you take in the mesmerizing views of a volcanic caldera.
Those looking for longer adventures can take another 1.3-mile trail, which begins at Crater Rim Trail but leads to the top of Uēaloha (Byron Ledge), giving a great opportunity for a challenging hike to Kīlauea Iki and Nāhuku (Thurston Lava Tube).
Kilauea Iki
Descend through the dense forest and get to Kilauea Iki to witness the dramatic outcome of a shocking eruption of 1959 that left a solidified but still steaming lava lake on the floor of the crater.
The trail can be quite steep and rocky, so be ready for a challenging hike, but the final views will be well worth the effort.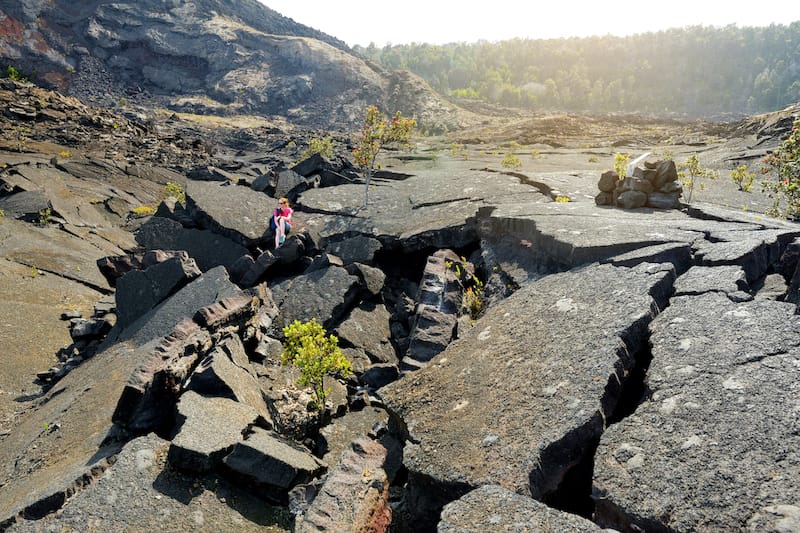 A well-marked 3.3-mile trail crosses a once-molten lava field and passes through lush rainforest along the edge of Kilauea Iki, and down to the center of the crater's bottom.
There are also much longer hikes available from Kilauea Visitor Center (5.3 miles) and Devastation Trailhead (6.0 miles) that guarantee a more scenic and educational experience, along which you can learn more about the story of 1900 feet eruption while exploring the Nāhuku Lava Tube and Uēaloha.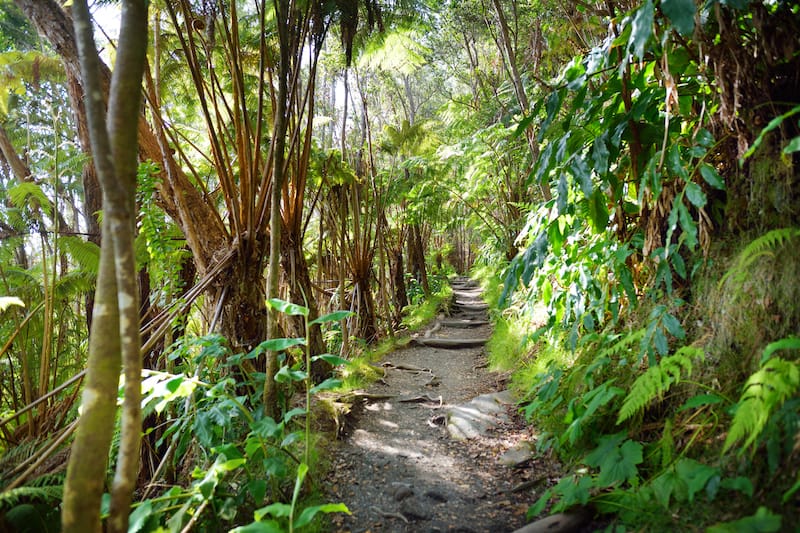 Nahuku (Thurston Lava Tube)
Travel back in time while exploring the massive Nahuku, a 500-year-old lava tube, discovered in 1913 and created as a result of a lava river flowing through and gradually solidifying over the years. It is often called the Thurston Lava Tube.
Walk through lush greenery before entering a 20 ft high and 600 ft long cave, home to a rich Hawaiian ecosystem, unique solidified drips, and colorful minerals.
The only way it is advised to experience the mysterious lava tube is through your eyes since even a single touch can disrupt the integrity of the cave.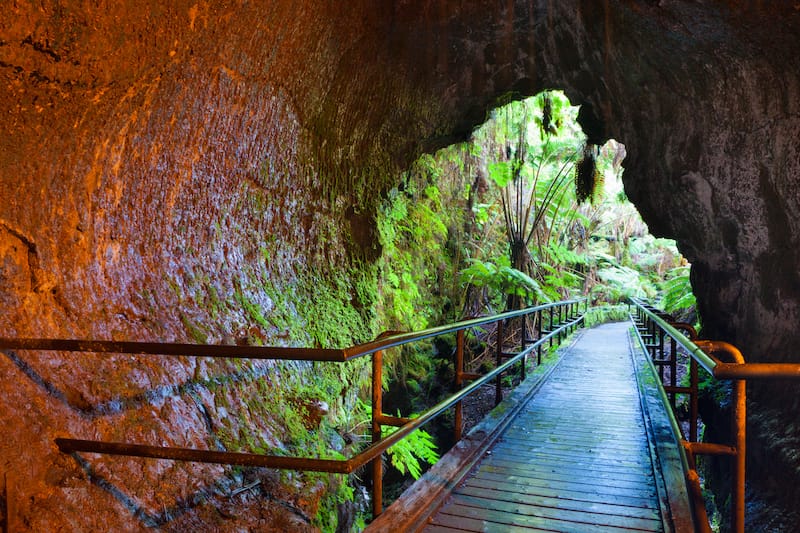 A 1.5-mile moderate hike starts from Kīlauea Iki Overlook (1.5 miles), but adventure lovers will certainly enjoy exploring Devastation Trailhead (6.0 miles) or Puʻupuaʻi (an additional mile).
Make sure to visit before 9 a.m. or after 4 p.m. to avoid crowds and enjoy the lava tube (mostly) all to yourself!
Devastation Trail
Take a trip along the Devastation Trail to witness how the surrounding apocalyptic landscape is starting to show some signs of life after being swallowed by a falling cinder from the 1959 Kīlauea Iki eruption's massive lava cascades.
The 1-mile trail offers an easy hike over cinders that is also wheelchair and stroller accessible, along which you will see the recovering flora, some unique lava features, and Pele's tears and hair.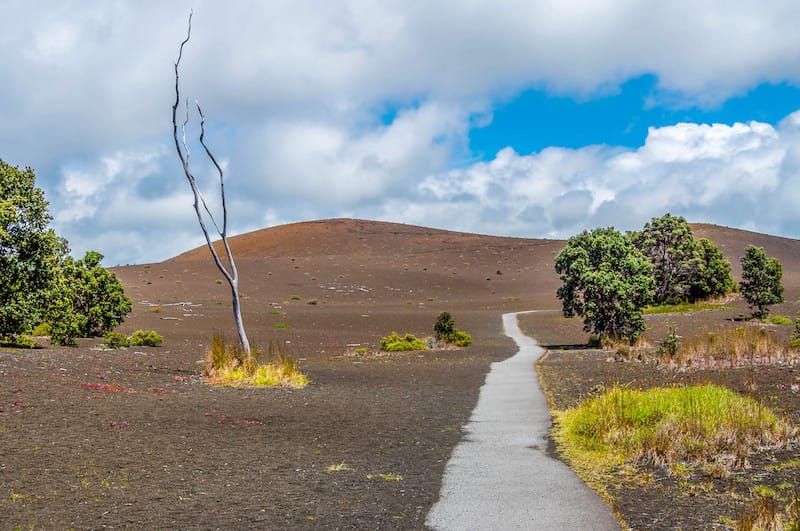 The trail may be accessed from either the Pu'u Pua'i or the Devastation Trail parking lots, both of which are located off of Crater Rim Drive. Just make sure to stay on the paved road and do not attempt to climb the Pu'upua'i cinder cone.
Kupinai Pali (Waldron Ledge)
Locally referred to as the "Earthquake Trail," Kupinai Pali is a part of Crater Rim Drive that became decimated due to the 6.7 magnitude earthquake that struck in 1983.
Large pieces of the road collapsed, thus steep descents and huge fractures developed, making it inaccessible.
Part of the road was re-routed to its current path, creating an easy one-mile-long loop trail that begins across the street from Kīlauea Visitor Center.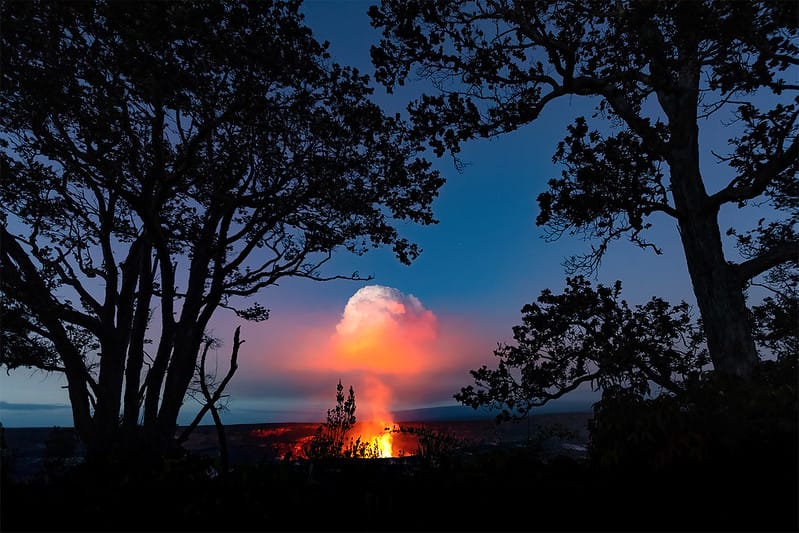 Strolling along Kūpinaʻi Pali will make you experience the devastating impact of the sudden earthquake, but also will reward you with the stunning panoramic views of Kaluapele (Kīlauea Caldera) and Halemaʻumaʻu Crater.
Keep an eye out for cracked and tilted sections and look for the trial's painted road markings, which serve as a reminder of its past.
Kipukapuaulu
Kipukapuaulu offers another scenic 1.2-mile easy hike for nature lovers to explore Hawaii's well-protected native rainforests, home to plenty of stunning birds.
The trail will lead you past "kipuka," an old-growth forest enclosed by the more recent Mauna Loa lava flow, where you will get up close and personal with Hawaii's rarest flora and fauna.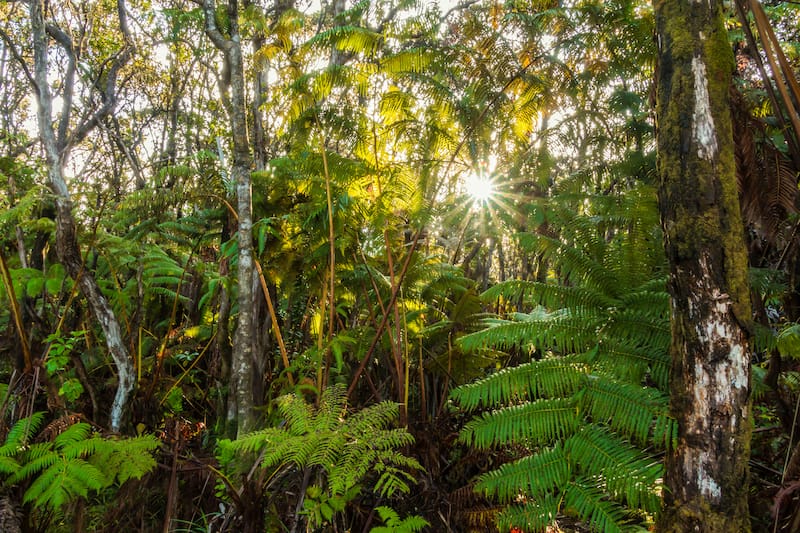 In 1985, Kipukapuaulu was designated as Hawaii Volcanoes National Park's first Special Ecological Area. The trail is a dirt path that starts from the Kīpukapuaulu parking area and features a number of gentle inclines and declines.
Please keep in mind that bicycles are not permitted on this Volcanoes National Park trail.
Mauna iki (Footprints Shelter)
After setting foot in the Kaʻū Desert, you will feel like you have just stepped on the moon!
This harsh and lunar landscape is the outcome of the dramatic explosion of Kīlauea's summit, during which a mixture of hot gas, ash, and sand buried the area.
The Kaʻū Desert is filled with footprints of Native Hawaiians who were crossing this region in the middle of this disturbing incident.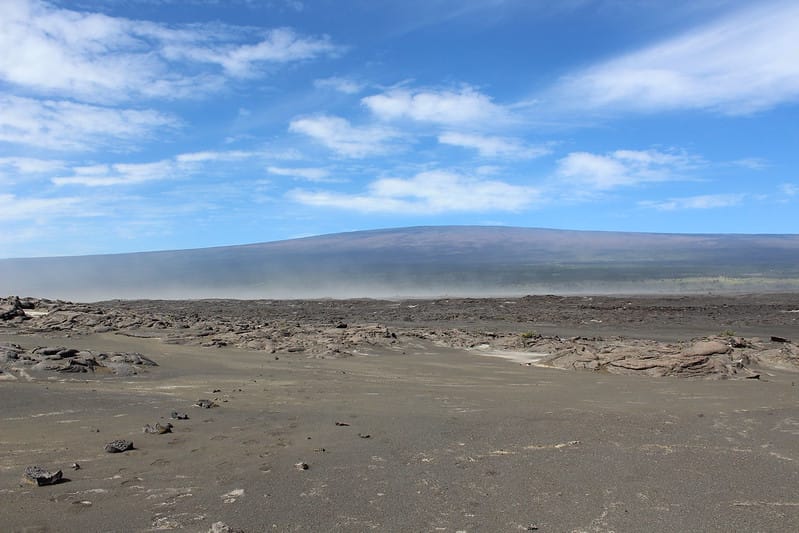 You can explore those mind-blowing footprints by taking an easy 1.8-mile hike from the Kaʻu Desert Trailhead to Mauna iki (Footprint's Shelter), while adventure lovers will prefer hiking through jagged lava fields on a 7-mile moderate, uneven trail from Mauna iki to the trailhead on Hilina Pali Road.
Uealoha (Byron Ledge)
Head out for some hiking at Uealoha (Byron Ledge) to take in the stunning vistas of Puʻupuaʻi cinder cone and the Kīlauea caldera.
Uealoha divides the Kīlauea caldera and Kīlauea Iki crater and makes a great connection with Kīlauea Iki loop and Nāhuku (Thurston Lava Tube).
Two hikes lead to stunning Uealoha: a 1.1-mile moderate hike from Devastation Trail to the intersection with Kīlauea Iki trail and a 1.3-mile easy hike on Halema'uma'u Trail.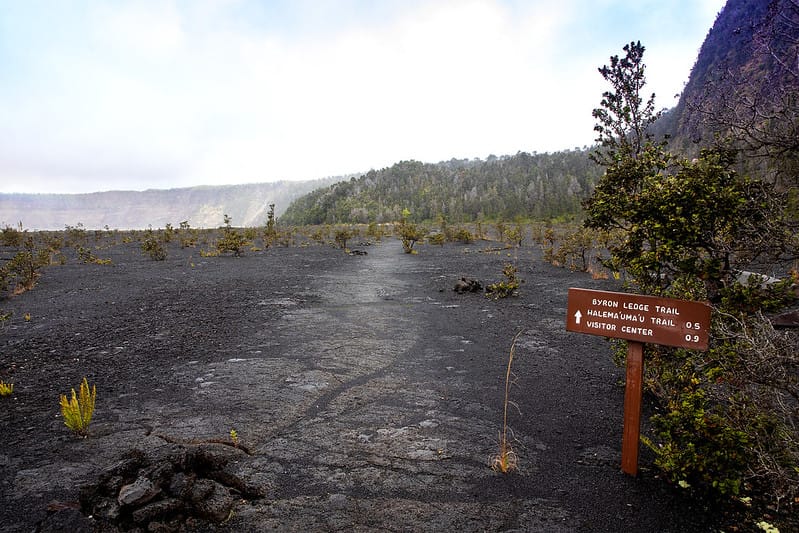 If you choose the first one, then make sure to follow the trail northwest since it drastically drops in elevation near the rim of Kīlauea caldera.
Did we miss any amazing day hikes in Volcanoes National Park? Please let us know your favorite trails in the comments! Thanks!
More Big Island & Volcanoes National Park Travel Guides
Pin this Volcanoes National Park Hiking Guide