Hawaii has some of the world's most amazing flora and scenery. You can find a lot of it at the many Big Island botanical gardens.
This guide details some of the best botanical gardens in Hawaii and why you should visit each!
Are you planning your trip to the Big Island last minute?
If you're traveling to the Big Island last minute, you want to ensure you have lodging/tours ahead of time! Below are some of our top picks on Hawaiʻi!
Best Tours and Activities on the Big Island:
Best Hotels in Kona:
Best Hotels in Hilo:
Traveling to the Big Island independently? Be sure to book your rental car ahead of time to ensure availability!
Did we leave out any amazing Big Island botanical gardens? Let us know in the comments!
Best Big Island Botanical Gardens
Botanical Gardens at the University of Hilo
Located at the University of Hilo, this botanical garden has one of the best cycads collections in Hawaii.
The Botanical Gardens at the University of Hilo was established in the 1980s by a professor in the University after a student said they hadn't seen a pine tree before.
Currently, the garden has a vast collection of palm trees from around the world, including the endangered Loulu, Licuala from Thailand, and gigantic species from the South Pacific.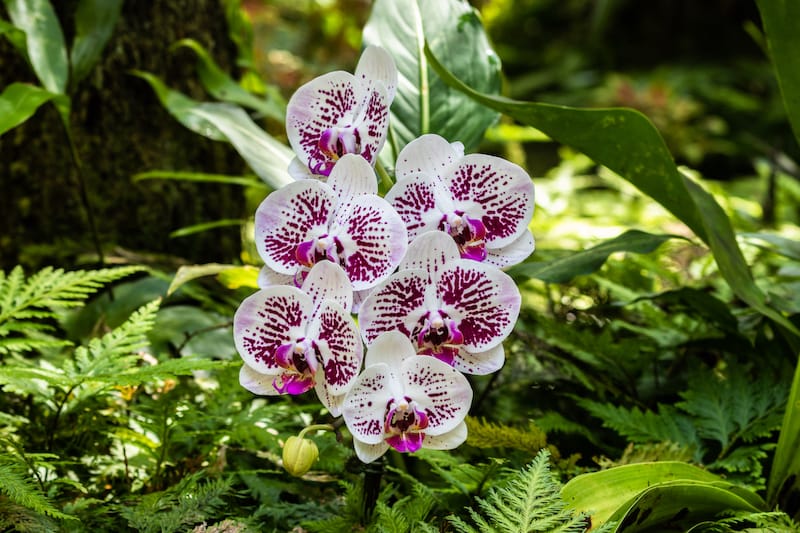 The UH Botanical Gardens is located in a humid tropical climate and consists of three separate areas that feature cycads, bromeliads, and palms.
The garden is open daily and hundreds of students and visitors tour the garden to learn about the various plants. If you are taking a tour of the botanical gardens on the Big Island, you will learn about several 100 species of plants at the university garden.
Hawaii Tropical Botanical Gardens (HTBG)
The Hawaii Tropical Botanical Gardens is one of the most popular educational botanical gardens on the Big Island. Located near Hilo, this garden attracts nature lovers, creatives, gardeners, and scientists from all over the world.
At a time when rainforest plants are disappearing, HTBG is dedicated to the collection of the world's tropical plants and currently features over 2000 species of them!
Visitors love that the plants are labeled so they can identify and learn more about what they see.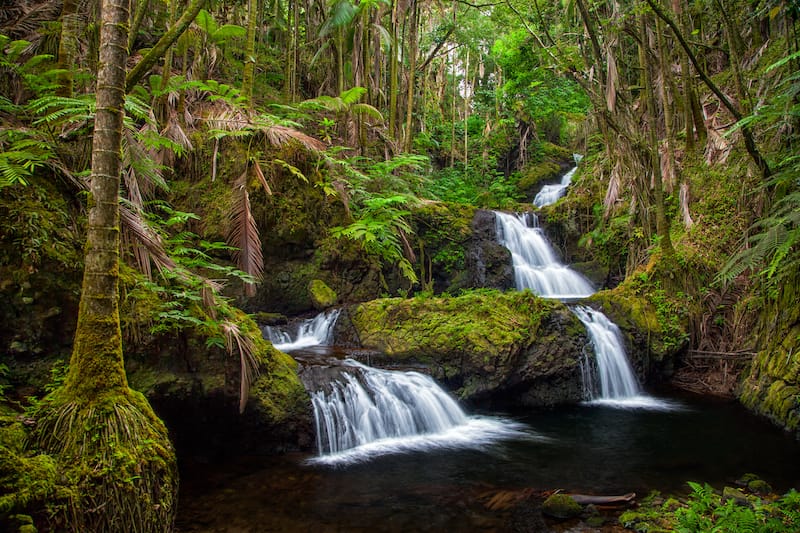 Asides from plants and exotic flowers, the garden also feature animals, a waterfall, and benches spread throughout the paved walkways for opportunities to relax.
In addition, the garden sells tropical bouquets, clothing, souvenirs, jewelry, water, and snacks in the visitor center. HTBG is open between 9 am to 5 pm with an entrance fee of $20 for adults.
Paleaku Gardens
Paleaku Gardens is a peaceful sanctuary and garden located in South Kona. Throughout the gardens, you will find plants and trees popular in Hawaii, as well as shrines and statues illustrating the world's spiritual traditions and religions.
There is a Hebrew tree of life, Native American Medicine Wheel, Baha'i Nine-Pointed Star, among others.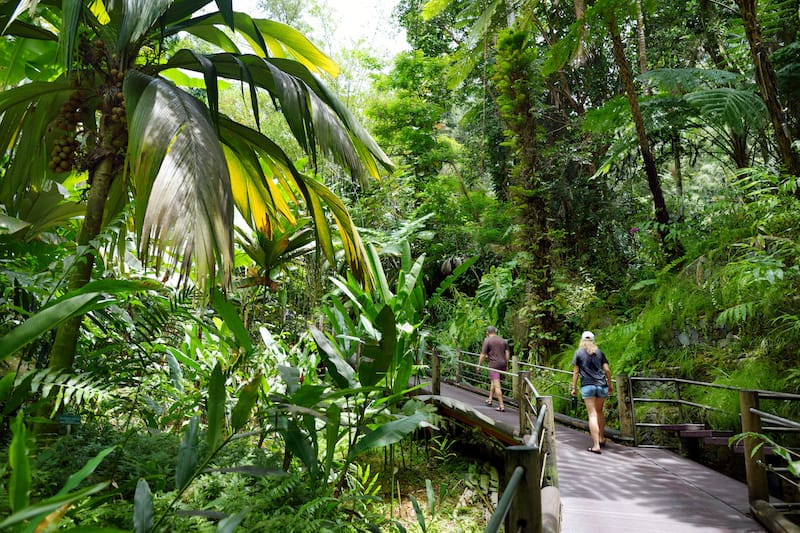 The 7-acre tropical botanic garden is one of the most relaxing gardens on the Big Island. It has well-maintained pathways and a setting perfect for meditation or transcendental expedition.
Paleaku Gardens also features a library spot, a multipurpose pavilion for events, a dining area that can house up to 75 people, and a visitor center offering coffee tasting and local art displays.
Another impressive part of the garden is that they offer retreats and classes on Yoga, Tai Chi, Crystal Bowl meditation, etc.
Amy B. H. Greenwell Ethnobotanical Garden
Amy B. H. Greenwell Ethnobotanical Garden was closed for 4 years until it was reopened on February 29, 2020.
The 15-acre garden is home to over 200 species of indigenous plants with labels that explore their traditional uses. The garden was named after kama'āina botanist Amy Greenwell and is located near Kona.
It has a landscape that reflects the biogeographical zones of a typical Kona ahupua'a. These zones include coastal, dry forest, agricultural, and upland forest.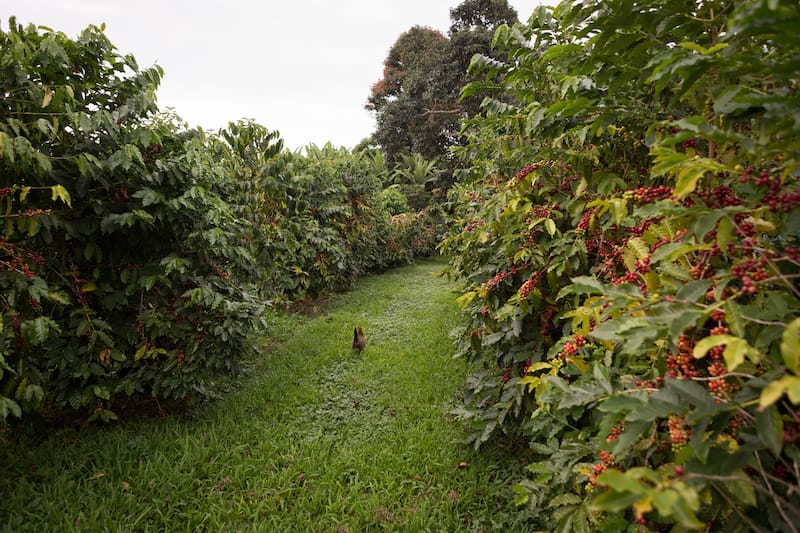 Visitors can also access the garden's native insect house, featuring Kamehameha butterflies, and the garden's farmers market on Fridays and Sundays.
One important tour tip for this garden is to pack some snacks and prepare to spend more than an hour experiencing it all.
World Botanical Gardens
World Botanical Gardens in Hawaii is 400 acres with thousands of beautiful and lush tropical plants. It's located at Hamakua Coast in the town of Hakalau and visitors can experience views of the Pacific Ocean, the Mauna Kea, and cascading Kamaee Falls waterfall.
This garden is a perfect spot for a true Hawaiian experience for the entire family.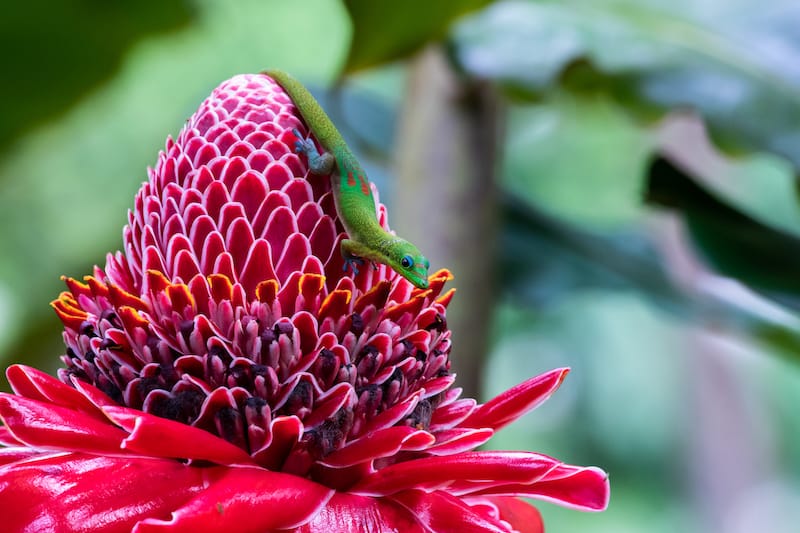 You can see the thousands of exotic plants from all around the world, the magnificent flower garden, the children's maze — which is the world's second-largest permanently planted one, and Kamaee Falls — one of the best waterfalls in Hawaii.
The garden has guided tours conducted by experts who can help with easy touring or you can go on a self-guided tour by foot or car. There are also shops for gifts, drinks, and snacks.
Pua Mau Botanical Gardens
Pua Mau Botanical Gardens is a must-see attraction in Hawaii. It features quirky statues, a large resident bird and wildlife population, and an exotic garden.
It is located on the western slope of the Kohala Mountains and visitors can get a 180-degree view of the pacific ocean. The area is warm and dry, making it a unique place for a Big Island garden.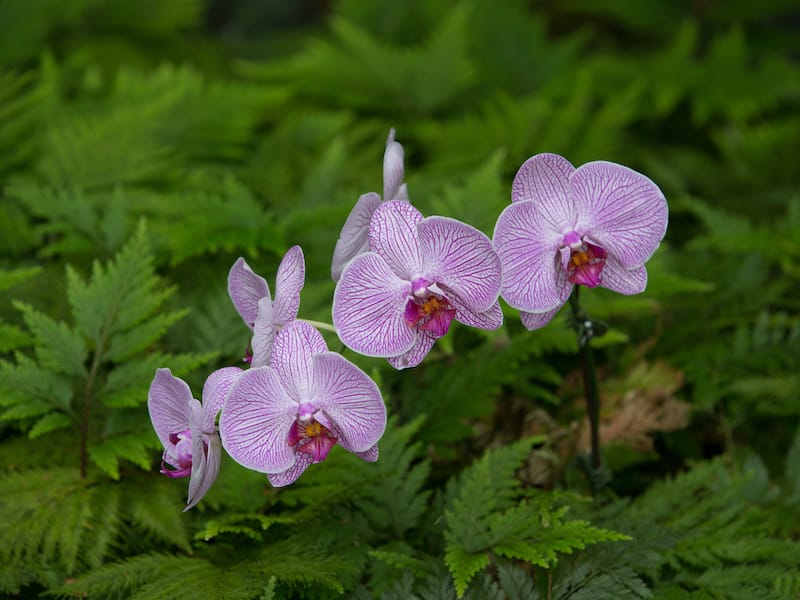 Pua Mau garden features a maze planted with over 200 varieties of hibiscus, outdoor sculptures, and an aviary containing about 150 peafowls and guinea fowls.
The gardens are open every day between 9 am to 4 pm, and there are signs and information booklets to help visitors on a self-guided tour.
Sadie Seymour Botanical Gardens
Sadie Seymour is a small botanical garden that offers many native and non-native plants on the Hawaiian islands. The garden spans about 1.5 acres and was designed by architect Scott Seymour.
Sadie Seymour was named after the architect's mother, and the garden features 11 geographically arranged tiers of species. The first tier is dedicated to native Hawaii and other tiers include South America, Africa, Australia, Indonesia, and so on.
Aside from the gardens, Sadie Seymour is also home to a thrift store where visitors enjoy shopping and a Kona Outdoor Educational Center to learn about the region's history.
Visitors can also tour the Kealakowa'a Heiau, an ancient ritual site for the local Hawaiians. It is open daily.
Pana'ewa Rainforest Zoo & Botanical Gardens
Pana'ewa Rainforest Zoo & Botanical Gardens offers a vast display of exotic plants and wildlife. It's a zoo and a garden in one, making it one of Hawaii's most unique destinations.
Located just south of Hilo and opened in 1978, this garden is celebrated as the only tropical zoo in the United States.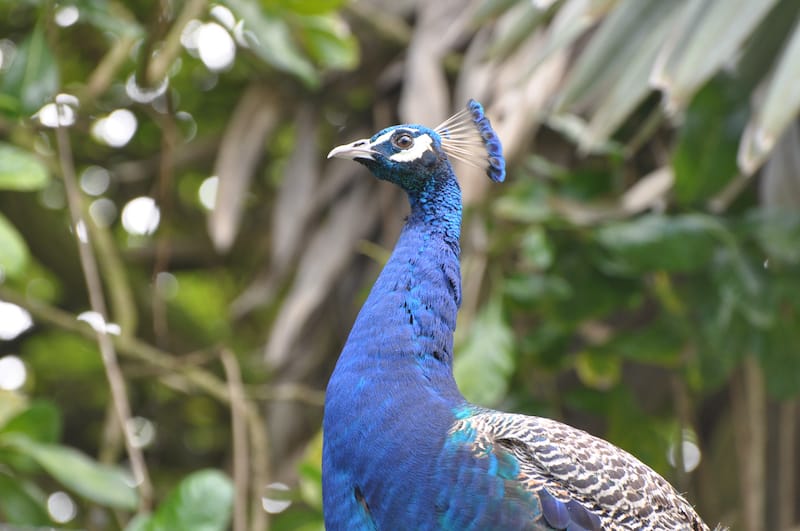 Pana'ewa features over 100 palms, bamboo, orchids, and bromeliads as well as over 80 species of animal, including spider monkeys, nene geese, and more.
This garden also has a forest of edible varieties and a water garden with water lilies, mosaic plants, and so on. Kids would love the playground and petting zoo, which are open only on Saturdays.
Meanwhile, the garden itself opens daily from 9 am to 4 pm.
Nani Mau Botanical Gardens
In Hawaii, Nani Mau Botanical Gardens means 'Forever Beautiful' and that's precisely what this garden is. It's a botanical paradise located 3 miles from Hilo and showcasing about 22 acres of lush tropical plants.
This garden was first opened in 1972 and was purchased by a Japanese immigrant named Makoto Nitahara. However, by 2012, Ms. Helen Koo purchased it and is still the owner to date.
Nani Mau features a carefully designed landscape including a Japanese-style bell tower crafted from 20,000 boards, a fruit orchard, a water garden, a hibiscus garden, a butterfly house, and a botanical museum where you can learn more about various species of plants.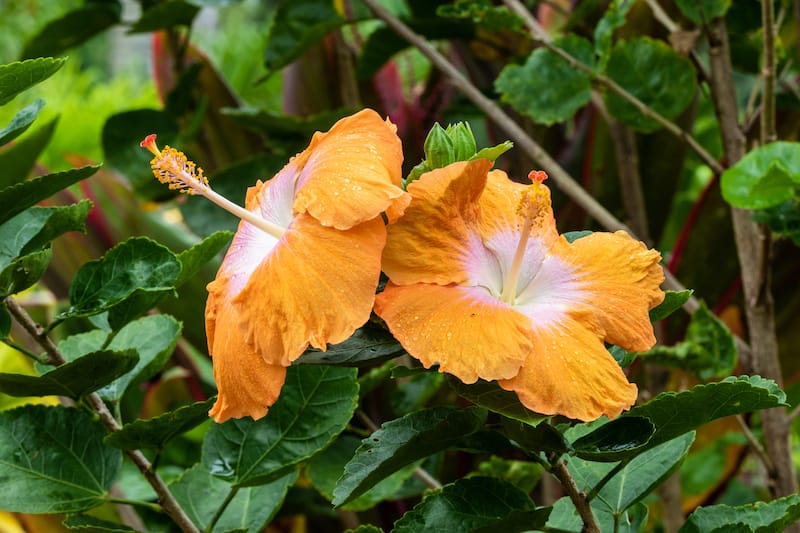 This garden is perfect for tourists, nature lovers, family/friend outings, celebrations, and events. There's also a gift shop offering handcrafted works and souvenirs like aloha shirts, jewelry, and clothing.
Hawaii's Big Island is so diverse when it comes to plants, trees, and landscapes. These Big Island botanical gardens are a fantastic place to get acquainted with local flora as well as some foreign masterpieces.
If we missed any awesome botanical gardens on the Big Island, let us know!
Pin this Botanical Gardens on the Big Island Guide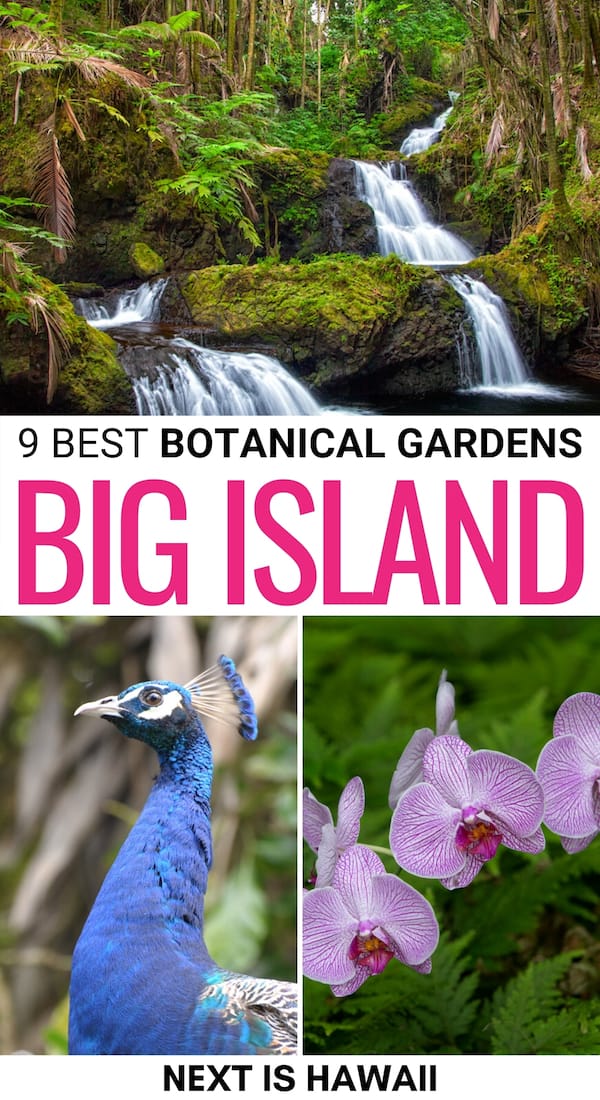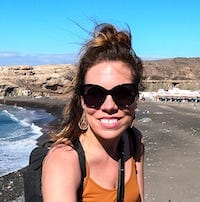 Megan is a travel blogger and writer with a background in digital marketing. Originally from Richmond, VA, she has been traveling frequently to Hawaii for the last 15 years and loves exploring every corner of each Hawaiian island, while trying to promote sustainable travel and small, local businesses along the way. Megan has written for or been featured by National Geographic, Forbes, Lonely Planet, the New York Times, and more. She has co-authored a guidebook with Fodor's Travel and has visited 45 US states and 100+ countries.