Honolulu is the largest city in Hawaii and undoubtedly the one with the most going on. These are the best things to do in Honolulu for first-time visitors – including cultural sights and more!
Any tips or recommendations for what to do in Honolulu? Let us know the Honolulu attractions we missed in the comments! Thanks!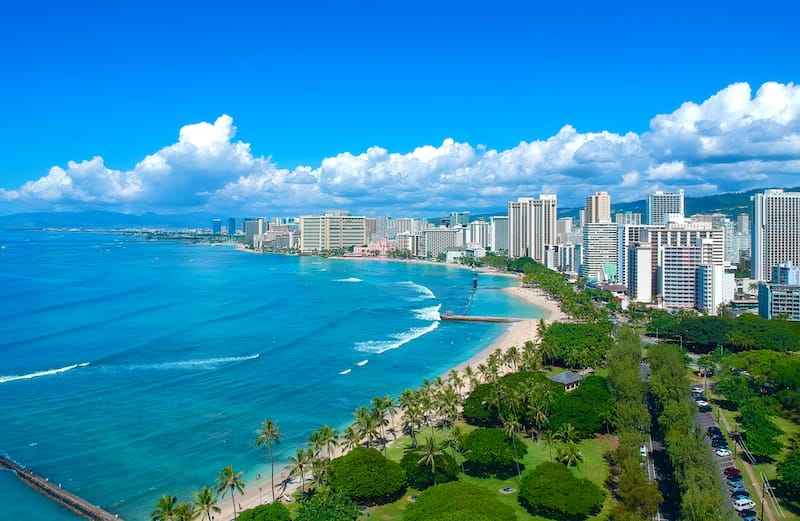 Best Things to Do in Honolulu
Polynesian Cultural Center
The Polynesian Cultural Center is Hawaii's top paid attraction. It welcomes guests to take part in fun activities for all ages and watch authentic cultural performances.
The famed Alii Luau and the world's largest Polynesian night entertainment are both held at this Center.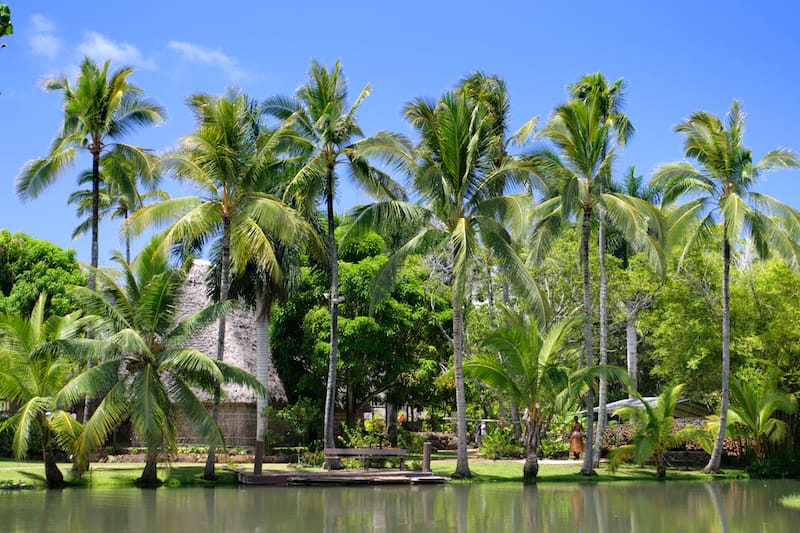 It's separated into six villages that symbolize distinct Polynesian island locations, such as Fiji, Tahiti, Samoa, and Hawaii. Each one of these is brimming with interesting things to do that are specific to their culture.
Even though the name of this place sounds like it's a museum type of a center, in reality, it's one of the best places to get acquainted with Hawaiian culture, while staying entertained!
Ala Moana Center
The Ala Moana Center is one of the best shopping centers in Honolulu.
It's the kind of mall that makes you feel like you've entered a whole new city. It's a four-story shopping complex and holds the title of being the largest open-air shopping center in the entire world.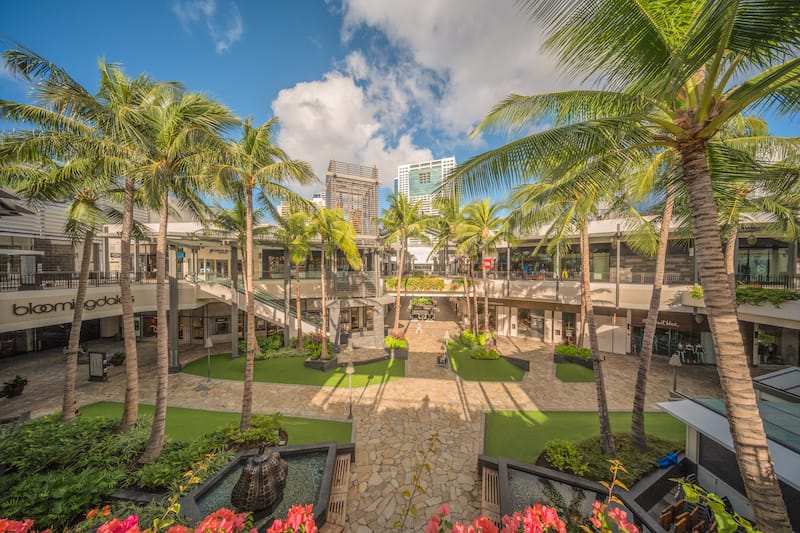 The store variety here is at its best ranging from luxury brands to department and souvenir stores. There are more than 350 stores and eateries overall. Just keep in mind that some things here can be pricey.
If that's fine with you, know that you can eat, drink, shop, and listen to music without leaving the center.
Waikiki Beach
One of the most well-known names around all of Hawaii, this extraordinarily beautiful beach is made up of miles of stunning, fluffy white-sand beaches bordered by tall palm palms and a bright blue sea.
Plus, since many sections of Waikiki Beach are roped off for swimming, the waves are quite gentle.
The beaches that make up Waikiki as a whole include Fort DeRussy Beach (which faces the Royal Hawaiian Hotel), Kuhio Beach, and Queen Surf Beach. Swimming, surfing, boogie boarding, catamaran, and outrigger canoe cruises are all popular local activities.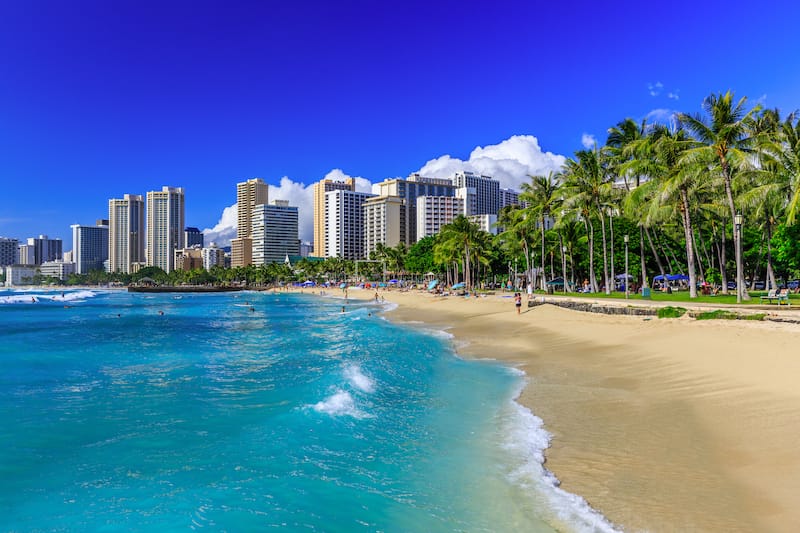 Nevertheless, crowds are a big disadvantage here. Along the beach, you'll definitely see tons of people and it is often extremely crowded.
If that's not an issue for you, visit Waikiki and then proudly claim that you've been to one of the most famous beaches in the world! It is definitely the most famous beach on Oahu.
Iolani Palace
Iolani Palace is a must-visit when visting Oahu! This site is the former residence of the Hawaiian king and is one of Honolulu's most historic attractions. The palace was constructed in 1882, rebuilt in 1969, and reopened to the public in 1978.
This massive structure in downtown Honolulu spans several acres and houses everything from rich royal rooms to plush-carpeted political offices.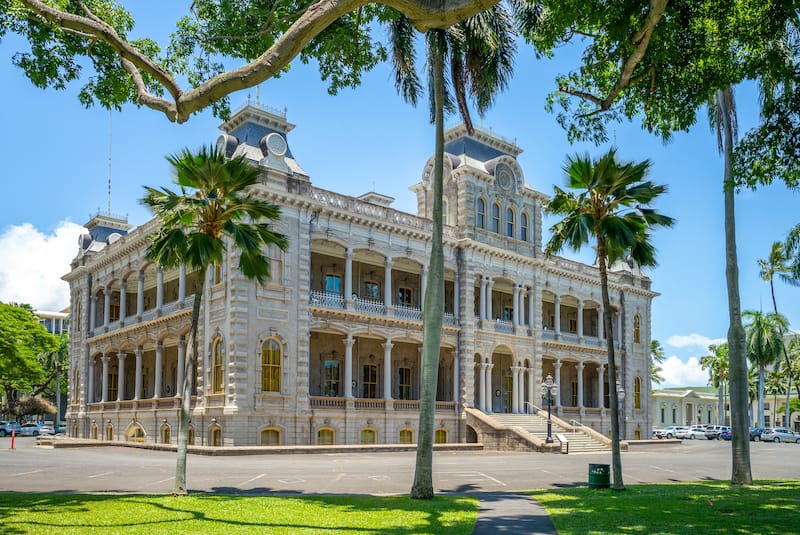 History fans will deeply appreciate this site. Upon your arrival, you can take tours, listen to audio recordings, and even check out vintage displays of clothing, fittings, furniture, and relics of past royalties!
Manoa Falls
Manoa Falls is an easily accessible, 100-foot-tall waterfall, located 5 miles northeast of downtown Honolulu.
If you're looking for a gorgeous and iconic destination in Honolulu, this fall is your must-go-to place. Famous movies like "Jurassic Park" and "The Hunger Games: Catching Fire" have scenes filmed in this area.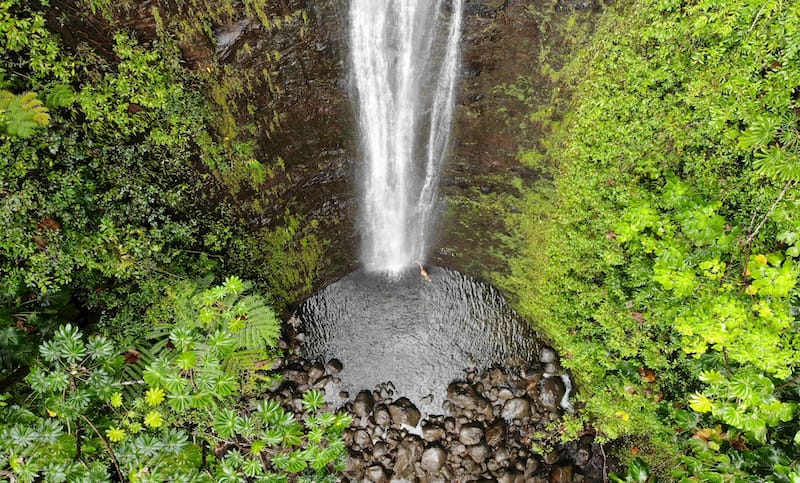 The hike to the waterfall is open from sunrise to sunset. Also, note that entry to the area of the waterfall is free but if you have a car to park near the trailhead, the parking fee is $5.
The trail to the falls can be fairly muddy, so wearing special hiking shoes would be the right thing to do.
Diamond Head Crater
Having gotten the name from 19th-century British sailors, Diamond Head is a one-of-a-kind crater, formed 300,000 years ago.
It resulted from a single volcanic eruption that poured ash into the atmosphere and fell over thousands of years, making up the amazing ridgeline of Diamond Head.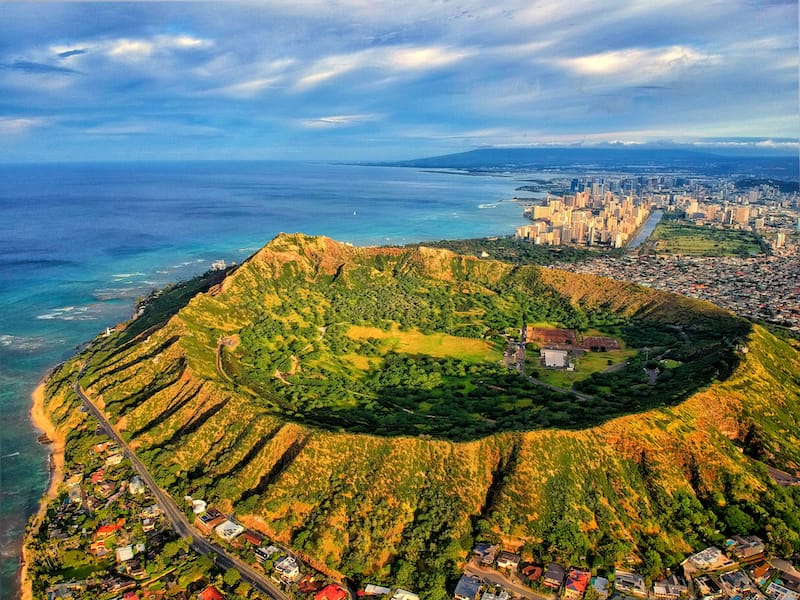 Hiking here will give you that feeling of being on top of the world. When visiting, just get yourself to the summit of the crater and enjoy breathtaking aerial views of the Hawaiian land,  Waikiki Beach, and the Pacific Ocean.
If walking by yourself isn't the way you want to enjoy this extraordinary location, consider getting a helicopter tour.
Shark's Cove
You might've thought that Shark's Cove was named like that as there are many sharks on this site but that's not actually the case. In fact, the name comes from its shape, which closely resembles a shark head.
Shark's Cove is known for its fantastic snorkeling. It has an unusual, reef-protected Oahu beach cove, located near Haleiwa Town and around the corner from Waimea Bay.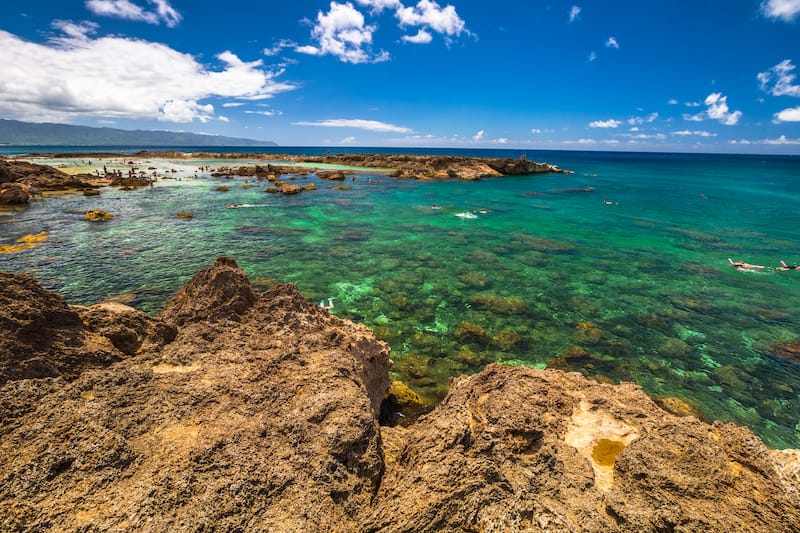 Due to past volcanic eruptions, there are plenty of tunnels and caverns to explore. They range in depth from 15 to 45 feet, so either you're a pro diver or an amateur, you'll still find your perfect fit.
Kuhio Beach Park
Spotted right by the Canoes and Queens (Waikiki's popular surf and bodyboarding sites), Kuhio Beach Park is well-known for its laid-back vibes and tranquil clear seas.
If you're interested in the culture, definitely check out the amazing landmarks, including the Duke Kahanamoku Statue, the Stones of Kapaemahu, and the Prince Kuhio Statue.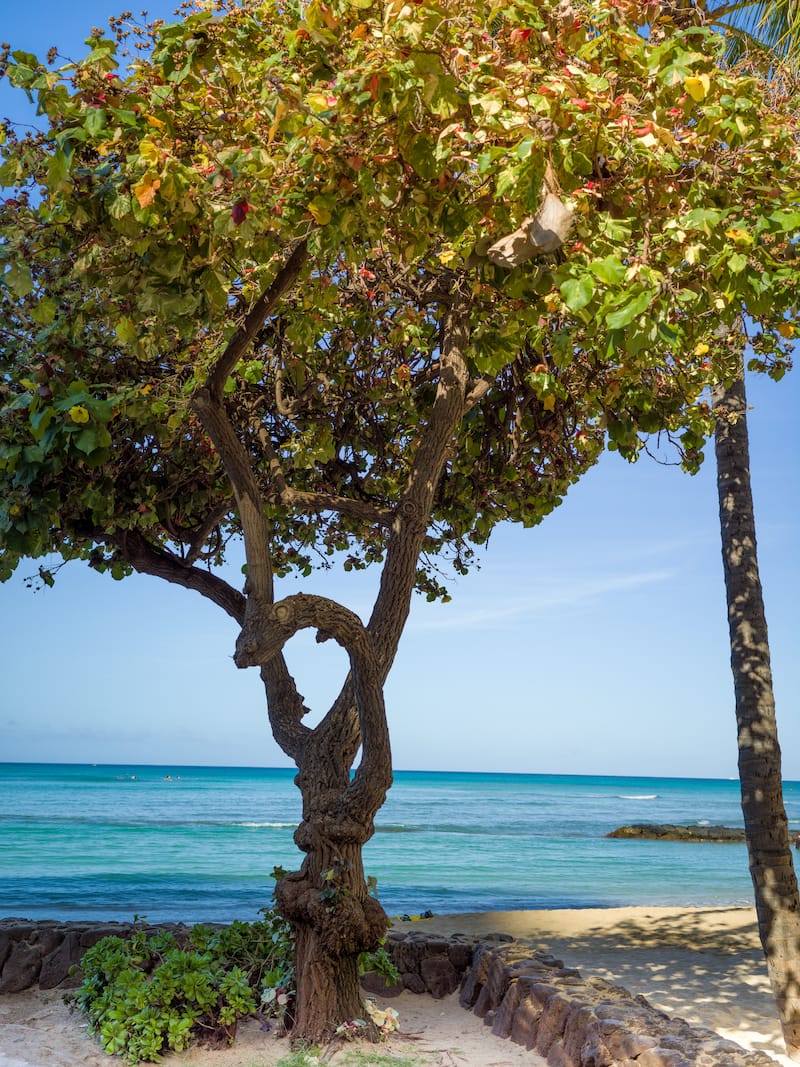 Another great feature of Kuhio Beach is that it holds free hula shows on a regular basis. Visitors are welcome to walk around the area and watch different sorts of hula styles followed by live music accompaniment.
This is one of the rare places that is crowd-free, making it one of the best vacation destinations in Hawaii.
Pearl Harbor
As you probably already know, Pearl Harbor is where the Japanese attack happened in December 1941, which resulted in the U.S. entering WWII.
The military base of Pearl Harbor is both a National Historic Landmark and an active military base.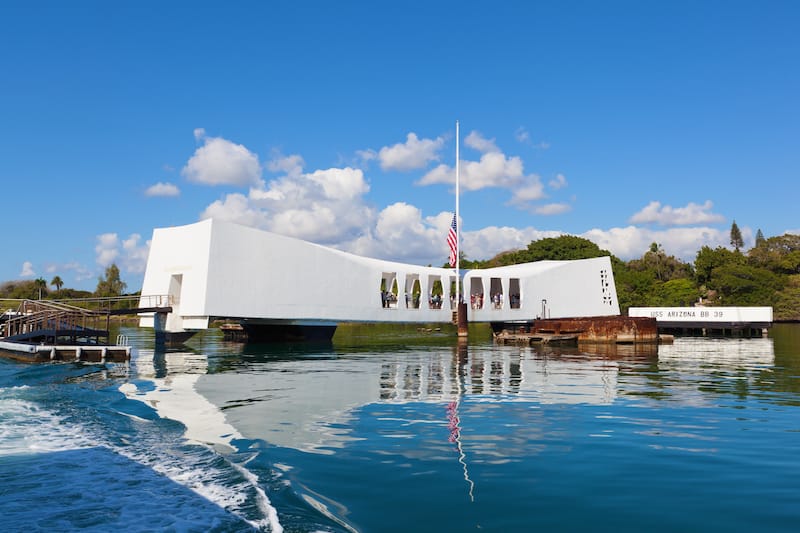 Taking a tour here will give you the opportunity to see a great selection of historical sites like the battleship USS Missouri (this is where the Japanese surrendered), the USS Arizona Memorial, the Pacific Aviation Museum Pearl Harbor, the USS Bowfin, and many more.
The park has a free entrance and is full of amazing antiques, historical film backgrounds, and museums. However, if you're interested to visit the Pacific Aviation Museum and the USS Bowfin submarine park note that there is a nominal fee to enter.
Halona Blowhole
The Halona Blowhole, located on Oahu's east coast, is another one of the island's most popular attractions. Here the waves pound into the cliffs beneath the rocks and the water bursts out of a blowhole blasting into the air and making the sight indescribably beautiful.
In spite of its stunning nature, the area is quite dangerous because of its strong currents. However, it's very safe from a distance and is one of the best things to do in Honolulu if you're looking for something that is not overly famous and packed with tourists.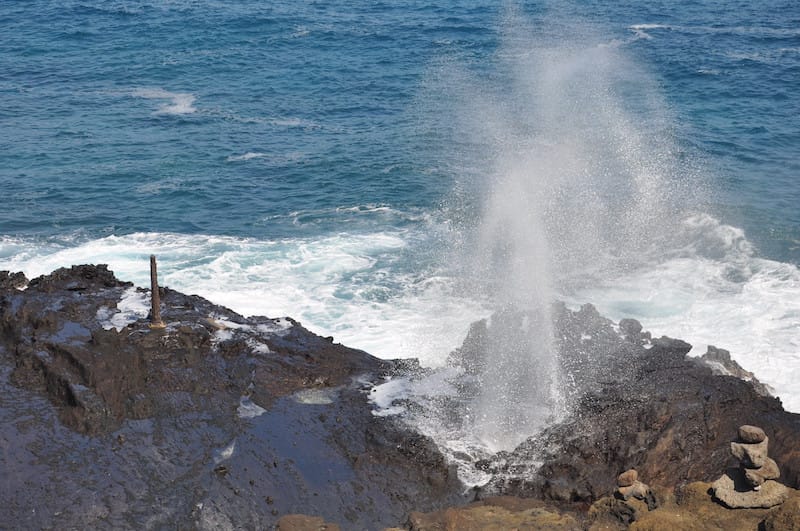 Also, if you're lucky enough to visit this area during the summer as it's the best season to do so, you'll enjoy sunny and windy days making the water shoot higher than it typically does.
Honolulu Botanical Gardens
The Honolulu Botanical Gardens is a series of gardens that are spread around the city.  Each one of them offers a unique diversity of flora.
The specific location of gardens greatly influences the type of plants and trees you can see there. The Wahiawa Botanical Garden, for example, is situated on a high plateau with milder temperatures, so it boasts lush greenery and a variety of vibrant flowers.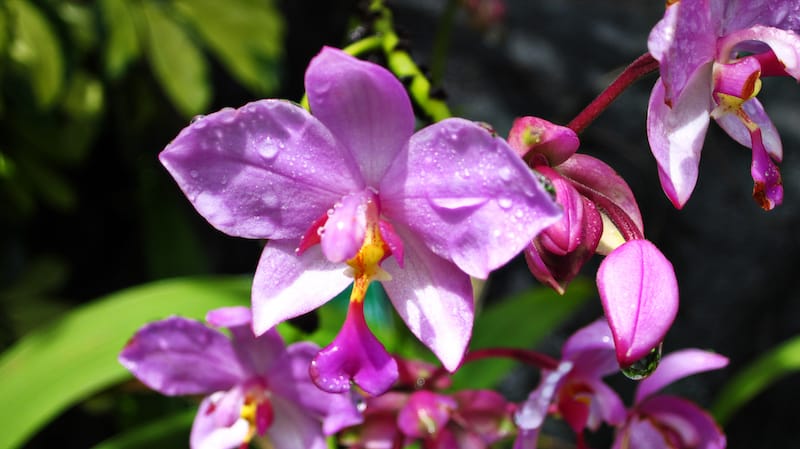 On the other hand, the Koko Crater Botanical Garden is known for its hot climate resulting in cacti and shrubs growing there.
There are a few more names on this list of Honolulu Botanical Gardens. Consider researching and making a plan to visit them one by one.
Kaka'ako
One of the best things to do in Honolulu is to visit Kaka'ako.  It's a fashionable and entertaining area of the city, full of fun clubs, galleries, interesting new eateries, and amazing street art.
Interestingly enough, this used to be an industrial town in the past, but today it is unrecognizable. Here you'll delve into a buzzing environment featuring cutting-edge art, retail, dining, and so much more.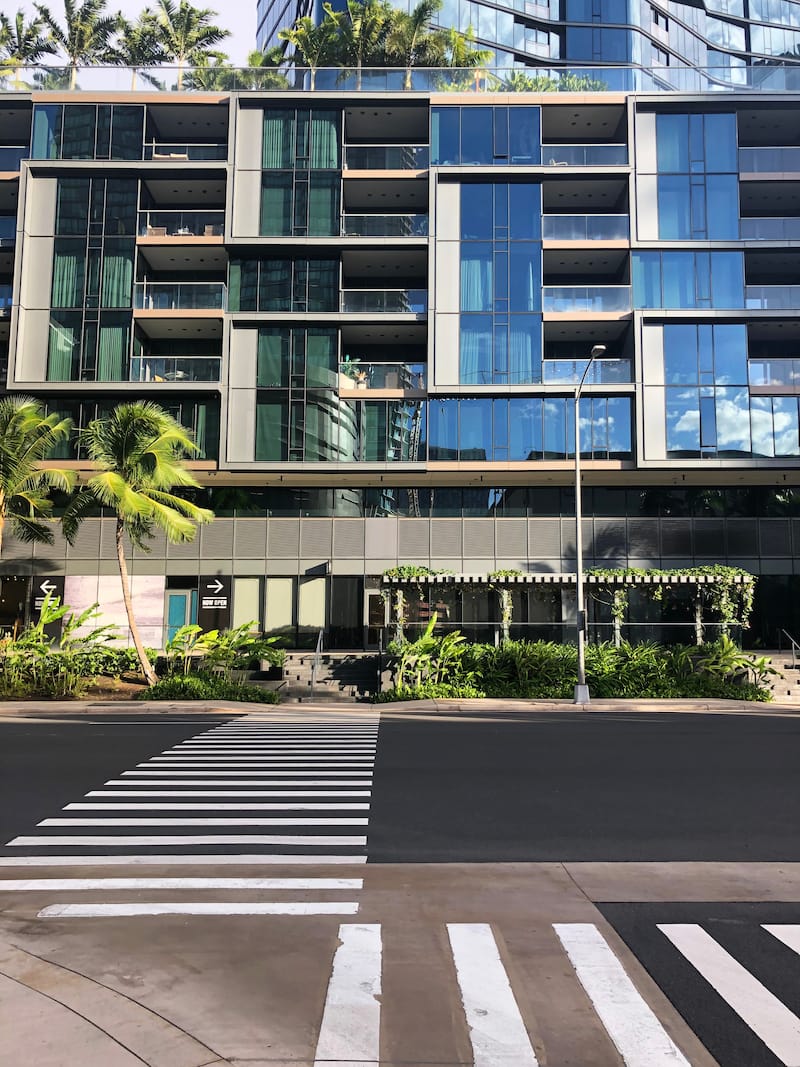 If you're into Hawaiian food, don't miss your chance to visit The Highway Inn. It's a fantastic spot for travelers to get a taste of authentic Hawaiian cuisine. The newly opened site of the restaurant is located in Kaka'ako.
Honolulu Museum of Art
Founded in 1927, the Honolulu Museum of Art is recognized for having one of the largest collections of Pan-Pacific and Asian art in the US.
The Doris Duke Theatre, which organizes concerts, seminars, and lectures, as well as the Robert Allerton Art Research Library and the Honolulu Museum of Art School, are all part of the museum.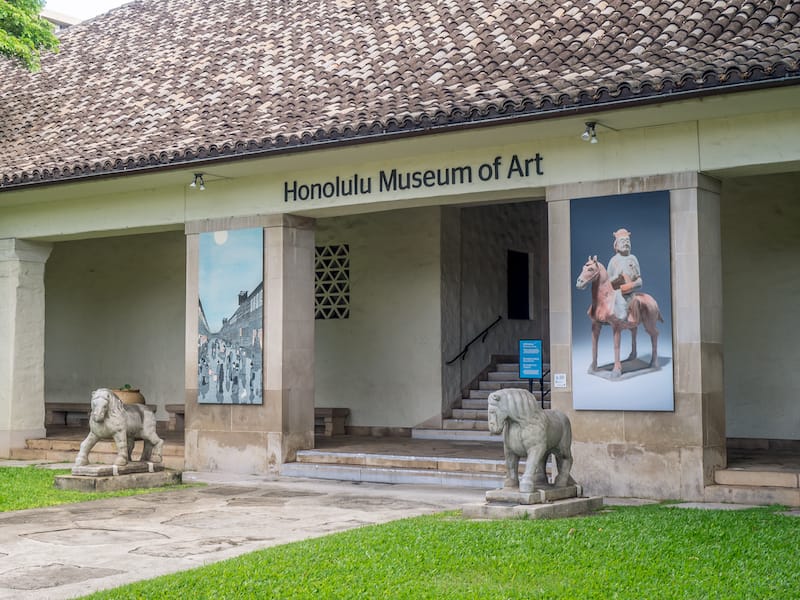 The Honolulu Museum of Art's main campus houses one of America's best Asian art collections, as well as works by Europe's great artists, like Picasso, Gauguin, van Gogh, etc).
For some really unique stuff, it's recommended to visit The Arts of Hawai'i collection, which includes Georgia O'Keeffe's Maui landscapes and indigenous feather capes.
Shangri La Museum of Islamic Art, Culture, and Design
The Shangri La Museum of Islamic Art, Culture, and Design is located in Diamond Head, just outside of Honolulu. It's at the former home of Doris Duke, which now serves as a public museum dedicated to the arts and cultures of the Islamic world.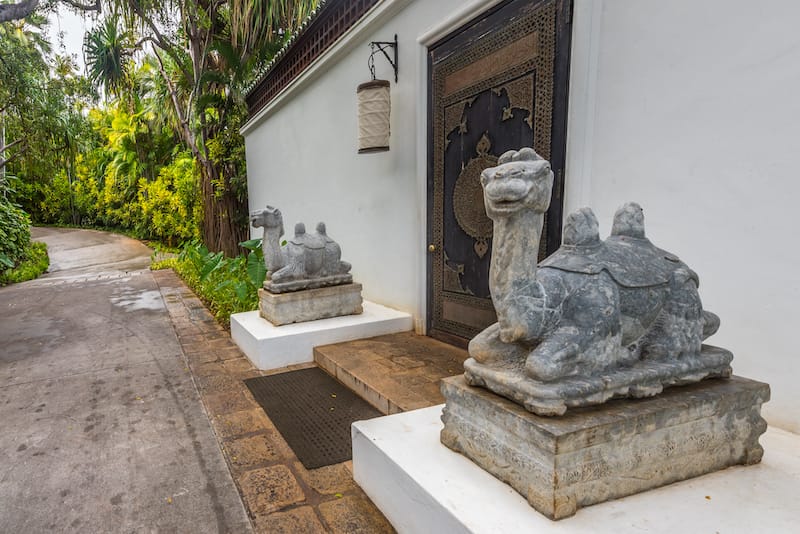 This place began as a mansion, where Doris Duke acquired and displayed Islamic art. Thanks to that, the museum now houses a diverse collection of art, furnishings, and built-in architectural components from countries like Iran, Morocco, Turkey, Spain, Syria, Egypt, and India.
Keep in mind that tours to Shangri La must be booked well in advance and individual access is not permitted.
Corsair Wreck Dive Site
For those who have some diving skills and are looking for a real challenge, the Corsair Wreck Dive Site is one of the best attractions in Honolulu. It lies about 3 miles south of the Hawaii Kai Marina on Oahu's southeast shore.
This site incorporates a real plane from WWII that lies at the bottom of the ocean, making it interesting for not only divers but also photographers.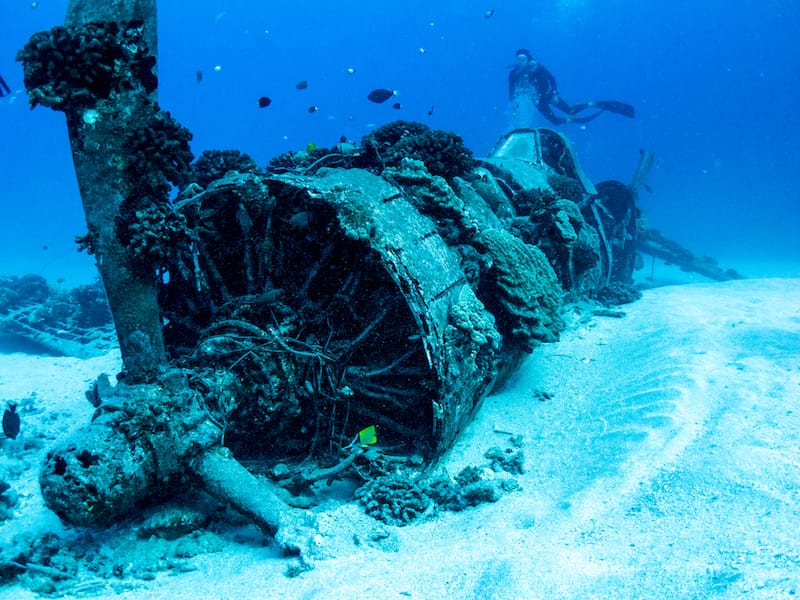 The diving spot is rated as advanced, so you'll need a boat and a guide to get to the area. The crash is located at a depth of around 115 feet. Moreover, there are usually strong and rapid currents that can be unpredictable, so make sure to be extremely cautious here.
Aloha Tower
The Aloha Tower is the Hawaiian Statue of Liberty and is known as one of the iconic landmarks of the state. For many years, this tower served as a guiding beacon welcoming sailors to Honolulu.
The Gothic-styled tower is 184-foot high and was constructed in the early 20th century. Aloha Tower's primary role today is tourism but that doesn't mean that it no longer "works" as a lighthouse.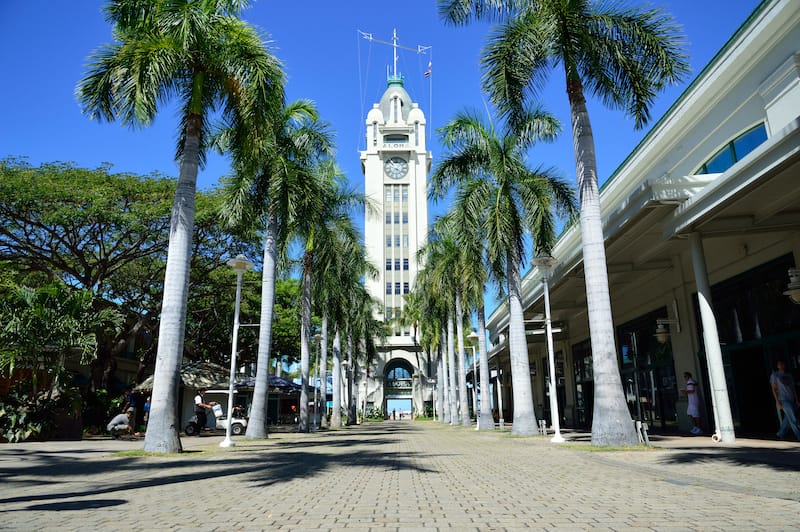 If you're about to get around the tower, note that visitors are allowed to climb all the way to the top for spectacular views of the Honolulu shoreline. You can also walk, shop, and dine at a marketplace located inside the tower.
Kualoa Ranch
Situated at just a half-hour drive from Honolulu, Kualoa Ranch is a 4,000-acre private nature reserve and functioning cattle ranch. The area is also a very famous filmmaking location and a major tourist attraction.
Kualoa Ranch welcomes visitors with an amazing variety of tours and activities offered. To see all of the iconic sites in both the Hakipu'u and Ka'a'awa Valleys, check out the "Jurassic Adventure Tour" or go on an ATV raptor to explore Kualoa on a drive.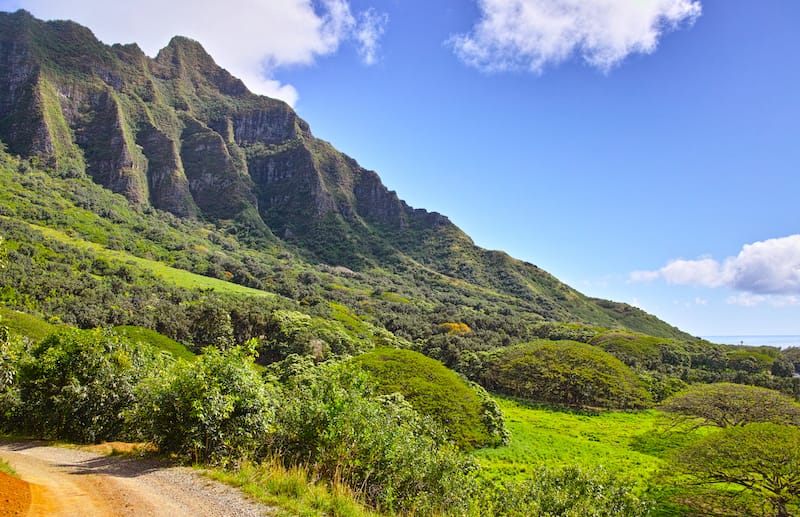 Ziplining, electric mountain biking, ocean voyage, and other amazing tours are also available there. Choosing just one of them is not going to be an easy task.
Wailua Shave Ice
On the list of must-try Hawaiian snacks, Wailua Shave Ice has its very own spot. It's so famous that locals have transformed it into an art form.
This dessert is made of a thousand flavors, toppings, and juices. It has quite a unique taste and is adored by many, making Wailua Shave Ice one of the top places to visit in Honolulu.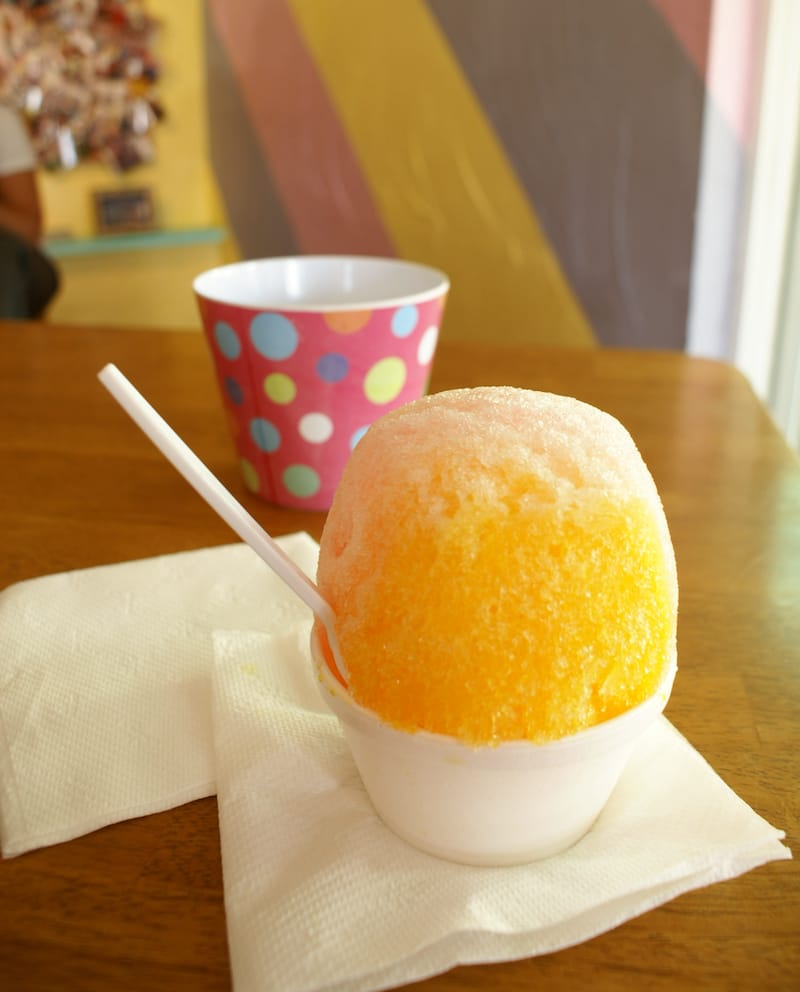 Mango, cherries, passionfruit, haupia, chocolate, green tea, mochi, and margarita are some of the main flavors. The best part is that you can mix and match your favorites to find the very best combination for you!
Sans Souci Beach Park
Looking for a relaxing place to unwind yourself in Honolulu? Sans Souci Beach Park should be one of the very first choices to consider.
Also known as Kaimana Beach, Sans Souci Beach is shallow, sandy, with no strong currents, making it one of Waikiki's best family beaches.
It's also a fantastic snorkeling spot. Swimmers and kayakers use the beach to access the seas beyond the reef via Kapua Channel, which leads to the popular surf spot: Old Man's.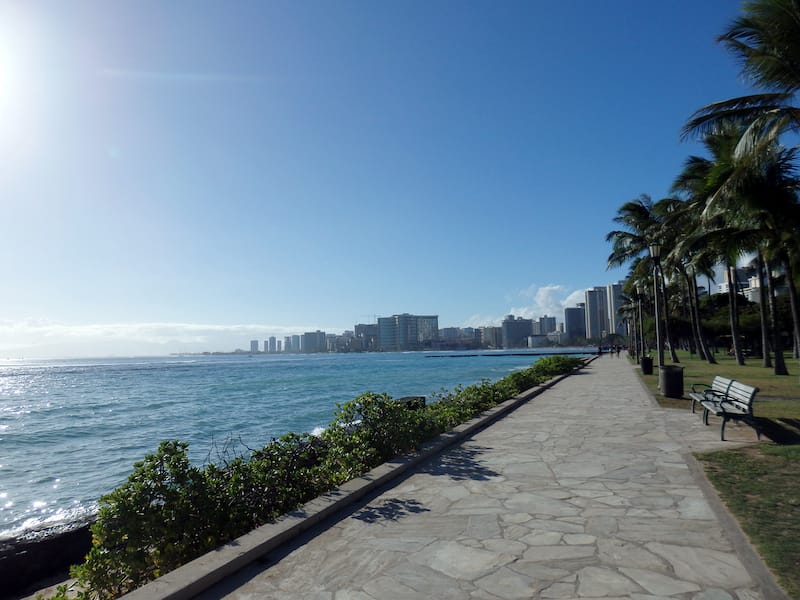 Overall, this is one of the best (if not the best) beach parks in Honolulu to enjoy some nice, relaxing, and as the name states, a "worry-free" time!
Royal Hawaiian Center
This one is for those shopping lovers again. Compared to other malls, the Royal Hawaiian Center specializes in luxury brands. It stretches along a three-block section of Waikiki's iconic Kalākaua Avenue and encompasses more than 310,000 square feet.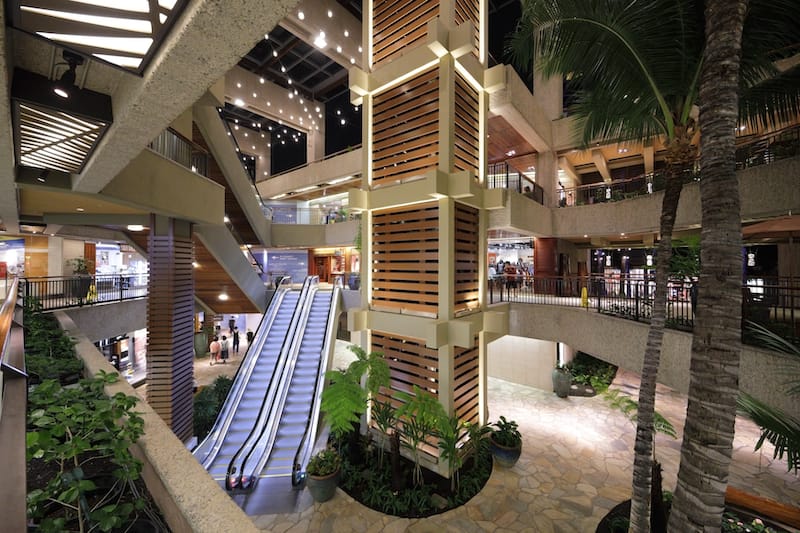 Its design and architectural style combined with a good variety of high-end shops makes this center an interesting site to visit in Honolulu. While shopping here in 110 unique stores and 30 unique dining venues, you can join a celebration of dance, music, and other Hawaiian traditions.
Chinatown
Chinatown is a district, located on the outskirts of Honolulu and Waikiki, that is now a trendy area with interesting art galleries, cafes, and a monthly First Friday series event.
When visiting, tourists can experience traditional Chinese restaurants or the dim sum scene, as well as more than 10 acres of local lei stands, traditional shops, and agricultural markets.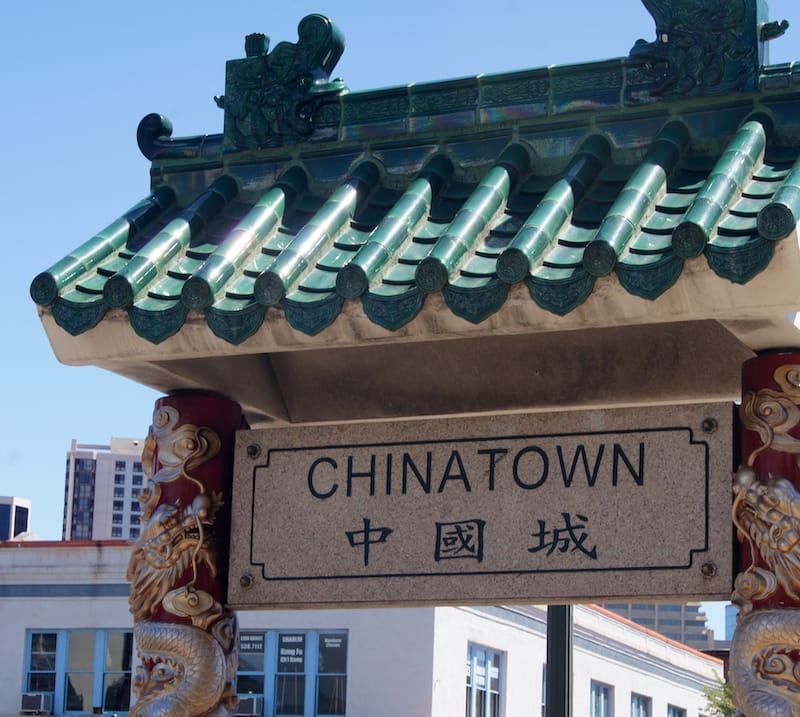 This place is home to incredible landmarks like the Kuan Yin, which is a Buddhist temple with red columns and a green roof, designed with flowers, statues, and relics.
To keep the memories with you after you return home, get some charms and souvenirs, or spice things up by wearing a cheongsam to show off your Chinese style.
The Bernice Pauahi Bishop Museum
To learn some more about Hawaiian history and culture, don't miss out on The Bernice Pauahi Bishop Museum.
More than 24 million historical, cultural, and natural relics about Hawaii and the Pacific are housed at this location.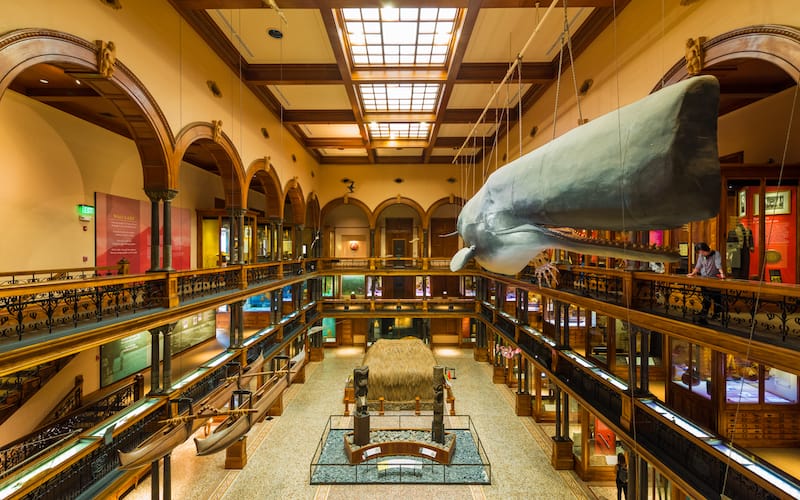 Visitors can get to know about Hawaiian gods, historical events, and much more in the three-story Hawaiian Hall, or explore the Hawai'i Sports Hall of Fame, which is devoted to Hawaiian sports history.
Aside from the extensive Hawaiian exhibits, the museum's total holdings of natural history specimens surpass 24 million items, with the entomological collection alone counting for over 13.5 million. In fact, it's the third-largest insect collection in the United States.
Koko Crater Trail
Located near Waimanalo, Oahu, Koko Crater is a 1,208-foot-tall volcanic tuff cone. This is truly one of those hiking trails that is classified as strenuous and offers the opportunity to witness wildlife at its best.
To reach the lookout point, this popular hiking spot challenges hikers to climb 1,048 exceedingly steep railroad ties stairs, which were built more than 60 years ago so that the military could carry supplies to the bunkers at the summit.
The Koko Crater Trail is open all year round and is largely utilized for its touristic hiking and nature visits.
Farmer's Market KCC
The Hawaii Farm Bureau Federation is a nonprofit organization with 1,800 farm family members statewide, which has been there since 1948 and acts as Hawaii's voice of agriculture (it protects and advocates the agricultural community's interests).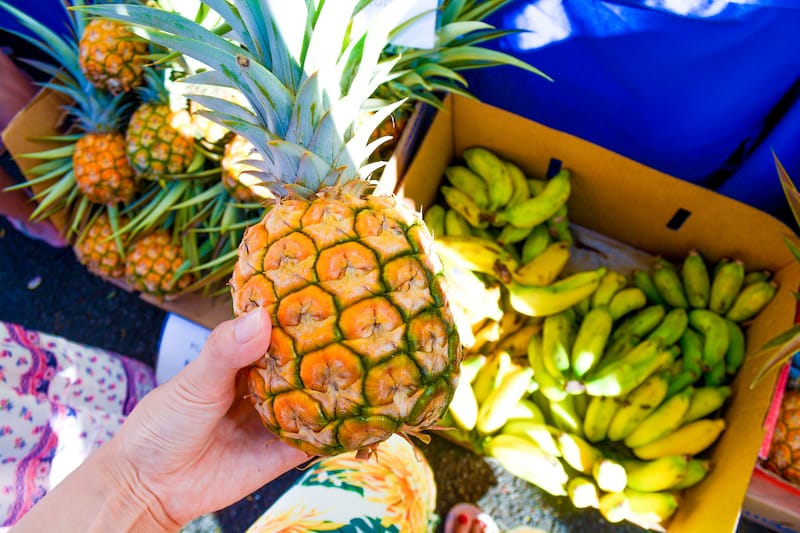 KCC Farmer's Market is where a variety of vendors display and sell their products each week.
You're welcome to choose from a large selection of fresh fruits, vegetables, flowers, meat, aquacultured fish, baked bread, handcrafted pasta, unusual jams, jellies, snacks, and many more mouth-watering foods, honey, baked goods, specialty seasonings, etc.
Honolulu Beerworks
Honolulu Beerworks has a leading position when it comes to craft breweries in Oahu.
The microbrewery is 5 years old and offers a bunch of unique special releases. In addition, Honolulu Beerworks has 14 beers on tap.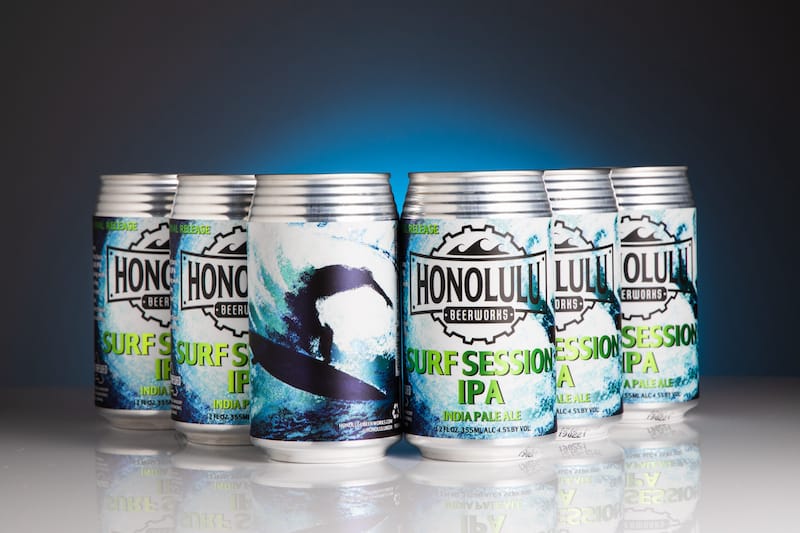 This place has become a popular hangout area, especially on weekends, with an open-air brewpub's communal seating, which makes it a wonderful place to enjoy a craft beer while meeting new people.
Nu'uanu Pali Lookout
The Nu'uanu Pali Lookout, which is only a 5-mile drive from downtown Honolulu, has some of the greatest views in all of Oahu!
Once you're there, be ready to witness breathtaking views of Kailua town, Kaneohe Bay, and, of course, the magnificent Ko'olau Mountains.
We recommend that those visiting this spot bring their cameras or phones to capture the views for themselves. The lookout is open every day, if the weather allows it. There is no charge for admission and even parking is not an issue here (there is plenty of space available).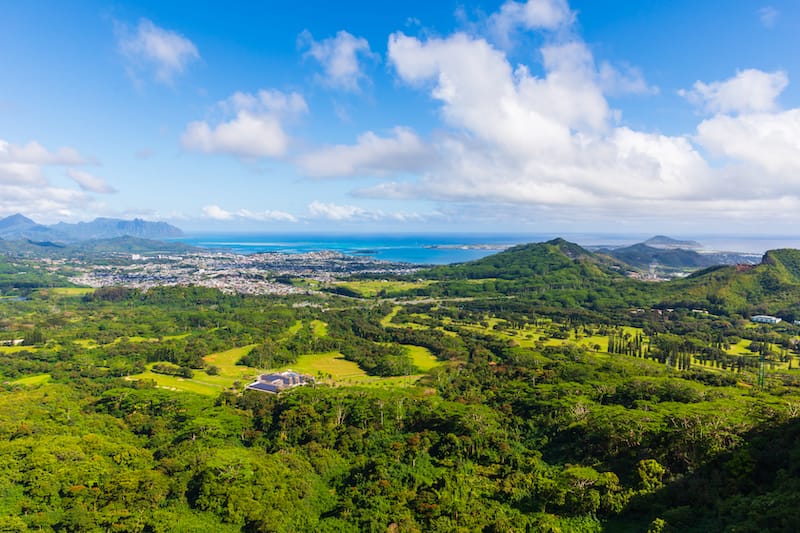 One thing to keep in mind though is that the area of the lookout has some strong winds and being cautious here (especially if you're with youngsters) is a must.
Did we miss any of your favorite things to do in Honolulu as a first-time visitor to the Hawaiian capital city?
Let us know your favorite attractions in Honolulu in the comments! Thanks!
Pin this Honolulu Things to Do Guide