Often considered to be the North Shore's artistic and social hub, Haleiwa should be one of the locations at the top of your list during your next trip to Hawaii.
This is a guide to the best things to do in Haleiwa, encouraging you to spend a bit of time in this gorgeous town on the North Shore.
Are you planning your trip to the North Shore last minute?
If you're traveling to Oahuʻs North Shore last minute, you want to ensure you have tours and lodging booked ahead of time! Here are some of our top picks!
Best Tours to Haleiwa (from Honolulu and beyond):
Best places to stay on the North Shore:
Traveling to Oahu independently? Be sure to book your rental car ahead of time to ensure availability!
The guide also includes things to do near Haleiwa.
Be sure to check out the many surf shops, beaches, and art galleries to fully immerse yourself in the town's charm. Also, be sure to take the time to go hiking when youʻre there! Some of my favorite experiences have come from the trails!
If you're looking for a charming and calm town in Hawaii, then Haleiwa is definitely it. Here's our list of the top places to visit in Haleiwa and along the North Shore.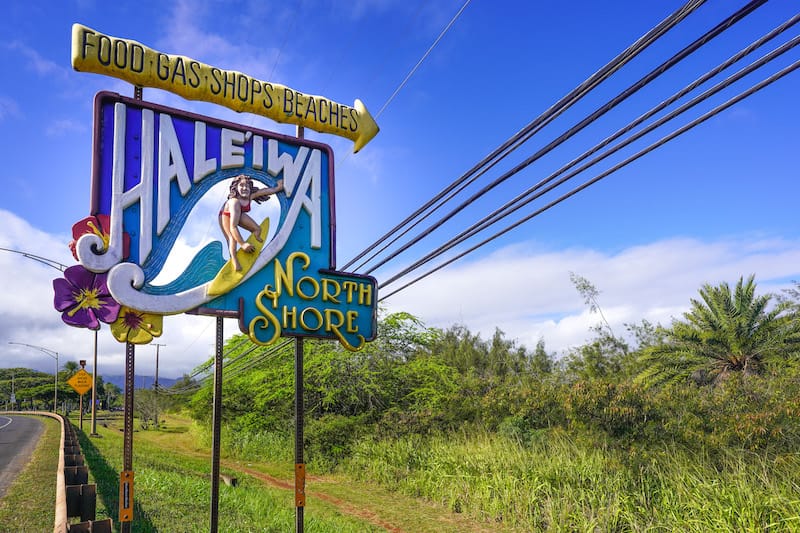 Let us know any North Shore attractions that we may have missed! Thanks!
How to Get to Haleiwa from Honolulu
Once youʻre in Honolulu, you can get up to the North Shore and Haleiwa in a few different ways.
You can rent a car. This was how I usually have visited in the past and on this recent trip, my friend drove us up there for a trip. It is honestly probably the easiest way to see everything at your leisure.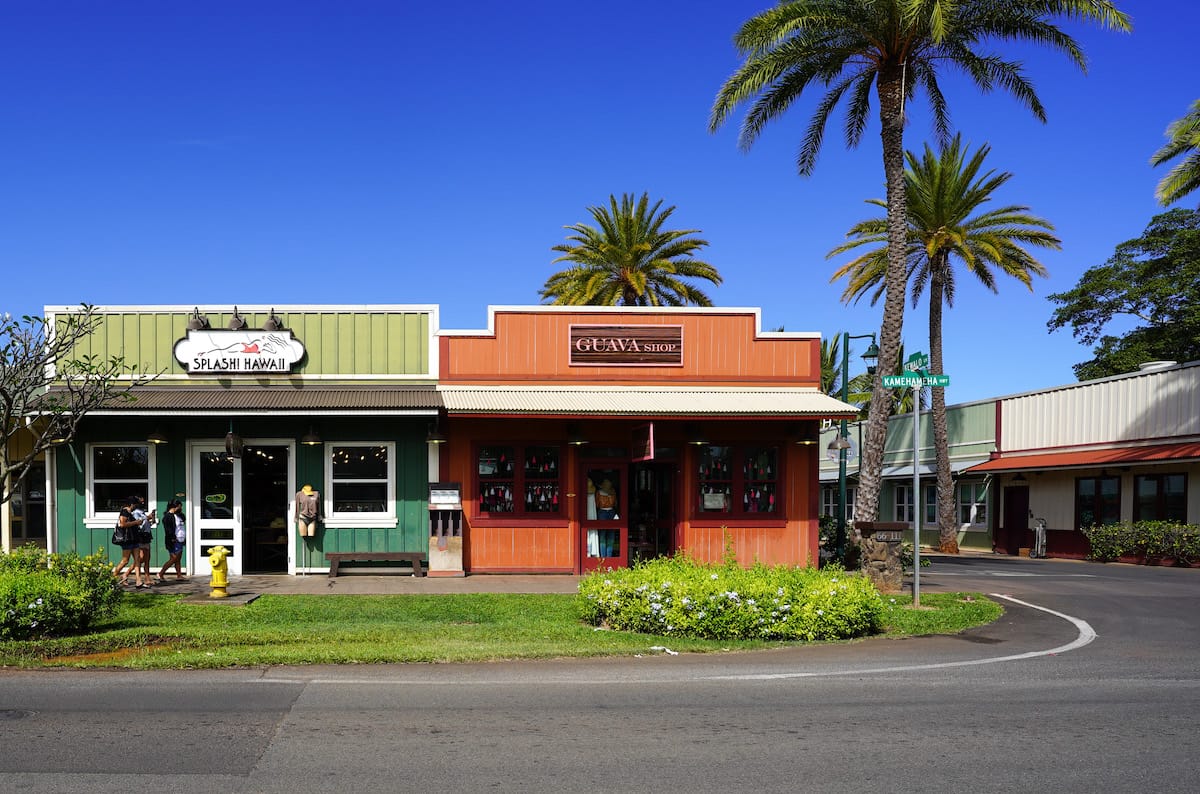 Or… you can take a bus! The buses on Oahu are so cheap and efficient that it makes the rest of the US look bad!
From Honolulu, you can get up to the North Shore for less than $3 (or just a bit more for a day pass to get you back to Honolulu).
The bus number you will want to catch from downtown Honolulu is #52 (or #55). It takes around 1.5 hours to get to Haleiwa from Honolulu.
Best Things to Do in Haleiwa (& the North Shore)
Go Shark Cage Diving
Lastly, shark cage diving in Haleiwa is one of the most popular things to do! To be honest, most tours on Oahu leave from Honolulu but shark cage diving tours tend to all depart from Haleiwa, meaning you need to get yourself there!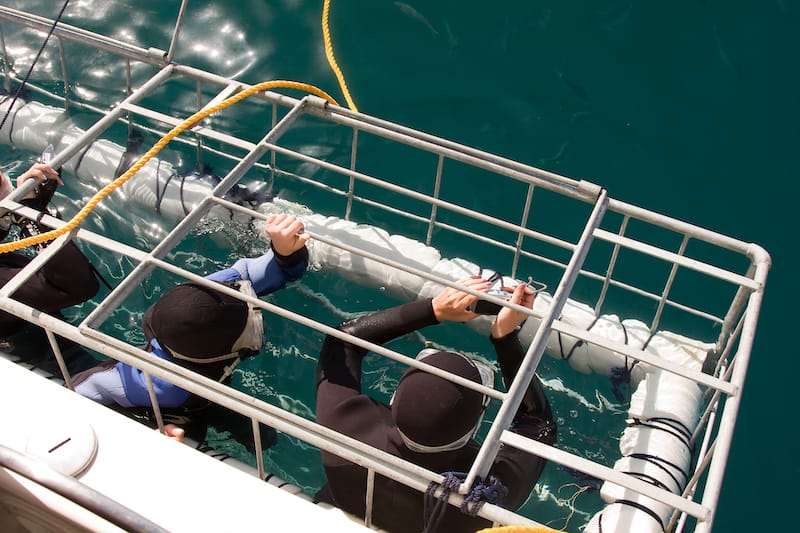 This 2-hour adventure grants you the opportunity to see sandbar and Galapagos sharks in their natural environment. You will learn more about each species and get to enjoy the waters at the same time!
This tour is truly one of the best things to do in Haleiwa and the North Shore!
>> Click here to check rates and availability
Waimea Valley
Located on the North Shore of Oahu across from the Bay of the same name, Waimea Valley is one of the most visited places on Oahu and also contains the famous Waimea Falls.
This secluded valley offers more than just a waterfall. It is also a cultural hub and a botanical garden filled with tropical plants (and a super cool farmersʻ market on Thursdays).
Waimea Valley is open from 9 am to 5 pm daily, but when I was there, it seemed to stay open a tad later as the farmersʻ market was still open.
While you are visiting, consider joining the Valley staff on a botanical tour, which is held every day at 12:30 pm. This walk is always educational, and you get to see lush, blooming plants from Hawaii and other parts of the world.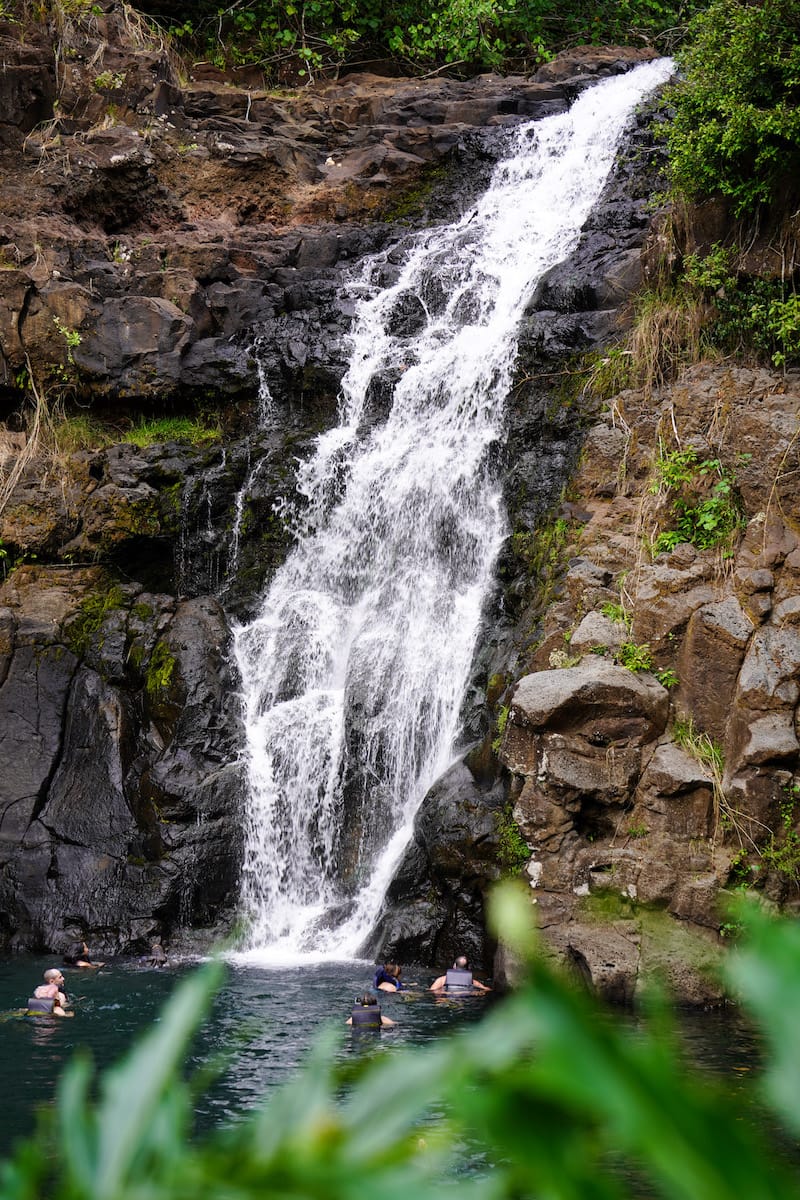 You can also participate in traditional Hawaiian games. From 11 am to 3 pm, Waimea Valley staff demonstrate the games to visitors.
Also, there is a 30-minute historical walk through the Valley to learn about its history and explore the park's cultural sites. This tour starts at 1 pm, and it provides a lot of information on Hawaiian culture.
There are shuttle buses available at the park for kids and seniors who want to enjoy the falls but may struggle walking there.
And when you are exhausted with the day's activities, stop by one of Waimea Valleyʻs many snack shops (they even have delicious craft beer!) and also browse for souvenirs in the gift shop at the entrance.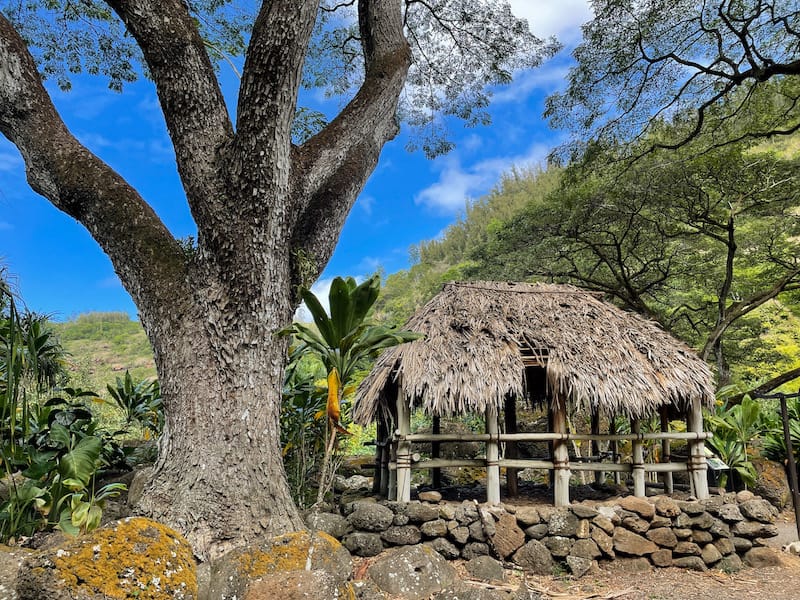 Admission fees to Waimea Valley depend on your age and residency.
Non-residents of Hawaii will be charged admission fees of $20 for adults, $12 for kids, and $16 for seniors and students with valid ID. This is a fair contribution, especially for visitors who spend time exploring the park.
While not located directly in Haleiwa, Waimea Valley is definitely one of the most exciting places to visit on the North Shore!
Address: 59-864 Kamehameha Hwy, Haleiwa, HI 96712
Eat an Acai Bowl in Haleiwa
Acai bowls are one of the most popular breakfast items in Hawaii, and youʻll find several places to enjoy an acai bowl in Haleiwa, including Haleiwa Bowls, Nalu Health Bar, and Farm to Barn Cafe & Juicery.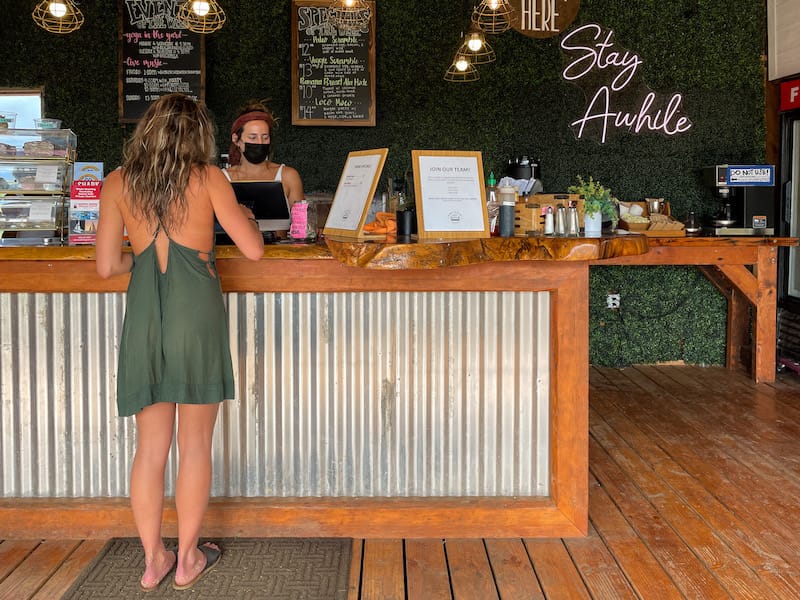 Crispy Grindz is also a favorite (I stopped there for some Brazilian snacks with my friend but never had an acai bowl there).
Haleiwa Bowls offers 5 different acai bowls, all prepared with fresh local Hawaiian fruits and honey. What makes this the best place for acai bowls is that the bowls do not have any sugar or preservatives and there is no shortage of toppings.
Some toppings you can choose from include coconuts, raspberries, bananas, papayas, granola, chia seeds, strawberries, and a whole lot more.
You can eat there or take your acai bowl to the beach as the dish comes in a compostable container. Aside from acai bowls, they also offer homemade kombucha, different smoothie flavors, and coffee to go with your delicious meal.
Haleiwa Bowl is also surrounded by beautiful flora, making it a potential spot for cute photos while you are in Haleiwa!
Address: 66-030 Kamehameha Hwy, Haleiwa, HI 96712
Nalu Health Bar is another popular spot to indulge your sweet tooth and fruit cravings. They serve delicious acai bowls (without preservatives) from 9 am to 6 pm.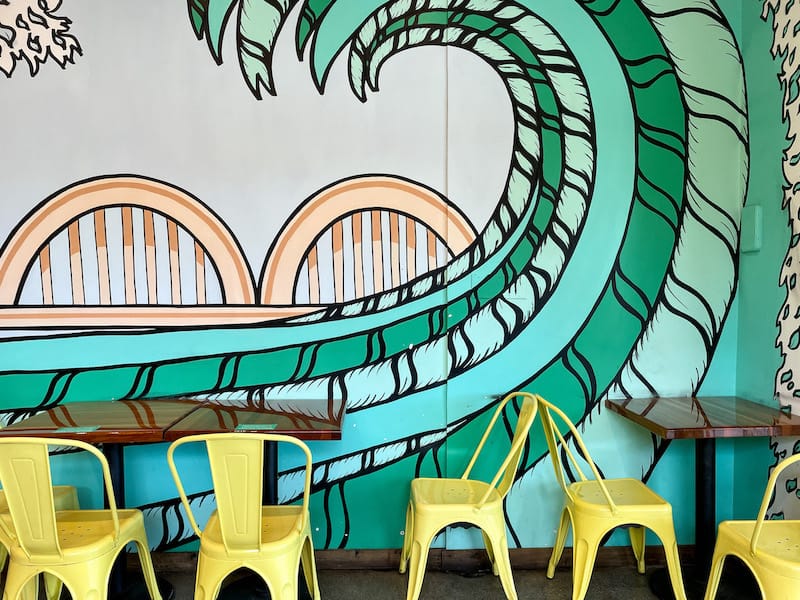 Aside from acai bowls, Nalu Health Bowl offers smoothies, salads, sandwiches, and other breakfast items. Like Haleiwa Bowls, this spot is also pretty busy, but you can skip the line by ordering online.
I actually love their papaya yogurt and granola bowl when there (but I have had several things, including their delicious acai bowls) when at any of their locations!
Address: 66-215 Kamehameha Hwy Suite 1, Haleiwa, HI 96712
Farm to Barn Cafe & Juicery is one of my favorite places in all of Oahu and the cafe specializes in delicious bowls and healthy food options with a mindful approach.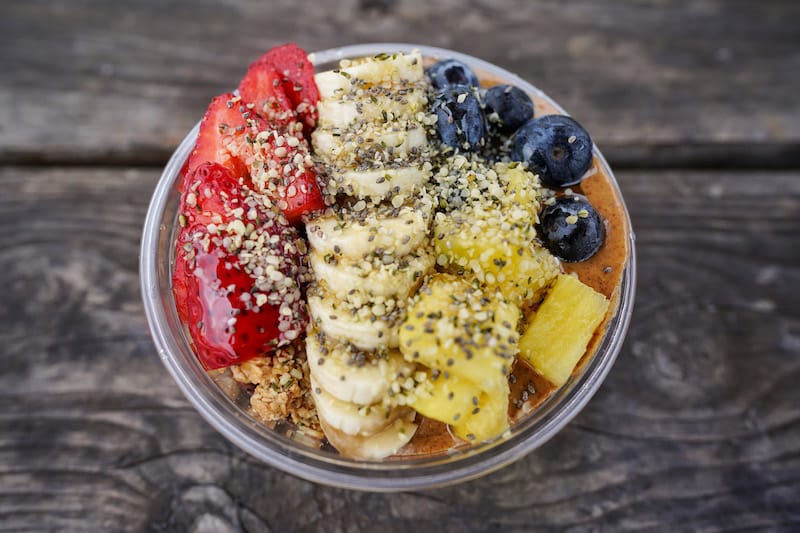 We went there as the rain was coming through and I had their acai bowl and it was incredibly tasty… even in the rain! It is definitely a wonderful place to eat in Haleiwa.
Address: 66-320 Kamehameha Hwy, Haleiwa, HI 96712
If you find yourself a bit further down the highway, you can grab a tasty acai bowl (or coffee!) at The Sunrise Shack. I love this place!
I have been there several times in Kailua but didnʻt make it to the North Shore location (the original) because I was already filled up each time.
But, here is a glimpse of how beautiful the location is – I encourage you to grab a bite to eat or a coffee there!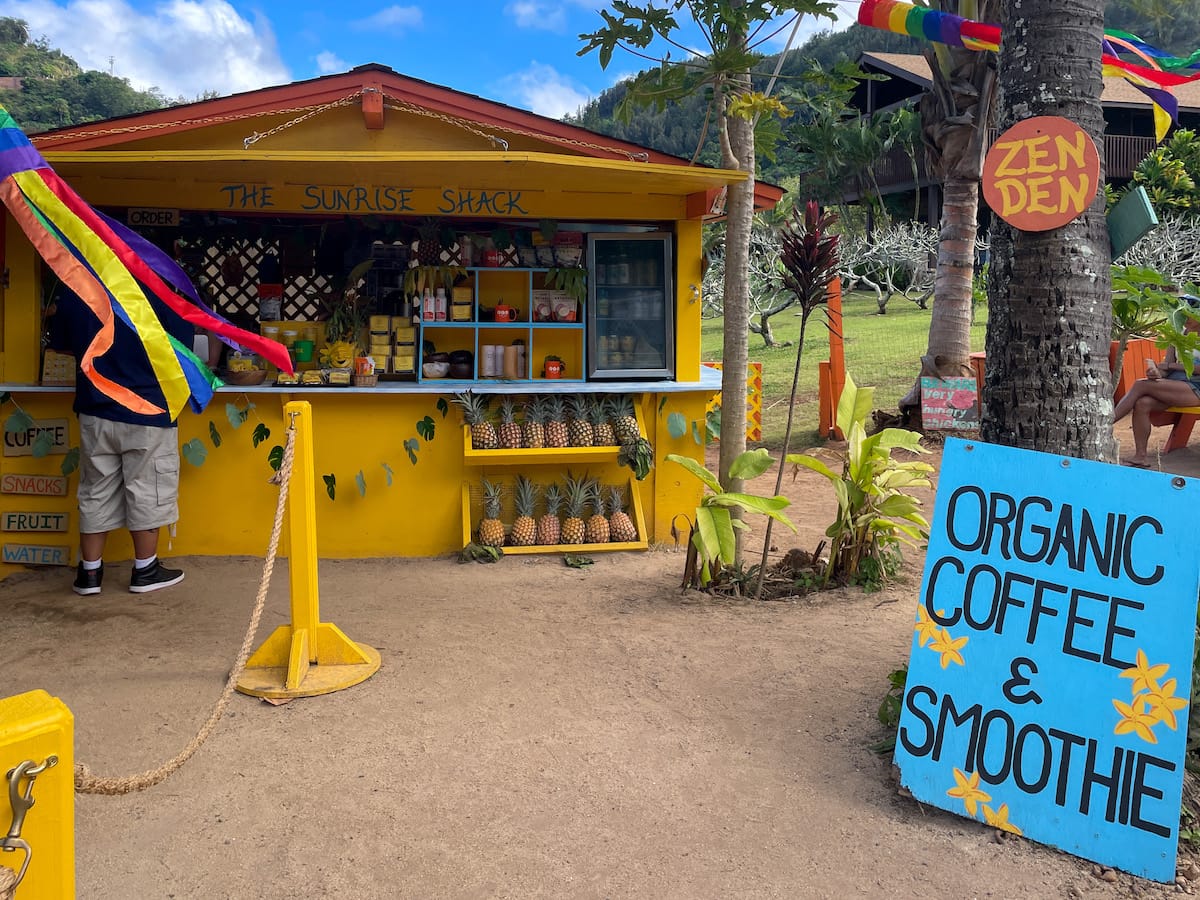 Visit a Macadamia Nut Farm
While on an adventure at the North Shore, you should also be sure to try some Hawaiian macadamia nuts (the nut originates in Australia).
Macadamia nuts are the most popular nuts in Hawaii, and the North Shore Macadamia Farm is the only working nut farm in Oahu.
This farm is just a few minutes away from Haleiwa Beach Park and offers flavored and unflavored Macadamia nuts as well as flavored ones.
Nut flavors you can enjoy here include caramel-roasted, cinnamon-roasted, and coconut-roasted Macadamia nuts.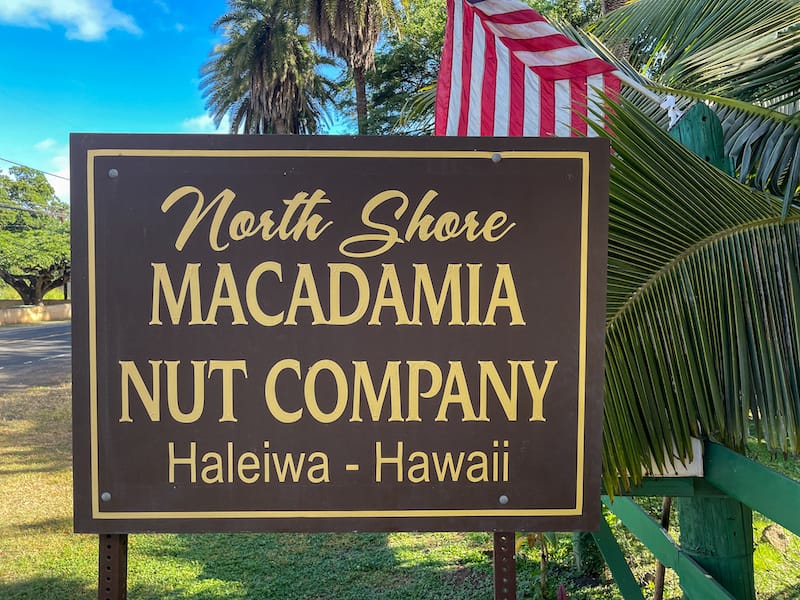 This store also sells some gifts and specialty products aside from nuts. If you are not in Hawaii, you can also order nuts from the North Shore Macadamia Farm website listed above.
To be honest, I didnʻt have time to stop inside when I was there but I did grab a photo outside.
I had previously been to the Tropical Farms Macadamia Nuts shop (which I was told was a farm and it was, in fact, not)… so I didnʻt feel compelled to go inside.
Nevertheless, still one of the best things to do in Haleiwa if you are a macadamia nut lover like myself!
Address: 62330 Kamehameha Hwy, Haleiwa, HI 96712
Check out the Rainbow Bridge
The Rainbow Bridge is one of the most famous structures in Haleiwa. Built in 1921, this bridge goes over the Anahulu River and connects old Haleiwa to new Haleiwa.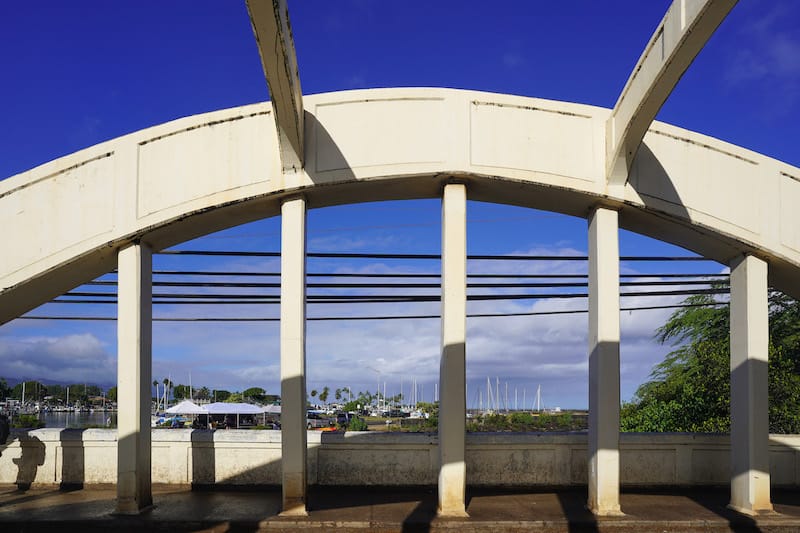 It's the perfect spot for visitors to snap photos and jump off the bridge into the water below.
Close to the bridge is the Rainbow Angel Wings mural painted in 2021 to remind us that we are all angels on earth (you can find this mural on 6 different continents).
It is located right at the Sweet As ice cream shop (which is delicious in its own right).
Close to this spot is the Anahulu shop to grab shave ice and a gift shop to check out some souvenirs. You can also enjoy swimming and paddleboarding in the Anahulu River below the bridge.
Try Hawaiian Shave Ice
Haleiwa is one of the best places to enjoy Hawaiian shave ice. One of the most popular spots to enjoy this tasty treat is Matsumoto Shave Ice, a store that started as a grocery shop in 1951.
Located near the North Shore Surfing Museum, this store is open from 10 am to 6 pm. Matsumoto offers lots of flavored shave ice, which you can enjoy before or after checking out the museum.
We recommend having the Rainbow Shave Ice, which comes with a scoop of ice cream. Shave ice is reasonably priced here; the large cup comes with 3 flavors and costs only $3.50.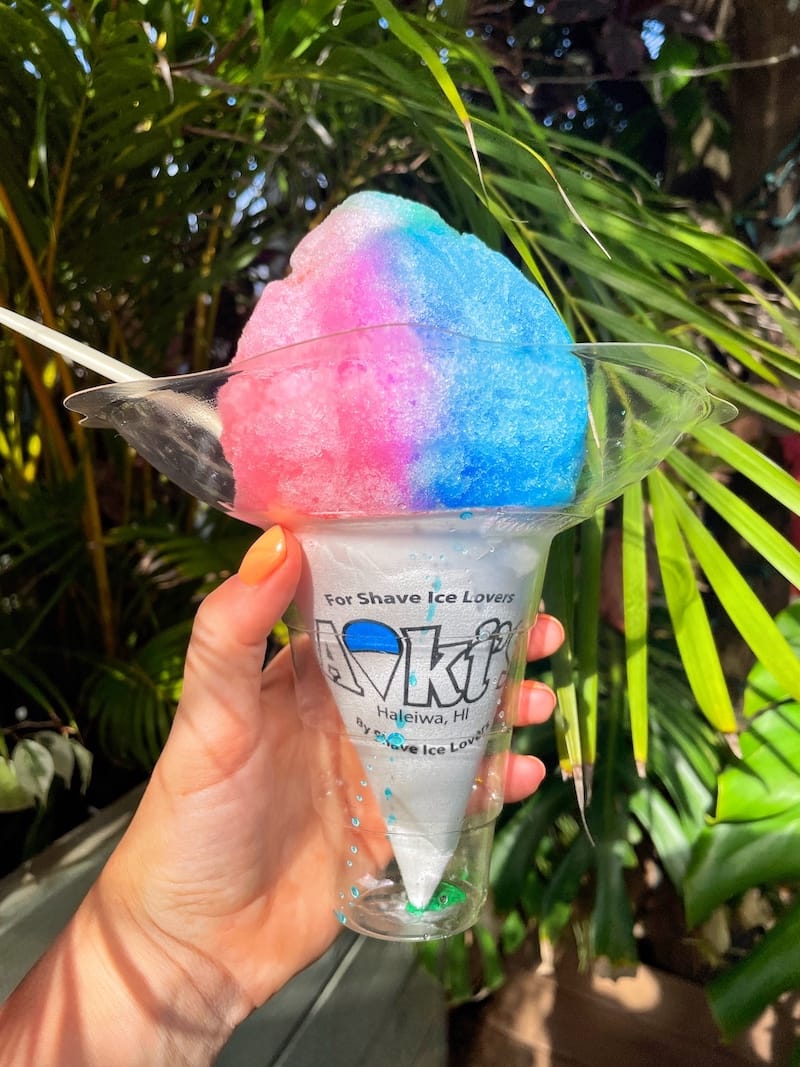 Meanwhile, there is always a long line here, so you can either wait your turn or try out other less crowded shave ice spots like the Anahulu Shave Ice by the Rainbow Bridge.
But, my absolute favorite spot for shave ice in Haleiwa is Aokiʻs Shave Ice. It is situated right on the main road and is nestled slightly behind other buildings but it is easy to find on your map and if you keep your eyes peeled.
Aokiʻs Address: 66-082 Kamehameha Hwy, Haleiwa, HI 96712
Visit the Famous North Shore Beaches
Haleiwa Beach Park
This North Shore beach is just a 2-minute drive from town. You can also walk to the beach for about 10 minutes if you are more interested in exploring the town on foot.
Haleiwa Beach Park boasts calm waters, making it the perfect family beach for vacation, surfing, and swimming. It also features a park and picnic tables, which makes it an excellent location for a barbecue.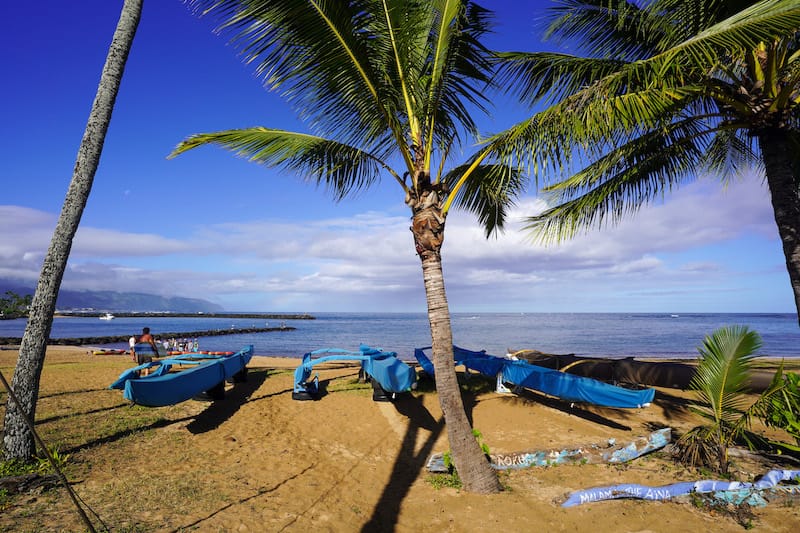 The North Shore beach park is one of the busiest spots on the North Shore and is quite popular amongst surfers. There are opportunities to rent a surfboard and take surfing lessons with the North Shore Surf Girls.
You can also see sea turtles here, and across the street from the park is the North Shore Macadamia Nut Farm, where you can grab nuts for your beach day snacks.
Lanikea Beach
Lanikea Beach, also known as Turtle Beach, is one of the best beaches in Oahu to see turtles. While you are here, you will come across at least one Hawaiian sea turtle on the beach relaxing or eating algae (usually!).
However, note that disturbing the turtles is a federal offense, so it's best to simply admire them from a distance. This means no touching, chasing, disturbing, or harassing them.
You can only see and take photos of them from a good distance (my photo was taken with a zoom lens).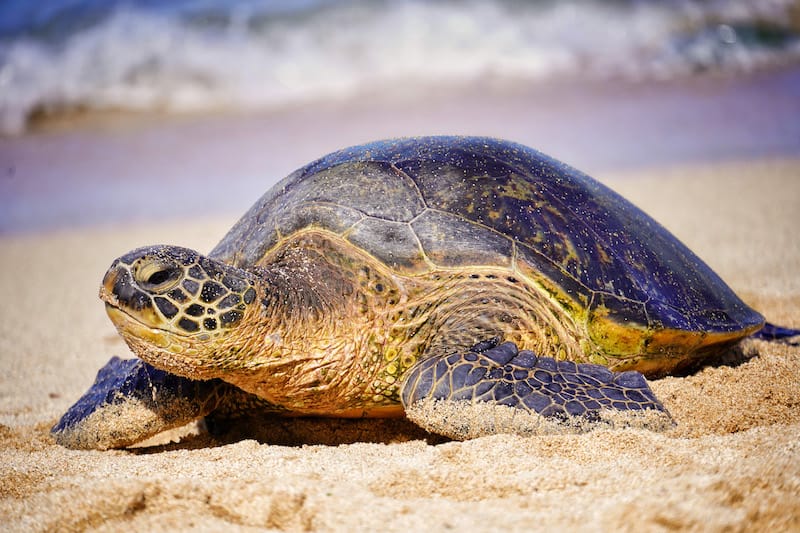 Because of the fascination with the turtles, people often don't get to take in the beauty of Lanikea Beach. So while you are here, we recommend that you explore the beach to see the flora, lush palm trees, and picturesque surroundings.
You can also snorkel and swim here, but be very cautious of the patches of rock below the surface.
Aliʻi Beach Park
Located just south of the boat harbor, Ali'i Beach Park is a good option for families with kids.
This beach is easily accessible, spacious, and has ample parking space. It's also a short distance between the parking lot and the beach, so you don't need to worry about walking too far before getting to the beach.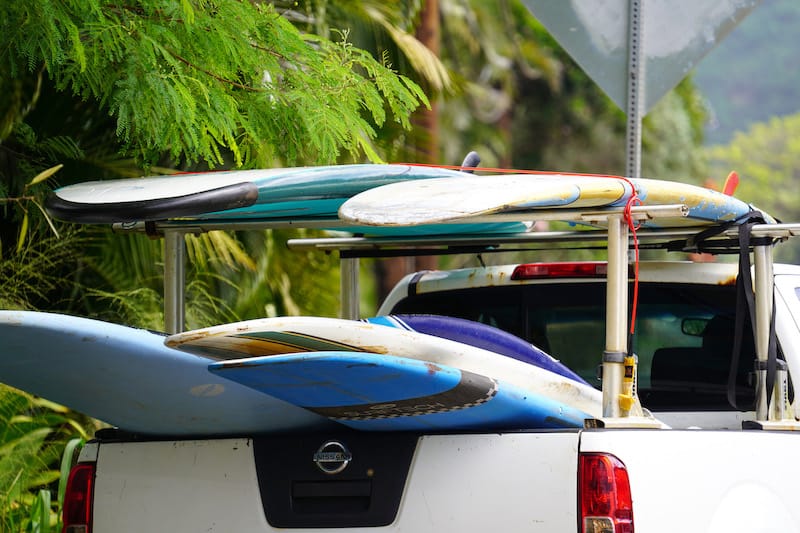 Here at the park, you can access the picnic tables under the monkeypod trees.
Ali'i Beach Park also offers clean restrooms, a recreation center, and a surf center where kids can learn how to surf. Also, Ali'i Beach Park is the venue for the Reef Hawaiian Pro, which is held annually.
Kahuku Motocross Track
If you're in Haleiwa over the weekend and love to watch a good car race, be sure to check out the Kahuku Motocross Track.
Open on Saturdays and Sundays from 8:00 am to 6:00 pm, you can race across 400 acres of track and trails no matter your skill level.
You must be a member of the Hawaii Motorsports Association to race; if you're not, you can still watch from the side. Please keep in mind that minors are allowed to race, but a waiver must be signed by the parents.
This is a fun and unique way to spend a weekend with friends and family, especially for daredevils!
Address: 58-288 Kamehameha Hwy, Haleiwa, HI 96712
Have Lunch at a Shrimp Truck
Another thing to do while at Haleiwa is to stop by one of the shrimp trucks on the North Shore for a delicious shrimp meal. There's no shortage of shrimp trucks in Haleiwa all the way to Kahuku, and a favorite one among visitors is Giovanni's.
This shrimp truck offers 4 major shrimp options; Shrimp Scampi, Hot & Spicy Shrimp, Lemon Butter Shrimp, and Jumbo Garlic Hot Dog.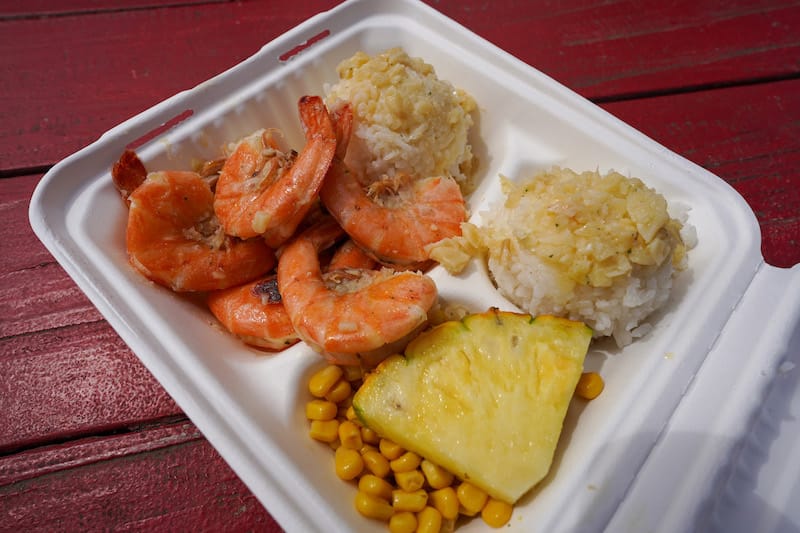 There is also the North Shore Shrimp Truck, which serves a variety of shrimp meals, including lemon pepper shrimps and garlic shrimp.
This Shrimp Truck also offers a kids' menu and other items like salad and shave ice.
Note that food trucks are popular in Haleiwa and have long lines as a result. A good tip is to get to the shrimp truck before lunchtime, as it takes some time to get the meal cooked.
Take a North Shore Photo Tour (from Honolulu)
Love photography? Or simply looking to explore bits and pieces of the North Shore? Either way, this is the perfect tour for you!
The North Shore of Oahu is home to some of the most beautiful sites in the world, including Waimea Bay, Sunset Beach, and the historic town of Haleiwa.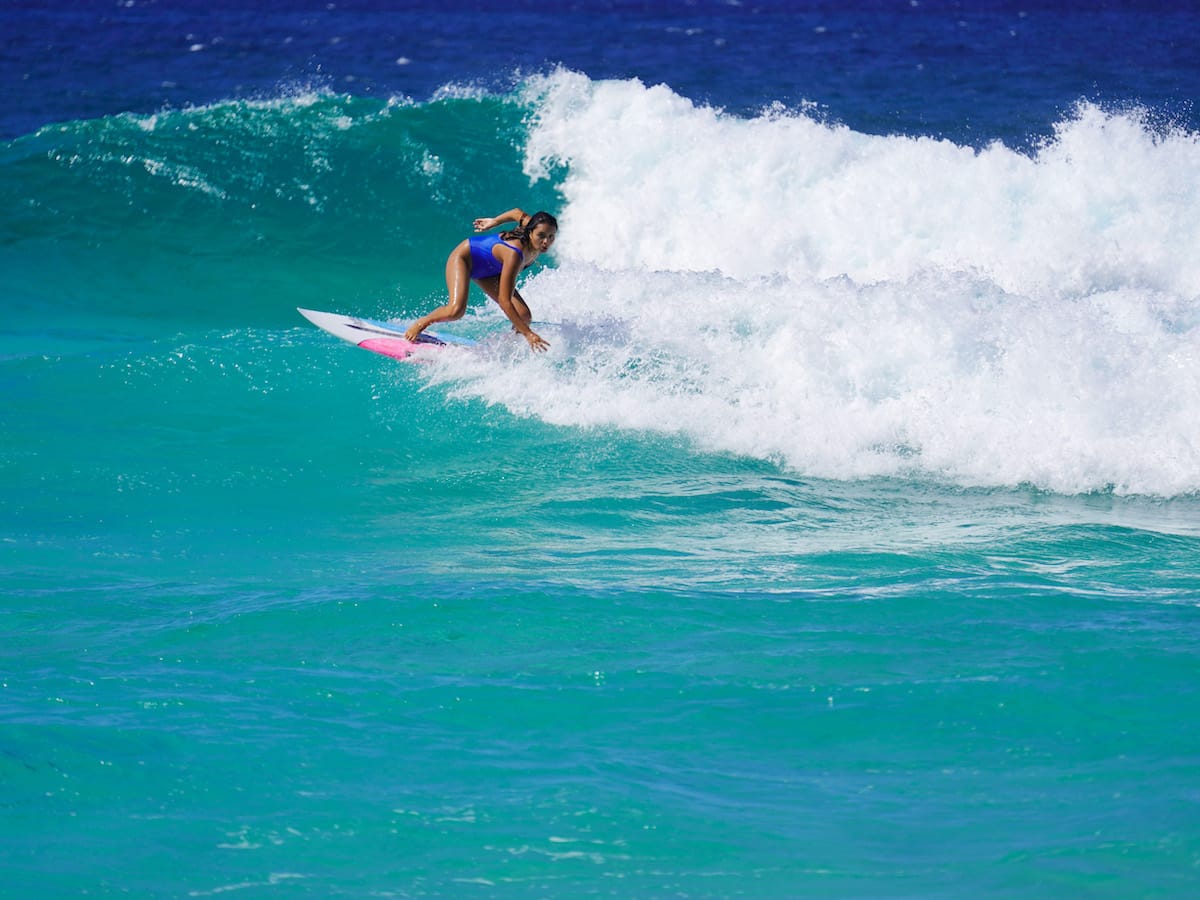 This small-group tour is limited to 7 visitors and lasts around 8.5 hours. It leaves from Honolulu.
As part of the tour, you'll learn all about the North Shore from an experienced guide and visit gorgeous sites like Waimea Valley Park (home to Waimea Falls – one of the most popular waterfalls on the island, the island's pristine beaches, and art galleries.
You will also get to stop by a local food truck for a delicious lunch.
>> Click here for rates and availability
Try the Longest Zipline in Oahu
If you're a bit of a daredevil, one of the best ways to see the beauty of Oahu is while gliding through the trees on a zipline.
This is a comprehensive tour including Oahu's longest ziplines, which range between 500 and 2,400 feet. You'll start the tour with an ATV ride to the top of a mountain.
Then, you can enjoy Oahu's panoramic views, sky bridges, boardwalks, and more. The tour comes with all the necessary safety equipment and a guide to lead you along the way.
The tour lasts around 3 hours. Be sure to wear close-toed shoes and lightweight clothing. You can participate if you are over 7 years old and weigh between 80 and 270 pounds.
>> Click here for rates and availability
Have a Coffee at Coffee Gallery
If you are a coffee lover like me, you will want to visit one of the top coffee shops in Haleiwa, Coffee Gallery.
Located in the heart of Haleiwa, you can find a variety of delicious coffees and can even take beans home with you from the roastery.
They have beans from Waialua Estate to Kona to Kaanapali Estate and more.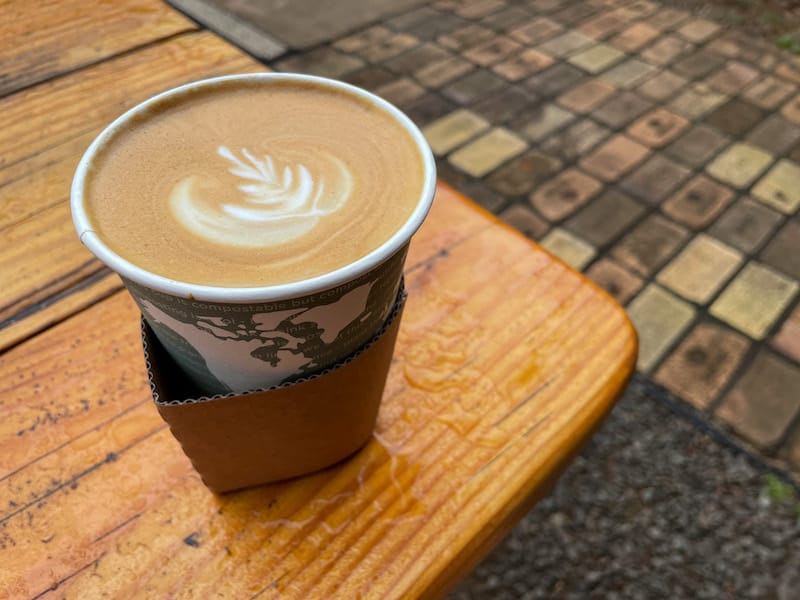 Furthermore, they also have delicious treats (many vegan!) to get you through the morning and the customer service was exceptionally friendly! It is the perfect way to start your day exploring the North Shore!
They are open daily from 0630-1800. Click here for more.
Address: 66-250 Kamehameha Hwy. Haleiwa, HI 96712
Check Out Hawaiian Green Turtles (& the North Shore)
This tour offers guests the opportunity to check out some of the main highlights and landmarks on Oahu, including Waikiki Beach, a shop where you can purchase macadamia nuts, and Haleiwa.
You will also get to see the sites where famous movies like "Godzilla" and "Pearl Harbor" were filmed.
One of the best features of the tour is that you can get picked up from your hotel. A local guide will tell you all about Oahu's history and culture as you visit more than 30 attractions.
The tour lasts around 6 hours and is perfect for those who want to avoid huge crowds. It leaves from Honolulu.
>> Click here for rates and availability
Dole Pineapple Plantation
I ethically question whether or not this should be on this guide but as the second-most visited place on Oahu, I am putting it simply because it is exciting for children to visit.
However, please do read up about the history of the Dole family and the pineapple plantations before venturing there. This had a huge (negative) impact on the native Hawaiians and it is important to understand its history before visiting.
And, please do realize that this is a tourist trap… but, it is home to the ʻworldʻs largest mazeʻ and the Dole Whip, which excites children visiting Hawaii.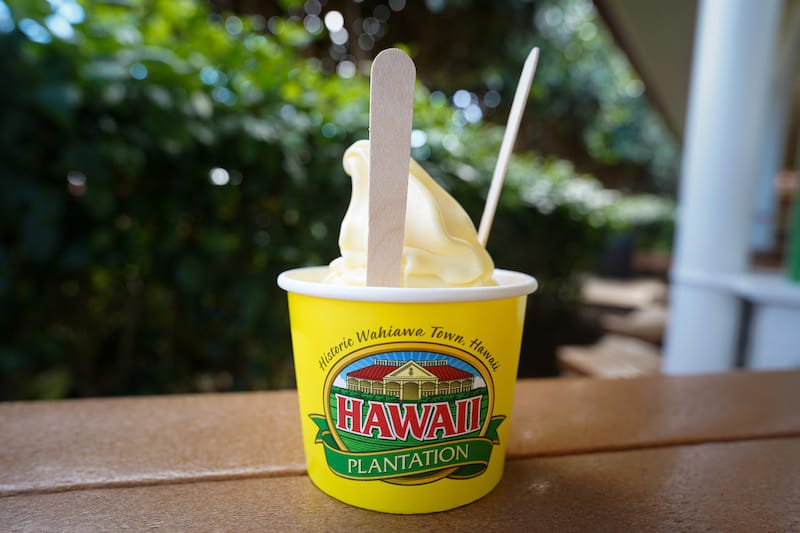 The Dole Pineapple Plantation is open every day of the year except Christmas from 9:30 am – 4:30 pm.
The North Oahu attraction offers fun for the family including the aforementioned maze, the Plantation Garden Tour, and the Pineapple Express Train Tour.
You can also check out the educational presentations, gifts, local Hawaiian food options, and refreshments. You can also take a fresh pineapple home with you.
Address: 64-1550 Kamehameha Hwy, Wahiawa, HI 96786
Best Hikes in Haleiwa (+ Nearby)
As with just about every part of Hawaii, Haleiwa is known for its stunning nature, making it a great place for those who love hiking to hit the trails.
Here are four of the best trails that you shouldn't miss if you enjoy hiking and plan on visiting Haleiwa.
Waimea Valley Trail
The Waimea Valley Trail is one of the best for those who don't have much experience with hiking and would prefer an easier trail.
It's 1.9 miles and has a lot of visitors (like A LOT). There is one main paved trail with several side trails off of that through the gardens.
The trail also features the stunning Waimea Falls which is great for photographs and swimming.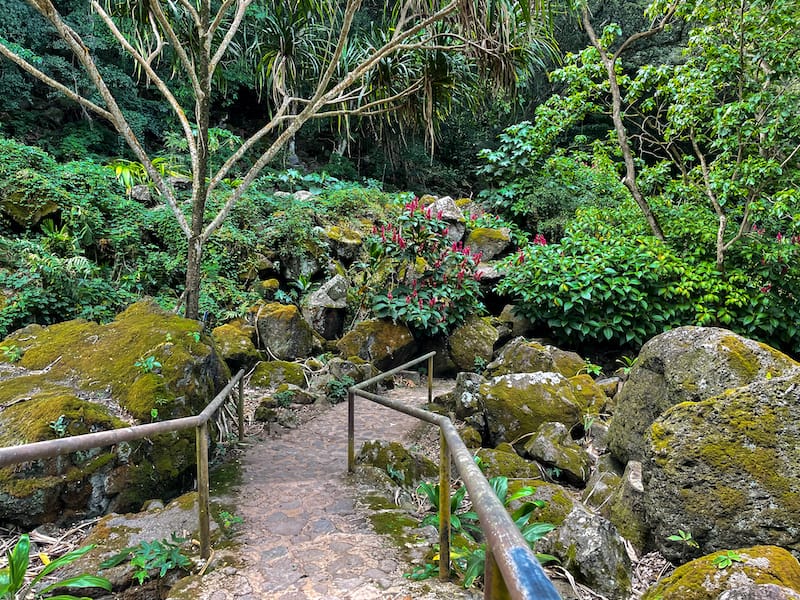 Keep in mind that there is an entrance fee and you will need to wear a life vest if you want to swim in the waterfall. The trail can be accessed all year round.
Ehukai Pillboxes
This 2.3-mile loop trail gets a lot of traffic, but it's one of the best for those with families or those who don't have much experience hiking.
The trail is known for its beautiful views and landscapes, particularly the wildflowers that you'll encounter along the way.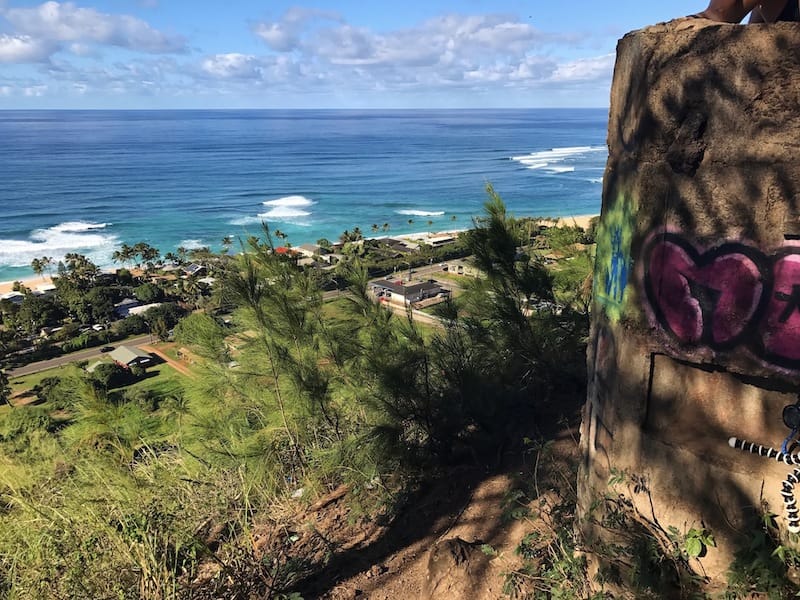 Visitors will be able to take their dogs on the trail, but you must keep them on their leash. Keep in mind that the trail can get muddy and slippery when it rains, so be sure to make use of the rope sections.
Kammieland Trail
Kammieland Trail is an out-and-back trail that is 1.5 miles long. Known for its beautiful wildflowers, the trail can be accessed all year round. Aside from hiking, many people enjoy this trail for birdwatching and mountain biking.
You can also bring your dog, but please make sure that your dog is on a leash. The trail is rated as moderate, so it might not be as easy as some of the others.
Click here to learn more about the trail.
Kaʻena Point Trail
Inside Kaʻena Point State Park, you will find this trail that has trailheads starting at Waianae and Mokuleia. The area is the westernmost part of Oahu and it is as wild as it seems!
We went there at the end of the day and, unfortunately, didnʻt complete the entire hike, but we did walk a bit from the Mokuleia trailhead to search for monk seals along the water.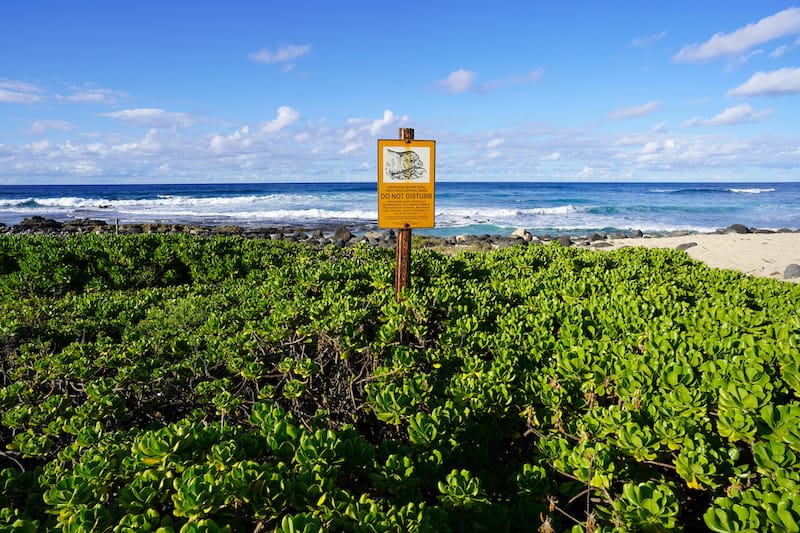 Fortunately, we did find one! But, the views were just incredible along the way. I love coastal hiking and this 3.5-mile out and back is a great one! Do make sure you pack sunscreen as there is no shade on the trail.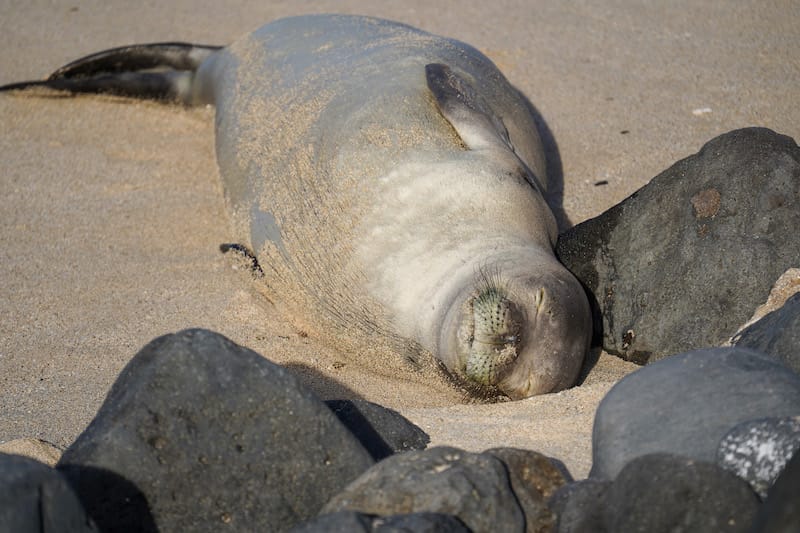 Ted's Bakery
Ted's Bakery is the perfect place to stop by if you want to try out some delicious homemade goods. It is one of the most famous bakeries on the North Shore and is located closer to Turtle Bay Resort than Haleiwa town. You can find it right by Sunset Beach.
Some of the best pies, cakes, and pastries that you shouldn't miss include the Chocolate Haupia Cream Pie, Blueberry Cream Pie, and Macadamia Nut Cream Pie, all made with fresh and local ingredients.
You can also try out a variety of hot foods from their menu, including breakfast dishes, sandwiches, and burgers. The shop is open every day from 8:00 am – 6:30 pm and is located right on Oahu's North Shore.
Address: 59-024 Kamehameha Hwy, Haleiwa, HI 96712
Enjoy a Poke Bowl
You will find poke bowls ubiquitously on Oahu and the rest of Hawaii. And, the North Shore is no exception!
I had plenty of delicious poke bowls during my multiple visits up that way and my absolute favorite was in Kahuku, not Haleiwa. But I also had a tasty one in Haleiwa so I will detail both (in case you are planning to drive a little)!
Ryʻs Poke Shack
This was my favorite poke bowl I had on my recent trip. It was, hands-down, DELICIOUS.
The location is not in Haleiwa but nearby in Kahuku. There were tons of food trucks in close vicinity but something about the place just caught my eye and I am glad it did!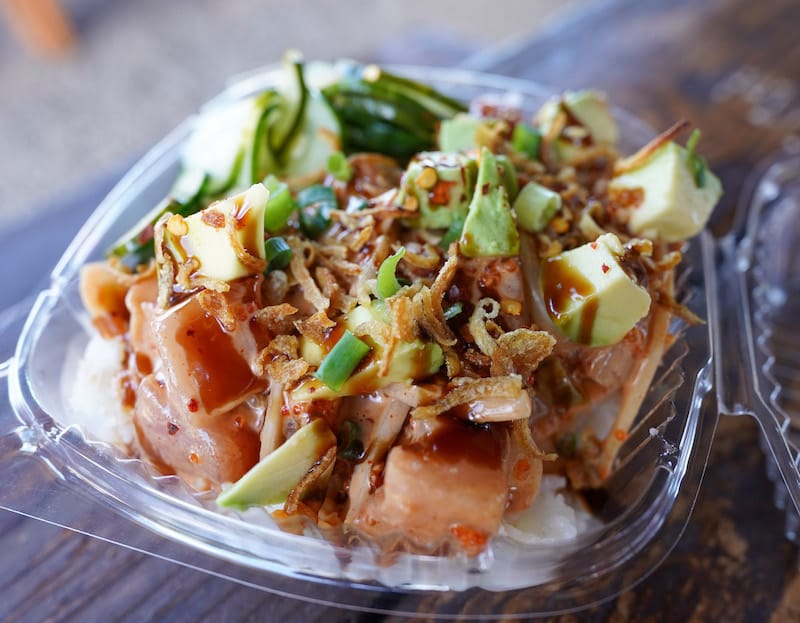 The owner was insanely friendly and down-to-earth and the poke was to die for. He had several options on the menu, including his own creations, but I opted for something a bit more traditional to recommend here. And, it didnʻt let me down!
Address: 56-565 Kamehameha Hwy in Kahuku
Aji Limo Truck
I didnʻt do any research before heading here and ended up in a lot with tons of food trucks as I was walking the highway from Haleiwa to Sunset Beach.
I went inside the area and found this truck to have the most people hanging out by it, so I opted to have lunch there.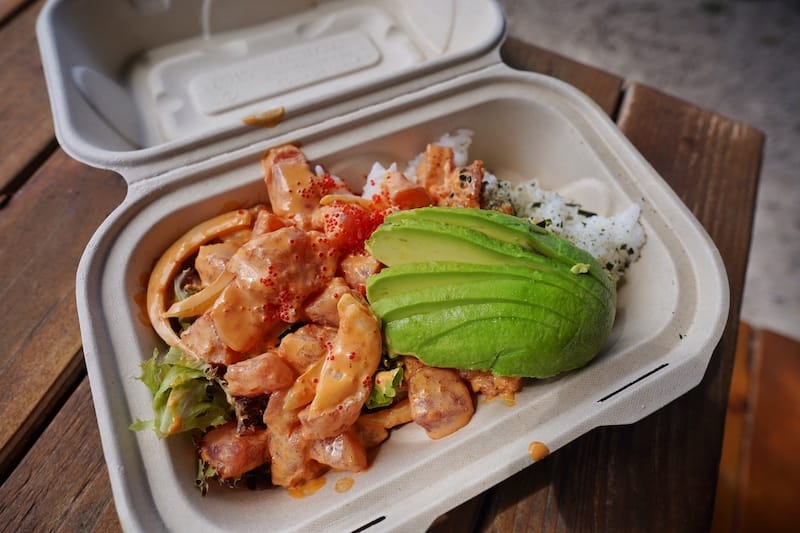 I am so glad I did! It was efficient and had an extremely tasty poke bowl as well as other menu options like fish tacos. The service was great and I would go back here again and again!
Address: 57-512 Kamehameha Hwy, Haleiwa, HI 96712
Haleiwa Art Gallery
Haleiwa is also an idyllic town for those who love art. The Haleiwa Art Gallery serves as a focal point in Oahu's artistic community, having a diverse range of art in many different styles and subjects.
Here, you will be able to see work from over 20 artists at once in all different mediums, including photography, sculpture, and painting to appeal to a wide audience.
The Haleiwa museum is open every day from 10:00 am to 6:00 pm. Be sure to check out the website close to your trip to find out more about the different events and exhibitions that will be taking place.
Address: 66-252 Kamehameha Hwy Haleiwa, Hi 96712
Sunset Beach
Okay, perhaps this beach should be under the beaches section, but it is so remarkable that it deserves a spot of its own!
As the name suggests, Sunset Beach is one of the most stunning spots in the world to watch the beautiful sunset. AND SURF!
It's highly recommended that you try to find a spot on the beach before dusk to watch the sunset behind the crashing waves. Be sure to have your camera ready for this memorable experience.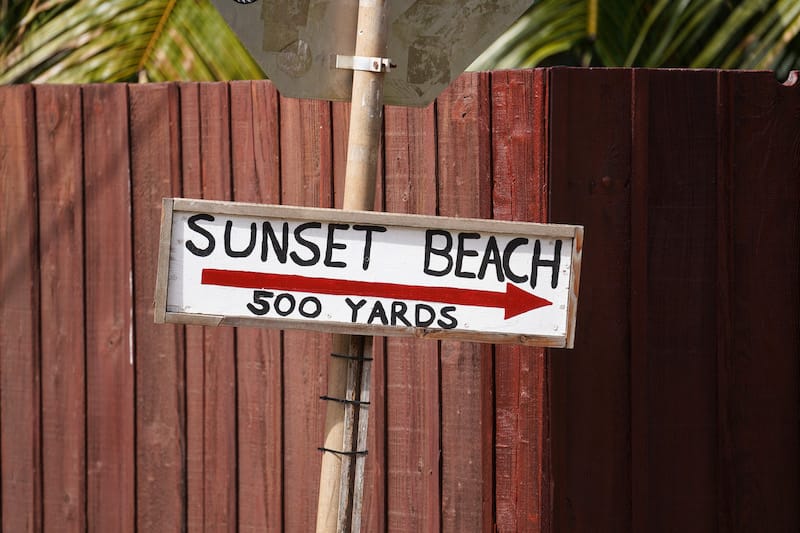 And while the North Shore beach is renowned for sunsets, it might just be better known for its huge winter swells, making the beach a hotspot for surfing competitions. The Hurley Pro took place there just recently when I was on the island.
Youʻll find plenty of places to eat and chill nearby, so I recommend bringing a snack with you and sit and watching the surfers before getting ready to take in the sunset.
Ray's Kiawe Broiled Chicken
If you're in the heart of Haleiwa on the weekend, you're in for a treat! Watch the smoke rise from the parking lot next to the Malama Market as delicious chicken is cooked at Ray's Kiawe Broiled Chicken.
This food truck is especially popular for making Hawaiian-style Huli-Huli chicken, which is prepared with sweet and sour pineapple juice, soy sauce, brown sugar, garlic, and ginger, and over a kiawe wood barbecue.
Here, you can get a whole chicken, half chicken, or a plate lunch featuring rice, coleslaw, and sauce. This is the perfect way to spend lunch on a nice summer weekend.
Address: 66-190 Kamehameha Hwy, Haleiwa, HI 96712
Where to Stay in Haleiwa
If you are taking more than just a day trip to Haleiwa, then you will definitely need a great place to stay!
Here are some of our top picks of places to stay in Haleiwa and the North Shore.
Did we miss any amazing things to do in Haleiwa? Let us know your favorite Haleiwa attractions and sites in the comments. Thanks!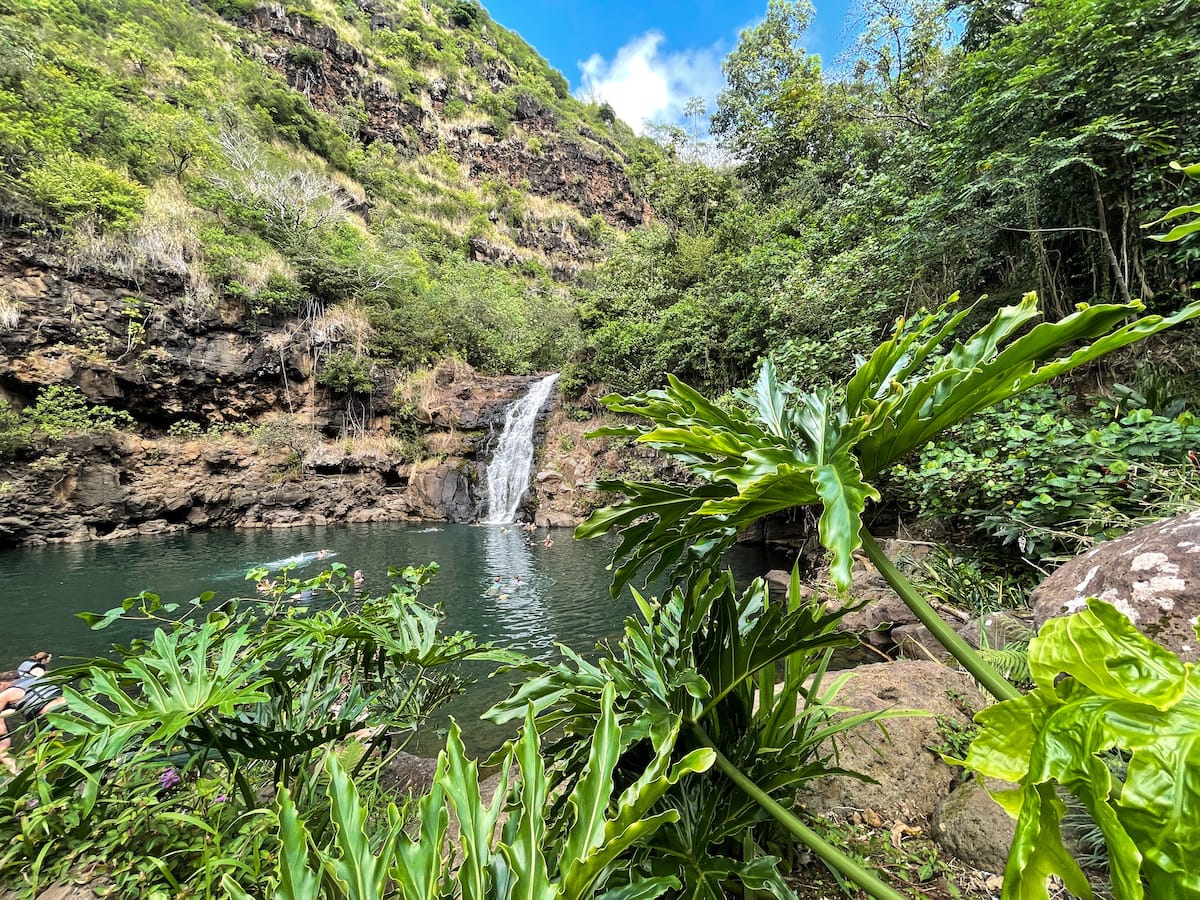 More Oahu Travel Guides
Pin this Haleiwa Things to Do Guide