Waianae is located on the leeward coast of Oahu, Hawaii, which is why it's sometimes referred to as the Waianae Coast. This is a guide to the best things to do in Waianae for first-time visitors!
Are you planning your trip to Waianae last minute?
Below are some of the top tours, hotels, and more on the island of Oahu!
🌴 Top Experiences and Tours on Oahu:
🛌 Top Hotels in and around Waianae:
🚗 Traveling to Oahu independently? Be sure to book your rental car ahead of time to ensure availability!
One of the most notable things about this small town is that it tends to be overlooked, hence it is rather affordable compared to some of the more popular destinations throughout Oahu and Hawaii.
There are plenty of activities to check out in this sunny town, including swimming, snorkeling, diving, hiking, and so much more.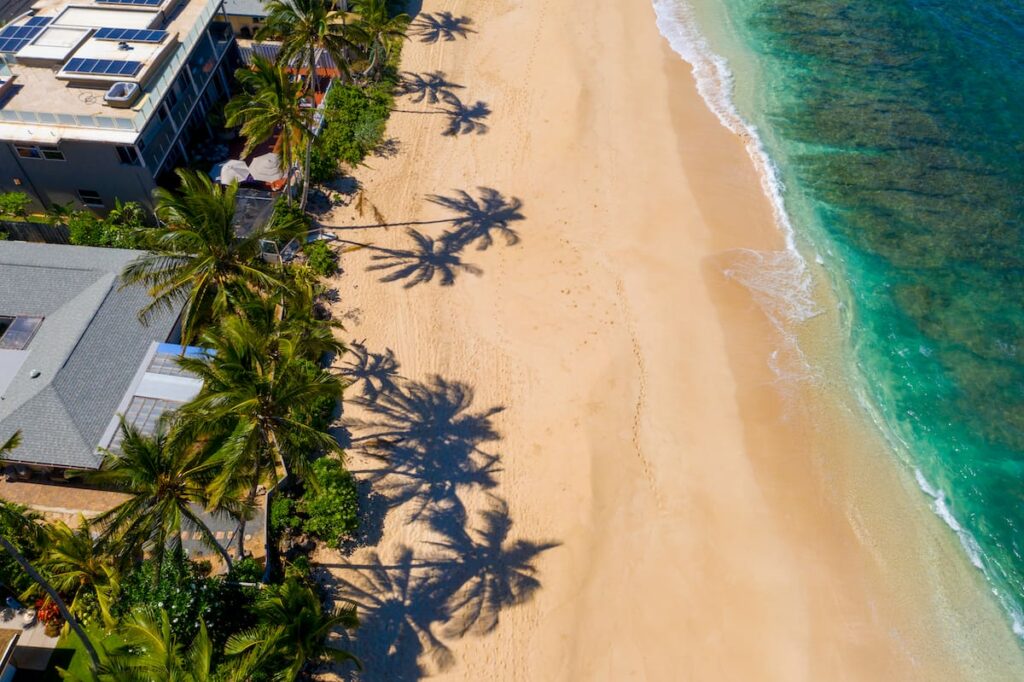 You can also try out some delicious restaurants and go shopping in a local farmers' market. In this article, we've compiled a list of the top places that you need to check out during your trip to Waianae.
Best Oahu Tours (to Maximize Your Time!)
If you're looking for something more organized when on Oahu, here are some awesome Oahu tours you should check out.
These tours will help you maximize your time, which is especially important if you only have a short amount of time on the island! We listed a variety so that you can pick which one is most suitable for you (and many include multiple places!):
Best Things to Do in Waianae
Waianae Mountain Range Hikes
For those looking for an adventure, you should definitely check out Mount Kaala Trail. It's not easy to tackle at all, so only the most experienced hikers should attempt this challenge.
At over 6 miles in length and a rise in elevation of more than 5,000 feet, you'd be surprised to find that the trail is heavily trafficked.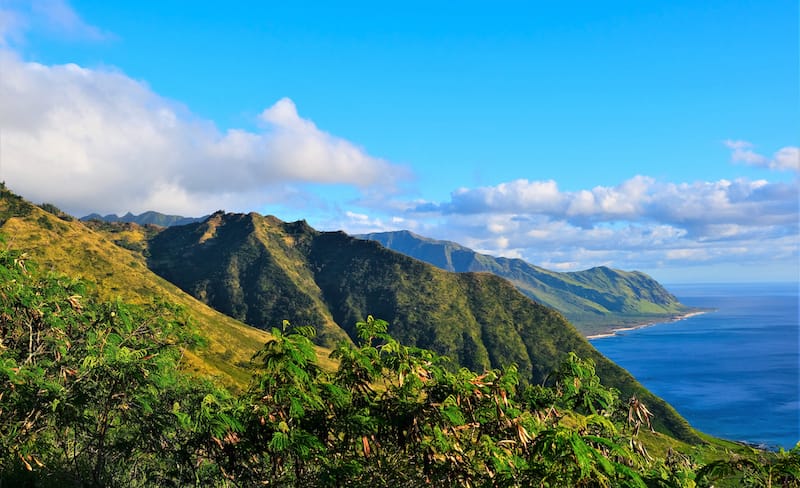 There are beautiful wildflowers lining the trail, and visitors can also partake in birdwatching. The trail is accessible all year long. Don't forget to bring a pair of gloves with you for the rope sections.
Aloha Poke
A visit anywhere without trying authentic local cuisine simply wouldn't do, which is why you should definitely check out Aloha Poke when you visit Waianae.
With a menu full of local favorites such as Beef Lu'au, Hawaiian Stew, and Smoky Pork, you're sure to find a dish that will have you dreaming of going back.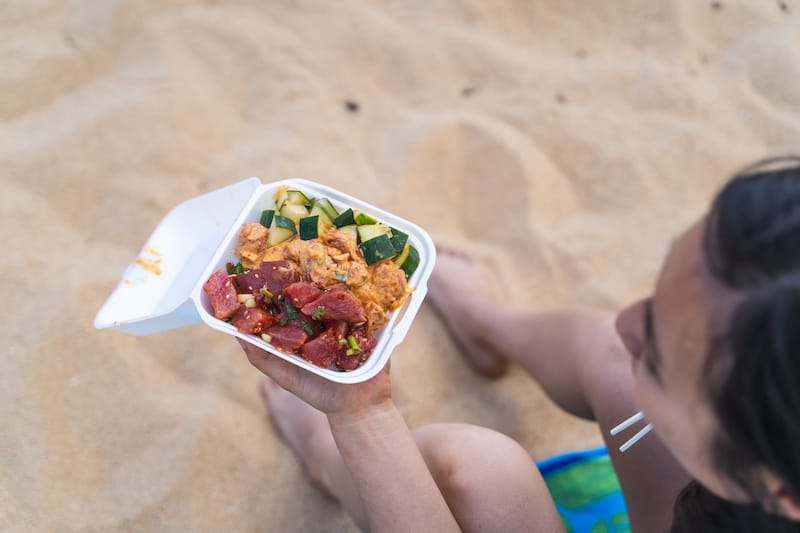 Aloha Poke is open from Mondays to Saturdays from 12 pm-8 pm and on Sundays from 12 pm-3 pm.
Address: 85-979 Farrington Hwy, Waianae, HI 96792
b&b – Banh Mi & Boba
Not to be confused with a similar restaurant in California, Banh Mi & Boba is a Vietnamese store in Waianae that features boba drinks and Vietnamese food.
You can try an assortment of boba drinks, including tea, coffee, and juice. Other delicious foods to try include Vietnamese banh mi, egg noodles with soup, and summer rolls.
The store is open every day from 11:00 am – 7:30 pm and offers delivery.
Address: 85-081 Waianae Valley Rd, Waianae, HI 96792
Farm Tours at Kahumana Organic Farms & Cafe
Kahumana Organic Farms is one of the largest organic farms in Oahu.
Here, you will be able to take a tour of the 31 acres, which will provide you with opportunities such as tasting exotic fruits, feeding the cute farm animals, and learning more about indigenous crops like 'ulu and kalo.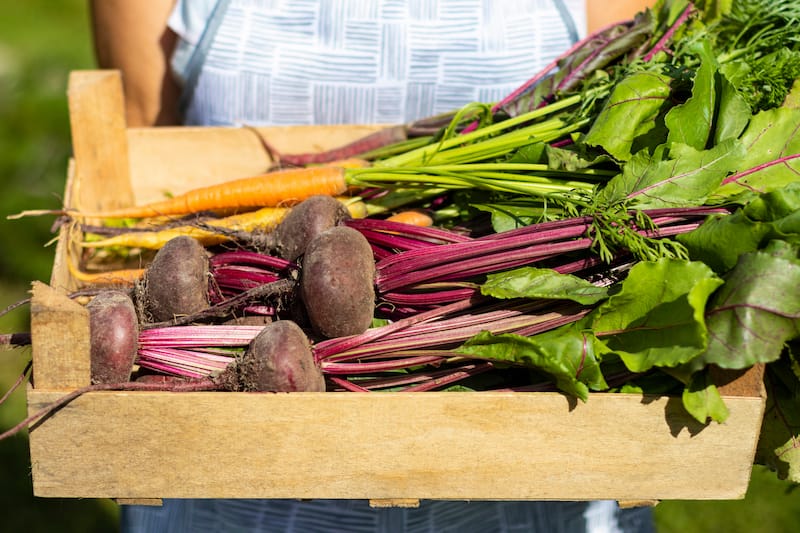 At the end of the tour, you will get the chance to enjoy a 3-course meal featuring foods grown right on the farm! If you want to enjoy the meal, the tour will last 2.5 hours, and if not, the tour will last 1.5 hours.
The farm tour is available on Thursdays at 4:30 pm. Prices vary depending on the tour package you choose.
Mountain Magic Shave Ice
It's impossible to take a trip to Hawaii without enjoying its specialty- shave ice. This delicious and refreshing treat is prepared at Mountain Magic using organic ingredients.
Rainbow shave ice with mochi is a fan favorite. There is no better way to finish a day in the sunny Waianae! Be sure to have cash with you as the shop only accepts cash. The shave ice shop is open every day from 11:30 am- 6:30 pm.
Address: 84-1170 Farrington Hwy, Waianae, HI 96792
Pokai Bay Beach Park
This beautiful 15-acre beach park is calm all through the year and is popularly known as the most protected beach on the west coast of Oahu.
It is popular among visitors because it is a family-friendly beach where kids and beginner-level swimmers can swim safely in the calm waters.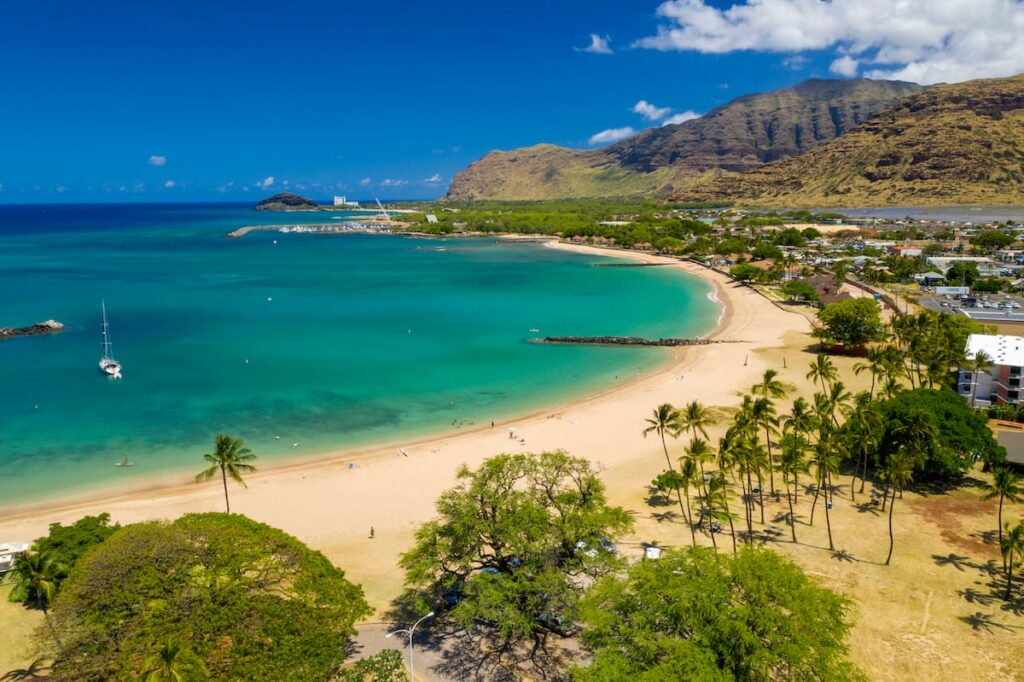 Towards the southern part of the bay, you will find the calmest point of the beach, which is also where you will find most people swimming.
The beach is also home to a stunning reef in the center of the bay. Other activities to be enjoyed here include snorkeling, surfing, fishing, kayaking, and picnicking. The beach also has restrooms, showers, and parking facilities.
Nanakuli Beach Park
The stunning Nanakuli Beach Park is a 40-acre park with a wide and long beach. The beach is usually sunny and dry with little to no shade around, so guests are advised to apply sunscreen and bring water and an umbrella.
The beach has a green area packed with some trees towards the north end of the park. There are also some picnic tables as well as a ballfield available for use in the green area.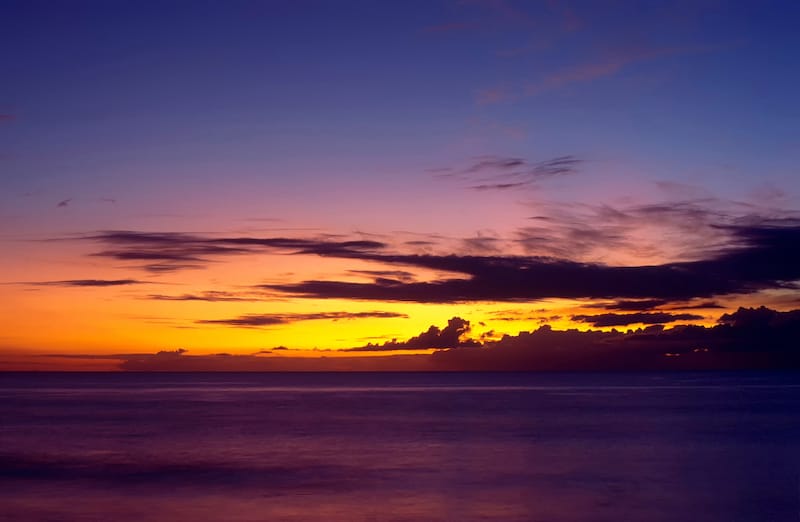 Swimming at the beach during the winter is not recommended due to the heavy currents. Camping, canoeing, fishing, scuba diving, and surfing are all activities visitors can enjoy at Nanakuli Beach Park.
Makaha Beach Park
The gorgeous Makaha Beach Park is located along Oahu's west coast. The beach offers visitors lots of activities to choose from including swimming, surfing, fishing, bodyboarding, and snorkeling.
The best time to swim here is during the summer when the currents are much calmer. In the winter months, however, currents are stronger, and this is especially desirable for expert surfers.
There are signs around the beach stating the condition of the ocean currents, so guests are advised to look out for the signs before engaging in any activities.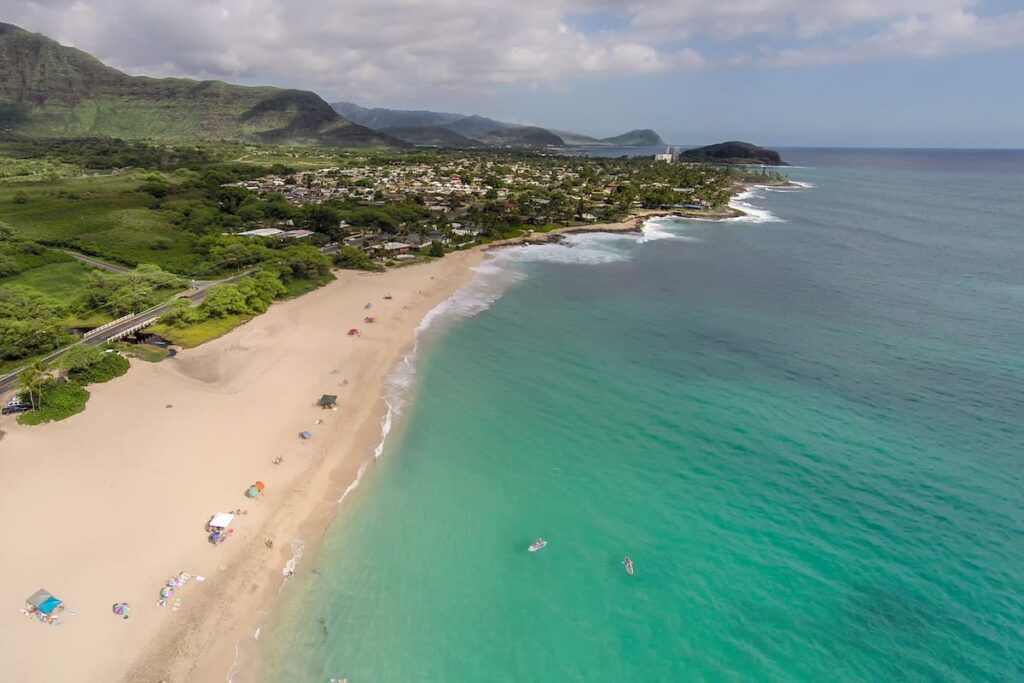 Makaha Beach is a fairly popular beach within the area and welcomes moderate crowds all year long. The weather can be quite hot and dry, so visitors should come prepared.
Facilities on the beach include picnic tables, restrooms, showers, parking, and lifeguards.
Lualualei Beach Park
Situated by Farrington Highway in Waianae is the beautiful Lualualei Beach. This 18-acre Oahu attraction is a narrow and sandy beach with a rocky limestone shelf by the shoreline, making it a bit difficult for visitors to get to the water.
However, visitors who are able to get past the rocky entrance will be pleased to find the sandy beach bottom. Lualualei is mostly visited by fishers who cast their fishing lines from the rocky shore.
Aside from fishing, activities that can be enjoyed at Lualualei include scenic walks and picnicking. A number of picnic tables are readily available for use. Other facilities include restrooms and showers.
Aki's Beach
This unique beach is unlike most beaches in Oahu. It is a small and intimate beach located in a small neighborhood. Visitors will often see green sea turtles relaxing on the beach, and this has become quite an attraction for guests.
Disturbing or tampering with the wildlife here is strictly prohibited. Aki's Beach is a great location for kids as they can play along the shoreline.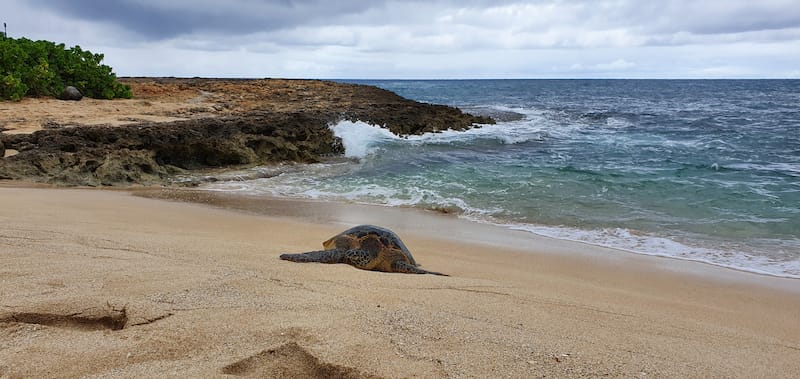 The rocks by the beach also provide some shade for comfort. Visitors can access the beach using a public access path between two houses in the neighborhood.
Parking is not provided, but guests can park on one of the neighboring streets.
Pu'u O Hulu Trail
Located on the west of Oahu and approximately an hour drive away from Waikiki is the Pu'u O Hulu Kai Hike. The hike has a stunning view of nearby topography.
Along the trail, visitors will find some WWII bunkers at the top. Today, they are commonly referred to as pillboxes. The most popular pillbox is painted pink and located on top of the ridge.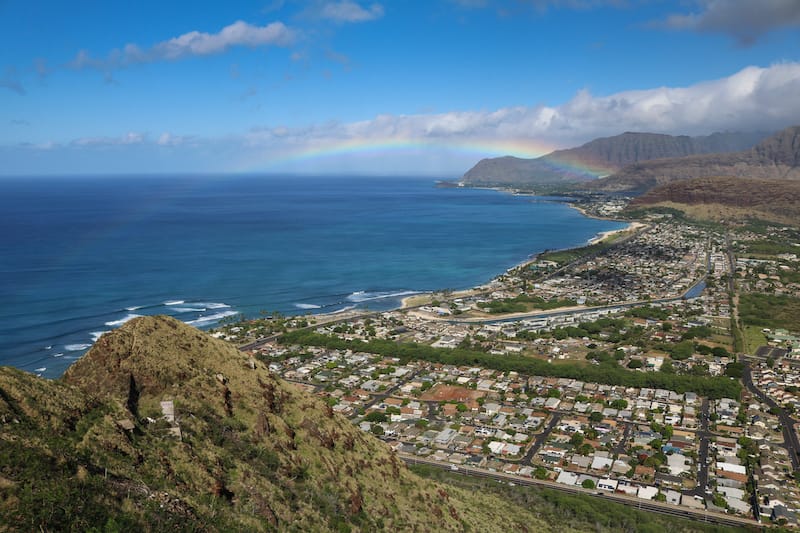 Visitors can write names of breast cancer survivors on a tribute wall inside the pillbox. There are two routes leading to the pillboxes.
The one on the left is an easier but longer hike, while the trail on the right side is a more tedious natural stairway.
This hike can be enjoyed by the entire family and the recommended time to explore this trail is at sunset as the area can be quite dry and sunny.
Mermaid Caves
Known to be a hidden Hawaiian treasure, Mermaid Cave is located at Nanakuli Beach Park (also called Nanakuli Community Park or Kalaniana'ole Beach Park).
Visitors can access the cave by crossing through rough lava rock and then descending through a puka, which will lead you into the underwater cave.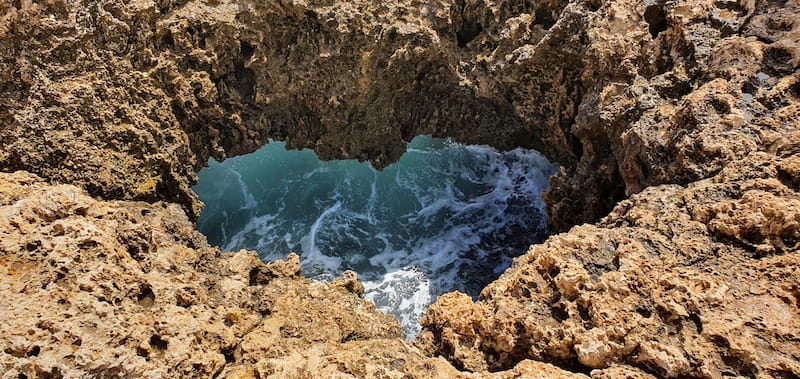 This natural wonder is often also called Mermaid Tunnel, and while it is a wonderful sight to behold, it can be very dangerous for inexperienced divers due to the rapidly changing water levels in the cave.
Hence, it is always advisable to go with an expert or group. Exploring the cave is only recommended when the tide is very low.
Waianae Farmers' Market
Owned and operated by the Waianae Coast Comprehensive Health Center (WCCHC), the Waianae Farmers' Market is a weekly market rich in organic food, including seafood, eggs, fresh meals, and baked goods… as well as local arts and crafts.
The farmers' market aims to make healthy food products readily available within the community as well as cultivate healthy living among community members and visitors.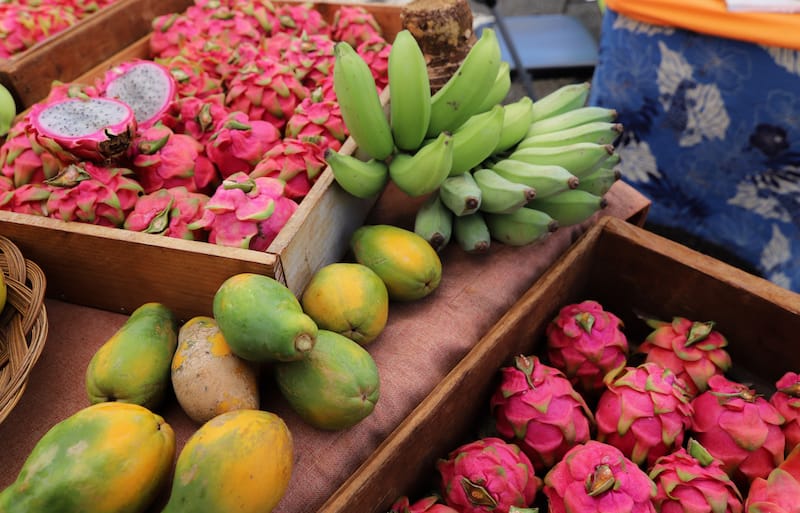 Visitors can also become more aware of healthy living habits thanks to several informative demonstrations held within the market grounds.
Address: 86-120 Farrington Hwy, Waianae, HI 96792
Makaha Valley Country Club
Opened in 1969, this public scenic golf course nestled in the Makaha lowlands was designed by William F. Bell. Here you will find beautiful vistas, vibrant trees, and unique plants.
There are a variety of holes around the golf course including tough par 3s, scenic par 4s, and short par 5s.
With different elevations and doglegs, golfers are guaranteed to have a memorable experience playing at Makaha Valley.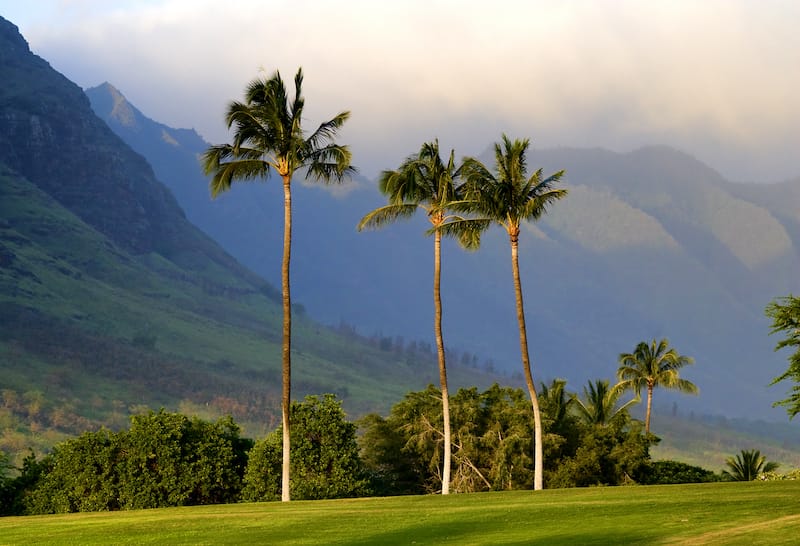 Facilities in the country club include rental clubs, rental carts, and a driving range. Prices at the club range from $67 – $97.
Naked Cow Dairy Farm & Creamery
This small family dairy farm is the only one of its kind in Oahu. The farm makes gourmet butter and artisan cheeses in a bid to add value to its milk production.
Taking pride in its sustainability, the farm depends on local feed, sugar cane, pineapple, and Kiawe beans among other organic produce to reduce its carbon footprint.
Visitors to the farm can partake in cheese-making classes and learn about the production process from start to finish.
Guest can also enjoy wine and cheese tasting. Products from the farm are supplied to restaurants around Hawaii that are dedicated to using strictly local products.
Where to Stay in Waianae
If you're looking for the top places to stay in Waianae, these are some of the popular lodging choices!
Did we miss any of the best things to do in Waianae? Let us know your favorite Waianae attractions in the comments. Thanks!
More Oahu Travel Guides
Pin this Waianae Attractions Guide