Often referred to as Oahu's "second city" after Honolulu, Kapolei is a beautiful and affluent community that is growing quickly.
These are the best things to do in Kapolei, including famous landmarks, restaurants, and more!
Are you planning your trip to Kapolei last minute?
Below are some of the top tours, hotels, and more that are close to Kapolei!
🌴 Top Experiences and Tours near Kapolei:
🛌 Top Hotels in and around Kapolei:
🚗 Traveling to Oahu independently? Be sure to book your rental car ahead of time to ensure availability!
It is especially popular among military families due to its proximity to Oahu's military bases. However, even if you're not looking to live here, Kapolei is a wonderful spot to check out if you're going on vacation in Oahu!
From spas to beaches to parks and more, Kapolei truly has it all.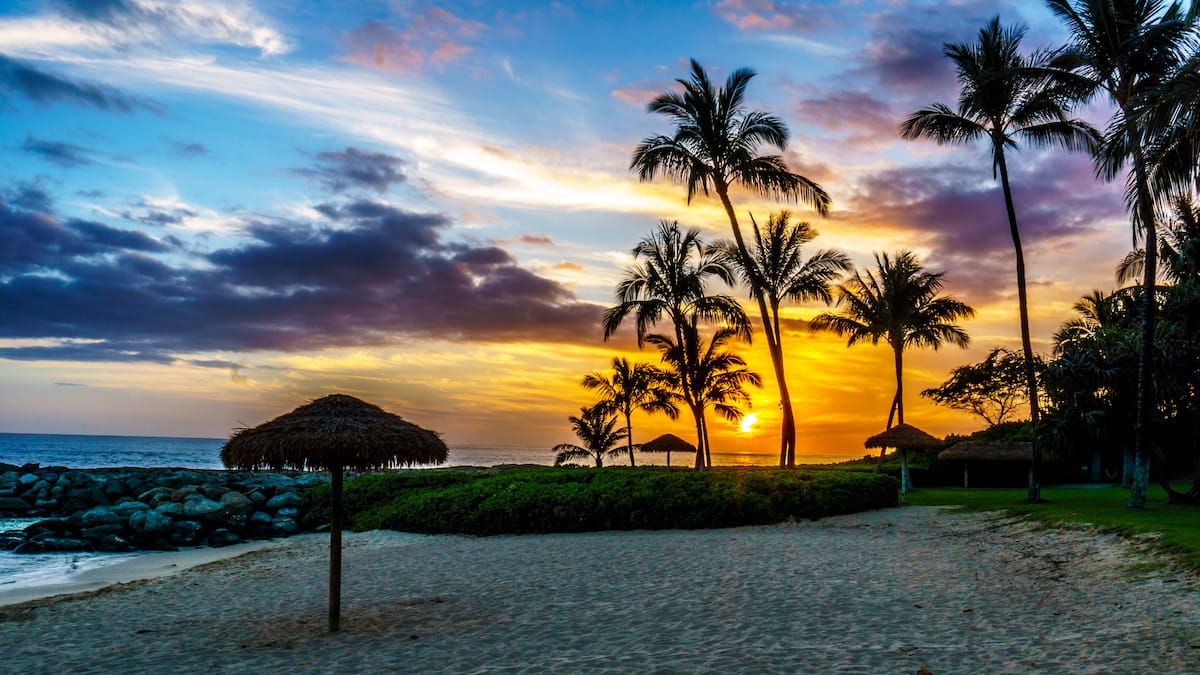 It is also an excellent spot for those with young children because there are many child-friendly attractions. In this article, we've compiled a list of the best places to visit in Kapolei, so get your travel itinerary ready!
Best Kapolei Tours (to Maximize Your Time!)
If you're looking for something more organized when in Kapolei and the surrounding area, here are some awesome Oahu tours you should check out.
These tours will help you maximize your time, which is especially important if you only have a short amount of time in the city! We listed a variety so that you can pick which one is most suitable for you (and many include multiple places!):
Best Things to Do in Kapolei
Book a Doors-Off Circle Island Helicopter Experience
This is an exciting helicopter tour that takes you over Central Oahu and down to the North Shore. The pilot doubles as a guide and narrates the history of Hawaiian mythology as you soar through the breathtaking island.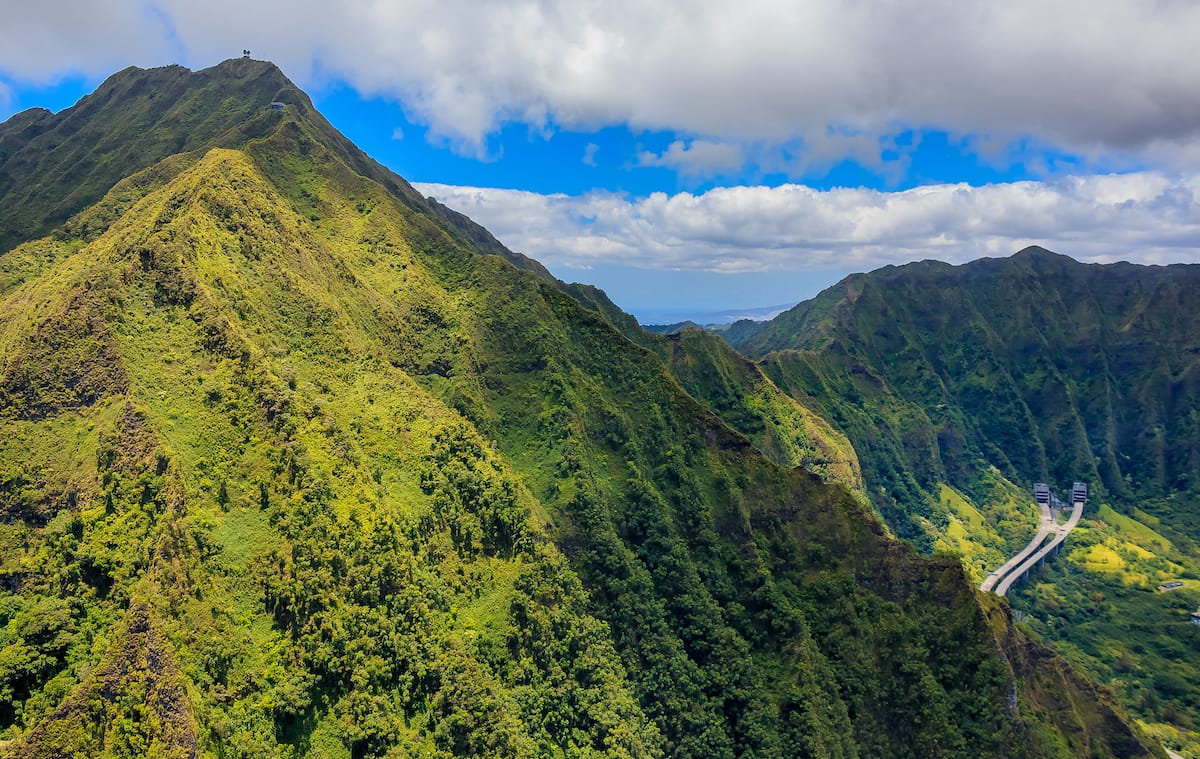 You also get to learn about Hawaiian deities like Maui and Pele. This flight is also great for kids as it helps them learn about the island's history.
The tour also offers transportation services to and from several resorts and hotels in Kapolei for added convenience.
>> Click here for rates and availability
Visit The Coffee Bean & Tea Leaf Kapolei
Although this popular coffee shop has several other locations throughout the state, you shouldn't miss the opportunity to try The Coffee Bean & Tea Leaf when in Kapolei.
View this post on Instagram
With everything from cold-brew coffee, espresso, and tea to delicious baked goods, you should certainly consider trying a filling and affordable breakfast here. The Kapolei location is open from 5:00 am-8:00 pm every day.
Enjoy Coral Crater Adventure Park
Want to have an unforgettable day packed with fun for all ages? Then you should definitely check out Coral Crater Adventure Park in Kapolei.
With plenty of offroading opportunities, ziplining, an adventure tower, and climbing, you're guaranteed to have an amazing time here.
It is open daily from 9:00 am-5:00 pm. Also consider checking out some of their nighttime adventures, which include s'mores, watching the beautiful sunset, and going on a nighttime zipline.
The prices for each adventure vary depending on what you want to do, but they start at around $69.99. Be sure to check out the website from time to time for discounts.
Address: 91-1780 Midway St, Kapolei, HI 96707
Visit the Chief's Luau
Be sure to also check out the best luau in Hawaii. With delicious food prepared by Chief Sielu, Mai Tai cocktails, and a fascinating Polynesian show, you'll have a night that you'll never forget, and it's perfect for the whole family!
You can choose between the Paradise Experience and the Royal Experience. The prices start at $155 and $195 respectively.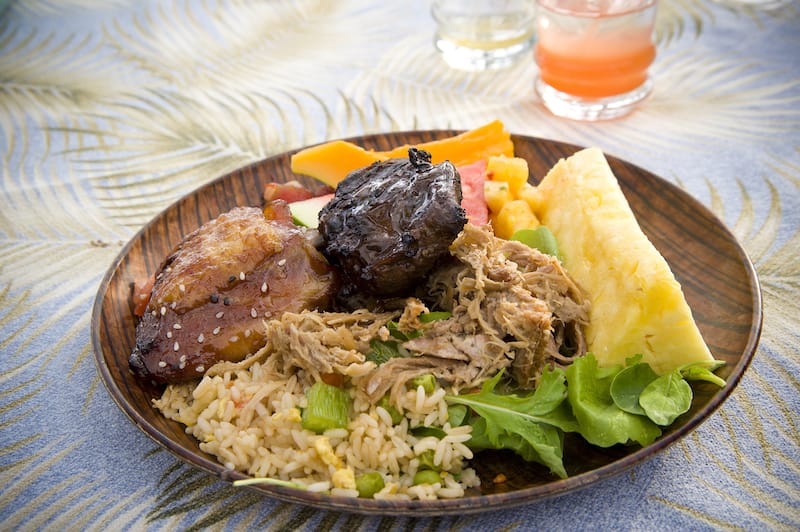 Both options include an all-you-can-eat luau feast, which features dishes such as Chow Mein Noodles w/Char Siu Pork, Lomi Lomi Salmon, and Roasted Tropical BBQ Chicken.
Be sure to check the website for availability on the dates that you will be in town.
Address: 400 Farrington Hwy, Kapolei, HI 96707
Have Ramen at Tanaka Ramen and Izakaya
Don't miss the opportunity to try a delicious ramen dish at Tanaka Ramen and Izakaya. You will be able to pick your soup, noodle, and spice level, and then choose any toppings you like for your ramen, guaranteeing a wonderful experience.
View this post on Instagram
You can also try other dishes such as pork and chicken buns, fried oysters, and rock shrimp. The restaurant is open every day from 11:00 am-10:00 pm, and on Sundays, it closes at 9:30 pm.
Address: 590 Farrington Hwy #510, Kapolei, HI 96707
Relax on the Best Beaches in Kapolei
Paradise Cove Beach
This is a cozy, small beach hidden right behind Paradise Cove Luau, also known as Lanikuhonua Beach.
It is protected from the ocean and has a wide shallow area where kids can splash about, making it an ideal spot for those with families to check out. Paradise Cove Beach is shady and great for snorkeling and turtle watching.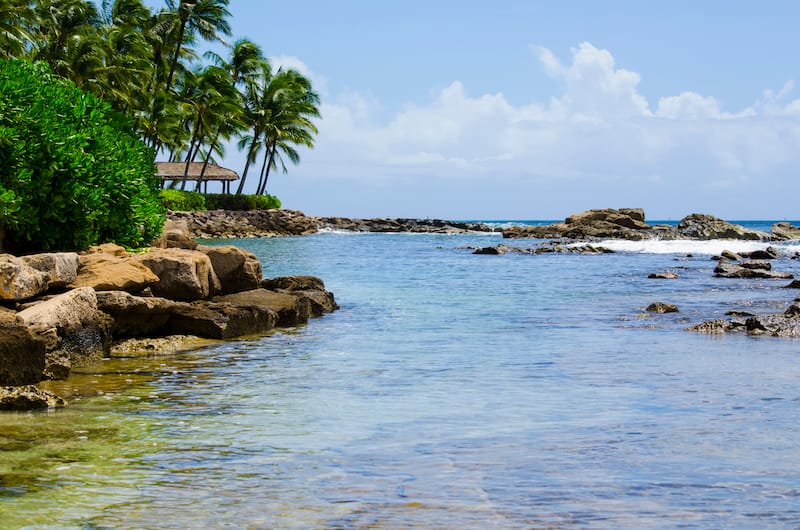 The sunsets here are spectacular, so you might want to stick around till evening.
The only downside is that you can't park at the Oahu beach, and the luau parking lot fills up pretty quickly, so lots of people tend to get to the beach early in the morning so they can find a spot.
White Plains Beach
White Plains Beach is the perfect spot for those looking to get away from the frenzy of other popular beaches. Located at the former Barbers Point Naval Air Station, this serene beach is great for surfing and hosting exclusive beach parties.
Surf lessons and equipment rentals are available here. The beach also has access to wheelchairs. It is open every day from 9 am to 4.30 pm.
It is especially popular among those in the military due to all the benefits the beach provides to military members, but you don't have to be in the military to enjoy all this beach has to offer!l
Nimitz Beach
Most popular among locals, this long stretch of white sand and clear waters is a must-visit. It has picnic tables and BBQ grills so you can plan a wonderful 'daycation' with your family or friends.
Located right across the street from the Kalaeloa Airport, it has excellent fishing spots. Nimitz Beach also features cottages that can only be rented by guests who have a military ID card.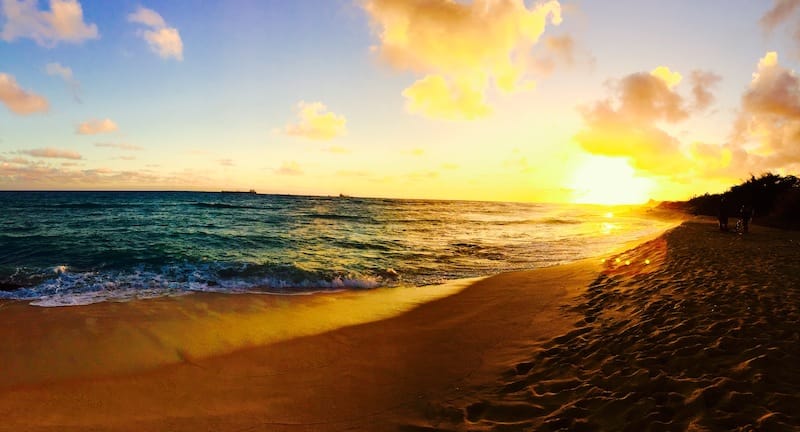 Be sure to look out for some old World War II concrete bunkers around the cottage area.
Ko Olina Lagoons
This is a collection of four jewel-like lagoons that span across 642 acres of land. The seaside pathways that connect these lagoons are over a mile and a half and are open to visitors. It is a perfect location for a family picnic.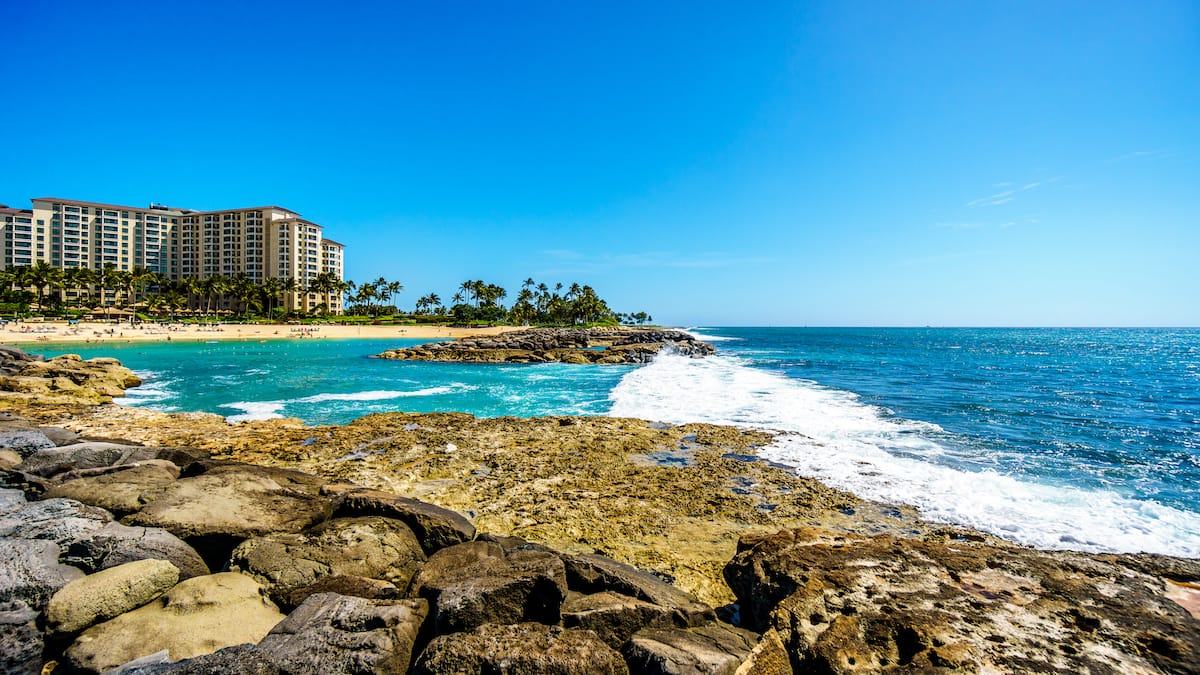 However, note that alcohol, pets, watercraft, and fishing are not allowed at Ko Olina Lagoons. It is best to call ahead so you can be sure of what to bring when visiting.
Puʻuloa Beach Park
With vast, grassy areas, this hidden gem is a perfect place for families. It is especially popular among locals because locals tend to be more aware of it than tourists.
The beach offers great views of Honolulu and is perfect for surfing. Picnic tables are available and guests are free to paddle out into the turquoise waters.
With that said, it's not the most ideal location for swimming because of how strong the waves are.
Attend a FIA FIA Polynesian Dinner Show
Located at the Marriott's Ko Olina Beach Club, the FIA FIA Polynesian dinner award-winning show occurs weekly on Tuesdays.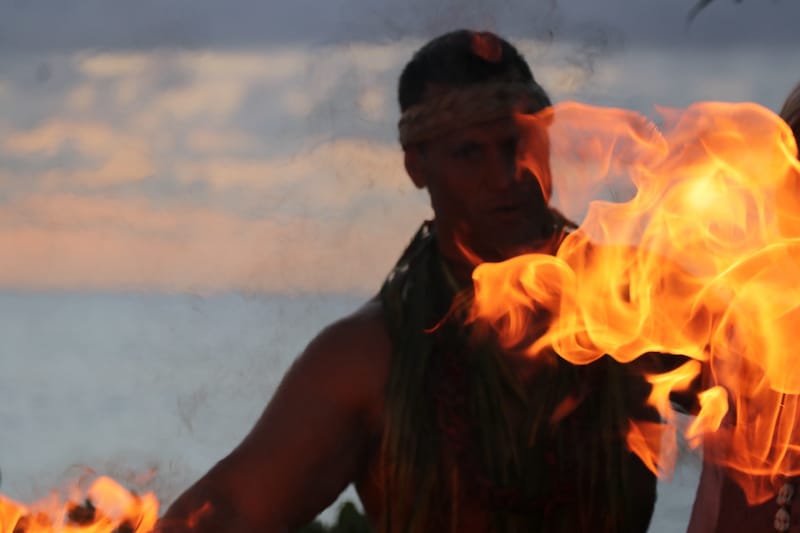 The drums, comedy, and fire knife dancing are the perfect combination of activities to take you on a thrilling and exotic South Pacific Islands journey, not to mention the delicious cuisine.
Be sure to contact the beach club for more details on the time, as the date and time may change without prior notice.
Splash Around at the Wet 'n' Wild Water Park
The Wet 'n' Wild Water Park is located in Kapolei and is one of the top 10 most visited family attractions on the island.
While there are different ticket considerations, general admission tickets cost $59.99/each + tax and are valid for a 1-day visit.
You can buy the tickets online to save time and avoid the hassle of ticket booths.
The activities here range from chill to moderate to extreme, and the park accommodates everyone from the super adventurous to the wariest individuals.
View this post on Instagram
Although there are different attractions suited for families of all ages, there are specific height recommendations for different activities, so be sure to check out the requirements for anything you might want to do before coming with the family.
Address: 400 Farrington Hwy, Kapolei, HI 96707
See the Barbers Point Lighthouse and Barbers Point Beach Park
A wreck took place in 1796 that destroyed a ship and killed six out of 22 captains. The place where the wreck happened has been named after the ship's captain – Captain Barber. In honor of the casualties, a lighthouse was built.
Although Barber's Point Lighthouse stems from a tragic story, it has now evolved into a point of safety, with inclusive activities and numerous rescues over the years.
This historical landmark has evolved over the years while continually reminding tourists and historians of what it represents.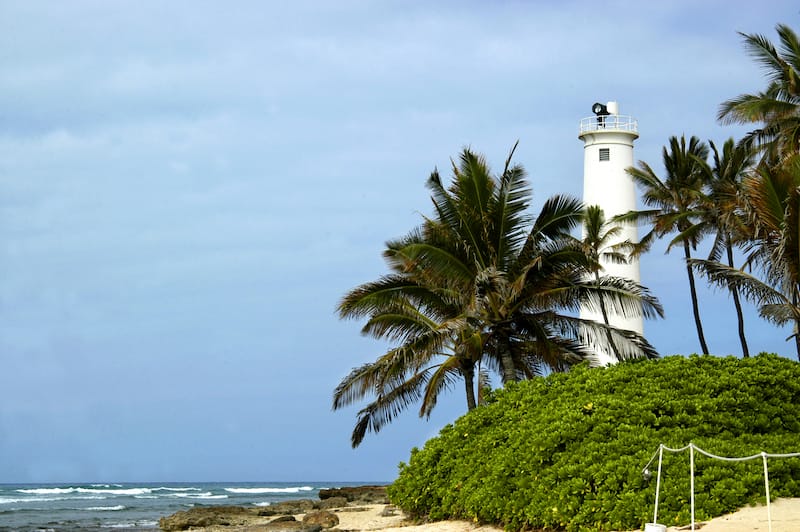 Barbers Point Beach Park, on the other hand, is located in an area where when you look around, you might think to yourself, "there can't possibly be a beach around here."
The beach is sandy but very rocky and reefy along its entire length. This makes it quite inaccessible to swimmers.
While it may not be considered the perfect beach, watching the successive waves that never miss a beat and taking in the enormity of the vast blue ocean can be ironically peaceful and satisfying.
Address: Olai St, Kapolei, HI 96707
Enjoy an Acai Bowl at Lanikai Juice
What better way to get an authentic taste of Hawaii than to try a delicious organic acai bowl? Lanikai Juice is one of the best spots in Kapolei to do just that. You can choose between bowls such as the acai extravaganza, acai monkey, and da classic.
Aside from acai bowls, the shop also includes juices and smoothies made from fresh fruits. With its competitive prices and authentic ingredients, it's impossible to beat the quality you'll find at Lanikai Juice.
View this post on Instagram
The shop is open from Monday-Friday, 8:00am-5:00pm, and Saturday-Sunday, 8:00am-6:00pm in Kapolei. It also has several other locations throughout Oahu.
Address: 711 Kamokila Blvd Suite 104, Kapolei, HI 96707
Play a Round at Ko Olina Golf Club
Ko Olina Golf Club is one of the top 75 resort courses in the US. It is a challenging 18-hole course that was built in 1990 by Ted Robinson.
This masterpiece offers many aesthetically-pleasing sites such as large landing areas, exceptional water features, and multi-tiered greens. Its moderate length makes it perfect for beginners.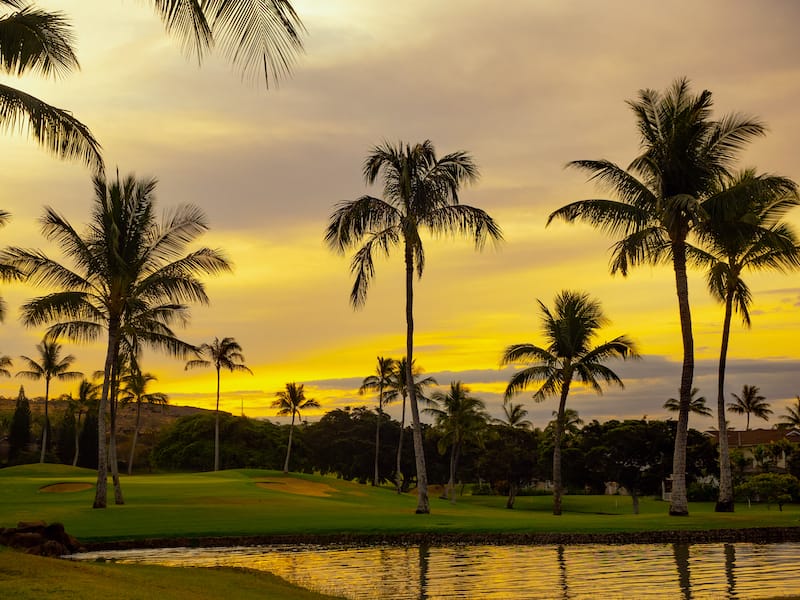 The golf club also offers free intra-resort shuttles for guests. Be sure to make reservations beforehand. Also, kids interested in golf are allowed to play for free from 3 pm daily.
Address: 92-1220 Ali'inui Dr, Kapolei, HI 96707
Rejuvenate at the Laniwai Spa
Located in Aulani Resort, Laniwai is a luxury, full-service spa with a salon and fitness center.
This is the best place to experience paradise as your senses are soothed and your mind, body, and spirit are rejuvenated. They offer world-class massages, revitalizing facials, and exclusive signature treatments.
Laniwai also has a unique outdoor hydrotherapy garden where visitors can experience ultimate relaxation and restoration through thermal therapies.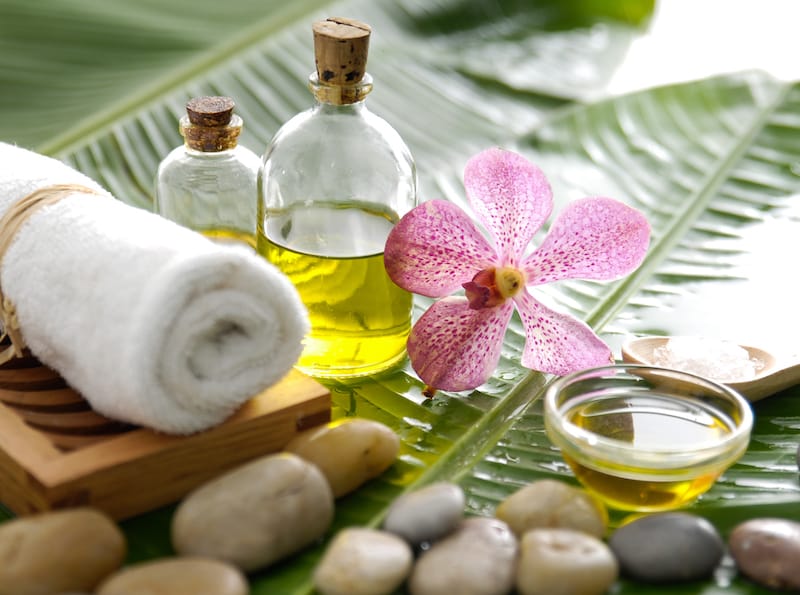 The spa caters to visitors who are 14 years and older. Also, you are required to make reservations beforehand.
Address: 92 Ali'inui Dr, Kapolei, HI 96707
Go Shopping Downtown
A visit to Kapolei will be incomplete without a day spent shopping on Main Street of old Downtown Kapolei.
Main Street features a collection of small business owners from the community who gather to sell a diverse array of goods and services. Downtown merchants are known to offer the best discounts across the island.
From cozy little barbershops to cute nail and hair salons and a kitchen supply store, downtown has it all. Your pets also won't be left out.
Pet stores are available to provide grooming, feeding, and entertainment for your pets. Dog walkers and trainers are also available.
See the Pacific Warbirds
Take a fully immersive flight tour through Hawaii on a historical Pearl Harbor Warbird. This is the only Warbird airplane tour on the entire island.
This tour will take you through the details of the infamous attack on Pearl Harbor as you soar above the key historical sites of the "Day of Infamy."
You will also get to fly the same routes that the Japanese attackers used to get to the airfields at Bellows, Wheeler, and Kane'ohe.
This experience is unforgettable, taking visitors back in time to one of the most tragic days in American history.
Address: Midway St, Kapolei, HI, 96707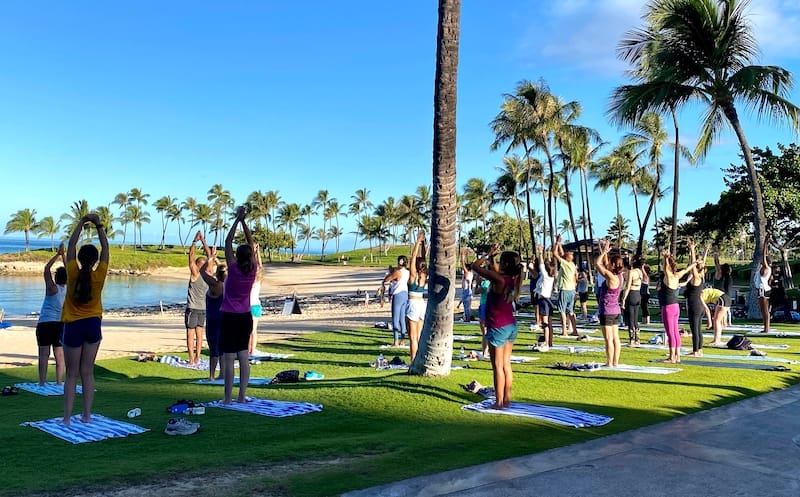 Where to Stay in Kapolei
If you're looking to stay in Kapolei throughout your trip, here are some highly-recommended hotels to check out.
Did we miss any of the best things to do in Kapolei? Let us know your favorite Kapolei attractions in the comments!
More Oahu Travel Guides
Pin this Kapolei Attractions Guide