There are many things that make Oahu famous but perhaps none are as iconic as the island's beaches. These are the most popular and the best beaches in Oahu.
Are you planning your Oahu visit last minute?
If you're traveling to Oahu last minute, you want to ensure you have your Oahu tours and lodging booked ahead of time! These are our top picks:
Best Oahu Tours:
Best Beach Hotels in Oahu:
Traveling to Oahu independently? Be sure to book your rental car ahead of time to ensure availability!
Hawaii is renowned for its beaches and all the exciting activities that come along with them – surfing, standup paddleboarding, and more. These Oahu beaches should be on every itinerary!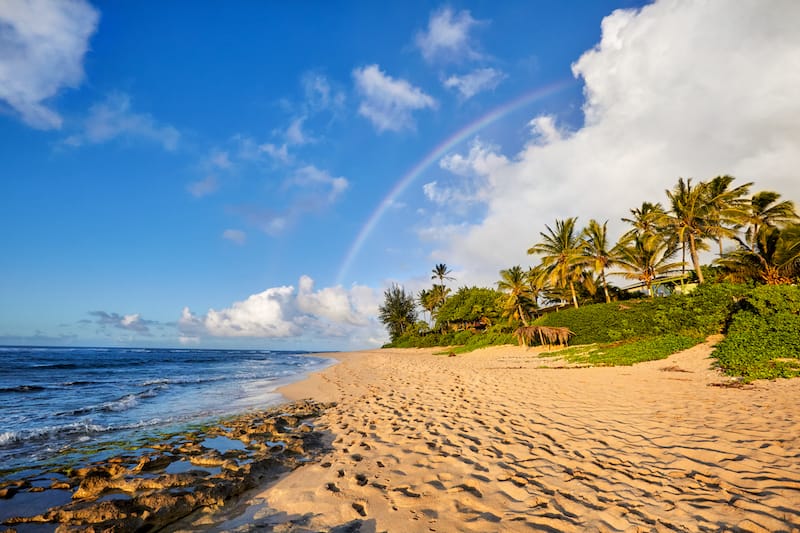 Did we miss any pretty beaches on Oahu? Let us know in the comments! Thanks!
Best Beaches in Oahu
Lanikai Beach
Rated the #1 beach on Oahu, Lanikai Beach is one of those postcard-type beaches- perfect for swimming, sunset and sunrise watching, sailing, windsurfing, and snorkeling.
Kayakers will have an exciting ride to the small deserted islands nearby. If you get a chance to visit those islands, you can witness wildlife at its best. The islands feature bird sanctuaries and so much more!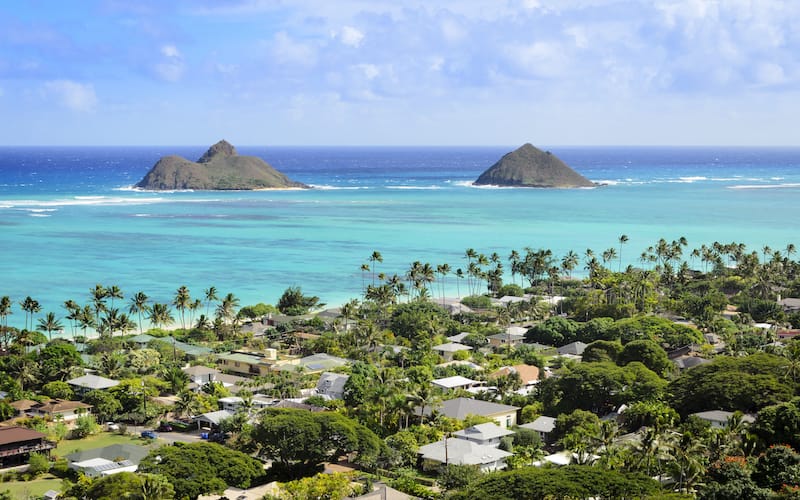 Even though this beach is isolated, getting to it is quite easy. The sand is white and has warm, beautiful waters.
For sunrise chasers keen to obtain amazing views of the golden sun, the best time to get there in the early morning (the Koolau Mountains hide the sun in the afternoon).
Lanikai Beach is a must for every Oahu itinerary!
Waikiki Beach
Waikiki Beach is easily one of the most iconic beaches in the world, and the Oahu beach has become an epicenter for Hawaii tourism throughout the years.
You have a few miles of dazzling, fluffy white-sand beaches with bright blue sea bordered by tall palm trees. The waves there are mild since many portions of the beach are roped off for swimming. Also, they're protected with jetties.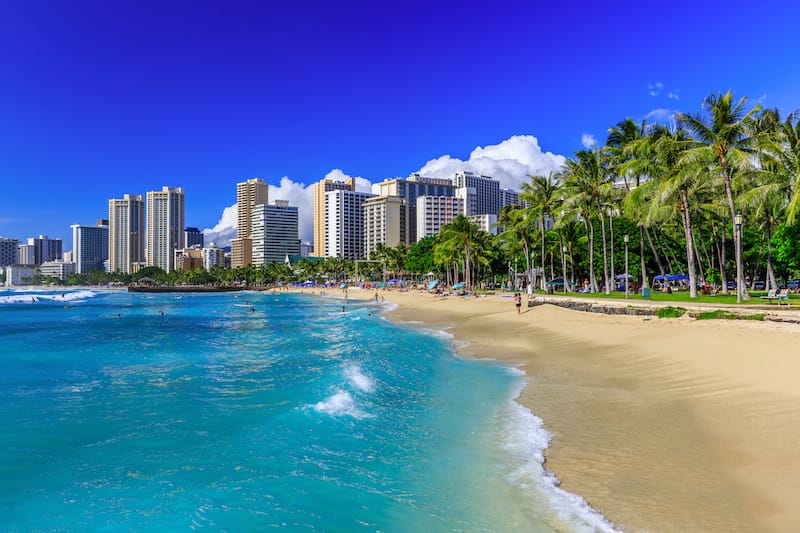 Fort DeRussy Beach (fronts the Royal Hawaiian Hotel), Kuhio Beach, and Queen Surf Beach are among the beaches that make up Waikiki as a whole. Swimming, surfing, boogie boarding, catamaran, and outrigger canoe trips are all popular activities in the area.
A disadvantage of Waikiki is the incessant crowds. Expect to see a very large number of people hanging out along the beach almost every day. But, you can escape them a bit to check out the sunset!
Anyway, if you're more or less okay with that, head down there so you can claim you have been to one of the world's most famous beaches!
Sunset Beach
A beach that varies dramatically when the seasons change? Sunset Beach is it!
This two-mile-long, surfer's beach is located on the North Shore. It boasts truly massive waves in the winter, making it extremely risky for all but the greatest swimmers and professional surfers.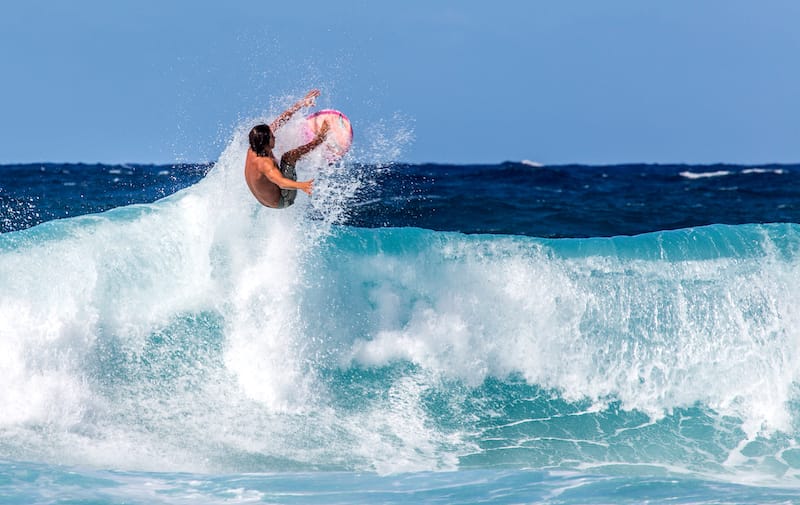 On the other hand, it's amazingly peaceful and mild in the summer, making it ideal for swimming and snorkeling. It has magnificently clean water and white sand beaches that stretch 200-300 feet wide.
When there are no surfing events, parking is pretty easy to get. If you love spotting celebrities by accident, then Sunset Beach is the place you should opt for when visiting Oahu.
Malaekahana Beach
Malaekahana Beach is one of a few unique ones in Oahu that is usually not overcrowded and free spots can be found very easily.
It's a mile-long beach with white sand that is located in Malaekahana Bay on Oahu's northwestern shore, between Kahuku and La'ie. Activities offered there are volleyball, relaxing in the sun, and hiking.
The main feature of the beach is definitely the excellent swimming opportunities (it is good for most levels of swimmers…usually).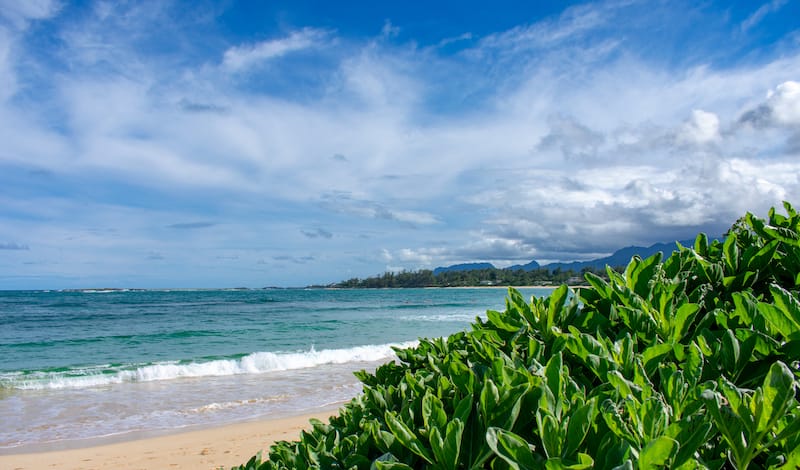 Keep in mind to wear reef shoes in the water as the nearshore waters and seabed can be rough. If you're looking for a romantic getaway, a great choice would be to rent out cabins on Malaekahana's northern left end.
During the winter season, use caution when entering the water as there are strong currents there, and no lifeguards are on duty.
Kahana Bay Beach Park
If you're not into swimming and just looking for a peaceful place to sit on the sand and relax, then Kahana Bay Beach Park should most definitely be one of your top choices!
This beach is famous for its salt and pepper sand, Kamani trees, and jagged cliffs. The beach at the south end is very vacant and spacious, but the beach at the north end, near the jetty, is a favorite island camping spot.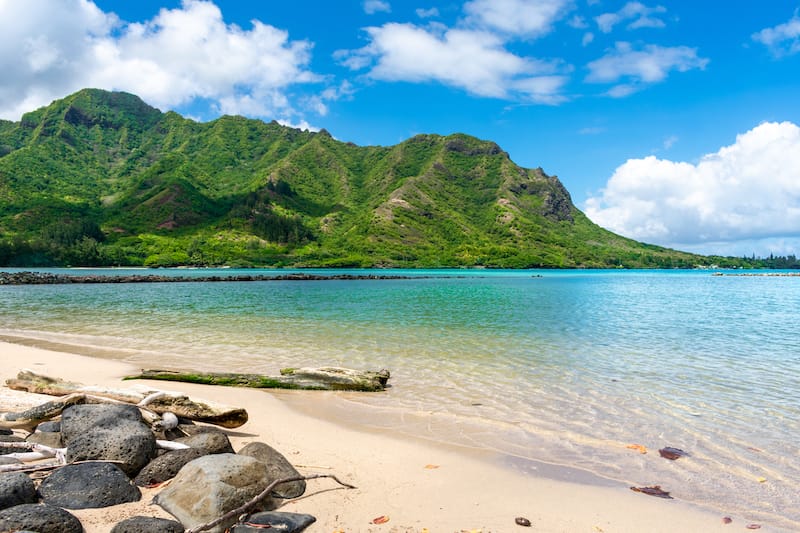 Because of the runoff from the Kahana Stream, the water isn't particularly clean, but it's ideal for kayaking. Fishing and kayaking are two of the most popular water activities there.
There are also various hiking paths, as well as camping and picnic facilities in the area. On the beach, there are no bathrooms or showers, and there are no lifeguards on duty.
Kailua Beach
Another great match of crystal clear water and powder-like sand is Kailua Beach. Only a mile from Lanikai Beach, this beach is often regarded as one of America's top beaches.
Unlike Lanikai Beach on Oahu, this beach features restrooms, beach showers, and picnic tables on the park grounds. The beach is located within a 35-acre park that offers a variety of outdoor sports and recreation opportunities.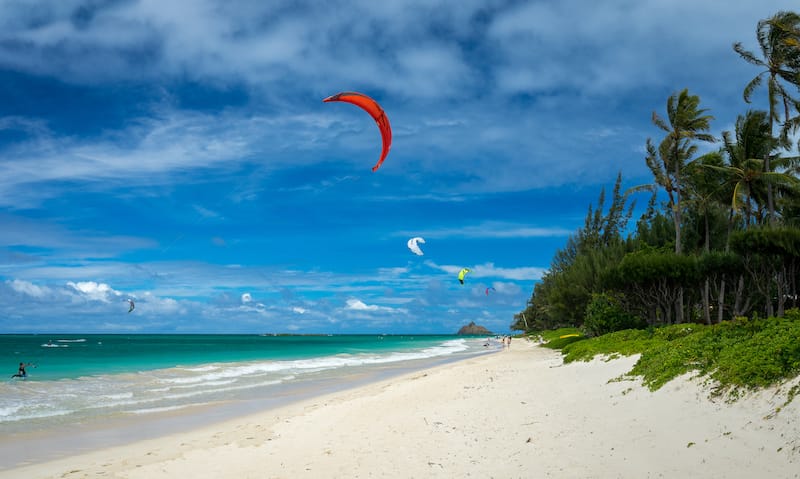 There are numerous restaurants and shops in Kailua, including Island Snow, where President Barack Obama gets his Hawaiian shaved ice!
If you want to feel a little Hawaiian spirit, head to downtown Kailua, which takes only about five minutes from the beach.
This allows you to stock up on Hawaiian plate lunches, snacks, and beverages before getting to the beach for a day of fun in the sun.
Waimea Bay
Waimea Bay is considered to be the best beach for swimming on Oahu during the summer months.
Throughout the warm season, the waves are gentle, making them perfect not only for swimming but also for snorkeling and paddleboarding.
Summer is indeed a popular time for both tourists and local families and it is definitely one of the most beautiful beaches on Oahu.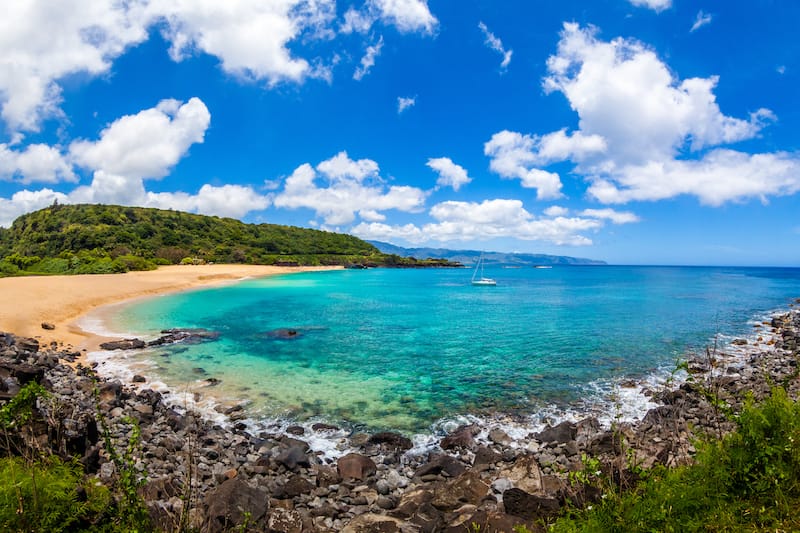 It must be noted that during the wintertime, the beach can experience waves as high as 20 to 30 feet, which are among the world's highest. The 'Eddie Aikau Surf Competition' is held at Waimea Bay only when the waves are really large.
When there, you can stop by one of the many food trucks that line Kamehameha Highway near all of the main surf spots. It's the perfect chance to have a bite to eat with the locals.
Diamond Head Beach Park
Diamond Head Crater and beach is located within walking distance from Kapiolani Park. Despite the fact that the beach is not suitable for swimming due to the jagged and rocky reef near the shore, it's a surfer's paradise.
Diamond Head Beach Park is full of beautiful, steep rugged cliffs and the waters have an abundance of diverse, colorful fish.
The views there are also picturesque and the great thing is that the beach tends to be less crowded than Waikiki Beach.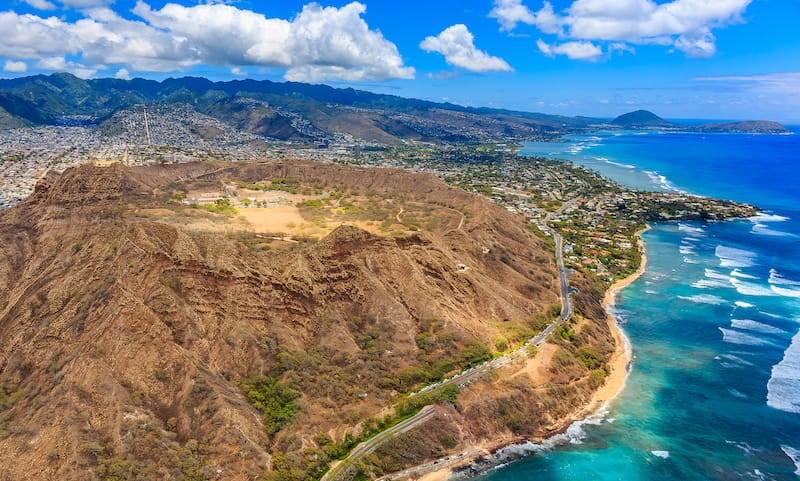 An amazing activity at Diamond Head is hiking the famous Diamond Head Trail. It's one of the most rewarding hikes on Oahu, with incredible 360-degree views from the top.
Although it might appear to be a hard hike, the 760-foot top can be reached in approximately 40 to 60 minutes.
Sandy Beach
Sandy Beach is known for its large waves that crash right near the shore, great for surfing or boogie boarding. It's not entirely isolated, but it does attract fewer guests than most other beaches on Oahu.
The beach is located about 10 minutes past Hanauma Bay and about 40 minutes from Waikiki. It's a 1,200-foot length of golden sand on Oahu's southeast coast.
The area has modest facilities (showers and bathrooms) and food trucks are an easy find at Sandy Beach.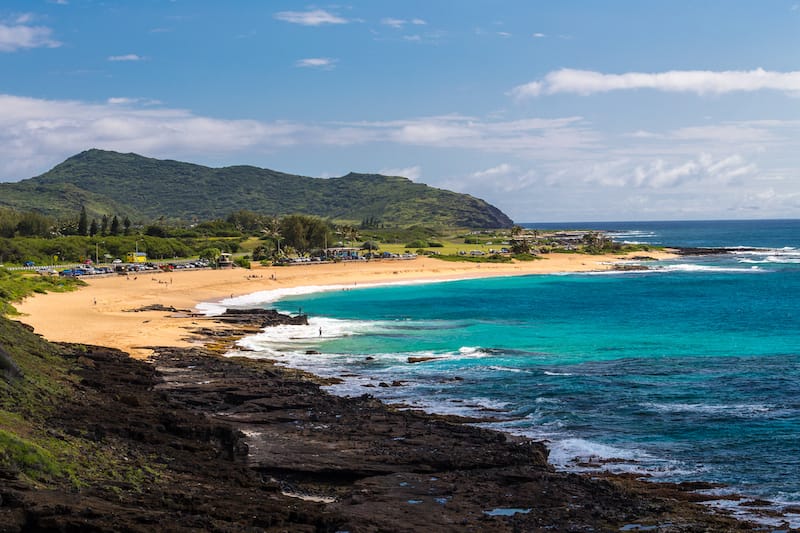 This is a huge surf site with year-round strong waves, which unfortunately makes this beach not a good fit for novice swimmers. It's loved by bodysurfers and bodyboarders as the waves break very close to the shore.
If you're not a surfer, you can definitely opt to sit on the beach and admire them from afar!
Nanakuli Beach Park
One of the best places for diving in Oahu is Nanakuli Beach Park. Nānākuli Beach, which stretches for over 500 feet between two limestone cliffs, is a stunning stretch of shoreline. Kalanianaole Beach is another name for the Oahu beach.
Throughout most of the year, the ocean is tranquil due to protecting coral and some winter days offer spectacular surf for those heading to Nanakuli to do so.
Overall, this coastline is also a great place to go snorkeling, fishing, bodyboarding, and swimming. It's convenient for family, friends, and even for romantic getaways.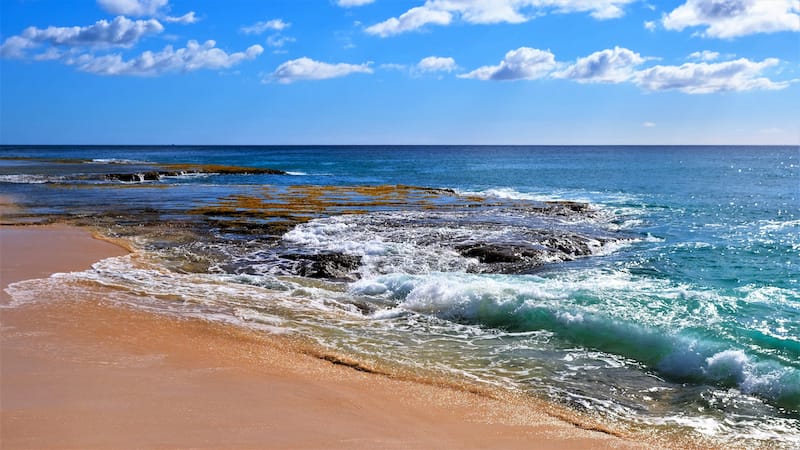 Note that even though the waters there seem tranquil, the current can be very strong. If you're not a strong swimmer, stick to the southern end of the beach where conditions are milder.
Makaha Beach Park
This beautiful Oahu beach welcomes a comparably lower number of tourists and tends to be more popular with locals. Still, Makaha Beach Park has the title of being the most popular beach on the west coast (besides Ko Olina).
It's one of those perfect places where you can have a little picnic and relax in the sun while admiring the humbling ocean.
Things you can entertain yourself with include scuba diving to explore the reefs, snorkeling to discover the rich marine life, bodyboarding, surfing, etc.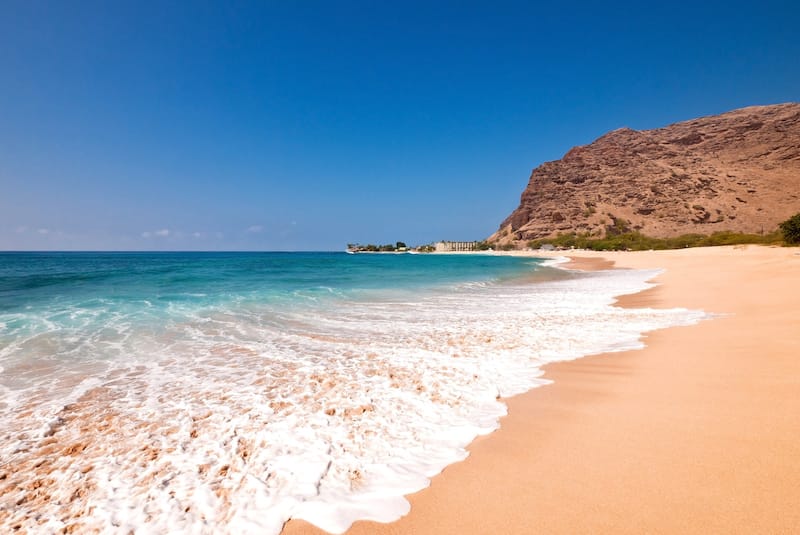 For swimming, venture to the middle part of Mākaha Beach as it's the best place to go swimming. The northern area of the beach has stronger waves and currents, which is preferable for surfers.
Note that there is no lifeguard on duty. There are restrooms, showers, and a few picnic tables available.
Ala Moana Beach Park
Ala Moana Beach Park is the place where you can find everything for everyone. Located just across the street from Ala Moana Mall, Ala Moana has acres of leafy trees, picnic tables, and a large stretch of grass to play on.
The area also has tennis courts, a yacht club, three concession stands, and to top all of that – a half-mile strip of white sand.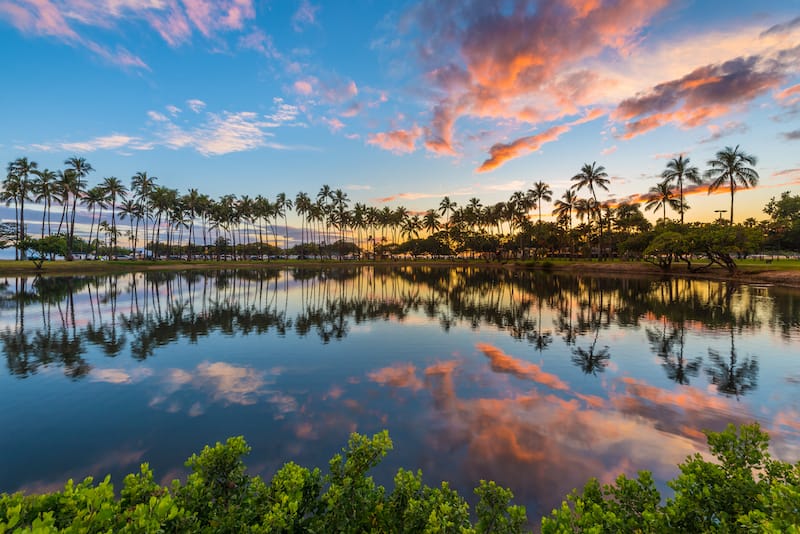 The south town-side surf locations in Ala Moana are well-known. You'll have to put in some effort to get to the waves, which requires a paddle to the reef.
Pokai Bay
Pokai Bay is known to be the safest beach if you're traveling with kids. This beach on Oahu is renowned for its tranquil seas and mild waves. The water is shallow and has a sandy bottom, making it the ideal family beach and one for rookie swimmers.
You can enjoy activities such as swimming, building sand sculptures with your children, or visiting a historic Hawaiian temple nearby.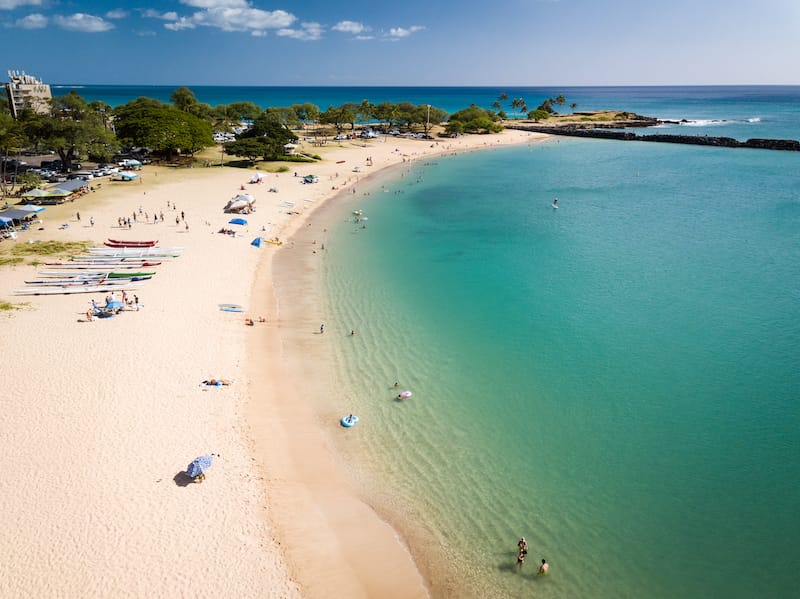 It's worth mentioning that Pokai Bay Beach, which spans 15 acres, is the most protected coastline on the western coast of Oahu. The reason for that is an offshore breakwater that keeps it safe from strong currents and big waves.
Bellows Field Beach Park
This popular east side park has wonderful swimming opportunities and a great sunbathing beach, both protected by an offshore reef.
Beginner surfers and bodyboarders who visit this place take advantage of the shallow water and continuous shore break.
Bellows Field Beach Park is quite popular among bodysurfers and bodyboarders. The breaks are usually fairly small and are not similar to Sandy Beach.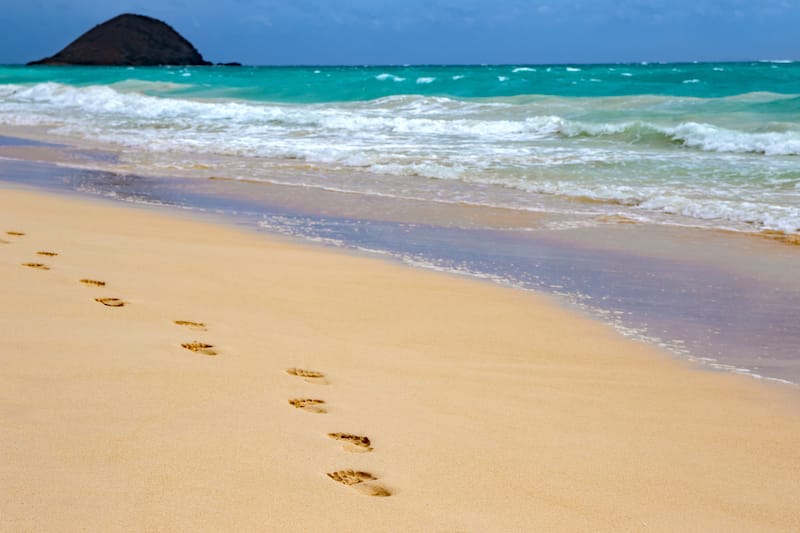 The park's east end is protected by an outer reef and is popular with swimmers. Be mindful that trade winds push jellyfish towards the shore, which can cause very painful stings! Swimmers must take this into account when going into the water.
Still, it's an excellent beach for taking a stroll and enjoying the scenery, which is truly unique and unusual.
Amenities of the beach include restrooms, showers, and picnic areas. It is open to the public on weekends and national holidays.
Camping is a popular thing to do at Bellows Field. Check out their website for more information.
Did we miss any of the best beaches in Oahu on this guide? Please let us know your favorite Oahu beaches in the comments! Thanks!
More Oahu Travel Guides
Pin this Oahu Beaches Guide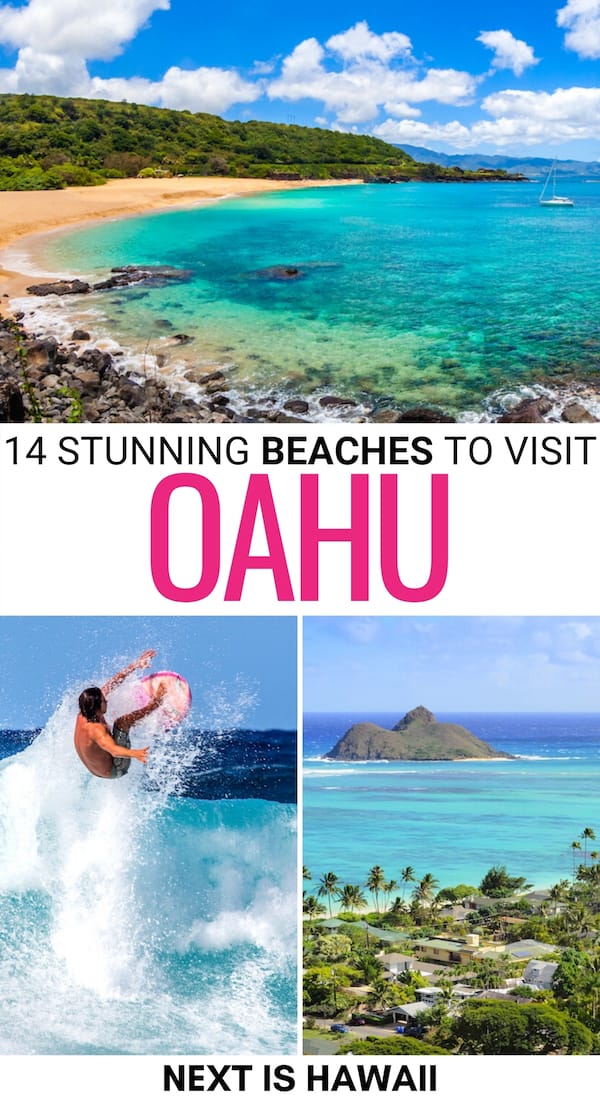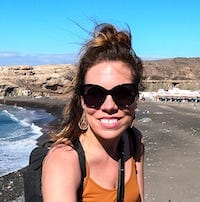 Megan is a travel blogger and writer with a background in digital marketing. Originally from Richmond, VA, she has been traveling frequently to Hawaii for the last 15 years and loves exploring every corner of each Hawaiian island, while trying to promote sustainable travel and small, local businesses along the way. Megan has written for or been featured by National Geographic, Forbes, Lonely Planet, the New York Times, and more. She has co-authored a guidebook with Fodor's Travel and has visited 45 US states and 100+ countries.