On my last trip to Oahu, I knew that there was one experience I had to finally do there and that is kayaking to the Mokes. This guide discusses everything to know before you go kayaking in Kailua!
Are you planning your trip to Kailua last minute?
Below are some of the top tours near or in Kailua, some hotels, and more!
Top Experiences and Tours in/near Kailua:
Top Hotels in Kailua (and the Windward Coast):
Traveling to Oahu independently? Be sure to book your rental car ahead of time to ensure availability!
I had kayaking to the Mokulua Islands on my bucket list for years and never had a chance to do it when in Oahu. I was so determined to make it happen on my trip this year.
This guide will discuss everything you need to know before you kayak to the Mokes, including how to book, what to bring, and expectations for the trip.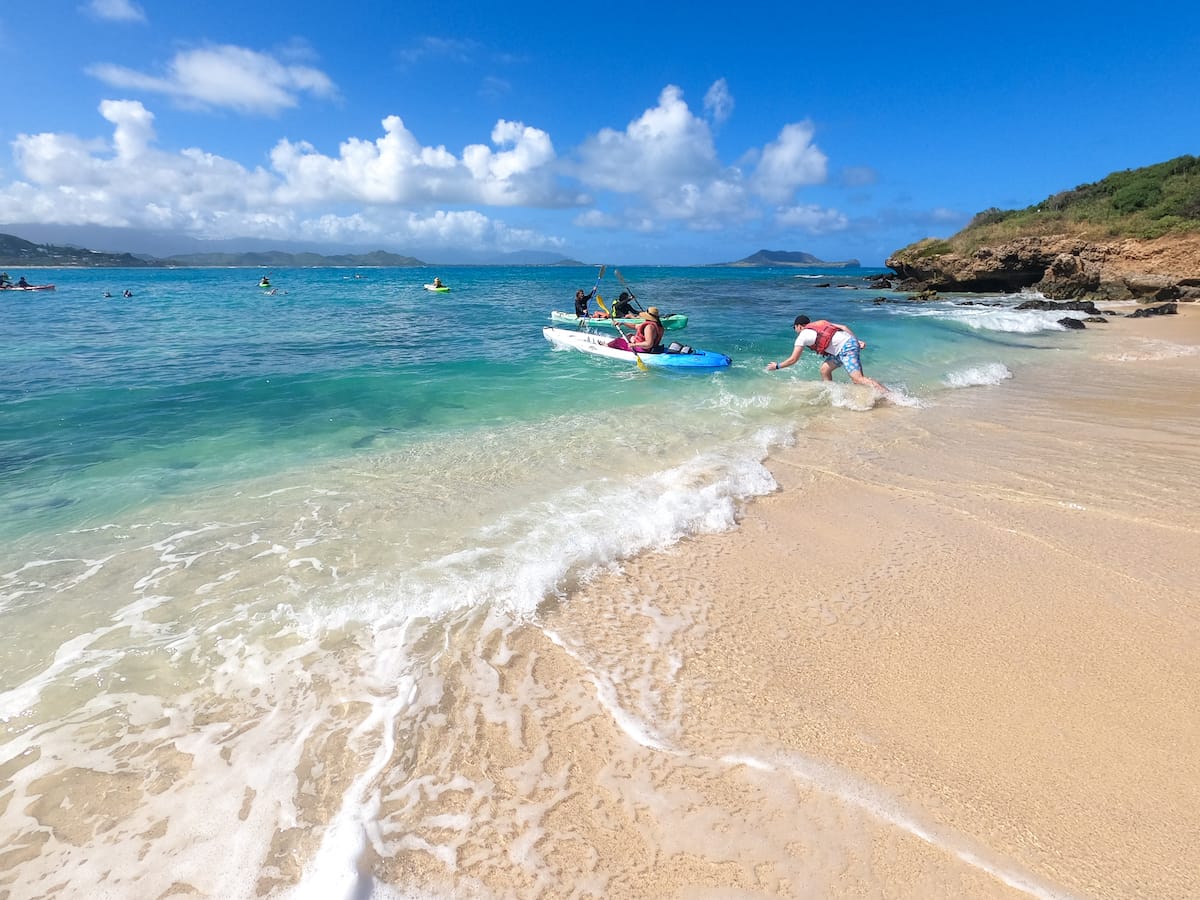 We also discuss how exactly to do the trip and whether it is best to go by tour (like I did) or independently.
Did we miss anything you'd like to know about a Mokes kayaking tour? Let us know your thoughts and questions in the comments. Thanks!
What are the Mokes (Mokulua Islands)?
The Mokes are actually called Nā Mokulua in Hawaiian, meaning 'the two islands'. They are located not too far from Honolulu in a beautiful beachside community called Kailua.
These famous islands are located nearly side by side and can be seen off the coast of Lanikai beach, an Oahu beach that consistently ranks as one of the world's best!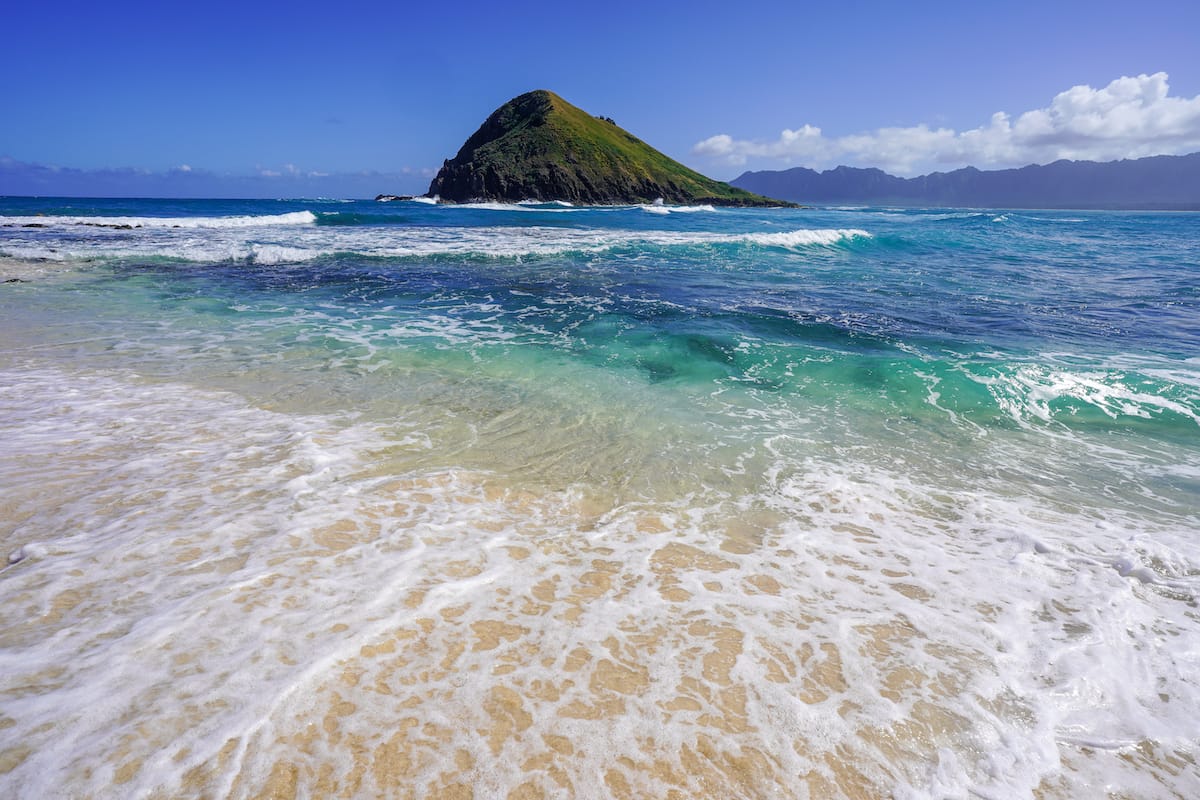 They are 0.75 miles off the coast of Lanikai and around 2-2.5 miles off the coast of the launch in Kailua.
Individually, the islands are known as Moku Nui and Moku Iki. Moku Nui is the larger of the two and the only one you will be allowed to visit if you have a permit to do so.
BOOK HERE: Guided kayaking trip to the Mokes
Both islands are considered seabird sanctuaries by the state of Hawaii (and no dogs or pets are allowed to make the trip to Moku Nui with you!).
The islets were formed anywhere from 2.7-3.9 million years ago and are part of the summit caldera of a shield volcano called Ko'olau and ended up in the ocean after a series of large-scale landslides.
They sit about 200 feet above sea level and are a nesting site for wedge-tailed shearwaters ('Ua'u kani) and Bulwer's Petrel.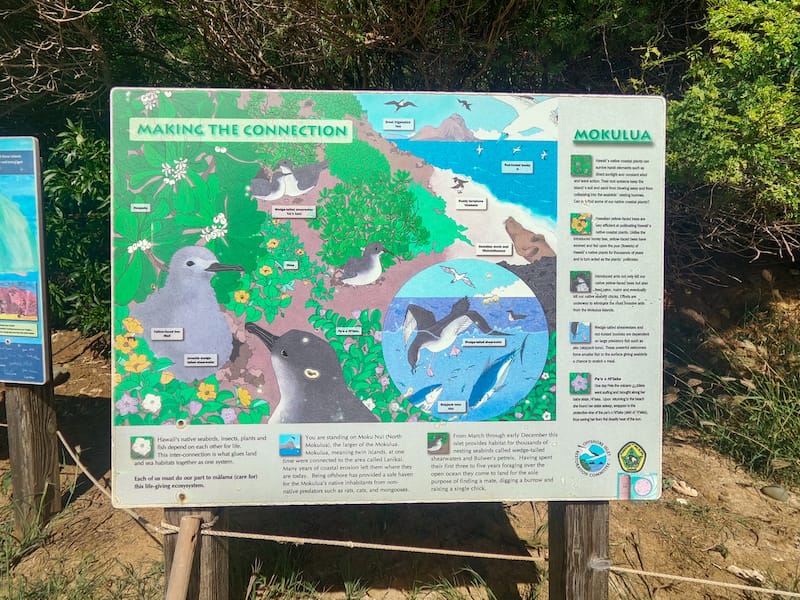 Because the island is a seabird nesting habitat, you are not permitted to walk anywhere on the island except the clearly marked paths.
How to Get to the Mokes
There are not many ways to reach the Mokes and I saw some people heading out there with standup paddleboards and others with kayaks.
Since I only did the kayaking tour to the Mokes, I recommend that! It is also one of the most famous places for kayaking in Hawaii!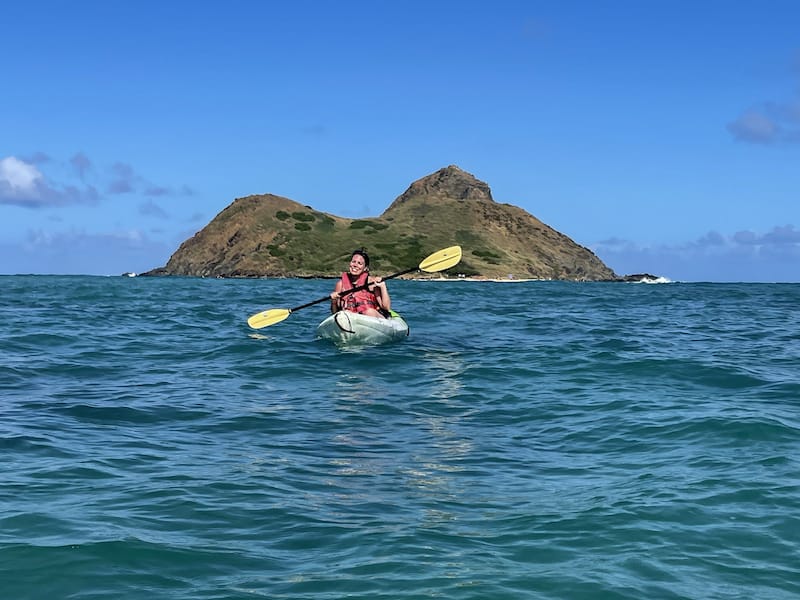 However, there are two options for visiting the Mokes by kayak: independently or with a tour. I went with a tour and I am extremely glad I did (for reasons mentioned below).
You can continue reading to check out which option is best for you.
Kayak to the Mokes on a Guided Tour
Guided/Self-Guided: guided
Duration: 5 hours
Physical Ability: moderate
Season: year-round (can be cancelled due to bad weather)
Meeting Point: 130 Kailua Rd. in Kailua
BOOK HERE
While you can kayak to the Mokes on a self-guided tour, I highly recommend this guided one if you're not an expert (or skilled) kayaker. This is a 5-hour tour!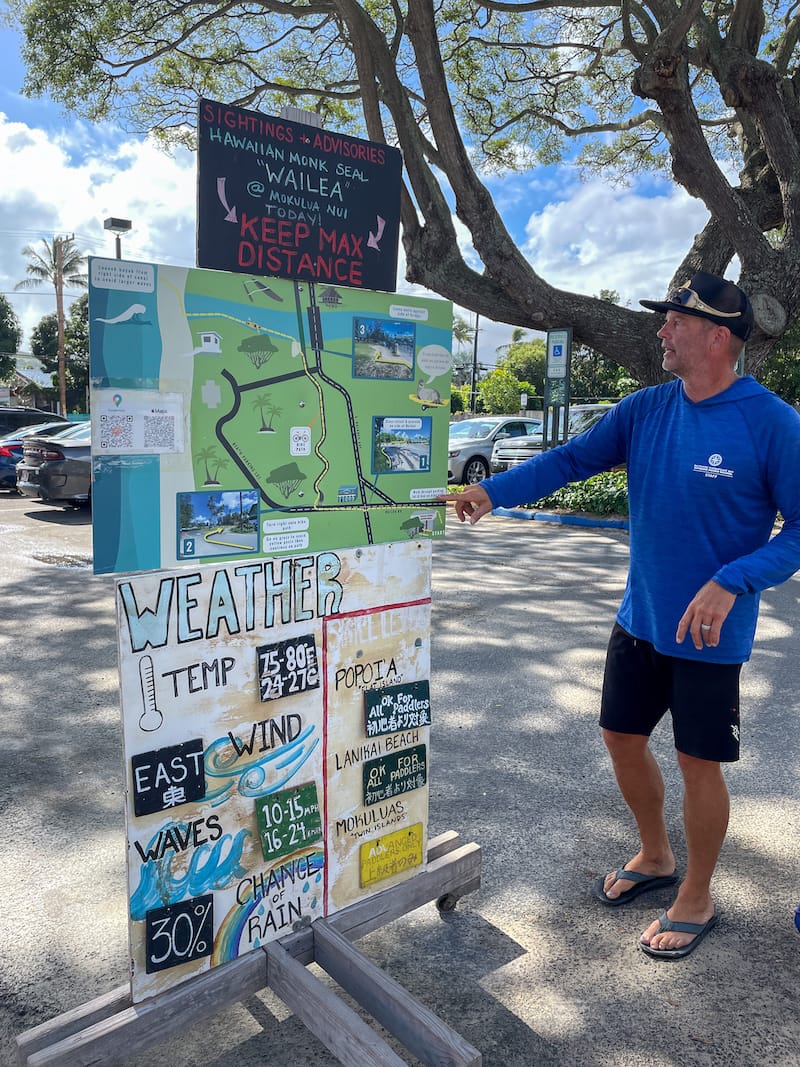 I have kayaked several times but I by no means am an expert. But, I do believe that if you're not super familiar with a route or sea kayaking in general, it is a safer bet to go with an expert guide!
My guided tour took me to the Mokes with Kailua Beach Adventures. The office is located at 130 Kailua Road.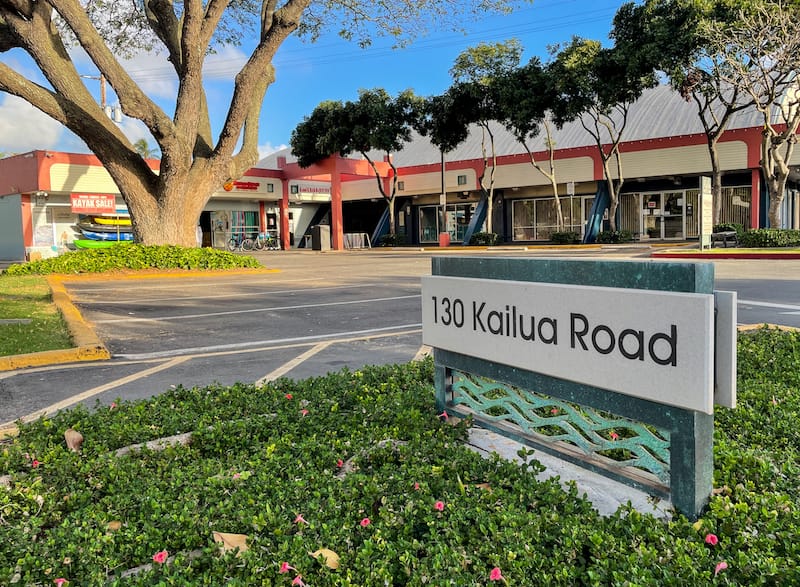 The cost of the tour covered my permit, a packed lunch and drinks, all the equipment (including the kayaks and a dry bag to borrow for the day), and the guide.
My tour was small and only had 7 of us (not including the guide) but they can have up to 16 people.
Most everyone will be in a 2-person kayak unless you are traveling solo and are comfortable kayaking alone. I went in my own kayak.
BOOK HERE: Guided kayak trip to the Mokes
They have a store on-site where you can purchase a bathing suit, water shoes, UV shirts, etc. You'll receive a quick safety briefing and head on your way.
You will, however, need to take your kayak to the launch at Kailua Beach Park. This is a little bit challenging if you're alone and not overly strong, but I had some really helpful people in my crew who assisted!
The walk to the launch took about 10 minutes (more details below).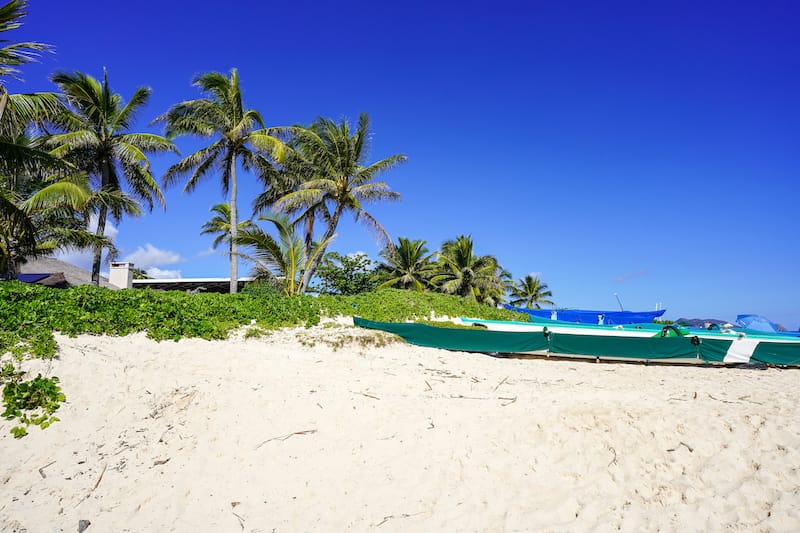 The kayaking out to the Mokes took around 1 hour as we stopped a bit and took photos. We had super calm seas (thank goodness!) and it was an easy trip. However, landing on Moku Nui can be a bit of a challenge.
The guide will help bring you in and you will need to allow the water to push you a bit. Our guide told us the area in between the two islands does something similar to a pinball machine effect and you have to hit it at the right time in order to end up on-shore.
You can read a bit more about what to do on Moku Nui below.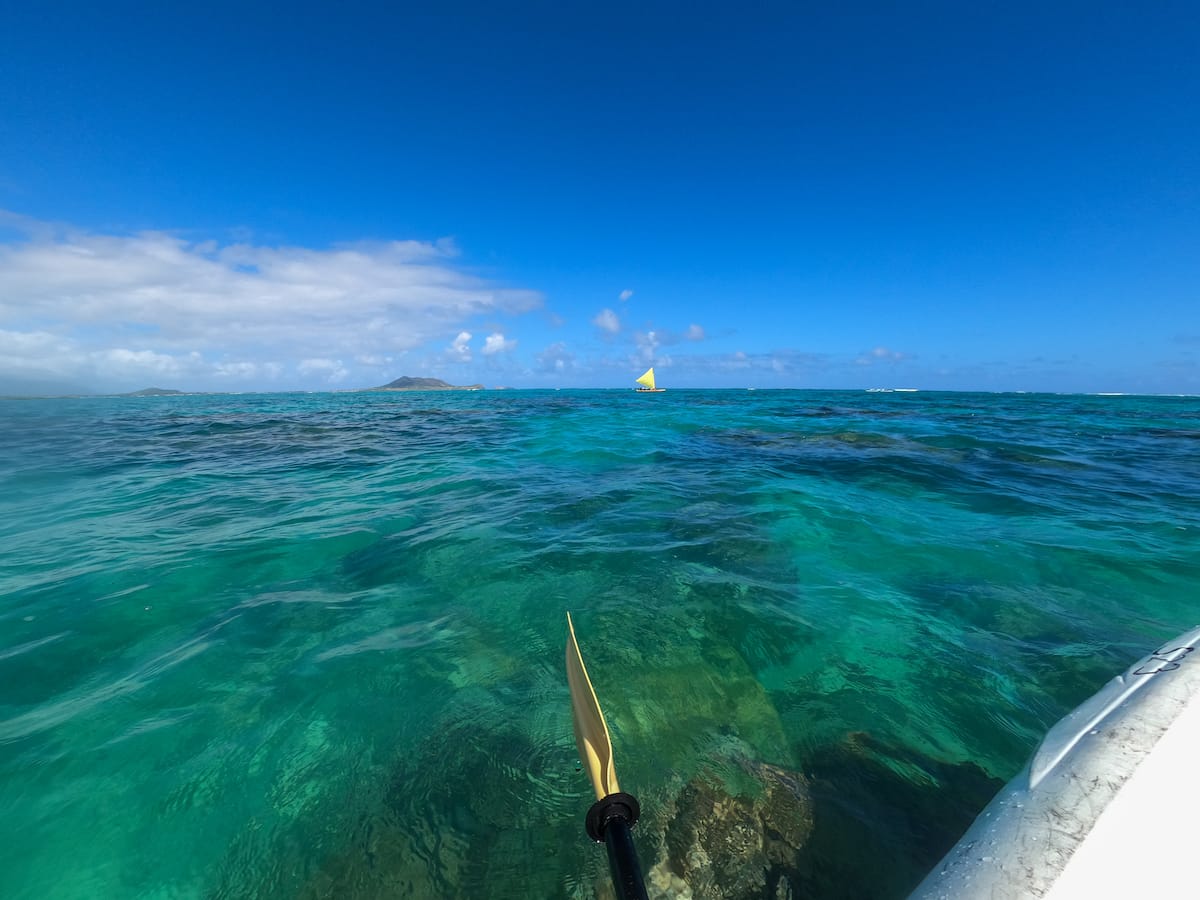 I found the way back far more challenging than the way there. The reason? I got burnt badly.
I had put sunscreen on before the trip but never reapplied and we were on Moku Nui for about 2 hours and I had no shade and didn't realize it until we were about to head back out on the water. It also didn't help that the 'pinball' area was at the start this time (and not the end)!
Once we got launched, I actually got a bit seasick from the heat and dehydration.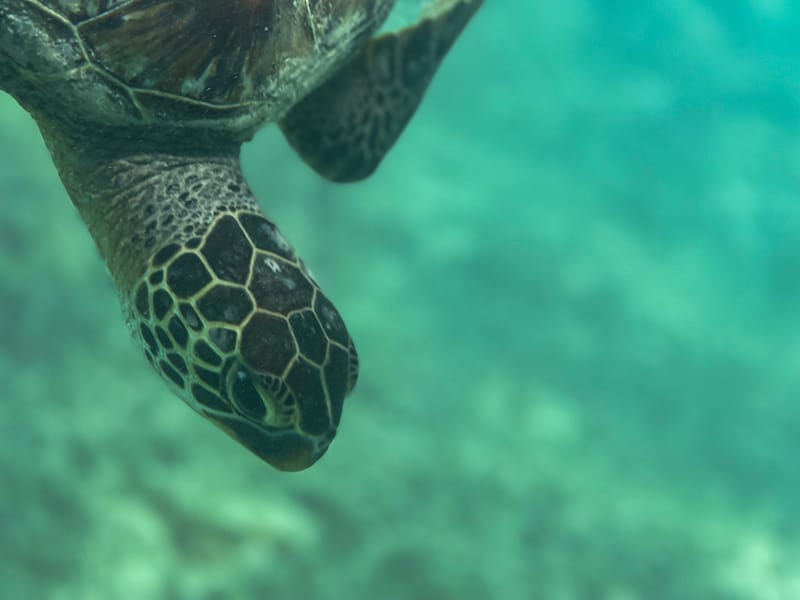 While I was pretty much fine, I was so happy to have our kayaking instructor nearby in case I needed to get roped onto his kayak in case I couldn't make the rest of the journey by myself. He did have a Sprite ready for anyone feeling a bit seasick and he tossed it into my kayak for me!
Independently with a Kayak Rental
Guided/Self-Guided: Self-guided
Duration: 5 hours
Physical Ability: moderate
Season: year-round (can be cancelled due to bad weather)
Meeting Point: 130 Kailua Rd. in Kailua
BOOK HERE
If you're skilled at kayaking (particularly sea kayaking which is very different) and want to go kayaking to the Mokes without a guide, you can easily do so with Kailua Beach Adventures.
The company offers daily rentals that include a dry bag, all gear, a packed lunch, your Moku Nui permit, and some instruction about getting out there.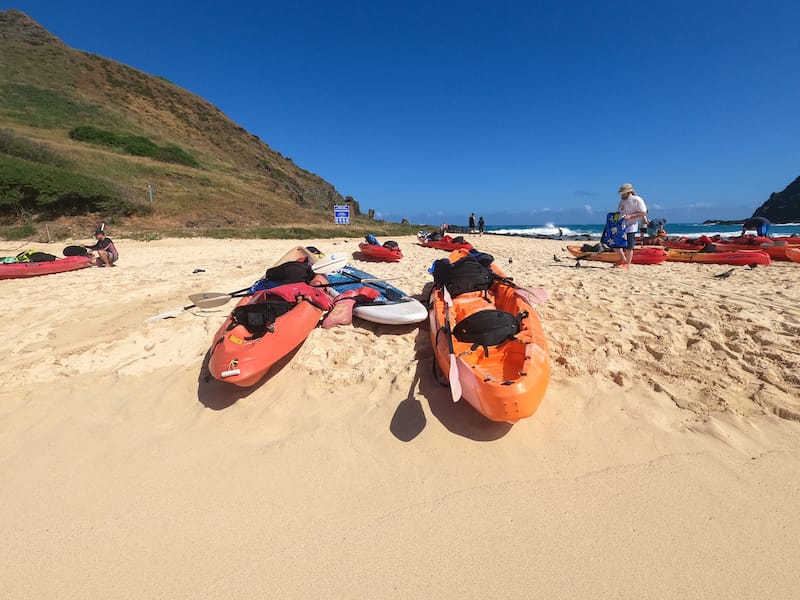 We saw many people on the water doing this independently!
The kayak rental is $100 cheaper (give or take) and a great option for those who feel comfortable visiting the Mokes alone!
Book your self-guided Mokes tour!
Kailua Kayak Rental (Does Not Visit the Mokes)
Guided/Self-Guided: guided
Duration: 2 hours
Physical Ability: beginner
Season: year-round (can be canceled due to bad weather)
Meeting Point: 130 Kailua Rd. in Kailua
BOOK HERE
If you are just looking to kayak around Kailua Bay and see the majestic Ko'olau Mountains as the backdrop without landing on the Mokes, you can easily do so!
This 2-hour guided kayaking tour takes you around some of the best locations and offers lunch and some light snacks (as well as boogie boards and snorkel gear for after the trip).
This is a great option for novice kayakers or those not super confident with sea kayaking.
How Long Does it Take to Kayak to the Mokes?
The Mokes are about 0.75 miles from Lanikai Beach BUT, you will launch in Kailua and the trip is around 2-2.5 miles out that way. Factoring in the return trip, you're looking at about 5 miles of kayaking.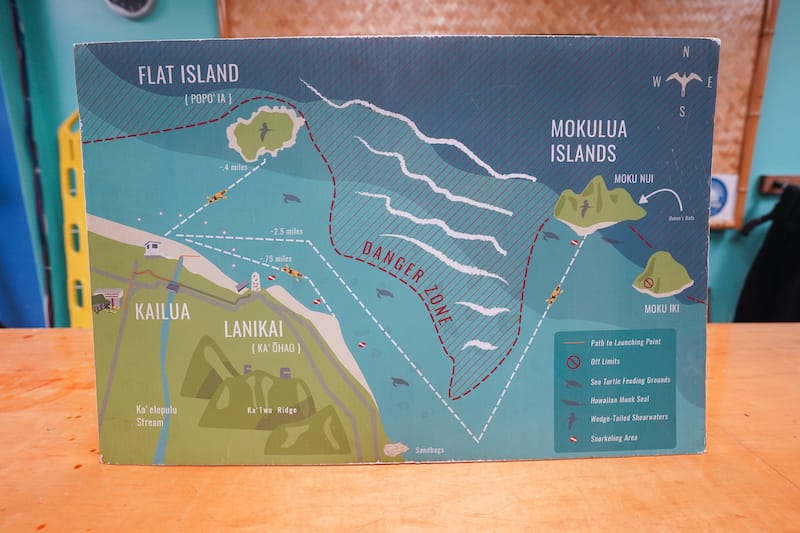 The guided tour that I took was about 5 or so hours in total. It took a short amount of time for the briefing, about 15 minutes or so to the launch, and then about 45 minutes to an hour to reach the Mokes.
BOOK HERE: Kailua kayaking trip to the Mokes
We had around 2 hours on the island before coming back.
If you experience rougher waters, the journey can take a lot longer! But, if the weather is too bad, they will cancel (and refund) or rebook your tour.
Launch Point
The kayak launch area is at Kailua Beach Park behind the famous Kalapawai Market. However, you will need to follow a path across a parking lot and go over a small bridge before getting there.
Once there, you will find a guide who will help you with the launch. It was all very easy and well-organized!
What to Do on Moku Nui
While there is not an overabundance of things to do on Moku Nui, you will still keep plenty occupied for the two hours that you will spend there!
When we arrived, we ventured over to the Queen's Bath with our guide. This shallow saltwater pool is around 8-foot deep and was once used by the royalty of Hawaii as it was thought to have spiritual healing powers.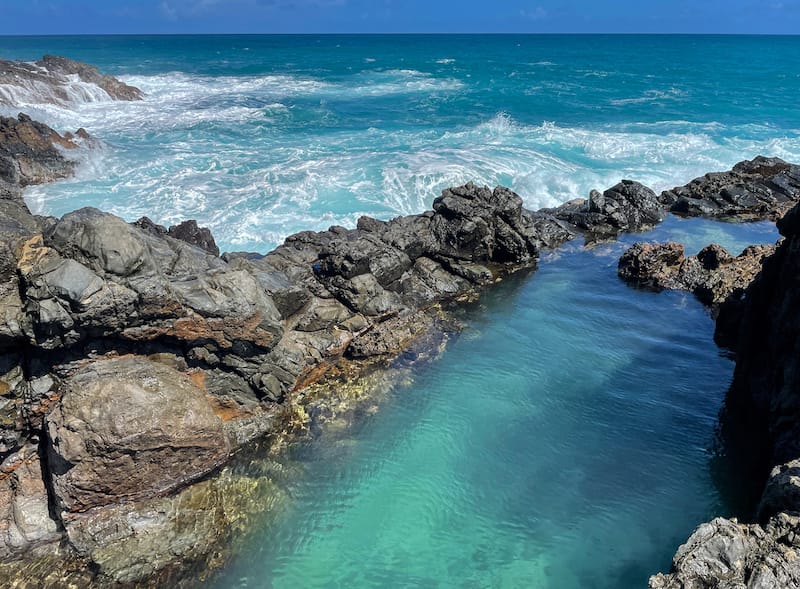 You will be able to jump in and take some photos and hang out around the area for a bit before heading back to the beach.
You can also do a little wildlife spotting from Moku Nui. As previously mentioned, the island is a seabird sanctuary and you will see plenty of birds hanging out in the area (leave your drones at home, please).
In the water, I saw turtles and many people saw them when snorkeling in the shallow waters around Moku Nui.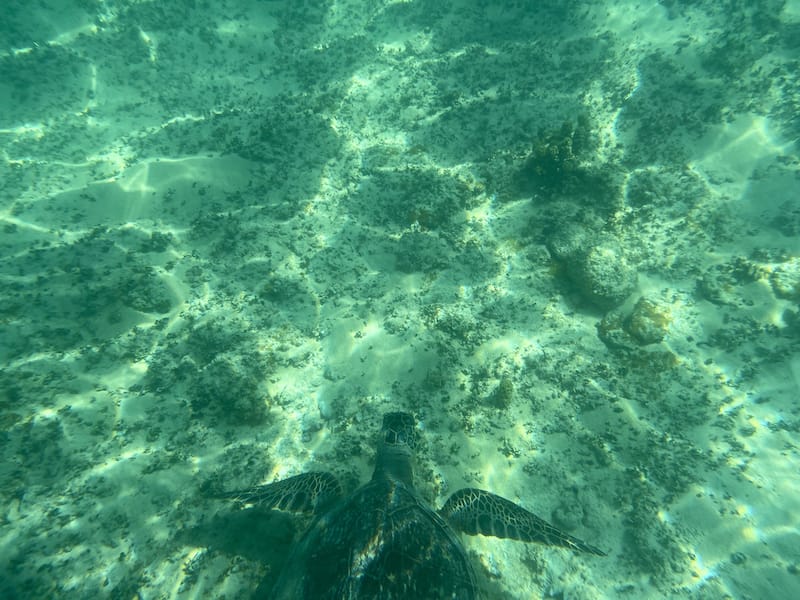 Another thing people frequently see out on the islet is monk seals. The guide told us that there was a specific female monk seal that is often spotted there! She didn't show up the day that we went, unfortunately.
If you do see a monk seal, you must stay quite far away from it and a local will call up authorities to rope the area off to give protection to this endangered species.
You can also see humpback whales in the winter months out at sea.
We also had a light lunch out on Moku Nui. It was a turkey sandwich and drinks… so if you are a vegan or vegetarian, be sure to request something in advance and they will accommodate.
Should You Kayak to the Mokes with Kailua Beach Adventures?
If you're in okay shape, I 100% think this is a tour you'd like! I am in moderate shape (at best) and I faired pretty well on the tour until I got burnt.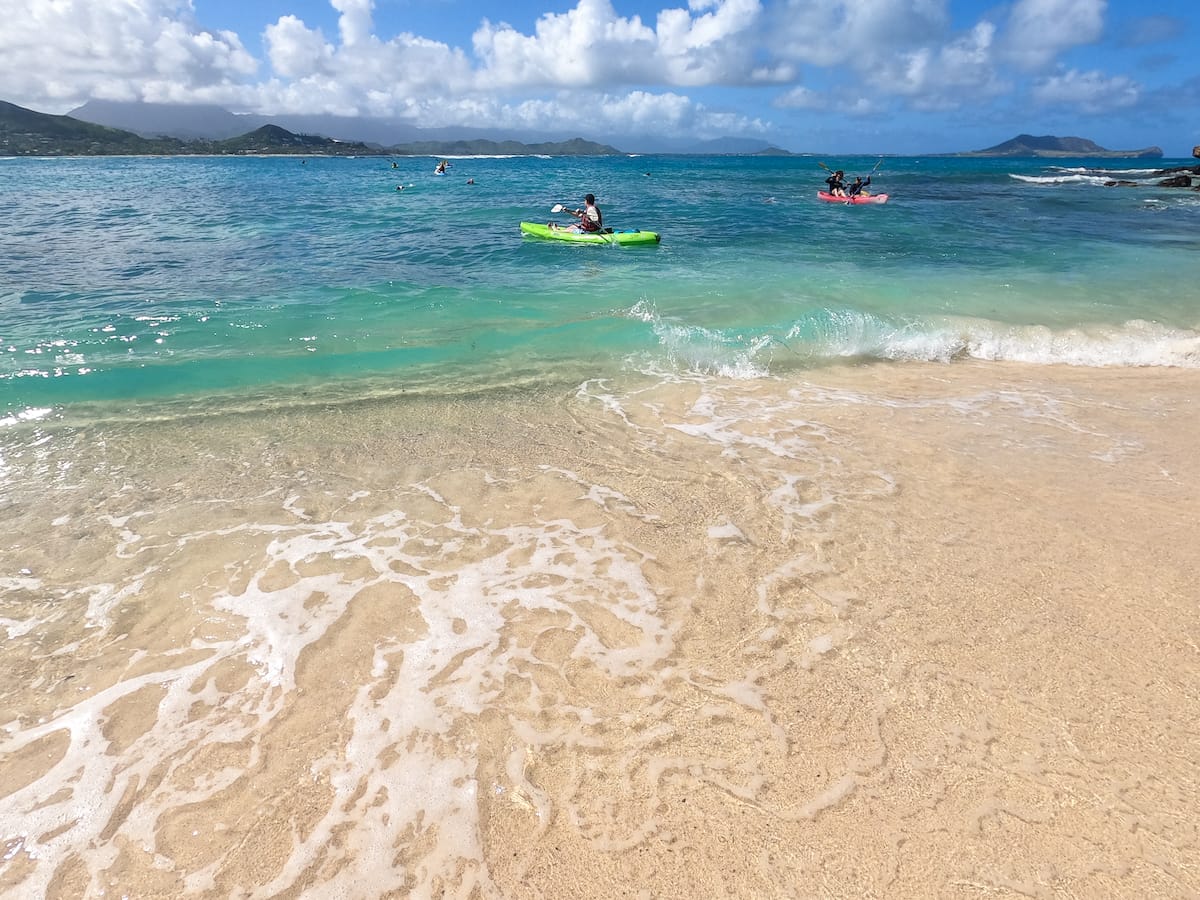 But, this was seriously one of the best tours and experiences I have had in my life. The day was just epic and I can't rave about it enough!
Kayaking to the Mokes FAQ
Can you Visit Moku Iki? No, you can not visit the small island in the Mokes. You can only visit Moku Nui.
Is kayaking to the Mokes hard? I think if you're on a guided tour, you can be in just 'okay' shape and make the journey successfully.
I am in the worst shape of my life, but am still quite athletic in general, and I had no issue with it. But, I did succumb a bit to dehydration and the heat.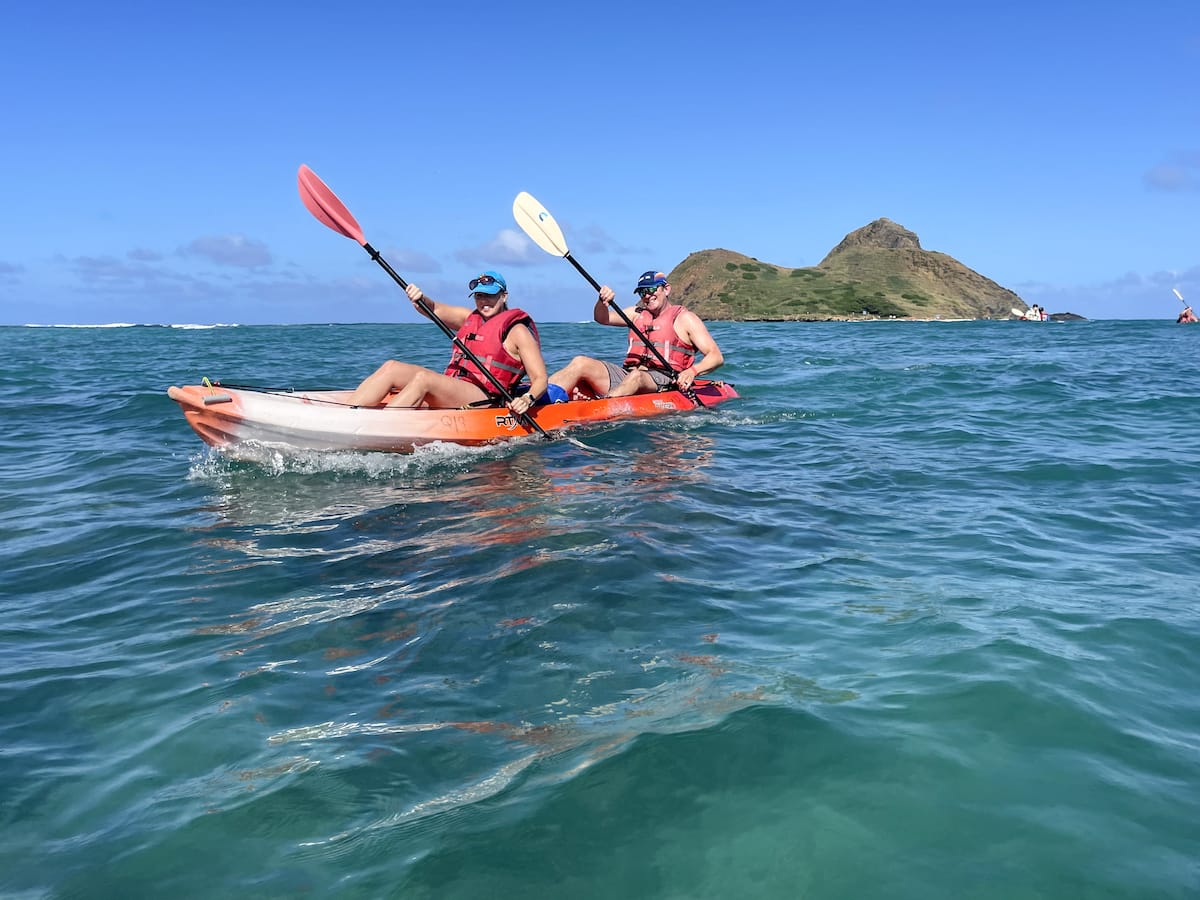 If you have never sea kayaked before, I recommend the trip with a guide. If you're advanced and skilled on the water, I think you will be okay to go independently.
Can you visit Moku Nui without one of these tours? No. You need a permit to visit.
Are you able to visit the Mokes any day of the week? Every day except Sundays.
BOOK HERE: Kayaking to the Mokes tour
Does Moku Nui have any facilities and bathrooms? No, there is nothing out there! You are also not allowed off of the main paths on the island so you can not escape and go anywhere but the trodden areas.
What should I bring on a Kailua kayaking tour? I highly recommend reef-friendly sunscreen (and to reapply it A LOT), a water bottle (the guide will give you water but the more the merrier!), a UV shirt if you have sensitive skin, sunglasses that you don't mind getting salty, a bathing suit (you will get wet), a GoPro, etc. Also, bring a waterproof phone case!
I also recommend sea bands or something if you get seasick! I struggled a bit on the way back but it was also because I didn't take care of my body all that well.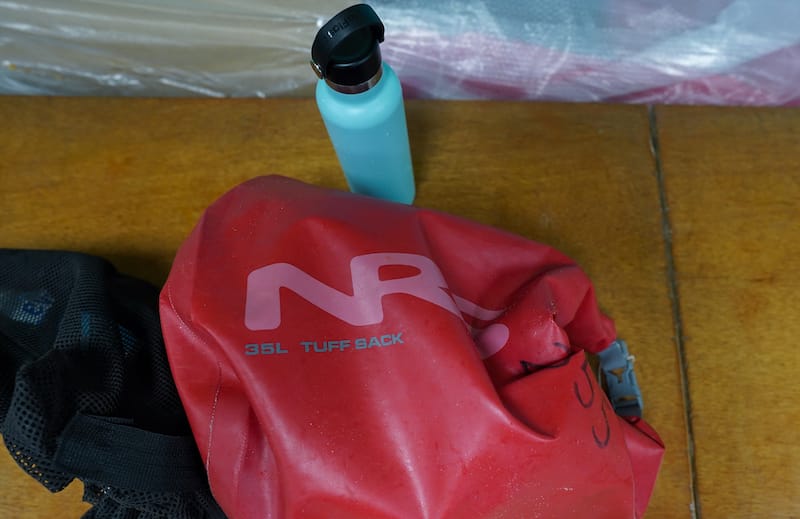 Any other tips? One thing that kind of freaked me out a bit was that I kept feeling like I was going to hit the coral on the way out to Moku Nui!
The water is rather shallow and you have reefs right under you nearly the entire time. It honestly scared me that I was going to hit them! But, I never did!
However, try to not go right on top of them if you can avoid it. Also, be alert for turtles. There are a lot of them out this way!
Another super random tip I have is to grab a delicious acai or superfood bowl next door to Kailua Beach Adventures at the Sunrise Shack.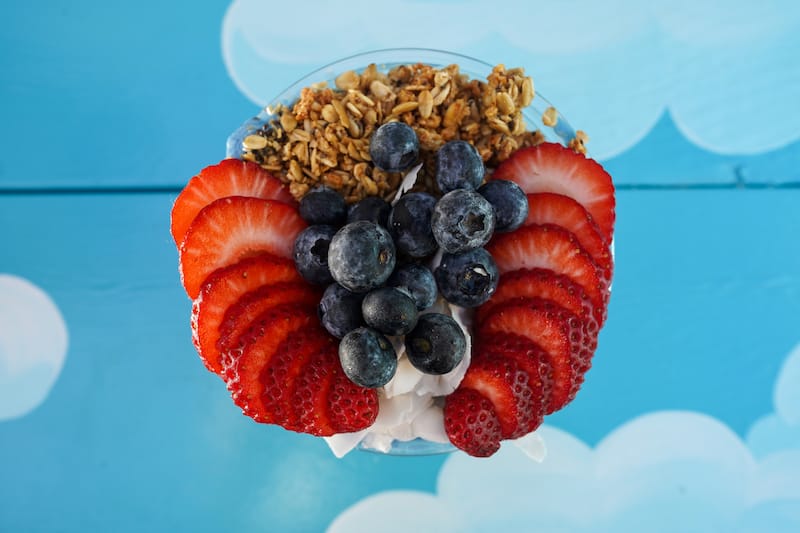 This is one of my favorite cafes on the island (they are also on the North Shore) and it kept me fueled for most of the day!
How to Book Your Kailua Kayak Trip
I booked my guided tour through Viator. I booked it a couple of weeks in advance because I was so excited!
These tours do fill up and are extremely popular as you can't just head out to the Mokes on your own without a permit.
Do you have any questions about kayaking to the Mokes?
Let us know your questions about kayaking in Kailua and to the Mokes in the comments. Thanks!
More Oahu Travel Guides
Pin this Mokulua Islands Kayaking Guide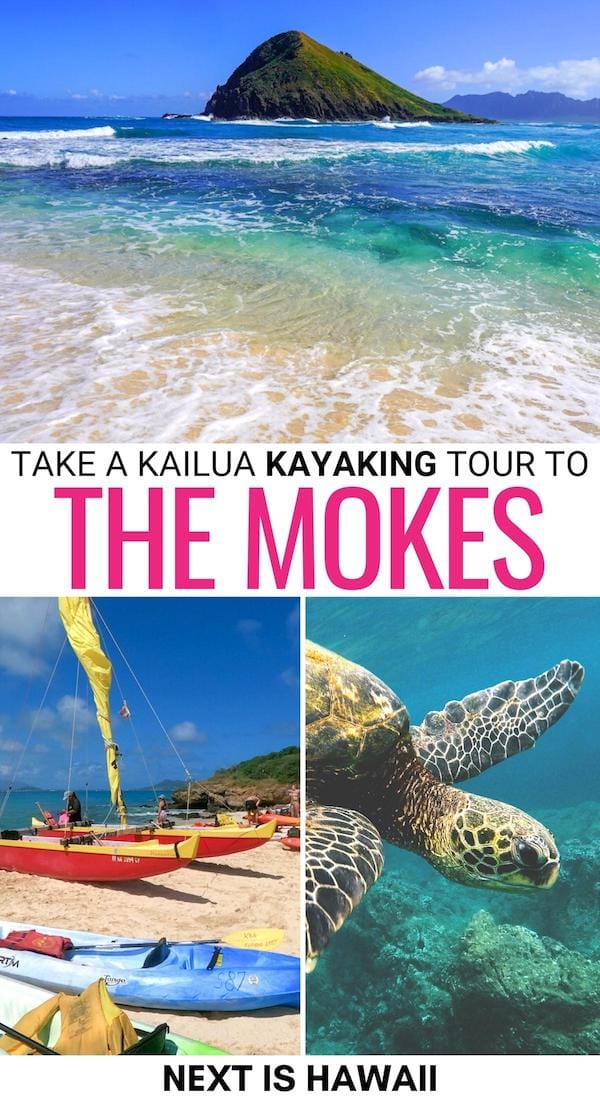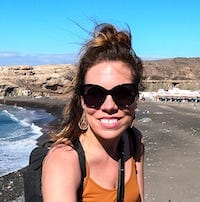 Megan is a travel blogger and writer with a background in digital marketing. Originally from Richmond, VA, she has been traveling frequently to Hawaii for the last 15 years and loves exploring every corner of each Hawaiian island, while trying to promote sustainable travel and small, local businesses along the way. Megan has written for or been featured by National Geographic, Forbes, Lonely Planet, the New York Times, and more. She has co-authored a guidebook with Fodor's Travel and has visited 45 US states and 100+ countries.