When visiting Oahu, you should definitely make it a point to visit Kahuku on the North Shore. You'll find many things to do in Kahuku, nestled on Oahu's North Shore, and far more than just the famous Turtle Bay Resort!
Are you planning your trip to Kahuku last minute?
Below are some of the top tours on Oahu, North Shore hotels, and more!
🌴 Best Tours and Activities on Oahu:
🛌 Top Hotels in Kahuku:
🚗 Traveling to Oahu independently? Be sure to book your rental car ahead of time to ensure availability!
In addition, Kahuku is a popular spot among fishers because not too many people swim in the area and there is a wide variety of fish in the waters.
Kahuku is home to some of the prettiest beaches on the island, featuring white sand and blue waters, which is the perfect place to spend a relaxing day.
You can also visit with your family and go on an adventure.
With everything from restaurants to food trucks to tours and more, you're sure to have the time of your life when traveling to Kahuku!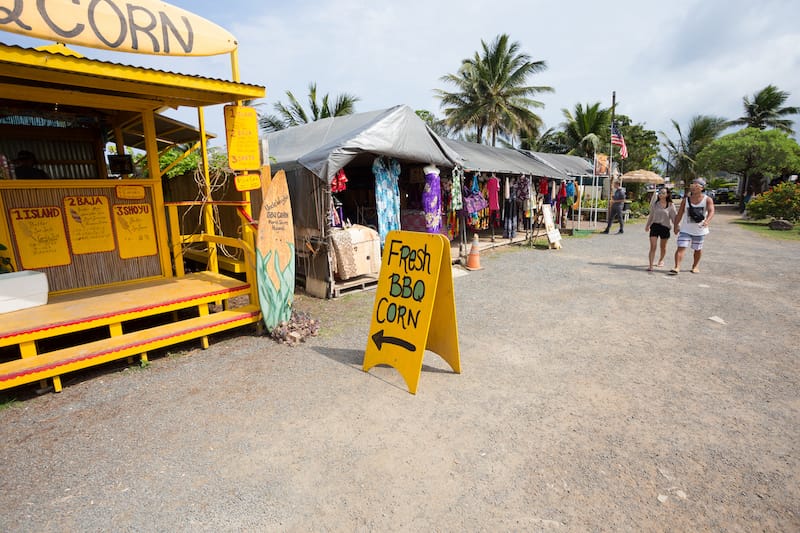 Here is our compilation of the most interesting activities that you can't miss when visiting Kahuku!
Best Oahu Tours (to Maximize Your Time!)
If you're looking for something more organized when on Oahu and the surrounding area, here are some awesome island tours you should check out.
These tours will help you maximize your time, which is especially important if you only have a short amount of time on Oahu (and the North Shore!)! We listed a variety so that you can pick which one is most suitable for you (and many include multiple places!):
Things to Do in Kahuku
Kahuku Point (and Hanaka'llio Beach)
Kahuku Point, also known as Kalaeokauna'oa, is the northernmost point on Oahu and home to many native species, including monk seals, yellow-faced bees, nesting sea turtles, and 'ohai.
It is located on the North Shore and features an undeveloped coastline. Kahuku Point is being restored thanks to the efforts of the North Shore Community Land Trust.
As the coastline is near the Turtle Bay Resort, many people enjoy visiting to check out recreational activities and learn all about Hawaii's nature.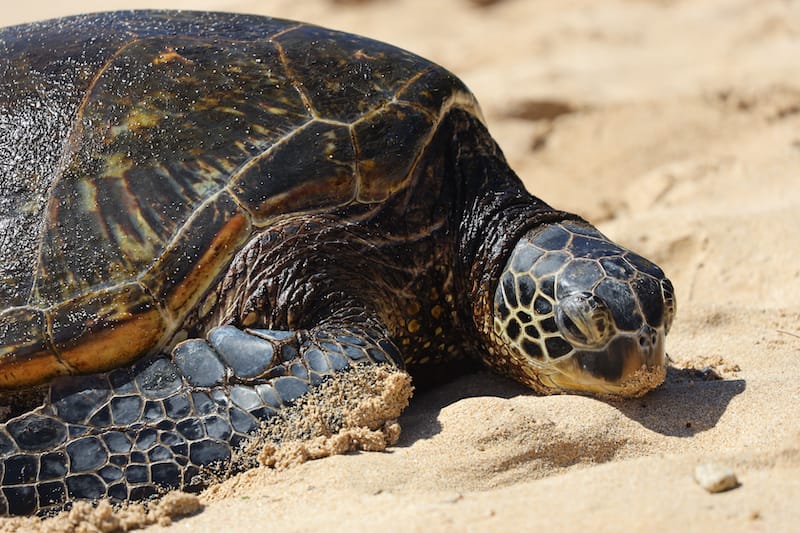 You can also take the Kahuku Point trail, which is 5 miles long, to reach Hanakailio Beach, which is perfect for those who have pets.
You can take a walk along the gorgeous white sand, have a picnic, relax, and swim here. Many people also enjoy canoeing or kayaking to check out some of the native sea creatures.
The beautiful waters also make the beach a great spot for snorkeling. Finally, if you come in the winter, keep an eye out for whales!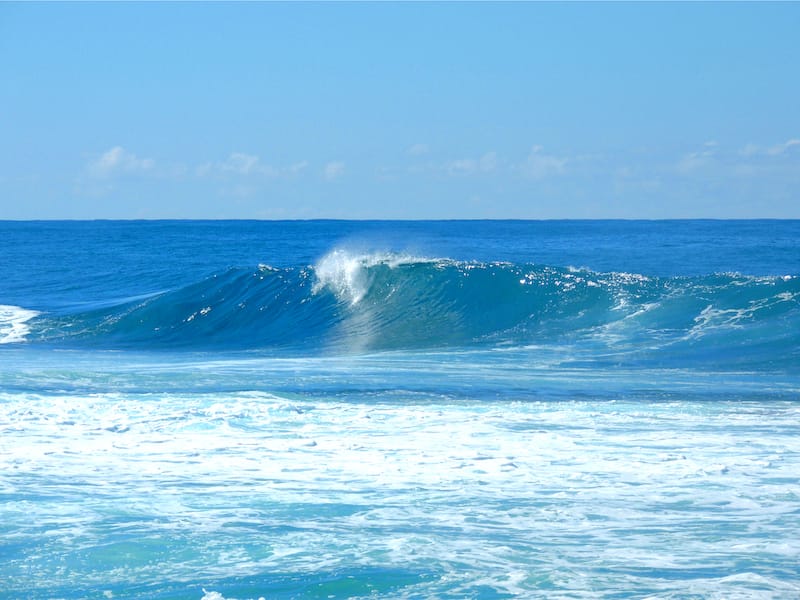 Da Bald Guy Restaurant
Da Bald Guy is an amazing food truck open for breakfast and lunch that you need to check out when in Kahuku. It is open from 7 am – 2 pm every day except Sundays.
Boasting five-star reviews, this food truck only offers the freshest food, including peeled garlic butter shrimp, shrimp fuyung, corned beef and eggs, and furikak crusted salmon.
You can also order online so you don't have to wait in line. It's definitely worth trying this budget-friendly yet delicious food when you're in town!
Moku'Auia Beach
Moku'auia Beach, also known as Goat Island, is certainly one of Kahuku's hidden gems. If you want to spend a day relaxing and far away from the crowds, this is the place to be.
It is known as Goat Island due to the goat population that used to roam here a long time ago. However, the beach is more popular among divers and surfers.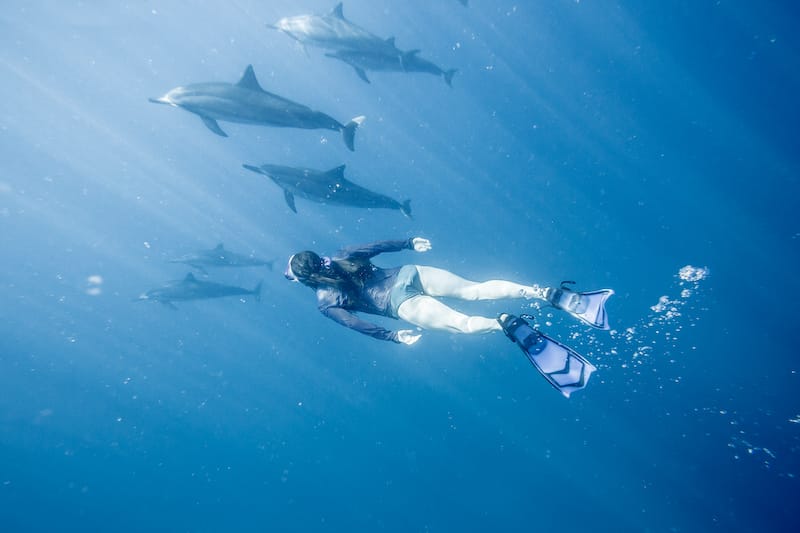 Keep in mind that you should take the appropriate shoes as you will be walking on coral, and you can end up in water up to your hips even at low tide.
Waffles at Ty's Beach Bus
For some positive vibes and tasty food, be sure to also check out Ty's Beach Bus. This food truck is a favorite among locals and tourists on the North Shore.
It is especially famous for its amazing waffles (including waffles on a stick), but visitors also enjoy the churros, fries, and drinks. To cool off, you can also try some of their ice cream. Be sure to snap a picture next to this retro-inspired truck!
Roy's Beach House
Visit Roy's Beach House and indulge in the delight of delicious Hawaiian and intercontinental cuisine prepared by the talented Chef Roy Yamaguchi.
Chef Roy uses his signature style to prepare meals from the freshest local ingredients sourced from ranchers, fishers, and farmers. The Beach House is located on Kuilima Cove.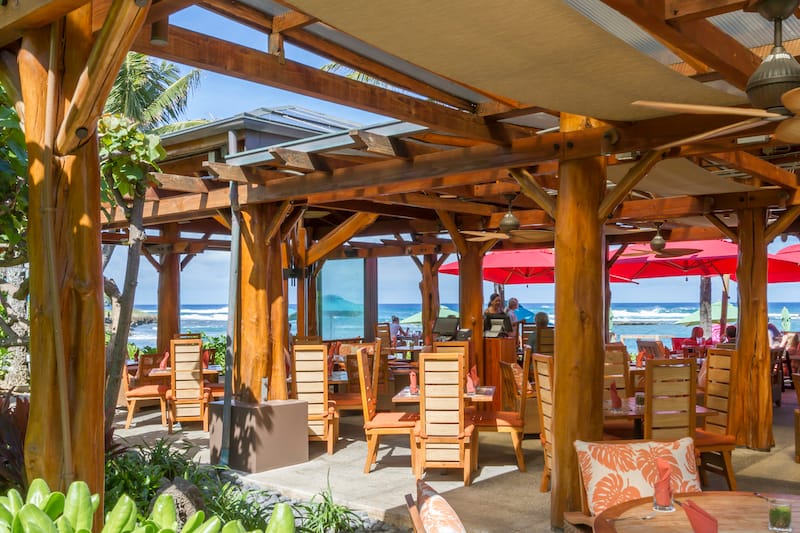 Guests who visit are reminded of the fond potluck beach gatherings that foster communal love. This 140-seat open-air restaurant is perfect for a date night or an exclusive family dinner.
Be sure to try their signature tender twice-cooked baby back ribs. It features a Hoisin garlic ginger glaze that is out of this world.
The lunch menu runs from 12 pm to 2.30 pm while dinner lasts from 4.30 pm to 8.30 pm daily. It is best to make reservations ahead of time to secure a table.
Ohana Island Creations
This unique art gallery in Kahuku showcases traditional representations of sea life in Hawaii. The spectacular wood carvings are made by skilled carvers and are an essential part of the Polynesian culture.
Ohana Island Creations uses unparalleled creativity to offer these Tiki carvings to natives and visitors of Kahuku. All carvings are available for sale, and the master carvers can also create anything you request.
Several pieces made by Ohana Island Creations are now on display in many homes and galleries all over the world. The gallery is open from Monday to Saturday every week, and tours are available for visitors.
Fumi's Kahuku Shrimp
Fumi's Kahuku Shrimp arguably has the juiciest shrimp in the entire North Shore. It is a shrimp truck with a picture of a gigantic, rearing shrimp that is hard to miss.
Patrons get to sit outdoors on plastic tables and chairs to enjoy the messy yet delicious peel-and-eat shrimps. The shrimps served at Fumi's are grown in a pond right next to the truck, so you don't have to worry about their freshness.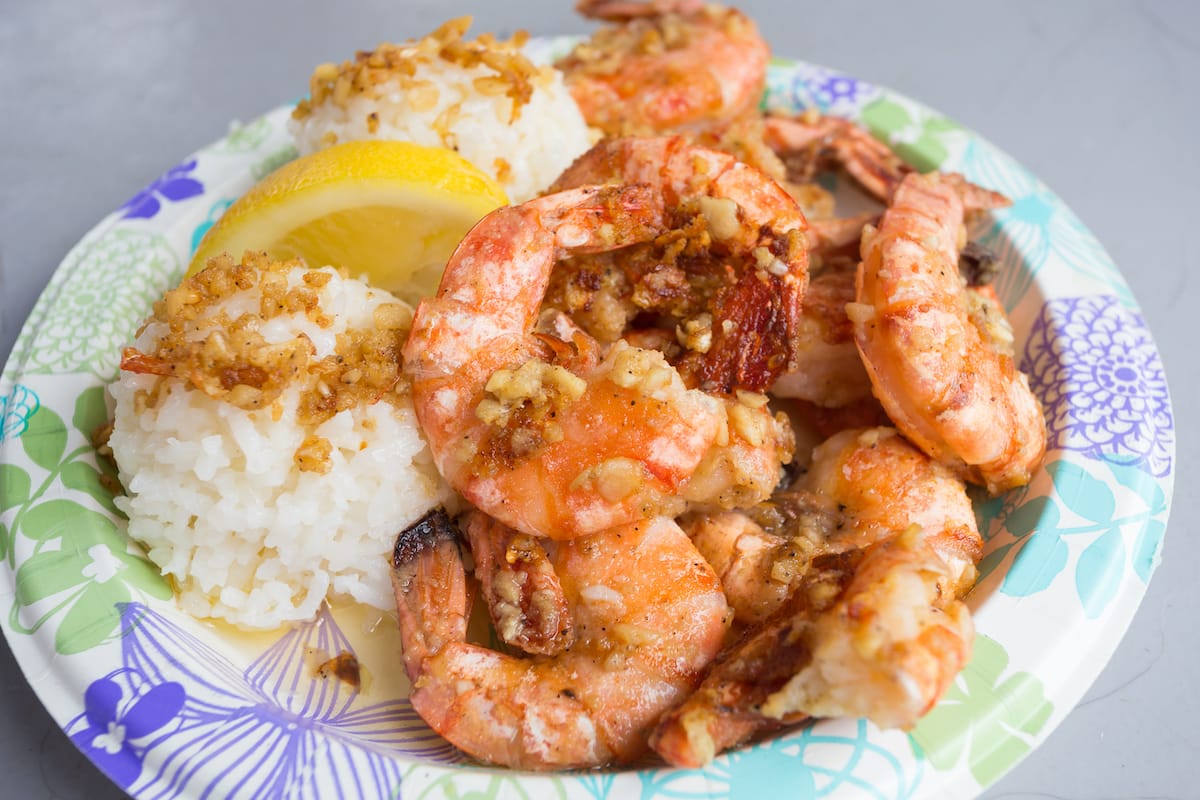 The meals here are absolutely delicious and deliver an amazing value for your money. With $13, you can easily get a full plate of giant shrimps dripping with garlic butter and two huge scoops of rice to go with it.
You also get a scoop of corn and a slice of pineapple. Other options on their menu include fried fish, burgers, and tempura shrimp.
James Campbell National Wildlife Refuge
If you love birds, your visit to Kahuku will be incomplete without a stop at the James Campbell National Wildlife Refuge. This is one of the few remaining natural wetlands in Oahu.
It was established in 1976 with the aim to provide a home for endangered Hawaiian waterbirds, sea birds, migratory shorebirds, the Hawaiian monk seal, which is called 'īlioholo-i-ka-uaua, the threatened honu or Hawaiian green turtle, as well as other endangered and native plant species.
The refuge also serves to reduce flood damage and provide wildlife-dependent public uses.
The refuge offers guided tours from 9 am on Saturdays. You will get to see the different unique birds and plants and learn about their history.
Kahuku Sugar Mill
The Kahuku Sugar Mill space used to be a working sugar mill. Now, it houses a gas station, post office, Fijian market, a few eateries, and food trucks.
This space has a farmer's market feel that attracts tourists and locals alike. It is like a one-stop-shop location for visitors in Kahuku. The Kahuku Sugar Mill building still has a few old types of machinery left for those who would like to see its history.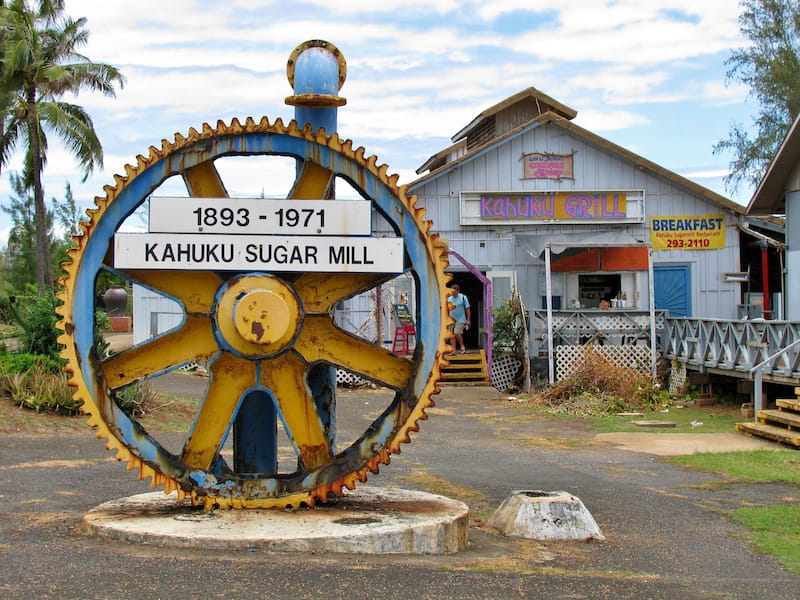 Outside, there is an eclectic mix of food trucks that serve as a great location to stroll about and kill some time. Be sure to try Sugar Daddah's delicious and refreshing sugar cane drink.
Also, check out Giovanni's Shrimp and try out one of the juiciest and most delicious shrimp meals on the island.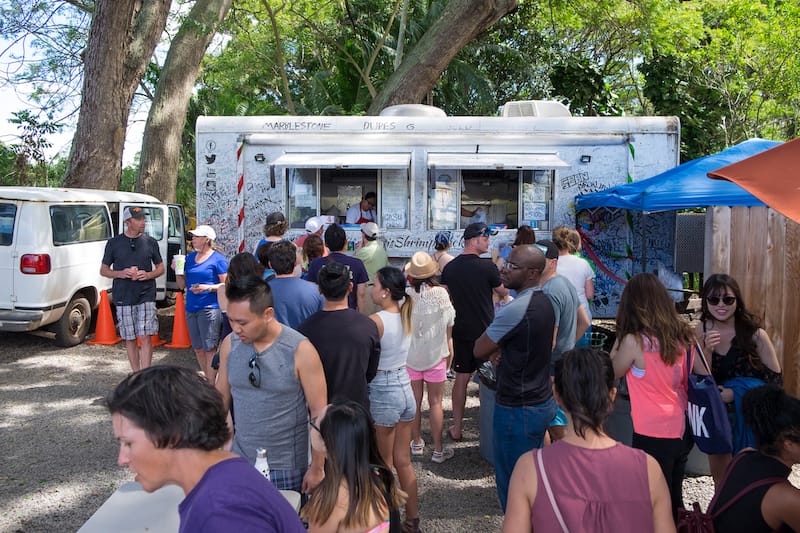 CLIMB Works Keana Farms Zipline Tour
The Climb Works Keana Farms Zipline Tour is a fun, exhilarating tour that consists of eight dual zip lines, four sky bridges, and two rappels. It is the longest zipline in Oahu and attracts lots of tourists yearly.
The zipline tour lasts 3 hours and lets you soar over panoramic views of the mountains and oceans of the North Shore. Participants also get to taste local fruits in the forest. It also includes a fun ATV adventure to the top of the ridge.
The lines are slightly about 150 feet high, and one is almost half a mile long. Be sure to take Insta-worthy pictures while the guides teach you about Hawaii's unique culture and history.
Note that there is a strict weight limit of 270 pounds. Also, participants must be at least seven years old.
>> Click here for rates and availability
Kahuku Beach
Located between Laie and Turtle Bay on the North Shore, Kahuku Beach is a golden oasis with crystal-clear waters. This quiet beach does not get so many visitors, and the resulting serenity is one of its most appealing features.
The sandy shore is very wide and long, perfect for those early morning walks. However, Kahuku Beach does not have much shade, so it is best to bring an umbrella and sunscreen with you.
The cities around Kahuku Beach are popular movie destinations you can tour after spending some time at the beach.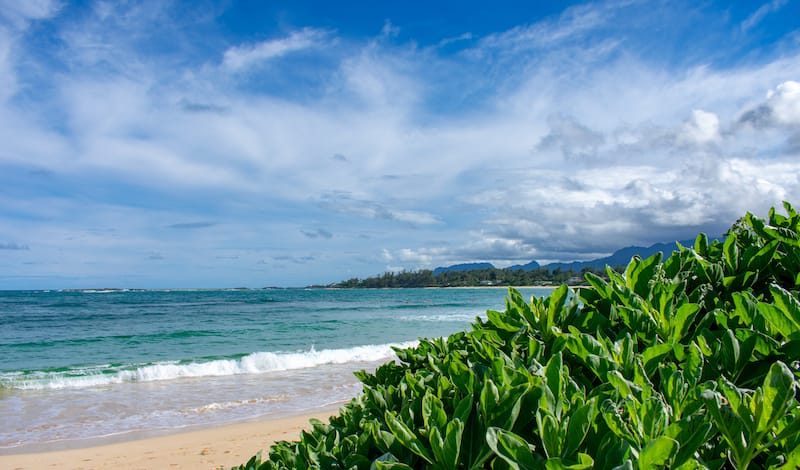 Other fun things to do in and around Kahuku Beach include surfing on the north side of Seventh Hole, boogie boarding, and fishing.
It is not advisable to swim here because of the rocky nature of the beach and its high limestone shelf. However, you can still enjoy watching dolphins, sea turtles, and whales.
Rainbow House Shave Ice
If you want to try out this delicious Hawaiian specialty, you absolutely must check out Rainbow House Shave Ice. It is open every day except Sundays and Mondays from 11 am – 6 pm.
Here, you can try shave ice, ice cream, and smoothies made with authentic ingredients. One of the most popular options is pineapple shave ice with fruit ice cream. You can also get a cup of hot coffee or acai smoothies as a refresher.
Kahuku Farms
Visit Kahuku Farms to enjoy incredibly fresh local produce. Established in 2020, this farm used to be a combination of two neighboring families: the Matsuda and Fukuyama farms.
They specialize in bringing people directly to where their food comes from. The farm is open for tours where visitors are shown how local fruits and vegetables are nurtured.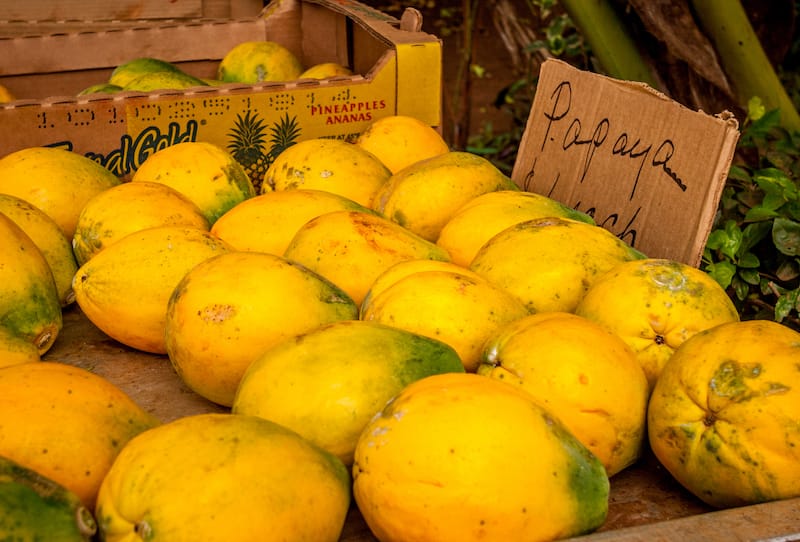 They also have cacao groves that produce the fruits used in making their world-famous chocolate. Their acai berry plants also produce fruits used for their special acai bowls.
Kahuku Farms also features a café that started as a smoothie stand and now serves carefully prepared farm-to-table meals.
They promote sustainable living, support local businesses, and spread aloha. Kahuku Farms is a wonderful place for both vegetarians and non-vegetarians.
Their vegetable pizza and vegetable paninis are a must-try. They are open every day from 11 am to 4 pm.
Raised by the Waves
Raised by the Waves is a cute plant-based cafe that is located in the old Kahuku Sugar Mill Plantation. They serve fresh and vibrant breakfast and lunch dishes along with smoothies, acai bowls, and coffee.
All the food prepared and served here is vegan besides honey, which is always optional. Raise by the Waves currently offers only outdoor seating, and visitors can either order online or in person.
They are open from Tuesdays to Sundays between 7.30 am and 5 pm. Lots of regulars have raved about their Avo Toast and Blue Room smoothie.
The smoothie isn't exactly sweet, so if you have a sweet tooth, be sure to ask for some agave.
Kahuku Golf Course
This is one of the most relaxed and serene golf courses in Kahuku. Located about 40 miles downtown from Honolulu, it is set right beside the Turtle Bay Resort and perfectly fits the mellow and casual theme of the North Shore.
It is an 18-hole, walk-only course, so be prepared to get some exercise. Golf clubs and pull carts are available for rent on-site. On Kahuku Golf Course, you can't make a tee time- you just need to show up and walk.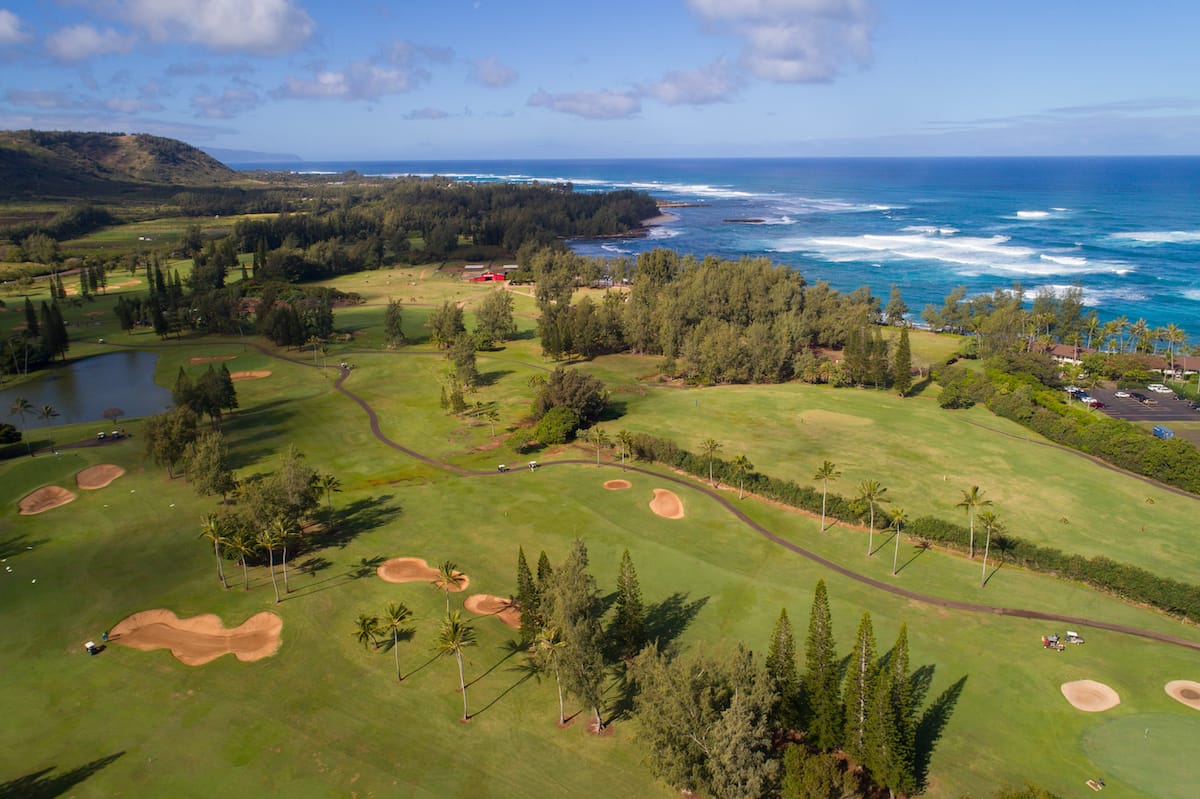 There's also no clubhouse, so you need to come with your snacks and drinks. The golf course is really stunning as it traces the coastline with ocean views.
Note that visitors who do not have a golf ID card can register on the website and get 3-day access. If you already have a golf ID, you will need to register with the city's golf division to get resident access.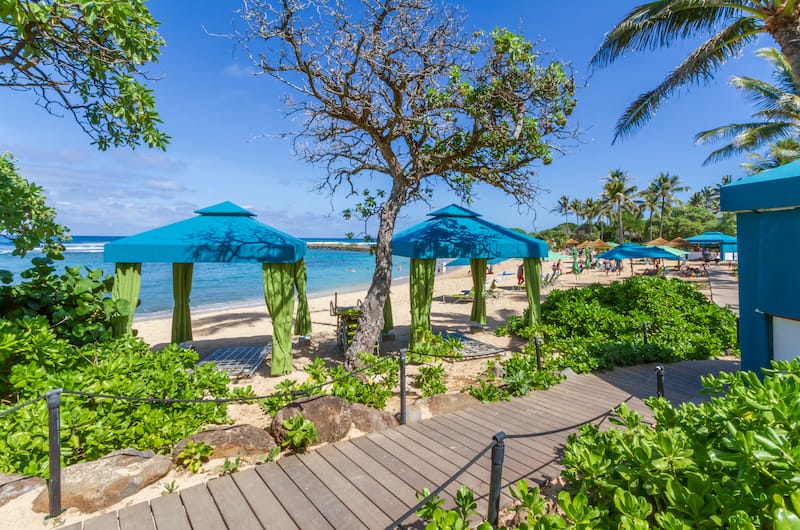 Where to Stay in Kahuku
You will find many places to stay on the North Shore and here are some of our top picks for Kahuku.
Did we miss any of the best things to do in Kahuku? Let us know your favorite Kahuku attractions and activities in the comments! Thanks!
More Oahu Travel Guides
Pin this Kahuku Attractions Guide