If there is one thing that Hawaii is known for, it is the islands' world-class beaches. And Oahu is no exception! These are the best Honolulu beaches to add to your itinerary and upcoming trip!
Are you planning your trip to Honolulu last minute?
If you're traveling to Honolulu last minute, you want to ensure you have lodging/tours ahead of time! Below are some of our top picks on Oahu!
Best Tours and Activities on Oahu:
Best Hotels and Lodging in Honolulu:
Traveling to Oahu independently? Be sure to book your rental car ahead of time to ensure availability!
Please note that we included beaches that can be visited as a day trip from Honolulu, as well. Some are north and some are on other parts of the islands.
Did we miss any amazing beaches in Honolulu? Please let us know in the comments! Thanks!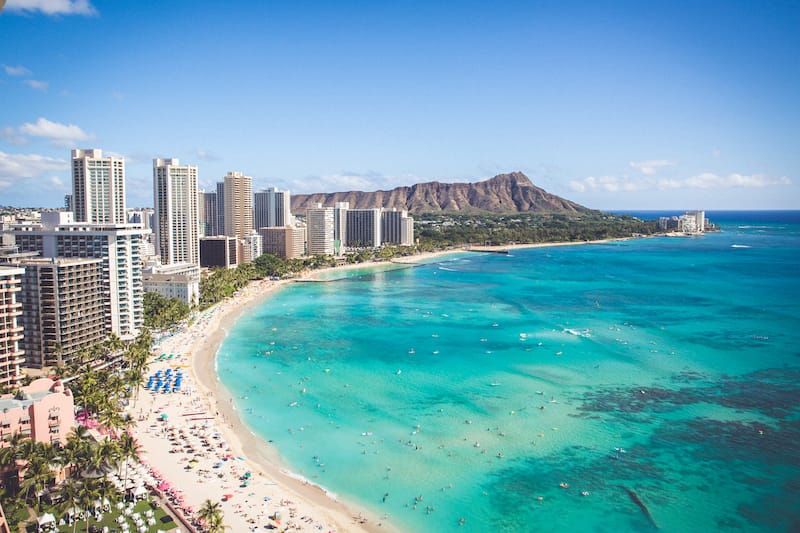 Best Honolulu Beaches
1. Ala Moana Beach Park
Are you looking for a beach that is family-friendly and offers a little bit of everything for every person traveling with you?
Don't forget to put Ala Moana Beach Park on your list. This 100-acre beach area has a lot in its area and is a great beach for families, solo travelers, and more.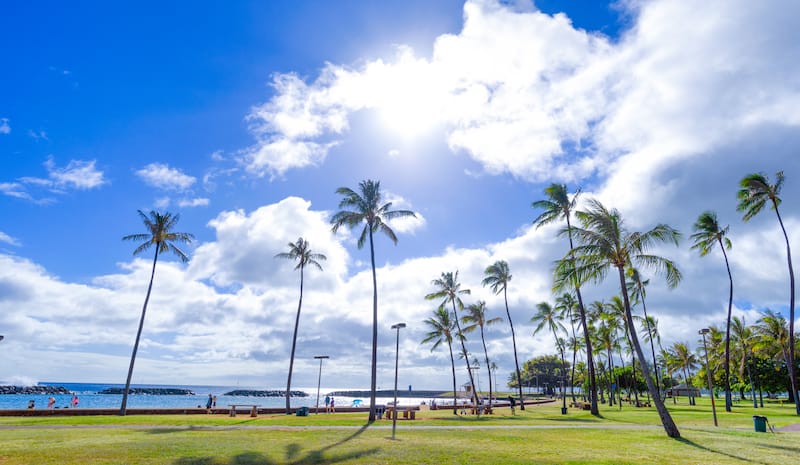 The water close to the coast at the far western side of the beach is only waist-deep, making it ideal for youngsters to splash and play around in. However, be careful as only a few yards away, signs warn of a steep and rapid drop-off of more than 20 feet!
There are many leisure activities here. Some of which include tennis, basketball, biking, and more.
The area also has plenty of large shady trees that are excellent places for small picnics or tasty barbeques.
2. Sandy Beach
Famous for its wide and sandy shoreline, Sandy Beach is one of the most popular Honolulu beaches. The beach is not particularly well-suited for swimming, but instead, it's amazing other water sports like surfing and body-boarding.
Waves here can be extremely strong, so be prepared when you take to the water!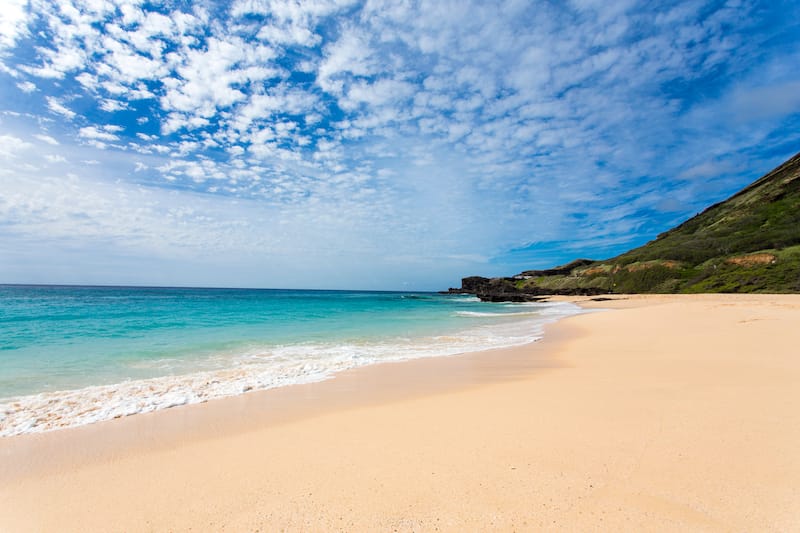 For the same reason, children should not swim here. However, there are lots of other activities to participate in, such as kite flying, so it still is a fantastic place to put on your Oahu road trip itinerary.
The distance between Honolulu and Sandy Beach Park is 12 miles. The parking area is pretty large and the beach is easily accessible. Also, getting food here is not hard as there are many trucks nearby.
3. Waikiki Beach
Waikiki Beach is one of the most famous beaches not only in Hawaii but also in the entire world! And, naturally, this is an essential place to visit on your trip to Honolulu.
Waikiki can be best described as a couple of miles of gorgeous, fluffy white-sand beach, surrounded by tall palm palms and a bright blue sea.
Swimming, surfing, boogie boarding, catamaran, and outrigger canoe cruises are all popular activities there.
Overall, its proximity to downtown Honolulu, stunning views, and the fact of it being an open-access beach, makes Waikiki hard to beat.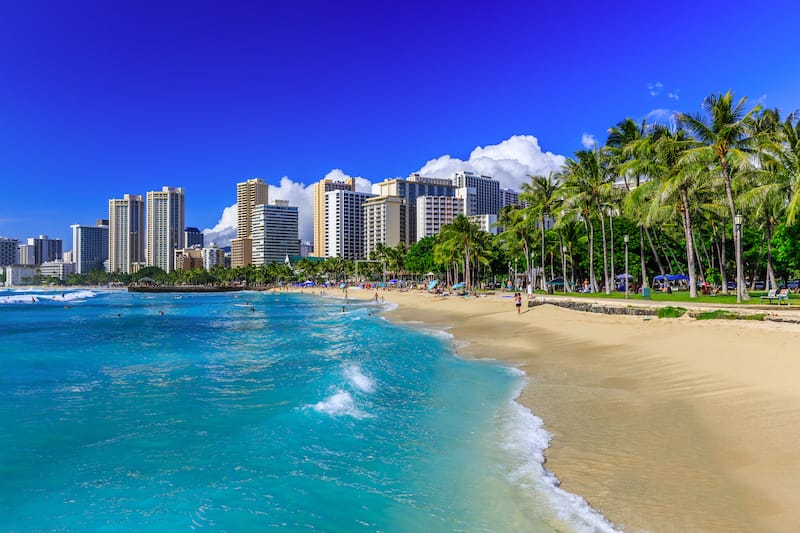 The only disadvantage here is the big crowds, so it is better to visit this beach on weekdays if your Honolulu itinerary permits.
Most of the city's hotels and resorts are located at Waikiki Beach. Nevertheless, it's open to the public, meaning you can come with your beach necessities and enjoy the iconic Waikiki to the fullest!
4. Kahala Beach
Offering amazing views of the Koko Head Crater and China Walls, Kahala Beach is perfect for those looking for a quieter beach to truly unwind.
Kahala Beach is a secluded cove where you can relax amongst the quiet, sandy shores without having to deal with large crowds. With its soft sand and calm water, this beach is convenient for the whole family.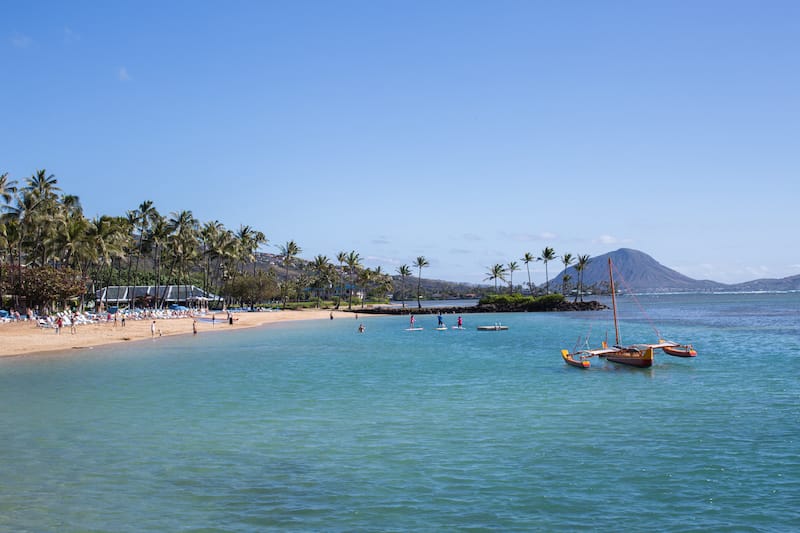 While visiting Kahala Beach, one of the most famous activities is scuba diving. Be prepared to see a lot of diverse marine life during your dive!
One of the biggest advantages of Kahala Beach is that it's easy to reach from central Honolulu.
5. Kahanamoku Beach
Named after Olympic swimmer Duke Paoa Kahanamoku, this beach can be found on many of the "Best Beaches in Hawaii" rankings.
This beach in Honolulu is located at the widest part of Waikiki Beach, which as already mentioned above, is large and crowded.
Kahanamoku has modest waves, while the lagoon part has none, making it ideal for swimming and paddleboarding (especially for kids).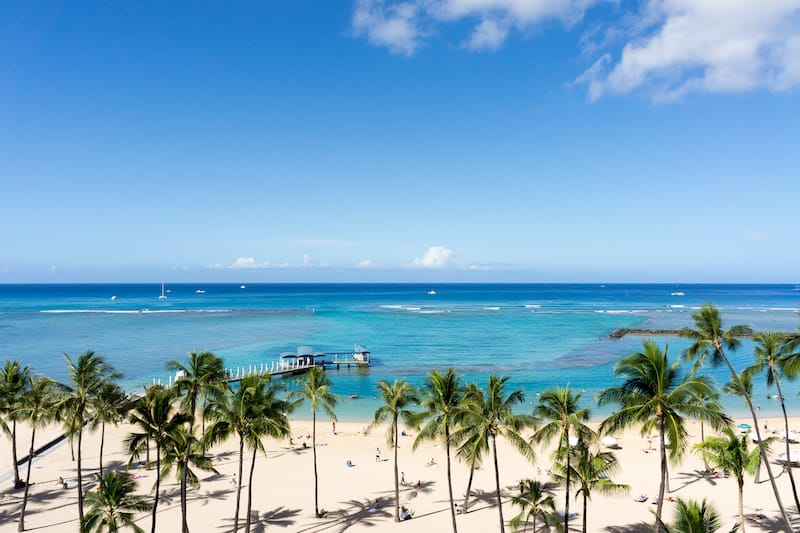 If you're familiar with the huge Hilton Hawaiian Village Resort, do note that Kahanamoku Beach is right in front of it.
The facilities at Kahanamoku Beach include sun chairs, umbrellas, paddle boats, kayaks, and canoes.
With easy access to public facilities, as well as views of Diamond Head and Waikiki Beach, this is a great spot for all-day sun and water activities.
6. Lanikai Beach
Having the clearest blue water in Honolulu and illuminating white sand, Lanikai Beach is also considered to be one of the most picturesque beaches in Hawaii (and definitely one of the best beaches on Oahu!)
Swimming, snorkeling, and kayaking are a few of the activities available due to the calm and clear waters. Snorkeling and checking out reef fish and sea turtles are great things to do here as it is common to spot them.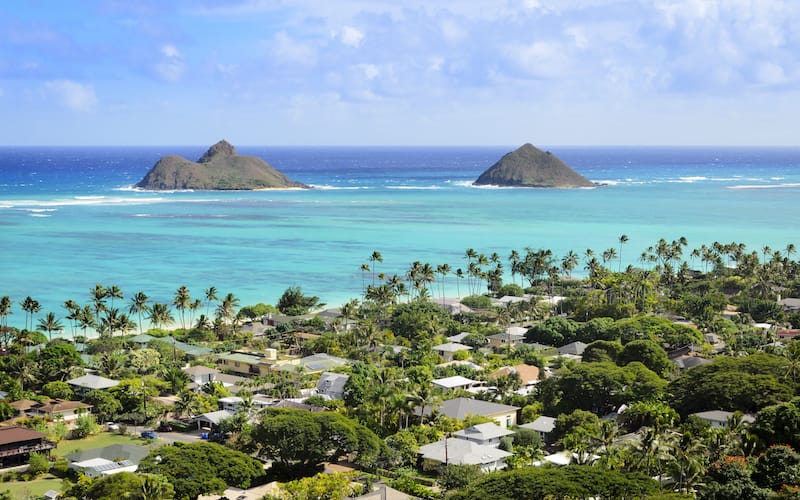 Sailing and windsurfing are additional water sports available in crystal-clear waters. From January to December, an offshore reef keeps the water quiet and provides excellent swimming conditions.
Two small islands less than a mile offshore have bird sanctuaries you can kayak to, but note that only one is accessible to the public and you will need a permit to do so.
Watching the sunrise here is especially beautiful! Early birds should definitely head to Lanikai Beach for a picturesque sunrise and a gorgeous and colorful way to start the day.
7. Hanauma Bay Nature Reserve
The Hanauma Bay Nature Reserve protects ocean life biodiversity, including 400 different fish species. That's why this reserve is one of the best, if not the best, snorkeling spots on Oahu.
The bay is located just 10 miles east of Honolulu and was created from a collapsed volcano crater.
Because there are no hotels or other buildings trying to gain your attention, the beauty of Oahu island is extremely raw and otherworldly here.
The area only has two lifeguard posts, a shop that rents snorkeling equipment, and a café built on a hillside above the beach that sells refreshments.
Keep in mind that as this is a wildlife preserve, you must pay to enter. Adult tickets are $25, while children under the age of 12 and local residents get in for free.
Also, there are numerous shuttle vans that transport passengers from Honolulu to Hanauma Bay, making the nature reserve even more accessible!
8. Ko Olina
Ko Olina is only 30 minutes from Honolulu and has some lovely, well-kept beaches. Even though the region is dominated by a few large resorts, the beach is open to the public and offers lifeguards, bathrooms, and outdoor showers.
The beach has bright white smooth sand and light blue water. All of the resorts located here have many restaurants, so there are plenty of dining options to head to once you're done enjoying your beach day!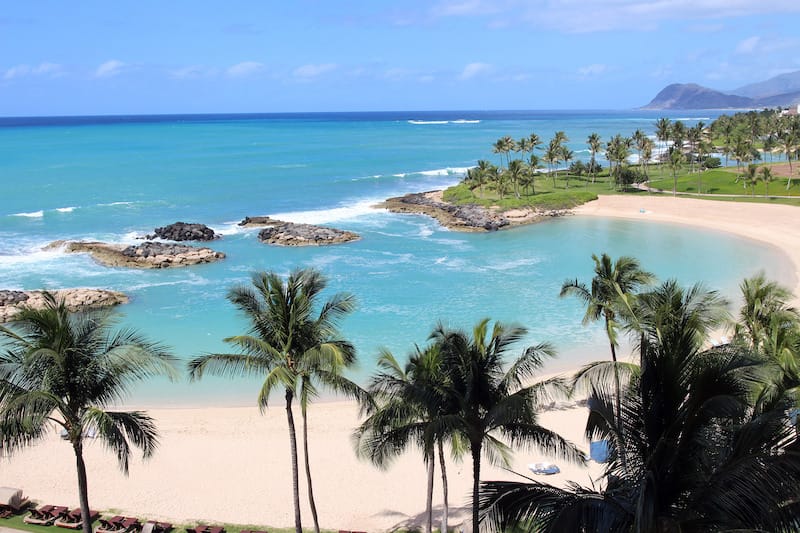 The main beach lagoon is wide with a gentle curve. Due to this, not only is the surf here extremely calm, but it's also a highly recommended beach for children and families.
The Marriott Ko Olina Beach Club is right at the center of the crescent-shaped lagoon. The large resort also has multiple pools. This is one of the best things to do in Kapolei, a city near Honolulu!
9. Magic Island
A part of Ala Moana Beach Park, Magic Island Beach is a small but rather unique beach. It's located on a small peninsula opposite the Ala Wai Boat Harbor, near downtown Honolulu.
Visitors love this beach because they are shielded from heavy waves by a man-made rocky reef barrier.
The Honolulu beach has clear, calm waters that are well-suited for families with kids. It's also large with golden sand but the shoreline can be rough at times.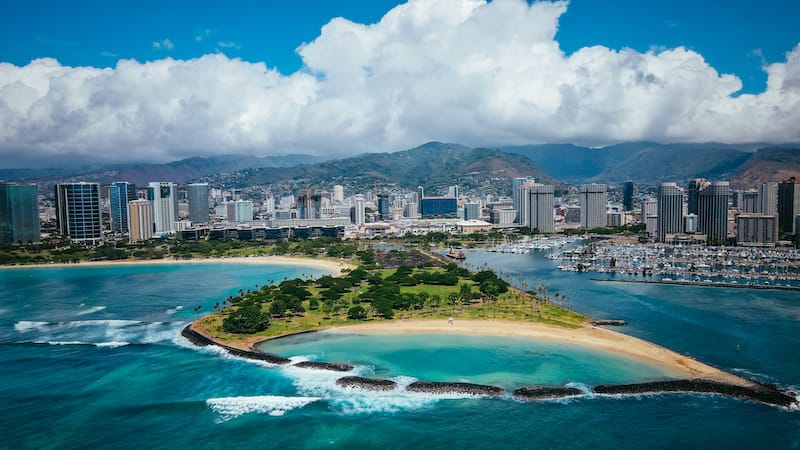 Overall, the sand isn't as smooth as other beaches, so caution is needed when in the water! This beach also offers a beautiful backdrop of trees in a grassy area, making it the ideal spot for a picnic with your family!
10. Sans Souci Beach
If you're looking for a beach that is away from the hustle and bustle of crowded Waikiki, Sans Souci Beach is a local favorite and is one of Honolulu's nicest beaches. It is located near Queen Kapiolani, at the far end of Waikiki Beach.
Sans Souci Beach has a gorgeous palm tree-lined pathway and is an epic spot to enjoy Honolulu's spectacular sunsets with the city skyline in the background.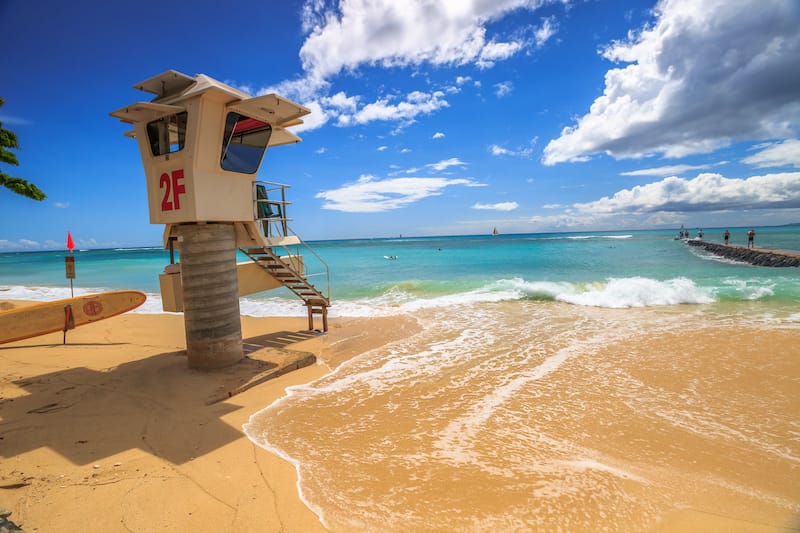 Because of the calm waves and soft sand, this beach is a great place for youngsters to have fun. Don't miss out on nearby Kapiolani Park, which is fantastic for families!
11. Waialae Beach
Waialae Beach Park is a pleasant place to visit for those who enjoy soaking up the Hawaiian sun. As windy weather and small waves dominate this area, windsurfing has gained popularity throughout the years at Waialae Beach.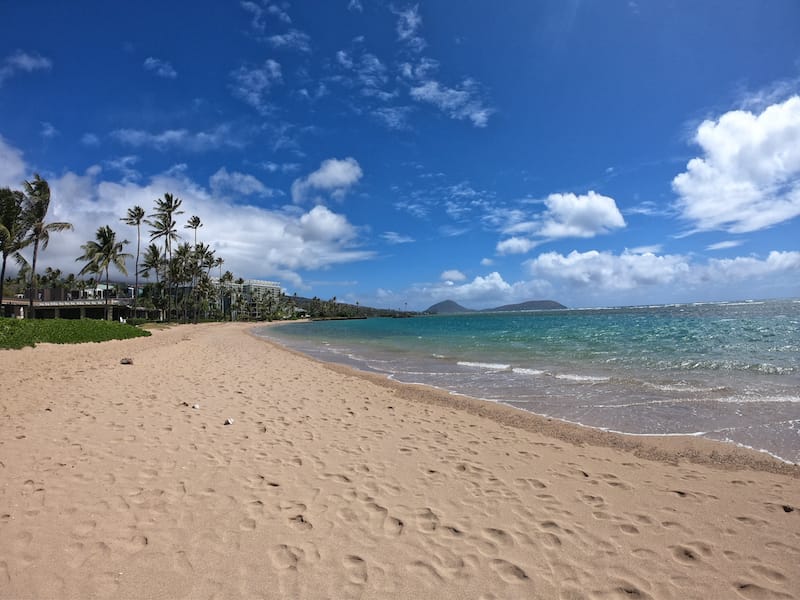 Because of the rocky shoreline and shallow reef at Waialae, it is strongly advised to wear footwear when you step in the water.
Although this beach is a lot quieter than many of the nearby ones, it gets busy on weekends with local families who come to the park for picnics, swimming, and other activities.
12. Diamond Head Beach Park
Looking for a relaxing, yet fun-filled swim experience? Diamond Head Beach Park is another iconic Honolulu beach.
Diamond Head beach is located at the summit of the famous volcanic crater. It has a narrow area, making it possible for surfers to find large waves and tidepools.
This is the ultimate place ​​when you want to get away from other busy Oahu beaches and the Waikiki scene. It's situated about a 10-minute drive away from the Hawaii capital city.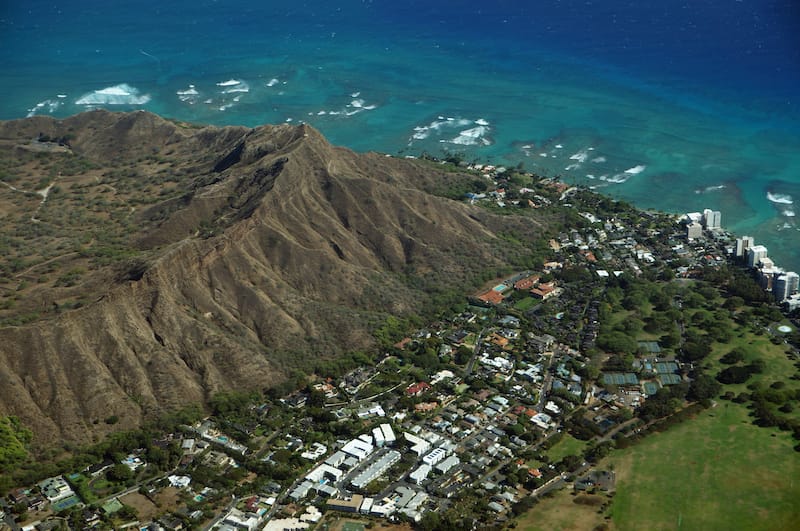 The vistas are breathtaking both from up above and from down below where you'll find affluent properties and gorgeous gardens.
13. Makalei Beach
You can consider visiting Makalei Beach after surfing at Diamond Head Beach Park, as they're located almost next to each other. It's permitted to take dips in the water, but overall, Makalei is not a safe swimming area.
This location is notable for its several huge trees that provide ample shade. It's also a good idea to bring food as there are many picnic tables nearby.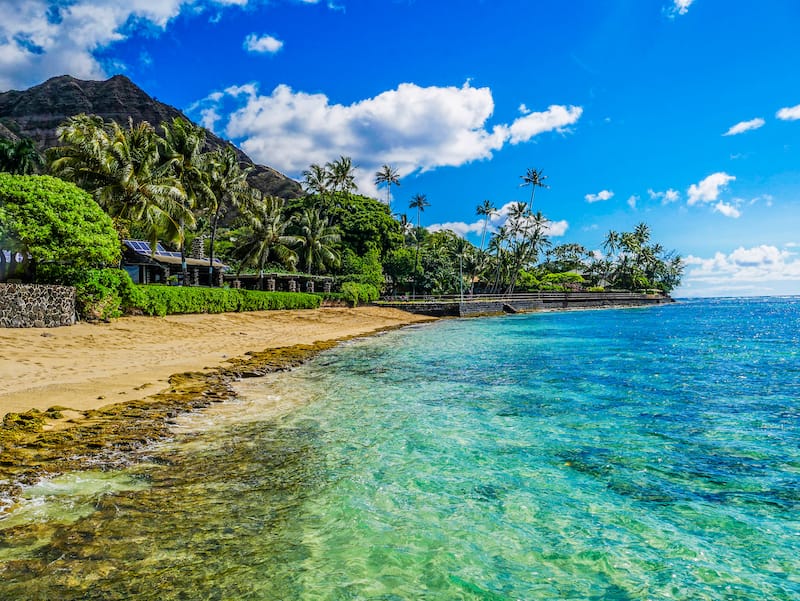 Note that to get to the beach, you must stroll through the beachside park until you reach the stone seawall that runs along the park's seafront, then you will need to take a right.
Also, on this beach, there are a few offshore surf spots with terrifying or bizarre-sounding names like Graveyards, Suicides, Radicals, Sleepy Hollows, etc. This is one of the coolest beaches near Honolulu to add to your itinerary!
14. Sunset Beach
Located on the historic North Shore of Oahu, Sunset Beach is home to one of the world's longest lengths of rideable surf. This beach on the North Shore is great for visiting with a family, as the beach area is large and sandy.
It is not really a Honolulu beach, but still worth visiting if you're on the North Shore!
If you happen to be visiting in winter, you may get the chance to check out big-wave surfing with swells up to 30 feet tall, as well as some of the world's most prestigious surf championships.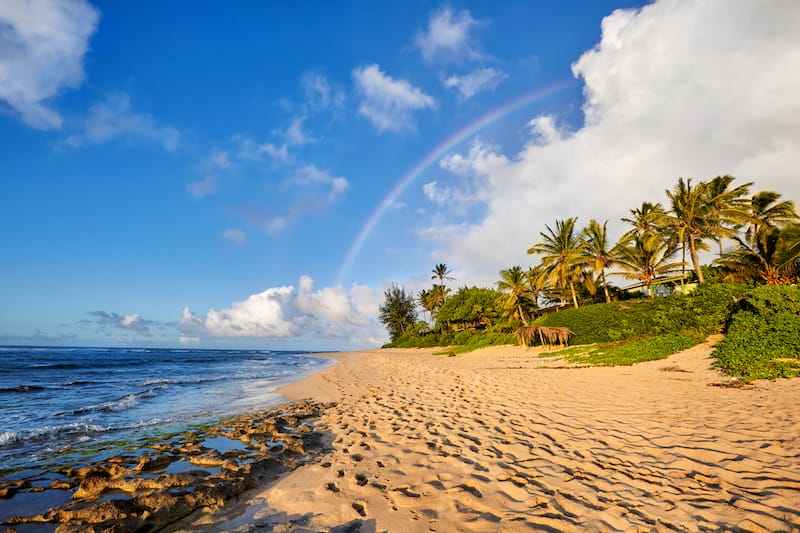 People may still watch pros ride these monsters from the safety of the coastline while snapping images of this incredible natural phenomenon.
During the summer season, the blindingly blue ocean waters are quiet and crystal-clear, making it an ideal destination for swimmers and snorkelers and a perfect day trip from Honolulu for beach-lovers.
15. Kailua Beach
Located nearly one mile up the road from Lanikai Beach, Kailua Beach Park often is named one of Hawaii's best beaches.
The park is the ideal place to spend the day, with over three miles of light-colored sand and crystal-clear water.
Tourists like playing around in the mild waves or learning to windsurf, but the 35-acre beach park also has a volleyball court and plenty of picnic spaces.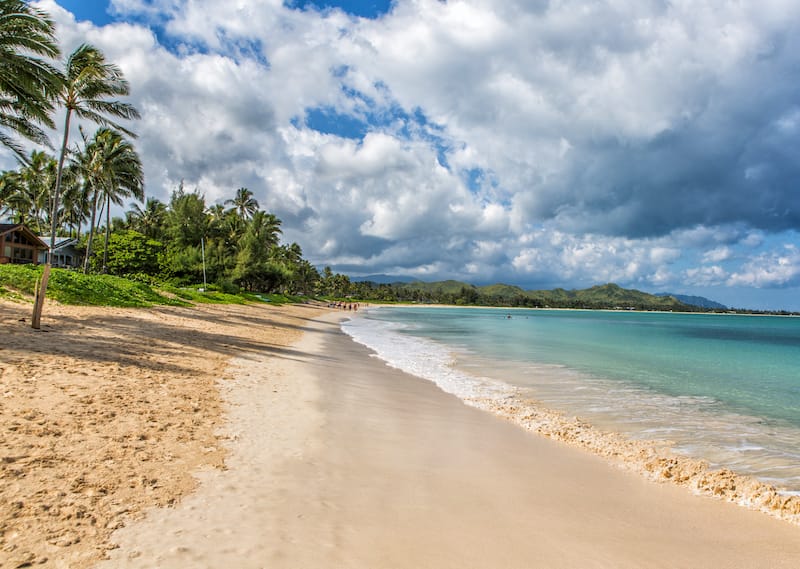 This Oahu beach is located close to town, which has plenty of shopping, restaurants, and other fun things to do in Kailua.
You'll find places such as Buzz's Original Steak House and Kalapawai Market, both ideal for grabbing a quick lunch or souvenir or just spending a little time.
16. Pu'uloa Beach
Located around 25 minutes from the airport, Pu'uloa Beach Park is yet another city beach park located to the west of the city.
The beach is usually not too crowded because it is primarily a residential area. A massive stone jetty sits in the center of many curved beaches.
The sand is gritty and tan, and the beaches are vast and flat.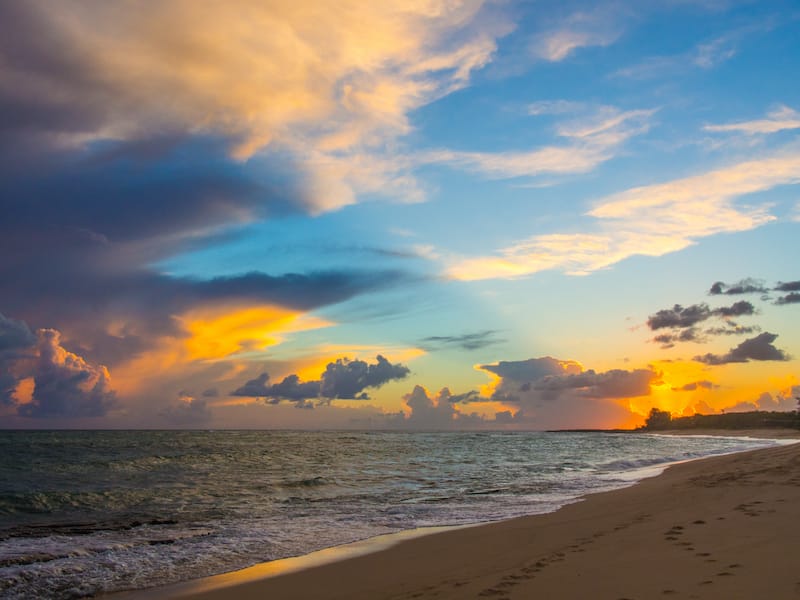 Because of its calm waters, it's a good beach for enjoying the sun or swimming. Beyond the beach are plenty of picnic areas, barbecues, and a playground.
When it comes to facilities, note that Pu'uloa Beach has no lifeguards, but restrooms are available throughout the area.
17. China Walls
Located on Oahu's south-eastern coast, China Walls is a very popular place for cliff jumping!
It's a section of volcanic rock and in addition to being one of the most popular cliff jumping spots in the area, it's also a popular area for surfing on Oahu.
Most of the visitors prefer to watch the skilled locals perform their stunning dives into the ocean, instead of participating by themselves.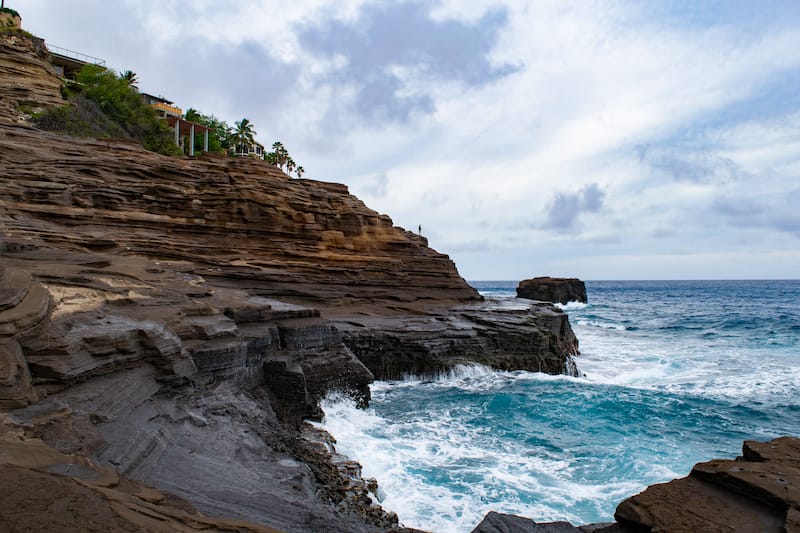 Also, the sunsets at China Walls appear to be ten times more spectacular than everywhere else on Oahu. Obviously, that might seem a bit subjective, but the best thing to do is to check it out yourself!
We hope you found many of these beaches in Honolulu are a good fit for your itinerary!
Did we miss any amazing Honolulu beaches or ones that are close to the city? Let us know in the comments! Thanks!
More Honolulu Travel Guides
Pin this Beaches in Honolulu Guide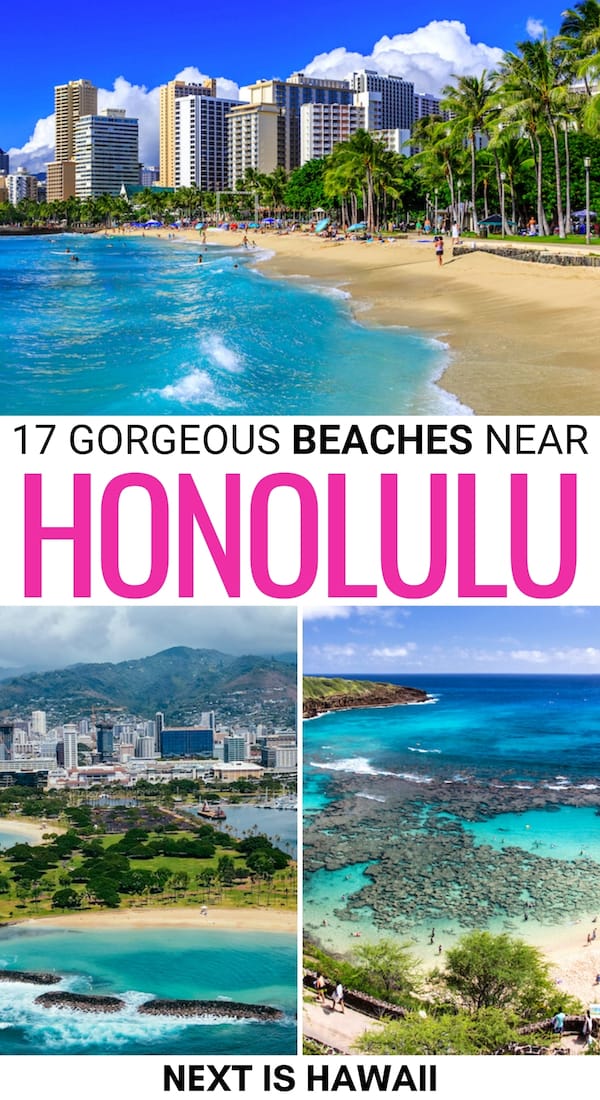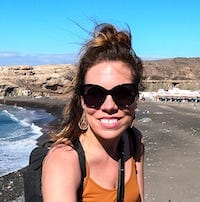 Megan is a travel blogger and writer with a background in digital marketing. Originally from Richmond, VA, she has been traveling frequently to Hawaii for the last 15 years and loves exploring every corner of each Hawaiian island, while trying to promote sustainable travel and small, local businesses along the way. Megan has written for or been featured by National Geographic, Forbes, Lonely Planet, the New York Times, and more. She has co-authored a guidebook with Fodor's Travel and has visited 45 US states and 100+ countries.