Hawaii has so much to offer but it would be a shame to not spend a little time exploring Honolulu on your trip there! This is the best way to spend 2 days in Honolulu – from its beaches to its (underrated!) food scene!
This Honolulu itinerary offers suggestions for maximizing your trip to Hawaiiʻs capital city and can even be considered a Waikiki itinerary as most of the activities and things to do are located in the famous district!
Are you planning your trip to Honolulu last minute?
If you're traveling to Honolulu last minute, you want to ensure you have lodging/tours ahead of time! Below are some of our top picks on Oahu!
Best Tours and Activities on Oahu:
Best Hotels and Lodging in Honolulu:
Traveling to Oahu independently? Be sure to book your rental car ahead of time to ensure availability!
While this guide is focused on a first-timerʻs trip to the city, it also does give some added suggestions if you have 3 days in Honolulu (or more)! It is definitely a great addition to our detailed Oahu itinerary.
Did we miss any amazing things to do during a weekend in Honolulu? Let us know your tips in the comments. Thanks!
How to Use this Honolulu Itinerary (+ Map!)
This itinerary is broken down into days and we give a jam-packed schedule for those two days in Honolulu. If you have more time, do space it out a bit!
We assume that you will have a rental car in Hawaii, so the itinerary is written accordingly. But, we do give instructions on how to use the public transportation system in the city, which is constantly rated the nationʻs best!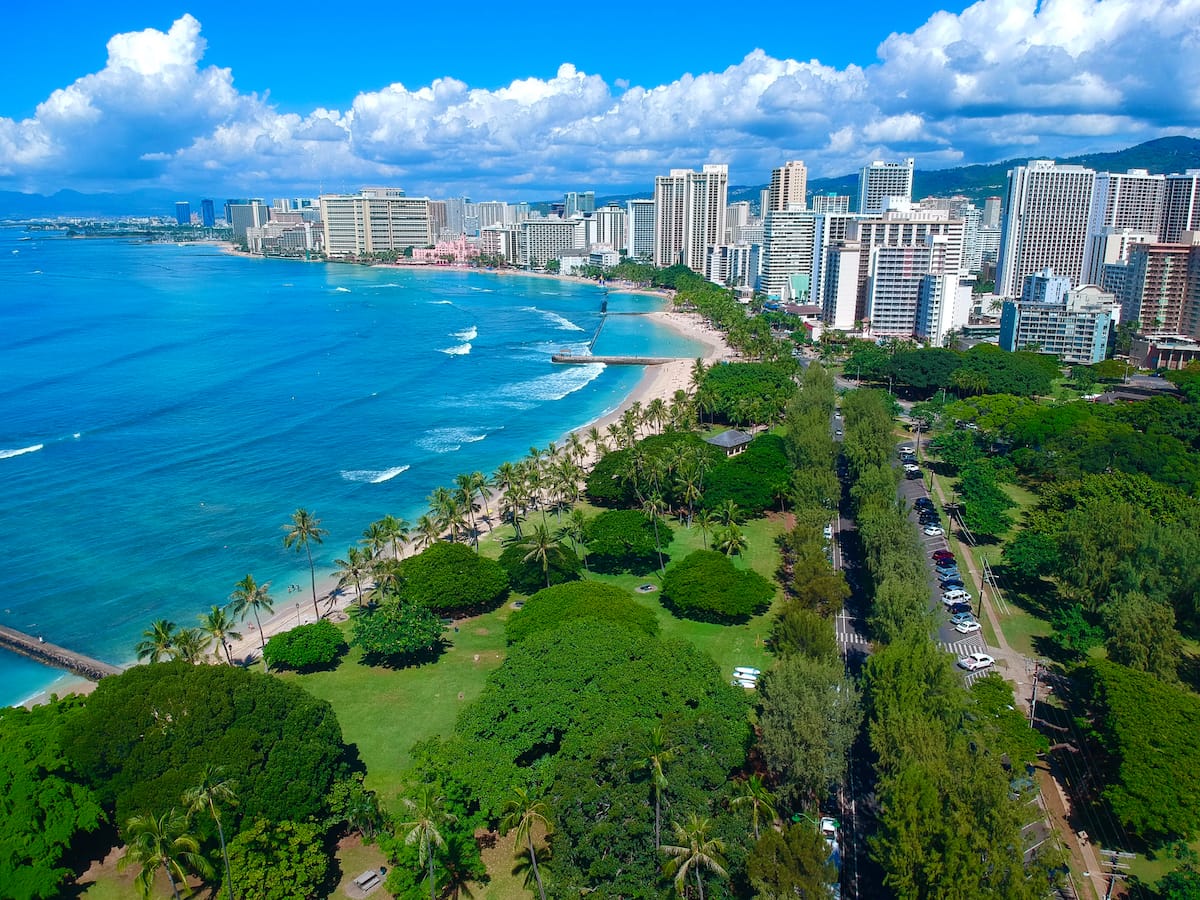 Pearl Harbor is best visited on this itinerary by car only for the sake of saving time. In addition, Pearl Harbor can be a long day if you want to explore each and every memorial and site there.
While you can visit Pearl Harbor by car, you can also visit by public transportation… it will just mean that you need to cut something else out of your day. There are many things to do in Honolulu, so I recommend planning ahead as much as possible!
We have also created a map that will help you navigate through the city, which is rather small and extremely manageable (and organized).
Hope that this helps you plan and see as many things as possible!
To add this map to your Google Maps account, click the 'Star' icon next to the map name. You can then view it on your cell phone or computer by heading to your Google Maps account, click the menu and add it to 'Your Places'.
Best Time to Visit Honolulu
To be honest, Honolulu is amazing any time of the year. But, a lot of people agree that September is likely the best month to visit.
Not only is this the off-season and when crowds are fewer, but the temperatures are the warmest, there is not as much rainfall, and the waves are perfect for swimming.
However, if you want to catch one of the epic waves surfing or watch the humpback whales migrate, head to Honolulu from January through March.
How to Get to (and Around!) Honolulu
Most likely, if you are heading to Honolulu, you will fly into the Daniel K. Inouye International Airport by way of Delta, American, United, or Southwest Airlines.
Hawaiian Airlines offers an array of daily flights between the islands, which is great for island hopping.
TheBus
Once you have landed, either pick up your rental car at the airport or catch TheBus. With 3,790 bus stops and 107 routes, the bus will take you reasonably close to anywhere you need to go, and one-way rides are $2.75.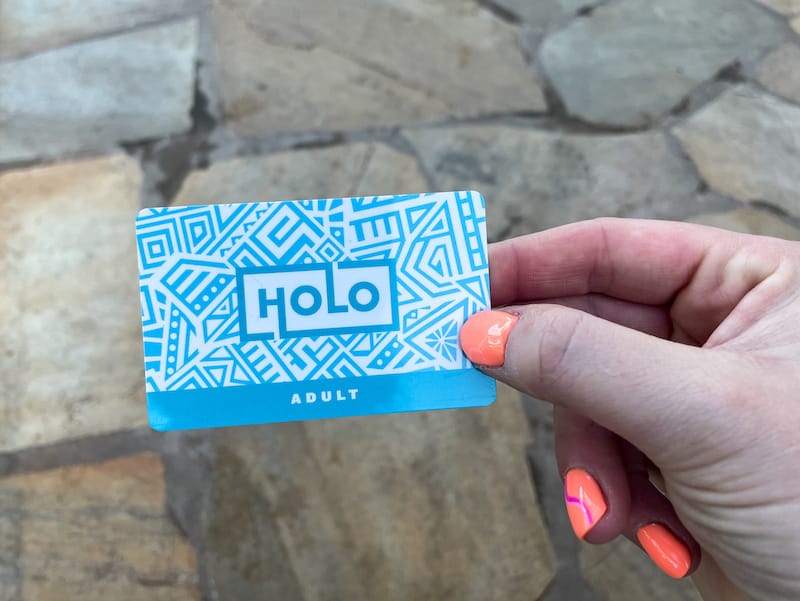 In addition, you can get a HOLO Card at the ABC stores in various places around Honolulu and fill it up there!
Renting a Car in Honolulu
We highly, highly recommend renting a car in Honolulu. While you donʻt particularly need a car to hang out in Honolulu and see many of these sites, one of the best things about the city is that you can take many half-day trips from it!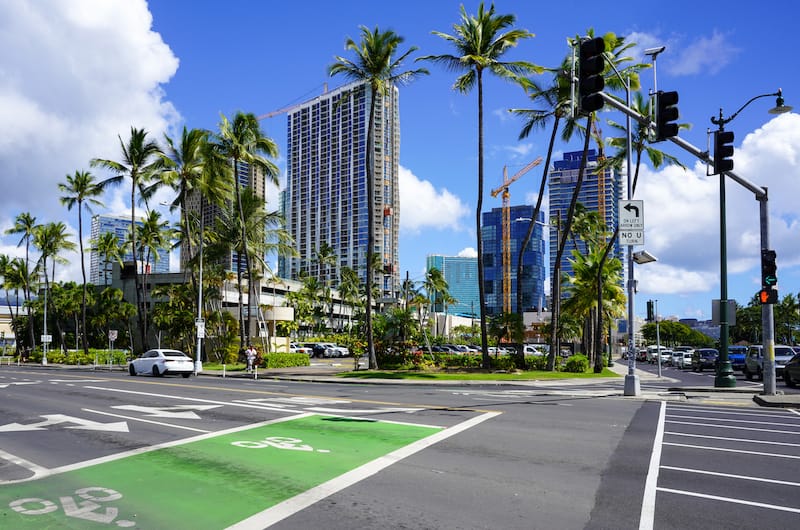 It also will help you navigate this Honolulu itinerary with ease – especially Pearl Harbor, Hanauma Bay, the Spitting Cave, and Manoa Falls.
>> Click here to rent a car in Hawaii
If you choose to rent a rental car and are a Costco member, be sure to fill up at the Costco at 525 Alakawa Street in Honolulu. It has the cheapest gas on the island!
Where to Stay in Honolulu
Luxury Hotel
ESPACIO The Jewel of Waikiki is a residential-style boutique hotel with nine two or three-bedroom 2,250 square-foot suites, each on its own floor.
Once you step inside, you will find Persian carpets, a chef's kitchen, a panoramic ocean view, and Jacuzzis on the balcony.
Daily continental breakfasts, the at-your-service butler, rooftop sundeck, infinity pool, spa, and sauna are just a few of the added amenities.
You should not miss dinner at the Japanese-French Mugen restaurant.
>> Click here to check rates and availability
Mid-Range Hotel
Along the southeastern edge of the Waikiki, you will find the 1,310-room Waikiki Beach Marriott Resort and Spa nestled across the street from the sandy strip of Kuhio Beach.
The hotel offers guests WiFi throughout the hotel complex, along with a fitness room, two pools, the Aveda Spa, and daily activities.
Many of the rooms over lovely sunset views of Diamond Head and partial ocean views.
The hotel also offers four dining options: local fare, steak, seafood, and Italian.
>> Click here to check rates and availability
Budget Lodging
Although not directly on the beach, the Waikiki Malia by Outrigger offers a great home base during your stay in Waikiki.
Guestrooms and studios with kitchenettes are spacious and feature Smart TVs, WiFi, and an in-room safe.
The hotel also has a lounge pool, whirlpool, fitness center, and an activities desk.
>> Click here to check rates and availability
Honolulu Itinerary Overview
Below is a quick overview of this Honolulu itinerary. We have broken things down into two days and you can see food options along with famous landmarks, activities, and more.
At the end of this itinerary for Honolulu, we give some additional options for those spending 3 days in Honolulu, or even more!
Day 1 Overview
Breakfast at Eggs'n Things
Diamond Head State Monument
Manoa Falls
Pu`u Ualaka`a Overlook
Lunch at Marugame Udon
Pearl Harbor
Kuhio Beach Park – Torch Lighting and Hula Show
Dinner at Arancino di Mare
Day 2 Overview
Kona Coffee Purveyors
Spitting Cave of Portlock
Hanauma Bay
Makapu`u Point Lighthouse Trail
Sato Seafood (poke bowls)
Maui Brewing Company
Day 1 in Honolulu
Breakfast at Eggs'n Things
Since 1974, visitors and locals have been sitting down in Eggs'n Things for a delicious savory and sweet homemade breakfast.
Be prepared to wait between 20 and 30 minutes for a table before you can enjoy one of their array of 3-egg omelets, crepes, or waffles.
A few local favorites are:
Hawaiian loco moco
Kalua pig benedict on a taro bun
Macadamia Nut pancakes
Waffles with Fresh pineapple whipped cream
SPAM & green onion omelet
Their flavored whipped cream comes in generous portions and is quite tasty, while dishes that feature fruit come with a good amount of delicious fresh Hawaiian fruit.
Be sure to visit one of the three locations in town. Check their website for more information.
Visit Diamond Head State Monument
Spend the morning on a 1½ – 2-hour hike climbing the Diamond Head State Monument.
The 1.6-mile trail through the monument is open from 6:00 AM – 6:00 PM, with the last hike beginning at 4:00 PM.
GOOD TO KNOW:
As of 2022, it is required to make reservations in advance to hike or go to Diamond Head if youʻre an out-of-state visitor. Click here to make an
advance reservation
.
On the east side of Waikiki, you can see one of Hawaii's most recognized landmarks. The broad crater's summit trail is steep, with plenty of stairs as it gains 560 in 8/10 of a mile.
Along the way, you will see some of Diamond Head's military history, including the 225-foot Fire Control Station tunnel, bunkers, a navigational lighthouse, and a beautiful shoreline view.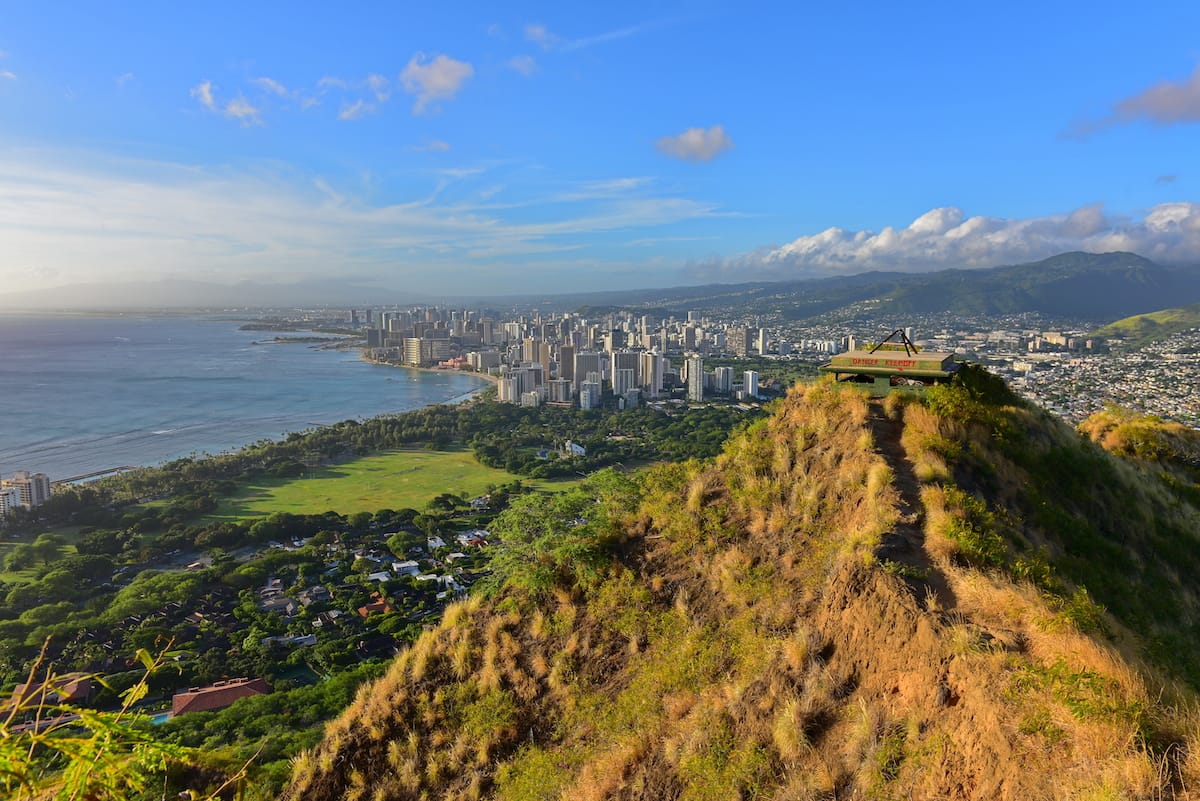 If you visit during the winter, you may even see humpback whales passing by.
If you are interested in hearing more about the history, geography, legends, and culture, along with the plants and animals that live on the crater of Diamond Head, bring your earbuds and purchase the 1-hour self-guided audio tour.
GOOD TO KNOW: When you get to the Y on the trail, head to the left for a less strenuous hike.
The limited parking fills up quickly, so a morning hike before 9:00 AM will most likely save you from waiting for a parking place to open up. Catch bus 2 or 23 to Diamond Head Road opposite 18th Avenue if you don't have a car.
If youʻre looking to visit Diamond Head as part of a tour, it is totally possible! Click here to check rates and availability.
Hike the Manoa Falls Trail
To see the beautiful Manoa Falls, travel to the end of Manoa Road before taking a leisurely, slightly uphill 0.8-mile walk to the falls that plummet down 150 feet.
As you stroll along the well-established trail, you will walk alongside the Waihi Stream and feel like you are hiking in the movie Jurassic Park with all the lush Eucalyptus robusta trees in this Hawaiian tropical rainforest.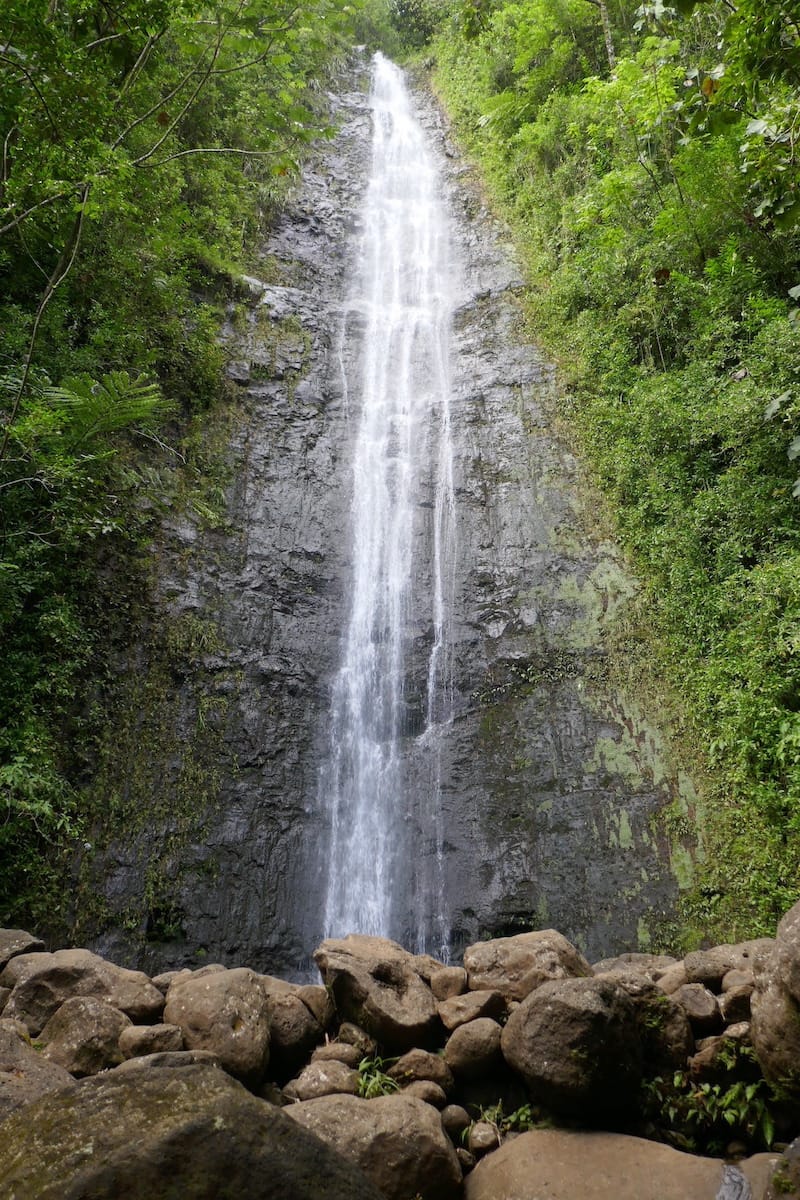 Along the Manoa Falls Trail, stop at the bench under the arch of vines for a picture before making it to the famous Hawaiian waterfall!
Once you arrive at the falls, enjoy the beauty of the falls and all the greenery around them. But, do note that swimming under the falls is prohibited.
Closed-toe shoes are highly recommended since the trail often gets muddy after it rains. The Manoa Valley and the area outside of Honolulu have a different microclimate and it is much rainier up there!
If you have extra time, be sure to visit the Lyon Arboretum. It is next to the waterfallʻs trailhead, free to explore, and beautiful.
How to get to Manoa Falls:
If you do not have a car, take bus 67 to the last stop.
In 2022, parking is $7 or $4 with a military ID. You can also park for free along the street about ½-mile from the trailhead (this price is subject to change at any time).
Go to the Pu`u Ualaka`a Overlook
After driving 10 miles up the wiggling and winding Tantalus Drive and Round Top, you will find a pull-in at Pu`u Ualaka`a State Wayside Park.
Drive to the end of the road and walk about 100 feet along the trail to the point. Here you will discover the most amazing sweeping views of the southern portion of O'ahu.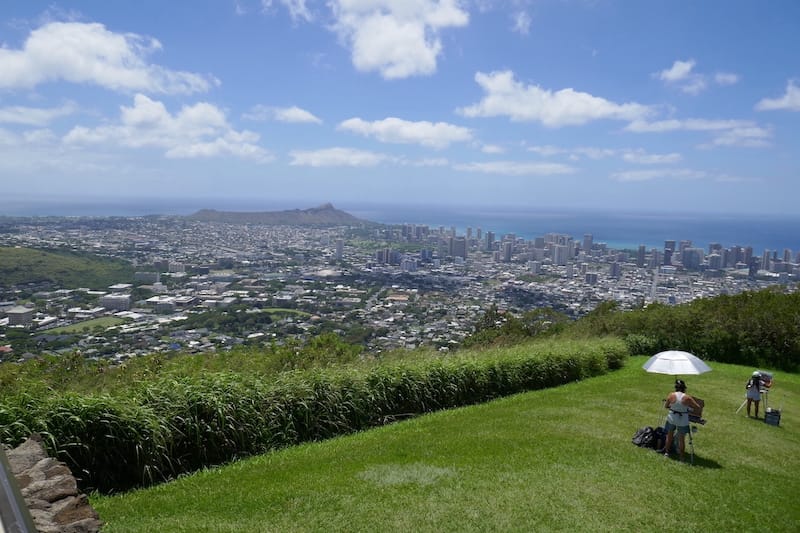 From the Pu`u Ualaka`a Overlook, gaze to your left to see Diamond Head, to your right to view Pearl Harbor, Honolulu International Airport, and the Wye Erna Mountains, and straight in front of you are Honolulu's skyscrapers.
From here, you can also access the 1-mile `Ualaka`a Loop Trail or enjoy a picnic at one of the shelters.
The overlook is also a splendid place to watch the sunset in the evening. However, get there early due to the limited number of parking places.
Lunch at Marugame Udon
Marugame Udon, located by the Kuhio Banyan Hotel and the Fort Street Mall, features a Hawaii menu of rice and handmade udon bowls and tempura.
Their theater-style kitchen gives guests a chance to watch the food preparations. It is ranked as one of the best places to eat in Honolulu and you will need to make sure to get there early or be prepared for a wait in a line of other hungry patrons!
Check out their website for additional information.
Visit Pearl Harbor
To get the most out of your visit to Pearl Harbor, you need to do a bit of preplanning.
Tickets for the boat tour to the USS Arizona Memorial are free ($1 service charge) and must be purchased ahead of time to avoid any delay in your tour (trust us on this)!
Once you arrive at Pearl Harbor, take time to take in the 45-minute USS Arizona Memorial program, which includes a highlight movie in the Pearl Harbor Memorial Theater, a boat ride to the USS Arizona Memorial, and time to reflect while in the memorial.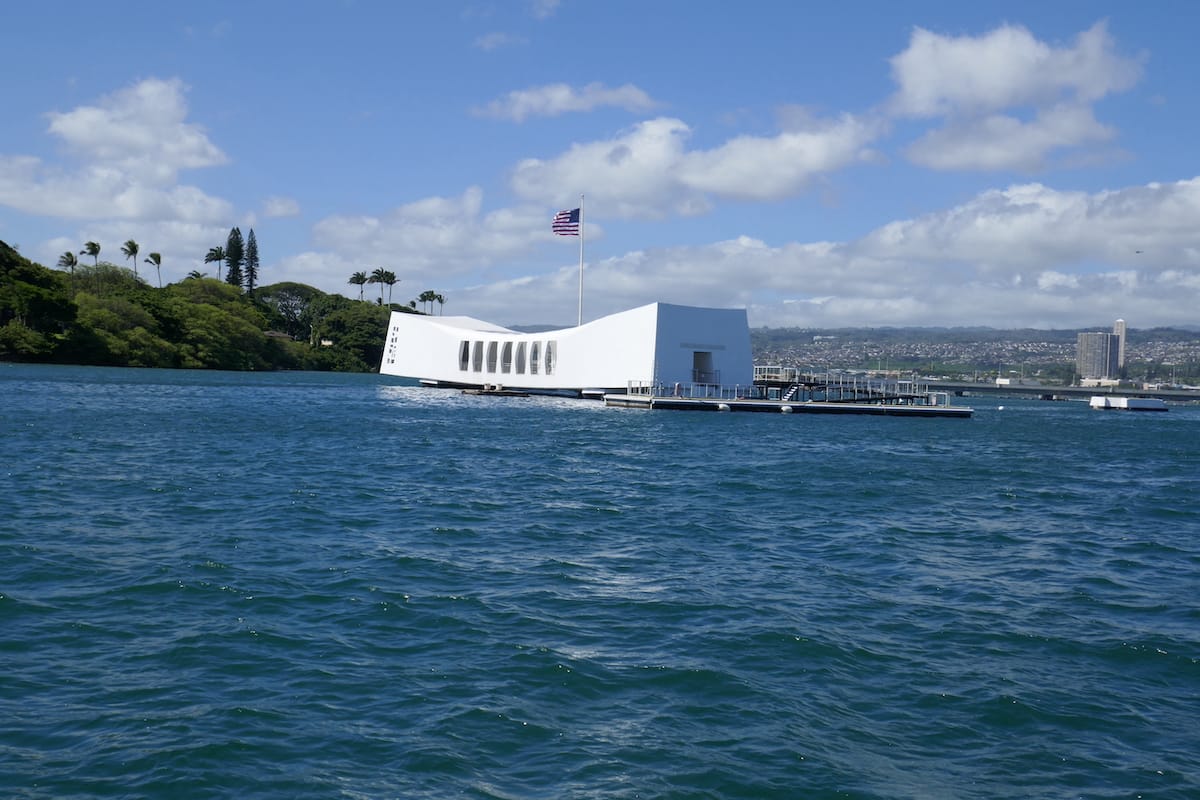 These tours run from 8:00 AM – 3:30 PM daily. After you return to dry land, explore the impressive exhibit galleries Road to War and Attack.
The exhibits highlight the events surrounding the Pearl Harbor attack and feature personal memorabilia, artifacts, and photographs.
Then stroll along the Interpretive Wayside paths to the Contemplation Circle, Remembrance Circle, the USS Arizona Anchor, and the Waterfront Submarine Memorial.
Before continuing your day elsewhere, visit the USS Bowfin Submarine Museum, and walk aboard the USS Bowfin.
>> Click here to check rates and availability for a tour
Check Out the Torch Lighting and Hula Show
Bring your chair, mat, or blanket and enjoy the free 1-hour Torch Lighting and Hula Show at the Hula Mounds at Kuhio Beach Park under the banyan tree across from the Hyatt Regency Waikiki.
Each Saturday evening from 6:30 – 7:30 (6:00 – 7:00 November – January), the shop opens with the blowing of the conch shell before Halau Hula and Hawaiian performers take the stage.
Before you leave, be sure to get your picture taken beside the statue of Duke Kahanamoku on the beach. He was the Hawaiian swimmer who made surfing popular in Hawaii!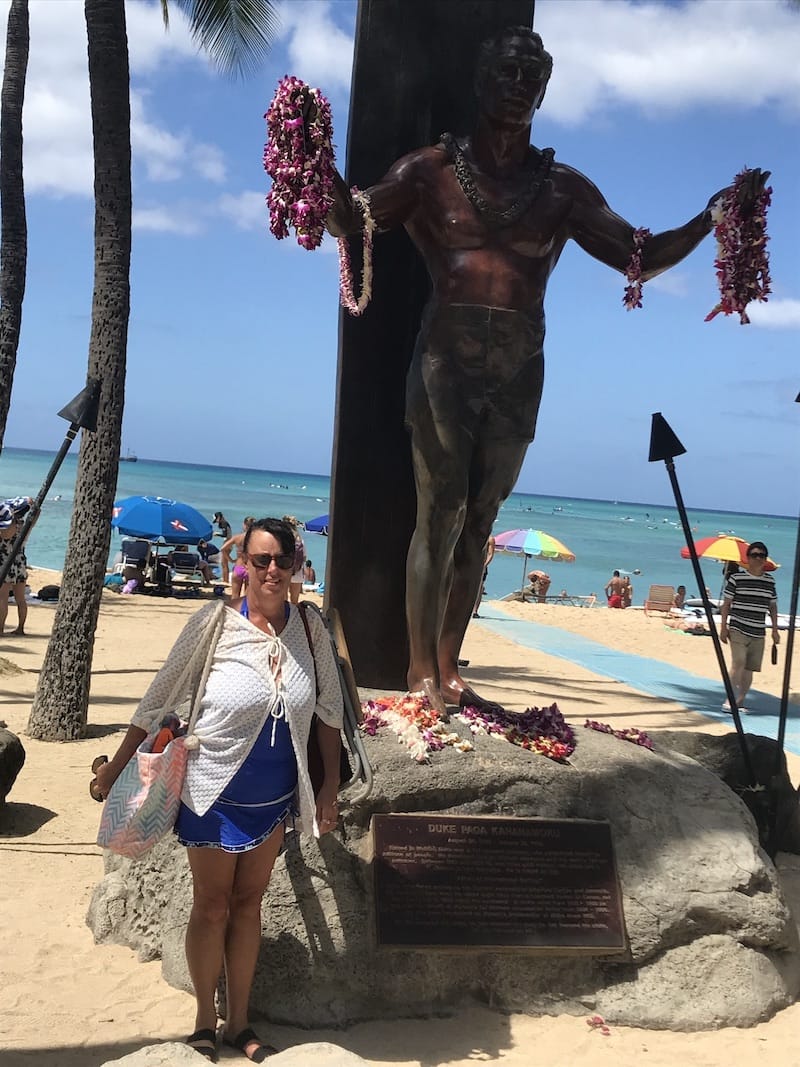 Have Dinner at Arancino di Mare
After enjoying your fill of poke bowls, Kaula pork, poi, and Loco Moco, sit down to a delicious Italian dinner at Arancino di Mare.
Even though Italian restaurants are not typical in Hawaii, the prestigious Hale 'Aina Awards proclaimed Arancino di Mare the Best Italian Restaurant in Hawaii in 2018.
It is just a five-minute walk from the hula show!
As you walk in the doors, you will smell the garlic and sauces simmering for the Napoli-style entrees.
Even though some ingredients are imported from Italy, the fish, seafood, and fresh vegetables are all sourced in Hawaii.
During dinner, the restaurant usually is full of guests enjoying Pappardelle Alla Bolognese, Spaghetti ai Ricci di mare, Risotto di Funghi, and Spaghetti Alla carbonara. Save room for some gelato, sorbet, or tiramisu.
Check out their website for more information.
Day 2 in Honolulu
Fuel Up at Kona Coffee Purveyors
When you need a fantastic pastry and a delicious cup of coffee to start your day, head to Kona Coffee Purveyors at the Kuhio Mall Entrance of the International Marketplace.
At this bustling café, you can get both a steaming cup of high-quality Kona Coffee and a James Beard award-winning croissant from the patisserie.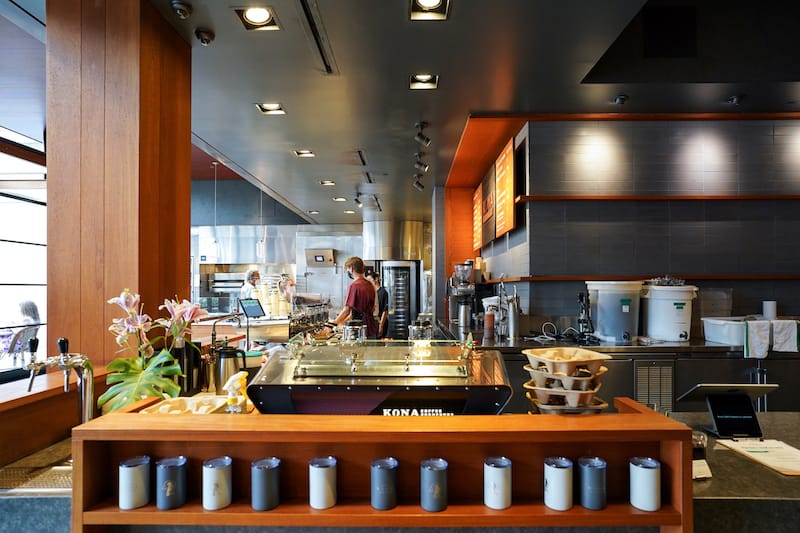 What could be better than coffee and a super flaky fruit-flavored Kouign-Amann, quiche, or bun cha, ham, and cheese croissant while enjoying the view of the Makua and Kila statue from their outdoor seating area.
During the morning rush hour, the lines tend to be long, but it moves pretty quickly.
GOOD TO KNOW: If you park in the International Marketplace, get your ticket validated for one hour of free parking.
Visit the Spitting Cave of Portlock
Location: Between 4 and 6 Lumahai Street, Honolulu, HI 96825
Tucked behind the homes of Lumahai Street just east of Waikiki, you will find a path between the houses labeled 119A Access that will take you down a 75-foot path to the blue ocean waters.
Here, sit on the rocks, feel the ground tremble under you, and feel the mist as the water explodes out of the Spitting Cave of Portlock.
For the best tremble, stand over the cave. However, stand on the right or left side of the cave for the best view. This will give you an unobstructed view to watch the water shoot up and out of the cave.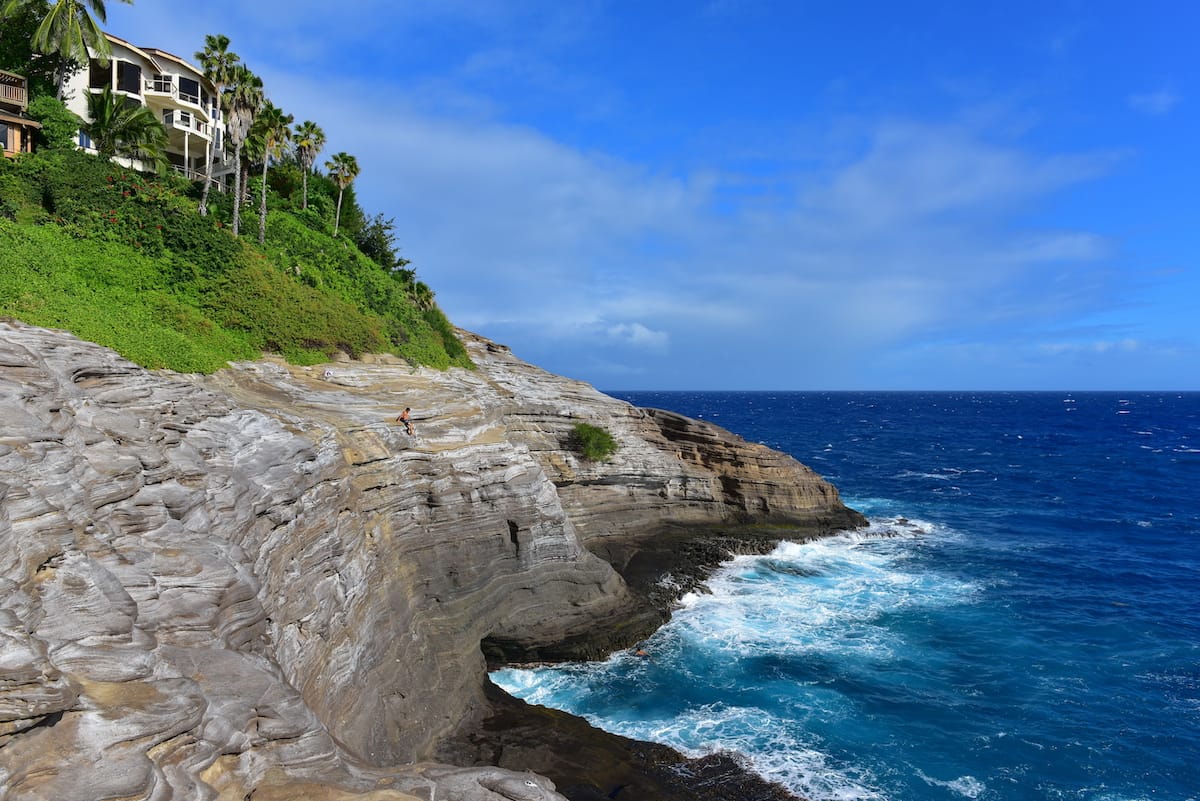 If your timing is perfect, you may even be able to watch some of the local cliff divers dive into the churning water and climb up the rocks to do it again.
Diving into the waters here is hazardous, as noted by the multiple memorials that littler the rocks around the cave.
There are also no railings, so keep children near you and away from wet, slippery edges. For the best picture, try to capture a house or two to show the height of the water gushes.
Head to Hanauma Bay
Hanauma Bay is a beautiful wide and deep sandy beach that is known for great snorkeling and amazing views of the horseshoe-shaped tuff ring along O'ahu's southeast coast.
Just 10 miles east of Waikiki, Hanauma Bay is a protected marine life conservation area where you can swim amongst 400 species of fish, including turtles, and the humuhumunukunukuapua'a, Hawaii's state fish.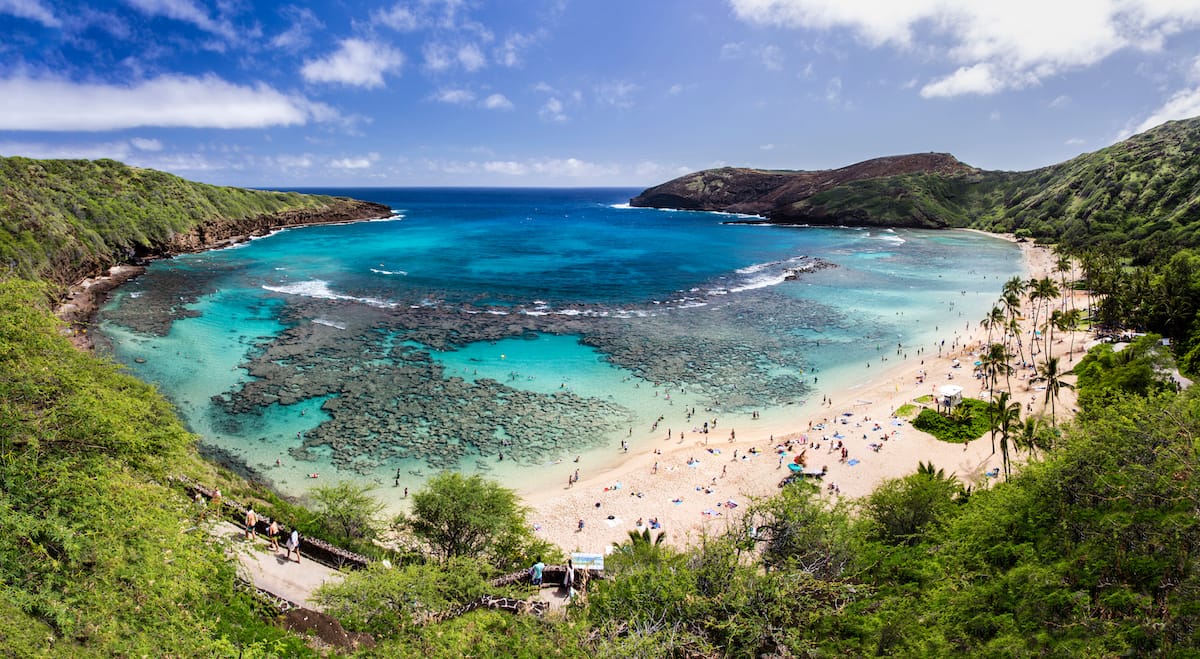 The beach is one of the most popular tourist attractions on O'ahu.
IMPORTANT INFO:
With only 300 parking spots, you must make
your required online reservations
and arrive early to find an available parking spot. Reservations DO NOT include parking.
The park opens at 6:45 AM and closes at 4:00 PM Wednesday – Sunday. The park is closed to all guests on Mondays and Tuesdays. Before you can spend the day enjoying Hanauma Bay, you will need to watch a 9-minute conservation video.
Once you have watched the video, walk ten minutes down the steep trail to the beach or catch the tram. Once at the bottom, you will find a lifeguarded beach, restrooms, showers, a concession stand, and snorkel equipment rentals.
GOOD TO KNOW: If you arrive later in the day when the parking lot will be full, or you do not have access to a car, take the #22 bus. It is about a 50-minute ride from Waikiki.
Walk the Makapu`u Point Lighthouse Trail
Since Hanauma Bay closes at 4:00, you still have plenty of daylight to enjoy hiking up the wide 2-mile Makapu`u Point Lighthouse Trail.
Even though the elevation gain is 520 feet, the trail along Oahu's easternmost point offers a gradual climb that is not overly taxing.
Along the way, take time to stop at the overlooks and the Makapu`u Tide Pools' blowhole that can be seen near the first set of information signs about whales.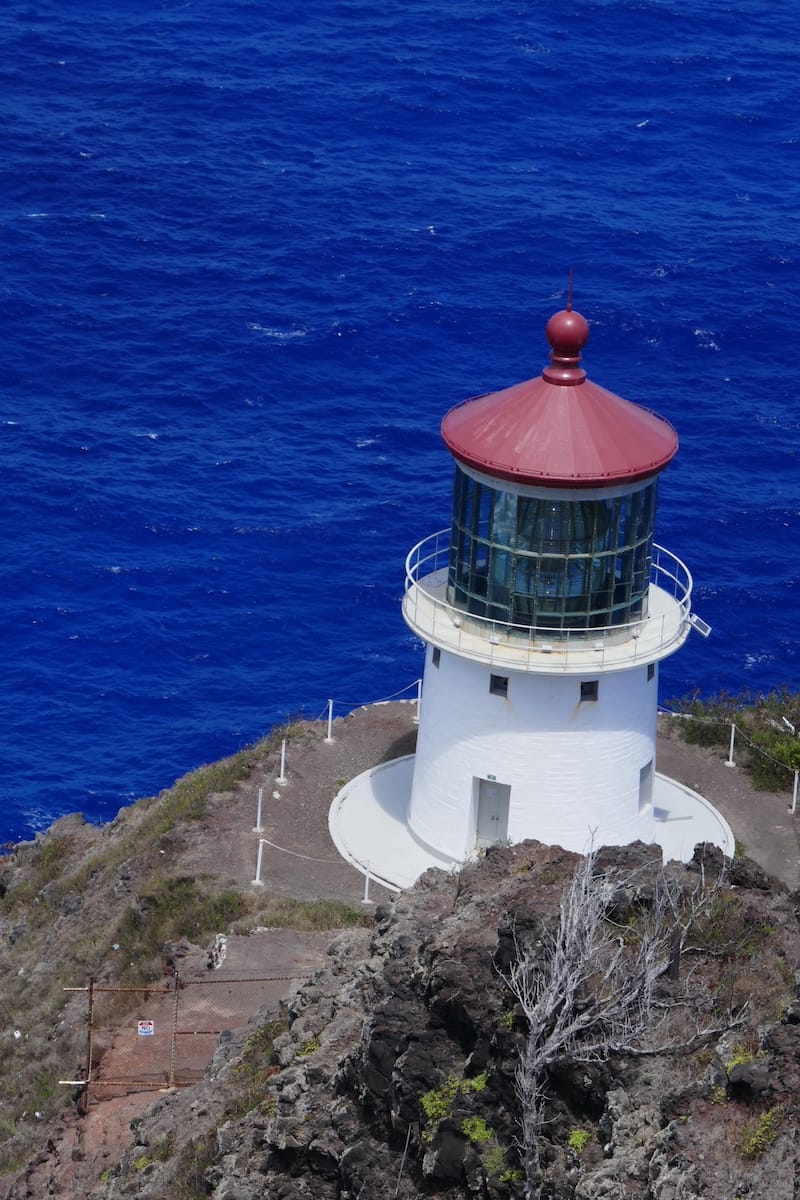 Once you reach the top of the trail, look over the windward side of the overlooks to see the beautiful lighthouse clinging to the side of the rocky cliff 600 feet above the indigo-colored water around it.
From December through May, the Molokai Channel that runs past the Makapu`u Lighthouse is a terrific spot to whale watch. There are even on-site telescopes that you can gaze through.
Plan on allowing 1½-2 hours to enjoy the trip and have time to sightsee along the way.
Have Poke at Sato Seafood
Stop at Sato Seafood, across the street from the International Marketplace, for a dinner of high-quality and flavorful poke bowls.
One of the house favorites is the Hawaiian Munchies which are savory and come with a shoyu and creamy, spicy sauce. Be sure to add tempura flakes for a great crunch.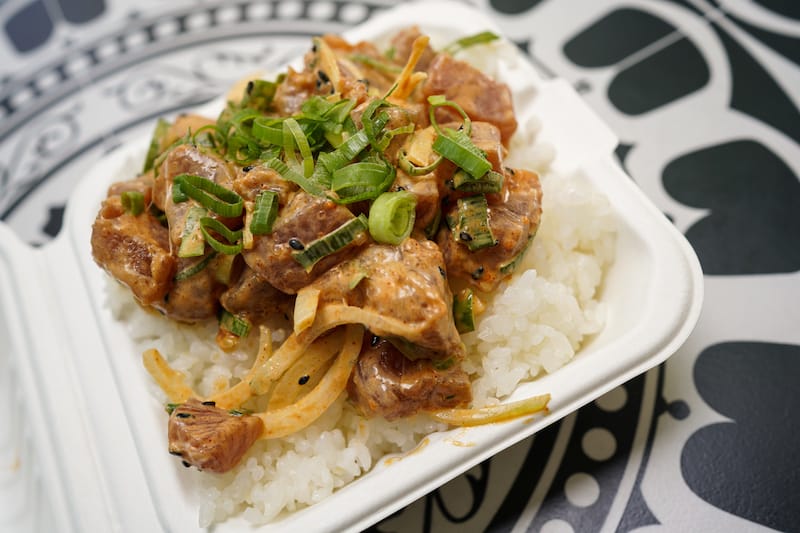 Also, try the Spicy Maui Maui x Salmon Aburi combination bowl. It has a spicy salmon base with torched macadamia nuts on top!
The combination of smoky and creamy gives it a delicious blend of textures and flavors.
Enjoy the Night at Maui Brewing Company
Stay parked at the International Marketplace and head to the Maui Brewing Company along Kalakaua Avenue in the Waikiki Beachcomber by Outrigger resort for a taste of Hawaii.
The brewery/restaurant has an open-air interior with indoor and outdoor seating and is family-friendly.
The Maui Brewing Company, founded in 2005, is based in Maui but has a handful of restaurants across the islands.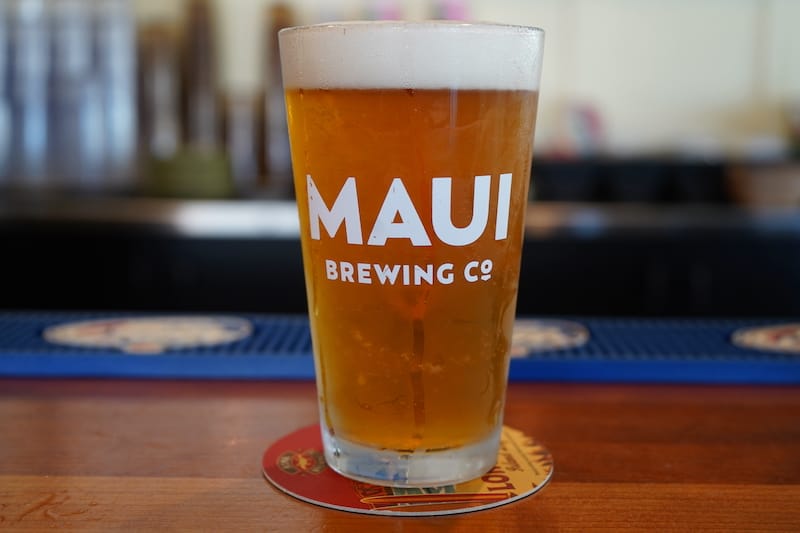 The food menu features a variety of island-inspired dishes, including pizzas, burgers, and a popular crispy chicken katsu sandwich.
However, if you have come for just a drink or two, saddle up to the island's largest bar and enjoy one of their island-inspired craft beers. They feature both year-round and seasonal flavors.
If you can't decide on just one, try their popular beer flight, which allows you to select any four of the beers on hand.
More than 2 Days in Honolulu?
If you have more than 2 days in Honolulu – there is plenty to keep you occupied and we hardly touched the surface in this guide!
Below are a few places to add to your itinerary, including some local places in Honolulu (great for rainy days)!
Visit the Iolani Palace
Iolani Palace is a must-visit when visiting Oahu! This site is the former residence of the Hawaiian king and is one of Honolulu's most historic attractions. The palace was constructed in 1882, rebuilt in 1969, and reopened to the public in 1978.
This massive structure in downtown Honolulu spans several acres and houses everything from rich royal rooms to plush-carpeted political offices.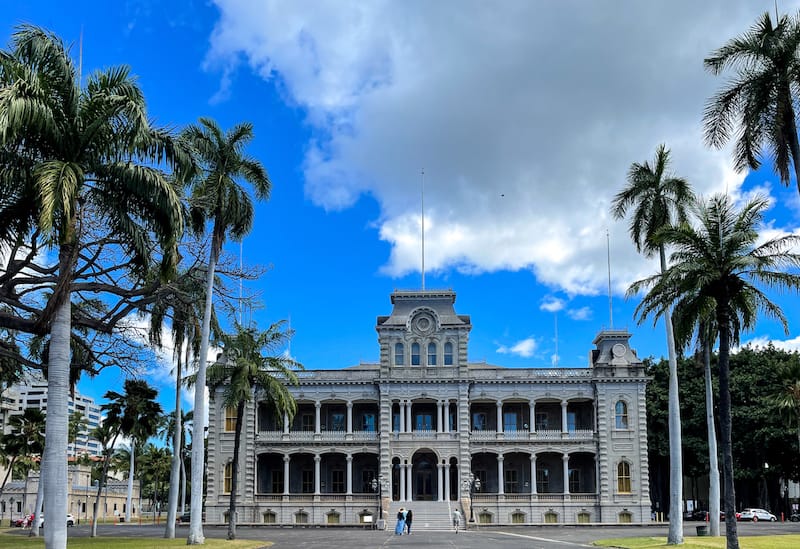 History fans will deeply appreciate this place. Upon your arrival, you can take tours, listen to audio recordings, and even check out vintage displays of clothing, fittings, furniture, and relics of past royalties!
Across the street, youʻll also see the Ali'iolani Hale, another famous site. It also has a statue of King Kamehameha V in front of it.
The Iolani Palace truly is one of the best Honolulu museums to visit when you're there!
Address: 364 S King St, Honolulu, HI 96813
Hike the Koko Crater Trail
Located near Waimanalo, Oahu, Koko Crater is a 1,208-foot-tall volcanic tuff cone. This is truly one of those hiking trails that is classified as strenuous and offers the opportunity to witness wildlife at its best.
To reach the lookout point, this popular hiking spot challenges hikers to climb 1,048 exceedingly steep railroad ties stairs, which were built more than 60 years ago so that the military could carry supplies to the bunkers at the summit.
The Koko Crater Trail is open all year round and is largely utilized for its touristic hiking and nature visits.
Visit Kaka'ako (Arts District)
One of the most colorful neighborhoods in Honolulu is Kakaʻako, or the Arts District. Located near the Ala Moana Center, you will easily notice it as it is brimming with vibrant street art and cool coffee shops, markets, and more!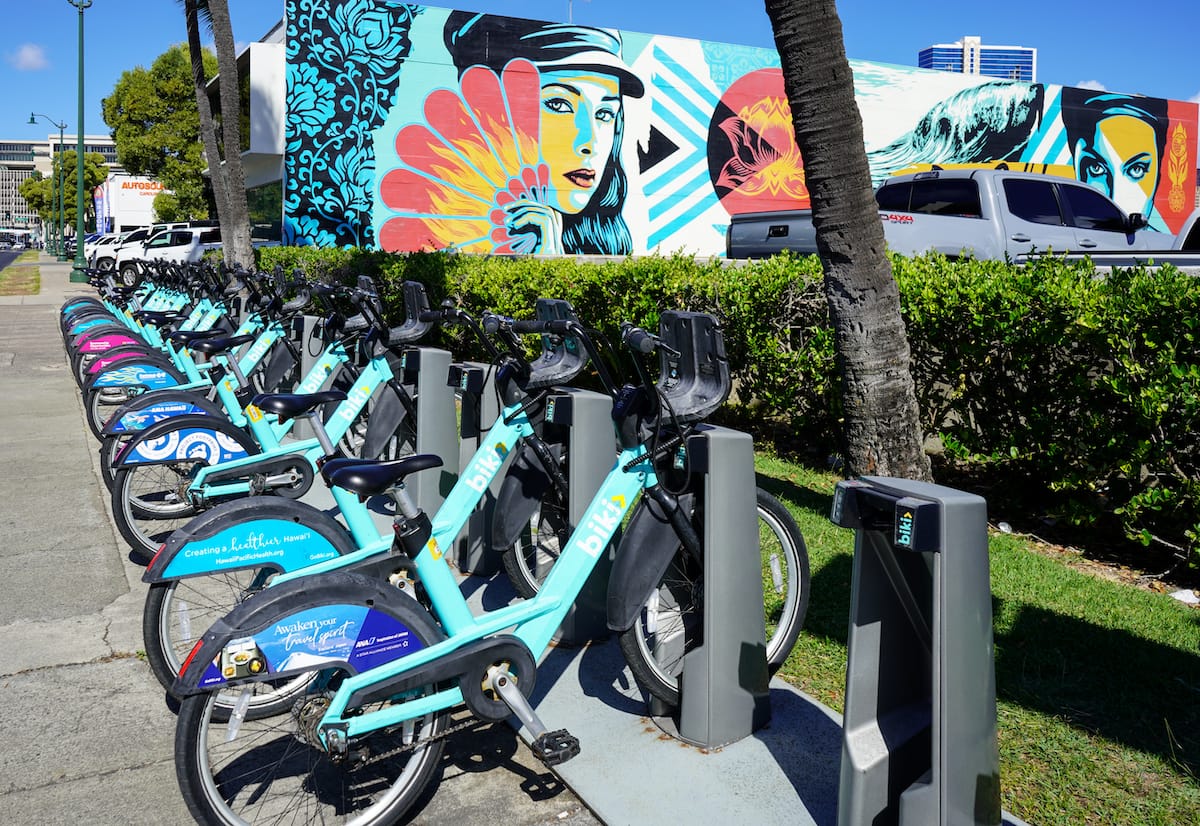 When youʻre in Kakaʻako, be sure to have lunch (and dinner!) and also have a coffee or four there! Some of the best places in Kakaʻako are:
Kakaʻako Farmersʻ Market
Arvo (amazing flat white!)
The Highway Inn (fantastic spot for Hawaiian food)
Paiko (sells houseplants and more)
9Bar HNL (tasty iced ube latte)
Did we miss any amazing things to do on this weekend in Honolulu itinerary?
Let us know your top tips for 2 days in Honolulu (or more)! Thanks!
More Hawaii Itineraries
More Honolulu Travel Guides
Pin this Weekend in Honolulu Travel Guide