One of the best hikes in Honolulu and a short distance from Waikiki is the Mānoa Falls Trail. This guide details everything you need to know before enjoying the hike to Mānoa Falls!
Are you planning your trip to Oahu last minute?
If you're traveling to Oahu last minute, you want to ensure you have lodging/tours ahead of time! Below are some of our top picks on Oahu!
Best Tours and Activities on Oahu:
Best Hotels and Lodging in Oahu:
Traveling to Oahu independently? Be sure to book your rental car ahead of time to ensure availability!
If we missed anything or you have additional questions about the Manoa Falls Trail, please let us know in the comments or send us a message. Thanks!
Manoa Falls Trail & Waterfall Overview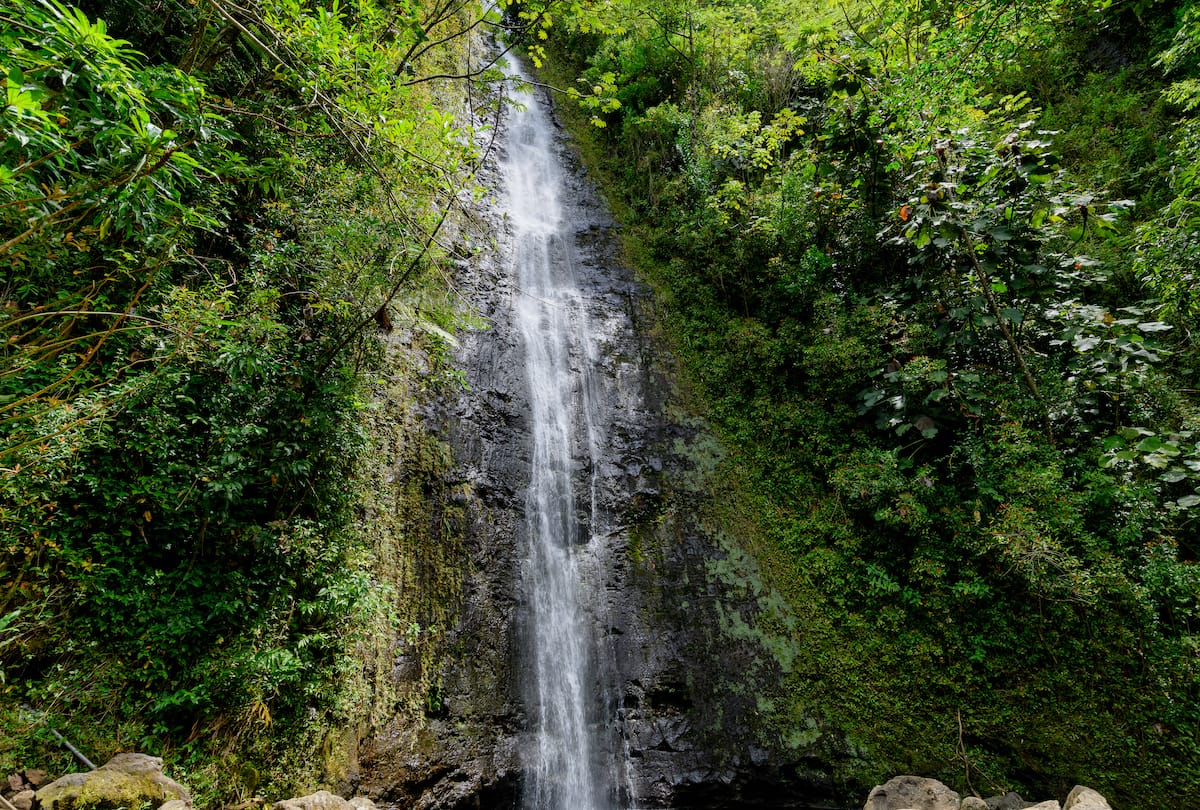 Length: 0.8 miles (1.3 kilometers) one way
Trail type: Out and back
Level of difficulty: Easy
Elevation gain: 800 feet (244 meters)
Mānoa Falls height: about 100 feet (32 meters). Some sources say it is taller and closer to 150 feet.
Trail highlights: Mānoa Falls, Waihī Stream, Lyon Arboretum (right next to the entrance)
Mānoa Falls Trail is a waterfall hike in Honolulu, a short drive from the downtown area. The hike is an out and back that takes about 2 hours in total if not rushed. It is one of the most popular Hawaii waterfall hikes!
You can not swim in Mānoa Falls due to leptospirosis risks. But, like anything, you may see people doing it anyway. Nevertheless, this waterfall is an absolute must for any Honolulu itinerary!
Hiking the Mānoa Falls Trail
The trail to Mānoa Falls is a must-do for anyone visiting Honolulu and is an easy trail situated up in the gorgeous and super lush Mānoa Valley.
One of the reasons I love this hike is that it allows you to enjoy a totally different climate and ecosystem than what youʻll find down in Honolulu and Waikiki.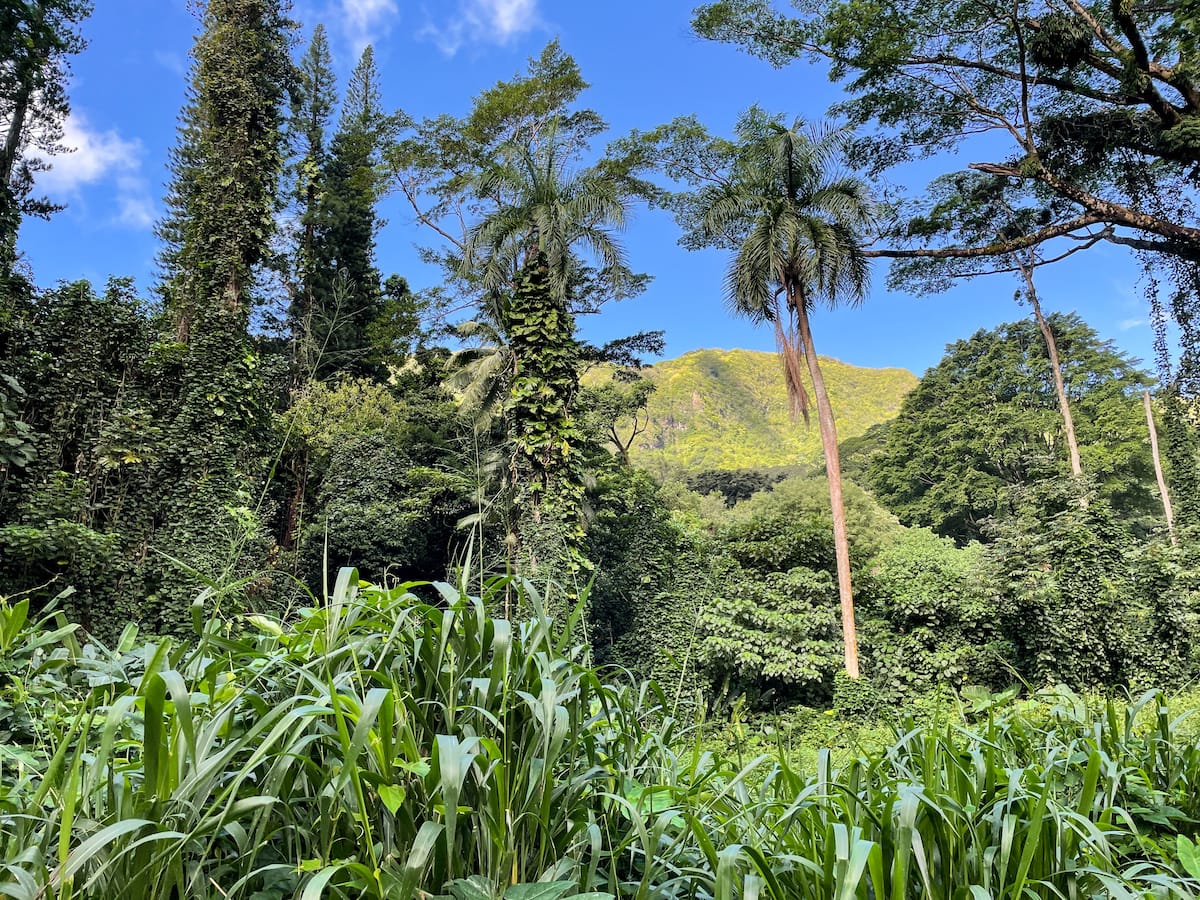 The trail is 0.8 miles long (1.3 kilometers) one way (1.6 miles or 2.6 kilometers round trip). There is a slight elevation gain during the hike of around 800 feet (244 meters).
And, as the name suggests, the hike features a waterfall called Mānoa Falls (around 100-150 feet) at the end of it.
Once you arrive at the trail (directions will be written below), you will need to enter the area and pass the ʻMānoa Falls Trailʻ sign. Donʻt worry, you wonʻt miss it as everyone will be taking a photo with it!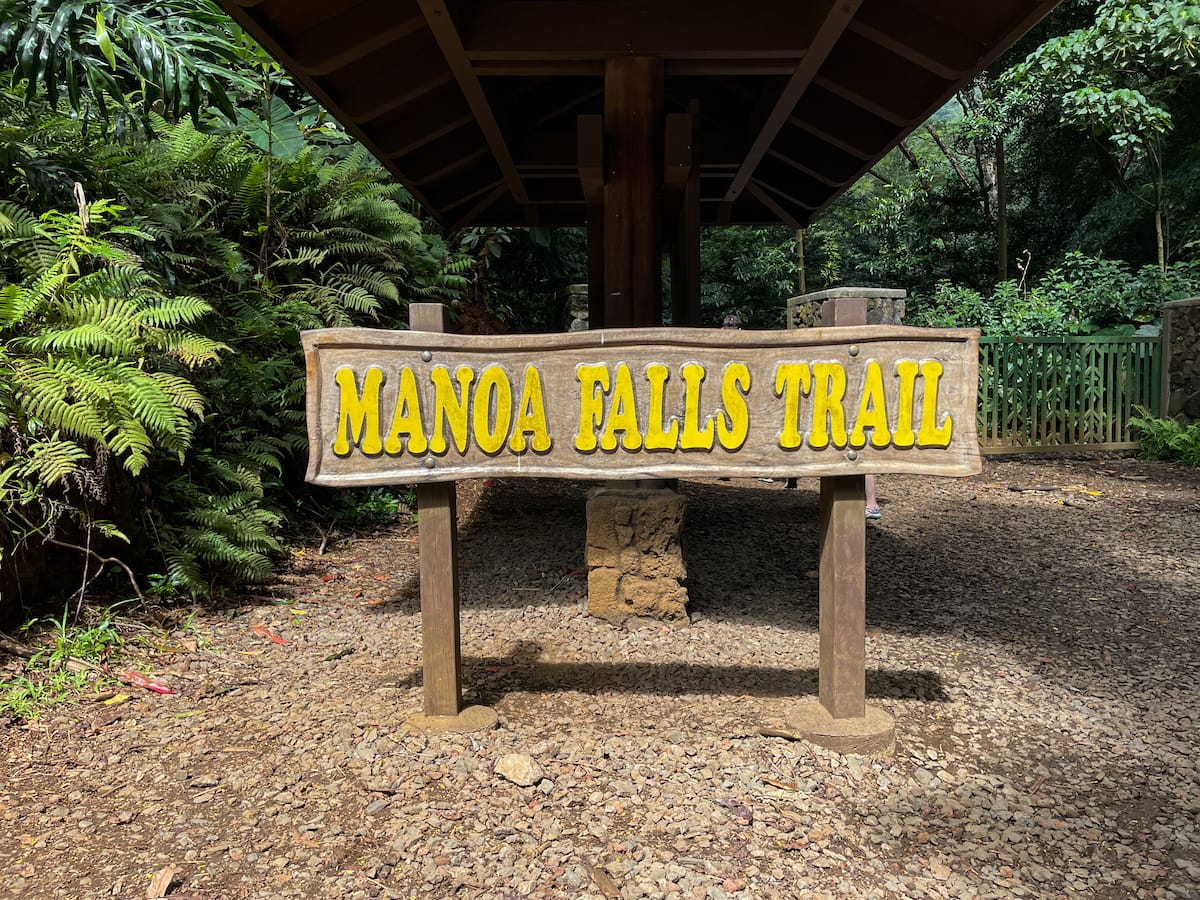 The Honolulu trail crosses over the ʻAihualama Stream before heading north through a grove of lush Eucalyptus robusta trees. Along the hike, you will see (and hear!) the Waihī Stream running beside the trail.
If you veer off of the trail a bit to Waihī Stream, you can see some of its wildlife.
Some creatures you will find inside of the stream (and near it) are ʻoʻopu (native Hawaii stream fish), swordtails, grass shrimp, Tahitian prawns, mosquito fish, guppies, bufo toads, and poison dart frogs.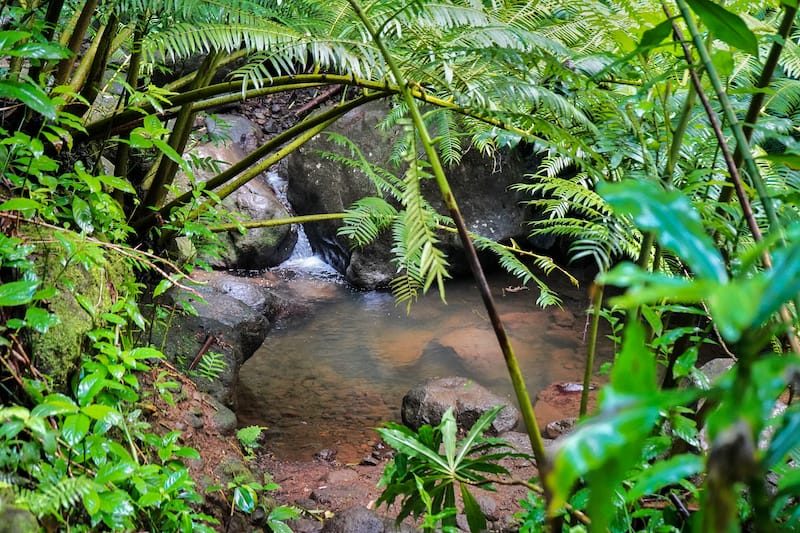 When you arrive close to the waterfall, you will see a bench and another small area where you can sit and take a picture under an ʻarch of vinesʻ.
This is a popular place to grab a photo. However, if you arrive later in the day, you may have to wait your turn in line to get one!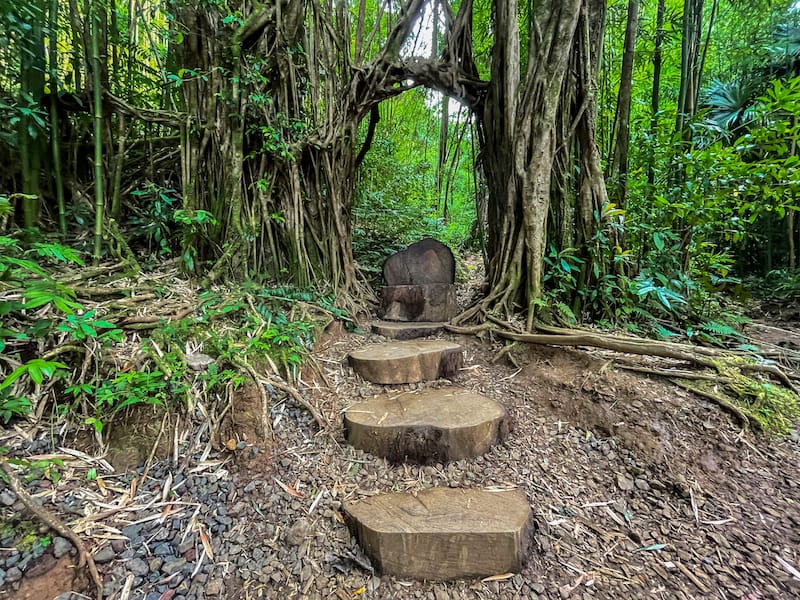 When you get to the waterfall, it may or may not have water running down it. Mānoa Falls is a skinny, yet somewhat tall waterfall that is at its best after rain (like any waterfall).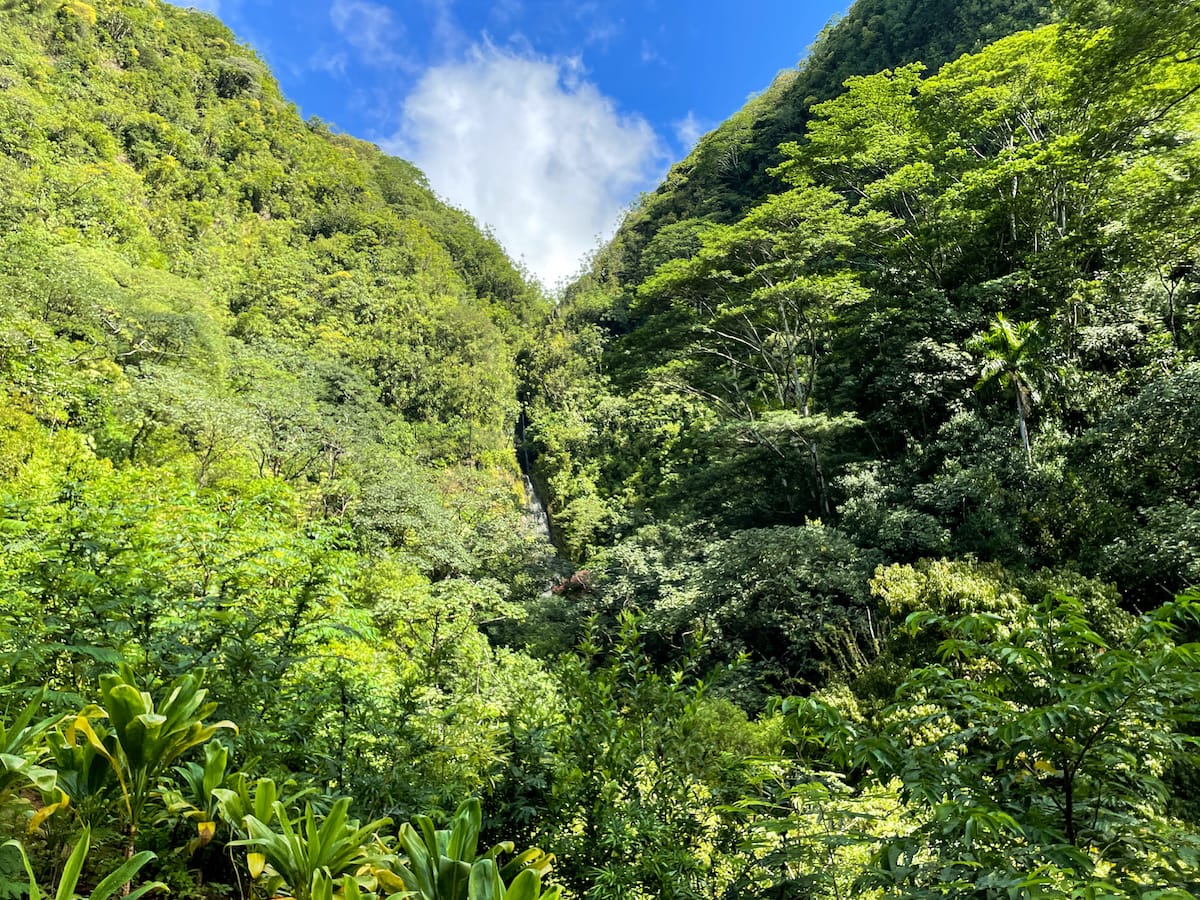 The first time I completed this hike, it was far more powerful than the second time. The second time I went was early morning and the waterfall was barely flowing.
There are signs that clearly indicate NOT to walk down to the waterfall. Unfortunately, people neglect these signs and go down there (nearly 75% of the people on the trail seemed to think this was okay).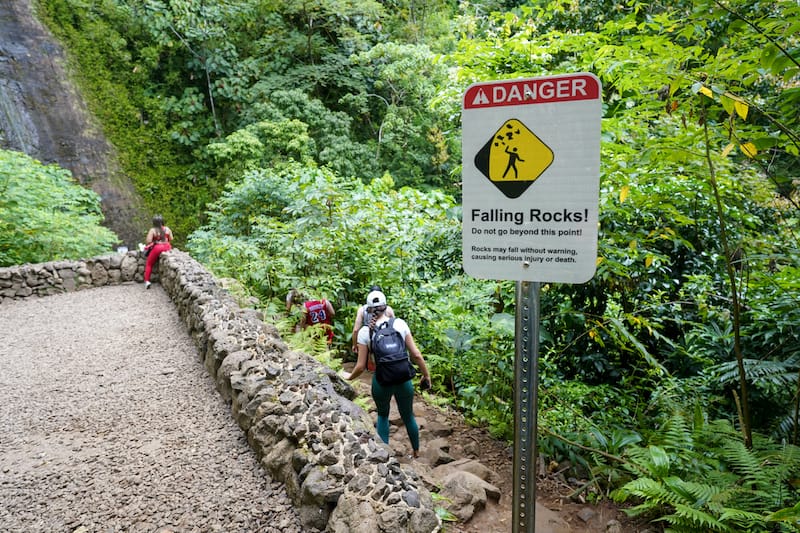 The signs are in place due to falling rocks. Please adhere to this… you canʻt even swim in the falls so there is truly no point in going down there in the first place. Instagram wonʻt be impressed.
When you are near the falls, you will see another trail that you can veer off to called ʻAihualamaʻ. This is a more challenging hike so be sure not to accidentally head up it (it is marked and there is an incline so you should see it easily).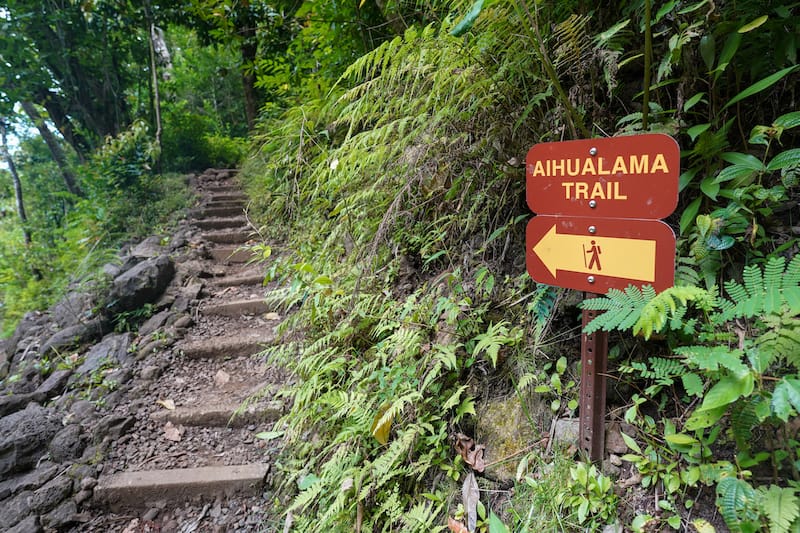 Best Time of the Day to Hike to Mānoa Falls
I have visited Mānoa Falls during the morning (around 8:30-9am) and in the afternoon at around 1-2pm. I highly recommend an early start there! The trail was far less-trafficked in the morning.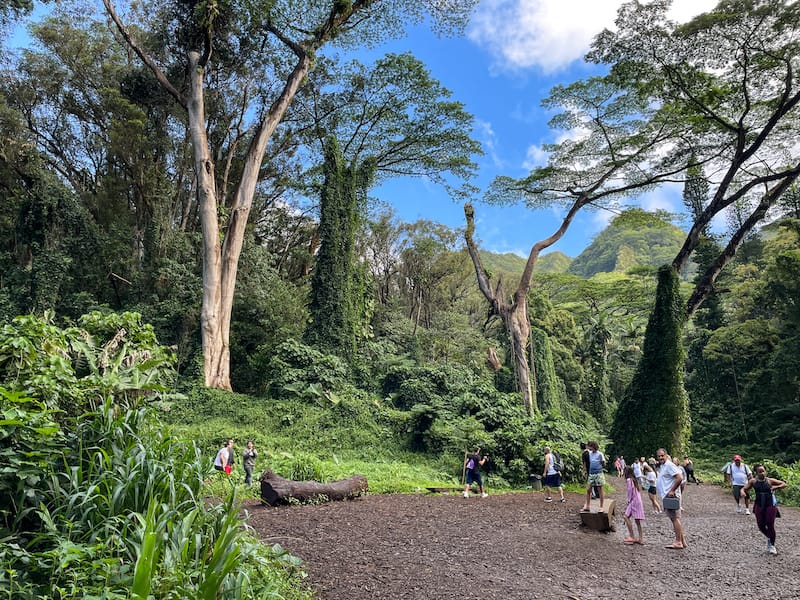 From my experience there, the weather seems to be clearer in the mornings than in the afternoon. On the other hand, the falls were weak in the morning and seemed to pick up after the rain in the afternoon.
If you do visit when Mānoa Falls is more crowded, you may struggle to find parking. We had no issue early in the morning. There are some extra lots up there, but it is still a pain to drive around and find a place if the area is teeming with hikers.
However, I still recommend going in the morning. I also faced far fewer bugs in the morning than in the afternoon.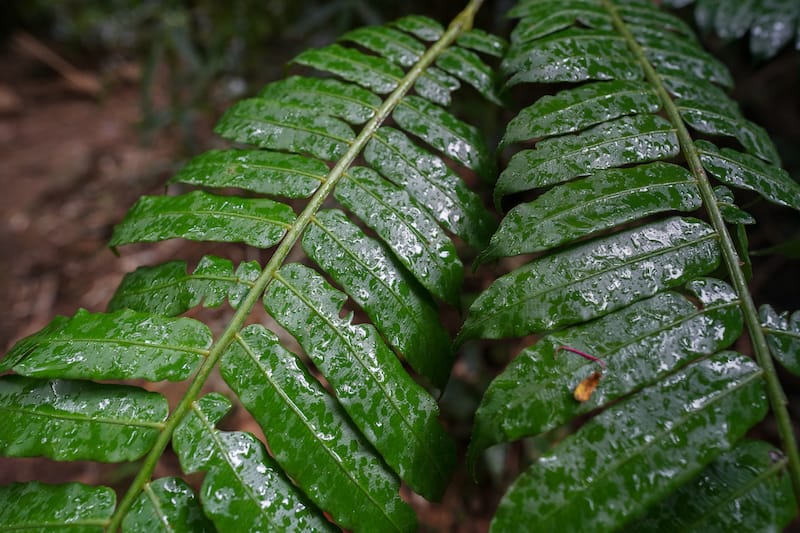 How to Get to Mānoa Falls from Waikiki/Downtown
The best way to reach Mānoa Falls is by rental car. It is easy and you can just plug in the location to your GPS and it will easily take you there.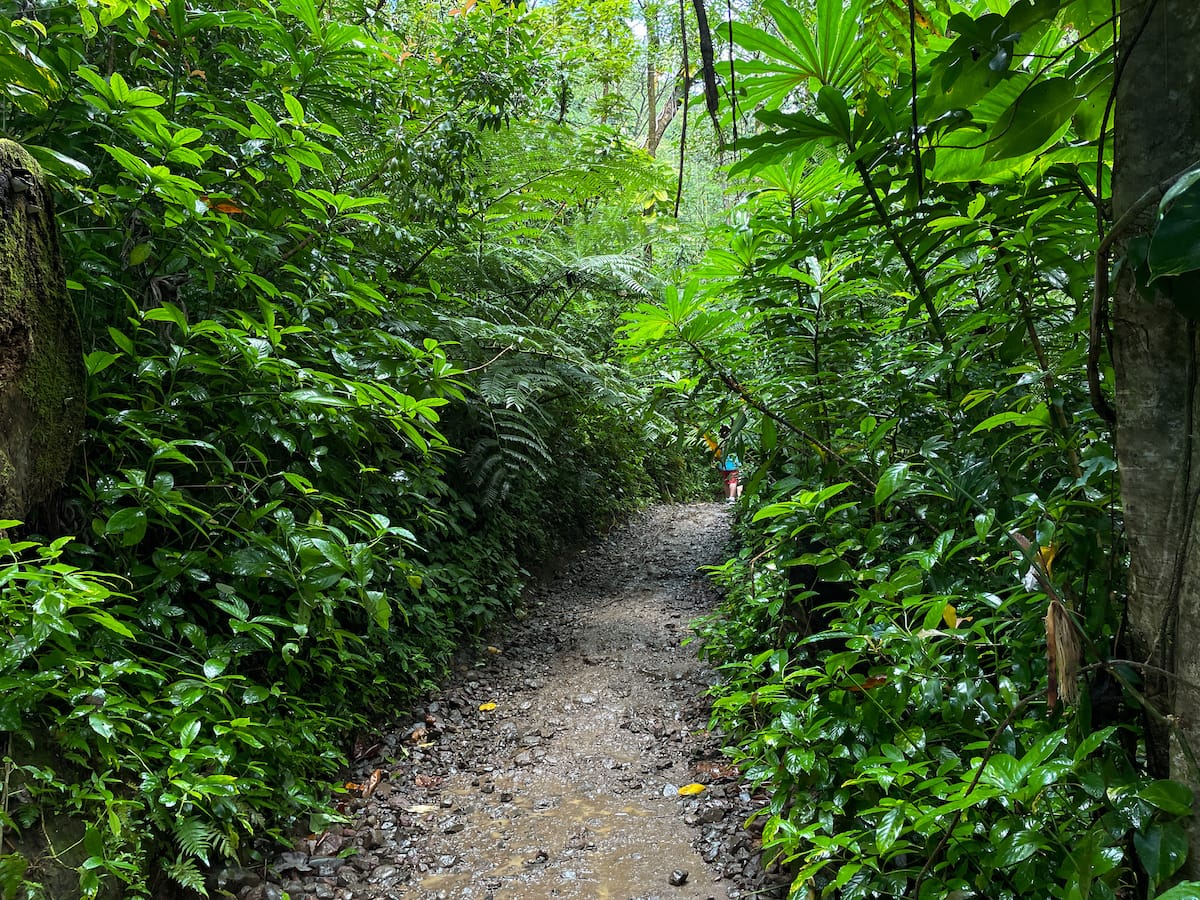 However, you can also reach Mānoa Falls by bus! You will need to take bus 67 from town to the very last stop. You will know it is the last stop because the bus driver may pop off to stretch his or her legs and it will be a bit of a wait. You can also ask them.
From there, you will need to continue walking up the hill for about half a mile. It is a slight incline but very easy if you stay to the shoulder as there are no sidewalks.
When you are returning, you will take the same bus number but from a different location. If you go back down to the place you were dropped off, you will need to take a right and go up a small hill toward homes.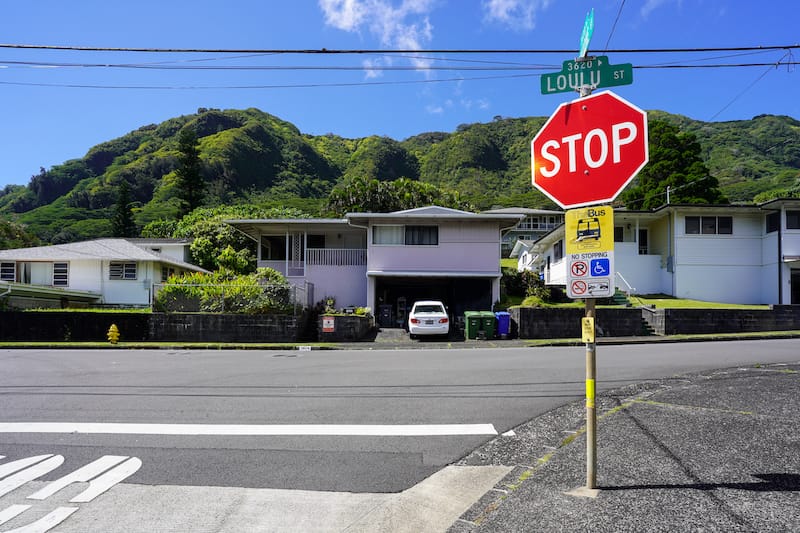 The right is only if you are facing Honolulu downtown. Walk up that hill a little and you will see a sign for the bus on the right on a quiet corner. It is bus stop 3267.
Taking a bus on Oahu is $2.75 per ride. Do note that if you have to change buses in the city, you will need to pay an additional $2.75.
I recommend getting a HOLO transportation card at the local ABC Store if you are going to be taking public transportation around the island.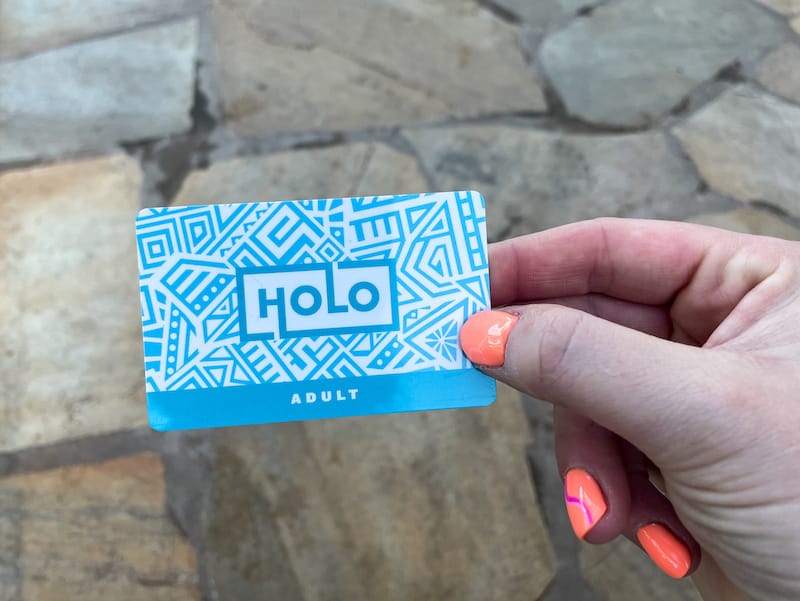 It is super cheap and one of the best (and friendliest!) bus networks I have ever taken anywhere in the world.
Entrance Fee for Mānoa Falls (+ Parking)
It is free to hike to Mānoa Falls! If you enter without a vehicle, that is. I took a bus up there one time and a car another.
If you do drive, it will cost $7 per vehicle ($4 for military) to park in 2023 (these are subject to change at any point).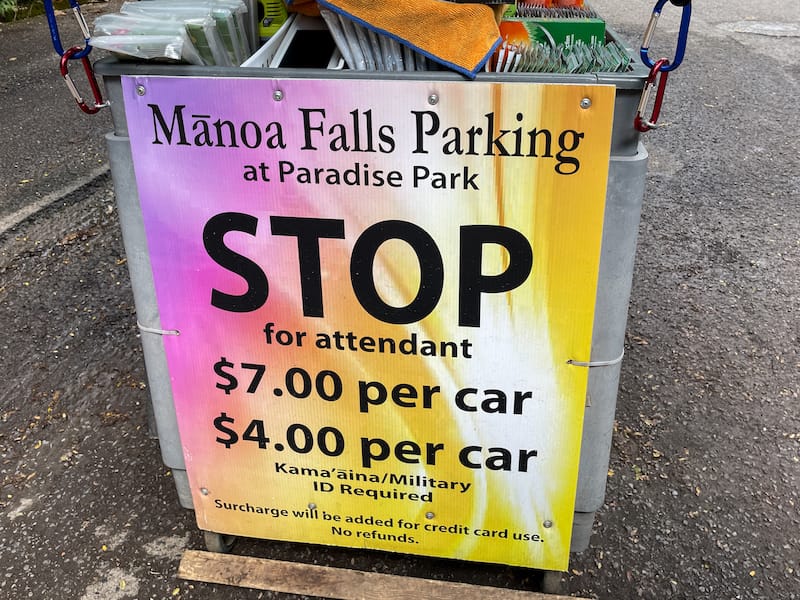 There is a parking attendant that you must pass in order to enter the lots, so you donʻt need to track anyone down or pay a machine like in other places on Oahu. You can pay with cash or by card. Please note that there is a small surcharge for paying with a card.
Be sure to display your receipt on your dashboard while youʻre outside of your car.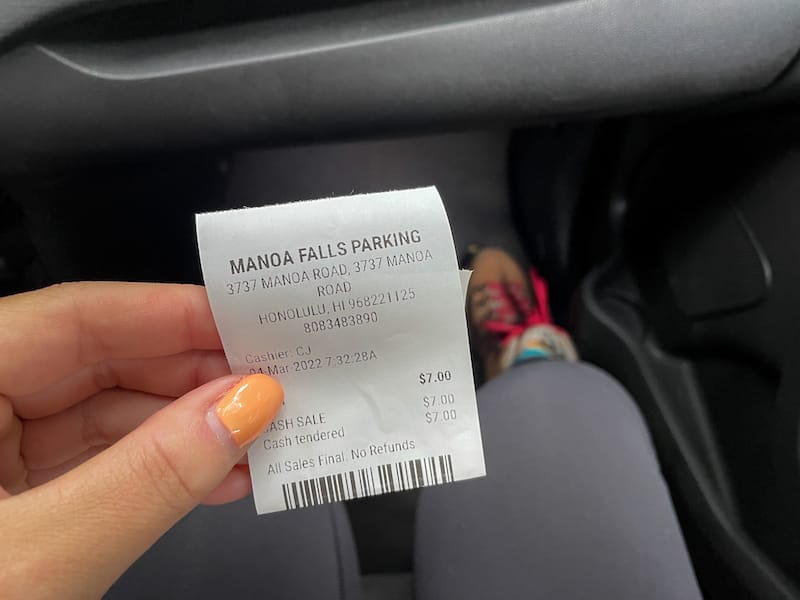 The parking lot is open from 8am – 6pm daily and will be closed at 6pm.
Is the Mānoa Falls Trail Wheelchair Accessible?
No, this trail is not wheelchair or stroller accessible. There are quite a few rocky areas, so it is not recommended to those with a poor gait, either.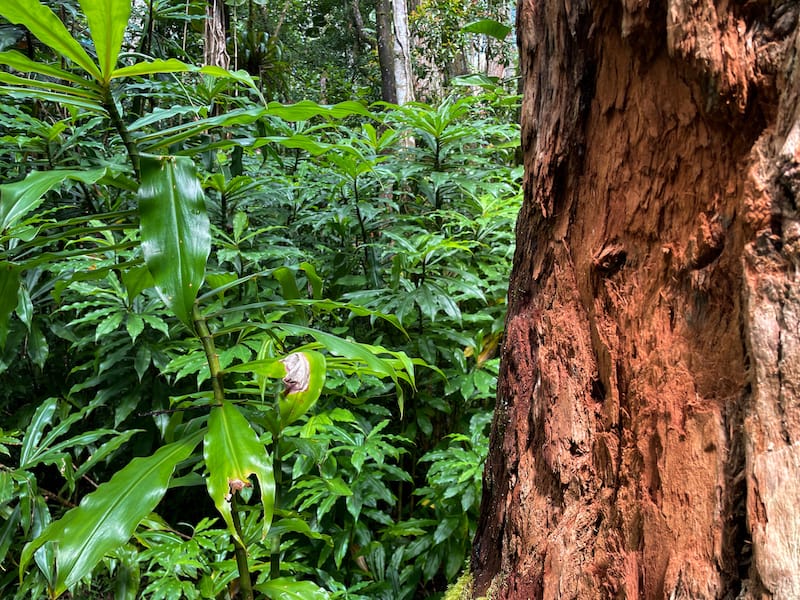 How Long Do You Need at Mānoa Falls
To be honest, I would recommend two hours for the hike and another hour to visit Lyon Arboretum.
The botanical garden is discussed briefly below but is truly a fantastic place to visit along with the hike! Donʻt miss it!
Wildlife in the Mānoa Valley
The Mānoa Valley is plentiful with wildlife and a diverse array of species that you might come across on your hike or time up there!
Some animals you may encounter on your hike are mongooses, cannibal snails, Java sparrow, shama thrush (bird), Jacksonʻs chameleon, and more!
Quick Tips for the Hike to Manoa Falls
The hike is very easy but do give yourself enough time to enjoy the flora along the way! It truly is special.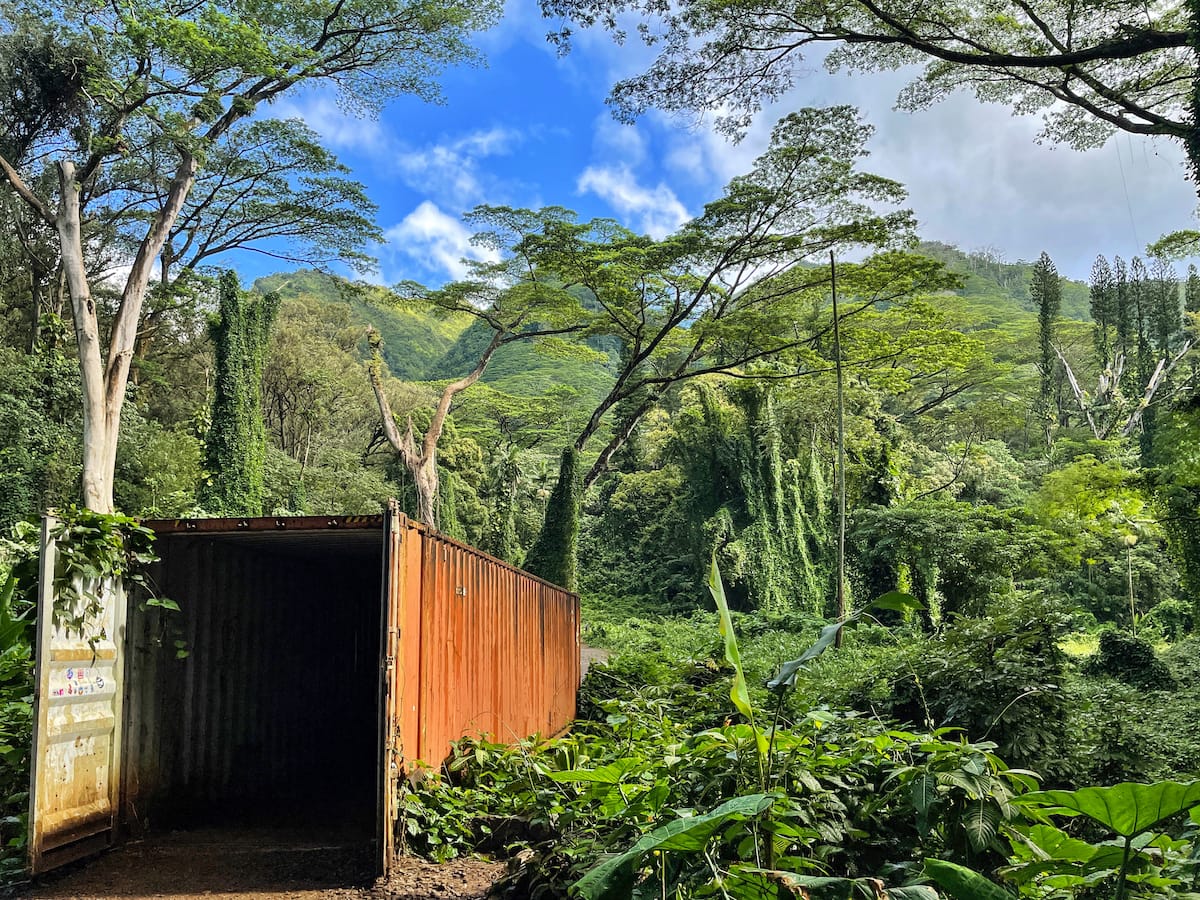 As mentioned above, this is not a flip-flop hike. Wear sneakers or hiking boots.
Fill up a water jug beforehand. There are no water sources along the journey and it is humid. You may be parched by the time you reach the waterfall.
If a sign says ʻDO NOT ENTERʻ a place along the trail, just donʻt enter it. Even if you see others doing it.
It seems as though we either have a literacy or an entitlement issue in the US when it comes to following rules and signs. I will assume the latter.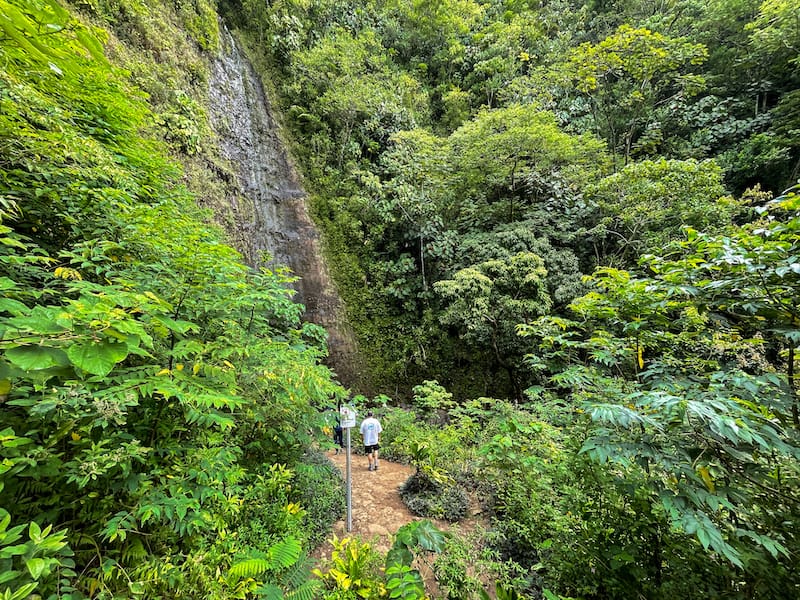 You canʻt swim in the waterfall. Take some pics from the overlook and enjoy it anyway! Disregard those who are swimming in it.
This is a fantastic hike for kids so bring them along! This is not, however, a good hike for those with mobility issues.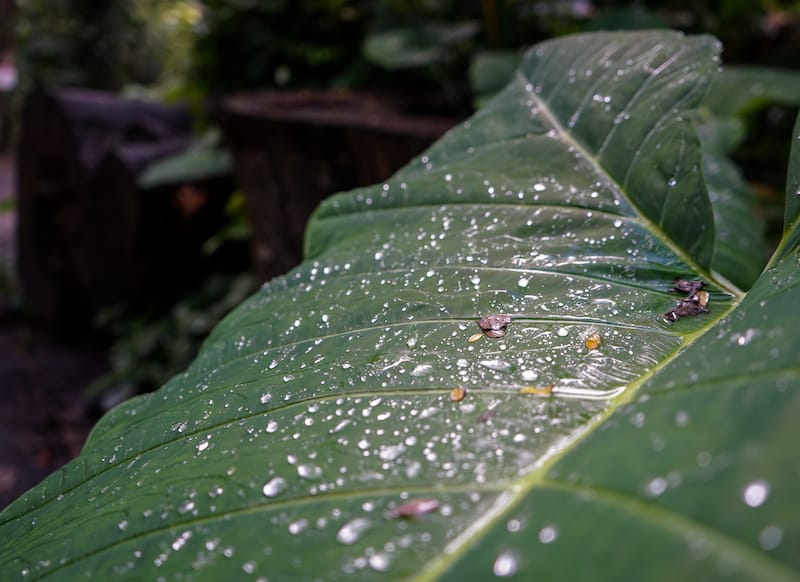 There are trash cans once you get to the waterfall. Please dispose of all trash in them and leave no trace along the trail.
Also, it goes without saying, but please donʻt carve your name or initials into trees on the trail.
If you live in Hawaii and are hiking Mānoa Falls for the first time, feel free to bring your dog with you as long as you keep them on a leash!
What to Wear and Bring
It is a fairly easy hike, so I would pack your regular gear for easy hikes but I would absolutely add bug spray in the mix! You are shaded most of the hike but it is still a smart idea to throw on some sunscreen before heading out too.
There are no water sources along the hike itself, so be sure to bring some with you. A normal-sized jug should be just fine. Here is the water jug I took with me.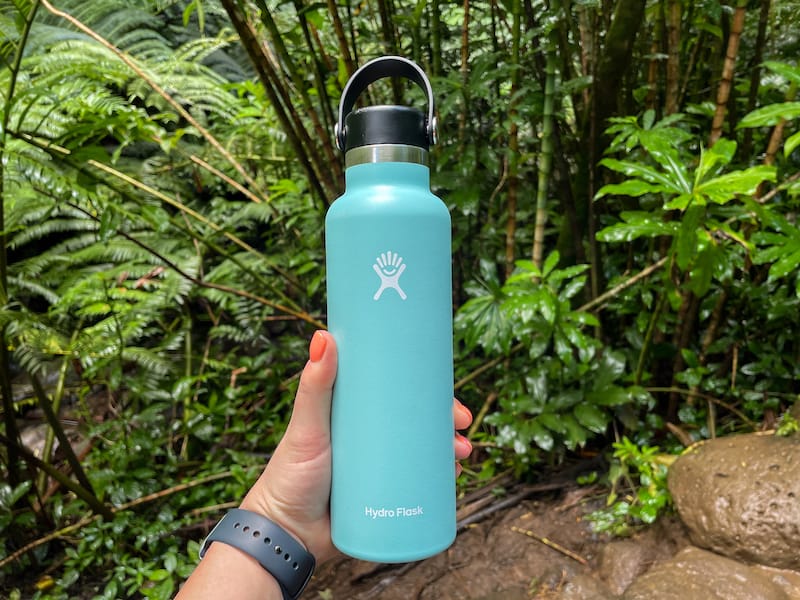 One thing to note is that you should NOT do this hike in flip-flops! It is not paved and it will likely be muddy.
The first time I went it was very muddy and the second time I did the hike, the rain started throughout our hike and it became quite slippery.
I wore hiking boots. I think you will be fine with hiking boots or sneakers. Here are the hiking boots I wore for it.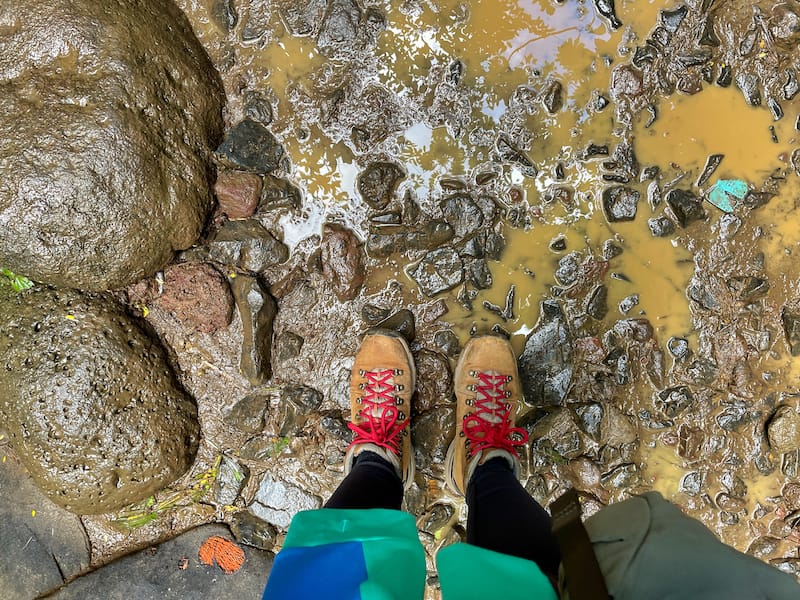 It is a bit cooler in the mountains than in town, and you may experience rain, so do bring a light rain jacket with you if you donʻt like to get wet! The parking attendant sells rain ponchos (adult or child) for $2.50 each.
If mosquitoes love you and you forget your bug spray, you can pick up some from the parking attendant. They sell bottles of ʻOff!ʻ as you pay for parking.
Extra Time? Visit Lyon Arboretum!
When youʻre done with the hike to Mānoa Falls, please do not miss the opportunity to visit Lyon Arboretum (part of the University of Hawaiʻi Mānoa).
Seriously – it is one of the most epic botanical gardens in Hawaii and it is literally right beside the trail!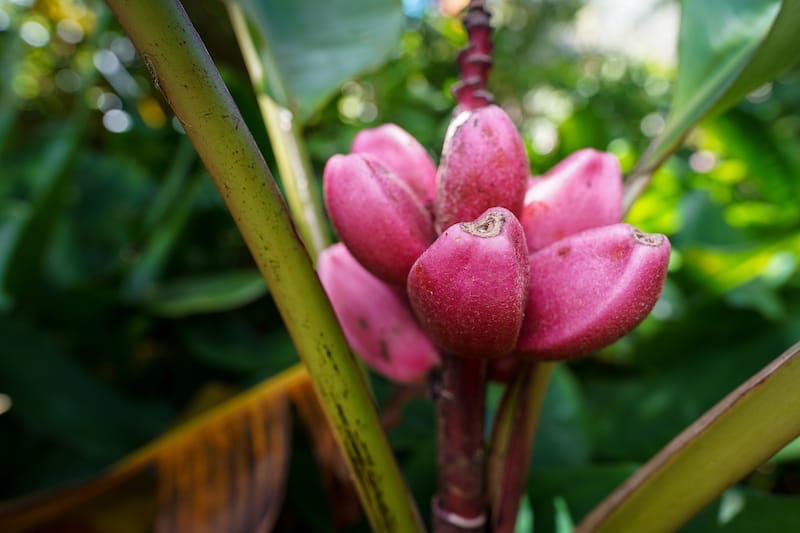 Visiting Lyon Arboretum is free (donations appreciated!) and it has several overlooks that give you a gorgeous view of the Mānoa Valley.
You will have a chance to see native plants and learn more about the history of the islands (and Polynesian plants in general).
If you would like a tour of the gardens, there is one every Monday through Saturday from 10am – 11am. It costs $10 per person. Click here for their website.
Did we miss anything important when hiking the Mānoa Falls Trail in Honolulu? Let us know your Manoa Falls Trail in the comments. Thanks!
More Honolulu Travel Guides
Pin this Mānoa Falls Hiking Guide