What's a vacation without some delicious ice cream? Whether you like chocolate, vanilla, strawberry, mint chocolate chip, or anything in between, you can't miss an ice cream shop when you go on vacation.
Hawaii is especially the best place to enjoy some refreshing ice cream right on the beach and in the sun. These are the places where you'll find the best ice cream in Honolulu (and beyond the capital city)!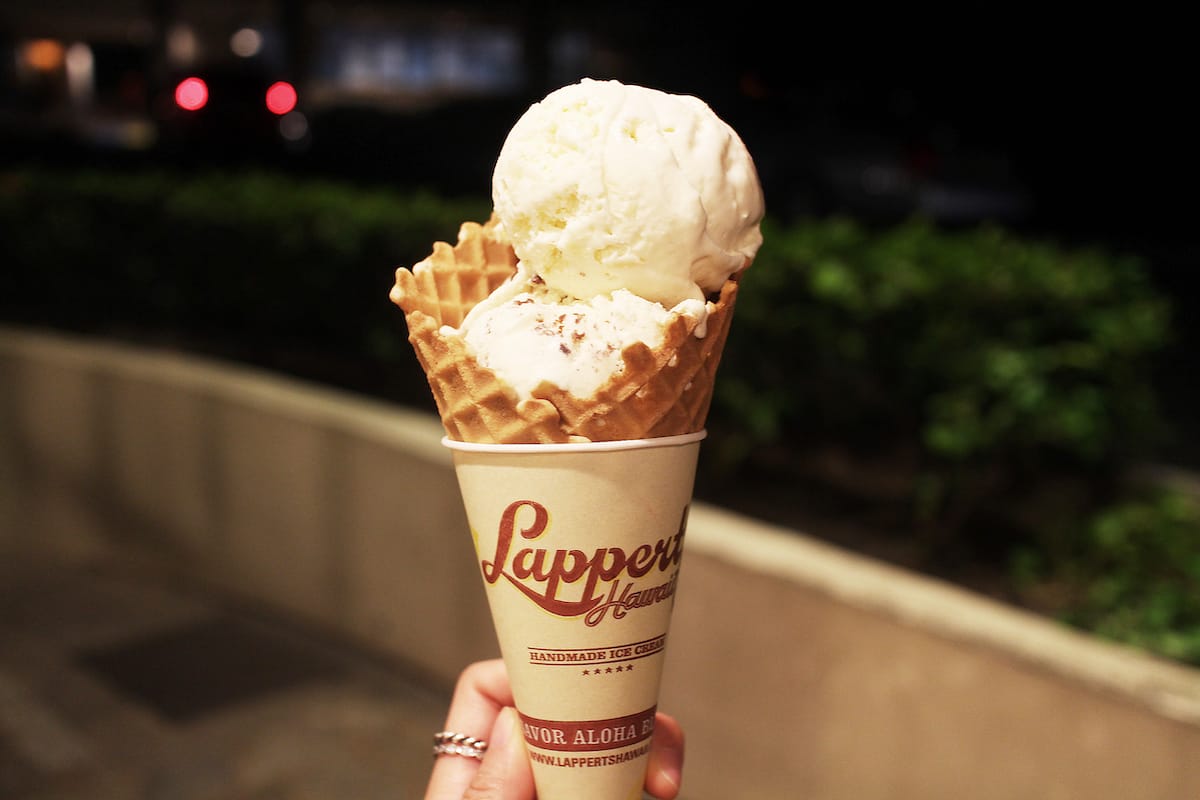 If you're visiting Hawaii, you should especially give shave ice a try, as that's one of Hawaii's most well-known specialties.
In addition, there are plenty of locally-made flavors, such as macadamia nut and fruity mango, which will add a special twist to your ice cream.
Here are some of the best ice cream shops in Honolulu that you should try during a day in the sun.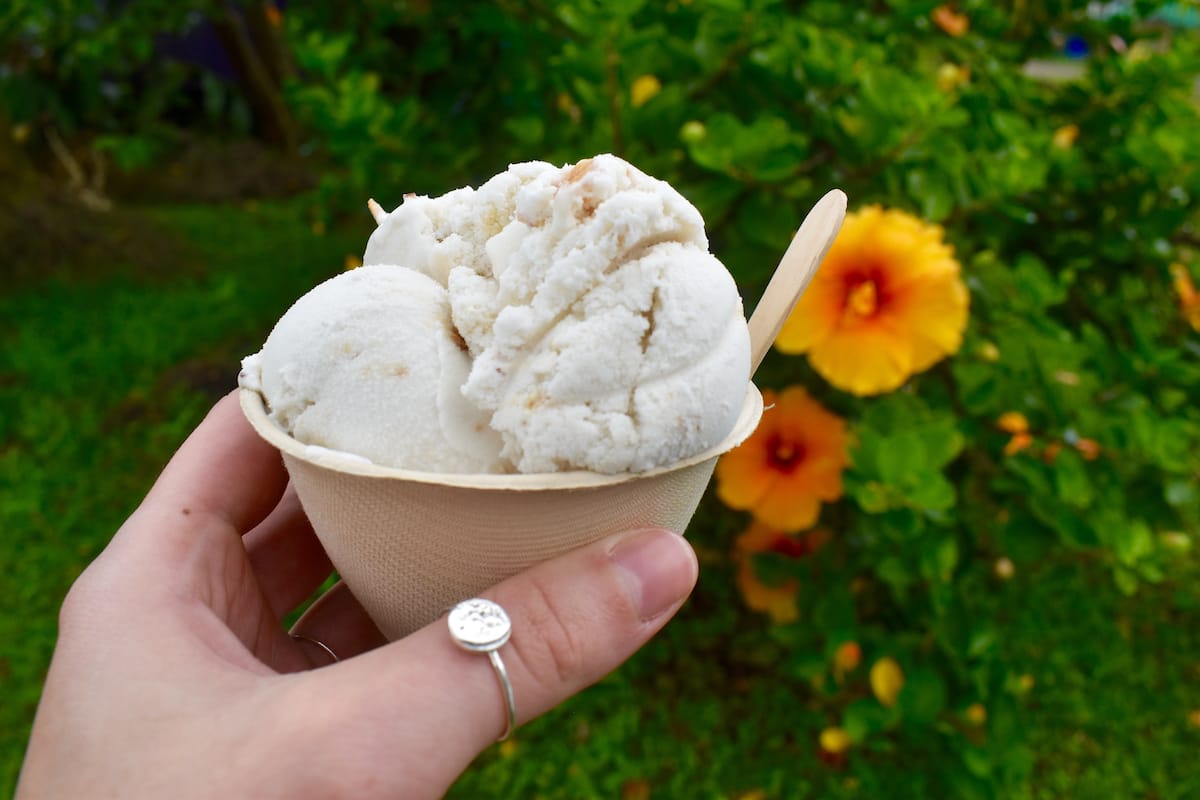 Best Places for Ice Cream in Honolulu
Lappert's Hawaii
Lappert's Hawaii is located on Kauai Island. Established in 1983 by Walter Lappert, the shop offers premium ice cream made of 20 percent butterfat.
Lappert's ice cream is made out of native resources such as papaya, coffee, passion fruit, coconut, macadamia, and lychee, which all produce rich flavors as a result.
Try their Heavenly Hana, a creamy chocolate ice cream with delicate swirls of marshmallow and chunks of white chocolate. Their Kauai Pie is coffee ice cream with coconut flakes, chocolate fudge, macadamia nuts, and vanilla cake crunch.
View this post on Instagram
The coconut-macadamia caramel is a mix of giant macadamia with thick caramel and tangles of coconut. In Kauai, they have three other locations, Hanapepe, Poipu, and Princeville. In Oahu, you'll find them in Waikiki, and in Maui, you'll find them in Wailea.
Addresses: 2005 Kalia Rd, Honolulu, HI 96815 // 3750 Wailea Alanui Dr, Wailea, HI 96753 (Maui) // 1-3555 Kaumualii Highway, Hanapepe, HI 96716 (Kauai)
Website
Somisomi
SomiSomi opened its first location in Los Angeles, but it expanded all over the US throughout the years, such as in Las Vegas, Long Beach, San Diego, and many other cities.
In Honolulu, you can find Somisomi in the Ala Moana Center.
They are known for their Korean dessert Ah-Boong, a fish-shaped Taiyaki waffle cone cut open and used as an ice cream cone.
Somisomi's menu serves 12 primary flavors, and they change six or so at their different locations so there would always be something new to try.
View this post on Instagram
They also combine different flavors, making a new one every week, such as milk and oreo. Milk, ube, milk tea, matcha, chocolate, coffee, horchata, banana, cookies 'n cream, strawberry, and sesame are their main flavors.
Address: 1450 Ala Moana Blvd, Suite 1075, Honolulu, HI 96814
Website
Monsarrat Shave Ice
If you're looking for shave ice, Hawaii's specialty, you've come to the right place. Monsarrat Shave Ice (Natural Organic Fruit) is located next to Pioneer Kitchen on Monsarrat.
It is a small window ship, so keep your eyes peeled while searching for it. They are known to use real fruit compotes and jams to flavor their shave ice.
View this post on Instagram
Some of the flavors they offer are organic coconut, mango, strawberry, pineapple, mixed berry, green tea, yuzu, and coffee syrup.
There are actual bits of fruits in all of their flavors. They proudly claim that they are organic and free of any additives, artificial colors, or flavors.
Address: 3046 Monsarrat Ave, Honolulu, HI 96815
Facebook
Wing Shave Ice & Ice Cream
Located in the Chinatown in downtown Honolulu, Wing Shave Ice & Ice Cream specializes in making homemade ice cream from scratch, utilizing local and fresh ingredients in classic and unique flavors.
The shop also makes shave ice. Vanilla, chocolate, rose, mint chocolate rocks, and pumpkin cheesecake are some of their homemade ice cream flavors.
They also offer vegan ice cream, which is made with coconut milk and refreshing herbal sorbets.
Chocolate haupia, tea & cookies, black sesame, and roasted soybeans are some of their non-dairy vegan-friendly ice cream flavors.
Address: 1145 Maunakea St., Suite 4, Honolulu, HI 96817 (Entrance is on Pauahi St.)
Il Gelato Hawaii
Il Gelato Hawaii was founded in 2010 in Oahu. The owner studied the Italian art of making gelato in Italy, after which he trained and worked with famous experts in that field.
Il Gelato uses unique recipes, original Italian equipment, and authentic traditional Italian processes to make their delicious gelato. Their award-winning gelato is all-natural using the finest local ingredients.
The flavors range from traditional Hawaiian flavors to classic ones. Some of the flavors may change depending on the season and availability. To keep things interesting, they switch it up often.
Some of their specialties are Tahitian Vanilla, Kona coffee, macadamia nut, chocolate ginger, coconut, pineapple-coconut, Hawaiian apple banana, old-fashioned chocolate, tiramisu, and biscotti.
Address: 501 Sumner St, Honolulu, HI 96817
Samurai
Located in Kalihi, Samurai House is a bright spot for colorful, neon-hued ice cream & sorbet using exotic, tropical, and fruity ingredients.
They offer different frosts, such as Hawaiian frost soft serve, which is a creamy and refreshing cross between Hawaiian shave ice and ice cream.
They also have Hawaiian frost shakes blended with your choice of flavor and can be topped with whipped cream. Their Hawaiian frost float is another choice of soft serve flavor and soda.
View this post on Instagram
They also offer Samurai parfait, a soft-serve with corn flakes, whipped cream, and chocolate syrup.
In addition, Samurai offers the floats in numerous flavors such as strawberry, vanilla, honeydew melon, banana, orange, coconut, lychee, yuzu, island coffee, and mango to be a nice refresher on a hot tropical day.
Address: 738 Umi St., Honolulu, HI 96819
Facebook
Dave's Ice Cream
David Leong started his journey in 1982 by opening the first Dave's Ice Cream location on Oahu's west coast in Waianae.
Throughout the years while overcoming many challenges, he perfected his work and opened shops in other locations such as Aiea, Pearl City, Waimanalo, Waipio, and Kaunakakai.
Dave's Ice Cream specializes in making fresh ice cream on the island of Oahu. They have a factory that produces 50,000 gallons of ice cream each month.
View this post on Instagram
Quality is the most important for them, hence when available, fresh fruit is used instead of canned or frozen fruit. Now Dave's Ice Cream has 50 flavors, 40 of which are available in all locations.
Some of them include azuki beans, bananas, blue cotton candy, blueberry freckles, chocolate, coconut, green tea, and haupia.
Addresses: 98-820 Moanalua Rd, Aiea, HI 96701 // 1777 Ala Moana Blvd, Honolulu, HI 96815 (Located on the lobby level) // 850 Kamehameha Highway, Pearl City, HI 96782
Website
Did we miss any of your favorite places for ice cream in Honolulu in this guide? Let us know your top Honolulu ice cream shops below! Thanks!
More Honolulu Travel Guides
Pin this Honolulu Ice Cream Shops Guide