When you picture Hawaii, you likely think of an island paradise full of white sandy beaches and turquoise waters (you're not wrong!).
But, you will find some incredible wine bars in Honolulu that will rival wine bars (and enotecas) in renowned places on the mainland.
Are you planning your trip to Honolulu last minute?
If you're traveling to Honolulu last minute, you want to ensure you have lodging/tours ahead of time! Below are some of our top picks on Oahu!
Best Tours and Activities on Oahu:
Best Hotels and Lodging in Honolulu:
Traveling to Oahu independently? Be sure to book your rental car ahead of time to ensure availability!
Hawaii is any wine lover's paradise as well due to all the delicious wines available on the island and one of the best things to do in Honolulu is to enjoy a glass of the stuff!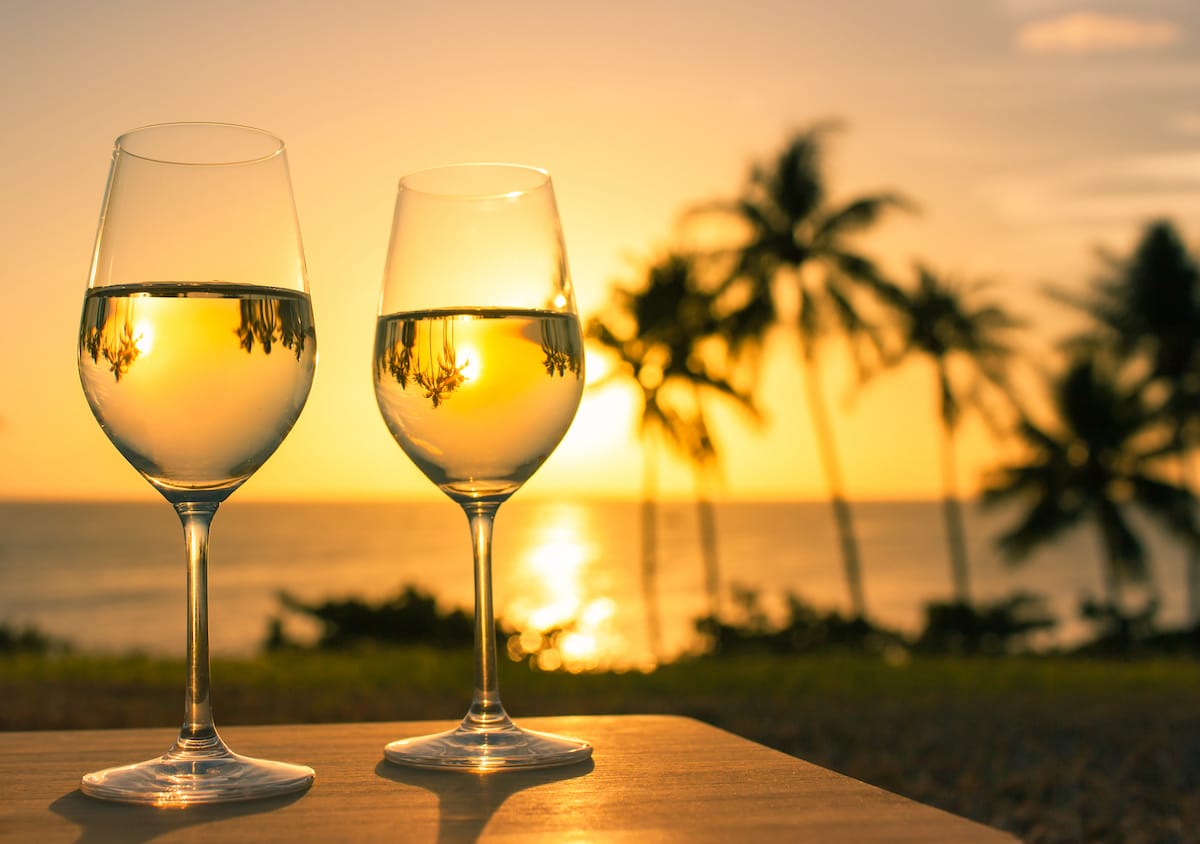 In particular, pineapple wine, grape wine, and tropical wines are the most popular types in Hawaii and what the state is especially known for producing.
If you can't live without some delicious wine during your vacation, we've compiled a list of the best Honolulu wine bars (including where to do wine tastings in Honolulu) to include on your Oahu itinerary.
Best Wine Bars in Honolulu
The Tchin! Tchin! Bar
Nestled in the heart of Downtown's Chinatown art district, The Tchinn! Tchin! Bar is Honolulu's hidden gem due to its out-of-the-way location.
This rooftop bar has indoor and outdoor seating areas and offers an eclectic selection of wines, which are served by the 2oz glass, 6oz glass, or by the bottle.
View this post on Instagram
The main room has an urban design with high ceilings and exposed walls, while the outdoor terrace has a plant wall, ample lounge sofas, and dining tables and turns into a cozy little open-air corner during night hours when hanging lanterns create a charming atmosphere (and great place to watch the sunset).
The bar also features artisan cocktails and beers along with prosciutto, cheese plates, lobster, and many other dishes that perfectly pair with wine.
Address: 39 N Hotel Street
Website
Cattleya Wine Bar
Cattleya Wine Bar is the centerpiece of Halekulani hotel's award-winning Orchids restaurant that features many world-class wines from Italy, France, Portugal, the US, and Lebanon.
The coravin temperature-controlled wine-dispensing system allows customers to try wines without the need to buy a whole bottle.
Enjoy their signature Mediterranean-influenced tapas-style meals, such as Ahi Tostada, Truffle-Parmesan Fries, Tagliere di Formaggi, Prosciutto di Parma, Kona Lobster & Kahuku Shrimp Gyoza, and Bruschetta, which go perfectly well with their global wines.
View this post on Instagram
It is the perfect place to hang out with friends or have a date night while enjoying their Moscato, sparkling, white, rose, and red wines by the glass or bottle in an elegant ambiance around EarPod Wood Tree communal tables overlooking the stunning Pacific Ocean.
Address: 2199 Kalia Rd
Website
HASR Wine Co.
Yet another great wine shop and bar is located at Hawaiʻi Pacific University in Honolulu and is called HASR Wine Co. that specializes in wines that are from small boutiques.
HASR Wine Co is known for having a rich selection of wines from all around the world, from Italy to California and every place in between (but with a strong emphasis on California wines).
If you want to do a wine tasting in Honolulu, then this place is definitely for you because they offer 5-7 wines on a tasting menu, including red and white wines like Sauvignon blanc.
View this post on Instagram
For food options, wine can be served alongside delicious Asian cuisine and other international fares. You will also learn more about each wine, its cellar history, and can buy your favorite bottle after the tasting.
Address: 31 North Pauahi Street
Website
Appetito Craft Pizza & Wine Bar
Appetito Craft Pizza & Wine Bar offers the right blend of old and new wines. A wide range of wines from more than 100 varieties is sure to please everyone's palate.
Go for happy hour and enjoy the finest wines including Prosecco, Sauvignon Blanc, Pinot Grigio, and Pinot Noir along with a small bite to eat, or go for the full menu dinner and try Orange Caesar Salad, Prosciutto e Burrata, and mouth-watering pizzas made in the kiawe wood oven, such as Funghi, Italian Salami, Shrimp Pesto, and Boquerones.
View this post on Instagram
This Italian restaurant also has open-air seating where you can enjoy your delicious meals and do some people-watching.
If you are not in a mood for wine, you can order craft beers, homemade limoncello, or island-themed cocktails.
Make sure to try Lobster Mac & Cheese, their new special meal that has already become a crowd favorite.
Address: 150 Ka'iulani Ave (located on the first floor of the Outrigger Ohana East Hotel)
Website
Amuse Wine Bar
Amuse Wine Bar is a real heaven for wine connoisseurs. Immerse in the art deco interior and indulge in the lounge-style vibes while enjoying a date night or a casual drop-in.
Here you can get your Amuse Wine Card and go taste over 80 unique wines (made from cabernet, pinot noir, tempranillo, zinfandel, and other varieties) by the ounce from self-serve wine machines.
View this post on Instagram
Their diverse menu includes many mouth-watering dishes that are served as a real piece of art, including truffle mushroom pizza, ahi dynamite, stage sliders, grilled New York steak, and others.
Finish off your meal with a curated cocktail paired with lilikoi creamsicle or coffee pie while enjoying live music from 7–9 pm every night.
Before leaving, make sure to get a bottle or two of your favorite wine to bring home a piece of this stunning wine bar with you.
Address: 1250 Kapiolani Blvd (second floor)
Website
Il Tappo Wine Bar
IL Tappo Hawaii is an Italian restaurant with incredibly delicious food and wine. This stunning wine bar is located adjacent to the Hilton Grand Vacations hotel.
In this indoor wine bar, you will certainly find your favorite wine from their Italian label wine list with many varieties.
The charming interior has comfortable modern couches, large tables facing beautiful fountains, and a friendly staff that will make your visit joyful and unforgettable.
View this post on Instagram
Get their indulgent wines by the glass, carafe, and bottle, enjoy signature grappa, and pair it with Italian-inspired cuisine and delicious Mediterranean dishes.
Address: 2181 Kalakaua Ave.
Facebook
Island Vintage Wine Bar
When you're not in the mood for heavy meals, head to Island Vintage Wine Bar for a lighter dinner to pair with your wine.
.The best thing about the bar is that it comes from the same owners as Island Vintage Coffee and Island Vintage Shave Ice and upon its opening in 2019, they have become synonymous with serving tasty wines with farm-to-table, local fare.
They offer everything from charcuterie boards to small snacks like jackfruit chips to salads (and beyond).
View this post on Instagram
Open from 7am-10pm, the Honolulu wine bar is located at the Royal Hawaiian Center and the parking is validated with a minimum $10 purchase
Address: 2301 Kalakaua Ave (Royal Hawaiian Center, Building C, Level 2)
Website
The Bar at Foodland Farms (Field Wine Company)
Field Wine Company is one of Honolulu's best wine bars located just at the center of the Foodland Farms supermarket.
Go shopping in the supermarket, bring your meal to the bar, and enjoy it with a glass of wine. Organize casual gatherings with friends and try their exotic cocktails with bar snacks.
You can also visit from 11 am to 3 pm to enjoy their Happy Hour Menu, such as Kona Longboard, Maui Brew Bikini Blonde, New Belgium Fat Tire, or Deschutes Black Butte Porter with Happy Hour Beer.
View this post on Instagram
Just make sure to show up early before it gets packed during happy hour as it is one of the most beloved wine bars in Honolulu!
Choose your red, rose, or white wine, and the bar's friendly staff will help you pair it with Pate and Cornichons, R. Field Cheese Board, or Marcona Almonds.
Address: 1450 Ala Moana Rd (located in the Foodland Farms supermarket)
Website
La Vela Wine Bar
The last bar on this list, La Vela Wine Bar, is an exclusive wine bar in Waikiki nestled by the swinging pool behind the Waikiki Sand Villa Hotel.
The interior has a rustic European feel to it, and the candlelit atmosphere will guarantee unforgettable date nights. Here you can savor a wide selection of Italian wines along with delicious Italian-inspired cuisine.
View this post on Instagram
Sit back and relax while sipping a glass of unique wine, and after getting a little bit drunk, take the party to the next level by taking a dip in the nearby pool.
Finish off your day and immerse in a rejuvenating CBD oil massage upstairs at the La Vela Spa.
Address: 2375 Ala Wai Blvd
Facebook
Have you visited any amazing wine bars in Honolulu? Let us know your top Honolulu wine bars (and places for wine tastings) in the comments!
More Honolulu Travel Guides
Pin this Honolulu Wine Bars Guide