Are you planning a Hawaii trip and are in search of the best places to visit in Kauai? Don't worry… we have you covered!
This guide details the best places in Kauai, ranging from beaches to cities to magical state parks. Kauai is green and gorgeous and nature lovers will be delighted when they arrive!
Another amazing thing about the garden isle is that it has one of the most famous ʻflightsʻ in the world and you can easily (and quite cheaply) take a doors off helicopter tour of Kauai when there and see it from above!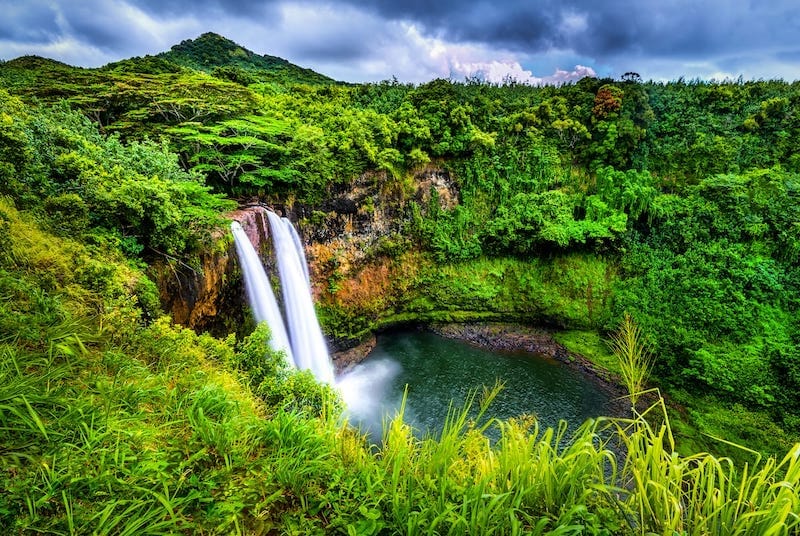 Did we miss any of the top destinations in Kauai? Let us know your top spots for a Kauai road trip in the comments below. Thanks!
Best Places to Visit in Kauai
1. Poipu Beach
Poipu Beach is the South Shore's most popular white sand beach, comprising of two separate beaches.
The Kauai beach has everything to keep you busy all day, including a protected swimming area, a good reef for snorkeling, a surfing site for experienced surfers on the eastern side, and a bodyboarding area for novices on the western side of the beach.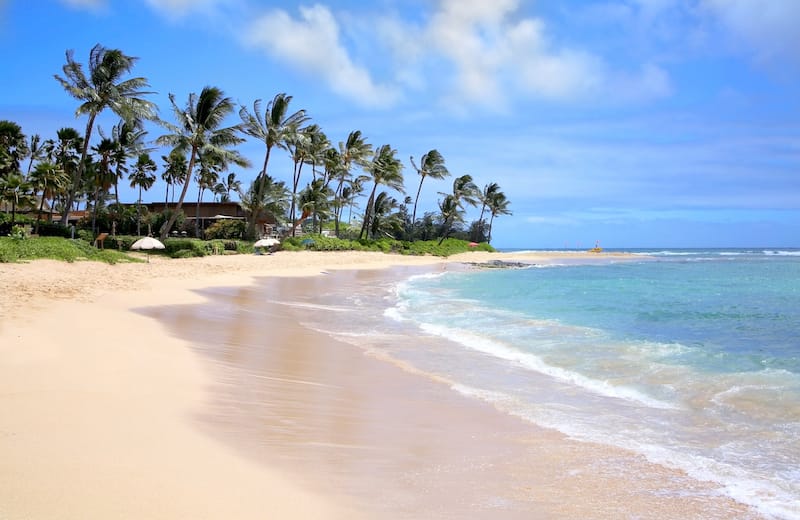 If you want to enjoy the view with humpback whales in the distance, you should visit the beach from December through April and hopefully, you'll luck out then!
Poipu Beach Park is also a famous spot for family activities where you can enjoy birthday parties, lawn games, and picnics. You'll find many things to do in Poipu and hitting up the beach is definitely one of them!
2. Waimea Canyon
Waimea Canyon, also known as "The Grand Canyon of the Pacific," is considered one of Hawaii's breathtaking geological wonders.
The more than 3,500 ft. deep giant is home to the Waimea River and offers nature enthusiasts lush foliage, tropical cliffs, vibrant scenery, stunning waterfalls, and much more.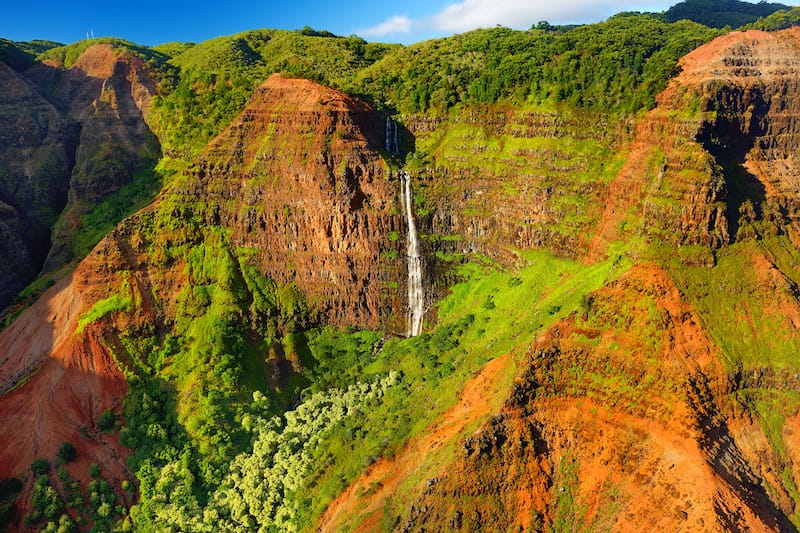 Make sure to hike the 3-hour Canyon Trail to admire the breathtaking, 800-foot Waipoo Falls along the way and to get to the Kumuwela Lookout, a spot to relax and explore the gorgeous landscape from one of Kauai's best vantage points.
Visit Waimea Canyon during the summer months to take in the mesmerizing scenery without the disruptive clouds.
3. Lawai
If you are looking for an interesting small town experience, then travel 12 miles west of Lihue to find this small, green town.
Many travelers just drive past Lawai without acknowledging that this town offers gorgeous wildlife and botanical gardens full of unique flora and is totally worth the stop!
Visit the Beach House Restaurant if you want to savor local Hawaiian seafood with incredible sunset views.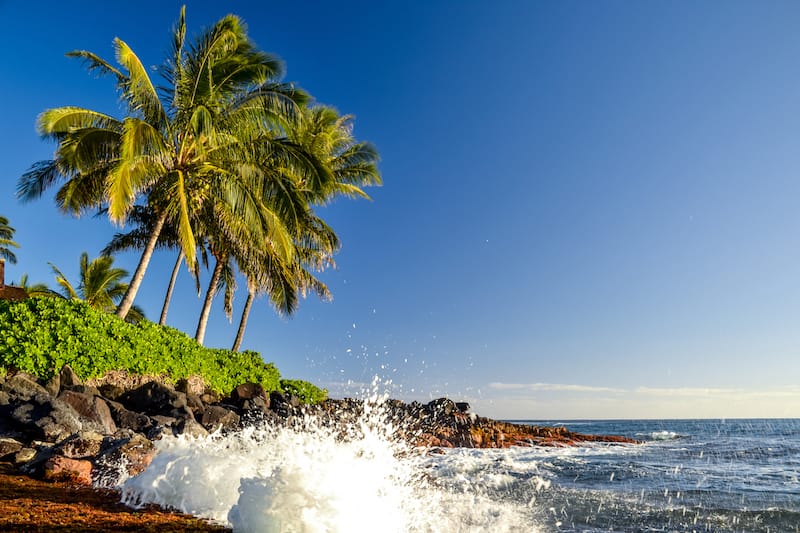 If you are in search of souvenirs, hand-crafted gifts, and traditional Hawaiian quilting, then at the corner of Koloa Road and Kaumuali'i Highway, a prestigious gift shop known as the Hawaiian Trading Post is waiting for you.
Continue driving along Koloa Road, along which you can take in the breathtaking views of the area and its surroundings.
4. Spouting Horn Blowhole (and Park)
One of the most photographed corners of Hawaii, the Spouting Horn Blowhole, is situated on Kauai's South Shore.
This natural attraction, formed by a hole in a lava shelf, releases a huge spout of water, skyrocketing around 50 feet into the air.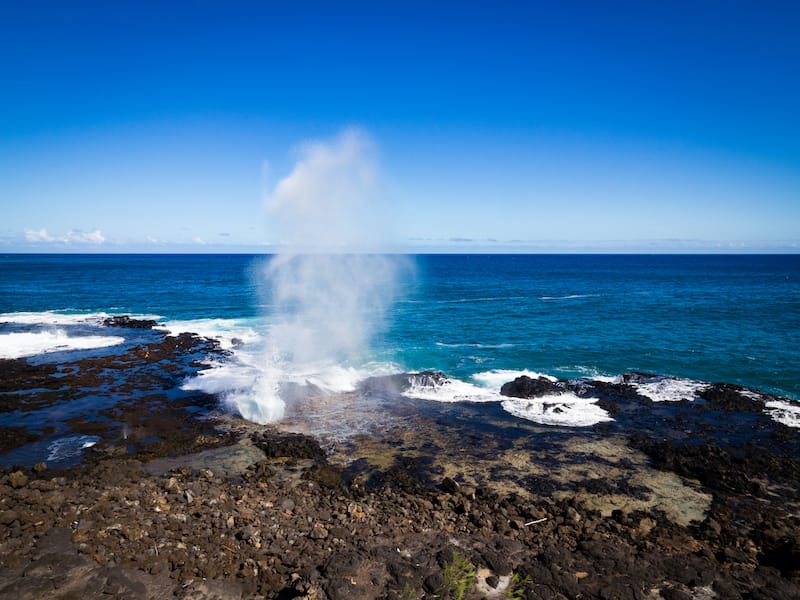 The roaring sound of the blowhole makes a perfect show for the visitors and allows them to enjoy it without waiting for more than a minute for the next one.
But don't be too curious and avoid approaching it to explore the lava bench, as it is highly possible to fall into the blowhole and get severely injured!
5. Polihale State Park
If you are after a secluded beach escape, then Kauai's Polihale State Park is an excellent choice for you. The colorful sunsets and outstanding views of high sea cliffs just amaze visitors.
If you've ever dreamed of camping on a beach, then you will find a suitable campground located off of Lower Saki Mana Road.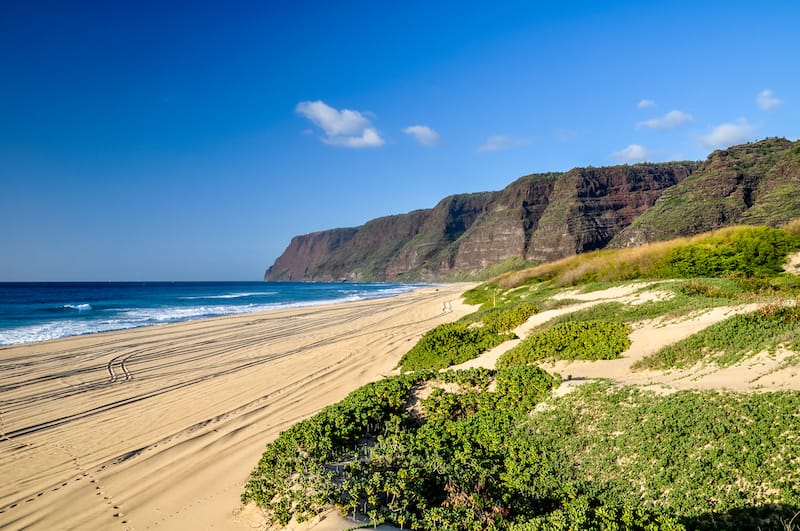 The safest beach, which doesn't have too many and too strong of rip currents, is Queen's Pond Beach at Polihale State Park.
The Hawaiian beach features 100-foot-high sand dunes and is one of the most popular beaches on Kauai.
Due to its location and rough roads around the park, Polihale State Park tends to keep many visitors away and you can enjoy a much-needed escape there!
6. Wailua
Wailua, known as the Coconut Coast of Hawaii, is an excellent destination for outdoor enthusiasts.
If you're seeking beautiful waters and an inland excursion, then head to the Wailua River, where you can enjoy kayaking runs and boat tours to Fern Grotto.
It genuinely is one of the best places to go kayaking in Hawaii!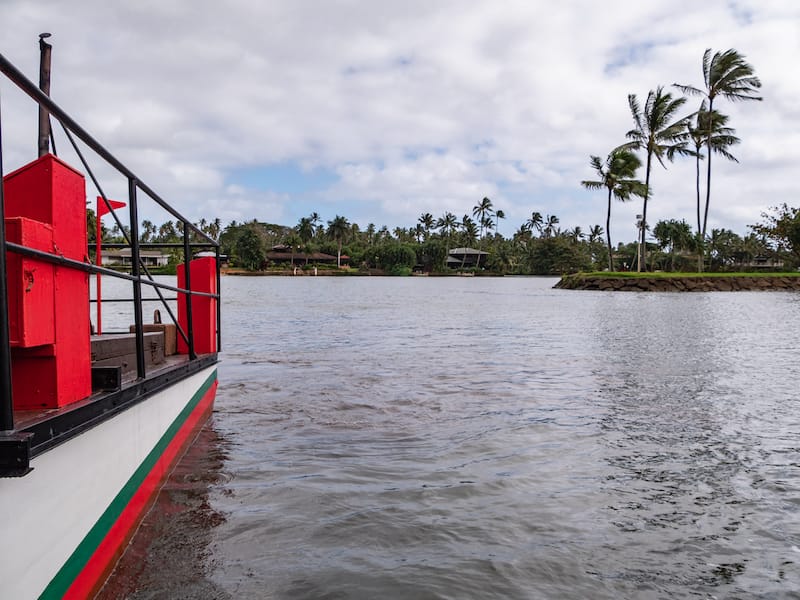 Adventure seekers can hike to the Wailua River Valley to make their way to the legendary Secret Falls, where you can take a dip underneath the famous Kauai waterfall.
Opaekaa Falls can be accessed via a half-hour round-trip hike, after which you will get to admire the falls and the tropical rainforest hugging it.
Another must-see is the 85-foot Wailua Falls that waits for you inside the same Kauai state park.
7. Puu Poa Beach
A renowned golden-sand beach, known as Puu Poa Beach, is the longest in the Princeville area. The iconic Hanalei Mountains and the distant waterfalls attract tourists with their somewhat mystical beauty.
This reef-protected beach keeps the larger waves away and makes it perfect for those who just want to have a serene swim (especially great for children).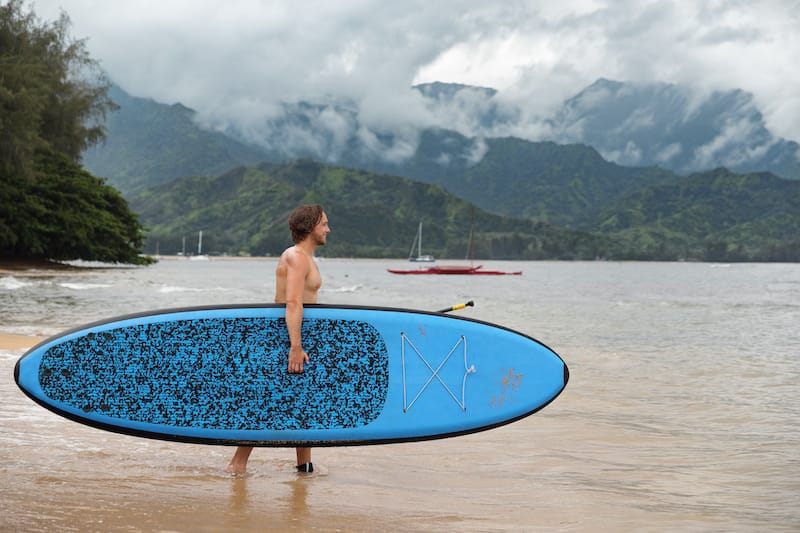 Because of the reef barrier, it's also the perfect location for snorkeling, as it's a safe habitat for various species of fish and turtles.
Try to avoid snorkeling during the winter months when the surf comes up as clarity can suffer as a result.
This picturesque beach is a popular spot for filming and previously served as a main filming location in The Descendant (starring George Clooney).
8. Princeville
Don't pass up the chance to explore a panoramic destination on the North Shore of Kauai called Princeville!
If you want to fill up on local, flavorful foods, then consider the city's diverse dining options (well, for Kauai, anyway), such as grab-and-go's like Frederico's FreshMex Cuisine to sweet treats like Lappert's Hawaiʻi Ice Cream and Coffee.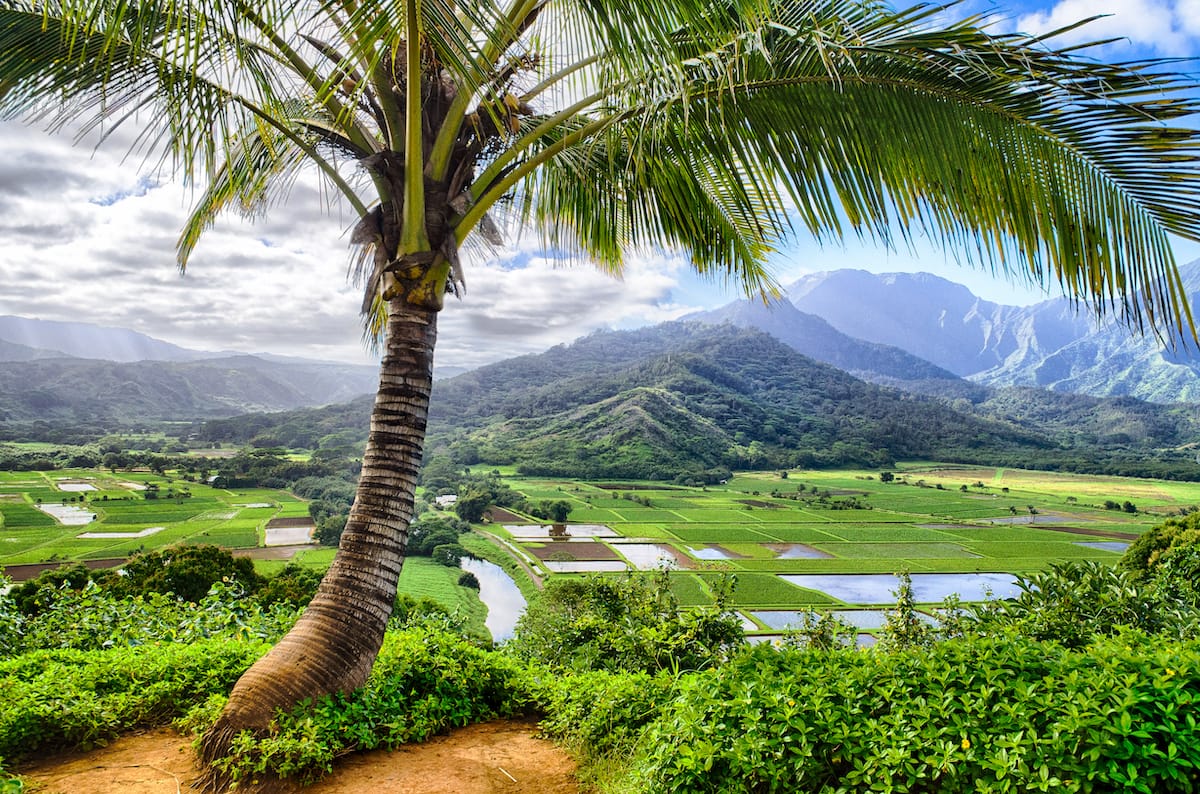 Take a walk down Ka Haku Road to enjoy the picturesque views of Namolokama Mountain where you'll find cascading waterfalls and have a possible encounter with native bird species (Hawaiian goose, Laysan Albatross).
Princeville is also a great base for golfers as you'll find some great courses nearby!
9. Ha'ena State Park
Spanning over 230 acres, Haena State Park is one of the most beautiful places to visit in Kauai and it can be found at the end of Kuhio Highway (around an hour away from Lihue and 5 miles west of Hanalei).
The reason visitors flock to Haena SP is for its abundance of things to do like hiking trails, historic monuments (even an archaeological site dedicated to the Hula!), and 4,000-year-old sea caves.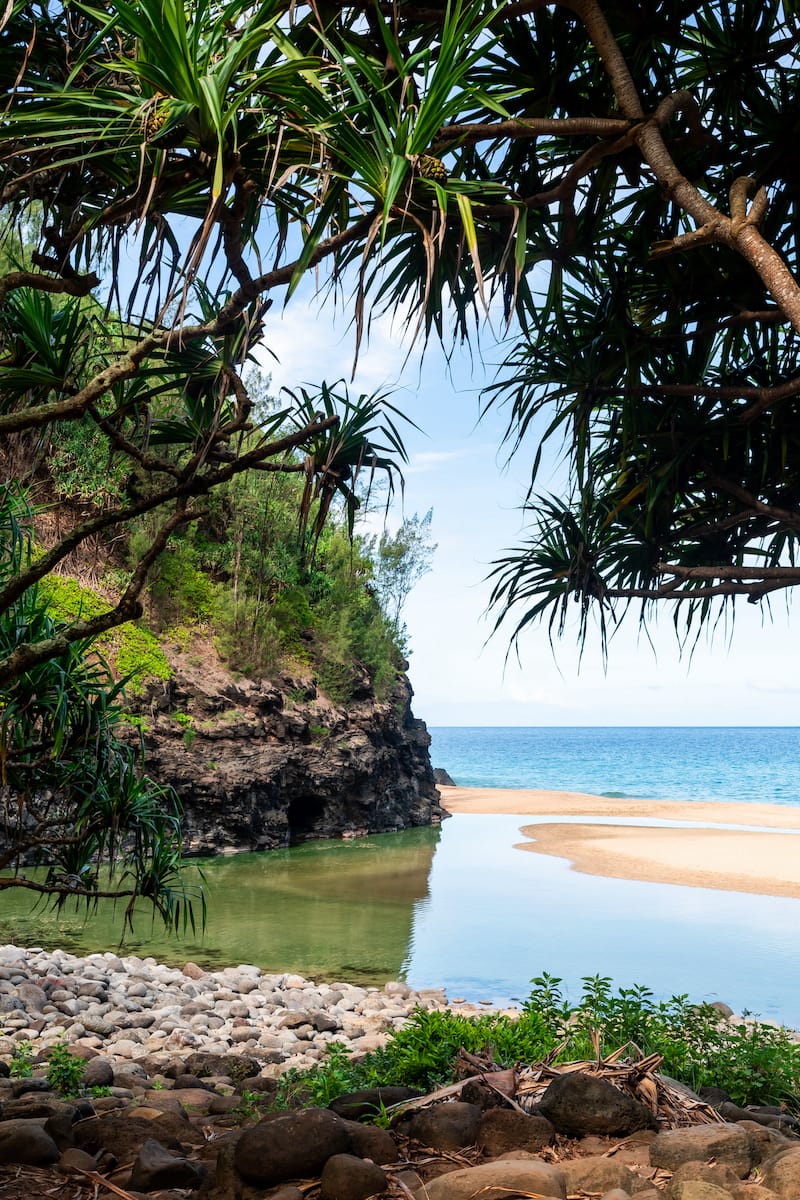 You'll find all the amenities you'll need there such as picnic tables, outdoor showers, restrooms, etc. There are two beaches in Haena, Kee Beach and Haena Beach.
10. Kapaʻa
One of the most popular towns in Kauai is Kapaʻa, and it encapsulates the peaceful atmosphere that Hawaii is known for.
Because of the variety of shops here, visitors from every nook and corner of the world can buy souvenirs to take home a bit of Hawaiian culture!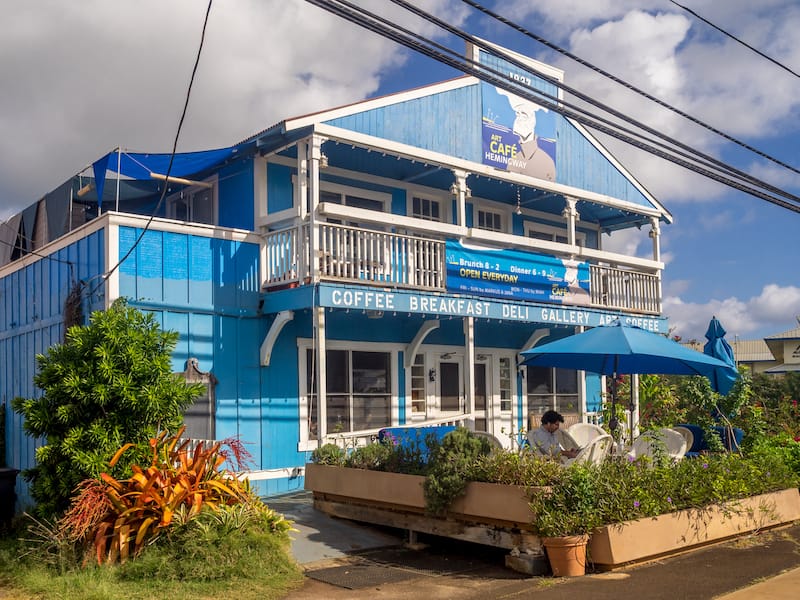 The entire town is famous for its colorful wall murals, which are a blend of the ancient and modern spirits of Kapaʻa.
Aside from being one of the main towns on the island, it is also a beloved place for skateboarders, as a newly-built skate park is now a favorite of locals (and travelers) visiting the place.
11. Limahuli Garden and Preserve
Limahuli Garden and Preserve is a wonderful oasis of serenity and beauty and is located along the North Shore of Kauai.
It is the home of dozens of endangered plants and exotic birds (and you can learn about ones that have become extinct).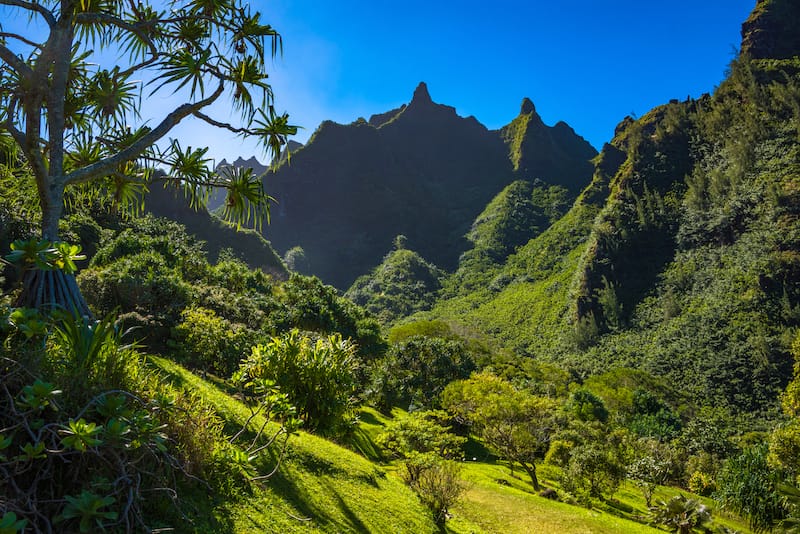 Though it takes a bit of a drive to get to one of the least-accessible valleys teeming with lush forests and streams, it is still a unique gem that is one of the most beautiful places to visit in Kauai!
Take a guided tour to have a clear understanding of the differences between the two ecosystems of ancient and modern times, explore how the ecology of Hawaii has evolved, and get the chance to witness more than 40 natural sites of this heaven.
12. Wailua Falls
Stunning Wailua Falls (mentioned briefly above), located north of Lihue, is arguably the most famous waterfall in Hawaii.
These falls are also super accessible and are only a 3-mile drive up the hill from the main road to the viewing platform. The gorgeous Kauai waterfall is two-tiered and drops over 80 feet!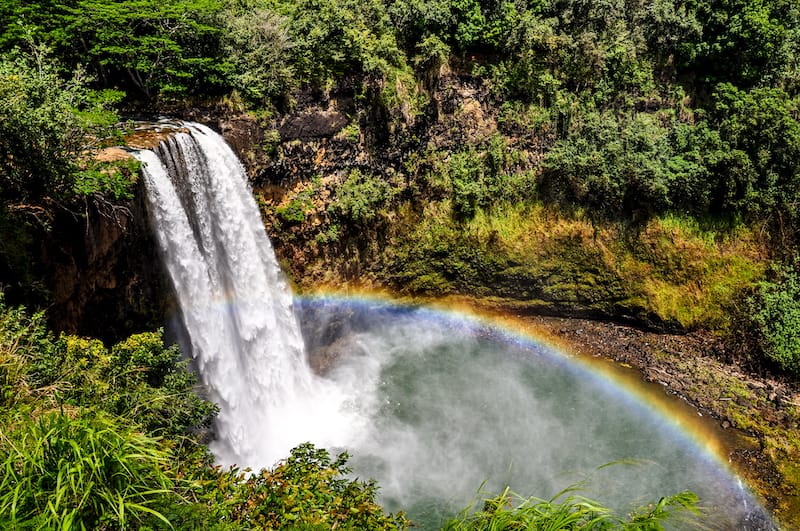 Needless to say, it is prohibited to dive underneath the falls, as it is a huge safety concern.
Wailua Falls has a reputation for being the most photographed waterfall on Kauai and when the sunlight meets the mist of the falls, it usually creates a rainbow, delighting all of the photographers and visitors who made the journey to see it!
13. Queen's Bath
A natural pool filled with various species of fish, called the Queen's Bath, is one of the best places to visit in Kauai.
It is a bit of a 'task' to get to this wonder, as you will need to endure a short, yet challenging hike wearing proper footwear (it can be muddy) in order to get there.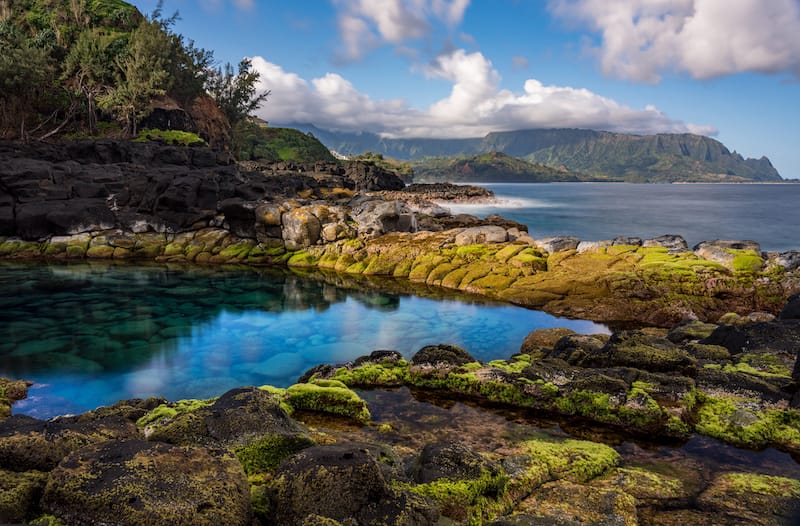 The route is not suitable for people with mobile disabilities or those traveling with a stroller. But, the magical destination is well worth the effort of getting there!
14. Opaekaa Falls
Opaekaa Falls is one of the most accessible waterfalls on Kauai and it is definitely one of the most beautiful!
You can reach the natural wonder near Wailua by heading 2 miles up Rt 580 where you'll be greeted by a large waterfall that cascades down into a hidden pool. It is 151 feet tall and 40 feet wide and the roadside attraction is one of the must-visit places in Kauai!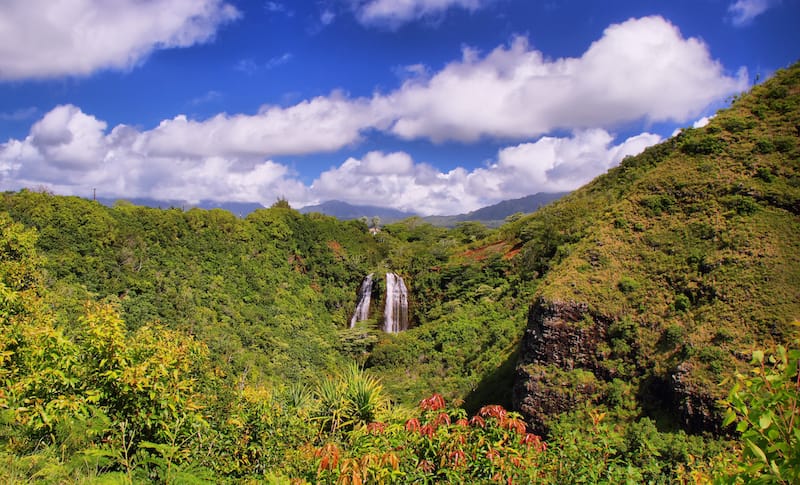 To reach the lookout, you will need to venture 2 miles up Kuamoo Rd (Rt 580) on the eastern side of the island and look out for the signs.
There will be an overlook that will also have restrooms and picnic tables. It truly is a spectacular site and should be on every Kauai itinerary!
15. Hideaway Beach
A shady, hidden coastal spot on Kauai's north shore is known as Hideaway Beach.
If you want to avoid beaches teeming with people, then this one is meant for you, as merely a few people get lucky to enjoy this scenic beach.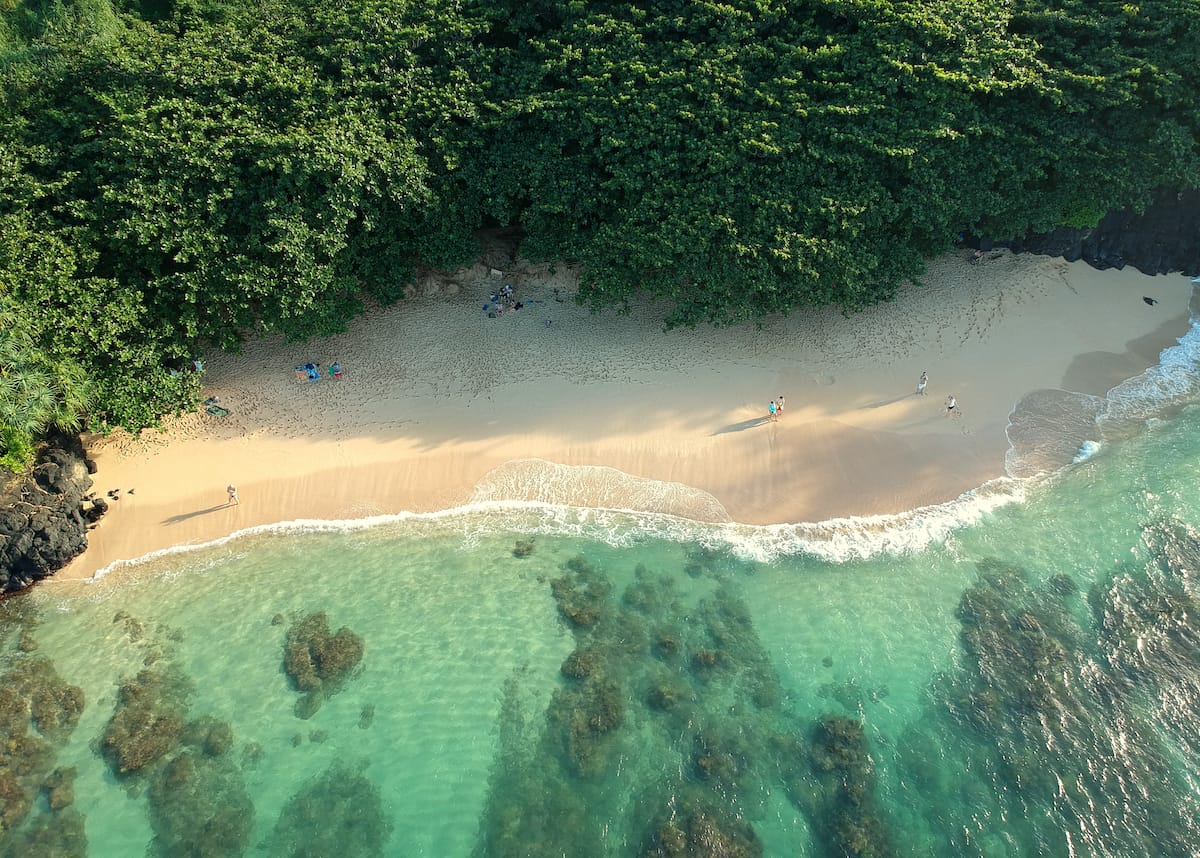 You will need good physical stamina and endurance for hiking up there, as it is treacherous to walk down through the area.
During calmer weather, Hideaway Beach becomes a great place for snorkeling as the water visibility becomes higher and tons of glowing fish move closer to the shore's natural, colorful reef.
16. Hanalei
The coastal town of Hanalei, located on Kauai's North shore, is sandwiched between the cliffs of Hanalei's misty green mountains and fields of taro.
This mythical town presents to non-natives of the local Hawaiian history and culture in its art galleries, traditional cuisine in its restaurants, and several cultural and musical festivals. You will also find some of the best Kauai luaus here.
Don't hesitate to taste poi, a traditional Polynesian dish made from pounded taro root, to fully emerge in local culture.
Aside from the cultural heritage of the town, Hanalei also offers white sand beaches, which are a true paradise for experienced surfers, as they can easily catch the large waves throughout the whole year.
17. Shipwreck Beach
The breathtaking blue water and strong currents at Shipwreck Beach will lure in surfers and windsurfers, so don't expect ideal swimming conditions in this area if you're looking for a casual day in the water!
When the ocean's intensity falls, the beach welcomes adrenaline-seekers who like jumping off from high cliffs into the water.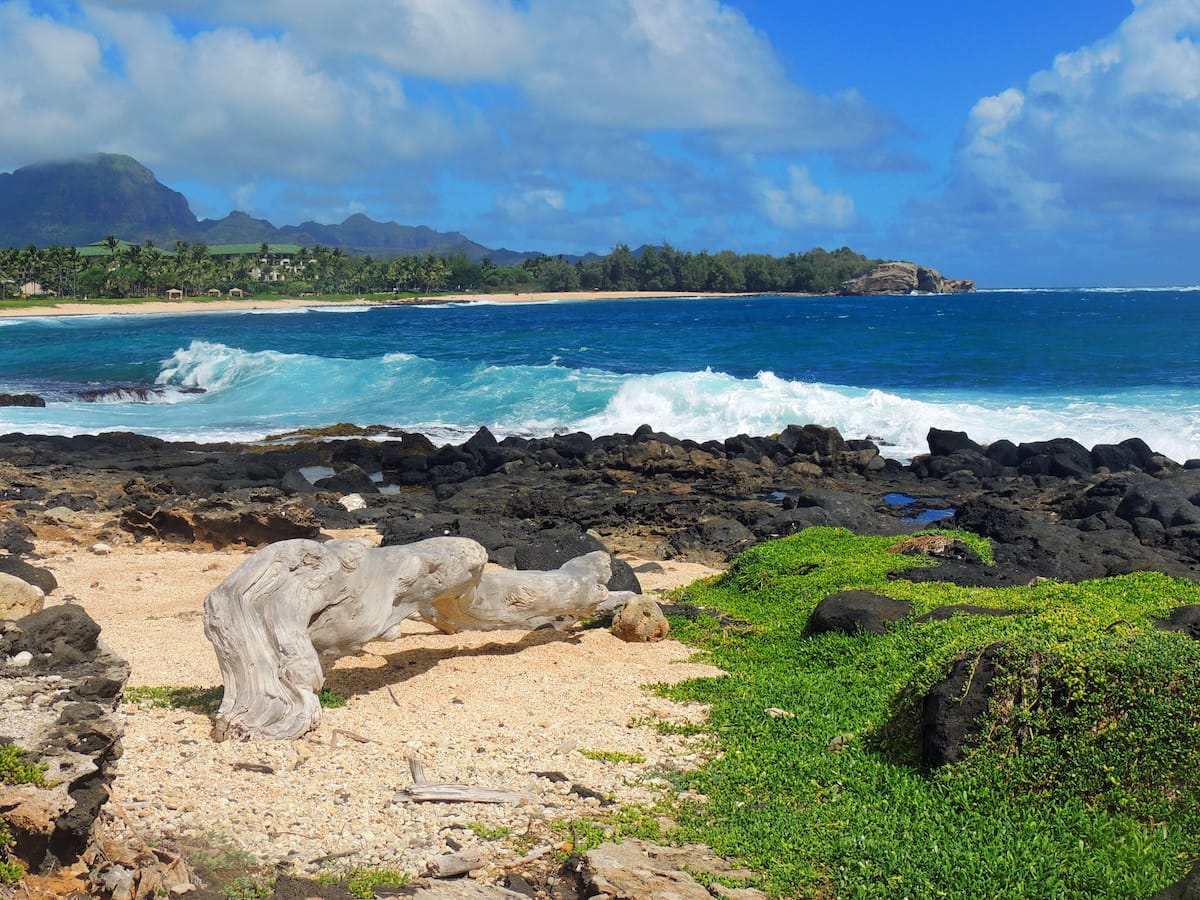 Other people visit this scenic beach mostly to enjoy the sands and wait for the renowned sunsets on this part of the South Shore of Kauai.
The beach has a forested edge in front, which keeps it wild and different from other Hawaiian beaches.
18. Koke'e State Park
Kokee State Park, on the West side of Kauai's, is covered in endemic vegetation. This tropical forest is brimming with wild, native plants and various types of birds and insects.
Don't miss the opportunity to hike the trails to explore the unique flora and fauna of the park, which tends to be quite different than other parts of the island.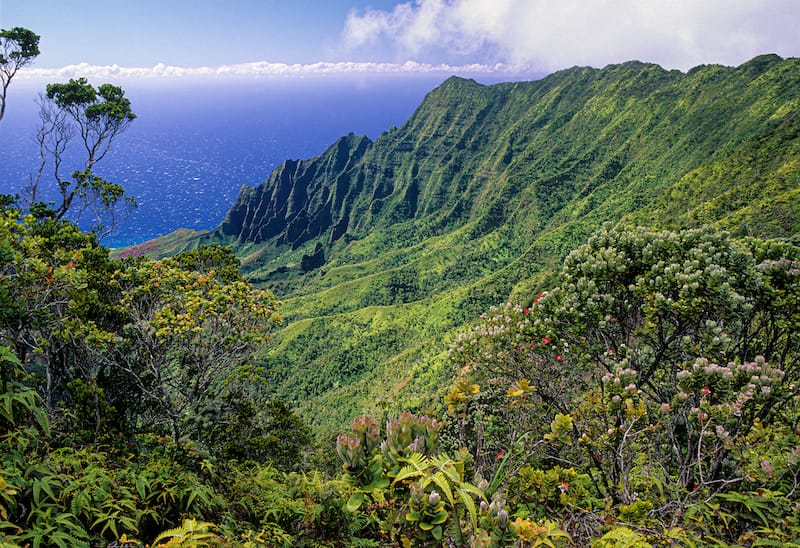 The park offers an extremely satisfying view of the Kalalau Valley, which is clearly visible from two spots at the Kalalau Lookout and the Puu O Kila Lookout.
The Kokee Natural History Museum is another place to visit for those who want to receive more information about this special park and Waimea Canyon.
19. Po'ipu
A small Kauai village located in the southern part of Kauai is Po'ipu, and it welcomes dozens of tourists annually.
It is home to many natural attractions, including sunny beaches, a famous blowhole, botanical gardens, and many more.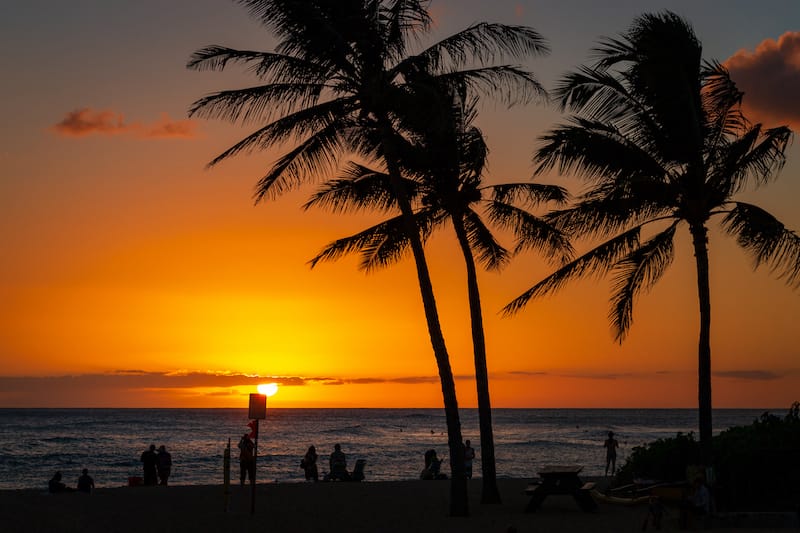 Be sure to stop by one of the surf shops in the area, such as Honolua Surf Co or Poipu Surf and pick up some stuff before heading to one of the area's many beaches like Brennecke's Beach, Baby Beach, Poipu Beach (mentioned above in this post!) or Lawai Beach (a great snorkeling spot located further to the west).
20. North Shore's Caves
On Kauai, you will find several caves located along the North Shore that are worth a visit.
The caves are close to Haena and you'll find the Waikanaloa and Waikapalae Wet Caves and Maniniholo just off the main road close to beautiful Haena State Park. The Maniniholo Dry Cave is located nearby too.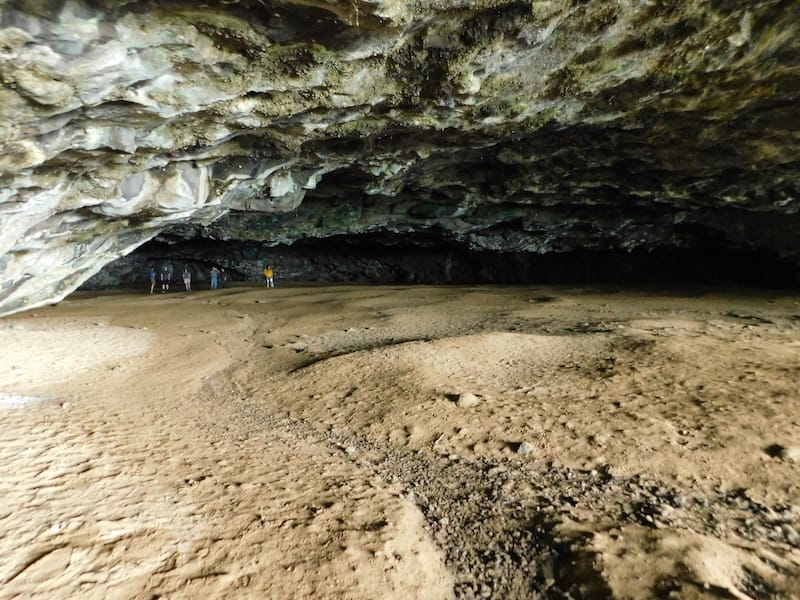 You will need to bring a flashlight but these beauties are open for exploring. You can find more information here.
21. Kilauea Lighthouse
The 52-foot Daniel K. Inouye Kilauea Point Lighthouse, built-in 1913, is still a well-known historical attraction on Kauai among tourists.
You will need a 45-minute drive from Lihue to reach this impressive structure and it is one of the main sites on the island. Once used as a beacon for vessels, it is now just an abandoned (yet idyllic!) spot to wander around and take beautiful photos.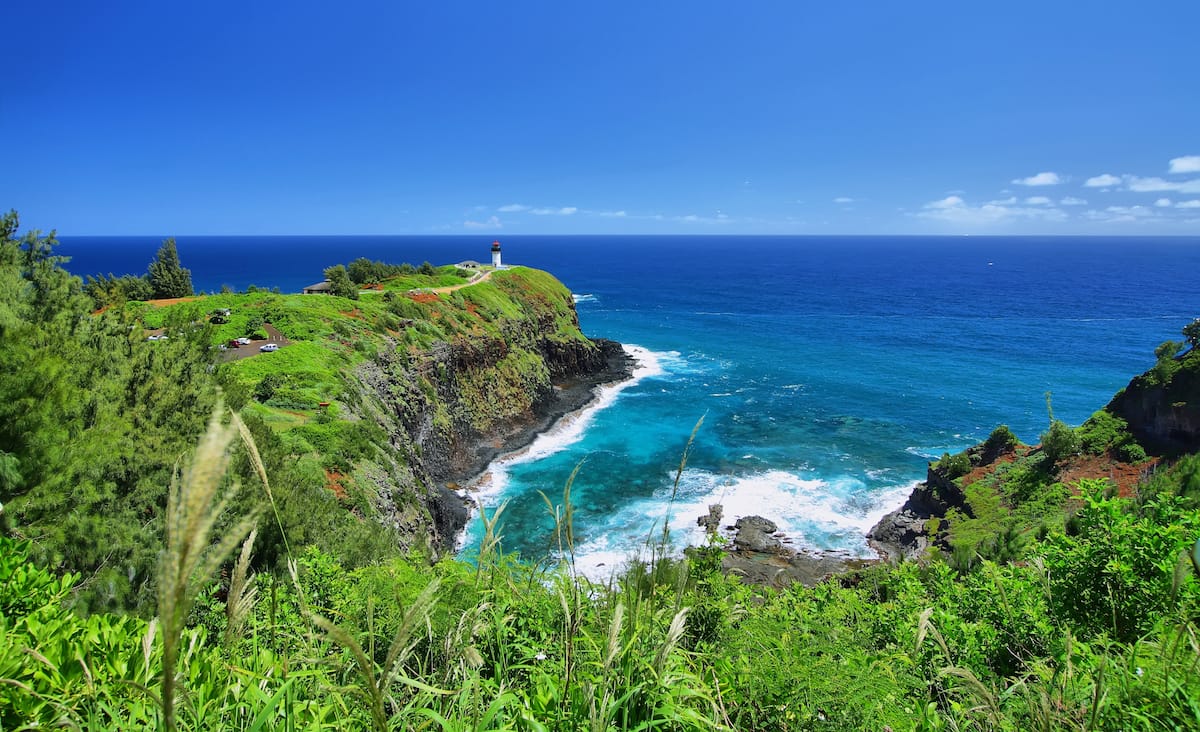 The sound and the view of waves crashing on the coast provide you with unforgettable memories.
Don't forget to check out the Kilauea Point National Wildlife Refuge, which is around the lighthouse, to have a look at different types of seabirds.
22. Nā Pali Coast State Wilderness Park
Easily granting visitors the most iconic views on Kauai and located only 40 miles from Lihue Airport, is the otherworldly Nā Pali Coast State, Wilderness Park.
This is the wildest area in Hawaii, which is full of mystery in its terraced fields, graves, temples, and more. A hiking trail called Kalalau shows most of these attractions, including the five valleys, Kalalau Beach, and the terrifying Crawler's Ledge.
Be cautious if you've any fears of heights, as the ledge may seem a bit scary from the top. This is a challenging trail and definitely not for novices.
If you're unable to hike, don't worry, there are plenty of views of the Napali Coast by helicopter tour (and they are reasonably priced).
23. Lihue
Lihue is home to the main airport on the island and is a history and nature lover's utopia, with renowned museums (Kauai Museum and Grove Farm Homestead Museum), stunning beaches, waterfalls, and more.
Two of the many attractive historical spots in Lihue are a 1000-year-old aquaculture reservoir, Alekoko Fishpond, and an old plantation house, Kilohana.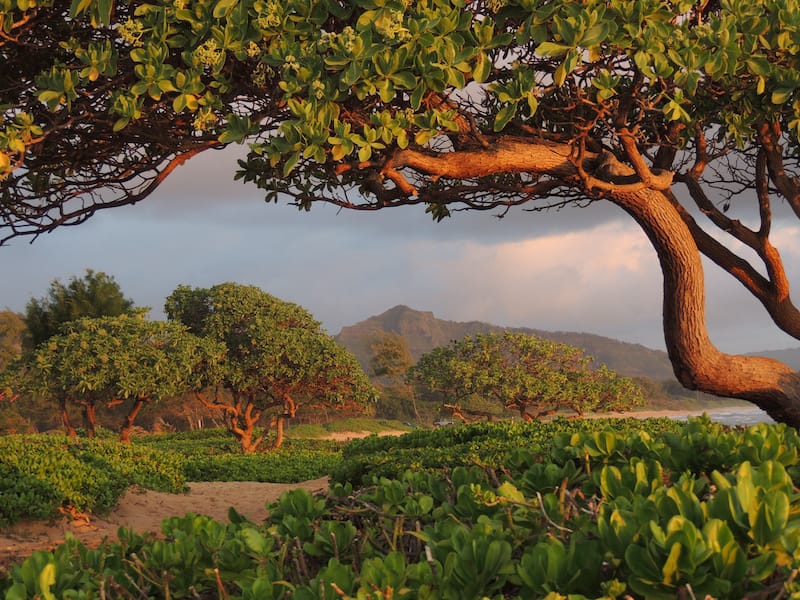 Surfers and bodysurfers adore this city but so do swimmers, as Lihue offers two lovely beaches called Kalapaki and Ninini. The latter is home to an automated lighthouse, in operation since 1897.
You'll find plenty of things to do in Lihue and it is a great base for those with a car who are looking for a home while exploring the island on day trips!
Did we miss any of the best places to visit in Kauai on this list? Let us know your top spots for a Kauai bucket list in the comments.
More Kauai Travel Guides
Pin this Best Places in Kauai Guide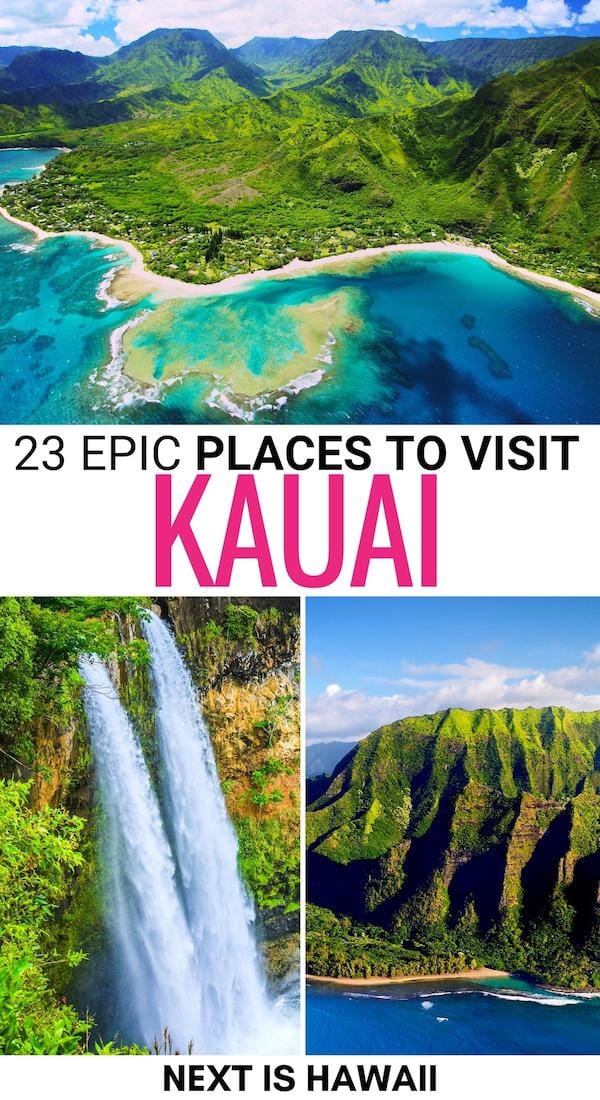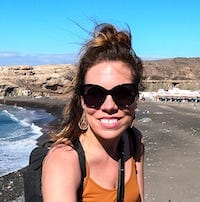 Megan is a travel blogger and writer with a background in digital marketing. Originally from Richmond, VA, she has been traveling frequently to Hawaii for the last 15 years and loves exploring every corner of each Hawaiian island, while trying to promote sustainable travel and small, local businesses along the way. Megan has written for or been featured by National Geographic, Forbes, Lonely Planet, the New York Times, and more. She has co-authored a guidebook with Fodor's Travel and has visited 45 US states and 100+ countries.