Kauai is known for its dramatic and rare beauty. This guide details the nine state parks in Kauai and why you should visit each!
Are you planning your trip to Kauai last minute?
If you're traveling to Kauai and are looking for some of the best tours and lodging for your trip, you can see our top picks below!
Most Popular Tours in Kauai:
Best Places to Stay in Kauai:
Curious about how to get around Kauai? Click here to check Kauai rental car rates!
Have you ever visited one of the Kauai state parks? Let us know in the comments (and tell us which one was your favorite)!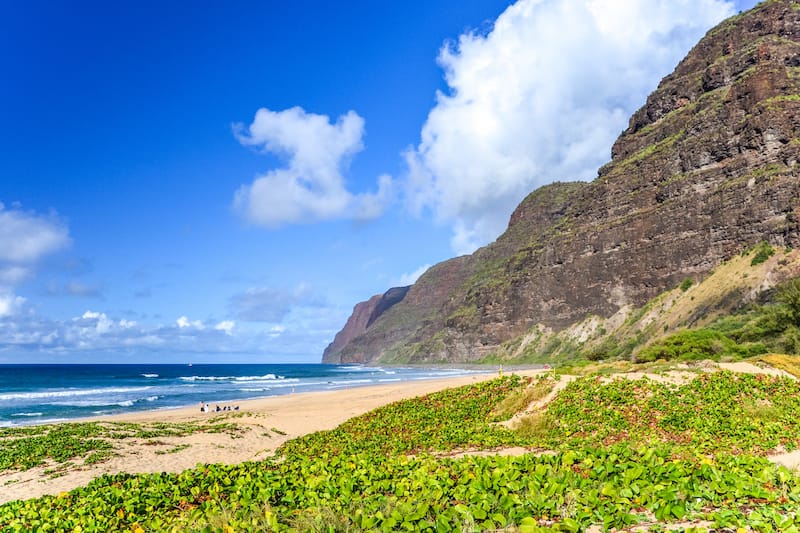 State Parks in Kauai
Ahukini State Recreation Pier
One of Hawaii's most underappreciated state parks is located near the Lihue International Airport at the mouth of the Hanamaulu Stream on the southeastern shore of Kauai.
Here, you'll find a cement pier with a wooden walkway located in the area where the stream meets the Pacific Ocean. You're welcome to enjoy the sights of Hanama'ulu Bay.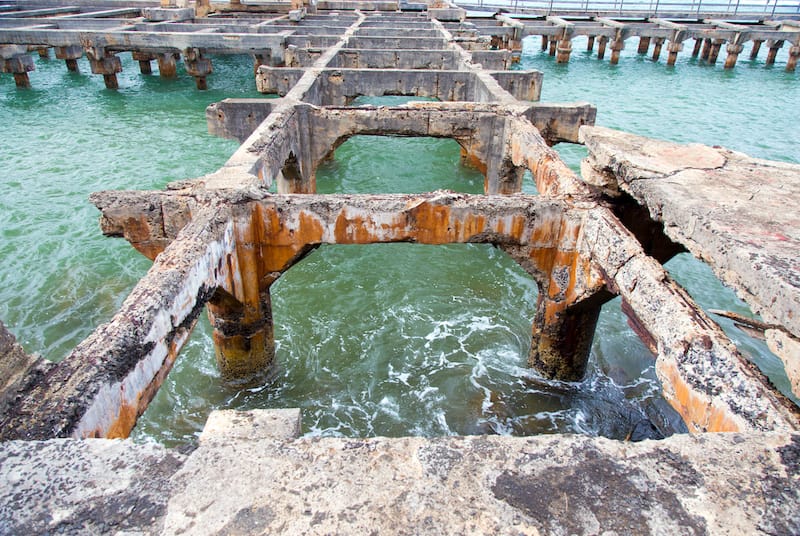 Ahukini State Recreation Pier is a great spot for pole fishing and crab netting. Note that because Hanama'ulu Bay is a State Fishery Management Area, it is subject to strict spearfishing and net fishing rules.
Except for the pier, this state park does not have any other facilities. Nevertheless, the views alone are making this place a very unique one, so it's worth a visit!
Ha'ena State Park
This 230-acre park is located at the endpoint of the Kuhio Highway, nearly an hour's drive from Lihue and 5 miles west of Hanalei, Hawaii.
Hāʻena State Park gives access to a few trails, beaches, and various historic Hawaiian monuments, including over 4,000-year-old sea caves.
There are also some archeological sites related to the hula, including a heiau (shrine) devoted to Laka.
The beach has a more or less safe lagoon. In the area of the park, you can find picnic tables, payphones, restrooms, and outdoor showers which will offer a nice break from your road trip in Kauai.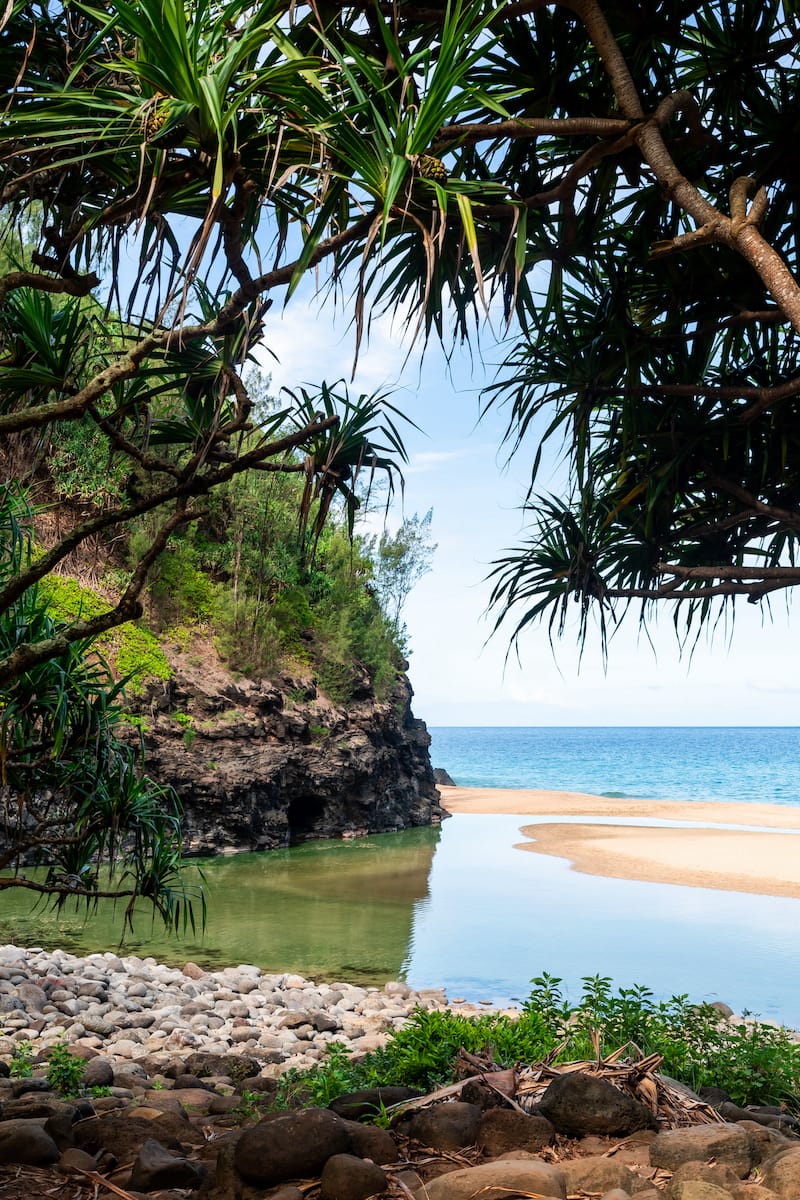 It has two main beaches: Kēʻē Beach and Hāʻena Beach. Kēʻē Beach is located on the park's western boundary.
This beach is west of Haena Point's "Tunnels Beach" (also known as "Makua Beach"). It's home to a unique reef lagoon, making it great for snorkeling and swimming.
The other beach named Hāʻena is located just to the east of Haʻena State Park. Translated from Hawaiian, Haena means "red hot".
The beaches of the park are overall surrounded by ironwood trees, coconut palms, ti, and guava trees abound in the area surrounding the beaches.
Koke'e State Park
The Hawaiian Islands' Kōkeʻe State Park is located in northeastern Kauai and north of Waimea Canyon State Park. It includes 4,345 acres of mountainous terrain and is one of the most visited state parks in Kauai.
It features the Kōkeʻe Museum, which is all about the weather, vegetation, and birdlife. The native greenery, native forest birds, and breathtaking cliffside views are the main attractions of the park.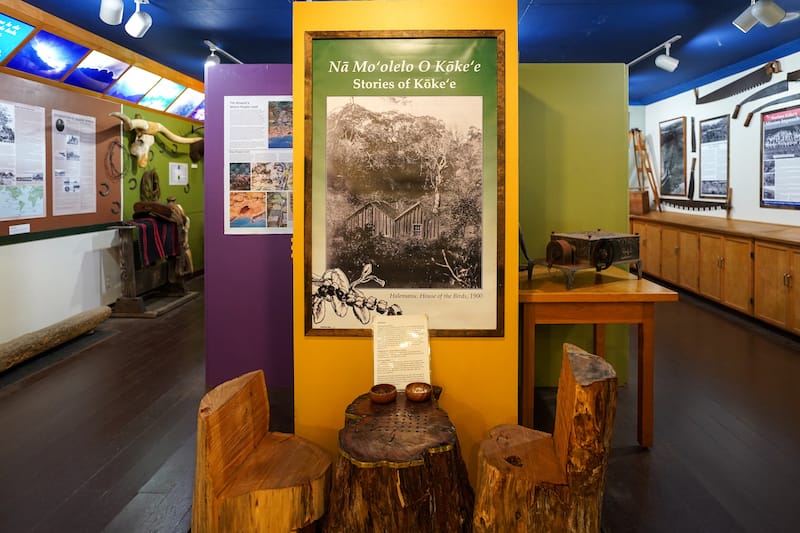 If you get a chance to be here during October you're lucky as it is the home of a festival honoring Queen Emma of Hawaii.
Koke'e State Park also has more than a dozen of hiking trails. Among them Alakaʻi Swamp Trail, Awaʻawapuhi Trail, Berry Flat Trail, etc.
The often wet and slippery Alakaʻi Swamp Trail is the longest one, with a length of 3.5 miles.
It goes through the native wet forest to the rim of Wainiha Pali and has an amazing view of the north shore.
Nā Pali Coast State Wilderness Park
Nā Pali Coast State Wilderness Park is a 6,175-acre state park, located in the heart of the rocky 16-mile northwest side of Kauai. It stretches from Ke'e Beach to Polihale State Park in the southwest.
This area has some accessibility limitations because of being off-limits for vehicles. However, hiking, helicopter tours, kayaking, or paddleboarding are the most common ways visitors here explore the picturesque area of the park.
The only land access along the coast is through Kalalau Trail. It covers 11 miles and crosses five major valleys.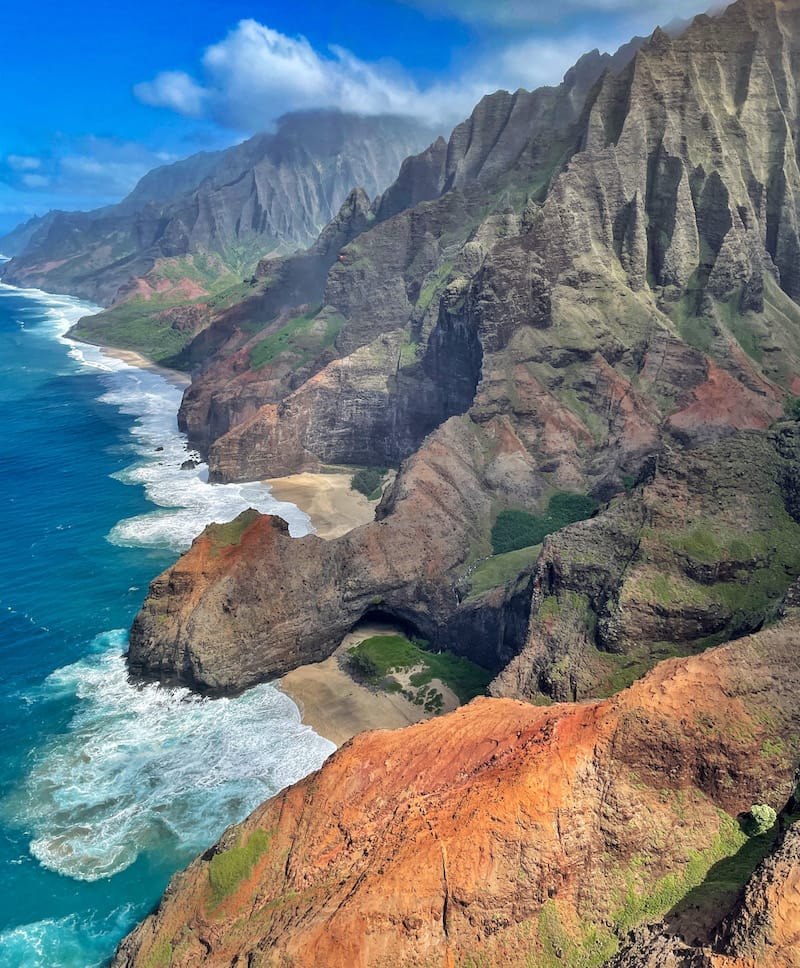 Also, do note that charter cruises departing from Port Allen and Hanalei Bay are provided. Along the way, there are side trails that lead to waterfalls in the valleys above.
You can camp in this park only if you have a valid permit. There are three places where you can camp: two of them are along the Kalalau Trail are in Kalalau and Hanakoa and can be accessed through hiking, while the campsite at Miloli'i is only accessible by boat or kayak.
There are some limits on the number of nights you can stay here, so do your research beforehand. Note that these locations have facilities ready to accommodate campers.
Click here to read more about taking a Nā Pali Coast helicopter tour.
Polihale State Park
Wild beach lovers are going to love this one! Polihale State Park is a secluded wild beach on the Hawaiian island of Kauai's western coast.
Not counting the privately-owned island of Niihau that lies further west, it is the most western publicly accessible region in Hawaii.
The Kauai state park is located mere miles from Kekaha and the road to it is not that easy due to a poorly defined dirt sugarcane road. In fact, most rental car companies do not allow you to drive there (so check beforehand).
Although the beach is several miles long, the area named "Queen's Pond" is known to be the only safe place for swimming.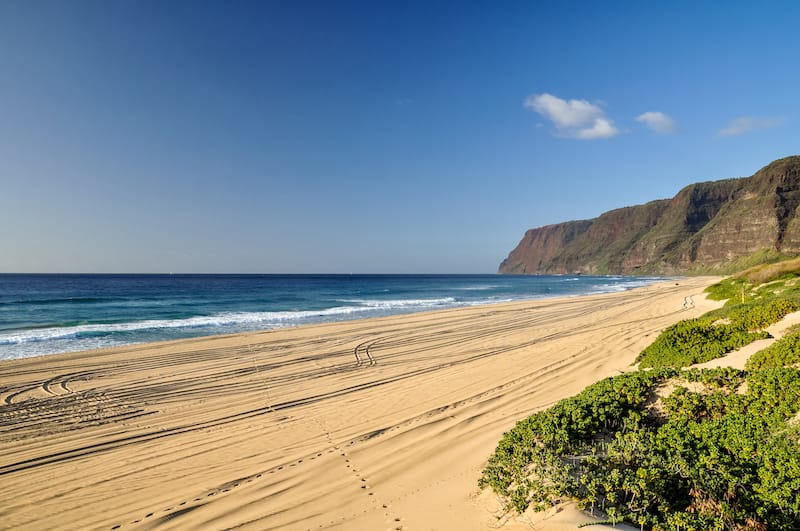 The beach is bound to the north by the Na Pali Coast mountain ridges. The mountains are, in fact, so close that visitors to the park can hear goats bleating at night.
The way to get there is to drive west from Kekaha, and having a decent local map is necessary.
Except for the usual water-related activities (surfing, snorkeling), Polihale State Park is a great place to relax by the water. Please note that camping is not permitted at this time.
Russian Fort Elizabeth State Historical Park
Russian Fort Elizabeth State Historical Park is located at the site of the former Fort Elizabeth, which is the last remaining Russian fort on the Hawaiian islands.
The Russian-American Company, in collaboration with High Chief Kaumualii, constructed it in the early nineteenth century.
The boulder-built fort serves as a memory of Russia's brief presence in the Hawaiian Islands (1815-1817). The fort's massive stacked-stone walls are a mixture of Hawaiian and Russian architecture.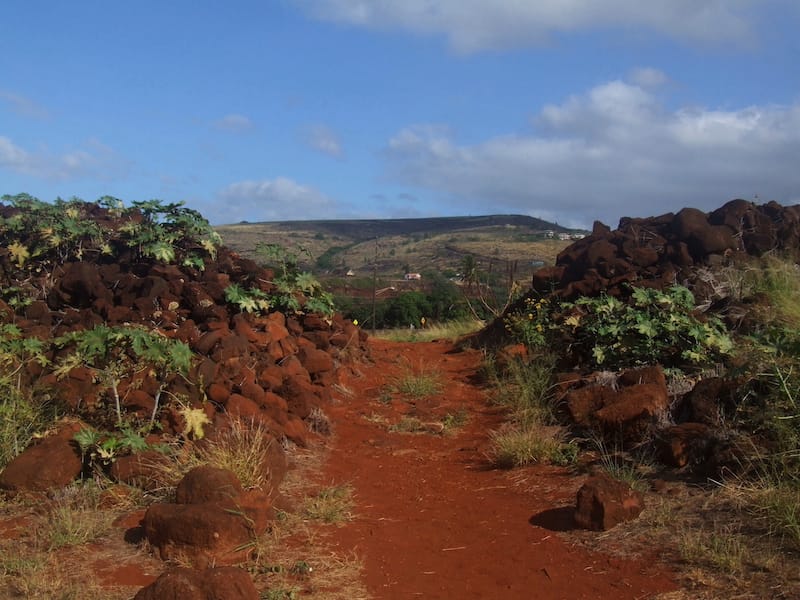 If you're considering visiting the area, note that there is a self-guided walking tour offered. It is open for tourists during daylight hours, and there is no entrance fee.
You can enjoy some amazing seascape overlooks and use photos from the site to visualize how the complex could have appeared in the past.
Wailua River State Park
On the eastern side of the Hawaiian island of Kauai, Wailua River State Park is waiting to be explored! The park is mostly made up of the Wailua River Valley, Hawaii's only navigable river (which you can book a kayaking tour on)!
Kayaking, riverboat tours, and jungle exploration are all available to park visitors. Some of the activities you can enjoy on the river are water skiing and motorboats.
The Wailua Complex of Heiaus, which is part of the park, is a National Historic Landmark. It was formerly the island's epicenter of chiefly authority.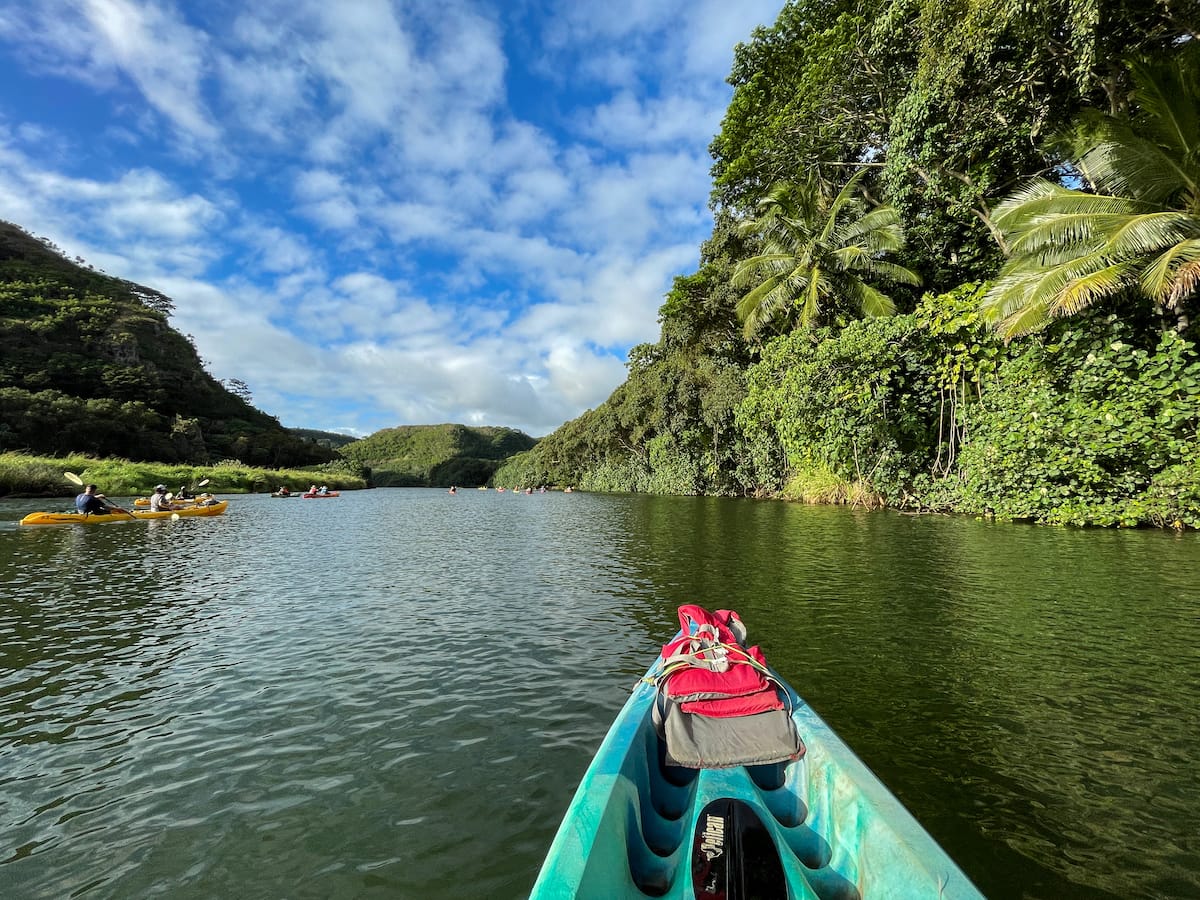 It comprises the ruins of various major structures, including houses of worship (heiau), shelter (pu'uhonua), and royal birth-giving locations.
For example, Hikinaakalā (Rising of the Sun) Heiau, which includes the Hauola place of refuge (puʻuhonua) and the Kiʻi Pōhaku ancient petroglyphs, Another one is Holoholokū Heiau, also known as Kalaeokamanu.
It's located near the pōhaku hoʻohānau (birthing stone) and pōhaku piko (navel/umbilical stone), where high-ranking women would give birth and bury their unborn children and umbilical cords.
There are a few more places like this for visitors to explore.
Waimea Canyon State Park
Waimea Canyon, often referred to as the Grand Canyon of the Pacific, is a massive canyon on the western side of Kauaʻi in the Hawaiian Islands that is around ten miles long and up to 3,000 feet deep.
It encompasses more than 1800 acres of area. The word Waimea means "reddish water" in Hawaiian, which refers to the erosion of the canyon's red soil.
The canyon was created by a deep incision of the Waimea River caused by the island's central peak, Mount Waiʻaleʻale, which is one of the wettest places on the planet. On the island, it is a major tourist destination. It has a large wilderness area with several hiking trails.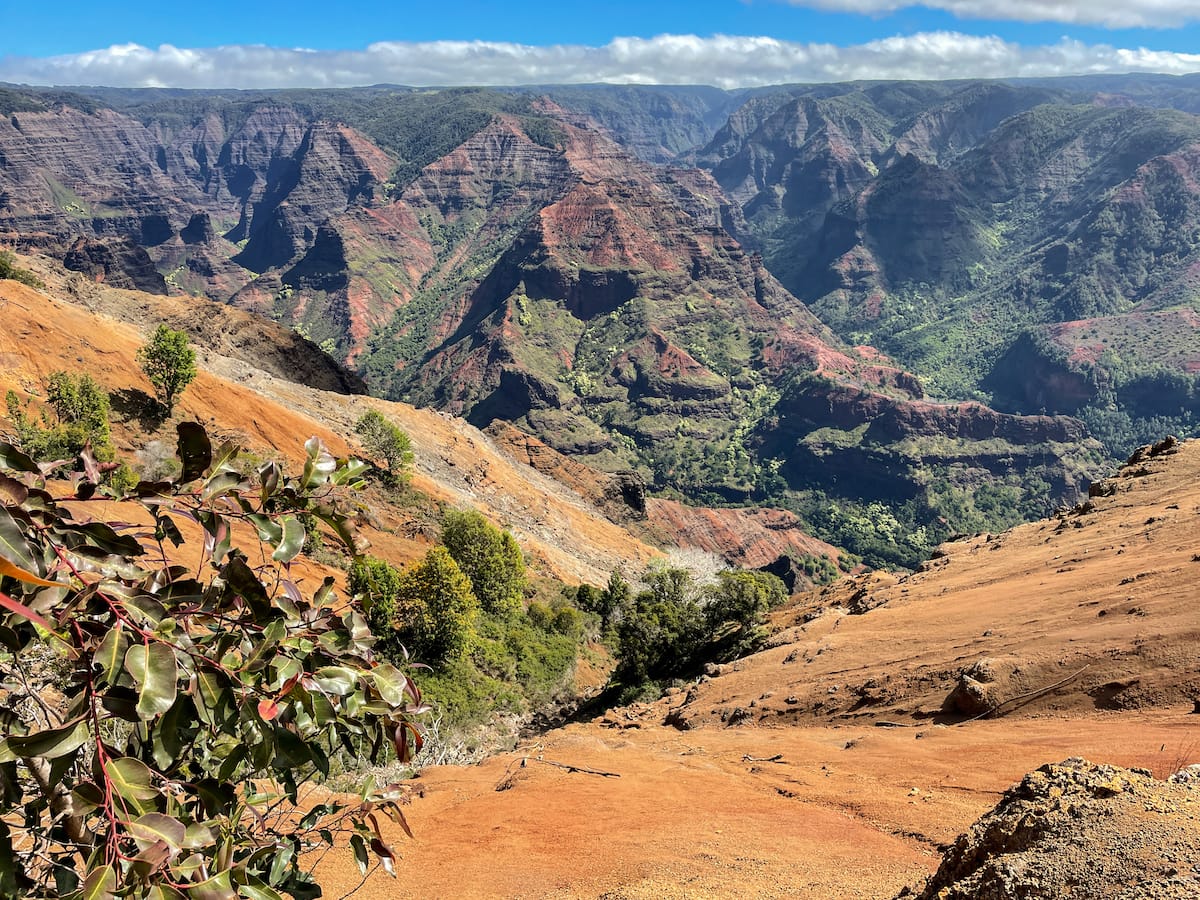 The Waimea Canyon State Park hikes have something for everyone, whether you want to take a leisurely stroll down the canyon or even if you're an experienced explorer.
Some of the renowned hikes are the Cliff Trail, Canyon Trail, Black Pipe Trail, and the Kukui Trail.
Famous recreational activities here include picnicking in the wilderness and hiking through short nature trails. A nearby forest preserve offers a long, difficult climb into and out of the canyon.
Waimea State Recreational Pier
Waimea State Recreational Pier is located about six miles north of Waimea. A wide, black sand beach, lies between two impressive rock outcroppings and is cut in half by the eponymous fishing pier.
The area is extraordinarily beautiful at the time of sunset (and any time, really)!
If you're planning a visit here, you can spend your time fishing or picnicking. It's recommended that you familiarize yourself with restrictions beforehand as pole fishing is available, but there are certain restrictions.
In the area of the pier, there are a few restrooms, picnic spots, and drinking water available.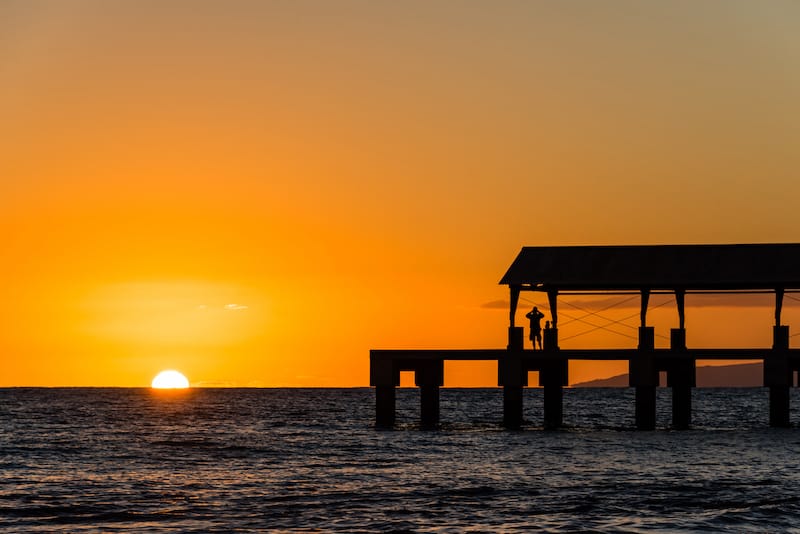 The views here are so scenic that even simply sitting on the sand while watching the sunset full of colors would be an awesome way to spend your time.
If you're lucky enough to be there during a day when the sky is clear, you can see the small island of Niihau in the distance.
We love Kauai and these state parks in Kauai showcase some of the best spots on the island!
Which Kauai state park is your favorite? Let us know in the comments! Thanks!
Pin this Kauai State Parks Guide