There are just certain activities you must do in Kauai. A doors off helicopter tour of Kauai is one of them!
This guide details what to expect before your Kauai helicopter tour, how to book the best one, and what to bring with you to ensure you have the most memorable trip!
This guide will also detail some of the places you will see (from a birdʻs eye view!) on your doors off helicopter tour of Kauai, including the alluring Nā Pali Coast, which is the reason many people book the flight, to begin with!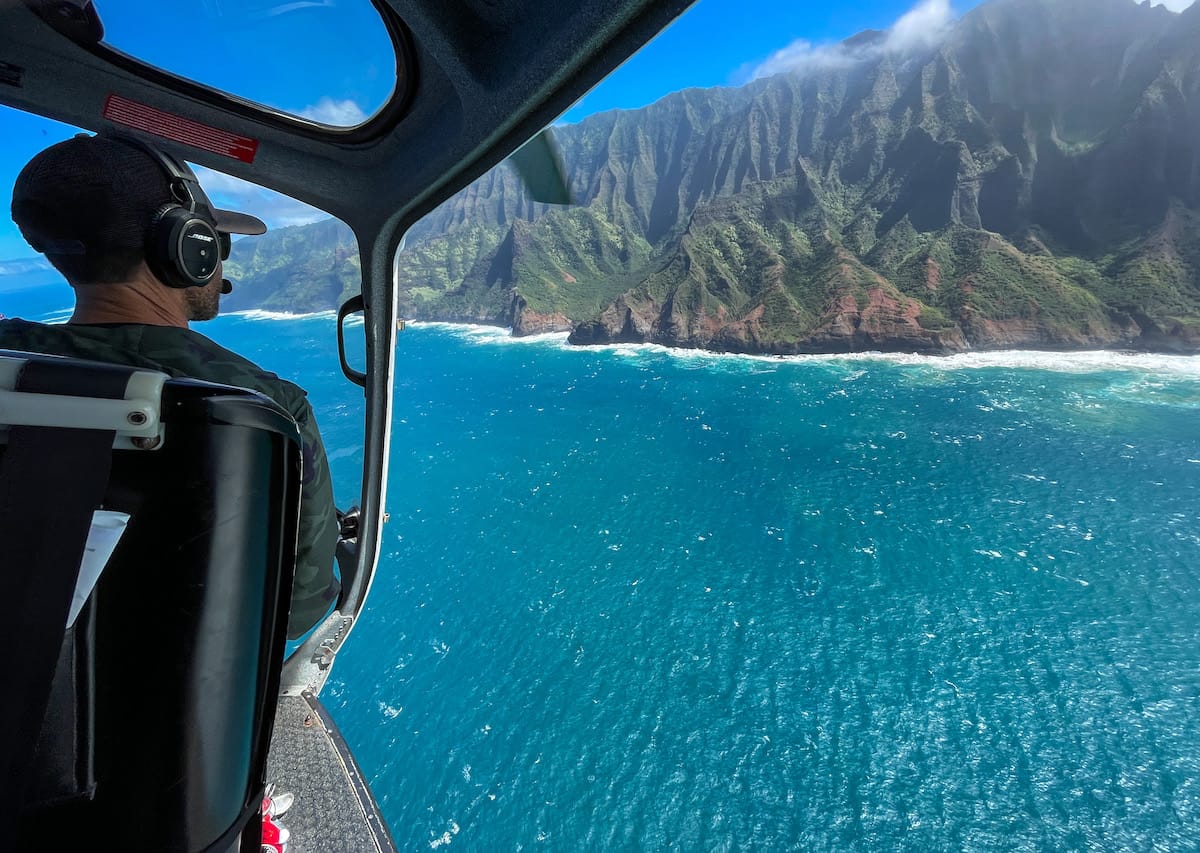 Did we fail to answer any of your questions about taking a doors off helicopter Kauai tour? Let us know in the comments – thanks!
Doors Off Helicopter Kauai Tour Overview
Seeing Kauai by air is really the only way to see it in its entirety and it is the perfect thing to do even if you have only 3 or 4 days in Kauai.
The landscape is so rugged and raw that most of the island is unable to be visited any other way.
And while there are small planes that take tourists on trips to see Kauai, they donʻt have the opportunity to hover over places the way a helicopter does even if they can be slightly cheaper.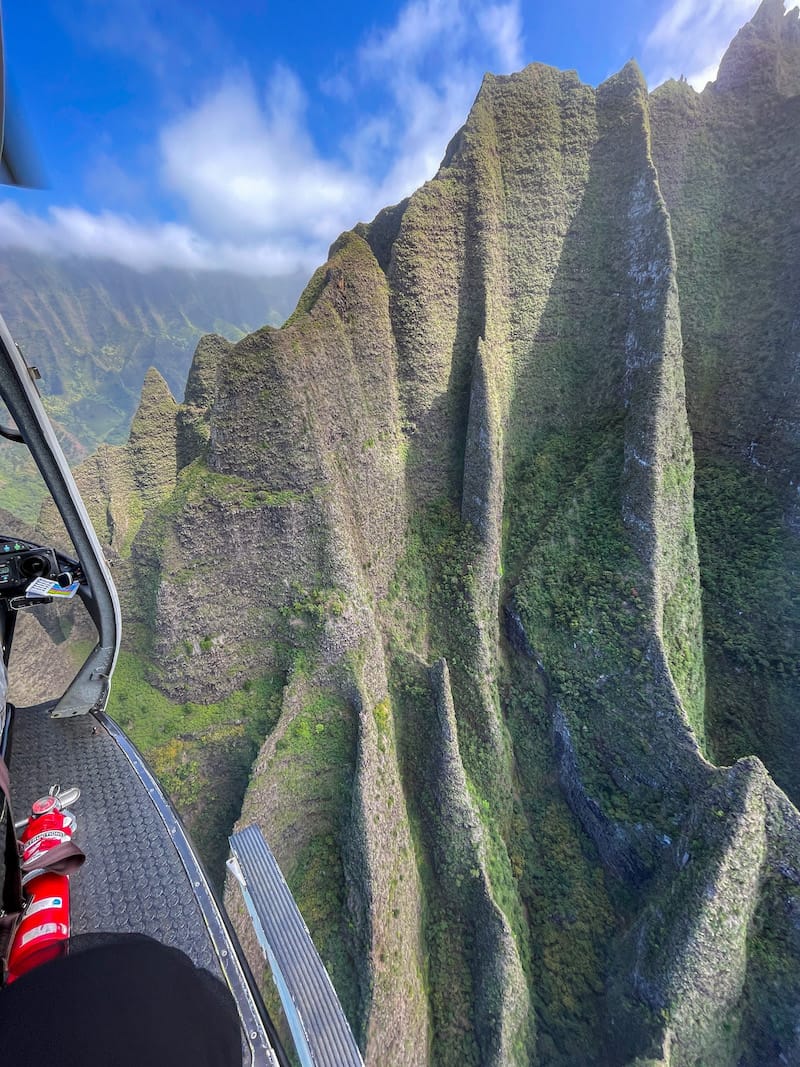 Helicopter tours of Kauai sell out quickly so it is most definitely best to book your ride as soon as you have your tickets to the Hawaiian island!
We recommend booking them online with Viator like we did as you will get a voucher sent to you right away and you will be reminded of the tour beforehand.
💥 PRO TIP: Book your helicopter tour at the beginning of your trip in case of bad weather and rescheduling.
My tour was with Air Kauai Helicopters. There are plenty of reputable companies and I absolutely loved the one I went on. This tour offers several time slots and operates Monday-Friday weekly.
One thing to note is that when you book this, it will say either ʻMorning Departureʻ (8 am-12 pm) or Afternoon Departure (12 pm-4 pm).
Depending on what you choose, there will be tours leaving hourly during that time of the day. You will need to get an exact time from the tour company beforehand by simply shooting them an email or call.
Book your helicopter ride here!
If your party books all on the same ticket, you will likely be on the same flight… but if you book on different reservations, you will need to request the same flight directly with the operator. I will detail this a bit further down in the post.
🌟 GOOD TO KNOW: Only one person in your group (if the group is ʻ2ʻ) is guaranteed a seat on the outside – prepare accordingly.
Once you get to Air Kauaiʻs office, you will check-in and have a safety briefing before heading to the helicopter. They will then take a photo of each group individually (for purchase later) and sit you in the helicopter (each group is guaranteed one ʻwindowʻ seat).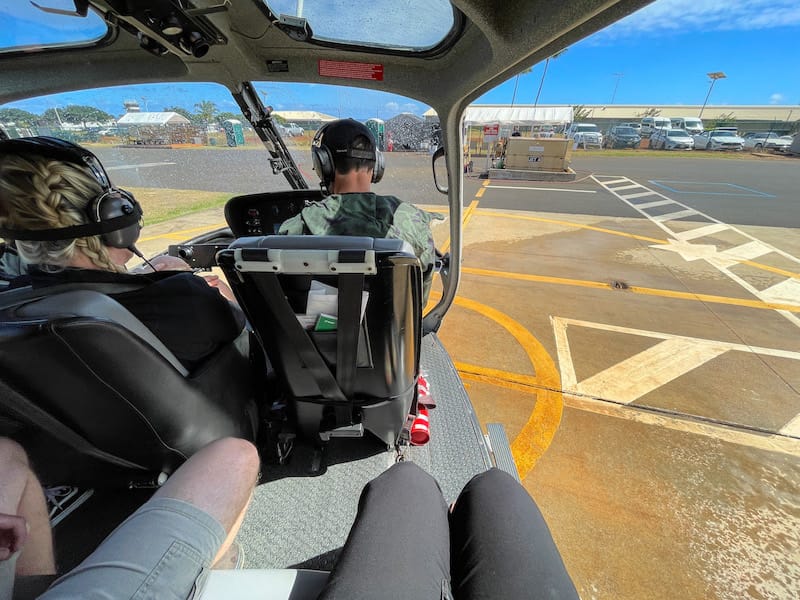 And, up you will go! This post will detail the main highlights and places you will fly over throughout the tour!
💥 PRO TIP: The best seat is on the right behind the pilot. It will grant you the best views of most sites, including the Nā Pali Coast.
The flight was absolutely incredible. There are some things to know before going, hence writing this post. You can not take cameras (only cell phones!), you may experience motion sickness, and you may end up in a middle seat. Continue reading for additional information!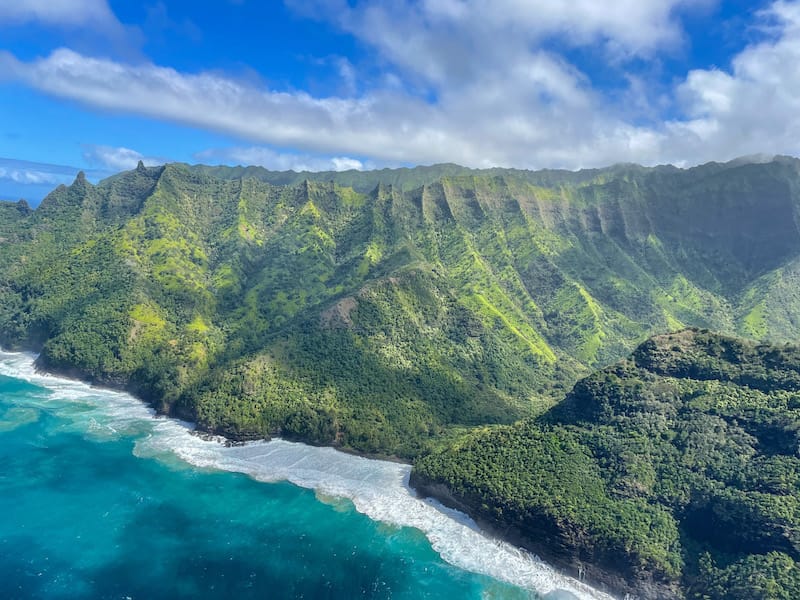 My Doors Off Helicopter Tour of Kauai
Arriving at Lihue Airport (+ Check-in / Safety Briefing)
In order to get to your Kauai doors off helicopter tour, you will need to first get to the Lihue Airport. Do double-check the meeting point if you booked a tour different than any suggested here as some leave from other parts of the island!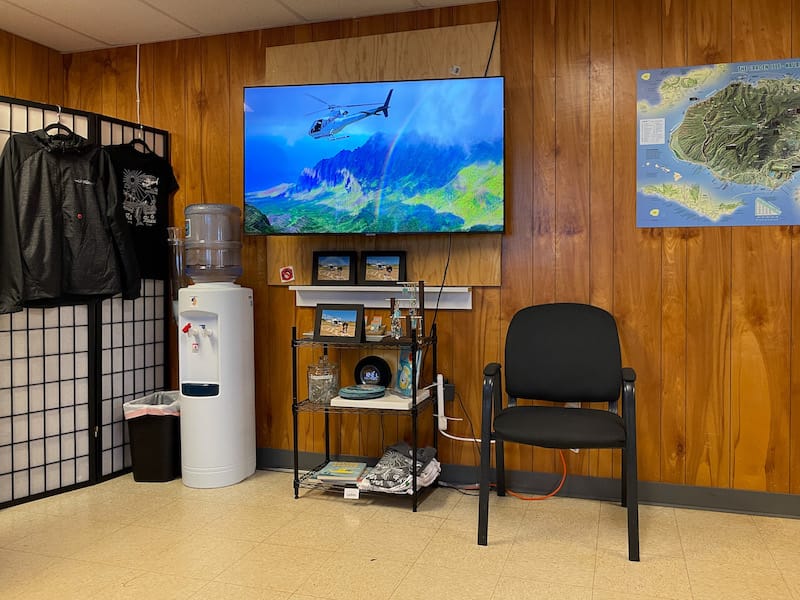 Coming into the area around Lihue Airport, you will need to go left if you are facing the airport. There is an area with shipping containers and trailers as offices. You will also see the helipad area which should be a good indicator.
Head into the office and check-in. Be sure to arrive early! I recommend at least 30 minutes early as it gives you time to check-in, go to the toilet (porta-potty… sorry! But itʻs clean!), and get ready for your flight.
Book your helicopter ride here!
If you are planning to take photos with your phone, you can also ask for a case and lanyard for your phone. It is a rubber case that will stretch over the phone and the lanyard must be around your neck for the flight.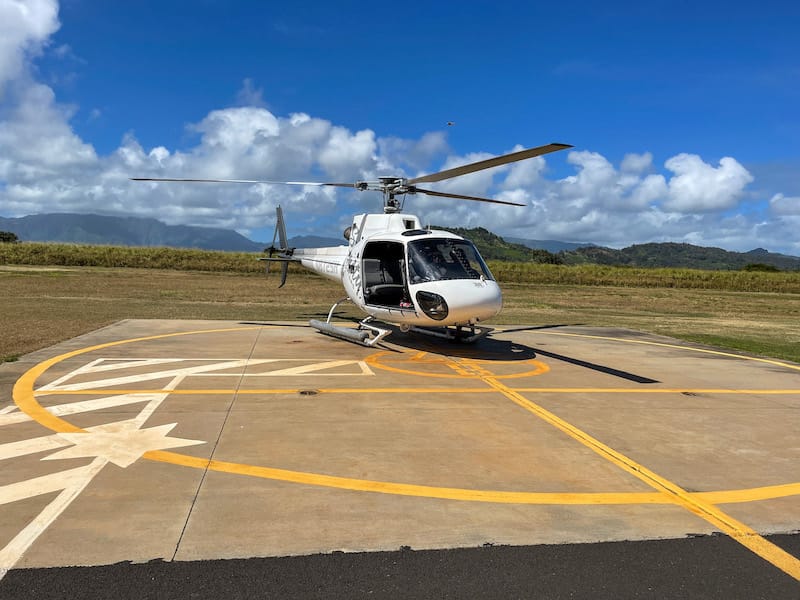 Once your entire group is there (each flight can take up to 6 passengers), you will undergo a safety briefing detailing instructions on what to do to stay safe and enjoy your flight to the fullest.
They will also let you know the conditions for the day and that they record a video throughout the journey that you can purchase after the flight! This costs around $60-$70.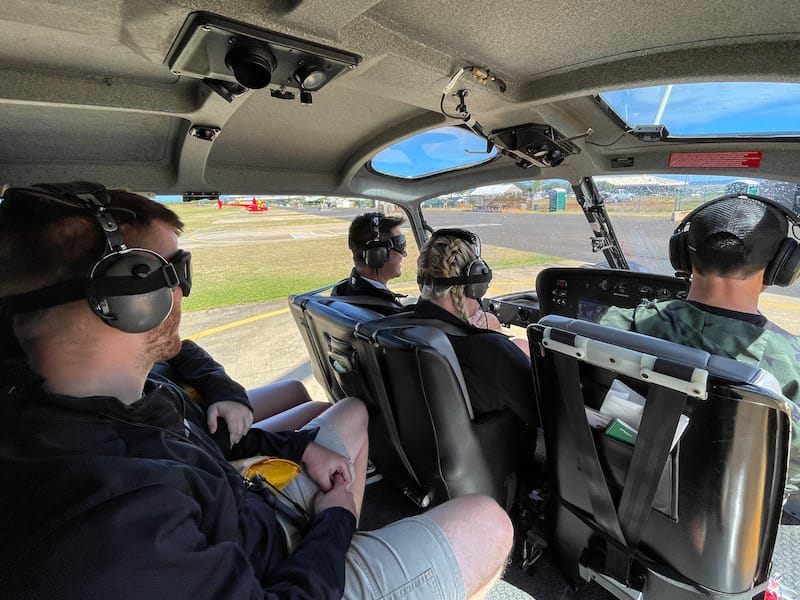 Flight Route Highlights (What We Saw!)
Obviously, the reason to take a doors off helicopter tour of Kauai is to see the island from above (especially the Nā Pali Coast)! But, you will see plenty of other mind-blowing sites along the way!
Below are some of the top highlights from a Kauai helicopter tour:
Mount Waiʻaleʻale
Mount Waiʻaleʻale is the second-tallest point on Kauai and is actually a shield volcano. But, what it is really known for is its precipitation and rainfall!
Many sources say that it rains here 365 days a year (while some claim only 360). Nevertheless, this is either the wettest place on Earth or one of them and its many waterfalls justify this claim!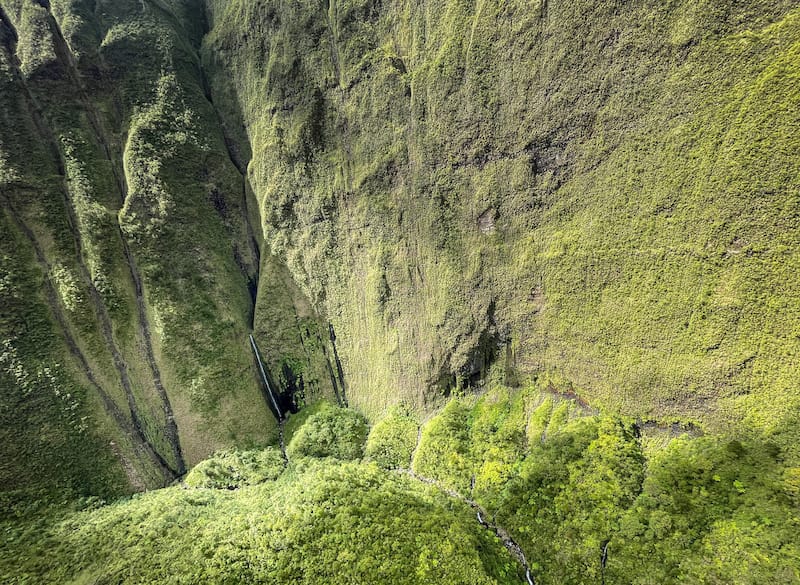 You will have a chance to see this up close on the helicopter tour as you will fly inside the area and you will immediately smell the water droplets as well as feel the cool air. It was easily one of my favorite parts of the trip!
This area is really only able to be visited or seen by air. While you can technically find trails that will lead you there, it is so wet that it makes the journey nearly impossible (or extremely difficult).
BOOK HERE: Kauai doors off helicopter tour
Nā Pali Coast State Park
Nā Pali Coast State Park is one of the main attractions (if not THE main attraction) on Kauai.
You will find the state park extending from Polihale State Park to Keʻe Beach and it is not easily accessible unless youʻre an experienced hiker or take a helicopter tour (or boat tour).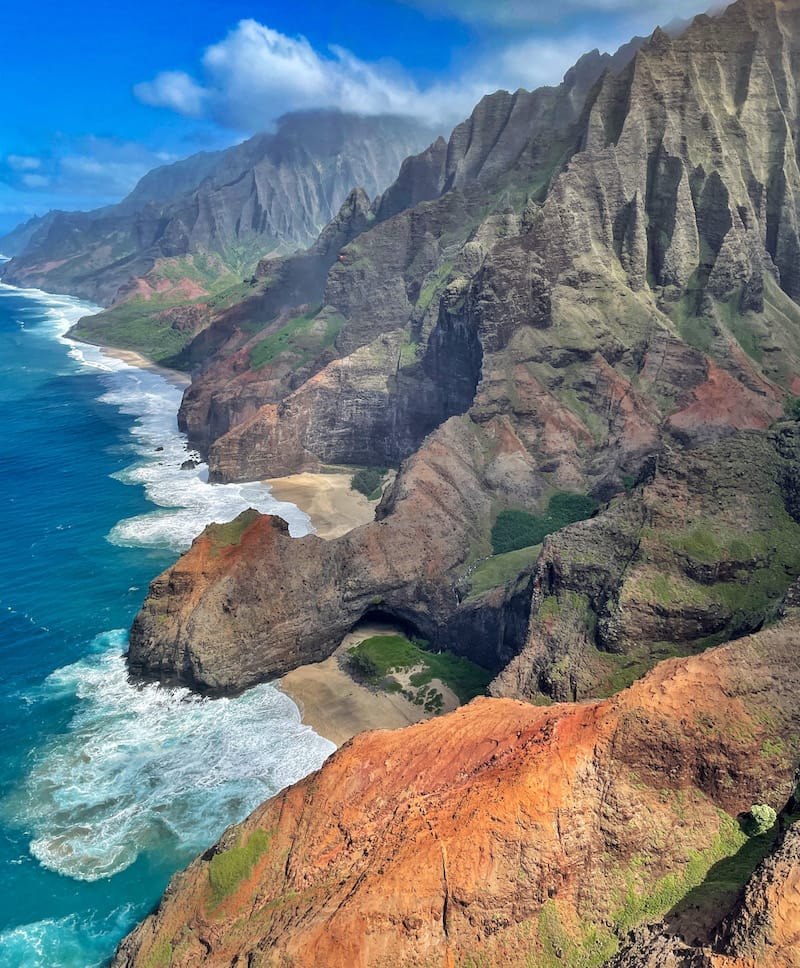 This 6,175-acre state park is 16 miles long and is renowned for its high cliffs (nā pali actually means ʻhigh cliffsʻ), all of which you will get to see on a Nā Pali helicopter tour!
The rugged and sharp terrain is one-of-a-kind and canʻt really be found anywhere else in the world which is the ultimate reason to take this Kauai helicopter tour.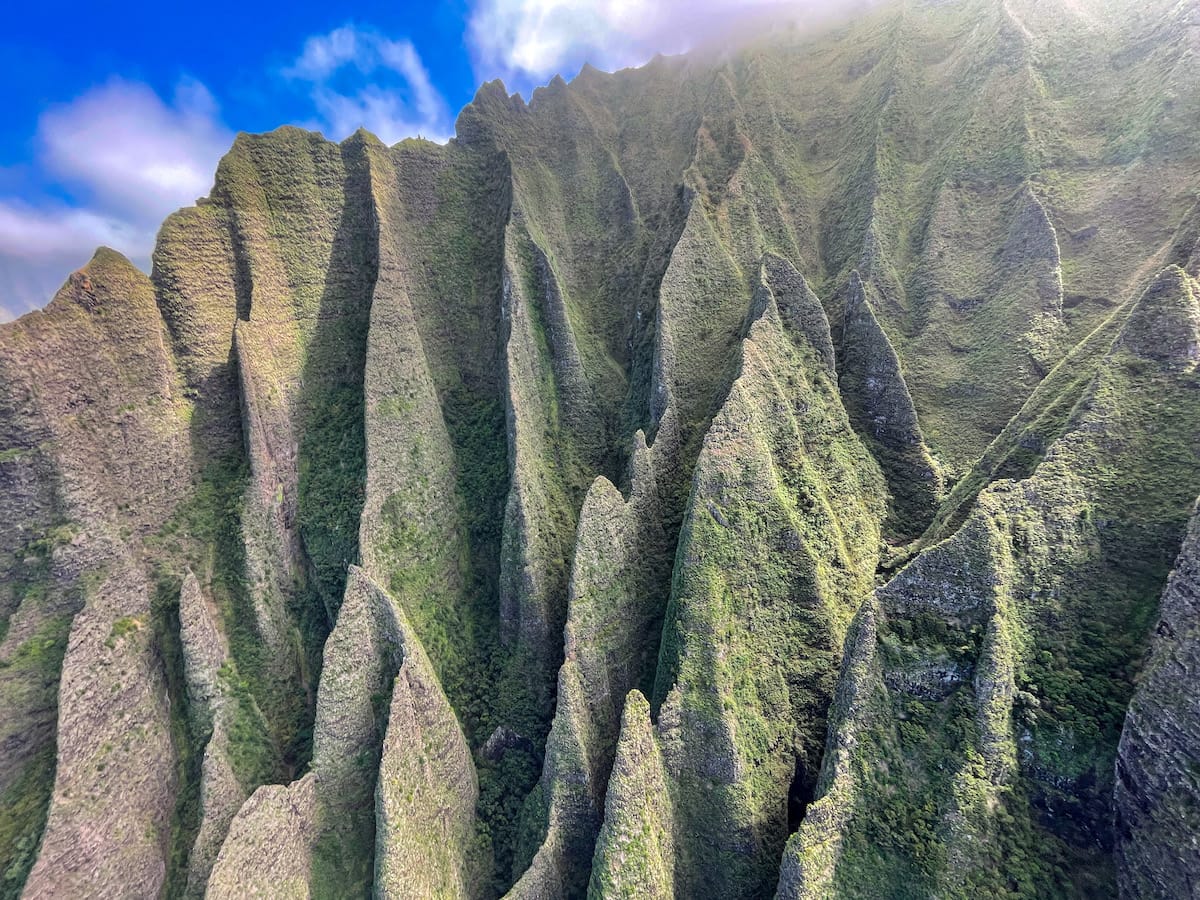 Manawaiopuna Falls (Jurassic Park Falls)
This famous Kauai waterfall is one of the highlights of the tour and is one you will get to see from above on the trip. This is the one place you will see best if you are sitting on the left side of the helicopter.
The waterfall is located in the Hanapepe Valley and is 400 feet tall. Why is it usually referred to as Jurassic Park Falls? Well, it was featured in the 1993 Jurassic Park!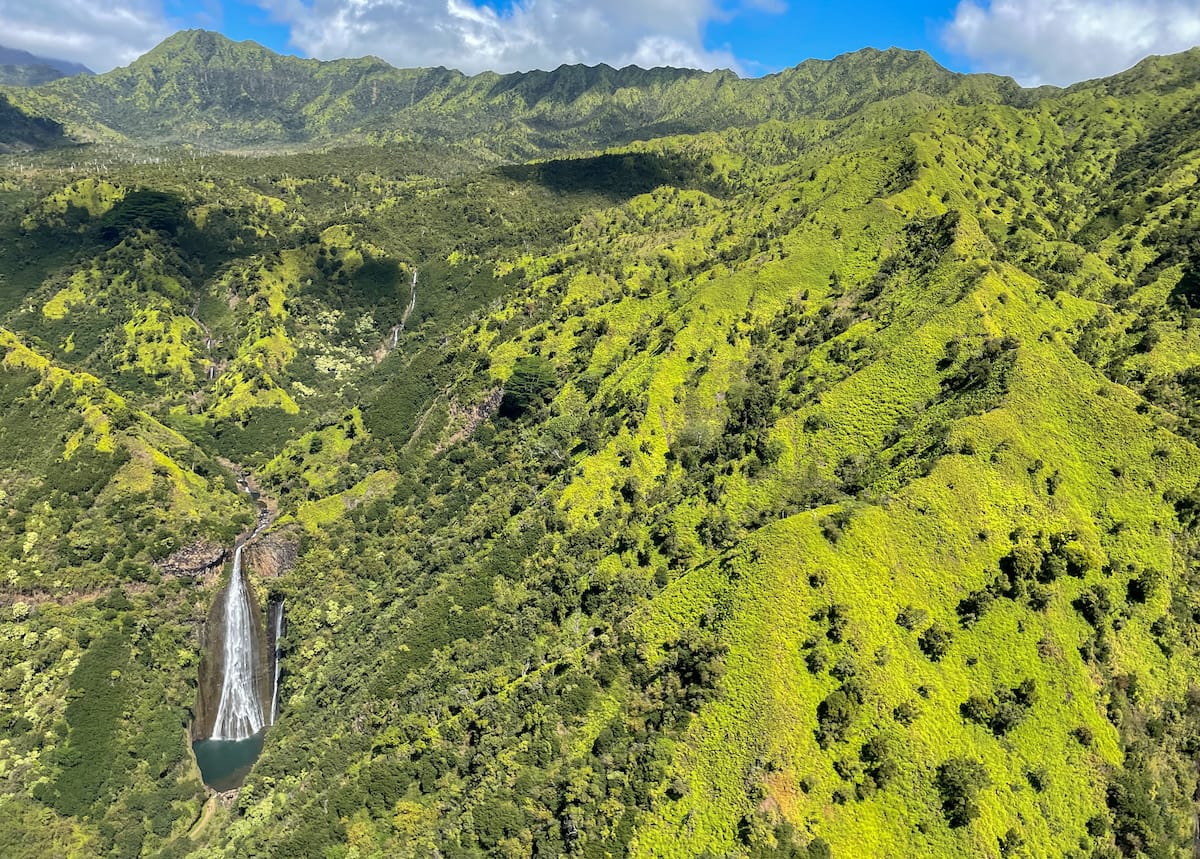 Today, you can only see it from above with a helicopter or by booking a specific tour with Island Helicopters, a company that has been given special permission to land there since 2009.
Waimea Canyon State Park
This well-known Kauai state park is often called ʻThe Grand Canyon of the Pacificʻ and is one of the canʻt-miss sites on Kauai!
BOOK HERE: Kauai doors off helicopter tour
You will have a chance to view it from above on the helicopter ride and the red and orange hues will be a stark contrast from the rest of the journey where everything is deliciously green!
The park has several waterfalls and you will have a chance to see Waipo'o Falls on the flight. I hope it has a more powerful stream for you than when I flew over it, however!
Doors Off Helicopter Tour of Kauai FAQ
Below are some quick FAQ about taking a helicopter flight over Kauai:
Best Time of the Year for a Kauai Helicopter Tour
Winter in Kauai tends to be rainy and windier. So, I would definitely recommend doing this tour outside of winter. However, I went in winter! And it was epic. I was expecting the waterfalls to be gushing but it was a rather dry February and that was definitely not the case.
But, if you are planning your entire trip around doing this helicopter ride, I would pick any month outside of the winter/early spring season to do it.
If you canʻt change your trip and you are going in winter, plan the helicopter flight for the beginning of your trip instead of at the end in case of freak weather changes and a sudden cancellation!
Best Time of the Day for a Kauai Helicopter Flight
Oh, this one is a bit tricky! I went at 2 pm on my tour and the lighting was fantastic on the Nā Pali Coast but clouds were definitely lingering around the area.
We, fortunately, flew in and out of the fog and clouds and got some really great scenes and images! But, if it had been any worse around the Nā Pali Coast, I would not have been as content with that part of the trip.
BOOK HERE: Kauai doors off helicopter tour
Mornings are known for fewer clouds but the lighting may be harsher on the Nā Pali Coast. Therefore, I would probably recommend booking a morning tour as opposed to an afternoon one if you have the choice.
How Much is a Kauai Helicopter Tour?
Tours range from $250-400 depending on the company and whether or not you want the doors on or off. I paid about $304 for my doors off Kauai helicopter tour and I booked it through Viator here.
Where Does a Helicopter Tour Leave From?
There are a few spots with smaller companies, but generally speaking, Kauaiʻs helicopter tours leave from the Lihue Airport.
What Safety Gear is On Board?
Air Kauai will get you completely sorted so that you feel strapped in and safe for the journey! There are seatbelts that go over you, goggles for your eyes, and a safety jacket around your waist.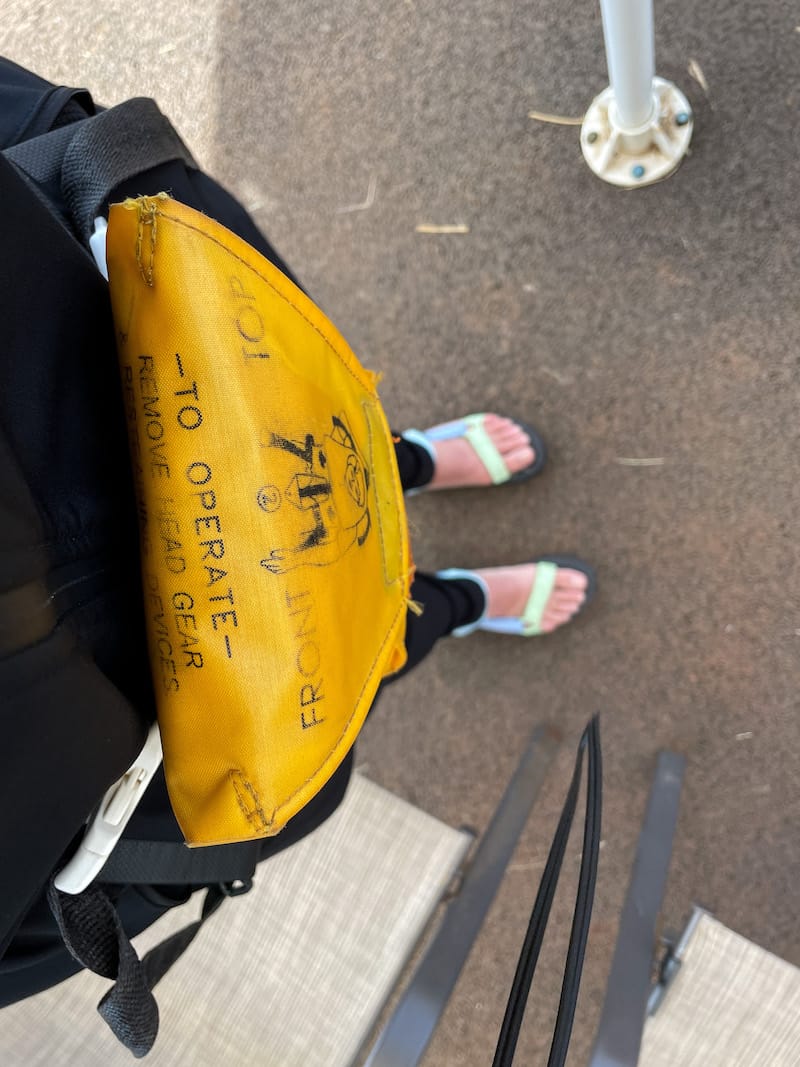 They will also give you a headset to wear that will play some music and you will be able to hear the pilot/guide talking you through what you see along the way.
I never once felt like I was going to fall out of the helicopter. And, I am rather afraid of heights!
What to Wear on a Kauai Helicopter Tour
You really need to dress appropriately on this tour! Do remember to not have anything loose on you for the tour, first and foremost.
Here are some thoughts about what to wear and what NOT to wear for your doors off helicopter Kauai tour:
Pull your hair back! If you are a female or male with long hair, pull it back as tight as possible.
Donʻt wear super loose jewelry.
You are not allowed to wear flip-flops or Birkenstocks. Make sure you wear closed-toe shoes or sandals that have straps locking your feet in.
Do not wear shorts. It can get quite cold on the journey and you definitely want to ensure that you donʻt have anything compromising the experience!
If you wear glasses, you can wear them underneath the goggles they give you. I did this. The goggles are adjustable (just pull the straps at the back), so your glasses will stay on securely. Otherwise, wear contacts!
No hats!
What to Bring
You can not bring ANYTHING on board this flight except a cell phone (which you will need to get a case and lanyard from the company prior to taking off).
Your purse, credit cards, ID… all needs to stay! You can leave it in Air Kauaiʻs office or you can leave it in your car/hotel. It will be fully secure in the office but there are no lockers (but the office is manned at all times).
Who Can NOT Go on a Helicopter Tour in Kauai?
First and foremost, you must be 10 years of age or older to go on a helicopter ride (doors off). In addition, passengers exceeding 230 lbs (or 400 lbs per group of two) must purchase an additional ʻcomfort seatʻ.
BOOK HERE: Kauai doors off helicopter tour
Passengers in wheelchairs are able to join for the ride. Just please let Air Kauai know beforehand and they will sort out the details and logistics.
How Long is a Helicopter Tour in Kauai?
The tour runs for about 50-60 minutes. Do arrive early for the safety briefings, however. The tour itself is just under an hour.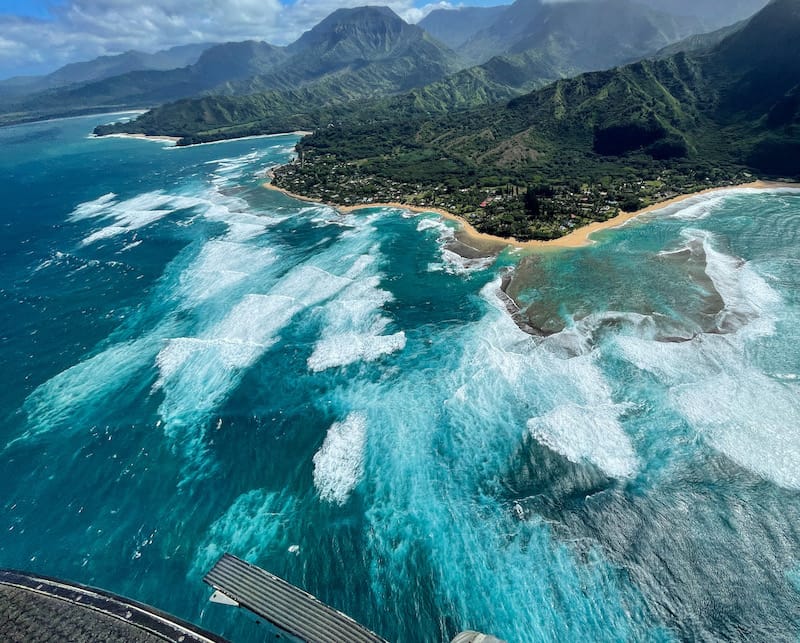 Do You Tip the Helicopter Pilot?
You can! I had a great pilot and opted to tip $20. I would suggest anywhere from $10-20 minimum if you had a great journey! They will collect tips in the office at the end if you wish to leave one.
Can You Purchase Photos or Videos After?
Air Kauai takes a photo of you beside the helicopter before the flight and also takes a video during the flight (of the landscapes). You can purchase both after! The picture is about $20 and the video is $60-$70.
This is a great souvenir to take home to remember your trip – especially if you are doing this on your honeymoon!
Are You Scared of Heights?
If you are scared of heights, this may not be the tour for you. However, I am scared of heights and had no issue with it. I tend to be scared of heights when I am on the edge of cliffs or driving more so than planes, amusement park rides, helicopters, etc.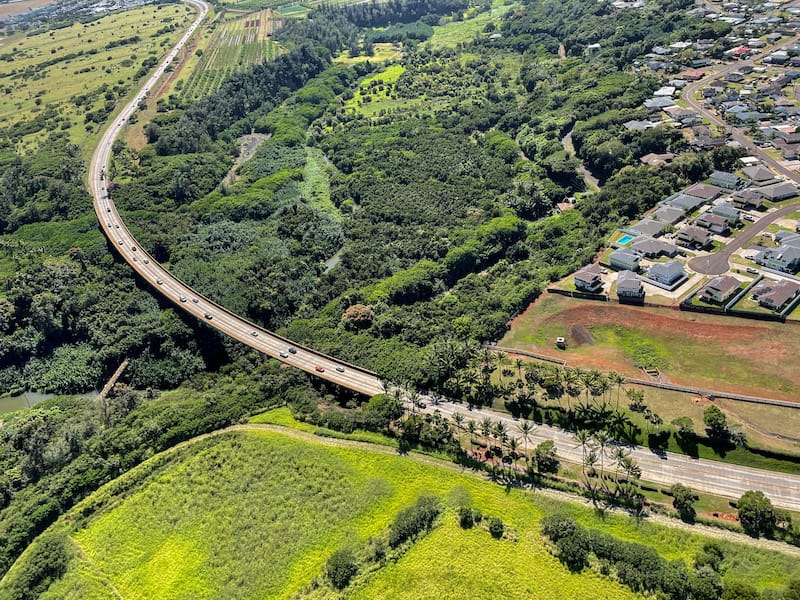 I felt extremely secure inside of the helicopter and never once questioned being high above the island or the Pacific Ocean. Please carefully consider beforehand if this is the tour for you.
If you think you can manage the heights part of it, perhaps reach out and ask for a middle seat if that will help!
Do You Get Motion Sickness?
It has been quite some time since I was in a helicopter prior to this tour and one thing I never considered was motion sickness. I never used to get motion sick as a kid and even in my 20s. Once I hit my 30s, things changed.
I never thought to take Dramamine or anything before this ride but when I heard from my friend (who went on the ride an hour before mine) that she got motion sick on the ride, I was super scared I would have the same issue.
And two people on my flight said they are prone to motion sickness, as well.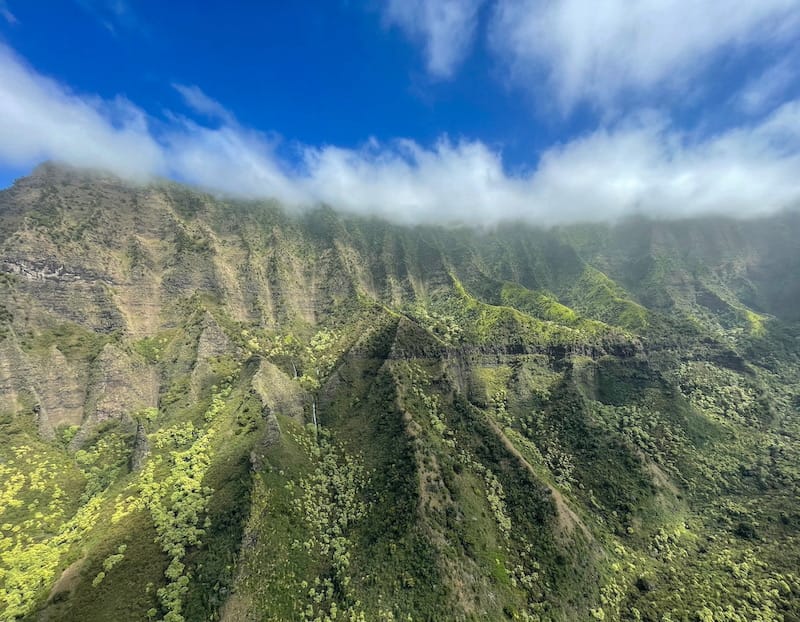 Thankfully, I never had an issue whatsoever. I think it was the cool air coming in and the excitement of the scenery. The people next to me actually later told me they took Dramamine and that helped them.
So, if you are prone to motion sickness, take something before!
Are Hawaii Helicopter Tours Safe?
The tours in Hawaii are just as safe as anywhere and Kauai is no exception! I felt very secure and confident in my pilot as well as Air Kauai. They give a detailed safety briefing before and make sure they get you fastened in tightly.
Cancellation Policy with Air Kauai
In order to receive a full refund, you must cancel at least 24 hours prior to the flight (local time).
If the weather is bad and it is too dangerous to fly, they will cancel it and refund you in full or reschedule your flight. Hence why it is good to schedule your Kauai helicopter ride for the beginning of your trip and not the end!
Book your helicopter ride here!
Doors Off vs. Doors On? Which is Best for You?
To be honest, both would be great. There are a few reasons I opted for doors off and I recommend you do the same.
The first reason is for photos. If youʻre just looking to enjoy the view from above, by all means, a doors on tour will suit you just fine! I was planning to document my experience here and I wanted to have some decent-quality photos to go with it.
BOOK HERE: Kauai doors off helicopter tour
I knew it would be a challenge (and it was!) but I am happy with how they turned out in the end despite being taken with an iPhone 12!
There is one company I know of that allows cameras (with proper straps) but no way on this planet would I have been able to shoot easily with one!
The second reason I wanted to experience a doors off helicopter tour of Kauai is that I wanted to feel the elements a bit. While this sounds a bit strange, I wanted to smell the air over the Nā Pali Coast as well as around Mount Waiʻaleʻale.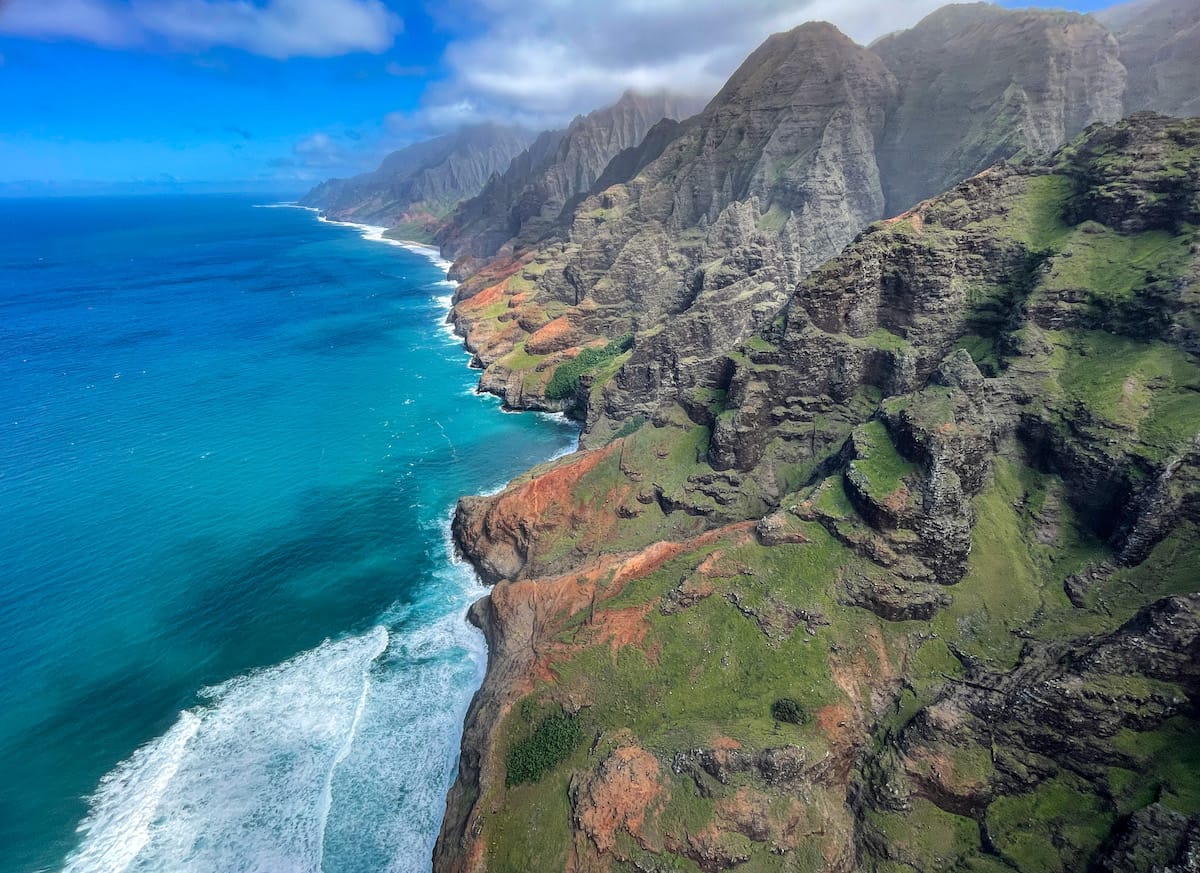 You could smell the Eucalyptus from above, too. It really heightened my experience and the memories I have from this trip are far greater than just pictures and images in my head!
Is a Doors Off Helicopter Ride of the Nā Pali Coast Worth It?
Yes, 100%. This was one of the best activities I have done in recent years.
While I think a doors on ride would be great too, I definitely recommend the doors off helicopter Kauai flight if you have the opportunity to take one!
How to Book Your Kauai Helicopter Tour
We recommend booking your tour with Viator, the company I booked my trip with. They issued the ticket voucher quickly after booking and kept me updated that my tour was still taking place and everything was confirmed.
Book your helicopter ride here!
More Related + Kauai Travel Guides
Pin this Helicopter Flight in Kauai Guide