Poipu is one of the best places to visit on the island of Kauai and is a place where you'll find a lot of beaches, hiking trails, and more. Only a 30-minute drive from Lihue, Poipu is a must for any Kauai itinerary!
This guide details all the wonderful things to do in Poipu and nearby attractions you simply can't miss. From family-friendly beach parks to some of the best views on the island, Poipu will not disappoint!
Are you planning your trip to Poipu last minute?
If you're traveling to Poipu last minute, you want to ensure you have lodging/tours ahead of time! Below are some of our top picks in town!
🌴 Best Tours and Activities in Kauai:
🛌 Best Hotels in and around Poipu:
🚗 Curious about how to get around Kauai? Click here to check Kauai rental car rates!
Did we miss any of the top attractions in Poipu? Let us know your tips for the best things to do in Poipu in the comments. Thanks!
Best Kauai Tours (to Maximize Your Time!)
If you're looking for something more organized when on Kauai, here are some awesome Kauai tours you should check out.
These tours will help you maximize your time, which is especially important if you only have a short amount of time on the island! We listed a variety so that you can pick which one is most suitable for you (and many include multiple places!):
Best Things to Do in Poipu
1. Visit the Spouting Horn Blowhole
One of the top Poipu attractions is the Spouting Hole Blowhole. This natural phenomenon occurs every time water gushes under the lava shelf and comes through a small opening in the rocks at the surface.
It happens with every single wave – some larger than others and it can even go as high as 50 feet into the air! Not all blowholes on Kauai shoot up water (some mere air) so, this is definitely a must for any Kauai itinerary!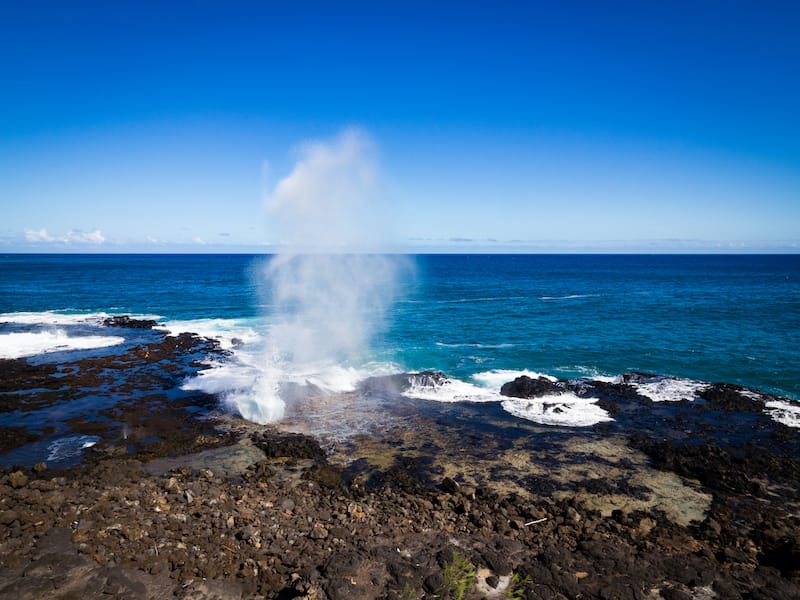 If the light is right that day, you may even get to see a rainbow from the sea spray when it blows into the air!
One thing to not do when you're visiting the Kauai blowhole is to go up to it – many injuries and fatalities have happened as a result.
2. Go Back in Time at Kaneiolouma Heiau
Kāhua O Kāneiolouma is a historic cultural site located in Poipu that shows the remains of an ancient Hawaiian village. It is located on the corner of Hoowili Road and Poipu Road and spans over 13 acres.
On that acreage, you will find traces of taro fields, irrigation systems, fishponds, and even a makahiki games arena! It dates back to the 1400s.
Today, the site is an ongoing project that is trying to restore this site to bring more awareness about the Natives from the island and showcase their lifestyle and stories.
Click here to find out more information.
3. Lounge at the Poipu Beach Park
Poipu is known for its many beaches and one of the most famous and beloved ones is the Poipu Beach Park which offers an array of activities from swimming to snorkeling to surfing and beyond!
Along the white sand Kauai beaches (that seemingly go on for miles and miles!), you will find a lot of sea life from turtles to monk seals and the area provides some of the best snorkeling on Kauai.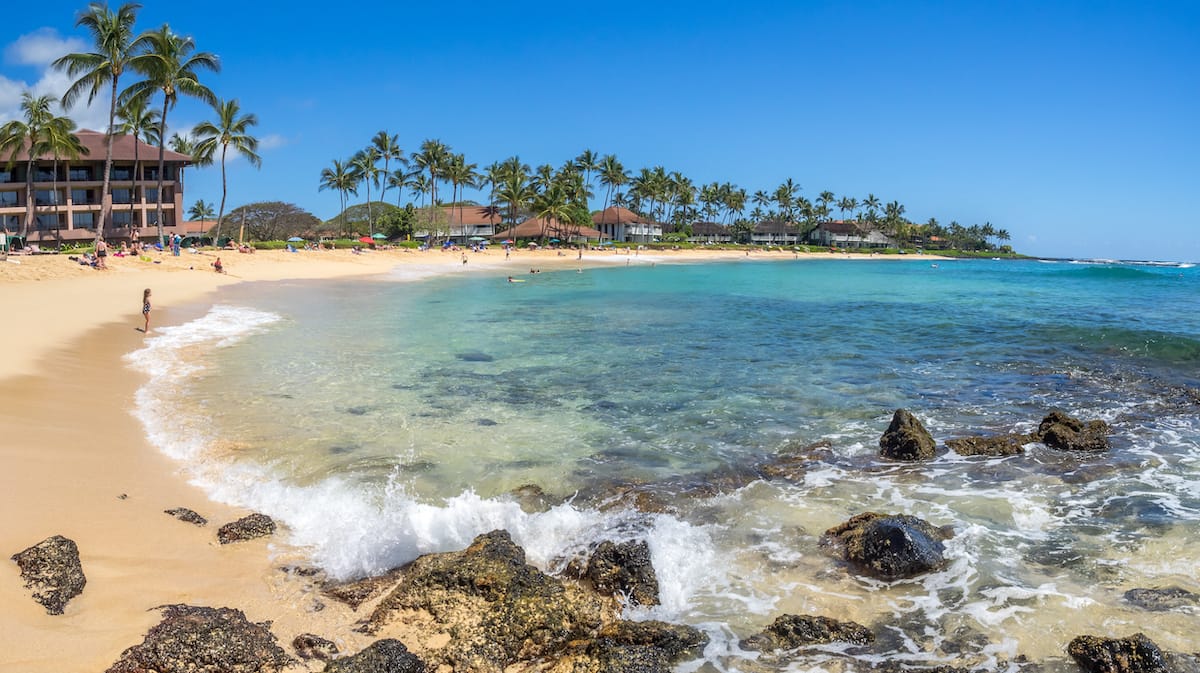 The area is known for having some of the cleanest water and there is even a playground for the kids to play around on while taking a break from the safe swimming areas.
There are lifeguards on duty and the place can get packed on the weekends… so plan accordingly! Restrooms are available on the premises.
4. Check Out the Makauwahi Cave Reserve
A must-visit place in Poipu is the Makauwahi Cave Reserve, home to the largest limestone cave in all of Hawaii.
Situated in the Māhāʻulepū Valley close to the beach of the same name, it has been a very critical spot for learning more about the history of Hawaii from a paleontology and archaeology standpoint.
You can reach it via a sinkhole and it is one of the best places to find fossils in the Pacific.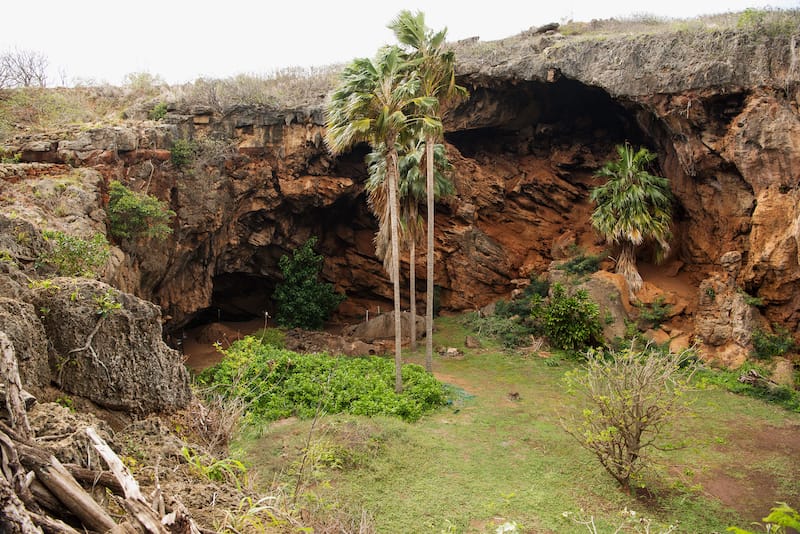 Ancient Hawaiians used this region as a burial area and the area contains over 10,000 years of sedimentary record. There have also been findings of over 40 species of birds found there and over half of them are currently extinct.
The best way to visit the Makauwahi Cave Reserve is via a 0.5-mile trail that is moderately trafficked and relatively easy.
The out-and-back trail is accessible year-round but please note that the cave is only open from Thursday-Sunday from 10 am until 4 pm.
5. Stop by Koloa Town
Beautiful Koloa town sits slightly to the north of Poipu and is bordered to the northwest by Omao (and to the south by Poipu).
This is the Kauai site where the first successful sugar plantation started in Hawaii all the way back in 1835.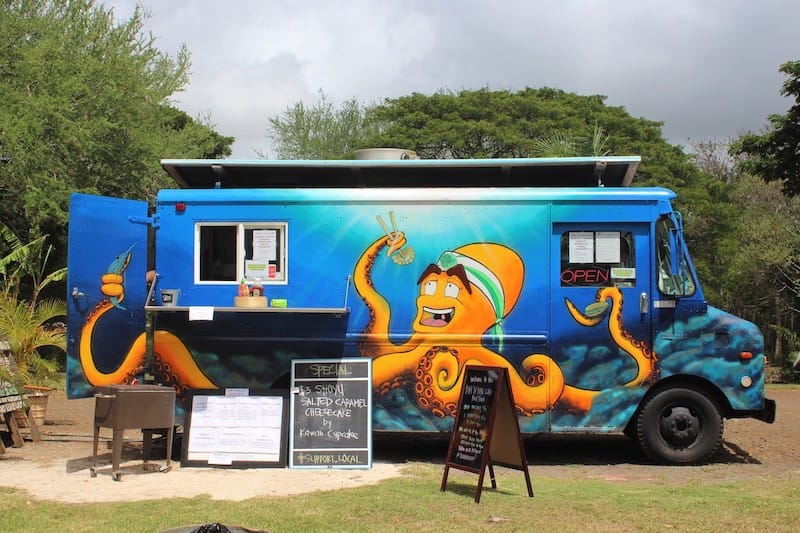 Today, there are a few things to do in the town such as visiting the Old Sugar Mill (which is now a National Historic Landmark), golf at Poipu Bay Golf Course (previous home of the PGA Grand Slam of Golf), and check out Saint Raphael Catholic Church which is the oldest Catholic church on the island.
The small Hawaiian town now is home to several cool cafes, galleries, shops, and more… making it an ideal stop for someone wanting a break from the beaches and nature around Poipu!
6. Grab a Bite to Eat at the Kauai Culinary Market
On Wednesdays, be sure to head to the Kauai Culinary Market at The Shops at Kukuiula.
The market is open from 3:30pm until 6pm and you can find everything from locally-grown pies, jams, produce, and more! There is live music and excitement in the idyllically groomed space.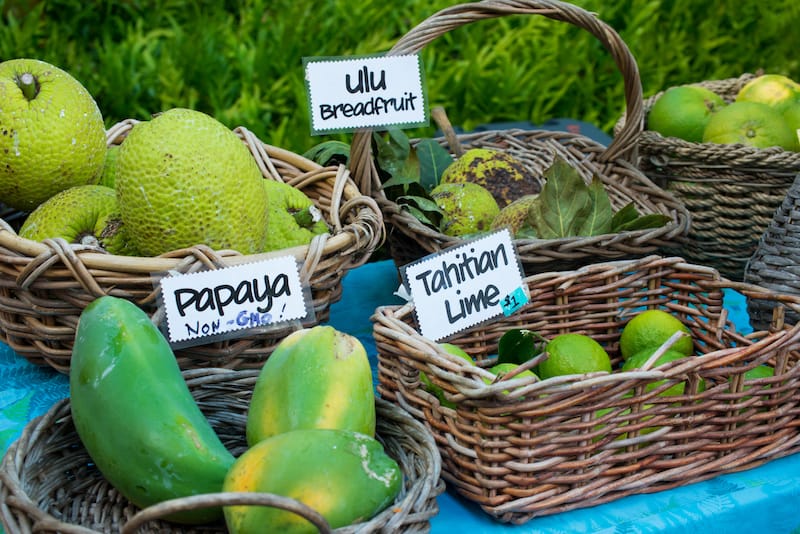 The Wine and Beer Garden offers a relaxing time as you view the local chefs showing off their cooking skills with regional specialties.
This is a fantastic thing to do in Poipu for those interested in the local food and culture!
7. Hike the Maha'ulepu Heritage Trail
One of the top things to do in town for the active traveler is to head out on the picturesque Mahaulepu Heritage Trail which will take you through heaps of local cultural heritage and along some of the island's rarest and most colorful flora and fauna.
The easy level trail will take you from Shipwreck Beach to Punahoa Point and is a total of 3.7 miles in length with a slight elevation gain of 318 feet.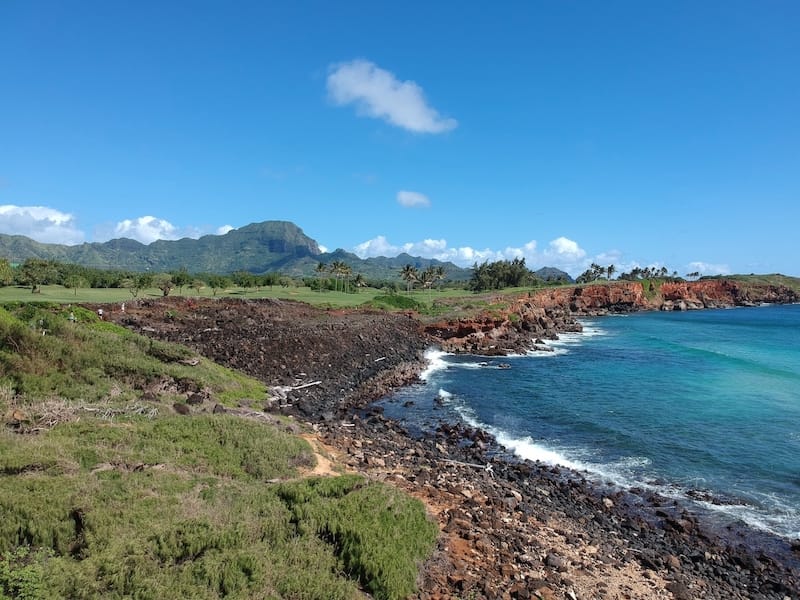 The out and back Kauai trail will take you along the southern coastline and past Keoneloa Bay where you'll get to discover sea cliffs, secret coves, interesting lava tubes and formations, as well as petroglyphs.
You will also see several tide pools and may even be able to see whales during the winter months! This area is also a fan favorite for monk seals when looking for a place to chill on the shore.
The trail starts close to the Grand Hyatt Kauai Resort (and you will also go past the Poipu Bay Golf Course). Check out the trail on All Trails for additional information.
8. Get Lost in the Botanical Gardens near Poipu
The area is home to several fantastic gardens and it is essential to pay a visit to one of these lush reserves! Below are a few of the most famous botanical gardens in Poipu and beyond:
Moir Gardens
Situated on the property of the Outrigger Kiahuna Plantation you will find the Moir Gardens. The gardens span over 35 acres and are open daily… free of charge!
Created in the 1930s by Alexandra Moir while her husband was managing the Koloa Plantation, the first sugarcane plantation in Hawaii, the gardens have been open to the public since 1954 and continue to amaze visitors today.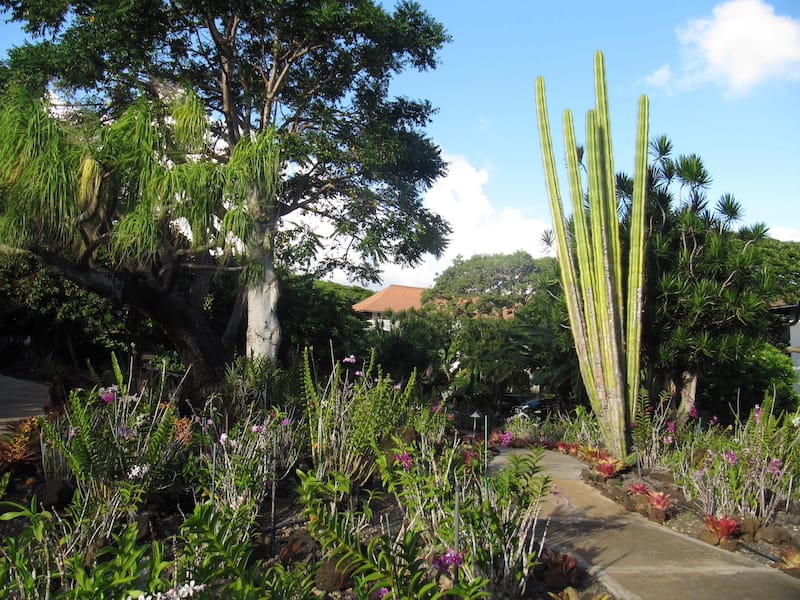 At Moir Gardens, you will find several species of flora, including rare cacti and succulents, orchids, and water lily ponds.
It is definitely worth a visit if you have a few hours to kill but are still wanting to enjoy a little bit of Hawaii's 'Garden Isle'.
Allerton Garden
A Kauai south shore favorite, Allerton Garden (also known as Lāwaʻi-kai), was originally created by Robert and John Gregg Allerton. The area spans over 80 lush acres and can be found nestled along Lawai Bay.
It is actually a part of the renowned non-profit National Tropical Botanical Garden association. Two of the highlights in the garden are the Diana Waterfall and the Mermaid Fountain.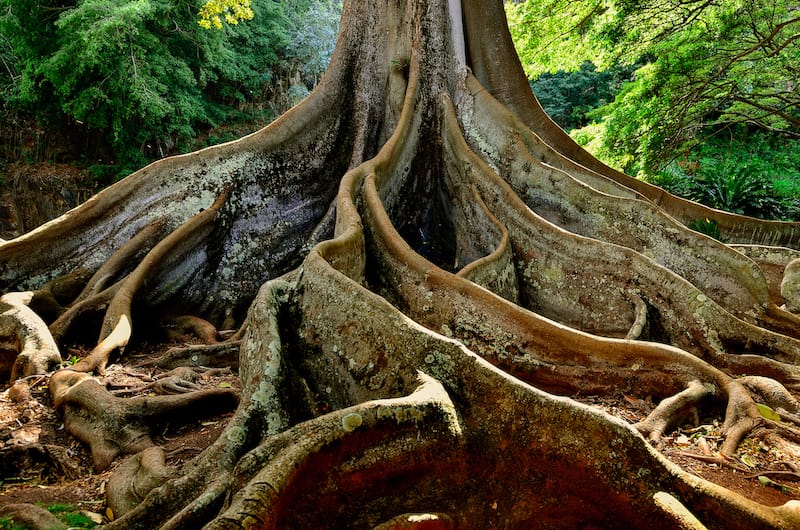 One of the coolest reasons to visit Allerton Garden is that it has been used in several TV shows and movies such as Pirates of the Caribbean, Jurassic Park, South Pacific, Starsky and Hutch, and more.
McBryde Garden
Yet another beautiful Kauai botanical garden, McBryde Garden spans over 200 acres and sits along the green south shore of Kauai.
It, like Allerton above, is one of the five gardens on the National Tropical Botanical Garden association's list.
Dating back to 1970, the garden was renamed in 2000 as a homage to the generous donations from the McBryde descendants.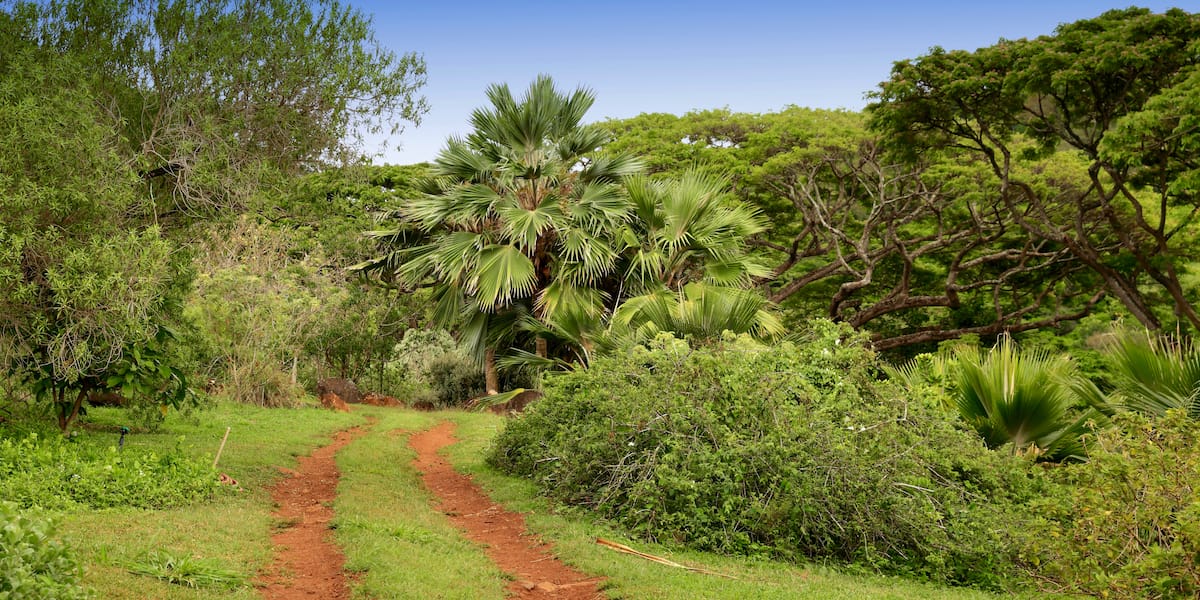 Today, you can visit the research and conservation garden. Inside, you'll find the largest ex-situ collection of native Hawaiian plants and flora in the world. You can see everything from orchids to palm trees to heliconias and beyond.
There is an admission fee so please check out their website for more.
9. Discover the Koloa Heritage Trail
A longer hike to embark on in and around Koloa is the Koloa Heritage Trail.
You will get the chance to enjoy 10 miles by walking, biking, or driving and there are several stops along the way detailing millions of years of history!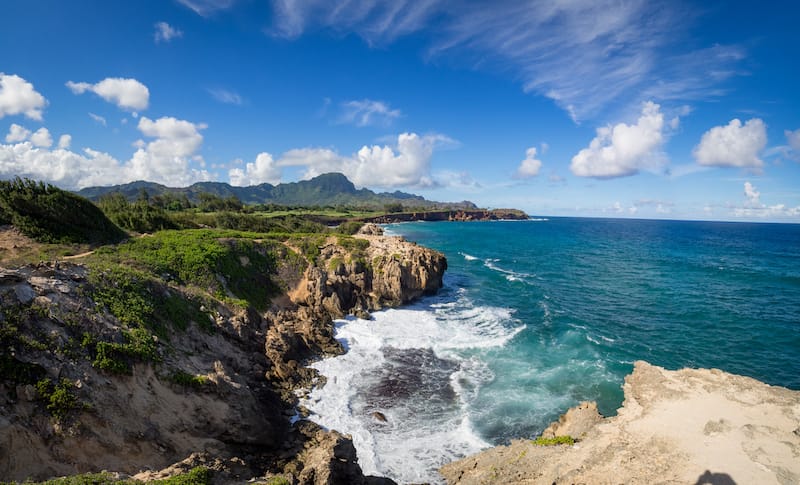 This trail displays some sacred and culturally significant places to the people of Kauai and is a must for anyone curious to learn more about the area.
10. Hit up Nukumoi Surf Co.
I love visiting small and local surf shops when traveling and Nukumoi Surf Co. definitely deserves your visit.
Not only do they sell an array of clothes and different brands for you to stock up on, but they also rent surfboards, stand-up paddleboards, and snorkeling gear for your Kauai trip.
They have been around for 25+ years and are one of the best places to visit in Poipu if you're looking to have an active vacation!
Address: 2100 Hoone Rd, Koloa, HI
11. Visit the Kauai Coffee Company
Hawaii is no stranger to good coffee and Kauai is no exception! At the Kauai Coffee Company, you can take a tour and visit the estate where you'll have a chance to explore the largest coffee farm in the United States.
The walking tours are free and you can learn all about how coffee is grown, harvested, and roasted in Kauai. Naturally, you'll get to enjoy a cup yourself after the tour on their lanai while overlooking the plantation.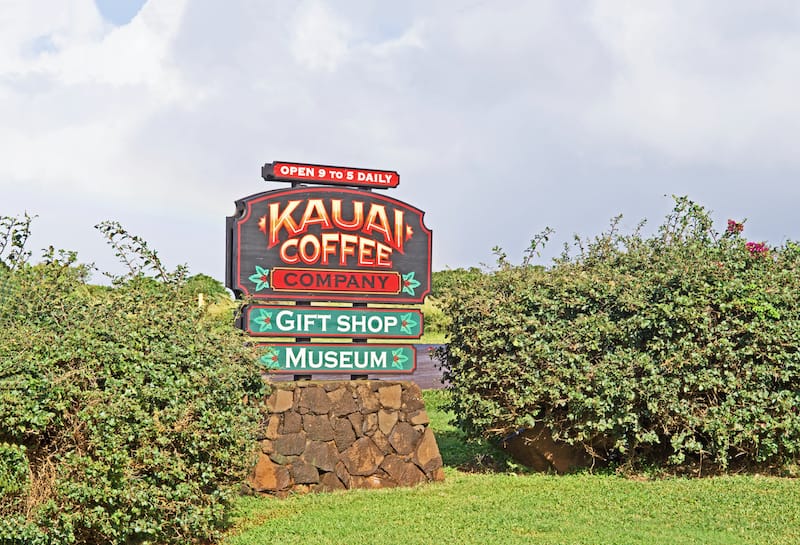 Be sure to stop in the visitor center and take some coffee home with you! It really is the perfect Kauai souvenir!
Kauai Coffee Company is open Monday through Friday from 9am until 5pm and on weekends from 10am until 3pm.
Address: 2080 Hoone Rd., Poipu, HI 96756, Kaua'i, Hawai'i
12. See the 88 Shrines at Lawai International Center
In the Lawai Valley, you will find the Lawai International Center which sits on 32 acres and was once the home to the Hawaiian heiau, a Taoist Temple, and much more.
However, one of the best reasons to visit today is to check out the 88 Buddhist shrines there and these are not usually found outside of Japan.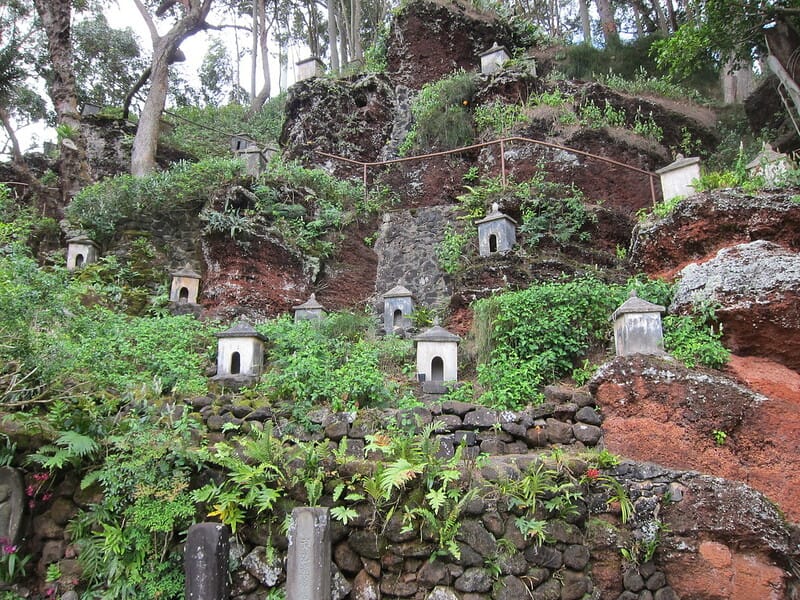 It was once said to even be healing powers of the waters here by Queen Emma. It is definitely one of the best things to do in Poipu and nearby!
13. Drive to the Hanapepe Valley Lookout
Hanapepe may be best known for being the home of Lilo and Stitch and while the town warrants a visit of its own, you definitely should head to the overlook when you're on your way there!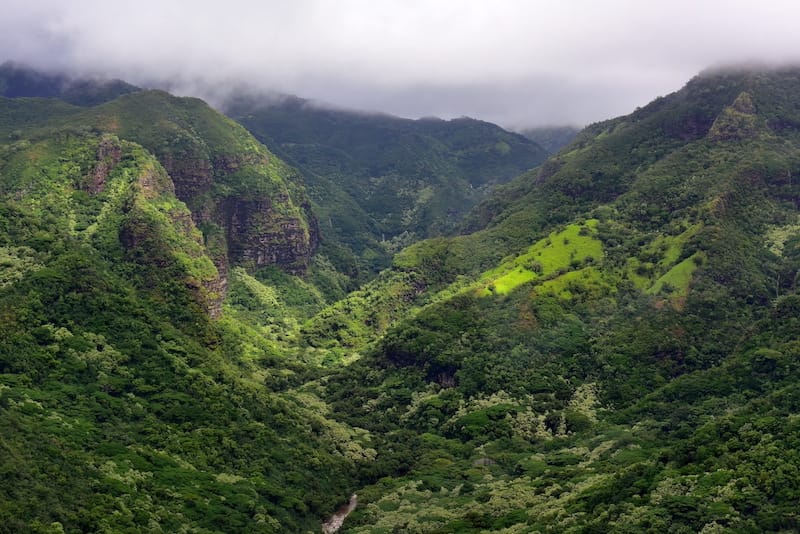 The Hanapepe Valley Lookout is a fantastic stop on the way to Waimea Canyon and is only enough room for about 3 cars there, but if you can get there at the right time, you will be gifted with some pretty epic views!
You will find it on Rt 50 on the Kaumualii Highway.
14. Have Dinner at Eating House 1849 Koloa
If you've worked up an appetite, don't worry, the Eating House 1849 has you covered! Roy Yamaguchi's famous restaurant in Koloa is located at The Shops at Kukui'ula and has a happy hour from 4 pm – 5 pm and dinner services from 5 pm – 9 pm (closed on Mondays).
Be sure to book a table ahead of time!
On the menu, you will find everything from Pupu (island tapas) to garden fresh salads. Be sure to enjoy their Sizzling Ribeye Tataki doused in a delicious orange yuzu soy sauce with cherry tomatoes from Ho Farms.
They serve an array of high-class wines and Hawaiian craft beer to round out the meal.
15. Go Snorkeling at Kiahuna Beach
This beach, named Kiahuna Beach, is actually a section of larger Poipu beach and is the perfect place for families and children, although do note that there is no lifeguard on duty. There are restrooms there.
Situated in front of the Kiahuna Plantation condos, you'll be able to see it between Poipu Beach Park and Lawai Beach.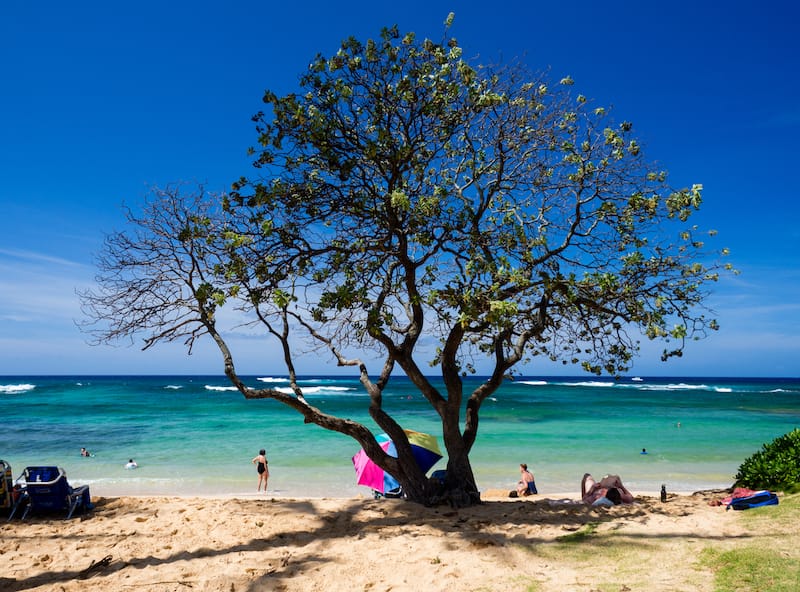 Parking is limited there and you won't find too much shade on the beach, so do bring your own umbrella if you don't want to scorch your skin!
This is an epic place for beginner surfers, boogie boarders, and snorkelers.
16. Cocktail at Beachfront Honu Bar
If you're craving a little bit of beach and a cocktail at the same. time, Honu Bar has you covered.
Located right on the beach, they offer an array of frozen drinks, beers, and cocktails to refresh you after a day in the water or in the sun!
The bar has a super limited menu and is best enjoyed with a drink in hand while you take in the views over the Pacific.
17. Go Bodyboarding at Brennecke's Beach
Brennecke's Beach is one of the most popular beaches on the southern part of Kauai and you will find all the amenities you need to have an enjoyable day by the water (but, there are no lifeguards on duty here).
The area is a renowned boogie boarding and bodyboarding spot that is also famous for its sunsets!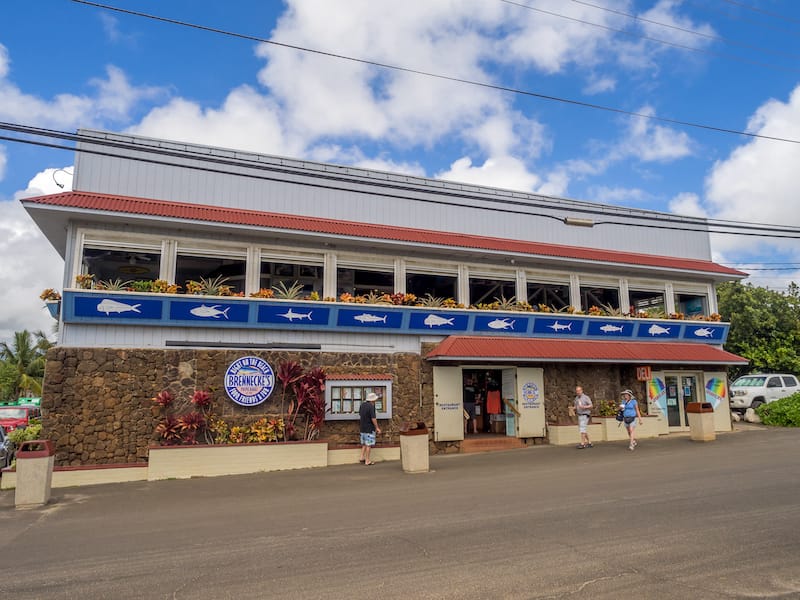 While it may not be the longest stretch of sand that Kauai has to offer, it is popular with both locals and visitors. But, do be cautious as the waves tend to be larger during the summer months here.
You are not permitted to surf or engage in other water sports. here but you're not too far from other beaches (like Poipu) where you can enjoy them.
Before leaving, don't forget to hop by Brennecke's Beach Broiler for some deliciously fresh seafood!
18. Old Koloa Sugar Mill
As noted above, this area is home to the first sugar plantation in Hawaii, and today, you can actually visit one of the sugar mills that historic Ladd & Company owned outside of the town of Koloa.
The sugar mill closed in 1996 but you can still see its remains, as well as a statue of the people who worked there on-site.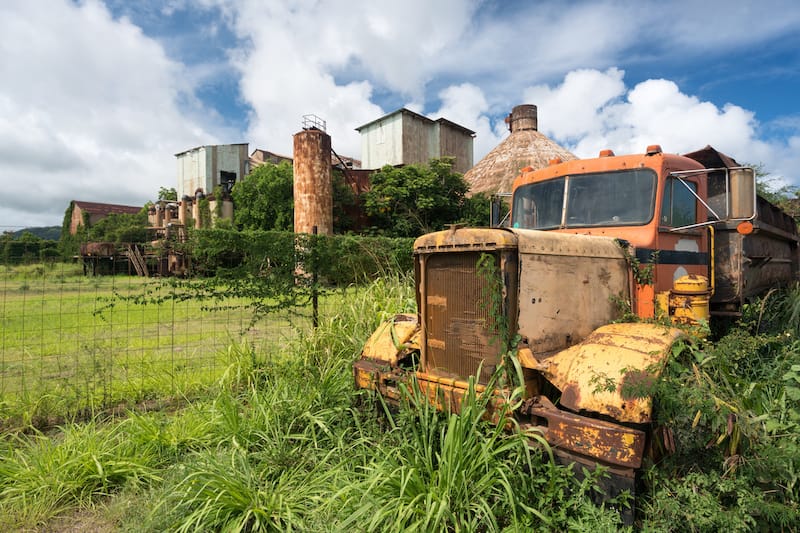 The Old Koloa Sugar Mill is a National Historic Landmark and is located just off of the road at the junction of Maluhia Road (Hwy 520) and K'loa Road (Hwy 530).
It is open from 9 am until 9 pm daily and it is free to visit … making it one of the best free things to do in Poipu! This is also part of the Koloa Heritage Trail.
19. Go Surfing at Shipwreck Beach
This famous Kauai beach is one of the best attractions in and around Poipu and is definitely worth visiting if you like beaches for surfing or ones that contain large waves.
The name stems from an old wooden ship that sank off of the southern Kauai coast (it is not visible… don't worry). And today, it is renowned for its beauty and waves.
This is not the beach to tote your young children to! Nearby, you will also see Makawehi Point, a sand dune that has become lithified.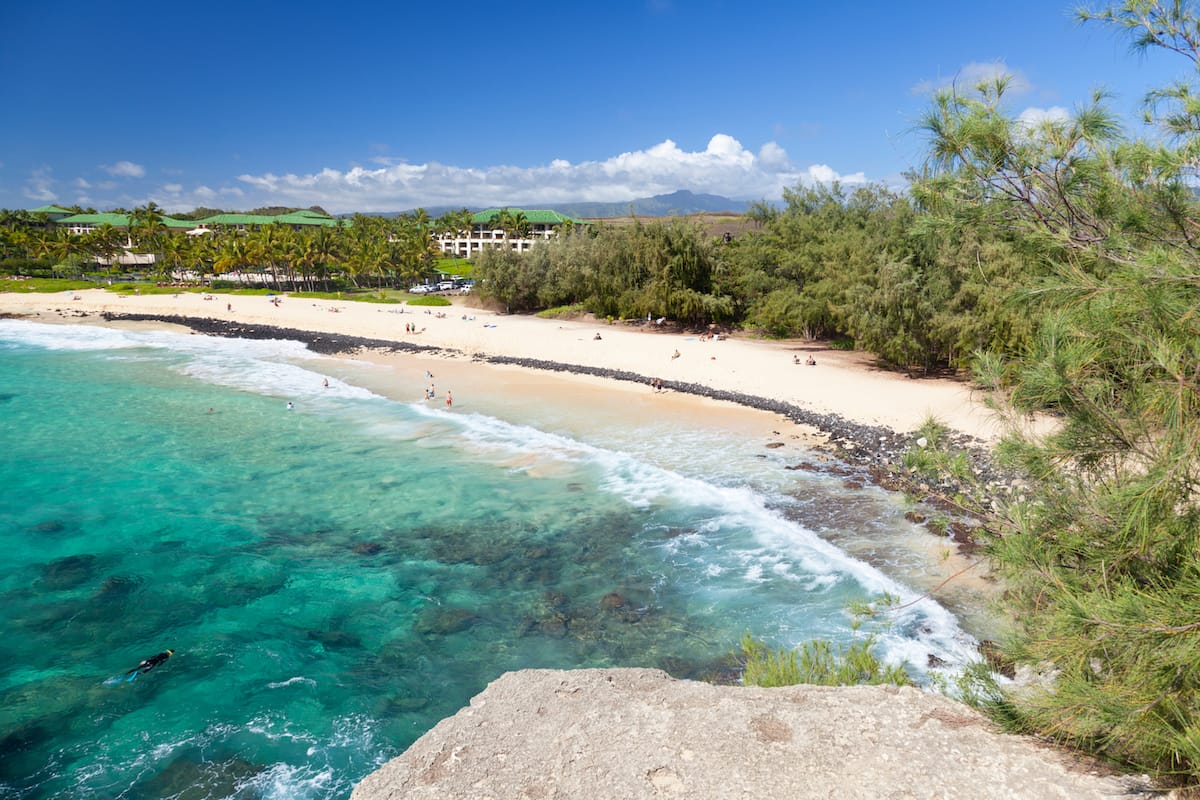 Note: Even if you see people cliff-jumping around this area, do not do so yourself. It is not safe. You will find restrooms, picnic tables, and showers at Shipwreck Beach. There is no lifeguard on duty.
Where to Stay in Poipu (and Nearby)
There are plenty of options for hotels in Poipu – and these are some of our top picks!
What are your favorite things to do in Poipu and nearby along the South Shore? Let us know your favorite Poipu landmarks, attractions, beaches, and more in the comments! Thanks!
More Kauai Travel Guides
Pin this Poipu Attractions Guide