Molokai, Hawaii is one of the most beautiful islands in the world. Home to the highest sea cliffs across the globe, thousands of visitors travel to Molokai every year to catch a glimpse at the beautiful landscapes and beaches it has to offer.
Unlike many other beaches in Hawaii, though, the beaches in Molokai are not necessarily the best for those who want to come and take a swim because of the strong currents they're notorious for.
However, many people enjoy coming to these beaches to admire the gorgeous surroundings, have a nice picnic, and get the most out of their trip to Hawaii.
In this article, we've compiled a list of the best Molokai beaches, and some helpful tips to remember when you're visiting.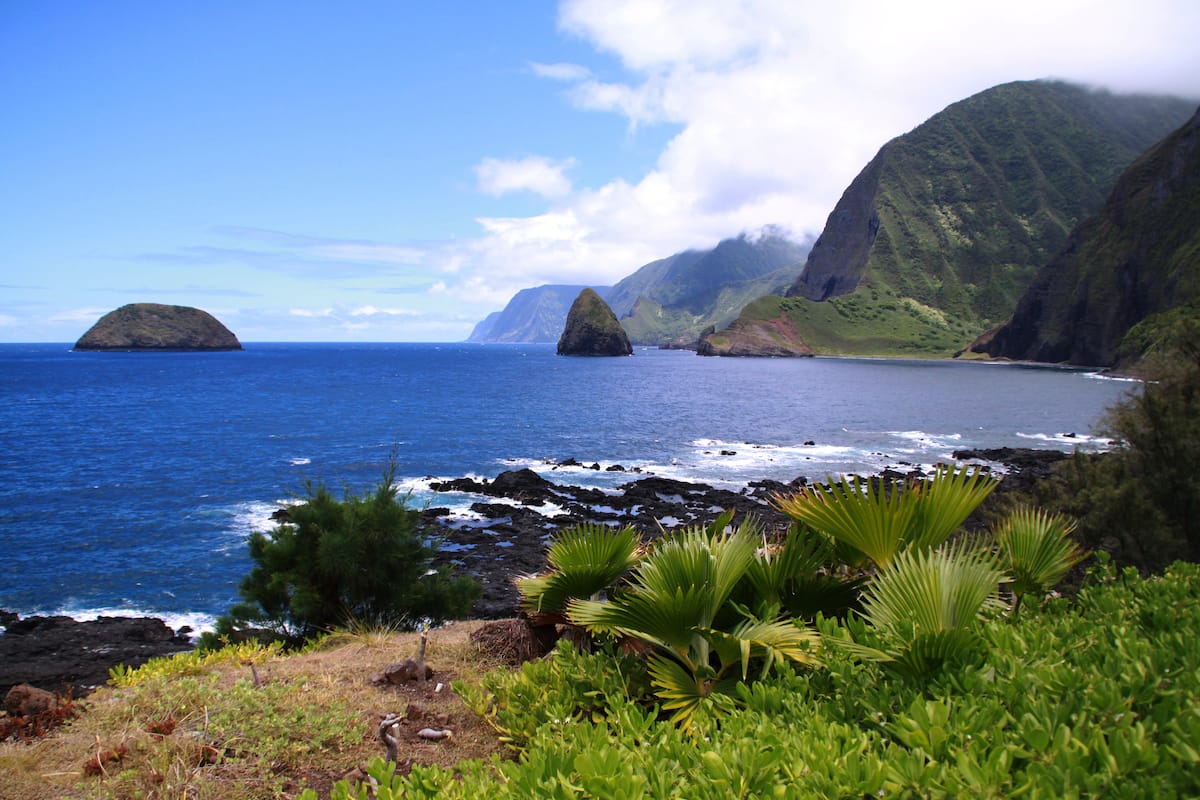 1. Central Molokai Beaches
If you're not a fan of crowds, you should certainly plan to visit any of the Central Molokai beaches. It's perfect for a relaxing getaway because of how secluded and serene these beaches are.
So, don't be surprised when you find yourself alone on any of the central beaches in Molokai.
Many of the beaches on Central Molokai boast modern amenities and opportunities for fun activities that everyone can enjoy.
Close to the beaches are rental condos where you can unwind before embarking on the rest of your trip. Here are some of the most popular Central Molokai beaches.
2. One Ali'i Beach Park
This beach is a popular spot amongst residents of Kaunakakai, the largest town in Molokai. There are plenty of activities to enjoy here including camping (if you have a permit), fishing, and sunset watching.
One Ali'i Beach Park also features modern facilities including a picnic pavilion, restrooms, showers, parking space, and large lawn space where kids can run around.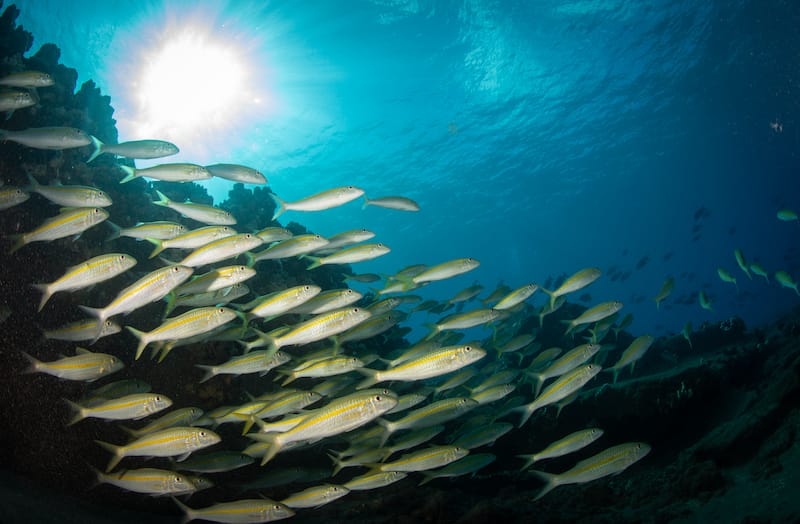 The water at the beach is a bit murky, so it may not be suitable for activities such as swimming and snorkeling. However, it still serves as a good spot to play, hang out, and dip your toes in the sand.
3. Kakahai'a Beach Park
Located on Highway 450 on the south shore, Kakahai'a Beach Park is mostly visited by fishermen and women, and those looking for a nice spot to have a picnic. It has gorgeous landscapes and not too many crowds, so you're sure to catch a break here.
However, Kakahai'a is a narrow beach with a rocky bottom and shallow water, which makes swimming or snorkeling difficult.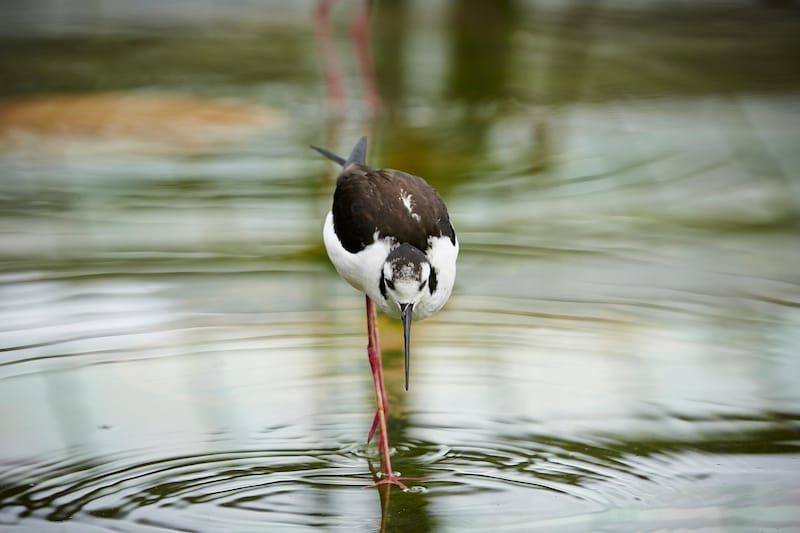 Another popular activity that visitors can enjoy here is bird watching since the beach is in the National Wildlife Refuge. It is home to various species of native birds, including the Hawaiian Stilt and the Hawaiian Coot.
3. Kamalo Wharf Beach
Located in Kaunakakai, Kamalo Wharf Beach is usually safe for swimming all year round, unlike many of the other beaches on this list. This beach is also perfect for scuba diving when the water is calm.
Visitors also get to experience the spectacular views of the Mt. Kamakou volcano and Maui and Lanai islands.
In addition, you can find a place to stay overnight here and have some more time to explore as there are many hotels and resorts around Kamalo Wharf, including Paia Inn and Maui Coast Hotel.
West Molokai Beaches
You should also not miss the opportunity to check out some of the beautiful beaches in West Molokai. Many of the beaches here have modern amenities and camping facilities.
They are perfect for sightseeing or photography, but swimming here requires caution. If you are planning to stay a day or two to explore more Molokai beaches, you can also check out some of the local resorts and hotels.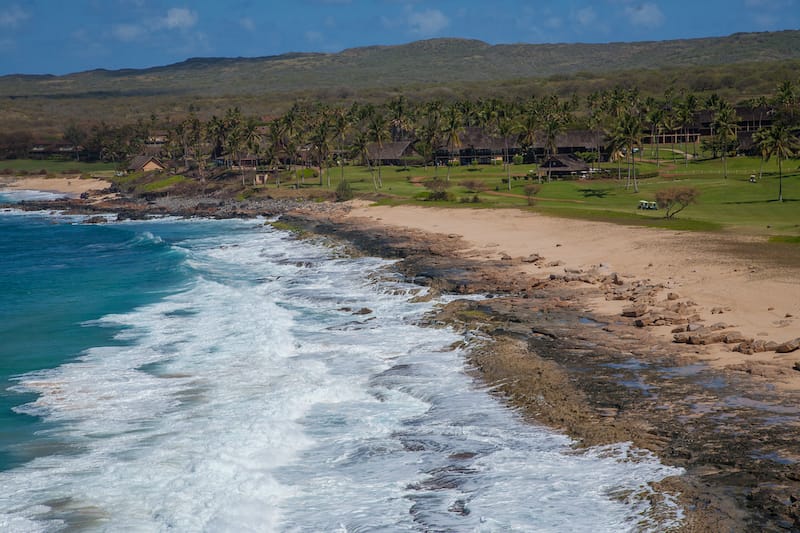 Some beaches here also offer campgrounds, but they can only be accessed with a permit.
Here are some of the beaches you should check out in West Molokai.
4. Kepuhi Beach
Kepuhi Beach is a long and wide beach with exceptionally beautiful waters that are only safe for swimming during the summer. Swimming is dangerous in winter due to the surf and strong currents.
However, some experienced surfers are sometimes seen navigating and bodyboarding even in winter. You can check out Kaiaka Rock at the beach's southern end, where a Hawaiian temple used to be located.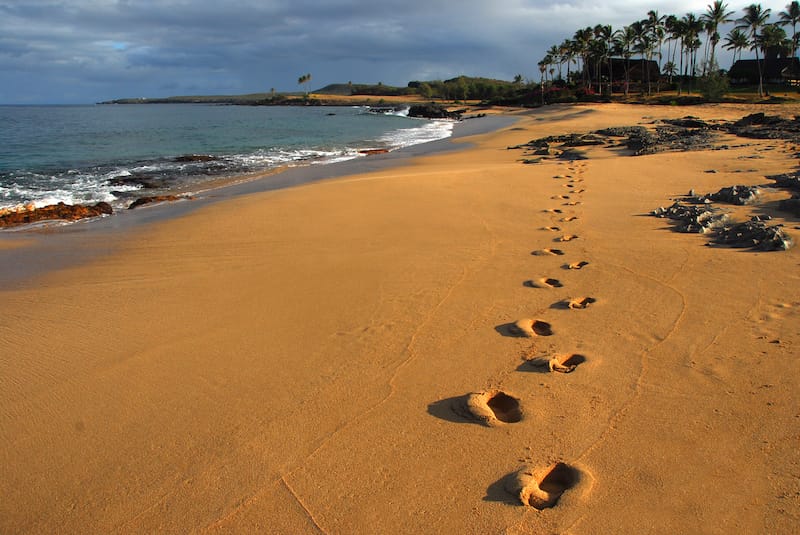 The beach is divided into two lava rocks. Despite the tough waters, the beach does provide scenic views and a gorgeous resort, making it a popular option among visitors.
5. Paka'a Beach
Located between Po'olau Beach to the north and Dixie Maru Cove to the south, this small rocky bay offers residents the opportunity to dive and fish.
It isn't as popular among visitors, however, and there isn't much to do here as it's not a beach to swim in.
Be careful as the beach features some sharp rocks that can be quite dangerous. However, visitors can explore the trail that leads to the shore, take pictures of the ocean, and relax while the sunsets.
If you plan on visiting Paka'a Beach, however, be sure to keep an eye out for the sign that says "Beach Public Right-of-Way" because there is no sign with the beach's name on it, which makes it easy to miss.
6. Papohaku Beach
Papohaku Beach is one of the best Molokai beaches for those who want to admire the beauty of nature and spend a day away from their stressful lives.
Located on the Western shore of Molokai, this beach is perfect for relaxing, taking long strolls along the beach, and picnicking. Visiting is one of the essential things to do in Molokai!
However, the currents are very strong, so not many people come here to swim, especially during the winter months.
Papohaku Beach is also one of the largest white sand beaches in Molokai. It's sometimes called the Three Mile Beach because of its length.
Swimming at this beach may be dangerous due to the strong rip currents and hidden coral reefs, on the other hand!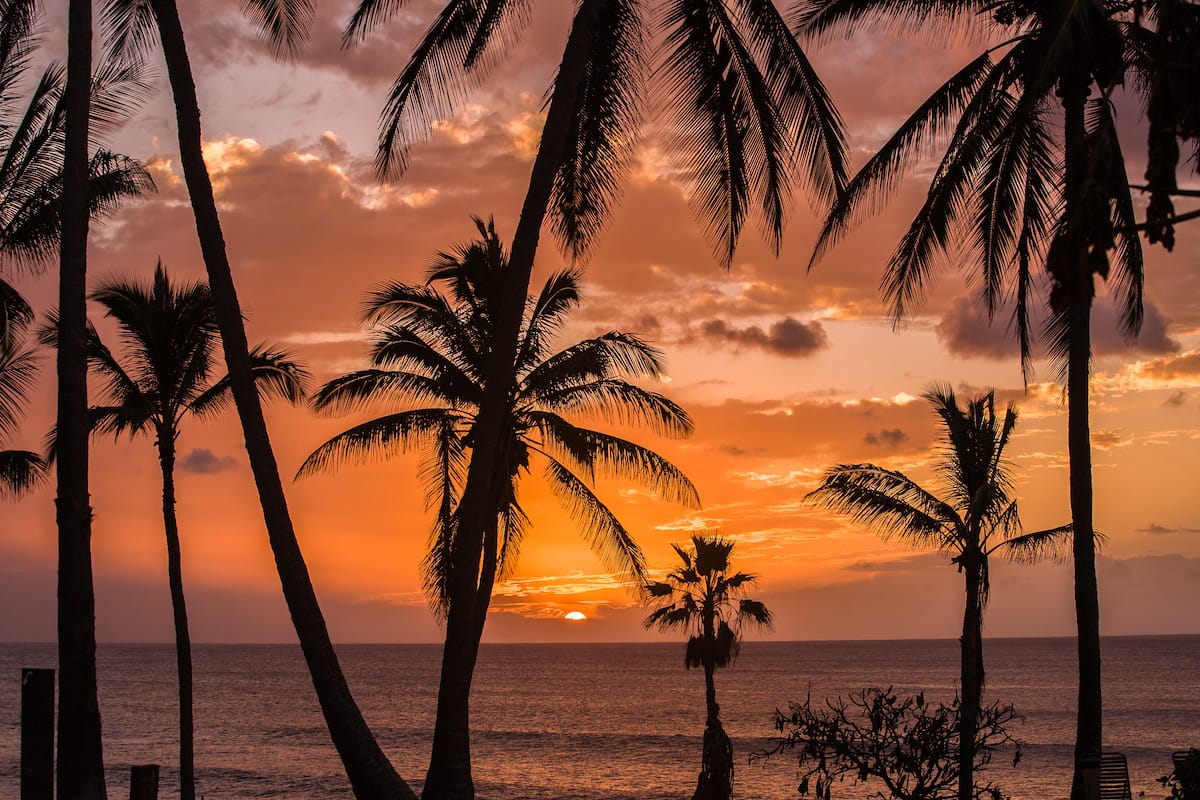 However, there are many more activities you can enjoy. You can explore the beach on foot, hike to the beautiful viewpoints, or watch the most beautiful sunset in the evening.
The beach also has campsites available for explorers who want to stay overnight, but you do need a permit.
7. Pohaku Mauliuli Beach
Pohaku Mauliuli Beach is a beautiful white sand beach located on the west end of Molokai. It is named after the large cinder cone volcano it's located next to, Pohaku Mauliuli (Black Rock).
The volcano is surrounded by loose rocks, so it's not the best spot for sunbathing.
However, a trip to Pohaku's beaches will be perfect for a summer getaway when the waters are calm. It is especially popular for snorkeling and sunbathing.
Pohaku Mauliuli is sometimes called Make (pronounced Maw-kay) Horse Beach because of the legend that a horse fell off the tall cliffs and died on the beach back when there used to be a ranch in the area.
It is also possible to hike from Kepuhi Beach to Pohaku because of how close they are.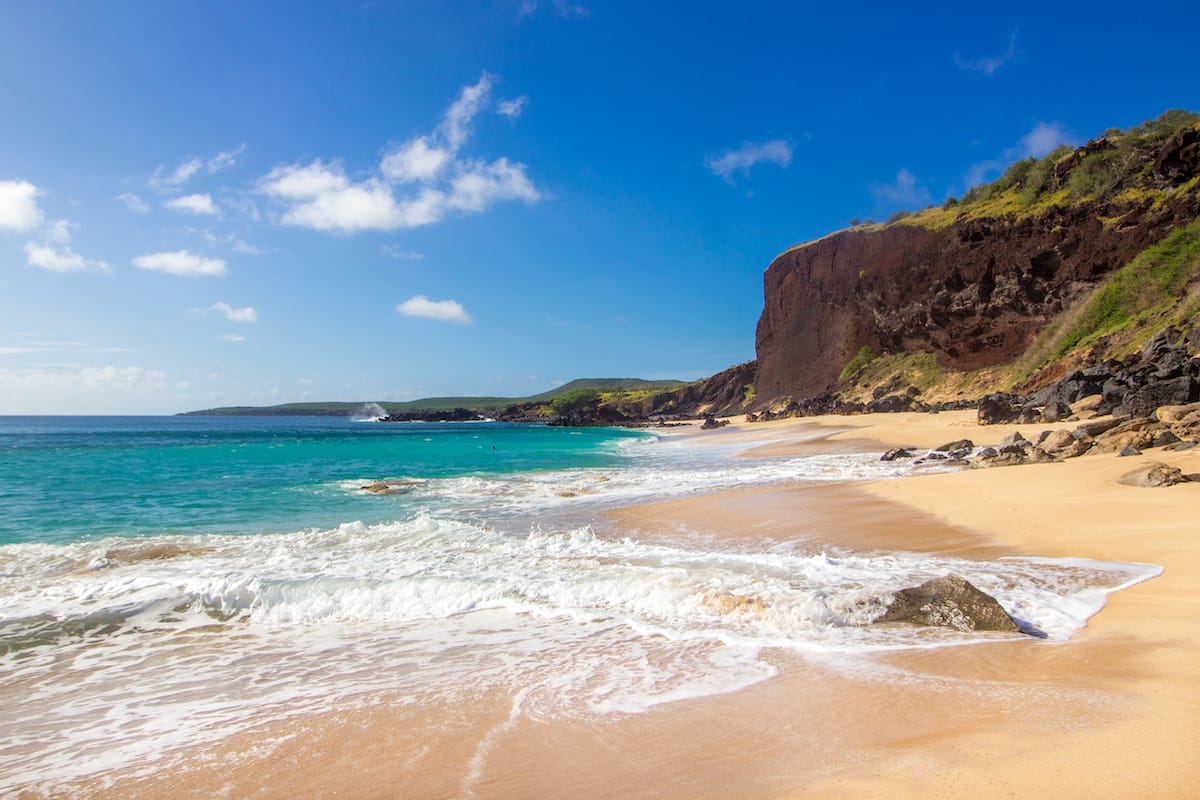 Pohaku is divided into two sandy beach coves. The first requires scrambling over a small hill to access. It is more of a tide pool than a beach because the tide tends to cover the sand.
However, when you climb over the rocks, you will reach a gorgeous and isolated beach. The only trick is that you have to catch the beach at a time when the waves aren't very strong.
Pohaku's strong currents and huge waves make it a difficult spot to swim in at different times of the year, especially in the winter.
8. Kapukahehu Beach
Also known as Dixie Maru Beach, this protected beach is located on Molokai's west shore and offers safe swimming most of the time, especially during summer.
It is located within a sheltered cove, which contributes to its overall popularity. The beach was renamed after a Japanese boat called Dixie Maru that got wrecked near the beach.
Kapukahehu Beach is popular among families and it's a great spot for sunset watching and swimming when the ocean is calm.
Dixie Maru is recognized as one of the best and safest spots to swim in Molokai since it is a protected cove. This beach is also perfect for fishing and snorkeling.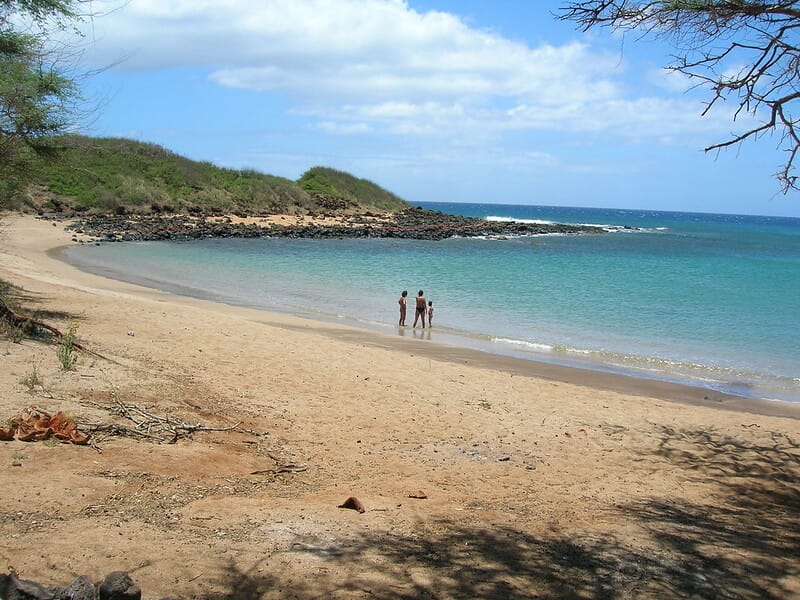 However, there are no lifeguards at Kapukahehu, so it's important to stay away from the water when the surf is up.
Also, the beach has thorny Kiawe trees, so you need to pay attention when seeking a shady spot under the trees.
Otherwise, when the water is calm, you'll have a relaxing and amazing time dipping your toes in the sand or checking out the gorgeous reef.
East Molokai Beaches
For those longing to relax on a cool beach, the beaches on the eastern side of Molokai offer just the right amount of enough seclusion and serenity. These beaches are also perfect for swimming, snorkeling, and picnicking.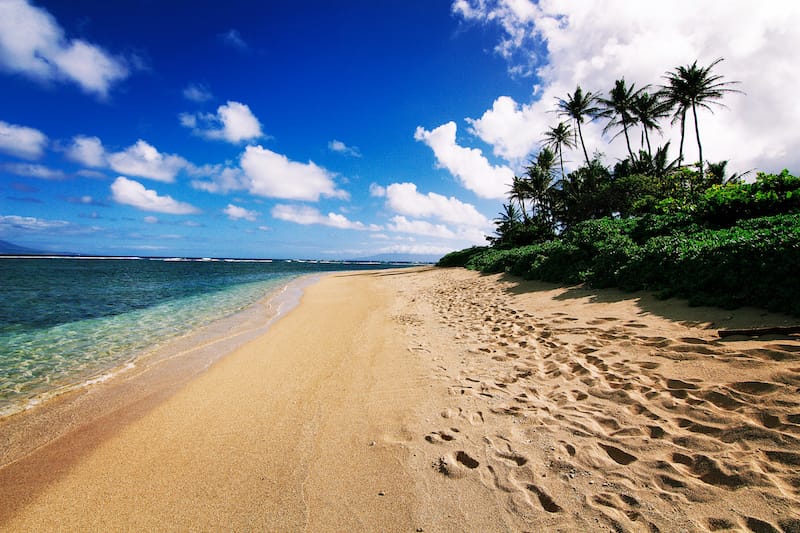 Here are some beaches you should consider on Molokai's eastern shores:
9. Kumimi Beach
Kumimi Beach is one of the most popular beaches in all of Molokai because of how easy it is to access and because of the incredible conditions for snorkeling.
Also referred to as 20 Mile Marker Beach or Murphy Beach, it's most well-known for the calm and shallow waters, which make it perfect for snorkeling when the waters are calm.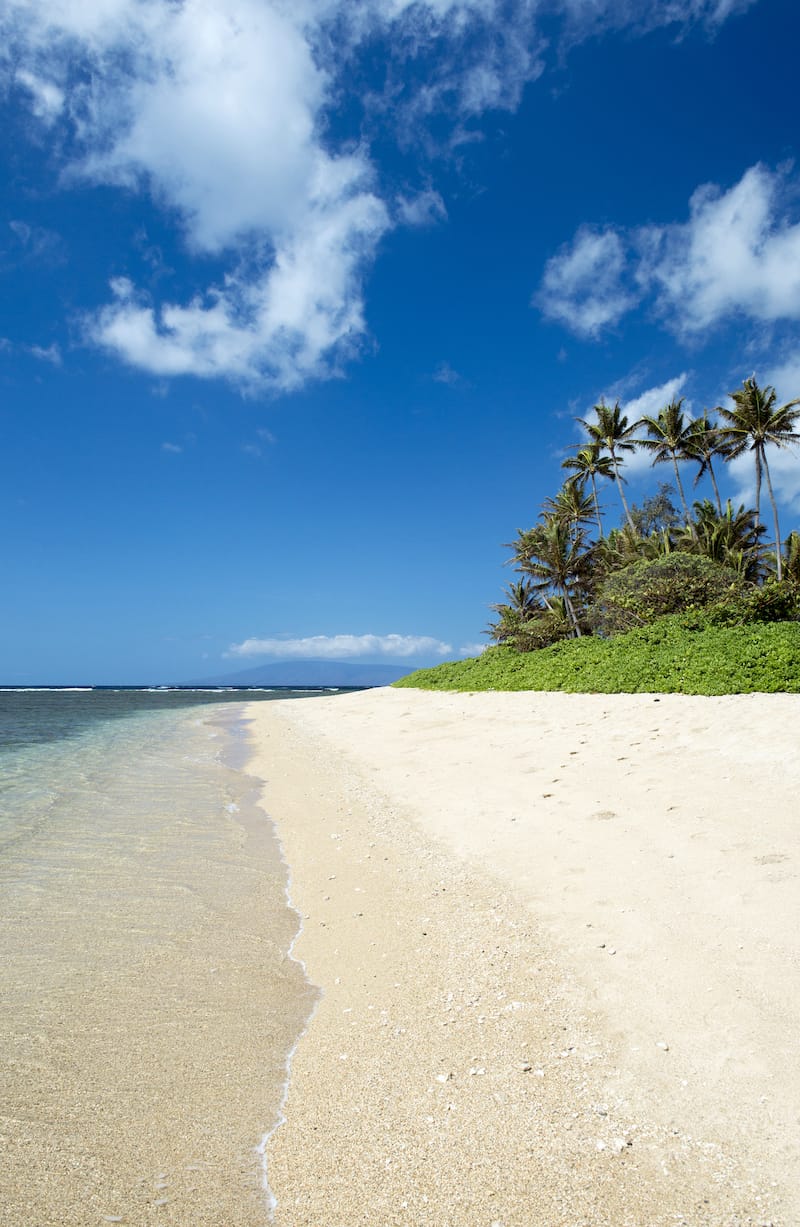 Do keep in mind that there are no lifeguards here, so exercise caution, especially if you notice that the waves are strong. Also, note that there are some areas where the sand is a bit rocky.
Aside from the many opportunities for snorkeling, Kumimi Beach also offers a shaded park with picnic tables where explorers can relax.
Also, if you drive about two miles from Kumimi Beach, you'll find a small lookout, which is the perfect spot to take some beautiful pictures.
10. Sandy Beach
Going forward between mile 21 and mile 22, you will find Sandy Beach. This beach is one of the best for swimming in Molokai. Also, many people enjoy visiting Sandy Beach due to all the opportunities for bodyboarding and bodysurfing.
The beach has protected reefs and a rock-free entrance, making it easy for navigation. And although the beach has no facilities, it boasts spectacular views of Maui and Lanai.
Aside from swimming, visitors can also enjoy the scenic drive down Kamehameha Highway.
Do keep in mind, however, that the water is dangerous during the high surf, so be careful. In fact, the beach is also sometimes referred to as a "break-neck" beach because of how many injuries people have gotten when there are strong rip currents.
11. Halawa Beach Park
Halawa Beach Park is another beach you shouldn't miss during your trip to Molokai. It consists of two beaches- Kama'alaea Beach to the west and Kawili Beach to the east.
Halawa is located on the eastern shores of Molokai and is popular among visitors for fishing, picnicking, and sunbathing.
As the waters at Kama'alaea Beach are rather shallow, it is generally possible to swim here except during the heavy surf. Some people also like to give snorkeling a try, but due to the murky waters, this can prove to be a bit of a challenge.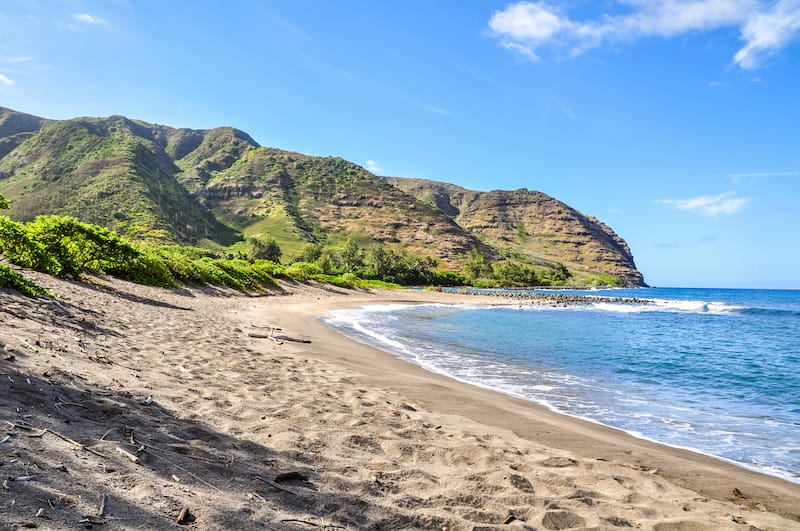 Kawili Beach does not have as much protection from the ocean, so it is also prone to some very strong currents, but some people do enjoy swimming here when the water is calm.
With that being said, many experienced surfers particularly enjoy Halawa Beach Park because of the huge waves, especially during the winter months. Legend has it that Molokai chiefs also participated in this sport here.
You can also check out Halawa Valley, where visitors often go to enjoy waterfall views and amenities like picnic pavilions, barbecue grills, restrooms, and parking spaces.
Where to Stay in Molokai
You will find plenty of options for places to stay in Molokai and here are some of our top recommendations:
Did we miss any amazing beaches in Molokai? Let us know your favorite Molokai beaches in the comments! Thanks!
More Hawaii Travel Guides
Pin this Beaches in Molokai Guide