Heading to Maui soon and looking for the best breakfast in Kihei? We have some of the top places in this guide to help you get that morning fix!
Are you planning your trip to Kihei last minute?
If you're traveling to Kihei last minute, you want to ensure you have lodging ahead of time! Below are some of our top picks in town!
🌴 Best Tours and Activities in Kihei:
🛌 Best Hotels in Kihei/Wailea:
🚗 Looking for the best way to get around Maui? Click here to check rental car rates for Hawaii!
Kihei is one of the main destinations on Maui and it has no shortage of amazing spots to grab a bite to eat.
And while it is always said that breakfast is the most important meal of the day – we don't disagree! Especially as you likely (and hopefully!) have an action-packed day ahead!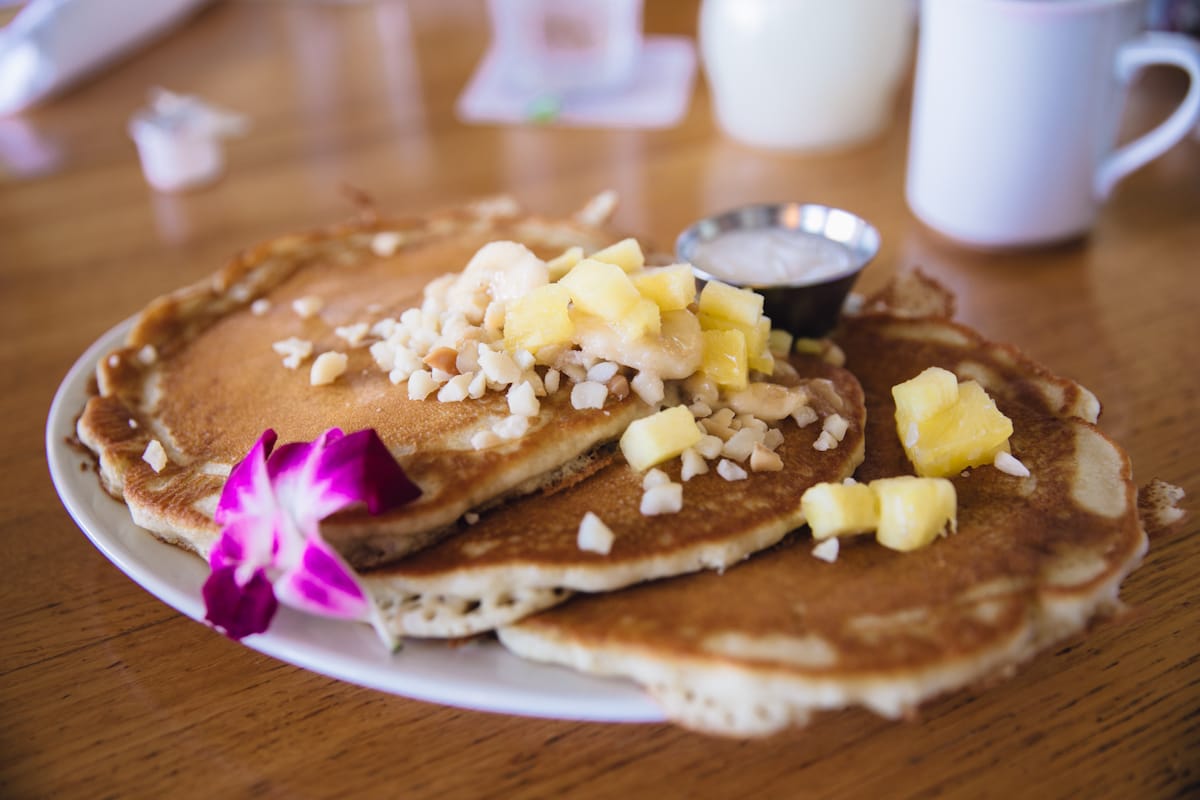 These Kihei breakfast spots will help you get fueled up for the day. Check the list below and let us know which ones we missed! Thanks!
Where to Find the Best Breakfast in Kihei
1. Sugar Beach Bake Shop
Website: https://www.sugarbeachbakeshop.com/
Address: 61 S Kihei Rd, Kihei, HI 96753
Sugar Beach Bake Shop is one of the best places to grab breakfast in Kihei (and in Wailuku as they also have a second shop there!) for those looking for a place with diverse options and tasty dishes!
They handcraft their entire menu with only the freshest ingredients and many of them are local like their bananas, pineapples, sweet cream butter, lilikoi (passion fruit), and Maui Meyer lemons.
They serve all dishes created with these delicious ingredients with cups of Hawaiian OMA Coffee and homemade lemonades.
View this post on Instagram
You can find their Kihei shop between Ululani's Shave Ice and the ABC Store but please note that they are closed on Sundays and Mondays.
2. Kihei Caffe
Website: https://kiheicaffe.com/
Address: 1945 S Kihei Rd, Kihei, HI 96753
Undoubtedly one of the most popular places for local grinds and breakfast in Kihei is the Kihei Caffe, an island favorite since 1998!
The restaurant opens at 6am and it is the ideal spot for those with a long day of snorkeling or exploring Haleakala National Park ahead of them.
The atmosphere is personal and social and they encourage customers to chat with each other if they happen to pop in during rush hour (8am-10am).
View this post on Instagram
The menu is diverse and brimming with options for the whole crew. You will find everything from their Papaya Delight (a papaya filled with yogurt, granola, and dried fruit) to the ever-famous Hawaiian Loco Moco.
Be sure to try their Kalua Pork Loco Moco house special when you're there.
Paired with a Hawaiian macadamia nut mocha coffee, you will be well-fed before a day of adventuring around the island. They are open from 6am-2pm daily.
3. That's A Wrap Cafe
Website: https://www.thatsawrapmaui.com/
Address: 2395 S Kihei Rd #118, Kihei, HI 96753
Craving a wrap? What about a Buddha Bowl? Vegan donuts? Don't worry – That's a Wrap Maui has you sorted!
The healthy Kihei cafe and eatery has a selection of items that will make you immediately want to come back for more (and tell your friends about it)!
Owned by a husband and wife team, Gina and Josh wanted to provide Kihei travelers and residents with tasty and mindful food that they can eat on the go.
View this post on Instagram
While their wraps and Buddha Bowls will fuel you up, don't leave without tasting some of their homemade pickles!
They have kimchi cucumbers and rosemary garlic pickles but also are pickling other items… you will have to pop in to find out!
They are located across from the famous Kihei beach Kam 1 and are closed on Sundays and Mondays. You can find them open all other days from 9am until 4pm.
4. Cinnamon Roll Place
Website: https://www.cinnamonrollplacemaui.com/
Address: 2463 S Kihei Rd, Kihei, HI 96753
When I think of cinnamon rolls, my mind drifts off to Scandinavia and especially Sweden. But, you don't need a Schengen visa to get your cinnamon roll fix! Especially if you're on Maui and can track down the Cinnamon Roll Place!
The Maui breakfast spot is run by Annie and Mickey Gautney and they were once just regular customers before purchasing the place!
View this post on Instagram
Annie, an accomplished chef, alongside Mike, a former Marine and teacher, keeps up the old tradition of the cinnamon rolls but also adds in some of her specialties, such as her homemade banana bread.
While they are known for the rolls, you can also get other breakfast dishes there such as a salmon log roll and huevos rancheros.
Cinnamon Roll Place is open from 6am until 2pm and is closed Tuesday.
5. Cafe @ La Plage
Website: https://www.cafealaplage.com/
Address: 2395 S Kihei Rd #115, Kihei, HI 96753
Cafe @ La Plage is a famous Kihei breakfast joint where you will find a variety of delicious morning snacks from freshly made bagels to breakfast paninis and more!
Their bagels have a lot of options for toppings but their cinnamon honey butter is to die for!
They also offer avocado toast and breakfast sandwiches that can be made on a croissant, bagel, or sourdough bread.
View this post on Instagram
Located in Dolphin Plaza across from Kama'ole Beach Park One, the cafe offers delivery options via Hopper and even menu items throughout the day. The cafe in Kihei is closed on Tuesdays but is open from 6:45am to 1:30pm all other days of the week.
6. Maui Ono Donuts
Website: https://mauionodonuts.com/
Address: 1819 S Kihei Rd Building E, Kihei, HI 96753
One of Yelp's top 100 donut shops in the US is the delectable Maui Ono Donuts, a Kihei truck located outside of the Kukui Mall that is open daily serving up a variety of tasty donuts to hungry patrons!
Maui Ono Donuts is all about the plant-based donut and bringing a mindful approach to a popular American treat to the world (well, at least here on Maui)!
View this post on Instagram
They pride themselves in producing nearly no waste and recycling what little they do produce. The sustainable donut truck has options to accommodate all taste buds – and gluten-free donuts to those with an intolerance (or sensitivity) to gluten.
Some popular donut options are maple, vanilla, chocolate, macadamia nuts, rainbow sprinkles, and crushed Oreos.
If you are opting for their gluten-free donuts, be sure to call or order at least 8 hours ahead to ensure availability. You can order on their website.
They are open 7am until 12pm daily.
7. Nalu's South Shore Grill
Website: https://naluskihei.com/
Address: 1280 S Kihei Rd, Kihei, HI 96753
Nalu's South Shore Grill is one of the most renowned places to have breakfast (and a meal in general) on Maui and they have something to suit all travelers and diners!
From local Hawaiian food to southern-inspired chicken and waffles, it is a can't-miss place when you're in the Maui town.
View this post on Instagram
When visiting for breakfast, you can grab a heavier breakfast from 8am until 2:30pm and test out their island pancakes (served with homemade citrus-rum syrup, roasted macadamia nuts, pineapple, and bananas!) or something a bit lighter like an acai bowl or a pitaya bowl.
They also have homemade omelets and a classic loco moco (served all day!).
Nalu's is open at the Azeka Shopping Center 7 days a week from 8am until 9pm.
8. Wow Wow Hawaiian Lemonade
Website: https://wowwowhawaiianlemonade.com/
Address: 1279 S Kihei Rd #309, Kihei, HI 96753
Okay, so Wow Wow Hawaiian Lemonade may be expanded into something far larger than originally conceived, but the business got its start on Maui (after hard work at farmers' markets and night markets on Oahu!) in a small trailer and is now a popular favorite even outside of the Aloha State!
You can find branches in Japan and Arizona (and beyond) but nothing is better than visiting its original home in Kihei.
View this post on Instagram
They sell everything from acai bowls to cold brew coffee to smoothies and beyond. Each superfood bowl is made to order and all smoothies are made from scratch.
You can also find grain bowls, avocado toast, flatbread sandwiches, and tasty toast.
But, you will definitely not want to leave without gulping down one of their signature lemonades! The lavender blackberry and the PLG (with lilikoi and guava) are absolutely incredible!
This is the place to fuel up before an adventurous day exploring the beautiful island of Maui! They are open daily from 8am until 4pm.
Kihei Breakfast Restaurants Map
To add this map to your Google Maps account, click the 'Star' icon next to the map name. You can then view it on your cell phone or computer by heading to your Google Maps account, click the menu and add it to 'Your Places'.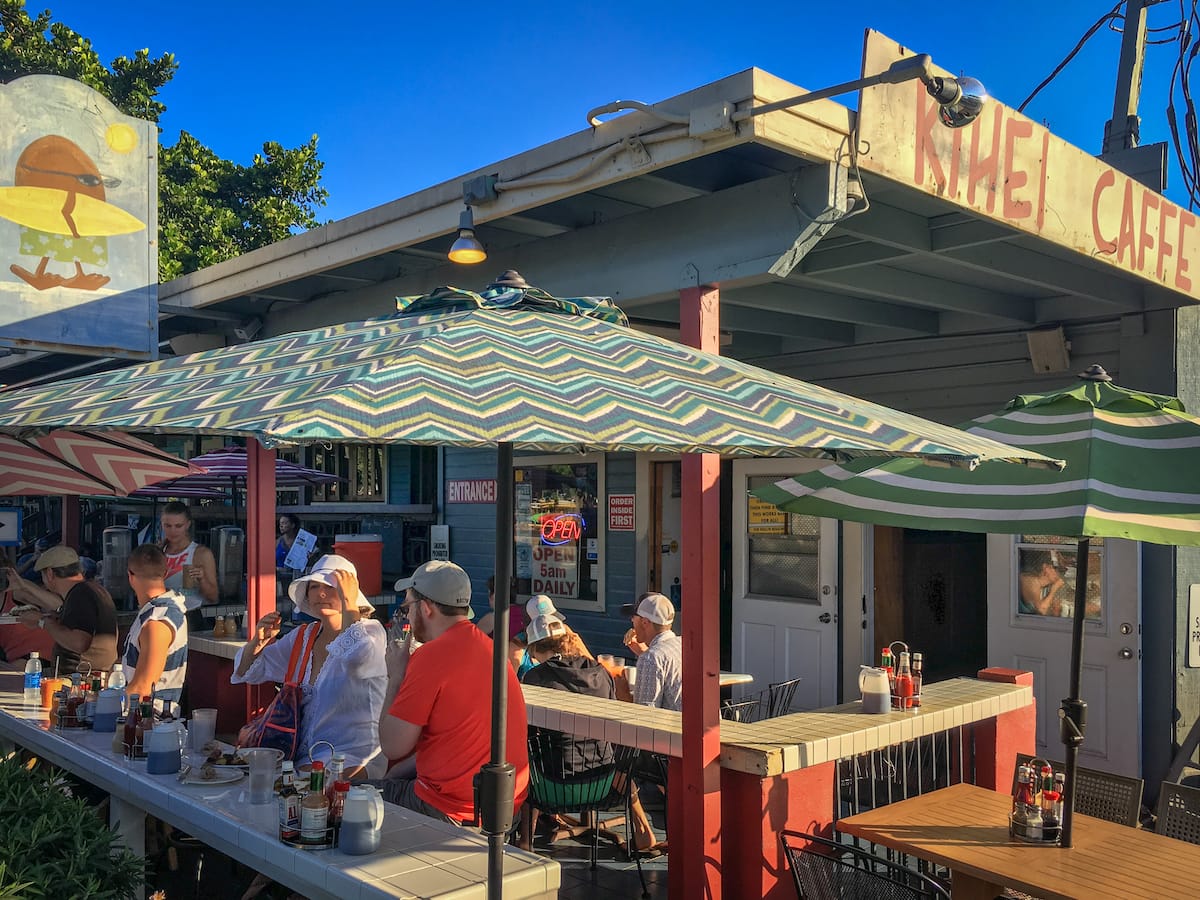 Did we miss any amazing places to get the best breakfast in Kihei on this guide?
Let us know your favorite Kihei cafes and eateries in the comments. Thanks!
More Maui & Kihei Travel Guides
Pin this Kihei Breakfast Spots Guide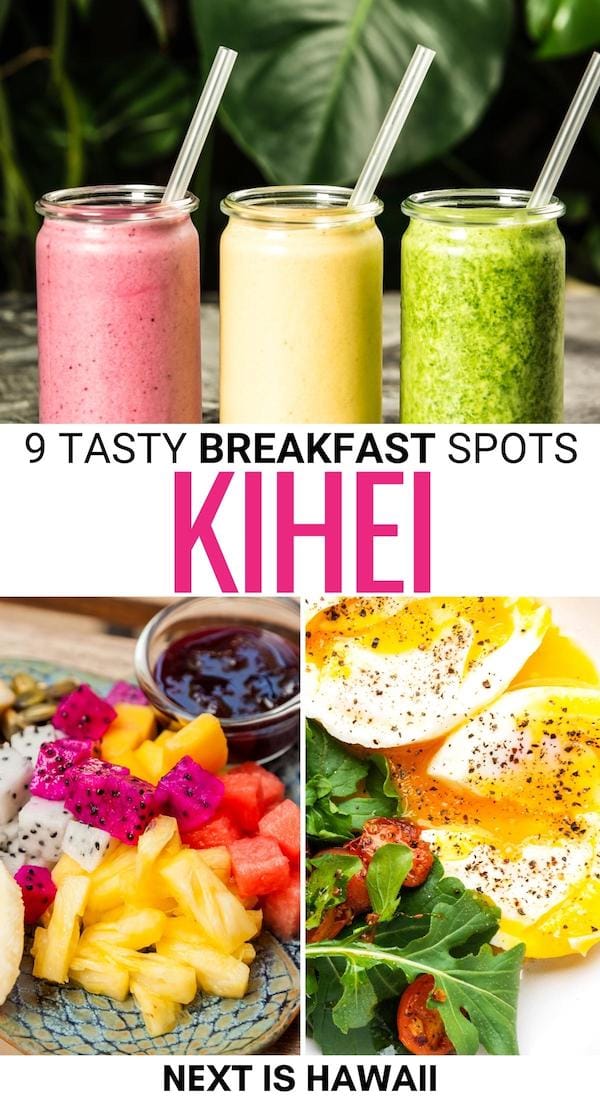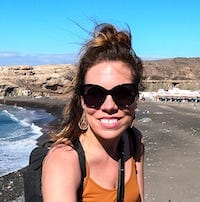 Megan is a travel blogger and writer with a background in digital marketing. Originally from Richmond, VA, she has been traveling frequently to Hawaii for the last 15 years and loves exploring every corner of each Hawaiian island, while trying to promote sustainable travel and small, local businesses along the way. Megan has written for or been featured by National Geographic, Forbes, Lonely Planet, the New York Times, and more. She has co-authored a guidebook with Fodor's Travel and has visited 45 US states and 100+ countries.