There are perks for visiting Hawaii during any month of the year. Planning to travel to Hawaii in August? This guide details everything you need to know – including festivals, weather, rain, and more!
Have you ever traveled during August to Hawaii? Let us know your experience and leave some tips for other travelers in the comments! Thanks!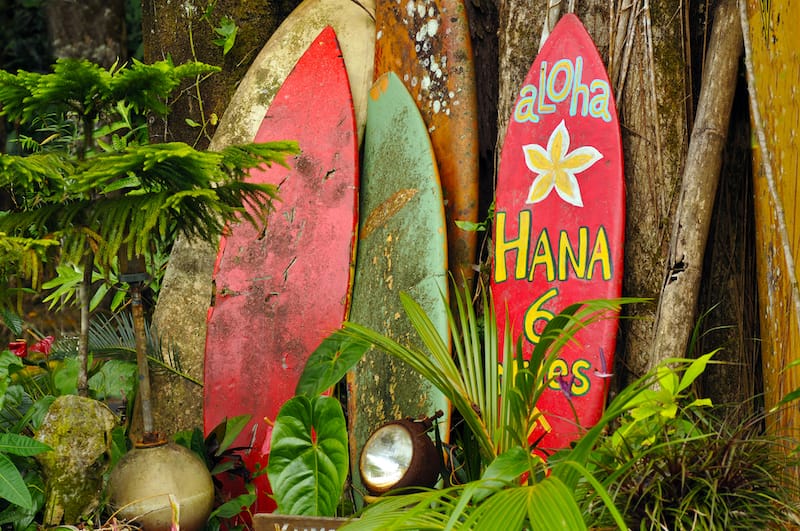 Weather in Hawaii in August
August Weather in Hawaii
Although August is one of the driest months in Hawaii, expect occasional showers during your stay. In other words, it's safe to say that the odds of rain in August and September are lower when compared with the rest of the months.
Hawaii in August, particularly the Big Island, has warm temperatures and sunshine and is, indeed, a spectacular tourist destination to visit during the summer month.
The temperature during the day generally stays in the 80s and it drops into the 70s at night. However, there is slight rainfall in August, with precipitation levels higher than the lowest rainfall average in June.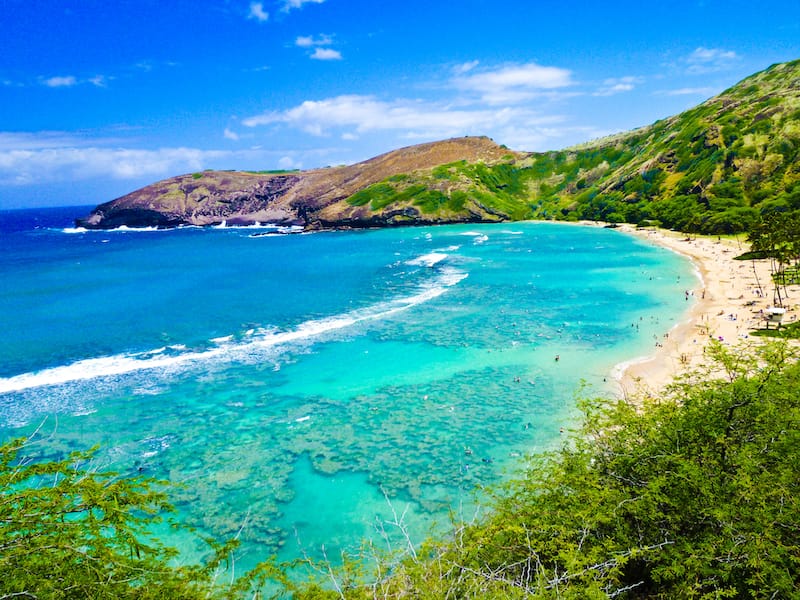 Below, you will find the average rainfall in each of the Hawaiian islands. Please note that this is an average and anything is subject to happen – so be prepared!
Rainfall in Hawaii in August
Oahu in August
Oahu has an average rainfall of 0.93 inches (and the same amount on Waikiki Beach). On the other hand, Ko Olina's rainfall average is slightly lower, while the North Shore rainfall average is a bit higher.
Kauai in August
Based on Lihue's average, Kauai's rainfall is 2.13 inches in August. Situated on the island's southeastern part, it's not as dry as the South Shore and not as wet as the North Shore.
Maui in August
Maui's average August rainfall is around .5 inches. Beware that Hana usually gets a lot more rain than other parts of Maui.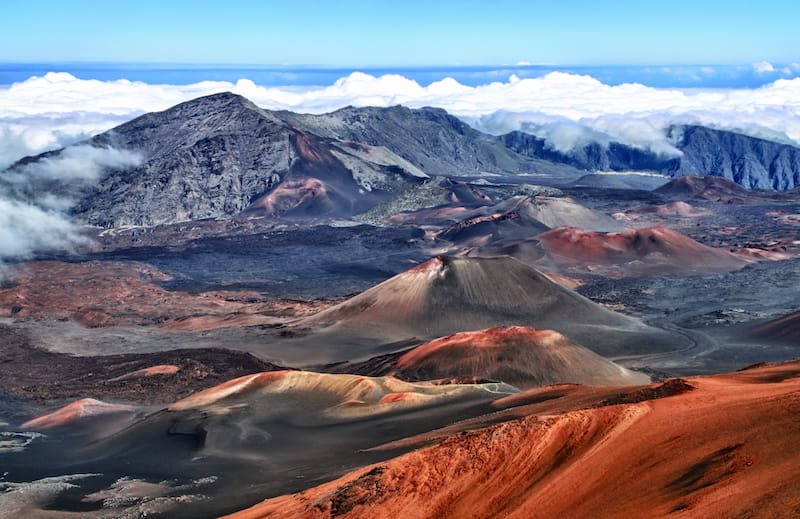 Big Island in August
The Big Island has an average of 0.67 inches of rain based on the Kailua-Kona's weather forecast. By going further north from Kona, you'll find the Kohala Coast where the weather is slightly drier, with a total of 10-12 inches of rainfall for the whole year.
However, on the island's eastern side and Hilo, there is an average of 9.85 inches of rainfall in August. Hilo is actually considered to be the rainiest city in the United States, so it is pretty much always quite wet there.
Molokai in August
The average rainfall in Molokai is 0.45 inches based on the weather averages from Kaunakakai's Airport. On the other hand, there are continuous slight showers in the eastern part of Molokai.
Lanai in August
The rainfall average in Lanai is 1.40 inches during August, particularly in the upcountry and Lanai City. The latter gets more rain compared to the former, precisely at Manele Bay, one of the most famous coastal spots in Lanai.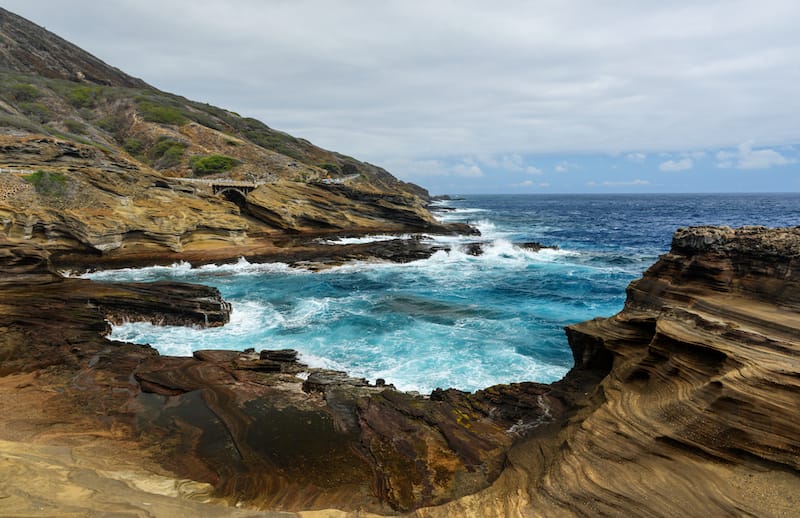 Is August a Popular Time to Visit Hawaii?
According to the Hawaii Tourism Authority statistics, August in Hawaii is typically a busy tourist month! Visitors flock to this tropical destination at the beginning of August, and the number decreases as the month ends.
Hawaii in August is the perfect time to go on vacation with your loved ones (and children). Schools are normally closed, especially during the start of the month, and the temperatures are favorable for outdoor recreational activities.
This tropical paradise is also an excellent gateway for honeymooners and ideal for hosting memorable events such as weddings and anniversaries.
Tourists who prefer sightseeing are advised to go to higher grounds that have panoramic views of the island.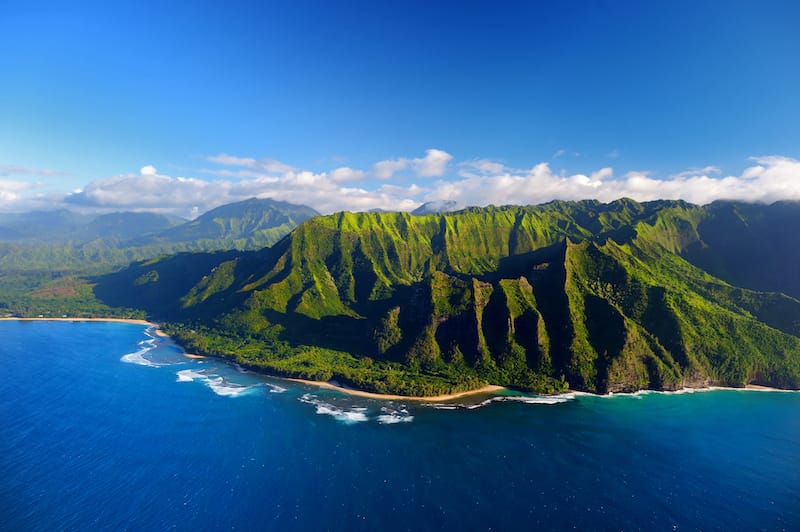 However, bear in mind that the higher you go, the colder the temperature. While this is common sense everywhere else, visitors tend to forget Hawaii has some chillier areas!
It's therefore advisable to always carry a jacket and pants on your escapades!
Is Hawaii Expensive in August?
According to the Hawaii hotel rate statistics, the prices at the beginning of August are higher than average and tend to reduce towards the end of the month.
The first week is peak season and is slightly more expensive compared to the last week of the month, which starts off low season.
Hawaii Airfare in August
Airfare prices in August are also another factor that's quite difficult to predict, especially during the first couple of weeks. It's safe to say that an air ticket to Hawaii is going to cost more than average during this month.
Hawaii Hotel Rates in August
Hawaii hotel rates are high in August with an initial cost of approximately $300 during peak season. The prices eventually decrease to an average of $250 towards the end of the month.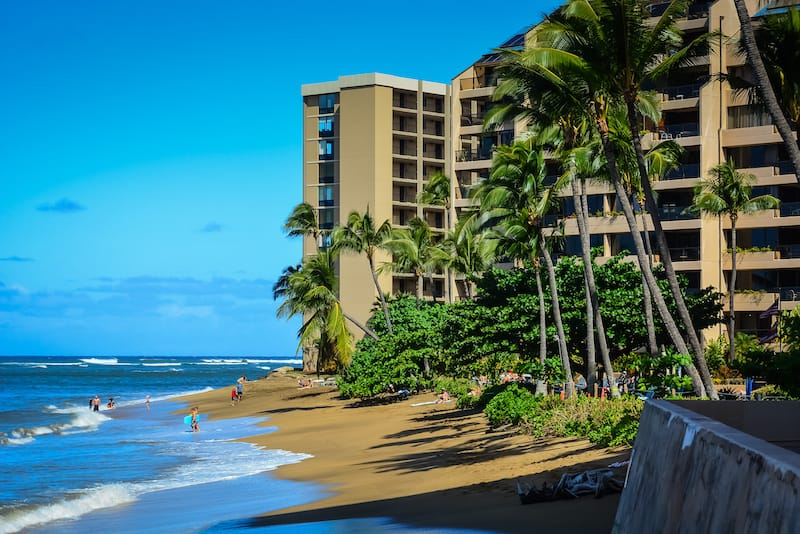 On a Budget?
Since there is usually a price surge for air tickets and hotel reservations in Hawaii, having a plan is recommended regardless of when you're planning to visit.
If you're on a tighter budget and want to capitalize on lower prices, then avoid visiting Hawaii during summer and opt for another time of the year.
Festivals and Events During August in Hawaii
There are plenty of festivals and events in Hawaii during August, although they vary year by year. Below are the different types of events you can indulge in while visiting the Hawaiian islands.
The Hawaiian International Billfish Tournament
Location: Big Island
This particular five-day event is for avid anglers! It's typically an international fishing tournament that allows participants to fish in Kona's waters onboard first-class charter boats.
The winner of the Hawaiian International Billfish Tournament is usually awarded a prestigious HIBT Governor's trophy.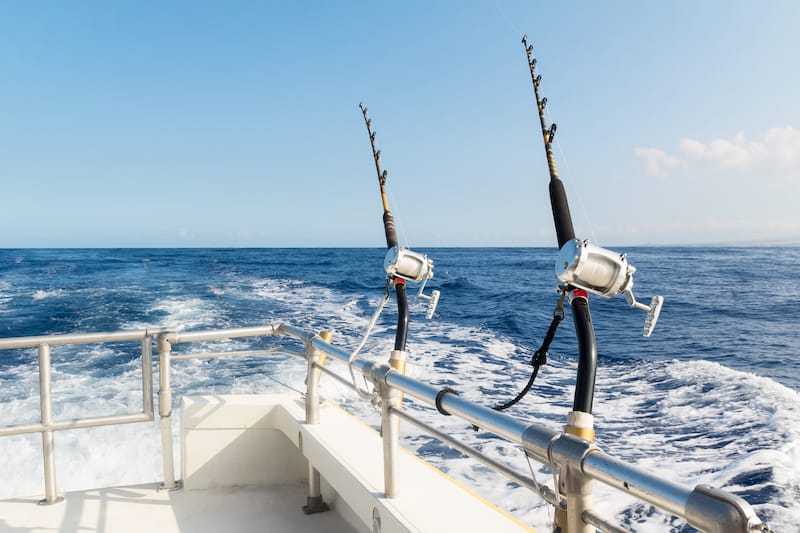 The Heiva I Kauai International Tahitian Dance Competition
Location: Kauai
The Heiva I Kauai is an annual dance competition that celebrates the culture and art of native Hawaiians through dance and music.
The dance competition also showcases colorful community displays, which is truly a spectacle for those in attendance.
Ho'oku'ikahi Establishment Day Hawaiian Cultural Festival
Location: Big Island
The Ho'oku'ikahi Establishment Day Hawaiian Cultural Festival is an annual event on the main Hawaiian island each year.
The event celebrates the ancient culture of the Hawaiians—more than 20 antique demonstrations, ancient art and craft workshops, traditional Hawaiian music, and games.
Made in Hawaii Festival
Location: Oahu
This amazing festival held in August is quite popular and takes place in Honolulu at the Neal S. Blaisdell Center.
The Made in Hawaii Festival showcases hundreds of exhibits such as arts and crafts, books, Hawaiian food products, gifts, apparel, jewelry, and other rare homegrown produce.
30 Days of Aloha on Hawaii Island
Location: Big Island
The 30 Day of Aloha on Hawaii Island is another festival in Hawaii that's rich in the culture of Native Hawaiians. This particular event takes place on the Big Island and takes place throughout the month.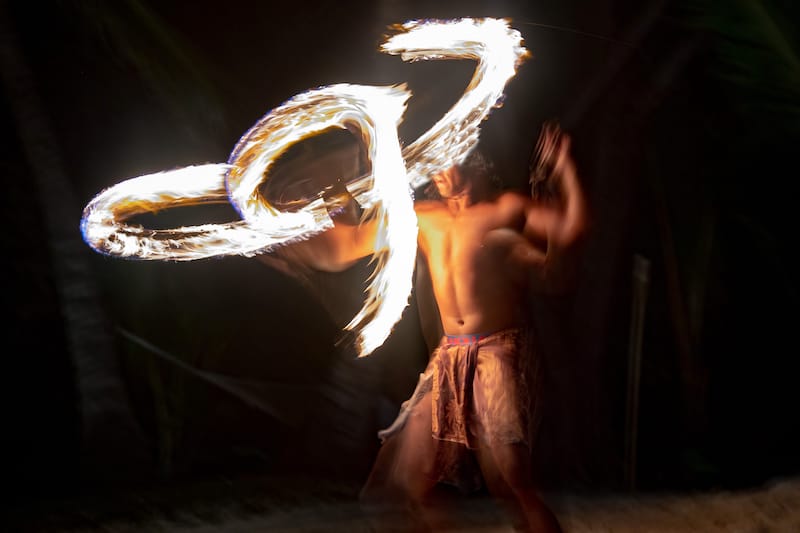 Duke's OceanFest
Location: Oahu
This event is for those who love water sports. The Duke's OceanFest is an annual event that involves swimming, longboard surfing, paddleboard racing, stand-up paddling, and beach volleyball, among other popular water sports.
The Oahu festival celebrates Duke Kahanamoku's life and all of his athletic contributions.
Did we miss anything crucial worth nothing about visiting Hawaii in August? Are there any August events in Hawaii that we left off and deserve to be on here? Thanks!
Not Visiting in August?
Pin this Hawaii Summer Travel Guide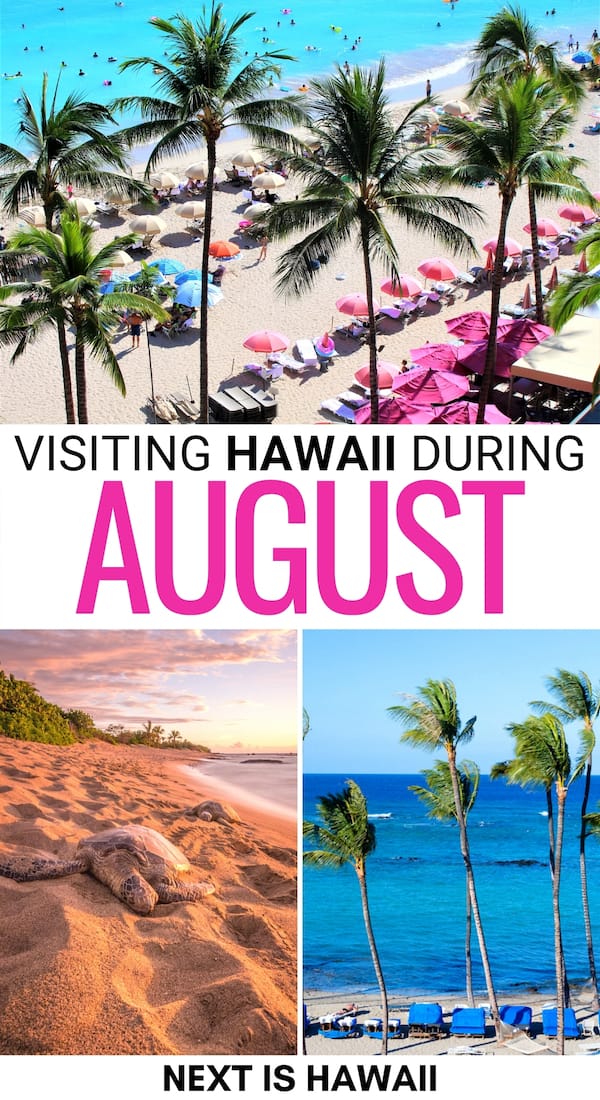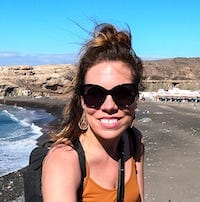 Megan is a travel blogger and writer with a background in digital marketing. Originally from Richmond, VA, she has been traveling frequently to Hawaii for the last 15 years and loves exploring every corner of each Hawaiian island, while trying to promote sustainable travel and small, local businesses along the way. Megan has written for or been featured by National Geographic, Forbes, Lonely Planet, the New York Times, and more. She has co-authored a guidebook with Fodor's Travel and has visited 45 US states and 100+ countries.