Are you heading to the islands and looking for the best luxury Hawaii timeshare resorts? This post has you covered… read on!
Hawaii is truly an incredible vacation destination. Each Hawaiian island has its own unique offerings, but all feature gorgeous beaches, tropical forests, stunning resorts, and plenty of special attractions.
When planning your trip to Hawaii, there are so many things to consider. One of the most important decisions is where will you stay? There are so many wonderful options that it may be challenging to find the best one.
Listed below are the top luxury Hawaii timeshare resorts, each offering high-end accommodations, amenities, and services.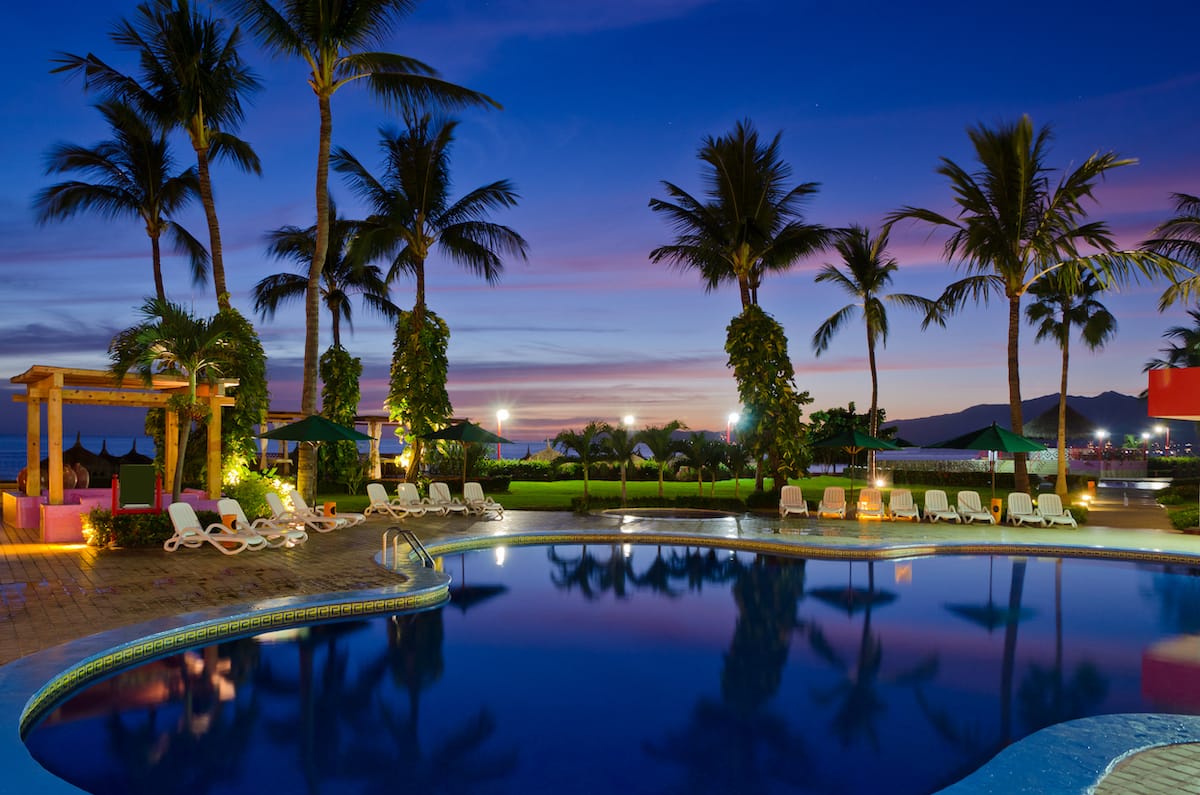 With Hawaii timeshares, guests are able to enjoy all the benefits and features of an upscale resort paired with the convenience of spacious and well-equipped vacation rental-style accommodations.
Plus, travelers can save big on Hawaii timeshare rentals by booking them on SellMyTimeshareNow.com.
Best Luxury Hawaii Timeshare Resorts
Lagoon Tower by Hilton Grand Vacations
Located in Honolulu on the island of Oahu, Lagoon Tower by Hilton Grand Vacations is a 22-acre resort campus with so much to offer.
Guests will delight in exceptional amenities like direct beach access, a large swimming complex, a full-service spa, and two exceptional on-site restaurants.
The property is located directly on the famed Waikiki Beach within the Hilton Hawaiian Village Waikiki Beach Resort. This gives you access to additional amenities and services!
Studios, one-, two-, and three-bedroom suites are offered at Lagoon Tower. These units sleep two, four, six, and eight guests respectively.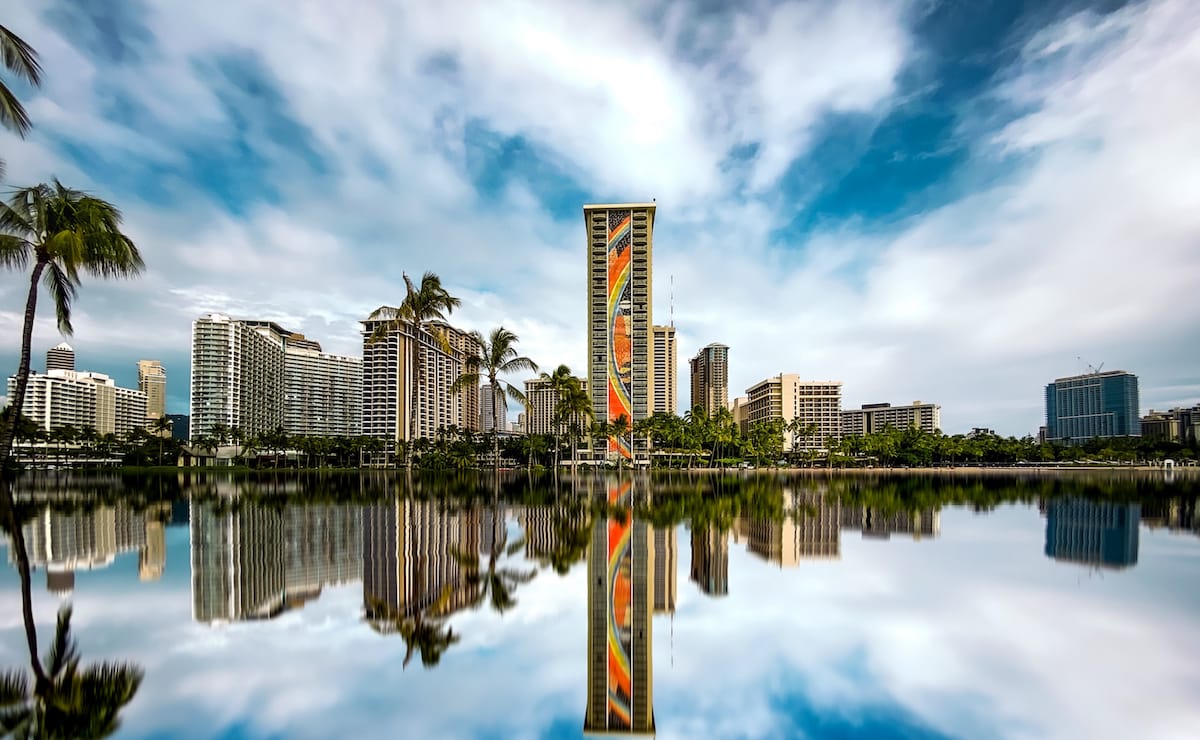 Each unit offers a full or partial kitchen for en-suite cooking, a living room, flat-screen TVs, and a dining area. Plus, most suites feature a private balcony or patio for taking in those incredible Hawaiian sunsets.
Honolulu is one of the most well-known destinations throughout all the islands of Hawaii. It's best known for golden sand beaches, incredible surfing opportunities, and breathtaking volcanos.
One of the most popular attractions is Diamond Head, a dormant volcano and stunning landmark to explore. Hanauma Bay is another top-rated natural attraction where you may be able to see some sea turtle eggs hatch!
Westin Ka'anapali Ocean Resort Villas
Located on the famed North Ka'anapali Beach in Lahaina, Westin Ka'anapali Ocean Resort Villas offers an unparalleled Hawaiian escape.
This elegant property gives you direct access to the beach for long days in the sun, sand, and surf.
Enjoy a number of water sports like snorkeling, boating, fishing, and paddleboarding. Plus, the resort offers some great activities and services like swimming pools, restaurants, spa treatments, sports courts, and a kids club.
The Westin Ka'anapali Ocean Resort Villas come in a variety of layouts like studios, one-, and two-bedrooms.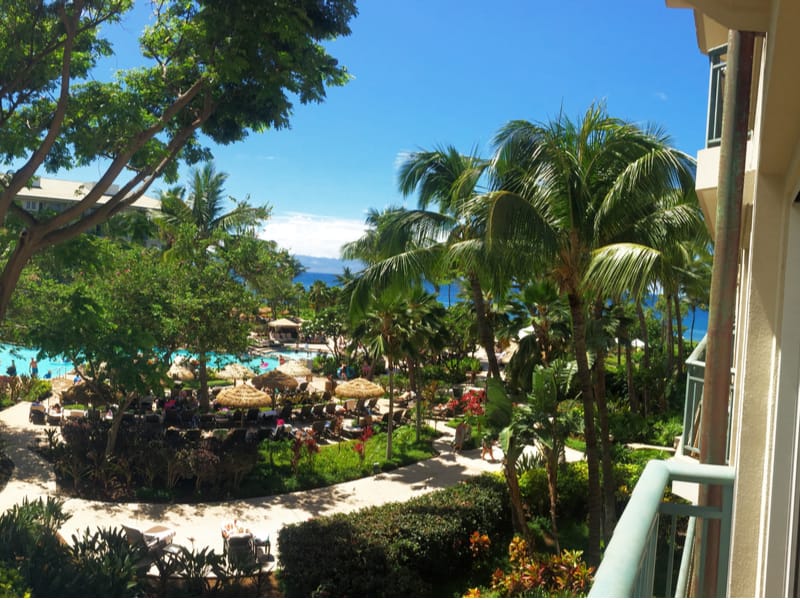 You can choose an island view suite or an ocean view suite to enjoy from your private balcony. Enjoy the luxurious plush bedding, modern decor and appliances, bathrooms with whirlpool spas, and large living areas.
Westin Ka'anapali also has the North Villas. These include Studio Premium Villas, One-Bedroom Premium Villas, and Two-Bedroom Lockoff Villas. The North Villas offer some great amenities like en-suite whirlpool tubs, private balconies, laundry machines, and full kitchens.
While Westin Ka'anapali Ocean Resort offers a full vacation experience without having to leave the resort, you'll want to get out and see what Lahaina has to offer.
One of the most fun and popular activities in the area is a dolphin-watching tour. These four-hour outings take off from Lahaina Harbor and bring you to the remote island of Lanai.
Get up close to dolphins, sea turtles, tropical fish, and much more on this enticing snorkeling venture that the whole family will love.
Marriott's Maui Ocean Club
Marriott is a household name, a brand known for its incredible accommodations, amenities, and services. This includes its many Hawaiian properties, such as the ever-popular Marriott's Maui Ocean Club.
The property is located in Lahaina on the famous Ka'anapali Beach. The resort offers an extensive selection of amenities and services such as a three-and-a-half acre swimming area with water slides and grottos, a poolside bar, four restaurants, and a large wellness center.
The main property features cozy guest rooms as well as larger one-, two-, and three-bedroom villas on Maui.
There's plenty of room for everyone with space for up to 10 guests in the three-bedroom villa options. Additionally, they offer all the comforts of home plus private balconies to enjoy the garden, island, or ocean views.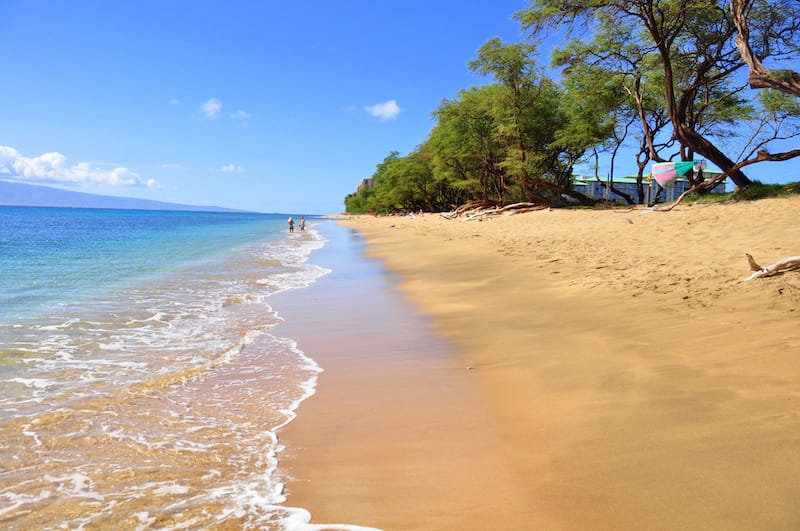 Marriott's Maui Ocean Club also offers Lahaina and Napili Villas which are available as one-, two-, and three-bedroom layouts. These villas are quite large and offer full kitchens, living rooms, dining areas, laundry machines, whirlpool tubs, and private balconies.
If you're looking for a fun activity outside of the resort, check out the Kapalua Coastal Trail where you can walk through lush forests, lava fields, and alongside the white sand beaches. It's a great way to get out and explore the beauty of the island!
Marriott's Ko Olina Beach Club
Another fantastic Marriott property is Marriott's Ko Olina Beach Club in Kapolei on the island of Oahu.
Guests enjoy stunning views of the Pacific Ocean from their suites and also while doing laps in the beachside lagoon. Engage in watersports on the beaches just steps away or unwind at the full-service spa.
Marriott's Ko Olina Beach Club also has a fitness center, swimming pools, and restaurants. Plus, the Ko Olina Golf Club is just a mile down the road, featuring a championship 18-hole course with picturesque surrounding views and an upscale restaurant.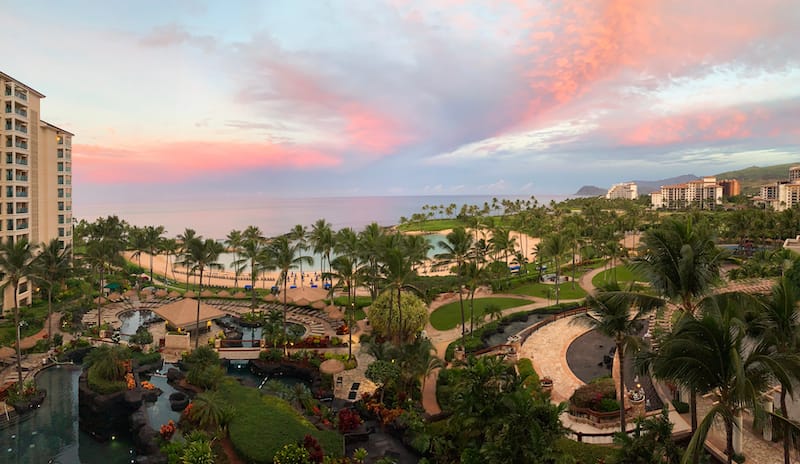 The accommodations at Marriott's Ko Olina Beach Club offer breathtaking ocean views from en-suite private balconies. Choose a studio, one-, two-, or three-bedroom layout with lock-off options for added space and privacy.
The suites also offer full kitchens with granite countertops, dining areas, private bathrooms, and large living areas.
When not taking advantage of the amenities at Marriott's Ko Olina Beach Club, you'll find plenty of great things to do in Kapolei.
Take a surf lesson at Surf HNL Kapolei, play a round at Kapolei Golf Club, or enjoy a picnic lunch with a view at Kapolei Community Park.
Aulani, a Disney Resort & Spa
Discover Disney magic in the Hawaiian islands with a trip to the award-winning Disney Aulani Resort in Kapolei on Oahu.
This family-friendly resort sits on 21 oceanfront acres and offers character breakfasts, a large swimming area with a lazy river and waterslides, and a kids' activities center. Plus, a luxury spa and infinity pool for adult enjoyment.
Disney Aulani Resort puts your close to the local attractions while also offering a secluded oasis away from all the crowds.
The resort is also part of the Ko Olina Resort Community and Marina, which offers more beach access, crystal clear lagoons, a championship golf course, shopping, dining, and water sports.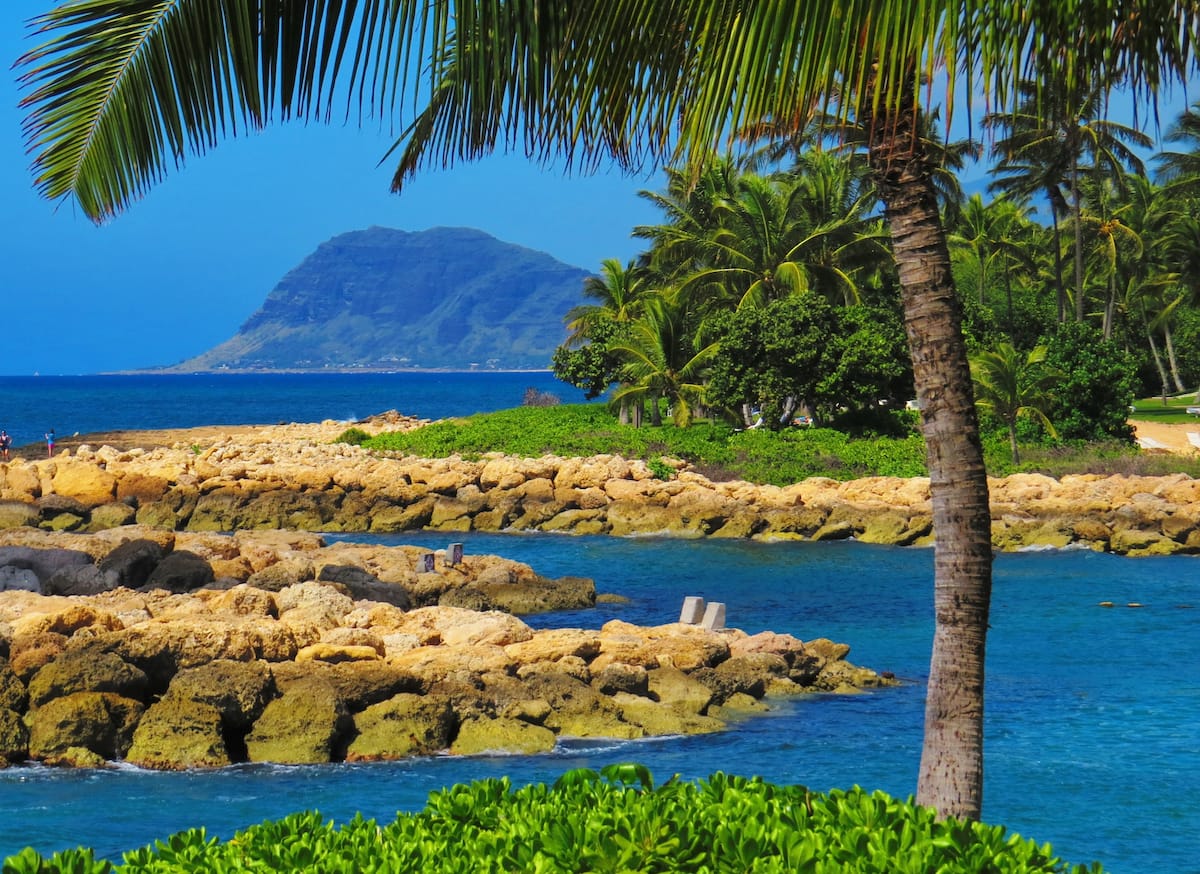 At Disney Aulani Resort there are hotel rooms, studios, and deluxe one-, two-, and three-bedroom villas. They sleep anywhere between four and twelve guests ensuring the whole family has room to relax.
Enjoy homey amenities like kitchens, living areas, dining tables, laundry machines, and multiple full bathrooms. Some units even have whirlpool tubs and private balconies for an added touch of luxury.
Other family-friendly activities to experience outside of the resort include Chief's Luau, Wet 'n' Wild Waterpark, Coral Crater Adventure Park, and the scenic Hawaiian Railway.
Diamond Resort Ka'anapali Beach Club
Diamond Resorts is another top-rated hospitality brand known for its fantastic resorts. Ka'anapali Beach Club is set along Maui's picturesque shores, perfect for soaking up the warm Hawaiian sun and engaging in a number of fun water sports.
The resort boasts some delightful restaurants with outdoor seating, an outdoor swimming pool and hot tub, sports courts, and a day spa.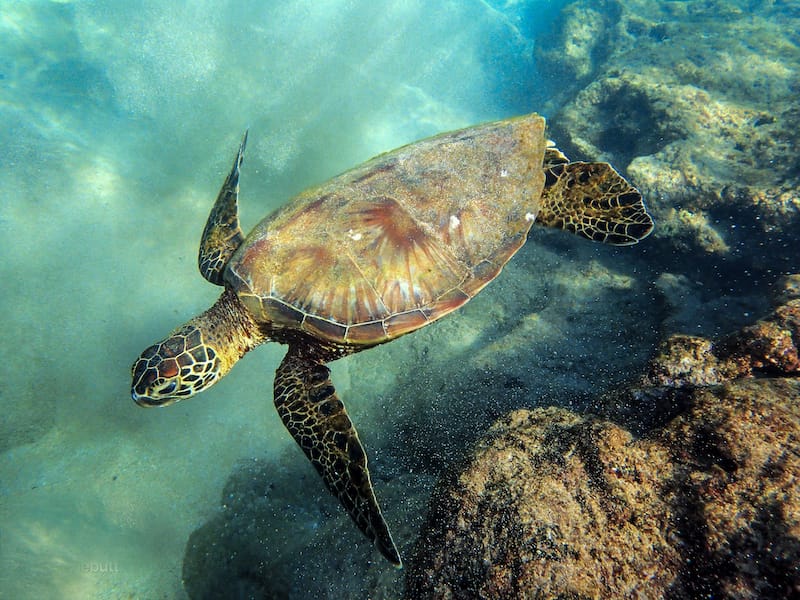 The accommodations offered have everything you need for a comfortable and relaxing stay. One- and two-bedroom suites are offered and come with full kitchens, private balconies, complimentary WiFi access, and private bedrooms.
Beyond the long days spent enjoying Ka'anapali Beach, Lahaina has plenty of great attractions to check out.
Take a boat tour of West Maui off of Lahaina Harbor, go cliff jumping at Black Rock Beach, shop and dine at downtown Lahaina, or barbecue at Wahikuli Wayside Park.
Wyndham at Waikiki Beach Walk
This deluxe Wyndham resort is located on the island of Oahu giving guests prime access to beaches, live entertainment, unique dining opportunities, and much more.
Without even stepping off the resort grounds, you can enjoy an outdoor swimming pool, activities program, an exercise facility, and more.
The whole family will be comfortable in the Wyndham at Waikiki Beach Walk accommodations with one-, two-, three-, and four-bedroom options sleeping up to ten guests.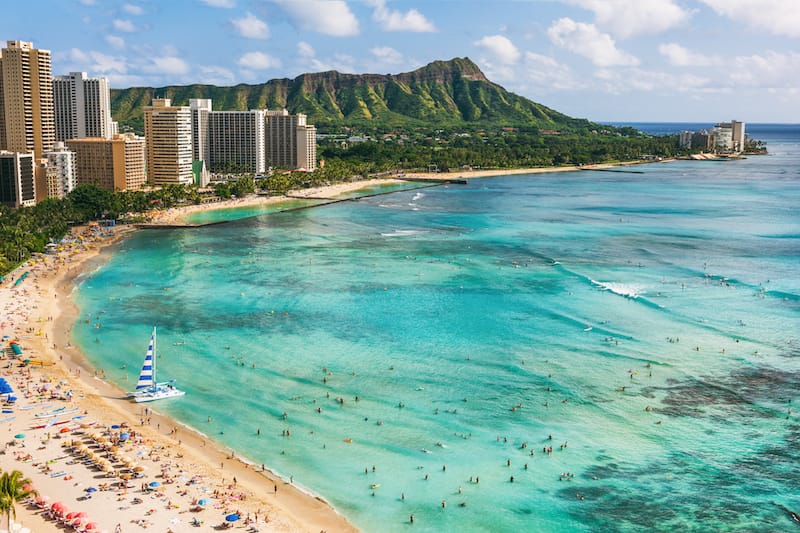 These homey suites offer laundry machines, full kitchens, multiple bathrooms, and even private balconies that overlook the ocean.
When exploring Honolulu and all of its beauty, be sure to visit some of the top local attractions including the Pearl Harbor National Memorial, Manoa Falls, Koko Head trail, Makapuu Beach Park, and Lyon Arboretum.
Marriott's Waiohai Beach Club
Set on the beautiful Poipu Beach in Koloa on the island of Kauai, Marriott's Waiohai Beach Club offers a high-end escape with elements for both fun and relaxation.
This Marriott-brand property features stunning outdoor swimming pools with a poolside bar, a full-service day spa, and a fitness facility.
If you are on a romantic getaway, the studio suite is perfect for you and your partner. This unit features a king-size bed, a partial kitchen, and a full bathroom.
Larger families can stay in a two-bedroom unit that offers private bedrooms, a fully equipped kitchen, two bathrooms, laundry machines, and a private balcony with ocean views.
When you're not enjoying the many resort amenities, get out and explore all that Koloa has to offer. Visit Old Koloa Town and shop around in historic plantation buildings.
Or check out Allerton Garden to tour the gorgeous flora and fauna. There are also some stunning beaches including Lawa'a, Kiahuna, and Brennecke.
Hyatt Ka'anapali Beach
On the beautiful island of Maui sits the Hyatt Ka'anapali Beach Resort. Guests have prime access to 1,800 feet of soft sand beaches perfect for sunbathing, swimming, surfing, snorkeling, and any other water activity you could dream of.
The property also boasts swimming pools for both adults and children, an upscale fitness center, and a coffee bar.
For accommodation options, Hyatt Ka'anapali Beach offers one-, two-, and three-bedroom suites with your choice of ocean view or mountain view. These spacious suites also provide full kitchens, private terraces, whirlpool tubs, and ample living space.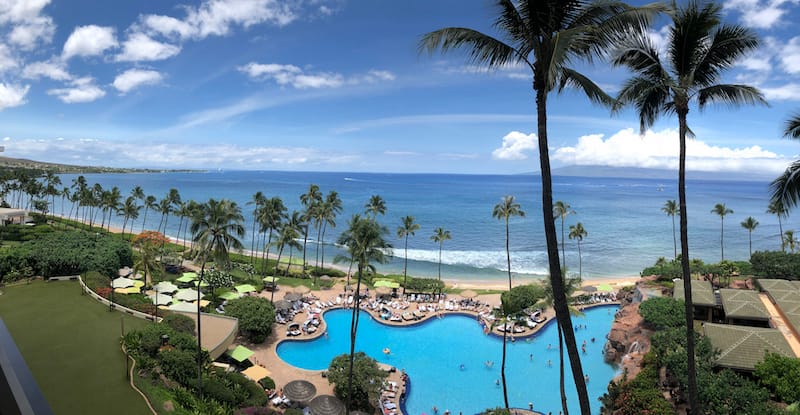 Lahaina is a spectacular spot to vacation in, with so many unique attractions to experience. Walk down Front Street and find a plethora of shops and restaurants to check out, plus a gorgeous banyan tree.
Be sure to check out Old Lahaina Luau and experience an authentic oceanfront luau with great food and entertainment. You will also find many Maui whale watching tours leaving from this area!
Kings' Land by Hilton Grand Vacations Club
Situated on the shores of Waikoloa Beach, Kings' Land Hilton offers a picturesque escape on Hawaii's Big Island.
Whether you are looking for an active or relaxing escape, the resort campus has something for you to enjoy. Lay on the beach, swim laps in the pool, and enjoy a five-star meal at one of the on-site restaurants.
Or, go snorkeling, hike jungle trails, and play a round or two at the neighboring golf course.
When you're ready to retreat to your room, there are stunning one-, two-, and three-bedroom suites to choose from. These accommodations all offer gorgeous views of the resort's two championship golf courses, as well as full kitchens, dining areas, full bathrooms, and private balconies.
When vacationing in Waikoloa, you'll find plenty of stunning beaches, championship golf courses, and gorgeous fishponds. It is only a short drive from Kona!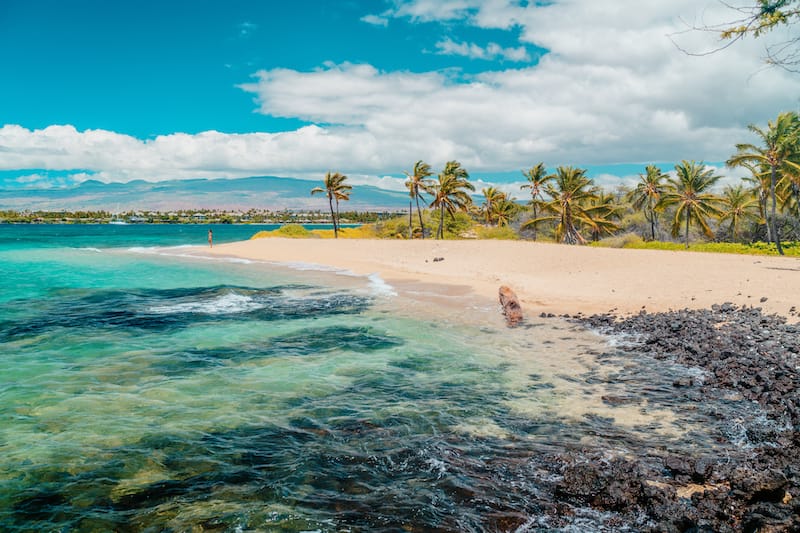 The whole area is set around Anaehoomalu Bay, making it a great destination for every water sport you could possibly dream of. Hopefully, this list will aid you in finding the most perfect Hawaii timeshare resort for your dream island vacation.
You can learn more about these resorts and book your timeshare rental for less at SellMyTimeshareNow.com.
Did we miss any amazing luxury Hawaii timeshare rentals? Let us know in the comments. Thanks!
More Accommodation Guides for Hawaii
Pin this Hawaii Luxury Timeshare Guide